Big sardines today. All fish hit Rapala CD 18s, any color. Water Temperature is 68.5 degrees. Today was windy and bumpy all day. Water was colder, yesterday 70 degrees. Reservations Tel/Fax, 5 to 9 p.m., 011-52-617-46747; Cell 011-52-618-67485.
LILY FLEET, Ensenada, August 31, 2000, Sammy Susarrey. Today the Tamara with 6 anglers aboard caught 7 yellowfin tuna to 15 pounds, 2 dorado 10-15 pounds, and 11 yellowtail 12-15 pounds. I skippered a 33-foot private boat from Marina Coral named Get Away with 3 anglers aboard, catching 12 yellowfin tuna, 11 yellowtail, 9 dorado, and we lost a bigeye tuna about 60-70 pounds, close to the boat. We found the fish on the way back to Ensenada, 5 miles outside of North Todos Santos Island, heading 245 degrees. Water temperature 70 degrees. Nice weather, a little wind in the afternoon. Most of the jig strikes were on Rapalas of any color. No feathers. We metered a lot of marks 20-40 feet deep. We have nice sardines, 3- inch greenbacks. Reservations Tel/Fax, 5 to 9 p.m., 011-52-617-46747; Cell 011-52-618-67485.
ENSENADA, MEXICO: GORDO'S SPORTFISHING, Ensenada, September 5, 2000, Erick Ptacnik O. Local fishing is good. We are getting Yellowtail barracuda bonito and bottom fish. We are fishing live bait anchovies and small mackerel. The overnight trips on Gordo Constellation still good Yellowfin tuna, dorado and Yellowtail, 10 to 15 miles past Punta Banda at 230 degrees. Reservations 011-52-617-83515; 011-52-617-82377.
In other mainland Mexico and Baja fishing action this week:
CABO SAN LUCAS FISHING REPORTS
ALL ARTICLES, REPORTS AND FISHING INFORMATION FOR CABO SAN LUCAS
Cabo San Lucas--Yesterday, the 15th of August Hurricane Illeada brushed Cabo San Lucas before turning to the west and sparing the town and Marina any bad damage. The only thing brought into Cabo by the hurricane was a couple of hours of heavy winds and rain, and Sandi and Matt Snow.
For a very long time Matt had wanted to try some Saltwater Big Game fishing. He had caught small freshwater fish before but felt that he needed the bigger challenge the ocean could provide, maybe even a Marlin! Now Sandi loves Matt dearly and would do almost anything for him so she decided to make it her job to do the best she could to satisfy the craving and hunger Matt had for a larger piscatorial challenge. Thinking carefully on the project she decided that the perfect time would be on their 25th anniversary! Not only that, but it would be a surprise present! She made sure that he hadn't made any other plans for the few days around the anniversary then told him that she didn't want to go anywhere. Boy, was this going to be a surprise!
Sandi spent hours combing the internet looking for the perfect situation, hoping to find the area and boat that might succeed in making Matt's dream come true. Finally she made a decision and the next day we were notified that on the 16th of August we would have a special party on board the "Fly Hooker". Matt was very surprised when he was told to get in the car on the 15th. There was luggage packed in the back! He was even more surprised when they arrived at the airport and he saw the airplane's destination. The cat was out of the bag then and he let Sandi know he loved her even more for the surprise!
The morning of the 16th Mary and I met Sandi and Matt at the Marina and took them down to the boat. There we introduced them to Juan and Manuel and showed them the boat. We explained to Sandi and Matt that due to the passing of the hurricane we could not be sure how the fishing was going to be. Sometimes a storm will bring in the fish and other times it will blow them away. No one had been fishing the day before since the Port Captain due to the wind and heavy seas closed the Port. The previous days fishing is a big factor on the decision on where to go the next day and without any information from the 15th it looked like it was head banging time.
The storm had approached Cabo from the southeast and turned sharply to the west. Since the winds blow counterclockwise the Sea of Cortez had received the heaviest seas and winds. The water on that side was bound to be dirty and choppy, but the baitfish may have been blown in closer to shore also. Juan and Manuel decided that since it was Sandi and Matt's first Ocean trip that might be uncomfortable and decided to head for the Pacific side instead. Their thinking was that if the storm did force the bait in, the bait would go for cleaner water plus the seas would be better due to the Cape blocking those southeast winds.
This choice would later turn out to have been the right one, since many of the boats that headed out on the Sea of Cortez came back with few or no fish. Not Sandi and Matt however! It was shortly after getting live bait at the entrance to the Marina that they rounded the Land's End and headed up the Pacific side. Less than 15 minutes after leaving the Marina entrance they had lines in the water. The fishing action started as soon as they hit the current line off of the old lighthouse. As quick as you could snap your fingers the lines started to get hits. This was a nice school of football size Yellowfin Tuna they had found; most of the fish were between 15 and 20 pounds. There was non-stop action for several hours and Matt and Sandi got an introduction into Saltwater Fishing! Their arms started to get tired and Juan asked them if they wanted to go out and look for a Marlin. Matt was adamant when he said "no way!"; They were having too much fun catching these fish to go out on a boring Marlin hunt! What a guy! No wonder Sandi loves him! There were a few Dorado mixed in with the Tuna they were catching but not many. Eventually the Tuna stopped biting and upon doing a tally of the fish caught, they discovered that they had brought 13 very nice Yellowfin on board the "Fly Hooker";. Now it was time to search again and Juan and Manuel headed up the coast, staying on the inside hoping to find more Tuna or Dorado. They did not find any more Tuna, but there were Dorado scattered about and both Sandi and Matt had a blast hooking up these high-flying oceanic acrobats! The grand total at the end of the trip was 13 Yellowfin Tuna and 7 Dorado kept, the largest of them weighing about 25 pounds. Juan and Manuel shared the fillet duties and by the time the "Fly Hooker" arrived at the dock there was a cooler full of zip-locked fillets for the Snow's to take home. Matt was ecstatic over the results of the "special present" and that pleased Sandi to no end, especially as she had a blast also!
Matt said he had so much fun that he wants to do it again, and he doesn't want to have to wait for another anniversary to do it. I am sure that on the flight back home he and Sandi were discussing who had the birthday party favor rights for the next trip to Cabo. There were no big fish stories on this trip but lots of fun was had and it was a perfect introduction to Saltwater Fishing. Thank you Sandi and Matt, we really enjoyed your company and we love seeing anglers get hooked on the "Fly Hooker!"; Until next time, Tight Lines! --George Landrum
CABO SAN LUCAS FISHING REPORTS
ALL ARTICLES, REPORTS AND FISHING INFORMATION FOR CABO SAN LUCAS
CABO SAN LUCAS, MEXICO: FLY HOOKER SPORT FISHING, Cabo San Lucas, September 3, 2000, Capt. George & Mary Landrum. WEATHER: Cabo has been what a vacation spot is supposed to be as far as weather is concerned this week. Early in the week the sky was mostly to partly cloudy, that meant there was some sun but it was not overwhelming. The temperature stayed lower than 100 every day and the humidity averaged 65%. Right now I have been up here in Oklahoma City for the past week and we have been having temps. higher than 100 degrees everyday, on the thermometer outside it read 113 in the sun and 107 in the shade! The winds in Cabo were from the southeast, then southwest early in the week and have been from the northwest the later part of the week.
WATER: The light winds have made for very comfortable conditions on the ocean this week. Almost lake like for the majority of the time. There has been a spot of cool water off the Candelaria area this week, on the Pacific side. It has been about three degrees cooler than elsewhere, and it came in from the San Jaime area, where it was earlier in the week. Average temperatures have been in the area of 86-87 degrees.
BAIT: Still #2 per Cavillito and a few Lisa. I haven't gotten any reports on the availability of Sardines this week.
BILLFISH: Guess it's about time to change the title of this category to Blue Marlin! That has been the order of the week for most of the boats. There are still Sailfish being caught out there and a few Striped Marlin but the majority of the Billfish strikes have been by Blue Marlin. There are some nice fish out there! Most of the strikes have been on lures, but anytime soon the boats will start pulling live baits around the Banks and hooking up the big ones!
YELLOWFIN TUNA: Still mostly the school sized fish. A few up to 60 pounds are being caught at Gordo Banks on live bait and chunks. The school-sized fish have been in the porpoise and free swimming. Best bets are the cedar plugs and small 6" lures in darker colors. I have seen a few people using the plastic lures shaped like cedar plugs and running them in the silver mirror color and really slaying the footballs with them.
DORADO: Never say die! They are still out there and there are still some of the big ones around. No particular area of concentration but the larger ones have no hesitation about striking on the lures run for Blue Marlin. The smaller fish have been, in general, a little closer to shore.
WAHOO: A few Wahoo are being caught, but the moon is really the key here. The ones being caught now are not being targeted, they are an incidental catch from the guys looking for Marlin.
INSHORE: The football Tuna and the Dorado are the mainstay of the pangas fleet this week. There have been reports to me of large catches of small Roosterfish being made, but unless you are ready to catch 5 pounders all day and use very light tackle, you might be a bit disappointed. There have also been a good numbers of Bonito being caught on the Pacific side and some of the Pangas are hooking up Marlin close to shore as they follow the bait in.
NOTES: Just something for everyone to be aware of. It appears that the Marina is about to raise the rates again. It is not enough that we are already the second most expensive Marina in the world but now they want to make us the MOST expensive one! They are now going to calculate the slip size by actual length instead of useable length, and then they are going to raise the rates by 10%! I was hoping that with the new president in office soon and the economy getting stable that everyone would be happy that inflation was down to about 6%, but I guess the Marina management wants to get rich! All this means for the future is increased rates for anglers that want to come to Cabo and charter. Guess the Marina wants to kill the goose? Perhaps they are just looking for the rich yachts and don't want any working boats. Wonder what these requirements are going to do to the water taxies and Pangas; they sure can't afford the insurance. Everyone is up in arms against these new requirements and I'll let you know what happens as it goes down. Reservations Tel 011-52-117-01271; 011-52-114-87452.
CABO SAN LUCAS, MEXICO: PICANTE FLEET, Cabo San Lucas, September 4, 2000, Marco Arechiga. Fish available: Blue Marlin, Sailfish, Dorado, Tuna & Wahoo. Water Temperature: Approximately 84-88 F. Air temperature: hi 97 / low 75. Humidity: 76 %. Wind: 8-9 Knots per hr. Pacific; 6-7 Knots per hr. Sea of Cortes. Yesterday's Luckiest: "Picante Express" 31' CABO. Captain: Jaime Gonzalez. Angler: Dave & Dan Cartee. Production: 1 Striped Marlin 120 lbs. ( released ), 13 Dorado 25-35 lbs. Hot Spots: 95 Spot, Cerro Colorado ( Sea of Cortes ). Fleet Production (4 boats): 1 Blue Marlin, 1 Striped Marlin, 1 Sailfish, 21 Dorado & 1 Tuna. Reservations Tel 011-52-114-32474; Fax 011-52-114-35969.
CABO SAN LUCAS, MEXICO: REEL EASY SPORTFISHING, Cabo San Lucas, September 2, 2000, Mike & Renee Hebert. Hola Gene, Hope everyone had a wonderful Labor Day Weekend! There was NOT a lot to report last week aboard the El Chilito due to a decline in anglers. Captain Alvaro Gastelum and Mate Tony Winkler report there are plenty fish out there. Talk from other boat captains were the Blues are there but the bite was slow, a few Sailfish released, and plenty Dorado and Yellowfin Tuna for the freezers. In two outings, the El Chilito anglers netted 10 Dorado in the 15 to 20 lb. range, and 4 Yellowfin Tuna in the 30 to 50 lb. range. Outside temperatures are still in the high 90's with water conditions being the deep blue color with water temperatures being steady in the mid 80's. Until Next Week....Tight Lines!!! Reservations/Fax 011-52-114-33579.
CABO SAN LUCAS, MEXICO: PISCES FLEET, Cabo San Lucas, September 1, 2000, Tracy Ehrenberg. BILLFISH: - First up, I have to say that right now, everybody is catching fish. That's not to say that everybody is getting marlin, but not one of our boats got "skunked" this week. It seems like at last we're getting the kind of fishing we expect, though we could do with some more blues. Kelton Gunther from Dallas released an approx 200-pound blue aboard "Ruthless" on August 26th, as well as boating six dorado. Angler of the week for us was Merle Erickson, from Chicago. Merle fished alone aboard "La Brisa", skippered by Julio Castro, on August 30th and had a great day. His ambition was to catch a blue and after discussing strategy with us, we all agreed that he should give the Gordo Bank area a try. The result was a beautiful 360 lb blue that took a lure, taking 1 hour and a half to bring to the leader. Despite repeated attempts to revive the fish it died and had to be brought aboard. Merle a strong catch and release advocate was sad that the fish died, but was thrilled with his first blue. He also managed to release a sailfish, lost another one as well as a wahoo and boated two dorado. Russ Thomas from Aurora, Co. was another angler that had an outstanding day, this time aboard, "Rebecca" - he released two striped marlin, two sailfish and boated two dorado. Sailfish totally dominated this week, with most boats averaging at least one sailfish and often two. We had a total of 26 sailfish this week, all released except one that died, caught by Mary Stratford from Athens, Alabama. Weights are from 70 to 100 lbs. Quite a few striped marlin were also caught, eight for our fleet, all released - sizes are small at 70 - 90 lbs. Two blue marlin, one 360 lbs, one released.
OTHER SPECIES: Lots of Dorado this week, boats averaged from one to twelve ranging in size from 15 to 50 lbs, with the average about 25 lbs. Live bait and lures worked on dorado - we did see a bit of a slow down on them at the end of the week. The tuna bite slowed down drastically this week, but then again, a cluster of commercial boats are in the area, which could account for the decrease. Just the odd yellowfin was picked up whilst trolling, but Thomas Stratford and family from Athens, Alabama caught some nice ones on August 31st weighing 42-55 lbs, aboard Adriana. Just the odd wahoo here and there, on the small side from 25 to 35 lbs. LOCATION: 95 spot, Chileno, Cabeza de Ballena, Red Hill, Faro Viejo. WEATHER CONDITIONS: Beautiful, calm blue seas, hot, some chop in the afternoons, a couple of days. AVERAGE WATER TEMP. 86 F BEST LURES: Live bait, green/yellow/orange, brown/white, orange/black. Reservations Tel 011-52-114-31288; Fax 011-52-114-30588.
CABO SAN LUCAS, MEXICO: GAVIOTA FLEET, Cabo San Lucas, September 1, 2000, Larry Edwards, Cortez Yacht Charters. The best action continues on the Pacific side of the peninsula, according to dockside manager, Leon Sanchez. "The sailfishing is excellent, tuna and dorado are good, but the blue marlin have slowed. Better yet, there are still some really big tuna lurking around the local waters, too." Largest fish for the week was a 190-pound yellowfin tuna, taken by angler Marlin Jackson, Dallas, Texas, fishing aboard the "Edith II," with Captain Vicente Fiol. Overall counts reflected 48 sailfish, 10 stripers, 1 wahoo, 48 dorado and 26 yellowfin tuna. Weather: generally, picture perfect weather, an occasional cloud, but mostly sunny and warm. Seas: excellent! Just enough breeze to keep the fish active, temps in the low 80s. Best fishing area: the hot triangle is Christobal Ridge to Golden Gate to Jaime Bank. Best lure/bait: sails best on live bait, while tuna and dorado taken on live bait and artificials, with yellow/orange being best colors.Reservations 619-469-4255.
PUERTO SANTO TOMAS FISHING REPORTS
ALL ARTICLES, REPORTS AND FISHING INFORMATION FOR PUERTO SANTO TOMAS
PUERTO SANTO TOMAS, MEXICO: PUERTO SANTO TOMAS, August 30, 2000, Sam Saenz. HI GENE, the fishing report for this week is as follows: 1. The weather has been on the cool side, with overcast and no rain and very little wind. 2. The ocean has been calm (ripple waves) and the water currents have warmed up. 3. The bottom fishing here at Puerto Santo Tomaswas excellent for lingcod , rock cod and white fish plus calico bass. Full sacks at the reef and outer banks. 4. The surface action became exciting his weekend. Barracuda, bonita and yellowtail were hitting Rapalas and Salas 6X jigs. The action starts 1/4 of a mile from the port along the kelp beds parallel to the coast up to the Soledad reef in the sector we call yellowtail alley. In spite of red tide patches we could see the bonita and yellow jumping and boiling, chasing bait. The yellowtail range from 8 to 25 pounds. Noe De Moss and Oduber - Oduber from Whittier landed several 15 pounders. Reservations Tel 714-256-2577; Ensenada 011-526-174-5683; Remote Santo Tomas Cell 011-52-617-13364, after 6 p.m. or 6:30-7:00 a.m.
SAN QUINTIN FISHING REPORTS
ALL ARTICLES, REPORTS AND FISHING INFORMATION FOR SAN QUINTIN
SAN QUINTIN, MEXICO: PEDRO'S PANGAS, San Quintin, September 3, 2000, Pete Hillis. Dave Romo & family of Laguna Niguel fished two days with us at San Quintin. The first day limits of yellowfin tuna, 15 to 20 lbs., were brought in off the 210 heading, 12 miles off the point. They were using Rapallas and chrome jigs. The 2nd day, they fished Ben's Rock at San Martin Island where they brought in limits of yellowtail, 12 to 18 lbs., using Rapallas and blue/white jigs. Water temperature remains 65 to 68 degrees. Weather is pretty much the same--cool overcast mornings, warming up in the afternoons. Reservations 888-568-2252.
MAGDALENA BAY FISHING REPORTS
ALL ARTICLES, REPORTS AND FISHING INFORMATION FOR MAGDALENA BAY
MAGDALENA BAY, MEXICO: BAJA ON THE FLY, San Carlos, September 2, 2000, Gary Graham. Temperatures: 85-degree high; Low 68. Partly cloudy with some winds in the afternoon. Water temperature: 73 - 69 degrees in the mangroves and 78 offshore. STRIPED MARLIN - Reports of feeders being seen near the Thetis Bank. DORADO - Look for the shark buoys or current breaks for the best action. TUNA - Small yellowfin tuna have begun to show at the Thetis Bank. SIERRA - Slowed down with the warmer water. CORVINA - Same as the sierra. SNOOK - Good catches of smaller fish with several in teens. YELLOWTAIL - Most of the action down deep. QUICK COMMENT - There is no question the Magdalena Bay offshore fishing action has moved into the late summer and fall mode. With only light pressure, it is difficult to access the volume of fish that seems to be moving into the area. Up in the esteros (estuaries) the fishing continues at a good pace. Everything from the flat rascals (halibut) to snook seem be biting well. Shooting heads with a Orvis olive super Clouser produced good results when retrieved in short strips along the bottom. Reservations Tel 800-919-2252; Fax 760-746-7260; bajafly@aol.com.
MAGDALENA BAY, MEXICO: MAG BAY TOURS, Punta Hughes, September 2, 2000, Brian Freitag. What's Biting: Dorado, Marlin, "Football" Yellowfin tuna, Halibut, Grouper, Corvina. Red Hot! (Still) Dorado - south of the 6 Fathom Spot; Striped Marlin - 6 Fathom Spot to the Thetis; Football Yellowfin at the Thetis. Catch of the Week: 75# Bull Dorado on a Mexican flag feather, by Duane Stroh of Glendale, just south of the 6 Fathom Spot. Clark McPearson of La Canada and Duane Stroh of Glendale went out to the Thetis on Tuesday for 6 Dorado to 45# and 3 striped marlin to 150# ( all released except 1 Dorado), and again on Friday for 8 dorado to 75# and 2 marlin to 125# ( all released except 2 Dorado). On Friday they said the marlin were as "thick as minnows" and stopped counting after they sighted more than 50 marlin! During the remainder of the week they tossed small jigs in the esteros for countless grouper, corvina and halibut to 12#. Surf: Poor all week, but an incoming south swell combined with storm activity off mainland Mexico points to great surf next week. Weather: Days: 90-95 degrees F. Humidity: low. Nights: 72- 74 degrees F. Winds: Calm - AM, picking up to moderate some afternoons. Water temp (near shore) 75 - 77 degrees F. Reservations 800-599-8676.
SAN JOSE DEL CABO (LOS CABOS) FISHING REPORTS
ALL ARTICLES, REPORTS AND FISHING INFORMATION FOR SAN JOSE DEL CABO
SAN JOSE DEL CABO, MEXICO: GORDO BANKS PANGAS, San Jose del Cabo, September 3, 2000, Eric Brictson. While everyone is keeping a close watch on the horizon for signs of new tropical storms developing, for the time being conditions have been very calm, although quite warm and humid. Anglers have been enjoying mostly smooth seas offshore, with the swells also being minimal. Fishing has been very good for both yellowfin tuna and dorado, with the most consistent catches coming from the Gordo Banks. Water temperature has averaged 85 degrees or above and the clarity is clear and blue.
The bait situation was now more difficult and anglers had to work themselves to catch enough to supply them for the morning. Sardinas were available in limited supplies but the bait that was really working the best was what could be caught on the fishing grounds, namely chihuil, bolito and skipjack. Another factor was that the pressure of as many as 25 boats a day fishing on the Gordo Banks made the fish shy and during this past week the best action came later in the day when the majority of the boats had either gone elsewhere or back to the docks.
Yellowfin tuna were taken on the various baits, with the best methods being trolling live chihuil or drifting with chunks of skipjack while running a chum line. Most boats did have at least a couple of the tuna and some of them had up to seven a day, these were all quality sized fish, with the average fish weighing 40 to 50 pounds and a couple fish topping 100 pounds. Since the fish were somewhat line shy most anglers preferred to use leaders of 50 to 80 test and had their best success doing so, the only bad thing was that many of the larger fish that were hooked ended up breaking off. Many people think that tuna do not have teeth but this is not true, the larger they get the bigger and sharper the teeth are and after an extended battle they can easily saw through lines rated up to100 pounds. The problem if you do use heavier leaders then you most likely will not even get them to bite.
Dorado have been found throughout the area in greater numbers, though most are now more of the schooling size, 5 to 12 pounds. Some of the larger bulls being found have weighed up to 20 or 30 pounds but these were the exception. It is a good time to practice catch and release with these fish, especially with the smaller females that are caring the future stock of the species. The dorado are taking a wide variety of small to medium sized trolling lures and also once found would readily take the whole and strip baits.
Billfish activity was on the slow side, in part because most anglers were targeting the other species but also do to them just not being abundant now. This past week there were sailfish, striped, blue and black marlin accounted for, but only in very limited numbers. The largest fish reported by the panga fleets out of La Playita was a 400 pound blue marlin that skipper "Modesto" took while trolling a larger live bait on the Gordo Banks. Reservations 800-408-1199; Fax 619-447-4098; 011-52-114-21147.
EAST CAPE FISHING REPORTS
ALL ARTICLES, REPORTS AND FISHING INFORMATION FOR EAST CAPE
EAST CAPE, MEXICO: BAJA ON THE FLY, Buena Vista, September 2, 2000, Gary Graham. Temperatures: High 97 with a low of 77, the humidity is at a constant 70%. Clear skies with a light wind in the afternoons. Water temperature: 85-92. STRIPED MARLIN - Few reported. YELLOWFIN TUNA - The good catches of last week have dwindled somewhat, but there are still some boats returning with a few nice fish. Most are being taken in deeper water off La Ribera. DORADO - Very good catches being made along most of the East Cape, with Punta Colorado proving very fruitful. There are a lot of fish around and a number have been in excess of 50 pounds. ROOSTERFISH - Punta Colorado is still producing some fish. JACK CREVALLE - Some fish being taken at Punta Colorado. SAILFISH - Good catches being reported and there have been many seen in deeper water off Punta Pescadero. BARRILLETE OR MEXICAN SKIPJACK - None reported. PARGO AND CABRILLA - Only a few reported. OFFSHORE: The sea has looked very good over the last few days and has been producing some nice fish. Many of the boats are targeting blue marlin at the moment as there have been a few hooked over the last few days. The water is a beautiful color and the fishing prospects seem good for the next few days. INSHORE: Good catches of roosterfish and jacks being made as well as a few dorado, especially off Punta Colorado and Punta Arena. BEACH: Lots of bait along the shore, but the beach has not produced as many fish as has been hoped for. QUICK COMMENT: The expected August dorado bite seems to have finally arrived (only a month late!) Yvonne and I have returned to Escondido for several weeks and may be reached at 800 919 2252. The information in this week's report was provided by our guide Andre` Farr, who traveled all the
way from South Africa to share some of his saltwater fly-fishing tactics. If you are in the area you might stop by our office in Los Barriles and say hello. He is there every afternoon from 4:00 to 6:00 p.m. Reservations Tel 800-919-2252; Fax 760-746-7260.
EAST CAPE, MEXICO: EL CARDONAL'S HIDEAWAY, El Cardonal, August 31, 2000, Eddy. Hola de El Cardonal´s Hide-a-Way. Lots of tuna in 40 lbs range, lots and lots of red snapers, marlin about 7 to 10 miles out, sail fish also.. We had clients that fished out of our 14 al. boat for 10 days and every day got dorados up to one that did 40 lbs. Millions of tuna babies around. That it for now. Sept. will be slow for us. Reservations 011-52-114-10040.
EAST CAPE, MEXICO: RANCHO BUENA VISTA, Buena Vista, September 2, 2000, Tamara Moyeous. Hi Gene, This week was kinda slow businesswise, but redhot fishngwise; 9 anglers at Rancho Buena Vista caught a total of 117 fish. Five stripers, 10 blues and 12 sails all released, 55 dorado, 29 tuna and 6 pargo. Til next week, Tami. Reservations 800-258-8200.
EAST CAPE, MEXICO: BUENA VISTA BEACH RESORT, week ending September 2, 2000, Axel Valdez. Boats out: 19. Weather Temperature: High 80s-mid 90s. Water Temperature: 80 to 90. Fishing results (kept/released) Blue Marlin 1/0; Black Marlin 0/2; Sailfish 1/3; Dorado 64/0; Shark 0/0; Tuna 36/0; Roosterfish 0/0; Amberjack 0/0; Trumpet fish 0/0; Skip Jack 0/30. Very much like last week, small storms during the night which cooled the water a little inshore, but we are still finding the blue water in the 10-15 mile range. Overall the weather temperature has been very nice, still it is very hot, reaching continually the 100´s mark. The breeze has cooled the days a little, and if you are in our pool bar, diving or snorkeling, you probably wont feel it that much. Fishing Spots and Distance: This week our fleet split: Some of them went south starting at La Rivera going all the way to Los Frailes; Some also tried the tuna hole in front of Punta Pescadero. Also going for dorado all the way to El Cardonal to the north and to the south as far as Destiladeras (close to San Jose). Successful lures: Not much change in the Baja colors but the hottest are in red). Chivato (orange/yellow), Purpuras (purple/black), green/black and they are also trying the petrolero (black/orange). Bait Used: Little jacks and sardines. Some live Bonito or tuna is being used for baiting of the blue and black marlins. Highlights of the Week: The fishing conditions are starting to became normal for the summer months. More sails, blues, and dorado are starting to show, and if you add the steadiness of the tuna, you will have several great experiences. Reservations 800-752-3555.
EAST CAPE, MEXICO: RANCHO LEONERO, September 3, 2000, John Ireland and Roy Baldwin. Continued typical summer conditions at the East Cape, with daytime highs in the mid 90's, evening lows in the mid 70's, calm seas with afternoon breezes and water temp from 85 to 87 deg. The strong dorado bite continues, with many boats releasing 30 or more fish per day, with large schools of fish located both inside and outside, with big bulls to 60lbs (ave. 15-30lbs) taking bright tuna feathers, marlin lures and live sardinas. The tuna bite continues, with limits for most boats, taking fish from 10 to 50lbs all in a concentrated area off La Ribera, with live sardinas and caballitos working best. Larger tuna to over 100lbs were taken off Punta Pescadero, using live bait near the shark buoys. The sailfish bite remains hot, with some blue marlin to 300lbs mixed in, located about 10 miles straight out, with green/black trolled lures and live caballitos working best. The inshore action for roosterfish, pargo and wahoo continues, with roosters from 15 to 70lbs, pargo to 30lbs, and wahoo to 70lbs taken daily. Charlie Nichols, of Orange County, CA, while fishing 4 days on a Leonero cruiser, took 4 sails, 1 blue marlin, daily limits of dorado and tuna to 50lbs. Reservations 800-646-2252; Hotel 011-52-114-10216.
EAST CAPE, MEXICO: HOTELS PALMAS DE CORTEZ, PLAYA DEL SOL, PUNTA COLORADA, East Cape, September 3, 2000, reported by Dave "Smokey" Manuel, East Cape Smokehouse. Great Dorado fishing continues! You can head North from Los Barriles or out around the corner and South, it doesn't matter, there's Dorado. Charters fishing North, anywhere from the shark buoys off Punta Pescadero to the ocho-ocho, had good success and those heading out, then South had even better luck. The bites to the South were too numerous to list. They started as close as La Ribera and continued down the coastline in multiple spots all the way to Distillederas, which is nearly to the Gordo Banks. Most Dorado were taken fishing with either Sardines or Bullet Tuna in concentrated bites, but a few lone Dorado were also hooked on lures while trolling for Marlin. Sizes trimmed down progressively throughout the weekend, most were 12 - 20 lbs early, but by Sunday the mark was closer to 7-12 lbs. Still a few quality fish in the 25 - 35 lb class were mixed in with most charters catches. Small Yellowfin Tuna were mixed in with several of these Dorado bites, the best being off Pescadero and down at Distillederas on Sardines. Sizes mirrored the Dorado for the most part in the 8-14 lb range, with a few, very few to be exact, in the 20 to 40 lb class. I had one angler drive up from San Jose with a load of Tuna for smoking and told me he had fished the Gordo Banks area and with good success on Tuna in the 50 - 90 lb range early in the weekend. East Cape charters seldom fish that far, so his is the only report, but the size of his fillets would confirm 50 lb class fish. On to Billfish reports and here I swear I'm not beating a drum....there's just not much happening. Some Sailfish continue to be found, but Blue Marlin are scarce; 3 Blues on 69 charters this weekend. --Smokey Dave, EAST CAPE SMOKEHOUSE, 011-52-114-10294. Hotel reservations, 800-368-4334.
EAST CAPE, MEXICO: MARTIN VERDUGO'S BEACH RESORT, August 2, 2000, Marisol George. Hello Gene , this is the fishing report from yesterday: 25 dorados and 1 yellowfin tuna 30 Lbs. The day before was 15 dorados and 3 yellowfin tuna, one weighing 90 Lbs. Reservations Tel 011-52-114-10054; martinv@lapaz.cromwell.com.mx.
LA PAZ FISHING REPORTS
ALL ARTICLES, REPORTS AND FISHING INFORMATION FOR LA PAZ
LA PAZ, MEXICO: FISHERMEN'S FLEET, Hotel Los Arcos, La Paz, September 3, 2000, David Jones. Howdy Gene, another very nice week here in La Paz. If you are a regular reader you might have noticed that the week to week reports haven't changed much for the last month and a half. As the writer I also notice the recurring pattern, but I would urge you to remember that what I have been describing has been a sustained run of excellent fishing, and if it seems monotonous, then that is the fault of this writer, and not those poor innocent, and often deceased, fishies. We continue to mine some large nuggets of Tuna. These fish are coming on either live bait (sardines, #1/0 hook, smallish rubber core) or on dead drifted bait. We have been fishing at the south point of Cerralvo Island this week. There is still a school in front of the Las Whatever Hotel, but the fish that have come up at Cerralvo the last few days have been bigger. They are running in the 50-80 pound range consistently and a few 100 pound fish have been taken as well. Gary McClure, recently of Sholoh, Arizona, along with friend and associate Morris, and cousin fished for just 2 days on Saturday and Sunday but were able to fill most of their 3 ice chests with mostly Tuna and some Dorado and even a rogue pargo or 2. Gordon and Kathy Aribter are down here now with friends from in and around The Greater Metropolitan Simi Valley Area and have been doing very well on Tuna to 75 pounds, some Dorado to 35 pounds,and have caught,and released several very nice Sails as well which were taken incidental to the Tuna mining efforts. The weather has been very good, with mild breezes, some humidity in the afternoons, very pleasant evenings, and generally calm seas.
Word to the wise. My clients have been having an increasing number of discussions with the Aero California folks at LAX about the paper work required to come into Mexico. The afadavits (spell checker hasn't got that one) that many folks have used in place of Passports or original Birth Certificates are no longer being recognized by the immigration folks in Hermisillo. On two occaisions in the last two weeks my clients have not been allowed to board the aircraft because they did not have Birth Certificate or Passport. They have also been informed that in a month or so Birth Certificates will not be accepted and that only Passports will be accepted. While I cannot speak to the absolute accuracy of these change rumours, or to the exact timing, but be aware that changes seem to be in the offing and that if you are traveling down here you should check with your travel agent and/or the airline to stay abreast of the Rule de Jour. These changes are usually driven by some tightening in the US's application of rules to Mexicans crossing the border, and President Fox is trying to put pressure on the US to move the breadth of NAFTA forward. Whatever the background a Passport is easy to get, lasts 10 years and, with the exception of some nasty countries that don't even have good fishing, is honored everywhere. Get yourself one, feel like 007. Have Fun, Be Informed. Reservations 011-52-112-21313; Fax 011-52-112-57334.
LA PAZ, MEXICO: JONATHAN ROLDAN'S ADVENTURE SERVICES, La Paz, September 2, 2000, Jonathan Roldan. The water around here has gotten considerably better over the last week. Although there's still some green water in the bay and out to the islands, the further out you go, the better it gets. Funny thing, however, is that whereas most green water means cold water, this is surprisingly still warm. While SCUBA diving, I'm still getting readings of 86 degrees on the surface all the way down to 60 or 70 feet where it only drops a few degrees or so. Bad news is that big bite of dorado that we've had for 3 months seems to have moved north. Whether temporarily to escape the green water or permanently remains to be seen. The good news is that we've got a killer bite of tuna that just started ripping. I mean slugger tuna between 40 and 100 pounds have shown up. Las Arenas area has been putting out for several weeks in front of the lighthouse, but there's a jag of tuna off Punta Lobos on the east side of Espirito Santo Island that just kicks! In all my years here, I don't think I've ever seen a tuna bite there like this. The spot is normally good for dorado when the sargasso builds there, but this is a "washing machine" bite where big toads are literally churning the water. It's a spot only about 100 yards by 100 yards. Move off the spot and you're out. Move into the spot with a sardine and it's an instant bite followed by a long battle with a big big fish. In the past few days, the bite has been so good that boats are pulling back for the beach by 10 or 11 in the morning with pretty beat up anglers and a stack of tuna meat. Don't recommend you go into the fray with anything less than 40 or 50 pound test and a reel with some beefy drags. Went in with one group of inexperienced clients who clients with me who had never fished tuna but insisted they could handle the fish with bait sticks. They got dragged to their knees. Scored 3 fish after long battles, but lost 7 plus hurt backs, necks and scraped knuckles. One ro broken. One reel broken. On reel spooled. One gaff lost. They literall limped back to La Paz with a whole new outlook on Mexican tuna! Tel 626-333-3355; Fax 626-333-0115; Pager 323-349-8111; Message Pager 877-310-7734; Riplipboy@aol.com.
August 30, 2000. Amigos, this has been a really weird weird week. After the rains last week and earlier this week we had the ugliest water this side of a water reclamations plant! I mean, it was gnarley green stuff straight out of the Exorcist. In places it was almost sludge green and in other places it was as if it was just tinted green as if someone had put green sunglasses on you. I had Chris Keonig, my high school buddy, and his friends here and we SCUBA dove the first two days. I had gotten them here on the premise that we had this awesome blue water here full of great critters to see and watch. Well, I tell you what. It was embarrassing as heck. Guacamole green water! Yech. On top of it, the skies were grey; we had occasional lightning and rain and the winds kicked up the chop. Not exactly the kind of days cherished by the local Chamber of Commerce to attract tourists! I think it just might have been the fact that La Paz basically has not had any rain for about umpteen years and then it suddenly got cleansed. Funny thing was that the water didn't get cold! Normally, cold water and green water are synonomous, but heck, water was still 88 degrees on the surface. Therefore, what was poop for the divers really meant nothing to the fishermen because we continued to get bit. I was really happy for my pal, Ed Hernandez and his buddy Charlie who are on their second trip here this year. Armed with new Loomis Pelagic rods, they had gotten their first tastes of tuna earlier in May and had come back with a better arsenal. Not only did they nail tuna on both the La Paz and Arenas sides in the 40-80 pound categories, but Charlie finally got his first dorado on his first cast of the second day! My other anglers, including Chris' group were on their first fishing runs and got football tunas, dorado and had chances at the bigger tuna as well that pinned several of them to the gunwales of the pangas. Chris himself, unfortunately caught some type of bug that laid him out for a few days, but he still mustered enough huevos to get his first sailfish on a Lamiglas rod which (kudos to him) he promptly released after an intense 15 minute battle on light line with no leader. It was unfortunate in some respects because his pal, John Good had been fighting a big tuna for about half an hour when the sailfish bit and ripped Chris' line right across John's line right when John had his fish to close color and .. . .zing powie! No more tuna! Still, John did a helluva job on the big yellowfin. Conditions seems to improving overall if you're headed down here. Water is clearing and seems to be more blue on the Arenas side. Tuna are still in front of the lighthouse and in front of Hotel Las Arenas. There also seem to be a few more dorado around the buoys in Ventana Bay. As for La Paz side, it's interesting that we're starting to see more tuna and I mean big tuna on the west side of Espiritu Santo as well as at the Bajo (finally). Reports of 100 pound fish come back every day, but no one seems to be able to hang and hold onto the darned things. As for the dorado, perhaps the fabulous bite of the last few months is finally moving off. More of the dorado are moving north away from La Paz. Perhaps it's a functoin of the green water. I wouldn't want to be in it myself. However, there's still enough fish to keep it interesting. By the way for you divers. . .we do have giant manta rays right now! Tel 626-333-3355; Fax 626-333-0115; Pager 323-349-8111; Message Pager 877-310-7734; Riplipboy@aol.com.
LA PAZ, MEXICO: HOTEL LAS ARENAS, Punta Arena de la Ventana, September 5, 2000, Bo Landress.. Fishing results: Tuna 93 to 96lbs; Dorado 56to 57lbs; Roosterfish 4 to 52lbs; Pargo 0. The theme for this past week was HOT temperatures and HOTTER fishing. Large schools of BIG tuna followed the blue water and moved into Las Arenas over the past week with yellowfin up to 96 lbs being taken just off the southern tip of Cerralvo. The fleet reports bait everywhere and most fish being taken on the drift with live sardina and a small rubbercore sinker. Although most anglers targeted the larger yellowfin, the dorado were also holding under the buoys, along the inside of the island. The ocean erupted over Labor Day weekend as our guests targeted the tuna that had moved in to just off of the lighthouse. Most anglers were worn out by 11 am after mornings filled with fighting one tuna after another in the 60lb to 80lb class. Sore bodies were left to soak poolside and tell stories of some of the greatest fishing of their lives. Those with heavier set-ups and two-speed reels definitely had the advantage with these larger yellowfin. Anglers choosing to use the lighter line were worn down, beat up and often spooled. If stand-up tuna fishing is your cup of tea, there is no better place right now than Las Arenas. Weather was warm, but typical for this time of year. Air temperatures peaked in the low 100s with very little breeze, with evening temperatures dropping into the mid to high 70s. Fishing conditions were perfect with plenty of bait available. Reservations 888-644-7376.
LORETO FISHING REPORTS
ALL ARTICLES, REPORTS AND FISHING INFORMATION FOR LORETO
LORETO, MEXICO: CHILI PUNTA FLEET, Loreto, September 4, 2000, John "Bubba" Parker and Fishmanmark. There's not much to add to last week's fish report other than it rained here three days and the wind was up on one of the days. The rest of the week has been good for fishing. Dorado, Sailfish and rooster's are available. It is still hot and humid, but with the rains it has had a fresh feeling in the mornings. Until next week tight lines. Tel 925-449-4554; Fax 925-456-2252.
LORETO, MEXICO: BAJA BIG FISH COMPANY, Loreto, September 4, 2000, Pam Bolles. Its cooled off a lot because of the afternoon thunderstorms we've been having. Highs are in the low-mid 90's(F). The lows have dropped to the mid 70's (F). Humidity is in the 50% range. The skies have been partly cloudy this week. Thunderheads have been forming over the mountains to our west every afternoon. The mountains have been getting rain daily and we saw some last week too. The clouds dumped about 7 inches of rain in under an hour on Monday (8/28) afternoon. The streets and arroyos flooded sending debris into the water for the dorado to linger under. There was some damage in town but minimal. We saw rain again on Tuesday and Wednesday but only very little. Since then, the thunderheads have stopped forming and its been very dry. Winds: Prevailing is from the South, very light in the mornings and picking up in the afternoons. Evenings may pick up from the East. Don't be surprised if you lose a day of fishing to a storm. Its that time of year again. Seas: Seas are moderately calm in the mornings and pick up in the afternoons. There's lots of offcolor water out there. Temperatures are 80 - 86 (F) offshore and ~84 (F) inshore. Dorado: Conditions really haven't changed very much, but the fishing has slowed some. Going beyond the limit is very easy right now but we're not landing aver 25 fish a day like we were a couple of weeks ago (its more like two to ten fish now). If you're not going for the schoolies, you'll find larger Dorado which is typical in August. The loners are averaging in the 30 pound range and larger 40, or 50+ pounders are not uncommon. The boats are heading off Punta Lobos and a few miles NNE of Isla Coronado for the bigger ones. The schoolies (15-20 pounds) are consistent off San Bruno. No matter where you go to get them, they'll take trolled live bait (macks, caballitos), feathers, squid, or cast sardinas, squid chunks, and various lures. Offshore Billfish: There are still a lot of billfish out there mixed in with the dorado, but the sailfish are more plentiful than the marlin. They are offshore from Punta Lobos (East). Sails are weighing between 50-100 pounds and striped marlin are in the 150 pound range. They're mainly hitting trolled artificials (plastic trollng lures). Their numbers depend on your luck, you need to be in the right place at the right time as you may not see any one day, and you may consider their large numbers a nuisance the next. Yellowfin Tuna: None reported. Reservations Tel/Fax 011-52-113-50448.
LORETO, MEXICO: VILLAS DE LORETO, September 5, 2000, Erin Cassandra. Hi Gene, Loreto was fairly busy this weekend with the fishing tournament. There are still a lot of big fish out there from the sounds of things. We have a guest that caught a 40-pound Dorado over the weekend. There just seems to be no end to the amazing fishing season that we've been experiencing. Surprisingly however, Loreto could be busier. If you haven't been to Loreto yet this summer, you better book your tickets or jump in the car and head down. We may never see a year like this again for a while! Reservations Tel/Fax 011-52-113-50586.
SAN FELIPE FISHING REPORTS
ALL ARTICLES, REPORTS AND FISHING INFORMATION FOR SAN FELIPE
SAN FELIPE, MEXICO: TONY REYES FISHING TOURS, 6-day Midriff Islands trip aboard the panga mothership, Jose Andres, trip ending September 1, 2000, Tony Reyes. The Fish Count: 114 Cabrillas 8-16 lbs; 120 Yellowtail Tail 18-25 lbs; 46 Spotted Bass; 24 Dolphin Fish 10-14 lbs; 13 Pargos 10-14 lbs; 3 Grouper to 45 lbs; 3 Sheephead 6 lbs; 1 Black Sea Bass 70 lbs. Exclusive booking agent, The Longfin, 714-538-8010.
SAN FELIPE, MEXICO: BAJA SPORTFISHING, INC., trip ending September 1, 2000, Gustavo Velez, 6-day Midriff Islands trip aboard the panga mothership, Erik. Jim Ledgewood's charter started off great! The captain radioed that Bill Kintner was injured and the boat was bringing him in -- about a 24-hour ride. He was air evac'ed to Scripps La Jolla and had surgery Friday evening. All the crew and passengers want to send himm their best wishes for a speedy recovery and get back to fish! The Erik returned to the Enchanted Islands and has a successful trip. 2 groupers (Ledgewood's daughter, Tiffany, caught a 60-pound grouper), white seabass, and (at Punta Diablo) cabrilla, dorado and yellowtail (plentiful).Reservations Tel 619-523-1822, 800-770-2341; Fax 619-523-9896; fishbaja@pacbell.net.
SAN FELIPE, MEXICO: JIG STOP TOURS, trip ending September 1, 2000, Larry Burson, 6-day trip aboard the mothership, Captain Villegas. This was a San Felipe charter organized by San Clemente Garage Door Co. Some were veterans of many trips but many were new clients from far away places such as New Jersey and South Carolina. Starting in the Southern zone of the islands, where the fishing has been excellent, the group had fair fishing for Yellowtail and Cabrilla. Southeast winds of 10-15 knots limited the movement of the pangas somewhat, but the ship repositioned to other Islands, putting the pangas in the lee of the winds. The San Lorenzo area was excellent for Dorado, 15 to 24 lbs. The best producers were blue & white feathers. Black & purple feathers did produce fish also, but not even close to blue and white. Live Mackerel was best for Yellowtail and Cabrilla, fished with 16 oz. Sinkers on dropper loop rigs, over 100-200' reefs. Yo-yo'd jigs worked OK, but was too much work. Trolled Cabrilla Killers produced some smaller Yellowtail and average Cabrilla. When the ship moved to Puerto Refugio at the North end of Isla La Guardia, they found glassy calm waters and great fishing for larger Yellowtail, 24 to 32 lbs. They caught Cabrilla in all areas. The group scored 149 Yellowtail, 192 Cabrilla, 51 Pargo, 27 Dorado, 3 White Seabass, and a 38 lb Grouper. The White Seabass were caught a Isla San Luis, off Gonzaga Bay. As well as some Yellowtail and Pargo. Overcast skies kept the daytime air temperature down in the low eighties and the evenings cool. Reservations Tel 949-496-0960; 800-521-2281; Fax 949-496-1384.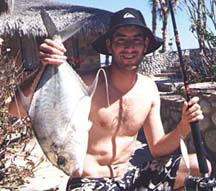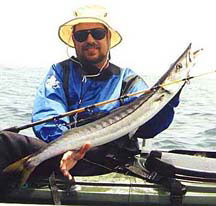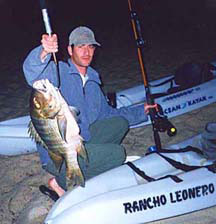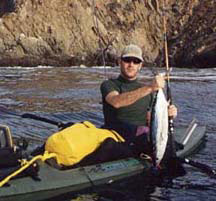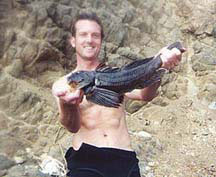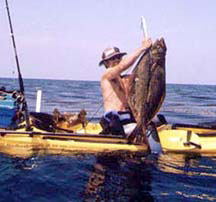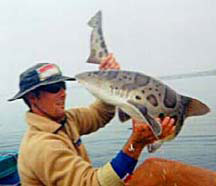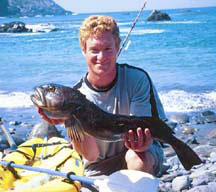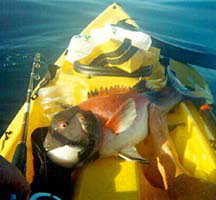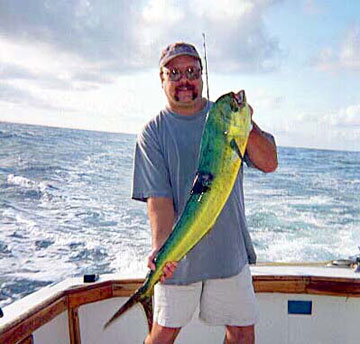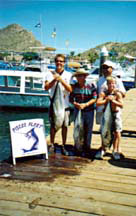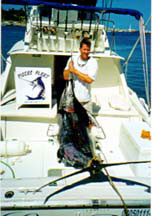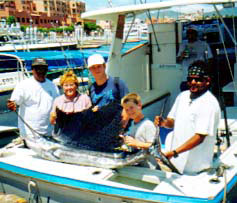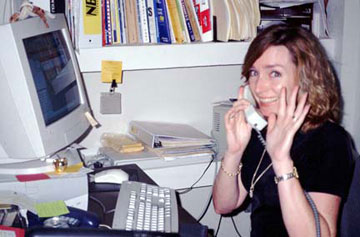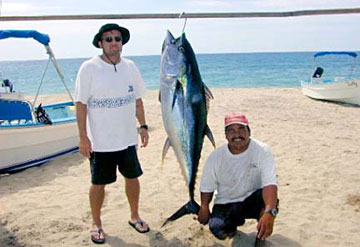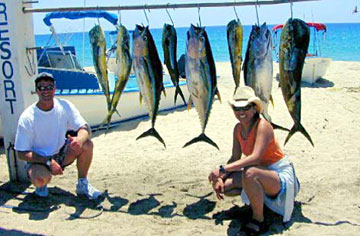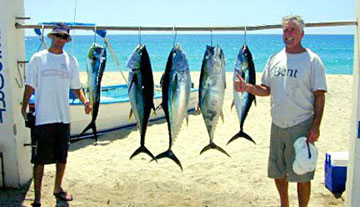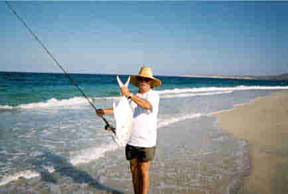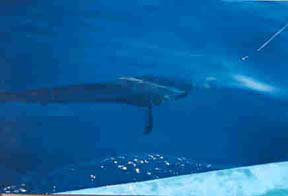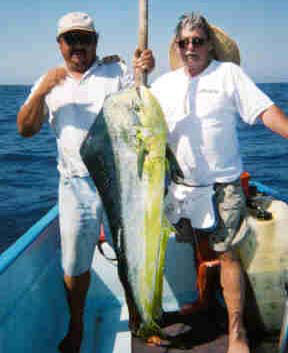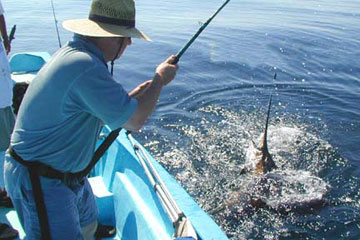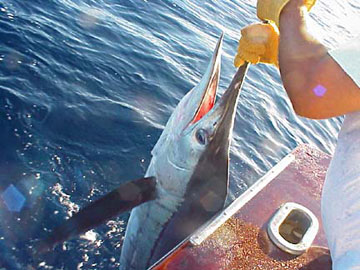 Baja coastal fishing reports and articles.
Ensenada fishing reports and articles.
Puerto Santo Tomas fishing reports and articles.
Erendira fishing reports and articles.
San Quintin fishing reports and articles.
Magdalena Bay fishing reports and articles.
Cabo San Lucas fishing reports and articles.
San Jose del Cabo (Los Cabos) fishing reports and articles.
East Cape fishing reports and articles.
La Paz fishing reports and articles.
Loreto fishing reports and articles.
Mulege fishing reports and articles.
Santa Rosalia fishing reports and articles.
Bahia de los Angeles (L.A. Bay) fishing reports and articles.
San Felipe fishing reports and articles.
Rocky Point (Puerto Penasco) fishing reports and articles.
San Carlos (Sonora) fishing reports and articles .
Mazatlan fishing reports and articles .
Puerto Vallarta fishing reports and articles.
Ixtapa Zihuatanejo fishing reports and articles.
Huatulco fishing reports and articles.
Cancun fishing reports and articles.
Mexico coastal fishing reports and articles.
Mexico Fishing Home Page < Mexico Fishing News Archives < Fishing Report