Also 8 yellowtail to 10 pound, 16 yellowfin tuna to 15 pounds on 10-inch live bait, 6 fish caught trolling Rapalas, blue and white. Also 2 big eye tuna 79 pounds, trolling Rapala CD18 in purple and black, another 64-pounder caught on anchovy. Today was flat and calm, no wind, now swell, but very foggy all day. Water temperature 70 degrees. Fish located at GPS 31.24 117.05. Reservations Tel/Fax, 5 to 9 p.m., 011-52-617-46747; Cell 011-52-618-67485.
Yesterday the Tamara fishing out of Ensenada with 4 anglers aboard reported 50 yellowfin tuna in wide open fishing with the fish hitting everything in the water. We had nice anchovies for bait. Water was a little bumpy, temperature 69.8 degrees. We fished 20 miles out from Punta Banda on a heading of 210 degrees. The Amigo with 2 adults and 3 children aboard reported limits of yellowtail, 2 miles outside Ensenada. All Fish on live anchovies. The Lily with 4 anglers aboard reported 17 yellowtail from the same area, found by trolling Rapala CD14s, blue and while and dorado color. Reservations Tel/Fax, 5 to 9 p.m., 011-52-617-46747; Cell 011-52-618-67485.
Ensenada, September 16, 2000, Sammy Susarrey. Today I skippered a private yacht named Get Away, 33-foot Tiara with 4 anglers. We caught 23 yellowfin tuna to 15 pounds on live bait (anchovies), also on feathers, Zuker back and red, and green Rapala CD14s, and blue and white. Also 1 dorado 12 pounds in a kelp paddy, 2 big eye tuna. I call them gorrilas, 133 pounds and 137 pounds, trolling Rapala CD18 purple and black, and another CD18, new color looks like wood. One fish took 25 minutes and the other 41 minutes. Today was bumpy bumpy windy windy. We weighed the fish at Marina Coral. Reservations Tel/Fax, 5 to 9 p.m., 011-52-617-46747; Cell 011-52-618-67485.
Ensenada, September 15, 2000, Sammy Susarrey. Today the Tamara with 3 anglers aboard reported 1 big eye over 100 pound. We fought it for 3.5 hours and we lost the fish about 20 feet from the boat. We caught another one of 75 pounds, CD plug in natural color. Also 38 yellowfin tuna all on live bait except 4 on Rapala CD18 blue and white. We fished at GPS 31.33 116.54. Yellowfin tunas 15-20 pounds. Big eyes hit from 7:30 a.m. to 10:30 a.m. at GPS 31.35 116.55. Water temperature is 69.8 degrees. A little windy today and choppy in the afternoon. Bait today is nice medium and big anchovies. Reservations Tel/Fax, 5 to 9 p.m., 011-52-617-46747; Cell 011-52-618-67485.
Ensenada, September 13, 2000, Sammy Susarrey. Today the Amigo with 4 anglers aboard reported 2 big eye tuna, 78-90 pounds, one on CD plug (no color) and the other on a Rapala CD18 purple and black. Also 16 dorado 12-15 pounds all on live anchovies, 6 yellowfin tuna 15 pounds, 2 trolling and rest on live bait. Water temperature is 71.6 degrees. Fish located 24 miles out of Marina Coral, GPS 31.35 116.55. A lot baitfish. Flat and calm, very hot hot day. Reservations Tel/Fax, 5 to 9 p.m., 011-52-617-46747; Cell 011-52-618-67485.
ENSENADA, MEXICO: GORDO'S SPORTFISHING, Ensenada, September 18, 2000, Erick Ptacnik O. GORDO'S CONSTELLATION 19 anglers 15 miles out of Punta Banda Albacore 40 to 50 pounds 5 Big eye tuna 70 to 95 pounds 15 Dorado 15 to 30 pounds 7 Yellow Fin Tuna 25 to 40 pounds 67 good weather and the fishing is getting better every day. Reservations 011-52-617-83515; 011-52-617-82377.
Ensenada, September 15, 2000. GODROS CONSTELLATION only 12 anglers. 92 Yellow fin tuna, 25 to 40 pounds, 4 Dorado's 18 to 25 pounds, 2 albacores 40 and 55 pounds, only 14 miles out of Punta Banda good weather sunny and warm. Reservations 011-52-617-83515; 011-52-617-82377.
Ensenada, September 13, 2000. Today's catch Big Eye Tuna 181 pounds and albacore and Yellow fin tuna only 20 miles out of Ensenada at Soledad good fishing the storm on the south is pushing the fish to us. Reservations 011-52-617-83515; 011-52-617-82377.
Ensenada, September 12, 2000. Yesterday big eye tuna 90 to 100 pounds 8 and 35 yellow fin tuna about 20 to 35 pounds 5 Dorado. Reservations 011-52-617-83515; 011-52-617-82377.
In other mainland Mexico and Baja fishing action this week:
CABO SAN LUCAS FISHING REPORTS
ALL ARTICLES, REPORTS AND FISHING INFORMATION FOR CABO SAN LUCAS
CABO SAN LUCAS, MEXICO: FLY HOOKER SPORT FISHING, Cabo San Lucas, September 17, 2000, Capt. George & Mary Landrum. WEATHER: It has been an interesting week, and in a way a very lucky week weather-wise! This is normally our Hurricane season. It is not often one hits us but we usually get a few close calls. At the beginning of the week it had appeared that Tropical Storm Lane was going to hit, but it veered off and all we received was a little gusty wind and a sprinkle! Then just as we thought everything was fine a tropical depression advanced our way at the end of the week. Thank goodness this one passed us also with just a little rain. As you can imagine, the beginning of the week and the end of the week were overcast and cool but the middle of the week was hot and humid. Temperatures ranging from the low 70's to the mid 90's were experienced through the week.
WATER: As you can imagine the water went hand in hand with the weather conditions. Monday the water was a bit choppy with large swells and on Tuesday it had settled down a bit. In the afternoons the wind was picking up a bit but had settled down by morning time. The water remained calm through Saturday and started to chop up a bit and swells increased slightly on Sunday. The water was green close in early in the week and started to get green again today. Water temperatures have been ranging from 84-86 degrees.
BAIT: Bait has been available for those wanting it but the pangas are having a harder time catching it, perhaps due to the fact that Wednesday was Full Moon. Larger baits have been $2 each and I haven,t heard anything on the Sardines.
MARLIN: There have been a few Blue Marlin caught every day by Cabo San Lucas boats along with some huge Striped Marlin in the #200 range. There are still Sailfish mixed in the same areas as the Dorado. Probably more fish would have been reported had the water and wind been more co-operative! Most of the Blues have been on lures and the Striped Marlin on live bait. The Sails are striking both types.
YELLOWFIN TUNA: I have heard reports of some very nice #100 size fish being caught up by Gordo Banks this week but cannot confirm it, as I don't know anyone personally who has caught one. The Storms seem to have driven the Tuna bite down a bit locally and the fish that are being found are the "football size fish. Most of the bites have been on feathers and cedar plugs.
DORADO: The Dorado have been the mainstay for the week . This type of weather really gets them turned on and most of the boats have been able to send their anglers home happy with coolers of fillets. Average size has been 15-20 pounds with a few in the 30-45 pound range. They have been scattered on both the Sea of Cortez and the Pacific side out to about 8 miles, with the concentrations at the current lines. Smaller feathers and hard lures get the first ones and cut bait has worked for the rest. With he weather we have had a number of floating objects have been found that have held large numbers of Dorado, so keep watching!
WAHOO: Must be the storms and the water cause the moon is full. Very few Wahoo for the week and the ones that were caught were not large.
NEARSHORE: Notice I did not write "Inshore? The water has been very green close to the beach and the nearshore fishing has been turning out mostly Dorado with a few Sailfish and Tuna.
NOTES: I would like to take this chance to thank everyone for their e-mail, cards and prayers on behalf of my father. Everyone responds differently to a transplant and when the organ is as delicate as a lung it often takes a while for complete recovery. It has been three weeks now and he has been getting a bit better every day! He is still in ICU and on a ventilator but aware and being his old self! Once again, thank you for your caring! I can't wait to get him fishing! Capt. George Landrum. Reservations Tel 011-52-117-01271; 011-52-114-87452.
CABO SAN LUCAS, MEXICO: PISCES FLEET, Cabo San Lucas, September 11, 2000, Tracy Ehrenberg. BILLFISH: Our report this week is pretty short, seeing as we were closed down for two days, (Sept. 9 & 10), as Hurricane Lane, swept by, causing huge waves and winds that gusted up to 60 mph. We didn't get that much rain and actually no damage was sustained to the Cabo San Lucas fishing area, but the big waves lasted throughout most of the week, only calming this Thursday. Right before the storm we had some very good fishing, with August 8th proving to be the best day overall. Ken LaBar from New Jersey, out on Ruthless, released an approximate 200 lb blue marlin, a sailfish and also boated a 60 lb wahoo and one 30 lb dorado - an enviable day by anyone's standard. This same day Michael Ogden, from Clayton, Mo, had a similar day aboard, Karina, with a blue marlin release, one 56 lb wahoo and four dorado.
Pisces third blue marlin for September 8th, was caught by Jeff Jerkuta from California - Jeff's fish died (blues are nowhere near as hardy as stripers) and was brought aboard - when later weighed the fish turned out to be 300 lbs. Jeff's group also released a healthy sailfish. Cabo is in the slowest month of all for tourists/anglers, which is reflected in this week's figures, however, fish are out there. We are very pleased with the increase of blue marlin, though sizes are only average at between 190 and 300 lbs. It's nice to see that most are being released. Just a few years ago, it was rare to see local skippers, willing to release a blue, but now the release practice, for this species, is more widely accepted. We did have some anglers turning back seasick, but those that stuck it out, nearly all met with success. Just four boats, skunked for us this week. Our anglers caught six, blue marlin, all but one released and four sailfish, all released. No striped marlin for us this week.
OTHER SPECIES: Boy, I really appreciate it dorado, not only are they a beautiful fish, taste great and put up a good fight on lighter tackle, they stick around Cabo most of the year. Which is good when billfish action is on the slow side. Pretty much every boat out this week, returned with at least a couple in the 20 to 30 lb class and some boats had as many as six. Sizes were from 20 to 50 lbs. Not a lot of yellowfin tuna, but we did have a half dozen or so in the 20 to 30 lb range. An increase in wahoo this week, though they still aren't what I'd call abundant. Sizes are bigger now, at 40 to 60 lbs.
LOCATION: Punta Gorda, Pozo de Cota, Chileno 12 miles out, 95 spot.
WEATHER CONDITIONS: Hot, sunny, two days of overcast and rain, seas -big swells most of the week, now calming.
AVERAGE WATER TEMP. 86 F
BEST LURES; blue marlin mostly on orange/black, green lures, sailfish live bait, dorado combination of lures and bait, tuna - feathers and lures. Reservations Tel 011-52-114-31288; Fax 011-52-114-30588.
CABO SAN LUCAS, MEXICO: JEFF KLASSEN SPORT FISHING, Cabo San Lucas, September 14, 2000, Prior to Hurricane Lane, Los Cabos fishing was heating up. Usually after these storms it livens up and sure enough, it's ON again. There are lots of fish and just about everyone should be able to target what they're interested in. The water has calmed down again with almost flat conditions most of the time. Swells and surf are down to a minimum. Most of the boats have been fishing the Pacific side, and with good reason. That's where the fish are! Sailfish have been the billfish of late. Catches of 2 or 3 in an outing are common, with some boats getting as many 5 or 6. Double hook-ups are frequent. They are very aggressive right now and are hitting dorado, purple/ black and petrolero colored lures pretty consistently. There are lots of them up on the surface as well, willing to take a live bait. This would be a good time for fly-fishermen. Sails are averaging 100 pounds. The Blue marlin bite isn't nearly as frequent (it really hasn't opened up yet) but the fish are much larger with sizes averaging between 300 and 500 pounds. The striped marlin bite is quite flaccid at the moment, which is typical, for this time of year. There are heaps of Dorado at the moment. One needs to merely venture on out no more than a few hundred yards from land's end to be in dodo territory. One of my buddies was out yesterday in the late afternoon for and hour and a half and caught 10, all of which were 20 to 30 pounders. There are even bigger ones further out, up to 55 pounds. What lure colors are best for them??? They'll hit a trolled turd at the moment, given the chance. Some nice wahoo have been brought boat-side this past week too. Not tons of them, but nicer ones, between 50 and 65 pounds. All were caught while mid-day trolling for other fish, in assorted areas. Perhaps if they were targeted more at the moment there would be higher catch numbers. Tuna anglers will be happy. There have been some nice bites and frequent this last week. We had a boat, the "Bad Medicine bag a 210 pounder
with several in the 150 to 160 pound range these last few days. 50 to 100 pounders are common. They are loading up on the squid that are now present, especially near the Jaime Banks. Look for the porpoises! The Gorda Banks have them as well, for anglers wishing to fish gulf side. Almost all of the tuna were caught on live bait trolled amongst the dolphin.
Surf fishing isn't being practiced much by many at the moment but should be. There are certainly pompano, barred pargo and assorted croakers and grunts along the sandy shorelines at the moment. Use sand fleas, for the pompano, crabs or cut squid for the barred pargo. AJ posted a message on our board about having caught some big pompano at Migrino, up on the Pacific side about 15 miles. He also mentioned hearing about some snook caught there in recent days. No doubt about that in my mind. This is a great month to get them there. Use a 1.5 ounce chrome Krocodile spoon with green mackerel stripes. Cast them towards the dirty water patches, made by retreating swell water. Pitch Klassic poppers along the rockier spots for Leopard grouper. There should be some good ones in at the moment. I haven't heard anything regarding roosterfish at the moment, but did hear of a few nice jack Crevalle being caught near the Terrasol Beach, as well as the Pedregal. Reservations Tel 360-402-3474.
CABO SAN LUCAS, MEXICO: REEL EASY SPORTFISHING, Cabo San Lucas, September 16, 2000, Mike & Renee Hebert. Hola Gene, Fishing last week for the El Chilito and its anglers got off to a rocky start with the passing of the storm. Weather conditions kept us in on Sunday and Monday. Captain Alvaro Gastelum and Mate Tony Winkler reported four outings for the week aboard the El Chilito, for a total number of seventy two fish. Billfish activity came to a halt but the Dorado action really increased. Sixty Dorado ( averaging 15 to 25 pounds, with 1 weighing in at sixty pounds), ten Yellowfin Tuna (footballs) and two 15 pound Skipjack. Most action for the week was mixed between the Cortez and Pacific on both live bait and lures. Weather was back to normal by mid week with water temperatures ranging from 82 to 85 degrees. Top Anglers for the week aboard the El Chilito were Shawna and Bruce Pleake of Washington, snagging forty-four Dorado, one Yellowfin and two Skipjack on September 15. The Skipjack and smaller Dorado were released. Now thats a work out! Until Next Week....Tight Lines!!!!! Reservations/Fax 011-52-114-33579.
CABO SAN LUCAS, MEXICO: PICANTE FLEET, Cabo San Lucas, September 17, 2000, Marco Arechiga. Fish available: Blue, Black & Striped Marlin, Sailfish, Dorado, Tuna. Water Temperature: Approximately 83-85 F. Air temperature: hi 93 / low 75. Humidity: 85%. Wind: 6-7 Knots per hr. Pacific; 6-7 Knots per hr. Sea of Cortes. Yesterday's Luckiest: "Picante Pride" 35' CABO. Captain: Antonio Romero. Angler: Merdical Mutual Group. Production: 1 Black Marlin 480 lbs. ( released ), 1 Blue Marlin 200 lbs. ( released ), 4 Dorado 15-35 lbs. ( released ), 6 Yellowfin Tuna 10-30 lbs. ( released ). Hot Spots: Gordo Banks ( Sea of Cortes ). Fleet Production (6 boats): 2 Blue Marlin, 2 Black Marlin, 20 Dorado, 4 Striped Marlin, 29 Tuna & 3 Wahoo. Reservations Tel 011-52-114-32474; Fax 011-52-114-35969.
CABO SAN LUCAS, MEXICO: HOTEL SOLMAR SUITES, Cabo San Lucas, September 15, 2000. Coming off a successful fishing period a week ago, Solmar Sport- fishing Fleet anglers tallied "good" numbers of fish caught this week, with dorado again playing the starring role, according to Fleet Manager, Rene Santa Cruz. Last week 422 dorado were taken, compared to 331 scored this week. Weather at Cabo remained in the high 90 degree heat range, with water surface readings of 85 degrees. The drop in catch production was caused by rough seas that closed fishing down for two days: catches last week of blue marlin (11) and striped marlin (16) dropped to 4 and 8 respectively, but the catch of sailfish rose from 22 to 30. Even tuna catches declined from 75 to 30. "Considering the shortened week of fishing because of a tropical depression to the south of Cabo, our Solmar anglers were pleased with the continuing explosion of dorado. The "sweet spot" fishing hole extended from the 95 spot to Gordo Bank.
Top angler of the week was Mike Baker, Houston, TX, who took 1 blue marlin, 1 striped marlin, and 1 dorado on a day's outing on the 28' San Lucas VII. Other smiling anglers included Brad Hales, Newport Lane, IL, who brought in a 300 pound blue taken only four miles off White Hills, in full view of the fleet's namesake, Hotel Solmar; Dan Flanigan, Valencia, CA, caught and released 2 sailfish, and stocked his freezer with 8 dorado, fishing on the Solmar III 12 miles out from San Jose del Cabo. Reservations Tel 800-344-3349.
SAN QUINTIN FISHING REPORTS
ALL ARTICLES, REPORTS AND FISHING INFORMATION FOR SAN QUINTIN
SAN QUINTIN, MEXICO: PEDRO'S PANGAS, San Quintin, September 17, 2000, Pete Hillis. Bud Wright from Todd Pipe & Supply of West Los Angeles brought 25 friends on a chartered bus trip to fish at San Quintin to try their luck with us at Pedro's Pangas. All boats brought in limits of yellowfin tuna. John Micholski and Charles Lyle split the jackpot the first day with a 20-lb. yellowfin tuna. The yellowfin are running 15 to 20 lbs. and are still 12 to 14 miles off the point between the 210 and 240 headings. Yellowtail slowed but once they were caught, were between 15 to 20 lbs. at the point and San Martin Island. Weather temperatures remained the same. Mornings are overcast and cool, but generally warms up to 78 to 80 degrees in the afternoons. For those concerned, weather conditions affecting lower baja have had no significant impact on the waters off San Quintin. Reservations 888-568-2252.
MAGDALENA BAY FISHING REPORTS
ALL ARTICLES, REPORTS AND FISHING INFORMATION FOR MAGDALENA BAY
MAGDALENA BAY, MEXICO: BAJA ON THE FLY, San Carlos, September 16, 2000, Gary Graham. Temperatures: 92-degree high; Low 72. Water temperature: 77 degrees in the mangroves and 83.5 offshore. Some wind in the afternoon. STRIPED MARLIN - Encouraging reports of large schools of fish being seen from the 100 fathom curve all the way out to Thetis Bank. DORADO - Shark buoys 7-20 miles off the entrance producing the best action. TUNA - A number of schools of smaller fish being seen. CORVINA - Good catches up in the Magdalena Bay mangrove esteros. SNOOK - Fair catches of smaller fish with several weighing into the teens. YELLOWTAIL - Most of the fish caught this week were down deep, making it tough for the flyrodder. QUICK COMMENT - Unsettled conditions continued to produce unsettled conditions offshore. Good fishing continued up in the esteros. The Devils Curve produced good catches of corvina and a few snook. Reservations Tel 800-919-2252.
San Carlos, September 16, 2000. Temperatures:92-degree high; Low 72. Water temperature: 77 degrees in the mangroves and 83.5 offshore. Partly cloudy with unsettled conditions because of Hurricane Lane. STRIPED MARLIN - While the volume of fish continues to build, fishing this week was tough because of poor weather. DORADO - Look for the shark buoys or current breaks for the best action for larger fish. TUNA - Plenty around, just tough to get to with high seas. CORVINA - Excellent catches up in the esteros. SNOOK - Fair catches of smaller fish with several weighing into the teens. YELLOWTAIL - Still fair bite near the entrance this week. QUICK COMMENT - Unusually high seas kept most of the boats inshore this week. Even with strong winds in the afternoon the esteros continued to produce fair catches of corvina, halibut, grouper and a few snook.
MAGDALENA BAY, MEXICO: MAG BAY TOURS, Punta Hughes, September 16, 2000, Brian Freitag. What's Biting: Dorado, Yellowfin Tuna, Marlin, Halibut, Grouper, Corvina, Snook , Snapper. Red Hot! Dorado & "Football" Yellowfin tuna - as close as a mile offshore; Corvina, White Sea Bass, and Pargo - Kayak trolling 10 to 50 yards off shore. Catch of the Week: 30# Bull Dorado by John Vanseggern of Santa Cruz, CA on a skipjack strip bait. On Friday John Vanseggern of Santa Cruz, along with Enrique Soto Jr, and Mario Hernandez of Puerto San Carlos came back in after only two hours with 10 Dorado from 15# to 30#, and 4 yellowfin tuna to 20#. The first hookup (on a dorado) came on a pink tuna feather, then the group tossed iron (mostly big chrome spoons) and strip baits for the rest of the fish. Surf: 6 to 10+ feet all week, very consistent. Weather: Days: 90-95 degrees F. Humidity: medium. Nights: 72- 74 degrees F. Winds: medium light and shifting. Water temp (near shore) 76 degrees F. Reservations 800-599-8676.
SAN JOSE DEL CABO (LOS CABOS) FISHING REPORTS
ALL ARTICLES, REPORTS AND FISHING INFORMATION FOR SAN JOSE DEL CABO
SAN JOSE DEL CABO, MEXICO: GORDO BANKS PANGAS, San Jose del Cabo, September 17, 2000, Eric Brictson. Last week it was Hurricane Lane that shut down sportfishing operations and this weekend it was Tropical Storm Miriam that had everyone prepared for a possible direct hit. As it did turn out Miriam passed through very early Sunday morning packing strong wind gusts and some monsoon type rainfall, but the worst of the storm stayed out in the Gulf before continuing north towards La Paz. Of course the seas were very stormy and the majority of the fishing fleets will not be in operation again until Monday.
During the week, between storms anglers did find some great fishing action. Most common catches were dorado and yellowfin tuna, best areas for the fleets out of San Jose were between the Gordo Banks and Iman. Water temperature still averaged around 85 degrees and clarity returned to blue within a mile of shore, after having been stirred up and a bit off color from Hurricane Lane. Pangeros did complain that there was a strong current to deal with and this made catching bait a challenge but most of the more skilled and patient anglers did manage to produce quality catches.
Dorado were the most numerous of all species and could be found practically anywhere, the best area though was in the vicinity of Iman Bank. Hitting on just about anything put in the water, from feathers, strip and whole baits, most fish were in the 10 to 14 pound range but some topped the scales at 30 pounds. Many boats are not respecting the limits though, and of course there are no Mexican Fish and Game officials to enforce any of their so called laws, so it is time for the visiting American anglers to take things into their own control and release especially the smaller female dorado and take only what they actually need. Think of the future fishery and do not forget that this is supposed to be sportfishing and not commercial fishing.
The bite on yellowfin tuna was a bit tougher this week, as is typical in the days following the full moon and combined with the strong current and unsettled weather, but the fish are still there and everyday nice sized tuna were being brought in from the Gordo Banks. The fish had to be worked for, especially to catch the preferred baitfish chihuil, they proved tricky to get, but once caught they were a practical guarantee that they would take a big strike before too long. Most of the pangas that did target the tuna ended up with at least a couple of nice ones in the fish box, quality fish also, averaging 40 to 50 pounds, with the largest of the week from the La Playita pangas weighing in at 118 pounds. The tuna were also hitting smaller lures and chunk bait, but the larger fish seemed to now prefer the freshly caught chihuil.
Not much happening on the billfish this week, just a few big lost hook ups reported from the Gordo Banks area, but as the moon gets darker and the weather settles we look for the action to improve. Reservations 800-408-1199; Fax 619-447-4098; 011-52-114-21147.
EAST CAPE FISHING REPORTS
ALL ARTICLES, REPORTS AND FISHING INFORMATION FOR EAST CAPE
EAST CAPE, MEXICO: BAJA ON THE FLY, Buena Vista, September 16, 2000, Gary Graham. TEMPERATURES: High 91 with a low of 77, the humidity is at a constant 69%. STRIPED MARLIN -Most of the billfish action has been focused on sailfish and blue marlin. YELLOWFIN TUNA - Good catches being made from Cabo Pulmo and Cabo Los Frailles. DORADO - Punta Arena, Cabo Pulmo and Cabo Los Fraillies. Continue to produce good catches of dorado. SAILFISH - Continue to provide the best action for those seeking billfish. ROOSTERFISH - Fair action near Punta Colorado all the way out to the lighthouse. JACK CREVALLE - Plenty of fish at Punta Colorado and from the beaches near La Ribera. BARRILLETE OR MEXICAN SKIPJACK - no one targeting them this week. PARGO AND CABRILLA - Few caught this week. OFFSHORE: Good catches of Yellowfin being reported as well as a few Dorado and sailfish as well. There have been a number of Blue Marlin caught this week as well. INSHORE: The sea has been slightly off-color recently close inshore but there has nonetheless been an abundance of Jacks and Pompano, especially around Punta Colorado and near the Shark Shack. BEACH: The wind waves last week left off colored water close to shore hroughout La Palmas Bay. However, Punta Colorado and the beaches around La Ribera produced some good action for jacks, roosters and pompano. QUICK COMMENT - As long as the storm systems continue to go to the west, we expect fishing at East Cape to continue to improve. Our old friend Johnny Montgomery from Albuquerque NM arrives this weekend and is looking forward to some good tuna and dorado fishing. Yvonne and I along with Ben Mintz are in Salt Lake City for the Fly Tackle Retailers show and have enjoyed seeing the new stuff and all of our old friends. Reservations Tel 800-919-2252; Fax 760-746-7260.
Buena Vista, September 14, 2000. TEMPERATURES: High 93 with a low of 77, the humidity is at a constant 68%. GENERAL: The effects of the hurricane located about 300 miles south of here brought rain on Saturday as well as big swells and rough sea, most fishing was cancelled on Saturday and Sunday. The sea has consequently calmed down and the fishermen are back in business. STRIPED MARLIN -few reported. YELLOWFIN TUNA - Most of the anglers are concentrating on tuna at the moment and there have been some very good catches recently, especially in the south around Cabo Pulmo. DORADO - There are still very good catches throughout Palmas Bay. SAILFISH - Continue to provide the best action for those seeking billfish. ROOSTERFISH - Few reported because of poor weather at East Cape. JACK CREVALLE - Tough fishing from the beach because of large surf. BARRILLETE OR MEXICAN SKIPJACK - none reported this week. PARGO AND CABRILLA - Few caught this week. OFFSHORE: Good catches of Yellowfin being reported as well as a few Dorado and sailfish as well. The fishing has been disrupted, however, due to the storms experienced this weekend. The sea has however returned to normal and the fishing should be back to normal soon. INSHORE: Same story, poor weather conditions early in the week from Hurricane Lane. BEACH: Due to the large swells and rough sea, there have not been many fish caught from the beach. The sea has calmed and there are a lot of sardinia being seen along the shore in front of La Ribera. QUICK COMMENT - With Hurricane Lane's departure conditions have improved and the fishing has quickly returned to normal. Reservations Tel 800-919-2252; Fax 760-746-7260.
EAST CAPE, MEXICO: EL CARDONAL'S HIDEAWAY, El Cardonal, September 18, 2000, Eddy. Over the weekend we had a boat out for half a day of fishing. Results: 8 tuna and 4 dorado. These were caught 2 miles out from the resort. Reservations 011-52-114-10040.
EAST CAPE, MEXICO: RANCHO BUENA VISTA, Buena Vista, Date, 2000, Tamara Moyeous. Dear Gene: This week is great, hope you have had a good one as well. Fish report from Tony states 28 boat trips caught 99 fish. One striper, 2 sails, 29 dorado, 65 tuna. Thank you for including us in your weekly updates. Best regards, Tami. Reservations 800-258-8200.
EAST CAPE, MEXICO: RANCHO LEONERO, September 16, 2000, Bahia de Palmas, John Ireland and Roy Baldwin. Typical September conditions continue, with daytime highs in the mid 90's, evening lows in the mid 70's, calm seas with afternoon breezes and water temp from 86 to 88deg. The best tuna bite ever continues on, with limits of fish averaging 40lbs within 2 miles of shore, taking live sardinas, hoochies, and cedar plugs. The dorado bite continues, with schools of fish averaging 15-20 lbs spread all over the bay, with some larger fish to 40lbs outside mixed in with the billfish, taking mostly live sardinas and green/black marlin lures. The sailfish bite remains hot, with more blue marlin taken this week, located closer in, about 4 miles straight out, with green/black or purple/black trolled lures and live caballitos working best. The wahoo bite has been steady for a couple of weeks now, with rapalas, marauders and dark trolled lures working best. Tom McAndrews, of Davis, CA, while fishing 5 days on Leonero cruisers, took a blue marlin and daily limits of dorado and tuna. Reservations 800-646-2252; Hotel 011-52-114-10216.
EAST CAPE, MEXICO: EAST CAPE SPORT FISHING, Los Barriles, September 15, 2000, Gil Mendiaz. Hi Guys. Here's the latest report from Gil, who is down in Mexico nailing big tuna as I write this. The passing of the hurricane has left some mixed water conditions, with dirty green areas punctuated by cleaner water. One result of this has been the slowing of species taken via offshore trolling, including marlin and big dorado. However, the up side is that the storm stirred up many, many temperature breaks, which are leading to super action on tuna to 70 pounds and limits of chicken dorado.
Sea surface temperature maps show the degree of variation, with the dominating feature being a localized body of 90-92 degree bracketed on the west by much cooler water, as low as 82 degrees. This hotspot extends from Frailes where it is almost on the beach, northwest about 15-20 miles, and about 10 miles wide. The warm water has led to outstanding tuna fishing, with two bites currently on fire. The first is just a quarter mile off Frailes, a mixed school with smaller yellowfin near the surface and larger fish taken deep. Use a 6 oz. torpedo sinker with live bait or the yo-yo (iron) to get into the 70-pounders. Best yo-yo colors are chrome, blue & chrome, and red & chrome. The second bite is occurring 15 miles off Pta. Arena, and is associated with some cochis (juvenile grey bottlenose dolphins), which have been otherwise notably absent this season. Limits of small dorado are also being had at Los Meganos. The green water has cooled off the inshore fishing, which should rebound as things clear up.
Blue water is moving into the area, and very large schools of bait are being spotted. These conditions lead us to expect the marlin bite to return with a vengeance within the next week or so, if the weather holds. The bait is excellent right now, with plenty of large sardinas, baracutas, and some caballitos available. Reservations Tel 800-837-1556; Fax 805-493-5446.
EAST CAPE, MEXICO: HOTELS PALMAS DE CORTEZ, PLAYA DEL SOL, PUNTA COLORADA, East Cape, September 17, 2000, reported by Dave "Smokey" Manuel, East Cape Smokehouse. The impending arrival of Tropical Storm Miriam forced the East Cape fleet back out of the water Saturday, only 5 days after the same drill the previous weekend. A few boats ventured out for a partial day, but boat pulling ops. began in earnest around 10:00 a.m. at most resorts. The current speed and direction of the storm would indicate fishing boats most likely will return to work on Monday morning. So far the system has produced only rainfall, heavy at times with minor flooding, but no high winds. What little fishing there was took place on Friday, with good numbers again on smaller Dorado. Tuna fishing slowed considerably for the first time in about ten days, but sizes were still decent, many running in the 20's and 30's.
East Cape, September 14, 2000. Another week of good Tuna and Dorado numbers, but another week also of disappointing billfish action. Besides one charter that landed 2 Sailfish, 2 Striped Marlin and 1 Blue Marlin in the same day, billfishing is pretty quiet. Sailfish are still more frequent than either Blues or Stripers, but even Sailfish are being found mostly by chance and mostly swimming solo. Quite often during periods of good billfish action, especially on Sails and Stripers, a particularly active area will develop where charters will find good numbers of fish for days and sometimes weeks. Such is the case often at the ocho-ocho and other locales, but not now, it's slow folks. Luckily however, there has been plenty of Dorado and Tuna to catch, so very few anglers are complaining. Best spot for a consistent bite on quality size Tuna continues to be right in the middle of Bahia Los Frailes. This bite has been active since early in the previous week and it again produced good action nearly everyday this week. Charters are drift fishing over the bite with live Sardines, sometimes with weights, sometimes not and pulling out consistent sizes in the mid 20's to 40's and several in the 60's and 70's. A few Dorado are also coming from this same spot, but more Dorado action has been from farther South at Vinorama and Distillideras. Many of the charters fishing these spots caught as many Dorado as they liked this week and many also returned early after several hours of non-stop fishing. Sizes were certainly not anything to write home about, most Dorado are running 8-14 lbs, but an occasional bull was still found, a couple I saw mixed in with the hundreds of Dorado were near the 40 lb mark. I think we may see some improvement in Wahoo action soon. A few more than normal were brought in this week and several skippers reported bit off lines from what they think is Wahoo. The tail end of September was the best Wahoo fishing of the year last year, so perhaps we're in for a repeat. I think we'll see more boats rigging wire now for Wahoo and targeting specific areas known for good action, so time will tell. --Smokey Dave, EAST CAPE SMOKEHOUSE, 011-52-114-10294. Hotel reservations, 800-368-4334.
EAST CAPE, MEXICO: MARTIN VERDUGO'S BEACH RESORT, Los Barriles, September 15, 2000, Marisol George. Hola Gene, We have the boats out of the wather, we will put in on Sep 21-00 we have a group coming this day and they will be fishing Sep 22 and 23-00 I will send the fishing report on Sep 22-00. Reservations Tel 011-52-114-10054; martinv@lapaz.cromwell.com.mx.
LA PAZ FISHING REPORTS
ALL ARTICLES, REPORTS AND FISHING INFORMATION FOR LA PAZ
LA PAZ, MEXICO: JONATHAN ROLDAN'S ADVENTURE SERVICES, La Paz, September 13, 2000, Jonathan Roldan. OK. . OK. . it was kinda stinky a few days this week for us. What can I say? We needed the rain, OK? From that perspective, it's nice to have real green grass growing in the mountains and there's actually flowers coming out!
Anyway, got a little stormy since my last report to you. Cabo San Lucas got hammered, but as is typical in La Paz , the storm loses alot of it's bluster by the time it moves 100 miles north over the desert and ocean. It got a little uncomfortable and we kept our divers closer in than normal and lost two fishing days, but fortunately, we're in a bit of a lull. Right after Labor Day it gets quiet so we didn't have many divers or fishermen. It's like that every year, then picks up again right after.
Good thing too, because it seems like once the storms passed, it was biz as usual. That great tuna bite at the Las Arenas light house tapered off finally. Boy, that was the "honey hole" for the past month or so. The tuna we're getting now are off South Point at Cerralvo Island. I noted that some of the boat were also working the Dome with some success, but our boats have mostly found the 20-40 pound fish off south point. No big secret. Again, live bait is the way to go. As the sun comes up and the needlefish start to circle, a rubber core sinker helps get the sardines down to where the fish will chew and away from the needles. We still don't have a WFO on the dorado in the area. I don't know what that's all about. We've never really had a super dorado bite off Las Arenas this year even though conditions have looked excellent. Every now and again there's a nice jag of fish that pulls through and we get them for a day or two, then. . .nothing. . .Go figure. Still lots of sailfish, by the way in the same area as the tuna. This would be the year to hook a billfish it seems.
As for La Paz side, water was still a bit off color from the storms, but water temps themselves didn't seem affected. Punta Lobos on the East Side of Espiritu Santo Island has been ground zero for 3 weeks now on some "attitude" gorilla tuna up to 80 pounds. Don't know why they are there. It's very unusual to find finners there, but can't argue with hook ups. Do not. . .I repeat. . .DO NOT go there with anything less than 40 or 50 pound test. The fish have not been line shy and as much as I'm a big light tackle fan. . if you're not used to pulling on big tuna or have never pulled on anything bigger than a bonito or trout. . .you have no business being in the area with lighter string or tackle. These fish literally GROWL and you're only gonna get yourself disappointed and hurt some part of your tender anatomy. . .if you get my drift! Oh. . .and if you have a choice. . .green line still kicks butt over any other color.
Lastly, I know you're going to ask about the Bajo. Sorry. Haven't had any boats out there because of the conditions. However, prior to storms, water was relatively clear. Some BIGGER tuna there and billfish, but tough to hook. Tel 626-333-3355; Fax 626-333-0115; Pager 323-349-8111; Message Pager 877-310-7734; Riplipboy@aol.com.
LA PAZ, MEXICO: HOTEL LAS ARENAS, Punta Arena de la Ventana, September 19, 2000, Linda Glassman. The weather is hot and the fishing as predicted is even hotter...Monster tuna still in with small to medium schools of dorado underneath. Captain's Fidel, Buho, Daniel, Cholo, Román and Beto continue to wow the guests.... Captain Román, (nicknamed Romeo for his skill at wooing the large tuna) caught the largest this week at 95 pounds... We are offering a 4th night free from November -April this year. Call now to book your trip! More next week. Saludos, Linda. Reservations 888-644-7376.
More fishing reports and information for La Paz, Mexico, can be found in the Mexico Fishing News archives.
LORETO FISHING REPORTS
ALL ARTICLES, REPORTS AND FISHING INFORMATION FOR LORETO
LORETO, MEXICO: VILLAS DE LORETO, Loreto, September 15, 2000, Wendy Wilchynski. Dear Gene, Sept. is a bad month not for fish but for tourists! We don't have many that are fisher persons. There is a lot of squid but haven't heard much more than that. Sorry but if we hear anything we'll get in touch. Thanks, Wendy. Reservations Tel/Fax 011-52-113-50586.
LORETO, MEXICO: CHILI PUNTA FLEET, Loreto, September 19, 2000, John "Bubba" Parker and Fishmanmark. We had five good days of fishing with two days falling victim to weather. It is still on the warm side with a lot of humidity. I look for this to start changing in the next few weeks. We are still catching some very nice Dorado off of Punta Perico. A few are over forty pounds and once an a while a fifty plus one will sneak in. Sailfish are still here in good numbers and size. Bonita are off of Punta Lobos and are a lot of fun on light tackle. Roosters and Toro's are biting about five to ten miles north of San Bruno Area. Live bait, Squid and feathers are still working good. We are catching Squid just a mile or two from Loreto. This is still some of the best fishing we have had in years, so come on down and take part in it! Until next week, Tight lines. Tel 925-449-4554; Fax 925-456-2252.
LORETO, MEXICO: BAJA BIG FISH COMPANY, Loreto, September 18, 2000, Pam Bolles. Temperatures: The air has been cooler because of the storms that we've been having. On days when there is rain the highs go up only into the low to mid 80's (F) but on those days when there are clear skies and no rain in sight, they soar up past the century mark. The lows again depend on if there is rain or not. On rainy days, early morning lows are in the low 70's (F). The lows are in the high 70's to low 80's (F) on days when there is no rain.
Skies: I've been away in mainland Mexico for a couple of weeks but here's what has been happening in Loreto lately...Loreto has been receiving a lot of rain and storm activity. The desert is green as can be as a result and the fishing has been affected by it as well. We had a hurricane on Saturday (9/9) and it rained into Sunday (9/10). The skies cleared up again and remained so until Saturday (9/16) when we had a short lived but rough passing storm. Yesterday we experienced rain all day long with lightning and thunder. Power was out most of the day and as a result I couldn't post a report until now (I lost one monitor to a power surge so I'm very careful now). Today, Monday (9/18) the skies are cloudy and we'll be seeing rain for sure. The storm is moving very slowly right in our direction from La Paz. Its a tropical storm with lots of moisture and little wind, but we've pulled our boats out of the marina just in case. This is typical of September weather and is one reason that this is the slowest travel month of the year here (kids going back to school is the other).
Winds: Prevailing is from the South, very heavy right before the rains move in, otherwise light when no storm activity is nearby. Don't be surprised if you lose a day of fishing to a storm. Its that time of year again.
Seas: The seas have been calm within the confines of the islands but quite rough on the outside. With the rains and storms comes very rough water. You'll not want to be out there in a storm! During the days when there has been no weather (Wednesday 9/13 through Friday 9/15) the water had been very calm and fishable. There's lots of offcolor water out there. Temperatures are 80 - 84 (F) offshore and ~82 (F) inshore.
Offshore- Dorado: Before I left for the mainland of Mexico (my annual vacation), fishing was pretty good. The Loreto cup tournament was quite successful and there were some pretty decent numbers of Dorado landed and caught and released. Shortly afterwards, the fishing tapered off as the fish moved out of the area and were few and far between. For the first time in several months anglers were coming back skunked! Then we experienced a hurricane on Saturday (9/9) and it rained into Sunday (9/10). The rains flooded arroyos which sent debris into the sea. This floating stuff attracted Dorado and the fishing turned on again. Since that period the fishing has been decent, well above average for this time of year, but not the wide open bites we'd experienced in July. We will continue to have storms and floatsam will be sent into the sea that will attract Dorado. What this means is you will miss fishing days during stormy days but it will pay off on the days after. Pretty tricky when planning a short trip down here, but we can't control the weather.
The Dorado are biting on the usual...live bait both mackerel and sardines, trolled feathers and lures. They can be cast to when in schools holding under floating debris but are holding several feet under the water so use a weighted lure or let your baitfish swim down. The Dorado will be located anywhere there is floatsom. Your captain will steer the boat out to sea of esturaries and arroyo mouths off the peninsula rather than off the islands.
Offshore Billfish: Billfish are still out there mixed in with the dorado, but the sailfish are more plentiful than the marlin. They are offshore from Punta Lobos (East). Sails are weighing between 50-100 pounds and striped marlin are in the 150 pound range. They're mainly hitting trolled artificials (plastic trollng lures).
Yellowfin Tuna: None reported.
Bonita and Skipjack: There are several schools in the usual spots. Most notoriously about a mile off and extending to the South of Punta Lobos towards Punta Perico, where their schools gather year after year. Most anglers consider them a nuisance but they're a lot of fun on light tackle. If you're trolling through this area, expect to be hit by some of these fish. Reservations Tel/Fax 011-52-113-50448.
LORETO, MEXICO: EL FUERTE SPORT FISHING, Puerto Escondido, Ty Miller. Hola Amigos, As you all know, we have been closed from August 15th. We were scheduled to re-open on October 1st, however, we have heard many reports that the fishing is still great in Loreto so we are returning early! We will open doors again on the 18th of September. Friends have reported that the Sailfish and Dorado are still there in plenty of numbers. Our local neighbor friends fished last week for 3 days. They found Dorado and Marlin off of Punta Perico to Lobo and out 10-15 miles. We haven't been there so we will be letting you know next week what we find. Until then we will be braving the heat to get you your next fish report. Hasta Luego. Reservations Tel 714-775-6658; Fax: 714-755-3501; Loreto 011-52-113-30863.
SAN FELIPE FISHING REPORTS
ALL ARTICLES, REPORTS AND FISHING INFORMATION FOR SAN FELIPE
SAN FELIPE, MEXICO: JIG STOP TOURS, 6-day trips aboard the mothership, Captain Villegas, trip ending September 8, 2000, Larry Burson. In this trip from San Felipe , put together by Claudio Beltran of West Covina, they had a Bonanza bite on large Yellowtail! The ship went directly to the San Lorenzo area and found the Yellowtail on the South reef. They had solid action on bait and jigs! The circle of pangas, all hooked up together made quite a picture for Danny Jackson of Santa Ana, who was on board to do some professional video. Even Danny caught fish ! Using only iron he was constantly hooked up. The trip scored 494 Yellowtail, all 18 to 32 lbs. Norris Tapp of Irvine won the jackpot. All conditions were perfect. The seas were glassy calm. The skies had some cloud cover to keep the summer temperatures down. Live bait was available OK. Besides the Yellowtail, they boated some nice Cabrilla. The group scored 109 Cabrilla, 115 Pargo, 3 Sierra, 10 Dorado, 4 White Seabass, and a 32 lb Grouper. Reservations Tel 949-496-0960; 800-521-2281; Fax 949-496-1384.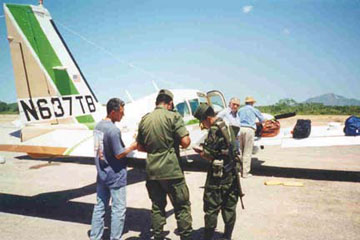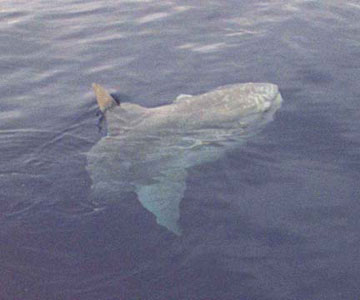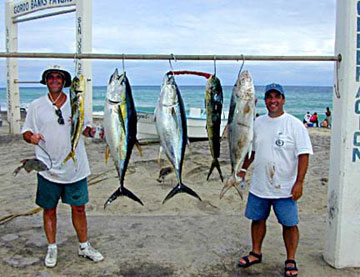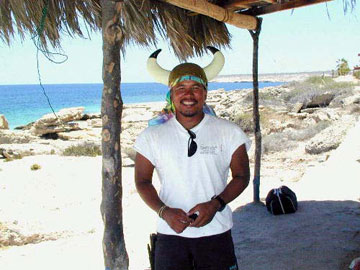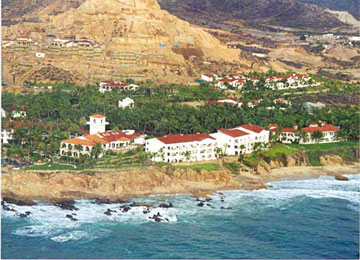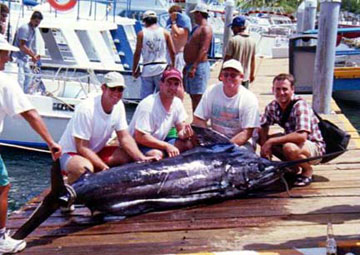 Baja coastal fishing reports and articles.
Ensenada fishing reports and articles.
Puerto Santo Tomas fishing reports and articles.
Erendira fishing reports and articles.
San Quintin fishing reports and articles.
Magdalena Bay fishing reports and articles.
Cabo San Lucas fishing reports and articles.
San Jose del Cabo (Los Cabos) fishing reports and articles.
East Cape fishing reports and articles.
La Paz fishing reports and articles.
Loreto fishing reports and articles.
Mulege fishing reports and articles.
Santa Rosalia fishing reports and articles.
Bahia de los Angeles (L.A. Bay) fishing reports and articles.
San Felipe fishing reports and articles.
Rocky Point (Puerto Penasco) fishing reports and articles.
San Carlos (Sonora) fishing reports and articles .
Mazatlan fishing reports and articles .
Puerto Vallarta fishing reports and articles.
Ixtapa Zihuatanejo fishing reports and articles.
Huatulco fishing reports and articles.
Cancun fishing reports and articles.
Mexico coastal fishing reports and articles.
Mexico Fishing Home Page < Mexico Fishing News Archives < Fishing Report