Every hour that passed it looked better and better. Also the fishing turned very good today. We had a fantastic group we call the Team Terminator Mosquito. These guys are so nice. Today we had 6 six anglers who caught 61 yellowfin tuna 12-14 pounds, 2 dorado 12 pounds, and 1 yellowtail. Most of the fish were caught trolling on triple, quadruple and even quintuple hookups, and also 5 fish on live bait. Today's bait was very big sardines. We fished at GPS 31.36 117.06, 32 miles out from Punta Banda, on a heading of 225 degrees from Marina Coral. The San Diego fleet was also fishing there. We found a lot of schools of tuna breaking at GPS 31.32 117.03. Amigo and Lily fished locally today and reported 3 yellowtail in the bay. Slow fishing today. I hope tomorrow they go outside and have a better day.
Ensenada, September 22, 2000. The Lily fished with 4 anglers at Estero Beach, Ensenada, catching 11 yellowtail 12-15 pounds, 12 calicos 4 pound, 8 sand bass to 5 pounds, and 1 halibut 12 pounds. All calico bass and sand bass and halibut located in from Marina Coral. Most of the fish hit live anchovies and cut sardines, also Scampis or plastic lures. Today the water was flat and calm inside the bay, water temperature 70 degrees. The Amigo fished with 2 anglers on a late trip, 9 a.m. to 4 p.m. at Todos Santos Island and three miles out.
They found a kelp paddy loaded with yellowtails to 12 pounds and yellowfin tunas, catching 18 yellowtail and 6 yellowfins. Also, nice bull calico bass at North Todos Santos Island on fly lined sardines, 6 beautiful calicos 6-8 pounds. David, the skipper reported nice color water at the island with water temperature 69.5 degrees.
Ensenada, September 21, 2000. The Tamara fished out of Ensenada Marina Coral with 3 anglers aboard on a local trip, reported 15 yellowtail 12-15 pounds, trolling in from Estero Beach, some trolling live sardines. Water temperature is 70 degrees, clean water, and a nice flat day. Other open party boats from Ensenada reported limits of yellowtail 22 miles from Punta Banda on a heading of 225 degrees. San Diego boats are also fishing that area. Water temperature is 69.5 degrees, nice blue water. Today the fish hit everything in the water. Bait was sardines and small anchoives. The Lily with 2 anglers aboard reported 2 halibut 15-18 pounds, near Marina Coral. Also 17 yellowtails trolling Rapala CD 14 dorado color, 6 long calico bass in from the Hotel Las Rosas. The yellowtail hit at noon at University Point.
ENSENADA, MEXICO: SERGIO'S ENSENADA SPORTFISHING CENTER, Ensenada, September 25, 2000, Sergio Susarrey, Reservations Tel 011-52-617-82185. The best catches of the season have happened during the second half of the month of September with great amounts of yellowfin tuna being taken from the nearby outer banks that is just from 10 to 25 miles past Todos Santos Island the tuna is coming with an average weight of 15 to 25 pounds and in some days the average catch per rod has been well over five tuna also fair amounts of big eye tuna in the 60 to 150 pound range have been taken by several anglers the last few days and to top things of fair to good catches of albacore, yellowtail, dorado and skipjack have also been taken. This current weekend (9/23 & 9/24) all boats that have departed from our marina have been scoring on the fish specially again on yellowfin if hurricanes continue to form down south in order to keep the hot water up north probably this good fishing can go well into November. The local fishing scenario has been really good this weekend, the local boats have been scoring big numbers of yellowtail in the 15 to 18 pound range along with large catches of bonito, barracuda and bass overall the fall fishing season it's having a great start it is not rare that the good quality of fishing can continue all the way down to December.
In other mainland Mexico and Baja fishing action this week:
SAN QUINTIN FISHING REPORTS
ALL ARTICLES, REPORTS AND FISHING INFORMATION FOR SAN QUINTIN
SAN QUINTIN, MEXICO: PEDRO'S PANGAS, San Quintin, September 23, 2000Pete Hillis, Reservations 888-568-2252. Weather has been great. No wind - calm seas. Air temperature in San Quintin has been low 70's in the morning and warming to the mid to high 80's in the afternoons. Water temperature is still around 68 degrees. Scott Ballard brought some friends from Huntington Beach this weekend to limit on yellowfin tuna to 15 lbs. and 1 yellowtail at 20 lbs. Fish were caught with Rapalas (blue mackerel and green mackerel patterns) and were caught 10 to 12 miles from the point on a 240 heading. Rock cod and sand bass fishing is good to excellent at San Ramon and the 240 spot.
MAGDALENA BAY FISHING REPORTS
ALL ARTICLES, REPORTS AND FISHING INFORMATION FOR MAGDALENA BAY
MAGDALENA BAY, MEXICO: BAJA ON THE FLY, San Carlos, September 23, 2000, Gary Graham, Reservations Tel 800-919-2252; Fax 760-746-7260. Temperatures: 82-degree high; Low 71. Water temperature: 77 degrees in the mangroves and 83.5 offshore. Cloudy with some wind in the afternoon. STRIPED MARLIN - Plenty of fish 6 - 14 miles on a heading of 210 to 270 degrees off the entrance. DORADO - The few boats fishing are reporting great fishing just a few miles offshore under anything floating. TUNA - A number of schools of smaller fish being seen as close a one mile Offshore. CORVINA - Good catches up in the esteros. SNOOK - Only a few smaller fish reported this week. YELLOWTAIL - Most of the fish caught this week were down deep, making it tough for the flyrodder. QUICK COMMENT - With the red-hot action a few miles offshore, most of the fishing has been focused on the marlin, dorado and tuna a few miles off the coast. Pink and white deceiver patterns continue to produce the best action for the dorado.
San Carlos, September 20, 2000. Temperatures: 86-degree high; Low 72. Water temperature: 77 degrees in the mangroves and 83.5 offshore. Cloudy with some wind in the afternoon. STRIPED MARLIN - Plenty of fish 6 - 14 miles out on a heading of 210 to 270 degrees off the entrance. DORADO - The few boats fishing are reporting great fishing just a few miles offshore. TUNA - A number of schools of smaller fish are being being seen. CORVINA - Good catches up in the esteros. SNOOK - Only a few smaller fish reported this week. YELLOWTAIL - Most of the fish caught this week were down deep, making it tough for the flyrodder. QUICK COMMENT - With the red-hot action a few miles offshore, most of the fishing has been focused on the marlin, dorado and tuna a few miles off the coast.
MAGDALENA BAY, MEXICO: MAG BAY TOURS, Punta Hughes, September 23, 2000, Brian Freitag, Reservations 800-599-8676. What's Biting: Dorado, Marlin - Offshore Halibut, Grouper - inshore Red Hot! Dorado & Marlin at the Thetis banks, and the 100 fathom contour. Surf: No surf report available. Weather: Days: 90-95 degrees F. Humidity: medium low. Nights: 72- 74 degrees F. Winds: Medium light, shifting directions Water temp (near shore) 76 degrees F.
CABO SAN LUCAS FISHING REPORTS
ALL ARTICLES, REPORTS AND FISHING INFORMATION FOR CABO SAN LUCAS
CABO SAN LUCAS, MEXICO: PICANTE FLEET, Cabo San Lucas, September 25, 2000, Sergio Cortes, Reservations Tel 011-52-114-32474; Fax 011-52-114-35969. Fish available: Blue, Black & Striped Marlin, Sailfish, Dorado, Tuna. Water Temperature: Approximately 84-86 F. Air temperature: hi 93 / low 77. Humidity: 79 % . Wind: 8-9 Knots per hr. Pacific; 7-8 Knots per hr. Sea of Cortes. Yesterday's Luckiest: "Picante" 40' Tollycraft. Captain: Juan Peralta. Angler: Brian Lowe. Production: 1 Blue Marlin 450 lbs., 1 Sailfish 80 lbs. (released), 6 Dorado 20-30 lbs. Hot Spots: 95 Spot ( Sea of Cortes ). Fleet Production (6 boats): 2 Blue Marlin, 1 Black Marlin, 4 Sailfish, 15 Dorado, 9 Tuna & 2 Wahoo. No major storms are affecting us at the moment. Marlin fishing has improved considerably since our storm last week, big blue and black marlin are here to stay. Small 10-15 lb. yellowfin tuna schools have been surrounding Cabo lately.
CABO SAN LUCAS, MEXICO: FLY HOOKER SPORT FISHING, Cabo San Lucas, September 25, 2000, Capt. George & Mary Landrum, Reservations Tel 011-52-117-01271; 011-52-114-87452. WEATHER: Weather has been quite nice all week. A little cooler than usual, due to the closeness of the storms going up the Sea of Cortez this past week. In the middle of the afternoons it has been that hot and muggy, but then breezes pick up and keep things cooled down for most of the afternoon and evening. Temperatures have remained in the high 80's and low 90's with humidity still running about 60-75%. But the breezes are keeping the sweat down. We had one storm since last week, this time it was Norman. Fortunately for us Norman hugged the West Coast of mainland Mexico and followed up the Sea of Cortez, and all we saw was some feeder band activity. Not sure what's going on now, yesterday and today the winds have been coming out of the north. Satellite photos show beautiful clear weather without a storm in sight. Are we finished for the year? Don't ever say things like that, because Mother Nature will prove you wrong.
WATER: Seas have been 2-4 feet. Water has been nice and flat in the morning, but in the afternoon as the wind picks up it has been getting a little choppy. Typical water for the Dorado. Water temperatures have remained pretty steady in the 84-86 range.
BAIT: No problems getting bait in the morning.
BILLFISH: Mostly Sailfish are being caught around the Dorado schools. There are still some nice size Striped Marlin being caught in the 150+ range. There have been a few Blues running around, but not in any great numbers.
DORADO: Now there are some numbers! Everyone coming in with Dorado flags. Mostly 10-25 LB size, which is great for the meat hunters looking to put some fish on the BBQ. Don't have to find anything floating this week, they are everywhere. When the Dorado are out there like this, it can be hard to catch anything else, since they are such voracious feeders. They will bite anything from your feathers to your Marlin lures.
YELLOWFIN: Some beautiful 100 lbers were caught up at Gordo Banks and south of Chileno. Some nice sizes too. Yesterday saw some up to 50 lbs, have heard reports of fish up to 150 lbs. Had a football size coming in the other day only to loose it to a big Blue. Wish that trailing hook was hanging out of that tuna's mouth!
WAHOO: A few flags flying, not too many. Can't wait to get the wire line out and see how that puppy does down here.
INSHORE: Small Roosterfish being caught on light tackle in the 3-7 lb range. Lots of fun, and of course the pangas are coming back with lots of Dorado also.
Notes: If you'll notice the byline, this is George's wife doing the fish report this week. Bear with me guys, he'll be back next week. He is still in Oklahoma, and if all goes well, he'll be back fishing soon. He did review it and changed a few things for me. Until next week, Tight Lines! Mary Landrum.
CABO SAN LUCAS, MEXICO: PISCES FLEET, Cabo San Lucas, September 21, 2000, Tracy Ehrenberg, Reservations Tel 011-52-114-31288; Fax 011-52-114-30588. BILLFISH: Fishing at Cabo San Lucas couldn't really be a lot better than it is at the moment. Lots of fish. Not only billfish, but also loads of small game too. We are starting to see an increase on blue marlin now and weights are gradually beginning to rise. The largest fish this week was a 500-lb black, taken aboard a private yacht at the start of the week. One of the most outstanding days I've seen in a while happened on September 21st, for Sau Wong and his son, from Cupertino, Ca., fishing aboard "Karina". These guys captured a 350 lb blue marlin, a 190 lb yellowfin tuna, along with two others, that weighed 50 and 70 lbs respectively and as if this wasn't enough they landed four dorado averaging 30 to 40 lbs. With such catches you'd expect them to be the last back to port, but they returned tired but happy around 1.00 pm. This same day, Rick Wright from Texas was out on the Rebecca and caught a 150 lb swordfish, which took a live bait and then went on to release a sailfish.
The Cabo San Lucas port was closed last Sunday, due to a nearby tropical storm, but we only received about an hour of rain and no wind at all, so no damage was sustained. Our season still isn't truly underway, which is reflected in the catch rates, but not one boat got skunked this week. Most boats are catching a variety of species, with sailfish surpassing all others in the billfish category. This week our anglers released fourteen, with double headers not uncommon -sizes are good at between 100 and 150 lbs. We also released a couple of average size striped marlin, as well as boating the blue and sword. Anglers are fishing both the Gordo Banks and at times Golden Gate, so it seems to be good everywhere. Once the season gets up to steam, starting next week, we'll see a big increase on catch rates, due to the greater number of vessels fishing.
OTHER SPECIES:The waters of Cabo were thick with dorado this past week, boats caught on a daily basis, with catches varying on where the captains chose to fish, from one to twenty-seven in a day; which was a lot of fun for anglers with spinning tackle. Weights were from 20 to 40 lbs, with lures and bait working equally well - though they are so hungry right now, practically anything will work. Yellowfin tuna catches were up this week, with the largest being those on Karina, mentioned above. Other boats did catch up to a half dozen, but sizes were from 20 to 60 lbs. Tuna are still not abundant, but the outlook is for an increase as we get into October. Wahoo catches were also up this week, with "La Brisa" catching on four consecutive days. Weights are improving, now up to 60 lbs, with the average being around 40.
LOCATION:Starting out at Faro Viejo followed by, El Arco, Pozo De Cota and closing the week at Punta Gorda. WEATHER CONDITONS: Rain on Sunday, seas dead calm, but now turning a little choppy, skies clear, weather hot, in the 90's, but cooler than most previous Septembers. AVERAGE WATER TEMP: 86 F. BEST LURES: Bait for sailfish, otherwise take your pick.
CABO SAN LUCAS, MEXICO: REEL EASY SPORTFISHING, Cabo San Lucas, September 25, 2000, Mike & Renee Hebert, Reservations/Fax 011-52-114-33579. Hola Gene, A repeat of the previous week for the El Chilito and its anglers. The port was closed due to weather on Sunday and not so good weather in the AM on Monday. Captain Alvaro Gastelum and Mate Tony Winkler reported four outings for the week aboard the El Chilito, for a total number of fourteen fish. Ten Dorado ( averaging 15 to 20 pounds, Two Sailfish ( 80 pounds - released), One Blue Marlin ( 180 pounds - tagged & released) and One Black Marlin (350 pounds). The Black was the first for the year for the El Chilito. Another nice Blue, (estimated 500 pounds) was hooked but the Blue had other plans than being tagged. All billfish action for the week was on the Cortez side with the Black taking live bait, the Blue and Sails taking lures and Dorado taking both lures and live bait. Outside temperatures by mid week were in the mid to high 90's with water temperatures ranging from 84 to 86 degrees.
CABO SAN LUCAS, MEXICO: HOTEL SOLMAR SUITES, Cabo San Lucas, September 22, 2000, Renee Santa Cruz, Reservations Tel 800-344-3349. Home freezers will be groaning this week under the weight of dorado filets brought back by anglers fishing at Cabo San Lucas, including those on charter boats of the Solmar Sportfishing Fleet, and who caught a total of 524 of the seafood delicacy known in U.S. restaurants as mahi mahi.
As the effect of tropical depressions to the south of Cabo subsided, the dorado came out of the closet and showed in great numbers, especially 20 to 30 miles out from an area between El Arco and the Old Lighthouse on the Pacific side. The distance to the fishing holes limited the size of boats traveling there, at least in the Solmar fleet, to 31' and up, according to fleet manager Rene Santa Cruz.
Many boats, however, opted to fish closer in, finding good spots a few miles south of the Arch, and up to Gordo Banks on the Cortez side. One of those was John Camov, Mission, TX, fishing on the 38' Bertram Solmar VI 8 miles off White Hills and Playa Solmar. Camov caught a 200 pound blue marlin, 1 striped marlin, 4 dorado, and a suntan in the 100 degree heat.
Even closer to shore was Frank McClain, Weaverville, CA, who took 21 dorado one mile offshore at Migrino on the 34' Luhrs Solmar VII; it was his first salt water fishing experience, and he used both live bait and lures. McClain insisted that the fish were begging him to throw a hook to them. On a second trip, McClain reported his catch as one black marlin and 22 dorado; the black was released and no weight was recorded.
Andy Anderson, Detroit, MI, found his nirvana 10 miles off the Old Lighthouse, fishing on the 26' Galeon and scoring with 2 blue marlin using live bait, which he released. Peter Schust, Phoenix, AZ, checked in with a 520 pound black marlin, taken on the Dulce Vida on Gordo Banks, using live bait.
With 85 degree water surface temperature continuing to prevail, the Solmar catch for the period included 524 dorado, 2 black marlin, 8 blue marlin, 8 striped marlin, 4 sailfish, 14 yellowfin tuna, and 7 wahoo.
CABO SAN LUCAS, MEXICO: GAVIOTA FLEET, Cabo San Lucas, September 22, 2000, Larry Edwards, Cortez Yacht Charters, Reservations 619-469-4255. According to Leon Sanchez, Gaviota's dockside manager, the action continues to be red-hot on the Pacific side and especially for that people pleaser fish, the dorado. Also, the blue marlin action has increased, with a couple of larger fish being taken and several lost. Largest fish for the week was a 520-pound black marlin, taken by angler Peter Schust, Phoenix, AZ, fishing aboard the "Dulce Vida". Another respectable fish, a 320-pound blue marlin, was taken by angler Paul Bowling, San Antonio, TX, fishing aboard the "Gaviota XI". The black was taken on live bait and the blue taken on a lure. Overall counts reflected 9 blue marlin, 1 black marlin, 2 sailfish, 13 yellowfin tuna (to 70 pounds) and 129 dorado (most in the 15-20 pound class). Climate: today looked like the possibility of rain, but overall, it's been good weather, hot and humid, for most of the week. Sea Conditions: 1 port closure day early in the week, due to tropical depression "Miriam". Remainder of the week was OK, temps are in the 80s and mostly calm seas. Best fishing area: Cristobal Ridge to the Golden Gate to Jaime Bank. All of the better fishing is on the Pacific side. Best Lure/Bait: the two largest fish for the week were taken on live bait and on black and green/white mackerel colors on the blue. Most of the blues were taken on artificials with sails and stripers mostly on live bait. Dorado were eager on everything.
CABO SAN LUCAS, MEXICO: JEFF KLASSEN SPORT FISHING, Cabo San Lucas, September 27, 2000 Jeff Klassen, Reservations Tel 360-402-3474. Hola Hola Hola! What a great mood I'm in these days, with lots going on. It seems that someone likes me at Sport Fishing Magazine (only the most popular fishing mag on the planet), as apparently I'll be making a cameo appearance in the nov/dec issue. I've been sworn to secrecy, just like the contestants of "Survivor not to divulge what it's about. All I can tell you is that it will be on newsstands the 3rd week of October, so all JKSF supporters out there (Mom, Dad, Nana and Uncle Todd), make sure you rush out and get a copy. The big news though is that I received some interest from a couple of publishers for my book, which is nearing completion. Apparently it'll be 6 months before you'll see it available though (with another 6 months before the movie comes out). I'll send out a spam mail when I know more about it.
What a great time it has been of late. There are numbers of just about all the popular species, especially offshore. The water temps have been between 84 and 86 degrees just about everywhere, meaning that there are fish just about everywhere too. The big marlin are showing up now with 400 to 500 pounders being legitimately targeted as we speak, although 200 pounders are more common. It should only get better as the weeks move along now. Boats are heading out in both directions, towards the Gorda Banks on the gulf-side (more billfish, but smaller) and the Golden Gate on the Pacific-side (larger fish, but fewer catches). A lot of boats aren't making it to either of these banks though as they've been sidetracked, catching fish on the way there. Just about all lure colors are working also, with a slight edge probably going towards the Mean Joe Green or green/black. Nobody I know of has been doing much live-bait fishing yet, despite the numbers of accessible bonito around now. There are heaps of sailfish around still and they can be seen just about anywhere from a mile out and beyond. We had 2 boats out this week with triple hook-ups. Unfortunately, one of them had only one novice angler aboard and they landed only one, while the other landed two of the three. Live bait is definitely the choice method for sails these days, but I believe it to be because a lot of anglers use lures too large for sails. Despite their size, I've always done better with smaller, more streamlined lures. Oh well, what do I know for sure?
The sailfish have all been nice ones too at well over 100 pounds being an average one. I heard of one being weighed this week with the IGFA formula at 166 pounds. Whoa doggeee! Wouldn't that be a kick in the pants. A few striped marlin, probably stragglers, were also picked up along the gulf side near San Jose. Tuna bites are somewhat sporadic at the moment but when they are found, they are nice fish, with most being from 40 to 80 pounds. Some fish have even approached 150 pounds. Straight out 8 to 15 miles and again about the same distance out in front of Santa Maria are 2 location possibilities. Wahoo catches have gone up as well with more showing up each day. Good solid Dorado bites appear to continue as we roll along also. In fact, this may be the best bite we've had in years. The schools this year seem to be larger and with larger fish in them. There are heaps of 20 to 25 pounders with boats getting anywhere between 8 and 25 of them in an outing. Straight out from Lands End, at least 12 to 15 miles out, then north towards Jaime Banks you'll find some bigger Dorado, up to 50 pounds or so. In closer to shore the pangas are getting smaller specimens, but a seemingly endless supply of them. Bill Perkett, from Marietta, Georgia, was fly-fishing our Tio Luis 2 and nailed one dodo after another on blue poppers. I haven't heard much about any sierra yet. It's probably too early.
Not a lot of people are surf fishing, even though there are fish to be had. The sandy beaches tend to be holding pompano and barred pargo. Use cut squid strips from the large squid filets with a 3 ounce bottom rig. Avoid shrimp as they attract a lot of puffers and small non-descript grunts and the like. Sand fleas also work for the pompano and regular sand crabs for barred pargo, especially late in the day or at night. Watch out for turtles now if night fishing. Around the rocks you should be casting plastics and poppers for hawkfish and assorted cabrillas and groupers. I'll be down a couple of weeks and will let you know what I find. Guess what folks, that's the comment for this week. I am outa here!
SAN JOSE DEL CABO (LOS CABOS) FISHING REPORTS
ALL ARTICLES, REPORTS AND FISHING INFORMATION FOR SAN JOSE DEL CABO
SAN JOSE DEL CABO, MEXICO: GORDO BANKS PANGAS, San Jose del Cabo, September 23, 2000, Eric Brictson, Reservations 800-408-1199; Fax 619-447-4098; 011-52-114-21147. This past week we finally had a break from the series of tropical storms that have been moving through this area, although tropical storm Norman did look like it might pose a threat, but it stayed on the mainland side of Mexico and the only affect felt in Southern Baja was a couple days of scattered cloud cover. Crowds of anglers are becoming more numerous now as we near the month of October, when things will really start to get crazy.
The fishing action now continues to be very consistent for yellowfin tuna and dorado along with a combination of billfish. The most productive fishing grounds have been between the Gordo Banks and Iman. Water temperature is still averaging around 85 degrees and the clarity is excellent, blue to within about one half mile from shore. Panga anglers have had outstanding catches of yellowfin tuna from both the Inner and Outer Gordo Banks, the fish are averaging 50 to 55 pounds and on the better days it was no problem to catch 8 or 10 of them. They were hitting on both chunk bait and live chihuil, on one day the tuna would prefer the live bait and then on the next day drifting with chunk bait would be the hot technique. Some anglers did also has success fishing with fresh dead squid that they brought with them from the States.
No monster tuna were reported this week by the panga fleet, but no one seemed to be complaining about the 50 pound fish that were abundant. In recent days the baitfish "chihuil" were becoming a bit easier and there were also plenty of skipjack biting early in the day to be used for both chunk bait or trolling whole for marlin. Dorado continued to be thick, especially in the areas to the north of Punta Gorda, most of these fish were 10 to 15 pounds with the exceptional one weighing up to 25 pounds. Striking on everything from cut bait to a wide variety of trolling lures. The commercial fleet has been seriously fishing them, actually to the point that the fish buyers no longer wanted to buy them. It always hurts to see so many of the juvenile female fish being harvested.
Great news for anglers at San Jose del Cabo that wahoo are starting to show up, still not very abundant but every day they are being hooked and landed in the area of the Gordo Banks and north to Iman. The fish that are being landed were weighing in the 25 to 45 pound range and hit on trolled Marauders, skirted lead heads and chihuil. We expect these fish to become more active when the water temperature starts to drop a bit with the cooler fall weather. Billfish activity picked up around the Gordo Banks this past week and the variety was world class, with sailfish, striped, blue and black marlin all being accounted for. Largest fish reported was a 550 pound black marlin and many other fish in the 250 to 350 pound range. One estimated 350 pound blue marlin was released from the panga " Alicia " out of La Playita, hopefully this will help set a good example for the other pangeros out of La Playita who do not have a tradition for releasing the billfish. The marlin are hitting more consistently on the larger trolled baits but also have been taken on lures around the perimeter of the Banks.
EAST CAPE FISHING REPORTS
ALL ARTICLES, REPORTS AND FISHING INFORMATION FOR EAST CAPE
EAST CAPE, MEXICO: BAJA ON THE FLY, Buena Vista, September 23, 2000, Gary Graham, Reservations Tel 800-919-2252; Fax 760-746-7260. TEMPERATURES: High 90 with a low of 78 the humidity is at a constant 68%. BLUE MARLIN - If you wanted a shot at a blue now is the time. STRIPED MARLIN - Only a few in the neighborhood. YELLOWFIN TUNA - Cabo Los Frailles is still the place to be. DORADO - Good catches of smaller fish throughout the East Cape, with the best catches being taken below Cabo Pulmo and Cabo Los Frailles. SAILFISH - Still the best bet for those seeking billfish. ROOSTERFISH - Punta Colorado and Punta Arena are the hot spots at the moment for roosters. JACK CREVALLE - Punta Colorado producing good catches. BARRILLETE OR MEXICAN SKIPJACK - Few reported this week. PARGO AND CABRILLA - Few fish caught this week. OFFSHORE: After the inclement weather experienced last week, the fishing has once again heated up. There have been some excellent catches of yellowfin tuna and dorado. Plenty of blue marlin and sailfish are coming up to the teasers. Only a few striped marlin have been seen or caught. Quite a few wahoo reported off Cabo Los Frailles at the south end of the East Cape fishing area . INSHORE: Producing some good catches, with roosters being the most predominant catch BEACH: At Punta Colorado, the beaches back toward La Ribera have produced some excellent action for jack crevalle and rooster fish. QUICK COMMENT: Johnny Montgomery, Albuquerque, New Mexico came close to landing that ellusive billfish he has been after for a long time. With multiple shots and numerous hookups, it was just not to be. Broken hooks and fish coming unbuttoned plagued Johnny in his quest for a billfish on the fly. The good news was that all those flies he tied worked like gangbusters. His Tequila Sunrise was the hot fly for the dorado and in the billfish department, the pink and white and purple, black and blue tandem deceiver produced numerous takes.
Buena Vista, September 20, 2000. TEMPERATURES: High 90 with a low of 77, the humidity is at a constant 63%. BLUE MARLIN - Action starting to heat up. STRIPED MARLIN - Just a few reported. YELLOWFIN TUNA - The best place to be is south off Cabo Los Frailles. DORADO - Good catches throughout the East Cape, with the best catches being taken around Cabo Pulmo and Cabo Los Frailles. SAILFISH - Are still the best bet for those seeking billfish. ROOSTERFISH - Most of the focus has been offshore. JACK CREVALLE - Few reported because of difficult fishing conditions from the beach. BARRILLETE OR MEXICAN SKIPJACK - None reported this week. PARGO AND CABRILLA - Only a few caught this week. OFFSHORE: After the rain on Saturday, the weather has come back to normal. The tuna have provided the best fishing with the smaller dorado coming in second. INSHORE: Off color water gave way to cleaner water this week and the sardina are showing again near La Ribera. BEACH: Wind waves have subsided and the beach is looking better by the day. QUICK COMMENT - As expected, the fishing picked right back up after the storm on Saturday. About the only thing the storm produced was some much-needed rain. Johnny Montgomery, a fly-fishing fanatic dentist from Albuquerque, New Mexico, spent all summer tying up a lot of new flies and had the best action on his Tequila Sunrise. It's a flashy orange and yellow creation that the dorado wouldn't leave alone. We were going to write that, "Johnny drilled the dorado," but wisely decided against it.
EAST CAPE, MEXICO: EL CARDONAL'S HIDEAWAY, El Cardonal, September 23, 2000, Eddy, Reservations 011-52-114-10040. The day before and after the big rain last week, 3 hours of fishing in front of the hotel: 16 tunas, 8 dorados, in rough seas. From shore, small cabrillas on fly yesterday at dusk with calm seas.
EAST CAPE, MEXICO: RANCHO BUENA VISTA, Buena Vista, September 23, 2000, Tamara Moyeous, Reservations 800-258-8200. Hi Gene: A big group from Texas was here this week. They caught a total of 145 fish. Two stripers, 1 blue marline, 4 sailfish, 72 dorado, 63 tuna and 3 wahoo. The big story was Dave Campbell from Granbury, Texas who caught a 375# blue marlin using 60# test. Daryl McElwrath from Weatherford, TX brought in a 45# tuna using live bait. John Lovrin from California caught a 45# wahoo on 40# test. That's all for this week, thanks for the continued support of RBV!!!
EAST CAPE, MEXICO: BUENA VISTA BEACH RESORT, Buena Vista, September 23, 2000, Axel Valdez, Reservations 800-752-3555. Boats out: 33. Weather Temperature: High 80´s-Low 100´s. Water Temperature: Inshore 79°- 85°. Fishing results (kept/released): Blue Marlin 0/0; Striped Marlin 0/0; Sailfish 1/15; Dorado 259/39; Shark 0/0; Tuna 84/0; Wahoo 0/0; Roosterfish 0/0; Amberjack 3/0; Trumpet fish 0/0; Skip Jack 1/11;Bass/Grouper 0/0; Needlefish 0/3. Water Temperature: Normal water temperature for the summer, averaging 83 degrees. Also the rain has helped to bring floating things into the ocean, helping create a living cycle, specially where you find the dorados. Weather Temperature: Up in the 90´s, sometimes reaching the 100´s still the nice breeze helps cool the days off. Also if you add the nice water temperature and the nice weather temperature, you will find yourself with excellent scuba diving or snorkeling atmosphere.
Fishing Spots and Distance: . Early in the week our fleet mainly was going south, all the way to Frailes, specially for the nice tuna (30-50 lbs range), very close to shore. Later in the week the boats started to split between South and North, this due to the exceptional billfish and dorado action going on by Punta Pescadero all the way to El Cardonal, also very close to shore. A lot of sails were spotted and some blue marlin also in the area. Successful lures: Chivato (orange/yellow), Purpuras (purple/black), green/black and they are also trying the petrolero (black/orange). Best pick of the week for dorado, small lures green/black. Bait Used: Sardine is what is bringing the tuna and dorado up to bite, but our captains are also getting a lot of the caballito and barracuta because of the sails in the area, sometime being able to bait the big blues.
Highlights of the Week: The tuna action going on in Los Frailes bay, the size of the tuna increased over the past weeks, with very nice catches all around, even if the numbers were down from last week, the quality of fish was a lot better.. Also it seems that the billfish actions is back on track, and if we continue like it, it won't be long to became better than last year's numbers. Fishing for dorado increased to 9 per boat during this week. Also the sailfish catch this week was almost one per boat. There were twice as many boats out this week, but that didn't affect the catch per boat.
EAST CAPE, MEXICO: RANCHO LEONERO, September 23, 2000, Bahia de Palmas, John Ireland and Roy Baldwin, Reservations 800-646-2252; Hotel 011-52-114-10216. Typical September conditions prevail, with daytime highs in the mid 90's, evening lows in the mid 70's, calm seas with water temp from 85 to 88 deg. The best tuna bite ever continues on, with limits of fish averaging 35-40 lbs (with many fish taken over 50 lbs) within 2 miles of shore at the same spot off La Ribera (sorry if this sounds like a broken record), taking mostly live sardinas. The dorado bite continues, with schools of fish averaging 15-20 lbs spread all over the bay, with some larger fish to 40 lbs outside mixed in with the billfish, taking live sardinas, Krocodiles and green/black marlin lures. The sailfish bite remains hot, with a number of multiple hookups this week, with blue marlin to 375 lbs also taken this week, located about 4-6 miles straight out, with green/black or purple/black trolled lures working best. The wahoo bite has been steady for several weeks now, with with fish averaging 30 lbs taking Rapalas, Marauders and dark colored trolled lures. Lots of sierra inshore, taking live bait and hoochies. Bill Klotz, of Wilomar, CA, while fishing 3 days on Leonero cruisers, took a 375lb blue marlin and daily limits of dorado and tuna.
EAST CAPE, MEXICO: EAST CAPE SPORT FISHING, Los Barriles, September 26, 2000, Dave Dixon and Gil Mendiaz, Reservations 800-837-1556; Fax 805-493-5446. Hi. Here's the latest from Gil Mendiaz. We experienced some rain over the last week, but otherwise conditions were good. The big game bite remains largely unchanged, with relatively slow going on billfish and big bull dorado. The tuna remains the order of the day, with the tuna hole at Frailes STILL giving up 50-80 pound fish regularly. Sea surface temperatures show 88-90 degree water throughout the region, with some breaks to 86 degrees holding near shore. This no doubt is bringing through the bait that is holding the tuna in this spot. There are a lot of boats working this area, with many fish being taken and even more break-offs. Again, bigger fish are being taken right off the bottom, so don't forget to bring your plomo (lead) and yo-yos (iron). The warmer water has revived the inshore fishing, with skipper Hector aboard the Petunia reporting as many as nine species being taken in one day.
Steve West from Lanning Metals gave us the scoop on the 7th Annual Lanning Metals Blue Water Shootout. The tournament fishing focused on the tuna, with the team of Paul Houghtaling, Gary Minnick, and Dirk Melin fished three days aboard El Dorado and took the "gold" with fish of 50, 55, and 58 pounds. Numerous larger fish, estimated to 75-lbs, were reported broken off on 20# test. "This is the best year we have had down here and we have had 6 great ones to remember," reports West. "There were a lot of boats at Frailes, but there were a lot of feeding tuna to keep us busy. Memo from East Cape Sportfishing is the man! He took care of everything we needed for the tournament and had the boats, bait, and equipment completely organized. Hotel Los Barriles is just right for our group of (24) and the new barbeques they have for visiting clients are great! When we're there, it's our place."
Not fishing in the tournament were Michael May and Bruce Waters of Thousand Oaks, CA. Reports May: "The 40 pound tuna bite was really solid. We had more than our fill. We also got a sail, a rooster and a wahoo (nice one, about 55 pounds. Caught on purple and black marauder). Not too bad. Weather was hot, but nice. Boats were great." Colin Dowling of Cairns, Australia and Bruce Kavin of Huntington Beach, CA cleaned up on the tuna, with a total of 21 fish of 50+ pounds taken over three days of fishing on the Alma Rosa III. They also picked off a sailfish (released), two dorado, a 20-lb. amberjack, 15-lb. pargo, and (!) a 45-lb. cabrilla. Said Dowling: "I make a trip to the East Cape every year. Cairns has great fishing, but the East Cape offers more in terms of number and variety of fish. Definitely worth coming half-way around the world for."
EAST CAPE, MEXICO: HOTELS PALMAS DE CORTEZ, PLAYA DEL SOL, PUNTA COLORADA, East Cape, September 21, 2000, reported by Dave "Smokey" Manuel, East Cape Smokehouse, Hotel Reservations, 800-368-4334.. This report will be brief. The excellent Dorado fishing has filled up every nook and cranny of the Smokehouse with fish for processing. Smokey has work to do!
Finally some billfish flags! Wednesday and Thursday were the best two days for Sailfish and Blue Marlin in many weeks. Many of the charters targeting billfish had multiples of both. Most of the action was on Sails in an area 15 to 20 miles off Punta Colorada and the Lighthouse, hitting mostly live Caballitos and a few on trolled lures. Tuna action stayed relatively quiet, with a few bites popping up off the Cabo Pulmo area, but no large numbers. A few of the Tuna brought in were up in the 60 lb class. Lots and lots of Dorado, almost too many to count. Action was best South of Los Frailes at Vinorama down to Distillideras on live Sardines. Very few topped the 15 lb mark, so they're small, but there is plenty of action.
LA PAZ FISHING REPORTS
ALL ARTICLES, REPORTS AND FISHING INFORMATION FOR LA PAZ
LA PAZ, MEXICO: JONATHAN ROLDAN'S ADVENTURE SERVICES, La Paz, September 27, 2000, Jonathan Roldan, Tel 626-333-3355; Fax 626-333-0115; Pager 323-349-8111; Message Pager 877-310-7734. Well, I think maybe the seasons are finally changing a tad, but who knows? Maybe it's just a function of another funky season. Bottom line... fish are still biting and that's all we need to know, right? There's definitely a bit of wind in the afternoons, but by then most of my guys (and gals!) have had about all the fish they wanted by then. That tuna bite off Cerralvo/Las Arenas seems to have spread out a little bit with fish being taken in a pretty wide arc from south Cerralvo Island to the Arenas light house, then south in front of Las Arenas Hotel and into Muertos Bay. Fish are tough 20-40 pound yellowfin with occasionally a bigger slugger mixed in. Additionally, there's dorado here and there. No real great concentrations. Some boat might find a pod of them or get the solitary strike. Don't know where the dorado parked themselves this year. I think most of them ended up north of La Paz, too far for the Arenas fleets . Rather than drag it all out, here's a few excerpts from a few of my recent clients. Nothing like on-the-spot reports. . .
Here's my amigo, Doug Schwartz, from Redondo Beach who brought his lady down for her first shot. .
". . .Las Arenas was fine. 4 dorado and 3 25-30kg tuna. Only lost one when we had three simultaneous hookups, and when my girlfriend put the reel in gear, the line broke. Some bonito and needlefish also which we threw back. Had to buy another ice chest in La Paz to bring it back."
This is from another amigo, Todd Rudaitis from Tustin. . .I'm stoked that he got to pull his flyrod out. . .
"Just got back last night after a good trip. First of all, I'd like to thank you for the great arrangements and recommendations. Everything went just as promised.
We really lucked out with the weather! It had cleared on Monday, we arrived Tuesday to sunny skies and clear water. We fished Thursday with a good skipper(I thought) named "Victor" on a panga named "Lola". I'm not sure of the name of the place we fished first(about 30-40 minutes down and tight to the coast), but it was good for plenty of yellowfin up to 35lb.(for me) and some small dodos. One guy caught 3 yellowfin that were 45lb plus. We also had the usual mix of skippies and needles, but not a nuisance. We then finished the day in front of the Las Arenas Hotel for more of the same.
Friday the wind was picking up (storm down off of Cabo), but still managed to fish the same locations with good results. By 11:00 the wind was pumping!....but I did manage to get ONE, just one, cast with flyrod (I had to try)....but that's all it took to hook a good size dorado that had followed another caught fish (on bait)to the boat! One cast, one fish....unfortunatly it spit the hook a few minutes into the fight.....!#$%*.
Anyway, a good time had by all, with plenty of fish in the freezer."
That pretty much says it all, I'd say. La Paz side, I didn't have any boats out that way this week, but there's (again) still a nice tuna bite of bigger fish supposedly off Roca Ballena on the east side and about midway up the west side of Espiritu Santo Island.
La Paz, September 27, 2000. Sorry this is late, but had computer glitches and online problems at the same time.
We lost one day of fishing this past week due to a "little weather pattern" that drifted our way over La Paz, but that was Sunday and by Monday we were back up to turbo without missing a beat. Fortunately, Sunday was slow for us and I didn't have any clients booked that day except for 4 guys who had a little too much fun on Saturday night at "Las Veritas" and a few other places and were more than happy to sit the day out and sleep it off.
I don't know if some people are getting tired of it, but I think maybe they are. Except for that little 4 week tour we had of Muertos Bay back in the beginning of summer for tonnage of little tuna, this has got to go down as the "Season of the Toad." I simply can't remember when we've had so many quality yellowfin tuna. Normally, we can be counted on for lot of the nice 10-20 pounders. Everyone has fun. Everyone puts fish in the chest. No one gets hurt, humiliated or embarrassed. However, this year. . .Holy Criminy. . ..the fish have started at 30 and gone, 40, 50, 60 and into the 80 and 90 pound class. There were whole chunks of months when I didn't even SEE a tuna smaller than 40 pounds in anyone's fish box! Mean fish with attitudes too! These fish bent rods, backs and tweaked the patience level of alot of anglers this year. If the overall numbers were down, it wasn't because we weren't getting bit. More likely we did get bit, but the guy would fight the fish for an hour or two and farm it then repeat the process several more times and by then, the day was over. Goose egg. . .shutout. . .butt kick! Hey, I saw it happen to some pretty darned good anglers too!
Right now, there are big tuna off both Cerralvo AND Espiritu Santo Island. Got no idea about the Bajo (being honest) since none of our boats are going there, but there are 90 pounders off the East side of Espiritu Santo Island and for you folks headed to Las Arenas, the Rock Highway off the south end of Cerralvo is holding fish and another school has returned to the honey hole right in front of the Las Arenas light house. They are the "smaller" variety in the 40-60 pound class. Ouch! I'll admit it. . .much as I hate to . . ..OK, bring the two-speeds. You don't need your 50W Internationals, guys, but your hot rod 12's, 16's and 20's would do nicely with 40 pound test. Same for your Shimano 20's and 30's. A little underwrap of Spectra wouldn't hurt either because there are definitely bigger fish in the zone as well as a good number of blue and black marlin and an incredible number of sailfish. Right now, if you've always wanted a billfish, it's as good as anytime to try your hand. Give us 2 days and you've got about a 60 percent chance of getting one right now. Catch and release only, if you don't mind, but we've had some days when our boats were hooking and releasing 2-4 per day that they were getting "pesky." Actually had a guy complain to me about that several days ago (as if I could do something about it!). He got his first one of his life. . .then his second. . .then his third. Same the next day. Wasn't even trying for them anymore. Wanted meat for the cooler. He actually wanted to know if I could do something about the sailfish. Uh. . .gosh, sir. . .wish everyone could be so lucky, but I'll do what I can, OK?
LA PAZ, MEXICO: HOTEL LAS ARENAS, Punta Arena de la Ventana, September 26, 2000, Linda Glassman-Davis, Reservations 888-644-7376. The fishing continues to be outstanding for small to medium size dorado and yellowfin. Large sailfish however and marlin abound. 70 Dorado- largest 38 pounds. 65 Yellowfin-largest 49 pounds. 2 sailfish-largest 99 pounds. Many stripers seen in the area, no landings. Don't forget to book now with you fouth night free for November and December. Last year our largest wahoo and yellowfin were caught in November!!! Saludos.
LORETO FISHING REPORTS
ALL ARTICLES, REPORTS AND FISHING INFORMATION FOR LORETO
LORETO, MEXICO: VILLAS DE LORETO, Loreto, September 23, 2000, Wendy Wilchynski, Reservations Tel/Fax 011-52-113-50586. Dear Gene, We just had some fishermen here and they had a great time even though they were stuck in a storm. The fishing is still great and I saw some good size dorado come in today. Keep up the good work! Bye for now, Wendy!
LORETO, MEXICO: CHILI PUNTA FLEET, Loreto, September 25, 2000, John "Bubba" Parker and Fishmanmark, Tel 925-449-4554; Fax 925-456-2252. The weather has started to cool a little with temps in the high 80's to low 90's but the humidity is still here. We had three days of wind from the West but you still could fish in close, the rest of the time was great! Dorado are still here folks. If you are here you can catch them at Punta Perico and Punta Pulpito. A good average would be 25 to 35 pounds. Live bait is still the best bet, but squid and feathers work also. Limits are not a problem with many Dorado being released. Sailfish are still at and around Punta Perico and are in the 80 to 110 pound range. We are seeing a lot more Rooster fish up north of the San Bruno area with the size now up to 20 to 25 pounds and a lot of smaller ones are also hanging out. There are some large Pargo hanging out up there as well. A couple of Yellow Fin Tuna showed up about 6 miles east of Punta Perico in the 20 to 25 pound range. I have heard of a couple of Yellowtail being spotted but can't confirm it. Until next week Tight Lines and come on down and go fishing with us or anybody. The fishing has been about as good as it gets here and is like the old days.
LORETO, MEXICO: ARTURO'S SPORT FISHING, Loreto, September 22, 2000, Arturo Susarrey, Reservations Tel 011-52-113-50766; Fax 011-52-113-50022. WEATHER:The weather is cooling down , we are feeling it this week. Most of the time we have had a west breeze. Our nice temperature now is between 85º to 90º F. DORADO:They are still here, some days better than others, but the most of the time is good because almost all of the boats are coming back with the limit. Some of them good size like 25 to 30 lbs. and the regular size between 18 to 20lbs. The best places have been in Bajo Punta Perico (east of Carmen Island), North of Carmen Island and San Bruno (north of Loreto). SAILFISH:There are good number of them in Bajo Punta Perico. ROOSTERFISH:There are a good number of them north of Loreto, from Punta Mangle to the Ensenada de San Juanico, the big ones are until 30 lbs. and the regular size are 20 lbs. CABRILLAS: Trolling they are biting on the same areas as the roosterfish. BAIT: If you want to catch mackerel, they are in front of Coronado island or Danzantes in the mornings, if you want to buy, it is $1.00 USD each. Also there are squid in front of Loreto.
LORETO, MEXICO: EL FUERTE SPORT FISHING, Puerto Escondido, September 23, 2000, Ty Miller, Reservations Tel 714-775-6658; Fax: 714-755-3501; Loreto 011-52-113-30863. Hola Gene, We are back in the saddle! Didn't get back until last monday . Took a charter out of Loreto on Thursday and found dorado and sailfish still hanging around off of Pt.Perico.Will be back on track with our weekly fish reports next week. I see the deadline is on wednesdays. Hope all is well at your end and thanks for staying in touch with us in the states. I'am getting a strange feeling that the tuna and wahoo are going to show off Isla Catalan very soon so stand by!
BAHIA DE LOS ANGELES (L.A. BAY) FISHING REPORTS
ALL ARTICLES, REPORTS AND FISHING INFORMATION FOR BAHIA DE LOS ANGELES
BAHIA DE LOS ANGELES, MEXICO: CAMP GECKO, Bahia de los Angeles, September 26, 2000, Abraham Vazquez, Tel 011-52-515-19454; Fax 011-52-665-03206 (goes to Guillermo's). Reader report: Well , we just returned from a great trip down to BOLA. We stayed at Camp Gecko and fished with Doc Abraham for two days on his cruiser.
There were still a few dorado left and we caught three of them. One of them being a nice 30 pounder. We also caught many leopard grouper, sierra on the troll and all the barracuda we wanted. The water is very warm and great for snorkeling. We even got the chance to ride on the whale sharks that are just outside of Doc's camp. The weather was a great 95 during the day with a nice cool breeze at night. The roads are excellent going into the bay!!
SAN FELIPE FISHING REPORTS
ALL ARTICLES, REPORTS AND FISHING INFORMATION FOR SAN FELIPE
SAN FELIPE, MEXICO: SEA OF CORTEZ SPORTFISHING, 6-day Midriff Islands trip aboard the panga mothership, Celia Angelina, September 21, 2000, Bob Castellon, Reservations 626-333-9012; Fax 626-336-1966; San Felipe 011-52-657-71778. Fourteen anglers on an open party trip on the Celia Angelia last week found less than favorable conditions. A day and half was lost due to rains and high winds due to spin off of the hurricane. Cooler temperatures prevailed, 85-90 degrees, but with high humidity. Water temperature still holding at 90 degrees. Bait was easy to get when we were able to fish for it. The yellowtail are still biting south of San Felipe at San Esteban and the dorado are still scattered throughout the Sea of Cortez. Fishing results: 103 yellowtail, 28 dorado, 62 cabrilla, 291 miscellaneous, 8 pargo, 14 shark.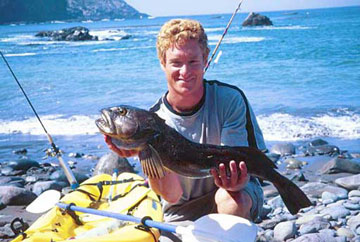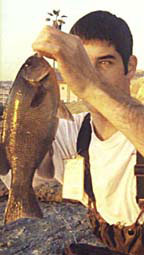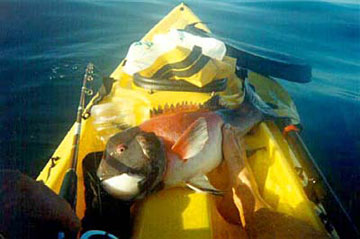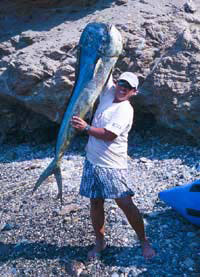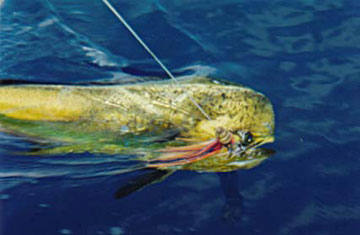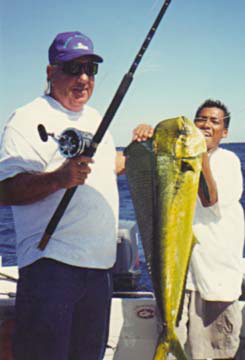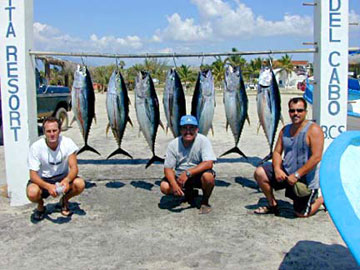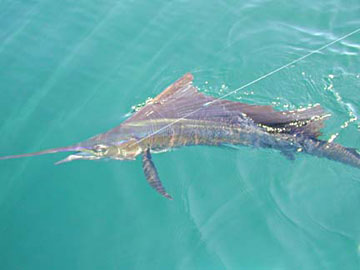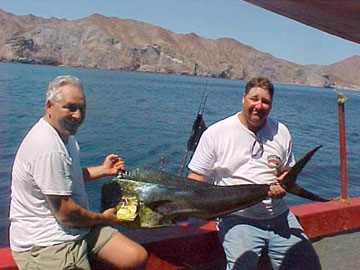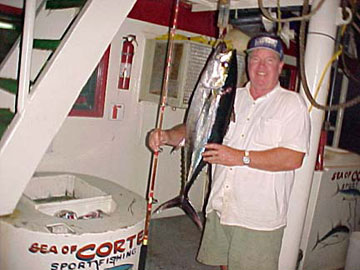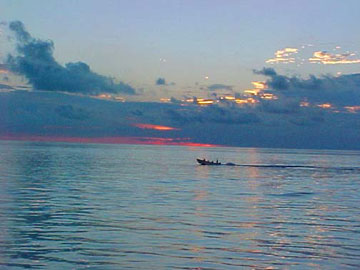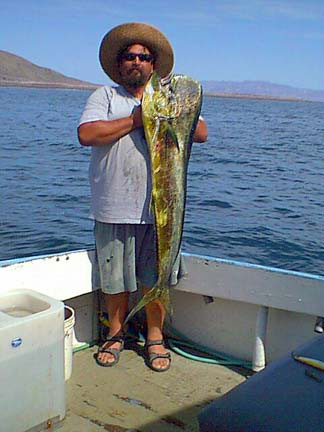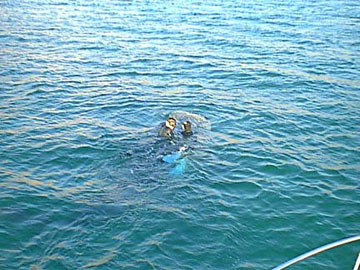 Baja coastal fishing reports and articles.
Ensenada fishing reports and articles.
Puerto Santo Tomas fishing reports and articles.
Erendira fishing reports and articles.
San Quintin fishing reports and articles.
Magdalena Bay fishing reports and articles.
Cabo San Lucas fishing reports and articles.
San Jose del Cabo (Los Cabos) fishing reports and articles.
East Cape fishing reports and articles.
La Paz fishing reports and articles.
Loreto fishing reports and articles.
Mulege fishing reports and articles.
Santa Rosalia fishing reports and articles.
Bahia de los Angeles (L.A. Bay) fishing reports and articles.
San Felipe fishing reports and articles.
Rocky Point (Puerto Penasco) fishing reports and articles.
San Carlos (Sonora) fishing reports and articles .
Mazatlan fishing reports and articles .
Puerto Vallarta fishing reports and articles.
Ixtapa Zihuatanejo fishing reports and articles.
Huatulco fishing reports and articles.
Cancun fishing reports and articles.
Mexico coastal fishing reports and articles.
Mexico Fishing Home Page < Mexico Fishing News Archives < Fishing Report