The Dorado were in the 15 pound class which was fun on light tackle and the Sails were mixing right in with them. This was not a wide open bite, but really made us as well as the clients happy knowing that there were fish still in the area. Water temp. 86, air 88 and humid, breezy with a slight chop on the water.
LORETO, MEXICO: BAJA BIG FISH COMPANY, Loreto, Pam Bolles, September 29, 2000, Reservations Tel/Fax 011-52-113-50448. Offshore- Dorado: There are still a lot of Dorado out there and the weather has been cooperating. The Dorado are still off San Bruno north of Loreto and are in the 15-30 pound class. Limits are easy to get each day, but more often each angler will hook into and land at least five fish (depending on the gear used and level of skill of the angler) and possibly more. Both live bait and lures are working on the Dorado
Offshore Billfish: There are still a lot of Sailfish out there too and most of them are being taken where the Dorado are congregated. Most anglers are fishing for the Dorado and hooking into the occasional Sail too off San Bruno. You'll encounter Sailfish off Punta Lobos as well.
Yellowfin Tuna: None reported.
Bonita and Skipjack: There are several schools in the usual spots. Most notoriously about a mile off and extending to the South of Punta Lobos towards Punta Perico, where their schools gather year after year. Most anglers consider them a nuisance but they're a lot of fun on light tackle. If you're trolling through this area, expect to be hit by some of these fish.
Other Species: There are plenty of nice sized Cabrilla, and Grouper over the deepwater reefs off the islands and points to our North. The Bass-type fish are biting on jigs of various colors- try chrome, chrome/blue, white, white/blue, scrambled egg; and the snappers have been true carnivores preferring large cut squid pieces. Cabrilla are coming in from 5-20 pounds and up, Grouper 5-50 pounds and larger, and Pargo from 4-20 pounds.
Fish for these species only during early mornings and definately before noon. Stay away from full moon phases in shallower water as the bite will turn right off. The bite will also turn off when the water is rough.
Bait: You can readily buy bait off the marina and off of the beaches in front of the Hotels La Pinta and Oasis. Live bait is $1/ea (U.S.) for live Mackerel and Caballitos. There are plenty of squid that you can catch before you head out to the fish.
Inshore Fishing: The light tackle inshore bite is very good right now but most of the anglers attention has not been focused on it. If you're coming down soon, don't hesitate to bring a light spinning or bass rod. You'll have a blast catching triggerfish, needlefish, pompano, pargo, cabrilla, pinto bass, roosterfish, jack crevalle and other species. Hell, you don't even need a boat to get into this bite- just walk the beaches or fish off rocky points such as the breakwalls off town, the jetty off the Hotel Oasis, and the point to the North of the Eden Resort as well as the Jetties off the Eden Resort.
Loreto Marina: Fish this location on your last early morning here if you're not going out fishing from a boat, or in the evenings... There's structure just a few yards off the East-facing marina breakwall that holds a wide variety of species. The bite is best between 6:30 and 8am, and again between 7:00pm until dark. The locals are lining up there once again to catch their limits. The most common species you will see will be the Barracuda (2-4 pounds), Mackerel and Bigeye (both under a pound), Halibut (2-10 pounds), Roosterfish (1-5 pounds), Giant Needlefish (3-4 feet, 2-4 pounds), Largo (~1 pounds), Cabrilla (1-10 pounds), Pargo (1-5 pounds), and Jack Crevalle (3-10 pounds).
In other mainland Mexico and Baja fishing action this week:
CABO SAN LUCAS FISHING REPORTS
ALL ARTICLES, REPORTS AND FISHING INFORMATION FOR CABO SAN LUCAS
CABO SAN LUCAS, MEXICO: PICANTE FLEET, Cabo San Lucas, Sergio Cortes, October 4, 2000, Reservations Tel 011-52-114-32474; Fax 011-52-114-35969.
Fish available: Blue, Black & Striped Marlin, Sailfish, Dorado, Tuna.
Water Temperature: Approximately 84-87 F.
Air temperature: hi 95 / low 71, Humidity: 71 %, Wind: 6-7 Knots per hr. Pacific,6-7 Knots per hr. Sea of Cortes.
Yesterday's Luckiest: "Picante Expresso" 31' CABO
Captain: Eulogio Zumaya
Angler: Robert Faulkner
Production: 2 Blue Marlin 200-250 lbs.avg.( released )1 Yellowfin Tuna 50 lbs.
Hot Spots: 95 Spot ( Sea of Cortes )
Fleet Production (5 boats): 3 Blue Marlin, 1 Striped Marlin, 6 Dorado and 9 Yellowfin Tuna.
CABO SAN LUCAS, MEXICO: FLY HOOKER SPORT FISHING, Cabo San Lucas, Capt. George & Mary Landrum, September 24-30, 2000Reservations Tel 011-52-117-01271; 011-52-114-87452. WEATHER: This is what we live in Cabo for. It has been in the high 80,s all week long. No storms anywhere in sight! As long as you are out where you can catch the breeze the conditions are perfect.. The humidity is still pretty high around 60%. The wind seems to die down in the morning and will pick up later in the afternoon and blow all night. All in all a great week in Cabo.
WATER: The seas have remained 2-4 feet. The water has been real nice up towards Gordo Banks. Same seas on the Pacific side, but there has been quite a bit of wind chop picking up midmorning. Again the water temperatures have remained steady at 84-86 degrees.
BAIT: Lots of Caballito around with it being the new moon and prices are holding steady at $2.00 each.
FISHING:
BILLFISH: Remained constant and steady. It is a little deceiving to walk down the dock and see all the blue flags. Many boats do not have sailfish flags and will fly a Marlin flag instead. There have been plenty of Blue Marlin mostly I have been seeing the 200-300 lbers with a few larger ones, Striped Marlin running in the 140-200 lb. range and some acrobatic Sailfish running 40-100 lbs. Striped Marlin and Sailfish being caught on tossed live bait mostly, with the Blues going for the lures. Secret colors, nobody will tell me, cause they know it's for the fish report!
DORADO: Very plentiful up the Pacific side of Cabo . They like the water a little choppy and are eating most anything thrown at them. They have been seen up in the Sea of Cortez, but don't seem to be as hungry as the ones out in the Pacific. Still running in the 10-25 lb. school range, no great sizes, but plenty for the dinner table.
YELLOWFIN TUNA: Some real nice size ones out there being caught south out of the harbor. Quite a few fish this week in the 50-150 lb. range. Hope they stick around for the Tuna Tournament in a couple weeks!
WAHOO: I've seen very few flags coming in this week, so I know they are out there, just not very many of them. But they do exist, I'm sure of it. I had some for dinner last week.
INSHORE: Not much to say here, even the pangas are loading up on the dorado. The Roosterfish have been small and no sign of Sierras this time of year. The water is a little too choppy for Cabrilla and Pargos. If you want to go out for some light tackle Dorado fighting this is great! Just don't expect to get the cooler full.
NOTES: as you can probably tell, this is George's wife Mary writing the Fish Report again this week. George will be back next week. At least that is the plan right now. So hang in there with me. I haven't been putting the colors of lures used to catch particular fish, because of the Tournaments coming up. The guys on the docks are keeping exact locations of large Tunas and colors for Tuna and Blue Marlin a secret. With that amount of money on the line for who is the best, they aren't talking, just waiting to prove themselves. Until next week, Tight Lines, Mary Landrum Fly Hooker Sportfishing.
CABO SAN LUCAS, MEXICO: REEL EASY SPORTFISHING, Cabo San Lucas, Mike & Renee Hebert, Sept. 24 thru Sept. 30, Reservations/Fax 011-52-114-33579. It was an ok week for the El Chilito and its anglers. Captain Alvaro Gastelum and Mate Tony Winkler reported seven outings for the week aboard the El Chilito, for a total number of thirty-four fish. Twenty-four Dorado (averaging 15 to 25 pounds with one weighing in at 45 pounds), one Sailfish (60 pounds - released), eight Yellowfin Tuna (footballs to 25 pounds) and one Blue Marlin ( 150 pounds - tagged & released). According to Capt. Alvaro, anglers were getting multiple billfish strikes, Blues and large Stripers, during each outing but no real takers for this week. Billfish were spotted pretty much at all the favorite spots from the Gordo to the Golden Gate. Outside temperatures are a little warm with water conditions really nice at 82 to 85 degrees. Both lures and live bait were equally matched as well as the Cortez and Pacific. Reel Easy Sportfishing is adding a new 2001 Model 32ft Luhrs Open Sportfisher to its Cabo San Lucas business. The new rig will be in Cabo San Lucas late November or early December with plans to be fishing January 1, 2001. As of this writing, the new rig is still nameless. Seems the hardest thing with a new boat is the choosing the right name. We are asking our friends, anglers, and readers to submit boat names to help us make our decision. Email us at mike@reeleasy.com with suggestions.
CABO SAN LUCAS, MEXICO: GAVIOTA FLEET, Cabo San Lucas, Larry Edwards, September 29, 2000, Cortez Yacht Charters, Reservations 619-469-4255. Leon Sanchez sends a glowing report, reflecting great fishing and fast action from Cabo San Lucas. Largest fish for the week was a 480 lb. blue marlin, taken by Las Vegas angler, Robert Bean, fishing aboard the "Gaviota 10", with Captain Ozzie Montano. The fish was taken on a squid colored artificial. The blue action is picking up and by the time the tournaments roll around, it shou7ld be red hot. Overall countss reflected 6 blue marlin (4 released), 9 sailfish (7 released), 15 stripers (13 released), 2 wahoo, 1 toro, 56 yellowfin tuna and 129 dorado.
Cabo Climate: Settled down after the few tropical storm fronts. It's hot, sunny and clear.
Sea Conditions: Excellent for most of the week, temps remain warm in the 80's, light breezes & moderate swell.
Best Fishing Area: Continues on the Pacific side, with Golden Gate best.
Best Lure/Bait: Live b ait best on the sails & stripers, artificials on the blues & yellowfin tuna. Dorado taken on both.
ENSENADA FISHING REPORTS
ALL ARTICLES, REPORTS AND FISHING INFORMATION FOR ENSENADA
ENSENADA, MEXICO: LILY FLEET, Ensenada, Sammy Susarrey, September 28, 2000 Reservations Tel/Fax, 5 to 9 p.m., 011-52-617-46747; Cell 011-52-618-67485. Today the Amigo with 3 anglers fished for tuna, reporting 13 yellowfin tuna 12-15 pounds. They fished 18 miles from Punta Banda on a heading of 225. Live sardines and anchovies worked well for bait. Some schools of breaking tuna but they were not very hungry. The Lily with 4 anglers on a local trip reported limits of calico bass at Salsipuedes, also 4 yellowtails 15 pounds, trolling Rapala CD18s in dorado colors.
Ensenada, October 1, 2000 The Tamara with 6 anglers reports from the double 220 with 18 yellowfin tunas 12 to 15 lb. some in trolling and live bait. The Amigo on a local fishing trip out of Ensenada with 2 anglers reports log barracudas 5 to 7 lb., 8 yellowtails 12 lb. and 9 white fish 5 pounds. The Lily reports local trips with 2 anglers catching 4 yellowtails, limits on 4 pounds bonitos. All fish caught on live anchovies, on light jigs and the fish were located in the reef of Todos Santos Island.
Ensenada, October 2, 2000 The Tamara with 3 anglers reports 37 yellowfin tunas, 235 degrees from Todos Santos Island 18 miles out fish bait wide open, water temp. was 68.9 degrees nice clean water also very light wind. Nice day for fishing but a little overcast. We had nice big anchovies and mackerel mixed whith sardines. We found 3 kelp paddies loaded with tuna and we made several jigs strikes with mexican flags, rapala any colors and cd plug natural colors.
Ensenada, October 3, 2000 The Tamara reports limits today on 12 to 165 pound tuna. Live bait today was smaller, anchovies and nice sardines, water temp. outside 68.9 degrees, ocean conditions flat and calm. 235 degrees from Todos Santos Island, 18 miles out, the fish hit everything.
ENSENADA, MEXICO: SERGIO'S ENSENADA SPORTFISHING CENTER, Ensenada, Sergio Susarrey, September 25, 2000 to October 1, 2000, Reservations Tel 011-52-617-82185. HOT SPOTS: Outer banks. NAME OF BOAT (S): Ensenada Clipper, El Cazador, Quest, Clipper II, Shir Lee Too, and Shir Lee. Yellowtail, excellent. Bonito, Barracauda, Calico Bass, Sand Bass and Dorado, good. REMARKS: Do not have an answer for this but the great tuna fishing is just getting better and better every week on Sunday (10/01/2000) the charter boat EL CAZADOR fishing with 15 anglers came back to our marina with the best catch of the season which according to charter master Mr. William Richardson of Riverside, CA included 25 bigeye tuna from 60 to 100 pounds, 125 yellowfin tuna from 15 to 25 pounds, 5 dorado from 15 to 25 pounds and 5 yellowtail from 15 to 18 pounds all other boats also had great numbers of both bigeye tuna and of yellowfin tuna all boats were fishing from 20 to 30 miles past Todos Santos Island more or less on a southwesterly direction. The local action remains hot with catches of yellowtail; bonito and sea bass boats are fishing Todos Santos Island, San Miguel Point and Morro Point.
ENSENADA, MEXICO: GORDO'S SPORTFISHING, Ensenada, Erick Ptacnik O, September 30, 2000, Reservations 011-52-617-83515; 011-52-617-82377. Gordo's Constellation fished 25 miles out of Punta Banda. 16 anglers caught 67 Yellow Fin Tuna 20 to 35 pounds and a lot of Yellowtail.
PUERTO SANTO TOMAS FISHING REPORTS
ALL ARTICLES, REPORTS AND FISHING INFORMATION FOR PUERTO SANTO TOMAS
PUERTO SANTO TOMAS, MEXICO: PUERTO SANTO TOMAS RESORT, Puerto Santo Tomas, Sam Saenz, October 2, 2000, Reservations Tel 714-256-2577; Ensenada 011-526-174-5683; Remote Santo Tomas Cell 011-52-617-13364, after 6 p.m. or 6:30-7:00 a.m. The weather was cool with some overcast 3/4 days, and no wind. The ocean conditions were calm up until Sunday afternoon when heavier surf rolled in.The bottom fishing around the islote and the reef at Bahia Soledad north of Puerto Santo Tomas was good bringing in white fish, ling cod and rock cod and sheephead of 5 to 10 pounds around the islote. The surface action was slower with some activity while trolling and catching a few bonita and yellow tail.
SAN QUINTIN FISHING REPORTS
ALL ARTICLES, REPORTS AND FISHING INFORMATION FOR SAN QUINTIN
SAN QUINTIN, MEXICO: PEDRO'S PANGAS, San Quintin, Pete Hillis, October 1, 2000Reservations 888-568-2252 . The winds were kicking up during the week but completely stopped by the weekend. The weather is absolutely beautiful here, with air temps in the high 70's and low 80's.
Wally Decker from San Diego, CA brought 25 friends and associates down to fish at San Quintin by bus for a fun-filled weekend. All boats caught limits of yellowfin tuna, and they were in the 12 to 14 lbs. range. They also brought in a few yellowtail in the 15 lbs. range.
Michael Mendoza, Cort Clifford, Wally Decker, and Dave Maestes who were aboard the Rommy shared the jackpot the first day with a 16 lbs. yellowtail.
All yellowfin were caught on a 240 heading, 12 to 14 miles off the point. The yellowtail were being brought in at the 240 spot.
MAGDALENA BAY FISHING REPORTS
ALL ARTICLES, REPORTS AND FISHING INFORMATION FOR MAGDALENA BAY
MAGDALENA BAY, MEXICO: BAJA ON THE FLY, San Carlos, Gary Graham, September 27, 2000, Reservations Tel 800-919-2252; Fax 760-746-7260. Temperatures: 82-degree high; Low 71. Water temperature: 77 degrees in the mangroves and 83.5 offshore. Cloudy with some wind in the afternoon. STRIPED MARLIN - Lots of fish all the way out to the Thetis Bank. DORADO - Being found at many of the shark buoys. TUNA - A number of schools of smaller fish being seen as close as one-mile offshore. CORVINA - Slowed down this week. SNOOK - Only a few smaller fish reported this week. YELLOWTAIL - Only a few reported QUICK COMMENT - With the billfish, dorado and tuna going off full speed on the outside, the esteros temporally taken a back seat for most of the local anglers.
San Carlos, Saturday, September 30, 2000. Temperatures: 82-degree high; Low 71. Water temperature: 77 degrees in the mangroves and 83.5 offshore. Cloudy with some wind in the afternoon. STRIPED MARLIN - Still making an excellent showing. DORADO - Find the right shark buoy and it can be a bonanza. TUNA - Plenty of smaller fish near shore. CORVINA - A few reported near the power plant. SNOOK - Mario's spot produced several fish to 10 pounds. YELLOWTAIL - Only a few reported. QUICK COMMENT - One yacht traveling through the Magdalena Bay area reported double-digit striped marlin for several days fishing. While the current action is pleasing the locals, it will be interesting to see if the pace continues through the traditional October - November season that is so popular with the yachts making their way down the coast to Cabo for the winter season.
MAGDALENA BAY, MEXICO: MAG BAY TOURS, Punta Hughes, Brian Freitag, September 30, 2000, Reservations 800-599-8676. Red hot action at the Thetis banks this week, and the 100 fathom contour, on dorado and marlin. Dorado and striped marlin are biting offshore. Near shore action on some really big Bonito and halibut, grouper and corvina inshore. Days: 90-95 degrees F Humidity: low. Nights: 72- 74 degrees F. Winds: light mornings, medium afternoons. Water temp (near shore) 75 degrees F.
SAN JOSE DEL CABO (LOS CABOS) FISHING REPORTS
ALL ARTICLES, REPORTS AND FISHING INFORMATION FOR SAN JOSE DEL CABO
SAN JOSE DEL CABO, MEXICO: GORDO BANKS PANGAS, San Jose del Cabo, October 1, 2000, Eric Brictson, Reservations 800-408-1199; Fax 619-447-4098; 011-52-114-21147. The much anticipated fall season is now officially here and with it are crowds of excited anglers that are ready to try their luck on the local fishing grounds. The early mornings are just starting to have a slight chill to them, though the mid day temperatures are still reaching into the low 90's. The water has averaged 84 to 86 degrees and is a clean blue color, surface conditions were ideal with only a minimal breeze picking up by late morning. Sportfishing fleets reportedly found the most consistent action from San Jose del Cabo offshore fishing grounds between the Gordo Banks and Vinorama with the most common daily catches being yellowfin tuna, dorado, skipjack and also a handful of wahoo, sailfish, black and blue marlin. The bait situation did improve some as sardinas now are abundant inshore at Desteladera and on the Banks there have been both chihuil and skipjack. After having wide open action for yellowfin tuna the previous week on fish that averaged 50 to 60 pounds and even one monster gorilla tuna of 250 pounds being landed from a Palmilla panga, this week was a different story on the Gordo Banks. The bite slowed way down and anglers had to work hard to scratch out just a couple of the tuna. Everyday there were limited numbers of yellowfin tuna landed and they were still running mostly about 50 pounds, hitting on both chunk bait and live chihuil. The pangas that did scout out the areas further north of Punta Gorda and especially near Vinorama found some scattered action also for tuna in the 40 to 50 pound range, the bite would move though from day to day and the bait of choice was the live sardinas, which could be used to chum fish close to the boat once the schools were located. The yellowfin could be seen feeding on the surface and for the anglers that were lucky enough to be in the right spot at the right time, they were rewarded with some quality fish. Dorado have started to thin out just slightly in the area of Iman, where they had been thick and many of the boats were not respecting the limits, but there are plenty of them still around for anglers who wish to target them. Best bet has been to troll sardinas, strip bait or various medium sized lures. On the Gordo Banks near San Jose del Cabo there were also dorado being caught, though not as numerous, these fish were larger, with some of them passing the twenty pound mark. Wahoo are just beginning to become active with only a few of them actually being landed, many others were cutting baits and leaders of anglers that were targeting the dorado and tuna. One 70 pound wahoo was landed by Blaine Burnette who was fishing with skipper Jesus on the panga " Alicia ". Blaine hooked the wahoo on a live chihuil that they were targeting tuna with and without the use of wire leader, apparently the wahoo made a spectacular 20 foot leap into the air before landing on the bait and becoming hooked in the front of the teeth, very lucky. The most consistent billfish action had been from the Gordo Banks area where there are large concentrations of skipjack and some small tuna that can be used for bait. There were sailfish, blue and black marlin accounted for, with the largest marlin reportedly being a 522 pound black that was landed out of the panga " Tina Lee " by a member of the Maurice Nakagawa group, the fish took over six hours to finally land after hitting a skipjack on the Outer Gordo Bank.
EAST CAPE FISHING REPORTS
ALL ARTICLES, REPORTS AND FISHING INFORMATION FOR EAST CAPE
EAST CAPE, MEXICO: BAJA ON THE FLY, Buena Vista, September 27. 2000, Gary Graham, Reservations Tel 800-919-2252; Fax 760-746-7260. TEMPERATURES: High 88 with a low of 75 the humidity is at a constant 68%. BLUE MARLIN - Several hooked on the fly, but lost after the first jump. STRIPED MARLIN - A few here and there. YELLOWFIN TUNA - Cabo Los Frailles continues to produce catches to 45 pounds. DORADO - Mostly schoolies to 15 pounds. SAILFISH - Still the best bet for those flyrodders seeking billfish. ROOSTERFISH - Off color water on the inside have slowed the action down. JACK CREVALLE - Punta Colorado producing good catches. BARRILLETE OR MEXICAN SKIPJACK - Few reported this week. PARGO AND CABRILLA - Few fish caught this week. OFFSHORE: The pace still is great for sailfish and the blue marlin are trying to steal their thunder. Reports of takes by blues resulting in straightened hooks, broken tippets and backing only demonstrate why catching a blue on a fly is tough accomplishment. INSHORE: Though East Cape fishing water is off color from last week's rain the jacks, pompano and ladyfish are still providing good action. BEACH: Punta Colorada is still the best action from the beach with jacks to 15 pounds providing the best action. QUICK COMMENT - I returned to Baja last night (9/26) and everyone seemed really pumped on how good the fishing has been. John Lowther, from Phoenix Ariz., down with a large group of his business associates, averaged 3 - 5 tuna a day per rod, plus sailfish, striped marlin, rainbow runners and too many dorado to count. Dave Cooper fishing with Mickey on Mosca One, had tuna to 45 pounds and claimed the secret was dropping down from 22 pound test fluorocarbon to 16 pound produced many more takes.
Buena Vista, Saturday, September 30, 2000 TEMPERATURES: High 95 with a low of 75; water temperatures in the mid- to Low-80's. BLUE MARLIN - Enough action to make it worthwhile for the flyrodder. STRIPED MARLIN - Fair catches reported at East Cape. YELLOWFIN TUNA - Plenty of fish from 10 - 45 pounds. DORADO - A few larger fish mixed in with the schoolies to 15 pounds. SAILFISH - Continue to make a good showing. ROOSTERFISH - Only a few fish taken. JACK CREVALLE - From Rancho Buena Vista to La Capilla the smaller jacks have been putting on a good show in the early morning. BARRILLETE OR MEXICAN SKIPJACK - A few larger schools found outside of Scott Glenn's house. PARGO AND CABRILLA - Several fish in the 8-10 pound class in front of Punta Colorada. OFFSHORE: The billfish fishing still remains good, though inconsistent. INSHORE: Dorado and tuna provided the best action throughout Las Palmas bay. BEACH: Only fair. Murky water continues to hamper the action. QUICK COMMENT - David Cooper, Denver, Colo., commented over cocktails last night that in his eight years of coming to East Cape several times a year this last week was the best fishing he had ever had. Fishing out of Buenavista Beach Resort with Capt. Juan on Mosca 1. He caught tuna to 45 pounds, more dorado than he could count, sailfish, striped marlin and lost several blues. After losing several blues on hooks that straightened out, he used one of Mike Robrahn's full dress skipjack patterns tied on an 8/0 to catch and release a good-sized striped marlin in 25 minutes. Gordon Roakes, of San Francisco, Calif., on his first trip to Baja, caught dorado, tuna and pargo on three days of fishing on panga, pontoon and ATV.
EAST CAPE, MEXICO: BUENA VISTA BEACH RESORT, Buena Vista, Axel Valdez, September 30, 2000, Reservations 800-752-3555. The weather is clear and hot. Water temps are in the 70's. 79 fish caught, 3 stripers, 3 sails, 32 dorado, 39 tuna and 2 wahoo.
EAST CAPE, MEXICO: RANCHO LEONERO, Bahia de Palmas, John Ireland and Roy Baldwin, September 30, 2000 Reservations 800-646-2252; Hotel 011-52-114-10216. Nice conditions continue, with daytime highs in the low 90's, evening lows near 70, calm seas with water temp around 86 deg. The awesome tuna bite continues on, with early limits of fish averaging 25-30lbs (with many fish taken over 50lbs) within 2 miles of shore at the same spot off La Ribera as well as off Cabo Pulmo, taking mostly live sardinas. The dorado bite remains unchanged, with schools of fish averaging 15-20 lbs spread all over the bay, with some larger fish to 45lbs outside mixed in with the billfish, taking live sardinas, cedar plugs and all colors of marlin lures. The billfish bite remains steady, with blue marlin to 375lbs and sailfish taken every day this week, located about 4-6 miles straight out, with live bait and green/black or purple/black trolled lures working best. At week's end a number of striped marlin were hooked up to the north, off Punta Pescadero. The steady pick for wahoo continues, with fish averaging 30-40lbs located within a mile of the beach, from Cabo Pulmo to Los Frailes, taking rapalas, marauders and dark colored trolled lures. Lots of sierra and some pargo were taken inshore, with the sierra taking hoochies, while the pargo preferred live sardinas.
Bruce Evans, of Durban, South Africa, while fishing 2 days on Leonero cruisers, took daily limits of dorado and tuna, a sailfish, wahoo, pargo and sierra.
EAST CAPE, MEXICO: HOTELS PALMAS DE CORTEZ, PLAYA DEL SOL, PUNTA COLORADA, East Cape, reported by Dave "Smokey" Manuel, East Cape Smokehouse, October 2, 2000, Hotel Reservations, 800-368-4334. It just won't come to an end. I looked back through past reports and realized we've had either good Tuna fishing or Dorado fishing since the first week in July this year. That's 3 months this week and during that time period a good share of those weeks we've seen good bites of both Tuna and Dorado, as was the case the past weekend. Now before some of you send me umpteen e-mails telling me it was slow fishing for such and such while you were here during such and such a time period, I know this! There is always a blank spot in the picture for a few days on a few charters, but my point is; fishing has been very consistent since early July for the species of Tuna and Dorado. Nearly an identical description of areas fished as last week, with reports of action from as far North as Muertos Bay to down South past Frailes. Many of the charters returned with fish holds full of both species from the same area. Dorado remain small to medium in size from most bites, averaging 8-18 lbs. A few days I saw some brought back in the 30 lb class, but these have been the exception to the rule. Nearly all the action is on Sardines. Tuna sizes again were much healthier with many nice 40 to 60 lb class Tuna being found, mainly at and South of Frailes. Cabo Pulmo also produced some good action on 30's and 40's on Sunday. Many anglers reported Tuna being line shy and having to move down to 30 lb and even 20 lb test before they saw action. If you've never wrestled with a 40 or 50 lb Tuna on light line before, let's just say there is some work involved. A lot of these guys reported hour and hour plus long battles and were happy to land three or four fish then head for the beach and a siesta. By the way, did I mention it's been pretty warm? Temps in and near the mid 90's all weekend and very little else but a light p.m. breeze. Action on Sailfish heated up some also, with the best numbers since late August. Sizes are generally in the 60 to 70 lb class and are favoring live bait. A small spark on Blue Marlin action, but let's not get too excited. Several charters on Sunday and Monday found several Blues straight out off the hook 5 to 7 miles and also off Punta Pescadero.
Please note: I'm expecting October to be the busiest month of this year, judging from the bookings and tournaments scheduled at local resorts. For me to be able to continue getting this report out and servicing angler's fish processing requests, I need to change the report's posting dates. I will continue with the bi-weekly format as long as possible, but will post a Tuesday report instead of Monday. The Friday report will remain the same. I hope this doesn't confuse everyone, but it's unavoidable.
LA PAZ FISHING REPORTS
ALL ARTICLES, REPORTS AND FISHING INFORMATION FOR LA PAZ
LA PAZ, MEXICO: JONATHAN ROLDAN'S ADVENTURE SERVICES, La Paz, Jonathan Roldan, October 2, 2000 Tel 626-333-3355; Fax 626-333-0115; Pager 323-349-8111; Message Pager 877-310-7734. Season is still ripping for us and great for our anglers since there's not much fishing pressure right now and it's really hard NOT to catch a fish most days. Good solid bite on tuna with some spice added by dorado, sailfish and the occasional marlin. As in the past few weeks, we're getting quantity on the Las Arenas side and quality on the La Paz side with tuna going 20-60 pounds depending upon the school. My friend, Mark Martis from Beverly Hills and his buddies were just down and had a great time. . .
We had one of our best trips. Lots of fish. Most of our boats came in each day with 5 to 10 fish. We caught lots of Tuna (20 to 52 pounds), approximately 10 Dorado, and some Trigger fish. The hooking on the Las Arenas side of La Paz was constant and on the La Paz side was slower, however, we caught some very nice fish (40 and 50+ pounders). We gave lots of fish away and still left with six packed coolers.
The big fish were deep on the La Paz side and on the Las Arenas side we seemed to always find lots of fish on the surface. The live Sardines worked best. However, we caught several Dorado on Feathers (Mexican Flags) and tin. We used lots of sinkers on the La Paz side.
LA PAZ, MEXICO: HOTEL LAS ARENAS, Punta Arena de la Ventana, October 3, 2000, Linda Glassman-Davis, Reservations 888-644-7376. The fishing is still hot and the great news is that the weather has cooled off quite a bit in the afternoon and evening hours. Prepare to take a windbreaker for the evenings! Dorado, Tuna, sails and roosterfish are plentiful in the medium size category again this week! 130- Dorado-largest 45 pounds 48-tuna-largest 65 pounds 2 roosterfish-68 pounds 1 sailfish-largest 95 pounds. Call now for the holidays! We still have a few rooms left with your fourth night free!
BAHIA DE LOS ANGELES (L.A. BAY) FISHING REPORTS
ALL ARTICLES, REPORTS AND FISHING INFORMATION FOR BAHIA DE LOS ANGELES
BAHIA DE LOS ANGELES, MEXICO: CAMP GECKO, Bahia de los Angeles, October 3, 2000, Abraham Vazquez, Tel 011-52-515-19454; Fax 011-52-665-03206 (goes to Guillermo's). Air Temp. 89-79, Winds, not strong, from the west at night and from the northeast during the day. Humidity 40-65%, seas mostly calm with water temp. 78-83 F. Fishing not good. No yellowtail over 8 lbs. caught all week. 5 lb. yellows wide open at northeast point of Smith Island inside Bahia de los Angeles on jigs, very few dorado left in this area. No sierra, no bonita, no skipjack. I wonder what is going on. The water is green with 15-20 ft. visibility and there are plenty of baitfish. EVENTS: San Borja Mission Fiesta October 8-10. Road conditions very good all the way. Gasoline expensive at $2.75 a gal. Here's hoping next week will be better!
SAN FELIPE FISHING REPORTS
ALL ARTICLES, REPORTS AND FISHING INFORMATION FOR SAN FELIPE
SAN FELIPE, MEXICO: SEA OF CORTEZ SPORTFISHING, 6-day Midriff Islands trip aboard the San Felipe panga mothership, Celia Angelina, Bob Castellon, October 1, 2000, Reservations 626-333-9012; Fax 626-336-1966; San Felipe 011-52-657-71778. Great fishing this week. Limits for all on yellowtail, 16-35 lbs. 140 cabrilla to 14 lbs. 5 seabass to 220 lbs. 19 pargo to 16 lbs. 291 miscellaneous including 4 bonefish, 18 corvina and 12 shark. The air is cooling down to 90 degrees with water at 83. Bait was plentiful with plenty of mixed sizes. Best artificial was the orange 111 deep diver Mirrolure and best feather colors were mexican flag. Three grouper, 4 golden cabrilla and 41 misc. fish were released. The group of 18 fishermen on board found excellent fishing for the full five days with fish biting everywhere. The best sports were St. Esteban, the south end of San Lorenzo and Devil's point which was loaded with big yellowtail.
There were dorado at all stops. Brian Shor and Rick Doyle had the good fortune to catch a 20# dorado twice. The first time it jumped into their skif but before they could land it, it jumped out again. They finally gaffed it the second time around. I love to fish the Sea of Cortez at this time of year when all the different species start to bite.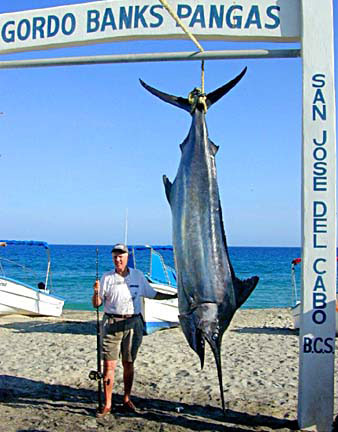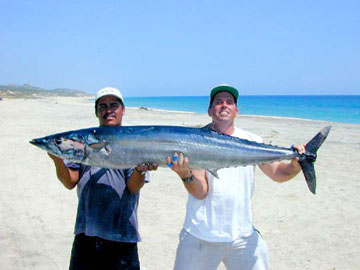 Baja coastal fishing reports and articles.
Ensenada fishing reports and articles.
Puerto Santo Tomas fishing reports and articles.
Erendira fishing reports and articles.
San Quintin fishing reports and articles.
Magdalena Bay fishing reports and articles.
Cabo San Lucas fishing reports and articles.
San Jose del Cabo (Los Cabos) fishing reports and articles.
East Cape fishing reports and articles.
La Paz fishing reports and articles.
Loreto fishing reports and articles.
Mulege fishing reports and articles.
Santa Rosalia fishing reports and articles.
Bahia de los Angeles (L.A. Bay) fishing reports and articles.
San Felipe fishing reports and articles.
Rocky Point (Puerto Penasco) fishing reports and articles.
San Carlos (Sonora) fishing reports and articles .
Mazatlan fishing reports and articles .
Puerto Vallarta fishing reports and articles.
Ixtapa Zihuatanejo fishing reports and articles.
Huatulco fishing reports and articles.
Cancun fishing reports and articles.
Mexico coastal fishing reports and articles.
Mexico Fishing Home Page < Mexico Fishing News Archives < Fishing Report