OTHER SPECIES: The Second Annual Western Outdoor News Tuna Tournament took place at Cabo San Lucas Oct. 18th & 19th and was a great success. Despite this being only the second year, one hundred and thirty boats entered. The catches on tuna were not as good as expected, but anglers enjoyed all kinds of fishing, billfish and small game -- there were still plenty of tuna caught, but not the giant kind. First place went to Ben Taylor aboard Blue Thunder for a 130 lb tuna. Second place was for Robert Tininenko, aboard Ole Ole, for a 78.9 lb fish, third was Joe Cantone, aboard Gata Gorda, with a 76.7 lb'er, fourth was Tom Johnson on Minerva III with a 75.9 specimen and 5th was Carlos Sanchez, aboard Stray Cat for a 75.5 lb fish. Details of prize monies after the awards dinner. Dorado was again thick in the Cabo Waters, boats caught anywhere from 2 to 11, ranging in size from 15 to 60 lbs. Just a few wahoo, with the average size up a little this week, to 60 lbs.
CABO SAN LUCAS, MEXICO: GAVIOTA FLEET, Cabo San Lucas, October 20, 2000, Larry Edwards, Cortez Yacht Charters, Reservations 619-469-4255. Cabo climate: very good weather, lots of sunshine, temps in the low 90s. Sea conditions: temps in the low to mid 80s, gentle breezes to light wind chop and northwesterly swell. Best fishing area: continues to be on the Pacific side and to the south of Cabo. Best lure/bait: live bait was best for the stripers and dorado, but good numbers of both were taken on a myriad of artificials.
Dorado catches continue to set the pace in Cabo and there were increased striper catches reported, too, perhaps reflecting the filtering down from Mag Bay. The Western Outdoor News Tuna Tournament was captured by Ben Taylor, fishing aboard the boat, "Blue Thunder," weighing in at 130 lbs. 2nd place was angler Robert Tiniencko, boat "Ole Ole," 78.9 lbs., and 3rd place was angler Joe Cantone, boat "Gato Gordo," 76.7 lbs. Look for all the finals in the upcoming issue of WON. According to Leon Sanchez, at Gaviota Fleet, there were quite a few tuna taken, but most of the fish were in the school sizes, 15-30 pounds. He did note that a 200-pound plus tuna was taken on the first tournament day, but the boat wasn't in the tournament. The overall non-tournament action reflected very good fishing and included 1 blue marlin released, 28 stripers (19 released), 2 sailfish released, 4 wahoo, 54 yellowfin tuna and 145 dorado.
CABO SAN LUCAS, MEXICO: FLY HOOKER SPORT FISHING, Cabo San Lucas, Octob er 16, 2000, Capt. George & Mary Landrum, Reservations Tel 011-52-117-01271; 011-52-114-87452. WEATHER: All right, it's starting to cool down! Evening temperatures have been ranging from the low 60's to low 70's and daytime it has been from mid to high 70's up to 90. Humidity from 45% to 73% and the winds in the Cabo San Lucas fishing area have been mainly from the western side. The wind started to pick up on Wednesday and was really ripping on Thursday! It has tapered off a little more each day since then and as I am typing this there is no wind outside and it is raining! Partly cloudy for the later part of the week and clear skies early on. WATER: Slight swells with wind chop most of the week. Victory at sea on Thursday and Friday if you stayed out late in the afternoon. Far enough up the Pacific side it really calmed down so a lot of the boats after the Tuna Tournament were heading up towards Golden Gate Banks. During the tournament there was a very slight temperature break approximately 38 miles out. The water went from 83 to 85 degrees over about a two-mile area. Not a sharp boundary but apparently enough to concentrate some fish. BAIT: There has been no problem getting both Caballito at $2 each and Sardines at $25 a scoop any time this week. Most of the Caballito have been on the small side, but they are available.
BILLFISH: There are still plenty of Sailfish being caught but they are starting to taper off. As usual there are Striped Marlin around and the average size seems to be a bit higher every week. The big question has been the arrival of the Blue and Black Marlin. Bisbee's starts this coming week and it would be nice to know if any of the large fish were around, right? Well, don't worry, for the last two weeks at least one nice fish over 600 pounds has been reported. As the moon wanes the bite should improve and more of the larger Blues and Blacks will be hooked up. For now we have to be happy with the 150 to 300 pounders, but hey, they are fun, aren't they?
YELLOWFIN TUNA: The 18th and 19th were the fishing days for the 2nd Annual Western Outdoors Tuna Tournament. There were not as many large fish caught as last year and more fish were caught under the dolphins this year as opposed to chunking and live bait. Many of the fish were in the 40-60 pound range, nothing to sneeze at and really good eating! The winning fish was caught on the first day and weighed in at 130 pounds. A fish that topped the scales at 175 pounds arrived at the weigh dock prior to the 6pm scales shutdown time but the boat had not arrived in the harbor before the 5pm deadline so it did not qualify. The second day saw the 130-pound fish hold onto first place at the end of the weigh in. In a repeat of the previous day a fish that was estimated at between 200 and 230 pounds was brought in by a boat and team that had suffered a broken throttle cable. Because of arriving past the deadline the fish was also disqualified. The Tournament officials did give that team free entry into next year's tournament as a consolation prize. Most of the fish this week were caught on lures with a few on Sardines and Caballito.
DORADO: A bright spot for the last few weeks has been the continued presence of Dorado in large numbers on the pacific side of the Cape. These fish seem to be swimming appetites most of the time and are willing to strike anything as long as they are aware of its presence. Boats have had no problem catching the limit of two Dorado per angler and everyone has gone hope with fillets for the freezer.
WAHOO: I have seen a few of these speedsters landed at Cabo San Lucas this week and some of them have been in the 50-pound range. There has been no concentration of them and the ones I have seen and asked about were caught in the open water while searching for other species. Lures have been varied since the focus has not been on them.
INSHORE: A decent bite on the smaller Roosterfish is still happening and these are great fun on light tackle. Other than that the inshore game has consisted of Dorado and football Tuna. There are enough of both to keep everyone happy and busy!
NOTES: I talked with two couples this week that went on a boat ride on the 19th. The captain went five miles off the entrance to the Marina and proceeded to spend 8.5 hours going back and forth over the same stretch of water. After 8.5 hours he told the anglers that there were no fish and they were going in, there were still 1.5 hours left of the 10-hour charter! Coming into the Marina the captain told the mate to put up two Marlin flags, two release flags and four Dorado flags! Think they got a tip or the agent who booked them won't hear about it? Ask for references from anglers who have gone on the boat if you are booking from the states, and then actually call them! You might save yourself from making an expensive mistake! Until next week, Tight Lines!
CABO SAN LUCAS, MEXICO: FLY HOOKER SPORT FISHING SPECIAL REPORT, THE "ALMOST" TUNA!!!:
Brad Dussault, Sean Jordan, Phil Faobert and Zac Val'Ade were at the dock early again on this, the second day of the Second Annual Western Outdoors Tuna Tournament in Cabo San Lucas. On October 18th, the previous day and first of the two day tournament their charter boat the "Fly Hooker" had headed 40 miles south of the tip of the Baja Peninsula in search of pods of Porpoise. The hope was to find a pod that had at least one large, hungry Yellowfin Tuna with it. They had found Porpoise early but there were no Tuna with them and had instead caught a 49.5-pound Dorado. The Tournament had no cash prizes for any species other than Tuna, but there was a category for the largest of either Dorado or Wahoo. The top fish over two days would earn every member of the fishing team a new Shimano TLD25 reel and a G.Loomis rod! A Dorado that weighed 12 pounds more beat them at the scales!
Today they were determined to make up for it and were sure they would find the big Tuna. The majority of the larger Tuna taken the first day had been found with Porpoise, only slightly farther up the Sea of Cortez. That is the area that Captains Juan Rameriz and Manuel Castro convinced the team that they should go to. So far the largest Tuna of the tournament was only 130 pounds and last year there were several over 200 pounds taken. If the porpoise were still in the area the chances were good of finding a fish that would place in the money. Zac, Phil, Sean and Brad discussed who would get the first fish. These guys were no novices to the sport! They had competed in last year's tournament on their own boat that they had trailered down from San Diego. Working as Firemen they were able to get time off every once in a while to fish together and hone their skills as a team. Their team name was "Frozen Dog"! No, they wouldn't say what it meant!
The "Fly Hooker", a 31, Bertram, cruised out to an area south of Gordo Banks and began the search. There were no porpoise in sight when they started but the area looked "fishy"! In very short order they were getting strikes and hooking more of those stupid Dorado! After three in a row on the same lure they had almost decided to change the green and yellow Zuker for something else when the lure disappeared in a washtub sized swirl! Phil was the assigned angler for the next fish and quickly grabbed the rod and set the hook. Everyone was looking at the horizon waiting for the Marlin to surface and start jumping. The line continued to peel off the Shimano Tiagra 50WLRS and soon the served section uniting the 80 pound topshot with the 700 yards of 130 pound Spiderwire Big Water Braid passed through the top roller of the Calstar 6, Standup Tuna rod.
Another 200 yards slowly disappeared until the fish began slowing down and Phil was able to start working the fish. There was still no sign of the Marlin that everyone expected and as Phil continued to put pressure on the fish the certainty that it was a Marlin started to dissolve! As Phil fought the fish the throttle cable on the starboard engine broke and suddenly the fight became more difficult. Also everyone was becoming surer that they might be hooked up to the winning fish! The fight had changed from a long distance fight to a close in, straight up and down battle. Phil kept shifting in and out of low gear on the Tiagra and was happy that this was a two-speed reel! As Phil fought the fish Captain Juan was working to attempt an at sea repair of the throttle cable. The water was very rough and made it difficult to work in the cramped area but he was able to jury-rig with some wire so that there was a little bit of throttle available.
After three hours signs of the fish appeared in the water off the stern of the "Fly Hooker"! Yellowfin! And a big one! As the fish neared the boat in it's death circles it was apparent to everyone on board that this was the tournament winning fish. Tensions mounted as the fish got closer and closer. Everyone was praying that the new line had not been chafed too much and that the hook was solid in the jaw. With a last spurt of effort from his exhausted arms and back Phil managed to get the leader within Juan's reach! Phil backed the drag down from the strike position of 29 pounds as Juan took his wraps on the leader. The flying gaff was placed in the shoulder of the fish and he went crazy! A sudden surge toward the bottom of the boat removed the gaff line from Manuel's hands and the fish got the gaff line wrapped in the prop. Instantly jumping into the water Juan was able to cut and tie the gaffline back into a single whole and the fish was brought back to the side of the boat. An amazing feat in 4-6 foot wild seas!
The fish was brought into the boat and they headed for the Marina. Phil had fought the fish for 3 hours and 15 minutes and if they made it back in time the prize money would be about $70,000! If only they had entered all the jackpots! As the "Fly Hooker" gimped back to port with the jury-rigged throttle cable unable to maintain a constant fuel flow it became apparent that they were not going to make the 5 p.m. deadline to be in the marina. The fish had been boated at 3:15 and they were 35 miles out. The rules did not allow the fish and angler to be transferred to another boat and there was no leniency in the deadline. An exhausted team and crew pulled into the weigh station dock in front of Plaza Las Glorias at 6:05, just minutes after the calibrated electronic scales had been dismantled and removed. Word of the toad Yellowfin on the local charterboat had already gone out and a large crowd was on had to see the giant fish. With oohs and awwhs the fish appeared and immediately estimates were made ranging from 170 to 230 pounds.
Pictures were taken of everyone while standing by this giant Yellowfin, with people taking turns to get a shot taken. Tournament officials on hand confirmed that had it arrived prior to the check in deadline it would have won the tournament, and these experienced officials estimated the weight of the fish to be between 200 and 230 pounds. The crying towels and cervesas were handed around and the "Frozen Dogs" thanked Juan and Manuel for their efforts. They let it be known that they wanted the boat for next year's tournament and then headed off to catch the awards ceremony. They did receive recognition for the hard luck with a free entry into next year's tournament, free entry into the Fred Hall Show for life and won a G.Loomis rod in the raffle. These nice guys had a great time in one of the most enjoyable and least pressured tournaments in Cabo and acted like winners all the time. Class act guys and sure to be winners in life! Tight Lines!
CABO SAN LUCAS, MEXICO: JEFF KLASSEN SPORT FISHING, Cabo San Lucas, October 24, 2000, Jeff Klassen, Reservations Tel 360-402-3474. I just got back from Cabo and am trying to get caught up on all the latest. Man are we swamped. We are at our busiest right now with boat charter bookings, which pays the bills, plus are getting ready for the Puerta Vallarta trip at the end of the month. I'm going down to check out a new potential "hotspot" for large roosters from shore. I'm also just about to get our new Costa Rican website up and running. It's: www.costaricanfishing.com.
I went and saw the Fixx and the Alarm in concert the other night. Both groups were awesome, especially the Fixx and if they come around your town, go see 'em.
Surf-fishing is still excellent right now with a lot of stuff in the rocks. Leopard grouper still continue to be the fish of choice and they're being quite eager to oblige anglers. Klassic poppers are definitely the lure of choice. Retrieve them through the channels, or alleys, between two protruding rocks and hang on tight. You can get them from Octavio at Cabo Sportfishing in Cabo San Lucas or at Deportes Pisces in San Jose, when you're down there, or order them through our website.
Anyway, an average Leopard is 10 pounds and they get to 20. Hawkfish are around now too, as are pargo (Cubera snapper) up to about 10 pounds and Yellow snapper to 5 pounds. All fishes are hitting the same. I had a few of the folks from G. Loomis Rods down and took them with us a few times. Tim fly-fished the rocks and caught three species; L. grouper, hawkfish and Gaftopsail pompano, all on popper-type flies. Kris nailed a nice Leopard at about 12 pounds and then broke the women's 20 pound line class record on Jack Crevalle, with a 23 pounder. Congrats too to Jamie Damon from Texas, who received his record certificate for the all-tackle record Green jack he caught with us this year, on one of our surf fishing trips. We've been fishing the Pacific-side at the 94 and 97 spots, where Kris caught her jack. We also caught a bunch of smaller roosters in the 5 to 8 pound range around there. A fella wrote in and told me he lost a big roster right off of the Solmar beach and landed a few sierra mackerel. The best rock-fishing has definitely been around the Los Zacatitos area, just north of Gordo Point, past San Jose. All colors worked. We also tested the new version of the "Jack Hammer" lure, which I started making a bunch of years ago. I'll have it up on the merchandise page soon.
The WON Tuna Tournament was this past week at Cabo and here are the results: Ist place went to Ben Taylor with a 130 pounder; second place to Robert Tininenko, with a 78.9 pounder; and Joe Cantone, with one weighing 76.7 pounds. Not a lot of tuna were caught on a whole, but a lot of fun was had by all. Congrats to Western Outdoor News and all of the winners. Tuna fishing is not too bad at the moment with quite a few schools of smallish fish around. In amongst them are fish approaching 200 pounds, but they come up for only a moment or two at a time and one has to be pretty lucky to have a bait out during these infrequent times. A few 150 pounders were caught. Put 8 ounces or so of lead in between your leader and line to get the bait down quicker in amongst the schools, hopefully avoiding the smaller fish. Use at least an 8 foot leader when doing so.
The Dorado bite continues without site of letting up. Great news if you're wanting to fill the cooler, not so great if you're after striped marlin or sailfish. Some of the dods are reaching 40 pounds, which are nicer fish for sure. I went out on my last day, on the Juanita, hoping to get some video of a billfish and couldn't buy one. There were so many freakin, Dorado around we couldn't keep the lures out. We caught about 8000 of them with 3 or 4 on at a time frequently. Oh well! There are some stripers, blues and sails being caught though. There are a fair amount of juvenile stripers around at the moment. I saw a couple tailing surface fish that couldn't have been more than 40 pounds or so.
The Blue marlin catch numbers are increasing a bit, as we head towards tournament time, but most are still 200 to 250 pounds. Everyone is still talking about the 800 pounder caught last week. They are there, lurking about, somewhere.
Fly-fishing from the pangas has been good too. Dave Maynard wrote in and told me that he hammered the 20 pound Dorado on his 9 weight and lost a striped marlin after 10 minutes. He was using popper-type flies. The Pacific-side is still better for most species, other than tuna with the best concentrations between the lighthouse canyon and Jaime banks, as well as Los Arcos out towards the golden gate. The best dorado bites are in closer to shore also around Los Arcos. 8 to 10 miles off Chileno beach and the Gorda Banks are areas producing the most tuna. The water temperature on both sides average 84 to 85 degrees.
Is anyone out there getting these emails from apparent Nigerian nationals, defecting to the USA? They ask for my bank account numbers so that they can put exorbitant amounts of money, up to $30 million usd, in to them, getting it out of their country. My cut is going to be 30%. Since I live hand-to-mouth, I don't have any bank account numbers, therefore, I am passing these names and email numbers on to you folks: Farouk Bako: faroukbako12@megafortunes.com, Patrick Oteh: pateh2@excite.com, Ladi Johnson: ljohnson37@onebox.com, Paul Okadigbo: paul_okadigbo@eudoramail.com and Bello e Hassan: bello_hassen@lycos.com. Good Luck, and remember, if you do get the cash payout, I get a 10% finder's fee.
Guess what folks, that's the comment for this week!I am outa here! Jeff
CABO SAN LUCAS, MEXICO: BAJA ANGLERS, Cabo San Lucas, October 17, 2000, Grant Hartman, Reservations 888-588-3446. Hi Folks, now and again I am reminded that Cabo San Lucas is one of the worlds great bluewater fisheries. All ocean fisheries tend to slow down at times. It makes you wonder if the fishery is getting too much pressure. If the commercial overfishing of our planet has made the great days of fishing a thing of the past. Sure, the fishing has been good all summer. We have had a very good dorado and sailfish season, but you wonder if it will ever be exceptional like it was in past years. Then just a week or so ago the offshore fishing went ballistic. You just can't compare anything with the action we have been seeing. The other thing that blows my mind is proximity of the fishing, and the variety of species that you can catch in one day all in the same area. For example, yesterday we had non-stop dorado action on the fly, caught a striped marlin, raised a sailfish and had a blue marlin hookup before noon and all of this action not more than a mile offshore from the lighthouse. This is as good as it gets. Cabo is undoubtedly one of the finest fishing holes on the planet!
Plenty of action on dorado, sailfish and striped and blue marlin close to port. The action starts just as you leave the harbor with yellowfin tuna at the arch. The yellowfin are a bit shy early in the morning as they have been hammered hard for marlin baits, but the fish start biting after the boats leave offshore for the marlin grounds. These fish are running 20 to 25-lbs, but some are as big a 80-lbs. More than you want to tackle on the fly! A 20 to 25 pounder is a perfect sized tuna for the long rod.
Dorado are being caught everywhere! Most fish are under 20-lbs, but we have seen some bulls that go to 50-lbs and bigger! These fish are one of the finest fish for the fly rods and light spinning tackle. They have everything a fly fisherman want's from a fish. They are one of the most beautiful fish you can see, fight hard and make that reel scream. They take the fly on the surface and jump like there is no tomorrow.
Sailfish, striped, blue and black marlin are abundant. Locating them is not difficult right now. The smaller billfish are all over the place with the big boys hanging around the banks. Inshore fishing is still slow, but it should start picking up in November. If you can get away, come on down!
SPECIAL OPPORTUNITY: Due to a last minute cancellation we have an opening for one fly fisherman in the exclusive "Cabo Style" Fly Fishing Tournament 11/7-11. Fishermen are traveling to Cabo 11/6-with wives. Participants are sharing a beautiful house at Palmilla Norte, fishing daily for all the Cabo species and competing for a cash prize pool. It's all for fun. Entry fee is $200. House and fishing costs are shared. Dine out with the group each night. Change fishing partners and captains each day you are on the water. Each catch and release (IGFA) earns points. Add em up at the end of four fishing days. Join us. It will be a great test of skills. Interested? Call Dan Dreyer at 480, 563-4648 for details. First to commit earns the spot.
CABO SAN LUCAS, MEXICO: PICANTE FLEET, Cabo San Lucas, October 24, 2000, Marco Aréchiga, Reservations Tel 011-52-114-32474; Fax 011-52-114-35969. Fish available: Blue & Black Marlin, Dorado & Yellowfin Tuna. Water Temperature: Approximately 84-86F. Air temperature: hi 92/low 66. Humidity: 70%. Wind: 8-9 Knots Pacific, 7-8 Knots Sea of Cortes. Yesterday's Luckiest: "Picante Express" 31' CABO. Captain: Jaime Gonzalez. Angler: Nissan Group. Production: 1 Blue Marlin 200 lbs. ( released ), 15 Dorado 20-30 lbs. Hot Spots: Golden Gate, San Jaime Bank ( Pacific ). Fleet Production (6 boats): 3 Blue Marlin, 2 Striped Marlin, 47 Dorado & 9 Yellowfin Tuna.
CABO SAN LUCAS, MEXICO: REEL EASY SPORTFISHING, Cabo San Lucas, October 24, 2000, Mike & Renee Hebert, Reservations/Fax 011-52-114-33579. Hola Gene. Captain Alvaro Gastelum and Mate Tony Winkler reported 13 outings for the two-week period aboard the El Chilito, for a total number of 91 fish: 68 Dorado (averaging 15 to 25 pounds), 2 Striped Marlin (100 & 130 pounds - tagged & released), 1 Blue Marlin (270 pounds ), 14 Yellowfin Tuna (15 to 80 lbs, with a 50 and 60 pounder mixed in the middle) , 2 Sailfish (90 & 100 pounds, released) and 4 miscellaneous fish (Sharks & Choppos). Action for the two-week period was mixed between the Cortez and Pacific. Outside temperatures were in the mid to high 90's with water temperatures ranging from 82 to 85 degrees. Until Next Week....Tight Lines!!!!!
In other mainland Mexico and Baja fishing action this week:
ENSENADA FISHING REPORTS
ALL ARTICLES, REPORTS AND FISHING INFORMATION FOR ENSENADA
ENSENADA, MEXICO: LILY FLEET, Ensenada, October 23, 2000, Sammy Susarrey, Reservations Tel/Fax, 5 to 9 p.m., 011-52-617-46747; Cell 011-52-618-67485. The Amigo fished north from Ensenada at Salipuedes and we found a spot loaded with bonitos, 3-5 pounds, on the bottom. We were looking for bottom fish and were surprised to find the bonitos down there, biting very well on Salas 6X Jr., chrome and blue, 180 feet down. We also started catching nice lingcod 5-7 pounds, and in a sandy area we got 3 nice sandbass. Anyway, we ended with 3 sandbass, 24 bonitos, 8 red snapper and 5 lingcod. We had 4 anglers aboard. Water temperature was 64 degrees, and it was a nice day for fishing.
Ensenada, October 19, 2000. Yesterday the Lily fished out of Ensenada at the Todos Santos Island bajo, reporting 3 yellowtail and a lot of good rock cod and lingcod around the reef. Also, the skipper said when they saw the yellowtail they got the fish to bite, but lost them in the rocks since the water was only 20 feet deep. The yellowtail hit on live mackerel and the thre they caught were on 40 pound test line, flylining bait with 3/0 brown colored hooks. The bottom fish were caught in 180 feet of water. Water was nice and calm, temperature 64 degrees. The Lily had only 3 anglers. Live bait was anchovies and 2-inch green back sardines.
ENSENADA, MEXICO: GORDO'S SPORTFISHING, Ensenada, October 23, 2000, Erick Ptacnik O, Reservations 011-52-617-83515; 011-52-617-82377. Gordo's Constellation fishing at Ensenada on Saturday, 13 anglers, 3 Yellowfin tuna, 18 to 25 pounds; 16 Skipjack and 2 Dorado's, and we finished fishing in Soledad for bottom fish.
SAN QUINTIN FISHING REPORTS
ALL ARTICLES, REPORTS AND FISHING INFORMATION FOR SAN QUINTIN
SAN QUINTIN, MEXICO: PEDRO'S PANGAS, San Quintin, October 22, 2000, Pete Hillis, Reservations 888-568-2252. Weather has been remaining great. Air temperatures in the mornings have been cool but warm up to the low and mid-70's by the afternoon. Great fishing weather. Water temperatures appear to be cooling a bit (which may be the reason the tuna have been scarce - see report below). Seas have been calm. Brian Skinner brought a group of 10 guys to fish at San Quintin from the Los Angeles area down with him. On their 1st day, they went out for tuna but were disappointed. They then came back in to the local areas and brought in some yellowtail (12 to 15 lbs.) and rock cod. Their 2nd day out, they elected to stay local and limited out on bass, yellowtail, barracuda, and bonita. Pretty much wide open fishing the 2nd day.
SAN QUINTIN, MEXICO: SAN QUINTIN SPORTFISHING, San Quintin, October 24, 2000, Gene Allshouse, Reservations 011-526-162-1455. Hi Gene We are still catching lots of Yellowtail in the 20 to 30# class but, as you probably know the Tuna have split. Still have lots of nice big Barracuda and Bonita just off the point at San Quintin, but no one wants to go after them. Bottom fishing is wide open with Rock Cod, Ling Cod and white fish as well as the bigger Yellowtail. You never know what you're going to pull up from down there. All in all the fishing is still great but, miss the Tuna.
MAGDALENA BAY FISHING REPORTS
ALL ARTICLES, REPORTS AND FISHING INFORMATION FOR MAGDALENA BAY
MAGDALENA BAY, MEXICO: BAJA ON THE FLY, San Carlos, October 25, 2000, Gary Graham, Reservations Tel 800-919-2252; Fax 760-746-7260. Temperatures: 77-degree high; Low 63. Water temperature: 77 degrees in the mangroves and 83.5 offshore. STRIPED MARLIN - Fish all along the 100 fathom curve up to the Thetis! DORADO - A few fish up to 50 pounds.. TUNA - Plenty of small tuna near the entrada (entrance).. CORVINA - A few near the pier.. SNOOK - A few smaller fish up towards Devil's Curve.. YELLOWTAIL - Not too many on the surface, mostly down deep.
QUICK COMMENT - With great reports on the offshore fishing at Magdalena Bay , I can't wait to begin our "Flyrod Marlin 101 Series." Following a cancellation, we have one slot for the Nov. 21-28 trip available. Give the office a call if you are interested in a great shot at a marlin on a flyrod. 800 919 2252.
San Carlos, October 21, 2000. Temperatures: 77-degree high; Low 63. Water temperature: 77 degrees in the Mag Bay mangroves and 83.5 offshore. STRIPED MARLIN - Season is off to a great start!. DORADO - Some fish reported to 50 pounds. TUNA - Lots of small tuna near the entrada (entrance.). CORVINA - Devil's Curve produced the best action this week. SNOOK - A few caught near the bridge at the entrance to town. YELLOWTAIL - Good catches at the .entrada. Look for fish feeding on the surface. QUICK COMMENT - The best action is the offshore and has drawn most of the attention of the locals this week. In just 2 1/2 weeks, we begin our "Flyrod Marlin 101 Series" and I can hardly wait. Following a cancellation, we have one slot for the Nov. 21-28 trip available. Give the office a call if you are interested in a great shot at a marlin on a flyrod. 800 919 2252.
MAGDALENA BAY, MEXICO: MAG BAY TOURS, Punta Hughes, October 24, 2000, Brian Freitag, Reservations 800-599-8676. We took a week off. Clients were few and the weather was bad all week.
SAN JOSE DEL CABO (LOS CABOS) FISHING REPORTS
ALL ARTICLES, REPORTS AND FISHING INFORMATION FOR SAN JOSE DEL CABO
SAN JOSE DEL CABO, MEXICO: GORDO BANKS PANGAS, San Jose del Cabo, October 23, 2000, Eric Brictson, Reservations 800-408-1199; Fax 619-447-4098; 011-52-114-21147. This past week of fishing at San Jose del Cabo the Gordo Banks saw some very serious fishing pressure, especially during the WON tuna tournament on Wednesday and Thursday, there were scores of pangas and cruisers working the area with hopes of taking home the grand prize jackpot. Conditions were great until Saturday when the seasons first big northeasterly wind picked up, mornings were cooler, with the days still reaching the mid 80's and seas were mostly calm. Reports from this year's tuna tournament were that everyone had a great time, though there were not as many large tuna taken. In the days before the event there were several nice sized yellowfin tuna taken from the pangas out of La Playita while fishing the Gordo Banks, including fish that weighed in at 125, 194 and 200 pounds, these would of been true contenders if they were caught just a day or two later. The tuna on the Banks were taken on a combination of chunk bait, sardinas, chihuil, caballito, bolito and skipjack, no one technique was that much better than the other, you just had to be in the right place at the right time. With all of the pressure the fish became spooky and anglers had to have a little of luck going on their side in order to get a hook up. In the days following the tournament the action did improve and boats were accounting for an average of two to five tuna each in the 40 to 70 pound class. The yellowfin were also found in other areas, with Iman being a hot spot, but the majority of these fish were in the 10 to 15 pound range and they were really going for the live sardinas. Dorado could be found spread throughout the San Jose del Cabo fishing area but they were not as consistent as they had been, and each day they seemed to found in a new location. Most of them were weighing 10 to 20 pounds with a few larger bulls reported. Live bait was most productive once the schools were located by trolling medium sized lures. Wahoo continued to be caught daily, but only in limited numbers, best bet was trolling live bait, marauders or skirted lures around the area of the Iman Bank. Most of the ones taken weighed between 20 and 45 pounds. We look for the bite to improve now that the nights are getting cooler and the water temperature is starting to drop a bit. Out of San Jose del Cabo the billfish bite was slow, with the most common species taken being the sailfish, hitting in the same areas as the tuna and dorado on mostly bait and they were averaging 70 to 100 pounds. Baja Sportfishermen have received some very encouraging news that the long liners might be shut down in time before they do irreversible damage and that there will be heavy conservation efforts put into law to help protect future fish stocks. Good Fishing, Eric.
EAST CAPE FISHING REPORTS
ALL ARTICLES, REPORTS AND FISHING INFORMATION FOR EAST CAPE
EAST CAPE, MEXICO: HOTELS PALMAS DE CORTEZ, PLAYA DEL SOL, PUNTA COLORADA, East Cape, October 23, 2000, reported by Dave "Smokey" Manuel, East Cape Smokehouse, Hotel Reservations, 800-368-4334. The pace the past weekend certainly wasn't normal, it was tournament weekend. The annual East Cape Classic, which is the largest of the year, ran through Sunday and kept everyone associated with it hopping. In addition, the local East Cape Angler's group held their fall tournament on Saturday, resulting in the huge Tuna pictured below. It is not possible to give all the weekends specifics, with so many fish and so many boats, but generally speaking East Cape fishing was excellent in all directions on Sailfish, Dorado and Tuna. Sailfish action was as good as we've seen since late June and early July, with most charters that were targeting Sails getting multiples daily. Some boats as many as 6 and 7 Sailfish in one day. I recorded 173 Sails caught or released over the weekend and as I said, I missed several counts. Dorado action was also strong with more mid sized fish than small or large. Most Dorado were in the 18 to 25 lb class and were found all along the East Cape. Big Dorado were fewer in numbers, but several in the high 30's and into the mid 40's were brought in daily. The biggest I saw weighed over the weekend was 52lbs. And finally Tuna. Man o man were there a lot of quality Tuna the last few days. Many spots produced Tuna consistently in the 30 to 60lb class and a few bigger, up and over the 100lb mark. Many of the big guys were found mixed in with Porpoise, using both big live bait and lures, while several other spots produced smaller Tuna in the sub 20 lb category using Sardines. Of course there was one REALLY BIG TUNA as well (see below).
Rather than me trying to tell you what happened, how about letting the people on the boat tell their own story? I received this story about the big Tuna caught on Saturday from local anglers Diane and Rene Aerts:
EAST CAPE, MEXICO: 294-Pound Yellowfin Tuna (Special Report):
"It was one of the roughest days of fishing we have ever had here. We were approximately 6 miles off Punta Pescadero, which is about 12 miles from our mooring, when suddenly something popped our green/white Zuker lure. Rene played with it and then it hit big time, peeling off line as fast as it could. I had a heck of a time getting lines in and getting the boat moving. Once the fish had slowed down, we gained some line back and he actually came up to the surface. All I could see though was a big black blob slicing through the water, then it headed straight down without stopping. We tried everything, running the boat in different directions, alongside, forward, backward, everything, but he wouldn't budge. All this in terribly rough seas in a 17ft boat!
"About the time we were nearly spooled, we were able to finally stop him, but now what? There was no line left, the rod looked like it was ready to snap and you could play the line like a cello. Rene then went to put the rod into the holder on deck and it snapped like a toothpick. He held on as I put on a belt and harness to relieve him, which lasted all of about 3 minutes. There was no way I could stand and hold the rod in the belt harness. I felt the fish could easily pull me over. Rene put it back in the holder and manually pulled in line with one hand and gave the reel a half crank with the other. I got on my hands and knees and gave it the old "ice cream crank" with both hands, until it just wouldn't wind anymore.
"After 2 hours and 14 minutes, it broke the surface and we discovered we had an extremely large, dead Tuna. Rene immediately got a rope through it's mouth and we decided we had better call for some help from another boat. How would we get it into our 17-ft Whaler? I said let's give it one try first, so we pulled with all we could and darned if that thing just didn't slip right into the boat.
"It was the biggest Tuna we both had ever seen, let alone caught. After a quick rest and a congratulatory beer, Rene suggested we put out one line and head for home. No way!, we are going home; how the heck could I fight another fish with that monster in the back of the boat! We weren't quite sure how we were going to get this thing out of the boat, so the tournament weighmaster swam out to help us. With all the weight on the back and the rough seas, the boat started filling with water, so Rene opened two through hull plugs, I bailed and the weigh- master drove the boat. After the three of us tried to move the fish from the boat unsuccessfully, we finally had to pull the boat with the fish in it!"
"This fish was caught on 60lb test line on a Penn International 30w. The lure was a Zuker 5.5 "Mackeral" rigged with 200-lb test line. It was officially weighed on the clubs digital scale at 294-lbs."
EAST CAPE, MEXICO: BAJA ON THE FLY, Buena Vista, October 25, 2000, Gary Graham, Reservations Tel 800-919-2252; Fax 760-746-7260. TEMPERATURES: High of 88 with a low of 64; with East Cape fishing area water temperatures in the mid-80's. Strong north winds since Mon. afternoon. BLUE MARLIN - Still here
STRIPED MARLIN - I have only heard of a few all month. YELLOWFIN TUNA - Good catches close to shore at East Cape for fish up 25 pounds. DORADO - Mostly scattered fish with a few schools close to the lighthouse at Punta Arena and the shark buoys near Punta Pescadero. SAILFISH - Continues to be the best we have seen in a few years. ROOSTERFISH - Excellent catches until the north wind showed up. JACK CREVALLE - Plenty of jacks in front of La Ribera. BARRILLETE OR MEXICAN SKIPJACK - Good catches at the lighthouse and Punta Pescadero. PARGO AND CABRILLA - A few of the larger variety both at Punta Colorada and in front of Rancho Leonero. OFFSHORE: Has slowed somewhat, but still offers a challenge to the flyrodder seeking a billfish on the fly. INSHORE: A real mixed bag with the catches being evenly split between dorado and tuna. BEACH: Up until Mon. noon when the wind began to blow, the fishing along the beach was as good as it gets with ladyfish, lookdowns, jacks, pompano and small roosters taking small Clousers with a vengeance. Catches in double digits not uncommon.
QUICK COMMENT - Manuel Monasterio, owner of the Reel Life Fly Shops in both Albuquerque and Santa Fe, New Mexico, brought a group of clients down for a week's fishing and their timing was pretty good. From the first day on the cruisers this trip looked like a winner and according to the group it was. Not only did they get variety, they had quantity as well. Every member of the group caught dorado, tuna and roosterfish. One day fishing from the pontoon they racked an unbelievable catch of 22 roosters . . . all were released.
Buena Vista, October 21, 2000. TEMPERATURES: High of 90 with a low of 70; with the water temperatures in the mid-80's. Moderate wind in the afternoon. BLUE MARLIN - Several larger fish reported this week. STRIPED MARLIN - rarely seen for the month. YELLOWFIN TUNA - Continues to be good with several different areas producing good catches. Some larger fish off of the white sand beaches. DORADO - Punta Pescadero producing good catches with a few fish to 25 pounds. SAILFISH - Continues to be the best we have seen in a few years. ROOSTERFISH - They are back! Several were caught and released from the pontoon as well as from the beach. JACK CREVALLE - Lots of jacks and ladyfish feeding along the shore at gray light from Rancho Buenavista to La Ribera. BARRILLETE OR MEXICAN SKIPJACK - Good catches at the lighthouse and Punta Pescadero. PARGO AND CABRILLA - Plenty of smaller ones near the shore feeding on sardinia near Punta Colorada. OFFSHORE: Most boats reporting 4 - 5 shots at blues or sails in a day's fishing. INSHORE: Tuna and dorado have been good throughout Palmas Bay. BEACH: A terrific ladyfish bite in front of Buenavista Beach Resort late in the evening or early in the morning.
QUICK COMMENT - Manuel Monasterio, owner of the Reel Life Fly Shops in both Albuquerque and Santa Fe, New Mexico, brought a group of clients down for a week's fishing and their timing was pretty good. On the first day - fishing from a cruiser - they landed dorado, tuna, skipjack and a sailfish. The next day, they used our pontoon and ATV's and caught roosters, jacks, ladyfish, pargo and a few needlefish. Buzz and Mary Fedorka, frequent visitors to the East Cape from Telluride, Colo., had a great trip. Buzz caught his first tuna on the fly and Mary caught her largest rooster to date - a 25-pound whopper. Terry Carter traveling all the way from Cincinnati, Ohio, landed a sailfish on the fly and missed several chances at blues. Be sure to read Kent Black's story, "Fly-Fishing in the Sea of Cortez" about his recent trip to the East Cape. You will find the article on page 86 of Outside 2001 Annual Travel Guide at your local newsstand. Be sure to pick up the Nov./Dec. issue of Fly Rod & Reel Magazine. There is a great article with plenty of photos about East Cape and the beaches we fish.
EAST CAPE, MEXICO: EL CARDONAL'S HIDEAWAY, El Cardonal, October 19, 2000, Eddy, Reservations 011-52-114-10040. Hola Gene, we had four guests that fished out of kayaks and from the beach for two days. Results, 6 tunas and one dorado plus in the bay in front of the hotel they hooked and released two roosterfish that were about 40 pounds. These roosters live in our bay, and we catch and release only.
While chitchating on the porch one guest noticed that the sardines were bunching up close to shore, indicating that big fish are in an eating frenzy. Two ran for their rods and fished from the beach. One...two...three hookups. One decided to jump in his kayak and while staying within 15 feet of the beach started casting into the frenzy. Lots and hookups and release. At one point the sardines were coming directly at the kayak while being chased by the big ones (3-5 pound ladyfish), and about 10 sardines jumped into the kayak.
EAST CAPE, MEXICO: RANCHO BUENA VISTA, Buena Vista, October 21, 2000, Tamara Moyeous, Reservations 800-258-8200. Perfect weather and water temps at 70 degrees resulted in great East Cape fishing for the 32 boat trips that went out this week. They caught 202 fish, including 17 striped marlin, 2 blue marlin, 39 dorado, 82 tuna, 43 skip jack, 14 sierra, 1 jack, and 4 sail fish. Hector Manciel of Tucson, AZ caught a 250 pound blue marlin, and fished with Bill Lackner and Doug Buck to land a sail, 9 dorado, and 10 tuna. Doug Reimann of Des Moines, Iowa caught 3 sailfish plus tuna and dorado.
EAST CAPE, MEXICO: RANCHO LEONERO, Bahia de Palmas, October 21, 2000, John Ireland and Roy Baldwin, Reservations 800-646-2252; Hotel 011-52-114-10216. Absolutely great conditions, with daytime highs about 85, evening lows near 70, calm seas with water temp around 84 deg. Extraordinary fishing continues, with yellowfin tuna, big dorado, sailfish, and blue marlin dominating the action. Fly and light tackle inshore fishing at East Cape remains wide open. Lots of sailfish were taken, from 1 to 6 miles offshore, including a 120 lb sail from a kayak. The sails are coming up to lures, but are almost exclusively taking live caballitos and sardinas. The blue marlin bite has picked up, with fish from 250 to over 500 lbs taking green/black or bleeding mackerel pattern trolled lures. The incredible tuna bite continues on, with easy limits of schooling fish averaging 15 lbs within 5 miles of Leonero, and larger fish averaging 80-90 lbs (a 294 lb tuna was taken on Saturday) located outside under porpoise, taking mostly live sardinas and small jacks. The strong dorado bite continues, with schools of larger fish averaging 25 lbs under floating debris taking live sardinas, with some larger fish to 60 lbs outside taking marlin lures. Lots of roosterfish to 35 lbs, sierra to 6 lbs, pargo to 12 lbs, and jacks to 20 lbs were taken inshore, taking hoochies and live sardinas. Dennis Spike of Coastal Kayak Fishing, from Reseda, CA, while fishing 2 days from a kayak, took and released a 120 lb sail, and landed numerous tuna to 15 lbs, pargo and sierra.
EAST CAPE, MEXICO: HOTEL PALMAS DE CORTEZ, Los Bariiles, October 23, 2000, Carlos Jose "Chucky" Van Wormer, Reservations, 800-368-4334. Well we just had the biggest tournament ever held at Palmas de Cortes, "East Cape Classic", with about 152 participants which equals around 51 boats. Everybody had a blast, the fishing was excellent and even the weather had cooled down just a little with some showers we got on Thursday and Friday. The fish count was: 206 sailfish, 3 stripped marlin, 13 blue marlin, 2 marlin, limits on dorado, 50 lbs being the biggest, and limits on tuna, 121 lbs being the biggest, and last but not least a 27 lb wahoo. The tournament started on Wednesday and ended last Saturday with a nice closing party on Palmas de Cortes' new Patio. Gene I have not seen the fishing so good in so many years. see you soon. Chucky Van Wormer.
EAST CAPE, MEXICO: EAST CAPE SPORT FISHING, Los Barriles, OCTOBER 25, 2000, Dave Dixon and Gil Mendiaz, Reservations 800-837-1556; Fax 805-493-5446. North winds have started blowing in the East Cape, currently being reported at 15 knots. Coupled to this is a drop in water temperature, now averaging below 85 degrees and falling. Still, fishing remains excellent for those willing to brave the winds. Football tuna are being found in abundance on the outside of La Ribera and Punta Pescadero. This same region is also producing 15-30 lb. dorado on the troll. The shark buoys to the north are pumping out lots of BIG dorado, to 50+ lbs. A few sailfish and marlin are being taken, but billfish have slowed overall.
Jim Roberts of Cabo Tours brought a large group of anglers, limiting on tuna to 80 lbs. and dorado to 50 lbs. in three days of fishing. Jim himself, fishing the Los Frailes tuna hole aboard Petunia experienced an unfortunate breakdown. Hector, the skipper, suggested they go ahead and fish while waiting for a tow. It turned out to be a good suggestion: they caught eight dorado, six tuna, two sailfish, and one striped marlin while adrift.
LA PAZ FISHING REPORTS
ALL ARTICLES, REPORTS AND FISHING INFORMATION FOR LA PAZ
LA PAZ, MEXICO: JONATHAN ROLDAN'S ADVENTURE SERVICES, La Paz, October 23, 2000, Jonathan Roldan, Tel 626-333-3355; Fax 626-333-0115; Pager 323-349-8111; Message Pager 877-310-7734. You can tell with the increased frequency of the winds that the seasons are changing, but for the most part, the fish sure don't seem to know it. Not many anglers, but on a per-rod basis we are having probably the best fishing of the season right now. No one is going home disappointed and, as we head into fall, it will be interesting to see how long the bite sustains. Fishing on the La Paz side keeps putting out nice dorado in the 25-40 pound class in that area about a third of the way up Espiritu Santo Island near Punto Lobos with what seems to be a resident school of tuna literally about a hundred yards offshore. Private boats running the channel north of Isolotes also tell me that there's tonnage of finning and jumping sails and marauding schools of big dorado in the area. Best bite overall, however, is still that area off Punta Arena. Earlier in the week, the bite at La Paz was in a wide arc from Punta Perrico to the lighthouse out to Punta Sur and at the buoys for assorted sizes of yellowfin tuna and occasional wide open flurries of dorado. However, by week's end, the tuna seem to be concentrated about 200 yards off the lighthouse then out to about a quarter of a mile. The pangas are locating crashing fish with footballs on top and the bigger toads below up to 50 pounds. If you're headed to the area, the buoys in Ventana Bay put on a world class bite about every 3 days with one-stop shopping.
La Paz, October 19, 2000-- You know, amigos. . .this is really tragic tragic tragic. The prettiest girl in the class is finally available. You always wanted to go out with her and she never gave ya a look and all of a sudden, just when you decided to go steady with someone else, the babe says she wants to go out with you and has had her eye on you all along and there's not a dang thing you can do about it now. . .
Well, gotta tell ya. . .some of the best fishing in La Paz is to be had right now and you know what? There's barely a panga on the water!!!!! Ever wanted to be the ONLY boat on the water with fish crashing all around you? Ever wanted to be able to finally pull on fish after fish catching and releasing as fast as you can go? Ever wanted to use every stupid lure in your tackle box including that ugly pink polka dot one that guaranteed 10 years ago that it would catch every fish in the ocean. . and now it does! Ever wanted to just scream as loud as you wanted like some primeval savage because you've hooked up AGAIN and 10 guys at your elbow and a deckhand aren't going to tell you to shut-the-hell-up? Well, that's what it's like right now, my fishing brothers! Not blowing smoke up the pinkeye either! Cooler weather; flat seas; cooperative fish. . .not much more you could want! Problem is that no one's really out there busting chops on these fish. As one of my clients put it to me last week, it's like every pretty girl in the world suddenly got the hots for you and ONLY you!
From Las Arenas, there's that big body of tuna just off the Arenas lighthouse that has bedded down for the season. Sheesh, these fish are sweet! There's a coupla 25 pound yellowfin in there, but the majority are that cherry 30-60 pound stud yellow that will be more than happy to smoke your socks and drags. Live sardines with a little rubbercore is still the ticket. On top of that, after a dearth of a season on the Arenas dorado, they've finally shown up in good numbers. Not big fish, mind you, but certainly respectable 15-20 pounders! Imagine this. . .water so flat that there's not a ripple other than your panga. You're slow trolling a sardine about 50 feet back and out of nowhere from 40 yards out, a gold and green torpedo literally beelines like a maddened missile right for your bait until BOOM! Dorado on! You're bit , Brother!!!!! You can literally see the things come up and rage on your bait!
The lighthouse isn't the only place either, the buoys in Ventana Bay, the drop off in front of Hotel Las Arenas, Punta Perrico and the Roca Montana at the south Point of Cerralvo Island are all prime. Want some exotics too? . . ..Still have sailfish on the chew all caught incidentally by clients fishing the tuna and dorado. Also, ( I knew they were there), a few guys finally tagged and bagged a few wahoo! That's right, Mr. Hoo is back! (Personally, I've seen them while SCUBA diving so I knew he never left!)
Bait is not great. Some days it takes a tad longer to net. Mixed big and small sardines, but plenty enough to fill your ice chest with gamefish. Best is just to buy it from a passing panga.
On the La Paz side, not many people fishing there either. There's spot that I spoke about last week about 2-3 miles east of Punta Lobos on the east side of Espiritu Santo that racked some nice dorado which seem to have come back. Thirty pounders are not uncommon mixed with the occasional sailfish biter. The spot is NOT on a chart or map, but if you just follow everyone else and fish like they do, you'll know you're in the zone. Also, about 1/2 a mile off Punta Lobo where we had that nice bite of 50 pounder tuna all August and into September, there's a school of football tuna that have come in. I have no idea why the fish have shown up there this year, but who cares, right? Great place to burn off the rest of your bait tank or let the kids yank and crank. It's always fun when the fish crash on the surface.
Personally, I just got off an awesome trip with my pal, Bob Duncan and his family from Santa Barbara. (Thanks, Bob!) For a week they rented a 38 foot catamaran from the Moorings in La Paz. Man. . .we were styling. The boat comes fully equipped with everything from steak to shrimp and we sailed and motored up the west side of Espirtu Santo Island and all the way across the channel up to San Francisco Island. Trolling produced lots of fun bonito, sierra and dorado with an especially hot spot between the sea lion colony at Isolotes and San Francisco Island where we saw tonnage of jumping sailfish and got the most of our dorado strikes. Still, it was awesome to just pull into a deserted cove and call it your own; pull out the dive tanks or snorkel gear and just party and play. Ate ceviche, and sashimi and barbecued fish with cold cerveza everynight and watch the spectacular sunsets! If you ever get the chance.
LA PAZ, MEXICO: FISHERMEN'S FLEET, La Paz, October 19,, 2000, David Jones, Hotel los Arcos, Reservations 011-52-112-21313; Fax 011-52-112-57334. Another good week of fishing in La Paz. Bill Miholic and a large group of his friends and employees were down from San Diego and did very well on Tuna and Dorado. The Tuna seemed to be from two different "hatches" with a large number of small fish (8-15 pounds) but with a decent number of 45-55' pound fish mixed in. You catch the small ones waiting for the big dogs to be let out. Dennis Barry and his group from Colorado were also down and had similar numbers, with a couple of Dorado to 40 pounds and a bunch more averaging 15 pounds. Along with the Tuna and Dorado we've taken a few Pargo, Sierra, and have had a couple of days when swarms of Sailfish were in the area and hungry. Bait has been in good supply, the weather has been nice, we are definitely into the fall change of weather and this should mean that we are past any tropical storm difficulties and into one of the nicest times of year, both for weather and fishing.
LORETO FISHING REPORTS
ALL ARTICLES, REPORTS AND FISHING INFORMATION FOR LORETO
LORETO, MEXICO: CHILI PUNTA FLEET, Loreto, October 23, 2000, John "Bubba" Parker and Fishmanmark, Tel 925-449-4554; Fax 925-456-2252. We have had a few day's of wind from the West and just a couple of rain drops but the temperature has cooled down some. There were a few Dorado in the 15 to 25 pound class this week at Loreto with Rooster fish running in the same weight range. Yellowtail are at Punta Lobos and are in the 15 to 20 pound range. No Yellowfin or Billfish. Sorry for the short and to the point fish report but as things pick up so will the reports. Until next time, Tight Lines.
LORETO, MEXICO: EL FUERTE SPORT FISHING, Puerto Escondido, October 24, 2000, Ty Miller, Reservations Tel 714-775-6658; Fax: 714-755-3501; Loreto 011-52-113-30863. Hola Gene. Just returned from Cabo with empty pockets but had a great time. Have charters all this week and plan to go long and look for some temperature breaks and get things rolling around here. Everyone is still scrapping around here for small Dorado and 5 pound fire cracker Yellowtail. Hope to find the right street where the Yellowfin and Wahoo are hanging out. Will be posting a report for you.
LORETO, MEXICO: BAJA BIG FISH COMPANY, Loreto, October 21, 2000, Pam Bolles, Reservations Tel/Fax 011-52-113-50448. Temperatures: Well, I'm very sure that our weather has finally made the change to winterlike temperatures. We have been experiencing nice, warm days which cool considerably as soon as the sun sets. Typical desert-like fishing weather at Loreto. Daytime highs have been in the mid to high 80's (F) and early morning lows in the low 70's (F). Evenings are sweater weather, and early mornings out on the water will require a jacket and perhaps long pants to keep the comfort level up there. Dress in layers if you're headed out to fish these days. The skies have been partly cloudy the past week. A week ago Friday (10/13) the winds blew from the North making for a very rough day of fishing. This past Friday we saw winds again but this time from the West. Usually West winds "Ouestes" don't give us trouble, but yesterday the water was very rough. Today it had calmed again. We're starting to see the winds prevailing from the North again. Water has heen looking calm this week except for those Fridays I mentioned. The surface temps offshore are in the low 80's (F).
Offshore- Dorado: The Dorado fishing is thinning out but it is still good for this time of year. The fish are still holding to the North off San Bruno to San Basilio. They are mainly being caught by trolling live mackerel but I would suggest breaking away from the rest of the "pack" and trolling some feathers to cover more water thus hedging your bets. Most of the fish are typically in the 15-20 pound range. The Dorado will move in closer to town as they migrate out of the area and they haven't done that yet. They're just swimming deep and you have to look harder for them now.
Offshore Billfish: I'm not hearing anything about Sailfish. You should know what that means.
Yellowtail: We're continuing to see Yellowtail in pretty good numbers. There are small firecrackers in the 12-15 pound range to the North off Las Almejas and San Bruno. The commercial fleet keyed in on them several weeks ago and the sportfishers have been following suit. To the South a few miles off Punta Baja, much larger fish are coming in with good frequency. I'm talking 37 pounders! That's big for this early in the season. The fish are schooling deep in both locations at about 150-200 feet. The water is calm and it would be fun to jig up some of 'em right now.
Yellowfin Tuna: Nada.
Bonita and Skipjack: There are lots of Bonita near and just to the North of Isla Coronado. They are schooling in various sized from 1-15 pounds. The fly anglers are having a blast with them and the light tackle fisherman can also take advantage of their power. Bring along that bass rod if you're coming down as this is just ONE species you'll have a chance at landing on light tackle.
BAHIA DE LOS ANGELES (L.A. BAY) FISHING REPORTS
ALL ARTICLES, REPORTS AND FISHING INFORMATION FOR BAHIA DE LOS ANGELES
BAHIA DE LOS ANGELES, MEXICO: CAMP GECKO, Bahia de los Angeles, October 24, 2000, Abraham Vazquez, Tel 011-52-515-19454; Fax 011-52-665-03206 (goes to Guillermo's). Air temps cooler, 80-64F. Winds out of the west most of the week, sometimes strong. Humity 70%, especially high after the rain we had. Seas moderate to rough. Water temperature cooling down 76-79 degrees. Fishing still good at Bahia de los Angeles for the yellowtail. Most of the action south of Punta Don Juan and around all the points to Animas. They fish haven't been too big, 10-15 pound average, but some days plentiful enough. Occasional 20 pound fish coming to gaff. Rest of the fishing is very much average with lots of bottom fish, some bonita, and lots of barracuda around. Most of the yellowtail caught by trolling Rapalas or feathers, or by casting to the boils. They seem to be migrating now, so you find them on the move most days.
SAN FELIPE FISHING REPORTS
ALL ARTICLES, REPORTS AND FISHING INFORMATION FOR SAN FELIPE
SAN FELIPE, MEXICO: TONY REYES FISHING TOURS, trip ending October 20, 2000, 6-day Midriff Islands trip aboard the panga mothership, Jose Andres,Tony Reyes, Exclusive booking agent, The Longfin, 714-538-8010. Water temperatures 80-82 degrees. Monday we began fishing at Isla Partida without bait, and in the afternoon we moved to Isla Salsipuedes. On Tuesday, we caught bait at San Francisquito and fished at Isla San Lorenzo in the morning. In the afternoon, we moved back to San Francisquito. Wednesday, we caught more bait and then fished at Isla San Esteban and Isla Partida. Thursday, we fished Isla Partida with bait and left for the Islas Encantadas. Friday we fished the Islas Encantadas with bait. Fishing results for this trip out of San Felipe : 138 yellowtail 20-25 pounds; 138 goldspotted bass; 101 cabrilla 12-25 pounds; 16 pargo 18-24 pounds; 4 sheephead 8 pounds; 3 shark 38.5, 46 and 52 pounds; 1 dorado 18 pounds; 1 broomtail grouper 10 pounds.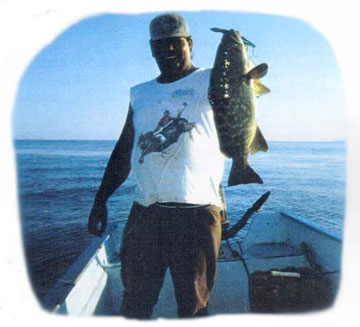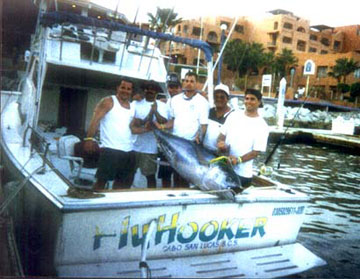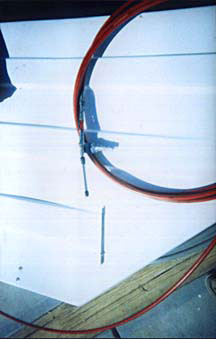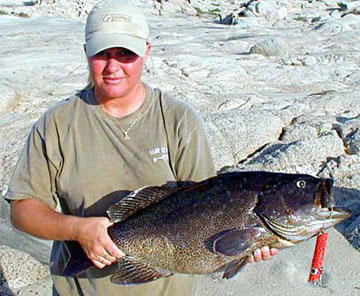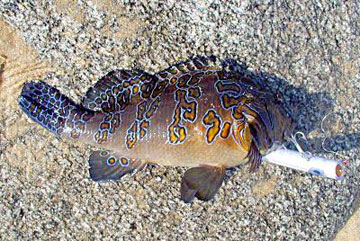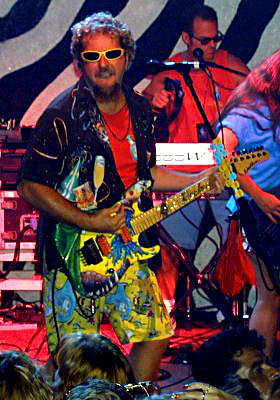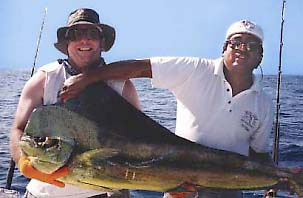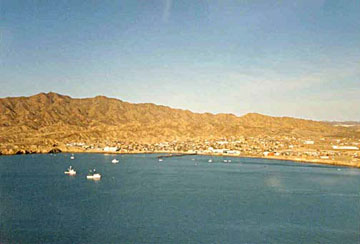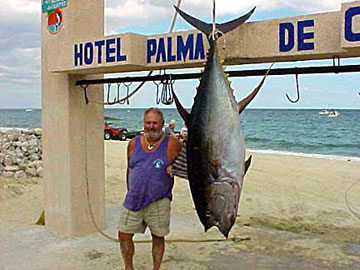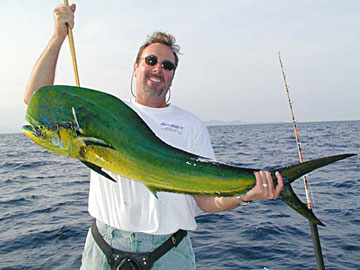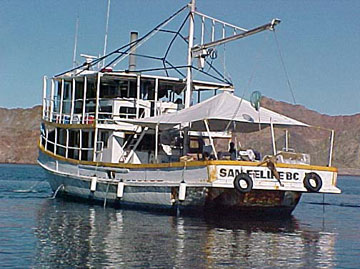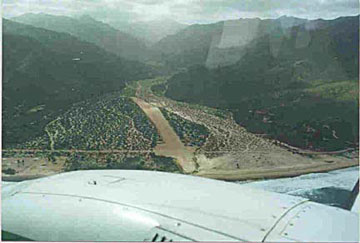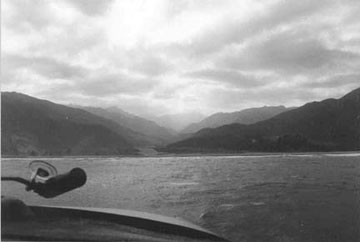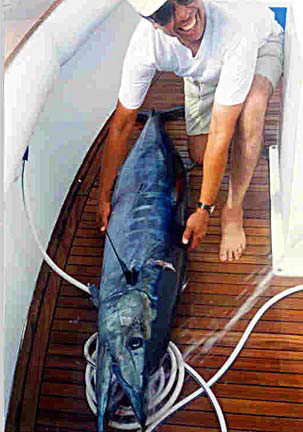 Baja coastal fishing reports and articles.
Ensenada fishing reports and articles.
Puerto Santo Tomas fishing reports and articles.
Erendira fishing reports and articles.
San Quintin fishing reports and articles.
Magdalena Bay fishing reports and articles.
Cabo San Lucas fishing reports and articles.
San Jose del Cabo (Los Cabos) fishing reports and articles.
East Cape fishing reports and articles.
La Paz fishing reports and articles.
Loreto fishing reports and articles.
Mulege fishing reports and articles.
Santa Rosalia fishing reports and articles.
Bahia de los Angeles (L.A. Bay) fishing reports and articles.
San Felipe fishing reports and articles.
Rocky Point (Puerto Penasco) fishing reports and articles.
San Carlos (Sonora) fishing reports and articles .
Mazatlan fishing reports and articles .
Puerto Vallarta fishing reports and articles.
Ixtapa Zihuatanejo fishing reports and articles.
Huatulco fishing reports and articles.
Cancun fishing reports and articles.
Mexico coastal fishing reports and articles.
Mexico Fishing Home Page < Mexico Fishing News Archives < Fishing Report