It is time that people realize that these fish are for sport only and should not be killed, pangeros especially should recognize that the sailfish are worth a lot more to them alive than they are dead. Anglers need to take control of this situation and insist that they should be released, and if need be cut the line themselves with a knife.
Dorado have been the next most common catch after the tuna but their average size was not as large, most them were in 10 to 15 pound class, with some larger ones to 25 pounds occasionally found. They were hitting on trolled lures and once the schools were found would readily hit the various baits. No particular spot was that consistent though and some days the best bite would be found close to shore off of Gray Rock while the next day they would be wide open at either Red Hill or Iman, you just had to be lucky to find the right area.
The fish that did remain very elusive were the wahoo, their annual migration into local waters is behind schedule and only a scattering of them are being found. There was one nice sized one taken from a panga out of La Playita at San Jose del Cabo that weighed 65 pounds but most of the other fish accounted for were under 40 pounds. They hit on live chihuil, sardinas and Marauders, with the majority of fish that were caught coming from the areas between Iman and San Luis. The water has turned a bit off color from the recent winds but is still averaging 80 to 82 degrees so we all are hoping that the wahoo will soon show up in greater numbers.
Many anglers plan their yearly trips to Baja at this time because it is typically when you would have the best chance at catching wahoo, but it just has not happened yet. It has been a blessing that the tuna bite has been so excellent because they have been keeping most people happy enough. There have been a few signs of action closer to shore, as some sierra and small roosterfish are being found along the beaches of San Jose del Cabo, as the water continues to cool and as more schools of baitfish move in it should bring in more gamefish, and this will give anglers another option, especially on those days when the wind picks up offshore.
SAN JOSE DEL CABO, MEXICO: VICTOR'S FLEET, San Jose del Cabo, November 7, 2000, Larry Burson, Jigstop Tours, Reservations Tel 949-496-0960; 800-521-2281; Fax 949-496-1384. We have a good mixed bite now, in calm very warm water. The Yellowfin Tuna, 30-50 lbs are coming in at a rate of 2 to 8 per panga. They might show anywhere, but the catch is mainly at the Inner Gordo bank. The Dorado are 15 to 30 lbs with a individual panga catches of 3 to 9, mostly coming from the Iman bank area.
Wahoo are showing strong on some days in the Rancho San Luis area, with a few at the scales every day, mostly 30 to 40 lbs. All the Wahoo were taken on trolled Marauders, mostly orange & black or black & purple. The Gordo banks are holding a fair quantity of Sailfish, 70 to 80 lbs, that will readily take a live Chihuil.
The primary bait is live Sardinas, which are quite plentiful. Everything eats them and they're great for chumming to keep the fish around you in a feeding mood. For larger fish the natural bait is Chihuil but they are in short supply. You must catch them yourself on hand lines.
Glen Murakami of Lakewood weighed in 2 Wahoo. Mike Mulgrew of Long Beach scored 1 Wahoo, 14 Dorado, 2 Tuna, and a 40 lb Cabrilla. Dan Mulgrew from San Diego checked in with a 54 lb Yellowfin Tuna and 3 Dorado. Gil Lohora from Long Beach scored 8 Dorado to 25 lbs and 8 Yellowfin Tuna to 30 lbs. Mitch Elder of Lakewood boated a 34 lb Wahoo and 6 Dorado. Garth Small of Stanton weighed in 2 Yellowfin Tuna to 36 lbs and a 80 lb Sailfish. Kevin Vasquez from San Diego weighed in 2 Yellowfin Tuna to 54 lbs and 5 Dorado. He fished on the Mary Meche with Captain Hugo, who is now helping with the fishing reports.
In other mainland Mexico and Baja fishing action this week:
ENSENADA FISHING REPORTS
ALL ARTICLES, REPORTS AND FISHING INFORMATION FOR ENSENADA
ENSENADA, MEXICO: LILY FLEET, Ensenada, November 3, 2000, Sammy Susarrey, Reservations Tel/Fax, 5 to 9 p.m., 011-52-617-46747; Cell 011-52-618-67485. Today the Tamara fished locally with 7 anglers, reporting 3 yellowtail to 12 pounds; 12 lingcod to 8 pounds; 18 red snapper to 4 pounds; 9 log barracuda to 5 pounds, 3 sheephead to 4 pounds; and 20 miscellaneous. Today's fishing at Ensenada was at the bajo of Isla Todos Santos . In the morning it was nice and flat, but around 11 a.m. we had some windy weather. Water temperature was 64 degrees, and we had nice medium sized sardines and frozen squid for bait. Water was green, but still clean. We saw a lot of fish at the Ensenada bajo but sea lions were all around today and they didn't let us fish.
PUERTO SANTO TOMAS FISHING REPORTS
ALL ARTICLES, REPORTS AND FISHING INFORMATION FOR PUERTO SANTO TOMAS
PUERTO SANTO TOMAS, MEXICO: PUERTO SANTO TOMAS RESORT, Puerto Santo Tomas, November 3, 2000, Sam Saenz, Reservations Tel 714-256-2577; Ensenada 011-526-174-5683; Remote Santo Tomas Cell 011-52-617-13364, after 6 p.m. or 6:30-7:00 a.m. Hi Gene. I have not sent any reports lately as my remote phone site has not been functioning. Today I am here in Ensenda and I decided to sent you and update. 1. The rain of last week is over and the entry road to our site is in good shape. 2. The surface action slowed down considerably in the immediate area of the reef and the rock pile (islotes) with an occasional bonita or barracuda. 3. The bottom fishing at Puerto Santo Tomas has been good, the last two pangas (I was on board) that went out cruised on to the Soledad outer bank some seven to ten miles from Puerto Santo Tomas . They loaded up on white fish and rock cod at a depth of three hundred feet. This the general area where they had been catching the yellowfin tuna. There were lots of mackerel on the water we landed about fifty of them on top of the regular fish. There were evidence of surface action, with occasional boils, but the clients on board were not interested on surface fishing, consequently we did not attempt to troll or use jigs. 4. Most pangeros at Puerto Santo Tomas do not like to venture out that far on a panga , because of security and fuel cost reasons. However, I see no problem reaching that area with two pangas fully equiped.
MAGDALENA BAY FISHING REPORTS
ALL ARTICLES, REPORTS AND FISHING INFORMATION FOR MAGDALENA BAY
MAGDALENA BAY, MEXICO: BAJA ON THE FLY, San Carlos, November 4, 2000, Gary Graham, Reservations Tel 800-919-2252; Fax 760-746-7260. Temperatures: 77-degree high; Low 63 with some wind in the afternoons. Water temperature: 76 degrees in the mangroves and 74-77 offshore. STRIPED MARLIN - Can't be much better. DORADO - Mostly around the shark buoys and along the 100 fathom curve seem to be the best place to look for them. TUNA - Scattered near the entrada. CORVINA - Devil's Curve continues to produce the best action. SNOOK - Several fish caught to 18 pounds. YELLOWTAIL - Not too many on the surface, mostly down deep. QUICK COMMENT - Sea conditions improved this week and the fishing offshore can't get much better. Marlin, dorado, tuna and even a few wahoo are keeping everyone fishing the area busy. We leave next Wed. on our first trip of the Flyrod Marlin 101 series and I can't wait. We still have one slot left for the Nov. 21 - 29 trip. If you don't mind roughing it and having lobster with all the trimmings for Thanksgiving dinner, give us a call at 800 919 2252 and join us for what is shaping up to be some great offshore fishing at Magdalena Bay !
November 8, 2000. Temperatures: 77-degree high; Low 63 with some wind in the afternoons. Water temperature: 76 degrees in the mangroves and 74-77 offshore. STRIPED MARLIN - The kind of fishing that you dream about. DORADO - The shark buoys west of the entrada have been consistently good for several weeks. TUNA - Scattered near the entrada. CORVINA - Devil's Curve continues to produce the best action. SNOOK - Several fish caught to 18 pounds. YELLOWTAIL - Not too many on the surface, mostly down deep. QUICK COMMENT - All the reports from Magdalena Bay we have received indicate that offshore couldn't be better. Up in the Magdalena Bay mangroves, though lightly fished, the reports of corvina, snook and a few palmetta amarillo makes it tough to decide where to fish. We leave this morning (11/8) on our first trip of the "Flyrod Marlin 101" series and I can't wait. We are departing from La Paz and will be fishing our way up to the Thetis Bank and with only two anglers on the boat it should be an action packed trip for them. My next report will be from aboard the "Garota" at sea using a cellular telephone hookup to the Internet to email our reports. We still have one slot left for the Nov. 21 - 29 trip.
CABO SAN LUCAS FISHING REPORTS
ALL ARTICLES, REPORTS AND FISHING INFORMATION FOR CABO SAN LUCAS
CABO SAN LUCAS, MEXICO: PICANTE FLEET, Cabo San Lucas, November 8, 2000, Sergio Cortes, Reservations Tel 011-52-114-32474; Fax 011-52-114-35969. Fish available: Blue & Black Marlin, Dorado & Yellowfin Tuna. Water Temperature: Approximately 79 - 80.5 F. Air temperature: hi 82 / low 65. Humidity: 47%. Wind: 8-10 Knots per hr. Pacific, 7-9 Knots per hr. Sea of Cortes. Yesterday's Luckiest: "Picante Pride" 35' CABO; Captain: Antonio Romero. Angler: Greg Waters & Robert Hendricks. Production: 2 Striped Marlin 180-200 lbs.( released ), 4 Dorado 40-60 lbs. average. Hot Spots: 18-22 miles off The Lighthouse ( Pacific Ocean ). Fleet Production (6 boats): 7 Striped Marlin, 1 Blue Marlin, 32 Dorado & 3 Yellowfin Tuna.
CABO SAN LUCAS, MEXICO: FLY HOOKER SPORT FISHING, Cabo San Lucas, October 30-November 1, 2000, Capt. George & Mary Landrum, Reservations Tel 011-52-117-01271; 011-52-114-87452. These three Cabo San Lucasfishing days belong to the Tom Rhonchetti group, consisting of Tom, his son Glenn, Glenn's co-worker Pedro and Tom's brother-in-law John. The day before yesterday they went out and caught lots of Dorado and now they are ready to settle down into some serious fishing. The objective is to catch a Marlin for everyone. They headed up the pacific side on the 30th, looking for a nice fish and the water started to get a little rough. They caught three Dorado on the way up to Golden Gate Banks then swung out and searched for the Marlin. Lo and Behold, that was the place to be! In short order they were hooked up to Striped Marlin and two of them weighing about 130 pounds were released. Glenn got to work one and John the other. Everyone gave John a bad time last trip when he was letting all the fish go before they got to the boat, but this one was a real catch and release! After getting everything sorted out the lures were reset and the hunt continued. It was Pedro's turn in the chair and the next fish was a big Blue Marlin estimated at 250 pounds! It was an hour-long struggle, give and take all the way, but eventually this active fish was brought boatside for photo's, then released unharmed. What a nice day of fishing, everyone caught something and three Marlin in one day! Now if the wind would only settle down a bit for tomorrow!
It's the 31st and the third day of fishing for the group. The wind has been blowing all night and the guess is that the water is going to be very rough on the Pacific side. Juan lets everyone know that the fishing for Tuna has been good the last few days out at Gordo Banks and the water will probably be better there so everyone agrees to give it a try. Juan is able to get Sardines from the bait boats at the Marina entrance and off they go! It is a little while before they get there and everyone has a chance to catch up on their sleep. They had gone out to dinner at La Dolce last night and were very impressed with the service and food. Since Glenn is an Executive Chef, Pedro a Head Chef and John a former Ambassador this is about the highest praise I think a restaurant could get! Glenn was thinking about the different ways to fix the Tuna they were going to catch and everyone else was just happy the water was nice! They arrived at Gordo Banks and there were bait boils all over the place! Juan thought these fish were probably in the 15-20 pound range and got out the lighter gear, the Shimano Baitrunner with 17 pound test line, the International 12T on the Fin-nor rod with the same pound class line and the Tld-25 with 30 pound test. Tying the hooks directly to the line and using no leader, the Sardines were in the water only minutes before there were hookups! Juan chummed a few live Sardines around the boat to get the fish to show up and it worked! Well, it seemed that none of these first fish ever made it to the boat! With line screaming off the reels non-stop eventually the fish broke off and it was decided that these Tuna just "might" be a little larger than they thought! The Shimano Tiagra 50's were brought out and once again the hooks were tied directly to the 80 pound test line and this time there was a different result. Two of these were set up and the TLD-25 was sent out again also. The bite was a bit slower but they got fish to the boat! One of these was actually caught on the TLD-25! Eventually they boated three Yellowfin Tuna over 60 pounds each and everyone except Pedro had gotten one in the boat! That's all right, He got to fight fish and he did catch the Blue Marlin yesterday!
This evening we invited everyone out to one of our favorite Cabo San Lucas local restaurants, Los Venados, out in the barrio. I was not sure if they would like it because it is such a low-key place but I should not have worried! The restaurant has six plastic tables with plastic chairs, is about 30 feet long and 20 feet wide. Extremely clean and wonderful food and Margaritas! Glenn and Pedro ended up spending almost an hour talking with the owner/chef after the meal and everyone praised the food!
It's Nov. 1st, and also the last fishing day for Tom, Glenn, Pedro and John. Everyone has caught a Marlin except for Tom, so that is the target for the day! Another Dorado would be all right also so the decision is made to head up the Pacific side again. Thank goodness the wind died down last night and the seas have calmed. Again they hook up to Dorado on the way up, catching five of nine that strike on the lures, and then they turn out to head down sea. Almost a repeat of the 30th as they start spotting tailing Striped Marlin almost right away. John gets to fight, catch then release a Marlin estimated at 150 pounds and then Tom finally gets his! It is not a big one, estimates are at around 100 pounds but now everyone has caught on this trip! Congratulations guys! We had a great time with you and hope to see you again next year again!
CABO SAN LUCAS, MEXICO: NOVEMBER 2, 2000. Carl Shepard has booked the "Fly Hooker" for four days of Marlin fishing at Cabo San Lucas and would really like to catch a Blue. He is an experienced angler and has caught many Marlin before and prefers the fight of the large Blue Marlin to all the others. He has booked for every other day in order to make sure that there is good weather on at least a few of them! Well, the weather is fine today and they head out in search of the targeted Blue. Again the fishing is done on the Pacific side of the cape, since that is where the majority of Marlin have been found lately. The fishing was not red hot and they worked the area around the Golden Gate Banks for the morning bite and trolled the ridge to San Jaime Banks later in the day. Two Marlin were sighted free jumping in the distance and three were sighted tailing down swell. These were all Striped Marlin but while Carl may prefer fighting Blue Marlin, is will not turn down a chance at a tune-up fight! Live bait was tossed at the three fish sighted tailing and only one was interested. The fight was short and the fish was released to fight again another day. That was it for the trip but we have high hopes for the nest trip on the "Fly Hooker".
CABO SAN LUCAS, MEXICO: NOVEMBER 3, 2000. The Terry Matheson group has booked the "Fly Hooker" again and they want to catch lots of Dorado, just like they did last time! They had a special request in, "Please make sure Juan is on the boat for our trip!" No problem, Juan is still with us and loves going out! Hoping for some of the large Dorado they had been finding out towards Golden Gate Banks and with the word circulating about some debris in the water up there, they cruise all the way up and start to fish. Well, they do not find any debris and the fishing is a little slow. They do lose one large Dorado at the beginning and decide to turn towards home and look for fish on the way back, trolling on the way in. They end up getting three medium sized Dorado and a football sized Tuna on the way back and when they are about 5 miles out they had a Striped Marlin hit and jump once, then toss the hook. That was all the action for the day. The fishing was slow but no one got sick and they did get some fillets to take back. Thanks Terry and we hope the action is better on your next trip on the "Fly Hooker"!
CABO SAN LUCAS, MEXICO: NOVEMBER 4, 2000. This is the second day of fishing for Carl Shepard and the guys at Cabo San Lucas, head straight out 10 miles in search of a Blue marlin. This is the area that a lot of them were found the day before. Many of the boats in the "For Pete's Sake" charity tournament had reported sighting Blues in their spreads and the largest fish of the day for the tournament was from this area. The "Fly Hooker" worked the area thoroughly and managed to get strikes from three Striped Marlin, none of which stuck and one nice Blue, which also came off! You just never know with Marlin. Carl still has two days of Marlin hunting left so we are confident he will get a Blue before it is over!
CABO SAN LUCAS, MEXICO: FLY HOOKER FISH REPORT FOR NOVEMBER 4, 2000. WEATHER: All right, I hate to sound like I am happy all the time, but this has been the best conditions of the year so far! I mean the temperature has been perfect at between 75 and 85 degrees every day and the humidity ranged between 50 and 60%. It just doesn't get better than this if you are trying to describe Paradise! The last few days we have had some cloudy skies and on Saturday actually got some rain in the evening for about two hours. It settled the dust, left some puddles and ruined the awards dinner for the "For Pete's Sake Tournament" but it also left the vegetation green and made the temperatures perfect! Nighttime it was in the high 50's (one night) to high 70's and the daytime temperatures were in the perfect range.
WATER: There is not much to say about the water conditions for the past week. The temperature break has fluctuated between the San Jaime Banks and the Cape current line but it has not been a severe clash in temperatures. In other words it has not really concentrated bait in the area. The temperatures in the Sea of Cortez have been a little higher than the temps. In the Pacific side, but even then the water had not gotten much above 82 degrees anyway. We did have a brief (I hope!) sortie of winds into the area during the last two days of the week, but we are hoping they disappear quickly!
BAIT: Cavillito and a few Mackerel at $2 each and there are still sardines at $20 per scoop. Not a problem getting live bait unless all you want is Mackerel, then you need to have connections or get there very early in the morning.
BILLFISH: The story this week has been mixed. The catch on Sailfish has dropped into the single digits and everyone was expecting the Blue Marlin to take up the slack. It appears however that the Striped Marlin have taken over to fill in the empty spots. There are still Blue marlin being caught, but not in the numbers that they were being found the previous year. With the bru-ha-ha of the Bisbee tournament over for the year the only tournament to take it's place was the "For Pete's Sake" charity tournament and for this event not many large Marlin were caught. The winning fish was 387 pounds and was a Blue Marlin, but there were a lot of Striped Marlin caught in the same time frame. I believe that just goes to prove that there is a striped marlin fishery here year round! Next Tournament is the Los Cabos Tournament the end of November.
YELLOWFIN TUNA: For those of you interested in the Tuna scene, I don't really know what to say! I know that there are still large fish out there, but the focus for the past week has been almost solely on the Billfish and the Yellowfin that have been caught have been targeted as bait or have been caught as incidental catch. There are still a large number of football sized fish out there and they are not a long way away. 10 miles off the cape and using cedar plugs and 6 inch feathers has resulted in very good catches of the Yellowfin up to 25 pounds in size. The larger fish normally found in the Dolphin pods have been a bit scarce this past week, but not totally gone! A few boats have found these fish about 30 miles south of the Marina during the last half of the week!
DORADO: The entire week it has been a wide open bite on fish in the 10 to 20 pound range and everyone that has wanted to go home with fillets has not had a problem taking care of the desire. There was no discrimination shown by the fish as far as lure selection was concerned and if you happened upon a good sized school, all that mattered was the amount of bait you carried on board. Even the boats participating in the charity tournament were having a hard time trying to beat them off the lures. Then the weather changed! On Saturday we had totally cloudy skies and a few hours of rain in the evening and all of a sudden the fish stopped biting! Now at the beginning of the week we are looking at a slight struggle to get the catch ratios back up and it just might signal the slowing of the season (but we hope not).
WAHOO: There have been no concentrations of these fish found, but there are a few being caught every day. I believe that if there were a tournament dedicated to Wahoo (such at the W.O.N. Tuna Tournament) that we would see a gigantic increase in the catch reports on the speedster of the ocean. They are there, but the areas that they prefer are not the type normally targeted on by the Billfishermen.
INSHORE: The targeted fish for the past week has been Dorado. They have been close in and because they are easily fooled and are such good eating there has been a grand catch in these fish. As far as the usual inshore species are concerned, the Sierra and the Roosterfish are not on a wide-open bite. There are plenty of the small 5-10 pound Roosters available but the larger fish have been absent for the last week. The opposite has been true for the Sierra. There have been quite a few Sierra in the 10-12 pound range caught but the bite has not been wide open, the boats have had to work hard for these fish. Hootchies in yellow and chrome have been the best bets and the boats willing to use a 10-16 oz. Trolling weight or a planner or downrigger have had the most action from the bruiser Sierra.
NOTES: Lord knows I hate to say stuff about the tournaments but sometimes you have to just come out with it or it eats you up. Why can't the richest tournament in the world have its stuff together? If I was collecting 20% of the purse and had been putting on a tournament for the past 20 years at the same venue I think that there would be a few regulations in place to take care of the problems that are bound to crop up. I mean come on, when you are talking millions of dollars and major egos on the line, the only reason to not have your act together is because you are either stupid or on the take. The whole concept has become politics with the new World Billfish Series competition and the big boys with big money and egos to match. I don't think there will be as many boats in next year's tournament. With lawsuits over the last two years results pending whom in their right mind would enter and risk the money? Most of our local boats are ready to say the heck with the tournaments and just continue to do charters. Who needs the hassle of trying to compete against a stacked deck? My words and my opinions, sorry if you don't like them! In a little different frame of mind, if you are still reading this I would like for you to know that my father is doing well after the lung transplant and has progressed to the point of being able to walk to the nurses station with his walker and has taken his first shower with running water in the last two months! He is excited that the progress has continued and has asked me to say thank you to everyone who has sent an e-mail with prayers and wishes of support! Thank you and Tight Lines until next week! Capt. George Landrum
CABO SAN LUCAS, MEXICO: PISCES FLEET, Cabo San Lucas, November 2, 2000, Tracy Ehrenberg, Reservations Tel 011-52-114-31288; Fax 011-52-114-30588. LOCATION: During the tournament a lot of boats opted to fish the Gordo Banks area, however, most of the catches on striped marlin and dorado were on the Pacific at Golden Gate, Pozo de Cota, San Jaime and Los Arcos. WEATHER CONDITIONS: Mostly clear skies, seas moderate to rough. Air temperatures are much lower, our winter is here. AVERAGE WATER TEMP. 82 F. BEST LURES: Live bait.
BILLFISH: The Bisbee is now out of the way, though I can't say the controversy is...everybody appreciates the economic impact that this tournament brings to Cabo San Lucas, but an independent committee, or observers on each boat, need to be implemented to avoid problems of this nature in the future. We all still want the tournament but believe changes have to take place. Anybody with any input should contact www.bisbees.com directly.
As we write this report, day one of the Pete Loppicola Tournament has just ended. This tournament, also known as "Fishing for a Cure", is held to raise funds for leukemia research and to aid disabled children in Cabo San Lucas. This contest is very well organized and hosted at an ideal site, the Hotel Hacienda. This year saw a decent amount of entries, forty-six boats in total. The event is over two days, with the first day's fishing from 7.00 am to 4.00 pm and the second, from 7.00 am to 2.00 pm.
After day one Tony Beatty, from Salt Lake City is in first place for a 387 lb blue caught aboard Bob Marlin, second place for day one went to Larry Simpson, from Portland Ore, for a 352 lb blue aboard Grisannel. Randy Bowen, fought a blue that died on him, so had to be boated, this one weighed 285 lbs, aboard Tracy Ann. The final results will be posted tomorrow after the end of the tournament.
In regular news fishing has been excellent, with just five boats skunked during this period for us. Catch rates for all species combined was 96 percent. The fishing has been so good, that anglers are hard pressed to find boats at the moment -- keep in mind October and November have to be booked in advance. Blue marlin continue in the area, but have to be targeted, few were caught incidentally, most were taken on slow-trolled live yellow-fin, which probably accounts for the increased number of black marlin caught, in this year's Bisbee. We have heard of a few fish over the 400 lb mark, but most of the blues being caught are from 190 to 280 lbs.
The day before the big tournament Ruthless released one blue marlin and one striped marlin as well as boating eight dorados. This same day Andrea released a blue around 250 lbs and boated twelve dorado. During the tournament, most boats released one striped marlin or sailfish and also had small blues, during the three days, as well as plenty of dorado. What is surprising right now, is the amount of striped marlin in the area. On November 2nd, Rick Sanders and Mike Frye form South Pines, in North Carolina, released five striped marlin aboard La Brisa. A couple of days before this Milton and Gale Pate from Camp Verde, Az were delighted with their four stripers, whilst fishing on Karina. Carlos and Mary Grant, from Boise, Iahdo, also out on Karina, scored two sailfish releases and eight dorado ranging in size from 20 to 55 lbs. Ross Tekeuchi from Vancouver, was thrilled to release both a blue and a striped marlin aboard Andrea on November 2nd.
Pisces anglers caught a total of 35 striped marlin this period, all released. We also had 9 blue marlin, with 6 released, those brought in averaged 270 lbs. We also had 5 sailfish all released.
OTHER SPECIES: Well it's dorado heaven right now at Cabo San Lucas, but then again, late October and the whole month of November are known to be the best for this species. Pisces boats totaled close to three hundred this period, ranging in sizes from 15 to 60 lbs. Still hungry these fish took feathers, live bait and marlin jigs and were spread over a wide location - almost a guaranteed catch for any boat venturing out. Yellow fin tuna were on the slow side, though I did hear of one that weighed 310 lbs, caught by an angler from Newport Beach, aboard a private vessel named "Reelentless". I saw a photo and would estimate the fish as being smaller. Other boats that were lucky caught between one and thirteen in the 20 - 30 lbs class. Just a few wahoo and they were on the small side at 30 to 45 lbs. Some sierra inshore and on the first couple of days of the tournament lots of skipjack near the arch.
CABO SAN LUCAS, MEXICO: PETE'S SAKE TOURNAMENT FINAL REPORT: No other qualifying fish were weighed in after day one. Nineteen Marlin were released. Fish as shown in the weekly fish report, remain in the same order. Chupacabra came in with a huge fish, however, it wasn't theirs ,they had kindly helped another smaller boat, that was having a hard time getting in with such a heavy load - a 700 lb fish caught aboard Ursula (see photo).
CABO SAN LUCAS, MEXICO: REEL EASY SPORTFISHING, Cabo San Lucas, November 1, 2000, Mike & Renee Hebert, Reservations/Fax 011-52-114-33579. Hola Gene. Last week was a really exciting week in Cabo with the world famous Bisbee Black & Blue Marlin Tournament. Congratulations to team " After Midnight " on their 1st Place win with a 500 lb. Black Marlin. Unfortunately the El Chilito Bisbee team canceled at the last minute so the our fishing participation was limited to boat slip A1.
Captain Alvaro Gastelum and Mate Tony Winkler reported four outings for the week aboard the El Chilito, for a total number of 41 fish. Thirty nine Dorado (averaging 15 to 35 pounds), one Striped Marlin (120 pounds, tagged & released), and one Blue Marlin (240 pounds, tagged & released). Action for the week was mixed between the Cortez and Pacific for Dorado, the Blue being caught on the Cortez side and the Striper being caught in the Pacific. Outside temperatures were in the mid to high 90's with water temperatures ranging from 81 to 83 degrees.
NOVEMBER 4, 2000: Captain Alvaro Gastelum and Mate Tony Winkler reported five outings for the week aboard the El Chilito, and a total catch of forty five fish. Thirty eight Dorado (averaging 7 to 20 pounds), Two Yellowfin Tuna (10 pounds), Four Striped Marlin (100 to 120 pounds -- tagged & released), and One Blue Marlin (200 pounds ) tagged & released). All the El Chilito's action for the week was on the Pacific side with live bait and lures being the mixed taker. Outside temperatures were in the mid 90's with water temperatures ranging from 81 to 82 degrees. Until Next Week....Tight Lines!!!!!
CABO SAN LUCAS, MEXICO: BAJA ANGLERS, Cabo San Lucas, November 4, 2000, Grant Hartman, Reservations 888-588-3446. Hi Folks, The tournaments are over and it's back to normal here in Cabo San Lucas. Tournament time creates a high level of excitement for Cabo with over 230 boats competing in the Bisbee's with over two and half million dollars prize in money. I was lucky enough to fish in the Bisbee's again this year.
The fishing was good, but not that many qualifying fish over 300-lbs were caught. Some very big fish were lost. I was with angler Mike Contreas. Mike is a first rate heavy tackle billfisherman and has landed numerous blue marlin over 800-lbs and a 1148-lb blue marlin on 130# stand up tackle off Hawaii in 1998. We had very good luck prefishing the tournament, and caught and released numerous nice blues. Then the tournament came along and we got skunked for the first two days. We had some lookers, but the fish just weren't taking. On day three we hooked at 800 to 1000-lb blue marlin at 8 am. The fish took the lure straight on and got the hook wrapped around the bill. We all gasped as the fish leaped out of the water and we all knew we had the money fish that would have brought the team over one million in prize money. After the fourth jump the fish started jumping in a wide circle to the right. We were watching as the giant threw the large lure right off his bill. A heart stopping moment. An inch in any direction and we would have had that fish! We then caught a qualifying fish about 330-lbs, we kept it as no other qualifiers had been weighed in by then and decided to work our way back to the docks. On the way we hooked another fish at over 500-lbs! What good fishing we were having, and during the largest billfish tournament in the world. It was my turn. The fish hit the center rigger and I loosened up on the drag to help me pull the heavy rod out of the holder on the flying bridge. I had to grab the rod with both hands over my head and bring it down to the deck level. I had taken off my stand up fighting gear to go the head and forgot to put the harness back on. Once I got the heavy 130-lb stand up rod out of the holder, I moved to the stern without bringing the drag back to the fighting position, and since I didn't have my stand up gear on I decided to fight the fish in the chair. The fish was off, by the time I sat down. The loosened drag, just for a few seconds, and that cost us another winner! If not first, it would have taken second place. I have been on the water most of my adult life, and I can tell you it's no fun when a seasoned veteran makes simple mistakes. I put it off to a little tarpon fever, it's the first time I ever had a million dollar fish on the line. On the other hand it makes for a great fish tale over a few beers with friends. Next time!
Minervas 3 won the event with a 534 Black, but was disqualified by the tournaments sponsor Wayne Bisbee when the angler quoted, "I think the mate touched the line". If anyone other than the angler touches the line it's a automatic disqualification as IGFA rules apply and touching the line is a violation of those rules. Minerva Smith of Minerva's bait and tackle was quoted as saying the angler was a first time bluewater novice from Alaska and confused the leader with the line. I can believe that. I have personally fished with Gil the captain on Minervas 3 in last years Los Cabos tournament tournament and he was very professional. When leadering a fish for me he purposely waited until the swivel touched the rod tip before grabbing the leader. He is a fine captain who would never bend the rules. Wanye Bisbee never let any of the other team members or the Captain and mate do the polygraph test and jumped to conclusions. Unfortunately Wayne stuck to his guns and disqualified Minervas 3 with the first place going to "After Midnight" with a 500 LB black marlin with a total winning of $989,910.00.
Offshore fishing has been very good over the last few weeks with Dorado being the main catch. The dorado are schooling up, and spread out all over the place. Most fish are 10 to 20-lbs. Yellowfin tuna are here, but have been fished hard as they are the preferred live bait for marlin. They are just starting to show up at the arch and you can expect to catch a few football sized tuna and skipjack on flies if you target them. Blue, black and striped marlin fishing continues to be good. Lots of Blue marlin under 200-lbs Are being taken daily and I expect it to improve over the next few weeks as we move into the full moon phase. A few roosterfish have begun to move back in the area. As the water starts cooling off we will see the roosterfish action pick up. All other inshore fishing is slow right now.
A timeless reminder: Baja Anglers proudly supports a catch & release policy on all billfish and all roosterfish, with the exception of world record-potentials.
EAST CAPE FISHING REPORTS
ALL ARTICLES, REPORTS AND FISHING INFORMATION FOR EAST CAPE
EAST CAPE, MEXICO: BAJA ON THE FLY, Buena Vista, November 8, 2000, Gary Graham, Reservations Tel 800-919-2252; Fax 760-746-7260. TEMPERATURES: High of 79 with a low of 61; with the water temperatures beginning to drop to the low 80's in the East Cape fishing area. The first strong north wind came rolling down the gulf on Sun. and virtually stopped fishing for all but the most dedicated. As can happen, on Mon. the wind stopped and the fishing resumed. BLUE MARLIN - Still a few being caught. STRIPED MARLIN - Very few in the East Cape area . YELLOWFIN TUNA - Some good catches, with most of the fish either down deep or with the porpoise. DORADO - Most of the fish are being found in open water with just a few at the buoys near Punta Pescadero. SAILFISH - With cooler water, I think they are starting to move out. ROOSTERFISH - Seeing plenty in front of Rancho Leonero. JACK CREVALLE - Most of the action in front of La Ribera. BARRILLETE OR MEXICAN SKIPJACK - Fair catches from the lighthouse to Punta Pescadero. PARGO AND CABRILLA - Close to shore in front of Punta Colorada still the best bet. OFFSHORE: Windy most of the week with the big blow on Sun. definitely slowed the fishing down. Weather now back to normal and fishing is beginning to improve. INSHORE: Tuna and skipjack are still providing the best action close to shore. It is not uncommon to see a dozen boats fishing tuna within a mile or so of the shore. BEACH: Small roosters, jacks and ladyfish have provided the best action from the beach, with olive Clousers being the most productive fly.
November 4, 2000. TEMPERATURES: High of 86 with a low of 63; with the water temperatures in the mid-80's. Some rain on Sat. morning. BLUE MARLIN - Several larger fish hooked this week. STRIPED MARLIN - Still very few in the neighborhood. YELLOWFIN TUNA - Has definitely slowed down compared to the last few weeks. DORADO - Most of the fish are being found in open water with just a few at the buoys near Punta Pescadero. SAILFISH - With cooler water, I think they are starting to move out. ROOSTERFISH - Good catches of fish to 18 pounds. JACK CREVALLE - Plenty of jacks chasing sardines along the shore from actor Scott Glen's house to La Ribera. BARRILLETE OR MEXICAN SKIPJACK - Fair catches from the lighthouse to Punta Pescadero. PARGO AND CABRILLA - Several at Punta Colorada this week. OFFSHORE: Wind continued to be a factor and conditions have been somewhat erratic. INSHORE: Some tuna, skipjack and a few dorado continue to dominate the inshore. BEACH: Good catches of smaller roosters and jacks along the beach from Scott Glen's to La Ribera. QUICK COMMENT - Mike and Lisa (no last names, please), newlyweds from Santa Margarita, Calif., got their marriage off to a good start. Lisa caught her first blue marlin and backed it up with a 40-pound tuna. Marlene White, from Radford, Virginia, took her brand new Orvis 9-weight outfit with her on the beach yesterday (11/3) and landed jacks to 15 pounds as well as several small roosters -- all on a olive deceiver. She is back out prowling the beach this morning looking for a bigger rooster to add to her list.
Reading Room: Be sure to get the Dec. issue of Sporting Classics Magazine, the one with Ernest Hemingway on the cover. Fly-fishing editor Paul Quinnett did a great piece on the joys and frustrations of long rodding for East Cape roosters from the surf. There's some good information mixed with loads of laughs.
EAST CAPE, MEXICO: EL CARDONAL'S HIDEAWAY, El Cardonal, November 3, 2000, Eddy, Reservations 011-52-114-10040. Lots of action on sierras, big ones, right from the beach in front of hotel. Roosterfishes, and other types. tuna yesterday: 10 tunas and dorados. Best fishing from our aluminium boat, lots of sierras and dog pargos.
EAST CAPE, MEXICO: RANCHO BUENA VISTA, Buena Vista, week ending November 4, 2000,Tamara Moyeous, Reservations 800-258-8200. Nice weather and 70 degree water resulted in 91 fish caught on 25 boat trips, including a striped marlin, 2 blue marlin, 4 sails, 13 dorado, and 71 tuna. Norman Lindsay of Fortuna, CA caught an 80 pound yellowfin tuna on #30 test. Scott Haskins of Scottsdale, AZ caught a 264 pound blue marlin on #80 test. And Mike Tabin caught a 220 pound blue marlin on #60 test.
EAST CAPE, MEXICO: RANCHO LEONERO, Bahia de Palmas, November 4, 2000, John Ireland and Roy Baldwin, Reservations 800-646-2252; Hotel 011-52-114-10216. Winter weather has begun, with daytime highs about 80, evening lows in the mid 60's, breezy conditions with cooling water temp in the upper 70's. Despite the less than perfect weather, great fishing at East Cape continues, with yellowfin tuna, dorado and sailfish dominating the action. Fly and light tackle inshore fishing remains wide open. The strong dorado bite continues, with some larger fish up to 50lbs under shark buoys off Punta Pescadero, while the schooling smaller dorado have moved south, near buoys or floating debris taking mostly live sardinas. The tuna bite continues on, with limits of schooling fish averaging 10 lbs inside mixed in with skipjack, with some big tuna to 120 lbs outside under porpoise, taking mostly live sardinas and cedar plugs. Lots of sailfish were taken in close, from 1 to 6 miles offshore (one even was hooked up from the beach at La Ribera), exclusively taking live caballitos and big sardinas. A few blue marlin were also taken on small live tuna, or green/black or bleeding mackerel pattern trolled lures. Great inshore fishing with roosterfish to 55 lbs, pargo to 30 lbs, jacks to 18 lbs, and sierra were biting aggressively, taking hoochies and live sardinas. Rick Novak of Portland, OR, while panga fishing for 2 days, took a sailfish, dorado to 40 lbs, tuna to 120 lbs, and roosterfish to 35 lbs.
EAST CAPE, MEXICO: HOTELS PALMAS DE CORTEZ, PLAYA DEL SOL, PUNTA COLORADA, East Cape, October 30, 2000, reported by Dave "Smokey" Manuel, East Cape Smokehouse, Hotel Reservations, 800-368-4334. Once again it has become difficult to sit down and get this report out to you. This may be bad news if you're reading this up North, but it's good news for anglers down here fishing. If we divide the weekend's fishing into the two categories of "Tuna" and "Other Stuff", I'll say it's either excellent or not so good. Billfish have become scarce, even the plentiful Sailfish have disappeared. The previous weekend of Oct. 20, which was before the wind blast we received last Wednesday, 125 charters caught 193 billfish, 173 of which were Sailfish. This weekend 128 charters reported in with a catch of only 33 billfish, including 26 Sails. You do the math and you'll see that that is an abrupt slow down. In that same time frame comparison, Dorado numbers declined by more than half, from 375 to 179 this past weekend. Enough bad news; Tuna made the weekend with both good numbers and impressive sizes. If we go back to comparisons, this weekend's numbers were 492 Yellowfin Tuna on 128 charters, compared to 279 on 125 charters the weekend before. The sizes were again what I'd place in the "quality" category, with a few bites producing consistent 40lb to 60lb fish and a few larger mixed in up in the 90lb to 100lb class, while a couple of other spots were consistent on footballs as well. The big guys started showing up on Saturday from two bites. One was North of Punta Pescadero, between it and the South tip of Cerralvo Island, where Porpoise were found and Tuna were pulled out up to 100lbs using mostly live bait. The other was South of Los Frailes, which produced mostly 30lb to 50lb fish on Sardines, big bait and lures. Those bites continued throughout the weekend and if you add to them the on-and-off action again at the Tuna hole just North of Los Barriles and more small Tuna action just off shore, South of Rancho Leonero, you've got a bunch of fish to clean. There were hints of some North wind coming, but it never developed past the moderate point, which occurred on Saturday and then diminished by Sunday afternoon. I see almost daily now the normal trail of pilgrims arriving here to spend the winter away from snow shovels, boots and mitts, most with mounds of sails, boards and masts strapped down to the roofs of their nifty SUV's, indicating to us local folk that the wind is about to blow. Let's hope we fisherman types can drag out a few more weeks of some good fishing before that happens! Adios.
EAST CAPE, MEXICO: MARTIN VERDUGO'S BEACH RESORT, Los Barriles, November 8, 2000, Marisol George, Reservations 011-52-114-10054. Hello Gene. The last three days was windy; we did not send boats for fishing. Hopefully the wind will stop for tomorrow. Alma.
LA PAZ FISHING REPORTS
ALL ARTICLES, REPORTS AND FISHING INFORMATION FOR LA PAZ
LA PAZ, MEXICO: JONATHAN ROLDAN'S ADVENTURE SERVICES, La Paz, November 2, 2000, Jonathan Roldan, Tel 626-333-3355; Fax 626-333-0115; Pager 323-349-8111; Message Pager 877-310-7734. What can I tell you, amigos? It was kind of a slow week around here in terms of anglers. I think everyone is getting ready for the holidays or something. Just not many folks on the water right now although I have quite a few reservations building for Thanksgiving week and around there. Anyway, it's tad windier right now, but still very very fishable. Some tuna popped up on the Bajo north of Espiritu Santo Island. It's kinda suprising actually. We've been doing recon of the area all season and it's been more miss than hit and a waste of gas for the most part. For whatever reason, the tuna were no-shows on the high spot at La Paz . That's OK because for most of the season, a quick jet outside of the bay meant instant hook ups on dorado. In fact, it was the best dorado season I've seen since 1997. Anyway, there seems to be some big boy yellowfin that suddenly showed up. However, without many anglers out there, it's hard to monitor what's really up out there. I will tell you that the SCUBA divers are seeing our hammerhead sharks there as our hammerhead dive season gets underway.
As for the Las Arenas area. . .same old same old. You're probably tired of me telling you that it's the spot to nail a variety of tuna species and mix it in with dorado. Yea, the winds are starting to kick and the water is still pretty warm and blue for the most part. You can also tell there's a change in the air because more sierra and wahoo seem to be trickling into the fish boxes. Sailfish are still prevailant as well and willing to hit both live baits and lures alike.
LA PAZ, MEXICO: HOTEL LAS ARENAS, Punta Arena de la Ventana, November 6, 2000, Linda Glassman-Davis, Reservations 888-644-7376. Captain's Cachorro, Zapata, Tolon, Buho, Beto, Ramiro, M. Salvador, Valente, Efren, Luciano, Ramon Green, Guicho, Johnny, Jorge, Gerardo, Chuy, Chimango, Fidel and last but never least.... Daniel.
Tuna and Dorado of all sizes with the majority being in the medium size range are still being caught everywhere around the hotel and off Cerralvo Island.
This week's La Paz catches included: 166 Tuna to 65 pounds; 47 Dorado to 38 pounds; 3 pargo to 6 pounds; 2 Cabrilla to 5 pounds; 1 wahoo, the only one and a whopping 66 pounds; 2 amberjack to 8 pounds; 1 sierra to 6 pounds.
Come on down and enjoy your 4th night free! Saludos from the entire Las Arenas Family.
LORETO FISHING REPORTS
ALL ARTICLES, REPORTS AND FISHING INFORMATION FOR LORETO
LORETO, MEXICO: VILLAS DE LORETO, Loreto, November 7, 2000, Wendy Wilchynski, Reservations Tel/Fax 011-52-113-50586. Dear Gene. We haven't had anyone go out as the weather has been very windy. Tomorrow we have clients going fishing and we will let you know. Please let the fishermen know that the restaurant at Villas makes Killer Margaritas & Guacamole & chips, so if the wind comes up at least they have something to do! Will let you know more about fishing mañana. Bye for now.
LORETO, MEXICO: EL FUERTE SPORT FISHING, Puerto Escondido, November 1, 2000, Ty Miller, Reservations Tel 714-775-6658; Fax: 714-755-3501; Loreto 011-52-113-30863. Hola Amigo's. Air Temp: 81. Water Temp: 78. Winds: Northerly blow,15 to 25 mph. Sea State: 2 to 4 ft. Here's the latest happenings down at our end in Puerto Escondido. With the water temperature still dropping and the water color not looking very promising we decided that it was time to start running out to our favorite fishing spots off Isla Catalana. A few boats ran to the South Reef of Catalana (Las Burburjas) with reports of some decent size Pargo and Cabrilla but nothing on the Yellowtail.
With this information, we decided it was time to hit the North End and take a peek at Smorgasboard Reef. On our first pass over the reef our Furuno Depth Sounder was marked solid with fish suspending over the high spot. About that same time I looked over at Captain Juanita grinning as she tied a piece of iron on her stick. We lined up on the spot and along with our clients made a drop and BINGO, Juanita scored on a 34 pound Yellowtail! Our client, Tom, a "first timer" for Baja, definitely caught the Baja Fever while bringing in that beauty! Yellowtail, Amberjack and Broomtail Grouper were stacked like cordwood on that reef! We filled the hold that day and Smorgasboard has been our spot ever since.
So, the good news is that it looks like a possible early season on the Yellowtail, but the temporary bad news is that we just received our first dose of Northerly winds that started to blow Tuesday. This makes it hard to stay on the spot until it passes (usually 2-3 days).
Still some Dorado (15 to 20 pounds) hanging around Punta Baja but like I said last week the fish are few and far between and becoming more so every day.
Billfish are still a no show and we only spotted one tailer this past week. Don't expect to see any on the inside until this water color clears up!
Bait is still plentiful at both Punta Baja and just around the corner off Punta Coyote in about 200 feet of water. Mostly Macks and also a few sardines in the mix.
Well, it's just a waiting game now and with the drastic temperature changes we are experiencing with both water and air, this could be the makings of an awesome Winter season down here. We still have plenty of openings this Winter if you want to come down and put a little polish on these reports! Hasta Luego!
November 8, 2000. Hola Amigos. Temp: 80. Water Temp: 77. Winds: West and Northerly, 15 to 30 mph. Seastate: 2 to 3ft. Transition, Transition, Transition! That's about all I can say about what's going on down here at our end. The West winds combined with the North winds just won't leave us alone. This could be the makings of an early Yellowtail bite because we have never seen this type of weather we are experiencing come so early in the Fall season. We should still be sitting on a decent Dorado and Billfish bite that usually lasts until December. As I write, these damned winds can't make up their minds whether to blow West or North. Well, I guess the positive side of this is that the commercial fleets to the North of us are not having any fun trying to make an early wrap on our Yellowtail.
Small (5 to 10) pound "firecracker" Yellowtail are still holding off the backside of Isla Danzante. These little guys are fun to catch but not worth trying to make a fish count on, not to mention we don't like to kill the nursery. We have already confirmed that the Yellows are holding with the Ambers and Broomtail off of Smorgasboard Reef. As soon as these winds give us a break we are back in the groove.
For some reason there are still a few decent size (15 to 20) pound Dorado hanging around Pt.Baja and along the backside of Isla Carmen. These fish must be lost because along with the wind factor we are sitting on 77 degree water temperature.
Only one Billfish catch and release this past week and that credit goes to Charlie (three amigos) Longrier and his wife Charlotte for catching and releasing a Sailfish just off the White Cliffs (East side of Carmen) that hit a live trolled Mackerel.
Bait is still plentiful around the corner and out off of Punta Coyote in 180 to 220 feet of water with Sardines suspending around the 100 foot range. Bait bite is between 6:45 and 7:15.
As you can tell I'm getting a little dose of cabin fever and can't wait to get out and go long instead of piddling around on the inside. Hope to give you a smokin report for next week as I feel a calming of the winds to happen soon. We have some new clients for this week so lets hope they bring down some good weather, we need it! Hasta Luego!
SAN FELIPE FISHING REPORTS
ALL ARTICLES, REPORTS AND FISHING INFORMATION FOR SAN FELIPE
SAN FELIPE, MEXICO: TONY REYES FISHING TOURS, 6-day Midriff Islands trip aboard the panga mothership Jose Andres, ending November 3, 2000, Tony Reyes, Exclusive booking agent, The Longfin, 714-538-8010. Water temperatures 80-85 degrees. Monday we began fishing at Isla Partida and in the afternoon we moved to to Isla Salsipuedes. Tuesday, we made bait at San Francisquito and in the morning we moved to fish at Isla San Lorenzo. In the afternoon we moved back to San Francisquito. Wednesday morning we made bait and fished at Isla San Lorenzo and then moved to Isla Salsipuedes. Thursday, we didn't fish. We ran north to the Islas Encantadas. Friday we fished half a day at Isla Salvatierra without bait and then returned to San Felipe. Fishing results: 321 yellowtail 18-24 pounds; 108 goldspotted bass; 105 cabrilla 8-16 pounds; 26 pargo 8-19.5 pounds; 14 sheepehad 8-10 pounds; 6 sierra 6-7 pounds; 3 broomtail grouper 8-10 pounds.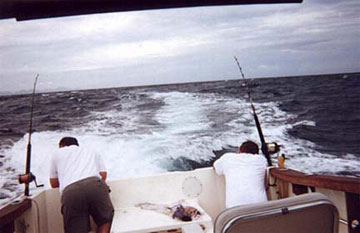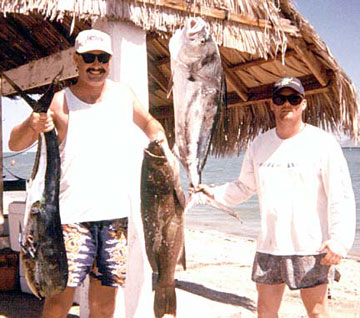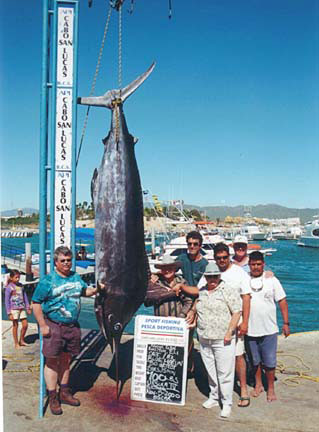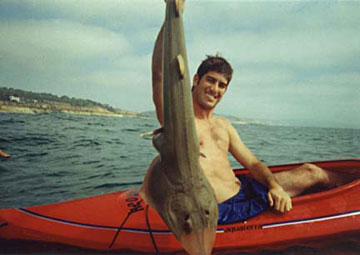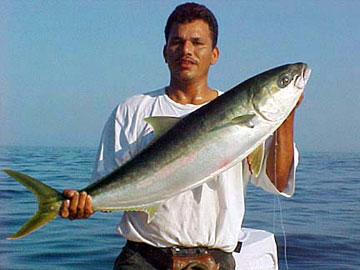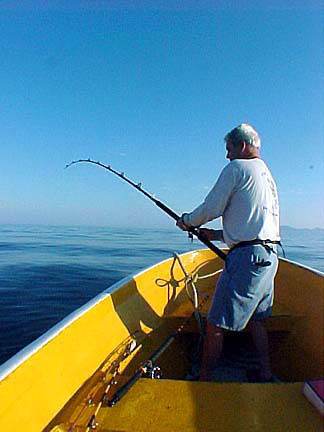 Baja coastal fishing reports and articles.
Ensenada fishing reports and articles.
Puerto Santo Tomas fishing reports and articles.
Erendira fishing reports and articles.
San Quintin fishing reports and articles.
Magdalena Bay fishing reports and articles.
Cabo San Lucas fishing reports and articles.
San Jose del Cabo (Los Cabos) fishing reports and articles.
East Cape fishing reports and articles.
La Paz fishing reports and articles.
Loreto fishing reports and articles.
Mulege fishing reports and articles.
Santa Rosalia fishing reports and articles.
Bahia de los Angeles (L.A. Bay) fishing reports and articles.
San Felipe fishing reports and articles.
Rocky Point (Puerto Penasco) fishing reports and articles.
San Carlos (Sonora) fishing reports and articles .
Mazatlan fishing reports and articles .
Puerto Vallarta fishing reports and articles.
Ixtapa Zihuatanejo fishing reports and articles.
Huatulco fishing reports and articles.
Cancun fishing reports and articles.
Mexico coastal fishing reports and articles.
Mexico Fishing Home Page < Mexico Fishing News Archives < Fishing Report