Oh well... what are ya gonna do? If you don't put a line in the water ya ain't gonna get bit. Times like that I wish we had the stuff the long range boys have like kite fishing or kite fishing with helium balloons so that you could literally let the wind carry a bait back where Big Mo is feeding! Short of that, try throwing the long distance heavy iron and crank like hell or slow slow slow troll a BIG live bait way way way back behind the boat kicking the motor in and out of gear.
If you're not into the big toad fish, there's some smaller tuna bedded down just outside of the Isolotes sea lion colony and this past week small pargo have been on the tear around Espiritu Santo Island.
If you're headed to Las Arenas side to fish, we're seeing a few more wahoo hookups lately. Not many and most of the fish fight their way off or get unbuttoned, but no question that the skinnies are in the neighborhood. Still got tuna although the big sluggers of summer seem to have moved on. Most of the yellowfin are that fun variety 20 pounder with some dorado mixed in. More sierra in the counts and still getting hooked on the occasional sailfish. Fish are scattered from Punta Sur/Roca Montana to the Arenas light house and into Ventana Bay. Don't know about Muertos since we didn't send anyone that way this week, but it's looking like it's time to maybe see if the cabrilla are ready to go in the rocks.
November 12, 2000. It blew like the dickens one day here and some places got rain. I figured wow... that's it for the season. Things are gonna shut off. We couldn't send out any dive or fishing boats that day. However the next day it was beautiful and the fish came to chew. They haven't stopped. Granted, in all honesty it's not WFO, but everyone's having fun. The bite picked up for the La Paz boats heading towards El Bajo, but despite reports that there are big fish, it's really hit or miss. Yes, there's some sluggers there and you can get your head handed to you, but sometimes you go there and they just won't play. Fortunately, on the way there, the fleets have found a spot just north of Isolotes on the north side of Espiritu Santo which has put fillets in the ice chests. It's good because if you go to Bajo and get goosed, you can hit the new honey hole on the way back which is providing tuna to 15-60 pounds, occasional dorado, some billfish and we even got two amberjack this week. Areas around the island itself are also kicking out some really nice small pargo in good numbers.
On Las Arenas side of La Paz, the bite has primarily moved to the south side of Cerralvo Island. It's further than we've been going because we've been spoiled all season, but it's really only about 10 minutes across the channel. All the fleets have moved their boats now to Muertos Bay for departures so you can tell that it's getting a bit breezier now. However, south point is still holding good numbers of fun football tuna, but don't be deceived. Despite all the 20 pounders, we got two fish this week in the 60-80 pound category and had several others that were that big or bigger on hook ups. Also several of the other fleets had some big fish as well hitting the beach. There were several hundred pound class fish reported and some torn-up anglers!
November 15, 2000. It's definitely fall fishing in La Paz waters right now, amigos. The days are warm, but you'd be well-served to bring along a windbreaker or sweatshirt for the breezy mornings and evenings. Fishing, however, continues to be fairly good however. Not many complaints all-in-all. Actually, it's pretty good.
For those guys who have been fishing out of La Paz, the main intent has been to head to El Bajo. I know everyone has been all fired up about heading there because indeed there have been some big tuna and dorado hooked as well as scratchy wahoo fishing. However, you gotta read between the lines, amigos. It's NOT always easy to get there with the wind in your face on some days. Seriously, even if you could get there, you could be drenched with spray by the time you're there. Some days are just like that. Other days of fishing at La Paz, it has been flat calm and then everyone zooms there. On the other hand, there's a spot just north of Espiritu Santo Island just outside of the sealion colony that has been a great fallback or, heck, a primary destination for boats not going to El Bajo or simply not making it to the outer seamount. Smaller tuna in the 20-30 pound class as well as sporadic dorado have saved quite a few days or even filled the ice chests. As well, the inner waters of the island are starting to kick out good numbers of small pargo so perhaps the bigger ones will start moving in early if you've got your mind set on groundfish over the next few weeks or months.
As for fishing Las Arenas, we're really seeing some surprisingly good fishing on that side. South Point off of Cerralvo Island has been pretty much a dead spot all season. Maybe the fish have been there all along, but generally all season the fish were so close it was pointless to even make the trip across the channel. However, tuna in a variety of sizes from 15-60 pounds are being taken. One of our friends, Mark Martis from Southern California just came back and I'll let him tell you:
"We had two days of great fishing. The fish were all small, however, we could have been busy all day had we chose to be. By noon on Thursday we had seventeen small Tuna (10 to 15 pounds) and more were for the taking. On Friday we chose to go further out and try for the big Tuna and Dorado. We hooked one large Dorado, however, it head-butted the boat at a good speed and spit the hook. We moved onshore to catch some Cabrillo and Pargo. We caught several of each, most of which were small. Regarding the weather, it was chilly and windy, however, it was still a great time."
That's it for now. Anyone still interested in jumping on my Pargo/Cabrilla/Yellowtail trip April 17-21st let me know and I"ll get you the details. Spots are filling. Five days/ four nights/3 days panga fishing plus all meals, taxes, tips, ground transport included! Let me know soon! It would be great to have you along.
LA PAZ, MEXICO: HOTEL LAS ARENAS, Punta Arena de la Ventana, November 14, 2000, Linda Glassman-Davis, Reservations 888-644-7376. Captain's Roman, Chiro, Guicho, Beto, Fidel, Daniel, Valente, Chuy, Tolon, Ramon Green, Juan, Tony, Chimango, Carlos, Daniel, Loreto, Zapata, Cachorra, Luciano, Israel and Manuel Salvador this week: 150 Yellowfin Tuna, largest 40 pounds; 32 Dorado, largest 25 pounds; 8 Yellowtail, largest 12 pounds; 7 pargo, largest 22 pounds; 6 Cabrilla, largest 6 pounds; 2 sierra, largest 3 pounds; 1 wahoo, largest 38 pounds.
The Nudos fishing club just returned from Las Arenas with 11 anglers. They caught a total of 15 dorado, with honors going to Tony Corral who caught a 15 kilo Dorado on 20 pound test line in 2 1/2 hours. The members: Pablo Carrera, David Perez, Manny Perez, Eduardo Alvarez, Miguel Jorge, Fernando Hernandez, Ed Maisano, Sean McCourt and Mark Moscal, Tony Corral and Danny Nicholson. ¡Les esperamos en Baja! Come on down and visit. Saludos.
LA PAZ, MEXICO: FISHERMEN'S FLEET, La Paz, November 11, 2000, David Jones, Hotel los Arcos, Reservations 011-52-112-21313; Fax 011-52-112-57334. This is the fishing report from The Fishermen's Fleet in La Paz, B.C.S. for Wednesday the 8th of November. We've had some beautiful weather the last 5-6 days, topped off by a considerable amount of northerly wind today. Looking at the sat photos I don't think that there is a pattern of wind for this week, but those storm fronts passing through California do occaisionally give us bit of bump.
The fishing has been good to very good with Yellowfin Tuna still leading the catch. Fish averaging 30 pounds have been plentiful from the Punta Perico area over to the island, and are coming on Sardines, both dead and alive, and Rapala's. This means that you could take them on iron as well. I have only in the last couple of years acquired an interest in throwing iron, but I'm learning, and there is nothing like the strike on lures, and a great variety of the fishes in La Paz will eat iron. The standard colors and weights that work in SoCal will do fine here, and I've had some pretty good luck this year with the Raider jigs as well. Along with the Tuna are some Dorado, with the largest at 25 pounds, coming on Sardines as well. Wahoo have been moving through the Cerralvo area and we'll see them for a few days and then not see any for a week. The water temps are in flux (cooling down) and this is the key here for Wahool. The other required ingredient for success, 'Hooley speaking, is the large schools of Mackeral which hold off of the south end of Cerralvo Island. We're waiting for these to show. Sailfish continue to frequent the area with fish to 90 pounds in the last week. Sierra are on the prowl as well, and offer alot of fun for the light tackle and fly enthusiasts among you. That's it for this week, and as always, Adios Amigos.
In other mainland Mexico and Baja fishing action this week:
CABO SAN LUCAS FISHING REPORTS
ALL ARTICLES, REPORTS AND FISHING INFORMATION FOR CABO SAN LUCAS
CABO SAN LUCAS, MEXICO: PICANTE FLEET, Cabo San Lucas, November15, 2000, Sergio Cortes, Reservations Tel 011-52-114-32474; Fax 011-52-114-35969. Fish available: Blue & Striped Marlin, Dorado, Tuna & Wahoo. Water Temperature: Approximately 79-81 F. Air temperature: hi 84/low 64. Humidity: 69%. Wind: 8-9 Knots per hr. Pacific, 7-8 Knots per hr. Sea of Cortes. Yesterday's Luckiest: "Picante Pride" 35' CABO. Captain: Antonio Romero. Angler: Picchionr/Di Clemente. Production: 1 Blue Marlin 300 pounds. (released ), 8 Tuna 60-80 pounds average, 2 Dorado 20-25 pounds. Hot Spots: Golden Gate, San Jaime & 95 Spot (Pacific Ocean ). Fleet Production (5 boats): 2 Striped Marlin, 2 Blue Marlin, 15 Dorado & 18 Yellowfin Tuna.
CABO SAN LUCAS, MEXICO: FLY HOOKER SPORT FISHING, Cabo San Lucas, November 12, 2000, Capt. George & Mary Landrum, Reservations Tel 011-52-117-01271; 011-52-114-87452. WEATHER: Just as I said last week, the weather keeps getting better and better. I love this time of year here and until it gets to the point that I wish I had a fireplace in the house I will continue to enjoy these perfect temperatures! Daytime in the mid 80's and the evenings in the mid to high 60's. Humidity has been around 60% all week and there have been afternoon breezes every day. Today, the 12th, it was cloudy all day but with no rain. The remainder of the week has been sunny. A light windbreaker for the mornings and evenings has kept the chill off of me, but I notice that I am almost the only person I have met who feels the chill! Maybe that has been because everyone else is coming from the cold, cold north and this is warm for them!
WATER: The temperature has been fairly steady at 79-80 degrees almost everywhere with no strong temperature breaks showing. The winds early in the week were fairly steady and caused some rough conditions on the Pacific side but the Sea of Cortez had only wind chop, not any large swells. Today the wind almost disappeared as the clouds moved in and the water was very nice everywhere. Hopefully this will continue for a while. Saturday was the full moon and this had an effect on the fishing.
BAIT: We are starting to get some Mackerel from the bait pangas now. It is hard to get only Mackerel unless you are the first boat asking but it is a good thing since the Cavallito have been on the small side. As an example, when we have bought a scoop of Sardines they have actually been a mix of about 70% Sardines and 30% baby Cavallito! Thank goodness they have not tried to charge us the normal $2 per Cavallito for those! The bigger baits have been getting $2 each and the Sardines have been $20 per small scoop here in Cabo San Lucas and $20 for a bait tank full if you are willing to go to San Jose. If the guys try and charge you $2 each bait for the smaller Cavallito look somewhere else!
BILLFISH: The full moon has had a marked effect on the billfishing at Cabo San Lucas this past week. As the moon gets fuller the bite has dropped off to a marked degree. This is not to say that the Billfish are not out there, it is just that they have been feeding all night and it has been very difficult to get them to bite. In accordance with this, the best action on the needle nose guys has been on lures. I believe that this has not been because they are hungry but because they get irritated and swat at the lures! Reason for me believing this has been the fact that we are getting a lot of strikes on the extremely active lures and the straight runners are not getting the hits. The more action and the more radical it is the more strikes it draws. We have had a lot of luck drawing the strikes on Kona-head style lures and super plungers, lures with lots of action! The normal Zukers and other straight runners have been a distant second. The best colors have been in the darker hues, black/purple, black/blue, red/purple, etc. Not many hookups but plenty of action has been the name of the game this week.
YELLOWFIN TUNA: As opposed to the Billfish, the bite on the Yellowfin has gotten better with the full moon. Most of the fish being caught have been close to home, just outside the arch or up the Sea of Cortez at Punta Cabesa de Ballena. These fish have been the football Yellowfin in the 10-25 pound range but the action has been consistent. Best luck has been on cedar plugs for the trolling boats, Sardines for the boats trying live bait and the boats putting in the effort to crank iron are getting plenty of shots also. There have been reports of larger 50-100 pound Yellowfin out about 25-30 miles with Porpoise, but I have seen none of these fish myself.
DORADO: Just like last week's report, the action on the Dorado seems to be slowing down a bit. There have not been as many fish caught and those that are being caught have tended to be a bit smaller. There have been a few monster schools of fish in the single digit size and unfortunately I have heard of some of the boats going out and trying to fill the boxes on these juvenile fish. As a reminder, the limit on the Dorado is 2 fish per angler per day and it is a good idea to release the females. The larger fish have been in the deep water and have been found as blind strikes while looking for Marlin.
WAHOO: We finally have some good news here! If you are trying to target the Wahoo, this past week was the time to come down. The full moon was the signal for some fast and furious action from these saltwater express trains on the seamounts. Not everyone found these fish but those boats that went in search of them did get fish. Unfortunately for most of the Cabo San Lucas anglers and boats, catching a Wahoo was a matter of blind luck, stumbling across one while looking for marlin or Tuna. Marauders in darker colors, Yozuri plugs in the darker colors and Tremblors in lime green seemed to be the lures that received the most action. Not a lot of high speed action reported but these plugs pulled at 8 knots worked very well on the edges of both Golden gate and San Jaime Banks.
INSHORE: No change from last week's report here except for the fact that there seems to be a bit of an influx of Sierra. Many more of these fish in the 5-6 pound range have been reported. Surf casting off the Pacific beaches has been good for these fish as well as for the 5-10 pound Roosterfish. I have had a few friends say the action on the Houndfish has been good also. I am hoping to get a chance to try some of the surf action myself this week and will give you an eyewitness report for next week! Until then, Tight Lines! Capt. George Landrum
CABO SAN LUCAS, MEXICO: FLY HOOKER SPECIAL REPORT FOR NOVEMBER 5, 2000
Today we have Corey Warner, his brother Chris and his dad Wes on board the Fly Hooker. Corey is a return angler with the Fly Hookers crew, having fished last July 7th with his friends Scotty and Rusty of Littleton, Co. On that trip they caught and released one Striped Marlin about 120 pounds, one sailfish about 80 pounds and caught and kept four very nice Dorado, between 50-60 pounds each. This time Corey was hoping to put the family into similar action! The Fly Hooker headed up the Pacific side and towards Golden Gate Banks, the same area they had gone on July 7th. The water was a lot rougher this time than last time but they did get to the area. On the way they caught 5 Dorado. None of them were in the super-sized range like on the last trip, but they were enough to keep everyone's hopes up. The wind kept getting stronger and they decided to turn downhill and head outside looking for Marlin. Not too long later, at about 10:30 the bridge rod went off and a Blue Marlin jumped as it felt the hook! It was a black and purple head with matching skirts that had gotten the attention of the Blue Marlin and it was time for Wes to start a battle! Wes has fished out of the Gulf Coast many times but has never been hooked up to a fish of this size! With experience and knowledge under his belt he settled into an hour-long battle with the marlin. After the one jump it was a down and dirty fight, sometimes Wes gaining line and a moment later the marlin being victorious. Using the harness and both speeds on the Shimano Tiagra, Wes was able to eventually bring the fish to the boat. Then they discovered the reason the fish had jumped only once, it had struck the lure a glancing blow with its bill and had ended up with the hook in its eye. Deciding that the marlin would be Shark food if they let it go with one eye missing they decided instead to bring the fish in. At least it would feed some hungry people instead. Later at the main weigh-in station Wes's Blue Marlin hit the 300-pound mark on the hanging scale. A very nice fish and the first large fish for Wes! Congratulations and we look forward to hosting the Warner's again in the future. Until then, Tight Lines from Mary, George and the Fly Hooker crew!
CABO SAN LUCAS, MEXICO: FLY HOOKER SPECIAL REPORT FOR NOVEMBER 6, 2000
This is the third of four days for Carl Shepard and his search for Blue Marlin. The wind has not stopped blowing all night and the water is rough but the guys decide to head to the same area that they caught the Blue Marlin the day before. There must be a reason it was in the area and maybe there will be others there for the same reasons. It was a long and rough ride to the Banks area and fairly uneventful also. Several Striped Marlin were spotted tailing but none were interested in bait. They did get one Marlin strike on a trolled lure but the hookup was only momentary, pulling line for a few seconds. There was no luck during the rest of the downhill run, but maybe the day after tomorrow it will be a different story! Let's hope so at least!
CABO SAN LUCAS, MEXICO: FLY HOOKER SPECIAL REPORT FOR NOVEMBER 7, 2000
Joe and Lewis along with wives Dana and Jennifer have booked the Fly Hooker through Cabo Fishing Vacations for a day of big game sportfishing in Cabo San Lucas. The wind had not stopped blowing last night and because of the rough conditions on the Pacific side it was decided to head out towards the Gordo Banks and give the Yellowfin Tuna a try. They got sardines from the bait boats on the way out of the Marina in the morning and by 8 am were on the banks looking for fish! They found a Sailfish and ended up releasing a nice one estimated at 120 pounds after a short fight. Finally finding an area with Tuna breaking the surface they set up the light gear and went for the action! Tying the hooks directly to the line was the way to go because the fish's eyes were so good at spotting thick line, but it also resulted in quite a few break-offs. Eventually they landed a nice 50-pound Yellowfin and it was time to head in. It was Joe and Lewis who had the luck with the fish and we hope they really enjoyed it, nice people and we would be happy to have them on the Fly Hooker again!
CABO SAN LUCAS, MEXICO: FLY HOOKER SPECIAL REPORT FOR NOVEMBER 8, 2000
Today is the last day for Carl Shepard and his Marlin search aboard the Fly Hooker. Yesterday he had some luck on another boat in the same area the Fly Hooker had worked on his last trip. They managed to find blue water a few miles further out and he released a Blue Marlin about 200-300 pounds and a Striped Marlin, plus caught a few Dorado. With that knowledge the Fly Hooker headed out to the same area. Unfortunately the only fish to come to the boat today were four Dorado, and Carl said never mind those and tried to get Juan to reel them in! No doubt it would have been different if they had been Marlin, but it was not to be. They didn't even get a Marlin strike on this trip. Sorry Carl, but we are glad we were able to at least get you into some Marlin action when you went the first two days! Good luck tomorrow!
CABO SAN LUCAS, MEXICO: FLY HOOKER SPECIAL REPORT FOR NOVEMBER 9, 2000
Mike, John, Rich, Kim and Allison are from Victoria, B.C. and are in Cabo to attend a wedding. It was held last night at the Hacienda Del Mar. They said it was a great ceremony and now they were ready to go fishing! The water has much improved over the conditions of the past few days and they head straight out from the marina. They got a lot of action as they turned towards the north a bit but the wind started to pick up again and they turned back towards the Sea of Cortez. Dorado would come greyhounding in from the distance, intent on the lures being pulled through the water. It seemed as if most of them were so intent on the lures that they were striking them with their heads instead of eating them. Most of the fish were on for only moments before the hook pulled loose but they did eventually get one in the 35-40 pound range to hook-up solidly! A couple of very nice bags of Dorado fillets were the result of that fish's mistake! They also got strikes and hookups from marlin, but none of them stuck either. I may have to go back and see if I ordered hooks by Rubbermaid instead of my usual supplier! They did get to see the awesome beauty of a Marlin, as several of them did put on beautiful above water shows before tossing the hooks. Oh well, maybe next time! Thanks guys, and remember us when you get back to rainy Victoria!
CABO SAN LUCAS, MEXICO: FLY HOOKER SPECIAL REPORT FOR NOVEMBER 10, 2000
Brothers Ken and Bob MacKay from Ottawa are the anglers on the Fly Hooker today and these guys are looking forward to their first experience deep sea big game fishing. Ken and Bob just want to catch fish, but let us know that they would not turn down a chance at a Marlin! The wind has still been blowing on the Pacific side so the Fly Hooker heads out towards Gordo Banks. There have been reports of Yellowfin being caught there and if these two are lucky they might get to tie into a nice one! They find fish before they get there and end up having a blast on light tackle with 10-15 pound fish close to shore in the calmer water! They end up with three in the boat and many, many more were lost due to the light gear but boy, what a blast! After tiring of the action on these game tuna on light tackle they headed out in search of a Marlin. Almost before you could say it, they spotted a Striped Marlin trailing downswell and they get a strike on the bridge rod! Ken is able to whip this Striped Marlin, estimated at 120 pounds, in very short order! All right Ken! A nice first experience for the two MacKays and we hope it is not the last. Thanks guys, and until next time, Tight Lines from Mary, George and the Fly Hooker crew.
CABO SAN LUCAS, MEXICO: PISCES FLEET, Cabo San Lucas, November 13, 2000, Tracy Ehrenberg, Reservations Tel 011-52-114-31288; Fax 011-52-114-30588. BILLFISH: Firstly, sorry the report is a couple of days late...too many visitors right now, for me to make the necessary time. Fishing continues to be very good as can be seen by our overall catch success rate, which was ninety-three percent for this last week. We are still seeing a nice mix on billfish, with blues, blacks, stripes and sails all being caught in the last few days. Boats are very busy and it has been hard to get reservations, but those that did sign up early were not disappointed. Bob Griffith and friends from Atlanta, Ga., were thrilled with their 480-pound blue marlin caught aboard Rebecca on November 4th. Howard McCandless fishing with this same group, but aboard the Ruthless, released three striped marlin this same day and also boated a dorado. This was good fishing, but not as good as that on La Brisa, where four stripers were released by Ty Fagg. Bob McClure, from Houston, fishing with his father Cole, was pleased with their day on Rebecca, November 3rd, when they released a 200-pound black marlin, along with a striped marlin and three dorado. November 7th was the slowest day for us, when we had two boats skunked...the marlin were there, but it began to be a little more difficult to get them to bite. Most of the action was on the Pacific side as it tends to be at this time of year. Pisces anglers had a total of 23 striped marlin this week, all released except one. We also had six blue marlin and one black marlin, all released except the 480-lb'er, which died during the fight.
OTHER SPECIES: Dorado this week was pretty much a given, with most boats getting a token fish, along with their billfish. Anglers caught between one and fifteen dorado ranging in size from 10 to 35 pounds, though the average boat was closer to three. Dorado were spread over a wide area, with some being caught as close as the arch. Some yellowfin tuna, looking to improve--boats catching from one to four in the 20 to 35 pound range. Some wahoo, but small at 10 to 30 pounds. Inshore, sierra are starting to make a comeback, with some nice sized ones, up to 10 pounds. Skipjacks inshore.
WEATHER CONDITIONS: Skies partly cloudy, which led to some light rain, seas moderate, with a couple of dead calm days. AVERAGE WATER TEMP. 81 F. BEST LURES: Live bait for marlin, bait and assorted lures for tuna and dorado.
CABO SAN LUCAS, MEXICO: REEL EASY SPORTFISHING, Cabo San Lucas, November 11, 2000, Mike & Renee Hebert, Reservations/Fax 011-52-114-33579. Hola Gene. Another exciting week aboard the El Chilito with an increase in the Striper bite. This is a definite sign that a lot of good billfish action is just around the corner. Captain Alvaro Gastelum reported seven outings for the week aboard the El Chilito, and a total catch of 33 fish. Sixteen Dorado (averaging 7 to 25 pounds), Three Yellowfin Tuna (10 pounds), Eight Skip Jack (5 to 10 pounds), Four Striped Marlin (100 to 150 pounds, tagged & released), one Blue Marlin (225 pounds-tagged & released) and one Blue Marlin (320 pounds-tagged & released). Action for the week was split between the Pacific and the Sea of Cortez, as was the case between live bait and lures. The Dorado, as usual are hitting almost anything you throw at them when you're fortunate to find a good school. Outside temperatures were in the mid 80's with water temperatures ranging from 80 to 83 degrees. This will be our last catch report for a couple of weeks. After nearly a year, our new 32-foot Luhrs Open is on its way to Cabo to join the El Chilito. We have a week of installing electronics and break in time on those twin 330's then, with any luck, we hope to be in Cabo around the 5th of December. The new rig will be in slip A1 next to the El Chilito. Until ?????....Tight Lines!!!!!
CABO SAN LUCAS, MEXICO: JEFF KLASSEN SPORT FISHING, Cabo San Lucas, November 12, 2000, Jeff Klassen, Reservations Tel 360-402-3474. We just got back from Puerto Vallarta where we fished the 1st annual Ronnie Kovac's Penn International Light Line Tournament. I have to toot our horns here, and what better spot to do it WE WON THE DAMN THING! Karen took 2nd overall and moi the top spot. We both had lucky 2nd days bagging 5 nice roosterfish between us, all caught on our poppers too, which was pretty cool. Karen also broke the women's 16lb line class record for Bigeye trevally during the event. We won a boatload of rods, reels and lures and had a blast doing it. Be sure that we'll be setting something up quickly for PV trips. Also, be sure that I'll finally get off the pot and get a tournament of my own going. I've been asked a million times over the years to organize a Roosterfish tournament, so, what the hell, let's do it. I'll plan it for June of next year, and it will involve surf and panga fishing. Stay tuned for details on that.
Due to the ugliness involved with money tournaments, we'll stick to giving away colored beads, trinkets and bobbles as prizes. Speaking of ugliness at tourneys Wow! What a lot of email I received this week over the Bisbee fiasco in Cabo. I haven't received this much email since I ear-bashed Larry Dahlberg for his antics last year. A lot of people were ticked off over the Bisbee Y2K incidents, which took place after the disqualification of the Minerva III, particularly those actions taken by the boat's owner, for the deckhand having had apparently repeatedly grabbed the angler's line, during the million-dollar fish fight. I had some pretty big shots in the sport fishing industry write in, all whom, although having given me credit for writing about it (like it was a big deal for me), understandingly wished to remain nameless. All of them, and I mean all of them praised the Bisbee Tournament people, as I did, for upholding and enforcing the rules of the tournament. I did make one faux pas however, which was pointed out by my buddy JR who suggested that I rescind the comment that they were disqualified for cheating. "Cheating" would dictate that the deckhand had intentions of hiding the fact that he touched the lines those times, knowing full well about what the rules were. This has not yet been proven so I will indeed offer the possibility (to appease all the democrats out there) that the deckhand did NOT fully understand the rules, and state that they were disqualified for breaking the rules, not necessarily "cheating".
Fishing writer "K", among several dozen others, including; "M", from a major tackle manufacturer, "J", from a prominent rod company, "G" & "B", from another rod company, Magazine publishers "R" & "R", outdoor writers "M", "J" & "P" along with several boat charter operators and business owners in Cabo all wrote in agreeing with me that the boat's owner, Minerva Smith has been an embarrassment to the town thus far and should accept what happened, like an honest sportsman would have, back off and shut up, believing that her actions will not just hurt her, but the rest of the town. Cabo boat charter fleet (among other businesses) owner "C" suggested that the anglers aboard the disqualified boat ought to sue Minerva for apparently changing the deckhand the day of the tournament, without advising the anglers of the change and apparently this deckhand about what the rules are in this tournament.
Also, according to JR, who wrote in over the cheating angle, Western Outdoor News apparently ran a story this week about this incident, completely contradicting what I reported in the last Comment. My comments were based on conversations with at least 50 people who were there hands-on and involved with the tournament in one form or another, along with past dealings and experiences with both the Bisbees and with Minerva Smith herself. Someone else also wrote in saying that there is now video available showing that the team who bounced from 2nd place to first place upon the disqualification, also cheated! Jesus! This is just like a bad episode of "Knot's Landing". Furthermore, the captain and deckhand from the Minerva III are apparently now recanting their stories. All I can say about that is (in the words of the "Church Lady" from Saturday Night Live) "Well, isn't that convenient!" I'm done with this deal, let's get on to something interesting, like the fishing!
Hey, the fishing has been great! I know it sounds like a typical BS fish report, but it's true. Just about all of the major species, at least offshore ones, are being accounted for. Let's start with the big species and work down. Blue marlin bites are fairly common. Flying fish, pink/yellow and Dorado colors have been the best bet for lure colors, although a number of fish have been caught on live tuna and black skipjack. I even heard of a guy getting tagged by a large blue while trolling a dead sierra mackerel from a downrigger. Hey, I've heard of a lot stranger things being used for bait. Most Blues have been at about the 200 pound mark but several were landed this past week over 300 pounds with reports of larger ones lost or sighted. We never had any Black marlin caught on any of our boats this past week or so, but I've heard of a few seen or near misses. We have been getting more than our share of Striped marlin though. Just about every boat is getting at least a strike or two or more when targeting them, in an outing. They have been smaller fish with most being under 100 pounds, which explains why they've been hitting lures as small as tuna feathers at times. Most have been caught with live bait however, which were cast towards finning fish or dropped back to ones coming up to investigate trolling lures. Sailfish are also prevalent at the moment, considerably closer to shore than the striped marlin, which is pretty typical. A lot of anglers fishing for Dorado, closer to shore, have been getting hit by sails.
The tuna bite is hot or cold, depending on whom you talk to. We had boats with occasional Yellowfin in the 15 to 20 pound range and a buddy of mine bagged 2 one day over 80 pounds. I've heard of several fish over 100 pounds or more, but have yet to have anyone verify 100% any catches fish this size. The hot spots for big tuna, such as Jaime Banks haven't been fished much this past period as the water leading up that way has been somewhat colder and greenish, with a lot of boats having fished straight on out for a ways, up to 25 miles or more, before heading one way or the other. There are still tons of Dorado too. We've had boats with as many as 40 in a day. They are noticeably fatter fish too. I have heard some highly inflated size reports, reporting dodo's of up to 70 pounds. We caught several hundred on our boats last week and although we had plenty of 25 and 30 pounders, our biggest was at about 45 pounds. Several fish caught by happy anglers were reported at being 60 pounds or more, but when were digitally weighed were found to be 35 to 40 pounds. A lot of people are fooled by the length of this fish. That scale at the docks cannot be trusted, por nada!
Water temps are dropping slightly with gulf-side temps being between 81 and 83 and Pacific side temps averaging 81 and down to 79 in a few spots. Oh yeah, we had 3 wahoo caught last week, two on one boat in one outing, both averaged sized ones around 45 pounds.
Inshore fishing has been great for Dorado. Sierra have been found also but seem to be smaller ones in the 3 to 5 pound range. Another good-sized Roosterfish was caught from shore again last week, near the old lighthouse. It had to be a lost stray. I didn't hear what it was caught on. Smaller roosters have been caught on just about any lure, top-waters and spoons, along the Pacific side.
Hawkfish and Flag cabrilla are fairly common in the rocky areas, using plastics and smaller poppers. There have also been some huge Barred pargo around, no doubt gobbling up some of those juicy baby turtles that are floating around. I'd obviously never condone using a cute baby Tortuga for bait of course but there's no reason why you can't cash in on their demise. In fact, for every pargo you get you'll probably save a heap of the little fellas. I ought to make up a turtle-shaped bait. In the meantime, use those ugly live crabs that nobody likes to protect, or large chunks of squid on the bottom in the late afternoons and evenings.
Hey, close election huh? I wish I was able to vote. I hope y'all exercised your right. At this writing we still apparently don't know who will be president (it will be Bush), even though the election was held 5 days ago. I hope that Gore and Bush don't start demanding physical counts from every Bum____ county in the US. Enough dancing around. Let's get on with it.
Finally, The interesting emails just keep rolling in. I had one the other day entitled "ARE YOU TIRED OF FEELING INSECURE, BECAUSE OF YOUR SMALL PENIS?" Not even remotely feeling this way, but rather simply being polite-natured, respectful and courteous to the sender, as I am to all who write in, I read the email. The sender was pitching a book called "Natural Penis Enlargement, Through Stretching". They claim that their system, encouraging ones penis to grow, through regular exercise and stretching, is extremely effective, having been used by African Tribesmen for millennia with incredible effects like, as if THEY need it. They go on to say "If you use our exercises, to work at your development, the faster you will see results. Forget about all those embarrassing times in bed! Soon you'll be satisfying your partner, man or woman thicker and deeper!" (I did not need to read that.) They guarantee an additional length of 1 to 2 inches within 6 months! I thought to myself, "That's great if you have a bunch of time to burn, but what if you have a big date coming up next weekend and don't have time to waste?" I wonder what kind of results one could get in a few days, if one would "work on your development", as they call it, with greater intensity? The sender also warned that their stretching techniques are preferred by most, as many other options, such as rubber cords, weights and penis enlargement operations, have led to deformities (now they tell me). To further get their point across, they attached a photo of a fella who's unit, although lengthy, was shaped like the "@" symbol. Furthermore, they stated that many other enlarging offers on the market today claim to add inches to junior, but usually leave you with "short-term" results, whatever that means. This was followed by an apology, in the event that the email had been sent to residents of Washington, as it was NOT supposed to have been sent there. I blushed somewhat thinking that perhaps we Washingtonians are noted in some way for being well endowed and didn't need the book. There were ordering instructions at the end of the email including a listing of the credit cards they accepted. Imagine your partner opening up your VISA statement and finding THAT charge. "Honest Baby, that's not mine! That's not my bag baby really!" Hey, guess what folks, that's the Comment for this week I am outa here! Jeff.
ENSENADA FISHING REPORTS
ALL ARTICLES, REPORTS AND FISHING INFORMATION FOR ENSENADA
ENSENADA, MEXICO: LILY FLEET, Ensenada, November 9, 2000, Sammy Susarrey, Reservations Tel/Fax, 5 to 9 p.m., 011-52-617-46747; Cell 011-52-618-67485. LILY FLEET 9 Nov 2000.Today the Lily fished at Ensenada with 3 anglers reporting 2 yellowtail to 12 pounds, 14 barracuda to medium sizes, 6 red snapper, 8 lingcod in medium sizes and 20 miscellaneous. All fish were caught at the reef (bajo) of Todos Santos Island. Water temperature was 62 degrees and we had a light wind, also some swells and some rain, which is good considering the time of year. Live bait is nice medium sized sardines. We metered some fish on the bottom that looked like schools of yellowtail. Tomorrow we are going on the Amigo with 3 anglers.
November 10, 2000. Today the Amigo again fished the Todos Santos Island bajo with 3 anglers reporting 9 lingcod in medium sizes, 16 red snapper to 4 pounds, 4 barracuda in medium sizes, 2 calico bass to 3 pounds, and 11 miscellaneous. All fish were caught around the bajo today. We had some swells (olas) and rain during the day, but no wind. Today's water temperature was 61 degrees, a little colder than yesterday. We have medium sized sardines for live bait. All fish were caught 100-150 feet deep, using single 2/0 hooks on dropper loops. We have a trip tomorrow and will let you know what's happening.
November 11, 2000. Today the Amigo fished inside Ensenada bay and at the reef of Todos Santos Island with four anglers aboard reporting 7 lingcod in medium sizes, 10 medium barracuda, 5 small bonitas, 25 red snappers, 4 whitefish, and 25 miscellaneous. They saw a good number of barracuda, but water is cold at 61 degrees and surface fishing wasn't good. Today we have medium sardines. Most fish are being caught close to the bajo. The water has been nice with no swells or winds, although we had a light rain during the day.
MAGDALENA BAY FISHING REPORTS
ALL ARTICLES, REPORTS AND FISHING INFORMATION FOR MAGDALENA BAY
MAGDALENA BAY, MEXICO: BAJA ON THE FLY, San Carlos, November 11, 2000, Gary Graham, Reservations Tel 800-919-2252; Fax 760-746-7260. Temperatures: 77-degree high; Low 63 with some wind in the afternoons. Water temperature: 76 degrees in the mangroves and 74-77 offshore. STRIPED MARLIN-The kind of fishing that you dream about. DORADO-The shark buoys west of the entrada have been consistently good for several weeks. TUNA-Scattered near the Magdalena Bay entrada. CORVINA-Devil's Curve continues to produce the best action. SNOOK-Several dandy fish caught. YELLOWTAIL-Not too many on the surface, mostly down deep. QUICK COMMENT-We departed Puerto San Carlos on Thurs. a.m. and found a flat calm sea and loads of dorado! It was a fly-fisher's dream come true. We are now approaching the Thetis Bank where we hope to duplicate last year's blitz on striped marlin on a flyrod using the teasing techniques we developed that proved so successful. From all the reports from sportsfishers fishing the area dead ahead of us, we should be into billfish in an hour or 90 minutes at most! Can't wait.
We had a cancellation on our next Marlin 101 trip, Nov. 21-27. If you have ever considered something like this, give yourself an early Christmas present. We can discount it from $3,500 to $2,500! Yes, we do accept credit cards. Interested? Give us a call at 800 919 2252 and join us for what is shaping up to be some great offshore fishing!
November 15, 2000. Temperatures: 86-degree high; Low 59 with some wind in the afternoons. Water temperature: 74 degrees in the mangroves and 70-73 offshore. STRIPED MARLIN-Pretty special. DORADO-The shark buoys west of the Magdalena Bay entrada as well as up on the Thetis have produced some good catches of larger fish. TUNA-Good action a few miles south of the entrada. CORVINA-Good action in several of our favorite spots. SNOOK-Several fish caught to 14 pounds. YELLOWTAIL-Good catches near Sail Rock. QUICK COMMENT-Well, we are here for our Flyrod Marlin Series 101 and the marlin are too. Our first trip ended on Tuesday and Ray Barker Smith, England and John Howerton, Rancho Santa Fe, Ca, are still shaking their heads. John, in search of his first marlin on the fly ended up with 3 released and many others hooked up. Ray managed to release 12 marlin in three days of fishing. From the time we arrived last Friday at Thetis Bank until we left late Monday afternoon, we seldom went more than fifteen minutes without having a fish up in the teaser pattern. This is the first time we have ever managed to have a triple hookup at one time, all hooked sight casting to feeders around the boat. We are on our way out with a new group of clients this afternoon and look forward to more great fishing.
SAN JOSE DEL CABO (LOS CABOS) FISHING REPORTS
ALL ARTICLES, REPORTS AND FISHING INFORMATION FOR SAN JOSE DEL CABO
SAN JOSE DEL CABO, MEXICO: GORDO BANKS PANGAS, San Jose del Cabo, November 12, 2000, Eric Brictson, Reservations 800-408-1199; Fax 619-447-4098; 011-52-114-21147. The Baja fall weather came on strong this season, there was practically no transition time from the heat of October to the cool of November. Of course the locals here do not really know what cold is, while the rest of North America freezes, in Southern Baja when it drops down between fifty and sixty degrees at night, that has everyone really bundling up. Anyway the daytime temperatures at San Jose del Cabo are still reaching close to 80 degrees, which are keeping sun worshipers happy. Crowds of anglers are keeping local sportfishing fleets filled to capacity and although the overall fishing action slacked up this past week, it was active enough to satisfy most people. The wind did play havoc on anglers for several days, coming from both the north and then switching from out of the south. The recent winds also helped turn the water up into the Sea of Cortez greenish, with water temperatures now ranging from 76 to 80 degrees. Local panga fleets out of San Jose del Cabo are fishing in both directions, from near Cabo San Lucas north to San Luis Bank. Daily catches include yellowfin tuna, dorado, skipjack, wahoo and sailfish but the lost common catch continues to be the yellowfin tuna. They have been spread through the entire region, huge schools are now holding in the inshore waters near Cabo San Lucas and anglers are finding excellent action there for tuna in the 8 to 20 pound class while drift fishing with sardinas.
The bite on the Gordo Banks slowed way down this week but it still was the place to concentrate your efforts if you wanted the best possible chance of hooking into a yellowfin of 50 to 70 pounds. For anglers that did work hard, using a combination of chunk bait, live chihuil, caballitos and sardinas, the average catch was about one to three tuna a day, and these were all quality sized fish. The sardinas were not as abundant as they had been, due to the daily pressure of filling so many bait tanks, out of San Jose alone there are now close to 80 panga charters per day going out, that is a lot of bait to supply.
Offshore they are finding schools of skipjack and some chihuil on the Inner Gordo Bank, but they are never a guarantee and it is always a good idea to buy sardinas if possible. Dorado catches were great from the reports out of Cabo San Lucas, as bulls weighing more than 30 pounds were being taken from the Pacific, but it was a different story for the anglers fishing from the Gordo Banks and further north where the water had become off dirty and green. There were limited numbers of them and most were single fish that weighed under 10 pounds. Wahoo just have never got going this fall and only a few are being caught by the combined fleet each day. They were found from Gary Rock to San Luis Bank and the ones that were accounted for weighed from 20 to 77 pounds, hitting on live bait, Marauders and skirted lures. Many anglers come to Baja at this time of year to target these elusive speedsters and it has been disappointing so far. We all keep out fingers crossed that the wahoo will just be a late run this season. Billfish activity was down for the San Jose area, a few striped marlin are being seen but are hard to hook up and sailfish are not as abundant now with cooler water temperatures. The panga fleet out of La Playita did report one 250 pound black marlin. Good Fishing.
SAN JOSE DEL CABO, MEXICO: VICTOR'S FLEET, San Jose del Cabo, November 15, 2000, Larry Burson, Jigstop Tours, Reservations Tel 949-496-0960; 800-521-2281; Fax 949-496-1384. "QUALITY TUNA BITE!" The weather system moving through So. California gave us some cool breezy day early in the week. Now the weather is a perfect 83 degrees with calm 75 degree water. The Yellowfin Tuna just keep biting no matter what kind of weather. Tuna 30 to 50 pounds are common, at the rate of 1 to 4 per panga. Smaller Tuna in the 15 to 25 pound size are schooled up off shipwreck, midway to Cabo. Thursday's catch report showed counts of 8 to 10 fish per panga. The larger Yellowfin are still on the Inner Gordo Bank.
Dorado are mixed in with the Tuna, but are now mostly only 15 to 20 pounds, with some up to 35 pounds. One or two Wahoo a day show at the scales, weighing in at 30 to 50 pounds. The Iman Bank is best for Wahoo and larger Dorado.
Live Sardinas or live Chihuil are best for the Yellowfin Tuna. The smaller Dorado also eat the live Sardinas. The larger Dorado are usually taken on trolled lures. Wahoo like trolled Marauders.
Richard French from Pendleton, Oregon, scored 9 Yellowfin Tuna to 42 pounds. Ron Aldrich from Atascadero, CA, boated 10 Yellowfin Tuna to 45 pounds. Mathew Jackson from San Clemente kept one 52 pound Yellowfin Tuna. Ron McKenzie of Mammoth Lakes weighed in a 50 pound Yellowfin Tuna. Gerry Hutchinson from Vancouver, Canada, weighed in a 47 pound Wahoo. John Chapman from Pomona kept a 62 pound Yellowfin Tuna. Bernard Geller from Los Angeles checked in with one 30 pound Wahoo and 4 Tuna to 45 pounds.
EAST CAPE FISHING REPORTS
ALL ARTICLES, REPORTS AND FISHING INFORMATION FOR EAST CAPE
EAST CAPE, MEXICO: BAJA ON THE FLY, Buena Vista, November 11, 2000, Gary Graham, Reservations Tel 800-919-2252; Fax 760-746-7260. TEMPERATURES: Highs in the high 70's/low 80's with a low of 61; with the water temperatures beginning to drop to the low 80's. We had three days of stop & go north winds down the gulf earlier in the week, but by Thurs. and Fri. the wind stopped and the fishing resumed. Today is classic flat!. BLUE MARLIN-Still a few being caught. STRIPED MARLIN-Very few in the area. YELLOWFIN TUNA-Some good catches at East Cape, with most of the fish either down deep or with the porpoise. DORADO-Any fish being found are being found in open water with just a few at the buoys near Punta Pescadero. SAILFISH-Thanks to the cooler water, they are starting to move out. ROOSTERFISH-Seeing plenty in front of Rancho Leonero. JACK CREVALLE-Most of the action in front of La Ribera. BARRILLETE OR MEXICAN SKIPJACK-Fair catches from the lighthouse to Punta Pescadero. PARGO AND CABRILLA-Close to shore in front of Punta Colorada still the best bet. OFFSHORE: The wind put a real damper on things for most of the week in the East Cape fishing area. But as of Thurs. and Fri. it seems back to normal and fishing is beginning to improve. INSHORE: Tuna and skipjack are still providing the best action close to shore. It is not uncommon to see a dozen boats fishing tuna within a mile or so of the shore. BEACH: Small roosters, jacks and ladyfish have provided the best action from the beach, with olive Clousers being the most productive fly.
November 15, 2000. TEMPERATURES: High of 79 with a low of 61; with the water temperatures beginning to drop to the low 80's. Plenty of North wind to contend with. BLUE MARLIN-Season starting to slow down. STRIPED MARLIN-Fair showing this week. YELLOWFIN TUNA-Still a good show close to shore. DORADO-Most of the fish are being found in open water with just a few at the buoys near Punta Pescadero. SAILFISH-Only a few this week. ROOSTERFISH-Still a good showing in front of Rancho Leonero of larger fish. JACK CREVALLE-Most of the action in front of La Ribera. BARRILLETE OR MEXICAN SKIPJACK-Fair catches from the lighthouse to Punta Pescadero. PARGO AND CABRILLA-Close to shore in front of Punta Colorada still the best bet. OFFSHORE: Cooler and windy conditions have slowed the pace down somewhat. INSHORE: The tuna close to shore have been the best bet this week. BEACH: Wind waves slowed the action down along the beaches when the wind subsides the fishing is fair. QUICK COMMENT-Mid November and the North winds have begun. Cooler temps in the evening remind you that winter is coming. Tuna and roosters dominated our clients catches this week. Several large rooster hooked at East Cape but not landed and plenty of small eating small flash Clousers in Sardinia colors.
EAST CAPE, MEXICO: RANCHO BUENA VISTA, Buena Vista, November 11, 2000, Tamara Moyeous, Reservations 800-258-8200. Fine weather and a little wind made pleasent fishing for the 12 boats that went out this week. The trips resulted in the catches of a striped marlin, 7 dorado, and 93 tuna.
EAST CAPE, MEXICO: RANCHO LEONERO, Bahia de Palmas, November 12, 2000, John Ireland and Roy Baldwin, Reservations 800-646-2252; Hotel 011-52-114-10216. Mild weather prevails at East Cape, with daytime highs about 80, evening lows in the mid 60's, breezy afternoons with cooling water temp in the upper 70's. Good fishing continues, despite fewer boats going out. On Saturday, Leonero manager Gary released a blue marlin estimated at 350 pounds, also taking dorado, tuna, bonito, and sierra. The strong dorado bite continues, with plenty of fish averaging 15 pounds mixed in with the tuna off La Ribera, taking mostly live sardinas, while larger fish up to 50 pounds were outside, taking lures while trolling for blue marlin. The tuna bite continues on, with fish spread throughout the bay, with slow trolling live sardinas working best. Lots of sailfish were taken from 1 to 8 miles offshore, exclusively taking live caballitos and big sardinas. Striped marlin have returned, with fish spread over a wide area, taking mostly trolled lures. A few blue marlin were also taken on small live tuna, or green/black or bleeding mackerel pattern trolled lures. Great inshore fishing continues with roosterfish, pargo, jacks and sierra biting aggressively, taking hoochies, bright colored Krocodiles and live sardinas.
Andre Farr of East London, South Africa, while cruiser fishing for 1 day, took a 300lb blue marlin, dorado to 30 pounds, and limits of tuna.
EAST CAPE, MEXICO: EAST CAPE SPORT FISHING, Los Barriles, November 9, 2000, Dave Dixon and Gil Mendiaz, Reservations 800-837-1556; Fax 805-493-5446. Just wanted to pass along our apologies for the infrequency of fishing reports lately. Gil has been moving to a new house, and Dave has a new baby in the house, and is starting a new job. So we've been a bit distracted lately! Hopefully we'll be able to fill in the reports weekly now that things have settled down a bit. We should have a good one next week--we're heading down there this Saturday, hope to bring back some good pictures and fish tales.
North winds have remained a factor, but not as bad as they could be. Boats are still managing to get out and get into quality fish when the wind allows. SST maps show a continuing cooling trend, though some warmer water has pushed up in the last couple of days, maybe from tropical storm Rosa. Yellowfin tuna remain the mainstay catch, with quality fish being taken under dolphins. Some "tunitas" can be found near shore at Frailes and Punta Pescadero, though the breeze makes flylining small baits tough. Some sailfish and blue marlin still being hooked, but dorado seem to be on the decline. On the upside, sierra have started to show in the catch numbers, a sure sign that winter is upon us.
Notable Catches: Gary Max from New York and his party braved the Nortes and bagged a 250-pound blue marlin, 2 sailfish (billfish all released), 5 tuna over 50 pounds, several dorado, roosterfish, sierra, and other fish for a total of 11 species. Gary's trip is a good example illustrating that the East Cape can provide excellent fishing even during the winter. You just have to be willing to work for the fish, and be flexible in terms of letting the skippers take you to whatever the current bite is.
November 15, 2000. Hi. Just returned from three days of fishing with Gil Mendiaz and the fleet. Here is the report:
Winter conditions have definitely arrived at the East Cape, both in terms of the weather and the fishing. The weather is decidedly cool, with the traditional North winds making for rougher water on some days. We had only one really tough day of the three, and generally speaking it is fishable.
Inshore, we're seeing the typical winter pattern. Large schools of football yellowfin tuna (10-25 lbs) have taken up residence along inshore areas stretching from Punta Pescadero to Cerralvo Island. The bite is excellent on slow trolled sardinas, which can be found in abundance. In two days of fishing the tuna, we took 34 total (released 14). Some smaller (10-20 lb.) dorado are also mixed in with the yellowfin. We also saw an excellent bite on sierra, taking 11 total, with 10 of those in the La Rivera area. We tried a new tactic for the sierra, using soft plastic tube baits which have been traditionally used for largemouth bass. These baits were rigged like hoochies, with an egg sinker in the head. The profile this presents is much like a small squid, more so than a hoochie, really. For hooks we used long-shank bait hooks, both because of the longer profile of the tube bait and to thwart the toothy sierra. Sierra, like wahoo, go for the middle of their prey and bite it in half. Using the long-shank hooks, the fish we hooked were all nailed right through the jaw, and we were 10 for 10 on fish landed using this technique (without using wire leader!).
Offshore fishing remains excellent despite the wind. Those braving the rough seas found excellent dorado fishing, with several fish to 50 lbs. being taken. Blue marlin are also being taken with some regularity, as most boats are managing at least one hookup. The primary offshore area the local fleets are working is between 15-30 miles northeast of Los Barriles. Petrolero is the color of choice.
EAST CAPE, MEXICO: HOTELS PALMAS DE CORTEZ, PLAYA DEL SOL, PUNTA COLORADA, East Cape, November 13, 2000, reported by Dave "Smokey" Manuel, East Cape Smokehouse, Hotel Reservations, 800-368-4334. There was very little variation this weekend from conditions during the midweek period; cooler temps, some windy days, some calm days and plenty of fish to catch. Perhaps the most noticeable difference was the significant drop on sizes of Tuna being found. I saw no big Tuna at all on Friday and only four in the 40 to 60 pound range the rest of the weekend. Everything else being brought in is football size Tuna being taken on Sardines. Most charters are heading North, finding Tuna in several spots around the Southern tip of Cerralvo Island, from Punta Arena Norte on the island's SW side to the canyon between Cerralvo and the ocho-ocho on the East side. The bite in close at Punta Arena has been a consistent spot for nearly a week, the other action spots are being found by spotting Porpoise. The Southern tip of Cerralvo and the canyon near the ocho-ocho have also been the Northern edge of some good Dorado action the past few days, producing mostly mid-sized fish around the 20 pound mark with a few bigger bulls mixed in. Dorado are not nearly as prevalent as the small Tuna, but that area and another spot about 25 miles NE of Los Barriles produced Dorado throughout the weekend for many charters. Sardines, Caballitos and trolled lures all were reported to be attracting these Dorado. Some improvement on Sailfish numbers, but only 14 Striped or Blue Marlin found on 90 charters. Two of the Blues however were of good size, one that was released was estimated over 450 pounds, another that was not released weighed in just under 440 pounds. Sailfish numbered 19 on those same 90 charters. Remember, I'll be on vacation 11/16 to 11/28 and this will be the last update until December 5th! The Smokehouse WILL BE OPEN during this period. Adios.
LORETO FISHING REPORTS
ALL ARTICLES, REPORTS AND FISHING INFORMATION FOR LORETO
LORETO, MEXICO: VILLAS DE LORETO, Loreto, November 15, 2000, Wendy Wilchynski, Reservations Tel/Fax 011-52-113-50586. Dear Gene. We just had a bunch of fishermen here. They missed the wind and went home happy, with coolers full of fish. They also enjoyed not having to go to town for wining & dining, now that we have a bar/restaurant! Take care and bye for now, Wendy.
LORETO, MEXICO: EL FUERTE SPORT FISHING, Puerto Escondido, November 15, 2000, Ty Miller, Reservations Tel 714-775-6658; Fax: 714-755-3501; Loreto 011-52-113-30863. Hola Amigos. Well the Northerly winds kept us off the water most of the this past week but we did manage to get in a couple days of fishing at Loreto and verify that the Yellowtail are making their way down the corridors from Pt. Lobo and on through Pt. Perico. There are still small (5 to 10 pound) "firecrackers" holding around Isla Danzante and are hitting the trolled Bagleys (and even feathers) up on top in 20 to 60 feet of water. The bigger (30 to 35 pound) Yellowtail are being plucked off one of our favorite reefs around Perico. Fish are holding just off the bottom in 180 feet and are taking the live bait and also the iron. Yeah baby! Due to the weather we didn't get a chance to head to Isla Catalana but I'm sure the fish are stacking up as I speak. Let's hope the fish stay in tight for a while so we can put Catalana in our pocket for reserve.
Looks like the Cabrilla want to get some recognition also with fish holding along with the Tails. You will also find the Cabrilla already holding in the shallows (20 to 60 feet) around Isla Danzante and up along the backside of Isla Carmen. Best way to pluck these guys is trolling the Rapalas or the Bagleys in tight.
Bait is still steady off of Punta Coyote with Macks in around 200 feet with Sardines suspending around 100 feet. Bait bite is between 6:30 and 7:00 A.M. Gotta tell you, since the Loreto Marine Park kicked the shrimp trawlers out of here, this place has been a bait haven. Way to go guys!
Very quiet around here on the Billfish, but with 74 degree water I don't blame them for not hanging around these parts.
This place looks and feels like it's going to really go off soon, so get those sticks ready for a possible early and hopefully kick-ass Yellowtail season. All the right stuff is in place so stay tuned!
Temp. 80. Water Temp. 74. Winds layed down today! Seastate. Calm.
LORETO, MEXICO: BAJA BIG FISH COMPANY, Loreto, November 10, 2000, Pam Bolles, Reservations Tel/Fax 011-52-113-50448. Temperatures: Today the weather is absolutely perfect. Highs in the mid 80's (F) lows in the low 60's (F). Evenings are sweater weather, and early mornings out on the water will require a jacket and perhaps long pants to keep the comfort level up there. Dress in layers if you're headed out to fish these days.
Skies: Loreto skies have been partly cloudy for most of the week, but today it's crystal clear. Last Thursday we actually had some rain but it's probably the last we'll see until next August.
Winds: We're seeing North winds now and we had pure "Nortes" all day on Friday (10/27) and again from Monday through Wednesday (11/6-11/8). If anything will foul up the fishing plans it will be those nasty winds.
Seas: The water on calm days is nice from theLoreto marina to the islands but beyond that it can be quite rough. On days when the North winds blow the whitecaps will appear and you know the seas will be tough to fish. Look for calm early mornings with winds picking up in the afternoons on fishable days. On rough days it's better to stick to shoreline fishing locally or visit the gift shops in town. Water surface is still up there but cooling off (78 F).
Winter Season: We are clearly experiencing winterlike weather patterns. We'll see nice calm days on the seas and inland with warm daytime temps that chill off as soon as it starts to get dark. These calm periods will typically last from two to four days for most of the winter season. Between the calm periods are the windy days. Winds come from the North and are strong. They bring lower temperatures with them that affect the air and the water. On windy days the water will be very rough especially beyond the islands. Typically on these rough days the fishing will also turn off. Inshore fish tend to feed less and the offshore fish are hard to get to as the swells are tough to endure. The winds result from a combination of a temperature differential that occurs over the land and the sea here, and the Santa Ana winds which originate from the U.S.A. This weather pattern will be with us until mid March. During the months of January and February it is the most severe (longer windy periods shorter calm periods), but after those months the calm periods become lenghthier than the windy periods.
Proposed Marine Park Use Fee: The Loreto Marine Park is proposing a use fee of 50 pesos for every person who will be using the park. What we're told is that every national park in Mexico will be charging a use fee, and our Marine Park is a national park too. Details are still being worked out, but it is supposed to be a one-time fee (users will not be charged daily), and it is only to be for tourists visiting the area not locals. This is supposed to come into effect in November (exactly when I'm not sure yet). I will keep you posted on the use fee as the facts come in.
Dorado have been coming in few and far between. Typically the fish have been being taken by accident fairly close to shore while trolling for other species. It should be safe to say that the Dorado have moved south for the season and we'll see them start to appear again in April.
We're continuing to see Yellowtail in pretty good numbers, but with the windy weather and choppy seas we had the past week the quantity has been lower than it should be. The Yellowtail are frequent and coming in from San Bruno to San Antonio point. The fish are schooling deep in these locations at about 150-200 feet. Most anglers are fishing with live bait weighted and sent to the bottom. I prefer to fish heavy jigs as they're productive too and I think it beats sitting there waiting for something to strike. Tobie Valdez from Upland, CA and Art Montoya from Chino Hills, CA. limited on the Yellowtail this week in the Punta Pulpito area all taken on jigs.
Bonita and Skipjack: There are lots of Bonita near and just to the North of Isla Coronado. They are schooling in various sized from 1-15 pounds. The fly anglers are having a blast with them and the light tackle fisherman can also take advantage of their power. Bring along that bass rod if you're coming down as this is just ONE species you'll have a chance at landing on light tackle.
BAHIA DE LOS ANGELES (L.A. BAY) FISHING REPORTS
ALL ARTICLES, REPORTS AND FISHING INFORMATION FOR BAHIA DE LOS ANGELES
BAHIA DE LOS ANGELES, MEXICO: CAMP GECKO, Bahia de los Angeles, November 15, 2000, Abraham Vazquez, Tel 011-52-515-19454; Fax 011-52-665-03206 (goes to Guillermo's). Air temperature 73-59F. Winds out of the west very strong and then out of the north very strong, and one nice day, and then more wind again, and even some rain. Humidity 60%. Seas rough. Water temperature 70-73 F. Fishing at Bahia de los Angeles if you happen to be out that one day it wasn't too bad. There are still a few yellowtail around on the jigs and plenty of bottom fish. The problem has been the weather. There were a lot of people around for the Baja 2000 so they did not mind the wind that much. Road conditions great. Gasoline $2.80 a gallon. I pulled the cruiser out of the water for the winter but the guys (Rubén, Igor, Rafa, etc.) are going to work the pangas all winter. Sorry for not sending a Bahia de los Angeles fishing report last week, but I was on vacation with my girls and just got back this last week.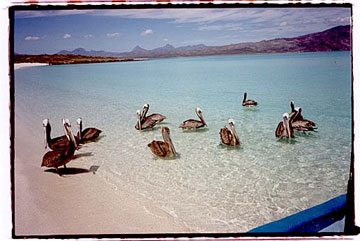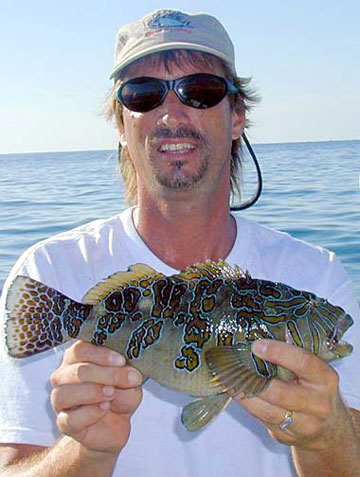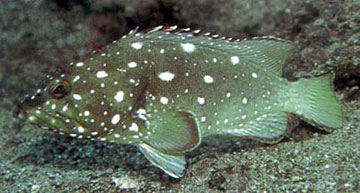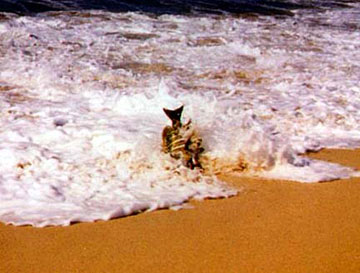 Baja coastal fishing reports and articles.
Ensenada fishing reports and articles.
Puerto Santo Tomas fishing reports and articles.
Erendira fishing reports and articles.
San Quintin fishing reports and articles.
Magdalena Bay fishing reports and articles.
Cabo San Lucas fishing reports and articles.
San Jose del Cabo (Los Cabos) fishing reports and articles.
East Cape fishing reports and articles.
La Paz fishing reports and articles.
Loreto fishing reports and articles.
Mulege fishing reports and articles.
Santa Rosalia fishing reports and articles.
Bahia de los Angeles (L.A. Bay) fishing reports and articles.
San Felipe fishing reports and articles.
Rocky Point (Puerto Penasco) fishing reports and articles.
San Carlos (Sonora) fishing reports and articles .
Mazatlan fishing reports and articles .
Puerto Vallarta fishing reports and articles.
Ixtapa Zihuatanejo fishing reports and articles.
Huatulco fishing reports and articles.
Cancun fishing reports and articles.
Mexico coastal fishing reports and articles.
Mexico Fishing Home Page < Mexico Fishing News Archives < Fishing Report