OTHER SPECIES: Dorado love our Cabo waters and our anglers enjoyed catching them throughout the week, with boats landing from one to ten, with the average tally being around six, in the 20 to 40 lb class. Both bait and lures worked on this species. Yellowfin tuna was not abundant, but if you found the right spot, you could do well. Captain "Murfy" aboard Teamwork had an incredible day, just south of the Jaime Bank, totaling eight big guys, with the largest being 200 lbs, the others weighing 110, 100 and the rest between 60 and 80 lbs -- strangely, all of these tuna took blue marlin lures, whereas, you would normally expect to catch them on live bait. Other boats had between one and three, of a decent size, from 30 to 65 lbs. Inshore, as close as the arch, there were plenty of sierra, needle fish and small tuna, even some big dorado were caught this close in.
WEATHER CONDITIONS: Some cloudy days this week, seas moderate now turning calm. LOCATION: The old lighthouse, Golden Gate, Migrino, Los Arcos, Cerro Blanco. AVERAGE WATER TEMP: 79 F. BEST LURES: Live bait.
CABO SAN LUCAS, MEXICO: PICANTE FLEET, Cabo San Lucas, November 22, 2000, Sergio Cortes, Reservations Tel 011-52-114-32474; Fax 011-52-114-35969. Fish available: Blue & Striped Marlin, Dorado, Tuna & Wahoo. Water Temperature: Approximately 76-80 F. Air temperature: hi 86/low 61. Humidity: 69%. Wind: 8-9 Knots per hr. Pacific, 7-8 Knots per hr. Sea of Cortes. Yesterday's Luckiest: "Picante Pride", 35' CABO. Captain: Antonio Romero. Angler: Eric Stevens. Production: 2 Striped Marlin 120-140 lbs. (both released); 1 Dorado 25 lbs. Hot Spots: Golden Gate Bank (Pacific Ocean). Fleet Production (4 boats): 5 Striped Marlin, 12 Dorado, and 6 Yellowfin Tuna.
CABO SAN LUCAS, MEXICO: FLY HOOKER SPORT FISHING, Cabo San Lucas, November 19, 2000, Capt. George & Mary Landrum, Reservations Tel 011-52-117-01271; 011-52-114-87452. WEATHER: This has been an unusual week for us. Normally we have sun and wonderful temperatures but this last week had a lot of cloud cover show up. The beginning of the week was typical Cabo fall weather but on Wednesday we had a cold front blow in and the clouds sat on top of us until Saturday morning. We received a bit of rain Thursday morning; enough to knock the dust down and had a light sprinkle on Friday. The rest of the week was partly cloudy and the temperatures ranged from the mid-60's at night to the mid-80's during the daytime.
WATER: Most of the week had ideal water conditions but the cold front that blew in on Thursday really caused a shakeup. We had been experiencing some wonderful water conditions on both sides of the cape, then the front moved in on Thursday and blew the water up on the Pacific side. The temperature break that had been holding steady at five miles offshore on the Sea of Cortez side stayed in place but the water turned green. Inside temperature was 82 degrees and outside it had been about 79 degrees.
BAIT: There were no problems getting bait this week and the Cavallito and Mackerel were the usual $2 per bait. Sardines were available at $25 a scoop here in Cabo but if you were willing to go to San Jose you could get a bait tank full for the same price.
BILLFISH: Striped Marlin have been the Billfish of the week but most of them have been caught on lures instead of bait. I think it has to do with the amount of bait that is available and the moon phase. A few Blue Marlin have been caught but not as many as I had expected.
YELLOWFIN TUNA: Football sized fish have been abundant from just outside Cabo to San Jose out to about 5 miles. Boats working Gordo Banks with live Sardines are finding larger fish to 80 pounds
DORADO: What had been the mainstay of the boats for the previous week suffered a drop in both size and in numbers. You could still limit out this past week but the average size dropped to 12 pounds. Most of these fish were found in the same area as the Tuna.
WAHOO: Whathoo? Not many around and the ones that were caught were open water fish found while looking for Marlin.
INSHORE: The Sierra are showing up in good numbers and the Roosterfish are crashing Sardines on the beach, Pangas are having fun with both these and the Tuna and Dorado have been a bonus! Until next week, tight lines!
CABO SAN LUCAS, MEXICO: FLY HOOKER SPECIAL REPORT FOR NOVEMBER 12, 2000
For some reason I did not remember to get the names of the party fishing the Fly Hooker today. I apologize for that, normally I write them down as soon as possible! I do remember that you were from Littleton Colorado! The objective was to catch Tuna and Dorado and that is what they did. Gordo Banks was the direction they headed and they used live Sardines as soon as they spotted fish. That was only about 8 miles on the way and the fishing was pretty productive although the catching was not so great. Very light leader was called for and patience was needed. Most of the bites were struck too soon and the fish escaped with a free meal, but one made a mistake and became fillets in short order. One Dorado was caught and one red Grouper, but that was all the action for the day. Whoops, there was also a strike from a Striped Marlin on the troll while headed home. Until tomorrow, tight lines!
CABO SAN LUCAS, MEXICO: FLY HOOKER SPECIAL REPORT FOR NOVEMBER 13, 2000
Today the Norman party was the anglers on the Fly Hooker and they are going tomorrow as well! Mike and Diane are here with Mike's brother Bruce and his girlfriend Kerry. They have been fishing here before and are looking for a Blue Marlin if possible, but really want to have fun above all else. Juan and Manuel decide to work the inside Sea of Cortez side since there has been a lot of bait in the area. Hopefully they can catch some Yellowfin Tuna in the morning and then go out for the Blue Marlin search when the sun gets a bit higher. The same area that had been producing the Yellowfin Tuna for the past few days shut down today. The girls had fun catching and releasing 5 Houndfish on the light tackle they had brought along but the Yellowfin never bit. They went out to the temperature break that ran from five miles outside the cape and towards Gordo Banks looking for the Blue Marlin but were only able to get one small 90lb Striped Marlin to the boat. It was released to fight some other day. Two other Striped Marlin were seen and bait was tossed to them but they refused to eat. Maybe tomorrow will be better!
CABO SAN LUCAS, MEXICO: FLY HOOKER SPECIAL REPORT FOR NOVEMBER 14, 2000
This is the second day for the Norman party and the decision is made to try the Pacific side today. The guys had talked to other anglers who had luck on the Pacific side off of the lighthouse and were hoping that the water was clearer and more productive there. The water was a bit clearer but there was still just one Striped Marlin released by the group. In addition they caught a Dorado. Not a lot of action for the day but at least they did not get skunked! We hope you have better fishing luck next time and the Blue Marlin will cooperate! Until then, Tight Lines!
CABO SAN LUCAS, MEXICO: FLY HOOKER SPECIAL REPORT FOR NOVEMBER 15, 2000
Michael and Jennifer McHugh have booked the Fly Hooker for a day of fishing and are looking forward to having a good time on the ocean! They made sure to put on their scopolamine patches last night. Since it appeared that the inshore bite for Dorado and Tuna had dropped off on the Sea of Cortez side they decided to go up the Pacific side and search. They started off outside the lighthouse and did not really find any fish until they had trolled up the coast for a few hours. They started to catch some Yellowfin Tuna and ended up with three in the box. They then turned towards the deeper water looking for a Marlin. They picked up three Dorado instead and the wind started to blow with a bit of vigor. Juan and Manuel tacked the Fly Hooker down swell looking and searching for a Marlin, but in vain. Jennifer became a bit concerned about the water conditions and they decided to return a bit early. No Marlin, but good fillets to take home! Until next time, tight lines from Mary, George and the Fly Hooker crew.
CABO SAN LUCAS, MEXICO: FLY HOOKER SPECIAL REPORT FOR NOVEMBER 16, 2000
Today our friends Tom and Becky were on the Fly Hooker along with our friend Cindy and her daughter, plus a friend of theirs from the trailer park. The idea was to go fishing and get some fillets to take home, then try some snorkeling! Juan and Manuel headed the Fly Hooker to Gordo Banks in an attempt to get a few of the nice sized Yellowfin that had been reported there. Getting a load of Sardines in San Jose first, they then headed to the Banks. The fish were leader shy but finally they managed to hang into a good one! After a battle that lasted almost an hour they got a Yellowfin estimated at 80lbs up to the boat. Just as Juan tried to gaff it the hook pulled out! Down the fish went and they had to settle for the other one of about 20 pounds and the two Dorado they caught. Two more nice Yellowfin were hooked up but they were lost while still deep and no one ever did get a look at them. No snorkeling on the way back, but they went home with fish! Thanks guys!
CABO SAN LUCAS, MEXICO: FLY HOOKER SPECIAL REPORT FOR NOVEMBER 17, 2000
Denise and Darrel McCarty, along with their dad Ryan were the Fly Hooker's anglers for the day. They just wanted to have fun catching fish since they had never caught anything large before, but they did say it would be nice to catch a Marlin if the chance came about. Juan and Manuel decided to start off of Punta de Ballena since a few of the boats had found scattered fish there the day before. That was a good decision since they proceeded to catch lots of Dorado and Yellowfin Tuna! Plenty of fillets to take home and then they headed a little further out looking for a Marlin. They got their wish a short while later with a Striped Marlin coming into the lure spread and attacking! Dad got to fight a Marlin! Way to go Ryan! He was so pleased that he had a hard time getting the smile off of his face when they got in! They released the Marlin that Juan estimated at 120 pounds. Several others were sighted and live bait was tossed to them but there was no interest. Only three Striped Marlin in the last six trips, all on lures! Must be the effects of the full moon and the plentiful bait! Thank you Denise, Darrel and Ryan for being such a great group, Juan and Manuel were glad to have you aboard the Fly Hooker today! Until next time, tight lines!
CABO SAN LUCAS, MEXICO: BAJA ANGLERS, Cabo San Lucas, November 18, 2000, Grant Hartman, Reservations 888-588-3446. Hi Folks, Crazy weather we are having here in Cabo. It's rainy and drizzling outside due to the cold front that passed through last night. Not really a cold front to U.S. standards. We have had a tiny bit of rain, and some clouds with the air temperatures in the low 80s. I was complaining about the weather, and huddled in my fleece jacket that automatically goes on when the temperature drops below 75 degrees, when Tony Wilcox my client form Colorado said it was minus 20 degrees when he left home a few days ago. Burr that's cold! This Gringo has been south of the border way too long. I don't think I could handle minus 20 degrees anymore. Normally Cabo has the most perfect weather anyone could ask for. It has about 330 days of sunshine a year! Add the good fishing, a beach chair, cold Pacifico, some ceviche, and it's heaven.
Generally fishing has been good over the last few weeks. The marlin fishing has slowed down quite a bit,, which surprised me as November is usually very good month for marlin. The dorado and tuna have been our main catch. The dorado are spread out all over, which makes finding the schools a bit difficult on some days. The yellowfin tuna are holding off the arch. Fly fishing for them is at it's prime right now. We are catching mostly footballs, but some brutes over 50-lbs have been hooked on the fly!
Inshore fishing has just started to pick up. We are seeing smaller roosterfish and sierra cruising the shorelines. We have yet to target them as the dorado and tuna are keeping us busy.
Some humpback whales are starting to show up. The Gray whales will start to arrive mid January through March. Porpoises, mantas, and sea turtle are being spotted daily.
Dates into the fall are filling, so if you're in the mood for playing a bit of tug-tug with a marlin, tuna or who-knows-what, make your reservations now.
In other mainland Mexico and Baja fishing action this week:
ENSENADA FISHING REPORTS
ALL ARTICLES, REPORTS AND FISHING INFORMATION FOR ENSENADA
ENSENADA, MEXICO: LILY FLEET, Ensenada, October 17, 2000, Sammy Susarrey, Reservations Tel/Fax, 5 to 9 p.m., 011-52-617-46747; Cell 011-52-618-67485. Today I skippered a private yacht, fishing out of Ensenada at the Punta Banda bank (Soldead Reef) with 3 anglers. The day was cold, but no wind and swells 3 feet. Water temperature was 61 degrees. We used frozen squid to fish in 300 to 350 feet of water, catching nice big lingcod to 15 pounds, 2 cow cod to 10 pounds, and a lot of nice red snapper. I was a nice day fishing for bottom fish. We used Salas 6X jigs with Scampi plastic as teasers, and we yo-yo'ed salmon grouper which hit about halfway down. We started fishing at 6 a.m. and stopped at 11 a.m. Two days ago on the way to Tijuana we saw seagulls working in the area of Salinas and Punta Pescadero close to the beach. Looked like mackerel or squid. Maybe Monday we will go fishing there with my crew for fun, looking for white seabass. This is the time for those big fish.
October 21, 2000. We fished Salsipuedes point and the only fish we found was nice large lingcod and rock cod. The seagulls we saw from the freeway were on a lot of small sardines and a lot of dolphin. We have also been taking surfers to Todos Santos Island. These guys have a nice time surfing the big swells on North Todos Santos Island. We also fished today on Soledad Reef and caught several nice big salmon groupers and big lingcod. One of the lingcod was 18 pounds. We yo-yo'ed with a big TNT jig, orange and white. Water temperature was 58.5 degrees, with cold mornings but not wind. Most of the fish we caught were 300 feet deep. We have been departing from Marina Coral at 4 a.m., and we start fishing at 6 a.m., after a nice big hot coffee and hot chocolate and a big roll to start the day before we catch those good big fillets of rock cod.
PUERTO SANTO TOMAS FISHING REPORTS
ALL ARTICLES, REPORTS AND FISHING INFORMATION FOR PUERTO SANTO TOMAS
PUERTO SANTO TOMAS, MEXICO: PUERTO SANTO TOMAS RESORT, Puerto Santo Tomas, November 15, 2000, Sam Saenz, Reservations Tel 714-256-2577; Ensenada 011-526-174-5683; Remote Santo Tomas Cell 011-52-617-13364, after 6 p.m. or 6:30-7:00 a.m. Last week end it rained on and off. The road into Puerto Santo Tomas is open and the ocean was not rough. Inspite of the rain two or three pangas went out with die hard american sport fishermen. The catch was good for bottom fish in and around the Soledad reef including the outer bank. Limits were caught on white fish, ling cod and rock cod. The biggest fish caught was a 35 lb ling cod, caught at the outer bank.
MAGDALENA BAY FISHING REPORTS
ALL ARTICLES, REPORTS AND FISHING INFORMATION FOR MAGDALENA BAY
MAGDALENA BAY, MEXICO: BAJA ON THE FLY, San Carlos, Novebmer 18, 2000, Gary Graham, Reservations Tel 800-919-2252; Fax 760-746-7260. Temperatures: 79-degree high; Low 61. Water temperature: 76 degrees in the mangroves and 72-75 offshore. TRIPED MARLIN - The kind of fishing that you dream about. DORADO - The shark buoys west of the Magdalena Bay entrada have remained consistently good. TUNA - Scattered near the entrada. CORVINA - Devil's Curve continues to produce the best action. SNOOK - Several fish caught to 18 pounds. ELLOWTAIL - Not too many on the surface, mostly down deep. QUICK COMMENT - Guy Harvey, artist and marine biologist, has joined us this trip in search of marlin to photograph for his series of videos featuring his underwater cinematography. Bill Boyce, well-known California photographer and biologist, Charles Forman, attorney from Ocala, FL, Ken Oberg, biologist and sculptor from Corpus Christi, TX, and our own Ray Smith from London, add to the impressive list of clients in search of marlin to photograph on this trip. They haven't been disappointed! The first day we raised 17 marlin for them to photograph, plus a loggerhead turtle. Guy said it was the "most marlin he had ever seen in a day." But yesterday was even more phenomenal! We raised over 100 marlin..! And they weren't shy about getting photographed!
Novebmer 22, 2000. Temperatures: 81-degree high; Low 59 with some wind in the afternoons. Water temperature: 74 degrees in the Mag Bay mangroves and 70-74 offshore. STRIPED MARLIN - As good as it gets. DORADO - Some larger fish up above the Thetis Bank. TUNA - Good action a few miles south of the entrada. CORVINA - Good catches at Devils curve and Mario's spot. SNOOK - Several fish caught to 14 pounds. YELLOWTAIL - Fair catches near Sail Rock. QUICK COMMENT - What a week! Guy Harvey, world renowned artist and marine biologist, joined by underwater photographer Bill Boyce, wildlife sculptor Kent Ullberg, and Charles Forman, an attorney from Ocala Fla., spent the entire week with us at Magdalena Bay doing something that I have never had the opportunity to do. Averaging 20 dives a day, when the marlin, tuna or dorado came up in the teasers, we would drop two divers into the water and they would film the fish up close and personal.
The footage they got was remarkable. One of the more interesting things we found was even though we might just have one fish showing in the pattern, when the divers hit the water there were usually up a dozen fish around the boat.
Another goal of the trip was to film marlin behavior when feeding on a bait ball. The last two days we had clean blue water and lots of bait balls. At times we could see as many as 6 spots going off simultaneously. At one time we had four divers in the water for over 35 minutes on a bait ball and filmed the marlin whittling the bait ball down until there was not one bait left. I even got so excited that I suited up and dove on a bait ball myself. In all my years on the water I have not seen anything like it.
I will write a more detailed story after I have finished the "Fly Rod Marlin 101 Series" in December. Oh yes, one more thing -- we averaged three fish a day on fly rods. This morning, we are leaving on our third trip of the season with Gary Meyers, from Albuquerque, NM and Ray Barker Smith, England.xt
SAN JOSE DEL CABO (LOS CABOS) FISHING REPORTS
ALL ARTICLES, REPORTS AND FISHING INFORMATION FOR SAN JOSE DEL CABO
SAN JOSE DEL CABO, MEXICO: GORDO BANKS PANGAS, San Jose del Cabo, Novebmer 19, 2000, Eric Brictson, Reservations 800-408-1199; Fax 619-447-4098; 011-52-114-21147. After the week started out with beautiful calm weather in San Jose del Cabo, it did turn for the worse as the northeast winds picked up and were relentless for at least four days in a row. It was not so bad that the boats were not launching, but it did make for long and wet mornings on the water. Thursday and Friday were very cool and cloudy, there was also a scattering of rainfall, it felt as winter had arrived and tourists and locals alike were bundling up the best they could. Water conditions were choppy and a bit off color, greenish, and temperatures ranged from 76 to 78 degrees. The wind did not affect Cabo San Lucas as much as it did further north and the boats that did venture out into the Pacific reported some great action for quality sized dorado and striped marlin. Anglers found plenty of action for yellowfin tuna, ranging in sizes from 6 pounds to over 60 pounds. The bite was spread out from close in at the Cabo San Lucas Arch to the Gordo Banks. Larger tuna weighing to 70 pounds were found on the Inner Gordo Bank using sardinas, chunk bait and chihuil. Pangas were catching anywhere from 1 to 6 of these nice tuna until the wind shut things down and created large swells that made it too rough to effectively fish the area. The main action then switched to close off of Punta Gorda at San Jose del Cabo where most of the catch consisted of tuna in the 8 to 20 range with a few medium sized dorado mixed in and an occasional sailfish. Pangeros did locate more schools of sardinas near La Fortuna after they had all but disappeared from off of La Playita, so it was no problem buying enough bait for the days action.
The area of Santa Maria was also holding large schools of the sardinas for the anglers that did fish in that direction. Still no good news on the much anticipated wahoo bite, only a handful of them being taken by the combined fleets. One area that did produce a few everyday was at Gray Rock ( Whale's Head ), where anglers reported strikes while trolling Marauders and skirted lures, the ones they did land were mostly in the 25 to 45 pound class. With the wind pounding the Gordo Banks it was nearly impossible to fish for chihuil and then head north to try for the wahoo near Iman Bank and for the hard core anglers that did give it a try they did not have much to report except that they did find more tuna, a few sailfish and dorado. The water temperature is now ideal for wahoo but with the winds that have created greenish water it has made it difficult to have a serious opportunity at the wahoo and hopefully it will calm down and give a chance for the clarity to improve before the water cools too much more. With the cooler water and more sardinas now moving into the inshore waters this has started to bring in some sierra, jack crevalle and roosterfish, still mostly smaller fish, but a great light tackle option for when it is too windy further offshore. Good Fishing , Eric.
SAN JOSE DEL CABO, MEXICO: VICTOR'S FLEET, San Jose del Cabo, November 22, 2000, Larry Burson, Jigstop Tours, Reservations Tel 949-496-0960; 800-521-2281; Fax 949-496-1384. "WAHOO SHOWING!" Wahoo are showing in both directions. The fish, averaging 40 to 45 lbs have been caught in recent days at the Iman Bank, to the North and near the Cabo lighthouse to the West. This may be the start of a good Wahoo season which typically runs through December. Part of the reason for the increased Wahoo counts is that anglers efforts are more directed toward Wahoo. They are spending more tome trolling Marauders, Yozuri Bonitas, Catchy lures and jet heads. The dedicated Wahoo fishermen are landing 1 or 2 per panga.
Yellowfin Tuna still dominate the counts at the scale. The larger Tuna are taking bait off Gordo Point. These fish average 40 to 60 lbs, with some over 100 lbs. Even the big fish will eat a small Sardina but many are lost on such a small hook. Using fresh caught live Chihuiles on a 4/0 Circle hook will give the angler much better odds. School size Yellowfin Tuna, 20 to 30 lbs, can be caught in quantity at the Iman Bank and on the Pacific, just past the lighthouse and in front of the marina. Live Sardinas will get the Tuna in a feeding mood and get you 6 to 10 fish per boat.
Stan Woodward from Manhattan Beach weighed in a 57 lb Yellowfin Tuna. Joaquin Marguez from Mexico City scored a 150 lb Yellowfin Tuna. David Fittery from Orange boated 10 Yellowfin Tuna to 49 lbs and 2 Dorado to 35 lbs. Jim Vallier from Lake Tahoe weighed in a 40 lb Wahoo. Pat Lockhart from Port Orchard, WA, came in with 2 Wahoo to 46 lbs. Jorge Juarez from Mexico City weighed in a 45 lb Wahoo. Jeff Guero from Brea boated 9 Yellowfin Tuna to 25 lbs.
The winds are calm with air temperatures reaching 84 degrees. The seas are flat.
EAST CAPE FISHING REPORTS
ALL ARTICLES, REPORTS AND FISHING INFORMATION FOR EAST CAPE
EAST CAPE, MEXICO: BAJA ON THE FLY, Buena Vista, November 18, 2000, Gary Graham, Reservations Tel 800-919-2252; Fax 760-746-7260. TEMPERATURES: High of 80 with a low of 62; water temperatures have remained in the low 80's. Our north wind returned this week, and even brought some rain one day. It didn't prevent some of our more serious anglers from fishing. BLUE MARLIN - Very few in the area. STRIPED MARLIN - Still a few being caught. YELLOWFIN TUNA - Some good catches, with most of the fish either down deep or with the porpoise. DORADO - Most of the fish are still being found in open water with just a few at the buoys near Punta Pescadero. SAILFISH - With cooler water, they are starting to move out. ROOSTERFISH - Still a good showing in front of Rancho Leonero. JACK CREVALLE - Most of the action in front of La Ribera and Bartle's Beach. BARRILLETE OR MEXICAN SKIPJACK - Fair catches all the way from the lighthouse to Punta Pescadero. PARGO AND CABRILLA - Close to shore in front of Punta Colorada still the Best bet. OFFSHORE: Cooler water and windy conditions have slowed down the pace somewhat. INSHORE: Tuna and skipjack are still providing the best action close to shore. BEACH: Wind waves slowed down the action this week, but when they subsided, the fishing was fair. QUICK COMMENT Mid November and the North winds have begun. Cooler temps in the evening and early morning. Tuna and roosters dominated our clients catches this week. Several large roosters hooked but not landed. Plenty of smaller roosters eating small flash Clousers in Sardinia colors.
November 22, 2000. TEMPERATURES: High of 77 with a low of 61; with East Cape fishing zone water temperatures beginning to drop to the mid- to high-70's. BLUE MARLIN - None reported. STRIPED MARLIN - Fair showing this week. YELLOWFIN TUNA - Still a good show close to shore. DORADO - Still being found in open water with just a few at the buoys near Punta Pescadero, as well as a few in front of Palmas de Cortez Hotel. SAILFISH - Only a couple reported. ROOSTERFISH - Still a good showing in front of Rancho Leonero. JACK CREVALLE - Most of the action in front of La Ribera and Palmas de Cortez. BARRILLETE OR MEXICAN SKIPJACK - Fair catches from the lighthouse to Punta Pescadero. PARGO AND CABRILLA - Close to shore in front of Punta Colorada still the best bet. OFFSHORE: Windy conditions have slowed the pace down. INSHORE: The tuna close to shore have been the best bet this week. BEACH: Wind waves slowed the action down along the beaches. QUICK COMMENT: Mid-November and the north winds have begun bringing cooler temps in the evening. Tuna and roosters dominated our clients, catches this week. Several roosters were hooked, but not landed. After a couple tries, the north wind finally subsided enough to allow Dave Gilbertson and Dylan Kennedy, both from Scottsdale, Ariz., to catch a number of dorado as well as assorted species including needles and trumpet fish.
EAST CAPE, MEXICO: EL CARDONAL'S HIDEAWAY, El Cardonal, November 17, 2000, Eddy, Reservations 011-52-114-10040. Lots of action in front of our El Cardonal's Hide-A-Way. Two days ago at sunrise in from the beach, sardines chased up on the beach, so many that with hands we got about 20 on the sand and then caught big jacks and other fish. Real good action on light tackle. Action lasted about an hour without any let down. Same thing next day. We also have tunas in big quantities but some wind. Ride is a bit rough but the fishing is just great.
The road from Los Barriles to El Cardonal is still in construction. The first 3-4 KM are in construction with earth mounds on one side. There is a side road. When leaving the pavement you have to go right across a field and follow the signs.
EAST CAPE, MEXICO: RANCHO BUENA VISTA, Buena Vista, November 18, 2000, Tamara Moyeous, Reservations 800-258-8200. A little wind and 70 degree waters resulted in a good week of fishing. The 12 boat trips resulted in the catches of 3 striped marlin, 1 sailfish, 21 dorado, 84 tuna, and 14 skip jack.
EAST CAPE, MEXICO: RANCHO LEONERO, Bahia de Palmas, November 18, 2000, John Ireland and Roy Baldwin, Reservations 800-646-2252; Hotel 011-52-114-10216. Late November conditions, with daytime highs about 75, evening lows in the lower 60's, breezy days with water temp in the upper 70's. Good fishing for those hardy enough to brave the bumpy seas. The strong dorado bite continues, with plenty of fish averaging 15 lbs south off Cabo Pulmo, while larger fish from 30-45 lbs were found off La Ribera, taking live sardinas, hoochies and marlin lures. The tuna bite continues on, with limits of football-sized fish spread throughout the bay, with hoochies and slow trolling live sardinas working best. Sailfish and striped marlin were taken off La Ribera, hitting mostly green/white and blue/white trolled lures. Lots of sierra taken just off the beaches, with the fish aggressively biting small blue/silver Rapalas. Chris Hulley of Ft. Lauderdale, FL, while cruiser fishing for 3 days, took limits of tuna to 40 lbs, dorado to 45 lbs, sierra, and an 80 lb sail.
EAST CAPE, MEXICO: EAST CAPE SPORT FISHING, Los Barriles, November 16, 2000, Dave Dixon and Gil Mendiaz, Reservations 800-837-1556; Fax 805-493-5446. Hi. Just returned from three days of fishing with Gil Mendiaz and the fleet. Here is the report: Winter conditions have definitely arrived at the East Cape, both in terms of the weather and the fishing. The weather is decidedly cool, with the traditional North winds making for rougher water on some days. We had only one really tough day of the three, and generally speaking it is fishable. Inshore, we're seeing the typical winter pattern. Large schools of football yellowfin tuna (10-25 lbs) have taken up residence along inshore areas stretching from Punta Pescadero to Cerralvo Island. The bite is excellent on slow trolled sardinas, which can be found in abundance. In two days of fishing the tuna, we took 34 total (released 14). Some smaller (10-20 lb.) dorado are also mixed in with the yellowfin. We also saw an excellent bite on sierra, taking 11 total, with 10 of those in the La Rivera area. We tried a new tactic for the sierra, using soft plastic tube baits which have been traditionally used for largemouth bass. These baits were rigged like hoochies, with an egg sinker in the head. The profile this presents is much like a small squid, more so than a hoochie, really. For hooks we used long-shank bait hooks, both because of the longer profile of the tube bait and to thwart the toothy sierra. Sierra, like wahoo, go for the middle of their prey and bite it in half. Using the long-shank hooks, the fish we hooked were all nailed right through the jaw, and we were 10 for 10 on fish landed using this technique (without using wire leader!).
Offshore fishing remains excellent despite the wind. Those braving the rough seas found excellent dorado fishing, with several fish to 50 lbs. being taken. Blue marlin are also being taken with some regularity, as most boats are managing at least one hookup. The primary offshore area the local fleets are working is between 15-30 miles northeast of Los Barriles. Petrolero is the color of choice.
Notable Catches: Gary Max from New York and his party braved the Nortes and bagged a 250-lb. blue marlin, 2 sailfish (billfish all released), 5 tuna over 50-lbs, several dorado, roosterfish, sierra,and other fish for a total of 11 species. Gary's trip is a good example illustrating that the East Cape can provide excellent fishing even during the winter. You just have to be willing to work for the fish, and be flexible in terms of letting the skippers take you to whatever the current bite is. --Dave Dixon
EAST CAPE, MEXICO: HOTELS PALMAS DE CORTEZ, PLAYA DEL SOL, PUNTA COLORADA, East Cape, November 13, 2000, reported by Dave "Smokey" Manuel, East Cape Smokehouse, Hotel Reservations, 800-368-4334. There was very little variation this weekend from conditions during the midweek period; cooler temps, some windy days, some calm days and plenty of fish to catch. Perhaps the most noticeable difference was the significant drop on sizes of Tuna being found. I saw no big Tuna at all on Friday and only four in the 40 to 60 lb range the rest of the weekend. Everything else being brought in is football size Tuna being taken on Sardines. Most charters are heading North, finding Tuna in several spots around the Southern tip of Cerralvo Island, from Punta Arena Norte on the island's SW side to the canyon between Cerralvo and the ocho-ocho on the East side. The bite in close at Punta Arena has been a consistent spot for nearly a week, the other action spots are being found by spotting Porpoise. The Southern tip of Cerralvo and the canyon near the ocho-ocho have also been the Northern edge of some good Dorado action the past few days, producing mostly mid-sized fish around the 20 lb mark with a few bigger bulls mixed in. Dorado are not nearly as prevalent as the small Tuna, but that area and another spot about 25 miles NE of Los Barriles produced Dorado throughout the weekend for many charters. Sardines, Caballitos and trolled lures all were reported to be attracting these Dorado. Some improvement on Sailfish numbers, but only 14 Striped or Blue Marlin found on 90 charters. Two of the Blues however were of good size, one that was released was estimated over 450 lbs, another that was not released weighed in just under 440 lbs. Sailfish numbered 19 on those same 90 charters. Remember, I'll be on vacation 11/16 to 11/28 and this will be the last update until December 5th! The Smokehouse WILL BE OPEN during this period. Adios, Smokey
LA PAZ FISHING REPORTS
ALL ARTICLES, REPORTS AND FISHING INFORMATION FOR LA PAZ
LA PAZ, MEXICO: JONATHAN ROLDAN'S ADVENTURE SERVICES, La Paz, November 19, 2000, Jonathan Roldan, Tel 626-333-3355; Fax 626-333-0115; Pager 323-349-8111; Message Pager 877-310-7734. There's a nip in the air, but there's fish in the ocean! Not much more than that to say, amigos. We're definitely in the seasonal thing where north winds roll from the north with some days windier than others. However, that's not stopping La Paz fishermen or the fish with quite a few anglers in town for the turkey holidays and on the breezier days, we fortunately have lots of islands and coves to fish the lee sides. La Paz boats are having fun now that sierra have moved into the Bay and small pargo have continued to bite nicely around Espiritu Santo. Boats heading to Bajo have continued to get bent on tuna and there have also been a few inadvertent hookups on billfish as well although all were breakoffs. As for the Las Arenas pangas, Tony Villanueva and his 3 amigos from the San Gabriel valley area had fished one of 3 days at the time of this writing and had this to report:
"It was great. A little windy, but we couldn't have asked for a more fun time. No big tuna, but tons of smaller footballs that were alot of fun as well as small dorado . We didn't have to even go very far and had as much as we wanted to catch. I was barely out of Muertos Bay and hooked a sailfish on my Shimano Trinidad and 30 pound test and it pulled our panga over an hour before we got it to the boat to release it! Wow!"
Bait is good right now on both sides. For our SCUBA divers, water temperatures are slowly sliding down, but we've got lots of folks as we have hammerheads at the Bajo now in the blue water! Happy Thanksgiving all, Be safe!
LA PAZ, MEXICO: HOTEL LAS ARENAS, Punta Arena de la Ventana, November 21, 2000, Linda Glassman-Davis, Reservations 888-644-7376. Captain's M. Salvador, Cachorra, Luciano, Roman, Joynny, Daniel and Luciano. Fishing Results: 20 Yellow fin tuna to 38 pounds; 18 Dorado to 26 pounds; 5 sierra to 2 pounds; 5 pargo to 3 pounds; 3 Cabrilla to 6 pounds. We had some rain this week, but the forecast is good. Happy Thanksgiving from the entire Las Arenas Family to yours.
LA PAZ, MEXICO: FISHERMEN'S FLEET, La Paz, November 15, 2000, David Jones, Hotel los Arcos, Reservations 011-52-112-21313; Fax 011-52-112-57334. An interesting week in La Paz, or so they tell me. I'm in San Diego (actually Chula Juana, the capital of San Diego) taking care of some personal business and Mr. Bob Butler has been nice enough to help Jane out down in La Paz during a busy period. You'll remember Bob, he's older than I, and has more hair. The weather has been winterlike in La Paz, with temps all the way down into the high 50's at night, high 70's during the day and some westerly breezes. Fishing from Muertos Bay has been good, but has fallen off slightly during the last week with quantities remaining good but size decreasing some. The Tuna, although abundant, have been generally small, much like the projectiles launched by large men on Sundays this time of year. They have come on bait or plugs this week. A couple of larger Tuna, to 50 pounds, were taken by El Berto, the legendary Master of Ceremonies for the West El Ley R and R C. Sr. Serdan was at the time trolling for Wahoo which were not in evidence this week, but Bert, finely tuned fishing machine that he is, was able to take a couple of nice Yellowfin off the south end of Cerralvo. Also this week a few Dorado to 20 pounds were taken. The numbers of Dorado have declined some with the approaching winter, but I believe that we will have fishable quantities for another month or maybe more. Also a couple of Sailfish to 80 pounds were taken this week on Sardines. Christopher went out last Sunday looking for some fish for customer dinners this week and had some luck on Dorado. He also hooked some Yellowtail on the "Bajito" just outside the mouth of Muertos Bay. These fish were in the 12-18 pound range and he took them both on Sardines and on yo-yo jigs. While these fish are not typically in the area in any numbers for another 3-4 months this was not an isolated incident with Robert Bowman, down fishing with the Hensche Brothers from Chicago, and the Godfather of all Meat Men, Sal Digate, taking Yellowtail this weekend as well. Bill Mathias, The Roosterfish Guy, is down as well and had a rooster that was in the 90 pound range yesterday. As Bill releases all of his fish it is hard to get an accurate weight, but he and his guide of choice, trusty Isidro, are pretty darn close on their estimates. It would appear that we have entered the transition to winter fishing a little earlier than normal this year. I think that this is one of my favorite times for me personally to go fishing. While quantities of each species may not be as high as in their respective seasonal peaks, the variety of fishes being caught is impressive with both summer and winter species in the area. For this an many other reasons I am anxious to get home and to wet a line. Adios Amigos, David Jones.
LORETO FISHING REPORTS
ALL ARTICLES, REPORTS AND FISHING INFORMATION FOR LORETO
LORETO, MEXICO: ARTURO'S SPORT FISHING, Loreto, November 15, 2000, Arturo Susarrey, Reservations Tel 011-52-113-50766; Fax 011-52-113-50022. WEATHER: We have had variable weather with north and west winds. The last 3 days were calm and cloudy. Temperature around 80 F and on surface water 76 F approx. YELLOWTAIL: We had a report that at El Pulpito area, 35 miles north of Loreto the yellowtail arrival with the best size, 26 lbs more or less in a good number. At Carmen Island and north of Coronado they are biting but slow and less size between 12 to 15 lbs. CABRILLAS AND RED SNAPPER: Some cabrillas in the same yellowtail areas, the best size is to 16 lbs. Red snapper is biting with squid; north of Carmen Island is the best area. ROOSTERFISH: They are biting very well in San Juanico Bay, north of Loreto, they are eating sardine close to the border with a weight between 15 to 45 lbs. BAIT: We recommend bring a couple pounds of squid, Rapalas CD14 GM and CD 95 in colors orange, macro blue, macro green and 6X Junior lures. There are mackerel available in the morning at Coronado Island or if you want to buy it they are for $1.00 each.
LORETO, MEXICO: BAJA BIG FISH COMPANY, Loreto, November 20, 2000, Pam Bolles, Reservations Tel/Fax 011-52-113-50448. Temperatures: Highs in the mid to low 80's (F), lows in the high 60's (F). As soon as the sun goes down its sweater weather folks; and early mornings out on the water will require a jacket and perhaps long pants to keep the comfort level up there. Dress in layers if you're headed out to fish.
Skies: The skies have been mostly clear with only a few clouds during the last part of this week. We had overcast skies in the early part of last week.
Winds: Pretty fierce to say the least. The word is WIND (from the North) and the question is "when's it going to stop?" Technically not until May 2001. We'll have more windy/rough days than calm ones until mid March. The windy periods will be intermixed with calm periods, but expect to lose at least 2 or more days of fishing for every six days scheduled due to rough water. Then the winds will come less frequently than the calm periods. We'll see it actually stop in May.
Seas: The water has been calm from here to the Islands on what has been considered "calm" days. Beyond the Islands (Carmen and Coronado) the water has been very rough. You can see the wavy troughs and peaks on the horizon from a mile inland.
Winter Season: We are clearly experiencing winterlike weather patterns. We'll see nice calm days on the seas and inland with warm daytime temps that chill off as soon as it starts to get dark. These calm periods will typically last from two to four days for most of the winter season. Between the calm periods are the windy days. Winds come from the North and are strong. They bring lower temperatures with them that affect the air and the water. On windy days the water will be very rough especially beyond the islands. Typically on these rough days the fishing will also turn off. Inshore fish tend to feed less and the offshore fish are hard to get to as the swells are tough to endure. The winds result from a combination of a temperature differential that occurs over the land and the sea here, and the Santa Ana winds which originate from the U.S.A. This weather pattern will be with us until mid March. During the months of January and February it is the most severe (longer windy periods shorter calm periods), but after those months the calm periods become lenghthier than the windy periods.
Yellowtail are here in good numbers, but the limiting factor to your success on them is the wind. When you can get out there, they're coming in from San Bruno north of Loreto to San Antonio point. The fish are schooling deep in these locations at about 150-200 feet. Most anglers are fishing with live bait weighted and sent to the bottom. Don't count out fishing with jigs as they're really productive. Tobie Valdez from Upland, CA and Art Montoya from Chino Hills, CA. made it a point to tell me that they limited on the Yellowtail a couple of weeks ago in the Punta Pulpito area all on jigs. They agree with me that its a more enjoyable way to get fish over using bait.
Bonita and Skipjack: There are lots of Bonita near and just to the North of Isla Coronado. They are schooling in various sized from 1-15 pounds. These guys are great on light tackle; say, a 10-15 pound bass outfit?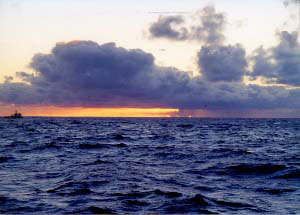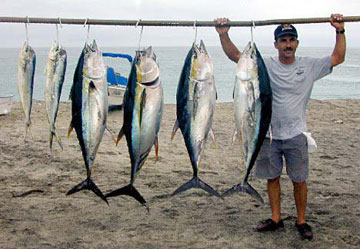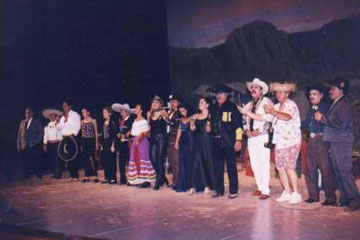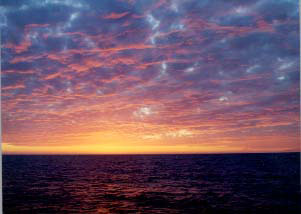 Baja coastal fishing reports and articles.
Ensenada fishing reports and articles.
Puerto Santo Tomas fishing reports and articles.
Erendira fishing reports and articles.
San Quintin fishing reports and articles.
Magdalena Bay fishing reports and articles.
Cabo San Lucas fishing reports and articles.
San Jose del Cabo (Los Cabos) fishing reports and articles.
East Cape fishing reports and articles.
La Paz fishing reports and articles.
Loreto fishing reports and articles.
Mulege fishing reports and articles.
Santa Rosalia fishing reports and articles.
Bahia de los Angeles (L.A. Bay) fishing reports and articles.
San Felipe fishing reports and articles.
Rocky Point (Puerto Penasco) fishing reports and articles.
San Carlos (Sonora) fishing reports and articles .
Mazatlan fishing reports and articles .
Puerto Vallarta fishing reports and articles.
Ixtapa Zihuatanejo fishing reports and articles.
Huatulco fishing reports and articles.
Cancun fishing reports and articles.
Mexico coastal fishing reports and articles.
Mexico Fishing Home Page < Mexico Fishing News Archives < Fishing Report