DORADO - Some larger fish up above the Thetis Bank. TUNA - Fair to good action a few miles south of the entrada for smaller fish with some larger fish up near the bank. CORVINA - Reports of good catches throughout the bay. SNOOK - Several fish, but few people are fishing for them. YELLOWTAIL - Fair catches near Sail Rock.
QUICK COMMENT - Gary Meyers, longtime client from Albuquerque, New Mexico, fished at Magdalena Baywith Ray Barker Smith, from Guernsey, England, and had a busy week of it. Wind prevented us from getting out on Thanksgiving, so we remained on anchor for the day and had a great turkey dinner with all the trimmings. The next morning the winds were gone and we headed out to the bank. Conditions were great allowing us to continue to adjust our techniques. Slightly different presentation, modified fly size, and circle hooks all added to our hookup-to-cast ratio. The numbers of fish seen, hooked and released are not important and if I gave you the stats you would only accuse me of exaggerating. Suffice to say that Meyers is another successful graduate of Flyrod Marlin 101 and went home with photos to prove it. His comment to me as he got in the van to return home was, "This is the most awesome marlin trip of my life and sign me up for next year."
In other mainland Mexico and Baja fishing action this week:
ENSENADA FISHING REPORTS
ALL ARTICLES, REPORTS AND FISHING INFORMATION FOR ENSENADA
ENSENADA, MEXICO: LILY FLEET, Ensenada, November 22, 2000, Sammy Susarrey, Reservations Tel/Fax, 5 to 9 p.m., 011-52-617-46747; Cell 011-52-618-67485. Today I was fishing at Ensenada with friends at the Punta Banda bank and the weather was bumpy. Water temperature 58 degrees. Today was a slow day of fishing. We fished in shallow water and at the drop off, and it was all the same slow day.
November 23, 2000. Ola amigos. The swells are very nice. Surfing has been great, nice big olas at North Todos Santos Island today. There were many surfers having a nice time from 5:30 a.m. to 3 p.m. Today the Amigo fished close to the baja, reporting a nice number of lingcod to 8 pounds and also some medium sized salmon grouper, sheephead and miscellaneous fish. Today was bumpy, but very good catch today.
PUERTO SANTO TOMAS FISHING REPORTS
ALL ARTICLES, REPORTS AND FISHING INFORMATION FOR PUERTO SANTO TOMAS
PUERTO SANTO TOMAS, MEXICO: PUERTO SANTO TOMAS RESORT, Puerto Santo Tomas, November 28, 2000, Sam Saenz, Reservations Tel 714-256-2577; Ensenada 011-526-174-5683; Remote Santo Tomas Cell 011-52-617-13364, after 6 p.m. or 6:30-7:00 a.m. 1. We had beautiful weather over the Thanksgiving weekend, very little wind , no fog or clouds. 2. Very few anglers showed up at the village. Only one or two pangas went out. 3. The surface action was quiet with very little activity. 4. The bottom fishing at Puerto Santo Tomas for white fish, ling cod, rock cod was excellent. Joe Lujan and his wife from Hemet exceeded their limits bringing in about 200 pounds of fish on Saturday while fishing off the San Jose point. The surf action was rough at the shore with murky water keeping the sea urchin divers out of work but the ocean deep water was good for bottom fishing.
SAN QUINTIN FISHING REPORTS
ALL ARTICLES, REPORTS AND FISHING INFORMATION FOR SAN QUINTIN
SAN QUINTIN, MEXICO: PEDRO'S PANGAS, San Quintin, November 25, 2000, Pete Hillis, Reservations 888-568-2252. This week fishing with us were Todd Phillips and Ruby Rose from San Bernardino, California. We also had Lanny Boddy, Jerry Goree, John Bakerinking, and Chuck Leaf who were staying with friends at Campo De Lorenzo.
Everyone brought in limits of yellowtail and rockcod after fishing out of San Quintin at the 240. Jerry Goree had the biggest catch of the day--a 33.5 lb. halibut. He caught that using a "home made silver fish trap" and was fishing off of San Ramon.
Mother Nature offered up a beautiful weekend. Winds stayed away and temperatures were between 70 and 75 degrees.
SAN QUINTIN, MEXICO: SAN QUINTIN SPORTFISHING, San Quintin, November 26, 2000, Gene Allshouse, Reservations 011-526-162-1455. Hi Gene. I had several boats out this past weekend and all had pretty good success. There are lots of 25-pound plus Yellowtail at the point and the 240. The problem is getting past the Barracuda. Lots and lots of 40-inch+ Barracuda and 10-pound+ Bonita. The Rock Cod, Whitefish and Ling Cod are wide open. Lots of Sand Bass and the island is holding some of the biggest untouched Calico Bass I have ever seen. All in all the fishing is great with a nice mixed cooler full when you're done. Hope to see you all here and HAPPY FISHING.
CABO SAN LUCAS FISHING REPORTS
ALL ARTICLES, REPORTS AND FISHING INFORMATION FOR CABO SAN LUCAS
CABO SAN LUCAS, MEXICO: FLY HOOKER SPORT FISHING, Cabo San Lucas, November 26, 2000, Capt. George & Mary Landrum, Reservations Tel 011-52-117-01271; 011-52-114-87452. George actually got to go fishing today.
WEATHER: We have had wonderful weather again for the past week. Several days at the beginning were cloudy and had a few sprinkles, enough to knock the dust down and keep the greening of the desert going. As the week continued the skies clouded up and it has been only partly cloudy! The daytime temps have been in the low 80's and night time time temps have been on the chilly side at mid 60's to low 70's. We have been wearing sweatshirts and long pants in the mornings and evenings.
WATER: I hate to overuse the "w" word, but once again, wonderful is the word that best fits, at least as far as comfort goes! Very small swells, set far apart and light to non-existent winds have made both the Pacific and Sea of Cortez a pleasure to be on. Unfortunately the presence of dirty green water has kept the catch down for the first part of the week. As of now the water has cleared quite a bit, but most of the fish have been far offshore. Temperatures have been 77-80 degrees for the most part. There has been an area of warmer water at the 95 spot, the temps there have been between 80-82 and there have been some Blue Marlin coming from the area.
BAIT: There has been no problem getting Cavallito both in the large and small sizes. Some mackerel have been available also but no steady supply yet. Prices are still $2.00 per bait. Sardines have been available in Cabo San Lucas at $25 per small scoop. Most boats going to Gordo Banks have been stopping in San Jose in order to get a tank full for $20.
BILLFISH: Fishing for Striped Marlin has been steady all week with almost every boat getting a shot at one or more every day. A shot at a blue every other day is about the average also. The sailfish bite has stopped, very few have been found this past week. The Striped Marlin action has been best on lures, most likely because of the abundance of bait. The majority of fish having bait tossed them show no interest. Zukers or other pusher lures like Eat-me in the 9" range have been producing the majority of the Striped Marlin strikes. Bright colors have worked best. Blue Marlin have been striking darker colors, black/green, black/blue, blue/purple in the larger 12-15" range.
YELLOWFIN TUNA: Gordo Banks has been the name of the game for these tough fighters when you talk about the larger fish in the 40lb plus range. Almost every day except Thursday produced fish for the boats chumming with and using sardines for bait. Smaller fish have been found all along the coast near the shore from the beach to one mile out. Again Sardines have been the best bait and some boats had luck with feathers and cedar plugs while on the troll.
DORADO: The bite for the acrobats of the ocean has fallen off a bit, probably due to the cooling water. The average size has dropped also and now most of the fish have been in the 8-15 lb range. No large concentrations were found except for a few boats that discovered debris 27 miles out. Then they managed to catch quite a few nice 20-40 pound Dorado plus some nice Wahoo.
WAHOO: A few in the 20-30 lb range were found under floating debris due south 27 miles, but most of them have been found in the open water, blind strikes while trolling. A few on the banks have been caught this week and the size has been a bit larger at 30-50 lbs.
NEARSHORE: Small Sierra and Roosterfish off the beach on the Pacific side have been an on and off thing. The most steady bite has been with the Yellowfin Tuna, Bonita and Skipjack. Nice fighting fish and fairly consistent. Lots of Sea Lions off the Cape though.
NOTES: One of the fleet boats came in with a 450 lb swordfish and some very happy anglers. Rumor has it that this is one of the largest swordfish reported in several years. Until next week, Tight Lines.
CABO SAN LUCAS, MEXICO: FLY HOOKER SPECIAL REPORT FOR NOVEMBER 20, 2000
Brothers Bill & Ken were the anglers on the Fly Hooker today. They booked the boat yesterday and really want Ken to catch a Marlin. Bill lives and fishes out of Fort Lauderdale FL and has his own boat there, so he has caught Marlin before. Juan and Manuel head the boat out to the Pacific side and start looking for tailing fish. They get a strike on lures almost right away, but it does not hook-up. At about 9 a.m., they spot a tailing Striped Marlin and a live Caballito is tossed to the fish. Perhaps there is too much bait in the water already, but for some reason the Marlin shows absolutely no interest. About 3 minutes later, the process is repeated on another fish with the results being identical. At about 11 a.m., they have a blind strike on a lure and Ken finally gets to fight his fish. The fight was not a long one, only about 20 minutes. An estimated 120 lbs Striped Marlin was released to fight again another day. The water was beautiful all day, flat and calm. Thanks, Guys! We look forward to fishing with you again next time you come down.
CABO SAN LUCAS, MEXICO: FLY HOOKER SPECIAL REPORT FOR NOVEMBER 21, 2000
Our good friend and repeat client Rick Harris is on the boat with his son, Ryan today. Rick has caught Marlin with us before and would like to do the same today. Sometimes you get what you ask for and sometimes you don't, in this case it was 50/50. Rick got to fight, tag and release an estimated 120lb Striped Marlin, and his son caught a 15 lb. Dorado for the dinner table. The water conditions were good, but turning a little green on the Pacific side. Thanks Rick and Ryan. See you again in the Spring.
CABO SAN LUCAS, MEXICO: FLY HOOKER SPECIAL REPORT FOR NOVEMBER 22, 2000
Andy Cline and his significant other Maribeth Yasinski from New Orleans are our anglers on the Fly Hooker today and again on the 24th. Andy loves 31 Bertrams and is a proud owner of one himself. They just rebuilt it from the ground up and they make me jealous! He has been working in Nova Scotia for a long while and this is a much needed break. Maribeth is an ex-Coast Guard Officer, so we know she knows her way around a boat. Everyone is at the boat at 6:15 and off they go!! The objective for the day is Striped Marlin, of course! Once again the Pacific side is chosen and about 22 miles out they finally start to find fish. Three Striped Marlin are spotted in the morning and contrary to the last two days' results, these fish are hungry. The first Marlin eats the bait, but does not get hooked. Oh well. A short time later the second fish is spotted tailing on the surface and a Caballito is tossed at him. A quick turn and he is on the bait! About 5 seconds later the line comes tight and the hook is set. Maribeth said this fish was quite the acrobat and Andy got some good pictures as it spent most of the time in the air. With all the surface action, it wore itself out quickly and in 10 minutes Maribeth had the fish boat-side for a quick tag and the hook removed. The fish did not need to be revived as it was still very energetic when released. By the way, it was not just because the fish was tired form jumping, Maribeth also knows what she is doing when it comes to fighting fish. This was all done with standup gear! Later another Marlin appeared in the lures and a live bait was dropped back to it. Andy's fish ate the bait and then went deep. The fight lasted 30 minutes this time as this fish never jumped once, it just stayed down and dogged it . It took awhile, but Andy was able to bring it boat-side for tagging and the fish was release unharmed. (I am so glad we finally received our shipment of Billfish Foundation Tags, now our anglers can get that beautiful certificate!) On the way in from the trip a Dorado attempted to eat one of the lures, but was missed. That was it for the day, until the 24th.
CABO SAN LUCAS, MEXICO: FLY HOOKER SPECIAL REPORT FOR NOVEMBER 24, 2000
This is Andy and Maribeth's second day of fishing in Cabo aboard the Fly Hooker and we are hoping for some more action! Juan and Manuel head the Fly Hooker out to the same area and this time they spot more Marlin than the last trip, but the fish are just not as hungry. Maribeth gets to fight the one Striped Marlin estimated at 80-100 lbs. and the fish was released. And Andy gets a Dorado. They see a total of 7 Marlin, but for some reason, luck is not with them today. If they would have had the same catch ratio as last time their arms would be really tired. Congratulations Maribeth and thank you Andy. You are very nice people and we look forward to fishing with you again in the future.
CABO SAN LUCAS, MEXICO: FLY HOOKER SPECIAL REPORT FOR NOVEMBER 25, 2000
David Kennedy and his sister Tracy have had the Fly Hooker booked for this day for the last 4 months and are really looking forward to their first time deep sea fishing. David has been on the party boat before and caught Red Snapper in the Gulf of Mexico, but Tracy who lives in LA has never been fishing before. There has to be a first item for everyone! I understand that a couple years ago David paid for a trip to Hawaii, so this is Tracy's payback. A trip to Cabo, Way to go girl!!! Anyway they let us know they would be happy catching anything, but had dreamed of Marlin. With this in mind, the plan was to try for Dorado or Tuna first and then move on to the Marlin later, depending on the water conditions and reports form the other boats. The water was great again, flat and calm with very light variable winds. On the Pacific side they had a Blue Marlin strike on the lures, estimated at about 300 lbs, but did not hook up good and shook the hook off. That was David's first try. Now it is Tracy's turn and the next fish was Striped Marlin that ate the live bait tossed to it and Tracy is fighting her first fish ever!!! Not having any experience helped her on this fish. She was willing to take advice from Juan and after the long battle, the fish was brought to the side of the boat. David and Tracy both said the fish was jumping a lot and David said he got some good shots. The estimated 100 lb. Striped Marlin was tagged and released! Congratulations Tracy!! For the rest of the trip David and Tracy discussed what kind of gear they were going to start buying. I think David and Tracy are the ones the got hooked and not released today!! Thanks for being such wonderful people and we look forward to having you on the Fly Hooker again
CABO SAN LUCAS, MEXICO: FLY HOOKER SPECIAL REPORT FOR NOVEMBER 26, 2000
Today we had a group of people who booked locally and they just wanted to catch fish. Sorry we didn't get all of the names of the people on the boat. The Fly Hooker headed up the Pacific side where the action has been and they caught a couple Dorado for the dinner table. Then they decided to go after the Marlin. A short time later they hooked up a Striped Marlin and brought the 110 fish to the boat. They boated the fish to have their picture taken with it and gave the meat to the Crew. Another great day of fishing aboard the Fly Hooker
Until Next week, Tight Lines, George Mary, and the Fly Hooker Crew: Juan and Manuel
CABO SAN LUCAS, MEXICO: PISCES FLEET, Cabo San Lucas, November 23, 2000, Tracy Ehrenberg, Reservations Tel 011-52-114-31288; Fax 011-52-114-30588. BILLFISH: Top fish this week was a 580 lb blue marlin caught aboard Baja Raiders by Ted Glenwright, from Mill Valley, Califorina -- this wasn't the only blue this week, a few others were taken, such as one 200 lb'er aboard Rebecca, fought by Jim Lake from Michigan, as well as a half dozen more, around this size. Another impressive catch was a 419 lb swordfish aboard Solmar 7. Otherwise the striped marlin bite was good, but not consistent, we had a few slow days, when seas were dead calm, but not much was caught. As we drew near to the close of the week though, things looked up considerably. David Baziak and David Jr. from San Clemente Ca, did well to release three striped marlin and boat five dorado on November 22nd. Billy and Joan Daughdrill from Pensacola, Fl, released three striped marlin and boated two dorado, on Tracy Ann, Thanksgiving Day. This same day John Fitzpatrick and Steve Jensen from Vancouver, WA were pleased with two stripers released and a dorado. Matthew and Clayton Yantzer , ages 10 and 13 from Carlsbad, CA did very well to release a striped marlin apiece, on their own, aboard Ruthless mid-week. Pretty much all the action was on the Pacific side, either off the old lighthouse or Golden Gate. There were a couple of days when most of the boats got skunked, but our overall catch success rate was still good at 85 percent. Pisces anglers caught a total of 36 striped marlin this week, all released and one blue marlin, also released.
OTHER SPECIES: Dorado is still the top game fish being caught in Cabo right now, with weights ranging from 15 to 50 lbs and boats catching from one to fifteen in a day on both lures and bait. Yellowfin tuna catches were fair for us, with every fourth boat or so catching up to a half dozen, of an average weight of 25-30 lbs. Just a few small wahoo. Small tuna and sierra inshore.
WEATHER CONDITIONS: Cloudy most of the week, with rain last Friday the 17th, most of the day. Seas were calm, but the best fishing was when it was rougher.
LOCATION: El Faro Viejo, Golden Gate, San Jaime. AVERAGE WATER TEMP. 78 F. BEST LURES: live bait, orange/yellow lures.
CABO SAN LUCAS, MEXICO: PICANTE FLEET, Cabo San Lucas, , November 29, 2000, Sergio Cortes, Reservations Tel 011-52-114-32474; Fax 011-52-114-35969. Fish available: Blue & Striped Marlin, Dorado, Tuna & Wahoo. Water Temperature: Approximately 76-78 F. Air temperature: hi 86/low 58. Humidity: 46%. Wind: 8-9 Knots per hr. Pacific, 7-8 Knots per hr. Sea of Cortes. Yesterday's Luckiest: "Picante Expresso" 31' CABO. Captain: Eulogio "Gallo" Zumaya. Angler: Bruce Hall. Production: 2 Striped Marlin 140, 150 lbs. (both released); 1 Sailfish 110 lbs. (released). Hot Spots: 4-5 Miles off the Lighthouse (Pacific Ocean). Fleet Production (4 boats): 5 Striped Marlin, 1 Sailfish, 6 Dorado, 3 Yellowfin Tuna. Most of the action happened just about 8-10 miles off the Point in Cabo San Lucas. Early bites were recorded with artificial lures and live mackerel was used after 11:00 a.m. with great success. Water temperature is cooling down a bit and we are expecting more Wahoo and Yellowfin Tuna as the winter makes its presence in our local waters. Striped Marlin fishing is great at this time! We strongly recommend to and release all billfish.
CABO SAN LUCAS, MEXICO: HOTEL SOLMAR SUITES, Cabo San Lucas, November 24, 2000, Renee Santa Cruz, Reservations Tel 800-344-3349. With outstanding tourist weather prevailing at Cabo this week, and even with two days of plentiful bait fish for feeding tuna and dorado, anglers aboard Solmar Sportfishing Fleet boats scored some 'satisfying" catches, according to Rene Santa Cruz, fleet manager.
Highlight of the week for the fleet was a 420-pound swordfish -- pez espada -- taken by the Philpot family, El Dorado Hills, CA. That family affair was played out on the Golden Gate on the Pacific side of El Arco, on the 34-foot Solmar VII. Captain Domingo was at the helm during the 4 1/2-hour fight.
Tranquil seas with only one to two-foot swells, clear and sunny skies, air temperature of 75 to 77 degrees, and water surface temperature holding around 82 degrees combined to produce what Cabophiles cheerfully describe as Cabo's world class weather.
The weather pattern enticed many fleet boats to fish cruise 20 to 25 miles up the coast to Jaime and Golden Gate banks for marlin. They were generally successful, witness the fleet count of 9 blue marlin, 80 striped marlin, and the swordfish. Although tuna and dorado were busy feeding on bait fish for two days the fleet did bring in 115 dorado and 75 yellowfin tuna. Billfish released: 59.
Curt Weston, Bell Canyon, CA, hooked up a 350-pound blue marlin on the Golden Gate, using a yellow and red lure. In the same area, Lynn Burgess, Hollywood, CA, landed a 200-pound blue marlin on the 26' Galeon, using a green feather.
CABO SAN LUCAS, MEXICO: JEFF KLASSEN SPORT FISHING, Cabo San Lucas, November 25, 2000, Jeff Klassen, Reservations Tel 360-402-3474. I forgot to mention the Pete's Sake Tournament a few weeks ago. I guess the tourney was a success again and they raised $150K for the cancer center. The event was apparently won with a 378 pound Blue marlin. Congrats to Mike and the gang for pulling it off again. Okay, let's see what's going on with the Cabo fishing.
Water temps are dropping now with average temps being 78 to 79 degrees, although there have been a few patches of 80 and 81 degree water still present. Most of the fishing has been taking place along the Pacific side with the most consistent bites being between the old lighthouse canyon, from about 7 miles out, towards Jaime Banks, and again between there and Golden Gate, back inshore towards Los Arcos, or Cristobal.
Although there have been a few blue marlin caught, it's been mostly stripers, probably as most of the local fishermen are shelving their bigger gear. Every year at this time I tell anglers to keep at least one Blue marlin lure out there. I believe that locals give up way to early on Blues, once the easier to catch Striper arrives. The 3 biggest fish I ever saw or hooked up were all in January. Anyway, the Striper bite has been okay, not particularly spectacular though. Most boats targeting them will get one, in an outing, with persistence. We've had several boats get 2 in a trip last week, and 1 boat had 3, with a 4th one on, 2 days ago. Bleeding mackerel (orange/red/yellow) is a good color this time of year. Purple/black and mackerel colors have also produced though.
Dorado are still being caught in good numbers, although the size has dropped a little. Most fish are 15 to 20 pounds, but there are times when you can have 3 or 4 on at a time. There are also lots of opportunities to pick up trailing fish, which have followed a hooked one to the boat. This is a good time for fly-fishermen now for dodos.
The tuna bite has been somewhat sporadic, although there are definitely some schools of smaller fish in closer to shore. In all honesty, most of these fish are football-sized ones at about 10 pounds, but there are the odd 20 pounders present.
We had no wahoo caught this past week on any of our boats, which is odd for this time of year. We're still waiting for them.
Surf fishing has picked up a bit. Actually, I probably just heard more this past week as more people seemed to be doing it. A school of jacks seems to be lingering around between Finisterra Point and the old lighthouse. They just seem to wander between these areas and are pretty aggressive, if you happen upon them. I heard from two anglers that hooked up a double, on 20 pounders, using Klassic Poppers from shore, right in that corner by the Finisterra Hotel. I guess they wrapped each other a few times and it was a real cluster ____, but they landed both. I also heard of some smaller Roosterfish on the gulf side at Cabo Del Sol. There should be some sardines in around that area now, which would explain the Roosters and which should also attract some cabrilla species and Yellow snapper. There have been Sierra caught along both sides, but nothing huge yet. Somebody who'd ordered a bunch of the big 1 ounce Roostertail spinners, was hammering the Sierra at Shmengy point, right at the end of the CSL bay. Very interesting! I'd only really used these spinners around the rocks for cabrilla-type fishes and along the sandy beaches for snook. I'd be trying some bottom-fishing too along both sides with some squid or whole crabs.
SAN JOSE DEL CABO (LOS CABOS) FISHING REPORTS
ALL ARTICLES, REPORTS AND FISHING INFORMATION FOR SAN JOSE DEL CABO
SAN JOSE DEL CABO, MEXICO: GORDO BANKS PANGAS, San Jose del Cabo, November 26, 2000, Eric Brictson, Reservations 800-408-1199; Fax 619-447-4098; 011-52-114-21147. Warm sunshine and great fishing action was the name of the game for the crowds of anglers that visited the Los Cabo area during Thanksgiving vacation. Although the low temperatures did dip down into the high 50's the days were still reaching into the 80's and after a couple of days early in the week when the northeast wind did blow, it quickly settled down and the conditions offshore were very smooth on through the weekend.
The water clarity improved and was a green/blue color, average water temperature was about 76 degrees and continued to drop 1 to 2 degrees per week. There is plenty of live bait for the panga fleets out of San Jose del Cabo, live sardinas costing $10 to $20 per scoop were available and definitely the bait of choice for the variety of gamefish that were now being caught.
Excellent action was found all week long by the local San Jose del Cabo fishing fleets and in both directions, south towards Cabo and north to San Luis Bank. The most common species found were yellowfin tuna, dorado, sierra, amberjack, rainbow runner, grouper, bonita and a few wahoo. The most recent hot spots have been at La Fortuna, Inner Gordo Bank and Punta Gorda, this is where some furious action for tuna and dorado was happening.
The yellowfin ranged from small footballs to 80 pounds, with many fish over 50 pounds being weighed in. On any given day anglers found schools of the larger tuna that would willingly strike the live sardinas. Due to the size of the fish it proved necessary to use heavier tackle, the people that landed the highest percentage of hook ups were using 40 to 80 pound equipment. Many of the tuna were lost after extended battles on lighter gear. The fish were not particularly line shy and they would readily hit the heavier line, particularly early in the morning, as usual when the sun was straight up in the sky the fish did become more spooky but by then most boats had their fish boxes full and were ready to call it a day.
The larger tuna were most consistent on the Inner Gordo and anglers that used a combination of chunk bait, chihuil and sardinas, had daily averages of between two and six tuna ranging all 50 pounds or more.
Towards Cabo San Lucas there were large schools of smaller tuna and anglers could catch a bunch of them in a hurry on the live sardinas. With the tuna bite going wide open this past week, dorado quickly followed, as they decided to get involved in the frenzy also. They arrived in big numbers this past week, in all of the same areas where the tuna were being found and good sized fish too, many fish in the 15 to 30 pound class with a couple as large as 40 pounds caught. It seemed that everybody had at least a few dorado mixed into their daily catch and many people had over a dozen.
Live bait was the most effective but they also hit on trolled feathers, rapalas and cedar plugs. Wahoo action was minimal but several were being taken each day by the combined fleet out of La Playita. Most of them were found in the areas north of Punta Gorda, weighing from 20 to 40 pounds, hitting on trolled lures and live bait. We still have hope that the wahoo season will finish off with a bang but time is running out. In the meantime though the sierra have moved into inshore areas and are providing wide open action on the live sardinas, hoochies, and rapalas, mostly in the 2 to 3 pound range, but very fun on light tackle and excellent eating also.
SAN JOSE DEL CABO, MEXICO: VICTOR'S FLEET, San Jose del Cabo, November 29, 2000, Larry Burson, Jigstop Tours, Reservations Tel 949-496-0960; 800-521-2281; Fax 949-496-1384. "BIG TUNA PRIME TARGET!" A few Wahoo are still being caught each day but the prime attraction is the nice Yellowfin Tuna at Gordo. These Tuna are all 60 to 90 lbs, with some even larger mixed in. Live Sardinas are plentiful and provide the best bait for the Tuna. Bring small circle hooks and bait them on straight 40# or 50# line.
The best bait is always live Chihuiles which are abundant on the Gordo Bank but they must be caught with handlines while you're fishing. They can be very picky and difficult to hook when the drift is too fast or the wind is blowing. With these you can use a 3/0 or 4/0 circle hook on the same outfits.
The Iman Bank has produced some Dorado to 30 lbs along with a few Wahoo and smaller Yellowfin Tuna. There are nice Yellowfin Tuna towards Cabo San Lucas also, even in the very calm, protected area off Santa Maria Bay. All Tuna taken are on bait. Very few trolling strikes on Tuna.
Craig and Jill Williams from Bishop, CA, brought in two 50lb Yellowfin Tuna and 7 Dorado. Oscar Ayoub from Van Nuys scored 6 Yellowfin Tuna to 80 lbs. The next day he brought in 3 Tuna to 65 lbs and a 40lb Wahoo. Ron Colton from Ventura boated 5 Yellowfin Tuna to 60 lbs. Rich Walker from Sacramento brought in 6 Yellowfin Tuna to 90 lbs.
The air temperatures have been 75 to 78 degrees, with the water averaging 72 degrees.
EAST CAPE FISHING REPORTS
ALL ARTICLES, REPORTS AND FISHING INFORMATION FOR EAST CAPE
EAST CAPE, MEXICO: BAJA ON THE FLY, Buena Vista, November 25, 2000, Gary Graham, Reservations Tel 800-919-2252; Fax 760-746-7260. TEMPERATURES: High in mid-70s with a low of 61; with the water temperatures continuing to drop to the low- to mid-70's. BLUE MARLIN - None reported at East Cape. STRIPED MARLIN - Fair showing this week. YELLOWFIN TUNA - Still a good show close to shore. DORADO - Still being found in open water with just a few at the buoys near Punta Pescadero, as well as a few in front of Palmas de Cortez Hotel when boats can get out. SAILFISH - Only a couple reported. ROOSTERFISH - Still a good showing in front of Rancho Leonero. JACK CREVALLE - Most of the action in front of La Ribera and Palmas de Cortez, but few anglers willing to brave the breeze. BARRILLETE OR MEXICAN SKIPJACK - Fair catches from the lighthouse to Punta Pescadero. PARGO AND CABRILLA - Close to shore in front of Punta Colorada still the best bet. OFFSHORE: Windy conditions have slowed the pace down. INSHORE: The tuna close to shore have been the best bet this week. BEACH: Wind waves slowed the action down along the beaches.
QUICK COMMENT -The north wind has been pounding us and has brought East Cape fishing to a near stand-still. None of the hotels have been sending boats out--with just one or two exceptions--for the past 3 days. Off the beach, the gusts subsided enough to allow David Samuelson, of Cambridge, New Jersey, to fish the day after Thanksgiving (11/24). He managed to find a few fish on the beaches between Los Barriles and Punta Pescadero.
November 29, 2000. TEMPERATURES: High of 79 with a low of 60; with the water temperatures beginning to drop to the high 70's. Plenty of ugly north wind to contend with.
BLUE MARLIN - Season starting to slow down. STRIPED MARLIN - Fair showing this eek. Each day seems to be picking up a little. YELLOWFIN TUNA - Still a good show close to shore. Not quite as many, but still good. DORADO - Most of the fish are being found in open water, with an odd few being caught inshore. The dorado action has picked up this week. SAILFISH - Nobody seems to be specifically targeting them, but there,s a bit better showing than last week with an average of about two being raised by boats trolling for marlin each day. ROOSTERFISH - Still a good showing in front of Rancho Leonero. Some larger fish spotted along rooster alley. JACK CREVALLE - Most of the action in front of La Ribera. BARRILLETE OR MEXICAN SKIPJACK - Fair catches from the lighthouse to Punta Pescadero. PARGO AND CABRILLA - Close to shore in front of Punta Colorada still the best bet. OFFSHORE: Cooler and windy conditions have slowed the pace down somewhat. INSHORE: The tuna close to shore have been the best bet this week. BEACH: Wind waves slowed the action down along the beaches. When the wind subsides, the fishing is fair. The water is also clearing, helping the fishing somewhat.
QUICK COMMENT - As we approach Dec., the north winds have begun to gather seriously. Cooler temps in the evening remind us all that winter is coming. Tuna and roosters dominated our clients catches this week. We're seeing mostly dorado and tuna with a few small roosters and jacks. Best flies appear to be small flash Clousers in sardinia colors.
EAST CAPE, MEXICO: EL CARDONAL'S HIDEAWAY, El Cardonal, November 29, 2000, Eddy, Reservations 011-52-114-10040. Lots of wind. No fishing guest. However, the early morning shore fishing is excellent.
EAST CAPE, MEXICO: RANCHO BUENA VISTA, Buena Vista, November 25, 2000, Tamara Moyeous, Reservations 800-258-8200. This week was quiet with the Thanksgiving Holiday. However, two boats fishing for a total of six days caught a total of 52 fish. Three striped marlin, 11 dorado, 33 tuna, 5 skipjack. The weather is cold at night and in the early mornings warming up in the afternoon. Water temps are down in the 60s and there is some wind. Hope all are well.011-52-114-10216.
EAST CAPE, MEXICO: EAST CAPE SPORT FISHING, Los Barriles, Dave Dixon and Gil Mendiaz, Reservations 800-837-1556; Fax 805-493-5446. The weather is the main factor influencing the fishing. Daytime air temperatures are down to 76 and predicted no higher than 78 by week's end, and water temps. have dropped to as low as 70 in some areas. North winds can cut into your fishing time, particularly if you want to head offshore. Plan to stay a couple of extra days this time of year, to make sure you get in some quality fishing.
The inshore tuna bite remains the mainstay catch, with fish being taken anywhere from Punta Pescadero to Cerralvo Island. The bite has been consistent on fish in the 15-25# class, taken on sardinas or slow-trolled hoochies. Offshore, a few marlin and larger dorado are being taken, and the occasional school of larger tuna comes through with the dolphins, but this continues to taper off as the water cools. Expect a slow but steady bite on striped marlin and dorado through the winter months. Deep water yellowtail should begin to pick up as the water temp. dips below 70F. Look for these brutes in 200-250 feet of water, particularly in areas around Cerralvo Island. Use live bait on a Mexican dropper loop with 6-12 oz. weight, or a heavy yoyo jig. Heavy weight is essential, as the current rip can be severe.
The inshore bite on sierra is nothing short of outstanding. This toothy species is great fun on light tackle, and excellent eating. Be sure to bring some thin wire leader. The sierra are biting on slow trolled hoochies, tube baits, and swimbaits. A few pargo and cabrilla round out the inshore bite. Good bait is available, but the lack of anglers prevents the bait boats from going out regularly. Plan on bringing a supply of artificials.
LA PAZ FISHING REPORTS
ALL ARTICLES, REPORTS AND FISHING INFORMATION FOR LA PAZ
LA PAZ, MEXICO: JONATHAN ROLDAN'S TAILHUNTER ADVENTURE SERVICES, La Paz, November 22, 2000, Jonathan Roldan, Tel 626-333-3355; Fax 626-333-0115; Pager 323-349-8111; Message Pager 877-310-7734. Not much to say different for you this week, amigos. I must sound like a broken record about now. Had a few windy days, but then things settled down. As of today (Wednesday), the winds were down; it was a little cloudy and the temperature was very pleasant. Tomorrow? Who knows! However, even on the windy days, the fishies are still biting. The Las Arenas boats, as I mentioned several reports ago, have now moved over to Muertos to be out of the wind. However, my anglers have been barely getting out of the bay before they are bent! Seriously, not more than several hundred yards off the beach and still inside the point, they're getting lots of small to medium-sized tuna, the occasional dorado and even a billfish hook-up or two. Couple that with a few cabrilla and some sierra and the ice chests get heavy! I haven't had anyone on the La Paz side fishing this week, but will have more for you next report. Biggest things, amigos, is be safe and happy with you and yours this Thanksgiving! I appreciate all of you and looking for lots of good things to come for all of us!
By the way, starting to get reservations now for our Las Arenas Soiree April 17-21st. If you're interested, let me know ASAP. Gonna be a hoot!
November 26, 2000. We had a few more anglers come into town this week for the holidays and, for the most part they weren't too disappointed in the bite. There had been a lot of concern about the seasonal winds and it's one day up and one day down. Difficult to predict, but fish were still biting. At Arenas, the fleets are now over at Muertos away from the winds so it's not a big issue. Even better, it seems that the fish are also staying close as well. Most of my guys are finding the honey hole even before they get out've Muertos Bay. Nothing big, but plenty of fun on late season yellowfin tuna and dorado as well as a smattering of sierra and cabrilla. Must be a few lost billfish as well because I had two boats hook up on sails that busted off. Live bait is great at the moment, but bring a windbreaker because it's definitely cooler right now.
For La Paz boats, I had some anglers that just wanted to stay close inside and they wacked the sierra which was exactly what they were looking for. Had another boat try to push to the Bajo one day despite warnings that it was gonna be bumpy, but they insisted they were "hardcore!" Well, they coulda fished it, but about an hour later they decided they weren't quite so "hardcore" and found a spot of tuna anyway just east of Espiritu Santo Island then went inside and topped off with pargo and cabrilla and were very happy.
Bits and pieces: even if you don't want to fish, our divers are stoked because the hammerheads are gathered at the Bajo and they can be thick at times. Also, just found out that once again, Alaska is playing the "Hokey-Pokey." They've just announced that after jumping back in, they are jumping back out of the La Paz market as of February.
LA PAZ, MEXICO: HOTEL LAS ARENAS, Punta Arena de la Ventana, November 28, 2000, Linda Glassman-Davis, Reservations 888-644-7376. Captain's: Daniel, Chimango, Román, Cachorra, Fidel, Ramon Lucero, Efren, Guicho, Zapata.
The fishing is still consistent although winter has come. There are yellowtail in the area and large pargo in the shelves around the island just waiting to be hooked! Fleet results: 20 Tuna to 17.5 pounds; 40 Dorado to 55 pounds; 15 sierra to 11 pounds. Saludos Cordiales.
LORETO FISHING REPORTS
ALL ARTICLES, REPORTS AND FISHING INFORMATION FOR LORETO
LORETO, MEXICO: VILLAS DE LORETO, Loreto, November 29, 2000, Wendy Wilchynski, Reservations Tel/Fax 011-52-113-50586. No fishermen right now, but I'll let you know as we are expecting some in today. Bye for now.
I'm back again! Just talked with a fisherman this afternoon and... he says the fishing is great! He caught Yellowtail and Cabrilla as well as Pargo. They seem to be plentiful and he was back in the lawn chair by noon with more than enough fish! Hope this helps those fisherpersons out there, bye for now, Wendy.
LORETO, MEXICO: EL FUERTE SPORT FISHING, Puerto Escondido, November 22, 2000, Ty Miller, Reservations Tel 714-775-6658; Fax: 714-755-3501; Loreto 011-52-113-30863. Hola amigos. Good news! Just returned from Smorgasbord Reef today and the Yellowtail were going off! The winds had been blowing most of this past week and finally today we got a chance to go seek and destroy. On departing Loreto this morning we had thoughts of working the Punta Perico area but decided it was time to go long and it definitely paid off. Yellowtail were suspending just off the high spot and mixing in with the Skipjack. These fish today were all solid 35 pound fish. All fish were caught on live bait although I did hook into a small bus on the Iron but could never get his head turned but it felt good while it lasted! This could be the makings of a Yellowtail bite we had a few years back when the Skipys mix in with the Yellowtail. The bummer is that it's about a five Skipjack to one Yellowtail ratio but at least that keeps the bendo on the rods and everybody happy.
Other interesting news is that local Tripui neighbor Johnny (Alacran) Johnston ventured to the south reef of Catalana today and picked up two 30 lb class Yellowfin Tuna. Never could find the main body of fish but that's still promising news for us. Johnny also reported that the water color was horrible around the high spot and figured these Tuna might be lost. Later in the day he came north to join us and reported seeing Striped Marlin up on top feeding along the backside of Catalana. I know this all sounds crazy so I'am not going to try and figure this one out!
Bait is still steady from Punta Coyote to Honeymoon Cove off Isla Danzante. Mostly Green Mackerel and once again the Sardines suspending from the top to the bottom. This morning we chugged the bait tank with Cabillitos off the bump just outside the Harbor. Mackerel bite is between 6:30 and 7:00 and if you want the hearty Cabillitos you better be on the bump at 6:00 sharp!
I'am going to go out on a limb and say that you had better get ready for some huge Yellowtail this winter because what we experienced today makes me believe that we are in for a great one! So brake out those jig sticks and get ready to rock! Hasta Luego. Temp: 78. Water temp: 70. Wind: None as of 11/21 Seastate: Calm.
November 29, 2000. Hola Amigos. The Yellowtail are still holding on Smorgasbord Reef off of Catalan but the problem is having to deal with these Northerly winds that are holding us back to only fishing maybe three or four days a week. That is typically normal for this time of the year but it's hard on the clients when they blow into town for only a few days. Remember, you can't rely on the Northerly winds to lay down for just a weekend getaway.
We did get a couple shots this past week on the reef and once again it produced some healthy 35 pound class Yellowtail. Some nice Broom Tail Grouper moved up on the reef with a pair of 25 pound fish taken yesterday. Huachinango (Red Snapper) are also showing and aggressively taking the Iron on the sink. The damn Skipjack have flooded the area and the ratio just went from five to one to ten Skippys to one Yellowtail. If you can blow down as fast as you can past the Skippys it's pretty much a guarantee on a nice Yellow or Grouper. I gotta tell ya these Yellows have BIG shoulders and if you're not fishing 50 pound mainline and some 80 pound leader forget it, you're history! These fish are suspending in 250 feet of water and don't want to budge.
I think in one of my last reports I mentioned about all the bait we were seeing along the way outside. Well, it's still stacking up out there and we are now seeing along with acres of bait, miles of Red Krill with already Whales moving into the area. With all this happening and food everywhere this place should explode.
The bait situation just keeps getting better and better with Cabillitos off the bump early and the Green Mackerel right behind them in either the same spot or out anywhere past Punta Coyote in 200 feet of water.
Right now the place to be is outside until the main body of Yellowtail start moving in closer. With water temperatures dropping weekly and all the bait things should start happening soon. I hope everyone had a great Thanksgiving day with their families and with Christmas just around the corner don't forget to ask Santa for a new Jig Stick spooled with some fifty pound and then hopefully find some tickets in your stocking to Loreto! Hasta luego! Temp: 77. Water temp: 69. Winds: Laid down as of 11/27. Sea state: Flat.
BAHIA DE LOS ANGELES (L.A. BAY) FISHING REPORTS
ALL ARTICLES, REPORTS AND FISHING INFORMATION FOR BAHIA DE LOS ANGELES
BAHIA DE LOS ANGELES, MEXICO: CAMP GECKO, Bahia de los Angeles, November 28, 2000, Abraham Vazquez, Tel 011-52-515-19454; Fax 011-52-665-03206 (goes to Guillermo's). Air temperature 75-58. Winds light to none, out of the north. Skies clear. Seas calm. Water temperature 67-70 F. Humidity 60%. Fishing is good with some yellowtail still in the area close to Don Juan point, and lots of yellows up at Punta Remedios. They are close to the surface and hitting Rapalas and iron, 20-pound range. The rest of the fishing at Bahia de los Angeles is good for all species of bottom fish including halibut that are showing up consistently inshore close at the south bay. Road great. Gasoline $2.80 per gallon. The whale sharks finally left the bay, but still have lots of dolphins and sea lions. I took a three-day trip down south this week and the yellowtail fishing in San Francisquito is fantastic right now. But they have been hammered by the winds the past few weeks.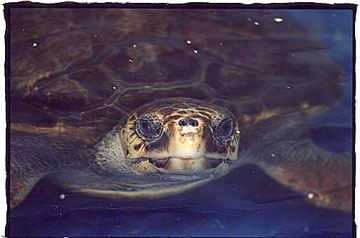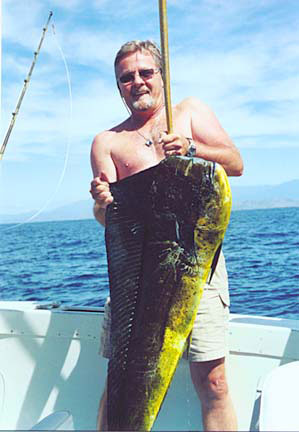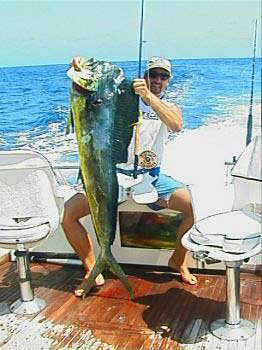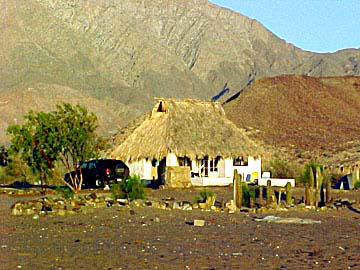 Baja coastal fishing reports and articles.
Ensenada fishing reports and articles.
Puerto Santo Tomas fishing reports and articles.
Erendira fishing reports and articles.
San Quintin fishing reports and articles.
Magdalena Bay fishing reports and articles.
Cabo San Lucas fishing reports and articles.
San Jose del Cabo (Los Cabos) fishing reports and articles.
East Cape fishing reports and articles.
La Paz fishing reports and articles.
Loreto fishing reports and articles.
Mulege fishing reports and articles.
Santa Rosalia fishing reports and articles.
Bahia de los Angeles (L.A. Bay) fishing reports and articles.
San Felipe fishing reports and articles.
Rocky Point (Puerto Penasco) fishing reports and articles.
San Carlos (Sonora) fishing reports and articles .
Mazatlan fishing reports and articles .
Puerto Vallarta fishing reports and articles.
Ixtapa Zihuatanejo fishing reports and articles.
Huatulco fishing reports and articles.
Cancun fishing reports and articles.
Mexico coastal fishing reports and articles.
Mexico Fishing Home Page < Mexico Fishing News Archives < Fishing Report