The Striped Marlin have been close to home also, making for very short runs to the fishing grounds, most of the time taking less than 30 minutes to get to the right area. The concentration of Striped Marlin has been shifting on a daily basis with the effort concentrated on the Pacific side from a mile offshore to 8 miles out and between the Arch and just north of the lighthouse. Most of the Marlin have been caught while "bottom fishing" live bait. Drifting with 68 oz. lead sinkers ahead of 10 feet of 125 lb. leader with a 9/0 live bait hook and a lively Caballito sunk to 120 and 150 feet has been producing on a consistent basis. Slow trolling with the bait off of downriggers has also worked very well. The catch has varied from 1 to 6 fish per day for the boats using these techniques. This is not the only method producing as lures have been working as well, but the ratio has not been quite as high as drifting the live bait.
YELLOWFIN TUNA: Early in the week there was a strong showing of fish in the 50-100 pound class out about 30-45 miles. These fish were found with the porpoise but mid week the seiners moved in and disrupted the concentrations. With the fish scattered out it became more difficult to find the large ones but a few boats were lucky enough to get into them. A Yellowfin Tuna won the Marlin Tournament. Many in the 70-80 pound class were brought in, most of them caught in the porpoise while pulling big lures for a Blue Marlin. Large numbers of the football fish were being caught just outside the Arch and at Punta Ballena by the boats using sardines, but there were also a lot of hungry seals and sea lions in the area. I know of one Panga that hooked 10 Tuna but only got one whole fish to the boat, there were nine heads brought in.
DORADO: These fish are getting a bit skimpy as I reported last week. The largest fish of the tournament in the Dorado class was a 51-pound fish, one of five caught by one boat. All of their fish were between 30 and 50 pounds. Sometimes you get lucky and they did! It was reported that they had found some floating debris out 42 miles and the Dorado were the result. The rest of the boats in the marina have been lucky to get a few Dorado every day and most of them have again been in the 8-15 pound range. Feather jigs and small live bait have worked best on the Dorado this week.
WAHOO: Several large Wahoo were weighed in during the tournament with the largest being over 70 pounds. There were a number in the 30-40 pound range but no one had more than two of these speedsters. These fish were caught on Marlin lures while fishing the open water and the edge of the Banks. The rest of the week showed mixed results with only a few of the charter boats finding any Wahoo.
INSHORE: Still the same news as last week! Small 5-10 pound Roosterfish, few Sierras showing yet and an off green color to the water close to shore on the Pacific side. Most of the near and in shore catch has consisted of football Yellowfin Tuna, Bonito and Skipjack with a few Dorado tossed in for good measure.
Until next week, Tight Lines!
CABO SAN LUCAS, MEXICO: FLY HOOKER SPECIAL REPORT FOR NOVEMBER 28, 2000
Troy and Carolyn Prigdon are excited to be going fishing today, especially since we have told them about the action Juan and I had the day before. They are really looking forward to catching a Marlin and that is the goal as the boat leaves the dock. Juan and Manuel head out to the Pacific off the lighthouse, where the fish were yesterday. The key word here is yesterday. The fish had disappeared and no one could find them. Everyone worked hard but there were no bites reported from anyone in the area, at least not from Marlin. A few of the boats caught Yellowfin Tuna on the big Caballito and that was also the only action for Troy and Carolyn. They managed to get two football sized Yellowfin, about 15 pounds each, but never had a "for sure" Marlin hookup. Juan thinks that the first fish they had a bite from may have been a Marlin, but there was no way to tell for sure. Most of the boats, including the Fly Hooker, gave up on the live baiting and resorted to trolling in an attempt to find the fish again. No further luck for the Prigdons and they returned to the dock without catching the Marlin they had been hoping for. I am sorry, but perhaps next time you will have better luck.
CABO SAN LUCAS, MEXICO: FLY HOOKER SPECIAL REPORT FOR NOVEMBER 30, 2000
Mike, Heather, Bruce and Norm booked the Fly Hooker for the day and want to go out and catch a bunch of fish to take home. They also want to catch a Marlin and if they don't catch anything else they want to kill it and take the meat home. As everyone knows, I encourage tag and release of all Billfish. The only time I don't have a hard time with taking one for the table is if the fish has died during the fight or had been so damaged that it's chances of surviving are extremely slim. Juan and Manuel are the same when it comes to releasing Billfish. We convinced them to try for Dorado and Tuna in the morning in an attempt to get the eating fish to take home and go for a Marlin later, that way they would have the best chance at a cooler of fillets. At 11 am they had three Dorado in the box and had lost two more. Juan asked if they wanted to go and try for Marlin now and they said no, keep going for the Dorado and Tuna. Well, no more of those for the Fly Hooker, it appeared that what bite there was happened in the morning. Heather spent much of the trip sleeping in the cabin and had all the bags in there with her. Everyone was a little disappointed when they disembarked at the end of the day, but fishing is fishing and some days are better than others. Better luck next time!
CABO SAN LUCAS, MEXICO: FLY HOOKER SPECIAL REPORT FOR DECEMBER 3, 2000
Today Tim and Jo Lawrence from Anchorage are the Fly Hooker anglers. They have booked the boat for today, the 6th and the 8th. Tim and Jo are on a belated honeymoon, having married 3 months ago but not being able to get away until now. They have a tackle shop at home and they build custom rods and teach others to do the same. Think they brought some nice gear with them? You'd be right if you thought so! The target is Striped Marlin and the bite yesterday was in the same area it had been early in the week. After a 15-minute run they arrived at the lighthouse and began to drift fish with live bait. In hardly any time at all they were hooked up to a double header of Striped Marlin! Both fish were brought to the boat after about 25-30 minutes and tagged, then released. The action continued throughout the morning as they caught and released two more on live bait before the bite shut down. Later they went trolling and caught and released two more Striped Marlin on lures! Tim caught four of the fish and Jo caught 2 for a total of 6 Striped Marlin released for the day! Outrageous! And they get to try it again! That's why I love this place and they call it the Marlin Capitol of the world! Fishing like this doesn't happen every day but when it does it's something you never forget!
CABO SAN LUCAS, MEXICO: PISCES FLEET, Cabo San Lucas, November 30, 2000, Tracy Ehrenberg, Reservations Tel 011-52-114-31288; Fax 011-52-114-30588. BILLFISH: Wow, all I can say it what an incredible week we've had. This is the best fishing I've seen in a long time for billfish - a mix of striped, blues and sails, with two and three billfish per boat commonplace. Dan McDowell and Mark Tracy from Ohio released three striped marlin and one 230 lb blue marlin aboard, Tracy Ann on November 24th. A group that did even better was Rory Nunez, from Templeton, Ca, Dwayne Ollis from Freeland, Wa and Daniel Tompkins from Irvine, Ca. - during their day out on Ruthless, also Nov. 24th, they managed to release two blue marlin, one sailfish and one striped marlinit doesn't get much better than that. The day following these catches, we had more outstanding fishingCraig Everett from Houston, Tx, released two striped marlin, as well as a 400 lb blue marlin aboard Adriana. Jerry Mako from New Jersey, out fishing alone, aboard Karina, did very well this day also, he released two striped marlin and reluctantly boated a 480 lb blue marlin, that died on him after a three hour, stand-up battle on 40 lb test line. In fact Jerry may just have been our angler of the week, as he went on to release another three striped marlin and one sailfish, as well as boating five yellowfin tuna ranging in size from 15 to 60 lbs, during his other three fishing days. Florida anglers didn't want to miss out - we had Teddy Baier, from Key West, release three stripes on Tracy Ann on Nov. 30th and David Roberts and Capt. Richard Thomas, from Pensacola, release four stripers this same day aboard Rebecca. Michael Cohen from Miami, also released three stripes on Tracy Ann one day before, on 20 lb test line, just 2 miles off of the old lighthouse. The whole week produced nice catches in addition to these mentioned above. Pisces anglers released a total of 48 striped marlin and one 120 lb'er was boated. We also released 4 sailfish and three blue marlin.
OTHER SPECIES: Dorado did slow down a bit this week, but was still caught consistently. About half of the boats out, got one or two around the 20 lb mark, whilst, other more fortunate ones, landed up to eight. Some yellowfin tuna, though not a lot. Average catch was from one to three around 20 lbs. The odd wahoo here and there. Good amounts of sierra inshore.
LOCATION: Pacific side, Old Lighthouse, Golden Gate, Pozo de Cota.
WEATHER CONDITIONS: Beautiful, sunny skies, mostly calm seas.
AVERAGE WATER TEMP. 79 F
BEST LURES: Orange/yellow, live bait.
CABO SAN LUCAS, MEXICO: PICANTE FLEET, Cabo San Lucas, December 5, 2000, Sergio Cortes, Reservations Tel 011-52-114-32474; Fax 011-52-114-35969. Fish available: Striped Marlin, Dorado, Tuna & Wahoo. Water Temperature: Approximately 76 78 F. Air temperature: hi 83/low 55. Humidity: 47%. Wind: 8-9 Knots per hr. Pacific, 7-8 Knots per hr. Sea of Cortes. Yesterday's Luckiest: "Picante Expresso" 31' CABO. Captain: Eulogio Zumaya. Angler: John Garafalo. Production: 2 Striped Marlin, 120, 140 lbs.( both released ); 1 Yellowfin Tuna, 328 lbs.; 1 Sailfish, 90 lbs. Hot Spots: 46 miles off The Lighthouse (Pacific ). Fleet Production (6 boats): 19 Striped Marlin, 3 Dorado, 4 Wahoo, 6 Yellowfin Tuna.
The Los Cabos Billfish Tournament has become the #1 off season event in Cabo San Lucas! Even though Blue and Black Marlin season is almost over, outstanding prize money can be won. We are happy to announce that our 35' CABO "Picante Pride" won a grand total of $127,287 U.S. in prizes and took 1st place in the following categories: Most Releases Day 1; (five) Most Releases Day 3 ( five ); Overall Release Award ( ten ); Biggest Dorado.
CABO SAN LUCAS, MEXICO: BAJA ANGLERS, Cabo San Lucas, December 1, 2000, Grant Hartman, Reservations 888-588-3446. Hi Folks, The weather has settled back to normal with beautiful sunny days and calm seas. Striped marlin fishing has been awesome over the last few days! The fish are holding off the old light house only a mile or so from the beach. The action has been hot, even for fly fishers. Yesterday 70 yr. old Ray Johnston from Montana caught and released his first striped marlin on a fly. We had the teasers out about 5 minutes before a hot 110lb striper started to tear the teasers apart. The fish took the fly on the first cast. It was a great fighting fish with the fish jumping out of the water 5 to 6 times within the first few minutes. The fight lasted for 45 minutes on a 12wt Sage fly rod. Yellowfin tuna fishing has been okay at the arch. We are picking up 3 to 6 tuna a day on flies. Most of the fish are under 20lbs, but a few are going over 30lbs. Skipjack and bonita are at the arch also. They are great fun on the fly and light spinning gear. The dorado fishing has slowed down some. The dorado are still out at the shark buoys, but it's first come first served. The first boats on the buoys are catching fish, but the bite turns off quickly. The fish are kinda on the shy side as they have been hammered all summer long. We caught some wahoo on the fly at the buoys a few days ago. They were hanging around a old shark that was left on the buoys to rot. Inshore fishing is very good for sierra right now and okay for smaller roosterfish. The fishing is only going to get better as we move into the winter season.
CABO SAN LUCAS, MEXICO: JEFF KLASSEN SPORT FISHING, Cabo San Lucas, December 6, 2000, Jeff Klassen, Reservations Tel 360-402-3474. They had the Los Cabos Billfish Tournament this past week and didn't have even one qualifying fish in 3 days of fishing. Multiply that by 40 entered boats and that totals 120 fishing days folks, without a marlin over 300lbs. Que pasaaaaaaaaaaaa with that? There should be some nice blues still around through January. There were at least several excellent anglers in the tourney, that I know about, totally qualified to find the big fish, and they didn't! Something's up and I don't like it! I've already heard several of the ... "Oh well, it was fun anyways!," from several people in it. I'm sure it was, but knowing a lot of these tournament anglers, they can't like that situation much. Oh well, I'm sure it was "fun anyways" and they'll try again next year. The fish highlight of the tourney was a 147 pound Yellowfin tuna, caught on the "Fresh Start," even though the team that caught it wasn't entered in the "tuna jackpot." Congrats on a nice fish though GJ! I did hear from several anglers fishing the tournament and from several Cabo business owners that they were pleased that the tournament went off without any ugly incidents, as Minerva Smith had apparently stayed away from it. Hey, they gave her the shots I'm just the messenger!
Not a bad time to be fishing around Los Cabos at the moment. There are fish around from most of the species these days, particularly offshore. The Striped marlin bite has been great of late. Although the sizes of these marlin haven't been any better than average, with most fish being between 120 and 130 pounds, there have been greater numbers of them, with even the old crappy under-equipped beater boats and crews getting legitimate shots at them at times. The better ones are picking up 2, 3, and 4, even 5 sometimes in an outing, along with other species. Bleeding mackerel (red/orange/yellow) and flying fish (blue/silver/white) continue to be the colors of choice for lures. Bleeding macs are always good in the fall and winter months, and you might put 2 or 3 out, instead of having 4 different colors. Don't be cheap with the bait either, they're like insurance!
These marlin are traveling in small bunches now as opposed to singles and quite often there is a second or third fish lingering along a hooked-up one. Only a few blue marlin were even hooked up, let alone caught these past days. We had a couple of people who landed and released 200 pounders last week. Both were surface finning fish, caught on live bait, thought at first to be stripers. There are a few sailfish being caught, but not in any numbers to make them worth targeting. The Pacific side is where it's all at, for billfish anyway, from all around the lighthouse area, in close, even within a mile from shore at times, out to no further than 10 or so, then zigzagging towards Jaime and ducking back in closer fishing the Los Arcos/ Poza de Cota areas.
There have been reports of boat clustering and line cut-offs by inexperienced or stupid boat captains there lately. Avoid the melee's. There are fish all around the area. These cluster ____s are usually caused when everybody spots a lively surfacing striper which is more likely dumping a remora, rather than feeding, then charging in on it, with reckless abandon and no concern for other anglers. It's pretty pathetic actually. I always fish well outside of the group, circling it, and always get more fish than any boat in the mess.
The wahoo bite has picked up a little, with a few more boats getting them lately. They are averaging between 40 and 50 pounds but 1 or 2 have reached 80 pounds or so. Lighthouse Canyon and Cristobal have been the best locations to work, as they normally would be this time of year. Don't give up on them too early either. Early afternoons can also be productive for wahoo, yet no one ever fishes for them, after about 8 am.
The Dorado bite continues to be okay. Not great but not bad. Stick tighter to shore, 1 to 2 miles off, and you'll get more of them. Avoid the dead zone between the lighthouse and Cristobal Point. Fish one area hard, then motor over to the other. There doesn't appear to be a lure color preference.
Tuna bites are also average at the moment with most fish appearing suddenly, then disappearing, you just have to be lucky. Several nice ones over 80 pounds have been landed but most are under 20 pounds.
Panga and fly-fishermen are getting Sierra mackerel and Black skipjack tuna along the shorelines. I haven't heard much about the surf fishing, as no one seems to be doing much of it at the moment. I,d be working the gulf-side rocky areas, particularly from Villa Serena to the Twin Dolphin Hotel. Use poppers and plastics for big hawkfish, Leopard grouper and a variety of snappers. Spoons and large spinners will work in amongst the sandier areas for Sierra.
In other mainland Mexico and Baja fishing action this week:
ENSENADA FISHING REPORTS
ALL ARTICLES, REPORTS AND FISHING INFORMATION FOR ENSENADA
ENSENADA, MEXICO: LILY FLEET, Ensenada, December 5, 2000, Sammy Susarrey, Reservations Tel/Fax, 5 to 9 p.m., 011-52-617-46747; Cell 011-52-618-67485. I've been in La Paz doing some paperwork for the boats. Last Friday the Tamara fished at the Punta Banda bank with 2 anglers, skipper and deckhand, reporting 16 red snapper, 2 lingcod to 10 pounds, 5 salmon grouper and 14 miscellaneous. Water 58 degrees, with a lot of current, but at the end of the day the current stopped and we got most of the fish.
ENSENADA, MEXICO: SERGIO'S ENSENADA SPORTFISHING CENTER, Ensenada, December 9, 2000, Sergio Susarrey, Reservations Tel 011-52-617-82185. HOT SPOTS: Todos Santos Island NAME OF BOATS: Ensenada Clipper, El Cazador, Quest, Clipper II, Shir Lee Too, and Shir Lee. REMARKS: This is the time for great bottom fishing here at Todos Santos Bay! For the last few weeks our boats have concentrated on the fantastic rock cod fishing that has been available for Ensenada anglers with catches of lingcod, cow cod, whitefish, red snapper, salmon grouper, sheephead and so many more of this great eating fish. The fish are being caught in shallow waters around the island Usually the sinkers that are used for this type of fishing do not exceed of 10 ounces of weight and no line heavier than 40 pound test. The open party boats that leave on a daily basis at 7:00 a.m. to return at 3:00 p.m. do concentrate on the areas around Todos Santos Island but private charters that want to improve the quality of the fishing results can book trips to fish famous areas such as Maximino, Santo Tomas and San Jose reef that are located to the south of Ensenada but there are also other great spots located to the north such as Salsipuedes and La Salina of the Bajamar golf resort. Frozen squid is being used to fish and when available live bait could help specially since barracuda and bonito do bite in the winter months.
MAGDALENA BAY FISHING REPORTS
ALL ARTICLES, REPORTS AND FISHING INFORMATION FOR MAGDALENA BAY
MAGDALENA BAY, MEXICO: BAJA ON THE FLY, San Carlos, December 2, 2000, Gary Graham, Reservations Tel 800-919-2252; Fax 760-746-7260. Temperatures: 76 degree high; Low 63. Water temperature: 69 degrees in the mangroves and 70-74 offshore. STRIPED MARLIN- Lots of fish at the upper end of the Thetis Bank. DORADO- Some larger fish up above the Thetis Bank. TUNA- Fair to good action a few miles south of the entrada for smaller fish with some larger fish up near the bank. CORVINA- Good to excellent catches throughout the bay. SNOOK- Very good to excellent; also good to very good for halibut and mangrove snapper. YELLOWTAIL- No word. QUICK COMMENT- We have the BBC aboard the boat filming marlin sequences. Andy Buyatt, from London, producer of the BBC's Blue Planet Programme, plus three of his production crew, are dumbfounded at the number of marlin on the Thetis Bank. Their footage should be spectacular and I only hope we get to see it on PBS. Gary
MAGDALENA BAY, MEXICO: MAG BAY TOURS, Punta Hughes, December 4, 2000, Brian Freitag, Reservations 800-599-8676. What's Biting Offshore: "Football" Yellowfin (5# to 20#), small Yellowtail (5# to 10#), Striped Marlin (slow this week), Skipjack, Bonito, Sierra Mackerel, and a few Dorado. Some Wahoo were sighted, but none caught.
What's Biting Inshore: Halibut to 15# (lots!), Grouper, Bass, and Triggers.
Red Hot! Halibut inshore and (especially) in the estuaries, and "football" yellowfin tuna from Punta Hughes to the Thetis.
Rod Meyer of Hawthorn, and his fishing buddy Don, Spent 3 days fishing out to the Thetis, where they landed and released 2 Striped Marlin, lots of tuna, a few smaller forkies; and two days in the esteros and off the beaches where they tossed plastic swim baits and rapalas to huge numbers of halibut and grouper. Rod and Don were last seen dragging off a cooler full of fillets.
Note: the area from the boca of Mag Bay proper, past Punta Hughes, and up past the Thetis is teeming with sea life! The area is packed with bait, birds, fish, even large numbers of turtles and whales (possibly Blues and/or Humpbacks).
Surf A strong NW swell had the winter camp churning out consistent 7'+ sets.
SAN JOSE DEL CABO (LOS CABOS) FISHING REPORTS
ALL ARTICLES, REPORTS AND FISHING INFORMATION FOR SAN JOSE DEL CABO
SAN JOSE DEL CABO, MEXICO: GORDO BANKS PANGAS, San Jose del Cabo, December 3, 2000, Eric Brictson, Reservations 800-408-1199; Fax 619-447-4098; 011-52-114-21147. Crowds of tourists tapered off some this past week as people now preoccupied getting ready for Christmas, but for the anglers that did take advantage of the pristine weather and excellent fishing opportunities they were not disappointed. With sunny daytime temperatures in the low 80's and only a slight amount of wind the conditions offshore were ideal. It was a good idea to bring a jacket though, because early in the morning it was quite chilly. Live bait was plentiful, the sardinas were being netting by pangueros in the areas of La Fortuna, Cabo Real and Santa Maria, definitely the bait of choice for all of the medium sized gamefish that were available. Water temperature was about 72 to 74 degrees and continued to drop with the cooler nighttime temperatures, it has cleared to almost deep blue, after it had been greenish due to persistent north winds. Anglers in the San Jose del Cabo fishing area found a wide variety of fish, including yellowfin tuna, dorado, sierra, amberjack, wahoo, rainbow runner, striped marlin, skipjack and grouper. The majority of the action was for yellowfin tuna and dorado, the tuna were hitting on the live bait and chunk bait, while dorado would also take the trolled lures. The Inner Gordo Bank continued to hold schools of the larger tuna in the 40 to 80 pound class and the anglers that did dedicate their efforts to hooking them had a catch ratio of one to five per boat. Many of the tuna could be seen breaking the surface but they proved difficult to actually hook and land, at times they would become very line shy, and using too light of tackle was not practical. One yellowfin in the 200 pound range was taken by a local angler while fishing on the Inner Gordo, it hit a sardina on 30 pound line and took close to four hours to finally bring to gaff. The areas of La Fortuna and Iman Bank had large schools of smaller tuna that averaged 8 to 12 pounds, with a few of the larger ones mixed in. Panga charters were catching an average of 15 to 25 of the football sized tuna per morning, great action on light tackle. The dorado action had slowed down after being so hot the week before but it was only for a few days before they turned back on and now they are mixed in the same areas where the tuna are and most all anglers are hooking a few of them each day, sizes were up, with 10 to 20 pounds the average size. Dorado action should continue to be good as long as the water remains clear and does not dip below 70 degrees. Most of Billfish action is now on the Pacific side of Cabo San Lucas, as this is where the striped marlin first return from their northern migration following the food supply of mackerel and squid. In recent days the stripers have also been seen tailing on the surface in good numbers up into the Sea of Cortez around the Gordo Banks, though they proved difficult to hook. Several were hooked on trolled lures and on larger live baits, more marlin reports were coming from the cruiser fleets, pangas were mostly fishing closer to shore because of the great action on the medium sized fish. More bait is moving into inshore areas and this has attracted more numbers of sierra, jack crevalle, needlefish and small roosterfish. The sierra have been the most abundant and were striking on trolled hoochies, Rapalas and live sardinas, sizes were from two to five pounds. Good Fishing.
EAST CAPE FISHING REPORTS
ALL ARTICLES, REPORTS AND FISHING INFORMATION FOR EAST CAPE
EAST CAPE, MEXICO: BAJA ON THE FLY, Buena Vista, December 2, 2000, Gary Graham, Reservations Tel 800-919-2252; Fax 760-746-7260. TEMPERATURES: Mid to high 70s during the day; mid 60s at night with the water temperatures down to the mid to high 70's. Winds subsided and everything is beautiful. BLUE MARLIN- Slow.. STRIPED MARLIN- Fair showing this week. Hotel Buenavista Beach Resort reported six on Wed. (11/29). YELLOWFIN TUNA- Still a good show close to shore. Not quite as many, but still good. DORADO- Most of the fish are being found in open water, with an odd few being caught inshore. (See Quick Comments below.) Hotel Buenavista Beach Resort reported 35 last Wed.. SAILFISH- About two being raised by boats trolling for marlin each day. ROOSTERFISH- Still a good showing at East Cape in front of Rancho Leonero. Rancho Leonero Hotel is closed, however. Some larger fish spotted along rooster alley, but their mouths are shut. JACK CREVALLE- Most of the action in front of La Ribera. BARRILLETE OR MEXICAN SKIPJACK- Fair catches from the lighthouse to Punta Pescadero. PARGO AND CABRILLA- Close to shore in front of Punta Colorada still the best bet. OFFSHORE: Very few anglers and little by the way of reports. However, with the end of the wind, there's no reason things won't pick up. INSHORE: The tuna close to shore have been the best bet this week. BEACH: With the end of the wind, the water is also clearing, helping the fishing somewhat. QUICK COMMENT- Peter Wooster and his fiancée, Annie, from Mill Valley, Calif., flyfished inshore on Fri. (12/1) from a panga with some good to spectacular results. They nailed yellowfin tuna, big bonito and two dorado! Not a bad midwinter day. Gary
EAST CAPE, MEXICO: EL CARDONAL'S HIDEAWAY, El Cardonal, December 6, 2000, Eddy, Reservations 011-52-114-10040. Lots of wind, but the fish are getting bigger.--Eddy
EAST CAPE, MEXICO: RANCHO BUENA VISTA, Buena Vista, December 7, 2000, Tamara Moyeous, Reservations 800-258-8200. Hi Gene. Nice weather with some wind, water temps. in the 70s. Eleven boat trips netted 26 fish, 2 stripers, 16 dorado and 8 tuna. Boy the winter is here!! Thanks, Tami
EAST CAPE, MEXICO: HOTELS PALMAS DE CORTEZ, PLAYA DEL SOL, PUNTA COLORADA, East Cape, December 6, 2000, reported by Dave "Smokey" Manuel, East Cape Smokehouse, Hotel Reservations, 800-368-4334. EAST CAPE SMOKEHOUSE will be closed for the Holidays, Dec 13 to Jan 4. The time of year has arrived when the North wind makes a day of fishing on the East Cape a hit or miss endeavor. It is not uncommon for us to receive several very windy days each week, sometimes even an entire week going by with no calm fishing days at East Cape . Most resorts keep an ample selection of charters in the water, but the number of anglers out on the Sea of Cortez is just a trickle compared to our prime fishing season. Gathering a sufficient amount of accurate and useful data from such a few number of charters and compiling it for the quality fishing report you've come to expect just isn't possible, so it's time for me to relax a little, do a little fishing on the calm days and get ready for next year. The fishing report will return next spring when I see a good number of charters working on a daily basis; probably in mid March. Thanks to all who have followed this report and supported the East Cape Smokehouse on your visits to Baja. I appreciate your patronage! Adios and Happy Holidays, Smokey Dave
EAST CAPE, MEXICO: MARTIN VERDUGO'S BEACH RESORT, Los Barriles, December 4, 2000, Marisol George, Reservations 011-52-114-10054. HOLA Gene, we had only one boat in the water today (too much wind) but they caught 15 dorados.
LA PAZ FISHING REPORTS
ALL ARTICLES, REPORTS AND FISHING INFORMATION FOR LA PAZ
LA PAZ, MEXICO: JONATHAN ROLDAN'S TAILHUNTER ADVENTURE SERVICES, La Paz, December 4, 2000, Jonathan Roldan, Tel 626-333-3355; Fax 626-333-0115; Pager 323-349-8111; Message Pager 877-310-7734. Mis Amigos! It's not exactly "Victory at Sea" weather, but in a panga it can sure feel like it some days making it virtually impossible to get to the islands because of wind chop. However, surprisingly, water remains rather warm, the fish are on the chew and, in between wind for a few days it's as nice as you could want it. Sun is out and the water remains relatively nice and blue!
We haven't had a billfish hookup in about two weeks now so I think the sails and marlin have moved off the spots, but unbelievably tuna and dorado are still filling ice chests. Even on the windy days, one of the nice things about fishing La Paz is you have the choice of fishing from the city or shuttling over to Las Arenas and both areas provide some relatively calm areas on the lee side of bays and inlets. There are some days when the fish are literally boiling! Tuna in the 10-30 pound class are the mainstay, especially off Muertos Bay and Ventana Bay, but most boats are still getting at least a dorado or two a day with a variety of sizes with most in the 15 pound class and some much larger. Every few days, it seems a spot of tuna pops up off the lighthouse drop off as well where the water color changes. Sierra are also there for the taking and although there have been a few suspected wahoo hookups, no one has put one on the beach for awhile. For either species, wire seems to be a must or at least a good circle hook! Bait is not a problem with sardines plentiful once located. There aren't many anglers out right now so the commercial bait pangas can't be counted on to sell you bait so you just have to go throw the net. On the La Paz side you can purchase bait as usual. Lots of Sierra in the Bay and a few yellowtail showed up of the high spots around Espiritu Santo Island along with what appears to be the beginning of an early and very nice pargo bite. We didn't have anyone make it to the Bajo this week either because of lack of interest or too much wind. Divers, however, continue to find hammerheads schooling in the blue water. Hope you're all well!
LA PAZ, MEXICO: HOTEL LAS ARENAS, Punta Arena de la Ventana, December 6, 2000, Linda Glassman-Davis, Reservations 888-644-7376. Captain's Guicho, Ramon, Fidel, Efren, Zapata and Roman. Fishing results: 51 Dorado to 26 pounds, 55 Tuna to 22 pounds, 10 Sierra to 4.4 pounds, 5 pargo to 4.4 pounds, 3 wahoo to 6.6 pounds, 2 Cabrilla to 4.4 pounds. Fishing remains very strong. Saludos Cordiales.
LA PAZ, MEXICO: FISHERMEN'S FLEET, La Paz, David Jones, November 29, 2000, Hotel los Arcos, Reservations 011-52-112-21313; Fax 011-52-112-57334. While winter is staring directly at us, and winds from the north and west have make trips to the Bajo a not so good idea, we are blessed here at Punta Arena with a topography, both above and below the water line, that allows us to get to fish infested waters and to perform our harvesting duties even in less than ideal conditions. This week, while the weather has been pretty good over towards Cerralvo, with mild winds and swells, my consultant Juan says that to the north the weather has been "Not so muy bueno". Concentrating on the Cerralvo area we have been taking mostly Tuna and Dorado. While the Tuna have been good sized, with the fish at the island to 60 pounds, the Dorado have been smaller with 5-10 pounds being the average. Some sails have been seen, as well as the occasional Marlin. Winter fishers like Cabrilla, Pargo, and Yellowtail have been sighted, and hooked, in small numbers. The water temps are dropping steadily and these fishers should become more common in the next few weeks. We are also waiting for the almost yearly fall Wahoo bite. Bait is in good supply and it's a very pleasant time to come fishing in La Paz. Adios Amigos, David Jones
LORETO FISHING REPORTS
ALL ARTICLES, REPORTS AND FISHING INFORMATION FOR LORETO
LORETO, MEXICO: VILLAS DE LORETO, Loreto, December 6, 2000, Wendy Wilchynski, Reservations Tel/Fax 011-52-113-50586. Fishing has been great more Yellowtail, Pargo and Cabrilla!!! Wendy
LORETO, MEXICO: CHILI PUNTA FLEET, Loreto, December 3, 2000, John "Bubba" Parker and Fishmanmark, Tel 925-449-4554; Fax 925-456-2252. Sorry for the delay with the reports. We have been taking a small vacation from the action. Look for us in mid December for more.
LORETO, MEXICO: ARTURO'S SPORT FISHING, Loreto, December 5, 2000, Arturo Susarrey, Reservations Tel 011-52-113-50766; Fax 011-52-113-50022. WEATHER: December is starting and looks like we will have a good time, because last month we had a lots of north winds. Temperature is around 90 F in sunny days and surface water 70 F.
YELLOWTAIL: This week they are biting at Coronado Island in medium size, there are a lot of them trolling and on the bottom . Punta Pulpito and San Idelfonso Island are the best places for bigger yellowtails (around 25 lbs). They are biting too on the surface and on the bottom.
CABRILLA: In the same yellowtail areas with a good size some of them to 22 lbs. and in good number.
DOG SNAPPER: Carmen Island and San Basilio (in the hole) are the best places to catch them trolling with mackerel, we recommend 60lbs. line and 80 lbs. leader to have better success because it is on the bottom where they bite. Some of them are 35 lbs.
We believe we will have a good fishing winter season.
MACKEREL: Available in front of Loreto in the morning or buy it for $1 USD each.
SARDINE: Available in front of Loreto with cast net or buy it, $10 USD is enough for your fishing day.
LORETO, MEXICO: EL FUERTE SPORT FISHING, Puerto Escondido, December 6, 2000, Ty Miller, Reservations Tel 714-775-6658; Fax: 714-755-3501; Loreto 011-52-113-30863. Hola Amigos. Mother Nature was kind to us this past week with no northerly winds blowing and perfect fishing conditions. Only one problem, we need anglers down here at Loreto to put the hurtin' on some of these ass kicking Yellowtail! I know it's a gamble with these winds, but sometimes you have to pay your dues and get tossed around a little. By far some of the best days I have recorded have been in the worst weather conditions. I'm not talking victory at sea, you just don't get the perfect conditions and by the way I think it makes us better fishermen when we have to work a little harder. I know it's easy for me to say this, but there are some nice fish to be had down here and sometimes you just need to go for it!
O.K. enough of that B.S.! Here is what's happening at our end: 35 pound class Yellowtail along with some nice Broomtail Grouper are still holding out on Smorgasbord Reef. It's still a pain to get past the Skipjack but, like I said last week, if you can blow past them and get to the zone you're going to hang a quality fish. Some 25 pound class Yellowtail are also starting to show a little closer on our local reefs which makes me believe that slowly but surely they're making their way down through the corridors for the season. Outside the Yellows are mostly taking the live bait and on the inside they like the iron, go figure!
Bait is still steady with Caballitos on the bump early (6:00 a.m.) and Mackerel a little later, anywhere in the 150 to 200 ft. area outside of Punta Coyote.
Great news for you guys that are thinking of towing down your boats this coming season. From the turnoff and all the way down to Puerto Escondido, the road is completely being repaired. No more crawling at five miles an hour and dodging pot holes you can get lost in. So not only do we have one of the best launch ramps in Baja, we now have a new road as well. For all the latest happenings here in Puerto Escondido check out Captain Juanita's new ''What's Happening'' section on our site. Take care!
Temp. 78. Water temp. 69. Winds. 5 to 10 mph from the North. Seastate: Mild.
Hasta Luego!
BAHIA DE LOS ANGELES (L.A. BAY) FISHING REPORTS
ALL ARTICLES, REPORTS AND FISHING INFORMATION FOR BAHIA DE LOS ANGELES
BAHIA DE LOS ANGELES, MEXICO: CAMP GECKO, Bahia de los Angeles, December 6, 2000, Abraham Vazquez, Tel 011-52-515-19454; Fax 011-52-665-03206 (goes to Guillermo's). Air temp 76-72. Winds, none except for light breezes in the afternoons. Real nice weather now for 12 days in a row. Humidity, 55%. Seas calm. Skies clear with occasional high clouds. Water temperature 67-70. Fishing is great now at Bahia de los Angeles for yellowtail. All the action is at Punta Remedios reef or across the channel from it at Punta Los Machos on the big island. This involves a 20-mile run at least so make sure you have the right boat for it or hire one. The average catch has been up to 15 yellowtail per boat, and the average size 20 pounds. Also some good sized groupers if you have live bait on the dropper loop (Punta Los Machos). Most of the yellows have been on the blue and whites, yoyoing. Locally there is good bottom fish action on chunked bait and occasional smaller yellowtail trolling Rapalas. Road conditions are super good and getting better as they are continuing to improve the road (it's about time). Gasoline is at $2.77 a gallon, available all the time. The work on the Santa Rosalillita 4-lane highway has started. I hope it doesn't turn into another El Arco road, all talk, No work yet on the Fonatur marina on the bay (hope it stays that way). Still have dolphins, sea lions, birds. No more whale sharks, and the gray whales are not here yet.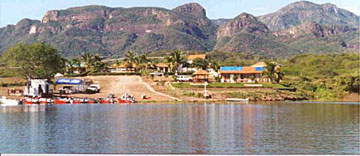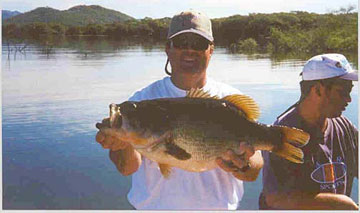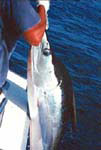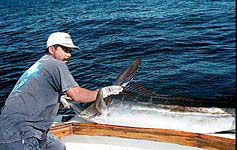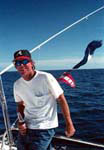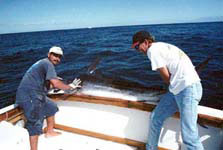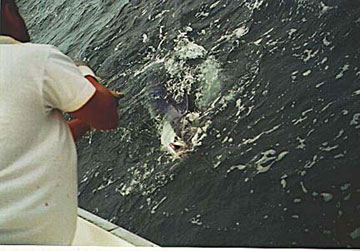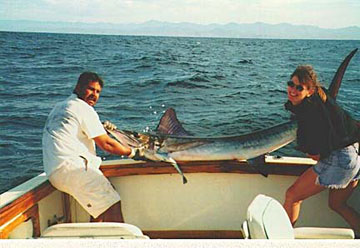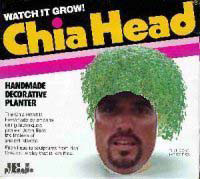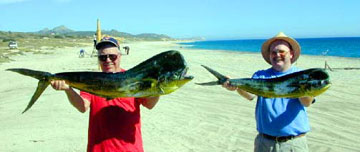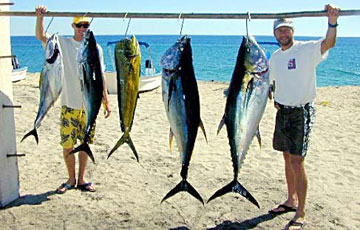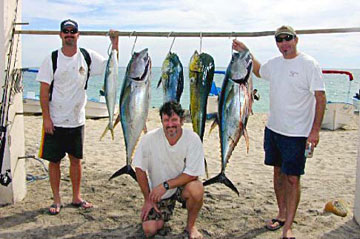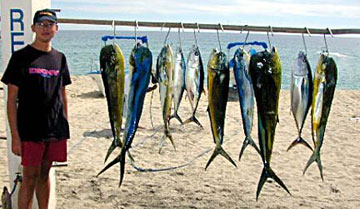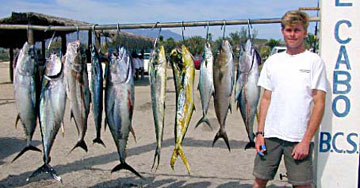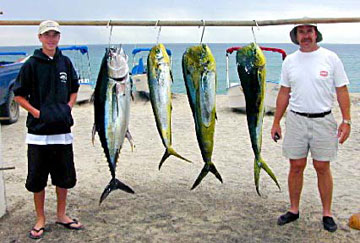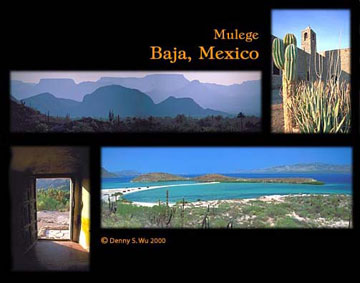 Baja coastal fishing reports and articles.
Ensenada fishing reports and articles.
Puerto Santo Tomas fishing reports and articles.
Erendira fishing reports and articles.
San Quintin fishing reports and articles.
Magdalena Bay fishing reports and articles.
Cabo San Lucas fishing reports and articles.
San Jose del Cabo (Los Cabos) fishing reports and articles.
East Cape fishing reports and articles.
La Paz fishing reports and articles.
Loreto fishing reports and articles.
Mulege fishing reports and articles.
Santa Rosalia fishing reports and articles.
Bahia de los Angeles (L.A. Bay) fishing reports and articles.
San Felipe fishing reports and articles.
Rocky Point (Puerto Penasco) fishing reports and articles.
San Carlos (Sonora) fishing reports and articles .
Mazatlan fishing reports and articles .
Puerto Vallarta fishing reports and articles.
Ixtapa Zihuatanejo fishing reports and articles.
Huatulco fishing reports and articles.
Cancun fishing reports and articles.
Mexico coastal fishing reports and articles.
Mexico Fishing Home Page < Mexico Fishing News Archives < Fishing Report