The area the tuna was caught was from 3 to 35 miles out from the old lighthouse. Dorado catches improved with some vessels getting as many as seven in a day, though the average was one or two -- weights are averaging 20 to 25 lbs. Some sierra and roosters inshore. LOCATION: Old lighthouse, one to 30 miles out. WEATHER CONDITIONS: Pretty much good, though we did have a couple of rough days, skies clear, seas calm. AVERAGE WATER TEMP. 74.
CABO SAN LUCAS, MEXICO: JEFF KLASSEN SPORT FISHING, Cabo San Lucas, December 18, 2000, Jeff Klassen, Reservations Tel 360-402-3474. I wanted to touch on the surf fishing these days around Cabo. It seems that those lil, ol, roosterfish that have been hanging around are going to stay for the winter. Apparently surf fishermen are bangin, them with poppers along the Pacific-side beaches from the Solmar Hotel as far as the Old Lighthouse. You can also get them along Modano Beach, past all the hotels, towards the point. Both of these areas are also holding some sierra. This might be a good time to hike towards Shmengy Point, with a fly-rod, say an 8 weight with a mitt-full of 3 inch sardine-pattern streamers. I'm still getting good reports of nice Hawkfish and assorted snappers amongst the rockier Gulf-side spots. Try hiking along from Cabo Bello all the way up to the Twin Dolphin Hotel, working Klassic Poppers along the surface and 4 inch plastics, carefully bounced along the bottom.
Striped marlin fishing has been pretty good of late, with most boats targeting them specifically getting at least 2 or more in an outing. We've had several boats this week with 3 to 5 Stripers in a trip, with sailfish mixed in among them. Jeff Johnson from Austin Texas, fishing himself, nailed 3 Sailfish in one day, including a double hook-up on lures. Both of these species have been caught equally on lures and live bait. Bleeding mackerel (red/orange/yellow) is still the best color combination, although both Mean Joe Green and the local "Petrolero" colors have also both caught them.
The Dorado bite isn't wide open, but is steady and should remain so for a while I would think. Most fish are smaller ones between 15 and 20 pounds with fish up to 30 pounds being caught on occasion. Those anglers wanting to target dodos should stick closer to shore, within 1 to 3 miles from shore. There aren't heaps of them anywhere, particularly offshore.
The Wahoo bite is also okay with a number of them being caught of late. I think that here are more around than what the catch numbers indicate. You really do need to target them specifically if you want them. They aren't bad sized ones either with fish from 40 to 50 pounds being common, up to 65 or 70 pounds.
There are also tuna pockets around, in real close at times, with 10 to 20 pound fish being common. There are some exaggerated stories of 100 pounders in the neighborhood, although the 2 photos I saw this past week of hunskis were more in the 50 pound range. I don't understand it, fishermen don't exaggerate, do they? Water temperatures are fluctuating between 73 and 76 degrees and surface conditions are usually calm. The best areas are still along the Pacific-side, from 1 to 5 miles off of the Old Lighthouse, to as far as 25 miles straight on out of the marina, for tuna. There are mixed-bag pockets of fish pretty much everywhere though.
CABO SAN LUCAS, MEXICO: FLY HOOKER SPORT FISHING, Cabo San Lucas, December 18, 2000, Capt. George & Mary Landrum, Reservations Tel 011-52-117-01271; 011-52-114-87452. WEATHER: High's in the mid 80's and lows in the low 60's have contributed to the wonderful weather we have had this past week. Combining these temperatures with the sunny skies every day and you know why so many people love Cabo this time of year. Snow and Blizzards? STAY HOME! Shorts, a suntan and Marlin fishing, COME VISIT US!
WATER: Wonderful surface conditions all week contributed to the good catches, light winds delivered just enough surface chop and the small swells were of definite benefit. Water temperatures have remained in the mid to high 70's all week with the warmer water being to the east-southeast.
BAIT: Larger baits have consisted of mostly Caballito with just a few Mackerel showing up in the bait pangas tanks. Most boats have been able to catch a few Mackerel on their own when it has been needed. The usual $2.00 each for the larger baits was the normal price. Sardinas have been readily available in Cabo but the prices have been higher than if you get them up towards San Jose. In town they are running about $20 a skinny scoop and up north it has been $20-25 a tank full.
BILLFISH: Striped Marlin are still the name of the game here and are likely to remain the most common Billfish for the next 4 or 5 months. The bite has been good with a solid mix of strikes on both lures and live bait. As the moon gets near to new this coming week I expect the bite to shift more towards live bait. The concentrations of fish are here and the boats targeting Striped Marlin have not had a problem getting at least one every day, and a few have been getting up to 5 per day. Working within 12 miles of the Arch at Land's End has placed the boats in the most productive area. This makes for very short runs to the most productive grounds.
YELLOWFIN TUNA: Tuna have been the highlight for most of the boats this past week with every boat that I know of able to catch at least a few of these fish. Mostly the football sized Tuna at 10-25 pounds; they have been very close to shore. They have been suckers for live Sardinas. Many boats have been running to San Jose early to get a load of Sardinas then working their way back towards the Cape searching for the concentrations. The Tuna that have been found with the porpoise this week have not been very interested in either lures or live bait, but a few are being caught that way nonetheless.
DORADO: Mostly few and far between for these fish unless you get lucky. The water continues to cool off so I would not look for anything resembling a steady bite on these fish unless we get a warm water gyre come through.
WAHOO: I heard reports of a few fish in the 70-80 pound range caught north of San Jose and Iman Banks and have seen a few in the 40-50 pound range come off of boats fishing San Jaime and Golden Gate Banks. There has been nothing like the steady bite we were hoping for.
INSHORE: Tuna, a few small Sierra and Roosterfish have been the mainstay of the near shore Panga fleet. The Striped Marlin have been close enough for many of the pangas to target them this week.
NOTE: The Whales are starting to show and we are seeing some of the larger ones offshore. Until next week, TIGHT LINES!
CABO SAN LUCAS, MEXICO: FLY HOOKER SPECIAL REPORT FOR DECEMBER 12, 2000
The fishing this week has been so good that when we have had an open day, we have been booked locally immediately. Today is no exception! Today's three couples have been in Cabo several days and have been hearing about the catch being good so they decided to give it a try and booked the Fly Hooker for today. The idea is to spend an hour or two early targeting the Tuna in front of town, then come in, drop the wives off and go out in search of Marlin for the guys. Juan and Manuel stopped on the way out and got Caballito in case they came across a Marlin. Listening on the radio, they discovered that there were Tuna being caught outside the Westin-Red Hill area and headed there. About the same time a cold front moved through and the wind shifted. Strong winds and gusts from the East caused the water to chop up a lot and after getting 4 strikes from the Tuna on live Sardines, the women wanted to go back. After dropping two of the women off they headed back out for Marlin. Eventually they tagged 2 Striped Marlin. There were 7 other strikes and two of those fish were fought for a while before being lost. None of the Marlin found were interested in live bait, perhaps as a result of the full moon. This was another wonderful fishing day in Cabo! Come on down and give it a try with Juan and Manuel on the Fly Hooker. Until we see you, TIGHT LINES.
CABO SAN LUCAS, MEXICO: FLY HOOKER SPECIAL REPORT FOR DECEMBER 13, 2000
John Salamone and Kevin and Natalie are the Fly Hooker clients for today. John booked us through Baja on the Fly. John wanted a chance to catch Dorado or Tuna on a fly and his friends just wanted to catch fish. They met the boat at 6:15 and headed towards San Jose to get Sardines for bait and chum. They then went in front of the Westin Hotel where there has been a fairly consistent bite on Tuna. John did manage to hook one on the fly, but broke off quickly. They ended up with three Tuna in the box using Sardines for bait with conventional light tackle. They also caught 3 red snapper that they took for dinner! John had a blast and booked the Fly Hooker again for the 15th. This time just himself. We'll let you know what happens later. Until then, TIGHT LINES.
CABO SAN LUCAS, MEXICO: FLY HOOKER SPECIAL REPORT FOR DECEMBER 15, 2000
Today is the second day of fishing for John Salamone. Today he is by himself and wants to dedicate the first half of the trip to catching a Tuna on the fly gear. In order to attract and hold the tuna at the boat they get a bait tank load of Sardines. Once again they head up the Sea of Cortez and find the tuna off the Red Hill. They were the first boat to the area and right away had the Tuna attracted and held. John tried for quite a while to get hooked up on a fly, but none of the retrieves or drifts or flies would work for him today. Eventually he put a sardine on one of his flies and hooked up almost right away. This fish broke off quickly, but that was enough to convince John to go to a bait hook and live bait. With this setup on his Fly Rod, he was able to hook, play and land 4 Yellowfin Tuna between 10 and 25 lbs. Eventually there were 11 tuna in the box and one small Dorado. Enough fun was had and it was time to troll for Marlin. On the way back John fought, tagged and released a Striped Marlin on conventional gear. Way to go John! Juan told me the fishing had been great and John had a wonderful time. Thanks John! Everyone here at the Fly Hooker hopes to see you again next year. Until then, TIGHT LINES.
CABO SAN LUCAS, MEXICO: FLY HOOKER SPECIAL REPORT FOR DECEMBER 16, 2000
Jack Beryl and his party were today's anglers on the Fly Hooker. They are from Canada and really enjoying the weather this week in Cabo. This is the first time doing this type of fishing and they just want to catch some fish to eat and take home. If a Marlin happens that is just a bonus! Well, Juan and Manuel did it again for the customers. Knowing the search was for meat, they started early and headed up to San Jose and got the Sardines, then probed the coast on the way back to find the Yellowfin Tuna. Eventually they found a concentration and proceeded to catch six nice fish and lose a few more. They had a Marlin come alongside the boat and feed as they were fishing for the Tuna but the Marlin refused the live bait they tossed out. Later they spotted another Marlin jump in the distance but by the time they got there the fish was gone. On the way back they spotted another Striped Marlin tailing and managed to toss a live Caballito to it, but again the bait was ignored. They arrived back at the marina with fillets to have smoked to take back, fillets to freeze and fish for dinner. A nice trip with nice folks! Thanks Jack, we hope to see you again on the Fly Hooker someday!
In other mainland Mexico and Baja fishing action this week:
ENSENADA FISHING REPORTS
ALL ARTICLES, REPORTS AND FISHING INFORMATION FOR ENSENADA
ENSENADA, MEXICO: LILY FLEET, Ensenada, December 19, 2000, Sammy Susarrey, Reservations Tel/Fax, 5 to 9 p.m., 011-52-617-46747; Cell 011-52-618-67485. Today the Lily did surfing and fishing at Ensenada's Isla Todos Santos. No waves in the morning, but at noon we had some nice long ones. We also did some fishing around the islands and got some nice whitefish and red snappers.
The Tamara fished at Miximino Reef in the rocks we found two years ago, 200 feet deep, and we caught 2 yellowtail and 6 bonitos to 5 pounds. In the same place we used 3-ounce sinkers and one-hook droppers with squid and we caught salmon grouper, sheephead and big whitefish. When cleaned, the fish had fresh squid in them. Water temperature is 58 degrees today, nice day, cold in the morning.
PUERTO SANTO TOMAS FISHING REPORTS
ALL ARTICLES, REPORTS AND FISHING INFORMATION FOR PUERTO SANTO TOMAS
PUERTO SANTO TOMAS, MEXICO: PUERTO SANTO TOMAS RESORT, Puerto Santo Tomas , December 16, 2000, Sam Saenz, Reservations Tel 714-256-2577; Ensenada 011-526-174-5683; Remote Santo Tomas Cell 011-52-617-13364, after 6 p.m. or 6:30-7:00 a.m. To Our clients: As the year 2000 is coming to a close and the holidays season is upon us , we would like to wish you a happy Christmas and a happy New Year from all of us here at Puerto Santo Tomas.
In addition we would like to thank you and let you know that we appreciate your business, and hope that you will come and visit us again during the coming new year.
Summary of news and events during the year 2000
We did not have the business volume increase for the year 2000 that was expected now that we have an internet website. The major factors affecting our business this year was our limited telephone system, bad publicity on Mexican tourism and real estate, plus the high cost of gasoline now at $2.50 per gal. Furthermore the Mexican inflation rate was about 15% , and the dollar value dropped to 9 X 1 as compared to 11 X 1 some 15 months ago. The dollar lost value due to high oil prices making the peso stronger than the dollar.
Sport Fishing. Puerto Santo Tomas had a good year for fishing this year. The yellowtail and other surface fish were in the area on and off from last May through the middle of October. The biggest fish caught for the year was a 140-pound black sea bass caught at the cove in a small gil net. Furthermore the yellowfin tuna made an excellent run during August and September only 8 to 12 miles from Puerto Santo Tomas. Unfortunately we were not able to take advantage of the event as boats from Ensenada and San Diego did due to the local area limitations in market demand (tuna sport fishing) and boating equipment. The bottom fishing was good to excellent all year with the outer banks 8 to 10 miles being the most desirable fishing spots. We have started fishing and exploring the outer banks during good weather when we have at least two pangas for security. Recently we made two trips and we loaded up on bottom fish at 300 ft. We are using the GPS and the fish finder as an aide to better fishing.
During the year 2001 we hope to acquire more experience and improve our capability to challenge the yellowfin tuna during the next season. As you know the panga is still the queen of the seas at Puerto Santo Tomas, for years we have tried to improve the boating equipment to include power boats but the waterfront development does not support power boats landing and mooring.
For the last 15 years we have sought permits from the government to improve the waterfront development but have always been blocked by commercial fishing interests and the political system. Now that the Fox administration has taken power we are looking for a more favorable response to waterfront development.
Inspite of our high vacancy rate we continue to make progress on better lodging and improving the infrastructure. This year we have completed a new mission entry way decorated with a mission bell. We also constructed a new rental unit, and we are working on improvements for existing units. We have improved the solar power system and have ordered a one kilowatt wind turbine generator for installation. We have made investments on cell phone equipment for Internet capability at the port, but the cell repeaters are not reliable in this region, they work on and off.
Prospects and outlook for the year 2001. We expect to continue the infrastructure improvements which includes sport fishing at Puerto Santo Tomas. In addition we would like to offer and expand our recreational services and facilities in support of a remote international religious retreat center. A package program will be offered on our website to religious groups from all denominations who would like to come and enjoy a religious retreat experience with combined recreational services.
SAN QUINTIN FISHING REPORTS
ALL ARTICLES, REPORTS AND FISHING INFORMATION FOR SAN QUINTIN
SAN QUINTIN, MEXICO: READER REPORT BY DAVID MEYER, December 19, 2000. Just got back from a fishing trip to San Quintin. We chartered Pedro's Pangas for the two days. Fishing was excellent. Plenty of bottom fish (Rock Cod, Whitefish, Ling Cod) and three Yellowtail (20-25 lbs each). The first day 12/16/00 our guide took us about 15-20 miles south outside the bay. This is where we caught most of the bottom fish. Sunday, 12/17/00 we were about 7 miles south of San Martin Island and were catching bottom fish when we came across the yellowtail. I highly recommend Pedro's Pangas for first timers -- Great $ and Great service....
SAN QUINTIN, MEXICO: SAN QUINTIN SPORTFISHING, San Quintin, , December 18, 2000, Gene Allshouse, Reservations 011-526-162-1455. Hi Guys! We are still catching limits of Rock Cod, Sand Bass, Ling Cod, White Fish and Sculpin. There are still some Yellowtail biting at the point as well as some big Barracuda. In other words, a cooler full of excellent eating, fun catching wide variety of fish. Now is the time to bring the kids down and let them have some fun and learn more about ocean fishing. That quality time you have been promissing the family all year!!!! So, bring the family, the cooler and the camera and have some fun. Hope to see you all here.
MAGDALENA BAY FISHING REPORTS
ALL ARTICLES, REPORTS AND FISHING INFORMATION FOR MAGDALENA BAY
MAGDALENA BAY, MEXICO: BAJA ON THE FLY, San Carlos, December 16, 2000, Gary Graham, Reservations Tel 800-919-2252; Fax 760-746-7260. Temperatures: Some clouds and a 77-degree high; low 62 with wind in the afternoons. Water temperature: 72 degrees in the mangroves bays of Magdalena Bay and 70-72 offshore. More wind this week. STRIPED MARLIN--Good fishing, but not what it has been. DORADO--Fair catches reported near the shark buoys. TUNA--Still a few near the entrada to five miles out and up toward Santa Maria Bay. CORVINA--Several pangas fishing above San Carlos reported fair catches. SNOOK--Best action seems to be from Devil's Curve to Lopez San Mateos with several fish in the teens caught. HALIBUT--Good catches reported throughout the esteros (estuaries). QUICK COMMENT--Weather pattern starting to change with more wind and the water temperatures are beginning to cool. Up in the esteros, the fishing continues to be fair to good this week. Halibut, corvina, and a few snook provided the best action. Our Baja chartreuse deep diver on slow retrieve down deep worked well.
December 20, 2000. Temperatures: Some clouds and a 77-degree high; low 62 with wind in the afternoons. Water temperature: 72 degrees in the mangroves and 70-72 offshore. More wind this week. STRIPED MARLIN--Beginning to slow down somewhat. DORADO--The shark buoys producing fair action. TUNA--Still plenty in front of the entrada. CORVINA--Near the Power Plant produced fair catches. SNOOK--Best action seems to be from Devil's Curve to Lopez San Mateos with several larger fish caught. HALIBUT--Good catches reported throughout the esteros (estuaries). QUICK COMMENT--Cooler weather and more wind have slowed the offshore action down. Up in the esteros, the action continues at a good pace with snook, corvina and halibut providing the best action.
SAN JOSE DEL CABO (LOS CABOS) FISHING REPORTS
ALL ARTICLES, REPORTS AND FISHING INFORMATION FOR SAN JOSE DEL CABO
SAN JOSE DEL CABO, MEXICO: GORDO BANKS PANGAS, San Jose del Cabo, December 16, 2000, Eric Brictson, Reservations 800-408-1199; Fax 619-447-4098; 011-52-114-21147. Although there were not that many tourists around to enjoy the incredible fishing action and warm sunshine, the ones that did make the trip during this slow period before the holidays will be talking about it for some time to come. Warm cloudless skies with temperatures into the 80's and only in recent days has the north wind started to blow, but it has been minimal and did not hamper any fishing efforts. It definitely was no factor in slowing the action down for yellowfin tuna and dorado for the local panga fleets, as the areas from Punta Gorda to Iman were producing some of the most consistent action of the entire fall season.
Ocean conditions were mostly calm and the bite was especially convenient for San Jose del Cabo fishing fleets out of La Playita, live sardinas were plentiful and everybody was getting into the wide open bite. Boats were limiting out early and by 11 a.m. most all anglers had enough for the day and were ready to head in.
Last week everyone was excited that the wahoo had finally started to bite in the area of Punta Gorda but it only lasted until the full moon and since then they have been very scarce.
The water is a clean blue and is still averaging about 76 degrees so there is a chance the wahoo might go back on the bite before the end of the year. Despite the lack of wahoo no one has been complaining, because it has been amazing for yellowfin tuna in the 15 to 60 pound class, they were readily hitting the fly lined sardinas while not being particularly line shy, most anglers used 30 to 50 pound tackle so that they would have a chance at landing the larger fish that were mixed in with the schools. Charter boats were easily catching 15 to 20 tuna per day and had to respect limits with the short days. The hot spot was just north of Punta Gorda at Zacaton and within a mile of shore, another good area was off of Red Hill.
Mixed in the same areas were good numbers of dorado, also striking best on the live bait. Most boats had at least a half dozen per day in the 10 to 20 pound class.
There was also a mix of other species accounted for, including striped marlin, sailfish, sierra, roosterfish, amberjack, pargo, and grouper. Out of Cabo San Lucas the bite for marlin continued to be outstanding, with boats landing as many as 5 to 7 stripers each day. Marlin had been reported in good numbers in the Sea Of Cortez area of Punta Gorda but this past week they were not so numerous with only limited action for them reported. Inshore action has improved and anglers off the beach have reported good catches of small roosterfish and sierra, even fly fishermen talked about having excellent success while casting right off the sand.
For some unknown reason somebody supposedly took it onto themselves to shovel open the San Jose Estuary and this caused practically the entire area to drain into the sea and dry up, killing thousands of juvenile fish that inhabited there, authorities were now investigating the incident.
EAST CAPE FISHING REPORTS
ALL ARTICLES, REPORTS AND FISHING INFORMATION FOR EAST CAPE
EAST CAPE, MEXICO: BAJA ON THE FLY, Buena Vista, December 16, 2000, Gary Graham, Reservations Tel 800-919-2252; Fax 760-746-7260. TEMPERATURES: High of 78 with a low of 63; with the water temperatures dropping to around 72 or 73 degrees. STRIPED MARLIN--Pretty slow. YELLOWFIN TUNA--Good fishing continues for tuna at East Cape. DORADO--The buoys in front of Pescadero producing fair catches. SAILFISH--With the cooler water, this year's show is probably over. ROOSTERFISH--Good showing of smaller roosters in front of the hotels and all the way to La Ribera. JACK CREVALLE--Find the sardina and the jacks will be there. BARRILLETE OR MEXICAN SKIPJACK--A few mixed in with the tuna. PARGO AND CABRILLA--A few fish to 10 pounds near Punta Colorada. OFFSHORE: Dorado and tuna keeping most of the boats closer to shore. INSHORE: Dorado and tuna continue to be the best bet. BEACH: Plenty of sardinia along the beach is holding the rosters, jacks and sierra tight to the shore. QUICK COMMENT--Jacks, roosters, and sierra chasing bait along the shore; dorado and tuna inshore are providing great action for the few people at the hotels.
December 20, 2000. TEMPERATURES: High of 76 with a low of 63; with the water temperatures dropping to around 72 or 73 degrees. STRIPED MARLIN--Not much going on. YELLOWFIN TUNA--Good catches throughout La Palmas Bay. DORADO--The buoys in front of Pescadero producing fair catches. SAILFISH--With the cooler water, this year's show is probably over. ROOSTERFISH--Good showing of smaller roosters in front of the hotels and all the way to La Ribera. Some better quality fish up toward Muertos Bay. JACK CREVALLE--Good fishing along the shore near La Ribera. BARRILLETE OR MEXICAN SKIPJACK--A few mixed in with the tuna. PARGO AND CABRILLA--Best action near Punta Colorada. OFFSHORE: Nice weather, but most of the action is closer to shore. INSHORE: Tuna continue to provide the best action, with dorado right behind. BEACH: Good sierra bite early in the morning. Don't forget the wire tippet. After the sun comes up, the jacks and roosters are providing the best action. QUICK COMMENT--Great weather all week produced fall-like conditions with good catches reported by the hotels.
EAST CAPE, MEXICO: EL CARDONAL'S HIDEAWAY, El Cardonal, December 20, 2000, Eddy, Reservations 011-52-114-10040. Hi Gene, did you get to see the pictures on my web page? The one with the 85 pound wahoo that the lady is holding? This fish was caught off El Cardonal in a 14-foot aluminum boat 15 hp motor. Wife husband team. The wife caught the fish on a Rapala 7-inch; 20 lb nylon line, 7-foot rod and spinning reel. And no steel leader. World record but not registered. This is one thing we miss here, an official weighing station. I got a man that sets a world record every time he's here, but no place to do the recording...40-50 lbs rooster fish caught and release on 20 lbs line right in front of the hotel..etc etc.
Right now lots of wind but fish are getting bigger...
shore fishing in early morning off the beach is excellent.
The contractor that is "doing" the road has given us a Xmas gift... he got the lumps of dirt flattened out and actualy permitted the use of about 300 feet of concrete pavement...better than nothing, right!?
We hope that where ever you are that the coming holidays will be great for you and your family. May Santa (sure he exists) brings you what you want, and that the new year coming up will be your best. Until the next best one.
LA PAZ FISHING REPORTS
ALL ARTICLES, REPORTS AND FISHING INFORMATION FOR LA PAZ
LA PAZ, MEXICO: JONATHAN ROLDAN'S TAILHUNTER ADVENTURE SERVICES, La Paz, December 18, 2000, Jonathan Roldan, Tel 626-333-3355; Fax 626-333-0115; Pager 323-349-8111; Message Pager 877-310-7734. That great bite we had on El Bajo seems to have dissipated this past week. Whether the result of windy conditions or the fact that seiners moved in, the fish have gone to ground. It was sure a good jag of fish in the 30-60 pound class there for awhile, but, at least as of this week, the tuna have taken a powder. However, still some fish on the chew around La Paz' nearby Espirtu Santo Island. Yellowtail becoming more prevailant and I'm just waiting for something to bust open either in the coves or when the big 50 pound forkies move onto the high spots at Bajo.
Our best bite continues to be surprisingly the good tuna rage for the Muertos Bay fleets. We are definitely in winter mode with winds kicking in fairly regularly, but Mother Nature has compensated by putting the fish relatively close. Nothing big this week but on a few days it was all the schoolie football tuna you could want not too far outside Muertos. On the days when the winds went nil and the weather went warm a few of the boats found tuna at the south side of the island that were a better grade as well as some yellowtail, a few smallish dorado and an abundandance of sierra. Trolling blue/pink hoochies on a bit of wire seemed the hot ticket on nailing the sierra which co-incidentally also resulted in our lone wahoo of the week on such light tackle. Bait is fine. Bring a sweatshirt or windbreaker just in case. Chances are, winds are down by 8 a.m. and you'll be down to t-shirts! Happy Holidays everyone!
LORETO FISHING REPORTS
ALL ARTICLES, REPORTS AND FISHING INFORMATION FOR LORETO
LORETO, MEXICO: VILLAS DE LORETO, Loreto, December 20, 2000, Wendy Wilchynski, Reservations Tel/Fax 011-52-113-50586. Dear Gene. It has been a very windy week and I don't know anybody that has gone fishing at Loreto. We are hoping for better weather tomorrow. I'll let you know once the wind stops. Bye for now, Wendy.
LORETO, MEXICO: ARTURO'S SPORT FISHING, Loreto, December 13, 2000, Arturo Susarrey, Reservations Tel 011-52-113-50766; Fax 011-52-113-50022. WEATHER: These first days of December have been very nice, totally calm in the morning and some breeze in the afternoon, with a warm temperature at noon (90 F ) but fresh at night. YELLOWTAIL: They still are in the same places, Coronado Island, Punta Pulpito and San Idelfonso Island, They are between 20 to 25 lbs. They are biting on the surface and in the bottom. CABRILLA: They are on the same yellowtail areas, with a very good size. DOG SNAPPER: They are on Carmen Island and San Basilio in a good number. BAIT: They are available if you want to catch it or buy it for $1.00 usd each.
LORETO, MEXICO: EL FUERTE SPORT FISHING, Puerto Escondido, December 19, 2000, Ty Miller, Reservations Tel 714-775-6658; Fax: 714-755-3501; Loreto 011-52-113-30863. Hola Amigos. Northerly winds are a-blowin' and are keeping us from fishing the outside islands such as Isla Catalana. So this past week we "dropped back ten yards and punted" and worked the closer reefs. What a payoff! Six Mile Reef is holding some TOAD yellowtail! Big fish of the week went to longtime Baja angler and regular El Fuerte client, Karl (G.G.) Fechner with a 42-pound 'tail! Not only was the fish a bruiser, but he had to compete against a seal for the right to bring it to Captain Juanita's gaff! But, then again, Karl's long time friend, Brian Van Gundy, came in at a close second with his top fish of 39 pounds.
The Yellowtail are suspending right on the high spot (165 ft.) of Six Mile Reef and if you're not fishing with (minimally) 50 pound mainline and 100 pound leader, forget it. You are TOAST! These fish are heading to their garage doors with clickers in hand and they will shut you down in seconds!
I jigged my butt off this past week on Six Mile and produced nothing on the iron! I'm talking every color, size and retrieval speed, and ZIPPO! All these toads seem to want are Caballitos and Macks. I will confess that I broke down and fished live bait along with my clients and farmed a couple. Captain Juanita won't let me take off my suspenders for at least a week!
Bait bite is still steady at the Bump just outside the harbor with perfect size Big Eye (Caballitos) and green Macks in the mix. The bite is from 6 a.m. to 7 a.m.
So, big fish have started to move in and so far it's a productive bite that will keep us from going long, especially if the Northerly's keep giving us a problem. With the great news of finding quality fish on the inside reefs, that tells me that slowly but surely they're filtering into the area for the Winter/Spring season. It definitely looks like it is going to be a "Big Fish" season, so make sure to wind some 50 pound on those reels if you want to contend with the big boys.
Both Juanita and I want to thank everyone for their support and for following our fish report. We wish you and your families a Very Merry Christmas.
Note: now that we have some decent speed down here on our internet server we will send new photos EVERY week for Hot Bites!
TEMP: 80. WATER TEMP: 69. WINDS: Northerly. SEA STATE: 3 to 4 foot.
LORETO, MEXICO: BAJA BIG FISH COMPANY, Loreto, December 16, 2000, Pam Bolles, Reservations Tel/Fax 011-52-113-50448. Our new shop is located right across the street from the supermarket "El Pescador" right at the first traffic signal in town. Drop in while you're here and lets talk fishin'!
Temperatures: Yikes-- its getting cold down here. Very wintery. Highs are in the low to mid 70's (F) and lows are in the mid to low 50's (F). A friend of mine who lives in Tripui, reported that it went down to 48 (F) there yesterday in the early morning. As soon as the sun goes down you'll need a sweater or jacket. Mornings out fishing will require a jacket and even long pants. It's best to dress in layers, and remember that when motoring out in the boat the wind chill makes it feel colder than it actually is. When the sun pops up though it heats up nicely again.
We actually had rain on Monday night (12/11)! Monday was overcast all day long, but since then its been mostly clear with only those high windline clouds.
We're back into a windy pattern and today (12/16) it's windier than we've seen in a long time. We expect this to continue for the next couple of days then it will cycle back to calm weather again.
With the winds, the seas have been very choppy at the surface. On those days that have been looking deceivingly calm, it has been very rough beyond the protection of the islands. Temps are dipping into the winter patterns and we're getting offshore readings in the low 70's (F).
Proposed Marine Park Use Fee: Still in the works. The government has taken their holiday break so there will be no further action on this until January. We'll keep you posted on it.
Yellowtail: Those Yellowtail that were holding to the east of Isla Coronado, have left the scene. There was a large school of small sized fish in the 10-15 pound range that were on the hot bite for several days but yestrday's boats have reported that they moved on. For those who wish to stay close to port, I would try San Bruno to the north, or Punta Lobos and points off Carmen to the east. There are many reports of big ones (30+ pounds) causing large boils on ths surface, way up north off Punta Pulpito, and there are probably much larger ones in the deepwater there. You'll want a very calm day to venture all the way up there as its a 2-hour ride one way!
Bonita and Skipjack: They're all over the place and in every direction. Large ones (15+ pounds) are swimming with the Yellowtail and will be quick to hit your line before the Yellowtails get a chance at it. Smaller ones are schooling at the surface off Islas Coronado and Monserrat.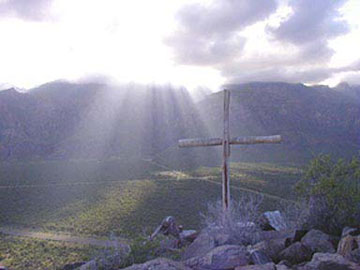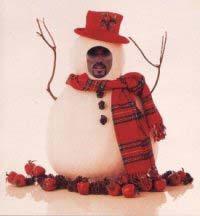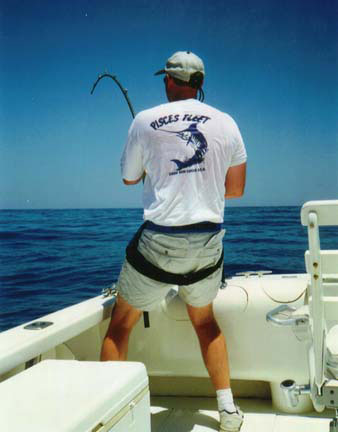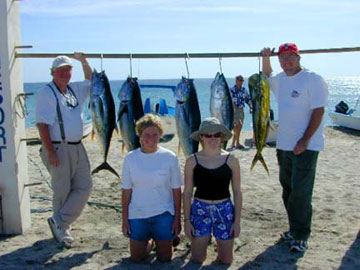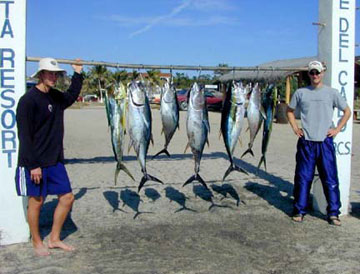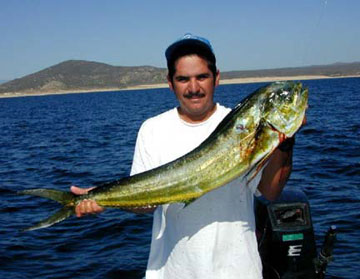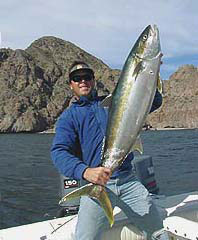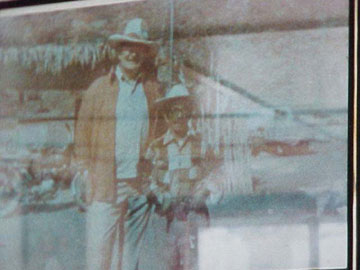 Baja coastal fishing reports and articles.
Ensenada fishing reports and articles.
Puerto Santo Tomas fishing reports and articles.
Erendira fishing reports and articles.
San Quintin fishing reports and articles.
Magdalena Bay fishing reports and articles.
Cabo San Lucas fishing reports and articles.
San Jose del Cabo (Los Cabos) fishing reports and articles.
East Cape fishing reports and articles.
La Paz fishing reports and articles.
Loreto fishing reports and articles.
Mulege fishing reports and articles.
Santa Rosalia fishing reports and articles.
Bahia de los Angeles (L.A. Bay) fishing reports and articles.
San Felipe fishing reports and articles.
Rocky Point (Puerto Penasco) fishing reports and articles.
San Carlos (Sonora) fishing reports and articles .
Mazatlan fishing reports and articles .
Puerto Vallarta fishing reports and articles.
Ixtapa Zihuatanejo fishing reports and articles.
Huatulco fishing reports and articles.
Cancun fishing reports and articles.
Mexico coastal fishing reports and articles.
Mexico Fishing Home Page < Mexico Fishing News Archives < Fishing Report