QUICK COMMENT--Steve Nally, visiting from Tasmania, and I arrived in Baja after a long holiday break on Mon. (1/15) night. We were both on the beach at the crack of dawn on Tues. and our efforts were rewarded with excellent catches of small roosters and sierra. While wire is usually necessary for sierra, we found that using a fly tied on a long-shank hook had more takes and we only lost a few of our olive and white Clousers. Nathan Liskov, Waltham, Mass., and Ron Adler drove all the way down the peninsula to try a bit of fly-fishing on Mosca 1. Our guide Jeff DeBrown knew right were to take them for an action-packed day of dorado and skipjack . . . with a bonus shot at a marlin on an 8-weight. I guess I don't have to tell you how the marlin turned out. That notwithstanding, they both scored with their first dorado and skipjack tuna on the fly.
EAST CAPE, MEXICO: EL CARDONAL'S HIDEAWAY, El Cardonal, January 16, 2001, Eddy, Reservations 011-52-114-10040. Some wind but for the real fisherman who does not mind going out there are lots of tuna. Also, shore fishing is great at sun up.
EAST CAPE, MEXICO: RANCHO BUENA VISTA, Buena Vista, January 17, 2001, Tamara Moyeous, Reservations 800-258-8200. Nicer weather than Southern California for sure, lots of tuna to be caught if we had any fisher people here. We have lots of snow-birders for the northeast getting away from the cold.
EAST CAPE, MEXICO: RANCHO LEONERO, Bahia de Palmas, January 14, 2001, John Ireland and Roy Baldwin, Reservations 800-646-2252; Hotel 011-52-114-10216. Welcome to the 2001 East Cape fishing season. Typical January conditions, with daytime highs in the mid 70's, evening lows about 60, breezy days with water temp in the low 70's. Few boats fishing, despite several days of unusually mild weather at midweek. Lots of fish for those who did venture forth. Most boats searched out billfish, as mackerel are abundant right now, with stripers and sails taking mostly live bait, from the lighthouse to Los Frailes, from 3 to 10 miles out. Dorado averaging 15 lbs. are spread throughout the bay, taking live bait, hoochies and lures. Football sized tuna are thick off Punta Pescadero, taking hoochies, live bait and strip bait. Yellowtail are reported biting in good numbers off Muertos Bay, look for them to move in closer over the next few weeks. Lots of sierra taken just off the beaches, with the fish aggressively biting hoochies and small Rapalas.
EAST CAPE, MEXICO: EAST CAPE SPORT FISHING, Los Barriles, January 12, 2001, Dave Dixon and Gil Mendiaz, Reservations 800-837-1556; Fax 805-493-5446. Well, Gentle Reader, as you've no doubt noticed reports have been scarce here as of late. This is not so much because fishing itself has been slow, but there just haven't been any fisherman going out! Things will start to pick up now as we head into the new year and more anglers start hitting the East Cape.
I'll keep the report section short as the wonderful letter we received from Capt. Bill Simpson of Lake Oswego, OR (below) pretty much says it all. This is very typical of winter fishing--a few striped marlin, the year-round tuna hole at Isla Cerralvo in the north, dorado at the buoys and some yellowtail. The fish are out there--you (or more importantly, your skipper) just have to be willing to travel to get to them!
"Hi Gil:
"We just returned from Baja last night. The 6 days we spend fishing were great. In the six days of fishing we took over 100 fish (in the box), and lost another dozen behind the boat. Included in the boated count were: 1 striped marlin (about 100-120 lbs.), 5 dozen tuna (20-50 lbs), 30 Dorado (15-45 lbs.), 10 skipjack, 6 yellowtail. On day six we took 32 fish total, which included 24 yellowfin tuna (up to 50 lbs.), 2 skipjack, 6 Dorado (up to 45 lbs.).
"As I had mentioned, I am a USCG licensed captain and ran a charter boats (Nightlife & Tropical Princess) in Kona and Maui Hawaii for nearly ten years. My son Billy (my partner on this Baja trip) grew up fishing on our charter boats and we have both fished more than 1,000 days at sea. (Billy was 2 then and he's 21 now)
"Your boat the Dorado and Capt. Ruli and mate Polo both did a great job. They fished hard core every day. In fact, the Dorado consistently beat the other boats in total fish per day, every day we fished. Some days our total fish count exceeded the totals of all the other boats in fleet combined that were out fishing the same day.
"We have some great digital video (video tape) of the fishing action which included: Billy angling a 40-50 lb Yellowfin Tuna on a Fenwick 8 lb class spinning rod and reel. This was a monumental battle that lasted about 45 minutes, which ended with the fish on the gaff. It all began when we were in a school dolphins and we were getting quad hook-ups on trolled baits, not just once but 4 Quad hook-ups. On one such occasion we cast a crocodile lure (connected to the aforesaid Fenwick rod) out and BANG a fifth tuna was on the line. After we craned in the other tuna, Billy was still fighting that same tuna. We also fished ultra light spinning rods at the shark buoys and landed 12 Dorado in one day! I can tell you that no matter how many big fish you've caught in the past (and I have more than a dozen Blue Marlin to my name over 500 lbs.) nothing compares to angling these fish on ultra light spinning rods. It's awesome! We're now hoping to line up a trip for this March. I think people are missing out on some great fishing action simply because it's the so-called off-season? --Regards, Capt. Bill Simpson"
In other mainland Mexico and Baja fishing action this week:
ENSENADA FISHING REPORTS
ALL ARTICLES, REPORTS AND FISHING INFORMATION FOR ENSENADA
ENSENADA, MEXICO: LILY FLEET, Ensenada, January 17, 2001, Sammy Susarrey, Reservations Tel/Fax, 5 to 9 p.m., 011-52-617-46747; Cell 011-52-618-67485. We skipped a private boat today with four anglers at Ensenada's Soledad Reef/Punta Banda Bank. Today was bumpy but the reds bit very well. We got limits early in the morning, 34 red snapper, 2 lingcod, 11 salmon grouper, 9 bottom bass, and 1 cow cod. All fish caught at 250 feet. We used 1-pound sinkers because of the heavy current. Wind showed up in the afternoon.
MAGDALENA BAY FISHING REPORTS
ALL ARTICLES, REPORTS AND FISHING INFORMATION FOR MAGDALENA BAY
MAGDALENA BAY, MEXICO: BAJA ON THE FLY, San Carlos, January 13, 2001, Gary Graham, Reservations Tel 800-919-2252; Fax 760-746-7260. BAJA ON THE FLY MAGDALENA BAY Jan. 13, 2001. Temperatures: Some clouds and a 75-degree high; low 57 with wind in the afternoon. Water temperature: 67 degrees in the mangroves and 69-71 offshore. STRIPED MARLIN--A few in the warm water below Tasco. DORADO--Pretty quiet this week. TUNA--Only a few caught. YELLOWTAIL--Plenty of fish at the entrances to both bays. CORVINA--Good catches up toward Devil's Curve . SNOOK--A few fish to 13 pounds. HALIBUT--A small olive Clouser retrieved slowly along the bottom appears to be the hot ticket. QUICK COMMENT--Cold at night and in the mornings with wind in the afternoon. Best action is the yellowtail near the entrances to both Magdalena Bay and Santa Maria Bay.
January 17, 2001-- Temperatures: Some clouds and a 72-degree high; low 57 with wind in the afternoon. Water temperature: 67 degrees in the mangroves and 69-71 offshore. STRIPED MARLIN--Not much action this week. DORADO--Not many left. TUNA--Only a few caught. YELLOWTAIL--Plenty of fish at the entrances to both bays. CORVINA--Fair catches up toward Power Plant. SNOOK--Pretty illusive this week. HALIBUT--Still good action with dark colored Clousers retrieved with short strips along the bottom. QUICK COMMENT--Cold, windy and overcast conditions this week slowed down the action both in the esteros (estuaries) and offshore.
CABO SAN LUCAS FISHING REPORTS
ALL ARTICLES, REPORTS AND FISHING INFORMATION FOR CABO SAN LUCAS
CABO SAN LUCAS, MEXICO: PICANTE FLEET, Cabo San Lucas, January 17, 2001, Marco Arechiga, Reservations Tel 011-52-114-32474; Fax 011-52-114-35969. Fish available: Striped Marlin, Dorado, Yellowfin Tuna & Wahoo. Water temperature: 69-73. Air temperature: 71/56. Humidity: 63%. Wind: 9-10 Knots (Pacific); 8-9 Knots (Sea of Cortes). Fleet production (5 boats): 11 Striped Marlin, 6 Dorado and 10 Yellowfin Tuna. Hot spots: 8-12 miles off Cerros de Arena (Pacific Ocean). Luckiest boat: Picante Dream (35' CABO). Captain: Genaro Winkler. Angler: Bill Ryan. Production: 2 Striped Marlin 140-160 lbs. (released) & 4 Tuna. Excellent Striped Marlin fishing about 8-12 miles off the Lighthouse in The Pacific Ocean. Stripers have been averaging 135 lbs. and up to 180 lbs. Good numbers of Dorado and Yellowfin Tuna have been caught closer to the Lighthouse also excellent Striped Marlin fishing about 8-12 miles off the Lighthouse in The Pacific Ocean. Stripers have been averaging 135 lbs. and up to 180 lbs. Good numbers of Dorado and Yellowfin Tuna have been caught closer to the Lighthouse also. Blue skies throughout the day and the wind tends to get stronger after 1:00 p.m.
CABO SAN LUCAS, MEXICO: FLY HOOKER SPORT FISHING, Cabo San Lucas, January 15, 2001, Capt. George & Mary Landrum, Reservations Tel 011-52-117-01271; 011-52-114-87452. WEATHER: At the beginning of the week, on Monday afternoon and on Tuesday, the wind began blowing out of the southeast and picked up a bit of speed. We had windy conditions through Tuesday night with clear skies and then the wind died down. On Saturday the overcast moved in and the temperatures moved up just a bit. The clear skies in the middle of the week had brought lows in the high 50's and the daytime highs were in the mid 70's. The overcast brought the average temperature up a few degrees. There was no rain associated with the overcast skies but it sure looked like it could have happened!
WATER: The near shore temperatures have been dropping all week and we are now finding the temperatures to be in the high 60's. This has also been associated with greener water close in on the Pacific side of Cabo. The green water and cool temperatures have extended out about 15 miles for most of the week. Once past the 15-mile mark the water has begun to clear up and get blue and the temperatures have started to rise until they hit about 75-77 degrees. On the Sea of Cortez side of the peninsula the water has been cool up to a point just past the Gordo Banks but the water has maintained a fairly good blue color once you get several miles off shore. Except for Monday afternoon and Tuesday the conditions on the water have been excellent with only small swells and light chop conditions to deal with.
BAIT: Both Mackerel and Caballito have been available for the usual $2 per bait and the situation with Sardines is the same as last week. They are available here in Cabo San Lucas but they are expensive at $20 per scoop.
BILLFISH: I could just head this section "Striped Marlin" for this week's report! That has been the only species of Billfish reported for the week and the bite on them has suffered a bit due to the full moon. There are still many of them being sighted and a lot of them being caught but the ratio of fish being found to fish that bite is way down from last week's. The boats dropping live Caballito and Mackerel at the Lighthouse are still catching many Marlin. The strong currents have made it require a real patient attitude. Fish in the area that have been sighted tailing have been the focus of attention for those wanting excitement with two to five boats racing to every fish spotted and trying to get their baits in the water first. Other boats have had good luck pulling lures and with the full moon, there have been aggressive strikes on the plastics. The Sea of Cortez has been holding Marlin also and most of these fish have been caught with plastics. The average size is still about 110 pounds with a few in the 150-pound + class being caught and released.
YELLOWFIN TUNA: The Tuna bite this past week has been an on and off thing for most of the boats fishing out of Cabo San Lucas. The Porpoise that the Tuna are normally associated with are traveling a lot further out and have been found from 15 to 45 miles from the cape. Unfortunately not all of the pods have had Tuna with them. Those that have had Tuna with them have been delivering a mixed size bag with the fish ranging anywhere from 10 to 80 pounds. Normally you will find just one size associated with a pod but this past week it has been a bit different. There have also been good-sized fish found by the boats traveling to Gordo Banks. Chumming with Sardinas then dropping down small Mackerel has resulted in at least two to three fish in the 60-80 pound range and using Sardinas as bait has gotten the boats fish a bit smaller, 15-30 pounds. People fishing there have said the bite dropped off a little compared to the previous week and many of the San Jose boats have been going north to Iman Banks and doing well.
DORADO: Surprising to me but there are still Dorado being caught! I had assumed that this cooler water would have driven them out of the area but I am still seeing quite a few fish being brought in. Many of the boats are getting one or two a day and a few of them have found concentrations and have picked up as many as a dozen in a trip. Sizes have ranged from 15-30 pounds for the most part and the majority of them have been caught on Tuna jigs. They have been spread out on both the Pacific and the Sea of Cortez side of the cape.
WAHOO: There are still a few Wahoo being caught, mostly by the boats that have gone to the banks on the Pacific side. A scattering of open water fish have been taken and they have been a bit larger than the contour associated fish. I have had reports once again of a few boats finding concentrations of Wahoo and getting up to 10 and 12 a trip but they are not saying where they are going. I did talk to a private boat Captain who went out to the Finger Banks and he said they found quite a few nice sized Wahoo and Yellowfin there. Unfortunately that is a bit too far for the majority of the charter fleet to go in a one-day trip.
INSHORE: The big news for the week inshore has been the appearance of the Sierra. The cooler water has brought the fish with it and some of the Pangas have been catching fish in the 10-15 pound size. (At least they tell me that!) I do know that the boats focusing on the Sierra have been catching plenty every day! There are still Bonito and Skipjack around and a few Dorado plus the bite is beginning to pick up for the bottom fish.
NOTES: Just a quick reminder for those that have not read my reports before; you do NOT have to KILL a Billfish in order to have a mount made. Most mounts made this day and age are plastic replicas of your fish, better and cheaper in price than a skin mount. If you take several pictures of your fish and note any defining scars or deformities the mounting companies can deliver an exact replica. If there is no room in your house for a full sized mount a very nice alternative is to tag your fish with a tag from the Billfish Foundation. They will send you, upon your request, a very nice framable release certificate. Mount the certificate and the best shot of your fish in a nice mat and frame them together! Anyway, just a reminder. ALSO, the Whales are here!
CABO SAN LUCAS, MEXICO: FLY HOOKER SPECIAL REPORT FOR JANUARY 7, 2001
Dennis McClinton has booked the "Fly Hooker" for the day with his wife and two sons. Mark has caught a large saltwater fish before, a halibut of almost 200 lbs. This means it is Tim's turn for a large fish, so of course the object is a Marlin. It took a little longer than normal today, the water is a bit choppy, but Mark was able to bring a nice Striped Marlin of about 130 lbs to the boat in about 30 minutes. The fish was a stubborn one caught on live bait and was revived after being tagged and pictures taken. Later, it was Mark's chance, after fighting a striped Marlin for 10 minutes the Marlin cut back across the line and cut it. That was the action for the day and Dennis did not get to fight a fish, but the boys were proud! Thanks guys. We are glad you had a good trip! Until next time, Tight Lines!
CABO SAN LUCAS, MEXICO: FLY HOOKER SPECIAL REPORT FOR JANUARY 8, 2001
No Charter and my day off! We have visitors from Marysville, Washington, Michele and Laurie Houghton staying with us, so we decided to give it a shot. We headed out the Pacific side about 15 miles out from the lighthouse looking for Tuna, but had no luck there and decided to head closer for the shore to search for Marlin. We saw several whales and Manta Rays and it was not until we approached the lighthouse that we finally spotted two Marlin tailing down swell. They were not interested in our live bait; perhaps they had been feeding most of the night due to the full moon. Even when we pulled into the pack of 30+ boats deep drifting live bait on the ridge, the action was slow. The wind pushed hard and the current was running strong. We saw a couple of boats hookup, but we had no luck ourselves. Eventually we called it a day and headed in early. No fish, but still better than working! Until next time, Tight Lines!
CABO SAN LUCAS, MEXICO: FLY HOOKER SPECIAL REPORT FOR JANUARY 10, 2001
Today was last minute charter due to another boat being double booked and the lonely angler on the "Fly Hooker" was Pete. Today's goal was Tuna and Marlin, but hey, fishing is fishing and you take what you can get some days. They found and tossed bait to 5 different Striped Marlin today and were snubbed by each and every one of them. Tomorrow is the full moon and that does seem to effect when the Marlin eat. Never did find the porpoise with any Tuna, but did manage to boat a nice Dorado of about 30 lbs. Pete got fresh Dorado for dinner and was nice enough to leave enough fillets that we were all able to enjoy fresh Dorado for dinner also! Thanks Pete! Juan and Manuel enjoyed working for you and just wish they had been able to hook up that Marlin with an appetite for you. Maybe next time and until then, Tight Lines!
CABO SAN LUCAS, MEXICO: FLY HOOKER SPECIAL REPORT FOR JANUARY 13, 2001
Steve Hodges has booked the "Fly Hooker" for today and tomorrow. He, his friend Dave and Dave's girlfriend Amy are from Kansas and would really like to catch something larger than a bass. Steve grew up on the coast working Charter Boats so he has a bit of experience under his belt. He would really like a chance to toss a live bait at a Striped Marlin and in order to make it a challenge he has brought along an old, dependable Mitchell spinning reel. The reel is loaded with 500 yards of 15 pound test line so there is plenty there! We just have to hope he gets a chance to use it! Today the objective is to catch Marlin and Juan and Manuel direct the "Fly Hooker" towards the Pacific side. They spend the day working the water out to a distance of 15 miles and find that the water is pretty green out to that point. Eventually they spot the fins of a Marlin that is interested in eating and they hook up on the larger gear we have on the boat. Steve fights this fish for about 20 minutes and Juan gets the leader in his hand when the hook pulls loose! No tag in the fish but at least they found one! Later on they get a strike from a Wahoo and Dave holds the rod as line is screaming off the reel. The fish comes unbuttoned right away and there is no chance to reel it in. That is all the action for the day and the "Fly Hooker" enters the Marina with no flags flying, but there is another chance tomorrow!
CABO SAN LUCAS, MEXICO: FLY HOOKER SPECIAL REPORT FOR JANUARY 14, 2001
This is the second day for Steve Hodges and his friends David and Amy. Deciding to go for anything instead of just Marlin today they discuss the fishing with Juan and Manuel and decide on a course up the Sea of Cortez and Gordo Banks. They stop at the entrance to the Marina here and pick up 5 live Mackerel for tossing baits and cruise up to San Jose to get Sardinas. There they get a load from a bait boat to use as live chum and then they head towards the bank. Inner Gordo has no action showing and on the way to the outer bank they hook a Striped Marlin on one of the purple lures they are running. This fish is Amy's to reel in and she does a good job, bringing the fish to the boat for tagging in about 25 minutes! Way to go Amy! At the outer Gordo Bank Juan starts chumming with the sardinas and soon there are Yellowfin around the boat. Most of them are very small fish so Juan hooks up one of the Mackerel and drops it deep, hoping there are larger fish lurking below. Yep, there are! David gets to fight a very nice 65-pound Yellowfin Tuna that ends up in the fish box and a short while later Steve hooks up another nice fish on the gear he has brought. Sssssssssssnap! A short, fast run and the 15-pound line had popped with a report like a rifle shot! The next fish is hooked on the 40-pound outfit and this time Steve gets to fight the fish to the boat. Just like yesterday's Marlin, the fish manages to pull loose from the hook just before Juan is able to gaff it! Naturally the one that gets away is larger than the one they caught! That is all the action for the day and Steve decides that rather than take a taxi back to San Jose from Cabo San Lucas, it would be easier for the guys to let them off there at Palmilla. No problem with that and Manuel points the "Fly Hooker" towards shore. On the way in they have another Marlin come into the lure pattern. Juan tosses a live bait back to the fish but it is not interested in the Mackerel and instead it tries to eat the same purple Zuker that the first fish they caught attacked. Again they get a solid hookup and this time Steve fight the fish to a successful tagging conclusion! Thanks guys, sounded like a great trip and we are glad you had success! Until next time, Tight Lines from Mary, George, Juan and Manuel, the "Fly Hooker" crew.
CABO SAN LUCAS, MEXICO: PISCES FLEET, Cabo San Lucas, January 11, 2001, Tracy Ehrenberg, Reservations Tel 011-52-114-31288; Fax 011-52-114-30588. BILLFISH: Cabo did not have that many anglers this week, so a lot of the boats stay tied up. Fishing was not as good as it has been in the past month, but this is to be expected, it can't last forever. Deciding factors this week, were a full moon, water a couple of degrees cooler and some pretty choppy seas, mid and late in the week. However as we write this, boats are coming back into to port with some excellent catches again, on marlin, dorado and tuna. There are still plenty of marlin in the area but many times they had gorged on the plentiful bait, available in the area and were hard to tempt. They would approach bait, look like they would take it and then swim off. This only happened three or four days and as the moon phase changes and darkens, it looks like we will see good catches again. Mike and Gail Haines, from Renton Wash., were our anglers of the week, fishing with friends aboard the Andrea on January 5th, they managed to release six striped marlin and break one of our rods. This same day Rod Bourke, released four aboard Rebecca. Actually taking into consideration all of the weather factors involved, this week was very good, most boats caught one to three marlin, with the exception of a couple of slower days. We had an overall catch success rate of 85 percent this week, with 41 striped marlin released and one boated.
OTHER SPECIES: Dorado catches are on the rise and though no more than a couple are being caught by every other boat or so, the sizes are good at 30 to 50 lbs. Yellowfin tuna catches were good, especially if targeted this species, or like Gary and Cathy Keppers from San Jose, Calif. you could have some of everything--they released one striped marlin and boated twelve tuna ranging in size from 18 to 22 lbs and also landed two dorado between 30 and 40 lbs. Inshore small roosters were taken, some sierra and some grouper to 35 lbs. We also heard of a boat that had a real hot wahoo day, catching seven, in the 30 to 50 lb class.
WEATHER CONDITIONS: Mostly cloudy, seas up and down, calm at the start of the week, turning choppy at the close. AVERAGE WATER TEMP: 71 F. BEST LURES: Live bait for marlin, green/yellow lures for dorado, assorted jigs and feathers for tuna.
CABO SAN LUCAS, MEXICO: REEL EASY SPORTFISHING, Cabo San Lucas, January 16, 2001, Mike & Renee Hebert, Reservations/Fax 011-52-114-33579. Hola Gene. Our apologies to the readers for not posting our regular weekly catch reports but we have been tied up with a six weeks ordeal in Cabo, adding a new boat to Reel Easy Sportfishing business. The El Chilito now has a Big Brother. A 2001 model 32-ft. Luhrs Open Sportfisher, the "Sea u Later." We have been vigorously shaking out the new rig and making adjustments here and there, so she should be 100% ship-shape and fishing regularly in a week or so.
I won't try to catch up on all the little details since it's no big secret to the readers, that the fishing in Cabo has been EXCELLENT!! From December 1 through January 13, the crew of the El Chilito reported 23 charters for a total count of 90 fish. Sixty-two Striped Marlin ranging from 100 to 150 pounds (58 being successfully released), one Sailfish weighing in at 100 pounds (successfully released), five Dorado to 35 pounds, one Wahoo at 20 pounds, six Roosters to 20 pounds, and 15 Yellowfin Tuna to 30 pounds. As many as seven Stripers were released in a single outing. The hot spot is still just out from the Old Light House free lining live bait. My crystal ball says there are more good fishing days to come. Until Next Week.....Tight Lines!!!!!
CABO SAN LUCAS, MEXICO: JEFF KLASSEN SPORT FISHING, Cabo San Lucas, January 10, 2001, Jeff Klassen, Reservations Tel 360-402-3474. I am trying to complete my book, which is taking me longer than I'd anticipated. Hey, Speaking of Elvis, who's 66th birthday it would have been on the 8th of January, I don't know if you folks know this or not but, I come from a very musical background. In fact, I have an uncle in Vegas, who used to be Elvis, double in his movies. He was so much like "The King" that sometimes Elvis would take him along on trips to substitute for him, when he didn't feel like performing and what not. Anyway, I've been getting harassed by a pretty famous pop group recently, to join them, on a world tour. I've opted to join along for their current world tour so I won't be fishing for a while. You may have seen us on a recent cover of "People Magazine."
Okay, Let's get to the fishing.
I'm actually sitting on a plane right now, on my way back down to Cabo, where I'll be fishing every day. The big story these days around Cabo is the striped marlin. The bite has been hot for weeks and it hasn't let up much, even as we approached the full moon. We've had a boat this past week with 7 released Stripers in one day, including a double, twice! Most boats are averaging 2 or 3 of them but catches of 4 or 5 are common. All the fishing is along the Pacific-side, relatively close to shore, within 10 miles or so. Even though a lot of these fish are on the surface, and are being caught on live-bait, they will probably hit lures just as easily.
The Old Lighthouse area has been consistent throughout this bite, and it continues all along the coast, up to and beyond Cristobal. That area (Cristobal/ Los Arcos) has also been good for wahoo. We had several brought in this past week. A little further north you'll find some pretty good concentrations of Dorado. There are Dodos around in most parts, to some degree, but those anglers targeting them should zoom on directly over that area. There's been a pretty good tuna bite as well, nice and close too in most cases. They've been encountered no more than a few hundred yards off of Land's End in recent days.
Inshore fishing has been pretty good as well. There have been lingering Roosterfish around all fall and winter so far. They aren't real big ones but at times there are plenty of them. Again, the Pacific-side is the best place to find them. There are still some schools of skipjack around too, for the fly-fishermen. Todd Januzzi, a fishing guide from New Jersey caught a bunch of Roosters on the Tio luiz 2 on 10 pound tackle, after banging a couple of Striped marlin offshore, first.
Water temperatures are mostly between 71 and 73 degrees. Surf-fishing is not bad at the moment either. You can easily find Roosterfish to 20 pounds, although most are 5 to 8 pounds, and Sierra mackerel, along the Pacific-side, as far up as Todos Santos and beyond, according to surf-fisherman Gary Trieschman, who was up that way last week. The rocky gulf-side is still holding some nice Leopard grouper, to 15 pounds, smaller snappers, to 10 pounds, Bigeye trevally to 15 pounds and large needlefish to at least 15 pounds also. In most cases, other than for the Sierra, which are smaller sized ones this time of year, I would recommend the Klassic poppers. So what else is knew?
SAN JOSE DEL CABO (LOS CABOS) FISHING REPORTS
ALL ARTICLES, REPORTS AND FISHING INFORMATION FOR SAN JOSE DEL CABO
SAN JOSE DEL CABO, MEXICO: GORDO BANKS PANGAS, San Jose del Cabo, January 14, 2001, Eric Brictson, Reservations 800-408-1199; Fax 619-447-4098; 011-52-114-21147. The month of January started with calm and warm weather, but by the second week conditions cooled and the winter season settled in, with low temperatures dropping into the 40's and highs barely reaching 70 degrees. The north winds also started blowing and on some days forced the sportfishing fleets to fish close to shore because the seas became too rough on the offshore fishing grounds. The water was still greenish throughout most of the area and was averaging 72 to 74 degrees. Though the weather was maybe not quite as nice as visitors were anticipating, the fishing action was very consistent, as anglers were finding plenty of yellowfin tuna in the area of the Gordo Banks, dorado were also being taken in the same places, but were not as numerous as the tuna.
Live sardinas were fairly abundant, now being netted near Cardon by commercial pangueros. This has been the bait of choice for the yellowfin tuna, anglers were slow trolling the bait or drifting fishing while chumming. The tuna were weighing from 10 pounds, up to over 80 pounds, with fish to over 100 pounds reportedly hooked, only to be broken off . With the chance of the larger fish it has been wise to use tackle in the 40 to 80 pound range but some of the more skilled and lucky anglers did report catching tuna to 80 pounds while using lines as light as 25 pound. The largest fish were mainly being hooked on the Inner or Outer Gordo Bank, this was the first week in a long time that the panga fleets reported a good bite on the Outer Bank, but the problem also was that with the northeasterly winds it made for rough ocean conditions.
To escape the choppy seas there was the option of fishing closer to shore where there was a good combination of small to medium sized gamefish available, including yellowfin tuna, dorado, skipjack, jack crevalle, sierra and roosterfish. Slow trolling live bait was most productive but anglers also found some action on Rapalas and smaller skirted lures. The roosterfish were juvenile fish that ranged up to 15 pounds and the sierra averaged 2 or 3 pounds. Average catches per panga charter was 2 to 8 tuna, with 1 or 2 dorado and several other various species mixed in. The bite did slow down during the full moon period, as is typical and is now turning back on. The action for striped marlin is just starting to shift into the Sea of Cortez, as more of them are being spotted in the waters off of San Jose del Cabo. Though the spot now to catch them consistently is still out of Cabo San Lucas, in the coming months, as the baitfish migrate towards the warmer water, the billfish action will steadily switch to the Gulf side of the Peninsula. Good Fishing.
LA PAZ FISHING REPORTS
ALL ARTICLES, REPORTS AND FISHING INFORMATION FOR LA PAZ
LA PAZ, MEXICO: JONATHAN ROLDAN'S TAILHUNTER ADVENTURE SERVICES, La Paz, January 11, 2001, Jonathan Roldan, Tel 626-333-3355; Fax 626-333-0115; Pager 323-349-8111; Message Pager 877-310-7734. That WFO bite we had in Muertos Bay tapered off as the week came to a close, but wow, that was some type of forkie bite, amigos! Never seen something as wacky as that after all my years fishing and working on the long range, multi-day and Baja runs! However, there are still an abundance of yellowtail to be had inside the bay as bait seems to be stacked up in the warm shallow water close to shore on the western side near the rocks and just outside of the old rock platform there against the cliff. Although the 10-15 pounders moved out, there are some bigger fish filling in the gaps as some of the heftier 20 plus pounders took their place! Seriously quality fish!
The numbers took a bit of a dive, but that also has a lot to do with the fact that the number of anglers at La Paz dropped off as well. Less lines in the water meant less fish on the beach! Makes sense! However, not hearing many complaints. Tuna have moved back into the spotlight with the diminution of the yellowtail bite. Same old. Same old. Footballs and bigger at the mouth of the bay on the yellowfin as well as some small dorado that seem to come out of nowhere marauding through the bait schools. Moving further out around Punta Perrico and to a lesser degree at the lighthouse there seems to be "hot spots" where the tuna have lodged themselves perhaps where pockets of the warmer water is hanging. Since the pangas don't have all the fancy fish finders and temp gauges... who cares right? We only know that we throw bait and the fish charge the boat! Nice and simple and I'll put most of the local skippers up against any techno toy any day when it comes to fishing this area!
As for the islands, no one really headed out that way since the fish are so close. I did hear that one boat trolling towards Cerralvo with feathers and Rapalas took a bigger 50 pound tuna and got ripped on the Rapala with line zipping so fast off the reel that it could only have been a wahoo. Unfortunately, with no wire... well, it made for a great story of futility.
At La Reyna, one of the private boats checked it out and got 2 of the nicer grade 30 plus pound yellowtail and had a bigger tuna on the line for awhile and commercial pangas are finding more snapper and pargo at Espiritu Santo leading me to believe that we'll soon be sport fishing the areas soon for the pargo as well.
Tight lines, Everyone! By the way, spring and summer dates are starting to book up. If you're coming down, give a call so we can work you and your group in and also get you seats on Aero Cal before they fill up as well!
LA PAZ, MEXICO: PIRATES FLEET, La Paz, January 16, 2001, Francisco Aguilar, Reservations, Reservations/Fax 011-52-112-57353. Hello amigo. Out of La Paz, plenty of sardines at the south end of Espiritu Santo Island, good tuna bite at El Bajo as well as some yellowtail at the north end of Cerralvo Island. Pargo, cabrilla and sierra available all around the island. Las Arenas and south end of Cerralvo, small bait but good yellowtail and tuna bite at the south end of Cerralvo. Some cloudy and windy days.
LORETO FISHING REPORTS
ALL ARTICLES, REPORTS AND FISHING INFORMATION FOR LORETO
LORETO, MEXICO: VILLAS DE LORETO, Loreto, January 16, 2001, Wendy Wilchynski, Reservations Tel/Fax 011-52-113-50586. Dear Gene. The wind has been up!!! But when the fishermen can get out they are catching! Come on down, you're missing the bite! Bye for now.
LORETO, MEXICO: CHILI PUNTA FLEET, Loreto, January 12, 2001, John "Bubba" Parker and Fishmanmark, Tel 925-449-4554; Fax 925-456-2252. With the boats down for the time being, I have been making some calls and relying on others to get my reports. Sorry for any inconvenience. Yellowtail and Cabrilla are the main attractions this time of year. According to other sources and fleets there has been a big bite on the Cabrilla in the 20lb class but the yellowtail are still on the lighter side with a few being taken in the 20-30lb range. The weather has been a little chilly in the mornings but by afternoon it has been warm enough for t-shirts and shorts.
LORETO, MEXICO: ARTURO'S SPORT FISHING, Loreto, January 17, 2001, Arturo Susarrey, Reservations Tel 011-52-113-50766; Fax 011-52-113-50022. No report for now, but we will be sending photos on Friday. Regards.
LORETO, MEXICO: EL FUERTE SPORT FISHING, Puerto Escondido, January 17, 2001, Ty Miller, Reservations Tel 714-775-6658; Fax: 714-755-3501; Loreto 011-52-113-30863. Hola Amigos. Northerly winds blew most of this past week which doesn't help much for a report! It's pretty much the same as last week. When it's fishable at Loreto we are still picking up some nice 30 pound class Yellowtail and occasionally a 40 pound plus toad. In my opinion, it looks like the Yellows are dragging their tails on making their way south to our area. Supplementing the few big Yellows being caught are some nice Pinto bass and a few small but hungry Yellows in the shallows.
Caballitos are still the call at the Bump outside the harbor with Green macks following. The bite is from about 6:15 a.m. to 7:00 a.m.. Just about any bait rig with stanchions will work. Today the wind finally laid down which is perfect timing for our clients this week. Let's hope the Yellowtail start showing in numbers so we can get over this waiting game! Hasta!
Air Temp: 74. Water Temp: 64. Winds: light. Sea state: Calm.
LORETO, MEXICO: BAJA BIG FISH COMPANY, Loreto, January 13, 2001, Pam Bolles, Reservations Tel/Fax 011-52-113-50448. Hola Gene. Nothing really special--the wind is calming some but still winter-like, although we've really had it easy this season. Starting to get into some snook in the usual winter spots but this really isn't a snook destination like the other side, so I never report on them. Hope all's going well for you.
We had some unseasonably warm and calm weather up until Tuesday night (1/9) when it changed to cold, moderate overcast and windy weather. Right now we're experiencing highs in the low 70's but it feels colder because of the overcast skies. Lows are in the mid 40's to low 50's. Typical January weather for these parts, and this is the coldest time of the year.
For the past few days we've seen overcast skies. This morning the fog layer never burnt off, and with the winds, it feels colder than it really is.
The winds have come up, but not as much as I would have expected for this time of year. We're missing fewer days per week to the winds this season than in past winter seasons for this time. Although we started to experience typical Norte winds on Tuesday evening, they calmed enough for Wednesday morning to be fishable. The winds continued to take a break on Thursday and Friday and the seas as a result were very nice to fish. Today, the winds are picking up again.
Most of the past week has been very nice and fishable due to the lack of winds that we've been enjoying. Even beyond the protection of the islands it has been unseasonably flat. Today, though--we're getting winds from the North again, but we're missing fewer days per week due to rough seas, that we would normally expect.
Yellowtail: That same school of Yellowtail that's been off Isla Coronado is still around and they're getting bigger. This week they've been averaging 18 pounds. They're following baitfish and will swim deep one day and be boiling at the surface the next- so prepare yourself accordingly. There are larger ones being spotted off Punta Pulpito but that's a long haul. No word on the Punta Lobos/La Vaca area.
Bonita and Skipjack: I'm not hearing too many complaints about them but they can become a nuisance to those jigging iron or sending down live bait in hopes of Yellowtail. The bonita will linger with the Yellowtail schools but only slightly higher in the water column, getting a chance at your bait first.
Other Species: Even this past week in a full moon cycle, we continued to get good action on Cabrilla. You'll be able to pick up large ones (20+ pounds) over very deep reefs, drop-offs, and sea mounts. Use heavy jigs or weighted live bait, medium to heavy gear. Try a jig in scrambled egg color. On the lighter side, your bass rod will land you plenty of smaller sized Cabrilla (10 pounds and less), and they behave very similarly to freshwater bass. Try a brown and white swim bait (4+" long), chrome spoon, or troll a Rapala type lure.
Various species of pargo are on the bite. They are taking cut bait at the bottom, or slow trolled live bait or lures.
Bait: The bait sellers are not showing up for work. As a result, you'll need to rig up that lucky joe and send it deep in hopes for mackerel and bigeye. There are lots of sardinas that will hit those jigs too and become a nuisance as they just die off right away in the bait tank. Bait can be found just off the West side of Isla Coronado, and how convenient- as that's on the way to where the Yellowtail are!
MULEGE FISHING REPORTS
ALL ARTICLES, REPORTS AND FISHING INFORMATION FOR MULEGE
MULEGE, MEXICO: MULEGE, January 17, 2001, Michael Melton & Jens Kolbowski, reporting for baja-web.com. Hello. Air Temp 50-70. Water Temp 65. Humidity 75-80%. Seas calm. Skies clear. Wind mild. Lots of Whales with babies. No billfish reported. Bottom fishing excellent for triggerfish, cabrilla, red snapper, all taken on live or cut bait on deep reefs. Cabrilla, spotty fishing most days this week. Good size schools with big fish. Best fishing area is off Punta Chivato just north of Mulege --lots of bait showing. No dorado reported. A few big grouper to 35 pounds. Pompano schools showing up in local areas. No roosterfish or sierra reported. Big schools of big squid are in the area, for those who like the big ones. Found at the deep reefs with squid jigs, some are 50 pounds. Yellowtail starting to show but it's on and off.
BAHIA DE LOS ANGELES (L.A. BAY) FISHING REPORTS
ALL ARTICLES, REPORTS AND FISHING INFORMATION FOR BAHIA DE LOS ANGELES
BAHIA DE LOS ANGELES, MEXICO: CAMP GECKO, Bahia de los Angeles, January 16, 2001, Abraham Vazquez, Tel 011-52-515-19454; Fax 011-52-665-03206 (goes to Guillermo's). Air temp cold 49/65. Winds out of the north and west, very strong at times. Only two good days the past week. Humidity, 70%. Seas rough. Water temperature, low to mid-60s. Fishing, if you can get out to Punta Los Machos at the big island, is very good for 20-pound yellowtail. Otherwise the local fishing for bottom dwellers is good. There are also some halibut inside the bay early mornings, trolling small lures in the shallows. Road conditions excellent first 6 miles, good rest of the way. Gasoline 125 pesos for 5 gallons. Not many visitors to the bay this past week.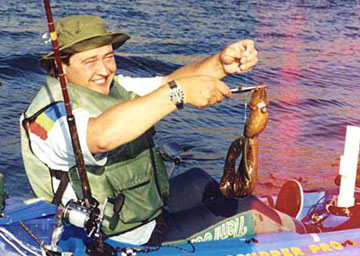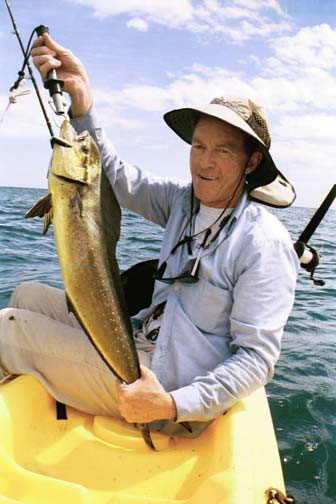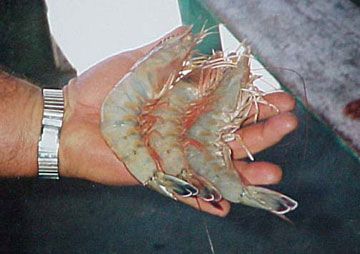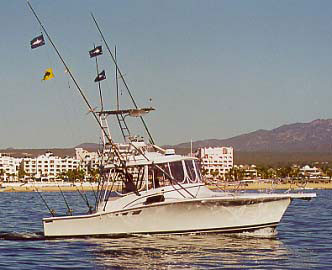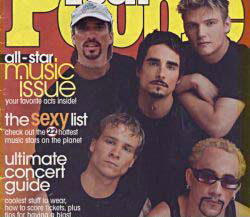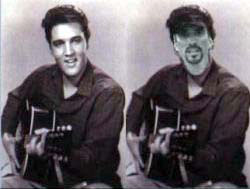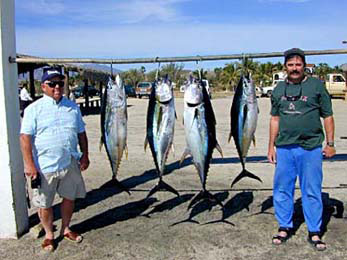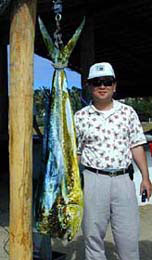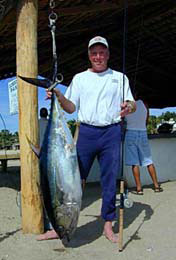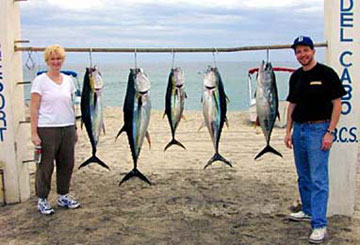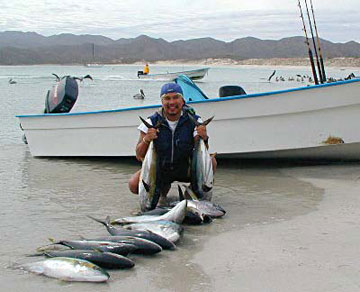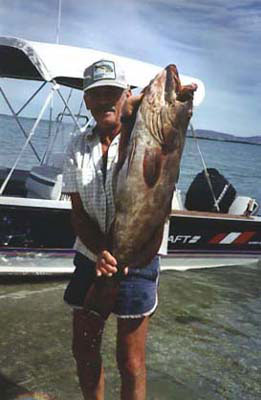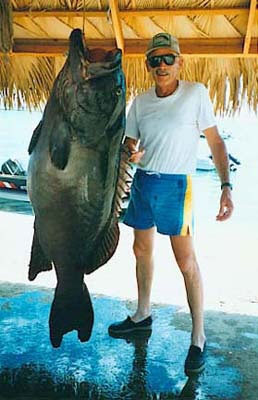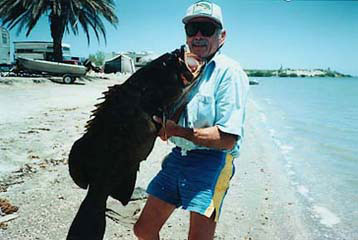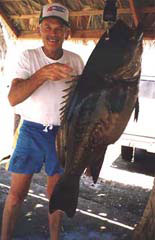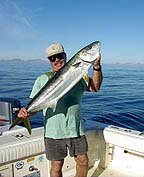 Baja coastal fishing reports and articles.
Ensenada fishing reports and articles.
Puerto Santo Tomas fishing reports and articles.
Erendira fishing reports and articles.
San Quintin fishing reports and articles.
Magdalena Bay fishing reports and articles.
Cabo San Lucas fishing reports and articles.
San Jose del Cabo (Los Cabos) fishing reports and articles.
East Cape fishing reports and articles.
La Paz fishing reports and articles.
Loreto fishing reports and articles.
Mulege fishing reports and articles.
Santa Rosalia fishing reports and articles.
Bahia de los Angeles (L.A. Bay) fishing reports and articles.
San Felipe fishing reports and articles.
Rocky Point (Puerto Penasco) fishing reports and articles.
San Carlos (Sonora) fishing reports and articles .
Mazatlan fishing reports and articles .
Puerto Vallarta fishing reports and articles.
Ixtapa Zihuatanejo fishing reports and articles.
Huatulco fishing reports and articles.
Cancun fishing reports and articles.
Mexico coastal fishing reports and articles.
Mexico Fishing Home Page < Mexico Fishing News Archives < Fishing Report