In other mainland Mexico and Baja fishing action this week:
MAGDALENA BAY FISHING REPORTS
ALL ARTICLES, REPORTS AND FISHING INFORMATION FOR MAGDALENA BAY
MAGDALENA BAY, MEXICO: BAJA ON THE FLY, San Carlos, January 24, 2001, Gary Graham, Reservations Tel 800-919-2252; Fax 760-746-7260. Temperatures: Some clouds and a 72-degree high; low 45 with little wind in the afternoon. Water temperature: 61 degrees in the mangroves and 69-71 offshore. STRIPED MARLIN-Seem to be gone. DORADO-Not many left. TUNA-Only a few caught. YELLOWTAIL-Plenty of fish at the entrances to both bays. CORVINA-Fair catches up toward Power Plant. SNOOK-Good catches at Mario's Spot. HALIBUT-Good catches near Magdalena Island
QUICK COMMENT-Cold temperatures in the mornings giving way to warm sunny days provided a great back drop for my trip to Puerto San Carlos at Magdalena Bay last weekend. We had a great time and learned lots in our search for the elusive snook. Steve Dally and I both had fish in the 10-to 15-pound range. I plan to make another trip between shows in Feb. Be sure to read Fred Hoctor's column in this week's issue of Western Outdoor News for a more details on this snook fishery.
CABO SAN LUCAS FISHING REPORTS
ALL ARTICLES, REPORTS AND FISHING INFORMATION FOR CABO SAN LUCAS
CABO SAN LUCAS, MEXICO: PICANTE FLEET, Cabo San Lucas, January 24, 2001, Sergio Cortes, Reservations Tel 011-52-114-32474; Fax 011-52-114-35969. Water temperature: Approximately 69-73. Air temperature: High 75/Low 53. Humidity: 70%. Wind: 9-10 Knots (Pacific), 8-9 Knots (Sea of Cortes). Fleet production (5 boats): 6 Striped Marlin, 9 Dorado and 15 Tuna. Hot spots: San Jaime Banks (Pacific Ocean). Luckiest boat: Picante Dream (35' CABO). Captain: Genaro "Nayo" Winkler. Angler: Dave Cardella. Production: 2 Striped Marlin and 2 Dorado. Excellent Striped Marlin fishing at the 95 Spot in the Sea of Cortes. Stripers have been averaging 135 lbs. and up to 180 lbs. Good numbers of Dorado and Yellowfin Tuna have been caught closer to the Lighthouse also. Blue skies throughout the day and very cold mornings. Seas are pretty flat until noon when the wind tend to get stronger.
CABO SAN LUCAS, MEXICO: FLY HOOKER SPORT FISHING, Cabo San Lucas, January 21, 2001, Capt. George & Mary Landrum, Reservations Tel 011-52-117-01271; 011-52-114-87452. WEATHER: What a week! Alternating cloudy and clear days at the beginning of the week and the clear days were very windy. The last part of the week was clear and the winds died. Thursday morning we had reported temperatures that ranged form 43-50 degrees! Cold enough to see your breath! Thank goodness it has warmed up since then. Our daytime high's have been in the 70's. We had a few sprinkles on Tuesday, just enough to spot our windshields.
WATER: Rough on the Pacific side of Cabo the beginning of the week, with green water out to 22 miles. The water there mellowed out later in the week, but was still a bit choppy. The Sea of Cortez delivered smoother conditions throughout the early part of the week and clearer water, but chopped up on a bit later in the week. Water temperatures have been 67-69 degrees near-shore and went up a degree or so further out. There was a warm spot starting 18 miles south.
BAIT: A good mix of Mackerel and Caballito at $2.00 each and Sardinas at $20 a scoop at the Cabo Marina. Sardinas at $10.00 a scoop available North towards San Jose.
BILLFISH: Basically a repeat of last week's report, except for the fact that as the moon has waned, the bite has picked up quite a bit. Once again many of the boats "bottom fishing" live bait for the Striped Marlin at the lighthouse are finding consistent action. Tossing live bait at fish spotted tailing is becoming more successful as well.
YELLOWFIN TUNA: There has been some action for tuna at Gordo Banks,. Chumming with Sardinas and live baiting either the Sardinas or Mackerel has been working, at least early in the week. The action dropped a bit later on. Tuna have been found mixed in with the Porpoise out further than 25 miles, while the Porpoise closer in have not had any associated with them. The fish on Gordo were running 15-60 lbs with a very few in the 100 lb range coming in. Likewise the Porpoise further out have produced a few larger fish. Pulling spreader bars was a successful technique for a few of the boats.
DORADO: Amazingly there are still Dorado being found! Most of the boats have been able to find at least one or two per day. Ranging in size form 12-35 pounds with a few bruisers over 40 lbs. They have been very near the Marina and the shore. Good action for those Pangas and Cruisers targeting them.
WAHOO: A few scattered fish have been caught but no reported concentrations. Sizes from 15-45 lbs.
NEARSHORE: Concentrations of Striped Marlin off the underwater points and ridges along with the scattered Marlin have made almost every Panga trip successful. For those wanting more, traditional near-shore fish action is starting to pick up for Sierra, Pargo, Amberjack and Yellowtail. There are still small Roosterfish available, but very few larger ones are being caught.
CABO SAN LUCAS, MEXICO: FLY HOOKER SPECIAL REPORT FOR JANUARY 15, 2001
Dan Zirpel has booked the Fly Hooker for today and has brought his friends, Roger, Dwight and Carey. The weather is still rough on the Pacific side and they really want to catch fish, so they decide to go towards Gordo Banks and check for Tuna. There have been some nice fish coming from there the last few days and with the wind blowing the way it has, the water should be in good shape. When they got out there, the water was beautiful, but there were so many boats working the area that they threw a heavy chop on the water. The fishing was slow, but eventually Roger was able to hook and fought a nice Yellowfin Tuna estimated at 45 lbs. Some very nice fillets came from this fish and they were nice enough to give some to me for sashimi tonight! Thanks, folks, we loved having you aboard the Fly Hooker and hope your next trip is more productive! Until then tight lines!
CABO SAN LUCAS, MEXICO: FLY HOOKER SPECIAL REPORT FOR JANUARY 17, 2001
Steve and Michele booked the Fly Hooker for a family trip with her Mom and husband along with her sisters and their spouses. They had excellent results. They really wanted to get fish for dinner and almost had enough to feed everyone with a large Dorado. Almost because the fish estimated at 40+ lbs managed to pull loose from the hook at the side of the boat. They did bring aboard another smaller Dorado that they managed to hook up on a live bait cast back behind the boat while battling the one that got away. The smaller Dorado was 12 lbs and almost provided enough fillets for everyone they went looking later for some shrimp to fill out the meal. Later they hooked a Striped Marlin that they found tailing on the surface. This fish ate a live Caballito tossed to it and unfortunately was bleeding profusely from the gills when brought to the side of the boat. 30 lbs of marlin fillet were taken to the smokehouse and the group had smoked fish to take home. About an hour later another striped Marlin was fought to boat-side and this time successfully tagged and released. A good trip was experienced by all. Thanks folks and we look forward to fishing with you again next year. Until the Tight lines!
CABO SAN LUCAS, MEXICO: FLY HOOKER SPECIAL REPORT FOR JANUARY 18, 2001
Doug, Doug, Dale, Evan and their friend "Gimpy" were today's anglers and their experience was almost a repeat of yesterday's action aboard the Fly Hooker One nice 25 lb Dorado was brought aboard the boat after a short battle and supplied the fillets for dinner, with enough for Juan and Manuel. Then they went in search of the Striped Marlin and were successful in tagging and releasing a Striped Marlin estimated at 120 lbs. Another Striped Marlin died during the fight. The 80 lb Marlin ended up getting the leader wrapped around his tail and was dead upon arrival at boat-side. Many more Marlin were seen during this trip, but not many of them showed interest in either lures or live bait. Everyone, even those who were a little hung-over, had a good time. Juan and Manuel both said this was a good group to fish with. Thanks guys, I know we,ll see you again next year. Until then Tight Lines from the Fly Hooker Crew!
CABO SAN LUCAS, MEXICO: FLY HOOKER SPECIAL REPORT FOR JANUARY 19, 2001
Gary and Kathy King were the anglers on the Fly Hooker today and they were not real sure what they were getting into! You see, they have never been saltwater fishing before and had no idea what to expect. Gary said this morning that they would be happy to catch a couple of fish and come in. Maybe they could catch something for dinner. Juan and Manuel said they would do their best to teach them what to do, explain what was going on and put them into fish. With the thought that the best chance to get them fish would be on the Pacific side for Tuna or Dorado. Manuel turned to bow of the Fly Hooker west-southwest and went looking for porpoise. They found porpoise and whales. But no tuna! Luckily they were able to hook several Dorado and Gary was nice enough to let Kathy reel in the Dorado, because he was hoping for a shot at a Marlin. One Dorado was about 12 lbs and one about 25 lbs and Kathy had a lot of fun with them! Juan filleted the fish so there was dinner on ice in the cooler. The rest of the trip was uneventful as far as catching was concerned. Juan and Manuel kept spotting Marlin tailing and tossed bait to them all, but none of them were hungry. Thanks goodness for Gary that 15 minutes before heading in they were able to find one with an appetite. Gary fought the estimated 120 lb Striped Marlin for about 15 minutes before he was able to bring it to the side of the boat for pictures. Juan then placed a tag in the fish and released it to fight another day. Way to go Gary! I am sure that the frame able Billfish Foundation Release Certificate with Kathy's picture of the fish below it will look great on your wall. You said that it was a lot harder to bring in the Marlin than you thought it would be and now you will have a permanent reminder of the fight! Thanks for being such great people and we are glad that the Fly Hooker Crew was able to fulfill your fishing wish! Until next time, Tight Lines from Mary George, Juan and Manuel!
CABO SAN LUCAS, MEXICO: FLY HOOKER SPECIAL REPORT FOR JANUARY 20, 2001
Gene and Jackie, Jay and Janet are the customers for the Fly Hooker for today. They came aboard this morning with two coolers and the hope of going back home with lots of fillets. Gene and Jackie had gone fishing on a Panga the other day and caught 2 Dorado, so they had a start already. Jay and Janet just arrived yesterday and do not have a lot of ocean fishing experience. After talking with Juan and Manuel about the plan for the day, they decided to go to the Pacific side and keep their fingers crossed. Reports from Gordo Banks yesterday were rough and green water with the tuna fishing slow. Therefore searching for porpoise on the Pacific side sounded like the best plan of action. That developed into the right decision, as the results will show. They found the porpoise with tuna and caught one of about 50 lbs and 13 others of 15-25 lbs! No problem packing the coolers with fillets now. They were also able to tag and release a Striped Marlin of about 130 lbs. A great experience today aboard the Fly Hooker and all the anglers were very impressed with the professionalism shown by Juan and Manuel. Thanks everyone and Tight Lines form Mary, George, Juan and Manuel, the Fly Hooker Crew!
CABO SAN LUCAS, MEXICO: PISCES FLEET, Cabo San Lucas, January 18, 2001, Tracy Ehrenberg, Reservations Tel 011-52-114-31288; Fax 011-52-114-30588. BILLFISH: Fishing was good this week, not like the incredible days we had during December and into the first few days of the New Year, but with a ninety percent catch success rate we can't complain. Still the top catch in the area was striped marlin, with most boats getting at least one and at the most five. Weights are good, slightly higher than in previous years, with the average being 130 lbs. Top boat this week was "Ruthless" with a total of five striped marlin on January 12th, four released and one that died; Bob Spain and friends from Iowa, were the anglers, that did a great job in very rough seas. On the last day of this report, Ruthless scored four marlin released for the Beechcraft Group from Renton, Wa. On January 16th John Dawes and David Billion from South Dakota were thrilled to release three striped marlin and boat seven dorado, 13 miles off of the Old Lighthouse aboard "Rebecca" . One day before, on this same boat, Mark Wahl from Chicago, along with David Knife and Paul Fenker, released three marlin & also landed one 30 lb dorado for the table. Ben Baxter from Hyannis, Ma. and Robert Cunningham from Marblehead were here for the first time and were pleased to release three striped marlin and boat two 50 lb dorado, aboard "Adriana". Unusually rough for this time of year, with wind on the Pacific most days and cold weather--the fish don't mind though. Pisces anglers had a total of 60 striped marlin this week, of which 57 were released.
OTHER SPECIES: pretty much every boat is catching at least one dorado right now. This are normally taken on lures and of a good size at 20 to 50 lbs. There were some nice yellowfin tuna catches, such as those taken by Alfredo Alcala, from Los Angeles--he was aboard Karina, at Punta Gorda and boated four fish, ranging in size from 40 to 65 lbs. Actually only the boats specifically targeting tuna, caught them, as they were the opposite direction to all the other fish--but the Gordo Banks for tuna was almost guaranteed. Inshore we are starting to see a lot of nice sierras, some roosterfish and red snapper to 20 lbs.
LOCATION: Off of the Old Lighthouse, some at 95 spot and Punta Gorda. WEATHER CONDITIONS: Cold for Cabo, with early morning temperatures in the 60's, rising to a daytime high of 82 F, seas rough. AVERAGE WATER TEMP: 70 F. BEST LURES: Mostly live bait, with about 25% on lures of various colors.
CABO SAN LUCAS, MEXICO: JEFF KLASSEN SPORT FISHING, Cabo San Lucas, January 18, 2001, Jeff Klassen, Reservations Tel 360-402-3474. Happy New Year and all that crap, oops, did that shpeel last week, sorry! Hey, I just got back from Cabo and manana I leave for Costa Rica. I thought I'd better give you a quick update on the Cabo fishing before I leave as it has changed somewhat. Before that though, I wanted to say thanks to my friends Charlie & Laurie Sherer, as well as Steve and Angie Cerritos, for making my stay a real fun one this past week. They're great pals! also met some new folks, Tom and Jennifer, hockey fans from Boston, who were pretty cool. Don't know their last name.
Anyway...
Offshore fishing took a bit of a dump this past week, due to a cold front that moved in from California. It wasn't bad fishing, just not as good as it has been of late. Instead of 4 or 5 Striped marlin that we've been getting per boat per day, we've been getting 1 or 2, maybe a 3rd one for the lucky ones. There aren't as many at the surface either. Most boats are still getting them south of the Old Lighthouse but by soaking live-bait (mackerel). I dragged around a bunch of lures the other day and never even had one surface, having to settle for several Dorado. The Dorado bite has remained consistent. Darker colored lures have been working better for them and they seem to be about everywhere. A lot of the fish are smaller ones at 10 to 15 pounds but a number have been landed to 35 pounds or so. Anyone who says they are any bigger than that now are exaggerating.
I went down to the docks just about every day for a week and never saw one over 35. The Wahoo and tuna bites have both waned off somewhat. We only saw one Wahoo on any of our boats this past week or so and only a few tuna. Striped marlin and Dorado are definitely making up the bulk of the catches at the moment.
Inshore fishing is definitely good, if not great at the moment. There are tons of Roosterfish along the Pacific-side beaches, particularly around the Pedregal and the Old Lighthouse. I've been surf fishing these beaches and have caught at least 8 or 10 in a trip. These fish average 10 pounds, but will get to 16 or so. In the same areas we've been getting jacks to 15 pounds and large Sierra to about 12 pounds. On the gulf side you'll find very large jacks mating at the moment. These are some of the biggest jacks I've ever seen. I bagged a couple from shore, right at La Laguna that were at least 27 or 28 pounds on poppers. I was taking a book photo at one of the beaches near here and a local, fishing with cut skippy as bait, caught a nice rare Yellow jack. I've only ever caught a couple of these in all my years here. That was kinda neat to see.
CABO SAN LUCAS, MEXICO: BAJA ANGLERS, Cabo San Lucas, January 19, 2001, Grant Hartman, Reservations 888-588-3446. Hi Folks. Over the last few days I had the pleasure to fish with Paul Smith of South Africa. On the first morning out I noticed him using his cell phone in the shop, making sure to turn it off once he got on the boat. This day we were looking for the huge yellowfin tuna that were holding off the Gordo banks. On the way out I asked Paul about his profession, thinking he was a businessman , or maybe a lawyer, with important business to take care of early in the morning. Not so says Paul, I was just calling my wife and telling her I'm in New York on a business trip. After a good laugh, he explained that his wife disliked him going on a fishing trip. She thinks it's a waste of good money and time. If she finds out I'm fishing, I'm a goner for sure. You would think she would lighten up a little. It's not like I'm shacking up with someone, I just like casting my fly at a few fish. Paul's been working stateside for the last few years. While his wife was back in South Africa to visit friends, he escapes to Cabo with fly gear in hand.
So Paul is on his business trip to New York, where he got a great tan, caught his first striped marlin on the fly, hooked a huge yellowfin tuna that he had on for 3 hours only to lose it at the boat, landed loads of black skipjack, and passed the afternoons on the beach eating fish taco's and drinking a cold beers.
Man! Paul says, "I have to go to New York more often".
The way I figure it Paul has his head screwed on right.
P.S. Paul did say that next time he sees a big yellowfin tuna he's taking his fly out of the water.
Paul's name has been changed to protect the not-so innocent.
On another note I fished David Fell from England. David brought his fiancee Hanna all the way from London just to catch her a striped marlin on the fly. During our outing Hanna did a great job hooking a few marlin, but was a bit unlucky in catching them, as they all broke off before she could land any. David a stock broker from London fell into the Cabo mode right away. Relaxed in the boat, wearing short sleeved shirts ,shorts, and sandals. I asked David to help out with the squid daisy chain (The daisy chain needs to be taken out of the water when the marlin show up on the teasers). David did a such a great job on the squid chain that after a short while we were calling him David "squid boy" Fell. David said, "You know Grant, I think that your squid boy name is going to stick. I can hear my secretary now 'No Mr. "squid boy" Fell is busy at the moment, can I take a message'."
The striped marlin fishing we had has slowed down quite a bit. There are still stripers in the area, but the large population of striped marlin that were holding off the light house have ether been harvested by the sports fishers or moved out to deeper water by the fishing pressure. If you want to catch stripers, you can still get 1 to 3 shot's a day on the fly. Dorado fishing has made a bit of a comeback. The fish are not holding in schools and are scattered about. Expect to catch a few on the fly daily. Huge yellowfin tuna have been holding off the Gordo banks. We have hooked monsters on light tackle and fly, only to land the fish in the 60 to 100-lb range. Inshore you can expect Sierra mackerel and roosterfish action on the Sea of Cortez side.
SAN JOSE DEL CABO (LOS CABOS) FISHING REPORTS
ALL ARTICLES, REPORTS AND FISHING INFORMATION FOR SAN JOSE DEL CABO
SAN JOSE DEL CABO, MEXICO: GORDO BANKS PANGAS, San Jose del Cabo, January 21, 2001, Eric Brictson, Reservations 800-408-1199; Fax 619-447-4098; 011-52-114-21147. Crowds of tourists are now traveling to Southern Baja to escape the cold of winter and enjoy the warm sunshine along with the variety of outdoor sporting activities. Anglers have not been disappointed, as they had excellent catches of striped marlin, dorado and yellowfin tuna, along with a variety of other inshore and bottom species. The water has been a greenish color throughout most of the region and has continued to drop in temperature, now averaging 71 to 73 degrees. There was not much wind most of the week, until Friday and Saturday when a cool northeasterly did pick up, but it did not slow the action much as there were inshore opportunities where anglers could comfortably catch a variety of smaller game fish. There were plenty of live sardinas available off of the area of Cardon, being netted by the commercial pangueros and they were the bait of choice for the panga anglers launching out of San Jose del Cabo.
The main target species has been the yellowfin tuna, as they were the most cooperative and provided consistent action for the panga fleets. Best areas being the Gordo Banks, Cardon and Punta Gorda, where anglers drift fishing with live bait accounted for as many as 10 yellowfin per day. The larger fish were further offshore on both the Inner and Outer Gordo Banks and could be seen feeding on the freely chummed sardinas, though at times would become extremely line shy and difficult to hook. The size of the fish that were landed from the combined Playita fleet at San Jose del Cabo ranged from 15 to 94 pounds, with even larger fish reportedly being lost after long battles. With the chance of the big tuna it did not make much sense to use lighter than 40 pound tackle, and it was even better yet to use 50 or 60 pound. Fly lining live baits into a chum line proved to be the best technique but it was also worth experimenting with a 1/2 to 1 ounce sinker to bring the bait down, especially when the skipjack became a nuisance on the surface. Needlefish also caused frustration at times, though it is not common for these schooling fish to be found as far offshore as the Banks they have been there the past couple of weeks. Anyway the tuna bite continues to produce quality fish of 40 to 80 pounds daily, the bite has been continual for months now and is proving to be the best in years.
Typically at this time of year the San Jose pangas would be fishing more for bottom and inshore species but with the great surface action continuing this has attracted more anglers than usual for the month of January.
Dorado activity did increase this past week after having become scarce, still not abundant but being caught at the rate of one to five fish per boat. They were mixed in the same areas as the tuna but were also being found close to the shoreline, where the water was a bit warmer and there were bait fish. Most of the dorado were in the 10 to 20 pound class but several bulls accounted for weighed over 25 pounds.
One incredible story occurred off the beach of La Playita by an angler who had spotted some feeding activity and noticed a dorado chasing bait right up onto the sand, he cast his lure in the direction of where the feeding frenzy was going on and to his and everyone else's amazement hooked and landed the 20 pound dorado, right there while standing on the beach. It was the young angler's first surf fishing experience in Baja and I hope he realizes that it was a once in lifetime catch.
More striped marlin continue to be seen out of San Jose del Cabo but the main concentration of them is still off of Cabo San Lucas. A couple of late season sailfish were hooked into on live sardinas, only to break off on lighter line. Along the shoreline there was a mix of roosterfish, up to 20 pounds, mostly under 10 pounds, sierra that averaged 2 or 3 pounds, one monster of 9 pounds was caught and jack crevalle. Off the bottom anglers produced catches of pargo up to 10 pounds and grouper to 40 pounds, but it was on the slow side and with a strong current running was a challenge to keep from loosing too much gear. Good Fishing.
EAST CAPE FISHING REPORTS
ALL ARTICLES, REPORTS AND FISHING INFORMATION FOR EAST CAPE
EAST CAPE, MEXICO: BAJA ON THE FLY, Buena Vista, January 24, 2001, Gary Graham, Reservations Tel 800-919-2252; Fax 760-746-7260. TEMPERATURES: High of 75 with a low of 61; Some high clouds and wind in the afternoon. STRIPED MARLIN-Few boats targeting them this week. YELLOWFIN TUNA-Continued good catches toward Cabo Pulmo and up toward Muertos Bay. DORADO-Fair catches in front of Cabo Pulmo. A few fish also being found in the boat line in front of the hotels. ROOSTERFISH-Still a good showing of smaller roosters and sierra in front of the hotels. JACK CREVALLE-A few mixed in with the roosters and sierra along the shore. BARRILLETE OR MEXICAN SKIPJACK-Fair catches. PARGO AND CABRILLA-Punta Colorada is still the best bet. OFFSHORE: Tuna and some dorado provided the best action. INSHORE: The best bet is small sierra and roosters close to the shore. BEACH: A lot of bait spotted, with roosters, jacks, and sierra chasing it.
QUICK COMMENT-Steve Nally, visiting from Tasmania and I finished up our whirlwind trip to East Cape and Puerto San Carlos. Steve caught his first roosterfish, jack, sierra, cabrilla, pompano, snook and even a cornet fish. Not bad for a first trip to Baja in the middle of winter.
Note to Southern Californians: I will be presenting a program at the Fly Fishers Club of Orange County Thurs. (1/25) at 6:15 p.m. at The Phoenix Club at 1340 South Sanderson Avenue, Anaheim 92806 (Ball Road Exit off 57 Fwy, Go East to Phoenix Club Drive, South to Phoenix Club Drive, turn right on Sanderson.)
Note to Northern Californians: Yvonne and I will be off to the International Sportsmen's Exposition in San Mateo. We will be in the same booth as previous years: #1430. Stop by and look at some of our new flies and photos of this year's catch. Gary will be appearing at 6:30 on Fri. (2/2) night in the Adventure Theater.
EAST CAPE, MEXICO: BUENA VISTA BEACH RESORT, Buena Vista, January 19, 2001, Axel Valdez, Reservations 800-752-3555. Boats out, 37. Weather, Low 80s-High 80s. Water Temperature, 70-75. Fishing Results (kept/released): Blue Marlin 0/0; Striped Marlin 1/4; Sailfish 0/2; Dorado 24/5; Shark 0/0; Tuna 4/0; Roosterfish 0/0; Wahoo 0/0; Trumpet fish 0/0; Skip Jack 0/8; Bass/Grouper 0/0; Jack Crevalle 0/0; Red Snapper 0/0; Needlefish 0/0; Sierra 22/0; Triggerfish 0/0.
When the winds are not blowing the fleet is going down in front of the light house. When it blows they prefer to go north by Punta Pescadero. Still it is very early in the season to be getting sails, and finding the numbers of dorado close by. We are expecting to have an early season. Write it down, you'll see.
Successful lures: Chivato (orange/yellow), Purpuras (purple/black), green/black and they are also trying the petrolero (black/orange) hoochies and rapalas. Bait Used: Some sardine and Rapalas.
Highlight of the Week: SAILS ARE STILL HERE, not too common to see sailfish during this time of year. Stripers are all around, but it is best to wait for the wind to stop to go fishing, otherwise the inshore fishing is your best bet, since there is a lot of sierra and some yellowtail.
EAST CAPE, MEXICO: RANCHO LEONERO, Bahia de Palmas, January 20, 2001, John Ireland and Roy Baldwin, Reservations 800-646-2252; Hotel 011-52-114-10216. Mild conditions prevail, with daytime highs in the mid 70's, evening lows about 60, breezy days with water temp in the low 70's. Windy during midweek, with calm weather returning for the weekend. Light fishing pressure with few boats going out. Schools of mackerel are keeping the game fish close in. Stripers and sails located south, from the lighthouse to Los Frailes, from 3 to 10 miles out, taking exclusively live mackerel. Dorado averaging 10-15 lbs are spread throughout the bay, schooling under floating debris, taking live bait, hoochies and lures, with most anglers taking limits. Football sized tuna remain off Punta Pescadero, taking hoochies, live bait and strip bait. Roaming schools of sierra are just off the beaches, with the fish aggressively biting hoochies and small rapalas.
LA PAZ FISHING REPORTS
ALL ARTICLES, REPORTS AND FISHING INFORMATION FOR LA PAZ
LA PAZ, MEXICO: JONATHAN ROLDAN'S TAILHUNTER ADVENTURE SERVICES, La Paz, January 24, 2001, Jonathan Roldan, Tel 626-333-3355; Fax 626-333-0115; Pager 323-349-8111; Message Pager 877-310-7734. Amigos and Pescadores! Kind of an on-again-off-again week these past few days. The weather wasn't the most cooperative. Got a little blow and even a little bit of rain briefly. Definitely sweatshirt weather. I think that definitely affected the bite, but not having a whole lot of anglers right now doesn't help to get an accurate read on the fish. Talk to some boats and they'll tell me that they had a kick of a great day. Talk to another boat and they'll tell me that it was a pick bite! Actually, had one boat come in with NO fish!!!! How often does THAT happen with us! They weren't my clients and they were understandably grumpy, but I talked with the skipper who's a friend and very good captain. He said they had a few fish hooked, but lost them all. They were also from "Nueva York" and said they didn't want him to help them and that they had all kinds of strange equipment and didn't want to listen to any of his suggestions. And then they wonder why they didn't have such a good day! Duh!!!!!! However, it wasn't like they didn't get bit either. Those city folk simply farmed their fish!!!!
Anyway, this week, our bonanza bite in Muertos Bay south of La Paz kinda tapered. What can I say? Maybe it was the weather, but the fish would come in flurries. Yellowtail and tuna mostly with the occasional sprinkled dorado. Still great by January standards, but they'd come up from deep to chew the chum and take a hook, but they wouldn't stay around. Clients would hook one or two, then it would take a few more handfuls of sardines to bring them back or you'd have to move to boat to find "nervous water" where the fish were feeding. Still, most boats came back with a few tuna, and yellowtail every day. One wahoo on the beach this week, but that was the only boat that actually pursued them and the guy had specifically targeted them. He fished 3 straight days for the 'hoo and didn't get a single strike. On the 3rd day, he was dozing off while trolling again and both troll lines went off. Both fish came off, but no question they were 'hoos. Then he got ripped again and finally got his skinny in the boat. ..a 30 pounder but he was pretty stoked to rack one at last! Persistence pays off!
On the La Paz side. .. not much to speak of. Again, lack of boats working the area, but there's a spot of tuna on the Bajo and every other day or so, someone finds a honey hole on Espiritu Santo's east side holding da kine yellowtail. ..those really pretty 40-60 pound forktail! Usually the guy gets rocked a bunch and out've 5 bites gets 1 or 2 into the boat.
LA PAZ, MEXICO: FISHERMEN'S FLEET, La Paz, January 24, 2001, David Jones, Hotel los Arcos, Reservations 011-52-112-21313; Fax 011-52-112-57334. It's nice to be talking to you guys. It's been a very trying last few months for Jane and I, but now everything seems to be somewhat on the mend, and I wanted to thank all of you who have been helping us through all of this, and to let everyone know that despite the lack of contact from me, things in La Paz are going very well. Due to events which you will soon understand better the calendars and newsletters are a little late, but will be out in the next 3 weeks or so. That and the 1,000,000 emails that await my return to La Paz are all that stand between me and getting this year off to a great start.
Where the Heck Are You?
About six weeks ago my father, Dr. David Jones, experienced a major stroke and has been hospitalized since then. At the time of his stroke "Doc" fell and knocked my mother over, badly breaking her wrist. Without going into any further personal medical details, suffice it to say that my place has been with them. Doc is the finest man I've ever known, and I owe him and Betty everything. I have been with them in Menlo Park, helping out along with my sister and brother. I greatly appreciate the good wishes and support that we have received from many of you. As those of you who have been through this before understand, there is nothing that those outside of the family can do, but is very gratifying to know that you are there. I will be here another week to 10 days, and then will rejoin Jane and the kids to prepare to greet you later this year.
That Must be the End of Your Sad Tale.
No, not quite. While dealing with these problems, and while I was out of town, the "men" that have driven the vans for our business the last 5 years decided to quit their job, leaving Jane to fend for herself, with no notice. When I asked them on the phone what they were doing I was told that they had taken positions working for a family member driving cargo in the Baja. I was disappointed and a bit angry at their leaving Jane without help after we had always helped their family in any way that we could. Imagine my joy when I discovered through some of you that they had actually formed a new fishing business in La Paz, with the help of a former customer who was well aware of my situation, and that they had taken my mailing list in order to recruit our customers. Well, I "grew up" professionally in Silicon Valley, where spin offs and competition are a way of life, and I haven't a problem with either, but I do have a problem with dishonorable and dishonest behavior in any guise. While I always welcome competition, and believe that it benefits all concerned, I do not appreciate the false statements that these guys are making as to my status and the lies they are telling about their product. As a last statement on this issue, I wish them all of the success that their actions so richly deserve.
Hell Dave, You Got Any Good News?
Hell, I got lots. The fishing is currently very good, with Yellowtail, Yellowfin, and Dorado coming in in good numbers. The Tails and Tuna have been in the 12-25 pound range, the Dorado a little smaller. Some Cabrilla have started to show, nothing over 8 pounds yet. I will have a review on a new Yo Yo jig to which I am becoming quite attached in 3 weeks. The winds are still blowing a little, but nothing like what Mr. Markle is dealing with. In a week or so Glynnis and I will run up and do a look see for Mr. Pargo. Jane, Chris, Kelly, Glynnis, Juan, Jay, Lupe, Librada, Sandra, and Mario are all waiting to see you guys. Now that we've worked our way through these rough seas, we anxiously await seeing your smiling faces, well OK Bill you don't have to smile, this year. Call me next week for reservations because June and July are already filling up.
LORETO FISHING REPORTS
ALL ARTICLES, REPORTS AND FISHING INFORMATION FOR LORETO
LORETO, MEXICO: ARTURO'S SPORT FISHING, Loreto, January 19, 2001, Arturo Susarrey, Reservations Tel 011-52-113-50766; Fax 011-52-113-50022. WEATHER: We have been a week with a lot north wind with temperatures lower than usual, the last days the temperature in our office has been 55 F on the cooler days. That's why we cannot go fishing the last week. YELLOWTAIL: Here in good numbers and sizes too. They are at Coronado Island, El Mangle y Pta. Pulpito. CABRILLA AND SNAPPER: In the same areas.
LORETO, MEXICO: BAJA BIG FISH COMPANY, Loreto, January 23, 2001, Pam Bolles, Reservations Tel/Fax 011-52-113-50448. Hola, I'm waiting for my internet service to get a local dialup. I hear it will be happening this week. Busy, busy, busy!
We've been blown off the water for just over a week. The winds from the North have been very strong, but yesterday we were given a break. We're back into a calm period again, and no telling how long it will last. Right now we're experiencing highs in the low 70's (F) but it feels colder because of the overcast skies. Lows are in the mid 40's to low 50's (F). Typical January weather for these parts, and this is the coldest time of the year. It's been overcast during the past week but today it has cleared.
That same school of Yellowtail that's been off Isla Coronado just north of Loreto is still around and they're getting bigger. This week they've been averaging 20 pounds. They're following bait fish and will swim deep one day and be boiling at the surface the next-so prepare yourself accordingly. The fish are moving between Isla Coronado and San Bruno. There is another large school off Puerta Almejas, just a bit farther north of San Bruno. Large fish are also boiling just south of Punta Perico (east side of Isla Carmen). There are larger ones still-being taken off Punta Pulpito but that's a long haul.
LORETO, MEXICO: EL FUERTE SPORT FISHING, Puerto Escondido, Janaury 24, 2001, Ty Miller, Reservations Tel 714-775-6658; Fax: 714-755-3501; Loreto 011-52-113-30863. Hola Amigos. Early this past week started off with a bang with a wide open bite on the Yellowtail in the 25 to 35 pound class out at Pt. Perico with everybody scoring limits within an hour's time. Yellows were stacked from the top to the bottom and every bait was a guaranteed fish! What a blast to see everybody screamin' and hootin' while being bent over hard and reels singing that familiar tune!
That bite lasted for two and a half days, then it was like somebody pulled the plug. The Yellows were gone and have not been found since! I mean everybody scoured all the spots and nothing! Looks like these fish are on the move and maybe, just maybe, they have decided to go hang out at Isla Catalan for a while. I will be personally checking this out. But, there was a ton of fish out there, guys, so lets hope they are still hanging around and just decided to take a time out.
Other than the flurry from earlier this week, the fishing has been slow with a few Cabrilla being brought to the gaff but nothing of any size. People here in Tripui are wandering around still trying to figure out what happened on that hot bite that they thought for sure would last forever! Oh well! That's fishing!
Bait is about the only thing steady these days with perfect size Caballitos at the bump outside the harbor and a few green macks in the mix. Bait bite is between 6:30 to 7:00A.M.
I'm going to play the "patience is a virtue game" and wait these fish out and see what happens. Remember, it's only the end of January and we have already seen some promising news for an early season on the Yellowtail! Hang in there! They're on their way, trust me! Hasta!
Temp:72 Water Temp:.65 Winds: North 5 to 10 mph. Seastate: 1 to 2 feet.
MULEGE FISHING REPORTS
ALL ARTICLES, REPORTS AND FISHING INFORMATION FOR MULEGE
MULEGE, MEXICO: MULEGE, January 23, 2001, Michael Melton & Jens Kolbowski, reporting for baja-web.com. Air Temp 50-70. Water Temp 65. Humidity 75%-80%. Sea calm. Skies clear. Wind mild. Sorry no new report, there was to much wind to go out fishing. Lots of Whales with babies.
BAHIA DE LOS ANGELES (L.A. BAY) FISHING REPORTS
ALL ARTICLES, REPORTS AND FISHING INFORMATION FOR BAHIA DE LOS ANGELES
BAHIA DE LOS ANGELES, MEXICO: CAMP GECKO, Bahia de los Angeles, January 23, 2001, Abraham Vazquez, Tel 011-52-515-19454; Fax 011-52-665-03206 (goes to Guillermo's). Air temp cold by our standards, 48-68. Winds out of the north for most of the week and no wind the last couple of days. Humidity staying high at 65-70%. Seas rough for most of the week. Water temperature, 60F. Fishing has not amounted to much this week because the L.A. Bay boats that have been going out have only been able to go to the local islands and not to the yellowtail fishing grounds. Road conditions good. Gasoline 125 pesos for 20 liters. Not much else is happening. Everything is slow. (I guess it is winter.)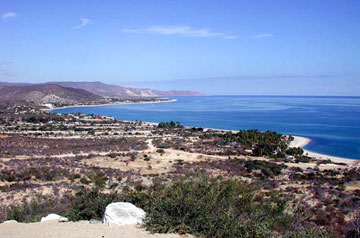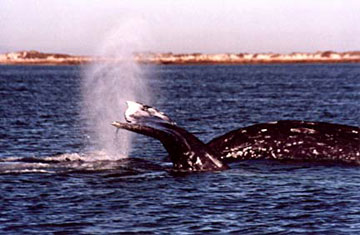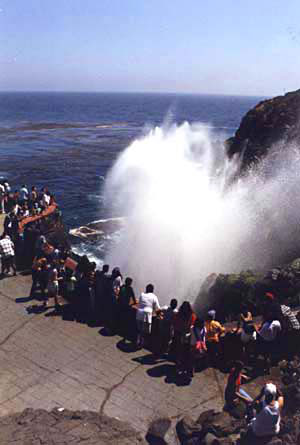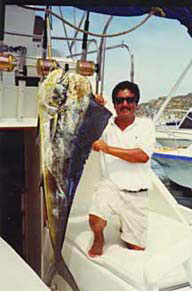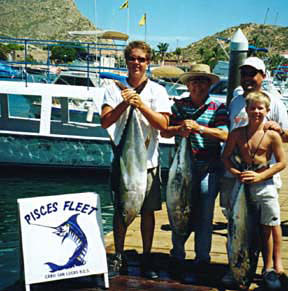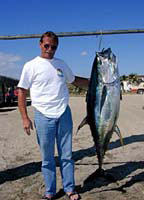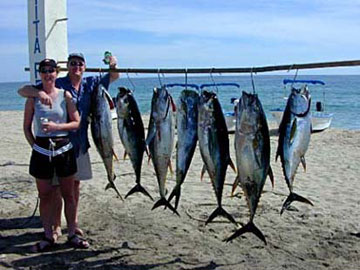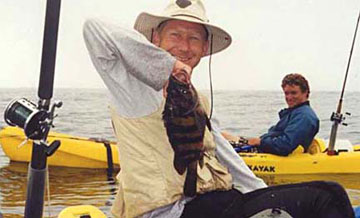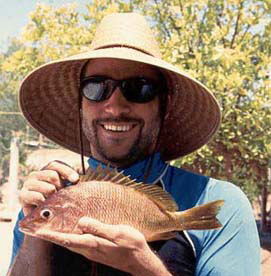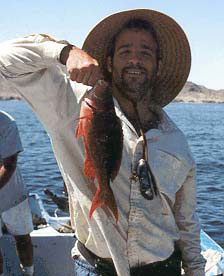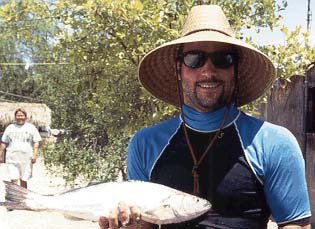 Baja coastal fishing reports and articles.
Ensenada fishing reports and articles.
Puerto Santo Tomas fishing reports and articles.
Erendira fishing reports and articles.
San Quintin fishing reports and articles.
Magdalena Bay fishing reports and articles.
Cabo San Lucas fishing reports and articles.
San Jose del Cabo (Los Cabos) fishing reports and articles.
East Cape fishing reports and articles.
La Paz fishing reports and articles.
Loreto fishing reports and articles.
Mulege fishing reports and articles.
Santa Rosalia fishing reports and articles.
Bahia de los Angeles (L.A. Bay) fishing reports and articles.
San Felipe fishing reports and articles.
Rocky Point (Puerto Penasco) fishing reports and articles.
San Carlos (Sonora) fishing reports and articles .
Mazatlan fishing reports and articles .
Puerto Vallarta fishing reports and articles.
Ixtapa Zihuatanejo fishing reports and articles.
Huatulco fishing reports and articles.
Cancun fishing reports and articles.
Mexico coastal fishing reports and articles.
Mexico Fishing Home Page < Mexico Fishing News Archives < Fishing Report