At times the surface actually turned red with them, they averaged 5 to 10 pounds and provided bonus action along with some quality sized amberjack and grouper that hit on iron jigs retrieved off the rocky bottom. Another abundant species is bonita, averaging 4 to 6 pounds and once located made for some fast action on the retrieved jigs.
Trolling live bait along the shoreline from La Playita to Punta Gorda was producing increased activity for sierra and roosterfish. Larger sierra of 4 to 10 pounds were taken consistently and a few bigger rossterfish were starting to show as well, several in the twenty pound class were released, most were under 10 pounds. Mullet have migrated in early this year and are schooling off of La Playita beach, this should start attracting more gamefish. Signs are pointing towards a great spring season as bait is abundant and weather is rapidly warming. With mackerel now moving onto the local fishing grounds, it most certainly will stir the striped marlin bite in the right direction. Good Fishing, Eric.
In other mainland Mexico and Baja fishing action this week:
ENSENADA FISHING REPORTS
ALL ARTICLES, REPORTS AND FISHING INFORMATION FOR ENSENADA
ENSENADA, MEXICO: LILY FLEET, Ensenada, March 22, 2001, Sammy Susarrey, Reservations Tel/Fax, 5 to 9 p.m., 011-52-617-46747; Cell 011-52-618-67485. Today the Tamara fished very close to the rocks at Punta Banda, hooking 2 big yellowtail that were lost on the rocks. These fish were traveling in surface schools and were in the 25-pound class. Trolling north of Todos Santos island, we lost another and landed one on a trolled Rapala, CD14, purple and black. The fish lost at Punta Banda were hooked on Tadys. We also caught 12 lingcod and 90 red snapper, bass, sandbass and miscellaneous fish. Most bottom fish caught on Salas 6X. Water temperature at Punta Banda was 60 degrees, North Todos Santos 61 degrees, and Todos Santos Reef, 59.7 degrees.
March 24, 2001-- Today, the Amigo fished at Punta Banda, but we couldn't find the yellowtail. The water temperature was 63 degrees, windy day. We also fished North Todos Santos Island, 2.5 miles on a 300 degree heading from the island, catching nice red snappers, lingcog, bass, and salmon grouper, plus miscellaneous fish. Water temperature at the island was 62 degrees.
March 27, 2001-- Yesterday was very windy and bumpy. We caught some red snappers and lingcod at Maximino Reef, close to Punta Santo Tomas. Today the Tamara fished Maximino again with 7 anglers, and north to Arbolitos, around a very small bajo with sand around it. We caught a lot of whitefish, 3 to 5 pounds, and lingcod to 6 pounds, plus 11 red snappers. It was an incredible day. Water temperature was 53 degrees, clean. We also caught some barracuda near Todos Santos Island in 63 degree water.
MAGDALENA BAY FISHING REPORTS
ALL ARTICLES, REPORTS AND FISHING INFORMATION FOR MAGDALENA BAY
MAGDALENA BAY, MEXICO: BAJA ON THE FLY, San Carlos, March 24, 2001, Gary Graham, Reservations Tel 800-919-2252; Fax 760-746-7260. Temperatures: 75-degree high; low 59. TUNA--Pretty quiet. YELLOWTAIL--Shut off completely this week. CORVINA--Few reported this week up toward Devil's Curve. SNOOK--Slow going this week with only a few caught at Devils Curve. HALIBUT--Continue to be the best bet for the fly rodder. QUICK COMMENT--Windy conditions slowed everything to a crawl this week.
CABO SAN LUCAS FISHING REPORTS
ALL ARTICLES, REPORTS AND FISHING INFORMATION FOR CABO SAN LUCAS
CABO SAN LUCAS, MEXICO: PISCES FLEET, Cabo San Lucas, March 27, 2001, Tracy Ehrenberg, Reservations Tel 011-52-114-31288; Fax 011-52-114-30588. BILLFISH: Fishing did improve this week, especially with a couple of really good days, Sunday and Monday, March 25th and 26th, but colder weather again moved into the area, causing catches to slow. March has always been known as a swordfish month and even though catches of broadbill are not plentiful, some very fortunate anglers did manage to hook up. Dozens of swordfish were spotted this past week, but getting this fish to bite, takes skill, patience and a big dose of luck. One such angler was Hector Barragan from Sacramento, Ca. who landed a 400 lb broadbill aboard Gaviota on March 25th. A couple of days before this Gary Tolksdorf, landed a 240 lb swordfish aboard, "La Brisa"--an exhausted Gary fought the fish until well after dark, with the boat returning to the dock around 8.00 p.m. Marlin catches did climb a little this week with almost thirty percent of charters catching stripers. Gerry and Kevin Petzold from Seaford, N.Y did extremely well, having a double hook-up on striped marlin--Kevin hooked up on live bait and Gerry on a lure that he was retrieving to avoid tangling with Kevin's line; they also boated seven yellowfin tuna this same day aboard "Karina". Logan Boyles form Rancho Santa Fe, Ca. had a very decent day aboard "Ruthless" on March 23rd, releasing a striped marlin and a mako shark, as well as landing a dorado for the table, off of Destiladeres, a long way out of Cabo, almost up as far as Los Frailes in the Sea of Cortez. This same boat, a couple of days later, scored a striped marlin, six tuna and a dorado, for David Mill, from Tampa, Fl, but this time in the complete opposite direction; off of the Old Lighthouse. The outlook is for the fishing to continue to improve. Pisces anglers caught 8 striped marlin this week and one swordfish. The overall catch success rate for all species combined jumped up to 88%.
OTHER SPECIES: Yellowfin tuna dominated Cabo fishing this week. The largest fish landed was taken by an angler from the Tom's River area, New Jersey, aboard Stimulator--the tuna weighed in at 140 lbs and took a live caballito 6 miles off of Palmilla. Throughout the week boats regularly caught between 2 and 10 yellowfins ranging in size from 18 to 30 lbs, over a widespread area. Dorado catches were on the slow side, with just the odd specimen up to 30 lbs. There were some catches of mako shark--we had three, with weights ranging from 30 to 70 lbs. Inshore still quite a few sierra around and lots of skipjack.
LOCATION: Varied, Chileno 12-18 miles out, 20-28 miles south of Cabo, 3-10 miles off of the Old Lighthouse, Palmilla. WEATHER CONDITIONS: Clear sunny skies, now turning cloudy, seas good, now turning to whitecaps in the afternoons. AVERAGE WATER TEMP: 67-71. BEST LURES: Live bait for marlin and swordfish, assorted feathers for tuna and green/yellow lures for dorado.
CABO SAN LUCAS, MEXICO: HOTEL SOLMAR SUITES, Cabo San Lucas, March 23, 2001, Renee Santa Cruz, Reservations Tel 800-344-3349. Cabo's weather turned around this week, warming up to 75 degree air temperature, and water surface turning up to 70 degrees; the winds died down, the skies were clear and sunny--but marlin continued their hide & seek game, even though yellowfin tuna came back with a flourish. Solmar boats found best fishing 1 to 3 miles offshore from the Solmar Hotel at the southern tip, up the Pacific side to the Lighthouse, taking sierra, red snapper, yellowtail, roosterfish and jack crevalle.
Some boats cruised 25 to 30 miles up the Cortez to the Gordo Banks, where they found good numbers of yellowfin tuna, and a few striped marlin. The fleet's catch for the week included 8 striped mrlin (6 released), 5 dorado, 219 yellowfin tuna, 80 sierra, 4 sharks, 8 pargo, 3 yellowtail, 4 roosterfish, and a grab bag of cabrilla and jack crevalle.
CABO SAN LUCAS, MEXICO: JEFF KLASSEN SPORT FISHING, Cabo San Lucas, March 29, 2001, Jeff Klassen, Reservations Tel 360-402-3474. Jeff Klassen and Los Cabos Fishing is proud to announce the 1st Annual "Surf 'n Panga Roosterfish Klassic" Tournament, which will be held in Cabo San Lucas, Mexico July 5, 6, & 7, 2001. This will be a very unique tournament as it combines a day and a half of panga (skiff-type boat) fishing and a day and a half of surf fishing. It is probably the only such type of tournament anywhere. Although the tournament focuses on the very popular and exotic Roosterfish there will be prizes for other species as well, including pargo (snapper), jack Crevalle, Sierra mackerel and miscellaneous. This tournament is a qualifying event of the International Game Fish Association/Rolex Tournament of Champions and is a 100% release event. The Surf 'n Panga Roosterfish Klassic is a non-money tournament however, there will be daily jackpots or "calcuttas" arranged. Prizes are being generously donated by our sponsors: Mexicana Airlines, G. Loomis, Shimano, Viva Cabo Hotel, Cabo Wabo Cantina, Blue Water Fishing Accessories, Fishworks, Eagle Claw, Tag and Brag, Roberts Lures, Big Hammer Lures and Jeff Klassen Sport Fishing LLC. Further information and tournament registration is available online at www.jeffklassenfishing.com/cabotourney.htm or by calling 360-402-FISH (3474).
Please call me if you have questions regarding the tournament or if you wish to attend. --Jeff
CABO SAN LUCAS, MEXICO: PICANTE FLEET, Cabo San Lucas, March 28, 2001, Sergio Cortes, Reservations Tel 011-52-114-32474; Fax 011-52-114-35969. Fish available: Striped Marlin, Yellowfin Tuna, Dorado & Wahoo. Water temperature: 68-71. Air temperature: 86/51. Humidity: 57%. Wind: 15-18 Knots (Pacific), 10-12 Knots (Sea of Cortes). Fleet production (7 boats): 1 Striped Marlin, 15 Tuna & 2 Dorado. Hot spots: Gordo Banks (Sea of Cortes ). Luckiest boat: Picante Pride (35' CABO ). Captain: Antonio Romero Angler: Anthony Falcone. Production: 2 Yellowfin Tuna, 60, 90 lbs.
The Sea of Cortes has the best fishing at the time, warm water ranging from 69 to 71. The Pacific Ocean remains very cold and not much action therefore. Striped Marlin fishing slowed down yesterday. Lots of Yellowfin Tuna, all sizes and numbers. Few Dorado & Wahoo have been caught lately. Swordfish have been spotted also. Blue skies all day long, Mild intensity winds thoughout the day.
CABO SAN LUCAS, MEXICO: FLY HOOKER SPORT FISHING, Cabo San Lucas, March 25, 2001, Capt. George & Mary Landrum, Reservations Tel 011-52-117-01271; 011-52-114-87452. WEATHER: This past week has been an example of why people love to come to Cabo. The weather has warmed up, we have had sunshine everyday and the temperatures ranged form the low 70s to high 80s. No cloud cover and very light winds contribute to the feeling of living in Paradise.
WATER: conditions have been perfect for fishing this past week. Light winds have kept the chop down and the Pacific side has had only a small 3-foot swell. Glassy conditions in the morning, change to wind riffled surfaces midday and a light chop by late afternoon. Water temperatures are starting to go up with the Pacific side of the cape being in the high 60s and the sea of Cortez up to 73 degree. A long finger of cool weather has extended south of the cape, but it is beginning to warm up also. We have a warm water current eddy approaching from the southeast that should raise the temperatures overall in the region and hopefully bring in more fish.
BAIT: A mix of Caballito and Mackerel have been available all week at the usual price of $2.00 USD per bait. Sardinas in Cabo San Lucas have been about $20. per scoop, but if purchased in San Jose they have been about $5-10 a scoop.
BILLFISH: Thanks goodness the Striped Marlin bite is beginning to pick up. Everyone is attributing this to the increase in water temperature and decrease in bait abundance. It is also possible the improved water conditions have made it easier to spot tailing fish. Whatever the reason, there have been more Marlin reported this week than for the last 3 weeks combined. Almost all of these fish have been caught on live bait.
YELLOWFIN TUNA: Consistency has been the hallmark of Yellowfin tuna fishing at Gordo Banks. But while consistent, there have not been large amount s caught. Most boats have been getting 1-5 fish per trip and sizes running 15-35 lbs with the occasional 60-75 lb fish for excitement. Boats able to happenchance on the porpoise have done well with quantities of 10-20 pound footballs and an occasional 50-70 pounder. These fish have been falling for cedar plugs and feather jigs. The porpoise have been from 15-30 miles to the southeast of the cape.
DORADO: A few scattered fish have been found and most of them have been 12-15 pounds. Feather jigs and live bait have been working well when the fish are found. Most have been found mixed in with the tuna offshore.
WAHOO: I saw an 80 pound fish yesterday that was caught while working porpoise for tuna, but was the only Wahoo I have seen all week. There are some out there !!!
INSHORE: The water is warming up a bit so the yellowtail bite that was going on at the Arches has fallen off almost as soon as it started to get good. The bite was good on the tide change for fishing the 15-25 lb class and most of them were caught on iron jigged in the mid-depths of 75-125 feet. Skipjack action has been red-hot for fish in the 10-15 lb range and a few Sierra have rounded out the active inshore bite. The Pargo that wee supplying occasional hot action have moved to deeper water for the most part, as the moon has changed phase.
NOTE: The whales are starting to move out, the water is warming up and the fishing should start to turn on soon. It,s still spring Break and there are a lot of kids in town. Doesn't seem to be as many rowdy's as last year though, of course as a fisherman, I am usually in bed by 9.
EAST CAPE FISHING REPORTS
ALL ARTICLES, REPORTS AND FISHING INFORMATION FOR EAST CAPE
EAST CAPE, MEXICO: BAJA ON THE FLY, Buena Vista, March 24, 2001, Gary Graham, Reservations Tel 800-919-2252; Fax 760-746-7260. TEMPERATURES: High of 84 with a low of 54. STRIPED MARLIN--More fish reported this week, but our clients elected not to fish for them. YELLOWFIN TUNA--Still a long run to get anywhere near them. DORADO--A few dorado throughout the bay. ROOSTERFISH--Plenty of smaller fish close to shore. JACK CREVALLE--A few small fish are hanging in front of the hotels. BARRILLETE OR MEXICAN SKIPJACK--Fair catches below Los Frailies. PARGO AND CABRILLA--Good near shore at Punta Colorada or Cerro Verde. OFFSHORE: While the water seems to be warming up slowly, unfortunately the best offshore action is still several hours away. INSHORE: Small jacks and sierra continue to provide fair action close to shore. BEACH: A few small roosters and jacks early morning and late afternoon. QUICK COMMENT--First really good day on the pontoon in a while. Alan Gikkus and family caught a number of small roosters and pargo in front of Punta Colorada on Fri. (3/24). Hope it holds. I am back for the weekend and will be there at the crack of dawn.
EAST CAPE, MEXICO: RANCHO BUENA VISTA, Buena Vista, March 24, 2001, Tamara Moyeous, Reservations 800-258-8200. Hi Gene. We have great weather and the water is flat as a pancake. Eighteen East Cape boat trips netted a total of 69 fish. Eight Stripers, 10 Dorado, 21 pargo, and 28 Sierra. Not bad, considering how slow we have been. No weights on any of the fish, although I talked to a fellow the other day who caught a striper and it was 110#. Best regards, Tami.
EAST CAPE, MEXICO: BUENA VISTA BEACH RESORT, Buena Vista, March 24, 2001, Axel Valdez, Reservations 800-752-3555. Weather Temperature: Low 80s. Water Temperature: 65-75 Boats out: 3. Catch report (caught/released): Blue Marlin 0/0, Striped Marlin 0/0, Sailfish 0/0, Dorado 0/0, Tuna 0/0, Pargo 22/0, Sierra 2/0, Cabrilla 0/3, Skipjack 0/2, Yellowtail 13/0.
EAST CAPE, MEXICO: RANCHO LEONERO, Bahia de Palmas, March 24, 2001, John Ireland and Roy Baldwin, Reservations 800-646-2252; Hotel 011-52-114-10216. Absolutely perfect weather, with daytime highs in the mid 80s, cool evenings near 60, mostly sunny skies, dead flat seas and warming water temp about 70. The great weather is warming the water rapidly, and any boats finding warm patches of water are instantly hooking up striped marlin, with fish attacking teasers, but most hookups coming on live mackerel, about 20 miles off Cabo Pulmo. With the bay full of sardinas right now, the gamefish action is spread throughout the area, with dorado to 40 lbs taken early in the week, shifting to pargo to 50 lbs, cabrilla to 20 lbs, and sierra to 8 lbs by week's end. The tuna bite was south of Los Frailes this week, with most fish taken on flylined live sardinas.
EAST CAPE, MEXICO: HOTELS PALMAS DE CORTEZ, PLAYA DEL SOL, PUNTA COLORADA, East Cape, March 23, 2001, reported by Dave "Smokey" Manuel, East Cape Smokehouse, Hotel Reservations, 800-368-4334. Little by little, or poco a poco as we say here in Baja, both water and fishing conditions continue to improve. The productive spots have varied little, but I'm hearing more reports of sightings on multiple Striped Marlin farther North than earlier in the week where most of the action was down to the South. The last two years we've had good numbers of Striped Marlin at the ocho-ocho in March and April, so perhaps that spot will begin to produce again soon. The ocho-ocho is somewhat of a sea mound located nearly due North of Los Barriles on the Eastern side of Cerralvo Island. Although the waters to the North have increased sightings, most of the catching is still going on down near Los Frailes on the outside anywhere from 9 to 20 miles. Most reports are of Stripers running in the low to mid 100 lb. range and are hitting both live Mackerel and lures. An area a bit farther South than that continues to provide some action on Yellowfin Tuna, but it's a long boat ride, about 2.5 hours or longer. Several charters did well on Friday there, several of the Tuna I saw weighed 50 to 70 lbs. The bite slowed on Saturday, but was again productive on Sunday, this time on mostly smaller Tuna under the 20 lb mark with a few 30 lb to 40 lb. fish mixed in. Tuna were hitting feathers, cedar plugs and live bait. Not much happening on Dorado yet. A few continue to come from the Northeast and out, but nothing consistent yet. Inshore fishing was decent again with some limited Yellowtail action up North off Punta Perico and a couple of good bites just off shore of La Ribera to past the Lighthouse on both Pargo and Sierra. Bait supply has been good all weekend with Mackeral and large Sardines both available in the bay off Los Barriles.
LA PAZ FISHING REPORTS
ALL ARTICLES, REPORTS AND FISHING INFORMATION FOR LA PAZ
LA PAZ, MEXICO: JONATHAN ROLDAN'S TAILHUNTER ADVENTURE SERVICES, La Paz, March 26, 2001, Jonathan Roldan, Tel 626-333-3355; Fax 626-333-0115; Pager 323-349-8111; Message Pager 877-310-7734. I'm not sure whether to say that it looks like we're into a pretty good season or to say that we've last year's good season never really stopped. In any event, we're definitely having a yellowtail season to remember. It's nothing like they have in Loreto with the big mossback toads, but if you want to rack up a bunch of 15-20 pound yellowtail this is sure the season to do it. We had a lull for a few weeks, but the yellowtail bite just outside of Muertos Bay and over to just in front of Punta Perrico has been nothing short of outstanding! It doesn't take much more than sticking a live sardine on a hook literally almost letting the bait swim down to the yellows. There are a few days when they aren't quite ready to chew, but slow trolling a sardine over the spot a few minutes usually triggers the feed like waving some meat in front of a bunch of puppies. They get interested really fast!
Short of the forktails, on the less breezy days, the boats are still heading to South Point at Cerralvo Island where the tuna schools have taken up residence on the Rock Highway. These are the fun grade spring schoolies with footballs to 30 pound fish. Again, live bait with a little weight or simply flylined kicks off the chew! If you really must...we don't do much trolling, but a few guys looking for wahoo in the area have gotten whacked by bigger yellowin in the 40-50 pound class, but these are also tougher fish and most have been lost unfortunately. Up the island, cabrilla and some of the bigger pargo are starting to show more often especially on the west side up to Pili. Pargo have been the 20-30 pound grade, but are awfully tough to pull out of the rocks.
All-in-all, a "typical" fish box these days is quite a smorgasbord and as the waters get warmer and the winds die down, it looks like we're going to have a good run. By the way, rooms and airline seats are booking for the season so start making your plans before it's too late. There are some days when no boats are available already. Wouldn't want you to get shut out!
LA PAZ, MEXICO: HOTEL LAS ARENAS, Punta Arena de la Ventana, March 26, 2001, Linda Glassman-Davis, Reservations 888-644-7376. We had a great show in Del Mar and bought 6 kayaks which are now enroute to the hotel for fishing as well as just plain fun. We look forward to seeing everyone! Captain's: Daniel, Beto, Ramon Lucero, Zapata, Roman, Ramiro and Manuel. Catch report: Sierra 8 to 6 lbs., Yellowtail 6 to 15 lbs., Bonita 4 to 5 lbs., Tuna 16 to 25 lbs.
LA PAZ, MEXICO: FISHERMEN'S FLEET, La Paz, March 22, 2001, David Jones, Hotel los Arcos, Reservations 011-52-112-21313; Fax 011-52-112-57334. The fishing has slowed just a bit, and the weather has improved just a bit. We've had spring like temps in La Paz, with a few people starting to dust off the word "hot" during the middle of the day. The wind while still present is on the wane, and I think that we're within one full moon or so of declaring El Viento Pasado. Fishing at El Castillo continues strong with large numbers of slightly smaller Yellowtail in the mix, along with the toothed Bonito that we get this time of year (good eatin') and some Cabrilla to 10 pounds. The Yellowtail are in the 12-17 pound range and 15-20 hooked for the day is not unusual, along with the other species. They are coming on Sardines and small Caballito which are plentiful and are voluteering eagerly for net duty. Over at the island the water has gotten fairly green (I don't know why this year either, but it seems to be in conjunction with the initial stages of warming) and the pargo bite has slowed, temporarily.
LORETO FISHING REPORTS
ALL ARTICLES, REPORTS AND FISHING INFORMATION FOR LORETO
LORETO, MEXICO: EL FUERTE SPORT FISHING, Puerto Escondido, March 28, 2001, Ty Miller, Reservations Tel 714-775-6658; Fax: 714-755-3501; Loreto 011-52-113-30863. Hola Pescadores. Wow! What a week we have had here out of Puerto Escondido! All of our favorite spots off Isla Catalan have exploded with "toad" yellowtail in the 35 to 40 pound class. I'm talking a wide open bite just about everyday for the last week! Yellows are aggressively taking the live bait and stopping the iron on the drop! Any size any color. It's been insane! Local residents here in Tripui have been all smiles with everyone getting in on the action. So, for all of my amigos that have places here in Tripui that are reading this, get down here!
From Smorgasbord Reef all the way along the west side of the island of Catalan and down to the South Reef (Las Burburjas) is loaded and these yellowtail are on a feeding frenzy so don't waste anytime getting down here to get in on the action!
The other great news is that we have starting picking up some 8 to 12 pound peanut size dorado. Yes, I said dorado! These little guys have been rushing the boat while we are fishing the yellowtail. This means that things are really starting to get funky down here and with the water temperature going up daily, we could be in for a real early dorado season. A few striped marlin have been working the south reef also so that confirms the warm water is moving in.
The caballito bait bite has been steady outside the harbor at the bump with the bite being between 6:00 and 6:30 a.m. Mackerel have been caught a little later but no one seems to want to waste precious time to get out to the yellows that are eating everything and anything. So, here we go on a real hot bite for now down here and we are excited to see where it's going to lead us for the summer. Stand by and keep you eyes out for next week's report with the possibilities of some more news on dorado and billfish. Hasta! Ty Miller
Temp., 86. Water, 72. Winds, none. Sea state, flat.
MULEGE FISHING REPORTS
ALL ARTICLES, REPORTS AND FISHING INFORMATION FOR MULEGE
MULEGE, MEXICO: MULEGE, March 26, 2001, Marty Robison & Jens Kolbowski, reporting for baja-web.com. Air Temp 60-75. Water Temp 68 Humidity 75-80%. Sea: calm. Skies: clear. Wind: mild. BARRACUDA: There are so many of this species the it is hard to troll without to catch one with either deep or shallow lures. Marlin & Sailfish, none reported. Bottom Fishing: Very good last week was the way to go because of so much loose grass in the water.
BAHIA DE LOS ANGELES (L.A. BAY) FISHING REPORTS
ALL ARTICLES, REPORTS AND FISHING INFORMATION FOR BAHIA DE LOS ANGELES
BAHIA DE LOS ANGELES, MEXICO: CAMP GECKO, Bahia de los Angeles, March 28, 2001, Abraham Vazquez, Tel 011-52-515-19454; Fax 011-52-665-03206 (goes to Guillermo's). Air temp 80-58. Winds, none to very light from the west. Humidity 60%. Seas calm. Water temperature 59-61. Fishing not very good this past week. The yellowtails have been absent from the catches, and most of the catch has been bass and ocean whitefish, and a few jawfish. Road conditions are still unchanged, 5 miles excellent, mile #6 terrible, and rest of the road very good. Gasoline 130.00 pesos per 5 gallons. Only 3 gray whales in the bay this year, so it is a great time to go visit the mission or the indian paintings. In contrast with the ocean, the desert is at the moment full of life and color.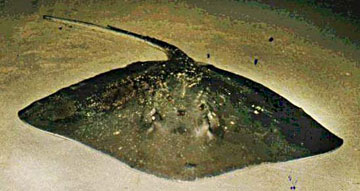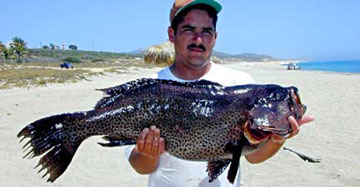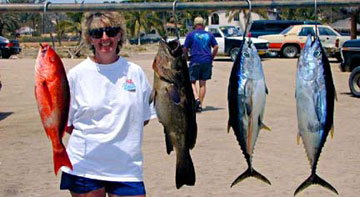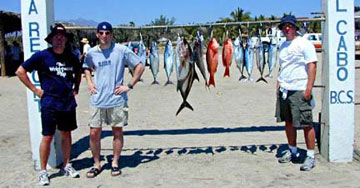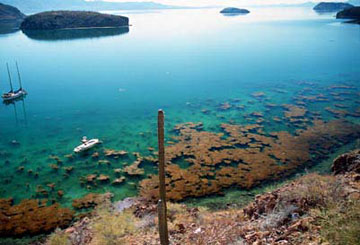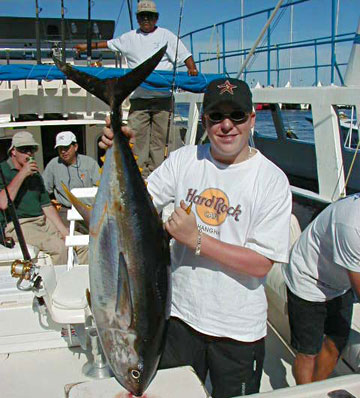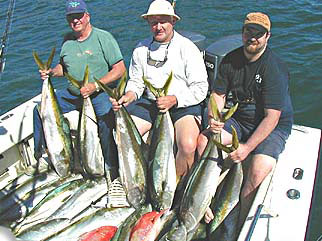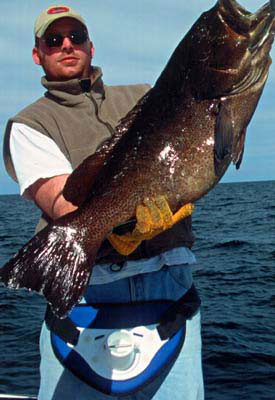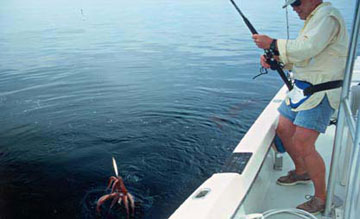 Baja coastal fishing reports and articles.
Ensenada fishing reports and articles.
Puerto Santo Tomas fishing reports and articles.
Erendira fishing reports and articles.
San Quintin fishing reports and articles.
Magdalena Bay fishing reports and articles.
Cabo San Lucas fishing reports and articles.
San Jose del Cabo (Los Cabos) fishing reports and articles.
East Cape fishing reports and articles.
La Paz fishing reports and articles.
Loreto fishing reports and articles.
Mulege fishing reports and articles.
Santa Rosalia fishing reports and articles.
Bahia de los Angeles (L.A. Bay) fishing reports and articles.
San Felipe fishing reports and articles.
Rocky Point (Puerto Penasco) fishing reports and articles.
San Carlos (Sonora) fishing reports and articles .
Mazatlan fishing reports and articles .
Puerto Vallarta fishing reports and articles.
Ixtapa Zihuatanejo fishing reports and articles.
Huatulco fishing reports and articles.
Cancun fishing reports and articles.
Mexico coastal fishing reports and articles.
Mexico Fishing Home Page < Mexico Fishing News Archives < Fishing Report