Yellowfin tuna were the most numerous sport fish caught this week again, with boats catching anywhere from 1 to 14 in the 20 to 40 lb class and the odd fish over 60 lbs. Just a few dorado around 20 lbs. Inshore some sierra, but this is slowing down. Some large red snapper close to the old lighthouse.
LOCATION: Redhill 15 miles out, out from Chileno 18-22 miles south, 10 miles out from the Old Lighthouse.
WEATHER CONDITIONS: Beautiful, clear sunny skies, seas mostly calm. AVERAGE WATER TEMP: 71 F . BEST LURES: Live bait and lures are equally effective at this time.
CABO SAN LUCAS, MEXICO: JEFF KLASSEN SPORT FISHING, Cabo San Lucas, April 17, 2001, Jeff Klassen, Reservations Tel 360-402-3474. Eeeehaaaaah! Spring has begun in Los Cabos and the fishing is now back on an upward swing. What a great week just had in Los Cabos. Air (100 degrees) and especially water temps (up to 74) have risen, making for more pleasant and productive fishing. There're all kinds of fish and seemingly plenty of them. Striped marlin fishing has been great, with patches of the all over the place.
We had several boats this past week with 2 landed, two boats with 3 and 1 boat with 5 in a single outing. There were 3 definite areas with stripeys, including 7 to 10 off the old lighthouse on the Pacific-side, the 95 Bank and again the south side of the Gorda Banks, back towards Palmilla Point. Flying fish and mackerel patterned lures are working, as well as live bait on the cast or drop back. It's about 50/50. These will be nicer Stripers as well folks as this is the normal start of the last run of them, before the real arrival of the first Blues.
The tuna bite has been awesome as well of late. Mostly 8 to 15 pounders, but plenty of them, with some fish to 80 pounds at times. The best area for them has been about 8 to 12 miles out, 220 degrees out from the marina, towards the 95 Bank. We had one boat out that way this past week with client Don Benker who nailed over 20 of them, as well as two marlin.
We also caught a number of Wahoo this week, while fishing for other fish, including a double on 65 pounders on one boat Monday. If boats are catching them incidentally at the moment, a Wahoo fan ought to be working the known Wahoo spots with appropriate lures, such as large Rapalas and Marauders on the downrigger, with jetheads and other straight-running trolling lures at the surface.
Dorado fishing is still somewhat flaccid with only odd ones being caught. Look for more dodos in the upcoming weeks as we get in to May and June, especially the big bulls. A few swordfish were also spotted but none were hooked up that I know about. Inshore fishing gets better every day now. There are still plenty of Yellowtail near land's end, as well as further north on the Pacific-side, past Los Arcos. Roosterfish seem to have gotten smaller, but somewhat more plentiful this last week. Again, look for the first big ones to arrive in the next few weeks. There are still lots of Sierra macs as well, along the Pacific-side shorelines. Surf-fishing is also getting better. I always say that the real surf fishing season starts mid April, and it looks like it's on cue again. All of the rockier areas along the gulf side are holding Bigeye trevally now, as well as Bluefin's. Klassic Poppers are still the best for these fish. Use short casts and steady retrieves around large rocks. Keep your eyes open for small schools of them finning. They're there! Sierras are being caught along Cabo del Sol, as well as along the usual Pacific-side spots. Cut bait (squid) along the sandy areas will net you croakers and the odd Barred Pargo at the moment. By the way, we start the surf fishing trips May 27 this year and run them until end of July. Book early as space is limited!
In other mainland Mexico and Baja fishing action this week:
SAN QUINTIN FISHING REPORTS
ALL ARTICLES, REPORTS AND FISHING INFORMATION FOR SAN QUINTIN
SAN QUINTIN, MEXICO: PEDRO'S PANGAS, San Quintin, April 22, 2001, Pete Hillis, Reservations 888-568-2252. Air temperatures were in the low 70s and water temperatures were at 58-59 degrees. Fishing with us this week were Ed Keefer and his fishing party. Also Jim Nolan and Chuck Noice from Buena Park, who came down for one day's fishing. The water was extremely dirty from week-long winds which finally died down on Friday night. But the yellowtail had disappeared and could not be found. Everyone then turned their sights on the bottom fish and limits of rock cod were taken.
SAN QUINTIN, MEXICO: SAN QUINTIN SPORTFISHING, San Quintin, April 22, 2001, Gene Allshouse, Reservations 011-526-165-9229. Howdy As you all know the wind has not been our friend over the past couple of weeks! However we have had some daring, die hard fisherman battle the elements and go fishing. An example is the Mike Romo group, and what a great bunch of guys.. They battled their way to the 240 Spot just to find out that it was impossible to fish there in the high winds and heavy seas! They came back into the point and managed to catch some nice Ling Cod, Rock Cod, Sand Bass and Sugar bass. Then Captain Pato brought them into the bay where they caught some real nice Halibut. That evening Balta the chef cooked up some of their Halibut for dinner to top off the day! That's the nice thing about San Quintin, there are always fish to catch. Maybe not exactly what you're after, but you're going to catch a nice cooler of fish! Today is Sunday, the sun is shining bright and the winds have finally stopped. Lets all hope that the weather stays this way for at least a couple of weeks! I would like to be able to get out to those Yellowtail myself! I still have a few spots left in July, August and September, but they are filling up fast. So, you guys need to get your reservations in A.S.A.P. to ensure the dates that you want. Looking forward to seeing you all here!
MAGDALENA BAY FISHING REPORTS
ALL ARTICLES, REPORTS AND FISHING INFORMATION FOR MAGDALENA BAY
MAGDALENA BAY, MEXICO: BAJA ON THE FLY, San Carlos, April 25, 2001, Gary Graham, Reservations Tel 800-919-2252; Fax 760-746-7260. Temperatures: 76-degree high; low in the mid 60s. Fair skies. TUNA--Still no action - YELLOWTAIL--Most of the action continues to be deep - CORVINA--A few scattered throughout the esteros - SNOOK--A few to 10 pounds up toward the Power Plant and also at Devil's Curve - HALIBUT--Still pretty good near the entrance - QUICK COMMENT--With scallop season opening this week, most of the local attention was directed toward that fishery. A few anglers who ventured up towards Devil's Curve did well.
SAN JOSE DEL CABO (LOS CABOS) FISHING REPORTS
ALL ARTICLES, REPORTS AND FISHING INFORMATION FOR SAN JOSE DEL CABO
SAN JOSE DEL CABO, MEXICO: GORDO BANKS PANGAS, San Jose del Cabo, April 22, 2001, Eric Brictson, Reservations 800-408-1199; Fax 619-447-4098; 011-52-114-21147. This past week saw the overall action for anglers go from poor to incredibly wide open. After going into near hibernation, the yellowfin tuna once again were dominating the frenzy on the Gordo Banks. The local panga fleets were bringing in catches of tuna, that ranged from 2 to 8 fish per boat, with the average weight being 30 to 60 pounds and the largest landed around 100 pounds. The main factor in the bite making a complete turnabout was the cleaner blue water and the recent warming trend. Calm seas in the Sea of Cortez, with the only breeze being in the afternoon. Water temperature was in the 69 to 71 degree range and abundant supplies of live sardinas were conveniently located off of La Playita beach. Though on Sunday morning the pangeros reported that the bait had scattered and this could be the only factor in slowing the action down, most certainly they will locate sardinas elsewhere.
Though it was great news that the quality yellowfin tuna were hitting on the Inner Gordo Bank, it was still no guarantee, this week the bite was not consistent and went to an every other day pattern, one day anglers would have all the action they could handle on tuna in the 50 to 100 pound class, then the very next day, in the same place, the entire fleet managed to land just a handful of fish. The tuna would be seen feeding on the surface on red crabs and small flying fish and would shy away from any other offerings. When the yellowfin did decide to bite it did not seem to matter much between live and dead sardinas or chunk bait, nor were the fish very line shy, as they were being hooked up on 80 pound mono. Many larger tuna were lost after extended battles because of too light of tackle. There were a couple of exceptional success stories, one most notable was by angler George Shortsleeves from Vermont, he skillfully brought to gaff a 75 pound fish on Penn # 155 with 20 pound line. Another very impressive catch was that of Sherry Bravo, visiting from San Diego, she out battled a 90 pound yellowfin on 40 pound gear. If you happened to be lucky enough to be out on one of the odd days when they were really biting you surely had a workout fighting these brutes. In other action there were some yellowtail and amberjack up to 20 pounds being accounted for, best spot was off of Red Hill, but some were also taken from the Gordo Banks. They hit on live bait, rapalas and iron jigs. Closer to shore anglers found a mix of sierra, pargo, cabrilla and pompano. Over the weekend more pangeros reported finding schooling African pompano in an area just to north of La Playita, and had catches of up to 14 fish per boat, while trolling live sardinas.
The action for striped did improve substantially, as compared to how it was, at a standstill. Even though the panga fleets were mainly targeting the tuna bite, everyday several of the stripers were being hooked into while drifting sardinas for tuna, only several were actually landed, due to the lack of heavier leader material. Cruisers reported better offshore action, with more marlin being sighted daily. The fish that were hooked up were at an equal ration of bait and lures. Tuna were also found mixed in with pods of porpoise, most of this was going on more than 20 miles from shore.
EAST CAPE FISHING REPORTS
ALL ARTICLES, REPORTS AND FISHING INFORMATION FOR EAST CAPE
EAST CAPE, MEXICO: BAJA ON THE FLY, Buena Vista, April 25, 2001, Gary Graham, Reservations Tel 800-919-2252; Fax 760-746-7260. TEMPERATURES: High of 88 with a low of 64. Strong winds Sun. and Mon. STRIPED MARLIN--Not much to report. YELLOWFIN TUNA--Good catches Tues. under the porpoise. DORADO--A few scattered fish, but few groups. ROOSTERFISH--Still good in front of La Capillia and La Ribera. JACK CREVALLE--A few small fish are hanging out in front of the hotels. BARRILLETE OR MEXICAN SKIPJACK--Not targeted this week. PARGO AND CABRILLA Rancho Buena Vista (RBV) and Punta Colorada producing best catches. OFFSHORE: After two days of a brutal north winds, the tuna showed up under the porpoise outside of Punta Arena all the way down to Cabo Pulmo. INSHORE: Still good action when the wind settles down. BEACH: Early morning at gray light you will find a few jacks and small roosters on the beach between Rancho Buena Vista and Buena Vista Beach Resort if the surf is down. QUICK COMMENT--After two rough days, Dave Felker, of Bonsall, Calif., along with John Crawford, New York, finished up with a good half day catching yellowfin tuna to 30 pounds. Mike Robrahn's Bluewater Dorado colored pattern was just what the tuna were looking for.
EAST CAPE, MEXICO: RANCHO LEONERO, Bahia de Palmas, April 21, 2001, John Ireland and Roy Baldwin, Reservations 800-646-2252; Hotel 011-52-114-10216. Another week of great weather, with daytime highs in the upper 80s, nice evenings in the mid 60s, mostly sunny skies, flat clear seas with continued warming water temp about 74 deg. The warming water continues to improve the bite. Dorado have reappeared in numbers, limits of tuna and some sails and striped marlin were taken daily. Yellowfin tuna are 20-30 miles straight off Leonero, under porpoise, with limits of 20-30 lb fish and some bigger fish to 64 lbs were taking live sardinas, cedar plugs and hoochies. Striped marlin and sailfish are everywhere offshore, but are line shy as they are gorged with squid, with a few taken daily on red trolled lures and live sardinas. The dorado are back, with lots of solo big fish to 52 lbs taken mostly on red trolled marlin lures. The inshore action remains hot, with Dennis Spike's kayak group taking pompano, jacks, sierra, skipjack, bonito, pargo and roosterfish. Duncan Hadden of Rancho Santa Fe, CA, while cruiser fishing for 3 days, took daily limits of tuna to 40 lbs, a striped marlin, and a 47 lb dorado.
EAST CAPE, MEXICO: HOTELS PALMAS DE CORTEZ, PLAYA DEL SOL, PUNTA COLORADA, East Cape, April 22, 2001, reported by Dave "Smokey" Manuel, East Cape Smokehouse, Hotel Reservations, 800-368-4334. The good Tuna fishing almost made it throughout the weekend, almost that is, until "El Norte" slammed the door shut on Sunday. The wind started early and by mid morning it was pretty ugly outside, sending many of the faint of heart back to the dock early. Some brave souls toughed it out and some fish were caught, but it was by far the slowest day of the week. Friday the Tuna action slowed on the Northern side of what was a very spread out area of good Tuna fishing, but the charters fishing down off Los Frailes and farther South did find an abundant number to tangle with. That was the first day of the week I recall seeing anyone that was looking for Tuna return with no flags flying, but there were only a few of those. Saturday most of the fleet returned to those same Southern waters and did very well. Again, nearly all the productive bites are locations of large Porpoise schools with Tuna mixed in and for most of the anglers I talk to, running a boat through the Porpoise schools is as much fun as catching Tuna, well almost as much fun.
Still only a few Dorado showing up on the report, the sizes I saw this weekend ranged from a sandwich bagger that should never have been taken up to one weighing 33 lbs. Striped Marlin numbers and averages were down from the midweek report as was the number of skippers telling me about all the Marlin they're seeing that won't bite. Probably in part due to more anglers going for the sure thing on Tuna, but I sense a slow down in Marlin activity overall, at least for now.
EAST CAPE, MEXICO: MARTIN VERDUGO'S BEACH RESORT, Los Barriles, April 19, 2001, Marisol George, Reservations 011-52-114-10054. Hi Gene. How are you doing? Hope everything is well with you and your family. One of our boats caught a #345 swordfish on Monday, and yesterday was another swordfish for #230. Tuna has been caught and striped marlin. --Marisol
LA PAZ FISHING REPORTS
ALL ARTICLES, REPORTS AND FISHING INFORMATION FOR LA PAZ
LA PAZ, MEXICO: JONATHAN ROLDAN'S TAILHUNTER ADVENTURE SERVICES, La Paz, April 22, 2001, Jonathan Roldan, Tel 626-333-3355; Fax 626-333-0115; Pager 323-349-8111; Message Pager 877-310-7734. Wow, what a week! Our first run of the season and it was like being on a roller coaster! If you had fished earlier this past week you would have thought that you had basically been reading the wrong fishing magazines. No blue water. Choppy seas. Worst of all. . .what happened to the fish? After high winds the week before, it was pretty darned ugly. The stronger winds had died, but it had left the waters incredibly green and dirty. In our first escorted tour of the season, I took a great group to Hotel Las Arenas and it all really depended upon where you fished. Fortunately, everyone left with pretty plugged ice chests, but for the most part, it was either feast or famine. If you fished one area, it was WFO. You could go to another area and get completely goosed. As one of my guys said, "You either were a hero or you got the big purple helmet." OK. . .uh yea. . .that's one way of putting it. . . Early in the week, it was tough to even buy a fish! It has been a long time since I've been skunked, but on the first day, I got one rip that got unbottoned and our boat scored a single bonito. Fishing mostly in front of Punta Perrico, the boats averaged only about 1-3 tuna each with most in the 18-22 pound class. As the week went on and waters cleared somewhat, the Punta Perrico area really started kicking.
For those boats that consistently made the 5 minute run from the hotel as well as the fleets from Muertos and Las Arenas Beaches, the fishing was excellent. Limits or near limits of tuna from 15-35 pounds kept rods bent and eveyrone smiling. Add to that a few small yellowtail and it was the kind of fishing the area is known for. If you went there early, schools of pargo made for heightened blood pressure levels as they schooled around the boat, but mostly they were nothing more than a sideshow as the fish lockjawed and anglers lost interest and went for the sure-thing tuna also in the same area of Perrico. A few of the boats took the big gamble. Stories of larger tuna to 80 pounds and big yellowtail got a few of the boats making the bone-jarring run to the northern tip of Cerralvo Island. Some even circumnavigated the entire island and at least on two of the days last week, it was as good as it ever gets. Crashing fish with double and triple hook ups on 35-80 pound screaming yellowfin at La Reyna and La Reynita broke rods and busted reels! Big healthy baits kept the fish around and literally within rod's length of the boats as if the fish hadn't eaten all winter. Guys told me they had as many fish as they could handle or as long as the bait lasted with baits getting blasted almost as soon as they hit the water. Lots of big fish busted off, but the biggest fish I saw of the week was a monster homeguard mossbacked yellowtail nailed on the troll by my Hawaii pal, Rey Salanga of Carson. Coming through the area, he was slow trolling a CD 14 fire tiger Rapala when the huge yellowtail slammed into it.
Fortunately, Rey had the killer 60 pound rig on and he battled the fish out of the rocks. It took 3 people to lift the huge forktail that we scaled at 54 pounds back on the beach! It was funny because it was a day with alot of big fish with many of the yellowfin tuna close and over the 40 pound range which would have been toppers on any other day. However, on the beach, everyone just conceded that there was no use challenging Rey's toad yellow! Interestingly, after 2 days, the north island bite just fizzled for no reason and the place went dead. Not even bonito came to chew and boats going that way (like mine!) were left with a long long boat ride that burned gas and fishing time. Many checked out Pilis on the east side of Cerralvo coming away with some consolation pargo and cabrilla, but the areas still hasn't come around yet. However, Dr. Nat and Pat Rose of La Jolla and Art Wu of his group from Monterey Park seemed to make a good living there in the cove on zoning some nice cabrilla, pargo and huachinango. Rene Romero and Mitch Chavira of San Diego always seemed to be into the tuna, but took a shot at a long run to the outer buoys. They didn't do very well, but Mitch has fished the area alot and it looks like it could turn on at any time. He saw small dorado on the buoys and had a marlin come up next to the boat. All in all, the conditions were NOT ideal, but it's looking promising for the upcoming weeks if the winds stay down and more of the blue water comes in.
Water temps are still a cool 68 and it gets breezy. We had several billfish sightings and I snorkeled one day off the Las Arenas Beach and saw schools of mullet and ladyfish which are prime baits for roosterfish. I thought the water was still too cold for the pez gallo, but several of my guys reported seeing a few smaller roostser fins cutting the surf and we did catch one small one at the island. The local fleets will be moving all the boats over to Las Arenas beach in the next few weeks near the lighthouse. Bait is big and strong. Some of the biggest baits that I have seen in awhile so 1/0-3/0 hooks are just fine. The problem is that with bigger baits, you can't put as many in the panga bait tanks. Once you start chumming the bait supply dwindles quickly so buy as much as you can or net as much as you can haul. Twenty -thirty pound outfits are fine, but if you get into the bigger tuna, you shouldn't be there with less than 40 pound rigs and a short stiff rod to keep the fish up and coming to the boat.
LORETO FISHING REPORTS
ALL ARTICLES, REPORTS AND FISHING INFORMATION FOR LORETO
LORETO, MEXICO: Legendary Baja pilot, Memo Chavez, used to be Ed Tabor's copilot at the old Flying Sportsman Lodge in Loreto. After many years of absence from the Baja sportfishing scene, Memo is now back and planning to operate three new cruisers out of Loreto. Here's Memo's message this week:
"Hi Gene! Como estas Amigo! This is Memo. Finally I'm in Loreto. I got the first cabin cruiser now in Loreto. Next week I'm planning to start operating the other two boats, Nautilass and Uhane. On my trip from La Paz between Isla San Jose and Catalana were some dorados, one sail and two marlin, but the water temp. still below 75. On Sonora and Sinaloa coast lots of tuna and bonito are running so I expect a good season in this area. Keep you posted and let me know when you coming to Loreto. My fax no. is 113-5-13-05 and phone 113- 5-13-10. Buena suerte mi Amigo y hasta la vista--Memo Chavez."
LORETO, MEXICO: BAJA BIG FISH COMPANY, Loreto, April 18, 2001, Pam Bolles, Reservations Tel/Fax 011-52-113-50448. The air temperatures couldn't be more perfect. Highs are in the high 70s to low 80s and early morning lows are t-shirt weather. We're seeing clear to partly cloudy conditions.
The wind gods have finally given us a long deserved break. We're having really nice wind free mornings and the cooling breezes are coming up in the afternoons. Very summerlike without the heat, very much like margaritaville weather! Because the winds have given us a break the seas have been very glassy in the early mornings and nice and mild in the later part of the day.
Yellowtail: They'rre ba-a-ck, and in a nice way. Yellowtail are coming in from up north and they are nicely sized. The fish are feeding deep now so rig up with weight. We're seeing them in the 30 and 40 pound range. Nice, and what a fight. The local boats are landing them north of Isla Coronado to San Bruno and beyond to between Puerta Almejas and Punta Pulpito. I did notice a lot of boats this morning headed to the East like they were going to Punta Lobos so I'll have to wait and see if there are fish there too.
In my last report which mentioned Yellowtail being heavily netted, I was made aware that I had given a couple of pieces of inaccurate information. I stated that there were two shops in town selling the commercial nets used to catch Yellowtail. This is wrong, there is only one store here selling the nets. The other thing I was corrected on regarded Yellowtail behavior. I stated that they were most vulnerable to the netting procedures when they are feeding on baitfish in the usual inshore spots. Well they are actually most vulnerable when they are in these inshore locations not feeding, but spawning. They do not feed while they are actively spawning in the springtime, but they are very vulnerable to the nets. I apologize for any inconvienience this may have caused, and it isn't my intention to give misinformation. The good things that come out of this are that I am learning more and more about this species (Seriola lalandii dorsalis) and can pass the information to the reader. And the best thing is that the last report brought about awareness that should move the sportfishing and commercial industrys here to work together.
The Dorado season, or pre-season continues to unfold. More and more sargasso is piling up along the breakwater and the marina, and the reefs rocks are full of the growing, anchored plantae. This is the very stuff that makes inshore fishing a royal pain, but keeps the Dorado in our area during the summer. The water temperature is less than ten degrees lower than optimal Dorado water, we're about a month away from being at the beginning of the season for real. The first boats with Dorado have already come in.
MULEGE FISHING REPORTS
ALL ARTICLES, REPORTS AND FISHING INFORMATION FOR MULEGE
MULEGE, MEXICO: MULEGE, April 25, 2001, Marty Robison & Jens Kolbowski, reporting for baja-web.com. Air Temp 55-75. Water Temp 71. Huminity 75-80%. Sea moderate to bumpy. Skies clear. Wind mild to heavy northerly.
Marlin & Sailfish none reported. Bottom Fishing--Very good for those looking for panfish. Easy limits of Snapper. Caught on rocky reefs using cut bait or lures. Cabrilla--excellent fishing, but grass causing an obstacle course while trolling around. Lures or cut bait are both excellent. DORADO:- none reported. Pompano schools are coming into Conception Bay. They are not too big (2-4 lb.) but are excellent to eat. Trolling Krocodiles lures is the best.
MULEGE, MEXICO: GALERIA SIRENA @ ECOMUNDO, Mulegé, April 19, 2001, Becky Aparicio reporting from the shore of Bahía Concepción. Crowds have thinned out now that it's after Easter. Weather was very cold and windy, but that didn't dampen dancing spirits. Two bands in town, and two at beach. Playing till wee small hours (4-5 am!!!) Roy kept EcoMundo tightened down and thankfully, bad weather kept jet skiers down. Weather now is beautiful, dry and hot days with still cool evenings. Beaches are presentable again. Business is good. Hope to see you soon.--Becky
SAN FELIPE FISHING REPORTS
ALL ARTICLES, REPORTS AND FISHING INFORMATION FOR SAN FELIPE
SAN FELIPE, MEXICO: TONY REYES FISHING TOURS, 6-day Midriff Islands trip aboard the panga mothership, trip ending April 6, 2001, Jose Andres, Tony Reyes, Exclusive booking agent, The Longfin, 714-538-8010. WATER TEMPERATURE 65-70 degrees (near La Paz). Second trip in La Paz B.C.S. B/M Jose Andres. 122 Yellow Fin Tuna 65--90 lbs; 50 Cabrillas 12 -25 lbs; 40 Spotted Bass; 36 Yellowtail 25--35 lbs; 13 Pargos 10--15 lbs; 3 Broomtail Cabrilla 20--25 lbs; 1 AmberJack 85 lbs; 1 Sheep Head 10 lbs; 1 Marlin 120 lbs. The Voyage of the Jose Andres Tony Reyes Fishing Tours Charter Master John Sylvia. We had great weather for our second trip this season. We fished the major islands: Santa Cruz, Catalana Island, San Diego Island, San Jose and San Francisco Island. The best fishing was on Santa Cruz Island with many tuna which were biting on fishing lures. In Catalana, we caught yellowtail up to 35 lbs and some cabrillas up to 23 lbs. Near San Francisco Island, we caught one big marlin on live bait and released it. We ended up on Spiritu Santo Island then returned to La Paz on Friday night.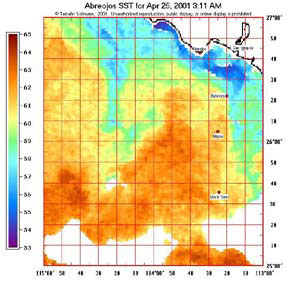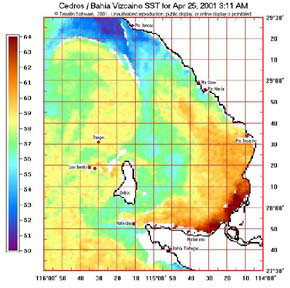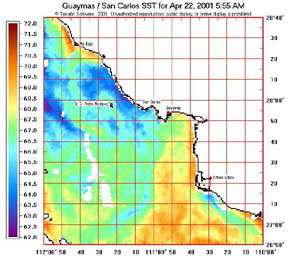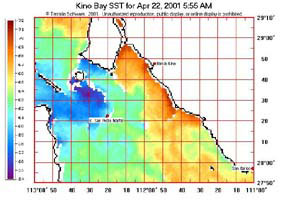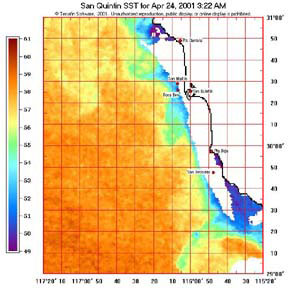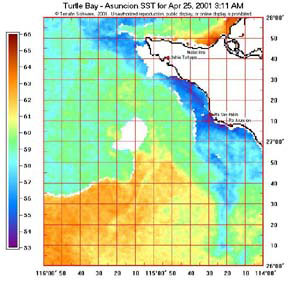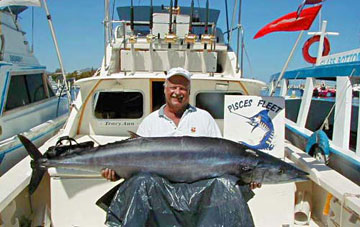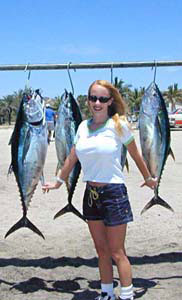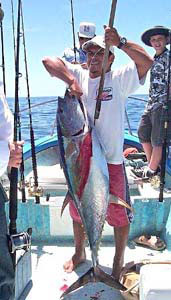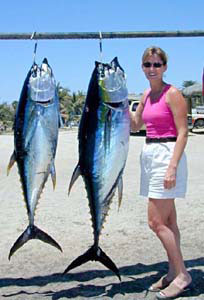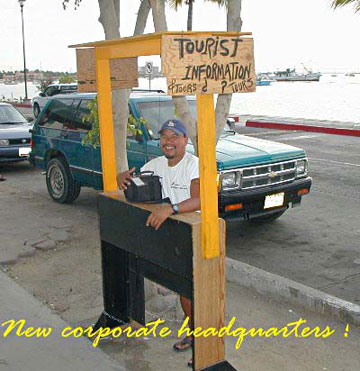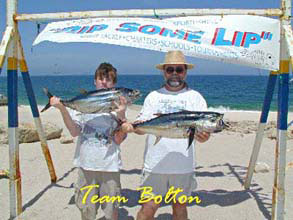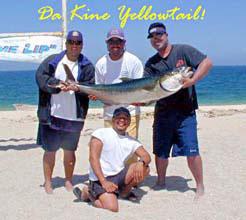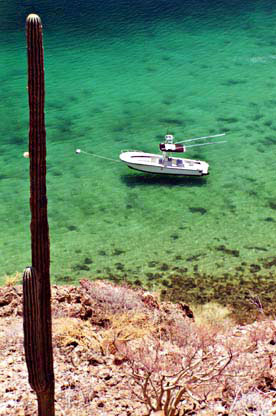 Baja coastal fishing reports and articles.
Ensenada fishing reports and articles.
Puerto Santo Tomas fishing reports and articles.
Erendira fishing reports and articles.
San Quintin fishing reports and articles.
Magdalena Bay fishing reports and articles.
Cabo San Lucas fishing reports and articles.
San Jose del Cabo (Los Cabos) fishing reports and articles.
East Cape fishing reports and articles.
La Paz fishing reports and articles.
Loreto fishing reports and articles.
Mulege fishing reports and articles.
Santa Rosalia fishing reports and articles.
Bahia de los Angeles (L.A. Bay) fishing reports and articles.
San Felipe fishing reports and articles.
Rocky Point (Puerto Penasco) fishing reports and articles.
San Carlos (Sonora) fishing reports and articles .
Mazatlan fishing reports and articles .
Puerto Vallarta fishing reports and articles.
Ixtapa Zihuatanejo fishing reports and articles.
Huatulco fishing reports and articles.
Cancun fishing reports and articles.
Mexico coastal fishing reports and articles.
Mexico Fishing Home Page < Mexico Fishing News Archives < Fishing Report