Arriving at noon, we caught 16 log barracuda and 3 yellowtail to 13 pounds. Water temperature 64 degrees, good clear water. Also today we saw seagulls working close to shore on schools of small barracuda and some sand bass and calicos. Mike the bait man has anchovies now.
May 9, 2001-- Yesterday I skippered a private yacht out of Marina Coral with three anglers aboard, fishing University Point. Water temperature was 65 degrees with a lot of anchovies. We caught 2 white seabass, 40 and 41.5 pounds trolling Yozuri and Rapala, squid color. Also limits of log barracuda, 4 calico bass, 4 pounds each. The Amigo fished Punta Banda Bank. Skipper, David, read 64 degree water, bottom fishing for 29 red snapper, lingcod and whitefish. We have medium sized anchovies for bait now.
PUERTO VALLARTA FISHING REPORTS
ALL ARTICLES, REPORTS AND FISHING INFORMATION FOR PUERTO VALLARTA
PUERTO SANTO TOMAS, MEXICO: PUERTO SANTO TOMAS RESORT, Puerto Santo Tomas, May 9, 2001, Sam Saenz, Reservations Tel 714-256-2577; Ensenada 011-526-174-5683; Remote Santo Tomas Cell 011-52-617-13364, after 6 p.m. or 6:30-7:00 a.m. Hi Gene. The latter part of last week we huge rolling swells, and the fish bite slacked off. By the week end things got back to normal and we had good results for bottom fishing. Sport fishermen and local pangero commercial fishermen have been getting full sacks of lingcod, rockcod, and whitefish all week long at the near by outer banks. The surface fish have not arrived into the local areas yet.
MAGDALENA BAY FISHING REPORTS
ALL ARTICLES, REPORTS AND FISHING INFORMATION FOR MAGDALENA BAY
MAGDALENA BAY, MEXICO: BAJA ON THE FLY, San Carlos, May 9, 2001, Gary Graham, Reservations Tel 800-919-2252; Fax 760-746-7260. Temperatures: 78-degree high; low in the mid 60s. Fair skies with some wind in the afternoon. TUNA--Still pretty slow. YELLOWTAIL--South side of the entrada inside the entrance yielding fair catches. CORVINA--Santa Margarita Island is producing good catches. SNOOK--Pretty slow with only a few fish reported throughout the bay. HALIBUT--Near the sand dunes on Magdalena Island. QUICK COMMENT--Weather continues to improve and the fishing is beginning to show promising signs.
CABO SAN LUCAS FISHING REPORTS
ALL ARTICLES, REPORTS AND FISHING INFORMATION FOR CABO SAN LUCAS
CABO SAN LUCAS, MEXICO: PISCES FLEET, Cabo San Lucas, May 8, 2001, Tracy Ehrenberg, Reservations Tel 011-52-114-31288; Fax 011-52-114-30588. BILLFISH: I would say we had a pretty decent week overall here at Land's End, with an overall catch success rate, for all species combined of eighty-seven percent, with just about half the boats getting marlin. It was interesting week weather wise, as it started out absolutely beautiful, but Wednesday May 2nd, saw strong winds, with gusts of up to 30 mph, which made it hard to fish. The next day, we got rain, not heavy, but lasting until after noon, boats did better this day, but only on smaller game. Despite this we had some nice catches; on the really windy day, Gerald Richmond and John Mason from Las Vegas, were out on "Ruthless" and were very lucky to catch a 210 lb swordfish, 29 miles out from San Jose, on 30 lb test. These two guys had a pretty amazing week on this boat, as mentioned in last week's report on April 30th they got one striped marlin released, one 60 lb wahoo, 8 tuna and 1 dorado, they followed this with the swordfish and then on May 4th, they released 3 striped marlin and caught a dorado, to give them one of their best trips ever.
OTHER SPECIES: Yellowfin tuna again, though we're not complaining, were the most numerous fish in Cabo this period. Boats regularly caught from one to 20 in the 15 to 30 lb class, with the odd one here and there reaching 60 lbs. Top spots were off of Chileno and Punta Gorda. Dorado is slowing increasing, with a couple of boats this week getting up to three, otherwise they were picked up whilst trolling for marlin and tuna, being solitary fish, averaging 20 lbs, but some as big as 50 lbs. Less wahoo this week, we just had one 40 lb'er. We also heard of a 200 lb plus hammerhead shark being caught. Inshore, some sierra, skipjacks, some small red snapper and a few roosters.
LOCATION: 8 to 20 miles out from Chileno, then moving off of Cerro Blanco, with the week ending with boats fishing off of Gordo, Destiladeres and La Playita. WEATHER CONDITIONS: Great air temperatures in the 90s, water temperature 72 F, skies clear, just two funny days, one with wind the other with rain. BEST LURES: Live bait for marlin, assorted jigs for tuna and dorado. BASED ON THE CATCHES OF PISCES FLEET BY TRACY EHRENBERG
CABO SAN LUCAS, MEXICO: PICANTE FLEET, Cabo San Lucas, May 9, 2001, Sergio Cortes, Reservations Tel 011-52-114-32474; Fax 011-52-114-35969. Fish available: Striped Marlin, Yellowfin Tuna, Dorado & Wahoo. Water temperature: 72-76. Air temperature: 100/60. Humidity: 47%. Wind: 8-10 Knots (Pacific), 8-10 Knots (Sea of Cortes). Fleet production (6 boats): 8 Striped Marlin, 39 Tuna, 5 Dorado & 1 Wahoo. Hot spots: Gordo Banks (Sea of Cortes). Luckiest boat: Picante Expresso (31' CABO). Captain: Eulogio Zumaya. Angler: Brad & Richard Warfield. Production: 1 Striped Marlin 140 lbs., 8 Tuna & 1 Wahoo.
CABO SAN LUCAS, MEXICO: FLY HOOKER SPORT FISHING, Cabo San Lucas, May 7, 2001, Capt. George & Mary Landrum, Reservations Tel 011-52-117-01271; 011-52-114-87452. Due to the system we had move through the area, the water on the Pacific side was extremely rough on Tuesday and Wednesday but began settling down on Thursday. Even the Sea of Cortez was very choppy during those days. Today is the sixth and I took a bus drivers holiday (we had a client cancel for the day and I went fishing). The water on the Sea of Cortez was calm and has cleared up quite a bit from the greenish color it received earlier in the week. The warm water was pushed way out to the southeast by all the wind in the frontal system but it is starting to get closer again as the weather has calmed. Low water temperatures on the Pacific have been in the high 60s and the warm water about 30 miles to the southeast has been about 73 degrees.
There has been a good mix of Mackerel and Caballito available all week and a few of the pangas have had Sardinas. The normal prices of $2 per large bait and $20 per scoop on the small stuff.
The good news here is that there are a lot of Striped Marlin around and there have been a few Blues reported caught this past week, even though the water was a bit cool for them. The bad news is that we have just gone through a full moon and even though the fish were out there, they were not often in the mood to bite. A few boats were able to find co-operating fish, but the majority of the fish found had their mouth zippered closed. More good news is that as the moon gets smaller the bite should pick up. If the fish follow the warm water and come in closer this week, the quartering moon should give us a great bite. All we have to do is keep our fingers crossed. The weather early in the week forced the warm water so far out that many times it required a trip of 30+ miles to find the fish. Today the bite seemed to pick up a bit and a lot of the boats were reporting getting strikes on lures, where early in the week the only bites were on live bait.
YELLOWFIN TUNA: There are still plenty of fish out there and most of them have been coming off of the porpoise pods. These have been school fish for the most part and have rarely been larger than 35 pounds. Bigger fish were reported early in the week at Gordo Banks but the weather blew in the red crabs and the bite at the Banks became an occasional thing rather than the great fishing of last week. There were Yellowfin in the football class (10-20 pounds) in closer to shore but these fish were not mixed in with the porpoise and were mostly caught in the blind while on the troll. As has been the norm, best lures were cedar plugs and feathers in pink/white and purple. On the Banks Sardinas worked well early in the week but as the days wore on and the red crab moved in dead baits seemed to get the most action, with chunking providing the larger fish.
DORADO: Surprise! They seem to be starting to show up. Quite a few of the boats have been flying Dorado flags this week and some of them have been for pretty nice sized fish. They are not here in any concentration yet but it bodes well for the future. It's possible that the frontal system and the associated rough water brought the fish in and they might stick around for a while. Best baits have been feathers and a few of the larger fish have been caught on Marlin lures.
WAHOO: Another surprise! Quite a few Wahoo flags this week and I have seen fish from the 100 pound range to the 40 pound range hit the decks this past week. Most of these fish were taken in the 40-50 fathom contour off Red hill and Grey Rock while trolling but some of them were reported from Gordo Banks also. Marauders and Magnum Rapalas run with wire leader were providing a lot of the fish but many more were lost when they struck lures run on monofilament line. Darker colors run close to the boat seemed to work very well.
INSHORE: A few Sierra and smaller Roosterfish were providing a little action but for the most part the inshore catch was limited to football Yellowfin, Skipjack Tuna and Bonito. Many of the Pangas resorted to going offshore in search of action after the weather calmed down on Friday.
CABO SAN LUCAS, MEXICO: REEL EASY SPORTFISHING, Cabo San Lucas, May 5, 2001, Mike & Renee Hebert, Reservations/Fax 011-52-114-33579. Hola Gene. Captain Alvaro Gastelum of the Sea u Later and Captain Tony Gutierrez of the El Chilito reported an increase the Striped Marlin last week with more fins showing every day. Refreshing news for the billfish anglers. Totals for the week were 6 Striped Marlin ranging from 140 pounds to 150 pounds, all released, 31 Yellowfin Tuna ranging from footballs to 30 pounds, and 2 Dorado in the 20 pound class. With the reappearance of the Stripers, anglers opted to bypass the Yellowfin which are still plentiful, to chase the fins. All Striper action was on live bait on the Cortez side. Water temperatures varied from 68 degrees early the week to 71 degrees later in the week. Outside temperatures were in the mid to high 80s with plenty Mexican sunshine.
CABO SAN LUCAS, MEXICO: HOTEL SOLMAR SUITES, Cabo San Lucas, May 4, 2001, Renee Santa Cruz, Reservations Tel 800-344-3349. Fishing at Cabo this week was generally closer to shore than the last few weeks, according to Rene Santa Cruz, manager of the Solmar Sportfishing Fleet. Best fishing was 5 to 10 miles out, on a swing from the Lighthouse on the Pacific to the 95 spot and Gordo Banks on the Cortez. Many yellowfin tuna were found withn 10 miles off Chileno and Santa Maria bays, under clear and sunny skies with air temperatures of 85 degrees, and water surface temps moving up to 72 degrees. There was a slight tropical depression in mid-week, with some wind and light rain; it moved in and out quickly, and was not considered an important factor in fishing.
SAN JOSE DEL CABO (LOS CABOS) FISHING REPORTS
ALL ARTICLES, REPORTS AND FISHING INFORMATION FOR SAN JOSE DEL CABO
SAN JOSE DEL CABO, MEXICO: GORDO BANKS PANGAS, San Jose del Cabo, May 5, 2001, Eric Brictson, Reservations 800-408-1199; Fax 619-447-4098; 011-52-114-21147. The new month of May brought with it a change to the recent warming trend. There was one day when a light to moderate rain fell throughout the morning and the offshore ocean conditions were choppy. It appears that once again the weather pattern is settling down and days are warm and sunny, with high temperatures around the 90 degree mark. The water remained clear and blue, average temperature ranged from 70 to 74 degrees, which was a slight cooling trend from the previous week Springtime crowds of anglers were swarming to Southern Baja and were enjoying good all around action, despite the action having slowed up as compared to the past week, daily catches have included yellowfin tuna, dorado, striped marlin, sierra, pargo, yellowtail, amberjack and skipjack. The supplies or sardinas which had been so thick off of La Playita scattered and after a couple of days of limited amounts, the preferred bait was relocated at Palmilla and north off of Desteladera. Fleets have been fishing the areas between Red Hill and Iman, with the most consistent place continuing to be the Gordo Banks.
The wahoo bite that the panga fleet out of La Playita got into last Friday turned out to be basically a one day deal, as the next day there were only a handful of them hooked. Apparently the water temperature was just not to the liking of the migrating wahoo and they have vanished for the time being. The yellowfin tuna has been the main target species for the pangas and they are being taken at a rate of 2 to 10 per boat, average size was anywhere from 15 to 60 pounds. The larger fish are being caught off of the Gordo Banks, there the fish have been averaging 30 to 60 pounds. The action has been best on the live sardinas, with the first couple hours of the morning being more active. With all of the red crabs still on the fishing grounds, and the mix of other baitfish, the tuna became a little more choosy as to what they wanted to eat. The tuna could be seen in quantity feeding on the surface, though patiencne was needed and they had to be worked for, it was also important to have plenty of bait to chum the fish up into a frenzy. Anglers using the lighter tackle in the 25 to 40 pound class had more hook ups, but this was a factor in having the majority of the bigger fish breaking off.
Dorado counts are increasing, but still are not here in any significant numbers, they are being found mixed with the tuna on the banks and offshore in the open waters by the boats that have been looking for marlin and tuna with the porpoise. The sizes of the ones being caught have averaged 10 to 20 pounds but there was several bulls landed that topped the 40 pound mark. As the water does warm up a few more degrees there should be more of these prized gamefish moving into local waters. Typically the next couple of months is when the largest dorado of the year are taken.
Billfish action has improved for the cruiser fleet, with many boats accounting for multiple fish days, but this action has been mostly for the cruisers that were searching the open waters specifically for the marlin. Several marlin were also landed from the pangas fishing on the Gordo Banks, they proved to be fun sport on the lighter tackle that was intended for the tuna.
Along the shoreline there were some quality sized sierra found, weighing up to ten pounds, they hit on the sardinas and rapalas.Very few roosterfish were seen but quite a few of the African pompano were found hanging around the shipwreck two miles north of La Playita and if you were one of the lucky anglers who was there when not too many other boats were present to spook the fish, the bite was very good on live bait for fish in the 5 to 10 pound range.
EAST CAPE FISHING REPORTS
ALL ARTICLES, REPORTS AND FISHING INFORMATION FOR EAST CAPE
EAST CAPE, MEXICO: BAJA ON THE FLY, Buena Vista, May 9, 2001, Gary Graham, Reservations Tel 800-919-2252; Fax 760-746-7260. TEMPERATURES: High of 90 with a low of 60. Flat calm, little or no wind. STRIPED MARLIN--Wow, what a turnaround with plenty of stripers and sails. YELLOWFIN TUNA--Good catches under the porpoise and also at Cabo Pulmo.. DORADO--Still not a gathering, but good-sized fish out in open water. ROOSTERFISH--Some quality fish in front of both hotels. JACK CREVALLE--Larger fish from the boats fishing inshore and some nice ones from the beach. BARRILLETE OR MEXICAN SKIPJACK--A few scattered here and there. PARGO AND CABRILLA -Punta Colorada and Las Barracas producing good catches. OFFSHORE: Excellent billfishing for the last two days. INSHORE: It is good, good, good for almost every species. BEACH: Right now the opportunity to get multiple shots at quality roosters is as good as it gets.
QUICK COMMENT--This week has been the best we have had so far in 2001. Offshore, in spite of the full moon, the billfish finally went off. The last two days the boats have been coming in with multiple billfish release flags and a few dorado as well. The yellowfin tuna finally showed outside Cabo Pulmo yesterday (5/8) and maybe the fish will settle down and be there for more than a day at a time.
The last two days weather-wise have been fantastic: no wind, not even enough to blow a single saddle hackle feather on my tying table on the front porch at the house. Yesterday afternoon was one of those special nights that Baja provides occasionally. I think it is the equivalent of a mayfly hatch on your favorite trout stream at dusk. As the sun started to fall, it was so still the only sound was the manta rays doing their plop-plop as they leaped in unison for whatever reason. There had been reports of lots of roosters and jacks in front of Rancho Buena Vista in the morning, so I thought I would check it out at sunset. A quick stop at the hotel to make sure all the arrangements were taken care of for the next day and then back to the beach on the ATV.
As I chugged down the beach to look for fish, I realized that there was not one other person fishing there. I had it all to myself. Amazing. The beach has been phenomenal this spring with my personal average being at least one rooster a day since I returned in mid-April. Anyway, back to last night. With plenty of sardinia, it was a sure thing the fish were going to feed somewhere along the beach. It was just a matter of being in the right place at the right time. As the sun drops behind the mountain the action always seems to increase and last night was no exception. Five hundred yards down the beach the Sea of Cortez erupted with hungry fish slashing through a big school of sardinia. Coci--the famous white dog--and I went racing down the beach. Coci was off the bike first and I, with flyrod in hand, was right behind him. One cast and my "See Through Deceiver" was being chased by a fish large enough to make a bow wake. A take, a strip strike and the fish was hooked solidly.
Down the beach he went, pushing water in front of him. What a sight, me running down the beach after the fish, Coci running after me. My 8-weight got a workout, but everything held together and after a short time I landed what appeared to be a 15-pound jack. I carefully removed the fly and sent the jack on his way and Coci and I went back to our porch to admire what remained of the evening.
EAST CAPE, MEXICO: EL CARDONAL'S HIDEAWAY, El Cardonal, May 9, 2001, Eddy, Reservations 011-52-114-10040. At El Cardonal's Hide-a-Way the roosters are back lots of them right from the beach. also schools of yellow fin tuna. Yesterday dolfins were crusing the front of the hotel...that means tuna right in front. We now have float tubes (chairs) for the eager fisherman.--Eddy
EAST CAPE, MEXICO: RANCHO BUENA VISTA, Buena Vista, May 3, 2001, Tamara Moyeous, Reservations 800-258-8200. Hi Gene: Lots of yellowfin tuna being caught in the 20-50# range. Dr. Ettinger's boat landed a 200+ # swordfish!!! Tiffany will be e-mailing you a report on Saturday. See ya soon, best, Tam
EAST CAPE, MEXICO: RANCHO LEONERO, Bahia de Palmas, May 5, 2001, John Ireland and Roy Baldwin, Reservations 800-646-2252; Hotel 011-52-114-10216. Another week of great weather, with daytime highs in the upper 80s, nice evenings in the mid 60s, mostly sunny skies, flat clear seas with warming water temp to 75 deg. Striped marlin are everywhere! Tailers and jumpers are thick throughout the East Cape, with literally thousands of tailers seen this week, however the fish are line shy as they are gorged on the huge schools of squid in the area. Almost all strikes were on plastic, with black/green and red colored trolled lures working best. The yellowfin tuna bite slowed a bit this week, with smaller fish coming up to chum inshore of Cabo Pulmo, with larger fish to 57 lbs found under porpoise from 10-30 miles out, with most of the action coming on red colored trolled lures, hoochies and cedar plugs. Solo big bull dorado to 55 lbs were taken daily this week, mostly on red trolled marlin lures. Wahoo were also taken daily this week, mostly on trolled rapalas. The inshore bite for roosterfish, jacks and pargo remains active, with live sardinas and cast Krocodiles working best. Ron Young of Corpus Christi, TX, while fishing 2 days on a cruiser, released 3 striped marlin, and took a 42lb dorado and limits of tuna.
EAST CAPE, MEXICO: EAST CAPE SPORT FISHING, Los Barriles, May 3, 2001, Dave Dixon and Gil Mendiaz, Reservations 800-837-1556; Fax 805-493-5446. As expected, fishing is on the upswing. The water is getting warmer, but perhaps more importantly, our skippers are digging into their "bag o' tricks" to combat the prevailing bait and water conditions.
Let's start with the conditions. Cloud cover has obscured SST readings from the AVHRR satellite, but reports from our skippers indicate that the warming trend has continued, along with some clearing of the green water. There's billfish (stripers and sails) all over the place, both inside and outside. Reports are that the stripers are really thick 25-40 miles out, and are increasingly spotted with larger surface feeding dorado. All of this is rounded out by the yellowfin making a strong showing.
Having said all of that, the bite remains "tough" due to the continued presence of massive schools of squid, upon which the gamefish are stuffing themselves. But the implication is that you need to adjust tactics to fit the conditions. Playing it right will vastly increase your hookup potential. The key here, obviously, is the squid. You need to either catch and fish with live squid, or use an appropriate choice and presentation of lures to mimic the squid.
Kenny Chu of Encinitas, CA fished live squid, squid-colored hoochies, and natural colored cedar plugs to nail limits of yellowfin, 15-25 lbs. The natural cedar plug is a great squid imitator when trolled SLOWLY. The William Hong party from the San Francisco area also scored on the striped marlin fishing live squid.
EAST CAPE, MEXICO: HOTELS PALMAS DE CORTEZ, PLAYA DEL SOL, PUNTA COLORADA, East Cape, May 6, 2001, reported by Dave "Smokey" Manuel, East Cape Smokehouse, Hotel Reservations, 800-368-4334. Any progress that was made during the midweek period on Dorado and Billfish numbers leveled off into the weekend report. Dorado numbers stayed nearly identical from nearly an identical number of charters, but results on Stripers and Sails were less than half those of the midweek period. The Billfish bite shifted around a bit, but most sightings continue to come from a Northeast heading from Los Barriles and out from 25 to 40 miles. Problem is, the fish just aren't biting with any frequency. Anglers continue to troll lures and use live bait, including squid, but neither of these techniques are yielding much in the way of solid hook ups. Tuna fishing numbers improved ever so slightly from the midweek report, but are nowhere near last week's action. Most of the charters getting into Tuna were down of Cabo Pulmo and farther South. I received no reports of anything more than an occasional Tuna being taken in the waters to the North of those locations. A few charters are finding small schools of Porpoise East and Northeast of Los Barriles, but few are producing much Tuna action. I fished Friday and Sunday, both to the East and to the North of Los Barriles and there is still a lot of green water out there. Nearly all waters inside 5 miles are very green, out to 10 or so improves a bit, but good deep blue clear water is found only on the outside. Even at that, very few readings taken are eclipsing the 76 degree mark, which compares to consistent readings from last year during the same period of 79, so it appears we are still a little behind that schedule. By the way, Striped Marlin, Sailfish, Tuna and Dorado numbers were all considerably higher in late April of last year.
EAST CAPE, MEXICO: MARTIN VERDUGO'S BEACH RESORT, Los Barriles, May 9, 2001, Marisol George Verdugo, Reservations 011-52-114-10054. Hi Gene. Well at first, the fishing was really slow this week, only few dorados, few tuna and couple of striped marlin. Then, 2 boats went out and one of them caught 5 nice tunas one of them #145! The weather is getting warmer, hopefully the water will too!! Ok Gene that is for today!! Best Regards, Marisol.
LA PAZ FISHING REPORTS
ALL ARTICLES, REPORTS AND FISHING INFORMATION FOR LA PAZ
LA PAZ, MEXICO: JONATHAN ROLDAN'S TAILHUNTER ADVENTURE SERVICES, La Paz, May 7, 2001, Jonathan Roldan, Tel 626-333-3355; Fax 626-333-0115; Pager 323-349-8111; Message Pager 877-310-7734. It was still hit or miss for many of the La Paz locations this past week. If you hit the right spot, you got bent. If you made the wrong choice, it was a pick bite. Perhaps some of it was the full moon. As well, there's still some cold green waters around and the winds earlier in the week still tried everyone's patience. There were even some sporadic reports of drizzle and fog in a few weird spots. However, some bigger yellowtail bent a few rods at El Bajo and north side of Cerralvo Island, just in time for this week's Western Outdoor News tournament and although most of the fish were lost, it's an encouraging sign. On the Las Arenas side, some of the boats are starting to move to Las Arenas beach now indicating that many of the panga fleets think the worst of the winds have passed and although there were a few slack moments, a few more tuna showed up in the counts as the week wound down; there were more pargo taken at Pili on the East side of the island and there were a few boats that ranged as far as the 88 and the outside buoys and came up with a few of the nicer dorado and saw some billfish there as well. Off the beaches, there are more signs that roosters are now on the prowl although no one has seen any of the bigger boys yet. However, further to the south, on the East Cape, they've already made an early showing. These are all good signs. Bait continues to be strong and fairly plentiful and, if we could just kick out all the remaining fingers of green water, I think we're gonna bust loose!
LA PAZ, MEXICO: PIRATES FLEET, La Paz, May 8, 2001, Francisco Aguilar, Reservations, Reservations/Fax 011-52-112-57353. Gene. It has been quite slow. We have the yellowtail tournament next Thurday over the weekend. Some dorados have been found off the kelp paddies, hooked on sardines and caballitos. Yellowtail, pargo and cabrilla also available. --Francisco
LA PAZ, MEXICO: FISHERMEN'S FLEET, La Paz, May 3, 2001, David Jones, Hotel los Arcos, Reservations 011-52-112-21313; Fax 011-52-112-57334. Hello BD. Well, the view out of the window down here in La Paz is just spectacular. I have returned to La Paz, much to my delight, and due to the hard work of our many friends in La Paz, and to the government of Pres. Fox.
The weather has been great, with the winds of last week diminishing to warm Coromuel breezes from the south. Sunburn is becoming a real issue with our pink breathren, and the smell of PABA wafts over the palapas at dawn. The fishing has been good to very good, with Pargo, Tuna, and Cabrilla leading the field. The Lisos are stubborn, but we have seen some nice 25 pound fish this week, along with some smaller Clavallina and a few Mulattos as well. Tuna in the 15-45 pound range have been fairly plentiful, with limits coming pretty easily most days. The Cabrilla have been beautiful, with 15 pound fish not unusual and a few pressing 20 being taken off the south point of Cerralvo. Along with this lineup have come a few Dorado, and the first billfish of the year. Vern Aiton (Zedillo to those of you familiar with Fishermens' Fleet political history), and his trusted plenipotentiary the Hon.Lee Daigle, have ranged far and wide this week, exploring the shark buoys and the 88 bank for the early signs of summer fishing. They have seen some Dorado, usually in pairs, and have taken a couple of very large females (35 pounds). Lee also caught and released 4 sailfish in the 75-95 pound range. These are the early returns, but bode well for the activity to come. As you can tell, things are good, it's nice to be home, and we look forward to seeing you down here.
LORETO FISHING REPORTS
ALL ARTICLES, REPORTS AND FISHING INFORMATION FOR LORETO
LORETO, MEXICO: VILLAS DE LORETO, Loreto, May 8, 2001, Wendy Wilchynski, Reservations Tel/Fax 011-52-113-50586. Gene. We just returned from racing! If this makes it, we came in second! Had a flat tire so it slowed us down a bit. We were only 9 minutes behind the winner, not bad for changing a tire! We ended up changing three because it was a back tire and we had only a front tire while we were off-road and then when we got to the pit area we changed both back tires!! Anyway that is the way it goes somedays. The fishing has been good, lots of Pargo, yellow tail and Dorado! I will be here next week and maybe I'll have a photo for you. Bye for now, Wendy
LORETO, MEXICO: ARTURO'S SPORT FISHING, Loreto, May 7, 2001, Arturo Susarrey, Reservations Tel 011-52-113-50766; Fax 011-52-113-50022. We are still enjoying very good weather, all last weekend was sunny and calm. The temperature is approx. 85 to 95. YELLOWTAIL: The better places:. Carmen Island yesterday; they were biting on La Choya surface and Punta Tintorera, with a size between 25 to 30 lbs. The average caught was 4 pieces per boat average. CATALANA: there was a good catch at Punta Norte between 25 to 30 lbs. and 6 pieces per boat average. PULPITO: Between 25 to 30 lbs. around 3 pieces per boat average. CABRILLA: Same as yellowtail areas. DOG SNAPPER: They are catching this one in San Basilio, north of Loreto, Punta Perico and Punta Lobos in Carmen Island. BAIT: we recommend to buy it for $1.00 usd each. This way you do not lose fishing time. But if you want to catch it they are at Coronado Island spotlight at 6:00 or 6:30 a.m. D O R A D O: On half next week I'll send another report because I will go for them.
LORETO, MEXICO: EL FUERTE SPORT FISHING, Puerto Escondido, May 3, 2001, Ty Miller, Reservations Tel 714-775-6658; Fax: 714-755-3501; Loreto 011-52-113-30863. There is still somewhat of a steady yellowtail bite going on out off of Isla Catalan. Yellows are holding on both the South Reef of Catalan and up at the north end off Smorgasbord Reef. The fish are still in the solid 30 lb. class, too.
Up at Smorgasbord, the fish are taking both live bait and the iron, while down at the south end they only want the live bait. Water color at the south end is turning green so I don't expect the bite to last very much longer there. And with the water temperature rising as fast as it is, we may soon be seeing the end of this awesome bite we have been having at the south end. Don't get me wrong; there are still fish there, but the quantities are fading.
Now up at the north end, off Smorgasbord, it's different. The water color is a perfect blue and the yellowtail seem to be hanging for the time being. Some red snapper have also been mixing in with the yellows, which makes for a fun combo. Cabrilla and grouper are still around, too, but not in the numbers that we usually see them around this time of year.
Bait making is still easy. Caballitos are holding off the Bump and both Spanish macks and Green macks are holding off the Deep Bait Hole.
Well, it's that time of year when we slowly start pulling off the yellowtail bite and start looking for the dorado and bill fish to make their way into our area. All the right ingredients (water temp, color, and Sargasso paddies) are here, so let's hope it turns on soon! Hasta! Ty Miller
Air Temp: 88. Water Temp: 74. Seastate: Flat. Winds: None.
BAHIA DE LOS ANGELES (L.A. BAY) FISHING REPORTS
ALL ARTICLES, REPORTS AND FISHING INFORMATION FOR BAHIA DE LOS ANGELES
BAHIA DE LOS ANGELES, MEXICO: CAMP GECKO, Bahia de los Angeles, May 9, 2001, Abraham Vazquez, Tel 011-52-515-19454; Fax 011-52-665-03206 (goes to Guillermo's). Hola Gene. The air temp has definitely started to warm up now the hi in the low 90s and the low in the upper 60s. The humidity has been low 40%. Days have been clear and with no wind to speak of, only light breezes. The water temperature is gradually rising. It is between 61 and 65. The fishing is still not too exiting. The baitfish are very abundant. There are schools both inside the bay and outside of the bay. So far the only thing going after them is the giant squid and the birds. There have been a few yellows caught (first ones of the summer season) but nothing to get excited about. The bass and ocean white fish are still the main catch with a few leopard groupers getting exited over the baitfish that have arrived. Everybody is getting ready for the sporfishing season that is about to start,and hopefully the fish will arrive just in time for the Memorial Weekend Guillermos Fishing Tournament. They usually do. A lot of fisherman already signing up , it looks like it will be more competition this year. The graders are still working on the Gecko road , (they must be getting payed by the day) but they are doing a good job. The main hwy and the road from the junction to bola are in good shape. Still don't have e-mail but will very soon.--Abraham Vazquez
SAN FELIPE FISHING REPORTS
ALL ARTICLES, REPORTS AND FISHING INFORMATION FOR SAN FELIPE
SAN FELIPE, MEXICO: TONY REYES FISHING TOURS, 6-day Midriff Islands trip aboard the panga mothership, Jose Andres, Tony Reyes, Exclusive booking agent, The Longfin, 714-538-8010, TRIP ENDING MAY 4, 2001. WATER TEMPERATURE--65 degrees. #1 trip of season from San Felipe. Fish Count: 1388 Spotted Bass to 2-7 lbs.; 138 Squid to 18-40 lbs.; 138 Cabrillas to 8-13 lbs.; 47 Sheephead to 5-7 lbs.; 38 Red Snapper to 4-6 lbs.; 23 Yellow Tail to 14-18 lbs.; 82 Sierras Mackarel to 4-5 lbs.; 2 White Sea Bass to 11 1/2-17 lbs.
We went to the major Islands: Partida, Salsipuedes, San Francisquito Refugio and Enchanted Island. The water temperature for this week was from 60-65 degrees. We had good weather--calm and sunny. There were lots of giant squid in San Francisquito Point at night. We used the squid heads for bait. The yellow tail were 'spooky'--when we attempted to get close to them. Just a few were caught on jigs, 6x Jr. and Rapalas. The lure of this week was a Mirror Lure, Purple, Pink and Green Medium size. This lure prouded lots of leopard cabrillas. The last day we ended at Enchanted Island where we caught yellow tail and white sea bass. We came back to San Felipe with nice weather. Report by 'The Ice Man.'
SAN FELIPE, MEXICO: SEA OF CORTEZ SPORTFISHING, 6-day Midriff Islands trip aboard the panga mothership, Celia Angelina, Bob Castellon, Reservations 626-333-9012; Fax 626-336-1966; San Felipe 011-52-657-71778, TRIP ENDING MAY 4. A group of fishermen from San Diego enjoyed excellent to windy conditions on a 4 day trip out of San Felipe aboard the Celia Angelina. We Fished from the Enchanted islands to Roca Partida. The water temp was 67.5. The air was in the mid 80s.We caught 74 yellowtail to 18 lbs. Limits of Cabrilla to 14 lbs. A lot in the 10 to 12 lb class. 2 white sea bass to 20 lbs. 4 Black sea bass to 80 lbs. 12 Shark. 327 Misc. Unfortunately we don't have the equipment to release the smaller type sea bass but the areas that we fish are loaded with black sea bass right now. Trip #5 for the year and we are off to a good start. Bob Sea of Cortez Sportfishing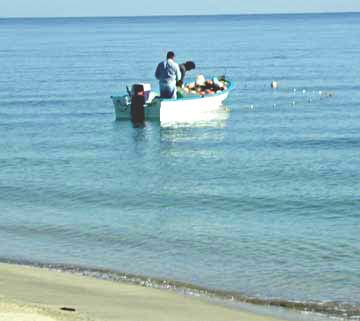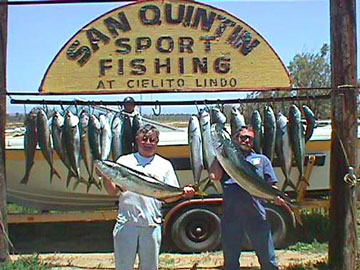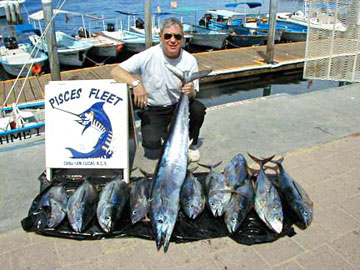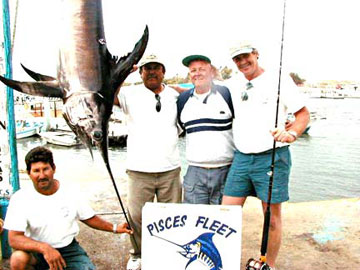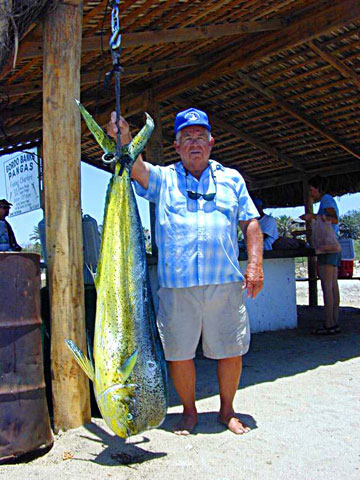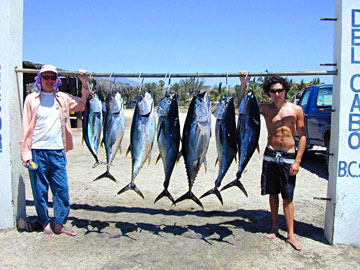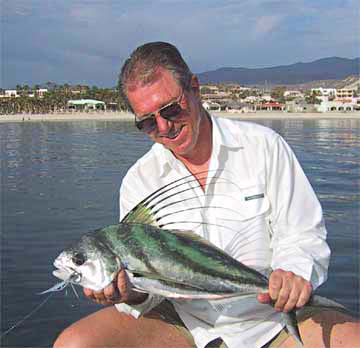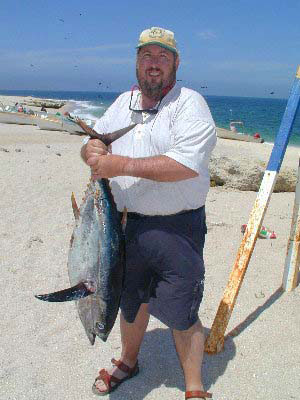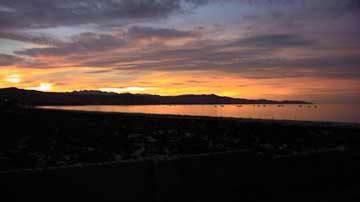 Baja coastal fishing reports and articles.
Ensenada fishing reports and articles.
Puerto Santo Tomas fishing reports and articles.
Erendira fishing reports and articles.
San Quintin fishing reports and articles.
Magdalena Bay fishing reports and articles.
Cabo San Lucas fishing reports and articles.
San Jose del Cabo (Los Cabos) fishing reports and articles.
East Cape fishing reports and articles.
La Paz fishing reports and articles.
Loreto fishing reports and articles.
Mulege fishing reports and articles.
Santa Rosalia fishing reports and articles.
Bahia de los Angeles (L.A. Bay) fishing reports and articles.
San Felipe fishing reports and articles.
Rocky Point (Puerto Penasco) fishing reports and articles.
San Carlos (Sonora) fishing reports and articles .
Mazatlan fishing reports and articles .
Puerto Vallarta fishing reports and articles.
Ixtapa Zihuatanejo fishing reports and articles.
Huatulco fishing reports and articles.
Cancun fishing reports and articles.
Mexico coastal fishing reports and articles.
Mexico Fishing Home Page < Mexico Fishing News Archives < Fishing Report