The Rock Cod, White fish, Sand Bass and Ling Cod are still hitting good as well, so the guys are still getting a nice mixed bag of good eating fish to take home. And lots of them. The Halibut bite has turned on again with each boat catching 3 or 4 in the 15 to 20 pound class. Dog-on good eating!
Again, I will keep you updated on the Albacore as we are going out again next week looking for them. As always, I hope to see you here.
In other mainland Mexico and Baja fishing action this week:
ENSENADA FISHING REPORTS
ALL ARTICLES, REPORTS AND FISHING INFORMATION FOR ENSENADA
ENSENADA, MEXICO: LILY FLEET, Ensenada, May 24, 2001, Sammy Susarrey, Reservations Tel/Fax, 5 to 9 p.m., 011-52-617-46747; Cell 011-52-618-67485. Today with Lily, Amigo and Tamara fished in very foggy conditions. Water temperature 61 degrees. All three boats found slow fishing. Total catch with 13 anglers was 3 yellowtail to 12 pounds, 21 barracuda in medium sizes, limits on lingcod 4-7 pounds. All lingcod were caugh ton live sardines close to Todos Santos Island in 124 feet of water. Today's water was flat. No wind and no current on the bottom.
May 26, 2001-- Today the Lily and the Amigo fished Todos Santos Island and caught limits of barracuda. The Amigo reported 9 yellowtail and the Lily reported 12 yellowtail. Most of the fish were caught trolling Tady 45 blue-and-white, and many schools of yellowtail were seen on the surface. The Tamara fished outside at the 295 Bank with three anglers, getting limits of yellowtail. We also saw three schools of albacore 30-35 pounds, but they didn't hit. We got excellent results on yellowtail at 250 degrees from punta banda around 25 miles out. Water temperature was 62.8.
Puerto Santo Tomas Fishing
PUERTO SANTO TOMAS, MEXICO: Articles, maps, and fishing report archives for Puerto Santo Tomas.
Erendira Fishing
ERENDIRA, MEXICO: Sportfishing articles, maps, and fishing report archives for Erendira.
Baja California Coast Fishing
MAGDALENA BAY FISHING REPORTS
ALL ARTICLES, REPORTS AND FISHING INFORMATION FOR MAGDALENA BAY
MAGDALENA BAY, MEXICO: BAJA ON THE FLY, San Carlos, May 30, 2001, Gary Graham, Reservations Tel 800-919-2252; Fax 760-746-7260. Temperatures: 78-degree high; low in the mid 60s. Fair skies with little wind in the afternoon. TUNA--No catches reported. YELLOWTAIL--Santa Margarita island seems to be the best bet right now. CORVINA--Punta Belcher is holding a few larger fish, up to about seven pounds. SNOOK--Mario's spot produced several smaller fish this week. HALIBUT--Not bad near Punta Belcher.
QUICK COMMENT--Olive Clousers fished on an outgoing tide produced several fish to 10 pounds. Cast the fly toward the bank and let the current sweep it back into the channel as it sinks. Either a cabrilla or snook will probably ring your bell.
CABO SAN LUCAS FISHING REPORTS
ALL ARTICLES, REPORTS AND FISHING INFORMATION FOR CABO SAN LUCAS
CABO SAN LUCAS, MEXICO: PICANTE FLEET, Cabo San Lucas, May 30, 2001, Sergio Cortes, Reservations Tel 011-52-114-32474; Fax 011-52-114-35969. Fish available: Striped Marlin, Yellowfin Tuna, Dorado & Wahoo. Water temperature: 69-78. Air temperature: 93/69. Humidity: 44%. Wind: 8-10 Knots (Pacific), 10-12 Knots (Sea of Cortes). Fleet production (6 boats): 9 Striped Marlin, 2 Wahoo & 13 Dorado. Hot spots: Los Frailes (Sea of Cortes). Luckiest boat: Shameless (35' CABO). Captain: Rosario "Pulgarcito" Ledezma. Angler: Kelly Erardi. Production: 3 Striped Marlin 155, 160, 170 lbs.( all released).
CABO SAN LUCAS, MEXICO: FLY HOOKER SPORT FISHING, Cabo San Lucas, May 27, 2001, Capt. George & Mary Landrum, Reservations Tel 011-52-117-01271; 011-52-114-87452. Bad news for the past week on the weather front, the fishing front and as a matter of fact, on almost all the fronts! I wish it was otherwise, but here are the facts.
Daytime temperatures were up to the mid 90's, nighttime to the low 80's most of the week with no clouds or rain.
For the first few days of the week we had a solid and steady westerly blowing in at an average of 20 knots. The last half of the week showed a weakening of the wind and it only blew from 5pm till 5 am and it shifted to more from the northwest for most of the time. Daytime breezes were much lighter at 10 to 15 knots from the southwest.
Unfishable on the Pacific side for most of the fleet and only a few of the private boats were ballsy enough to go the distance to the south to get to blue water.
The Sea of Cortez side was much better as far as water conditions were concerned but the fishing conditions left a lot to be desired. The westerly winds had pushed a large amount of cold pacific water up into the mouth of the Sea of Cortez and this water had gotten as cold as 64 degrees early in the week but later warmed up to the low 70's.
The Pacific side was steadily in the low 60's and today was still showing those cold waters. The cold-water bulge extended up to Gordo Banks early in the week and ran parallel to the coast down until the 95 spot where it began a run to shore.
The warm side was in the mid 70's and the cold side in the low to mid 60's.
Normally this water temperature difference would be a significant indicator for fishing action, and if that was all that was happening the bite should be going off like skyrockets! But guess again, the same strong winds that brought in the cold water pushed the green water even further north. What we ended up with was a temperature break south of the clarity break. If these two significant barriers form up together this next week (if the wind dies) then we should be in for some red-hot fishing!
But this report is for the last weeks action, not what we wish or hope for the next week, so the bottom line is "Fishing was Terrible".
There was no problem getting bait this week and the usual price of $2 each was still in effect for the Caballito and Mackerel. No idea on the availability of sardines since there was no Tuna this week that required Sardines as bait.
The Billfish catch this week consisted almost entirely of Striped Marlin and it seemed that most of them might as well have been in the next country! The water that was holding the Stripers was blue and warm, and to get to it you had to go at least 40 miles up the Sea of Cortez, off of Los Frailes.
There were plenty of fish there but very few of the boats were willing to take the three hour run up there then face the strong wind and rough water for the return. These conditions only allowed about an hour of fishing time and there were fish a lot closer to home if the anglers did not have their heart set on Marlin.
YELLOWFIN TUNA: This was basically an extinct species for the past week, ever since the Purse Seiners showed up within the restricted zone and there was no one to chase them out. The nets were set on the banks and on every Dolphin pod they could find. No fish this week, last week and maybe even next week.
DORADO: The Dorado are starting to show up a few more every week. More and more boats are finding them as the week goes on and it should be a good season as soon as the winds die down. Most of the fish are in the 20-30 pound range and are being taken on feathers and Marlin Lures. These fish are in the mid-zone, from one mile to 5 miles offshore with a few more found further out.
WAHOO: What hoo? A few being caught up by Los Frailes for the adventurous.
INSHORE: Yellowtail on the Pacific side due to the cold water, Roosterfish on the Sea of Cortez side and ranging from 10 to 35 pounds, some very nice size Red Snapper on the Pacific rock points and a good scattering of Jack Crevalle and Sierra throughout the area. In my mind this has been the definite place to be fishing for some action, a good variety available and some nice sized fish!
CABO SAN LUCAS, MEXICO: PISCES FLEET, Cabo San Lucas, May 29, 2001, Tracy Ehrenberg, Reservations Tel 011-52-114-31288; Fax 011-52-114-30588. Another large snook was caught a day after the one we reported last week. This one was taken by Russ Ray from Pacifica Ca. on 30 lb test. 30 mintues May 23rd.
BILLFISH: A pretty decent week here in Cabo with a seventy-eight percent overall catch success rate for all species combined, with fifty-eight percent of boats catching striped marlin. We are still waiting though, for an explosion of striped marlin, which we feel should happen in the next couple of weeks if it is to happen at all. Otherwise blue marlin season will be upon us. Again, we believe the unusual fishing pattern is due to unseasonably colder weather--right now there seems to be a lack of consistency both in the weather and fishing. While some boats got three marlin in a day, others were skunked.
The boats are still having to go a long way to find fish, ranging from the 95 spot to out past Destiladeres. Pisces anglers caught a total of 31 striped marlin this week of which 29 were released. Weights are from 110 to 180 lbs.
OTHER SPECIES: It looked like dorado catches were on the rise, but they slumped again this week, just being found in one's and two's with weights good at 40 to 60 lbs.
Few yellowfin tuna with a few boats getting lucky and finding some small pockets, but nobody caught more than four, in the 15 to 25 lb range. Fair catches on wahoo, being picked up as an incidental catch whilst trolling -weights average at 45 to 55 lbs. Quite a lot of action inshore with roosterfish in the 15 to 25 lb class, bonita, amberjack and red snapper to 25 lbs.
WEATHER CONDITIONS: Very windy on the Pacific, with whitecaps all week and fog most mornings, the Sea of Cortez was kinder, but the wind did pick up as the afternoon started. Skies clear and sunny, but cooler than normal. AVERAGE WATER TEMP: 75.
CABO SAN LUCAS, MEXICO: HOTEL SOLMAR SUITES, Cabo San Lucas, May 25, 2001, Renee Santa Cruz, Reservations Tel 800-344-3349. Cabo was in its usual early summer form this week, with clear and sunny skies, and turistico weather for cutoffs to 90 degrees; fish in the area, however, had to be content with water temperatures of about 73 degrees, still a little too cool for comfort. Rene Santa Cruz, manager of the Solmar Sportfishing Fleet, did report that fish continue to be caught in a 20-30 mile zone on the Cortez from Gordo Bank south to the Ship-wreck. Solmar anglers showed fishing determination by going as far as Gordo in seas that frequently had swells of 3-4 feet; a number were rewarded with catches of marlin, dorado, and yellowfin tuna. Panga fishing inshore proved popular this week, partly because of the sea swells, and anglers returned with a mixed bag of small game fish, including amberjack, skipjack, sierra, roosterfish, pompano, and red snapper.
CABO SAN LUCAS, MEXICO: JEFF KLASSEN SPORT FISHING, Cabo San Lucas, May 28, 2001, Jeff Klassen, Reservations Tel 360-402-3474. Offshore fishing is really up and down at the moment. There have been a few outstanding catches this past week along with a lot of skunkings. Cold green water stretches for as far as most boats can get to south and up the Cortez-side.
The key to getting any marlin activity has been to finding warmer patches of water. Once you locate these pockets it's possible to find several finning Stripeys together. When you do, don't leave the area. They are few and far between.
The big bull Dorado bite still hasn't really started yet. Other than a couple of 50 pounders caught, the dodo bite has been pretty much non-existent.
TUNA!!! What tuna? All this will change when the warmer water breaks through, so don't despair. This could feasibly happen manana.
The inshore fishing has been somewhat stable this past week, with good catches of pargo to 20 pounds, yellowtail to 30 pounds and Almaco jack (what anglers refer to as Amberjack here) to 20 pounds. There have been on and off days with good catches of Roosterfish as well, but they are still smaller fish, most being between 10 and 15 pounds.
Surf fishing hasn't been great until today! There hasn't been any beaches yet, that have shown any consistency. I've fished most of them now from Migrino on the Pacific, south through Cabo and east to La Laguna without any spectacular catches anywhere . until today! I did almost have a couple of good late afternoon bites in front of the Terrasol, after most of the boats left. Over a couple of days I caught 2 pargo, 2 jacks and my dad caught a sierra and a 10 pound roosterfish. Alright, already today we finally had a great time surf fishing.
CABO SAN LUCAS, MEXICO: BAJA ANGLERS, Cabo San Lucas, May 28, 2001, Grant Hartman, Reservations 888-588-3446. Offshore fishing remains kinda slow with cool water temperatures around Cabo. Most boats are fishing in the Sea of Cortez side past San Jose Del Cabo and are catching a few billfish a day on live baits. A few smaller dorado are starting to show up, but not enough to say we are catching dorado.
There was a nice school of yellowfin tuna off the Gordo Banks, but a tuna boat netted the banks and left them void of any fish. The offshore fishing is usually very good in May and June so I expect it to go off in the next few weeks.
It's been windy on the Pacific and calm on the sea of Cortez side. Day time highs in the 80s and lows in the 70s. Water temperatures in the mid 70s. Beautiful weather. Porpoises, mantas, and sea turtle are being spotted daily.
SAN JOSE DEL CABO (LOS CABOS) FISHING REPORTS
ALL ARTICLES, REPORTS AND FISHING INFORMATION FOR SAN JOSE DEL CABO
SAN JOSE DEL CABO, MEXICO: GORDO BANKS PANGAS, San Jose del Cabo, May 27, 2001, Eric Brictson, Reservations 800-408-1199; Fax 619-447-4098; 011-52-114-21147. This week both the weather and fishing action did improve substantially. No more fog, and practically no wind to speak of, which meant smooth seas offshore. Days were sunny and warm, high temperatures around 90 degrees. The clarity of the water has been going back and forth and now is on the cleaning trend, water temperature was ranging from 74 to 76 degrees.
After being very scarce the previous week the pangeros have once again been able to net ample supplies sardinas and schools of mullet are now moving along the beaches, especially the area of La Playita, where they are so thick the locals are snagging them for use as bait from the shore. At this time of year anglers typically would be targeting and catching good numbers of both yellowfin tuna and dorado, but this season the bite is behind schedule, along with other factors brought on by the greedy commercial tuna purseiners who all but wiped out the fish population on the Gordo Banks.
Although panga anglers are not catching many of the sought after glamorous gamefish, they did enjoy excellent all around action for a variety of the smaller species. The availability of live sardinas saved what had become a grim situation the past couple of weeks. The hot spot in recent days was inshore near San Luis, at a spot locally referred to as " blue rock". Here they found hungry schools of African pompano, pargo, sierra and bonita that would readily hit both trolled and drifted live baits, the bite was wide open for fish ranging from 5 to 15 pounds and most boats were returning early with full limits of fish. The average daily catch per panga was from 15 to 25 fish in combination. Just offshore from where the pompano action was anglers had the option of jigging off the bottom and they accounted for some quality-sized grouper, amberjack and pargo. Also on these rock piles, while working the same yo-yo jigs, anglers hooked into a few yellowfin tuna that weighed in the 40 to 50 pound class, so this was a good sign that at least some of these fish are starting to appear back in the daily fish counts.
The annual migration of mullet along the shoreline attracted more numbers of roosterfish, and the sizes also increased, with several roosters in the 50 pound class weighed in. Although the peak of the roosterfish run has yet to happen, for the anglers targeting them they have reported catches of 1 or 2, up to 6 per outing. The sierra season is now in the final month and although they are not as numerous, the fish that are being found have been large, averaging 5 to 12 pounds.
Marlin action was on and off for the cruiser fleet, one day they would really get into them and then the next it would turn into a long boat ride. The action was exclusively taking place in the areas off of San Jose del Cabo and to the north, boats were searching all possibilities from Red Hill to Los Frailes from 5 to 20 miles offshore. The striped marlin were found tailing on the surface, sometimes in schools of up to a dozen fish, but this did not guarantee action, at times they just were not in the feeding mood, though on other occasions the first few boats to encounter the fish were rewarded with multiple hook ups.
EAST CAPE FISHING REPORTS
ALL ARTICLES, REPORTS AND FISHING INFORMATION FOR EAST CAPE
EAST CAPE, MEXICO: BAJA ON THE FLY, Buena Vista, May 30, 2001, Gary Graham, Reservations Tel 800-919-2252; Fax 760-746-7260. TEMPERATURES: High of 94 with a low of 74 and some wind in the afternoon. STRIPED MARLIN--You just have to be in the right place at the right time to find some pretty good fishing. YELLOWFIN TUNA--East end of Cerralvo Island is producing fair catches on olive deceivers fished deep. DORADO--From 10 miles off of Punta Pescadero to the Eighty-Eight is producing some of the larger variety, up to 50 pounds. ROOSTERFISH--Good show every morning in front of Rancho Leonero, Buenavista Beach Hotel and La Ribera.. JACK CREVALLE--Good catches continue from both the pontoon boat and the shore with La Ribera being the best bet. BARRILLETE OR MEXICAN SKIPJACK--A few scattered everywhere. PARGO AND CABRILLA--A few in front of Rancho Buena Vista.
OFFSHORE: Plenty of fish being seen by some of the boats each day; however, they're not real aggressive on the fly. INSHORE: The front-of-the-hotel-bite has been hit pretty hard by bait fisherman and we have gone in search new areas. La Ribera to Punta Colorada is producing good catches of roosters to15 pounds. White See-Through Deceivers are producing the best action. BEACH: La Ribera is the best bet both early morning and late afternoon. QUICK COMMENT--Mike Kelson, from Tumwater, Wash., fly-fishing with his son for the first time, only needed a quick lesson from our guide Chris Benson. Then he was ready to get started by catching a nice jack on a white deceiver on the very first fly-fishing trip of his life.
EAST CAPE, MEXICO: RANCHO BUENA VISTA, Buena Vista, May 24, 2001, Tamara Moyeous, Reservations 800-258-8200. Dear Gene. Beautiful weather and 87 degree water is bringing on the fish!! A total of133 boat trips netted 62 stripers of which 43 were released, 57 sails with 47 released, 3 roosterfish, 123 dorado (some as big as 50#), 56 tuna and 6 pargo. We still have some availability during the summer months. Anyone interested in the 13th Annual Tag and Brag "no kill billfish" tournament being held July 21-25, 2001 better get on the band wagon. Space is going fast. Look on the Tagandbrag.com site for more information. Thanks as always, best regards from Rancho Buena Vista. --Tami.
EAST CAPE, MEXICO: RANCHO LEONERO, Bahia de Palmas, May 26, 2001, John Ireland and Roy Baldwin, Reservations 800-646-2252; Hotel 011-52-114-10216. Continued incredible weather, with daytime highs in the low 90s, nice evenings about 70, mostly sunny skies, flat clear seas with warming water temp around 79-81deg. Extraordinary fishing at the East Cape right now.
During the two-day "Let's Talk Hookup" tournament, many different game fish species were taken, including yellowtail, yellowfin tuna, wahoo, dorado, roosterfish, sailfish, striped marlin, blue marlin, jack crevalle & pargo, with the best results north of Punta Pescadero.
Jumping and tailing striped marlin and sailfish remain thick throughout the Sea of Cortez, with the fish taking equally live sardinas and various colored trolled lures.
Big bull dorado continue to be taken daily, 1-2 per boat average, with some taken on live sardinas, while most were on trolled marlin lures.
The yellowfin tuna bite continues to improve, with fish from 25 to 72lbs taken this week, mostly north, almost exclusively on live sardinas.
Wahoo to 70lbs were taken on trolled rapalas and marauders. The inshore bite for big roosterfish remains hot, with 2 fish over 50 lbs taken this week, while our shore fly fishermen were taking lots of ladyfish.
Bob & Carol Blum of Los Angeles, CA, while fishing 1 day on a cruiser, released 2 sailfish & a striped marlin, and took a 48 lb wahoo, and 2 dorado (41 & 43lbs).
Pete Gray ("Let's Talk Hookup") and friends of San Diego, CA, while fishing 1/2 day on a cruiser, released 5 sails and a striped marlin.
EAST CAPE, MEXICO: HOTELS PALMAS DE CORTEZ, PLAYA DEL SOL, PUNTA COLORADA, East Cape, May 27, 2001, reported by Dave "Smokey" Manuel, East Cape Smokehouse, Hotel Reservations, 800-368-4334. The weekend anglers didn't fare as well as they did the previous week. A slowdown hit on Friday as did some nasty weather for a few hours. The early morning started off nice enough, but by around 10:30 or so the wind picked up out of the Southeast and by noon seas were rough, both off shore and on the beach. The big boats and cruisers weren't affected seriously, but anyone out in pangas and smaller boats had a wet ride home and a challenge waiting getting through the waves to the beach with out loosing their gear to the surf. As quickly as it came, it went and by sunset that same evening we had still air and calm seas.
The drop-off in fishing was most notable with Sailfish numbers, they seem to have just disappeared. This weekend's 67 charters reported back with only 10 Sailfish, compared to the previous weekend's catch of 130 on 82 charters.
Striped Marlin numbers were comparable to last week, but charters had to really spread out to find them. The hot spots off Punta Pescadero and North weren't so hot, so many skippers checked things out to the East and Southeast more than they've had to in the last 10 days or so. Sporadic spots of Marlin were found that produced, those being mostly East and off Punta Colorada, but the large concentrations of Billfish in one general heading were not the case. Most of the Stripers are being taken on big bait which has varied from day to day; mullet has been the most popular.
The Dorado numbers progressively dropped daily throughout the weekend, although some charters had more than the occasional single Dorado. Sizes remain respectable with many taken in the 20 to 40 lb class, but many fewer of the big guys running in the high 50s and beyond.
Tuna action up on the South side of Cerralvo continues to some degree, however there's fewer fish there and the bite has varied time wise. A few boats have come in mid day after most boats have given up and got some decent numbers, but it looks like the fish have moved off that spot for the most part. A few other reports of Porpoise schools here and there that have been fished for Tuna have come in, but very little action came out of those schools.
LA PAZ FISHING REPORTS
ALL ARTICLES, REPORTS AND FISHING INFORMATION FOR LA PAZ
LA PAZ, MEXICO: JONATHAN ROLDAN'S TAILHUNTER ADVENTURE SERVICES, La Paz, May 27, 2001, Jonathan Roldan, Tel 626-333-3355; Fax 626-333-0115; Pager 323-349-8111; Message Pager 877-310-7734. With the exception of a few bumps here and there, this past week was, by far the most consistent week of fishing we've had in quite a spell. I'm not jumping up and down in the air, just yet, but things are coming around and seems just about everyone is getting fish.
If the weather and water continue to come around we're gonna be banners shortly! After the flurry of dorado we had last week, and the sargasso weed I saw building up, I thought for sure we'd have higher dorado counts, but the yellow"fun" tuna refuse to give up the spotlight.
Most of the action has been off Roca Montana at the south end of Cerralvo, but there's still a jag of bigger fish at the north end of the island as well as spots of tuna in front of the Arenas lighthouse and off Punta Perrico.
Most of the fish are respectable 20-35 pounders, but it's not unusual to have people pulling 40-60 pounders out of their fish boxes at the end of the day. It's not rocket science fishing. A handful of hooks and maybe some rubber core sinkers and bait is about all you need on these tuna.
With other species, there's also some great action. We're still getting the occasional yellowtail, but there are also some of the biggest cabrilla I've ever seen. Sheesh, they look like little grouper. We scaled several of them on the beach and they went 12-20 pounds!
Pargo are also in the mix if you want to try your patience. As for roosterfish, they seem to be here in numbers. None of the big ones, but in the past 2 weeks I don't think I've ever seen such quantity of 10-20 pound fish. It can only get better and hopefully in a few weeks the big toads will be around.
LORETO FISHING REPORTS
ALL ARTICLES, REPORTS AND FISHING INFORMATION FOR LORETO
LORETO, MEXICO: ARTURO'S SPORT FISHING, Loreto, May 24, 2001, Arturo Susarrey, Reservations Tel 011-52-113-50766; Fax 011-52-113-50022. We have been having very good weather, every day is warmer. We have a very nice nights, not too hot, but days are hot around 98F. Water temperature: On surface 70-75.
DORADO: Yesterday all the boats came back with some of them, the best caught was 3 pieces, with a weight between 30 to 35 pounds, North of Loreto "El Bajo del medio". There is not much kelp outside. Dorado's are coming in small groups, maybe water temperatures. Today has been the best dorado catch day, with 8 dorados per boat, the best weight is between 12 to 15 pounds.
YELLOWTAIL: For the best places PULPITO. Between 10 to 24 lbs. around 5 pieces the best caught. CARMEN: Punta Lobos y Perico only a few. YELLOWTAIL SEASON: These are the last days.
CABRILLA: They are catching this one in Carmen Island and Punta Pulpito and 3 pieces per boat average, size 4 to 18 pounds.
DOG SNAPPER: They are catching this one in San Basilio, north of Loreto, Punta Perico and Punta Lobos in Carmen Island, weight between 8 to 20 pounds
Bottom fish: Trigger fish, Pinto bass, yellow tail snapper and some sheep head.
NEWS FOR FLY FISHING GUYS: Bonita (skipjack), Barracuda and some Sierra Mack in Coronado and Carmen Island.
BAIT: we recommend buying it for $1.00 usd each this way you do not lose fishing time. But if you want to catch it there are at Coronado Island lighthouse at 6:00 or 6:30 a.m.
LORETO, MEXICO: EL FUERTE SPORT FISHING, Puerto Escondido, May 23, 2001, Ty Miller, Reservations Tel 714-775-6658; Fax: 714-755-3501; Loreto 011-52-113-30863. Dorado are still about 30 to 40 miles outside, but they are moving in closer by the week. Most of the fish we have found are in the 17 to 25 pound range with a lot of 3 to 5 pound juveniles mixing in. There are plenty of paddies outside but not every one is holding fish. We have been pulling up to anywhere between 15 to 20 paddies a day until we find a couple of Dorado that are respectable enough for the taking (minimal 15 pounds). We continue to try not to kill the nursery and hope most of you will do the same. I would say that in the next two weeks the Dorado will be easily within reach and start to hold off the local spots such as Punta Perico, White Cliffs, Monserate and Punta Lobos.
The billfish have jumped ahead of the Dorado this year and already started their invasion. Wolfpacks of up to 20 sailfish have been spotted along with stripers moving into the area in pairs. These billfish are not on an aggressive bite, but soon they will settle in. Then all hell is going to break loose! Bait bite for the time being is out off of Punta Baja with both green and Spanish mackerel being taken around sunrise. All signs are pointing towards another good season, so if you missed out on last years bite, don't make the same mistake twice! Come on down and have some fun. There is nothing like top water Dorado and billfish action! Hasta! Ty Miller
LORETO, MEXICO: BAJA BIG FISH COMPANY, Loreto, May 30, 2001, Pam Bolles, Reservations Tel/Fax 011-52-113-50448. Air temperatures feel cooler than they did last week. We're now looking at highs in the mid 80s and early morning lows in the low to mid 70s. Skies are mostly clear.
The winds have been prevailing mostly from the south and west. Calm in the mornings then picking up in the afternoons as is typical in summer. Calm morning seas that build to moderate swells when the afternoon winds pick up. Water temperatures are heating up. We're getting readings mostly in the 77-79 range.
The 53 peso per day marine park charge is still in the works. Most of the town is fighting it. Please be prepared for the charge though if you're planning on coming down here this summer. So far, they have not been collecting the fee, but there's no telling when (or if) the fee will be put into place. We'll keep you posted.
There are yellowtail but most anglers are passing them up for the Dorado and billfish that are very plentiful right now. We're now into the dorado in a big way. We are now getting them consistently enough to warrant a change in the report. I'm not one to report a one day occurrence, or just an early show that may change. these fish are here to stay it appears. Limits are easy and the sizes are running the entire spectrum. From babies to upwards of 50 pounds. We had two over fifty pounders come in last Sunday (5/27) and the rest of the dorado that were caught were nicely sized too. Look for fish averaging about 15-20 pounds for the most part. The fish are located from 6-14 miles ENE of Punta Lobos. There's lots of sargasso in the area and nice warm water. Trolling live bait or feathers will get you hookups. Nice way to start the season!!
There are many, many sailfish out there in the same location as the dorado. Those who want to fish for dorado exclusively are calling them a nuisance. The sails are large. We're seeing 110-125 pounders coming in consistently. There are as many as you want out there. Trolling live bait or feathers will get you a sailfish. They are schooling too and flylining live bait will result in a hookup for a neabry tailing fish. There are also many marlin in the same area. The marlin are in the 150-175 pound range but there are larger ones out there with strong muscles and high I.Q.'s breaking off anglers lines. We encourage catch and release.
MULEGE FISHING REPORTS
ALL ARTICLES, REPORTS AND FISHING INFORMATION FOR MULEGE
MULEGE, MEXICO: Air Temp 70-85. Water Temp 82. Sea: calm. Skies: clear. Wind: mild. A number of Humback Whales have moved in to the area.
BAHIA DE LOS ANGELES (L.A. BAY) FISHING REPORTS
ALL ARTICLES, REPORTS AND FISHING INFORMATION FOR BAHIA DE LOS ANGELES
BAHIA DE LOS ANGELES, MEXICO: READER REPORT BY RUSS GALE-- Hi Gene, picked up my amigo Alfredo in San Felipe and made it to Campo Gecko in six hours of easy driving. Road in great shape. The fishing was slow, saw maybe a hundred or so jurel over the pinnacle at Las Animas, boiling in three different groups. Very boat shy and no strikes.
The water where they were was 71 degrees, elsewhere was mid-sixties and no jurel. Near Razita, saw several large (35-40 lbs. as per Igor) jurel, but not hungry. Did anyone catch any for the tournament? We left for home the morning of the Guillermo's and it did not look very good. Another week or ten days will probably be happening, but still too cold now. Lots of small cabrilla and leopard grouper, spotted bay bass etc. My friend Alfredo took some of the squid we caught and made machaca tacos, excellent. On our return we heard at Coco's corner that Calamajue had lots of jurel-but cannot verify. --Russ.
SAN FELIPE FISHING REPORTS
ALL ARTICLES, REPORTS AND FISHING INFORMATION FOR SAN FELIPE
SAN FELIPE, MEXICO: TONY REYES FISHING TOURS, 6-day Midriff Islands trip aboard the panga mothership, Jose Andres, Tony Reyes, Exclusive booking agent, The Longfin, 714-538-8010, trip ending May 25, 2001. Fifth trip of the season out of San Felipe. Water temperature: 70 degrees. Fish Count: 684 Spotted Bass; Cabrillas 8-14 lbs; 46 Yellow tail 18-24 lbs; 25 Squid 8-20 lbs; 17 Red Snapper 10-12 lbs; 9 Sheephead 8-10 lbs; 4 Broomtail 10-19 lbs; 3 Grouper 36 lbs; 2 White seabass 15-22 lbs; 1 Black sea bass 32 lbs.
SAN FELIPE, MEXICO: SEA OF CORTEZ SPORTFISHING, 6-day Midriff Islands trip aboard the panga mothership, Celia Angelina, Bob Castellon, Reservations 626-333-9012; Fax 626-336-1966; San Felipe 011-52-657-71778, trip ending May 24, 2001. Under very good conditions 18 anglers led by Lloyd Hulbert of Phoenix Arizona had a very good time fishing the Midriff. We fished the islands of San Esteban, Refujio where we caught a lot of Cabrilla, Cardinosa, Punta Diablo, and mainland Baja where we caught a lot of yellowtail. The water temp is 66. The air temp is in the 90s. Here's our fish count: yellowtail 126 to 22 lbs; cabrilla 246 to 21 lbs; grouper 3 to 60 lbs; and 182 misc. --Bob Castellon.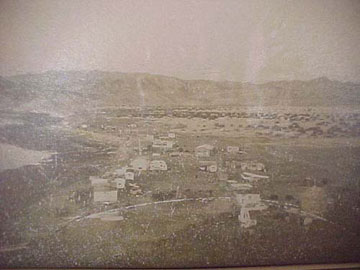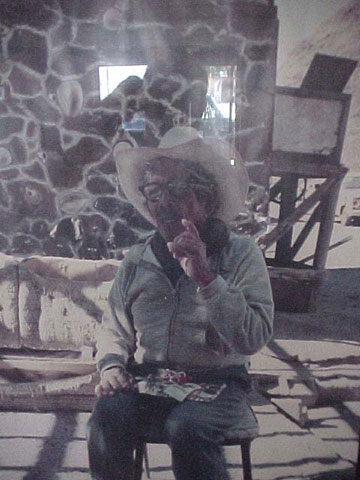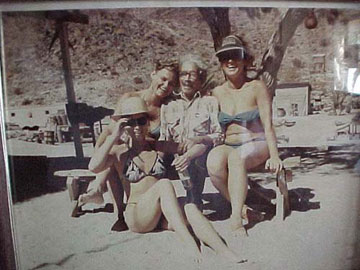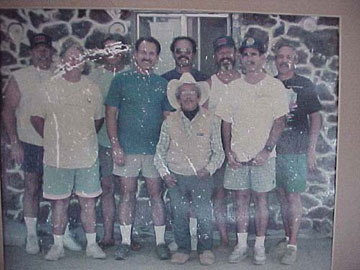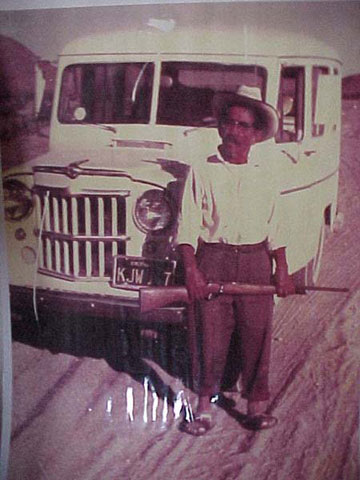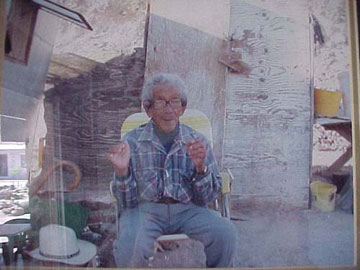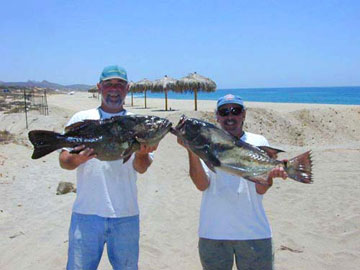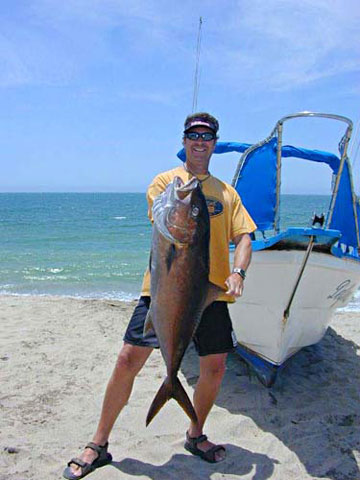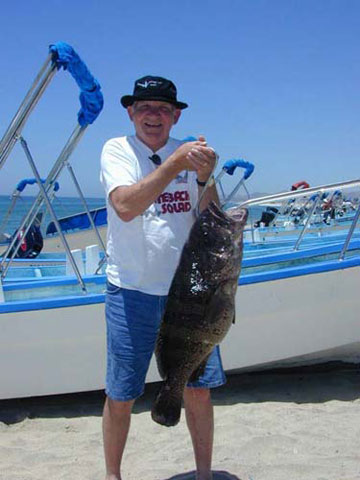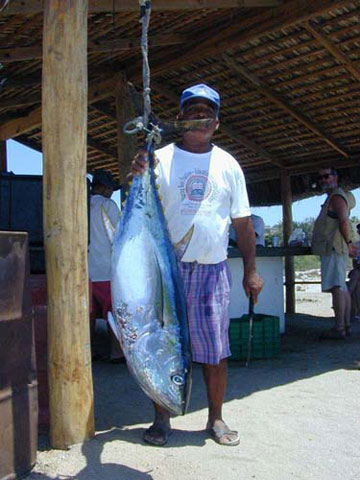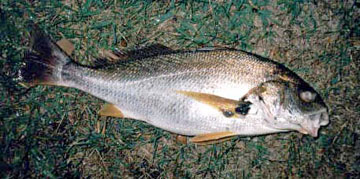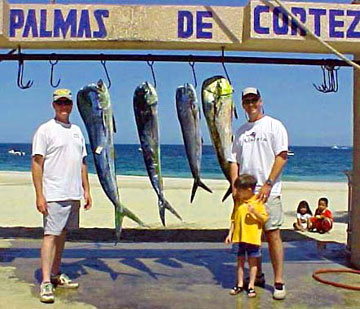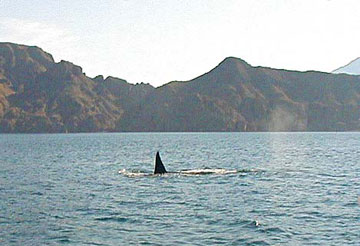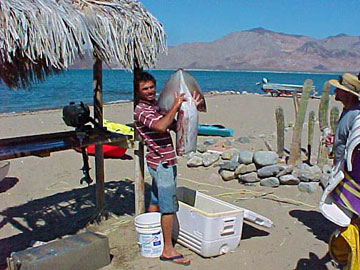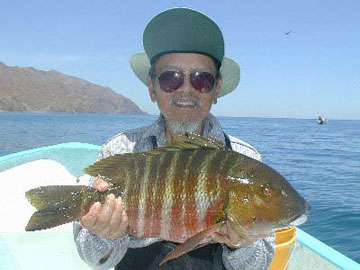 Baja coastal fishing reports and articles.
Ensenada fishing reports and articles.
Puerto Santo Tomas fishing reports and articles.
Erendira fishing reports and articles.
San Quintin fishing reports and articles.
Magdalena Bay fishing reports and articles.
Cabo San Lucas fishing reports and articles.
San Jose del Cabo (Los Cabos) fishing reports and articles.
East Cape fishing reports and articles.
La Paz fishing reports and articles.
Loreto fishing reports and articles.
Mulege fishing reports and articles.
Santa Rosalia fishing reports and articles.
Bahia de los Angeles (L.A. Bay) fishing reports and articles.
San Felipe fishing reports and articles.
Rocky Point (Puerto Penasco) fishing reports and articles.
San Carlos (Sonora) fishing reports and articles .
Mazatlan fishing reports and articles .
Puerto Vallarta fishing reports and articles.
Ixtapa Zihuatanejo fishing reports and articles.
Huatulco fishing reports and articles.
Cancun fishing reports and articles.
Mexico coastal fishing reports and articles.
Mexico Fishing Home Page < Mexico Fishing News Archives < Fishing Report