The highlight of the La Playita Dorado Tournament was the catching of a 95 pound wahoo, there were also striped marlin and sailfish taken but for the most part boats only averaged one or two fish.
The most consistent action for the panga anglers was off the bottom or along the shoreline, daily catches included amberjack (to 35 pounds), cabrilla, pargo, sierra, jack crevalle and roosterfish. Though there are tons of mullet now schooling along the beaches the action on roosterfish has been only moderate, most anglers that did target them reported hook ups but the fish were smaller than usual for this time of year, average rooster was in the 10 to 20 pound class. The next few weeks will be when the inshore bite either happens or does not, with the amount of baitfish in the water there is a very good chance that some more of the monsters will show up. --Good Fishing, Eric
In other mainland Mexico and Baja fishing action this week:
ENSENADA FISHING REPORTS
ALL ARTICLES, REPORTS AND FISHING INFORMATION FOR ENSENADA
ENSENADA, MEXICO: LILY FLEET, Ensenada, June 1, 2001, Sammy Susarrey, Reservations Tel/Fax, 5 to 9 p.m., 011-52-617-46747; Cell 011-52-618-67485. Today the Amigo fished Islas Todos Santos, reporting schools of yellowtail, but the water temperature was a little cool at 60.8 degrees. The fish were not hungry. On the bottom, they caught 34 lingcod 4-7 pounds, and 11 calico bass in the reef of Todos Santos.
June 2, 2001-- Today we fished outside on the Tamara. Water temperature was 62 degrees. We found three kelp paddies and no fish at the Double 220. Some boats from Marina Coral got albies. We fished the 295 Bank on the way back and found a lot of lingcod on the north of Todos Santos. We also got two yellowtail at the reef, and 13 calico bass. Water temperature there was 60 degrees. Seas are flat and calm. The baitmen have nice sided sardines and anchovies.
June 4, 2001-- Today the Amigo fished locally and found yellowtail at San Miguel Point. The Lilly was at the same spot. Both boats also reported good catches of lingcod in the kelp at 100 feet deep. The water is warming up at 63 degrees, flat and calm. We have good live bait, and are also catching fish on Rapala CD 14s, purple and black.
June 5, 2001-- Today the Amigo, Lily and Tamara fished locally around San Miguel Point with very good results. Lots of breezers, yellowtail on top, hitting Tady C and Tady 45 light lures, purple and white. The Amigo reported 9, Lilly 11, and Tamara 8 yellowtail. Also limits of lingcod. Water temperature is 62 degrees, clean water, still flat and clam. Other boats from Marina Coral caught Albacore at the 295 Bank, 6-15 pounds, and they saw kelp paddies loaded with yellowtail from 12 to 15 pounds. Mike The Bait Man has mixed sardines and anchovies in very good sizes.
June 6, 2001-- Today the Amigo, Lily and Tamara fished locally. The Amigo reported 5 yellowtail, 6 log barracuda and 10 lingcod. The Lily reported 8 log barracuda, some bass, and a 35-pound halibut. The Tamara reported 7 yellowtail, 5 barracuda and 9 lingcod. Water temperature 64 degrees. We fished in front of San Miguel Point. Boats from the Marina Coral reported albacore, 4 fish per rod, 20 miles out on a heading of 250 degrees from Punta Banda. Some boats reported limits.
PUERTO SANTO TOMAS FISHING REPORTS
ALL ARTICLES, REPORTS AND FISHING INFORMATION FOR PUERTO SANTO TOMAS
PUERTO SANTO TOMAS, MEXICO: PUERTO SANTO TOMAS RESORT, Puerto Santo Tomas, May 31, 2001, Sam Saenz, Reservations Tel 714-256-2577; Ensenada 011-526-174-5683; Remote Santo Tomas Cell 011-52-617-13364, after 6 p.m. or 6:30-7:00 a.m. The weather and ocean conditions were different these last few days, we had high surf with under water turbulence, foggy conditions existed and it made visibility very poor making it hard for pangeros to located their fishing holes. The bottom fishing was fair to poor, they caught rock cod, white fish, and lingcod. The yellow tail and other surface fish were not around the soledad reef this this last week end. A private American sport fishing boat, lost in the fog around the Santo Tomas islote, reported a big catch of yellow fin tuna some ten to twenty miles due west from Soledad bay.
June 4, 2001-- The ocean was calm, no wind and the waves were flat. We had an excellent (super) catch of big red rockcod at the Soledad outer banks for two pangas. Other pngas trolled for yellowtail and barracuda and fished the bottom at the Islote and Soledad Reef. They caught lots of barracuda, one yellow tail. Other fish caught at the reef were calico bass and a variety of bottom fish. The yellowtail so far have been elusive, they come in and out of the reef and bay but do not stay long enought to support a good catch. --Thanks, Sam
SAN QUINTIN FISHING REPORTS
ALL ARTICLES, REPORTS AND FISHING INFORMATION FOR SAN QUINTIN
SAN QUINTIN, MEXICO: SAN QUINTIN SPORTFISHING, San Quintin, June 3, 2001, Gene Allshouse, Reservations 011-526-165-9229. Hola Amigos y Amigas. Albacore, Albacore. Where for art thou Albacore? Well, Captain Pato and I along with customer Kevin took out the Dusky Marine (The Marlin) Saturday and decided to see if we could locate the Albacore. We started trolling at 25 miles out on a 310 heading and at 26.1 miles off the point, we got our first hook up with 2 of the rods sounding off. We continued trolling out to 30 miles with hook ups every 10 minutes or so. Yes, the Albacore are here! They averaged 12 to 20+ pounds and were biting on Zucchini colored feathers and of course the Jet Head Cedar Plugs. The water temperature was 62.4 degrees and with the currents pushing the cleaner, warmer water in, they should be even closer this coming weekend. The weather couldn't be better with very little breeze, flat seas and air temperature in the high 60s to lower 70s. The Yellowtail and Calico Bass bite continues to be strong at San Martin Island with most boats bringing in limits of both with the Yellowtail being in the 15 to 25 pound class. So, bring your Feathers, Cedar Plugs and Rapalas and lets go fishing. Hope to see you all here and happy fishing.--Gene San Quintin Sportfishing
BAJA COASTAL FISHING REPORTS
ALL ARTICLES, REPORTS AND FISHING INFORMATION FOR BAJA COASTAL AREAS
BAJA CALIFORNIA, MEXICO: Baja by Boat, Adam "Trout" Traubman:
[NOTE: Expert kayak angler, Trout Traubman usually fishes from a boat about 14 feet long, but recently he decided to try Northern Baja waters from something slightly larger, Scott McDaniels' "Grande" sportfisher out of San Diego. Here's Trout's description of his luxury party boat fishing adventure on the waters off San Quintin and Punta Colonet.]
Rising up in the dark from the coffin-style bunk, the first four words rolled off my tongue.
"Son of a b@*&%#!!!"
"My fish count better be higher than this bump," I grumbled to myself. Grabbing my skull with one hand and the handrail with the other, I made my way to the galley for some coffee. Art and Neil were the only others awake at 0445, so the three of us sat by the bait tank, smiling impatiently and babbling senseless fishing rhetoric as we waited for dawn. Chef Nick helped us kill time with a huge breakfast and we stared at our plates while we fueled up for the day. Mo, Bill, Dave, Fred and Alan eventually joined us and by the time we looked up from the table, first light had broken. The monotone hum of the Grande's engines put us in a trance as we peered out the window and took in the pristine morning conditions.
The sea surface was cut glass holding sapphire spectrums of blue, azure, cobalt and navy. Animated dolphins flipped and crashed on giant schools of pacific mackerel, while flying fish took to the air, barely avoiding the hungry pods. One lone sunfish played dead-possum. Without warning, one of the deckhands bolted upright and shouted from the crow's nest above the captain's wheelhouse, "Kelp paddy at 1 o'clock!" Suddenly the tranquility of dawn blistered from the scream of mono ripping off a spool. "HOOOOKUUUUPPPP!!!"
That was it. Breakfast over. Eggs Benedict is great, but when you see a bent rod and hear the captain yell, "Gentlemen this one's holding!" you don't continue to dabble in your hollandaise sauce. Everyone pinned on live 'dines and flipped them toward the bottle-green, thatched roof of kelp. I nose-hooked a feisty bait via 30-pound mono, a 30-pound fluorocarbon leader and a 3/0 hook and barely got the butt of the rod into the fighting belt before line started to strip off of my reel. Within seconds, hollers of "FRESH ONE!!!" eddied and swirled around the 70-foot fishing vessel. Some hooked and some free swimmers, yellowtail swarmed and boiled in a massive frenzy. Zump! Zump! Zump! Rod tips bounced up and down with each trademark beat of the yellow fork-tail. Bow, port, stern and starboard--everyone was on.
I had never met Scott McDaniels before I climbed aboard The Grande. I fish from my kayak about 95% of the time so, to be honest, I hadn't spent a lot of time on cattle boats at all. Bad party boat experiences with overcrowding, less-than-desirable bait, and slow fishing had me cringing over those few experiences for years and I wondered if this trip would be any different. I couldn't remember the name of a single skipper from the few boats I had been on--a telltale sign of poor service. An hour before the trip, my friends assured me that it would all come together over the next three days though, and it wasn't long before Scott was shaking my hand, introducing himself and horsing around with some of the other guys. I had a good feeling before we ever left the dock.
Friendliness aside, it's a skipper's job to get paying customers on the fish. As crude and robotic as that sounds when talking about something as fun and natural as fishing, I don't know many anglers that are totally content with an empty gunny sack after paying three figures to catch fish. But what if all the boats are catching fish, and big ones at that? What makes or breaks a boat's popularity? Where does the hierarchy of captain and boat come from? What is the dominant factor in attracting return business? I'd have to say customer service and, from that point of view, Scott McDaniels is the man.
A nose for finding game fish isn't as necessary as it used to be, especially during hot bites. Modern technology paves the way for tracking targeted species and I don't know many successful party boats that don't use sonar, GPS, temperature charts and fish reports to locate productive fishing grounds. Scott put it all into perspective in his introduction to the group when he said, "When a dozen boats all get limits of big fish, the fishing can't improve. At that point, the only thing that can make one boat stand out from all the rest is excellent service." And that is exactly what I received on The Grande.
When fishing on The Grande (or any party boat for that matter), it is imperative for the entire group of anglers to work together as a team. When everyone does communicate and ultimately fills gunny sacks on a stop, the feeling that coincides with that group success can't be matched. Fortunately, Scott and his crew did a great job going over the common laws, cardinal rules and basic etiquette that we anglers were expected to follow during these wide-open paddy bites:
Follow your line. Angles make tangles and that's all there is to it. Having the line straight off your body means you have control. Communicate. When there are multiple hookups it needs to be clear as to who's going "over" and who's going "under." We experienced a few anglers keeping this information to themselves and it resulted in sore ribs and lost fish. "Hot rail!" indicates the fish is moving and you need to get through in order to stay in front of the fish. Shouting, "Hookup!" or "Fresh one!" let's others know not to cramp your space and it also flags the deckhands for a gaff. When the fish eventually does near the surface, shouting "Color!" signals that it's time to gaff the fish. Only cast jigs forward of the bait tank. This is primarily for safety. Always have multiple poles rigged. Nothing is worse than entering a wide-open bite and not being prepared. On this particular trip I had two live bait setups (one medium and one heavy), one iron on a jig stick, one plastic swim bait to fish on the slide and one heavy trolling outfit. Keep a good attitude. Fishing is fishing and you're going to lose some bruisers. It's all part of the experience and, rather than dwelling on it (especially out loud to people who don't want to hear it), take it as a learning experience. If you get broken off or the fish spits the hook, just grab another stick and get your line back in the water. Round #2 may result in a fish twice as big as the one just lost.
The morning of day two mimicked the first and we exploited all of the prolific spots not too far from Colonet. Kelp paddies, dilapidated logs and other forms of structure continually produced aggressive yellowtail until most of us hit limits. With five a day and three days on the water, dreams of hamachi parties materialized into absolute plans. The temperatures started to drop and we quit surface fishing all in good time, as most anglers' wrists were burning from two straight days of fighting the brawny jacks. The sun went away but laughter continued. After a few hours of motoring, Scott anchored up next to several solid rock piles just off the craggy Baja Peninsula south of Punta Santo Tomas and we dropped down for some of the best bottom fishing I've experienced. They don't call him the "Cod Father" for nothing. We pulled up lingcod, reds, vermilion, starry-eyes, whitefish and some of the biggest salmon grouper I've ever seen.
Although Scott's intention was to find the first albacore of the year, the tuna fishing never materialized. The water temperature and potential hot spots would not cooperate and other quality boats such as the Shogun also came up empty on the long-fins. It just wasn't time for them to show and that's the risk taken when rolling the dice on an early-season trip. Last year on an identical, early-May trip, Scott led Grande anglers to limits of bluefin! Tuna fishing Baja waters in the heart of summer is more about reliable catch reports and electronics than acute intuition. Unfortunately most of us are chomping at the bit before then and we just can't wait that long. Hey, someone has to take the first shot.
My friends and I had a great time on the Grande and even though we told that to Scott repeatedly, you could see that he wasn't all that happy. At first I questioned his frustration, but then I realized that it was a good thing. It's all about the passion and determination in the captain's quest. He puts a lot of pressure on himself when a goal falls short because he ultimately feels it's his responsibility and duty to get customers on the highest quality fish possible and it is. Unlike the average-Joe skippers, at least Scott confronts this fact and takes it head-on. I'll be back on the Grande for another limit of yellowtail and, more importantly, to track down that elusive tuna. Believe me, it won't come soon enough.
CONTACT INFO:
Grande Sportfishing
1403 Scott Street
San Diego, CA 92106
HOME OFFICE (619) 475-8062
PT. LOMA SPORTFISHING OFFICE (619) 223-1627
fishgrande@home.com
MAGDALENA BAY FISHING REPORTS
ALL ARTICLES, REPORTS AND FISHING INFORMATION FOR MAGDALENA BAY
MAGDALENA BAY, MEXICO: BAJA ON THE FLY, San Carlos, June 6, 2001, Gary Graham, Reservations Tel 800-919-2252; Fax 760-746-7260. Temperatures: 76-degree high; low in the mid 60s. Fair skies with little wind in the afternoon. TUNA--No catches reported. YELLOWTAIL--Only a few this week. CORVINA--Bite slowed down from last week. SNOOK--Power Plant produced several fair sized fish this week. HALIBUT--None reported. QUICK COMMENT--Several boats went outside the entrance in search of tuna and while conditions were good none were found.
MAGDALENA BAY, MEXICO: MAG BAY TOURS, Punta Hughes, June 5, 2001, Brian Freitag, Reservations 800-599-8676. Esteban is "up north" on his annual shopping trip to restock the camp with hard goods for the year.
CABO SAN LUCAS FISHING REPORTS
ALL ARTICLES, REPORTS AND FISHING INFORMATION FOR CABO SAN LUCAS
CABO SAN LUCAS, MEXICO: PICANTE FLEET, Cabo San Lucas, June 6, 2001, Sergio Cortes, Reservations Tel 011-52-114-32474; Fax 011-52-114-35969. Fish available: Striped Marlin, Blue Marlin, Yellowfin Tuna & Dorado. Water temperature: 69-78. Air temperature: 93/70. Humidity: 65%. Wind: 8-10 Knots (Pacific), 10-12 Knots (Sea of Cortes).
Fleet production (6 boats): 11 Striped Marlin, 7 Yellowfin Tuna & 8 Dorado. Hot spots: Cabrillo, 24 miles off La Playita (Sea of Cortes). Luckiest boat: Picante Pride (35' CABO). Captain: Antonio Romero. Angler: Mike Grimes. Production: 3 Striped Marlin 160 lbs.(all released), 2 Tuna 30 lbs.
We are finally catching Blue Marlin and the water in the Sea of Cortez seems to warm up as time goes by. Big size Dorado can be caught also. Striped Marlin fishing is pretty good at this time, we have been averaging 1 per boat lately. · Blue Skies and beautiful fishing days.
CABO SAN LUCAS, MEXICO: FLY HOOKER SPORT FISHING, Cabo San Lucas,, June 3, 2001, Capt. George & Mary Landrum, Reservations Tel 011-52-117-01271; 011-52-114-87452. The week started out on a good note with the winds we had been having lightening up a bit and the daytime conditions being fairly nice. The prevailing winds during the early part of the week were from the west-northwest at 8 to 14 knots during the evening. Later in the middle of the week they died to nearly nothing and at the latter part, Friday and the weekend they picked up quite a bit and started to come from the south. No rain all week although we thought that the tail end of Hurricane Adolph might bring some moisture, instead it veered off to the west and we ended up with clear skies and no rain. Daytime temperatures were in the mid to high 90s and the evenings were a very comfortable low to mid 80s.
WATER: Early in the week the water on the Pacific side was a bit uncomfortable due to the choppy conditions caused by the wind but the middle of the week that condition disappeared. Even during the latter part of the week when the wind shifted from the south the water remained in fairly good shape. The big disappointment was the water temperature! We had seen the temperatures slowly climb into the high 70s and low 80s early in the week and the water clarity coincided with the temperature break. That got everyone excited and sure enough, the bite took off for at least one day of the week. Thursday was the day, and almost everyone experienced some outstanding action on Marlin and Dorado. It seems that as soon as things get a bit better something happens to put a damper on the action. We have hashed it over a bit and have reached the conclusion, after looking at the temperature maps and the weather maps, that the Hurricane's passage to the southwest of us brought in some cooler waters from the Pacific side on the tail wind. Overnight the water temperature dropped by 10 degrees as far up the coast as the East Cape. Once that happened it seemed that the fish went into shock and the bite has been almost nothing and the water has turned green again. This is fishing and if it rains, it is going to pour! Now we have to hope that the winds stay down long enough for the water to warm back up and the color to clear.
BAIT: There has been no problem obtaining Caballito and Mackerel for live bait and the prices have remained at $2 per bait. I have no idea on the availability or price on Sardinas for the past week.
BILLFISH: The Striped Marlin fishing was fair to good during the early part of the week and most of the fish were caught on live bait. One of the reasons for this was the superabundance of forage out on the water. Every Marlin that we saw was stuffed with squid and we were surprised that the fish that were caught were able to fit anything else into them. This condition continued until Thursday when the wind and the cold water came in. The early part of the week was good enough for the boats to be seeing 12 -20 Striped Marlin a day, and a few boats saw more, but these fish were difficult to entice. After Thursday the fish had disappeared and it was rare to see a fish, at least in range of the Cabo charter boats.
YELLOWFIN TUNA: The Tuna are starting to recover a bit from the ravages caused by the purse seiner of two weeks ago, but they are still not a sure bet by any means. Gordo banks is pumping out a few for the boats that are willing to put in the time and work the area thoroughly and that is just about the extent of the action. A few fish are being found among the porpoise, but these mammals are still under extreme shock after being worked so hard by the seiners. The fish that have been caught have been school or football fish for the most part and boats using live bait on light line have taken them.
DORADO: Dorado have been one of the few bright spots for the week, at least until the water cooled off overnight. Most boats were able to find at least one or two of these great fish during the early part of the week, but as with the Marlin, they seemed to disappear with the cooler water moving into the area. The fish that were found bit on smaller Marlin lures or feathers, most of the fish were less than 20 pounds but a few did reach the 50-pound class.
WAHOO: What Who? (Again, sorry bout that). Full moon on the 6th, we,ll see if that helps.
INSHORE: The action was very good for the first part of the week for the boats working the shoreline for Roosterfish on both the Pacific and the Sea of Cortez side. Some very nice Yellowtail are being caught as I am typing this just out in front off the arch and up the Pacific side off of the rocky points. There has been a fair bit on Skipjack Tuna, Bonito and Amberjack, plus the bite or larger sized Sierra has been from good to fair.
NOTES: June 1st was Mariners day here in Mexico and most of the boats, including us, gave the captains and crew the day off to celebrate. Naturally a few of the celebrants took advantage of the situation and there were quite a few boats going out on the second that either left very late or left shorthanded! As part of the celebration a few of the fleets had their boats fly every flag they had on board, just to give a bit of color to the marina. Sure, I'll buy some of that swampland! This is the 3rd and almost everyone I came into contact with on the marina today asked why such and such fleet caught so many fish and the boat they went out on couldn't seem to find any! When I explained what was going on there sure were a lot of people who felt they had been taken advantage of by the coyotes they had booked through! Guess the coyotes had been telling them that those flags actually represented the catch on Friday! --Until next week (and better news), Tight Lines! Capt. George Landrum
CABO SAN LUCAS, MEXICO: PISCES FLEET, Cabo San Lucas, June 5, 2001, Tracy Ehrenberg, Reservations Tel 011-52-114-31288; Fax 011-52-114-30588. Not the greatest week here in Cabo, but then again, not many boats are going out at this time; most fleets are operating at about half capacity, which is what the occupancy rate is in the hotels. To add to this the fishing is still not consistent, despite a couple of really good days.
The weather is still unseasonably cold with 25 mph winds at the end of this period, making it impossible for boats to get up the Pacific side. There were a few bright spots this week though, such as three striped marlin being released aboard "La Brisa" on June 1st by Patrick and Christopher Hughes from Indiana and South Carolina, respectively, a fish each, as well as one for Walter Evans II, from Leeds. Eddie and Bonnie Brawner from Sulphur, Louisana, along with Marc LeFrance from Iowa, Louisiana, all released a striped marlin apiece on "Karina" on June 5th, as well as boating a beautiful 52 lb dorado (see photo)--a tally of thee billfish and one dorado is pretty impressive on a 28 ft boat, seeing as many of the large boats returned with nothing this day. This same day Jessica Graham and Wendy Roberts, released a striper each, aboard "Tracy Ann" in the Gordo Banks area. So it looks like we are seeing somewhat of an improvement and as I have said before, once the weather gets back on track, we will see tremendous fishing.
Availability of bait was up and down this week. Our catch success rate this week was seventy-two percent for all species combined, with forty percent of charters catching marlin. Pisces anglers caught a total of 15 striped marlin, with 13 released. Those brought in weighed from 115 to 130 lbs.
Dorado catches are really picking, though only two or three were taken by every third boat or so, sizes were good ranging from 15 to 60 lbs. These fish were almost exclusively captured on trolled lures, intended for marlin. No tuna for us this week or wahoo. Inshore there was a resurgence of sierra, which was fun on light tackle and quite a lot of roosterfish, with some going as large as 41 lbs.
Starting off of Chileno and RedHill, then moving off of San Jose and Punta Gorda.
WEATHER CONDITIONS: Mostly clear sunny skies, seas up and down, very rough on the Pacific with fog in the mornings and lots of wind. Cortez side a lot calmer, but did experience a couple of windy days too.
BEST LURES: Red/black, green/white.
AVERAGE WATER TEMP: 68 F off of the point, 73-75, outside Gordo, 10 miles outside of Gordo was as high 82 F (basically there is no average water temp).
CABO SAN LUCAS, MEXICO: HOTEL SOLMAR SUITES, Cabo San Lucas, June 1, 2001, Renee Santa Cruz, Reservations Tel 800-344-3349. Cabo continued this week to enjoy its early summer weather, with land temperatures to 90 degrees, clear and sunny skies, and sweater weather at night; deep sea anglers continued to be frustrated by cool waters ranging from 68 to 70 degrees, keeping the "serious fish" (billfish) offshore to a range of 20 to 25 miles. The catch was still inconsistent but it was definitely picking up at the end of the week, with 19 marlin reported on Thursday, May 31. Some nice bull dorado in the 35 to 40 pound range started showing up each day. Panga fishing closer to shore has been producing the best results for yellowtail up to 30 pounds, plus a higher score for roosterfish and jack crevalle. Best small gamefish production was in the calm waters just off El Arco.
EAST CAPE FISHING REPORTS
ALL ARTICLES, REPORTS AND FISHING INFORMATION FOR EAST CAPE
EAST CAPE, MEXICO: READER REPORT from Marc Beaudet, East Cape, June 6, 2001-- Hi Gene, Here is a quick report on a trip I made last week to Playa del Sol from San Diego.
We fished 6/1, 6/2, 6/3. This was our first trip to the East Cape, we have fished Cabo and San Jose for many years. We were pleasantly surprised by the ease of the operation and the quality of the accommodations. While not on the same level as some of the 5 star resorts down in Cabo, the hotel was very comfortable, everything worked and the one minute walk from your room to your boat is a definite plus.
My buddy and I fished on the super panga Teaser with Capt. Tito Perez all three days. We decided to fish for marlin only on this trip.
Friday 6/1 we saw 2 striped marlin, baited them both and they both attacked the mullet right away. 1st one was a small one about 110lbs., we released him after a short 15 min. fight. The 2nd was a mean 150-160 lbs. that took about 50 min. to get to the boat for release. One lone dorado strike on the lures on the way in finished the day. Total 2 Stripers, 1 20 lb. Dorado.
Day 2 started with a jig strike going by one of the fish buoys, turned out to be a dorado, there were 2 or 3 more with him. We managed to bait one but he cut us off on the buoy line. After that it was a lot of looking but no marlin sighted. On the way back in we spotted a sailfish and baited him. We got him to the boat after a nice 20 min fight with lots of jumping, we released him and that was it for the day. Total 1 Sailfish, 1 Dorado.
Day 3 we saw our first marlin at 8:30, he refused the bait we offered him three times before he sank out of sight. From that point on we saw and baited at least one marlin every hour for the rest of the day, none of them would take a bait, we tried mullet and caballito didn't matter, they weren't hungry. At one point we found a group of 3 stripers and baited each one of them at least twice for nada, oh well. We did get a 30 lb. dorado during all the excitement during the day. Total for the day was 1 dorado, 10 marlin baited none hooked, at least another 10 sighted jumping at long distance, great day on the water.
Our captain was great and took us to the action. He had a hand held gps which he used all three days, we knew where we caught or sighted fish the previous days and used it to our advantage on the last day, the fish just weren't hungry. His Tel.# is 01-(114)1-02-37. We will return next year and try them again. --Marc Beaudet
EAST CAPE, MEXICO: BAJA ON THE FLY, Buena Vista, June 6, 2001, Gary Graham, Reservations Tel 800-919-2252; Fax 760-746-7260. TEMPERATURES: High of 95 with a low of 72 and some breezes in the afternoon. STRIPED MARLIN--A good spread of fish that is finally starting to bite the artificials. YELLOWFIN TUNA--Good catches at the North end of Isla Cerralvo. DORADO--From 10 miles off of Punta Pescadero to twenty miles off is producing some of the larger variety, up to 50 pounds. Mostly singles. ROOSTERFISH--Where did they go? For the last few days we have only seen a few. JACK CREVALLE--Beaches producing excellent catches of quality fish. BARRILLETE OR MEXICAN SKIPJACK--Not many caught this week. PARGO AND CABRILLA--Several larger fish at Punta Colorada. OFFSHORE: Unless you are prepared to travel long distances the billfish with only a few dorado is the menu for the week. INSHORE: Sierra, ladyfish, jacks and a few roosters. BEACH: Jacks to twenty pounds, ladyfish, pompano and a few lookdowns under the sardinia
QUICK COMMENT--The beaches have produced some remarkable action this week with plenty of chances to catch some jacks up to twenty pounds. Don Sloan landed a jack this morning that was in the twenty-pound class. From the beach with an 3wt that is quite an accomplishment. All of our clients fishing the beach this week either caught or got dusted by some on these big guys.
EAST CAPE, MEXICO: EL CARDONAL'S HIDEAWAY, El Cardonal, June 4, 2001, Eddy, Reservations 011-52-114-10040. Hi Gene. Every year we have a friend and client that comes and fishes from before sunup to past sundown. from the beach and in the aluminium 14-foot boat or in a super or regular panga. This year as everyone knows the water temp is cooler that normal for this time of the year.
But our friend, "Moose," started fishing the minute he got his gear out of the boxes that he had left in the garage last time he was with us.
He fished from the shore right in front of the hotel and got ladyfish, trumpetfish and jack crevalle up to 20 pounds. One evening I went to see how he was doing. After a few minutes he had a fish on that spooled off half the reel. Then he gave it to me...reminded me of the tourist(s) that come down and let the deck hand set the hook (catch the fish) and then once the hook is set they do all the work to bring in the catch... anyway I got the 10 plus or minus jack on the shore after a good 30 minutes.
The next day Moose his wife and daughter went out on the super panga and after 5 hours told the capitain to come back in...hooked many dorados and brought in a 30 kilo (66 lbs) one. for the trip back home. The next day out again and could not get the marlin to take the artificial bait or the live bait... but came back real happy, saw blue whales, dolfins and lots of other fish but since the game was marlin did not fish for the others. In total he fished 13 days in the aluminum 14 footer with the 15 hp engine and two days in the super panga plus shore fishing and got fish all the time. from bottom fishes to trolling ones.
His daughter from the beach caught a lady fish, put it back in the water, caught a trumpet fish, back in, then the sardines stared to jump right on the sand from the surf and a jack cravelle took the live bait on her line...40 minutes later she landed the fish and it when right back home. Now that´s fishing.
We even had a guy catch a tuna on a fly...a 30 lb one...not the fly, the fish. --Eddy
EAST CAPE, MEXICO: RANCHO BUENA VISTA, Buena Vista, June 5, 2001, Tamara Moyeous, Reservations 800-258-8200. Hi Gene. We had 77 Boat trips last week netting a total of 195 fish. Water temperature is at 87 degrees, lovely warm weather and flat seas. Stripers were at 21 with 17 released, sails came in at 10 with 9 released, roosters equalled 10, dorado 24, tuna 123 and pargos at 7. All in all a pretty good week, tuna are rather small but things are looking up. We'll keep you posted. --Best regards, Tami
EAST CAPE, MEXICO: RANCHO LEONERO, Bahia de Palmas, June 2, 2001, John Ireland and Roy Baldwin, Reservations 800-646-2252; Hotel 011-52-114-10216. More ideal weather, with daytime highs in the low 90s, nice evenings about 70, mostly sunny skies, flat clear seas with water temp around 76-81 deg. Green water inside, with clear blue water about 9 miles out. The billfish bite continues, with an improving yellowfin bite and the occasional dorado taken. Striped marlin and sailfish continue to bite consistently, in the blue water, about 9 to 25 miles straight out, with the fish taking equally live sardinas & mullet and blue/white trolled lures. The yellowfin tuna bite continues to improve, with fish to 50 lbs (ave. 15 lbs) taken this week, both north and south, with live sardinas, cedar plugs and rapalas all working well. Big bull dorado continue to be taken daily, mostly on trolled marlin lures. The inshore action for roosterfish and big amberjack remains hot, with lots of jacks from 30-50 lbs and roosters averaging 10 lbs taken just off most south beaches.
EAST CAPE, MEXICO: HOTELS PALMAS DE CORTEZ, PLAYA DEL SOL, PUNTA COLORADA, East Cape, June 3, 2001, reported by Dave "Smokey" Manuel, East Cape Smokehouse, Hotel Reservations, 800-368-4334. The widespread search for fish continued the past weekend, boats reported in from as far North as Punta Norte on the North side of Cerralvo Island to as far South as the sand dunes down past Los Frailes. The per charter and per angler averages jumped up a bit mostly from better Tuna action and some hot spots on Yellowtail. It's getting perhaps a little late in the year for Yellowtail, but they're being found up around Cerralvo Island and as close as a few miles off Punta Pescadero. We passed by a panga fleet of perhaps 25 fishing an active Yellowtail bite just off Punta Arena Norte on Sunday, which is just around the corner from Muertos Bay. These fish were in close to shore in cooler green water with very little visibility.
Yellowfin Tuna numbers rebounded seriously on Saturday, but this time from the other side of Cerralvo Island at Punta Norte. The bite on the South side of the island at Punta Sur had slowed to trickle on Friday, but somehow these guys found fish nearly 20 miles farther North on the opposite end the next day. Boats did well there on live Sardines Saturday, many in the fleet boating 6 to 10 Tuna in the teens to the 40 lb class.
I made that trip on Sunday and counted over 30 boats on the spot, which indicates fishing is slow elsewhere 'cus it's a long trip and a lot of gas to get there. I registered 50.4 miles on my GPS when we threw the first Sardine in. We, unfortunately, were a day late as Sunday produced less than half the number of Tuna as the day before and despite nearly having to conduct combustion experiments with Corona beer as fuel during the trip home, the day was enjoyable and I had fresh Tuna for dinner.
The lion's share of the remaining fleet headed in the opposite direction, fishing the waters off Punta Colorada, the Lighthouse and farther South in search of Striped Marlin and Dorado. Dorado numbers continue to fade with only a fraction of the totals of two weeks ago. From the reports I've received, the most sightings on Marlin are off Punta Colorada and the Lighthouse many in as close as 5 to 6 miles. Seeing them is one thing, but getting them hooked up is another as they continue to be difficult to get active on anything. Live bait is still the best bet, which has consisted mostly of Mullet and Jurelitos the past few days. Size estimates on Stripers are averaging from around 100 lbs up to 150 and a few larger. No change on Sailfish, they are still scarce. This weekend 4 were caught compared to 130 two weekends ago. The past three days were very fishable. We had temps in the low 90s with mostly flat seas and light winds. Water temps haven't changed much, there are many spots still in the 70s and others running 82 to 83 degrees.
EAST CAPE, MEXICO: MARTIN VERDUGO'S BEACH RESORT, Los Barriles, June 5, 2001, Marisol George, Reservations 011-52-114-10054. Hi Gene. Well for this week, as you might know, the fishing some days is good and not so good some other days. Anyway, the fleet caught quite a few tuna this week, nice size and some dorados about #40-45. Hardly any billfish. But maybe for the next week it will be better, because it definitely is getting warmer!!! --Best Regards, Marisol
LA PAZ FISHING REPORTS
ALL ARTICLES, REPORTS AND FISHING INFORMATION FOR LA PAZ
LA PAZ, MEXICO: JONATHAN ROLDAN'S TAILHUNTER ADVENTURE SERVICES, La Paz, June 3, 2001, Jonathan Roldan, Tel 626-333-3355; Fax 626-333-0115; Pager 323-349-8111; Message Pager 877-310-7734. Whoever you talk to right now, you're gonna get mixed reactions to the fishing down here at the moment. For the last week, most of the guys who decided to fish the La Paz side (El Bajo, Espiritu Santo, North Cerralvo) haven't done too well this past week and I"ve seen some long faces. Actually, except when WON had it's tournament here two weeks ago, the La Paz side has generally been stink! There have been moments, when there were spots of yellowtail or an hour or two of dorado or the occasional tuna, but water is still green and there are some hairy jags of wind! Then again, there were days like today (Sunday) when BIG tuna to 80 pounds showed up on El Bajo. Guys had the best bite in a long time on the seamount, but not many of them stuck or the guys farmed them. Still, there were some 60 pounders put in the box. Live bait and jigs produced.
Met a couple of guys from San Bernardino and New Mexico who tangled with what they were told was a "blue shark!" They hooked it with a mackerel and for some reason the grinner didn't bite through the heavy mono. I saw the photos and man, that was NOT a BLUE SHARK! It was a legit for real, freakin' MAKO...about 12 feet long! Well, the guys fought it and wanted to let this beast go, but the young skipper decided against their wishes to stick with it with a 5 foot dorado gaff! You can imagine what happened. The fish was still hot and exploded on them ripping the gaff out've the skipper's hands and almost throwing everyone out've the boat. The gaff ripped through the side of the fish and the skipper was tossed violently against the gunwale. The anglers think he might've busted a few ribs as he was in pretty bad pain and was done for the day. DO NOT TRY THIS MOVE!!!! Leave the grinners alone! They were luckier than they realized!
On the other hand, there's the Las Arenas side which continues to hold surprises of its own this year. This week, after we thought the bite was over months ago, yellowtail foamed up on the south side of Cerralvo! Twelve to 20 pound forkies kicked out and mixed it up with tuna running 20-40. Not everyone got bit, but enough so that most people were putting fish in the box. Additionally,there were occasional WFO bites and there were some much larger fish up to 60, 80 and I heard someone ripped a 100 pound fish on the beach! Additionally, wow, there sure seems to be more roosters around than I can remember. I haven't heard of any of the big boys, but this past week or two, if you always wanted to catch a rooster, the 10-15 pound pez gallos have been there for the taking (and releasing.. meat tastes bad). Also, about every other day, boats are coming back with 1-2 dorado each with some even better. Not the greatest, but certainly probably the best dorado action we've had this year. --Tightlines! Jonathan
LA PAZ, MEXICO: HOTEL LAS ARENAS, Punta Arena de la Ventana, June 4, 2001, Linda Glassman-Davis, Reservations 888-644-7376. Captain's Johnny, Roman, Luciano, Israel, Buho, Cachora, Chimano, Daniel, Calomar, Loreto, Fausto, Beto. The catch: 2 wahoo, with an 88-pounder!; 40 yellowtail to 15 pounds; 52 yellowfin tuna to 35 pounds; 5 dorado to 20 pounds; 12 pargo to 25 pounds; 8 pompano to 15 pounds; 6 roosterfish to 10 pounds, 1 amberjack 15 pounds.
We're having a long yellowtail season!!!!Come on down and get some! --Saludos, Linda
LA PAZ, MEXICO: FISHERMEN'S FLEET, La Paz, June 6, 2001, David Jones, Hotel los Arcos, Reservations 011-52-112-21313; Fax 011-52-112-57334. Howdy Gene. An interesting week. Our cool water conditions continue, as I hear that they do all the way to Cabo, and so we continue to see miniscule numbers of Dorado ( 2 today) and a plethora of more winter like fishes.
Yellowtail continue to hit in front of the lighthouse, with the largest coming in this week close to 35 Kilos. Mr. Richard Seine, of Longview, Washington, a graduate student in the Theodore Howell School for Wayward Fisherfolk, reports this leviathan came on a Sardine fished near the bottom, with a 1 ounce sinker, drifted over El Castillo. This recipe has been successful now for a couple of weeks.
Also on tap are Tuna, a little slower bite with a little larger fish than last week, with the average size kissing 40 pounds.
Pargo, both Lisos and Cubera's have been coming, again not in great numbers but nice fish with Lisos to 35 pounds and Dogs to 30. These have come on bait, and on Rapala's. This week has been the week of the Rapala, with a good 2 dozen lost this week in a couple of mysterious ways.
Off the south end of the island many plugs have met their maker after a short quick run, and the neatly cut off end to the line would indicate that Mr. Wahoo is around. Others have been taken in the rocks and ground into powder. I suspect that this is both Dog Snapper and large Cabrilla, based on the reports of quick strong runs to the rocks, and the fact that a couple of each have been boated, with fish of both types to 25 pounds.
Amberjack to 75 pounds have come this week, with the largest to Larry Bockay of Beautiful Marin County up in Norcal. Larry is a regular here, and his good attitude and pleasant demeanor, as well as some considerable fishing experience, always result in good fishing, and this week has been no different.
Bait remains plentiful along the beach at Bahia de La Ventana, and at the island as well. The Bajo remains green and not very fishy. We need the water temps to warm in order to get into our summer species, but what's goin' on now is plenty good enough to keep us busy until then. --Have Fun, David Jones
LORETO FISHING REPORTS
ALL ARTICLES, REPORTS AND FISHING INFORMATION FOR LORETO
LORETO, MEXICO: VILLAS DE LORETO, Loreto, June 5, 2001, Wendy Wilchynski, Reservations Tel/Fax 011-52-113-50586. Gene. Fishing has been up & down!! Still working on the new web site to start soon with all sorts of great stuff! Will try next week to have more. --Wendy
LORETO, MEXICO: ARTURO'S SPORT FISHING, Loreto, June 2, 2001, Arturo Susarrey, Reservations Tel 011-52-113-50766; Fax 011-52-113-50022. Hot almost all day long, night is not to fresh anymore. Air temp. 85-90. Water temperature: On surface 70-75 f.
DORADO: The best areas, east Punta Lobos and Perico Carmen island and North of Loreto El Bajo del Medio. Yesterday we had 25 boats fishing all of them came back with the limit (3 per person) with a weight between 20 to 40 punds, but there was 3 dorados with more than 55 pounds. There are a lot of them.
STRIPER & BLUE MARLIN : East punta Lobos Carmen island, 20 miles out El Bajo Punta Lobos is the best areas for them. The best Blue weight was 385 pounds and striper weight 160 pounds. They are biting better with squid, we recommend to bring a squid jigs.
SAILFISH: The most of them are in same Dorado's areas, but are not biting to much.
CABRILLA: They are catching this one in Carmen Island and Punta Pulpito and 3 pieces per boat average, size 4 to 18 pounds.
BAIT: we recommend buying it for $1.00 usd each this way you do not lose fishing time. But if you want to catch it there are at Coronado Island lighthouse at 6:00 or 6:30 a/m.
SQUID: outside from Loreto, morning time 5:30 to 6:30 a.m approx. weight between 2 to 7 pounds. --Arturo
LORETO, MEXICO: EL FUERTE SPORT FISHING, Puerto Escondido, MAY 30, 2001, Ty Miller, Reservations Tel 714-775-6658; Fax: 714-755-3501; Loreto 011-52-113-30863. Hola Pescadores. No major changes this past week, with surface temperature and decent water color still holding outside approximately 30 to 45 miles out. The Dorado and billfish continue to move into the areas due east off of Punta Perico and Punta Lobo off Isla Carmen. The Sargasso paddies are abundant and it's just a matter of luck to find the one holding decent fish for the taking. I would say that 80 percent of the Sargasso paddies we have found lately are still holding juvenile 3 to 8 pound fish, and once again we are getting reports that there are some fishermen out there that are killing the nursery just to fill the coolers. Too bad. they just don't get it! If they would wait a week or two, all those 3 to 8 pounders would become 15-25 pounders. There are some decent 20 to 40 pound dorado out there but you need to put in a hard day along with a little luck. With most fish caught in 76 to 78 degree water, I'm a little concerned about our inshore temps not getting up to par so that these fish might move in closer. Water color on the inside is still ugly so let's hope for a change soon. Air temps are on the rise also, which should start heating things up on the inside. Billfish are also hanging outside with both sailfish and striped marlin spotted in good numbers tailing up on top. Nothing yet on the plastics but they don't seem to mind a fresh Mackerel plopped in front of them. Bait has been solid out off of the Deep Bait Hole with mostly green mackerels and a few Spanish macks mixing in. If you are lucky, you can roll into some sardines which are deadly bait for Dorado when twitched up on top while fly-lining. Don't forget the Vagabundos Dorado tournament is returning to Loreto this year so don't wait too long to make reservations. Sounds like it's going to be a good one. Tournament dates are June 26th, 27th, and 28th. Hasta!
LORETO, MEXICO: BAJA BIG FISH COMPANY, Loreto, June 5, 2001, Pam Bolles, Reservations Tel/Fax 011-52-113-50448. It's heating up but fortunately the humidity is lagging behind this season (so far). This is probably due to the winds we've been experiencing on a regular basis in the afternoons and evenings. We're looking at highs into the high 90s to above the 100 (F) mark and early morning lows in the mid 70s (F). Skies clear. The winds have been prevailing mostly from the south and west. Calm in the mornings then picking up in the afternoons as is typical in summer. Calm morning seas that build to moderate swells when the afternoon winds pick up. Water temperatures are heating up. We're getting readings from 77-81 (F).
Parque Marina Bahia Loreto: Status hasn't changed from the last report. The 53 peso per day marine park charge is still in the works. Most of the town is fighting it. Please be prepared for the charge though if you're planning on coming down here this summer. So far, they have not been collecting the fee, but there's no telling when (or if) the fee will be put into place.
Large Dorado were the norm late last week but things turned around this past weekend. Just when we were being spoiled with 35 pound average fish and many into the 40 and 50 pound range--I even heard a story of a 79 pounder being landed, but the key word is story--this weekend brought us lots of small schoolie sized fish. But now we've figured it out. The smaller fish are holding off Punta Lobos and north to San Bruno, and the larger fish like we saw last week, are holding towards the south off Punta Perico. Limits are easy in all of the locations mentioned and sargasso is plentiful. Trolled live bait and feathers are getting the fish's attention.
There are many, many sailfish out there in the same location as the dorado. Sailfish in the 110-125 pound range being landed consistently. There are as many as you want out there. Trolling live bait or feathers will get you a sailfish. They are schooling too and flylining live bait will result in a hookup for a neabry tailing fish. There are also many marlin in the same areas, but they're more elusive then the sails. The marlin are in the 150-175 pound range but there are larger ones out there with strong muscles and high I.Q.'s breaking off anglers lines. We encourage catch and release.
We're renting the Southfork 2 pontoon by Buck's Bags of Boise, ID. Its an ideal way to get off the beach and into the fish that are waiting for your light spinning rod beyond casting distance We're equipping them with VHF radios and landing nets, and will go out mornings and evenings. Rental is $40/half day, or $60 for full day. Come by the shop and reserve one!
BAHIA DE LOS ANGELES (L.A. BAY) FISHING REPORTS
ALL ARTICLES, REPORTS AND FISHING INFORMATION FOR BAHIA DE LOS ANGELES
BAHIA DE LOS ANGELES, MEXICO: READER REPORT from Albert Polito, Bahia de los Angeles, June 4, 2001-- Hola Gene. Just returned from a week camping and fishing at Camp Gecko at Bahia De Los Angeles, from May 26-June 2.
Good news and bad news, bad news first:
Yellowtail still hadn't gone on the chew yet. Wednesday, while trolling live bait (mackerel) around the islands and the south end past Punta Quemado, we did see some fish and even a massive eruption of mackerel on the surface being scared up by the Jureles (yellowtail), but the fish had lock-jaw and sounded once we got nearby. Saw lots of fish, not one strike. We headed to a nearby reef where we pulled up some big gold-spotted bass, known there as Cabrilla, a nice leopard grouper and a Pulpo, or octopus. One of our guys, Kevin, took the pulpo and and decided to treat it like he saw them doing at Santorini--whack it to a pulp (hence the name "pulpo?") on your stairs until it starts to fall apart, then boil it for 2 hours and serve it Ceviche-style. Mmmmmm! Tender and tasty! A beautiful creature coming out of the water.
The good news was the near-shore fishing. From my kayak near camp I took a lots of spotted bay bass (mostly juvenile), and fishing the south end of the bay trolling east toward Quemado I hooked two leopard grouper and -- get this! -- a gulf opaleye! It hit a small bass plug; I'm guessing it was a territorial strike and not based on appetite. Hopefully the photo will come out and I'll send it along.
From the beach near Camp Gecko, there were mostly bass, triggers and blowfish. Lots of blowfish! Don't eat 'em folks, they're poisonous! I caught 2 triggerfish in the 6-lb. range on my magic bass plug and light line. Otherwise only the smaller ones and the bass would bite. I released the first giant trigger with the stipulation that if I hooked him again, I wouldn't be so merciful next time. I was only keeping my word...
I highly recommend Camp Gecko and the good Dr. Abraham for excellent facilities. I also recommend a mid-June or July trip if you're after Yellowtail.
P.S. Right as we were leaving, the yellowtail bite was going off around Punta Remedios.
BAHIA DE LOS ANGELES, MEXICO: CAMP GECKO, Bahia de los Angeles, MAY 28, 2001, Abraham Vazquez, Tel 011-52-515-19454; Fax 011-52-665-03206 (goes to Guillermo's), satellite EMAIL direct to Camp Gecko at L.A. Bay. The weather has been good, 88-65F, winds out of the west at north bay especially at night, rest of the bay calm, humidity 50%, the water temp has cooled down the last week to 61-64 in the area by the islands and 69 inside the bay, visibility is bad for most of the bay and islands, skies clear, and seas calm to moderate in the areas of winds. The fishing has remained unchanged, if not a little bit worse, there are many schools of baitfish in the area and more arriving on the outside, but the yellows are still not moving in.
This past weekend we had the Guillermo's tournament. It was a very hard tournament. Rafa, Igor, Ruben, and myself could not produce a big yellow the two days of the tournament. Manuel Cortez was the guide that produced the winning fish. Hopefully the south winds and the June fog will start very soon and move the rest of the yellows into the area. --Abraham
BAHIA DE LOS ANGELES, MEXICO: June 6, 2001-- Air temps have remained pleasant 90/70 F, days have been clear, humidity 40% or lower, the predominant winds have been out of the west most every night in the north end of the bay some nights as hi as 50 mph, it comes across from the Pacific and makes the nights cool, skies clear, and the water temp is still on the cooler side, 69 inside the bay and 65 outside of the bay, very green water (heavy plankton bloom ).
The schools of baitfish are unbelievable this year, miles and miles of them. The fishing has not picked up much in the local area but for a couple of days the beginning of last week there was a wide open bite of yellowtail 15-20 pound range at Punta Remedios, there were boils all day and the average catch per boat was over 20 fish. The west winds of Guadalupe and the north bay made it impossible for the boats to go up there so the fish are safe for the moment, we still need the water to get warmer in the channel for the yellows to move the last 20 miles of their migration,(will probably happen this coming week), there is a few yellows in the Smith channel and also at the north end of Piojo island, some north of pescador point, but so far the only wide open bite was at P. Remedios The groupers up to 30 pounds are also showing up on the catches. We finally are leaving the bass and the jawfish alone. The baitfish are not so easy to catch, even though they are all over the place it gets hard to find the mackerel among endless schools of Monterrey sardines, which are harder to catch and keep alive in a bait tank. In the near future there will be a bait receiver in town where we'll be able to buy the bait and save that hour of fishing. The receiver is in. We just need to get it going, rest in town remains unchanged. --Abraham Vazquez
SAN FELIPE FISHING REPORTS
ALL ARTICLES, REPORTS AND FISHING INFORMATION FOR SAN FELIPE
SAN FELIPE, MEXICO: TONY REYES FISHING TOURS, 6-day Midriff Islands trip aboard the panga mothership, Jose Andres, Tony Reyes, Exclusive booking agent, The Longfin, 714-538-8010, TRIP ENDING JUNE 1, 2001. Trip #6 out of San Felipe this year. Fish count: 357 cabrilla to 13.5 pounds; 132 spotted bass; 43 yellowtail to 23.5 pounds; 26 red snapper to 12.5 pounds; 25 squid to 35 pounds; 9 sheephead to 10 pounds; 1 white seabass 19 pounds; 9 grouper to 38 pounds. --Reported by The Ice Man
SAN FELIPE, MEXICO: SEA OF CORTEZ SPORTFISHING, 6-day Midriff Islands trip aboard the panga mothership, Celia Angelina, Bob Castellon, Reservations 626-333-9012; Fax 626-336-1966; San Felipe 011-52-657-71778, TRIP ENDING MAY 31, 2001. Bait was made only at Refugio Bay and Enchanted Islands. Bait is there but have to work at it. No hot colors for the MR111. All colors were working. There is no water or air temp this week as Bob was home celebrating his 35th year wedding anniversary. Pin told me over the phone that one of the other motherships took an estimated 50 to 60 totuava on the Golden Reef Thursday a.m. This is outrageous, this is out and out poaching. This iillegal fishing by certain motherships has got to stop. Passengers remember, no matter what the crew tells you this fish is protected by Mexican and American law. Our fish report: 160 yellowtail to 26 lbs; Full limits of cabrilla to 24 lbs; 27 pargo to 12 lbs; 2 white sea bass to 17 lbs; 3 grouper to 71 lbs; 40 giant squid and 293 misc. That's all for now. --Bob Castellon
SAN FELIPE, MEXICO: BAJA SPORTFISHING, INC., 6-day Midriff Islands trip aboard the panga mothership, Erik, Gustavo Velez, Reservations Tel 619-523-1822, 800-770-2341; Fax 619-523-9896, TRIP ENDING JUNE 1, 2001. George Ruble was chartermaster for 14 members of the Oceanside Senior Anglers, fishing L.A. Bay and the south end of Isla Angel de la Guarda. We also fished along shore on the mainland side of the Cortez. Lots of totuava caught and released at the Golden Reef. Weather starting to get warm. Used MirrOlure hot pink, sardine, fire tiger, and chrome and blue-and-white iron. Fish count: 187 yellowtail to 35 pounds; 335 cabrilla to 16 pounds; 3 black sea bass to 80 pounds; 3 grouper to 85 pounds; 15 white seabass to 35 pounds; 310 miscellaneous.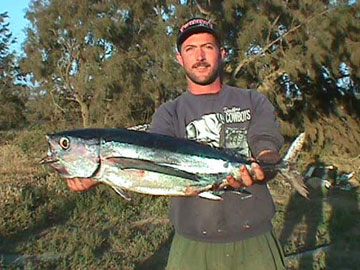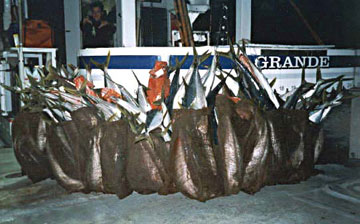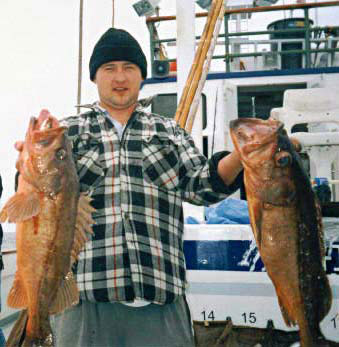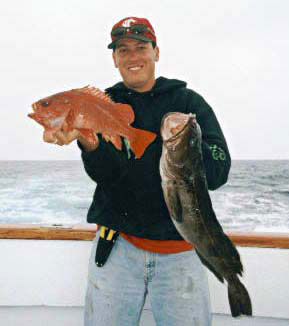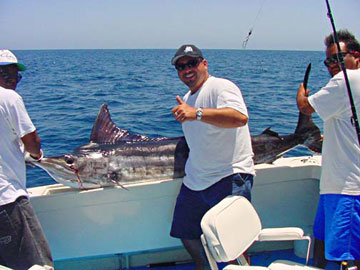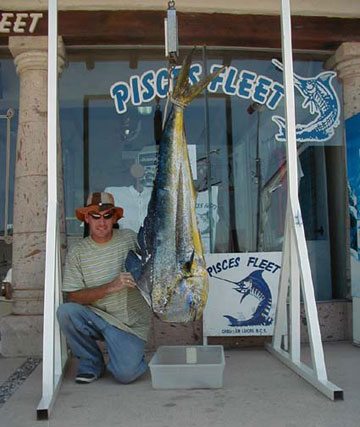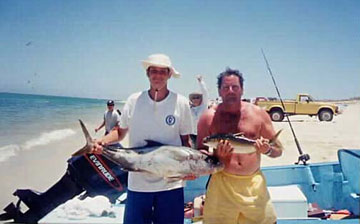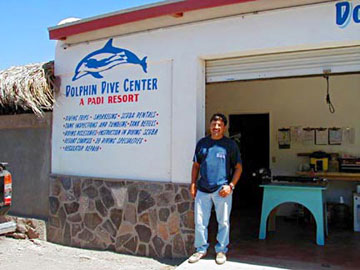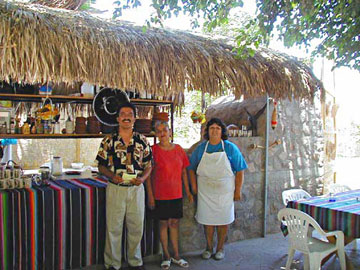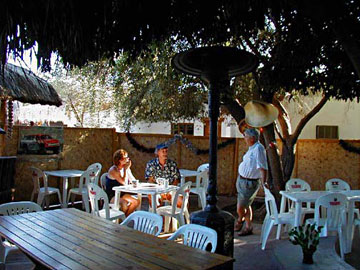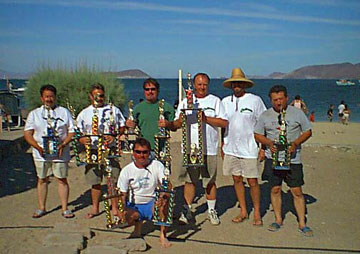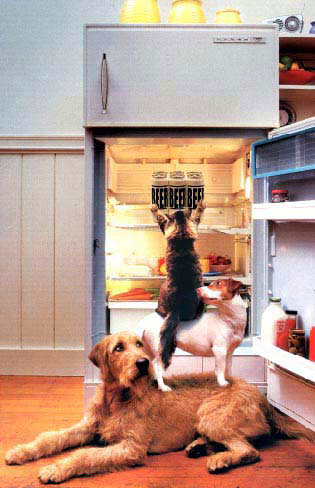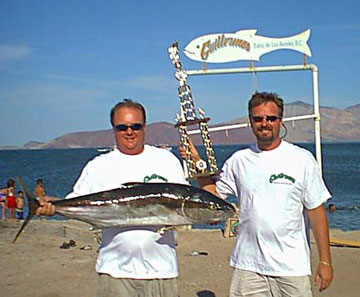 Baja coastal fishing reports and articles.
Ensenada fishing reports and articles.
Puerto Santo Tomas fishing reports and articles.
Erendira fishing reports and articles.
San Quintin fishing reports and articles.
Magdalena Bay fishing reports and articles.
Cabo San Lucas fishing reports and articles.
San Jose del Cabo (Los Cabos) fishing reports and articles.
East Cape fishing reports and articles.
La Paz fishing reports and articles.
Loreto fishing reports and articles.
Mulege fishing reports and articles.
Santa Rosalia fishing reports and articles.
Bahia de los Angeles (L.A. Bay) fishing reports and articles.
San Felipe fishing reports and articles.
Rocky Point (Puerto Penasco) fishing reports and articles.
San Carlos (Sonora) fishing reports and articles .
Mazatlan fishing reports and articles .
Puerto Vallarta fishing reports and articles.
Ixtapa Zihuatanejo fishing reports and articles.
Huatulco fishing reports and articles.
Cancun fishing reports and articles.
Mexico coastal fishing reports and articles.
Mexico Fishing Home Page < Mexico Fishing News Archives < Fishing Report