In other mainland Mexico and Baja fishing action this week:
ENSENADA FISHING REPORTS
ALL ARTICLES, REPORTS AND FISHING INFORMATION FOR ENSENADA
ENSENADA, MEXICO: LILY FLEET, Ensenada, June 21, 2001, Sammy Susarrey, Reservations Tel/Fax, 5 to 9 p.m., 011-52-617-46747; Cell 011-52-618-67485. The Tamara fished for albacore today with two anglers, catching 27 albies from 38 pounds to 20 pounds. The best feather was zucchini, also Mexican flag. We hit several large schools of albacore breaking on the surface, fish all around the boat. Weather is perfect, flat and calm. Water temperature 65.3. GPS numbers 31.34/116.53 and 31.30/116.52.
June 26, 2001-- Today the Lily reported 10 yellowtail to 20 pounds, 8 lingcod to 8 pounds, with 3 anglers fishing. The Amigo reported 17 yellowtail with 4 anglers fishing. Also 9 lingcod to 8 pounds. All fish caught 3 miles inside Todos Santos Island. Water temperature is 70 degrees. Nice clean water. Today's fish hit Tady 45s, black and purple, and white colors. Also sardine color and yellow and green. We have nice 3-inch sardines. There have also been some big 10-pound bonitos caughts, a lot of fun on light line. Also, the calico fishing has been great at the bajo of Todos Santos Island.
ENSENADA, MEXICO: SERGIO'S ENSENADA SPORTFISHING CENTER, Ensenada, June 24, 2001, Sergio Susarrey, Reservations Tel 011-52-617-82185. Today two boats are fishing the outer banks. These are the open party boat ENSENADA CLIPPER 85' with 25 anglers and the charter boat EL CAZADOR with 15 anglers. At time of writing this report the counts are as follow for both boats: Albacore (20), Yellowtail (115) & Bluefin Tuna (1). Our fleet is currently taking reservations on full day trips for both options open party & charters.
Our boats have continued to look for the albacore. However the counts have not been consistent . That is that one day the average has been of 1 albacore per rod and the next day boom the average goes to 3 or 5 per rod. Most of the albacore being caught weighed from 15 to 20 pounds. Also along with the albacore the yellowtail catches of the kelp paddies continues to be on the rise with an average catch of 3 to 5 yellowtail per rod on the 15 to 18 pound class. Even some nice size bonito are being caught also of the paddies and to make things a little more interesting a few yellowfin tuna have been grabbing the jigs. It is early for tuna but this means that perhaps the water temperature is rising fast most likely will see more tuna and even dorado within the next few weeks.
Here at Todos Santos Bay the fishing continues to improve every day the latest news are that the bass fishing has exploded with large amounts of both calico and sand bass being caught of Punta Morro (University Point) also in the local sacks you can see nice large size barracuda and school size bonito. The yellowtail bite at this point within the bay remains just fair with only a few yellows being caught on daily basis but this could change at any day because the water conditions are getting better and better every day.
SAN QUINTIN FISHING REPORTS
ALL ARTICLES, REPORTS AND FISHING INFORMATION FOR SAN QUINTIN
SAN QUINTIN, MEXICO: PEDRO'S PANGAS, San Quintin, June 24, 2001, Pete Hillis, Reservations 888-568-2252. Air temperatures this week were in the high 70s and low 80s. And with the warmer air temperatures have also come higher water temperatures (60 to 62 degrees). Winds and seas have been calm.
And great news--albacore are being taken. Based on this week's fishing, we expect albacore to be in full swing for the next month. And if things go as last year, that means the yellowfin will be coming in right behind them!!
As for this week--fishing with us were Dennis & Donna McIntyre and Tom & Lara Maloney of Huntington Beach. They opted to fish locally at the 240 spot and at the point. They snagged limits of rock cod, sand bass and Johnny bass. Mixed in with that were some nice yellowtail to 12 lbs.
Also with us were Ruben Carreon and friends from Long Beach. They brought in limits of reds on their first day, but went for the albacore on their 2nd day. They brought in 12 albacore, 18 to 25 lbs. All were brought in 15 to 20 miles off the point on a 240 heading.
SAN QUINTIN, MEXICO: SAN QUINTIN SPORTFISHING, San Quintin, June 24, 2001, Gene Allshouse, Reservations 011-526-165-9229. Hola Amigos We have had some of the greatest weather and greatest fishing I have ever seen in San Quintin. The Albacore have moved to within 15 miles this week and attached to this mail is a picture of a 49 pounder. That's what it weighed on the scale after riding on the boat most of the day! We even caught one Yellowfin Friday at 25 miles out. Not very big but, a Yellowfin none the less. The Albacore seem to be coming into the cooler water closer to shore and the Yellowfin are in the warmer water on the outside. The Yellowtail are on almost every piece of kelp in the water and some are more than 30 pounds but, most are weighing in at 10 to 20 pounds. The Island is still holding a lot of Yellowtail and they have moved in under the kelp with the Calico Bass. Feed a live bait to them on the edge of the kelp and they come out and hammer it. Most of the guys are making live bait in the morning and trolling feathers (you pick the color) and cedar plugs to locate the fish and then using t! he live bait to reel in more. The boats were all in by 3:30 yesterday and we were fileting fish until after dark. I'm not complaining, I'm bragging! This is the most exciting time of the year for me. I love those first big catches and the smiles on the fishermens' faces. It's 10:00 Sunday morning as I type this report and I have 4 boats out. I'm listening to the radio on channel 6 in my office and all boats already have Albacore and Yellowtail on board. It's going to be another long night! I love it! As always, hope to see you all here and happy fishing. --Gene San Quintin Sportfishing
MAGDALENA BAY FISHING REPORTS
ALL ARTICLES, REPORTS AND FISHING INFORMATION FOR MAGDALENA BAY
MAGDALENA BAY, MEXICO: BAJA ON THE FLY, San Carlos, June 23, 2001, Gary Graham, Reservations Tel 800-919-2252; Fax 760-746-7260. Temperatures: 91-degree high; low in the low 70s. Fair skies and windy. TUNA--No catches reported. YELLOWTAIL--Not much to talk about. CORVINA--The area immediately under the bridge continues to produce good numbers. SNOOK--Large numbers of snook a remarkable 15 in one day. HALIBUT--Fair numbers.
QUICK COMMENT--Gary and his pal Don Sloan, from Borrego Springs, Calif., fished Magdalena Bay this week. In two days of fishing both the northern and the southern ends of Magdalena Bay, they managed to catch 15 snook and numerous pompano, pargo, grouper, big bay bass, cabrilla and corvina. Gary reports by phone, "The fishing is outstanding."
MAGDALENA BAY, MEXICO: MAG BAY TOURS, Punta Hughes, June 23, 2001, Brian Freitag, Reservations 800-599-8676. Latest report from the Thetis is that there are decent numbers of home guard yellowtail on the bite, hitting small to medium size live bait fished on a dropper loop. Toss in a few of the assorted bottom dwellers that are hitting the same baits, and you have a great dinner. The water has been quite cold until recently. Its now warming up nicely! There is a nice temperature break, from 67 to 69 degrees, right off the camp, and another temp break that has been running right along the 100 fathom contour/ Thetis banks, from 69 to 72 degrees.
CABO SAN LUCAS FISHING REPORTS
ALL ARTICLES, REPORTS AND FISHING INFORMATION FOR CABO SAN LUCAS
CABO SAN LUCAS, MEXICO: PISCES FLEET, Cabo San Lucas, June 26, 2001, Tracy Ehrenberg, Reservations Tel 011-52-114-31288; Fax 011-52-114-30588. After such a spectacular week last report, we were kind of surprised that the fishing didn't remain steady. Striped marlin are still here in force, but getting them to bite was not an easy matter these past few days. Most boats got one or two stripers and occasionally the exception of three, such as those caught by Robert Furlough from Humble, Tx, fishing with Jackie Myers from Baytown Tx, aboard "Karina" on June 21st. Another three-fish-day was experienced by the Lake family from DeBeque Co. fishing on "Adriana" on June 23rd. Catch of the week has to go to eleven year old Paul VanMiddlesworth from Austin, Tx. for a blue marlin -that would have been released, if it had not died - weighing in at 250 lbs and taking 2 hours to bring aboard, after taking a black and red Zuker lure, aboard "Rebecca". There was a smattering of blue marlin for the Cabo fleet as a whole this period, with several fish reported between 200-270 lbs, so it appears that the blues are right on schedule and should increase in both size and numbers as we move into summer. Fish are pretty close right now off of San Jose, Red Hill and Palmilla and boats are seeing lots in any given day, but as mentioned above, a fair percent are not hungry and have shown little interest in the bait offered. Around sixty-two percent of boats successfully fought marlin this week and our overall catch success rate was eight-two percent for all species combined. Pisces anglers caught a total of 39 striped marlin this week or which 35 were released. Those brought in weighed from 130 to 150 lbs. We also heard of a swordfish being released by Hugh Foster but have not been able to verify details.
OTHER SPECIES: Not a whole lot happening on smaller game, but we did have several nice dorado spread throughout the week from 35 to 50 lbs. Just a few small tuna, small at 15 lbs. Andy Ginsberg from Riverside Ct. was fortunate to boat a 90 lb wahoo on June 23rd aboard "Tracy Ann". This same day a 50 lb 'er was also taken by Edward Budney, who also released a striped marlin this same day, from Anburn, Ca. aboard "Karina". A local fisherman, not knowing what he had, told me he caught a 60 lb snook, last week, surpassing the all tackle world record, without anyone noticing, but making a feast at the dinner table. Inshore, fair size roosters, sierra and some yellowtail.
LOCATION: San Jose, Redhill, Palmilla, Chileno. WEATHER CONDITIONS: Summer like conditions are upon us, barely a breath of wind, clear sunny skies and flat seas. AVERAGE WATER TEMP: 75 F. BEST LURES: Live bait.
CABO SAN LUCAS, MEXICO: PICANTE FLEET, Cabo San Lucas, June 25, 2001, Sergio Cortes, Reservations Tel 011-52-114-32474; Fax 011-52-114-35969. Fish available: Striped Marlin, Blue Marlin, Yellowfin Tuna & Dorado. Water temperature: 73-81. Air temperature: 92/73. Humidity: 55%. Wind: 10-12 Knots (Pacific); 8-10 Knots (Sea of Cortes). Fleet production (6 boats): 9 Striped Marlin and 6 Dorado. Hot spots: Gordo Banks (Sea of Cortes). Luckiest boat: Picante Expresso (31' CABO). Captain: Jesus "Moro" Zenteno. Angler: Lenny Goldstock. Production: 2 Striped Marlin 140-160lbs. (both released).
Striped Marlin fishing is hot at the moment, we have been averaging 2 (marlin) per boat in the past couple of days, few Dorado and Yellowfin Tuna can be caught also. If you are a Striped Marlin fan, this is the time to come down. Blue skies and beautiful fishing days. Mild to strong winds in the evenings.
CABO SAN LUCAS, MEXICO: FLY HOOKER SPORT FISHING, Cabo San Lucas, June 24, 2001, Capt. George & Mary Landrum, Reservations Tel 011-52-117-01271; 011-52-114-87452. WEATHER: This week we had only very light breezes, mostly from the southeast and southwest. There was no cloud cover to speak of, absolutely no rain and the daytime temperatures reached into the very high 90s every day. Nighttime lows were in the low 80s.
WATER: Early in the week there was green water from the Pacific side all the way up past Gordo Banks on the Sea of Cortez. As the week progressed the blue water moved back and forth, but steadily closer to our area. Today, the 24th, there was blue water out front 6 miles, but it turned green later in the day. I was out on Thursday and there were spots where it looked like the bottom had been stirred up, I mean the water actually looked muddy in spots. Definitely a sign of strong currents in the area! The water temperatures on the Pacific side have been from the very low 70s near shore to about 74 offshore. On the Sea of Cortez we are finding much warmer water. Temperatures at Gordo banks have been recorded in the 82-83 degree range but closer to the cape we have been seeing it in the 79-80 ranges. The waters have been calm all week, thanks to the absence of any strong winds.
BAIT: There has been no problem getting all the Caballito you want and there have been a few mullet available for those wanting inshore baits.
BILLFISH: All right, the Marlin have finally started to bite! I didn't think it was ever going to take off again, especially after the months of strong winds. Early in the week the fish were found in concentrations about 25 miles out up on the Cortez side. The water was green but the fish were there. As the warm, blue water moved into the area it appeared that a definite "break" was forming. It took a few days to see it, but as the currents took over from the wind we had a very distinctive line develop. It appeared that the bait was hiding in the green water and that is where we found the Marlin most of the time, at least the Striped Marlin. A number of Blue Marlin were caught this week up in the warmer blue water and they should be in this area soon! Most of the Striped Marlin caught early in the week fell for live bait and as the week progressed they turned on to lures also. At the tail end of the week the Striped Marlin were being found in fairly good concentrations within 10 miles of the marina entrance.
YELLOWFIN TUNA: We had a good sign of things to come this summer when large pods of spotted dolphin showed up outside "La Playita" in San Jose on Friday. Most of the boats on the scene were able to get into the Yellowfin that were mixed in, and these fish averaged a very respectable 80 pounds. On Saturday they had become very leader shy and many of the boats went down in size as far as 15-pound test. Sure are a lot of fish swimming around out there trailing yards of monofilament from their mouths. Some of these fish settled onto the inner Gordo Banks, but it remains to be scene weather or not they remain for any length of time. Cedar Plugs and slow trolled Rapalas, Marauders and small live Caballito were the best producing offerings. There were no confirmed reports of Tuna concentrations anywhere else.
DORADO: Nice fish out there! Not every boat is hooking them up, but the average size seems to be in the 30-50 pound range. Most of these fish have been caught using Marlin lures, but the first boat that is able to find some long time floating debris should have a whale of a time! Average catch seems to be a fish for every three boats with a few boats getting two fish. Almost a Sea of Cortez exclusive due to the colder Pacific water.
WAHOO: I am seeing a few flags for these speedsters almost every day but most of the fish appear to be open water fish, not associated with any contour lines. I am fairly sure that there are current lines in the areas these fish are being caught but with the water having been as green as it is, most of these fish are being found up the Sea of Cortez to the north, in the clear water. Most of the fish have been caught on Marlin lures.
INSHORE: There have been some very nice Cabrilla caught this week and lots of Roosterfish averaging 10-15 pounds. The big boys should be showing up any day soon! There are still some nice Sierra and Pargo being caught. A mix of small live bait and Rapalas work just fine for almost everything, but each Panga captain has his own tricks and secrets.
CABO SAN LUCAS, MEXICO: BAJA ANGLERS, Cabo San Lucas, June 23, 2001, Grant Hartman, Reservations 888-588-3446. The striped marlin fishing is very good right now! Dan Dreyer fished over the last 3 days with 3 stripers to the boat! One marlin was released before 8 a.m. Not bad in anyone's book. The fishing has really taken off for the striped marlin over the last few weeks. We are spotting 10 to 20 fish tailing on the surface everyday, and are raising 2 to 4 lit up teased fish to the boat for the fly. We have been successful in catching marlin on the fly almost everyday we go out. The marlin are running anywhere from 90 to 150-lbs, and are in great shape as there is a good food supply and the offshore water temperatures continue to rise. They are holding 10 to 15 miles offshore on the Sea of Cortez side of the cape.
We are catching a few big dorado as a bycatch while fishing for the marlin, but there are not enough dorado to target them. We will see more dorado as we move into our summer season. No yellowfin tuna around right now, but expect them to move onto the banks as the water temperatures continue to rise.
The inshore fishing has been inconsistent.
Currently the inshore water temperatures are around 65 degrees and the offshore water temperatures are around 75 degrees.
SAN JOSE DEL CABO (LOS CABOS) FISHING REPORTS
ALL ARTICLES, REPORTS AND FISHING INFORMATION FOR SAN JOSE DEL CABO
SAN JOSE DEL CABO, MEXICO: GORDO BANKS PANGAS, San Jose del Cabo, June 24, 2001, Eric Brictson, Reservations 800-408-1199; Fax 619-447-4098; 011-52-114-21147. The summer season has now officially started and anglers are discovering that the fishing action is not what it normally would be like at this time of year, though the overall action was not all that poor either, many quality fish were landed. The clarity and temperature of the water has not been consistent, greener and cooler than usual. It has shown signs of improvement and then once again another cool current would sweep back in. There has been wind from the south, west and the northeast, which have attributed to the cool conditions. Sportfishing fleets have found the most productive action to be on the San Jose del Cabo side of the Peninsula and especially from the Gordo Banks to Iman. Although no particular species of fish has been overly abundant there has been a wide variety, this past week catches included striped marlin, yellowfin tuna, dorado, skipjack, amberjack, yellowtail, jack crevalle, roosterfish, pompano, wahoo, pargo, grouper, sierra and sailfish. There was plenty of live bait available, mullet and mackerel were most common but on some days the pangeros were able to net sardinas off the beach of Desteladera.
Offshore the water was once again clearing and many marlin were being sighted from 2 to 15 miles out, though they were not that hungry, apparently full of squid. Though boats that did target them with the live mackerel averaged one to two marlin per day. Dorado were found spread out in very limited numbers, hitting on both lures and live bait, with most of the fish being caught weighing from 20 to 50 pounds. Yellowfin tuna action was still scattered but was the best in has been for at least a month. Over the weekend Panga fleets fishing the area of La Fortuna found tuna in the 20 to 60 pound class willing to bite the live baits, sardinas were their favorite, also hitting on mullet and mackerel. There were only minimal supplies of sardinas and to really get the fish into a feeding mood it took lots of chum, which was just not available. Average catches were only 1 to 3 tuna per boat but some of the pangas had as many as 5 or 6. On Thursday the fleet located schooling tuna migrating with porpoise within two miles of shore, off of La Laguna and for the boats that found the fish first they did well on fish to 35 pounds while trolling live mullet, the fish did not want to bite on lures. The next day those fish had moved further north but were not as concentrated.
Trolling with live mullet or sardinas along the shoreline was excellent at times along the beaches from La Playita to Punta Gorda. After slowing down the previous week because of cooler green water the bite did pick back up, with many roosterfish from 10 to 50 pounds being hooked. The fleets were booked up solid this week and this put extra pressure on the fishing grounds, so the bite seemed to best early in the day, coinciding with the incoming tide. Other inshore catches include pompano, sierra, jack crevalle and pargo. The shipwreck in forty feet of water off of La Salina was one of the more productive spots. --Good fishing, Eric
EAST CAPE FISHING REPORTS
ALL ARTICLES, REPORTS AND FISHING INFORMATION FOR EAST CAPE
EAST CAPE, MEXICO: BAJA ON THE FLY, Buena Vista, June 23, 2001, Gary Graham, Reservations Tel 800-919-2252; Fax 760-746-7260. TEMPERATURES: High of 95 with a low of 75. Beautiful weather... flat sea, clear water. STRIPED MARLIN--Good counts continue. YELLOWFIN TUNA--Still a few. DORADO--Numbers are picking up. ROOSTERFISH--Good. JACK CREVALLE--Excellent. BARRILLETE OR MEXICAN SKIPJACK--Plenty in front of La Ribera. PARGO AND CABRILLA--Fair action this week at Punta Colorada. OFFSHORE: More marlin and dorado being taken. Lots of pompano. INSHORE: Water temperatures are warming up. Excellent fishing!. BEACH: Both beach and pontoon trips are getting multiple varieties of species including jack crevalle, roosters, grouper, pompano and pargo.
QUICK COMMENT--Dr. Tom Corbett, Spokane, Wash., and two of his associates, Dr. Roger Dunteman and Dr. Adam Olekamp, were astounded at the number of species they caught in one day of fishing the pontoon boat: 9 roosters, 5 African pompano, 1 palmetto amarilla, 4 pargo, and 2 grouper. Flies: Baja Deep Divers in chartreuse and small green and white Clousers.
Jay Jones from Huntington Beach, Calif., and his son Tom from Aitkin, Minn., caught jacks, roosters, pargo and even halibut from the beach; and dorado, yellowfin tuna, skipjack, bonito, roosters, and sierras from a panga.
EAST CAPE, MEXICO: RANCHO BUENA VISTA, Buena Vista, June 23, 2001, Tamara Moyeous, Reservations 800-258-8200. A very productive week at Rancho Buena Vista. Average temperature 95 degrees. Water temps still cold at 75 degrees. Lots of fish caught. Twenty-eight stiped marlin, 2 blues, 12 sailfish, 92 roosterfish, 53 dorado, 85 tuna and 28 pargo. Looks like the season is finally getting into full swing. More next week. Best regards, Tami.
EAST CAPE, MEXICO: RANCHO LEONERO, Bahia de Palmas, June 23, 2001, John Ireland and Roy Baldwin, Reservations 800-646-2252; Hotel 011-52-114-10216. More mild weather, with daytime highs near 90, nice evenings about 70, mostly sunny skies, dead flat seas with warming water temp around 77-79deg. The warming water has improved the bite daily, with billfish and dorado outside, while pompano and golden trevally were active inside. Striped marlin, sailfish and a few blue marlin are hitting live bait and lures out in the blue water, about 9-20 miles outside. Schools of dorado from 10-20 lbs have finally shown up, with most boats limiting easily, with some huge loners to 60lbs taken out in the blue water, taking live sardinas and trolled marlin lures. The tuna bite is erratic, with the area off La Ribera producing best. Incredible inside action right in front of Leonero, with golden trevally, pompano, jacks and pargo all bending rods. Some boats fish this spot the whole day, on Friday we counted 25 boats fishing there, about 250 yards straight in front of the resort.
EAST CAPE, MEXICO: EAST CAPE SPORT FISHING, Los Barriles, June 27, 2001, Dave Dixon and Gil Mendiaz, Reservations 800-837-1556; Fax 805-493-5446. Blue Marlin are now showing on the East Cape in both size and numbers, mixing with stripers, sailfish and a few swordies being spotted (though no hookups reported on swordfish). For the next couple of weeks or so, East Cape style Grand Slams are a real possibility for the anglers that have reservations for this period. Additionally, dorado are showing strong. At the shark bouys, with many chicken and mid-sized fish are being taken daily. On the outside with the billfish, very large dorado are being both spotted and caught with regularity. Tuna are in the area, but remain a little scattered and are quite finicky about eating baits. With the higher water temps. and cochis being spotted, tuna should soon be on the level with the bills and dorado.
Inshore fishing has produced a variety of catches and in good numbers! Roosters, pargo and pompanos of various species are being taken in quantity. Bait is good with sardinas and larger jurelitos readily available.
EAST CAPE, MEXICO: HOTELS PALMAS DE CORTEZ, PLAYA DEL SOL, PUNTA COLORADA, East Cape, June 24, 2001, reported by Dave "Smokey" Manuel, East Cape Smokehouse, Hotel Reservations, 800-368-4334. Maybe, just maybe, summer is finally going to show up because it's starting to get hot down here. The good news is that with the warm still air, the water temperature and color have made some good progress this week. Numerous reports of water running 80 to 84 degrees and a few as high as 87 have come in and there has been less and less reports of anything under 76 degrees. Water color onshore remains green for the most part, but some improvement has been made, so I'll upgrade it from a "pea soup green" to "original flavor Gatorade green". Go out a few miles and it starts to clear up and by many reports there are several large areas of beautiful clear blue water. Some call it deep blue, others call it cobalt blue and one guy I know calls it Carter's Ink blue, but whatever the name, there's more of it to fish in than we've had in along time. The most active species the past few days has been Dorado. Unfortunately, most are quite small, but they are fun on light tackle. The best shot at these smaller Dorado in multiple numbers has been off Punta Pescadero amongst the shark buoy sets. Many skippers returned with numbers from 8 to 20 small Dorado caught; thankfully many of these little guys are being sent back to grow up. Dorado are known as fast growers and can grow to the size of 30 lbs in one year, so in only a few months these will be much more admirable adversaries to tackle with. In addition to the small one's, good sized Dorado running in the 35 lb to 45 lb class continue to be found daily, but number much less. Most of these are coming on jig strikes while trolling and have been limited to a single fish or perhaps a couple per charter.
Striped Marlin fishing was not quite as good as last weekend average wise, but it did improve over the midweek period. The bite spread out considerably, with many fish taken down off Cabo Pulmo to Los Frailes, in addition to the same productive spots off punta Pescadero and North. The action off Pulmo and Los Frailes for the most part was in close from 5 to 9 miles using live bait.
Blue Marlin have now made appearances on the report for 6 consecutive days, probably a result of the warmer water that's moved in and also perhaps of the great number of small Dorado in the area. Blues like to eat these poor little bastards for lunch. The biggest one I've heard about so far this season comes from a private gringo boat and not from the charter fleet. Jack and Shirley Bowman, who are long time East Cape residents and anglers, released a big Blue on Sunday while fishing on their cruiser "Roamer II". I spoke with them briefly on the beach and Jack estimated the size to be at 500 lbs. (They caught one a few years back that weighed 540 lbs, so they've got something to compare it to.) They told me they fought it for well over an hour on a 50 wide, using 80 lb test attached to a "mean joe green" lure. Most of the other size estimates on Blues ran 250 lbs to around 350 lbs. Not much change in regards to Tuna, numbers are negligible. A few have been taken from an occasional Porpoise school or a blind strike on a jig, but no hot spots to talk about right now.
LA PAZ FISHING REPORTS
ALL ARTICLES, REPORTS AND FISHING INFORMATION FOR LA PAZ
LA PAZ, MEXICO: JONATHAN ROLDAN'S TAILHUNTER ADVENTURE SERVICES, La Paz, June 24, 2001, Jonathan Roldan, Tel 626-333-3355; Fax 626-333-0115; Pager 323-349-8111; Message Pager 877-310-7734. I'll tell you, town is packed. I heard Las Arenas Hotel had over 30 boats on the water yesterday. Every other fleet had ever boat on the water. If you do not have a reservation to fish, you may not be able to find even a rubber tube for hire right now.
They had the big dorado tournament today. The Copa Dorado had about 100 boats this morning and not a boat available in town. As I may have mentioned before, however, it seems that no one invited too many dorado. Water is still cool. There's still some green outside La Paz although it really looks promising. There are current lines. There are sargasso weeds stacking up. However, the pressure on each "paddy" or weed line is pretty intense for the occasional bull or large female and then a handful of dinks. Pretty sad at times seeing some of the small fish some of the anglers are gaffing. However, the signs are all there. This place could bust loose any moment. It could be gangbusters by the time you're reading this. Overall, it seems like were about 5 weeks behind where we should be in terms of temperature and water. It's coming!
Maybe the best example of that is what's taking place at Las Arenas. Clearly, it's the most consistent bite we have. It's up and down. Two days it's great. 3 days it's off. Here is at summer solstice and we're still catching yellowtail and pargo! We started our afternoon fishing from Las Arenas beach this week and it's kinda neat to be the only boats on the water after everone goes home! Found a huge spot of pargo at the south side of Cerralvo with huge pargo lisa thrashing on the surface. On the average, we hammer 3-8 per afteroon, but are lucky to pull only 1 or 2 out of the rocks. However, the fish we are getting are huge 40 plus pounders! In the middle of those are smaller yellowtail. As for the tuna, they are on and off. They are the most consistent pelagics, however, if you find the blue water. Fish are 20-50 pounders and there are more dorado making it to the beach. Also, there's a great roosterfish jag near the beach where we take off in the morning. There are literally huge dark ribbons of sardines all along the beach. More than I have ever seen! One throw of the bait net and the pangeros can barely lift the heavy net into the boat. Well, small 5-10 pound roosters are also enjoying the buffet so if you've ever had your heart on getting a rooster, it's been pretty good, especially on the light tackle.
LA PAZ, MEXICO: HOTEL LAS ARENAS, Punta Arena de la Ventana, June 27, 2001, Linda Glassman-Davis, Reservations 888-644-7376. Captain's Fausto, Beto, Daniel, Fidel, Efren, Cachora, Tolon, Adrian, Guicho, Zapata, Daniel, Tony, Lazaro, Ramon Green, Valente, Liciano, Chimango report: Yellowfin Tuna 90 to 70 lbs.; Dorado 73 to 70 67 lbs.; Yellowtail 9 to 70 13 lbs.; Wahoo 5 to 70 50 lbs;. Roosterfish 4 to 70 7 lbs.; Pargo 2 to 70 6 lbs.; Cabrilla 3 to 70 7 lbs.; Pompano 2 to 70 6 lbs. ;Sierra 1 to 70 4 lbs. We still have a few spots open for the Roosterfish School! Come on down and see us!
LA PAZ, MEXICO: FISHERMEN'S FLEET, La Paz, June 26, 2001, David Jones, Hotel los Arcos, Reservations 011-52-112-21313; Fax 011-52-112-57334. Well, we have two big pieces of news this week. The first, at least chronologically, is that The Hotel Los Arcos has been closed by a labor strike. Last Wednesday evening the workers walked out, and the hotel was closed. The issues involve the formation of a new union down here, and there are some pretty heated tempers on both sides, and among the owners of local fishing businesses I might add. We have started to hear some optimistic statements, off the record, from some of the strike leaders and we are hopeful that all will be resolved by weeks' end. Meanwhile we are having our guests stay at The Marina Hotel under the auspices of our old friend Mario Copolla. An extra ten minute van ride in the morning before breakfast and off we go.
The second piece of news, and one that is certainly more anxiously awaited than the previous one, is that we are starting to catch Dorado in earnest out of Las Arenas and north of town with Capt. Juan and the boys. Limits of Dorado, with the small fish being 8-10 pounds and the largest over 30 have not been universal the last couple of days, but have been common. A few large bulls have been reported, mostly swimming away with the now unattached line from some of our customers, and the recent Copa Dorado Tournament here in La Paz was won by a 60+ pound monster. While not in full bloom yet, the Dorado bite appears to be in earnest, and will get better. Tuna, Amberjack, Wahoo, and Pargo all continue, and while not at a torrid pace, those that work at it have been doing well.
As you might have guessed from the Dorado being here, the weather continues to warm. I can tell when it's getting hot because locals like Juan say, "it's getting hot". Over 100 every day (but it's a dry heat!) and nights in the 70s.
LORETO FISHING REPORTS
ALL ARTICLES, REPORTS AND FISHING INFORMATION FOR LORETO
LORETO, MEXICO: EL FUERTE SPORT FISHING, Puerto Escondido, June 20, 2001, Ty Miller, Reservations Tel 714-775-6658; Fax: 714-755-3501; Loreto 011-52-113-30863. Hola Pescadores. Let's get right to the point and make this week's fish report short and sweet. Dorado ranging from 15 to 50 pounds can be found holding under Sargasso paddies from off of White Cliffs (backside of Isla Carmen) and up past Punta Lobo (North end of Isla Carmen) and out approximately 10 to 15 miles. Water color and temps are unstable but are not effecting the bite whatsoever! It's a no-brainer: find a paddie, take a look. If they are home, drop the bait. If not, go on to the next one. Eventually you will hit the right one!
Billfish are holding steady in the same areas as the Dorado. Most are taking the live bait presentation instead of coming into the lures.
Bait is steady off Punta Baja for the time being. Bait is on the large side, but the big Dodo's and billfish don't mind!
Fishing is good, guys, so don't wait too long to get in on some of the action! Hasta! --Ty Miller
BAJA BIG FISH COMPANY, Loreto, June 27, 2001, Pam Bolles, Reservations Tel/Fax 011-52-113-50448. Temperatures are definitely summerlike as we're seeing highs past the century mark and lows in the mid 80s. Humidity level is high as well--high 50 percentile.
Skies: We have had a front pass through that brought winds and slowed the fish bite a little. The fish always sense a change in the pressure and react accordingly. There are heat lightning shows out toward the mainland and we can see it from here in the evenings and at night.
Winds: Prevailing from the South. Calm to nonexistant in the early mornings but they build in the afternoons and become quite strong. Conditions have been changing day to day as yesterday was very windy in the afternoon and we were cursing it as we were trying to cast, but today it's nonexistant and we're sweltering in the heat.
Seas: Calm morning seas that build to moderate swells (especially beyond the islands) when the afternoon winds pick up. The temperatures are heating up. We're getting readings from 82-84.
Dorado: There are Dorado to the North from off San Basilio to San Bruno and to the Northeast of Isla Coronado; and there are dorado off Punta Lobos and Punta Perico. Schools of Dorado pass through and linger in these locations to feed year after year. The Dorado are being hooked by the usual means, most popularly the trolled live mackerel, next trolled squid, then trolling feathers...sardinas work well too, when cast into schools but you need to wait until after 6:15 a.m. to net them. The dorado can be finicky when the winds pick up and they have been blowing the past several days from late morning on, with the exception of today. Limits are easliy being attained and surpassed. Fish are ranging in size from 12-50+ pounds. The Vagabundos del Mar dorado tournament is going on this week.
Billfish: There are still a lot of sailfish. Most of them can be found in the San Bruno area and points north. they are typically well over 100 pounds (100-130 pounds). Trolled live mackerel, and trolling feathers work the best. colors for artificials that are working best: green/white, blue/white, Tres Generaciones (pink/green/red), pink/white, green/yellow.
MULEGE FISHING REPORTS
ALL ARTICLES, REPORTS AND FISHING INFORMATION FOR MULEGE
MULEGE, MEXICO: MULEGE, June 23, 2001, Marty Robison & Jens Kolbowski, reporting for baja-web.com. Air Temp 70-85, Water Temp 82. Sea: calm. Skies: clear. Wind: mild.
Marlin & Sailfish reports of up to 30 have been seen in a day. Dorado fishing improved this week using live bait, trolling was also successful however grass paddies were hard to find. Most fish have been catch & release as they are plentiful. Fish were caught as close as 8 miles from the river. All being caught on feathers. Good size grouper were landed this week, the prime area being about 1 mile east of Punta Chivato over reefs.
SAN FELIPE FISHING REPORTS
ALL ARTICLES, REPORTS AND FISHING INFORMATION FOR SAN FELIPE
SAN FELIPE, MEXICO: TONY REYES FISHING TOURS, 6-day Midriff Islands trip aboard the panga mothership, Jose Andres, Tony Reyes, Exclusive booking agent, The Longfin, 714-538-8010, trip ending June 22, 2001. Trip #9 out of San Felipe. The Fish Count: 232 cabrilla to 18 pounds; 124 yellowtail to 41 pounds; 78 spotted bass; 12 squid to 35 pounds; 7 grouper to 35.5 pounds; 5 sheephead to 7.5 pounds; 3 broomtail grouper to 21 pounds; 3 barred pargo to 12 pounds. Jackpot fish: 1st place, Tony Guillen, 33 pound 15 ounce yellowtail; 2nd place, Tom Watson, 32 pound 15 ounce grouper.
SAN FELIPE, MEXICO: SEA OF CORTEZ SPORTFISHING, 6-day Midriff Islands trip aboard the panga mothership, Celia Angelina, Bob Castellon, Reservations 626-333-9012; Fax 626-336-1966; San Felipe 011-52-657-71778, trip ending June 21, 2001. Nineteen anglers led by Sonny Loo of Calexico found fishing a bit slow the first two days of trip but Bob took them as far south as San Franciscito and things got hot in a hurry. Yellowtail up to 38 lbs and Grouper to 48 lbs. There are alot of fish up on the top right now and all they want are the deep diving lures, all colors seem to be working, the black purple and the green and yellow took their share of fish. There are a few fish taken on bait and blue and white jigs. Because of the size of the fish we are farming 25 to 30% of our hookups. Water temps 81 high at Enchanted Islands to 63 lows at Snake Island. Air temp 90 to low of 71. We took 2 grouper to 47 lbs released 8 under 25 lbs,102 Yellowtail to 38 lbs(50% OVER 25LBS), 79 Cabrilla to 12 lbs, 43 Pargo to 8 lbs, 1 White Sea bass 37 lbs, 92 giant Squid and 143 Misc. Bait is now becoming more accessible. Thats all for now. --Bob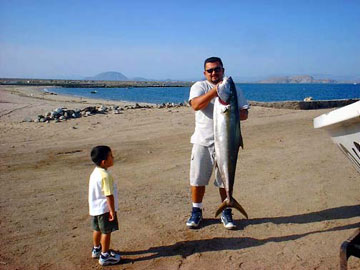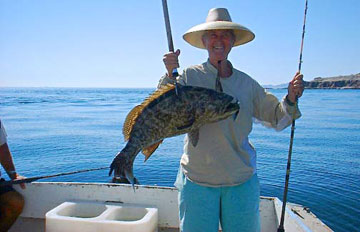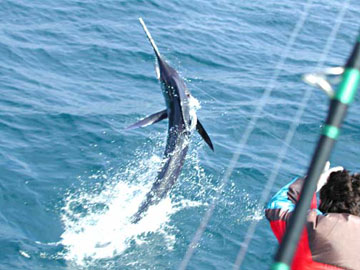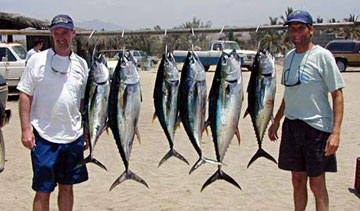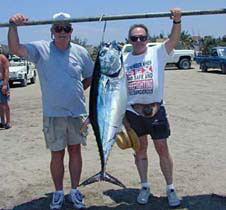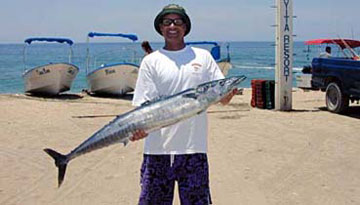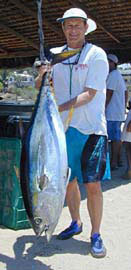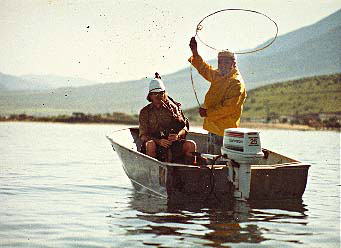 Baja coastal fishing reports and articles.
Ensenada fishing reports and articles.
Puerto Santo Tomas fishing reports and articles.
Erendira fishing reports and articles.
San Quintin fishing reports and articles.
Magdalena Bay fishing reports and articles.
Cabo San Lucas fishing reports and articles.
San Jose del Cabo (Los Cabos) fishing reports and articles.
East Cape fishing reports and articles.
La Paz fishing reports and articles.
Loreto fishing reports and articles.
Mulege fishing reports and articles.
Santa Rosalia fishing reports and articles.
Bahia de los Angeles (L.A. Bay) fishing reports and articles.
San Felipe fishing reports and articles.
Rocky Point (Puerto Penasco) fishing reports and articles.
San Carlos (Sonora) fishing reports and articles .
Mazatlan fishing reports and articles .
Puerto Vallarta fishing reports and articles.
Ixtapa Zihuatanejo fishing reports and articles.
Huatulco fishing reports and articles.
Cancun fishing reports and articles.
Mexico coastal fishing reports and articles.
Mexico Fishing Home Page < Mexico Fishing News Archives < Fishing Report