Recommend: bring a squid jigs 3-4 inch, feather colors, blue/white, green/yellow.
LORETO, MEXICO: EL FUERTE SPORT FISHING, Puerto Escondido, June 29, 2001, Ty Miller, Reservations Tel 714-775-6658; Fax: 714-755-3501; Loreto 011-52-113-30863. Hola Pescadores. A couple of days this past week were a little on the scratchy side for Dorado, but the pace has picked up again and looks good. Average size Dorado are in the 18-25 pound class, but we have confirmed these past few days that some fish are pushing over the 50 pound mark!
Just check out this photo of Mark and Terry Scott's 50 lb. bull that they teamed up on! Best areas to find them at this end are off White Cliffs (Isla Carmen) and towards Isla Monserate. The bigger bulls seem to be coming up under the paddies later in the day, so be patient. Most all of our big fish have been taken on the dead sardines twitched on top. This method is deadly!
Billfish are scattered off the backside of Isla Carmen and around Punta Lobo (Isla Carmen). The billfish seem to be settled in and are taking the live bait. Still haven't seen the steady bite on plastics like last year.
Bait spot this past week has been Honeymoon (Isla Danzante) with Sardines and macks between 6:30 and 7:15 a.m. Water color and temperatures has me scratching my head but it doesn't seem to be bothering the bite, so let's hope it keeps on keepin' on! Hasta!
Water Temp: 79. Air Temp: 95. Sea State: Flat. Winds: light.
LORETO, MEXICO: BAJA BIG FISH COMPANY, Loreto, June 28, 2001, Pam Bolles, Reservations Tel/Fax 011-52-113-50448. Temperatures are definItely summerlike as we're seeing highs past the century mark and lows in the mid 80s. Humidity level is high as well -- high 50 percentile.
We have had a front pass through that brought winds and slowed the fishbite a little. The fish always sense a change in the pressure and react accordingly. There are heat lightning shows out toward the mainland and we can see it from here in the evenings and at night.
Winds: Prevailing from the South. Calm to nonexistant in the early mornings but they build in the afternoons and become quite strong. Conditions have been changing day to day as day before yesterday was very windy in the afternoon and we were cursing it as we were trying to cast, but yesterday and today its nonexistant and we're sweltering in the heat.
Calm morning seas that build to moderate swells (especially beyond the islands) when the afternoon winds pick up. The temperatures are heating up. We're getting readings from 82-84.
Come visit our shop!: We're located in front of the "El Pescador" Supermarket and we have lots of t-shirts and tank-tops in stock with our cool logo for only $10! We're also clearing out our conventional tackle, so come on down for a bargain and talk fishin' to me!
Dorado: "Puro Grandes de 35 a 40 libras!!!" is what I heard all morning on the radio as I was working and wishing I were out there too. From what's been coming in at the fish cleaning station, its all true. The Spanish translation of the above is "all big ones from 35-40 pounders!"
There are Dorado to the North from off San Basilio to San Bruno and to the Northeast of Isla Coronado; and there are dorado off Punta Lobos and Punta Perico. Schools of Dorado pass through and linger in these locations to feed year after year. The Dorado are being hooked by the usual means, most popularly the trolled live mackerel, next trolled squid, then trolling feathers...sardinas work well too, when cast into schools but you need to wait until after 6:15 a.m. to net them. The dorado can be finicky when the winds pick up and they have been blowing the past several days from late morning on, with the exception of today. Limits are easliy being attained and surpassed. Fish are ranging in size from 12-50+ pounds.
Yellowfin tuna are starting to show off the northeast and east sides of Isla Carmen. The radio went off at about mid morning with captains announcing the arrival of yet another glamor fish into our area. Our fish cleaning station across town is still busy as of now, but I'll keep you posted as to the size and numbers later in the evening!
There are still a lot of sailfish. Most of them can be found in the San Bruno area and points north. they are typically well over 100 pounds (100-130 pounds). Trolled live mackerel, and trolling feathers work the best. colors for artificials that are working best: green/white, blue/white, Tres Generaciones (pink/green/red), pink/white, green/yellow.
In other mainland Mexico and Baja fishing action this week:
ENSENADA FISHING REPORTS
ALL ARTICLES, REPORTS AND FISHING INFORMATION FOR ENSENADA
ENSENADA, MEXICO: LILY FLEET, Ensenada, June 28, 2001, Sammy Susarrey, Reservations Tel/Fax, 5 to 9 p.m., 011-52-617-46747; Cell 011-52-618-67485. Today the Amigo, Lily and Tamara fished locally and found cooler water and windy conditions. A slow fishing day. Water temperature dropped to 61 degrees. A bumpy day. Bottom fishing was slow too.
JUNE 29, 2001-- A windy day. We fished locally. Two miles inside Punta Banda the Lily reported a large catch of big bonitos, 12 pounds, log barracuda and 3 yellowtail, including one of 15 pounds. Sergio the skipper says there are a lot of calico bass in the rocks. Water temperature was 63.5 degrees.
JULY 4, 2001-- For the past 3 days we've been fishing 8 to 12 miles outside of Todos Santos Island on a heading of 250 degrees and we've been catching some albacore 20-25 pounds trolling small Zuker feathers in zucchini, black-and-green, and small cedar plugs in natural color. Also, we have found kelp paddies loaded with 5-15 pound yellowtail, catching them with 6X Salas jigs 40 to 60 feet deep. Some also caught on live sardines with 1 ounce sinkers and 2/0 hooks. The last few days have had nice weather, flat and calm like the marina.
The Lily has been fishing locally, reporting calico bass at Punta San Miguel, also large bonitos inside Punta Banda, nice 10-pounders, also log barracuda and a few white seabass to 25 pounds. They are seeing large schools of fish on the surface.
PUERTO SANTO TOMAS FISHING REPORTS
ALL ARTICLES, REPORTS AND FISHING INFORMATION FOR PUERTO SANTO TOMAS
PUERTO SANTO TOMAS, MEXICO: PUERTO SANTO TOMAS RESORT, Puerto Santo Tomas, July, 4, 2001, Sam Saenz, Reservations Tel 714-256-2577; Ensenada 011-526-174-5683; Remote Santo Tomas Cell 011-52-617-13364, after 6 p.m. or 6:30-7:00 a.m. Hi Gene. We had good weather last week, with no wind. The bottom fishing was excellent at the outer banks. Surface action around the Soledad Bay reef and rock pile three miles from the village was great this weekend. Lots of barracuda and bonita and about four yellow tail running from 8 to 20 pounds. Ten days ago we made a special excursion trip to intercept the yellowfin tuna and albacore. We hit a big school on the way to greener pastures at about 10 miles from the village. We drifted away and never found them again. The catch was one yellowfin tuna at 25 pounds and one albacore at about 12 pounds. This was a first for panga fishing out of Puerto Santo Tomas. This verifies that it can be done. It is a known fact that these fish are within close distance of Santo Tomas, but due to logistics, fuel limitations and security problems most pangeros and some Americans do not want to venture that far out on a single panga. It takes more captain man hours and three times the fuel to carry out these trips, and we recommend two pangas with advance reservations.
SAN QUINTIN FISHING REPORTS
ALL ARTICLES, REPORTS AND FISHING INFORMATION FOR SAN QUINTIN
SAN QUINTIN, MEXICO: PEDRO'S PANGAS, San Quintin, July, 1, 2001, Pete Hillis, Reservations 888-568-2252. Well, I guess the main feature line could read something like, "San Quintin, Wind Blew and Albacore Flew!" because that's pretty much the report for this week. Air temperatures have cooled to the 70s with water temperatures going down a bit too. Skies have been overcast. The famous winds in our area were blowing all week long. As a result, we had only one report of one boat bringing in a single albacore. But as usual, we still have the standard limits of ling and rock cod, some nice white sea bass, and nice yellowtail. The yellowtail were being caught around the island. We'll check in with your readers next week, and hopefully will be able to report better numbers of the albacore since as of today (7/1/2001), the winds have died down.
SAN QUINTIN, MEXICO: SAN QUINTIN SPORTFISHING, San Quintin, July, 1, 2001, Gene Allshouse, Reservations 011-526-165-9229. Ahola Amigos This week the weather has been a factor in getting out to the Albacore. The winds blew for 3 days. They finally died down enough Saturday to be able to run outside the Island. However, the Albacore did not cooperate. We only managed to catch one nice one. Hopefully better luck today with the seas calming down even more. The good news is the Yellowtail and White Sea Bass have not let us down. We continue to have a wide open bite between the Point and the Island. Even in the rough seas. We even caught one White Sea Bass on the troll with a CD-18 Rapala while trolling for Yellowtail. They have been averaging over 25 pounds with the largest (caught by another fleet) weighing in at 60 pounds and in only 34 feet of water. Really nice quality fish. They seem to hanging out below the Yellowtail so, when you send out that bait you never know what you're going to reel in. The Calicos and the bottom fishing continues to be great as well. A nice mixed bag of fish! All of us expect this coming week to be a lot better for the Tuna and I will try to update my report in the middle of the week. All in all with the Yellowtail and White Sea Bass biting, we are still having some excellent fishing and as always, I hope to see you all here.
MAGDALENA BAY FISHING REPORTS
ALL ARTICLES, REPORTS AND FISHING INFORMATION FOR MAGDALENA BAY
MAGDALENA BAY, MEXICO: BAJA ON THE FLY, San Carlos, July, 4, 2001, Gary Graham, Reservations Tel 800-919-2252; Fax 760-746-7260. Temperatures: 82-degree high; low in the mid 69. Partly Cloudy skies and little wind. TUNA--Not yet. YELLOWTAIL--Quiet. CORVINA--Try under the bridge on the way into town. Good action near Devil's Curve. SNOOK--Best reports out of Almejas Bay. HALIBUT--Several of the bocas producing fair catches as well as on the sand beaches. QUICK COMMENT--Corvina, pompano, spotted bay bass and a few grouper provided fair action throughout the bay this week.
CABO SAN LUCAS FISHING REPORTS
ALL ARTICLES, REPORTS AND FISHING INFORMATION FOR CABO SAN LUCAS
CABO SAN LUCAS, MEXICO: FLY HOOKER SPORT FISHING, Cabo San Lucas, July, 1, 2001, Capt. George & Mary Landrum, Reservations Tel 011-52-117-01271; 011-52-114-87452. WEATHER: It looked like summertime this week as the temperature remained in the 90s during the day and the 80s at night.
WATER: The surface conditions were beautiful on both the Pacific side and the Sea of Cortez side of the cape all week until Friday. That is when the evening breezes started and the Pacific side got pretty choppy in the afternoons. The water was clear and blue up towards the north side of Gordo banks at the beginning of the week and as the time passed the blue water got closer until on Sunday it was just a few miles north of town. We no longer have the really dirty green water that was outside last week. As far as water temperatures go, the Pacific side is still pretty cold, as low as 64 degrees in most areas; the Sea of Cortez temperatures are running from 84+ degrees up outside the East Cape to 68-70 degrees outside the lighthouse. Later in the week the near shore, 1-6 miles out on the Cortez side up to San Jose, water was a lot warmer than the cold-water bulge forced in from the Pacific side.
BAIT: The standard price of $2 per bait with mostly Caballito but an occasional Mackerel in the mix. No Sardinas locally but more of the Pangas have Mullet available now if you want Roosterfish action. If there are no Mullet available then the small Caballito have been working well.
BILLFISH: Lots of Striped Marlin spotted early in the week with the numbers seen dropping as the week progressed. Many of the boats were able to get multiple hookups and a lot of the boats just went fish watching. There have been a few Blue Marlin caught this week and as the water continues to warm and clear up those numbers should increase. A mix of both lures and live bait fooled the Striped Marlin that bit. Solid green, blue/pink, bleeding mackerel and blue/silver seemed to be the "hot" colors for the week. The fish have seemed to be pretty lazy and full so we found that the best results with the lures were using flat faced ones that would produce a lot of activity at slow trolling speeds, about 5-6 knots. On the other side of the coin, a lot of the boats were using high speed lures to cover ground, mostly working Marlin spotted tailing, tossing out live bait when these fish were found.
YELLOWFIN TUNA: We are still waiting for the Yellowfin to show up again. There have been some caught among Dolphin up to the north on the Cortez side, but nothing like the two day bite last week.
DORADO: There are Dorado being caught but the sizes are starting to drop. Last week we were seeing them in the 50+pound range, this week the ones we were seeing were in the 35-pound size and quite a few of them were in the 10-pound and smaller category. Looking over my records, this happens every year and seems to be the beginning of the Dorado season. In a short while we should have plenty of Dorado in the 15-20 pound class, enough action for everybody! Can't happen soon enough for me, I like it when everybody catch's fish! Most of the fish this week were hooked on lures trolled for other species; they haven't been thick enough yet to make them a targeted fish.
WAHOO: This week I continued to see Wahoo flags flying and every time I stopped to ask about them I was told that they were caught as an incidental catch while searching for Marlin. There have not been a lot of them, but regularly enough that I feel the chance of someone getting hooked up to a Wahoo this week had they decided to target them would have been fairly good. Absolutely no predictions from me about what happens in the future!
NEARSHORE: This has been very much a hit and miss fishing experience this week. The Roosterfish are much further up the Cortez side and were being found outside San Jose. There were a few caught closer but the concentrations were to the north. Not many Sierras this week but a few nice Pargo were landed. There have been large schools of Jack Crevalle out about 1 mile from the arch and they have been in the 5-6 pound range.
NOTES: The Dorado action should heat up soon; the Roosterfish should be moving into our area soon and there should be a lot more Blue Marlin being caught. We just have to keep our fingers crossed on the Yellowfin Tuna. The flat summertime water conditions are upon us and that makes for a very comfortable fishing experience. If you are looking forward to giving it a try, or are experienced anglers returning to Cabo I hope you have a safe and enjoyable experience. Until next week, Tight Lines!
CABO SAN LUCAS, MEXICO: JEFF KLASSEN SPORT FISHING, Cabo San Lucas, July, 3, 2001, Jeff Klassen, Reservations Tel 360-402-3474. Remember last week I said that I was tired of hearing the old clichés "that's why they call it fishin," etc? Well here's another: "One day it's hot, next day it's not!" I keep wanting to plunge in and jump in and say "HEY FOLKS, IT's HAPPENING!", but I just can't bring myself to do it. It's not all bad though and it has actually improved a lot. It's just not quite up to snuff, for this time of year anyway. June is usually one of my two favorite months.
Anyway, offshore fishing has steadily gotten better over the last two weeks, with some warmer pockets of water finally moving in, as close as 3 miles straight south. The first of the Blue marlin are being caught. It was nice to see that 3 of the 1st five of them this past week were caught on our boats, sorry for the plug. The largest one was about 300 pounds, with the others being between a deuce and 250. Flying fish and Petrolero have been the better colors. There are still tons of Striped marlin around, but man are they finicky. On any given day you can come across 20 or more of them, but will be lucky to get the interest of 3 or so, even luckier to hook one. Sailfish are making their first go-round with a few of them falling victim to anglers this past week. A couple were caught on smaller Dorado-tuna-type lures with a couple of others being had with live bait.
The Dorado bite that we've been expecting for a month or more hasn't happened either, although more are being caught. There's been a few real nice ones too, approaching 70 pounds or so. They seem to be being caught in pairs, rather than in larger numbers, like they should be.
The first tuna in a while have been caught also this last week, all from around the Gorda Banks. It looks like a few did actually escape the commercial tuna boats, which recently raped the area. Pangas are doing pretty good out of both capes. Out of Playita they're catching some nice African Pompano to 20 pounds or more, way up past La Fortuna and beyond, jacks to 20 pounds and the occasional Roosterfish to 50 pounds, right around Gordo Point. Everything is with live bait, mullet to be exact. Out of San Lucas, we're not getting the size of Roosters that are hanging around Gordo, but we're catching more fish. We've had a number of pangas lately getting between 5 and 10 Roosterfish a trip, and we're still getting the odd yellowtail, amberjack and grouper. There's a patch or two of pargo lingering still on the Pacific-side between the Pedregal and Finnisterra, but they won't hit a damn thing.
Surf-fishing is a touchy subject with me at the moment. Unlike the panga fishing, which is one day yes, one day no, the surf fishing is like 1 day yes, 3 or 4 days no. Last Sunday I thought the time had finally arrived, after bagging a nice Roosterfish at about 65 lbs, near Gordo Point. I caught it on a red mackerel 1.5 ounce popper. Prior to landing that one I busted off an even bigger one. The next day with Tim and Susan McCulloch from Mission Viejo, CA we did well also. Susan sight cast a Ranger lure to a large jack and nailed him, while Tim nailed another 60 lb plus Rooster. The day after that, Jack Patterson from Long Beach caught a pretty good sized Pargo at the Pedregal on one of our trips, but that was about it for that day. Then, it shut down for 3 days without us seeing a fish, before finally spotting and getting a few medium sized jacks, in recent days. Three nights ago I was standing on shore pitching a popper; in the course of 1 minute, two small waves hit the beach. In the first of the two waves I saw a 40 lb plus Roosterfish and a very large jack. In the second wave, a large snook, maybe 40 lbs also cruised on by, followed by a pargo (Cubera snapper) in the same range. My eyes about popped out and I quickly switched to a 1.5 ounce Krocodile spoon. On the first cast the large snook slammed the spoon with its tail, sending the lure flying. It didn't stick, but the vision of that fish in my mind will keep me here at least another week, at least until after the tournament, which is coming up in a few days.
The Pacific-side is totally dead. Why won't that water warm up? We've been half way up to Todos Santos and I mean it's dead! Just about anywhere along the gulf side you'll find something, even if it's smaller fish such as Hawkfish or Pompano. I've also received reports of smaller Cabrillas around Palmilla, using smaller spoons. Let's see if we get any fish from shore during our tournament.
SAN JOSE DEL CABO (LOS CABOS) FISHING REPORTS
ALL ARTICLES, REPORTS AND FISHING INFORMATION FOR SAN JOSE DEL CABO
SAN JOSE DEL CABO, MEXICO: GORDO BANKS PANGAS, San Jose del Cabo, July, 1, 2001, Eric Brictson, Reservations 800-408-1199; Fax 619-447-4098; 011-52-114-21147. Anglers visiting Southern Baja were greeted with sunny skies and temperatures in the upper 90s, this should be the pattern throughout the summer months. There was only minimal breeze to help cool conditions down offshore and the seas were mostly calm, slight swell from the south. With the increasing daytime temperatures the water temperature is once again on the rise, now averaging from 75 to 78 degrees. The clarity of the water is also slowly improving, it is in between green and blue, not quite to where it should be, that deep blue/purple color that is common during the warm season. Along the shoreline of San Jose del Cabo the huge schools of mullet were now starting to thin out but the baitfish were still plentiful enough to be easily available for purchase from local pangeros, there were also good supplies of sardinas being netted off the beach of Desteladera. Anglers found that the overall fishing action was far behind standards for the area at this time of year, but there was a wide variety of gamefish being caught, although the numbers of fish each day per boat was averaging about 3 to 7 in combination. Daily catches included yellowfin tuna, dorado, marlin, amberjack, pargo, roosterfish, yellowtail, pompano, bonita, and sierra.
The most encouraging sign this past week was that yellowfin tuna have once again moved onto the Gordo Banks, after being nearly non-existent for almost two months since the devastation by commercial purseiner nets. Tuna in the 20 to 75 pound class were taken in numbers of 1 to 5 per panga throughout the week, hitting on sardinas and bolito. The bite would start off very slow early in the morning, but then would come on strong by 11 a.m. Many larger tuna were being lost on lighter gear, but if heavy leader was used then anglers could not buy a bite, using 40 and 50 pound tackle had best results. In the area between La Fortuna and Iman there were tuna also being found, in recent days the best bet was to troll live bolito with patience, the fish were not numerous but the ones that did hit the larger baits weighed from 40 to 75 pounds. Over the weekend the football sized tuna were found on the live sardinas and trolling lures, this should bring in the larger marlin soon.
Dorado were very scarce and the ones taken by the panga fleet in recent days were found in no particular spot and averaged 10 to 20 pounds. With the warmer water now moving in and the water becoming clearer each day there should be larger bulls showing. A couple of wahoo were taken from the Gordo Banks on trolled rapalas, they weighed in the 30 to 40 pound range. Also on the Banks were some nice yellowtail in the 20 to 30 pound class, hooked on live bait and yo-yo jigs, many were lost after reaching the rocks and cutting off lines.
Trolling the shoreline proved to be the most consistent action around, mainly this was for roosterfish, which were found in quantity between La Playita and Punta Gorda, fish from 10 to 60 pounds were landed while trolling both live mullet and sardinas. There was also a mix of pompano, pargo, amberjack, sierra and jack crevalle being hooked up along this same stretch of beach.
EAST CAPE FISHING REPORTS
ALL ARTICLES, REPORTS AND FISHING INFORMATION FOR EAST CAPE
EAST CAPE, MEXICO: BAJA ON THE FLY, Buena Vista, July, 4, 2001, Gary Graham, Reservations Tel 800-919-2252; Fax 760-746-7260. TEMPERATURES: High of 90 with a low of 77. It's been cloudy and windy until today. STRIPED MARLIN--Slowed down since the last report. YELLOWFIN TUNA--A few down at Cabo Pulmo and outside of Las Friales. DORADO--Las Cruces has been the hot spot for the last week. ROOSTERFISH--Good inshore, but poor from the beach. JACK CREVALLE--Some smaller fish close to Rancho Buena Vista. BARRILLETE OR MEXICAN SKIPJACK--Plenty in front of La Ribera. PARGO AND CABRILLA--Cold, green, dirty water continues to slow the action down at Punta Colorada.
OFFSHORE: Fair marlin show off of Punta Colorada. INSHORE: Lots of roosters in front of Buena Vista Beach Hotel and Rancho Leonero. BEACH: A few small jacks, roosters and pompano was about it for the week.
QUICK COMMENT--With dorado a long way off and the marlin bite inconsistent, inshore waters have been getting the most attention this week. Small roosterfish to 15 pounds are in front of both hotels early morning and mid-afternoon when the boats return. See-through deceivers and chartreuse Clousers have produced fair action for the fly-rodders. Larry and Margo Kenny, Umpqua, Oregon, (Saltwater Fly Fishing Magazine) had a frustrating few days as the off-color water slowed down the action on the beach. It never fails when a writer shows up with camera in hand the fish go hide! On their last day, they went out on the pontoon and had roosters crashing all around them, but it was hard to get them to take the artificial over the all the sardinia in the water. The sierra and pargo were more accommodating, taking chartreuse deceivers and a white Baja Deep Diver.
EAST CAPE, MEXICO: RANCHO LEONERO, Bahia de Palmas, June 30, 2001, John Ireland and Roy Baldwin, Reservations 800-646-2252; Hotel 011-52-114-10216. Continued typical June weather, with daytime highs near 90, nice evenings about 70, mostly sunny skies, dead flat seas with variable water temp from 71-84 deg. The variable water temp has made for an erratic bite, however, by week's end the water was consistently over 80 deg, which meant better catches. A strong billfish bite, with striped marlin, sailfish, and a few blue marlin to 350 lbs taking live bait and bleeding mackerel colored trolled lures, about 4-5 miles straight off the lighthouse. Schooling tuna have finally shown up, with big fish to over 150 lbs moving under porpoise, throughout the bay, aggressively biting cedar plugs, marlin lures and live bait. The schooling dorado were absent this week, however, we were still taking big bull dorado to over 55 lbs daily, mostly outside on marlin lures. The inside bite remains hot, with one panga releasing over 20 roosterfish in one morning. Pargo, pompano and jacks are all biting, providing great action for our shore, kayak and fly fishermen this week.
EAST CAPE, MEXICO: HOTELS PALMAS DE CORTEZ, PLAYA DEL SOL, PUNTA COLORADA, East Cape, June 29, 2001, reported by Dave "Smokey" Manuel, East Cape Smokehouse, Hotel Reservations, 800-368-4334. This report will be somewhat abbreviated, as I am getting ready to leave on a two day fishing trip up on the island. The Dorado bite up off Punta Coyote finally appears it may be drawing to an end, the numbers sputtered a little on Friday, were pretty good on Saturday, but by Sunday things really slowed down there. Several skippers choose instead to look for Tuna, due to reports of Yellowfin mixed in with Porpoise in spots off the Lighthouse, Cabo Pulmo and Los Frailes. A few boats did well on Tuna running anywhere from 20 lbs up into the 60 lb class, but the far greater share of the fleet had limited success. I talked to some of the skippers that fished Tuna mixed in with Porpoise off Los Frailes on Sunday and they told me they had very few jig strikes and all that were taken were on live Sardines. Sardines are the more common approach to fishing stationery schools of Tuna, but it's not uncommon at all to have tremendous success on cedar plugs, hootchies, feathers and other jigs trolled through moving schools of Tuna swimming in with Porpoise. Not so much though the last few days. Most of the Striped Marlin and Sailfish action continued to be found in the waters off La Ribera, Punta Colorada and the Lighthouse. Again this weekend, pretty good success on trolled jigs for both. Another good sized Blue Marlin was caught this weekend. Richard and Rueben Reinoso of Hermosa Beach, CA landed this 484 lb Blue just a little more than a mile off shore of Punta Colorada on Sunday. According to Pepe their skipper, the fish was hooked with a black/purple jig on a 6/0 Penn Senator with 60 lb test. After a little more than an hour battle with the Blue, the fish died on them and they had to bring it in and thus the picture above.
LA PAZ FISHING REPORTS
ALL ARTICLES, REPORTS AND FISHING INFORMATION FOR LA PAZ
LA PAZ, MEXICO: JONATHAN ROLDAN'S TAILHUNTER ADVENTURE SERVICES, La Paz, July, 1, 2001, Jonathan Roldan, Tel 626-333-3355; Fax 626-333-0115; Pager 323-349-8111; Message Pager 877-310-7734. These are the weeks when it sometimes makes it tough to look one of your customers in the eye. The bite has been so up and down that even my veteran skippers are shaking their heads. Bottom line, pescadores is that everyone is going home with fish! No matter what anyone says. The caveat is that if you fish here for 3 or 4 days there's a good chance you just might get a day that will have you wondering what the heck happened. It's tough on us too! It seems that no two days are alike and if you make a choice to fish for a certain species or go to a certain area, there's a chance that you're going to get a goose egg! Have never seen anything like it.
One day the water is so green that even the wake from the boat is green. The water in the bait tank is so green you can't see the bait or your hand when you're trying to grab a live one! One day the shark buoys are world class and the next day it's a desert. Same for El Bajo or La Reynita or North Point or the Sargasso on the channel! It seems to go from WFO to nuclear meltdown over night, but fortunately the reverse is also possible!
Two weeks ago the boat going out of La Paz were in the worst slump. Suddenly waters got warm. Sargasso weeks started clinging together and the dorado bite exploded. As this past week went on, the weeds started breaking up and you might go 2, 3, 4 or more paddies without a hookup then find one that kicked out limits in an hour of wild fish flipping all over the place ranging from punk firecrackers to 40 pound bulls. Same for the Las Arenas side. One day the light house at Arenas raged with yellowtail and the next day it was wastland. Same for the buoys. It's a race. First to the buoy with the bull gets the banner. The next boat gets the needlefish. Same for La Reynita at the north end of Cerralvo. Early in the week it produced some great 30-40 pound yellowfin in the green water if you had a hook and 3/4 ounce rubber core sinker. Then for 3 days, it went sour. Late in the week, waters turned bright blue again and a noticeable 5 degree increase and the tuna tore it up again with fish up to 50 pounds. Same for the afternoon fishing we're now offering. Early in the week, there was a great spot of surface pargo fishing with big fish to 45 pounds, then boom...with no change in conditions, the fish just simply disappeared and we were treated to a lovely bite of dang needlefish!
Bottom line, conditions are unstable at the moment. There will be some days when it simply stinks. Hang tight. By the end, seems like everyone at the airport has pretty full ice chests! All it takes is a day or two of wild fishing to make up for it!
LA PAZ, MEXICO: PIRATES FLEET, La Paz, July, 3, 2001, Francisco Aguilar, Reservations, Reservations/Fax 011-52-112-57353. Amigo. Lots of Dorados out of La Paz Bay, striped marlin and some yellowfin tunas at Cerralvo Island. Plenty of bait (sardines). Out of Las Arenas small roosterfish, pargo and grouper. --Francisco
LA PAZ, MEXICO: HOTEL LAS ARENAS, Punta Arena de la Ventana, July, 4, 2001, Linda Glassman-Davis, Reservations 888-644-7376. Captain's: Roman, Zapata, Daniel, Nene, Efren, Israel, Tolon, Cachorra, Fausto, Ramiro, Ramon Lucero, Chuy, Mauricio, Buho, Adrian, Valente and Luciano report:
Lots of saguaro and live bait!! Huge grouper, wahoo and yellowfin as well as blue marlin in the area. Roosters are everywhere around the point and hotel sandy spits.
Seventy-eight Dorado to 58 pounds; 47 Yellowfin to 40 pounds; 2-Yellowtail to 20 pounds; 3 Grouper to 88 pounds; 26 Roosterfish to 48 pounds; 7 Pargo to 8 pounds; 4 amberjack to 14 pounds; 1 Cabrilla to 3 pounds.
We still have a few spots available for the roosterfish school which promises to be the largest and best in the history of the resort. This is the 17th year it has been at Las Arenas resort.
BAHIA DE LOS ANGELES (L.A. BAY) FISHING REPORTS
ALL ARTICLES, REPORTS AND FISHING INFORMATION FOR BAHIA DE LOS ANGELES
BAHIA DE LOS ANGELES, MEXICO: CAMP GECKO, Bahia de los Angeles, July, 4, 2001, Abraham Vazquez, Tel 011-52-515-19454; Fax 011-52-665-03206 (goes to Guillermo's), satellite EMAIL direct to Camp Gecko at L.A. Bay. Hi Gene. Air temp has again been variable. The first part of the week we got temperatures up in the 100s and it would only cool down to 90 at night, but this did not last long. The last couple of days it has been nice with max temps in the mid 80s. Yesterday only 85 and 74 at night. The trade is that it's been humid with southeast wind. It's been partially cloudy. The water temperature has again done a fast climb. It is now 79 in most of the outer islands, 80 inside the bay. The color of the water is green, with poor visibility. There are no dorado yet, no skipjack yet, the yellows have slowed down during this past week, as they started going in to deeper water because of the temperature increase. There is still millions of fire crackers all around, especially at Smith Island, but the 15 pound and up are not very abundant. Most of the yellowtail have been caught on jigs (Salas Jr Blue & white) mid water, and a few more on live bait, which has been at times hard to make. A school of 25+ lb fish is at Punta los Machos at the big island but not all boats want to go that far. Most of the boats have been at Smith Island, but the fish are 4-8 lb, not worth keeping (at least down here ). There is still a good bite on the leopard grouper on live bait or cast jigs. Some sierra are starting to show up in the bay. A few whales and whalesharks, no dolphins, lots of sea lions. Gasoline 3.06 dlls a gallon if you pay in dolars, 2.86 if you pay in pesos. The local exchange rate is 8.5 to 1 dllr so if you can get a better rate up there. Bring pesos. --Abraham
SAN FELIPE FISHING REPORTS
ALL ARTICLES, REPORTS AND FISHING INFORMATION FOR SAN FELIPE
SAN FELIPE, MEXICO: TONY REYES FISHING TOURS, 6-day Midriff Islands trip aboard the panga mothership, Jose Andres, Tony Reyes, Exclusive booking agent, The Longfin, 714-538-8010, trip ending June 29, 2001. Trip #10 out of San Felipe this year. Water temperature 75. Fish count: 174 cabrilla to 12-14 pounds; 100 squid 20-35 pounds; 83 spotted bass; 41 yellowtail 20-25 pounds; 36 red snapper 8-12 pounds; 9 grouper 20-95 pounds; 8 sheephead 5-9 pounds, 4 white seabass 33-44 pounds; 2 shark 18-30 pounds; 1 black sea bass 44 pounds.
SAN FELIPE, MEXICO: SEA OF CORTEZ SPORTFISHING, 6-day Midriff Islands trip aboard the panga mothership, Celia Angelina, Bob Castellon, Reservations 626-333-9012; Fax 626-336-1966; San Felipe 011-52-657-71778, trip ending June 28, 2001. John Piazza and family and friends on a 6 day full charter out of San Felipe found excellent tide and weather conditions last week in the Sea of Cortez. Fog on Wednesday was the only negative weather condition. Air temps were a high of 90 at the Enchanted Islands to a low of 72 at Snake Island. The water temps were a high of 80 at Enchanted Islands to low of 68 at Bay of L.A. Yellowtail bite is in high gear. The Cabrilla made a big time comeback after a slow showing the last two weeks. Grouper are still on the small size, we released 6 under 25 lbs, also two golden cabrilla. FISH COUNT Full limits of Cabrilla; 152 Yellowtail to 30 lbs; 9 Pargo to 12 lbs; 2 Grouper 46; Giant Squi;d and 146 misc.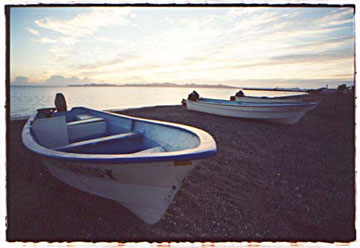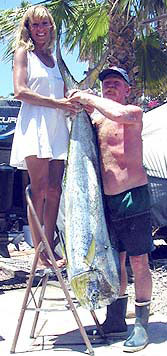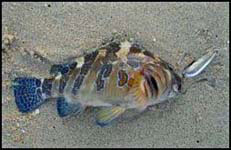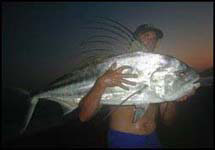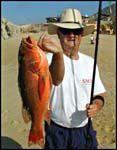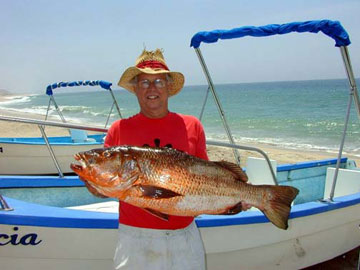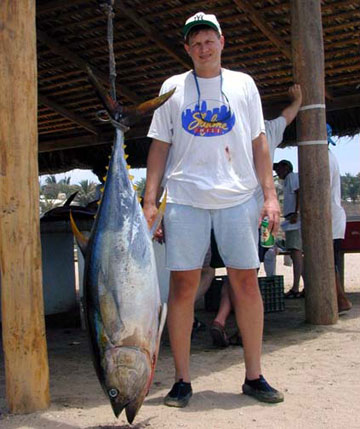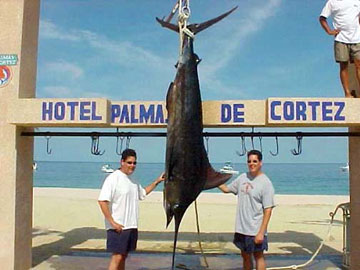 Baja coastal fishing reports and articles.
Ensenada fishing reports and articles.
Puerto Santo Tomas fishing reports and articles.
Erendira fishing reports and articles.
San Quintin fishing reports and articles.
Magdalena Bay fishing reports and articles.
Cabo San Lucas fishing reports and articles.
San Jose del Cabo (Los Cabos) fishing reports and articles.
East Cape fishing reports and articles.
La Paz fishing reports and articles.
Loreto fishing reports and articles.
Mulege fishing reports and articles.
Santa Rosalia fishing reports and articles.
Bahia de los Angeles (L.A. Bay) fishing reports and articles.
San Felipe fishing reports and articles.
Rocky Point (Puerto Penasco) fishing reports and articles.
San Carlos (Sonora) fishing reports and articles .
Mazatlan fishing reports and articles .
Puerto Vallarta fishing reports and articles.
Ixtapa Zihuatanejo fishing reports and articles.
Huatulco fishing reports and articles.
Cancun fishing reports and articles.
Mexico coastal fishing reports and articles.
Mexico Fishing Home Page < Mexico Fishing News Archives < Fishing Report