The Albacore are still being real finicky about eating but, they are now only 10 to 12 miles out. We are only landing 4 to 6 per boat. However, these are real quality Albacore averaging 35 to 45 pounds. The attached photo will give you a good Idea of the size and quality. This is Ned Finney of El Paso, Texas with a 42 pounder caught Saturday on a Jet Head Cedar Plug while trolling.
I believe the bite will get better as the moon phases out. But the next problem is the warm water. I don't ever recall catching Albacore in 70 and 71 degree water (that's Yellowfin temps!) but, we are. We even caught our first Dorado this weekend. So that should tell you how warm the water is. He was a small 12 pound bull but a Dorado none the less.
The Yellowtail are still holding on almost anything that's floating in the water so you never get to much time to relax even with the limited bite on Albacore.
The White Sea Bass bite also seems to be on one day and off the next but most anglers are targeting the Albacore so its really hard to tell.
The guys are still going home with coolers full of filets and a smile on their faces so, as always, I hope to see you all here and happy fishing.
In other mainland Mexico and Baja fishing action this week:
ENSENADA FISHING REPORTS
ALL ARTICLES, REPORTS AND FISHING INFORMATION FOR ENSENADA
ENSENADA, MEXICO: LILY FLEET, Ensenada, July 5, 2001, Sammy Susarrey, Reservations Tel/Fax, 5 to 9 p.m., 011-52-617-46747; Cell 011-52-618-67485. Fish are showing up close to Ensenada, only 7-12 miles from Todos Santos Island, on a heading of 250 degrees, including albacore to 20 pound, yellowtail to 12 pounds, also bluefins to 30 pounds at the kelp paddies. Another boat fishing 22 miles out did not do as well. They came back inside and did better. Best lures are small feathers in Mexican flag, black and purple and black-green. Today the Tamara reported 20 abacore, 4 bluefin and 12 yellowtail. Inside the bay, the Lily reported limits of bull calicos at the reef of Todos Santos Island, one yellowtail and 2 log barracuda. The weather has been calm and flat.
JULY 10, 2001-- Today the Tamara with 6 angler and the Amigo with 5 anglers fished at GPS numbers 31.40 117.05. The Tamara reported 8 albies to20 pounds and 5 yellowtail to 12 pounds. The Amigo reported 5 albies and 2 yellowtail. Today was windy with choppy water. The water temperature dropped to 66.5 degrees. It was 72 degrees two days ago. We have nice sardines for bait.
ENSENADA, MEXICO: SERGIO'S ENSENADA SPORTFISHING CENTER, Ensenada, July 8, 2001, Sergio Susarrey, Reservations Tel 011-52-617-82185. Albacore counts have been rising for the last two weeks that is that the average catch per rod has been from a low of 2 to 3 to a high of 5 to 8 all fish ranging in weight from 20 to 25 pounds also strong numbers of yellowtail have been coming out of the kelp paddies with excellent quality that is that the average weight has been falling between 12 to 18 pounds but there have been a few well over the 25 pound mark there have been a few days on which other exotics have been around like blue fin tuna on the 30 to 40 pound range and dorado in the 12 to 18 pound range. The counts for the last two days are as follow ENSENADA CLIPPER with twenty anglers on 07/07/01 returned with 30 albacore and 25 yellowtail the EL CAZADOR on the same day with fifteen anglers returned with 22 albacore and 35 yellowtail and again the EL CAZADOR fishing with fifteen anglers on 07/08/01 returned with a total catch of 30 albacore and 35 yellowtail today being one of the best days of the season and taking this into account outer banks fishing is getting better and better as the weather gets hotter, we're taking private charters on daily basis to the outer banks on the charter boats EL CAZADOR and SHIR LEE and on open party trips aboard the ENSENADA CLIPPER Fridays, Saturdays and Sundays. The local boats have been scoring big on catches of bonito, barracuda, calico bass, sand bass and ling cod also fair to good amounts of both white sea bass and yellowtail are helping to fill up those sacks actually the best yellowtail fishing of the last month or so has been happening for the last few days.
MAGDALENA BAY FISHING REPORTS
ALL ARTICLES, REPORTS AND FISHING INFORMATION FOR MAGDALENA BAY
MAGDALENA BAY, MEXICO: BAJA ON THE FLY, San Carlos, July 11, 2001, Gary Graham, Reservations Tel 800-919-2252; Fax 760-746-7260. Temperatures: 84-degree high; low in the mid 60s. Partly cloudy skies. MARLIN--Several marlin spotted and one reported caught by a passing yacht. DORADO--As the water warms up the fish are starting to come into the area several reported caught this week. TUNA--Few reported. YELLOWTAIL--Good catches reported under the kelp paddies. CORVINA--Good action through out the bay this week. SNOOK--Good catches continue in some of the esteros at Almejas Bay. HALIBUT--Still a pretty good bet at the Boca's or sand beaches.
QUICK COMMENT--Offshore is starting to heat up with scattered reports of marlin, dorado and yellowtail beginning to filter in. Time to start checking the shark buoys and looking for kelp paddies that may be holding fish. Find the right shark buoy and cast a chartreuse deceiver and let it sink for twenty seconds and hang on when your fly gets slammed by a good sized dorado.
MAGDALENA BAY, MEXICO: MAG BAY TOURS, Punta Hughes, July 7, 2001, Brian Freitag, Reservations 800-599-8676. The offshore action is poised to explode in the next few weeks! Our first Dorado of the season was landed near the Thetis, and a couple of Striped Marlin spotted. This is about a month early for both species.
A run to the Thetis produced Hauchinango up to #5, and Grouper (locally known as estacuda) up to #30, using small Macks add Sardinas on a dropper loop fished deep. All the bottom dwellers were stuffed with tuna crabs.
On the surface there were kelp patties floating that produced good numbers of Yellowtail to #10, and that single Dorado, all on Krocodiles. There were hundreds of Dorado in the area, but we could only get one to bite.
There is a ton of life offshore, turtles, birds and bait are thick!
A passing sportfisher/yacht reported landing two Dorado, and a Striped Marlin about 20 miles off of Cabo Tosca.
A trip out to our "secret" near shore spot that we call "Shipwrecks" was a Pargo frenzy! Red clouds of Pargo up to #10 would swarm off the bottom to fight over our jigs!
Surf fishing at the camp was hot for Corvina to #5, with a few Sheephead, White Sea Bass, Triggers, and a Barracuda in the mix.
In the Estero Halibut and Broomtail Grouper were hitting just about anything shiny that was thrown at them.
CABO SAN LUCAS FISHING REPORTS
ALL ARTICLES, REPORTS AND FISHING INFORMATION FOR CABO SAN LUCAS
CABO SAN LUCAS, MEXICO: PICANTE FLEET, Cabo San Lucas, July 11, 2001, Sergio Cortes, Reservations Tel 011-52-114-32474; Fax 011-52-114-35969. Fish available: Striped Marlin, Blue Marlin, Tuna, Wahoo & Dorado. Water temperature: 75-84.t Air temperature: 92/75. Humidity: 58%. Wind: 8-10 Knots (Pacific), 8-10 Knots (Sea of Cortes). Fleet production (5 boats): 6 Striped Marlin, 8 Dorado & 6 Yellowfin Tuna. Hot spots: Gordo Banks (Sea of Cortes). Luckiest boat: Picante Expresso (31' CABO). Captain: Eulogio Zumaya. Angler: Thomas Moy. Production: 2 Striped Marlin 155, 170 lbs.(released).
CABO SAN LUCAS, MEXICO: FLY HOOKER SPORT FISHING, Cabo San Lucas, July 5, 2001, Capt. George & Mary Landrum, Reservations Tel 011-52-117-01271; 011-52-114-87452. All right, looks like it might get a little monotonous for the next couple of months! We are into the summer thing here in Cabo, and this is the time of year when the fishing gets better but the temperatures start to climb and the humidity follows. We had almost zero cloud cover this week and the temperature remained in the 90's during the day and the humidity stayed about the 50% range most of the time. From what my father has told me it sounds real similar to what he is experiencing in Oklahoma City, only without the chiggers and the traffic. (Don't know what a chigger is? Lucky you!) The evenings have offered a little relief as the temperature dropped about 10-12 degrees and unless we experienced a good evening breeze we were turning on the air conditioning every night!
WATER: Surface conditions on the Sea of Cortez have been absolutely beautiful, and on the Pacific side have been very good up until about noon each day, that is when the breezes have kicked in and chopped things up quite a bit. Water temperatures have warmed up considerably as we are finding blue water registering in the 82-83 degree range as close as 12 miles off shore on the Sea of Cortez. The temps on the Pacific side have been a bit cooler and we are finding some hot spots up to 78 degrees on San Jaime and southwest of there. Inshore off the Cape we are seeing green, cool water. This water is cool but is holding a lot of fish where the warmer blue water further offshore has been pretty barren.
BAIT: Lots of bait around this week and yesterday we had a very large school of Mackerel move into the harbor. All the bait we got today was Mackerel; earlier in the week it was Caballito. Normal prices at $2 per bait and I have no reports of Sardinas availability this week.
BILLFISH: It appears that we are in the transition stage for the Billfish. The water is starting to warm up and the Blue Marlin are beginning to show up. As a result the Striped Marlin, which seem to prefer the water a bit cooler than the Blues, are starting to move out. A lot of Striped Marlin were seen this week and the sighting ranged from 25 miles out to just outside the Marina, there seemed to be no fixed area each and every day. The bite on the fish has improved and there are Blue Marlin beginning to show up. A friend of mine who makes Hi-5 lures here in Cabo went out yesterday (Saturday) and they caught a Blue Marlin estimated at 550 pounds. I have heard a number of other reports of nice Blue Marlin being taken this week. Most of the fish, both Striped and Blue Marlin, have been taken on lures.
YELLOWFIN TUNA: Nothing to report for this week. I have heard unsubstantiated rumors that the San Jaime has had a number of very nice 100-pound plus fish taken from boats working the drops with large live baits off of downriggers. I say unsubstantiated because the boats I have heard this from are private boats and they have shown me none of the fish! Any other Yellowfin I have heard about have been small fish taken from the Gordo by just a few boats. PLEASE let there be Tuna soon!
DORADO: They are still coming in, just as I reported last week, the bite is getting better. A few of the boats are getting two or three per trip, a lot of the boats are getting none. Just goes to show you that the right place at the right time can do wonders for your stats! The fish have been found all over and are mostly being caught on lures intended for Marlin. Average size has been 18 pounds.
WAHOO: Must be a moon phase thing, I,ll let you know after the next new moon!
INSHORE: Very slow for the most part and the fish that have been found in concentrations have been found up the Sea of Cortez. Punta Gordo and north to the East Cape seem to have had the most action from Roosterfish and everything else has been in a bit of a slump. There has been fairly consistent action with the Bonito just outside, but that has been about it. See my note below!
NOTES: This is where I try and mention a few items that might be of interest. One of these items is the capture of a Snook by Capt. Francisco on the Panga the "Salsa". Francisco was able to hookup his client to a fish that tipped three scales at 49 pounds. The fish was almost as large as Francisco! The line test was 15-pound and if the fish had been weighed on a certified scale and all the details had been in order this would have beaten the old world record by about 24 pounds! The fish was caught on live bait on the second rock pile to the Pacific side of the Cape. Another item of interest is that the peso has gotten stronger against the dollar and we have lost the buying power to the tune of 10%. Add that to the fact that everyone here in Cabo increased their prices by 10% at the beginning of the year and stir in the fact that the Mexican Government has raised the cost of Diesel fuel by 35% in the last 40 days and I think it would not be surprising to see an increase in the costs of a fishing charter in Cabo in the very near future.
CABO SAN LUCAS, MEXICO: PISCES FLEET, Cabo San Lucas, July 3, 2001, Tracy Ehrenberg, Reservations Tel 011-52-114-31288; Fax 011-52-114-30588. BILLFISH: Actually a very good week here in Cabo for most anglers, even though there were boats that got "skunked". There were plenty of marlin, in fact it was common to see over 20 in a day, finding the ones that were hungry was the difficult part and to be honest, luck played a big part. In spite of this we did have some excellent catches: Jose Rebocho & Jose de Polignac, visiting from Portugal, fished "Tracy Ann" and were thrilled to release four striped marlin on, June 27th and actually had a total of seven marlin in three days, on this boat. We also had a group from Nevada, Ron Gasamendi, William Sadoyah and Don Davis, who had a fantastic day aboard La Brisa on June 30th; they had a total of four marlin, one sailfish and one yellowfin tuna and were back before noon! Larry Keppner form Edwardsville, IL, fishing with buddy, Michael Wendling from San Antonio Tx, had an enjoyable three days on Rebecca, doing three, four and one striped marlin, during their trip. Michael Waller from Birmingham, Al and Andy Pieroni from Mableton Ga hooked up to a marlin each at the same time, which called for some skillful boat handling, nevertheless they both successfully released their fish. We are starting to see sailfish in the area now, a sign that blue marlin won't be far behind - Robert Pullin from Burnett, Tx, along with his family released three sails and had a 130 lb striped marlin on June 30th on Tracy Ann. The average catch was one or two fish per boat throughout the week. There were also several small blues, around the 200 lb mark, but nothing to write home about. We also heard of a 70 lb spearfish, caught mid-week. Pisces anglers had a total of 59 striped marlin this week of which 53 were released, those brought in averaged 130 lbs. We also released 9 sailfish. Our overall catch success rate for all species combined was eighty percent, with seventy-two percent catching billfish.
OTHER SPECIES: Not a whole lot happening offshore, with just a few dorado being picked up whilst trolling for marlin, sizes are good at 30 to 45 lbs. Even fewer yellowfin tuna. Just a couple of wahoo all week. Inshore skipjacks and roosters were fair game. I have heard of several big snook being weighed in over the 40 lb mark also. Pangas are doing well on yellowtail and snappers.
LOCATION: Sea of Cortez, Chileno, RedHill. WEATHER CONDITIONS: Clear, sunny skies, seas glass-like. AVERAGE WATER TEMP: 78 F. BEST LURES: Live bait. Based on the catches of Pisces Fleet by Tracy Ehrenberg
CABO SAN LUCAS, MEXICO: REEL EASY SPORTFISHING, Cabo San Lucas, Mike & Renee Hebert, Reservations/Fax 011-52-114-33579.
CABO SAN LUCAS, MEXICO: HOTEL SOLMAR SUITES, Cabo San Lucas, July 5, 2001, Renee Santa Cruz, Reservations Tel 800-344-3349. Fishing definitely picked up this week with many boats reporting success. The water temperature close in was still holding in the low 70s but offshore such as Gordo Banks water has already moved into the 77-78 F range. Clear and sunny skies along with calm seas and very little breeze made for good overall conditions. Hot spots this week were 5-8 miles off of Santa Maria and Chileno with the majority of boats still fishing Gordo Banks. Several boats braved the Pacific side and reported good catches on marlin at Jamie Banks. Mike Wiggins of High Point, NC fishing on the SOLMAR IX was one of these Pacific boats releasing 3 marlin in the 120--150 lb range, 2 dorado and 1 shark. Except for one fish on a red/blue jig the rest were on live bait.
The Dorado fishing was also good. Don Bradshaw of Sacramento fishing on the Galeon III took a 40lb Dirado on a blue/green lure. John Hessler of Sausalito, CA fishing on the LOCOMOTION had a long battle with a 50lb bull Dorado that hit live bait. Total catches: 4 Blue Marlin(150-180 lbs), 86 striped marlin (120-140 lbs), 13 Dorado(30-50 lbs), and 14 roosterfish(10-15lbs).
CABO SAN LUCAS, MEXICO: JEFF KLASSEN SPORT FISHING, Cabo San Lucas, July 11, 2001, Jeff Klassen, Reservations Tel 360-402-3474. The "Surf & Panga Roosterfish Klassic" Tournament in Cabo San Lucas, is over for 2001. This unique tournament, which combined surf fishing as well as panga fishing, was the first of what is hoped to be an annual event. Although the inshore fishing was uncharacteristically slow for this time of year, due to colder than usual water, fish catches included 50 Roosterfish, between 10 and 65 pounds, 3 Sierra Mackerel and 56 miscellaneous fish, including a 30 pound African Pompano, for a total of 109 fish. Every Roosterfish, and most of the other fish caught, except for the African pompano, an amberjack and two Sierra mackerel, were released. The top prize of a return trip for two to Cabo San Lucas from Mexicana Airlines and the Viva Cabo Hotel and a 12 foot Loomis Centurian surf rod went to Chris Babbidge of Colorado. Chris is also automatically entered as a finalist in the IGFA (International Game Fish Association) Rolex "Tournament of Champions". The second place prize of a 12 foot Loomis Centurian surf rod and several hundred dollars worth of tackle and accessories went to Bob Sweeney of Kent, Washington and third place went to Keith Church of Reno, Nevada, who also won a Loomis rod. Other prizes included clothing from Fish Works and Tag & Brag, Fishing Accessories from Bluewater Tackle, Lures from Roberts Lures and Jeff Klassen Sport Fishing, Hook packs from Eagle Claw and rods and reels from Marado. Los Cabos Fishing would like to thank all the participants and sponsors for making this first "Surf & Panga Roosterfish Klassic" Tournament a fun and successful event. Dates for next years tournament will be posted at www.loscabosfishing.com, in the upcoming weeks.
CABO SAN LUCAS, MEXICO: BAJA ANGLERS, Cabo San Lucas, July 5, 2001, Grant Hartman, Reservations 888-588-3446. The Roosterfishing has taken off just like we predicted. The warmer water moved back into the area and with it followed the roosterfish. There is a ton of mullet milling off the calm beaches on the Sea of Cortez side of Cabo and the roosterfish can be found anywhere you find the bait! We have had some days where we teased over 100 fish to the boat! The roosterfish are running 5-lbs to 40-lbs and we,ve seen a few over 50-lbs!
Huge schools of jack cravelle are also in the same area, but they are still more interested in breeding than feeding. If you catch these fish when they are on the bite, then action is non-stop with the fish crashing and competing for the flies. This year I have seen bigger jacks than pervious years. Steve Cali had one slash at his fly that went over 40-lbs! Congratulations go to Steve Cali. Steve caught 2 world records on his recent trip with us, a 11-lb roosterfish on 4-lb tippet and a 10-lb African Pompano on 6-lb tippet.
Some cubera snapper in the area, but they are unpredictable right now and difficult to find.
A white snook all tackle record was caught the other day off the Solmar beach in a panga, the fish weighed in at 47 1/2 pounds. It beat the old record of 39 pounds 8 ounces caught in Cabo San Lucas in 1994. Some sierra and other inshore gamefish are still around, but not in any numbers to target them.
Offshore: Lots of Striped marlin in the area! The bite has slowed down some due to the full moon, but as the moon starts to wane the bite ought to pick up.
The fish are running anywhere from 80 to 140-lbs and prefer live bait. On most days, we have been catching at least one marlin a day on the fly.
SAN JOSE DEL CABO (LOS CABOS) FISHING REPORTS
ALL ARTICLES, REPORTS AND FISHING INFORMATION FOR SAN JOSE DEL CABO
SAN JOSE DEL CABO, MEXICO: GORDO BANKS PANGAS, San Jose del Cabo, July 8, 2001, Eric Brictson, Reservations 800-408-1199; Fax 619-447-4098; 011-52-114-21147. This last week as the moon was building towards its full phase on July 5th, anglers had some encouraging reports of yellowfin tuna appearing back on the Gordo Banks. For several days there were quality tuna of 40 to 75 pounds being caught, but that action has now vanished and once again anglers are waiting to see if the tuna bite will improve as the brightness of the moon diminishes during this coming week. The water has warmed up into the mid to upper 70's but still is off colored, more green than blue, not the typical deep blue color that would be normal for summertime. The few tuna that were found in recent days came from the area of Iman and were smaller football sized fish that hit on trolled cedar plug and medium sized feathers. Overall the offshore action was very slow and the most consistent bite was along the shoreline for roosterfish and a mix of other jacks and pargo.
Supplies of mullet were still abundant off of La Playita, though the schools of the baitfish did start to thin out some. Trolling these hardy baits along the shoreline from Punta Gorda and north towards Vinorama proved to be the way to find the roosterfish. Most of the pangas were accounting for five or six roosters per charter, while some anglers reported catching and releasing as many as a dozen in one morning. The average size fish was about twenty pounds and largest ones reported were in the sixty pound class. You did need to bring plenty of live bait because along with the roosters there were a few sierra, pargo, pompano and jack crevalle mixed in the fish counts.
Amberjack were the second most common catch this week after the roosterfish, largest concentrations were found off of Red Hill and on the Inner Gordo Bank. In both spots the fish were seen near the surface, schooling with the larger pargo, but it was another story trying to get them to bite. The first boats to the spots in the morning would hook a few of the amberjack in the twenty to thirty pound range but after the rest of the fleet arrived the fish proved to be very hook and line shy. There was no shortage of fish on the Banks though, because they were seen close to the surface in large concentrations. Over the weekend there were reports of free swimming wahoo seen on the Inner Gordo Bank, so hopes are that as the conditions improve these fish will go on the bite. The days have been hot and virtually windless and this should be favorable for the water to continue to warm and become clearer.
Dorado continued to be scarce, with only a few fish coming in each day for the combined fleet. Most of the ones found were further offshore by the boats that were targeting marlin and the sizes ranged from 10 to 50 pounds. Reportedly the water was greenish to 30 miles out and in fact some of the skippers said the cleaner water was nearer to shore. Striped marlin could be spotted but were not easy to hook up, especially difficult on the full moon and days following. There was an unconfirmed report of a black marlin being caught, along with a handful of sailfish and blue marlin. The summer season is off to a late start but is at least showing some signs of encouragement.
EAST CAPE FISHING REPORTS
ALL ARTICLES, REPORTS AND FISHING INFORMATION FOR EAST CAPE
EAST CAPE, MEXICO: BAJA ON THE FLY, Buena Vista, July 11, 2001, Gary Graham, Reservations Tel 800-919-2252; Fax 760-746-7260. TEMPERATURES: High of 98 with a low of 77. Very little wind until Tuesday, which was only a slight breeze. STRIPED MARLIN Plenty of fish being seen but few biters. YELLOWFIN TUNA--A few down at Cabo Pulmo and outside of Las Friales under the poropise. DORADO--Mostly in open water with few hot spots. ROOSTERFISH--Good inshore action in early morning and mid afternoon. JACK CREVALLE--Many fish in big schools, with some larger ones close to the lighthouse. BARRILLETE OR MEXICAN SKIPJACK--Still a few in front of La Ribera. PARGO AND CABRILLA--Reef in front of Rancho Leonero producing excellent catches.
OFFSHORE: A few blue marlin, striped marlin and sails in the canyon between La Ribera and Punta Colorada. Spotty dorado and tuna in open water.
INSHORE: Great action in front of the hotels in the afternoon. Mostly roosters, and a few African pompano.
BEACH: Schools of three to 10 pound jacks can be found feeding on sardinia up and down the beach. The larger jacks have been out by the Lighthouse. A note: No wind and clear water make for picky fish
QUICK COMMENT--Early morning still producing some good action with sight casting opportunities as the sun gets higher. Most fish have been caught on a chartreuse deceivers, and alf patterns.
EAST CAPE, MEXICO: EL CARDONAL'S HIDEAWAY, El Cardonal, July 11, 2001, Eddy, Reservations 011-52-114-10040. The road construction is going on and some one on the construction crew must have been in the states because the new road is the widest in baja where will they stop no one knows for sure. we are told that they will make an access to the old road once the get to where they will stop but so far no one knows where will it get to el cardonal? Will you get old? Yes and both take time but for sure it happens. as we say here poco a poco we are getting less and less distance on washboard right now from 23 km it's down to 16 km(10 miles) and if everything goes according to plan soon there will be less but then we might have to change our name since it will not be a hide-a-way any more or move if you ask why is the new road not following the old one the answer is that land in the back of the mountains is owned by some important person(s) could they be in politics beside ranching.
Fishing this year is still strange now we have lots and lots of rooster fish in front of the hotel. the locals are fishing some every one of our regular guest said that fishing could not be any better while fishing from shore. One local killed 5 the other day, all above 5 lbs., must have been hungry. The girls (Luly, Veronica and Sofia) are fishing every evening they can but so far no luck to land anything they just keep on feeding the fish. Tuna you want? This year they stuck around the southern end of Ceralvo Island and now they are in foreinger's fridg I went and after 5 hours I had 17 black fin tuna landed so I told the "capitan" to head back home. I think the yellow fin tuna is been taken by the fish trawlers that feed the canning plant in La Paz. Marlin is around so are lots of dorados.
As for new things at your favorite vacation destination, El Cardonal's Hide-A-Way, we finally got all white roofs.so much cooler in the suites and the restaurant must be at least 5 to 7 degrees cooler and maybe no dripping ceilings. at the restaurant we now have spot light lighting up the side and in the pine tree in front; with our Christmas lights on the front porch the place looks great at night not to mention the new dishes.
To provide better quality water the fitration and UV sterelizers systems have been completely redone. We now have 2 filters that will only let 4 microns pass through and 2 new carbon filters instead of one. on top of that the first filter is of the type that can be cleaned every day. the ultra violet sterelizer kills all bacteria.
We also made a big improvement in the laundry departemt. cement floor and a new Maytag washer (Beatriz Mother's Day gift ) plus new clothes lines. we are so confident in the Maytag that we took the two old machines to the town's dump where they disapeared the same day I guess someone sells old metal.
EAST CAPE, MEXICO: RANCHO BUENA VISTA, Buena Vista, July 7, 2001, Tamara Moyeous, Reservations 800-258-8200. Kind of a slow week at Rancho Buena Vista with only 20 boat trips. Fishing was still hot though. Three stripers were caught with the most noteworthy, Freddie Brebes of Arroyo Grande Calif., first time angler caught a 130# marlin with coaching from long time RBV veteran Pete Cobb. Sixty-three dorado, 36 tuna, 1 sailfish, 4 pargo, 1 shark and 8 bonito.
Not a bad take, weather was fine all week with the occasional afternoon blow. 95 degree temps were the norm.
Stay tuned for breaking news in the next couple of weeks when the 13th Annual Tag and Brag Tournament comes to the Rancho. Big prizes and lots of fun. Thanks for your continued support, best regards, Tami Mouyeos.
EAST CAPE, MEXICO: RANCHO LEONERO, Bahia de Palmas, July 7, 2001, John Ireland and Roy Baldwin, Reservations 800-646-2252; Hotel 011-52-114-10216. Mild weather, with daytime highs near 90, nice evenings about 70, mostly sunny skies, dead flat seas with continued variable water temp from 75-85deg. The variable water temp has made for an erratic bite outside, however, an incredible roosterfish bite has kept many boats busy just off all area beaches, with fish from 10-30lbs active all the way from Buena Vista to south of the lighthouse. Additionally, huge schools of jacks are all over the bay, with golden trevally and amberjack also taken inside this week. Outside, sailfish are biting aggressively south off Punta Arena, and striped marlin are still spread throughout the bay, with trolled lures and live mullet working equally well. The dorado bite continues to improve, with fish from 25-45lbs taking live sardinas, mostly north off the Punta Pescadero buoys. Yellowfin tuna from 40-80lbs are very active off the north end of Cerralvo Island, taking live sardinas.
EAST CAPE, MEXICO: EAST CAPE SPORT FISHING, Los Barriles, July 11, 2001, Dave Dixon and Gil Mendiaz, Reservations 800-837-1556; Fax 805-493-5446. Due to some water temperature fluctuations (mostly cooler water moving in late last week), the bite has fell off a bit. But there were still good catches made by several of our boats and other East Cape operators as well. As of this writing, SST maps show warmer water pushing into the area, and we are seeing a corresponding pick up in the bite. In particular, the last good map (7/9) shows a large mass of 86-89 degree water pushing in near shore, extending out 50 or more miles east. The 7/9 map shows cooler (82 F) water holding in Bahia los Palmas, breaking up to 86 degrees 5-10 miles out from Los Barriles. The warm water mass itself holds many "mini-breaks", indicating lots of current activity.
Good catches of dorado in both size and numbers were produced at the shark buoys, in the northern portion of the fishery, and in the area of the Ocho Ocho. There were also some billfish found in this hot zone as well. Larger numbers of billfish were sighted and caught/released in areas SE of Frailes and due east of Los Barriles. Tuna remain "hot and cold", but are expected to appear in volume in the next couple of weeks if water temperatures continue to rise.
Inshore fishing as been excellent, in particular for those seeking pez gallo (roosterfish). Several of our boats have scored regularly on quality fish to 45 lbs, mainly in the southern roosterfish spots. Rounding out the action are a few pargo, cabrilla, and red snapper.
EAST CAPE, MEXICO: HOTELS PALMAS DE CORTEZ, PLAYA DEL SOL, PUNTA COLORADA, East Cape, July 6, 2001, reported by Dave "Smokey" Manuel, East Cape Smokehouse, Hotel Reservations, 800-368-4334. The past three days were a quick turnaround from the midweek period, weather wise and fish wise. Temperatures returned to more normal levels, which was immediately noticeably even without the aid of a thermometer, because I started sweating about 8:00 a.m. Not unbearable by any means, but at least back into the mid 90s during the day. Cool water still remains near shore, but the warm water has moved in generally to about the 12 to 15 mile mark. Out past that, temperatures from 81 to 84 are common and water generally is pretty good in color and in some spots excellent. Inside that line and what you'll find is water in the low to mid 70s, varying from green to really green. The water onshore in 20 to 50 ft. depths on Sunday was translucent green, meaning I couldn't see through to the bottom at all.
On to fishing--Yellowfin Tuna reappeared this weekend in several spots. None of these bites was wide open, but some boats did very well. The South tip of Cerralvo Island produced good action on Friday for several boats then slowed a little on Saturday, but was back on again Sunday. The bite wasn't red hot and there weren't the 40 to 70 boats, which has become common on any hot Tuna bite anymore, but boats boated many 20 to 30 lb fish, several in the 40s, and some up into the 60s. Sunday also had another bite up at the North tip of Cerralvo with nearly the same scenario. Both of those spots had active Tuna bites in early to mid June that stuck around for awhile, so it'll be interesting to see if we get a repeat. Other action on Tuna were spots down off Los Frailes and Destillederas, where many of the fish taken were found mixed in with Porpoise. Thinking back through most of this year, it seems to me we've had few times of good Dorado fishing, combined with good Tuna fishing and this weekend was no exception. Tuna fishing of late, until the last few days, has been negligible, however Dorado action has been decent. The Tuna show up this weekend and boom Dorado hot spots fade. A few charters brought in nice sized Dorado running in the 30 to 40 lb class taken on trolled jigs, but locations were random. We realistically don't have a target spot for Dorado currently that'll give you any better odds than a maybe. Striped Marlin numbers were good as far as sightings go, however as far as catching goes, not so good. The past few weeks the numbers of successful jig strikes was good, this weekend, not so good, but there are a lot of fish being seen, more so than the last period. The most concentrated area seems to be down off the Lighthouse and farther South past Los Frailes, but charters reported Stripers also off the La Ribera and Punta Colorada area, North out near the ocho-ocho and also out off Punta Pescadero. That's pretty much everywhere. Numbers on Sailfish were just a hair better the past weekend than those of Striped Marlin, but the locations were pretty much the same. The most productive area again being off the Lighthouse and down, although Sails were hooked in many spots. This was the first period of respectable Sailfish activity since mid to late May when we had a brief spurt of excellent action.
The second annual BISBEE'S EAST CAPE TOURNAMENT is almost here. This year's event runs July 24--28 out of Hotel Palmas de Cortez. This is the big money tournament of the year here, so if you're interested contact www.bisbees.com or call 714-650-8006 for details. I'll be doing a daily update of all the action and leaders on this site, so look for it.
LA PAZ FISHING REPORTS
ALL ARTICLES, REPORTS AND FISHING INFORMATION FOR LA PAZ
LA PAZ, MEXICO: JONATHAN ROLDAN'S TAILHUNTER ADVENTURE SERVICES, La Paz, July 5, 2001, Jonathan Roldan, Tel 626-333-3355; Fax 626-333-0115; Pager 323-349-8111; Message Pager 877-310-7734. Well, fishing continues on at a pretty decent clip here in the southern kingdoms. Gotta say, the water is still really green in places, but more and more blue water popping up. The fish still bite in the green, but if you find the blue water you increase your chances 10 fold. I mean, sheesh. . if I were a fish, there's no way I'd want to be swimming in some of this green stuff. It's THAT soupy!
But that's where you gotta do a little work. Everyone is getting fish, that's not the problem. The problem is how to increase your chances of getting bit! There's still sargasso outside the La Paz islands and Ventana Bay is holding more dorado if you find the spots. The tuna bite off Las Arenas is scattered, but it seems to come and go with everyone getting a few fish every day. Fortunately, it's a better grade of fish so even one or two can load up your igloo pretty quickly! Outside at the famous buoys, what can I tell you. It's a race in the morning. It's kinda fun to watch. Boats are literally leapfrogging from buoy to buoy. First one to the bobber has the best shot at the big bull cruising the lines! And that's it in a nutshell. That's probably what you're gonna be hearing from me for the next several weeks so I hope you don't get too tired of it!
1. No one, including the fish, likes to hang out in the soup. So, you gotta get below the soup! Although the top might look like the Linda Blair Exorcist special, my divers are telling me there's a thermocline down about 20-40 feet where the water temp changes and voila. . .it's clear water! You gotta get your bait down to the fish. Nose hook it and put a 1/2 to 3/4 oz rubbercore about 3 feet up from the hook and keep stripping out line. I know alot of you like to use sliding sinkers, being from S. California, but trust me on this one. Alot of you DON'T know how to properly use them. If you absolutely MUST use a sliding egg sinker. . . Clue. . put a Carolina keeper or small split shot about 2 feet above the hook to keep your sliding sinker from whacking the hook right out of the mouth of your fish while you're fighting it. I've seen it happen so many times.
2. If all your buddies are nailing punk dorado on the surface. . .resist the urge to join the baby kill frenzy. Let 'em have their 5 pound dorado! You're a manly man. Put a small sinker on the line and get your bait down quick to where Big Mo' in hanging below the sargasso paddy. Yea, they might get a limit of pinhead mahi, but you're gonna be king of the beach when you lift your 40 pound bull up for a Kodak moment.
3. Help your skipper. Often the water will be flatter than glass and as oily slick as Saran Wrap! Look for the little tell-tale footprints of dorado swirls. Sometimes, you'll even see the top of their heads of dorsals poking out. Cha-ching! Look along weed lines built up along the surface as well as current breaks. Bait hangs out there in this structure or temp break. Where there's bait, something wants to eat it. . .Whatever wants to eat bait, you probably want to catch!
4. Bait bombs. . .when the going gets tough, I have something I call a bait bomb. I crush up a bunch of the dead sardines from the tank with my hand, or some squid if I have some. Put it in a little plastic mesh bag with a few sinkers (yes, even egg sinkers) and tie a small nylong cord to it. Then heave ho, over the side. I let it go down about 30-40 feet. Your buddies around you are gonna hate your guts because whatever fish are around them are probably gonna come swim over to your panga to check out what's smelling so good. . .
5. Dorado have great noses despite really flat faces. If you catch a small tuna or skippie, instead of getting pissed off, keep two of them. One, you will cut slices into it so it bleeds and oils into the water. Tie it off to the transom of your panga. Just let it sit. I have seen dorado come up to within inches of the boat and take a bite, drop back and come back and take another liesurely bite. Just like trained fish! Oh, one thing. . .don't stick your face back there or leave your hand in the water. Remember the scene in "Jaws" when the big white comes outta nowhere and sticks his face up from the chumline and almost kisses Richard Dreyfuss? Well, that has happened twice with me where a blue shark suddenly inhaled the tied up bonito only 6 inches off the transom. Oh. . .the other bonito? Keep it handy. If a seal comes chasing your dorado or tuna while you have it on the line, cut some slices into the dead fish and heave it at the lobo. Chances are, the dog will eat the dead fish and leave yours alone.
6. Dorado are real social animals. If you have one on the line, especially a small one. Try to keep it in the water. Put the rod in a rod holder with just enough drag to keep the fish close. Other dorado are very likely to show up.
LA PAZ, MEXICO: FISHERMEN'S FLEET, La Paz, David Jones, July 11, 2001, Hotel los Arcos, Reservations 011-52-112-21313; Fax 011-52-112-57334. Well, it seems that the rumours reverberate about the strike at the Los Arcos. This was resolved less than a week after it began, with, as usual, both sides claiming glorious victory. I thank our customers for their flexibility during this inconvenient time, the staff at the Los Arcos for their assistance in relocation of guests, and Mario Copolla and his staff at the Marina Hotel for helping during a tough time. One of the good things is that we got a chance to try out Mario's Carne Asada Barbeque at the Marina, and that was a good one. Chris ate 2 cows himself.
On to the last week. The weather has been good, with warm, but not ridiculous temps, mild winds, and mild evenings. Bait remains in constant supply within a sand shot of the beach. This has been such a pleasure, and has rewarded some of our customers who have had to occaisionally suffer in the past with some pretty long boat rides for bait.It all averages out, over time.
The fishing has been good, not great, but good. The problem has not been a lack of fish, but that they seem to move around a lot, with the bite shifting time and place almost daily. If you are in the right place, at the right time, things can be exciting. The Tuna bite has shifted back and forth between an early thing and an end of the day thing, and has moved from the south end of Cerralvo, to La Reynita, to the north end unpredictably.
Yellowtail? Yes, we are still getting nice Yellowtail to 35 pounds at the south end of Cerralvo. David Brookbank, and up and coming young fisherman, aka "The Bugman" and sister of calendar girl Brandy, took a beautiful 25 pounder there last Monday, using a sardine with a rubber core sinker. Randall H. Case and his friend, Frank "Medicine Cabinet" Springer were down looking to write some Owacky aritcles and took what Randy claims was a Case World Record Dorado of 40 pounds or so on Tuesday, off the north end of Cerralvo. The Dorado are hanging around the sargasso, but finding said weed is easier said than done. Some days the channel is the right place, sometimes Las Cruces, maybe the north end, it's been a bit of an Easter Egg hunt, with the winners claiming that talent and skill will win out, and the less fortunate resolving to be in the right place tomorrow.
The small (20 pounds and under), Roosters have been in abundance and are a lot of fun to finish off the day with. A few Pargo remain at the south end of Cerralvo, a couple of nice Amberjacks have come in incidental to the Tuna chase, and we are starting to see and hook a fair number of smaller (sub 150#) Striped Marlin.
LORETO FISHING REPORTS
ALL ARTICLES, REPORTS AND FISHING INFORMATION FOR LORETO
LORETO, MEXICO: BAJA BIG FISH COMPANY, Loreto, July 10, 2001, Pam Bolles, Reservations Tel/Fax 011-52-113-50448. Temps are way up there with lows in the mid 80s (F) and highs well above 100 (F). I don't want to know exactly hot it is because I think I will tolerate it better not knowing. But with the hot weather comes good fishing. We had two thunderstorms pass through on two consecutive days! July 2 and 3 each were either cancellation or weather delay days. Overcast skies resulted for two solid days, with only a hint of blue sky once in awhile to tease us. The skies have since become very late summerlike--clouds to the east which enhance the sunrise, clear skies by late morning, then thunderheads form over the mountains to the west which look spectacular. Later on in the season those late afternoon west clouds will look menacing enough to dump rain, but rarely ever will.
Usually this time of the year we see winds prevailing from the south, but for the last few days (after the storms) it has been coming from the north. We're experiencing very calm nights (very hot) and light winds starting at about 3am. These breezes have been laying down for the fishermen then picking up again around mid to late morning. The winds remain consistent thrughout the afternoon then die down in the evenings.
Seas: Calm morning seas that build to moderate swells (especially beyond the islands) when the winds pick up. The temperatures have dipped a little and we're seeing 80-82 (F).
Dorado: The storms have affected the fishing, and coupled by the full moon phase and lacking live bait situation--fishing has been a drag. The preferred method of fishing in this area, trolling live bait, is just not an option right now and as a result, those with only this plan in their arsenal are getting the big skunk. The bait sellers are catching very little live bait and selling squid instead, but most anglers are opting to catch their own. For the most part the squid are being cast and allowed to drift until a hookup takes place. Real boring way to fish and not very productive. The large dorado are laughing at this technique and just not being hooked up as a result. Smaller fish are what's coming in right now--from 4-15 pounds. Troll feathers or other lures, and cast lures into schooling fish and floating paddies. It seems as though there's a definate "pecking order" amongst schooling dorado.the big ones are feeding all night long and elbowing out the smaller ones--but by day the big ones are still full from the night before and the small ones are willing to eat. This may explain why they're all coming in small even though there are definately large ones out there. I do need to mention one thing though- the fly anglers are nailing the fish bigtime and there are a lot of reasons for this--the main reason being that they have many options in their arsenal. Having several options is key right now.
Billfish: There are still a lot of sailfish. Most of them can be found in the San Bruno area and points north. They are typically well over 100 pounds (100-130 pounds). Right now, trolling feathers are working best, as they seem uninterested in the squid people keep throwing at them. Colors for artificials that are working best: green/white, blue/white, Tres Generaciones (pink/green/red), pink/white, green/yellow.
BAHIA DE LOS ANGELES (L.A. BAY) FISHING REPORTS
ALL ARTICLES, REPORTS AND FISHING INFORMATION FOR BAHIA DE LOS ANGELES
BAHIA DE LOS ANGELES, MEXICO: CAMP GECKO, Bahia de los Angeles, July 11, 2001, Abraham Vazquez, Tel 011-52-515-19454; Fax 011-52-665-03206 (goes to Guillermo's), satellite EMAIL direct to Camp Gecko at L.A. Bay. Hi , the temperatures are still holding in the low 90s and cooling to 78 at night , the humidity is 75% skies have been cloudy and we even had light rain on two occasions , the water temperature still on the cool side 74-78F but I hear the hot water is coming , the visibility has been 6ft in the bay and as much as 30 ft in some areas on the outside , the fishing slowed down a bit during the full moon , even thou the fish are still there they where just not to hungry, yellowtail have been small under 15lb but tend to be plentiful , caught on live bait and on jigs , the spots have been basically the same , north of Smith island and Punta pescador , and lots of little 4-5 lb behind horses head island ,the grouper bite is still good , and there is no dorado yet , there is a report today of a good bite of white sea bass at Guadalupe reef so I will check it tomorrow maybe I will still make it back on time to send some pictures , bait has been hard to make some days , and some other days it is very easy , the skipjack are starting to show up now, lots of bottom fish and trigger fish in shore , gasoline 3.05 a gallon, cheaper if you pay in pesos.
SAN FELIPE FISHING REPORTS
ALL ARTICLES, REPORTS AND FISHING INFORMATION FOR SAN FELIPE
SAN FELIPE, MEXICO: TONY REYES FISHING TOURS, 6-day Midriff Islands trip aboard the panga mothership, Jose Andres, Tony Reyes, Exclusive booking agent, The Longfin, 714-538-8010, TRIP ENDING JULY 6, 2001. Fish count: 102 cabrilla 10-17 pounds; 86 yellowtail 25-38 pounds; 69 spotted bass; 5 sheephead 6-10 pounds; 2 grouper 25-31 pounds; 1 white seabass 31 pounds; 1 shark 18 pounds; 1 dorado 12 pounds; 1 broomtail grouper 10 pounds, 4 red snapper 8-12 pounds.
SAN FELIPE, MEXICO: SEA OF CORTEZ SPORTFISHING, 6-day Midriff Islands trip aboard the panga mothership, Celia Angelina, Bob Castellon, Reservations 626-333-9012; Fax 626-336-1966; San Felipe 011-52-657-71778, TGRIP ENDING JULY 5, 2001. On an open party trip of 17 fisherman from California and Nevada we found the fishing wide open to slow. The bite was on the first 3 days but cooled off the last day and a half. Good news is the Dorado bite is on, bad news is that they are small fish 6 to 12 lbs for this reason we only fished them 3 hours before leaving the area. Congratulations to Danny Rojas of Hawthorne California (14 years old)for his first Yellowtail, Cabrilla,Dorado,Grouper and Giant Squid. Danny won a part of the jackpot with a 33 lb Yellowtail.Yellowtail are still on the large side and are eating the deep divers. Colors Orange, Black, and Purple are doing the most damage. Water temp 68 to 78 degrees. Air temp 76 to 91 degrees. FISH COUNT= 96 Yellowtail to 46 lbs,138 Cabrilla to 17 lbs, 7 Pargo to 10 lbs, 160 Dorado to 12 lbs, 96 Giant Squid,.2 Grouper releasing 4, 2 Golden Cabrilla, and 242 misc. Thats all for now no trip next week. --Bob Sea of Cortez Sportfishing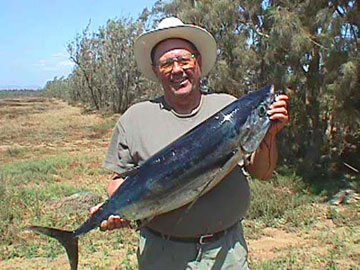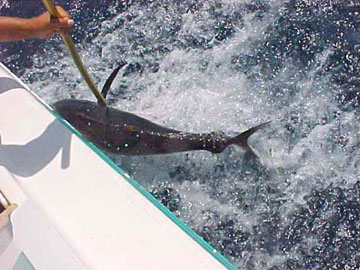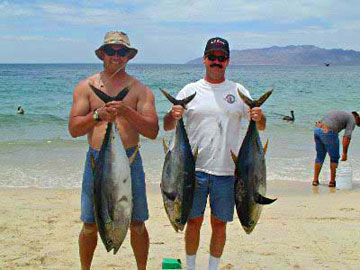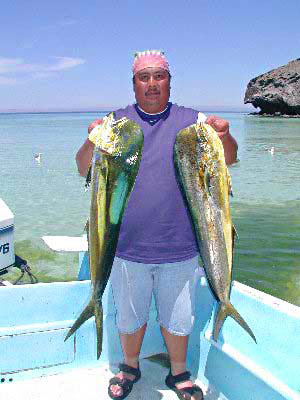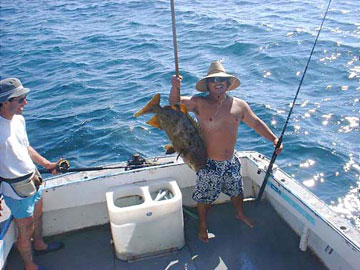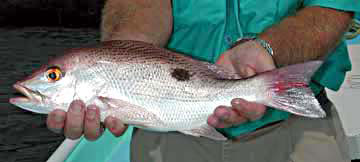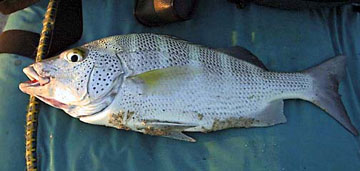 Baja coastal fishing reports and articles.
Ensenada fishing reports and articles.
Puerto Santo Tomas fishing reports and articles.
Erendira fishing reports and articles.
San Quintin fishing reports and articles.
Magdalena Bay fishing reports and articles.
Cabo San Lucas fishing reports and articles.
San Jose del Cabo (Los Cabos) fishing reports and articles.
East Cape fishing reports and articles.
La Paz fishing reports and articles.
Loreto fishing reports and articles.
Mulege fishing reports and articles.
Santa Rosalia fishing reports and articles.
Bahia de los Angeles (L.A. Bay) fishing reports and articles.
San Felipe fishing reports and articles.
Rocky Point (Puerto Penasco) fishing reports and articles.
San Carlos (Sonora) fishing reports and articles .
Mazatlan fishing reports and articles .
Puerto Vallarta fishing reports and articles.
Ixtapa Zihuatanejo fishing reports and articles.
Huatulco fishing reports and articles.
Cancun fishing reports and articles.
Mexico coastal fishing reports and articles.
Mexico Fishing Home Page < Mexico Fishing News Archives < Fishing Report