No billfish spotted yet, some Makos and hammerheads in the area of blue water, and we do have the skipjack in the area now, the gasoline is 3.05 per gallon, there are lots of whales and some dolphins in the area, also the whale sharks are arriving more by the day. road in fair to good condition, next 2nd of august in the traditional fiestas del mar there will be a fishing tournament as part of the festivities. --Saludos, Abraham.
In other mainland Mexico and Baja fishing action this week:
ENSENADA FISHING REPORTS
ALL ARTICLES, REPORTS AND FISHING INFORMATION FOR ENSENADA
ENSENADA, MEXICO: LILY FLEET, Ensenada, July 13, 2001, Sammy Susarrey, Reservations Tel/Fax, 5 to 9 p.m., 011-52-617-46747; Cell 011-52-618-67485. The Lily fished locally today with 3 anglers, reporting 10 bull calico bass at Todos Santos Island, also 2 yellowtails trolling Rapala CD14s, purple and black. Also, 13 lingcod in medium sizes. They also found a log of log barracuda and big bonitos at Salsipuedes Point, mixed with yellowtail. Water temperature is 66.3 degrees today. We have nice greenback sardines for bait. Some boats fishing from Marina Coral reported it was windy outside.
JULY 14, 2001-- Today the Lily fished with 2 anglers, catching 1 white seabass, 28 pounds, one yellowtail, 15 pounds, and limits of big barracuda and medium bonito. The Tamara fished outside 9 miles from Punta Banda at GPS numbers 31 45/116 58. Water temperature was 66.8 degrees. It was a windy and bumpy day. We caught 18 albies to 15 pounds and one biggggg dorado, 32 pounds, in the same area.
JULY 15, 2001-- The Amigo and Lily reported limits of sandbass, also medium sizes of barracudas and limits of small yellowtail, and 6 white seabass to 15 pounds at Estero Beach. The Tamara fished 23 miles outside of Marina Coral, catching 12 albacore to 30 pounds, and 9 yellowtail to 15 pounds. Fishing was on a heading of 230 degrees from Punta Banda. Weather was flat and calm, but live bait was small today. Water temperature was 66.8 degrees. The best trolling colors were rootbeer and purple-and-black, Zukers.
JULY 16, 2001-- Today the Lily reported slow fishing on a local trip with 3 anglers catching 13 sandbass to 4 pounds, 2 yellowtail to 12 pounds, and 6 big bonito. The Amigo, on an albacore trip, reported limits of yellowtail to 20 pounds, 12 albacore to 38 pounds. Water temperature was 66.7 degrees. Nice sardines today. We fished on a heading of 225 degrees from Punta Banda, 16 miles outside and 23 miles from Marina Coral. The best trolling feathers today were rootbeer and red-and-white.
JULY 17, 2001-- Today the Lily fished locally with 2 anglers, reported 2 yellowtail to 12 pounds, 6 big bonito to 10 pounds, 4 white seabass to15 pounds, and limits of barracuda inside Punta Banda.
The Amigo fished with 5 anglers, reporting 15 yellowtail to20 pounds and 6 albacore to 20 pounds.
The Tamara fished with 6 passengers, reportings 30 albacore to 20 pounds, 1 bluefin tuna 35 pounds. The best trolling feathers were purple-and-black, and green. We fished south on a heading of 230 degrees from Punta Banda, 23 miles out. At GPS numbers 31 35/117 10 we found jumper fish with a lot of albacore breaking. Water temperature was 64.5 degrees. We had nice mackerel and sardines for bait.
ENSENADA, MEXICO: SERGIO'S ENSENADA SPORTFISHING CENTER, Ensenada, July 15, 2001, Sergio Susarrey, Reservations Tel 011-52-617-82185. Outer banks' fishing has been great with plenty of action on both albacore and yellowtail for most of last week. Early last week the fishing activities were affected by a bad weather trend that lasted until Thursday (7/12/2001) boats had to return early because they were practically blown out by the strong winds and big seas as well by Friday conditions were much better and the counts begun to rise and so it is the case that for the last three days the average catch per rod of albacore has been from a low of one to a high of three, however the yellowtail fishing remains at it's best with an average of three to five per rod anything else has been just fair such as dorado and blue fin tuna. Today Sunday (7/15/2001) two boats are fishing the outer banks those are the charter boat EL CAZADOR with a group of fifteen anglers and the open party boat ENSENADA CLIPPER with twenty one anglers the final counts of fish caught are as follow the EL CAZADOR: Albacore (7), yellowtail (60) and tuna (3) the ENSENADA CLIPPER: Albacore (10) and yellowtail (35). The big surprise of the weekend has been the fantastic fishing going on all around the Todos Santos Bay with fantastic fishing of big barracuda (7 to 10 pounds), big bonito (8 to 12 pounds), calico & sand bass (3 to 6 pounds), white sea bass (12 to 20 pounds) and finally yellowtail (15 to 18 pounds) anglers have been scoring from five to ten of every kind except of white sea bass and yellowtail on which the catch has been of five to ten of each per boat.
SAN QUINTIN FISHING REPORTS
ALL ARTICLES, REPORTS AND FISHING INFORMATION FOR SAN QUINTIN
SAN QUINTIN, MEXICO: PEDRO'S PANGAS, San Quintin, July 15, 2001, Pete Hillis, Reservations 888-568-2252. For the most part, winds blew for the first part of the week. The finally calmed enough so that David Negrete (Riverside, CA) and John Ball (Corona, CA) went out with us two days. On their first day, they brought in 3 albacore (25 to 30 lbs.) and 1 Macko (80 lbs.) which hit a rapalla (blue/white). On their 2nd day, they took 2 ling cod (20 lbs.), with nice limits of white fish and rock cod.
Albacore were 18 miles off the point on a 240 heading and bottom fish were at the 240 spot. Feathers and rapallas were doing the trick on the albacore. I am back in the states this weekend, but according to Head Captain, Hector, winds had calmed and albacore are still hitting great with a few yellowfin tuna (30 lbs.). Air temperatures are in the high 70's and water temps remain in the low 60's. We'll check in with you next week. Thanks. --Pedro's Pangas, Pete Hillis.
MAGDALENA BAY FISHING REPORTS
ALL ARTICLES, REPORTS AND FISHING INFORMATION FOR MAGDALENA BAY
MAGDALENA BAY, MEXICO: BAJA ON THE FLY, San Carlos, July 18, 2001, Gary Graham, Reservations Tel 800-919-2252; Fax 760-746-7260. Temperatures: 84-degree high; low 68. Overcast with some rain. MARLIN--A few here and there. DORADO--As the water warms up, the fish are starting to come into the area; several reported caught this week. TUNA--Few reported. YELLOWTAIL--A few reported on the Thetis Bank and under kelp paddies. CORVINA--The bite continues at a good pace. SNOOK--Best action at the south end of the bay. HALIBUT--Not much this week.
QUICK COMMENT--71 to 72 degree water is starting to draw in some of the offshore types including marlin and dorado into the area. Inside the bay, the snook action continues to be best down in Almejas Bay with several fish in the 10-pound class reported. Closer to San Carlos, corvina, grouper and pompano provided the best action.
CABO SAN LUCAS FISHING REPORTS
ALL ARTICLES, REPORTS AND FISHING INFORMATION FOR CABO SAN LUCAS
CABO SAN LUCAS, MEXICO: PICANTE FLEET, Cabo San Lucas, July 18, 2001, Sergio Cortes, Reservations Tel 011-52-114-32474; Fax 011-52-114-35969. Fish available: Striped Marlin, Blue Marlin, Yellowfin Tuna & Dorado. Water temperature: 80--86. Air temperature: 90/76. Humidity: 58%. Wind: 8-10 Knots (Pacific), 8-10 Knots (Sea of Cortes). Fleet production (5 boats): 6 Striped Marlin, 3 Dorado & 17 Tuna. Hot spots: 95 Spot (Sea of Cortes). Luckiest boat: Picante Pride (35' CABO). Captain: Antonio Romero. Angler: Leston & Nancy Juneau. Production: 1 Striped Marlin 140 lbs.(released), 5 Yellowfin Tuna 40-90 lbs.
CABO SAN LUCAS, MEXICO: FLY HOOKER SPORT FISHING, Cabo San Lucas, July 15, 2001, Capt. George & Mary Landrum, Reservations Tel 011-52-117-01271; 011-52-114-87452. Up until yesterday we had hot, sunny weather here in Cabo all week long. It never did get terribly humid until yesterday. We just had a tropical depression pass to the east of us about 400 miles away and the weather started to get a little different yesterday. No wind at all for a while then it started to shift around a bit then went totally still this morning. I have lived in the tropics for a long time and even if I hadn't seen the weather channels on-line I would know that there was something brewing out there. The wind has started to blow just a bit this afternoon, just as it did for a few hours yesterday but I think it will pass quickly. We did get a few scattered raindrops this morning; just enough to spot up the windows on the cars. Guess I better get the roof sealed, something I said I was going to do last year!
WATER: We have had very nice surface conditions on both the Sea of Cortez and the Pacific side all week. A little chop on occasion but the water temperatures have been good and the conditions have been very good. The Sea of Cortez is showing temperatures in the 80+ range all week and I was reading about 84 on the meter on Thursday at Gordo banks. Yesterday it looked like a band of cooler water had formed from the shore out to a distance of about 8 miles. I read 80 degrees out 9 miles. All week long there has been a horsetail of very cold water right off the Cape and extending in a general southwesterly direction for 20 miles or so, and the remainder of Pacific water in range of the day boats has been from 78-80 degrees.
BAIT: We went from all Mackerel in the beginning of the week to all Caballito at the end of the week. Special requests can get Mullet, but it has to be arranged well in advance. Normal prices have been $2 per big baits and I have no idea if there have been Sardinas available or not.
BILLFISH: The Striped Marlin have been the catch of the week and it was no problem for anyone on an all day trip to be able to hook into at least one of these fish. Some of the boats were able to catch and release up to three or four per trip. They have not been far out, most of the boats have been going less than 15 miles and the majority have actually been within 10 miles of Cabo. There have been loads of them seen and the bite has been mixed between live bait and lures. There are a lot more Blue Marlin being raised this week and I think the stats can only improve as time goes on. Some of these fish have been a very respectable 500 pounds plus and a lot of them are 300 or better. Almost all the Blues have been on lures, there are still not enough of them around for most of the boats to spend time making bait just incase one shows up in the pattern. We are beginning to see a few more Sailfish show up in the patterns, as the water temperatures get right. As usual they have been associated with the appearance of the Dorado. So far they have been incidental fish caught while looking for Striped Marlin.
YELLOWFIN TUNA: There were a few Yellowfin reported from Golden Gate Banks during the middle of the week. These fish were associated with the Dolphin and most of them were in the 15-25 pound size with a few reported to be a bit larger. We managed to find a few of them of about the same size, 20-25 pounds, on the 50 fathom line while looking for Wahoo and off of the Red Hill area on the Sea of Cortez. There were no Dolphin with them but there was a Shrimp boat that had just finished culling its catch before we got to the area. Fish on the Golden Gate were caught with feathers and cedar plugs; our fish were caught on Marauders run off the planer and downrigger. The spreader bars may have helped too!
DORADO: Just like we were hoping, the Dorado are beginning to show up in fair amounts, as the weeks progress we should be seeing them in even more abundance. Most of them are being caught while trolling or tossing live bait for the Striped Marlin. Average size is 15-20 pounds and there have been quite a few much smaller seen attacking the lures. This bodes well for future catches since they grow fast!
WAHOO: I have my fingers crossed for the next week since the moon phase should be right. I have seen some Wahoo flags this week but on checking them, most have been flown for the inshore Wahoo (Sierra). I spent the entire day on Thursday trying a couple of techniques that should work but all we managed to get were a few Yellowfin, a couple of Dorado strikes and a Sailfish that attempted to hook up on the plug. Fingers crossed that next weeks report will have me saying the Wahoo bite was good!
INSHORE: The inshore bite has been pretty much hit or miss for almost any species except the Roosterfish. The Roosters have been very co-operative. Early in the week most of the action was on the Sea of Cortez up past San Jose but as the water changes we began to get a lot of action on the Pacific side. The whole secret here has been the bait used. If you had Mullet as live bait you caught lots of fish and if it was anything else you had fair action. I saw and heard about quite a few nice Roosters in the 40-50 pound range but most of them were from 15 to 25 pounds. There are still some Sierra around but not nearly the amounts we were seeing two weeks ago. Everything else has been a bit sparse except for the Skipjack Tuna and Bonita.
NOTES: Keep your fingers crossed for good weather and the fishing should get very good very soon! On Saturday when we were working the area 6-9 miles south of the Cape we came across a lot more water that appeared to be so red we described it as muddy. You have to realize that the water in this area is over 2000 feet deep so I am not sure what this is. If there is anyone out there who can enlighten me I would be glad to hear from you. Only two years here in Cabo means that I have not been exposed to all it has to offer and this is new to me. Someone told me that it was "red tide" but I thought that was associated with fish kills and excessive nutrient runoff. Oh well, until next week, Tight Lines!
CABO SAN LUCAS, MEXICO: PISCES FLEET, Cabo San Lucas, Tracy Ehrenberg, July 17, 2001, Reservations Tel 011-52-114-31288; Fax 011-52-114-30588. I must say things really picked up in a great way this way for us at Pisces. Most people are complaining this week that the fishing is hard, due to the fact that they are finding fish, but having a hard time getting them to bite. All but one of our charters this week caught fish, giving us a catch success rate for all species combined of ninety-eight percent.
The catch rate for billfish was high too, at eighty-seven percent, combined mostly of striped marlin and sailfish. Ken Carey, did release a nice 300 lb blue marlin on Catch N' Carey and the Finatic also released a blue marlin on Sunday, July 15th, estimated at 300 lbs also. Sunday actually turned out to be our best day, with four striped marlin released for Andrew and Robert Winthrop from, Fullerton Ca and four stripers also, for Kevin and Scott McQuarrie from Kingwood, Tx. Karina also proved lucky for Kurt and William Meelheim from Grass Valley, Ca, hooking them up to three marlin, all released, at the start of this report on July 11th--brothers were on a roll this week! To close the report Karina scored again with three stripers released, this time for James Richardson from Bedford Tx, and Mark Williams from Ft. Worth, Tx. The Shaw family from Marietta, Ga, had a fabulous time on Ruthless on July 12th, releasing three striped marlin, losing a fourth and catching a couple of small tuna to boot.
The weather couldn't have been better, with clear sunny skies, producing some hot days and flat seas. Over the weekend the fishing was really close, just two miles off of the point, but then moved back into the Sea of Cortez, between Cabeza de Ballena and Chileno. The bait situation this week was not great, with more caballito available than mackerel. The hardier caballito lasts all day, but is not the first choice of striped marlin - they prefer the mackerel, which was dying pretty fast in the bait wells this week. The trick was to be persistent and to have a lot of luck, as boats would sometimes bait six or seven fish before finding a hungry one. Pisces angler caught a total of 46 striped marlin, of which 43 were released. Those landed averaged 130 lbs, we also released 4 sailfish.
OTHER SPECIES: Not a whole lot happening, but we did see a slight increase on dorado, with every third boat or so getting one to three in the 10 to 30 lb class--all were found while trolling for marlin. Pangas and boats fishing inshore are finding rooster fish from 7 to 20 lbs, some small snappers, some pompano, average size amberjack and a few skipjack. Just one small yellowfin tuna for us this week that weighed 20 lbs.
LOCATION: 2 miles off of the arch, then Cerro Blanco, Cabeza de Ballena, Chileno. WEATHER CONDITIONS: Calm seas, sunny, clear skies, air temps, in the low 90's. AVERAGE WATER TEMP: 78 F. BEST LURES: Live bait.
CABO SAN LUCAS, MEXICO: HOTEL SOLMAR SUITES, Cabo San Lucas, July 13, 2001, Renee Santa Cruz, Reservations Tel 800-344-3349. Traditional weather has returned to Cabo, on land and sea--the summer 90's has arrived, and water surface temperature continues to warm to about 78 degrees. And fishing around the "horn" was spread equally in an arc from the Lighthouse on the Pacific to Gordo Banks on the Cortez, according to Rene Santa 'Cruz, fleet manager at Solmar Sport-fishing Fleet based at the Cabo San Lucas Marina.
The fleet reported increased catches of yellowfin tuna in the 25 to 40 pound range on the Gordo Banks, and a few wahoo. Striped marlin continued to show-and-tell across the arc, but Solmar's "Angler of the Week" had to be Rick Nelson, Mulkilteo, WA, who was on his first deep sea fishing outing. Nelson fought a 410 pound blue marlin for 90 minutes, on the 28' San Lucas VII, and only 3 or 4 miles off Palmilla. His fish took live mackerel.
SAN JOSE DEL CABO (LOS CABOS) FISHING REPORTS
ALL ARTICLES, REPORTS AND FISHING INFORMATION FOR SAN JOSE DEL CABO
SAN JOSE DEL CABO, MEXICO: GORDO BANKS PANGAS, San Jose del Cabo, July 15, 2001, Eric Brictson, Reservations 800-408-1199; Fax 619-447-4098; 011-52-114-21147. The crowds of tourists were now moderate in Los Cabos, which is the normal situation during the summer months. Weather patterns continue to be unpredictable and a bit cooler than normal, though the daytime highs are in the 90's. This past week there was a tropical storm that developed some 500 miles south of Cabo San Lucas and this did create some heavy surf conditions during the second half of the week. The storm did not development much strength and quickly dissipated, but not before it pushed more cool water back towards the Sea of Cortez and over the weekend the average water temperature dropped to between 70 and 75 degrees, this after it having been up to 80 degrees just several days before.
The fleets were fishing areas from Cabo San Lucas to north of Punta Gorda and the most consistent action was found along the shoreline or near the various rock piles, with La Fortuna and Iman most popular. Daily catches included; yellowfin tuna, amberjack, skipjack, jack crevalle, roosterfish, pargo and dorado.
Fish were taken on artificial lures but the better action was found by anglers using live bait, there was plenty of bait available for the first half of the week, with sardinas, mullet and caballito all available, but by the weekend out of San Jose del Cabo bait had become almost non-existent, as the heavy surf and cooler water scattered most of the inshore bait schools. The lack of live bait did directly effect the daily fish counts per boat, but it did not mean that the fish could not be caught without it, as some anglers did account for quality catches while trolling with rapalas, feathers and cedar plugs. Average catches per panga throughout the week ranged from 3 to10 tuna, 1 or 2 dorado, with a couple amberjack, skipjack, roosterfish and jack crevalle mixed in. Live bait on the average produced about double the action than did trolling lures. Yellowfin tuna ranged from 10 to 50 pounds, amberjack to over 40 pounds and dorado were up to 20 pounds.
Roosterfish to 20 pounds and more were landed but now that the schooling mullet have scattered it will not be as easy to find them. It is not uncommon for live bait to become scarce at this time of year and anglers will have to start improvising with other methods, like catching larger baitfish offshore and using them as both whole and strip baits. They will need to wait at least until the water warms backs up into the upper 70's, which should not take long at all once the current switches. The color of the water is greener than it is blue, but this should change soon as the water warms up.
The reports offshore for marlin varied from anglers reporting not much at all to others that had action for striped marlin, dorado, sailfish and even a few blue marlin. One panga skipper that was getting ready to gaff a 30 pound tuna reported that he had a monster black marlin pass right under his boat, trying to catch the hooked yellowfin, this was within two miles of Punta Gorda, so it should not be long before the black and blue marlin move into the Gordo Banks area. --Good Fishing, Eric.
EAST CAPE FISHING REPORTS
ALL ARTICLES, REPORTS AND FISHING INFORMATION FOR EAST CAPE
EAST CAPE, MEXICO: BAJA ON THE FLY, Buena Vista, July 18, 2001, Gary Graham, Reservations Tel 800-919-2252; Fax 760-746-7260. TEMPERATURES: High of 91 with a low of 79. Strong winds in the afternoon. STRIPED MARLIN--Some boats coming in with multiple releases. YELLOWFIN TUNA--Pretty good pop in front of La Ribera just a few miles off the beach. Must have been 70 boats on Tues. and it looks about the same this morning. Several quality fish in the 50 pound range. DORADO--Few being found early morning around the shark buoys. Larger fish found in open water. ROOSTERFISH--Good inshore action continues early morning and mid-afternoon. JACK CREVALLE--The bigger fish returned this weekvBARRILLETE OR MEXICAN SKIPJACK--Best action up at Cerralvo. PARGO AND CABRILLA--Reef in front of Hotel Rancho Leonero producing good catches.
OFFSHORE: Stripers and sails dominate the counts with only one or two blues reported each day. Best action was 17 miles out from Punta Arena on Mon. INSHORE: Tuna close in front of La Ribera, roosters in front of Rancho Leonero and Buenavista Beach Resort kept everybody happy this week. BEACH: Bigger roosters and the large jacks reappeared this week. La Ribera produced the best action yesterday.
QUICK COMMENT--Frank Deverse, from Glenbrook, Nev., using one of our chartreuse see-through deceivers, landed five different species on the fly and hasn't lost it yet. So far he has caught tuna, skipjack, dorado, rooster and green jack on the thing and is back out today to see what else he can add to his list.
Jim Ridgeway, Washington State, on an ATV beach trip yesterday, had a number of shots at large roosters (up to 50 pounds). They chased his fly right up to the rod tip, but wouldn't take the blasted thing. Guide Chris Sorenson did mange to capture the whole thing on film and thinks it will be one of his best photos of the season.
EAST CAPE, MEXICO: RANCHO LEONERO, Bahia de Palmas, July 15, 2001, John Ireland and Roy Baldwin, Reservations 800-646-2252; Hotel 011-52-114-10216. Hot weather, with daytime highs in the mid 90's, with sultry evenings in the 80's, mostly sunny skies, dead flat seas with stable water temp around 85 deg. Still huge quantities of bait everywhere and a consistent bite with the warm water. Blue marlin were hooked daily this week, with fish up to 400 lbs (3 over 300 lbs) taking darker colored trolled lures. Fewer stripers this week, but lots of sails have moved within 1 mile of the beach, taking mostly live sardinas and a few on trolled lures. A long boat ride to the north end of Cerralvo Island is producing a wide open big yellowfin tuna bite, with fish averaging 40-80 lbs taking live sardinas, while smaller tuna averaging 15 lbs were biting south off Cabo Pulmo. The schooling dorado haven't appeared, but many large solitary bulls to 68 lbs taken daily, mostly on trolled marlin lures. Big pargo averaging 25-35 lbs are schooling off the south beaches, with roosterfish averaging 10-20 lbs very active off all area beaches.
EAST CAPE, MEXICO: HOTELS PALMAS DE CORTEZ, PLAYA DEL SOL, PUNTA COLORADA, East Cape, July 15, 2001, reported by Dave "Smokey" Manuel, East Cape Smokehouse, Hotel Reservations, 800-368-4334. As I sit down to write this edition of the fishing report, I do so with little enthusiasm. Normally, Sunday is one of the days I spend on the docks talking to skippers and anglers about where they went, what they saw and how much beer they drank. This Sunday I was unable to do this, so you have only the numbers above for the weekend report; besides the quick mention of good Tuna fishing at the North tip of Cerralvo Island on Friday & Saturday and the 440lb Blue that was caught this weekend.
My lack of excitement is a direct result of the events that occurred in our peaceful little fishing community on the evening of Friday the 13th. You see, I spent Sunday afternoon inventorying the fishing gear and equipment that was stolen off my boat in the middle of the night Friday evening. Before I go any farther, I need to say this: I thought for some time about whether this is the place to discuss that sort of thing. If I were the only one affected, most probably it wouldn't be, however that is not the case. My boat was only one of several that were stripped, therefore I'll proceed. I've discovered that this report not only reaches many people back in the States who are counting the days until their next fishing trip to the East Cape, but many local people also right here on the East Cape, La Paz and Los Cabos.
My intentions are, that by informing the rest of you nearby, perhaps someone, somewhere will know something about the thefts I'm going to describe and with a little luck, maybe we can find the SOB's responsible. If not, they WILL return and your boat might be next. I apologize to my fellow business owners as this may be bad PR tourism wise, but people will hear about it through other means anyway and as rumors spread they get exaggerated, so let's be upfront and talk about it. All of our individual long term successes here on the East Cape will depend, in part, on us having a safe place for visitors to come, so then it becomes our responsibility to do what we can to prevent this from reoccurring. Finding who did it will help accomplish this.
Currently, I have heard of eight privately owned fishing boats that were involved. The thefts occurred on Friday the 13th, yes Friday the 13th!! All boats were in the water, anchored just offshore in Bahia de Palmas and were boarded during the night and stripped. I haven't spoken to all the other boat owners yet, but those I have talked to had the same experience; pretty much everything on board was taken. One owner estimated his loss at $24,000 alone. His electronics, tackle, rods, reels, everything, cleaned out. In my case, the boat was stripped bare including the seats, bimini top, stainless steel handrails and my old smelly sneakers I fish in. (Those may have been tossed overboard soon after leaving the scene of the crime.Whew!) The theory is one or more small boats were used to transport the stolen goods out of this area by water and beached somewhere North or South of here. If you live down here, keep your eyes and ears open. It is a large amount of gear and it's going to be sold somewhere.
If you have any information now or see fishing gear or boat equipment being sold really cheap or by suspicious means, email me please at smokey@balandra.uabcs.mx. We have reported these thefts with a list of missing items to the local Police and they'll be investigating also. The boat owners are organizing a reward fund for specific information leading to the return of the gear or to identifying those involved. I do want to mention that as of now, to my knowledge, no thefts occurred at any of the local resorts and no visiting anglers were affected. It was an organized, planned attack on local private boats owned by Americans and Mexicans alike. If your coming down to fish, don't go and freak out, the place hasn't gone to hell, but be aware and take precautions. I for one am more disappointed than angry. One of the joys of living and fishing here is the fact that we can anchor our boats where we please, just off shore in open water and hop in when we want and go fishing. We leave gear onboard because it's just not possible to lug all that is necessary out in a dingy every time you want to fish. I'm unhappy that there's people trying to take that away from us. Help us keep our lifestyle, spread the word.
LA PAZ FISHING REPORTS
ALL ARTICLES, REPORTS AND FISHING INFORMATION FOR LA PAZ
LA PAZ, MEXICO: JONATHAN ROLDAN'S TAILHUNTER ADVENTURE SERVICES, La Paz, July 17, 2001, Jonathan Roldan, Tel 626-333-3355; Fax 626-333-0115; Pager 323-349-8111; Message Pager 877-310-7734. Good news and bad news, Pescadores! We're into fish, that's for sure. The problem is that alot of them are really short. The good side is that they are really FAT!!!! It's kind of funny when we're on the beach. It's good for a laugh. The tuna we're catching from the Las Arenas fleet are coming in at 35-90 pounds and they seem to be cut from some type of "stubby school." They fight with attitude like some short guy in a bar fight...really mean and willing to bite and claw the other guy with every trick in the book. I mean, most yellowfin will take a few long runs then drop down into the classic gut-wrenching-hernia-inducing up-and-down battle. These tuna we've been getting at the north end of Cerralvo seem to have been going to dorado school or something! I've seen some of these heavy weights head straight out on the surface cutting the water with their dorsal fins; I've seen them tow the pangas; I've seen them cut huge circles around the boats; I even saw one do and flip and leap like a dorado! About 3 boats saw that one and we all started cracking up! At least until the angler lost the fish with that leap. Seems the tuna may have learned a thing or two with that dorado lesson as it comes straight from Dorado 101!
Anyway, most of the tuna bite has been targeted at north Cerralvo with boats from both Las Arenas and La Paz. The hot spot has been several hundred yards off the north point; La Reyna (the little lighthouse rock just a few miles north of there); and La Reynita about 1 mile from the end of the island on the west side. Most of the biters have been these cruiserweight tuna, but we've also surprisingly goten yellowtail, some bigger dorado on occasions and a few wahoo. One was taken just a few days ago that, like the tuna was short and stubby, but went a whopping 80 pounds! We were all laughing. Looked like a stubby silver/black sausage with a pointy-end full of teeth! Even more interesting is that it was caught on 30 pound line. We've actually had several caught on light tackle. This one was snagged on the side and took about 1 1/2 hours to land!
In addition to the tuna at the north end, we're also taking incidental billfish as well. It's not unusual to see a panga have to fire up a motor to chase down a striped marlin or sailfish. As I might have mentioned, earlier in the week I was fishing with Coach Citti and Mo Taylor, from the Bellfllower CA area, and we had a sailfish almost spool Coach down to the nub and we had to chase it. When we finally subdued the fish, we found that the hook had never been eaten. Instead the line had merely tangled around it's spike! It was a simple thing to merely unwrap the line from the spike, take some photos and let it swim away!
Anyway, for the rest of the Las Arenas fleet, the outside areas have been pretty slack for the dorado bite, or much else for that matter. Saw something awfully bad the other day. There was about a 100 sq. yards off Punta Perrico littered with debris and dead fish! These were all reef fish like Perricos (parrot fish) and grunts and other reef fish. The place stunk! We trolled through it thinking there might be dorado, but I think the area was too toxic for other fish to be hanging in the area. I've never seen anything like it. It was if something had nuked all these fish. My pangero and friend, Yofo, said it was caused by "bad water." I wish I could have known more.
Other bites, however,have been productive at the SW side of Cerralvo for tuna and billfish at the Dome. Also quite a few anglers have been showing up just to fish the small roosters and 20 pound jacks stacked up along the Las Arenas beach. If you're into it, bring a 10 pound spinning outfit and get tied in! These fish pull hard!
Moving over to the La Paz side, it was a little off this past weekend because of so many boats fishing the recent tournament (seems there's a tournament each weekend here and unless you're participating, try to stay out of the way). Tournaments are fun, but with so many boats, they pound the same area. There's also less bait to be had since the receivers and bait makers only have so much bait.
Anyway, they have still been working the gap and canyon between the north end of Cerralvo and the south side of Espiritu Santu Island. There are still chunks of sargasso in the area, but also slow trolling a sardine through nervous water often brings a blind strike. Keep a hooked dorado in the water and it will often bring the rest of the school! There also seems to be another spot of fish several miles to the north that looks promising and we'll have to keep an eye on that.
Bottom line is that everyone is getting fish by the time they leave. I haven't seen too many empty ice chests.
LORETO FISHING REPORTS
ALL ARTICLES, REPORTS AND FISHING INFORMATION FOR LORETO
LORETO, MEXICO: EL FUERTE SPORT FISHING, Puerto Escondido, July 13, 2001, Ty Miller, Reservations Tel 714-775-6658; Fax: 714-755-3501; Loreto 011-52-113-30863. Hola Pescadores. You really haven't missed much with the lack of an updated fish report last week. Fishing has been slowly falling off for the past 2 weeks. It's a hit and miss game with the paddies and Dorado. Lots of paddies with lots of baby dorado under them. Water color is still pukey green with nicer water being found outside, but no fish under the paddies out there. Every once in a while someone gets lucky and finds the "magic" paddie with a few big bulls under it.
Billfish are few and far between at this end as well. We've hooked a few in the last couple weeks, but nothing compared to this time last year.
Bait bite has been good with most boats finding green macks and sardines off of Honeymoon (Isla Danzante). There is still squid in the area too, which can be a niusance if you are after the macks.
Sorry the news isn't better, but it seems to be the report everywhere in Loreto as well. We are hoping that the Dorado and billfish will hit us on their return run as the migrate south out of the Sea of Cortez. Stay tuned! Hasta! Ty Miller.
SAN FELIPE FISHING REPORTS
ALL ARTICLES, REPORTS AND FISHING INFORMATION FOR SAN FELIPE
SAN FELIPE, MEXICO: TONY REYES FISHING TOURS, 6-day Midriff Islands trip aboard the panga mothership, Jose Andres, Tony Reyes, Exclusive booking agent, The Longfin, 714-538-8010, TRIP ENDING JULYE 13, 2001. Water temperature 70-75 degrees. Fish count for the week: 134 cabrilla 12-17 pounds; 95 spotted bass; 57 dorado 6-12 pounds; 40 squid 18-45 pounds; 31 yellowtail 12-31 pounds; 29 white seabass 35-55 pounds; 10 pargo 9-13 pounds; 7 sheephead 4-6 pounds; 2 grouper 55-80 pounds; 1 shark 18 pounds. Biggest fish caught by Frank Cullum, 80-pound grouper.
SAN FELIPE, MEXICO: BAJA SPORTFISHING, INC., 6-day Midriff Islands trip aboard the panga mothership, Erik, Gustavo Velez, Reservations Tel 619-523-1822, 800-770-2341; Fax 619-523-9896, TRIP REPORT OF JUNE 12, 2001. Good fishing on the Golden Reef, but lots of wind. Fish count for the week: 503 dorado, 146 yellowtail to 45 pounds; 203 cabrilla, 18 pargo, various squid, 1 black sea bass 74 pounds, 4 grouper to 55 pounds, 1 blue shark 71 pounds.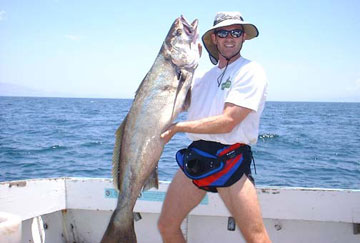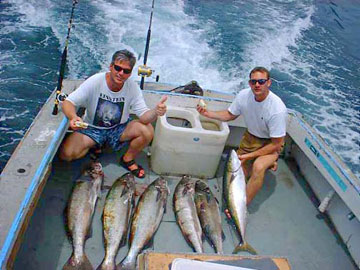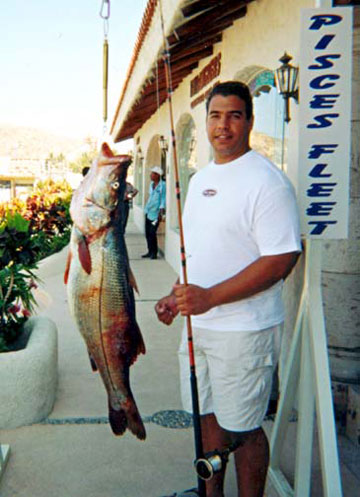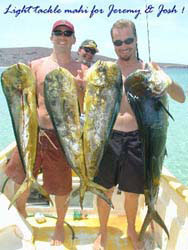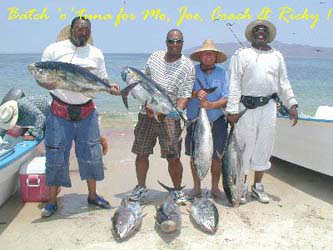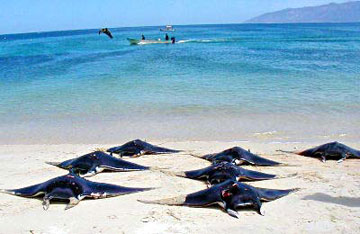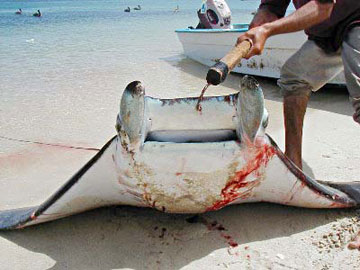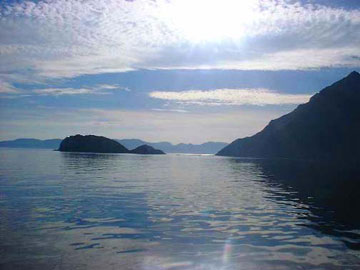 Baja coastal fishing reports and articles.
Ensenada fishing reports and articles.
Puerto Santo Tomas fishing reports and articles.
Erendira fishing reports and articles.
San Quintin fishing reports and articles.
Magdalena Bay fishing reports and articles.
Cabo San Lucas fishing reports and articles.
San Jose del Cabo (Los Cabos) fishing reports and articles.
East Cape fishing reports and articles.
La Paz fishing reports and articles.
Loreto fishing reports and articles.
Mulege fishing reports and articles.
Santa Rosalia fishing reports and articles.
Bahia de los Angeles (L.A. Bay) fishing reports and articles.
San Felipe fishing reports and articles.
Rocky Point (Puerto Penasco) fishing reports and articles.
San Carlos (Sonora) fishing reports and articles .
Mazatlan fishing reports and articles .
Puerto Vallarta fishing reports and articles.
Ixtapa Zihuatanejo fishing reports and articles.
Huatulco fishing reports and articles.
Cancun fishing reports and articles.
Mexico coastal fishing reports and articles.
Mexico Fishing Home Page < Mexico Fishing News Archives < Fishing Report