LOCATION: San Cristobal, 95 Spot and Punta Gorda. WEATHER CONDITIONS: Great! It is a little hot, but comfortable, calm seas. WATER AVARAGE TEMP: 83. BEST LURES: live mackerel, pink/blue, green/yellow, feathers and bait for both Dorado and Tuna.
CABO SAN LUCAS, MEXICO: HOTEL SOLMAR SUITES, Cabo San Lucas, July 27, 2001, Renee Santa Cruz, Reservations Tel 800-344-3349. Fishing out of Cabo settled into its traditional summer "Marlin Alley," located 5 to 10 miles offshore between Chileno Bay and Gordo Banks, according to Solmar Sportfishing Fleet manager Rene Santa Cruz.
Santa Cruz also said the week was a "breakthrough" by the Solmar Fleet for the new season of blue marlin, with 15 blues recorded by the fleet, in addition to a "respectable" striped marlin count.
Fishing this week was done under clear skies with very little wind, and air temperatures in the low 100s. Water surface temperatures were between 85 to 88 degrees. The fleet declared Bill Owens, Cerrito, CA, as "Angler of the Week" for his catch of a 140-pound yellowfin tuna, fishing a few miles off Palmilla on the 26-foot Galeon. The fish, a giant for Cabo waters, took live mackerel, and Owens "cooled down" by catching several more tuna in the 15-40 pound range.
Successful "blues" anglers included: Sean Clark, Bakersfield, CA, caught his 220-pounder on the 31-foot El Torito with live bait; Robert Sutherland released both his 220-pound blue and 160-pound striper, and took his 65-pound dorado home to Scottsdale, AZ, for serious home cooking--his boat, Solmar II, was fishing on the Gordo Banks.
A deep sea fishing career was launched successfully by 13-year-old Nick Malone, Hawthorne Woods, IL, who released his 120-pound striped marlin after a 2 hour fight; his fish hit live mackerel. Panga fishing was back in vogue because of the sea-kindly waters this week, and Joe and Jackie Huebner, San Jose, CA, boated 4 dorado just off Chileno Bay on Solmar's 22-foot super panga Vigia; their largest fish was 40 pounds.
CABO SAN LUCAS, MEXICO: GAVIOTA FLEET, Cabo San Lucas, August 3, 2001, Larry Edwards, Cortez Yacht Charters, Reservations 619-469-4255. A 700-pound blue marlin was taken by angler Pedro Morin, Monterey, Mexico, while fishing aboard the Checkmate, with Captain David Morales. The trophy ate a green/white artificial and required about 90 minutes to 80-pound mono. another fine trophy and pending world record was taken by San Diego Angler, Jim Dillon, fishing aboard the El Buster, a 90-pound dorado. This fish was taken on 80-pound test, trolling a brown/grey/orange petrolero hand-picked by Captain Salvador Nunez. Largest fish for Gaviota was a 350-pound blue marlin, taken aboard the Gaviota IV with Captain Julian Ruiz. Overall counts reflected 7 blue marlin (4 released), 2 sailfish (1 released), 13 stripers (11 released), 19 dorado (most in the king-sized range, 35 pounds plus), and 12 yellowfin tuna. Weather was scattered high clouds, but mostly sunny and clear. Air temperatures were in the upper 90s. Sea conditions were calm in the morning with some afternoon wind chop. Water temperatures were pushing 80 in most areas and above 80 in some. Best fishing areas were outside and above the Gordo Banks. Live bait was best for sails and stripers. Tuna best on feathers. Most dorado taken on the marlin lures with a second fish occasionally being taken on live bait. Blue marlin taken on artificials. Bait supply remained consistently good over the full moon.
In other mainland Mexico and Baja fishing action this week:
ENSENADA FISHING REPORTS
ALL ARTICLES, REPORTS AND FISHING INFORMATION FOR ENSENADA
ENSENADA, MEXICO: LILY FLEET, Ensenada, August 1, 2001, Sammy Susarrey, Reservations Tel/Fax, 5 to 9 p.m., 011-52-617-46747; Cell 011-52-618-67485. Today the Tamara fished with 4 anglers 30 miles off Punta Banda on a heading of 215 degrees, reporting 31 albacore from 10-25 pounds. Most fish were caught trolling Mexican flag colors or on flylined live bait. No fish at the kelp paddies.
AUGUST 3, 2001-- Today the Amigo and Lily reported very good local catches of lingcod, calico bass, and 5 yellowtail to 20 pounds close to Todos Santos Reef. Bait is good, 4-inch sardines. The weather was beautiful and flat today. Everybody reported limits of bonitos, medium-sized barracuda and sandbass.
SAN QUINTIN FISHING REPORTS
ALL ARTICLES, REPORTS AND FISHING INFORMATION FOR SAN QUINTIN
SAN QUINTIN, MEXICO: PEDRO'S PANGAS, San Quintin, August 5, 2001, Pete Hillis, Reservations 888-568-2252. Well, I spent the week home here in Long Beach, CA and apparently missed out on some great fishing. In a telephone conversation with our Head Captain, Hector, I learned that the catches were varied and mixed. We brought in albies, yellowfin, and yellowtail. Eric Ramirez and his party (West Los Angeles, CA) were out with us this weekend and landed a nice 31-pound bluefin tuna.
Air temperatures were in the high 70s and low 80s. Water temperature is rising, being in the high 60s. This should bring in more yellowfin and dorado.
The tuna were taken on cedar plugs and feathers on a 240 heading, 12 to 20 miles off the point. The yellowtail seem to be under every paddie, large or small, and have been taken with Rapalas, iron, and live bait.
SAN QUINTIN, MEXICO: THE OLD MILL, San Quintin, August 5, 2001, Brenda Hayes, Reservations 011-526-171-3498. Water temperature is 58-62. Air temperatures in the low 70s with morning overcast.
Albacore and yellowtail still plentiful, although a couple of windy days played a part in lower counts. Albacore were about 25-27 miles off the point. Dark feathers were the ticket. Yellowtail were landed closer in, about 6 miles off the point, using live bait. Nice bonita are starting to make a showing, also a few dorado. Conditions latter part of the week were windy, but as of this report, winds have died.
Fishing 2 days, Richard Neese, Larry Johnson, Edwin Lee, all of Torrance, CA, landed 10 albacore and 10 yellowtail their first day. Largest albacore was 26 pounds, largest yellowtail was around 20. Their second day, they targeted yellowtail and red snapper. Landed another 10 yellowtail and limited on gorgeous red snapper.
MAGDALENA BAY FISHING REPORTS
ALL ARTICLES, REPORTS AND FISHING INFORMATION FOR MAGDALENA BAY
MAGDALENA BAY, MEXICO: BAJA ON THE FLY, San Carlos, August 4, 2001, Gary Graham, Reservations Tel 800-919-2252; Fax 760-746-7260. Temperatures: 80-degree high; low 68. After a week of picture perfect weather the wind began to blow Fri. and brought some clouds with it. MARLIN--Several fair sized groups seen near Thetis Bank by the commercial fisherman. DORADO--240 degrees 25 miles under the shark buoys is the best bet. TUNA--Still little to report. YELLOWTAIL--Some quality fish caught at Thetis Bank; some reported as large as 20 pounds. CORVINA--Slowed down somewhat this week. SNOOK--Several large ones caught inside of Punta Redondo. HALIBUT--Out near the entrada there seems to be a concentration feeding on red crabs.
QUICK COMMENT--OK, so how large do the snook get in Magdalena Bay? I saw one caught by a commercial fisherman that had to be at least 40 pounds. Sooner or later if the commercials leave a few we will get one like that on the fly!
SAN JOSE DEL CABO (LOS CABOS) FISHING REPORTS
ALL ARTICLES, REPORTS AND FISHING INFORMATION FOR SAN JOSE DEL CABO
SAN JOSE DEL CABO, MEXICO: GORDO BANKS PANGAS, San Jose del Cabo, August 5, 2001, Eric Brictson, Reservations 800-408-1199; Fax 619-447-4098; 011-52-114-21147. This week the weather did settle down and anglers were able to enjoy calm seas and warm sunny skies. The water temperature has once again risen sharply and is now in the low 80s, and the water clarity has improved. There were plenty of live sardinas being netting off of the beach of La Playita and as the week progressed and the surf conditions diminished the baitfish became easier to get. Mullet were also still hanging around, mixing in with the sardinas, but the sardinas were the preferred choice of bait. Panga fleets fished from Red Hill to San Luis and the hot spot continued to be within a mile shore, off of Punta Gorda, this is where the yellowfin tuna have been very consistent and in recent days there was increased action for dorado and sailfish.
The bite has definitely become more consistent, with most everybody catching fish, boats were averaging up to 10 yellowfin tuna and 1 to 3 dorado each. The tuna weighed from 20 to 60 pounds. Live sardinas proved to be the most successful bait, with tackle ranging from 20 to 80 pound being used, 40 pound tackle was the most popular choice. Numerous larger fish were being lost due to anglers using too light of equipment. At times the tuna were a bit line shy and did strike the lighter line best but on other days the fish would hit 80 pound tackle just as well. Fishing techniques included slow trolling, drifting with a live bait down on a 1/2 to 1 oz. weight and just fly lining live bait on the surface. Still no great news to report that the tuna are back on the Gordo Banks but these other spots have been taking up the slack of no fish on the Gordo, besides the Punta Gorda area of " Zero " being red hot, over the weekend the fleet discovered a hot tuna bite off of Palmilla point, these tuna were up to 80 pounds, hitting on bait and lures.
Dorado action has been on the steady increase but still not equal with the tuna action, an average of one to three dorado per boat were accounted for. They were located from close to shore to further out, while trolling for marlin, sizes averaged 10 to 18 pounds, with some larger bulls over 30 pounds reported. In recent days, with the water warmer and cleaning there have been some wahoo being hooked by anglers trolling lures in the areas of La Fortuna to Iman. Best lures seemed to be the old wahoo stand by, Marauders, in either orange or purple combinations. The 'hoo that have been weighed in were between 30 and 50 pounds. A handful of wahoo were landed each day for the pangas out of La Playita, not a big bite, but a good sign of things to come. Sailfish started moving into the area and were being hooked daily by anglers that were targeting the tuna and dorado, the sails were averaging 60 to 80 pounds.
Along the shoreline there were plenty of jack crevalle and roosterfish providing action, some of the roosters weighed over 30 pounds but most of them were 15 to 20 pounds, trolling live bait was the best bet. One monster 38 pound snook was caught mid week by a local angler fishing from the shore, right in front of where the panga fleet launches he caught the trophy fish, it hit on a sardina.
EAST CAPE FISHING REPORTS
ALL ARTICLES, REPORTS AND FISHING INFORMATION FOR EAST CAPE
EAST CAPE, MEXICO: READER REPORT FROM PETER LANGSTRAAT, Hotel Punta Colorada, August 1, 2001-- I was at Punta Colorada from June 24th on and the circumstances were not very good. There was bait fish all over the place, but not many predators, except quite a lot of Roosters (including big ones).These were hard to get, however, just like the mullet (with the casting net). No ladyfish, hardly any Needlefish made fishing in open water quite unfavorable. The alternative was fishing 10 minutes to the north along a rock formation. It turned out most of the bass-types were "hiding" underneath quite big patches of ballyhoos which would move up and down the rock formation, usually far away enough for me to give it a shot with my 8 lb-line. (It seems like they never really attacked the ballyhoos). So, in a very pleasing way I caught quite a few Graybar Grunts (Snapper-like up to 22 inches), Yellow Snappers, Leopard Groupers, Triggerfish, Yellowspotted Grunts and some new species which were the Spottail Grunt and the Spottail Rose Snapper, all on Rapalas. One morning using the same method at the same place the first fish I hooked turned out to be a Sierra of 33 inches, which is my personal best so far. I caught a few more smaller Sierra in front of the hotel on other days.
The greatest highlight however was hooking a Rooster right alongside the rocks in front of the hotel with, indeed, my 8-lb. line and the smallest (2 inch) Rapala I had. After 50 minutes it had taken me halfway to the lighthouse and had become pretty tired of towing my boat. In the end it was very easy to get to my boat. It was 3 feet 2 inches long, according to the IGFA formula about 32 pounds. From the beach my catch was mainly Halibut, Cornetfish and some Yellow Snapper and Yellowfin Croakers, along with a single Colorado Snapper.
EAST CAPE, MEXICO: BAJA ON THE FLY, Buena Vista, August 4, 2001, Gary Graham, Reservations Tel 800-919-2252; Fax 760-746-7260. TEMPERATURES: High of 94 with a low of 80. Some wind Fri. afternoon. STRIPED MARLIN--Off of Punta Arena to Los Friales between four to 10 miles producing fair action. YELLOWFIN TUNA--Below and outside of Las Frailes produced the best action under the porpoise. DORADO Mainly larger fish in open water with only a few found under the shark buoys. ROOSTERFISH--Best early morning and mid afternoon in front of La Ribera and Buenavista Beach Resort. JACK CREVALLE--Only a few spotted this week. BARRILLETE OR MEXICAN SKIPJACK--Slow. PARGO AND CABRILLA--A few showed up in the counts at several hotels.
OFFSHORE: Blue marlin action was hit or miss. If you were in the right place at the right time, several boats reported fair action in front of Punta Pescadero. There are some quality dorado in open water. INSHORE: Roosterfish, jacks and sierra were the best bet for the inshore crowd. BEACH: Some dirty water slowed action down slightly, but it is still pretty awesome.
QUICK COMMENT--Spent yesterday teasing up blue marlin and the action was fair. We raised several fish and the client had shots, but didn't connect. However, we hooked the mother of all dorado. This fish cleared the water by at least 15 feet and did it twice. I believe the fish would have gone over 60 pounds, but we will never know because he just kept leaping off into the sunset.
EAST CAPE, MEXICO: RANCHO BUENA VISTA, Buena Vista, August 4, 2001, Tamara Moyeous, Reservations 800-258-8200. Some amazing fish caught this week at Rancho Buena Vista. The two catches of the week were a 319-pound blue marlin caught by Bruce Harris or Wichita, Kansas. It took him only 45 minutes to bring it in!! Topping that, Jonathan Janz of Edmonton, Alberta, Canada only 12 years old caught a 275-pound yellow fin tuna, on only 40-pound test, WOW!
Jim & Estelle Shuttleworth of Barbless Hook Flyfishing, Bothell, WA, caught a 90-pound sailfish, 120-pound and 100-pound stripers on fly rods.
The two stripers were released as was the sailfish, 1 dorado and 2 tuna. Three roosters, several pompano and jack cravelle were caught from the beach.
EAST CAPE, MEXICO: BUENA VISTA BEACH RESORT, Buena Vista, week ending August 2, 2001, Axel Valdez, Reservations 800-752-3555. Total boats out: 79. Air Temperature: High 80s-Low 100s. Water Temperature: 78-83. Fish count for the week (captured/released): Blue Marlin 2/15; Striped Marlin 1/16; Sailfish 0/6; Dorado 34/1; Tuna 94/0; Wahoo 0/0; Roosterfish 1/16; Amberjack 19/0; Skipjack 0/10.
As the week started the same conditions seen throughout fishing season, where everywhere you fish you find cold currents. But as the week went on, the water started to stabilize, bringing the fish up. It looks like our captains' prayers have been answered, and we are finally going to start having the great fishing we should have had since May and June.
The humidity is rising. It is not hot, since the day temperature hardly gets to 105 but the humidity makes it feel like at least two to three degrees more.
Fishing has been from the north to in front of the hotel, to Los Frailes, and sometimes farther away.
Successful lures: All Baja colors are working well, the crew is working with the biggest lures in their arsenal, and the big dorados and the blues are hitting them.
EAST CAPE, MEXICO: RANCHO LEONERO, Bahia de Palmas, August 5, 2001, John Ireland and Roy Baldwin, Reservations 800-646-2252; Hotel 011-52-114-10216. Hot weather, with daytime highs in the mid 90s, with tropical evenings in the 80s, mostly sunny skies, flat mornings with afternoon breezes and water temperature steady at 85 degrees. Finally the fishing has really opened up. Big tuna to 200 pounds, roosterfish to 90 pounds, some wahoo, a decent dorado bite, and lots of billfish with a strong blue marlin bite.
Yellowfin--Big fish, lots spread from Cerralvo to Cabo Pulmo, under porpoise. Ave fish 35-40 pounds, up to 200 pounds. All anglers enjoying success, with live caballito and Rapalas working best.
Wahoo/dorado--Loads of wahoo this week from 20-50 pounds, with lots of double hookups, mostly on Rapalas. The usual big dorado taken outside on trolled marlin lures (Petrolero).
Roosterfish--By far our best week this year. Average fish from 30-35 pounds, to 82 pounds. All anglers limiting, with live caballitos and sardinas triggering and aggressive bite.
Billfish--A strong daily bite, with 7-10 taken daily by the Leonero fleet. Larger fish average. 250 pounds, with trolled Petrolero colors working best.
Angler of the Week--Duncan Hadden (owner of the Inn at Rancho Santa Fe) of Rancho Santa Fe, CA, while fishing 2 days on a cruiser, took limits of yellowfin tuna to 92 pounds, and released 4 roosterfish, all over 60 pounds.
EAST CAPE, MEXICO: HOTELS PALMAS DE CORTEZ, PLAYA DEL SOL, PUNTA COLORADA, East Cape, August 1, 2001, reported by Dave "Smokey" Manuel, East Cape Smokehouse, Hotel Reservations, 800-368-4334. If you glance at the reports, you'll notice 8 straight days now of better numbers on Blue Marlin than on Striped Marlin. That follows a normal pattern for this time of year, where warmer water temps bring in the Blues and the Striped Marlin begin to move to other areas of more moderate water temps. Most of the Blues caught or released remain in the mid range of the low to upper 200's, with a few up in the 300 pound class.
Last week's winning Blue Marlin in the Bisbee Tournament weighed in at 309 pounds. Reports are coming in of hookups in a wide range of spots, but the most frequently mentioned in the last day or so has been off Punta Pescadero.
We started seeing the first signs of big Tuna in the area last week during the Bisbee Tournament and nearly daily since then, several good sized Yellowfin have come in. Nearly all the big one's are being found mixed in with Porpoise schools and are being taken on nearly everything including, big bait, Sardines, feathers, hootchies, cedar plugs and Marlin jigs. Most of the bigger fish are coming from Porpoise found swimming in many areas to the South of us anywhere from Punta Colorada and the Lighthouse down to the White Sand Beaches and Destillederas. Those same areas have also produced bites of very small Tuna in the 15 to 20 lb class, so the size range in that direction is wide. Other pods of Porpoise and Tuna have been found to the North outside off Punta Pescadero, but the size of most of those fish has been a little more consistent, with fewer over the 40 pound mark. Besides the Blues and Tuna, things were relatively quiet.
LA PAZ FISHING REPORTS
ALL ARTICLES, REPORTS AND FISHING INFORMATION FOR LA PAZ
LA PAZ, MEXICO: JONATHAN ROLDAN'S TAILHUNTER ADVENTURE SERVICES, La Paz, August 1, 2001, Jonathan Roldan, Tel 626-333-3355; Fax 626-333-0115; Pager 323-349-8111; Message Pager 877-310-7734. Pescadores! If you wanna see someone "on the edge" these days, talk to your local Baja fishing guide, skipper, or booking agent! We're getting really good at:
1. Rolling our eyes 2. Ducking tackle thrown in our direction 3. Hiding 4. Trying to find lame excuses to explain the fishing 5. Pretending we're someone else
Folks, I just don't know anymore. This is the MOST mixed up season I've ever seen. If you've been reading these reports of mine, you know what I'm talking about! Everything you ever knew about fishing in the Baja? Well, when they say "Baja Ha-ha" they mean it. Just take all that knowledge and experience and toss it out with your nehru shirts and cuffed baggie pants! Fish are there one day and gone the next. Water is green, then water is blue then water is green again! Sun is out, then storm drowns us and winds blow the coconuts off the trees! Summer fish hit in the winter and winter fish in the summer. Go figure.
Listen, just stop asking me what you'll catch if you come down on such-and-such a date. Just come down. The bottom line is that everyone is going home with fish! I just can't tell you what kind of fish you'll catch! I can't tell you where you'll catch them! I can't tell you when you'll catch them!
This has been another week of wackiness. Had a great bunch of guys from the Granite Bay Group with me at the end of the week and they did what everyone should do now. They just went with the flow. Didn't stress about the fishing. No one's underwear got bunched up. If you stress, you're gonna mess up a perfectly good vacation! They hung with the plan and ended up going home Tuesday with good tans; grins from eating sushi and coolers stuffed with tuna, yellowtail, dorado, amberjack, roosters and cabrilla! In fact, on their last day, I had one of the best days of the season on the water.
As many groups do, the guys all do a jackpot for biggest fish. We'll they asked if I'd take the "kids" for the day! That included 11 year old Phil; 13 year old Adam; and 17 year old Brandon plus my pal, Dylan Miller. Are you serious? I get the kids? I think the dads all thought that might be a handicap or that it was going to be a headache for me. NO WAY! I told the dads that were were gonna kick butt! Had the kids talking smack too! 11 year old, Phil (the "nacho king"...I heard he ate about 10 plates of nachos during the week), almost got the JP with a big 21 pound dorado that was his first ever. Wound on the thing like a pro! By the end of the day "Team Jonathan" had 12 biters with nine dorado to the boat and I had these guys dialed in! During the flurries of fish, they were yelling things like "hot rail!"..."Coming down!"..."Go over me!"..."No angles no tangles!" Great great fun and thanks to Dylan Miller who played assistant deckhand for me!
As for the fishing itself, Las Arenas continues to be an enigma. The north point of Cerralvo is the most consistent, but still unpredictable. For several days, it's a pure honey hole of big tuna to 90 pounds, wahoo, sailfish, marlin, pargo and amberjack. Then it goes dead! Same for the lighhouse in front of Las Arenas. Every few days, we get a great jag of big tuna but mixed in, we also get yellowtail! Yea...yellowtail in the middle of summer! Outside in the Bay, if you find a spot of breezers, there's dorado to be found. The deal is, you just have to stick with it. Maybe one day, it's slack, but then, you'll have a banner day that just rocks and more than make up for the anemic bite the day before!
On the La Paz side, it had been raging with dorado. Then we had that summer flash storm late last week. La Paz gets a healthy 12 inches of stuff a year. The problem is, it all seems to come at one time and in the span of about 2 hours! Sheesh, what a mess! Anyway, the southern swell from the storm pushed our sargasso weeds well north by about 10 miles. Therefore, we were now hitting the sargasso up around the west side of Partida and almost due west of Isolotes (the seal rock). Again, however, nature yanks our chain. One day the waters are literally electric with HUGE dorado everywhere you look! It's just epic with every single rod on every single boat bendo and leaping big fish with their heavy bodies slapping flanks back in the water in big KA-BOOSH sounds and anglers screaming and laughing all over the place. I had that kind of day with Ann Kelly and her family one day; Vic Ochoa and Jeff Slater the next; and Ken Miller and his crew another day. Just dorado as far as you wanted to go and only limits and the end-of-the-bait supply putting and end to the dorado rodeo.
Then, the next day, we would go back to the EXACT same spot. Perfect conditions. Weed patches and blue water everywhere and you cannot BUY a fish. Troll troll troll. Throw bait. Throw iron. Nothing! Nada! Goose egged! Big helmet! (My guide credentials take hit!). Those are the days we really have to work the ocean like no-one's business!
Weird bite of the week...something is happening in La Paz bay. We're catching big dorado in the bay at times just offshore. However, we're also catching sierra? Uh...last time I checked we catch sierra in the wintertime when the waters are cold! Dorado like water that's 75 degrees and warmer...Hmmmm....I hear that theme song from the Twilight Zone...
El Bajo had a nice hammer session for a few days. Thought it was gonna take off. Big big tuna... the kind that curls your toes in your dreams were rolling and grabbing air out there. There were 150 pound fish IF you could get your bait through the 50 and 60 pound "little guys!" Then...it went slack on us. Full moon coming up too so we'll have to keep an eye on things!
OK, listen up...there's a few things you should note if you're coming down. ..
1. I keep telling you NOT to bring those huge coffin sized ice chests. One, they are too heavy and awkward to drag around. Someone can get hurt! Two, fill it and you'd better have your wallet handy for the excess charges. Clue: it takes 3 guys to lift a full 120 qt chest! You're limited to 70 pounds per checked in luggage. NEWSFLASH...Aero Cal is now charging and extra $20 just for having the big coolers aboard. When you check in with that big EMPTY cooler filled with nothing but air, have a $20 note in hand because they are going to charge you just for bringing it. FYI. A 50-70 quart ice chest when filled is just about 70 pounds and works just fine.
2. There's an abundance of stingrays and jellyfish in the water. The jellyfish are not a big big deal, but can give ya an ouchie for a bit. The stingrays are in the sandy areas and a whip of it's tail can end your vacation really quickly. Shuffle your feet through the sand when you walk.
3. Last call on the Extreme Light Tackle Tournament Sept. 4-8. Send us an e-mail fo details!
4. Hat's off and a moment of silence after the death this past week of a good amigo and one of Baja's greatest friends, cusses, bards and fishermen. Fred Hoctor, of Western Outdoor News passed away from heart attack.. To the end, he continued to kick my ass about my writing and trying always to be accurate and truthful. He was always supportive of me. One of the guys you thought would always be there. He'll be missed. He's probably tossing back shooters right now with Ray Cannon, Ernie Hemingway, John Steinbeck and a few of the other grizzled amigos...Salud! What a party that must be!
LA PAZ, MEXICO: HOTEL LAS ARENAS, Punta Arena de la Ventana, August 1, 2001, Linda Glassman-Davis, Reservations 888-644-7376. The weather was a bit inclement this past week. The remnants of a tropical storm caused heavy rain on Thursday and Friday. Some boats went out on Saturday and Sunday. Captains: Israel, Tony, Ramiro, Valente, Johnny, Ramon Lucero, Efren, Fidel and Daniel. Fish count: 15 Yellow fin tuna to 35 pounds; 12 Dorado to 20 pounds; 1 striped marlin, 180 pounds.
LA PAZ, MEXICO: FISHERMEN'S FLEET, La Paz, July 29, 2001, David Jones, Hotel los Arcos, Reservations 011-52-112-21313; Fax 011-52-112-57334. Well, if you'll recall, at last report things had started to get better, but had not come roaring back to a full on feeding frenzy. While we are somewhat short of frenzy still at this point things have continued to improve to the point where most of our fisherfolk are looking for additional ice chests at time of departure.
Dorado fishing out of La Paz had been very good for the last 10 days or so, with Juan, Robert, Eddie, and Miguel able to get limits of fish to 28 pounds on a daily basis. Darryl Bearson and Scott Busker, down from Ft. Lupton, CO, along with Todd and Cecil, had done moderately well at Las Arenas for a couple of days and then had decided to go forth from La Paz for a couple more. They went with Robert and Juan, and had a very good first day and a moderate second one.
The fish have been along current lines and on small patches of seaweed over the canyon that connects the north end of Cerralvo with Espiritu Santo. Red and Mike Ferrel, also from the area north of Denver had an exceptional day with Juan north of the city, taking Dorado to 35 pounds. They are seeing Striped Marlin each day as well. While all this was going on the fishing at Las Arenas began to improve in earnest. Dave Holsinger and his group hung in there and ended up with ice chests full of Dorado taken north towards Las Cruces and in the channel as well. Joe Frederichs along with friend David Angell, of Arden Hills Minnesota, and sons started to do well on Dorado as well. Joe and sons came to us again this year courtesy of Dale and Harry at Rod and Reel Adventures, and by day number three they had it pretty well cranked up. David and son scored well on day #3 with Tuna (4)and Wahoo (2) and a nice 30 pound Amberjack. All were taken on Rapalas off the south point of the island. They weren't the only ones, as Gary Roberts, of Alaska and Tennessee, also took a Wahoo along with Tuna. A couple of Sailfish were hooked, a few Pargo are in the freezer, all around a day that comes real close to what we expect for this time of year. The weather remains good, with temps to the lower hundreds, rising humidity, and some afternoon showers the last couple of days.
LORETO FISHING REPORTS
ALL ARTICLES, REPORTS AND FISHING INFORMATION FOR LORETO
LORETO, MEXICO: ARTURO'S SPORT FISHING, Loreto, August 1, 2001, Arturo Susarrey, Reservations Tel 011-52-113-50766; Fax 011-52-113-50022. WEATHER: This week we started with very good hot weather. Temperature 90-95. Water temperature: 80.
DORADO: There are a lot of them at San Bruno, south of Punta Perico, and 4 miles east of Coronado. Most of them are 15-25 pounds, with some 40-45 pounds.
STRIPED MARLIN AND SAILFISH: They are to the south of Puerto Almeja and in the same areas as the dorado.
LORETO, MEXICO: EL FUERTE SPORT FISHING, Puerto Escondido, August 5, 2001, Ty Miller, Reservations Tel 714-775-6658; Fax: 714-755-3501; Loreto 011-52-113-30863. Hola Gene. We are still alive and kicking! Our computer was hit hard with the Worm virus and we almost lost it all! Have been down most of july but are now back online. Have been swamped with work and it looks like the Dorado at this end are going to stick around for awhile.
MULEGE FISHING REPORTS
ALL ARTICLES, REPORTS AND FISHING INFORMATION FOR MULEGE
MULEGE, MEXICO: READER REPORT FROM RON GRANT, Mulege, August 3, 2001-- The weather holding at 100 degrees with high humidity. Great on the water with water temps in high 70s and low 80s. Water in the a.m. calm with some chop coming up about noon.
Lots of Dorado. Weed lines are had to find but little problem finding the fish. Hot spots in any direction from the light house. Fish between Punta Chivato to Tortuga Island and from the Point to San Marcos Island. Spot of choice is 60 to 70 degrees from the light house about 10 to 15 miles. That will put you off Punta Conception and the slide area 4 to 8 miles off shore.
Note lots of Marlin and Sailfish in area. Hear about several hookups and landings each day. Seem none at dock as all seem to be catch and release.
Fish hitting feathers (any color), cut or live bait when you find the schools. You should have your limits and be heading back in before 11 a.m. For the fly-ins, the runway at Serenidad is in good condition.
BAHIA DE LOS ANGELES (L.A. BAY) FISHING REPORTS
ALL ARTICLES, REPORTS AND FISHING INFORMATION FOR BAHIA DE LOS ANGELES
BAHIA DE LOS ANGELES, MEXICO: CAMP GECKO, Bahia de los Angeles, August 1, 2001, Abraham Vazquez, Tel 011-52-515-19454; Fax 011-52-665-03206 (goes to Guillermo's), satellite EMAIL direct to Camp Gecko at L.A. Bay. Hi, as you may well know,we have been working on setting up a website, that will work as an information tool for people that want to learn more about the camp and the general area of Bahia de los Angeles, as well as local news and events, current fishing reports, weather conditions, and other information you would need to make your stay in the bay more enjoyable. We invite you to visit us at http://www.campgecko.com and please make suggestions and submit questions as this is still a work in progress, and it will be our pleasure to optimize the website to the needs of our customers. Thank you, saludos, Abraham.
The weather has been nothing but spectacular, nice cool days below 90 and pleasant nights 74 degrees. The winds have been mild, mostly out of the southeast, with an occasional westerly at night in the north bay. The humidity has been around 60%, even less at times, cloudy a couple of days, rest clear skies. The water temperature has slowly been warming up again it is now 80-81, both in and out of the bay.
For the first part of last week there was still no dorado, the main catch was yellowtails, not many, (average 5 per boat) but of fair size, also some grouper, most caught with live bait, and some with the blue/white jigs, but to tell truth a little bit boring.
The water temp stayed about 76 most of the week and it stayed green. I don't know where the dorado go when that happens but we did not have any for 12 days. Finally yesterday we went out, with the purpose of catching yellows, the water had warmed up to 81, found a small sargaso paddy and it was loaded with 10-15 pound dorado, I mean loaded. They would grab everything you would throw at them. Most of them hooked on live bait, we did limits and left a wide open bite for another day, it was fun to see them back, hopefully this time they will stay longer, so as of Tuesday we have dorado again.
There is also an unusual amount of flying fish, the bait is still variable, but most of the time you are able to catch mackerel, there is also a lot of whales, mostly Minke and Bryde's inside the bay. Saludos, Abraham.
SAN FELIPE FISHING REPORTS
ALL ARTICLES, REPORTS AND FISHING INFORMATION FOR SAN FELIPE
SAN FELIPE, MEXICO: TONY REYES FISHING TOURS, 6-day Midriff Islands trip aboard the panga mothership, Jose Andres, Tony Reyes, Exclusive booking agent, The Longfin, 714-538-8010, REPORT OF AUGUST 5, 2001. Trip #16 out of San Felipe this season. Water temperature, 75 degrees. Fish count for the week: 279 spotted bass; 101 yellowtail 25-31 pounds; 26 red snapper 10-12 pounds; 23 cabrilla 8-12 pounds; 6 sheephead 6-8 pounds; 4 grouper 45-75 pounds; 3 dorado 10-15 pounds; 2 broomtail grouper 10-17 pounds; 1 leather bass 21.5 pounds; 1 shark 20 pounds.xt
MAZATLAN FISHING REPORTS
ALL ARTICLES, REPORTS AND FISHING INFORMATION FOR MAZATLAN
MAZATLAN, MEXICO: ARIES SPORTFISHING FLEET, Mazatlan, August 5, 2001, Larry Edwards, Cortez Yacht Charters, Reservations 619-469-4255. The full moon phase resulted in significantely slower fishing this past week and it is likely that it will take a few days to recover. Lots of sailfish were reported in the calm waters, but the sleepers seemed to have eaten all night and were disinterested. Only a single yellowfin tuna was reported, taken by angler Ed Huett, Los Angeles, CA, fishing aboard the Aires I, an 88-pounder. The same angler group also landed a sailfish. Overall counts reflected 11 sailfish, 1 wahoo, 1 yellowfin tuna, and 72 dorado. Mazatlan weather was partly cloudy with some rain in the foothills, but overall, easy to get a suntan with temperatures in the 90s. Sea conditions remained calm with some south swell. Water temperatures in the 80s. Best fishing area was 14 miles south of Marina El Cid on heading 180 degrees. Best lures were rigged trolling baits on sailfish, and live bait on dorado.
IXTAPA ZIHUATANEJO FISHING REPORTS
ALL ARTICLES, REPORTS AND FISHING INFORMATION FOR IXTAPA ZIHUATANEJO
IXTAPA ZIHUATANEJO, MEXICO: IXTAPA SPORTFISHING CHARTERS, Ixtapa-Zihuatanejo, August 5, 2001, Larry Edwards, Cortez Yacht Charters, Reservations 619-469-4255. It appears that the oncoming full moon slowed the fishing pace down last week in Ixtapa-Zihuatanejo. All of our captains reported sighting many sailfish and schools of tuna but they also reported a reluctance by the fish to bite. This is a major shift from the wide open action that has dominated the fishing for just about this entire summer. We are still seeing a mixed bag of species as marlin, sailfish, tuna, shark, and an increasing number of dorado are being reported. The blue water has moved to the 10-mile mark. Captain Vito Lara of the Suerte Ruby reported 2 sailfish, 2 dorado, and 4 shark, while Captain Chiro on the Yellowfin II landed 2 sailfish and pulled the hooks on 2 others. Captain Lenny Alzarez on the R3 Marias II landed 4 tuna to 60 pounds while hooking no billfish and landing one 25-pound dorado. Father, Miguel, landed 1 sailfish and lost 1 marlin fishing aboard the El Soltar. Inshore good numbers of roosterfish and jacks continue to be reported however the inshore bite has also slowed down. Sea conditions moderate. Best fishing area scattered 10-15 miles offshore. Bait supply is good.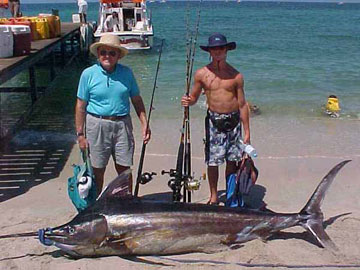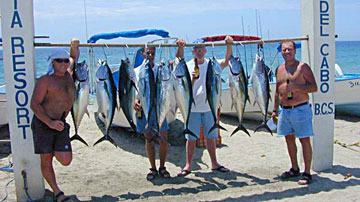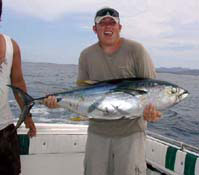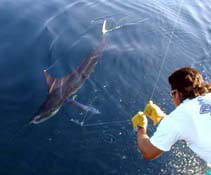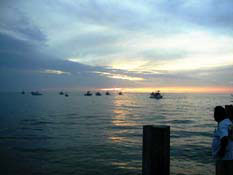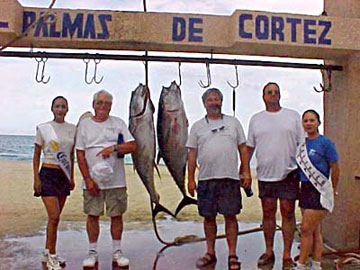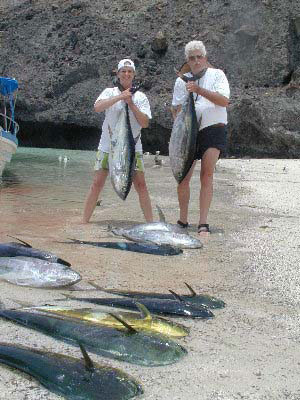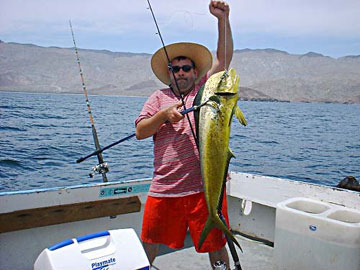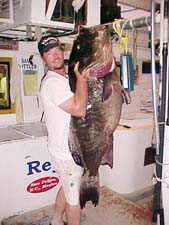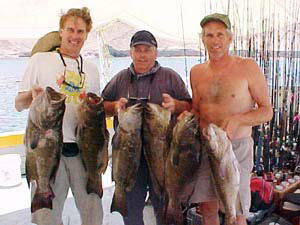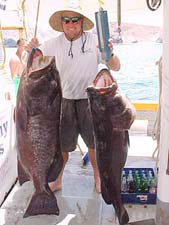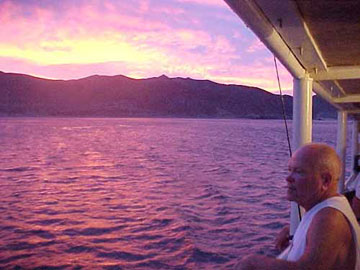 Baja coastal fishing reports and articles.
Ensenada fishing reports and articles.
Puerto Santo Tomas fishing reports and articles.
Erendira fishing reports and articles.
San Quintin fishing reports and articles.
Magdalena Bay fishing reports and articles.
Cabo San Lucas fishing reports and articles.
San Jose del Cabo (Los Cabos) fishing reports and articles.
East Cape fishing reports and articles.
La Paz fishing reports and articles.
Loreto fishing reports and articles.
Mulege fishing reports and articles.
Santa Rosalia fishing reports and articles.
Bahia de los Angeles (L.A. Bay) fishing reports and articles.
San Felipe fishing reports and articles.
Rocky Point (Puerto Penasco) fishing reports and articles.
San Carlos (Sonora) fishing reports and articles .
Mazatlan fishing reports and articles .
Puerto Vallarta fishing reports and articles.
Ixtapa Zihuatanejo fishing reports and articles.
Huatulco fishing reports and articles.
Cancun fishing reports and articles.
Mexico coastal fishing reports and articles.
Mexico Fishing Home Page < Mexico Fishing News Archives < Fishing Report