Over the weekend the big marlin really went on the bite. The Outer Gordo Bank was the spot to be and trolling with larger-sized live bait, like skipjack, bolito, or yellowfin tuna proved to be most effective. Several black marlin to over 500 pounds were landed and many even larger ones were lost after extended battles. One black marlin of an estimated 800 or more pounds was lost after a marathon of more than 9 hours when it finally wore through the 400-pound leader. Angler Todd Clarke from the Dana Point area was fishing with panga skipper Marcelo Gonzalez. They did catch the monster jumping on video several times. The last time Clarke was fishing out of a panga he caught a 200-pound tuna. He will have to land the big marlin another day. He sure does have a hell of a fish story about the big one that got away.
In other mainland Mexico and Baja fishing action this week:
ENSENADA FISHING REPORTS
ALL ARTICLES, REPORTS AND FISHING INFORMATION FOR ENSENADA
ENSENADA, MEXICO: LILY FLEET, Ensenada, August 27, 2001, Sammy Susarrey, Reservations Tel/Fax, 5 to 9 p.m., 011-52-617-46747; Cell 011-52-618-67485. Today the Amigo fished for tuna with 4 anglers reporting 5 albacore to 20 pounds, 2 dorado to 20 pounds, 10 yellowtail to 12 pounds. Fishing was 28 miles out on a heading of 250 degrees.
The Lily fished locally with 3 anglers reporting 8 yellowtail to 12 pounds, 9 big bonitos to 10 pounds, limits of medium barracuda.
AUGUST 28, 2001-- Today the Amigo fished outside with 4 anglers reporting 13 albacore to 15 pounds, 2 dorado to 20 pounds, and 2 yellowfin tuna to 40 pounds. Most fish hit very small feathers, green/yellow and red/white.
The Lily fished locally with 2 anglers reporting schools of bonito and yellowtail 2 miles outside Todos Santos Island. They caught 3 yellowtail to 15 pounds, 7 bonito to 10 pounds, and 8 nice lingcod at Todos Santos Reef. The surface fish hit small Rapalas, purple/black and clown colors.
AUGUST 29, 2001-- Today the Amigo fished with 4 anglers reporting 26 albacore to 15 pounds, 2 yellowfin tuna to 30 pounds at GPS numbers 31.31/117.05. It was an excellent fishing day, calm weather, trolling red/yellow and Mexican flag colors.
ENSENADA, MEXICO: GORDO'S SPORTFISHING, Ensenada, September 1, 2001, Erick Ptacnik O, Reservations 011-52-617-83515; 011-52-617-82377. Fishing is very good. A lot of bluefin and yellowfin tuna and dorado, from 2 miles outside of Todos Santos Island to as far as 12 miles.
MAGDALENA BAY FISHING REPORTS
ALL ARTICLES, REPORTS AND FISHING INFORMATION FOR MAGDALENA BAY
MAGDALENA BAY, MEXICO: BAJA ON THE FLY, San Carlos, September 1, 2001, Gary Graham, Reservations Tel 800-919-2252; Fax 760-746-7260. Temperatures: 84-degree high; low 73. Thankfully, the weather has settled down. MARLIN--Best reports coming from the Thetis Bank area. DORADO--Good fishing with a few larger fish showing as well. TUNA--Seven to eight miles northwest of the Thetis is the best bet. YELLOWTAIL--A few at the entrada (entrance) with better reports from the Thetis Bank area. CORVINA--A few near the bridge and up by the power plant. SNOOK--No one targeted them this week. SIERRA--Almejas Bay dried up and the fish seemed to scatter. PARGO & GROUPER--Several good sized grouper caught above Lopez Mateos.
QUICK COMMENT--Unsettled conditions early in the week kept most of the boats in. Weather has calmed down and several boats reported good fishing near Thetis Bank.
CABO SAN LUCAS FISHING REPORTS
ALL ARTICLES, REPORTS AND FISHING INFORMATION FOR CABO SAN LUCAS
CABO SAN LUCAS, MEXICO: PISCES FLEET, Cabo San Lucas, August 28 2001, Tracy Ehrenberg, Reservations Tel 011-52-114-31288; Fax 011-52-114-30588. BILLFISH: We've got pretty great fishing in Cabo right now--with an overall catch success rate of 94 percent for all species combined. However I should add that dorado is by far the most dominant fish. A little over 40 percent of charters got billfish this week, with the majority of the catches earlier in the week, slowing down a little as we got towards the end of this period. The biggest fish we had for this week was a 400-pound blue marlin aboard Tracy Ann, which died during the fight. The angler on this fish was Bud Loy of Grapevine, Texas--in fact this group of Texans consisting of Lyle Turner, Paul Myrick, Greg Carver & Chris Braun, did exceptionally well on their two-day trip with Pisces, totaling 5 blue marlin, 2 striped marlin and 7 dorado aboard Tracy Ann and Rebecca. Speaking of Rebecca, angler Rick Walsh mentioned a couple of weeks ago, had been officially recognize by IGFA for his Offshore Super Grand Slam for the fish he caught on August 8th--1 black marlin, 2 blue marlin, 1 striped marlin & 1 sailfish--congratulations. Kirby & Kimberly Rollins from Victoria, Texas (again), had an enviable day on the 22nd, releasing 2 blue marlin and catching 15 dorado (some were released). David Lipson from Palo Alto, CA out on Rebecca on the 24th caught 3 striped marlin and 4 dorado--not too shabby. Most of the fishing this week was on the Pacific side and at times very close. I was out on Valerie last Sunday and we were fortunate to release a blue marlin and 15 dorado (small ones released) less than an hour out of Cabo. Boats fished from the Lighthouse to Golden Gate, which is quite unusual at this time of year as is the variance in water temperature. The area where we caught our fish was 79.5 degrees, but Salsa our 70-foot Hatteras, fished off of Chileno on the 24th and reported 90-degree water. The Larry French party from Reno, fishing this day had 4 blue marlin strikes and 2 hook-ups, resulting in the release of 2 fish, estimated at 225 and 300 pounds. All of our blue marlin were taken on lures this week. Pisces Fleet caught a total of 13 blue marlin this week, of which 12 were released, 2 sailfish, one boated at 90 pounds and 8 striped marlin, all but one released.
OTHER SPECIES: Dorado, were thick this week, though most of the fish were on the small side at 8 to 20 pounds. Live bait, really got them going, but lures worked too, spread over a wide area, but the area around the lighthouse the best. Boats averaged anywhere from 1 to 15, but a lot of these fish were released. Yellowfin tuna catches were not abundant, but Robert Turegano, fishing Karina on August 28th, was thrilled with 100 pounder that took a live bait off of the lighthouse. There were some other fair-sized tuna, that were 50-60 pounds. Some wahoo this week but on the small side at 30-40 pounds. A correction on last week's report the 58-pound rooster, was caught by 13-year-old Ben Sandler, not dad Larry.
WEATHER CONDITIONS: Seas, calm, no wind, skies partially cloudy. LOCATION: Some boats off of Chileno, but most went to Pacific between the Lighthouse and Golden Gate. AVERAGE WATER temperature: 82 degrees. BEST LURES: Live bait for dorado, stripes and sails, blue marlin took assorted lures.
CABO SAN LUCAS, MEXICO: PICANTE FLEET, Cabo San Lucas, September 1, 2001, Sergio Cortes, Reservations Tel 011-52-114-32474; Fax 011-52-114-35969. Fish available: striped marlin, blue marlin, wahoo, tuna & dorado. Water temperature 84-89. Air temperature, 88/77. Humidity 67%. Winds 8-10 knots. Fleet production (5 boats): 2 blue marlin, 11 dorado, 1 sailfish and 8 yellowfin tuna. Hot spots: Golden Gate (Pacific Ocean). Luckiest boat: Picante Expresso (31-foot CABO). Captain: Eulogio Zumaya. Angler: Auto Link Inc. Production: 1 sailfish, 90-pounds (released), 1 dorado 58 pounds. Top fish: 110-pound wahoo caught by Nick Jourdan on August 7th; 280-pound yellowfin tuna caught by Edward Little on "Shameless" on August 26th.
CABO SAN LUCAS, MEXICO: FLY HOOKER SPORT FISHING, Cabo San Lucas, August 27, 2001, Capt. George & Mary Landrum, Reservations Tel 011-52-117-01271; 011-52-114-87452. A very hot week in Los Cabos as we saw the temperatures at times climb to over 100 degrees. The evenings have also been hot with the coolest this week at 83 degrees. One of the things that has made it bearable has been the humidity staying low for most of the time. We have been averaging about 55% humidity and there has been very little cloud cover except for the 26th. We had a bit of clouds and rain today, just enough to dust off the plants! This was brought to us by the passage of a tropical depression to the south of us. It also brought in about 7 hours of winds from the south east at 20-30 knots, enough to make the water a bit choppy in the later half of the morning.
WATER: The surface temperatures have been ranging from 82 to 87 degrees, with the cooler water being on the Pacific side from the lighthouse out to San Jaime and up to Golden Gate banks. Everywhere else has been about 85 degrees and the water has been very nice and blue. Excellent fishing conditions with just a slight breeze most of the time to keep the surface a bit broken, except for Sunday when we saw a very broken surface!
BAIT: Most of the bait available has been Caballito and it has been the usual $2 per bait. There has been no shortage of mullet either and the same price applies. Very few mackerel are to be found and I have no information on the availability of sardinas.
BILLFISH: The Blue Marlin are biting very well and most of the boats that are trying for them are having excellent luck. Almost any area you go to has had them around and the favorite lures have been larger 14 inch plungers in blue/pink, blue/black and red/yellow. There are still striped marlin around, mostly on the Pacific side in the cooler water and they have been attracted to smaller 9-12 inch lures in the same colors plus Mean Joe Green. The blue marlin have been averaging about 250 pounds and the striped marlin at 120 pounds. A few black marlin have been found so far this year and they have all been in the 300-500 pound range, nice tournament fish!
YELLOWFIN TUNA: A few scattered football fish have been found with the dolphin and there have been fish scattered about close to shore, but I have not seen any this week that would have gone over 50 pounds. This is not to say none have been caught, but no one I have talked to has seen any larger than that. The largest concentration of tuna has been up just south of Gordo Banks and out at the Jaime Banks. Best bets for them have been cedar plugs and a few boats have had very good success with small feathers in bright pink.
DORADO: These fish have been the bread and butter of the charter fleet this week. Every boat that has come in has been flying dorado flags and most of them are able to limit out on these great eating fish. A few of the boats have been very greedy and have been exceeding the limits on a daily basis, the fish are that thick out there right now. Most of the dorado have been 12-15 pounds and there are the few that go up to 50 pounds. Slow trolled live caballito have been the ticket for the larger fish and using the first fish as a decoy and working bait strips has been the hot method for the schoolies.
WAHOO: There were a few wahoo caught this week and most of them were caught as an incidental fish. A couple of boats targeted the wahoo and had some success but it was not a wide open bite. Most of the action came from the Pacific side and the Jaime Banks plus the ledge off the lighthouse seemed to be the best producers. There was no favorite lure used as they seemed to strike almost anything.
INSHORE: Dorado and tuna along with a few amberjack and a lot of smaller roosterfish seemed to make up the bulk of the action. By smaller roosterfish I mean fish in the 15-20 pound class, but there have been some very nice fish up to 65 pounds taken this week. A few of the pangas have caught blue and striped marlin as well.
CABO SAN LUCAS, MEXICO: HOTEL SOLMAR SUITES, Cabo San Lucas, August 30, 2001, Dick Wilkes, Reservations Tel 800-344-3349. Dorado continued to sizzle this week for the Solmar Sportfishing Fleet, according to fleet manager Rene Santa Cruz, with billfish showing a shyness toward rod and reel to frustrate the "big ticket" anglers at Cabo.
Although weather conditions were generally bright and sunny most of the week, the area did experience two days of rain welcomed by landlubbers, seas were slightly choppy. Once again, panga anglers cheered the location of most fish, close to shore, 3 to 5 miles out, and on the swing from the Old Lighthouse on the Pacific to Palmilla on the Cortez.
Taking the cruiser route, Jim Collmeyer, St. Louis, MO, chartered Solmar's newest fleet addition, 33-foot Owens Solmar II, for longer-range fishing, and taking a 320-pound blue marlin while trolling a bonita. The hook-up was 18 miles south of El Arco, and the fight was one hour; Collmeyer and friends then spent their boat hours bagging 13 dorado in the 20-35 pound range.
Tom Atherton, Huntington Beach, CA, found success in the same area 18 miles off El Arco, with a 340-pound blue, topping that off with 4 dorado and 2 yellowfin tuna, close in to the Old Lighthouse. Another "blue" angler, Tony Jenkins, Kirkwood, MO, released his 230-pounder, also close to the Old Lighthouse; his fight was for 40 minutes, and his lure was blue/yellow.
On the "other coast," five miles off Palmilla, Chao Chung Ting, Walnut Creek, CA, live-baited a 120-pound striped marlin successfully, and finished his day with 4 dorado of 20-30 pounds, using green feathers. Max Pasch, Dublin, CA, on the San Lucas VII, avoided boredom by releasing 6 small dorado, taking a 90-pound "keeper" home, together with a 60-pound yellowfin tuna.
Other smiling Solmar anglers included: Nathaniel Muraki, Orange County, CA., a deep sea beginner, caught and released a 200-pound blue, 11 miles off the Old Lighthouse, using a green/black lure on the San Lucas IV; New Mexico angler Les Buchanan, on Solmar VI, released a 220-pound blue, and bagged 10 dorado, located 5 miles off Chileno Bay.
CABO SAN LUCAS, MEXICO: GAVIOTA FLEET, Cabo San Lucas, August 31, 2001, Larry Edwards, Cortez Yacht Charters, Reservations 619-469-4255. Despite a midweek rainy spell and south swell, the dorado action escalated to the highest counts for the year. There were times when it was difficult to get past the dorado to catch a billfish, but for those that did, the rewards were good. Largest fish for the week was a 400-pound blue marlin taken by Los Angeles angler, Chris Talamanses, fishing aboard the Gaviota IV, followed by a 350-pound blue marlin, taken by Downey, CA angler Dr. Perez, fishing aboard the Gaviota III. Dr. Perez also released an estimated 200-pound striper and captured 11 dorado. Gaviota III also released another big black marlin for an unnamed angler, estimated at 450 pounds. Overall counts reflected 4 black marlin (3 released); 7 blue marlin (5 released), 4 striped marlin (2 released), 4 wahoo, 27 yellowfin tuna, and 241 dorado.
We had a couple of rain-wet days but are now back to good weather. Murky waters close in caused by the rain runoff, but good blue water a couple of miles offshore, south swell, very little wind, water temperatures in the 82-84 range.
Best fishing area made an abrupt switch to the Jaime Bank on the Pacific side of Cabo and 16 miles offshore. Most of the blacks and blues were taken on artificials. Dorado taken on whatever moved in the water, including cut bait.
CABO SAN LUCAS, MEXICO: BAJA ANGLERS, Cabo San Lucas, September 2, 2001, Grant Hartman, Reservations 888-588-3446. Fishing continues to be very good this last week for all offshore species, just ask Mike Contreas. Mike's a tournament fisherman, and wanted to try his luck at some live bait fishing for really big marlin. A good friend Evan Browne wanted to come along for the fish. The three of us fish the local tournaments together.
The first day out was unsuccessful. We trolled live dorados around all day without seeing a big fish, except that we had 4 to 10 schooling dorado following our boat all day.
On the second day we headed out to a local bank and dropped a live skipjack into the water. A few minutes later a striped marlin ate the bait, but the bait was too big to swallow and he spit it out on the first jump. Just as well, we were after bigger fish!
We soon caught a tuna and had it bridled and back in the water within seconds. Ten minutes later a fish struck the line. We had a idea it was a big fish, because it swallowed the bait whole on the initial strike.
Mike, a world class angler, uses standup 130-pound test rods and reels for the big fish tournaments, and this was practice time for Cabo's Bisbee's tournament this fall.
Many of my readers would feel that 130-pound tackle is a bit overkill, but Mike has landed 2 marlin over 1,000 pounds using his gear. Not many fisherman in the world can handle standup 130 rods. There is a great amount of strength and stamina needed to fight fish this way. Mike accomplishes this by working out twice a day to keep in shape.
Now, the fish is hooked and pulling 40-pounds of drag off the reel at a incredible rate. Are we hooked onto a fish or trident submarine? Big fish! This fish is absolutely amazing, he must be huge to assert this much constant pressure. The grind is on, Mike has his center of gravity very low and his muscles are taught and straining trying to control this monster of a fish. Halfway through the battle the fish pulls Mike off his feet and Mike crashes onto the deck with a bang and blood gushing out of his mouth (the reel smashed into his mouth, no teeth broken this time). The battle wages on with the fish never jumping, just fighting down deep and hard. We are guessing that the fish is a black marlin, a black typically fights like this and are known for their unbelievable strength and ability to fight for hours without giving up. After a hour, Mike finally turns the fishes head toward him, a real breaking point in the fight. Mike pushes the drag up to 60 pounds or more and goes to work on the fish with every muscle in Mike's body straining to the breaking point. The fish slowly rises, but the fish is so strong and heavy that it's pulling our 26-foot Glacier Bay boat over on top of him while the boat is in forward gear. It's a chore just to keep the fish away from the boat as he rises to the surface.
We finally see the shadow of the fish. HUGE! The swivel is close to the rod tip, when the hooks pulls out of his bill. We keep a short drop back on our baits so we hook them in the area of mouth, no gut hooked marlin for us. It cost us the release (a release is the grabbing of the leader by the mate or when the swivel touches the rod tip). Only a technicality for us, that fish was released even before he took the bait. How big, we estimated the black at over 800-pounds. Quite a fish for a man standing on the deck of a boat with only a rod in his hand and the will to fight.
On the way home we saw a large school of good sized yellowfin tuna breezing on the surface and caught 6 up to 50-pounds on 20-pound test light tackle before calling it quits on a perfect day.
Hurricane Flossie threw some thunderstorms our way, giving us much needed rain, but the ocean was comfortably fishable everyday.
Fishing for blue and black marlin has slowed down a notch, but is still very good world class fishing. You should get at least 1 to 2 shots a day if you target them. The striped marlin and sailfish are hanging out at the old lighthouse in good numbers.
The dorado are here in plentiful numbers. Most fish are under 20-pounds and great fun for the fly fishing enthusiast. Yellowfin tuna up to 60-pounds have moved back into the area. The tuna are holding under the porpoise. Find the spinner dolphins and you will find the tuna.
Inshore fishing continues to be good for roosterfish and jacks, but they will soon migrate out of our waters and will return in the late fall as the cooler water moves back into the Cabo area.
Summertime is generally our slow season and not a lot of anglers visit Cabo, but summertime can certainly show off some of our best fishing. If you can handle a little heat ( much like Houston, Texas ) Cabo is a great summer vacation. Airfares are low, there are many discounts on the hotels to be found and the fishing is absolutely great!
SPECIES OVERVIEW (0=slow, 10=good):
DORADO (7-8) The dorado fishing is the same as last week with plenty of fish around. Most fish are smaller fish under 20-pounds, but some big fish can be found with a little luck.
WAHOO (2-3) Again a few fish being taken by accident while fishing for marlin.
JACK CRAVELLE (4) The fish are mixed in with the roosterfish.
TUNA (5-6 ) Nice sized fish are holding under the porpoise. Smaller fish under 20-pounds are hanging off the old lighthouse, trolling small hoochies is the best bet.
MARLIN (Blues & Blacks) (6) Plenty of fish around. It,s been really good fishing.
STRIPED MARLIN (3-4) The stripers are located closer to shore, 1 to 4 miles out, and they are hungry.
CUBERA SNAPPER (2) A few around the rocks, but not much happening..
ROOSTERFISH (6) Amazingly, they are still here. They normally leave here once the water warms up, returning when the water cools in the fall. Nice big roosters are holding on the Pacific side.
SHARKS (5) Still plenty of sharks around following the schools of roosterfish.
SKIPJACK & BONITO (4 ) We are catching some skipjack off our arch early
in the morning.
SPANISH MACKEREL (0) The macks will return once the water cools off in the fall.
A timeless reminder Baja Anglers proudly supports a catch & release policy on all billfish and all roosterfish, with the exception of world record potentials.
EAST CAPE FISHING REPORTS
ALL ARTICLES, REPORTS AND FISHING INFORMATION FOR EAST CAPE
EAST CAPE, MEXICO: BAJA ON THE FLY, Buena Vista, September 1, 2001, Gary Graham, Reservations Tel 800-919-2252; Fax 760-746-7260. TEMPERATURES: High of 96 with a low of 80. Light winds and few clouds. STRIPED MARLIN--Only a few reported this week with a couple of small blues as well. YELLOWFIN TUNA--Good catches continue in front of La Ribera. DORADO--Lots of smaller fish outside Punta Arena with a few grandes sprinkled in. ROOSTERFISH--Still a fair showing from Rooster Alley to La Ribera. JACK CREVALLE--La Ribera to the lighthouse seems to be the best area. BARRILETE OR MEXICAN SKIPJACK--A few scattered outside of La Ribera. PARGO AND CABRILLA--Several larger fish reported in front of Rancho Leonero
OFFSHORE: With few billfish, the tuna and dorado have provided most of the action this week. INSHORE: Best bet for roosterfish, dorado and jacks was down toward the lighthouse. BEACH: From La Ribera to Punta Arena produced the best action for roosters and jacks. The rocky points near Punta Colorada produced a few cabrilla and pargo.
QUICK COMMENT--We are back up in California and will be attending the Fly Tackle Retailers Exposition in Salt Lake City, Sept. 6-8. We will be introducing the latest book, The No Nonsense Guide to Fly Fishing Magdalena Bay at the show. We always look forward to the show and seeing old fly-fishing friends. For those of you that know me, if I am not fishing I am on the computer and I just got a new blow-your-doors-off laptop that will allow me to do some really trick presentations at the upcoming shows. I can now do mixed media presentations with video, stills and music all in the same program. Should be almost as good as a snook take at Magdalena Bay.
EAST CAPE, MEXICO: RANCHO BUENA VISTA, Buena Vista, September 1, 2001, Tamara Moyeous, Reservations 800-258-8200. Dear Gene: This week was quiet at the Rancho, but 8 boat trips netted a large total of fish. 65 dorado, 90 tuna, 2 wahoo and 1 pargo. Weather is lovely, with air temperatures in the low 90s, water temperatures still 85 degrees. Dan Connole, Denver CO, Ken Brinkmann, San Diego, CA, and Gary & Zach Wilson, Parker, CO wore themselves out catching this week's fish. Best regards, Tami.
EAST CAPE, MEXICO: RANCHO LEONERO, Bahia de Palmas, September 1, 2001, John Ireland and Roy Baldwin, Reservations 800-646-2252; Hotel 011-52-114-10216. Continued typical late summer weather, with daytime highs in the mid 90s, morning lows in the upper 70s, mostly sunny skies, flat mornings with afternoon breezes, and warm water temperature about 88 degrees. The fishing is at a peak, with all species biting aggressively, with lots of bait in the water. Coastal Kayak Fishing groups have been taking dorado, tuna and big pargo to 30 pounds this week.
Billfish--A strong blue marlin bite off Punta Arena (largest 370 pounds), with stripers and sails biting throughout the bay. Petrolero and green/black lures producing best.
Tuna--Fisherman are taking advantage of boiling tuna off La Ribera, with most boats limiting out early. Fish to 45 pounds taking mostly live sardinas.
Dorado--A wide open bite on schooling fish averaging 20 pounds appearing all over the bay, with larger solitary bulls to 55 pounds taken outside, with live & dead sardinas, pink/blue hoochies working best for the schooling fish, while marlin lures are producing the bigger fish outside.
Wahoo--A strong bite continues north from El Cardonal to Muertos Bay, as well as south off Los Frailes, with fish to 50 pounds taking dark colored Marauders and Rapalas.
Roosterfish--The exceptional bite at Los Frailes continues, with anglers releasing numerous fish over 60 pounds, taking large live bait.
Angler of the Week--Jim Earhart of Walnut, CA, while fishing 3 days on a cruiser, took a 370-pound blue marlin and limits of tuna and dorado.
EAST CAPE, MEXICO: EAST CAPE SPORT FISHING, Los Barriles, September 2, 2001, Dave Dixon and Gil Mendiaz, Reservations 800-837-1556; Fax 805-493-5446. Hi Gene. The big change over the past week has been the resurgence of dorado, with several reports of multiple fish over 40 pounds. The big bulls are being taken both on the troll with marlin lures, and on live bait at the shark buoys. The two schools of yellowfin (small fish inside, big fish outside) continue to work up and down the fishery. Anglers have had to travel 50+ miles in some cases to get to the big fish, but are rewarded with a consistent bite on 60-100+ YFT. Again, bring lots of small bait for chum, big bait for the peludas, and work those hoochies!
Billfish are spread all over, with petrolero being the color of choice. Sea surface temperature maps continue to show considerable activity, with lots of "boiling" and small breaks throughout the fishery. The only major break (as of the last complete map Aug. 23) was NE of Isla Cerralvo. Inshore, anglers on boats, kayaks, and even from the beach continue to nail roosterfish, smaller amberjack, and jack crevalle, with bigger pez fuerte (amberjack) available in deeper water.
Notable Catches James Lewis and his party of two from Midland, Texas, scored big in three days of fishing, with 6 striped marlin (released), 8 dorado 40-60 pounds, and 6 yellowfin to 80 pounds. All marlin and 2 of the dorado were taken due East from Los Barriles, with 2 marlin on blind jig strikes (petrolero) and the other 4 taken on the bait-and-switch.
Capt. Dave Milewski's party of 3, visiting from the Orange County Sheriff's Department, nailed 2 marlin (released), 1 sailfish, 4 big bull dorado, and 5 tuna.
EAST CAPE, MEXICO: HOTELS PALMAS DE CORTEZ, PLAYA DEL SOL, PUNTA COLORADA, East Cape, August 30, 2001, reported by Shannon Moe, and by Dave "Smokey" Manuel of East Cape Smokehouse, Hotel Reservations, 800-368-4334. Water Temperature, 80-86. Air Temperature, 101/80. Boats out, 111. Fishing results: blue marlin, 3; striped marlin, 6; black marlin, 1; sailfish, 4; dorado, 299; yellowfin tuna, 450; pargo, 6; wahoo, 7; amberjack, 0; triggerfish, 0; pompano/cabrilla, 0; roosterfish, 10.
The East Cape experienced unsettled weather throughout most of the midweek period. A tropical depression, which later was upgraded to Hurricane Flossie, passed to the south of us earlier in the week and with it came associated cloud cover and localized weather cells reaching up to the East Cape. The storm never got close enough to cause any concern whatsoever here because it remained well south of the tip of Baja, moving east and away from the East Cape. Anglers experienced several localized spots of dense cloud cover, occasional rain, gusty winds and spots of rough water, but most were short lived and had little effect on fishing overall.
Currently, we are, give or take, about two thirds of the way through our tropical storm season and so far folks, it's been real quiet down here. Nothing has moved up north far enough to affect us yet, and besides a couple of quick moving squalls, it's has been a tame and dry summer. Normally during the hot summer months, the mountains to the west of Los Barriles and Buena Vista experience almost daily thunderstorms and short, but heavy rainfalls, however this year these common storms have been infrequent. Those of you that visit and never leave the beach may believe it's dry and brown here year-round, but these rains normally turn the surrounding mountains into a green tropical landscape, full of flowering cacti and blossoming trees and vegetation. Not so much this year, not yet anyway.
Fishing during the midweek period changed little from the previous week. tuna and dorado remain in abundant supply, billfish species are scarce. Very few charters are heading in any direction other than east or south, the waters up north off Punta Pescadero up to Cerralvo Island have been nearly vacant all week.
The tuna continue to be taken both by locating and trolling in schools of porpoise and also in a relatively stationary bite just off La Ribera using sardines while drift fishing. Generally, most of the tuna taken in that bite off La Ribera continue to be on the small side, running around 8-25 pounds, but the numbers of fish available are good. The porpoise schools are producing bigger fish overall, but the averages have decreased continually over the last few weeks. Most of these fish are running 25-45 pounds, with several "tag alongs" running 50-60 pounds and an occasional grande. The biggest we saw this week was 135 pounds. Charters are having the best luck locating these porpoise schools on the outside from about 20 miles to past 30 miles, starting straight east of Los Barriles and down as far as Destillideras.
Dorado numbers continue to be good also, although sizes remain on the small side still. The dorado bite has spread out some, with reports still coming back from that hot spot down south at Destillideras, but other spots closer off Cabo Pulmo, Punta Colorada and La Ribera are also producing. The best numbers are coming from drift fishing with sardines on top of dorado schools, but these schools contain few big fish. The few big ones caught have been blind strikes on trolled lures.
A few wahoo also trickled in this week. Fishing for blues, sails and stripers has been bleak. As always, there have been a few caught, but overall the last few days continued with a slow down on all billfish species.
EAST CAPE, MEXICO: MARTIN VERDUGO'S BEACH RESORT, Los Barriles, September 2, 2001, Alma Rosa Cota, Reservations 011-52-114-10054. Hi Gene. This week the boats caught yellowfin tuna, lots of dorado 25-30 pounds, 2 wahoo and few bill fish, all released. Marisol.
EAST CAPE, MEXICO: VISTA SEA SPORT, Buena Vista, August 30, 2001, Mark Rayor, Reservations, 011-52-114-10031. East Cape diving conditions: Visibility 80-100 feet plus. Water temperature: surface, 90; at depth, 84. Currents mild. Punta Perico, Cerralvo Island and dive sites to the north have the best conditions at this time.
LA PAZ FISHING REPORTS
ALL ARTICLES, REPORTS AND FISHING INFORMATION FOR LA PAZ
LA PAZ, MEXICO: JONATHAN ROLDAN'S TAILHUNTER ADVENTURE SERVICES, La Paz, September 2, 2001, Jonathan Roldan, Tel 626-333-3355; Fax 626-333-0115; Pager 323-349-8111; Message Pager 877-310-7734. Wouldn't you know it? Given the up and down year we've had, we might be having some of the most consistent fishing of the season right now and guess what? No one is here to enjoy it! Crowds are down. Anglers have left. Johnny needs a new pair of $150 Air Jordans for school and there goes a fishing trip! Understandable, but it's too bad that many anglers miss what is often the best time for fishing in Baja, namely the late summer and early fall! We've had some good and bad days this season and everyone has gotten fish, but there are days when we have really had to bang and hammer to put fish aboard for everyone. Sometimes, the fishing pressure for a limited number of fish in the water made it extremely difficult at times. However, like I keep saying, by the end of their trip everyone usually went home with a cooler or two of fillets. However, there are days right now when you MIGHT just be the only boat on the water! How good is that?!!!!
Las Arenas is still a bit enigmatic, but not because of poor fishing. On the contrary, fun football tuna fishing paced this past week as well as some pretty decent dorado fishing. This is perfect light tackle fishing stuff! The problem, if you can call it that, is that again, the tuna bite one day and the dorado the next and the two fish are not located in the same place! So, we get into a good snap of tuna at, say,the south point of Cerralvo. We go back the next day expecting more of the same and we get goosed! We have to shoot back towards Punta Perrico or El Castillo to save the day with some decent dorado fishing! Next day we head to Castillo or Perrico and the dorado get lockjawed! OK...then it's off to find tuna which have decided to chew again! Heck, that's fishing! Nice thing is that skies are hot and water is finally blue and warm! Be prepared to buy bait, however, or go make it at the islands! Still some billfish and wahoo around, but really hard to get a good read. There aren't enough anglers canvassing the area and fishing all the usual spots to get a good handle on what's out there. Let's just say that everyone is catching fish with our Las Arenas boats and that's ALWAYS a good thing!
On the La Paz side, there's still some really grumpy tuna on El Bajo. Get there at the right time when the fish are doing aerial maneuvers and you can seriously rope these big guys on 80-pound string! Problem is that most guys aren't geared for that kind of punch-you-in-the-gut-type of fishing! You really need at least a 4/0 type reel that's 2-speeded like a Shimano 20 or 30 two-speed or Penn International 16 or 20 that's blue printed or 2 speeded to work theses YFT's! Most guys don't bring that out. Of course, when some guy does have the right gear, the tuna go to ground and the guy is fishing the heavy gear for bonito! Nevertheless, the tuna are there and they are big and nasty. Fish in the 80-100 pound class are not uncommon although the majority of them are the 40-50 pound beasts!
As for dorado? Shure, what the heck. There's bits and pieces of weed around and if you find the right breakers, it's full gonzo on the mahi. However, right now, I'm more inclined to sight fish breezers when the water is flat early in the morning or in the mid-afternoon, when the water is so oily flat that you can see their heads porpoising or working the surface. The other time is to work the current break lines either for weed or trash debris which might be holding fish or for the temperature breaks where the bait is stacked up. The current lines look just like rivers and are easy to spot. Slow dragging a live sardine through there is my favorite way to locate fish. Also, remember to try to leave one of the hooked fish in the water at all times as followers will come to the boat very often.
This week we have a great group of guys coming from all over the United States for our Extreme Light Tackle Tournament. The guys will be fishing Wednesday, Thursday and Friday. The format is they bring two empty reels. I give them two spools of 20 pound test Izorline (Thanks Izor for jumping into the gap!). They are not allowed to fish any other line or use leader, spectra, wire or other types of lines. This is straight tie hook-to-line fishing. They can jig or troll or throw iron or bait. I don't care. Nor do I care what type of reel they use (no 2 speeds), but they MUST use the 20 pound line I give them! If they get spooled...TFB!!!! That's the way the tuna runs! Should be fun. We're donating a large portion of the fish and proceeds to a local orphanage so if they want to buy more line to stay in the tournament, 300 yard spools cost $20 which goes into the orphanage fund! We have money and prizes for these guys as well. Some of them have never pulled on a TUNA, but are gutsy enough to give this a try! It's gonna be fun and we're gonna have a good time. I'll let you know how it goes!
LA PAZ, MEXICO: FISHERMEN'S FLEET, La Paz, August 30, 2001, David Jones, Hotel los Arcos, Reservations 011-52-112-21313; Fax 011-52-112-57334. Well, the week got off to a unique start. Glenn Trembley of Omaha and Chicago, George Solnitsky of secret locations in the midwest, and Gary Heppy of Dove Arroyo, CA teamed up to enter a local marlin tournament here in La Paz. Gary had to go home to minister to the chips, and Glenn and Jorge headed out on Sunday with Capt. Juan. The tournament that they entered was a local one founded to compete with the Felix Tournament, whose handling of prize money had come up for some questions last year, hence the alternative tournament. After releasing a skipjack into the briny, our crew noticed that said bait was running pretty far and fast, set the hook, and were fast to a black marlin that must have been lurking under the Tilly Willy looking for a canape. After an hour or so of grunting and pumping Glenn had the fish up for the first time. Each of our stalwarts uttered their favorite epithet as they noticed that the fish was quite large. The festivities began in earnest at that point. Those of you who have been tied to a big fish in a small boat before understand the word cluster+*!@.
Even the most even tempered and experienced fisherfolk can succumb to the confusion and excitement of this kind of happening. After 1/2 an hour in which Glenn and George got more advice, assistance, and support than they had imagined possible they were rewarded with the boating of a fish that weighed in later at 662 pounds. I was at the beach when they got in, panga riding low in the water, gringos looking a little dazed and trying to make sense of it all, Juan doing his imitation of a strutting ptarmigan (Hi Vern), puffed up with pride. A once in a lifetime experience to be sure. They won the tournament and forever have lost their amature standing. Congratulations guys.
The rest of the week was less harried, but productive. The wide open tuna bite at the north end of Cerralvo continued to go off in the morning. Fish there to 60 pounds have been relatively easy. Tuna are also at the south end of Cerralvo, the light house, and Punta Perico. Dorado have been coming from the buoys and any seaweed that you can find. The fishing for dorado hasn't been spectacular, but it has been steady with 15-25 pound fish to be had. Wahoo have come from both ends of the island, with the largest being 45 pounds and the majority taken on dark colored lures, either Rapala's of Marauders. We have also had the scattered sailfish to 100 pounds, a few pargo, and even a few straggler yellowtail. The weather has been pretty humid, and fairly hot, but nothing out of the ordinary for La Paz in August. Bait supplies are best at the island, and haven't represented any problems. A good week, and here comes another one. Have Fun, David Jones.
LA PAZ, MEXICO: MEMO'S FLEET, La Paz, September 2, 2001, Guillermo Chavez, Reservations Tel/Fax 011-52-112-27835. Hi Gene! This past week was a busy one here in La Paz within ten days we had 3 tournaments and for some weird reason 2 where at the same time on the same day for lines up. Can you imagine running 3 miles to check one place and back 3 miles to check the other?! Anyway the weather was perfect. About 95 degrees air temperature, and water temperature 86. Lots of fish and not to far out from El Cañon.
The winner on one of the first tournaments was a black marlin of 657 pounds. We had blues in the 350-pound range, tuna at 70 pounds average, and some dorado at 60 pounds. That was lots of fun, but I hope the next time the tournament organizers coordinate things better.
LORETO FISHING REPORTS
ALL ARTICLES, REPORTS AND FISHING INFORMATION FOR LORETO
LORETO, MEXICO: VILLAS DE LORETO, Loreto, August 27, 2001, Wendy Wilchynski, Reservations Tel/Fax 011-52-113-50586. The fishing is good right now. Lots of dorado and marlin. We had a big storm last night but still the fishing was good today. Not too many people but they should get down here before it's too late!!! Bye for now, Wendy.
LORETO, MEXICO: BAJA BIG FISH COMPANY, Loreto, September 1, 2001, Pam Bolles, Reservations Tel/Fax 011-52-113-50448. HI Gene! Not much going on right now because of the full moon. There are lots of giant squid in the water but the squidders aren't out in full force as the full moon hinders their catch as well. We have more sailfish than dorado right now. In fact last week we had two fly fishermen land several, not teasing to the transom, but the best way--sight casting!! John Milton and Marty Whitmer of California, described the sailfish as "going into a feeding frenzy" while their captain Jesus Rodriguez tossed live sardinas to them. They cast their flies just as they would to dorado in the same situation, and hooked up on several. They thought about fishing on the day they were to leave for the U.S. but decided not to as after five days of this, they were too tired!
When the moon phase is more favorable, I will go fishing with Francisco and the baby. I decided that I had too much work last time to take a day for myself and fish. The store is closed until October 1st but we're still taking charters., so we will wait for an optimal time and get some pictures.
We will be receiving a large cruise ship in October 4th, 15th and 25th. I will take a photo of it when it arrives here because it will dwarf this entire town. Holland America's MS Ryndam, 1,500 passengers!
BAHIA DE LOS ANGELES (L.A. BAY) FISHING REPORTS
ALL ARTICLES, REPORTS AND FISHING INFORMATION FOR BAHIA DE LOS ANGELES
BAHIA DE LOS ANGELES, MEXICO: CAMP GECKO, Bahia de los Angeles, September 1, 2001, Abraham Vazquez, Tel 011-52-515-19454; Fax 011-52-665-03206 (goes to Guillermo's), satellite EMAIL direct to Camp Gecko at L.A. Bay. Air temperatures have been in the low 90s cooling down to the mid 80s. The humidity is very high and it has been sunny except for today. We are getting some overcast because of Flossie the storm. It looks like we might even get a little bit of rain from it. The water temperature is 81-83 degrees. The water has cleared up and there is plenty of blue water. We still have a few dorado in the area, and the yellowtail are at Punta Pescador, good size, 20 pounds and over, hitting the blue/white Salas jigs. Ruben Daggett reported having 9 on board today. Also Joel reports from the east side of Smith Island being surrounded by dorado and hooking them up with flylined live bait. The sierras and the whale sharks are still inside the bay. Bait is being caught now at the lighthouse, and it is not needed for the yellowtail. The week has been slow tourist wise, but there was much activity in the area because of the visit of federal officials to do a presentation to the community of the Escalera Nautica project, and take the local opinion on it. Needless to say that the project is out of this world, planning 27-hole golf courses and 100 acres of hotels for Bahia, sounds crazy. If anybody is interested in the Escalera project let me know. I have the full current version. The only problem is that it is in Spanish and it is 57 pages. Logically the feeling in town was against it, but they seem to think there are lots of people who would benefit from this project. Gasoline is 135 pesos for 5 gallons, road is still in good to fair condition depending on how good you are at avoiding pot holes. There is a hatch of mosquitoes in the bay so bring your repellent.
SAN FELIPE FISHING REPORTS
ALL ARTICLES, REPORTS AND FISHING INFORMATION FOR SAN FELIPE
SAN FELIPE, MEXICO: TONY REYES FISHING TOURS, 6-day Midriff Islands trip aboard the panga mothership, Jose Andres, Tony Reyes, Exclusive booking agent, The Longfin, 714-538-8010, trip ending August 31, 2001. Trip Number 19 out of San Felipe for the year. Water temperature 77 degrees. Fishing results for the week: 160 yellowtail, 18-25 pounds; 160 spotted bass; 90 dorado, 12-14 pounds; 12 cabrilla, 8-13 pounds; 5 red snapper, 8-10 pounds; 2 broomtail grouper, 16-18 pounds; 1 sheephead 6 pounds.
SAN FELIPE, MEXICO: SEA OF CORTEZ SPORTFISHING, 6-day Midriff Islands trip aboard the panga mothership, Celia Angelina, Bob Castellon, Reservations 626-333-9012; Fax 626-336-1966; San Felipe 011-52-657-71778.
MAZATLAN FISHING REPORTS
ALL ARTICLES, REPORTS AND FISHING INFORMATION FOR MAZATLAN
MAZATLAN, MEXICO: ARIES SPORTFISHING FLEET, Mazatlan, August 31, 2001, Larry Edwards, Cortez Yacht Charters, Reservations 619-469-4255. Sailfish action spiraled upward with the summer heat, with the boats averaging more than 2 billfish per day. While charter action remains summer slow, the fish are finally in a cooperative mood for the few that go. The area did catch a few rainy days and is experiencing some southwest swell, but overall, the sea conditions have been good. Overall counts reflected 29 sailfish, 1 yellowfin tuna and 9 dorado for 8 offshore fishing days, and 16 roosterfish taken on 3 inshore panga fishing days.
Weather was hot and humid with afternoon rain showers. Seas generally calm, with water temperatures in the 83-86 range. Best fishing was southwest of Marina el Cid, 210 degrees, at 20 miles. Rigged trolling baits were best on the sailfish, and live bait for the inshore roosterfish.
IXTAPA ZIHUATANEJO FISHING REPORTS
ALL ARTICLES, REPORTS AND FISHING INFORMATION FOR IXTAPA ZIHUATANEJO
IXTAPA ZIHUATANEJO, MEXICO: IXTAPA SPORTFISHING CHARTERS, Ixtapa-Zihuatanejo, August 31, 2001, Larry Edwards, Cortez Yacht Charters, Reservations 619-469-4255. Very little sport fishing activity was reported in Ixtapa Zihuatanjeo last week. The left over bad weather that hit the area last weekend subsided and we were able to run a few charters midweek. Capt. Miguel Alvarez reports blue water in the bay along with large schools of mid-sized yellowfin tuna located about 10 miles out. Several 200-300 pound tuna were brought in as well as a 506-pound blue marlin. Sailfish remain on and off with some captains reporting 2-3 strikes per day. Inshore roosterfish and big jacks are present and accessible only when the winds and rain allow. Capt. Adolpho reported an 8 roosterfish a day with the largest going over 50 pounds. There was an unusual arrival of some big amberjack last week. Largest reported was 83 pounds. Weather was cloudy with some evening showers. Seas moderate to calm. Best fishing 2-20 miles out. Bait supply good.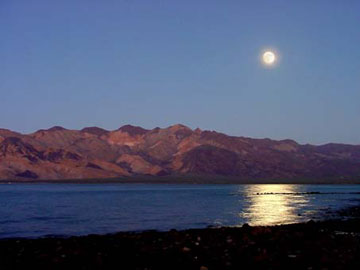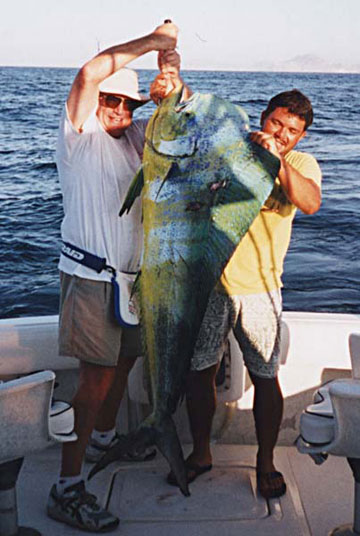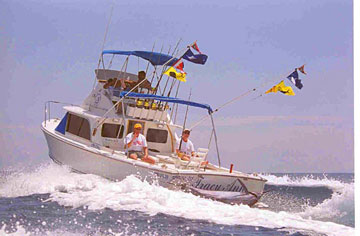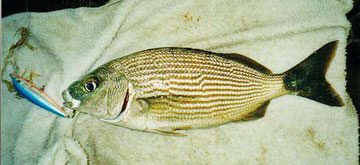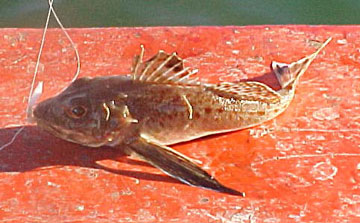 Baja coastal fishing reports and articles.
Ensenada fishing reports and articles.
Puerto Santo Tomas fishing reports and articles.
Erendira fishing reports and articles.
San Quintin fishing reports and articles.
Magdalena Bay fishing reports and articles.
Cabo San Lucas fishing reports and articles.
San Jose del Cabo (Los Cabos) fishing reports and articles.
East Cape fishing reports and articles.
La Paz fishing reports and articles.
Loreto fishing reports and articles.
Mulege fishing reports and articles.
Santa Rosalia fishing reports and articles.
Bahia de los Angeles (L.A. Bay) fishing reports and articles.
San Felipe fishing reports and articles.
Rocky Point (Puerto Penasco) fishing reports and articles.
San Carlos (Sonora) fishing reports and articles .
Mazatlan fishing reports and articles .
Puerto Vallarta fishing reports and articles.
Ixtapa Zihuatanejo fishing reports and articles.
Huatulco fishing reports and articles.
Cancun fishing reports and articles.
Mexico coastal fishing reports and articles.
Mexico Fishing Home Page < Mexico Fishing News Archives < Fishing Report