Sizes are running a little bigger this week. Yellowfin up to 26 pounds, albacore up to 22 pounds, yellowtail to 26 pounds.
Sea conditions were great all week with the exception of yesterday, with the wind changing, making it a little choppy. On shore, weather has been overcast most of the day, burning off early afternoon with temperatures in the mid-70s.
In other mainland Mexico and Baja fishing action this week:
ENSENADA FISHING REPORTS
ALL ARTICLES, REPORTS AND FISHING INFORMATION FOR ENSENADA
ENSENADA, MEXICO: LILY FLEET, Ensenada, September 7, 2001, Sammy Susarrey, Reservations Tel/Fax, 5 to 9 p.m., 011-52-617-46747; Cell 011-52-618-67485. Today the Amigo fished 11 miles off Punta Banda on a heading of 230 degrees with 4 anglers reporting 9 yellowfin tuna to 25 pounds and 2 yellowtail, 15 pounds.
The Lily fished locally with 2 anglers reported 5 yellowtail to 15 pounds, caught trolling live sardines, 14 bonito to 5 pounds caught inside Punta Banda.
SEPTEMBER 8, 2001-- The Tamara with 6 anglers reported 34 albacore and 2 yellowfinn tuna. The Amigo with 4 anglers reported 39 albacore and 5 yellowfin tuna. The fish were only 5 miles out on a heading of 235 degrees from Punta Banda. Water temperature was 68.3 degrees, nice clean blue water. Incredible day today. So many fish all over.
SEPTEMBER 9, 2001-- The Amigo and Tamara reported 9 fish per rod 12 miles outside Todos Santos Island, including bigeye tuna to 50 pounds, plus albacore. Yesterday, albacore were caught only 3 miles outside the island. Most fish are hitting small feathers. Water temperature is 67.5 degrees, nice blue water. Good sardines for bait.
ENSENADA, MEXICO: SERGIO'S ENSENADA SPORTFISHING CENTER, Ensenada, September 9, 2001, Sergio Susarrey, Reservations Tel 011-52-617-82185. Just when all of us thought that the Albacore were gone boom! They're all over the place on Friday (09/07/01) four boats left our marina to the outer banks with the following results: The open party boat ENSENADA CLIPPER with 14 passengers fished for Albacore (70), Yellowtail (2) & Yellow fin tuna (60); the charter boat SHIR LEE with 8 passengers fished for Albacore (68), Dorado (8) & Yellow fin tuna (18); the charter boat EL CAZADOR with 9 passengers fished for Albacore (25), Yellowtail (2) & Dorado (6) and the charter boat QUEST with 6 passengers fished for Albacore (48) & Yellow fin tuna (20). On Saturday (09/08/01) there was only one boat that fished the outer banks that was the charter boat EL CAZADOR with 14 passengers which got the following results: Albacore (75), Yellowtail (4), Dorado (2) & Yellow fin tuna (15).
ENSENADA, MEXICO: GORDO'S SPORTFISHING, Ensenada, September 7, 2001, Erick Ptacnik O, Reservations 011-52-617-83515; 011-52-617-82377. We have being fishing all week and fishing is very good. A lot of yellowtail, Bonita, calico bass, lingcod, rockcod local in Punta Banda and 4 miles out of Todos Santos yellowfin tuna, dorado.
PUERTO SANTO TOMAS FISHING REPORTS
ALL ARTICLES, REPORTS AND FISHING INFORMATION FOR PUERTO SANTO TOMAS
PUERTO SANTO TOMAS, MEXICO: PUERTO SANTO TOMAS RESORT, Puerto Santo Tomas, September 5, 2001, Sam Saenz, Reservations Tel 714-256-2577; Ensenada 011-526-174-5683; Remote Santo Tomas Cell 011-52-617-13364, after 6 p.m. or 6:30-7:00 a.m. Hi Gene. We had a good Labor Day week and the fishing was great at Soledad Bay, the reef, and the islotes 3-4 miles from the Puerto. The water was calm with afternoon light winds. Several pangas caught big size bonita and barracuda, along with three yellowtail. Bottom fishing was good with limits of white fish, rockcod and ling cod. One lone panga ventured out 8-16 miles. We saw several schools of tuna and managed to land 2 of them trolling with Rapalas. The yellowfin tunas size were 30 and 20 pounds and were caught by Tony Saenz from San Marcos, CA. One of the tunas was caught only 8 miles from the village. The catch rate was low for so many fish around because we do not have chum bait to hold them, as they kept moving fast. Furthermore we did not have solid iron to cast into the kelp paddies. Bottom fishing was super, we interrupted the trolling for 1-1/2 hours and landed one full sack of big rojos in 400 feet of water.
The outer bank panga fishing for tuna can be very exciting but we need good weather conditions, two pangas with advance reservations to minimize safety security risks. Most of the local pangeros will not go out that far due to fuel limitations and lack of electronic support equipment.
MAGDALENA BAY FISHING REPORTS
ALL ARTICLES, REPORTS AND FISHING INFORMATION FOR MAGDALENA BAY
MAGDALENA BAY, MEXICO: BAJA ON THE FLY, San Carlos, September 8, 2001, Gary Graham, Reservations Tel 800-919-2252; Fax 760-746-7260. Temperatures: 86-degree high; low 71. Scattered Clouds. MARLIN--Good reports continue at the Thetis Bank. DORADO--Shark buoys up and down the coast are the best bet. TUNA--Offshore high spots providing the best action. YELLOWTAIL--Thetis is still the best bet. CORVINA--A few caught up by the Power Plant. SNOOK--Try Mario's spot on a out going tide. SIERRA--Quiet this week. PARGO & GROUPER--Several quality grouper caught down at Alemejas Bay.
QUICK COMMENT--Best bet is on the outside for dorado and tuna. Up in the esteros grouper provided the best action.
MAGDALENA BAY, MEXICO: MAG BAY TOURS, Punta Hughes, September 9, 2001, Brian Freitag, Reservations 800-599-8676. The water is still warming, but it's going in fits and starts, and rolling over occasionally. This is making for an interesting bite. Two weeks ago Gerad Wooters (Costa Mesa, CA), his buddy Lance (Costa Mesa, CA), and Mag Bay guide "Search and Rescue" Mario fished the pinnacles of Santa Maria Bay. Using skirted Sea Strike iron the three landed a hefty Broomtail Grouper, and two toad White Seabass. Gerad landed the largest of the croaker, estimated at 45 to 50 pounds, on 18 pound test line spooled on a TLD20. Mixed in with the rest of the catch were a few large sand bass.
Offshore this week the waters out by the Thetis are teeming with Dorado and football Yellowfin that are on the bite and hard!. A few Striped Marlin are in the area, with two being landed. Wahoo haven't made an appearance yet, but should be in soon.
Inshore: Pargo, pargo, pargo, inshore and off the rocks in 5 -30 feet of water, 3# to 8#, on Krocodiles. Strangely there have been almost no Corvina (usually easy pickens) and very few halibut so far. The outer estuary, usually very reliable for small Snook, Snapper and Halibut, has been very slow.
Surf Report: The water is warming up rapidly (now in upper-mid 70s). The last two weeks have had terrific surf with a steady swell. The surf season has been even stranger than the fishing. May and June had great surf, but, until now it has been fairly flat. Only one hurricane and no southern hemi swells made for a boring July and August. For the first time ever, we have completely sold out the surf season! Book your 2002 trip now! There are a very few spaces left!
CABO SAN LUCAS FISHING REPORTS
ALL ARTICLES, REPORTS AND FISHING INFORMATION FOR CABO SAN LUCAS
CABO SAN LUCAS, MEXICO: PICANTE FLEET, Cabo San Lucas, September 9, 2001, Sergio Cortes, Reservations Tel 011-52-114-32474; Fax 011-52-114-35969. Water temperature 84-89. Air temperature 91/76. Humidity 62%. Winds 8-10 knots. Fleet production (5 boats): 3 blue marlin, 6 striped marlin, 3 tuna, 20 dorado. Hot spots: Golden Gate Bank.
CABO SAN LUCAS, MEXICO: FLY HOOKER SPORT FISHING, Cabo San Lucas, September 2, 2001, Capt. George & Mary Landrum, Reservations Tel 011-52-117-01271; 011-52-114-87452. WEATHER: This past week has been typical for Cabo this time of year. Most of the days have been partly cloudy and the temperatures have been in the mid 90s to just at 100 degrees during the day. Evenings have been a bit cooler, down to the low 80s and a reported 78 degree night on Tuesday. Humidity has been hovering between 50 and 75%. Monday saw the dumping of more rain in one day than we have seen all year! Probably not more than an inch and a half, but it was enough to flood the streets in town and pile up the sand. It has been raining up in the mountains all week, we have been watching the clouds to see if we get any more here in town!
WATER: The Pacific side of the cape has been a little rough from the arch to about 6 miles north for most of the week. The Sea of Cortez has been choppy all week but not rough. This has been caused by the prevailing southeasterly winds brought on by the passing of Tropical Storm Flossie and the monsoon trough brought into the region. Hopefully these conditions will pass quickly. The water temperatures have remained fairly steady at 83-85 degrees in almost all the fishing areas with the exception of the near shore, within 4-5 miles of the coast. Early in the week there was a band of cold water, as low as 79 degrees, that extended from Punta Gordo on the Sea of Cortez and around the cape to about 15 miles up the Pacific side. Today the situation has reversed itself and the band of cold water is now solely on the Pacific side. Other than that, there seems to be no real temperature breaks out there.
BAIT: The usual situation with the bait. Larger bait such as Caballito and Mullet are $2 each and when there have been Sardinas available here in Cabo they have been $25 a scoop.
BILLFISH: The billfish catch dropped off a bit this week, possibly due to the weather or it may be the moon phase. Whichever, there are not quite as many Blue, Black or Striped Marlin biting as there were last week. Not to say there aren't any out there, but most of the boats are only getting a couple of shots a day instead of the 4 or 5 shots they were getting last week. Most of the action has been on the Sea of Cortez side for the Blue Marlin and along the near shore temperature break for the Striped Marlin and the few Sailfish that have been caught. Live bait has worked well on the Striped Marlin and the Sailfish but the Blue Marlin are still being caught on lures, for the most part. Favorite colors are the same as last week with an emphasis on the Mean Joe Green pattern.
YELLOWFIN TUNA: There were some big Yellowfin showing up in the catch this past week! Some of these bruisers were in the #150-#200 range and there were quite a few in the #50 category. These fish were associated with the pods of Common Dolphin. Live baits worked well for those prepared to use them but most of the fish were caught on lures. Marlin lures and Cedar plugs have both took their share of the larger fish but as usual, the really big ones fell for live bait. The run and gun, dropping a bait down deep ahead of the Dolphin accounted for more than just a few of the larger fish. The only problem with the bigger fish was the inconsistency in location. Every day it was a hunt to see where they had gone. There were plenty of football #20 fish to be found around the Dolphin, but again, it was a hunt.
DORADO: We were seeing a lot of Dorado caught last week and a few of them were real bruisers, large fish in the 50# plus range! Most of them were smaller fish with a lot of them running from 8# to 20#. The fish were schooling and boats that went to light tackle such as fly or spinning gear had a blast with these small fish. A stand-by rod ready with a live bait was the ticket to getting the bruiser that occasionally cruised through. The normal technique of holding a hooked fish near the boat and using topwater plugs, flys or bait strips ensured steady action. Most of these fish were caught along the temperature break on the Pacific side but there was a fair showing on the Gordo Banks and along the shore on the Sea of Cortez.
WAHOO: Few and far between this past week.
NEAR SHORE: The Pangas have been focusing on the Dorado this week and have been doing quite well. A few of them have been getting Marlin as well. The more traditional inshore fish have been off the bite a bit, possibly due to the shifting of water temperatures, plus the nearshore water on the Sea of Cortez has been a bit off colored. Early in the week there were reports of good Roosterfishing on the Pacific but that has fallen off in the last few days.
CABO SAN LUCAS, MEXICO: PISCES FLEET, Cabo San Lucas, September 3, 2001, Tracy Ehrenberg, Reservations Tel 011-52-114-31288; Fax 011-52-114-30588. BILLFISH: We are probably at one of the best time of years right now, for a variety of fish, giving us an overall catch success rate of ninety-three percent for all species combined, with close to fifty percent of boats catching billfish this week. It is pretty unusual that we are catching practically all the fish on the Pacific side, as the action is normally around the Gordo Banks, but with water temperatures now around 85 F and beautiful blue water, most boats preferred to fish this side and did well. Some of our top anglers this week were Buddy and Binyon McCoy from Southlake, Texas; they fished aboard La Brisa on September 1st and did remarkably well to release one black marlin, one blue marlin and two striped marlin, off of Los Arcos. Ten year old Daniel Slade from Mountain Home, Idaho, was thrilled to release a striped marlin on September 4th, aboard Valerie, with him was 15 year old Corey Higel from Colorado, who also released a striper, Peter Brown, from Boulder, also aboard managed to release an approximately 350-pound blue marlin and the rest of the group caught 15 dorado, (most released) and three tuna. What a day! On August 31st Tony Vaughn, Jeff Robinson and David Silvetti fished on Rebecca and were happy to release a striped marlin apiece and boated three dorado. Karina had two double blue marlin days, one on the 29th for Larry Still, who released one, the other died on him (he had 8 dorado too) the other for Jay Talmadge from Seattle, Wa, on August 31 st. I do need to mention Joe McSpadden one of the lucky Texans that I omitted last week, for being part of the group on Tracy Ann & Rebecca that did so well. There were a couple of black marlin reported by the Cabo fleet, with the largest being around 400 pounds. Pisces anglers caught a total of 11 blue marlin this week, 9 released, 1 black marlin released, 2 sailfish released and 19 striped marlin all released.
OTHER SPECIES: We were pleasantly surprised by the number of wahoo this week, the most we've seen in quite a while. La Brisa had three on August 31st for Daron Peugh from Washington, ranging in size from 40 to 50 pounds and we had several other fish up to 45 pounds throughout the week. Dorado are the most abundant fish in Cabo waters at the moment, with pretty much every boat out catching from 1 to 15, with the average weight 10-20 pounds, though some getting up to 50 pounds. Yellowfin tuna catches did improve somewhat this week, with catches of 1-3 fish for every 4th/5th boat out. Weights were from 30 to 100 pounds.
WEATHER CONDITIONS: Clear sunny skies, except on Wednesday when we had a one-hour downpour, hot seas flat. AVERAGE WATER TEMP. 85 F. BEST LURES: blue/white, orange/brown, assorted feathers, live bait.
CABO SAN LUCAS, MEXICO: GAVIOTA FLEET, Cabo San Lucas, September 7, 2001, Larry Edwards, Cortez Yacht Charters, Reservations 619-469-4255. The catching slowed up a bit over the full moon, but should come back with a vengence, particularly with the passing of two offshore storms that will surely push in more warm waters. Dorado continued to provide the mainstay of action with some of the fish in the 50-plus range. Blue marlin action was about 1 for every third boat, and stripers were about 1 for every second boat. Overall counts reflected 5 blue marlin, 200-300 pounds, with 4 released, 1 sailfish released, 9 stripers (6 released), 62 dorado, and 7 yellowfin tuna.
Weather was generally clear and sunny, hot, temperatures in the upper 90s. Seas were good, clear water, temperatures in the mid-80s, some west-southwest swell. Best fishing continues at the Jaime Bank on the Pacific side. Most of the blues were taken on artificials. Stripers and the sailfish mostly taken on live bait. Dorado taken on both.
SAN JOSE DEL CABO (LOS CABOS) FISHING REPORTS
ALL ARTICLES, REPORTS AND FISHING INFORMATION FOR SAN JOSE DEL CABO
SAN JOSE DEL CABO, MEXICO: GORDO BANKS PANGAS, San Jose del Cabo, September 9, 2001, Eric Brictson, Reservations 800-408-1199; Fax 619-447-4098; 011-52-114-21147. Everyone has been prepared for a serious tropical storm to strike the Cabo area, as is the normal situation for late summer, but so far it just has not happened. This past week there were a pair of storms that spun on out to the west, coming within 400 miles of Cabo San Lucas, creating high swells of six to fifteen feet, there was scattered rainfall and in certain places it was quite heavy at times. Seas were moderately choppy, due to the swell activity, but overall the offshore conditions were comfortable. Early mornings are now just starting to show a hint of the cooler fall feeling, but the days are still hot and humid.
Overall catches were slightly down from the previous week, this is often the case during the period immediately following the full moon, and still there was some world class action taking place. Marlin, yellowfin tuna and dorado were the most dominate fish found offshore, though the tuna bite slowed down in recent days. The water temperature was averaging about 85 degrees through most of the region and it was clear and blue on the offshore fishing grounds.
Pangas out of La Playita were able to launch all but one day, Wednesday, the 5th, there was high surf though and the pangeros had to use extra cautious navigating through the surf. Live bait has all but scattered from the La Playita area, now the sardinas are being netted near Palmilla. Sardinas have been the bait of choice for all around action on the medium sized gamefish, especially tuna and dorado, also there have been plenty of skipjack and bolito available on the Banks, for use as either strip, chunk or whole baits. The best bite for yellowfin tuna was found on the Gordo Banks, it was switching back and forth form the Inner to the Outer Banks, but this past week the action has slowed way down to how it had been during the week building up the full moon, perhaps the tuna were feeding more at night lately. Tuna are now being caught on both chunk bait and live sardinas, but numbers are down, just an average of 1 to 3 per boat, weights are still running mostly in the 45 to 55 pound range.
Dorado is the most numerous species being caught now, they are being found throughout the zone, hitting on trolled lures, along with live and strip bait. Sizes have varied from 8 to 40 pounds, with most of the fish weighing less than 20 pounds. Most boats are catching from 5 to 10 fish per morning, with many of the smaller fish being released. Anglers working their lures and baits closer to the bottom took a few pargo, they were 6 to 10 pound fish. A couple wahoo were reportedly landed off the Iman Bank area, they were smaller 20 to 30 pound fish that hit on rapalas and marauders.
The monster black and blue marlin continue to bite on the Gordo Banks, the most successful technique was trolling the larger live baits, preferably a yellowfin tuna or skipjack in the 5 to 8 pound range. Several black marlin were landed from pangas out of La Playita this past week, including fish that weighed from 400 to over 600 pounds. The fish story of the week has to go to Antonio Guluarte, a local panga skipper from Punta Gorda Sportfishing Fleet. After catching their fill of yellowfin tuna, to over 50 pounds, Guluarte, along with his mate Tuto and two clients, spotted a free swimming marlin sniffing at a 50 pound tuna that they were fighting and was nearing gaff, quickly thinking, Antonio baited up the smallest dead tuna that they had in the fish box and threw it into the water, this yellowfin had been caught early in the morning and weighed close to 20 pounds, anyway as the bait was slowly sinking into the depths they witnessed the beautiful neon flash of the black marlin as it streaked towards the tuna and instantly inhale it. The battle was on, the crew was equipped with 80 pound mainline and a 300 pound leader, to a Penn 50 SW. It was almost noon when the fish was initially hooked and the grueling battle would not end until some 7 hours later, when the group of men finally combined to subdue the fish. A backup panga had been sent out to assist and provide added provisions, they definitely wanted this marathon to end before complete darkness set in. They reached the beach at 8:30 p.m. and with a crowd of over one hundred persons the fish was officially weighed in at 640 pounds.
EAST CAPE FISHING REPORTS
ALL ARTICLES, REPORTS AND FISHING INFORMATION FOR EAST CAPE
EAST CAPE, MEXICO: BAJA ON THE FLY, Buena Vista, September 8, 2001, Gary Graham, Reservations Tel 800-919-2252; Fax 760-746-7260. TEMPERATURES: High of 96 with a low of 81. Some wind and few clouds. STRIPED MARLIN--Very few in the count this week. YELLOWFIN TUNA--Plenty of smaller fish from La Ribera to Cabo Pulmo. DORADO--Plenty of schoolies close to shore. ROOSTERFISH--Good catches for those who target them. JACK CREVALLE--La Ribera to the Punta Arena under the bait schools producing the best action. BARRILLETE OR MEXICAN SKIPJACK--A few mixed in with the tuna. PARGO AND CABRILLA--Fair action near Punta Colorada
OFFSHORE: With few billfish to play with most of the fleet has focused on the Tuna and dorado. INSHORE: Smaller tuna and dorado continue to provide the best action for the fleet. BEACH: Early morning and early evening after the sun drops behind the mountains is the best time to be on the bead for roosters and jacks.
QUICK COMMENT--Yvonne and I are finishing up here at Salt Lake at the Fly Tackle Retailers Exposition in Salt Lake City, Sept. 6-8. My latest book "The No Nonsense Guide to Fly Fishing Magdalena Bay" was introduced last night at the show and is now available for purchase. If you would like a autographed copy contact me by email @bajafly@usa.net or (800) 919 2252.
EAST CAPE, MEXICO: RANCHO LEONERO, Bahia de Palmas, September 8, 2001, John Ireland and Roy Baldwin, Reservations 800-646-2252; Hotel 011-52-114-10216. Continued typical late summer weather, with daytime highs in the mid 90s, morning lows in the upper 70s, mostly sunny skies, flat mornings with afternoon breezes, and warm water temp about 85 degrees. Almost all the species available at the East Cape are biting. Strong bite on dorado, tuna, wahoo, roosterfish, sailfish and blue marlin has made for good fishing this week. Real quality roosterfish ave. 40-70 pounds topping the bill of fare. Any angler that desires world class gallos, now's the time.
Wahoo--More taken this week than all season. Ave. 40-50 pounds, from the lighthouse to Cabo Pulmo, as well as off Los Frailes, taking black/purple colored marauders and rapalas.
Dorado--Really schooling from La Ribera to Los Frailes, with limits of fish averaging 12 pounds for most anglers. As many as we've seen all year, with live sardinas and trolled bright colored hoochies working best.
Tuna--Fish are concentrated off La Ribera, with fish from 10-75 pounds aggressively taking almost exclusively live sardinas.
Billfish--A bit slower than last week, nevertheless there's a steady bite for blues and sails, spread throughout the bay, all within 6 miles of the beach, with darker colored trolled lures producing best.
Roosterfish--The exceptional bite off most area beaches continues, with anglers releasing numerous fish from 40-70 pounds, taking large live bait.
Angler of the Week--Jeff Prescott of Long Beach, CA, while fishing 2 days on a cruiser, took his first sailfish and limits of tuna and dorado.
EAST CAPE, MEXICO: EAST CAPE SPORT FISHING, Los Barriles, September 9, 2001, Dave Dixon and Gil Mendiaz, Reservations 800-837-1556; Fax 805-493-5446. Yellowfin tuna continues to be the hot bite at the East Cape, with dorado now also making a strong (if late) showing. The two giant schools continue to work the area. The school of smaller fish (10-40 pounds, avg. 20 pounds.) was found in areas near La Ribera over the last week. The bigger fish were also south, but anywhere from 20-50 miles out. Anglers are finding easy limits on 60-100 pound tuna on this offshore school (easy only in terms of hooking up, not in boating the fish!) There's also 200+ pound yellowfin in this school. Target the big boys with big baits (currently caballito) thrown out after a jig strike, possibly with a heavy sinker to get below the smaller fish; or try trolling big marlin lures through the tuna school. Reports of dorado have mostly been "schoolies", 15-30 pounds, picked off while trolling the southern areas inside. Apparently everybody is heading south looking for the tuna--no reports of anyone trying the shark buoys. With zero pressure on the buoys, I wouldn't be surprised if some adventurous angler went north and cleaned up on big bull dorado in the next week or so. A few blue marlin have been caught, numbers down due to lack of anglers, mostly. Striped marlin continue to make an unseasonably strong showing. The inshore shallow water bite (including beach fishing) is wide open for just about anything you can think of--roosterfish, jack crevalle, needlefish, pargo, etc.
Sea surface temperature maps continue to show lots of water activity, with "boiling" throughout the Sea of Cortez, along with more large scale water temperature variations than we've seen in the past several weeks. The 9/8 map shows an "alley" of cooler water starting roughly 20 miles east of Punta Pescadero, and running due east, with breaks on either side of 24N Latitude. There's also warm water hugging the west shore of Isla Cerralvo, with cooler pockets occupying Bahia Los Frailes. In the south we see a large region of warmer water, breaking about five degrees 15-20 miles offshore, following the coastline from Cabo Pulmo across the Gorda Banks and stretching nearly to Cabo San Lucas. This area is also showing many "mini-breaks", indicating lots of water activity, no doubt the reason we've seen such outstanding yellowfin bites in this region.
Notable Catches Dave Harlow, from Winnetka, CA, fishing his fourth time with us this season, hammered limits of 60-100 pound yellowfin in five days of fishing aboard the Alma Rosa III. Dave also picked off 15 dorado, and released several striped marlin. Dave reports he was catching so many tuna he started letting them go!
Bill Lee fished two days with Jose Antonio on the Alma Rosa II and nailed 18 tuna, 4 in the 80-100 pound class.
EAST CAPE, MEXICO: HOTELS PALMAS DE CORTEZ, PLAYA DEL SOL, PUNTA COLORADA, East Cape, September 6, 2001, reported by Shannon Moe, and by Dave "Smokey" Manuel of East Cape Smokehouse, Hotel Reservations, 800-368-4334. Boats out, 72. Water Temperature, 80-86. Air Temperature, high 90s. Fishing results (including released fish): Blue Marlin, 4; Striped Marlin, 2; Black Marlin, 0; Sailfish, 9; Dorado, 214; Yellowfin Tuna, 367; Pargo, 6; Wahoo, 12; Amberjack, 1; Triggerfish, 0; Pompano/Cabrilla, 0; Roosterfish, 24.
We're heading down to the wire on our move of the East Cape Smokehouse to the new facility on main street in Los Barriles and until that task is completed, the fishing reports will be brief.
This is the fourth consecutive report that I've had little to say about anything other than good numbers on small to medium Dorado and Tuna. The spots producing fish have also changed little, most reports are of varying degrees of success, depending on the day, in close to shore from La Ribera all the way down to Distellideras.
A few more Wahoo were taken the past few days than we've seen in a couple of weeks, but Billfish numbers are still down.
The weather mellowed out over the weekend and besides the occasional breeze, it was calm and flat everyday. The temperatures have been very livable, with day time highs not straying to far away from the mid 90s and nighttime temps dropping back to a reasonable 79 or 80 degrees. That's certainly agreeable with me for late August and early September. It's Labor Day weekend for most of you and the start of the most quiet month of summer for us. September is the month when many of the local shops, restaurants, bars and other businesses close down (East Cape Smokehouse IS OPEN) and things return to an atmosphere more like 10 years ago. It's really quiet! A few cars pass by now and then, but the parking lots full of cars and groups of tourists walking the streets each day won't return until October.
LA PAZ FISHING REPORTS
ALL ARTICLES, REPORTS AND FISHING INFORMATION FOR LA PAZ
LA PAZ, MEXICO: JONATHAN ROLDAN'S TAILHUNTER ADVENTURE SERVICES, La Paz, September 9, 2001, Jonathan Roldan, Tel 626-333-3355; Fax 626-333-0115; Pager 323-349-8111; Message Pager 877-310-7734. Too busy to write a report! Haven't slept but 2 hours in 5 days with this tournament. More to come...!
LA PAZ, MEXICO: FISHERMEN'S FLEET, La Paz, September 5, 2001, David Jones, Hotel los Arcos, Reservations 011-52-112-21313; Fax 011-52-112-57334. Well, the good news is that I got to go fishing, or at least out on the water, twice this week. Last Sunday I took Kelly Anne Jones, pescadora extrodinairre, out fishing with her friend Alex. Capt. Tono and I decided to play man to man, and he took Alex. We went over in front of Muertos Bay where it was rumoured that some smallish Tuna were hanging. They were indeed, and after 7 Tuna in the 8-12 pound range both Alex and Kelly informed us that they were bored, and we moved on. Some time spent in front of the lighthouse produced 3 Dorado in the 12-20 pound class, and then it got hot. Up until now both August and September have been hot, but there has been enough wind to keep things bearable. This week there have been stretches where there was no wind, and boy howdy it gets sweaty fast. After an hour of this Tono and I were informed that it was time to get to the beach, and that we did. Kelly and Alex swam, Tono cleaned the fish, and I sweated. Upon final tally Tono's team caught a couple more fish than Kelly and I, but they also had more backlashes and more face pokes with the rod tip, so we'll call it a draw. While we were doing this everyone else went to the north end of Cerralvo for Tuna. 35-60 pound fish were very cooperative and 6-8 a boat not uncommon, along with a few Dorado to 35 pounds thrown in. Ken Allen and Bob Gartner, worldly fisherfolk indeed, were out after Wahoo and over a few days had several to 35 pounds, and lost some more. They were fishing with Myron and Mary Beth Kibler (no they do not make cookies in tree stumps), who own a lodge in Wyoming for hunting and fishing. They are really nice guys, and had a great week on Tuna, Dorado, Wahoo, and even a big Sailfish for Mary Beth. If you happen to run into them, ask Myron about gathering flowers in the cemetery. This got me going and I decided that today I would go out. Pepe and I trolled for Wahoo for 3 hours and made three separate donations to the Wahoo Lip Jewelry Workshop, with nada in the boat. Slightly discouraged we headed up the to the north end of Cerralvo looking for fish. Trolling with Rapala and jig we started to take some small Tuna and had one more Wahoo hit (another Rapala gone). I also got 2 Dorado at about 20 pounds on Rapala's. At one stop Pepe started to throw bait and all of a sudden, Tuna. 40-60 pound fish were all around us. We just stopped and watched for awhile, Pepe would drop some dead bait over the side, and before it got 10 feet down big ol' submarines would appear and scarf it up. I had a good time fishwatching (hey, if you can birdwatch then I can fishwatch), but had an even better time watching Pepe. The fascination and joy that he expressed watching these fishes was impressive. Now remember, this is a guy who sees more fish in a week than you or I see in a year, does it for a living, has to clean them, the whole thing, and he's just staring into the water, pointing out the big Tuna under has boat. I love it. We took a few of these, went down to La Reynita and found, Tuna. More 40-60 pound fish were there, and we caught one more. That's the way it has been lately, a lot of Tuna, some Dorado, some Wahoo, a few Marlin, good weather, lots o' fun.
LORETO FISHING REPORTS
ALL ARTICLES, REPORTS AND FISHING INFORMATION FOR LORETO
LORETO, MEXICO: VILLAS DE LORETO, Loreto, September 8, 2001, Wendy Wilchynski, Reservations Tel/Fax 011-52-113-50586. Dear Gene. Sorry we have been so busy getting ready for the race on the 16th of Sept. We have a few clients and they are fishing and having a ball! They are catching Dorado, Squid, Roosterfish, Sailfish, you name it!!! The weather has been nice and today it isn't even humid. Wish us luck! Bye for now, Wendy.
LORETO, MEXICO: ARTURO'S SPORT FISHING, Loreto, September 3, 2001, Arturo Susarrey, Reservations Tel 011-52-113-50766; Fax 011-52-113-50022. Weather: Last week we had a lot of heat without winds, with a temperature around 100 F. Water temperature: Surface temp of 80 F. DORADO: At the beginning of the week was slow, but at the end there was much better fishing. They are in San Bruno and Puerto Almeja. With a weight between 10 to 20 pounds, some 30 to 35 pounds. SAILFISH: Some of sailfish are being taken in the San Bruno reef and Puerto Almeja. YELLOWTAIL: El Bajo de el Pulpito in a good number is biting on the bottom with squid. With a weight between 15 to 30 pounds.
LORETO, MEXICO: EL FUERTE SPORT FISHING, Puerto Escondido, September 4, 2001, Ty Miller, Reservations Tel 714-775-6658; Fax: 714-755-3501; Loreto 011-52-113-30863. Hola Gene. We are out of here for a few weeks! Take care amigo! Hasta!
MULEGE FISHING REPORTS
ALL ARTICLES, REPORTS AND FISHING INFORMATION FOR MULEGE
MULEGE, MEXICO: RON GRANT, September 7, 2001-- Talked to a friend in Mulege this a.m. Still getting limits of xorado. No sargrasso, but lots of blind hits on feathers within 10 miles of the lighthouse. One stop and cut or live bait will boat several more. They are also hitting chrome jigs.
BAHIA DE LOS ANGELES (L.A. BAY) FISHING REPORTS
ALL ARTICLES, REPORTS AND FISHING INFORMATION FOR BAHIA DE LOS ANGELES
BAHIA DE LOS ANGELES, MEXICO: CAMP GECKO, Bahia de los Angeles, September 8, 2001, Abraham Vazquez, Tel 011-52-515-19454; Fax 011-52-665-03206 (goes to Guillermo's), satellite EMAIL direct to Camp Gecko at L.A. Bay. Hi Gene, the weather has been nice for the past week with temperatures in the low 90s and 75 at night, no major winds, clear skies, but today the west wind is blowing, and its hot 108 in the shade with 20% humidity, hopefully it won't last too long, the wind blew last night in town in excess of 50 miles per hour, today it has been milder but hot, the water temp is still hot 81-84 outside, 84 in the bay, it is blue outside, some areas of green inside the bay, the fishing has stayed good, with plenty of yellowtail in the deep reefs 280 feet, mostly pescador reef, caught on iron jigs, 8 to 12 per boat, 20 pound fish, the dorado action has slowed down, but some are still around, the news is that sailfish have started showing up, seen tailing and even getting hooked on the iron, hope they last a while, on the inside of the bay we still have tons of sierra mackerel, early morning and in the afternoon, there has also been good size dorados inside the bay hitting the schools of bait in the afternoons, the whalesharks are coming in in greater numbers and are friendlier that they have been for the past months, road in good condition (not great), the gasoline still 130 pesos for 5 gallons if you buy at Jose Luis, 135 for tourists at Alfredos, and 133 if you are a local (how is that for helping the local economy).
SAN FELIPE FISHING REPORTS
ALL ARTICLES, REPORTS AND FISHING INFORMATION FOR SAN FELIPE
SAN FELIPE, MEXICO: TONY REYES FISHING TOURS, 6-day Midriff Islands trip aboard the panga mothership, Jose Andres, Tony Reyes, Exclusive booking agent, The Longfin, 714-538-8010, trip ending September 7, 2001. Trip Number 20 out of San Felipe. Water temperature 70 degrees. We fished at Cardonosa, Salsipuedes, San Francisquito (for bait), San Esteban, Punta el Diablo, and Puerto Refugio. Fishing results: 281 dorado, 13-17 pounds; 115 yellowtail, 18-22 pounds; 38 spotted bass; 35 cabrilla, 10-14.5 pounds; 5 broomtail grouper, 18-25 pounds; 3 grouper, 26-35 pounds; 1 shark, 80 pounds.
SAN FELIPE, MEXICO: SEA OF CORTEZ SPORTFISHING, 6-day Midriff Islands trip aboard the panga mothership, Celia Angelina, Bob Castellon, Reservations 626-333-9012; Fax 626-336-1966; San Felipe 011-52-657-71778.
MAZATLAN FISHING REPORTS
ALL ARTICLES, REPORTS AND FISHING INFORMATION FOR MAZATLAN
MAZATLAN, MEXICO: ARIES SPORTFISHING FLEET, Mazatlan, September 7, 2001, Larry Edwards, Cortez Yacht Charters, Reservations 619-469-4255. Angler action slow, sailfish action fast! Only 9 fishing days were reported for the offshore waters that reflected more than 2 billfish per boat day on average. Dorado were scattered and scarce, not under the buoys. Overall counts reflected a total of 19 sailfish (17 released), 2 yellowfin tuna, and 7 dorado.
Weather was hot and humid, scattered afternoon showers, sometimes heavy nighttime rain. Seas generally calm, water temperatures in the mid-80s. Best fishing as 25 miles southwest of Marina el Cid at 220 degrees. All sails were taken on rigged trolling baits.
IXTAPA ZIHUATANEJO FISHING REPORTS
ALL ARTICLES, REPORTS AND FISHING INFORMATION FOR IXTAPA ZIHUATANEJO
IXTAPA ZIHUATANEJO, MEXICO: IXTAPA SPORTFISHING CHARTERS, Ixtapa-Zihuatanejo, September 7, 2001, Larry Edwards, Cortez Yacht Charters, Reservations 619-469-4255. Captain Miguel Alvarez and ground representative, Jose Luis Esquivel, reported a good mix of MARLIN, SAILFISH, and TUNA last week in Ixtapa/Zihuatanejo even though angling pressure was very low. Capt. Chiro Barragan aboard the "Yellowfin II" took top honors for the week landing an estimated 300-pound. BLUE MARLIN. Capt. Alvarez aboard the "El Soltar" fishing with Kevin Irwin and friends of Port Orchard, WA, landed 3 YELLOWFIN TUNA to 50 pounds and pulled the hook on a SAILFISH after a short battle. The blue water continues to be inside Zihua Bay and the schools of TUNA, SAILFISH, and MARLIN have been inside 5 miles. Capt. Adolpho reported consistent ROOSTEFISH activity with his single highest day being 8 ROOSTERFISH the largest one scaling in a 47 pounds. Sea Conditions: Moderate. Best Fishing Area: 5 -10 miles offshore. Bait Supply: Good.
IXTAPA ZIHUATANEJO, MEXICO: VARGAS SPORTFISHING, Ixtapa-Zihuatanejo, September 8, 2001, Marcos Vargas, Reservations 011-52-755-48146. This time of the year is very slow in customers, even though we have a lot of fish. This week, only 7 fishing boats went out, 6 offshore and 1 for roosterfish. The boats who went fishing for deep sea fishing got 10 sailfish to 100 pounds, 8 yellowfin tuna to 40 pounds, and a 40-pound dorado. The inshore boat caught 2 roosterfish to 40 pounds. The weather here is very hot, about 90 degrees. Water conditions are calm, with water temperature about 84 degrees. We have many sailfish and tuna, but no fishermen. Bait supply is excellent. Best fishing is 5-15 straight outside the harbor.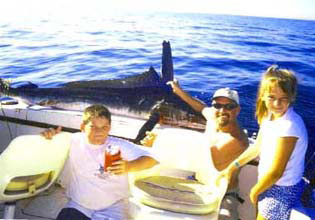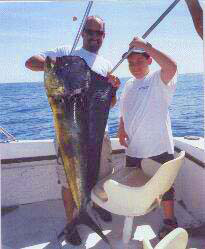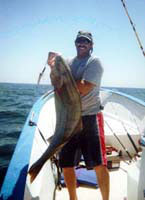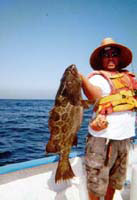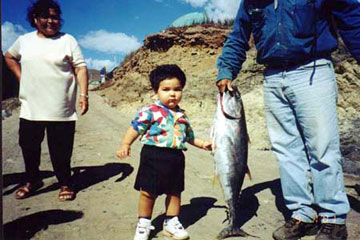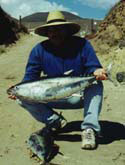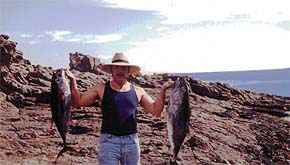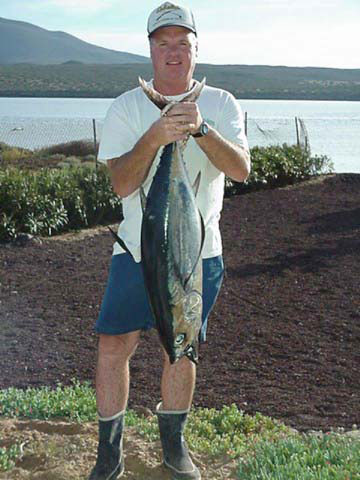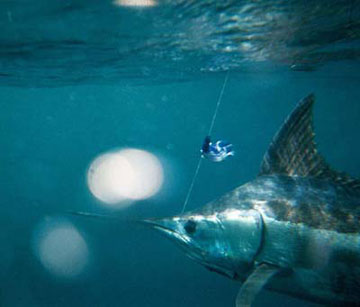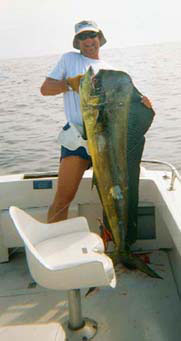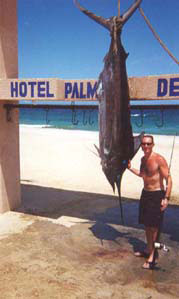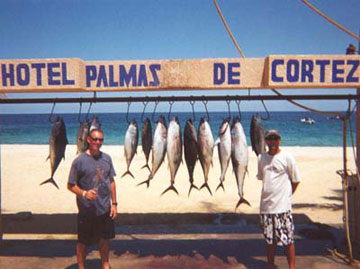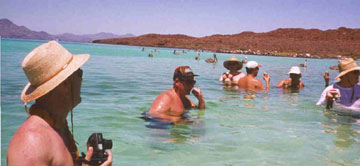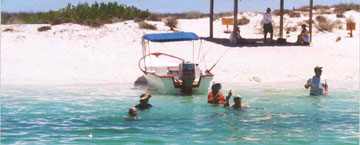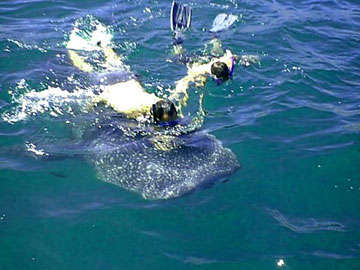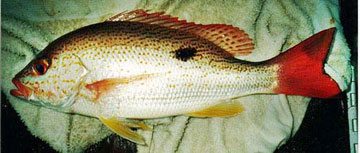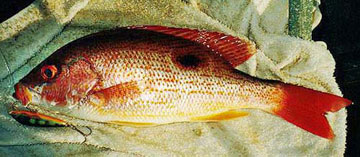 Baja coastal fishing reports and articles.
Ensenada fishing reports and articles.
Puerto Santo Tomas fishing reports and articles.
Erendira fishing reports and articles.
San Quintin fishing reports and articles.
Magdalena Bay fishing reports and articles.
Cabo San Lucas fishing reports and articles.
San Jose del Cabo (Los Cabos) fishing reports and articles.
East Cape fishing reports and articles.
La Paz fishing reports and articles.
Loreto fishing reports and articles.
Mulege fishing reports and articles.
Santa Rosalia fishing reports and articles.
Bahia de los Angeles (L.A. Bay) fishing reports and articles.
San Felipe fishing reports and articles.
Rocky Point (Puerto Penasco) fishing reports and articles.
San Carlos (Sonora) fishing reports and articles .
Mazatlan fishing reports and articles .
Puerto Vallarta fishing reports and articles.
Ixtapa Zihuatanejo fishing reports and articles.
Huatulco fishing reports and articles.
Cancun fishing reports and articles.
Mexico coastal fishing reports and articles.
Mexico Fishing Home Page < Mexico Fishing News Archives < Fishing Report