Boats were catching so many that they had to release a good portion of them, such as Rebecca, who totaled 21 on September 8th and a pilot shark for Cade Nelms. Weights on the dorado are from 15 to 50 pounds, with the average being right around 20 pounds. Found in diverse locations, they are taking both bait and lures. Yellowfin tuna was a little on the slow side this week, with just the odd one here and there, picked up while trolling for marlin weights averaged 15 to 65 pounds, though there was one exception, a 153 pounder caught by Steve Gilliam from Denver Co, aboard Salsa...they also got a nice sailfish for Jim Ingstad from Fargo, N.D and lost a fair size blue on September 9th. Just a few wahoo around the 30 to 50 pound mark this week, all taken on lures. Closer in pangas caught small dorado and fair amounts of skipjack.
WEATHER CONDITIONS. Pretty good all week, with seas at 2-3 feet ground swell, mostly calm, but at the end of the week the wind picked up on the Pacific making condition uncomfortable. Some short rain bursts on Thursday the 6th.
AVERAGE WATER TEMP. Ranged from 84 to 87 F on the Pacific and on the Cortez side from 87 to the highest reading we got this week, of 91.4 F.
BEST LURES. Live bait for stripes and sails, assorted lures for blues, feathers, lures and bait for dorado.
CABO SAN LUCAS, MEXICO: PICANTE FLEET, Cabo San Lucas, September 16, 2001, Sergio Cortes, Reservations Tel 011-52-114-32474; Fax 011-52-114-35969. Fish available: Striped Marlin, Blue Marlin, Sailfish, Tuna & Dorado. Water temperature: 88-82. Air temperature: 86-76. Humidity: 79%. Winds: 8-10 knots. Fleet production (4 boats): 2 striped marlin, 1 black marlin, 9 tuna, 19 dorado, and 1 wahoo. Best fishing: Gordo Banks. Luckiest boat: Picante Pride, 35-foot Cabo. Captain Antonio Romero. Angler: Joe and Mark Miranda. Production: 2 striped marlin released (160-pound average), 6 dorado, 40-50 pounds; and 3 yellowfin tuna.
Tropical Storm "Ivo" brought nice warm water, fishing conditions couldn't be better.
CABO SAN LUCAS, MEXICO: FLY HOOKER SPORT FISHING, Cabo San Lucas, September 8, 2001, Capt. George & Mary Landrum, Reservations Tel 011-52-117-01271; 011-52-114-87452. WEATHER: Today it finally cooled off a bit and we had night time temperatures around 82 degrees. Early in the week the highs were getting into the 100 degree range and the nighttime temps were in the low 90s to high 80s. No air-conditioning needed last night! We had quite a few clouds this week as storms continued to pass well to the south. These clouds dropped a lot of rain in the Sierras but we only got a little bit here in Cabo. Our strongest downpour was Thursday afternoon and we had a bit of lightning and thunder to accompany it.
WATER: Early in the week the surface conditions were not too bad, but after mid-week the passing of bad weather to the south of us caused the swells to increase and the wind to shift. Both the Pacific and the Sea of Cortez experienced choppy conditions and the Pacific side became a bit rough. Water temperatures on the Pacific side averaged 80 degrees while that on the Sea of Cortez maintained about 3 to 4 degrees warmer. Near shore the water was a bit turbid and green.
BAIT: The usual $2 per bait and almost exclusively Caballito. Those wanting live baits for larger Blue or Black Marlin were able to catch small Skipjack Tuna just offshore. Sardinas were available to the boats running up to Gordo Banks and the price on them had gone up to $30 a scoop.
BILLFISH: Blue Marlin to #700 were caught this week, but most of them weighed 200-300#. There are still some Striped Marlin hanging around, mostly on the Pacific side of the Cape. The Blues are on the Cortez side and up the Pacific to the area of the lighthouse. That is not the only area they have been found but that is where the concentrations have been found. One nice thing about this week has been that they are not too far offshore, only around 2-8 miles! The Blues have been attracted to Lures and if not hooked on them, live bait dropped back has worked. Live bait for the Striped Marlin has been the ticket this week. Best lures have been blue/silver and the mean Joe green.
YELLOWFIN TUNA: My favorite fish to catch made a showing mid week 30 miles offshore mixed in with a large pod of Porpoise. I didn't get a chance to work these fish but the boats that did were catching 2-6 per boat and the weights were ranging from 60-100 pounds. Cedar plugs were the ticket for the boats that were there. The fact that the water roughened up quite a bit the day they were found kept a lot of boats from working the area. Gordo Banks has continued to put out some nice Tuna and the best results have been by boats using Sardinas for bait. These fish have been averaging 15-20 pounds but a few are in the 40-60 pound class. An occasional larger fish was hooked up but due to the light line being used to get the strikes, these fish were lost.
DORADO: Still the number one catch this week as well as last week, the average size has been around 10-12 pounds. Quite a few in the 25# plus category were caught and most of the very large fish, 50#+ were associated with floating debris. 6 inch feathers and jigs were the lure of choice for the schooling fish and once the larger fish showed up live bait worked very well. Most of the Dorado were found on the Pacific side of the Cape within 5 miles of shore.
WAHOO: Pretty much absent for the past week.
INSHORE: Most of the inshore fishing was for Dorado this week. The large swells made working the surf line a bit dangerous and not many Roosterfish were caught due to that reason. Other inshore species were found scattered on the Cortez side of the cape but not in any quantity
CABO SAN LUCAS, MEXICO: HOTEL SOLMAR SUITES, Cabo San Lucas, September 13, 2001, Dick Wilkes, Reservations Tel 800-344-3349. A wide open dorado bite only 5-7 miles off the arch paced the action for Solmar Fleet this week for both cruisers and pangas, with anglers hooking up fish as fast as they could reel them in. Triple and quadruple hookups were common on fish to 80 pounds. Blue marlin were also landed to 250 pounds, and a 250-pound gorilla tuna was caught by Cindy Turek aboard the 28-foot San Lucas VII.
The total catch for the fleet included: 6 blue marlin, 12 striped marlin, 4 sailfish, (18 billfish released), 234 dorado, 29 tuna, 1 wahoo, 3 roosterfish, and 3 yellowtail.
Except for two days of wind and rain, Cabo weather was mostly clear with sunny skies and air temperatures in the mid to low 90s. Humidity was decreasing and it is almost cool enough for a light jacket in the morning. Seas calm with a surface temperature of about 85 degrees.
This year, the water has been relatively cool, so the mackerel are staying alive, helping with the live bait fishing.
CABO SAN LUCAS, MEXICO: GAVIOTA FLEET, Cabo San Lucas, September 14, 2001, Larry Edwards, Cortez Yacht Charters, Reservations 619-469-4255. A lack of anglers caused by the East Coast tragedy, in conjunction of a few days of adverse weather conditions, severely impacted the catching this week throughout Los Cabos. At Gaviota Fleet, the report was but a handful of fishing days (lowest number of fishing days I have ever reported) and high count numbers were absent. However, the days that were fished showed continued good catches, reflecting 3 stripers released, 2 wahoo, 32 dorado, and 7 yellowfin tuna. Angler Ed Barr, Roseville, CA, captured a 120-pound yellowfin tuna, fishing aboard the Gaviota V, the largest of six fish taken.
Following a couple of days of heavy rain and port closure, the sun is out today and the boats are back out fishing. We had a report today that Arnold Hernandez, Oakland, CA, had landed a 60-pound dorado fishing aboard the El Budster, on of several taken.
Considerable runoff close to shore has clouded up the waters. Surface temperatures are still in the mid-80s and calm.
Best fishing continues to be at the Jaime Bank, some 16-18 miles from Cabo on the Pacific side.
CABO SAN LUCAS, MEXICO: BAJA ANGLERS, Cabo San Lucas, September 16, 2001, Grant Hartman, Reservations 888-588-3446. Considering the horrible events that have happened during the last week, I feel it's inappropriate to talk about the fishing this week. Can't seem find words to talk about the tragic events. --Grant.
CABO SAN LUCAS, MEXICO: MINERVA'S FLEET, Cabo San Lucas, September 15, 2001, Minerva & Bob Smith, Reservations 011-52-114-31282. Fishing is on, but clients are few. Shawn and Ed, the Pratt brothers, from Tampa, Florida, who came to Cabo to celebrate their birthdays, and had to delay their stay in Cabo San Lucas due to the World Crisis, have made the very best of the situation by fishing the "Minerva III" for 3 days. Today was their last day as they have great hopes of catching a plane out, maybe tomorrow. They caught and released Blue Marlin from 200 pounds to 500 pounds, dorado, tuna and a wahoo as tall as Ed! (Maybe 50 pounds.) What sportsmen, I'm so proud of them releasing all the billfish. It's hard to let a nickel plus fish go! But they'll be Baaaack! All three days the fishing was between 7 and 8 miles straight south of the end rocks.
In other mainland Mexico and Baja fishing action this week:
ENSENADA FISHING REPORTS
ALL ARTICLES, REPORTS AND FISHING INFORMATION FOR ENSENADA
ENSENADA, MEXICO: LILY FLEET, Ensenada, September 11, 2001, Sammy Susarrey, Reservations Tel/Fax, 5 to 9 p.m., 011-52-617-46747; Cell 011-52-618-67485. Today the Amigo fished in windy conditions outside, but we got some fish, 9 albacore, 20-25 pounds, 15 skipjack to 15 pounds. Water temperature ws 67.8. Nice blue water.
SEPTEMBER 13, 2001-- Today the Tamara fished 30 miles outside Todos Santos Island on a heading of 240 degrees, reporting 8 albacore and 3 skipjacks. Very windy and bumpy day.
SEPTEMBER 16, 2001-- Very slow yesterday. The Tamara returned with only 4 fish. The Amigo fished locally with 3 anglers reporting 5 yellowtail to 15 pounds and limits on medium sized bonitos. Today the Tamara fished for limits of rockcod at the Punta Banda bank. The Lily also fishing locally, reporting 8 yellowtail 2 miles outside Punta Banda and many small bonitos.
ENSENADA, MEXICO: SERGIO'S ENSENADA SPORTFISHING CENTER, Ensenada, September 9, 2001, Sergio Susarrey, Reservations Tel 011-52-617-82185. Today the fish were not in a biting mood as the open party boat Ensenada Clipper with 30 passengers caught 5 albacore, 1 yellowtail, and 15 yellowfin tuna. The charter boat El Cazador with 15 passengers caught 2 albacore, 1 yellowtail and 3 yellowfin tuna. In regards to outer banks fishing, you just never know what is going to happen out there the only thing we can do is to assure our clients that we would do our very best.
PUERTO SANTO TOMAS FISHING REPORTS
ALL ARTICLES, REPORTS AND FISHING INFORMATION FOR PUERTO SANTO TOMAS
PUERTO SANTO TOMAS, MEXICO: PUERTO SANTO TOMAS RESORT, Puerto Santo Tomas, September 13, 2001, Sam Saenz, Reservations Tel 714-256-2577; Ensenada 011-526-174-5683; Remote Santo Tomas Cell 011-52-617-13364, after 6 p.m. or 6:30-7:00 a.m. We had good fishing all week, except the ocean was rather nasty, with choppy waves and heavy winds. Locally they caught the regular bottom fish, along with big bonita and three yellowtail. For outer bank fishing Dick and Dee Johnson from Las Vegas caught one yellowfin tuna and one yellowtail. Needless to say the big one got away, we encountered the first school of yellowfin tuna at about 9 miles from the village and Dee hooked up to a big tuna, it went straight down taking about 75% of the 300 yards (50-pound test line), at this point Dick took control of the fishing pole but was unsuccessful the fish never stopped fighting he got spooled out and the line snapped.
SAN QUINTIN FISHING REPORTS
ALL ARTICLES, REPORTS AND FISHING INFORMATION FOR SAN QUINTIN
SAN QUINTIN, MEXICO: PEDRO'S PANGAS, San Quintin, September 16, 2001, Pete Hillis, Reservations 888-568-2252. This week, we had a very large group come down. Bud Wright and Jimmy Benitos from Todd Pipe & Supply from West Los Angeles brought a group of 25 anglers from the South Bay and Orange County areas. And they caught everything: albacore, yellowfin, yellowtail, dorado, and even a Mako shark (about 30 lbs)!!! The jackpot for this group went to Paul Gunerman of Garden Grove, who brought in a 37-pound albacore.
All tuna seem to be congregating on a warm current (about 68 degrees) about 15 to 18 miles off the point on a 240 heading. Fish were hitting dark feathers, natural cedar plugs, and Mexican flag. Most of the second day was devoted to bottom fishing which is always great.
Air temperatures are high 70's and the winds have remained calm.
SAN QUINTIN, MEXICO: THE OLD MILL, San Quintin, September 16, 2001, Brenda Hayes, Reservations 011-526-171-3498. It's been one of those strange weeks. On Tuesday the wind came up, making the seas a little rough for a couple of days, keeping anglers inside for bottom fishing, although counts on albacore and yellowfin and yellowtail were just below limits.
As of Thursday, the wind subsided, but counts slowed as well.
Plenty of anglers fishing on Saturday, but average catch was 5-7 fish per boat, a mixture of albacore to 25 pounds, yellowfin to 20 pounds, and yellowtail to 18 pounds. A few small dorado here and there.
All fish were landed 11-13 miles off the point trolling dark feathers and using live bait. Water temperature 64-66 with great conditions as of Sunday.
MAZATLAN FISHING REPORTS
ALL ARTICLES, REPORTS AND FISHING INFORMATION FOR MAZATLAN
MAGDALENA BAY, MEXICO: BAJA ON THE FLY, San Carlos, September 15, 2001, Gary Graham, Reservations Tel 800-919-2252; Fax 760-746-7260. Sea Temperature: 76-69. Air Temperature: 86-71.
Unsettled sea conditions kept most pangas close to shore this week as tropical storm Ivo passed some 175-200 miles off the coast. Clouds and windy conditions have prevailed for the last few days.
With good reports of dorado, tuna and marlin being seen around the offshore high spots, everyone is hoping for a repeat of last year's incredible fishing.
Back in Santa Maria Bay, our friend Brian Freitag at Mag Bay Tours reported good fishing on pinnacles for grouper and white sea bass to 45 pounds.
Inside Magdalena Bay proper and up in the esteros, the pargo and grouper were beginning to make a good showing. The broomtail grouper is a distant cousin of the freshwater peacock bass you hear so much about in South America and has a similar disposition. A well-presented chartreuse Baja deep diver can produce a grab that you won't forget for a long time!
Inshore, there are some yellows near the entrada, but the best action is out further near the Thetis Bank. A few corvina and snook were found both at Devil's Curve and the Power Plant. Another spot to check is the bridge at the entrance to Puerto San Carlos.
I will be with Pete Gray and Marty Milner on their popular "Let's Talk Hook-up" radio show this evening, Sept. 15, from 6-8 p.m. Pacific Time, station XTRA AM 690. You may also listen on the internet, http://www.wsradio.ws/.
My new book, "The No Nonsense Guide to Fly Fishing Magdalena Bay, is now available! Get your autographed copy at: http://secure-shopping-cart.com/bajafly/cart/index.html
MAGDALENA BAY, MEXICO: MAG BAY TOURS, Punta Hughes, September 15, 2001, Brian Freitag, Reservations 800-599-8676. All of us at Mag Bay Tours would like to extend our deepest sympathy to all those affected by the terrorist attack on Tuesday. We are all heart broken by these events. God Bless America!
Our operations are still in action. The difficulty has been getting clients in and out since our "standard" LAX to Loreto flights are canceled until at least Sept. 20th. We are now working with Tijuana to La Paz flights until the normal flights resume. As we don't handle flight arrangements, our clients are left to their own devices on changing their flights, and to get to and from TJ. This week we had a 40% cancellation rate, next week looks as though it will be about 20%.
Tropical storm Ivo shut down fishing for the week. Conditions were way too rough and windy after Monday afternoon to do any fishing. Sustained winds at the camp were in the 30 to 50 mph range from Tuesday morning through Thursday noon. The camp went into emergency mode during that time.
Surf Report: The water has warmed enough to support a tropical storm/hurricane. Ivo gave us great surf until Monday evening, then conditions were to hairy to go out. For the first time ever, we have completely sold out the surf season. Book your 2002 trip now. There are a very few spaces left.
SAN JOSE DEL CABO (LOS CABOS) FISHING REPORTS
ALL ARTICLES, REPORTS AND FISHING INFORMATION FOR SAN JOSE DEL CABO
SAN JOSE DEL CABO, MEXICO: GORDO BANKS PANGAS, San Jose del Cabo, September 16, 2001, Eric Brictson, Reservations 800-408-1199; Fax 619-447-4098; 011-52-114-21147. Since the tragic terrorist attacks in the United States on Tuesday, September 11, tourism has come to a halt. With International air flights canceled the only tourists in town are ones that arrived before the attacks. Many of the travelers had to charter buses or rent cars to return to the U.S. border. Hopes are that flight schedules will be resumed this coming week. These senseless attacks will be affecting all of us for a long time to come.
Tropical Storm Ivo swept past the southern Baja Peninsula on Wednesday, Oct. 12, within 100 miles of Cabo San Lucas, with it came heavy rainfall and wind gusts up to 50 miles per hour. Anglers reported good action for yellowfin tuna and dorado in the days preceding the storm, high surf conditions shut down all panga operations in the San Jose del Cabo area for several days. As the peak storm surge developed, it coincided with high tides on Wednesday afternoon and created very treacherous surf that broke high up the beaches and scattered pangas in all directions. This made everyone on the beach of La Playita quickly scramble to haul the boats to the safety of higher ground.
Over the weekend the seas had settled back down and anglers found good numbers of schooling dorado throughout the area. These fish ranged mostly under 20 pounds and were taken while trolling a variety of medium size lures. Live bait became more difficult to obtain in the days following the high surf, but there have been limited supplies of sardinas available off of Palmilla and Playita. Yellowfin tuna were not as active as they had been before the storm but as conditions normalize again the bite should improve. The tuna that were landed weighed an average of 15 to 60 pounds, they were hooked on both live and chunk baits. A few wahoo were also accounted for by anglers who targeting them with marauders and skirted lead heads, the weights ranged up to 45 pounds.
Black and blue marlin continue to dominate the billfish action, the Gordo Banks was producing strikes for anglers trolling larger baits and larger lures. Most of the strikes around the banks were on the live bait, with skipjack and small yellowfin tuna being the favorite.
EAST CAPE FISHING REPORTS
ALL ARTICLES, REPORTS AND FISHING INFORMATION FOR EAST CAPE
EAST CAPE, MEXICO: BAJA ON THE FLY, Buena Vista, September 15, 2001, Gary Graham, Reservations Tel 800-919-2252; Fax 760-746-7260. Sea Temperature: 81-86. Air Temperature: 98-77. With the exception of pesky wind waves for two days, inshore and beach fishing still gave the best flyrod bang for the buck last week. We're finding roosters and jacks from the beach early morning, and dorado and tuna from La Ribera to below Las Frailes.
Inshore, plenty of smaller dorado and tuna grabbing a well-placed see through deceiver or chartreuse Clouser.
On the beach, the early bird gets the worm, so be there before the sun comes up! Plenty of smaller roosters and jacks are around to sharpen up your saltwater techniques. Late afternoon winds may hamper the evening bite.
Offshore, it's a long time between bites for billfish. Don't waste your fishing time.
East Cape weather continues "suspiciously good." As I have been saying all month, the tropical storms just keep sliding by. The latest, "Ivo," went past Cabo San Lucas and on up the Pacific Coast. Nevertheless, we had clouds and windy conditions on Wed., Thurs. and yesterday and most of the fleet stayed close to home. This morning (9/15) found flat, calm seas.
Pargo, skipjack and a few sierra also continue to provide local action for the fly-rodder. Try any of the rocky points from Buenavista to Punta Arena for the pargo. Inshore in front of La Ribera is the best spot for skipjack and sierra.
At this time, flights to Baja have been canceled with the exception of Tijuana departures. Hopefully, air travel to Baja from the U.S. will resume early next week.
I will be with Pete Gray and Marty Milner on their popular "Let's Talk Hook-up" radio show this evening, Sept. 15, from 6-8 p.m. Pacific time; station XTRA AM 690. You may also listen on the Internet, http://www.wsradio.ws/.
My new book, "The No Nonsense Guide to Fly Fishing Magdalena Bay," is now available! Get your autographed copy at: www.secure-shopping-cart.com/bajafly/cart/index.html.
EAST CAPE, MEXICO: RANCHO LEONERO, Bahia de Palmas, September 15, 2001, John Ireland and Roy Baldwin, Reservations 800-646-2252; Hotel 011-52-114-10216. We join the world in expressing our grief and sympathy for the victims of this week's tragic events. God Bless America!
Cooler weather this week, with daytime highs about 90, morning lows in the upper 70s, mostly sunny skies, flat mornings with afternoon breezes, and warm water temperature about 85 degrees. We lost 2 days of fishing during midweek when Tropical Storm Ivo passed us by, bringing us only a few showers and cooler temperatures. The strong bite on tuna, dorado and roosterfish continues, with good billfishing for sails and blue marlin.
Roosterfish--The unbelievable bite continues, with record book fish taken daily. Lots of fish over 60 pounds all week, with Los Frailes bay producing best, with fish taking slow-trolled caballitos and sardinas.
Tuna--Fish are concentrated off La Ribera, with most anglers taking limits of fish from 10-15 pounds, mostly on live sardinas and bright colored hoochies.
Dorado--Wide open, the best it's been in a couple of years, with limits of fish from 15-30 pounds schooling everywhere south, from Cabo Pulmo to Los Frailes, with live sardinas and trolled bright colored hoochies working best.
Billfish--Lots of tailers with steady fishing all week, with the bite moving outside. Very light fishing pressure as most anglers are targeting the exceptional game fish bite close in. Sails and blues are biting from La Ribera on south, with green/black trolled lures and live caballitos working best.
Angler of the Week--Sherri Lattimore of McKinney, TX, while fishing 1/2 day on a super panga, took 2 roosters, 47 & 64 pounds, limits of dorado, and a 25-pound yellowfin tuna. --John Ireland.
SPECIAL REPORT FROM DENNIS SPIKE, COASTAL KAYAK FISHING, Rancho Leonero, September 11, 2001-- With the rise and fall of the full moon, the East Cape fishing came to life. Spring seems to come to Baja every time it rains. We just finished 2 weeks of guiding and the reports have stayed solid since. Fishing the banks off La Ribera with the local fleet, the kayaks were able to score handily on yellowfin tuna that grew in size daily. By the end of the weekend, tuna to 37 pounds were boated by yak. After the morning tuna bite which always includes a few dorado, the kayaks get towed to near shore reefs for pompano, pargo, jacks and other reef fishes with a few tuna and dorado near the drops. Needlefish are a major pest but working through them pays off. Pargo to 30 pounds, amberjack and jack crevalle to 25# and a good show of African pompano to 15 pounds have been the average daily show for the kayak fishermen out of Rancho Leonero. A few roosters to 20# have shown too. Dorado can be had everywhere close to shore throwing small iron on the boils. The boats there have doing the "average thing" with better than 50% success. Marlin fishing is strong, fish within 13 miles, with most fish being safely released. It's crucial to diligently and continually educate anglers on the importance of releasing these fish. I was lucky enough to cross paths with Bob Van Wormer Sr. at the Ranch and he had great stories emphasizing the difference in today's marlin fishery from years past and sage advice on the importance of releasing billfish in good shape.
La Bufadora is going strong too with bass, yellowtail and lings being the target fish. We have guided kayak trips on the water this weekend and October 12-14.
EAST CAPE, MEXICO: HOTELS PALMAS DE CORTEZ, PLAYA DEL SOL, PUNTA COLORADA, East Cape, September 13, 2001, reported by Shannon Moe, and by Dave "Smokey" Manuel of East Cape Smokehouse, Hotel Reservations, 800-368-4334. Air temperature: 98-86. Water temperature: 86-81. Charters 87. Fish count: blue marlin, 6; striped marlin, 1; sailfish, 10; dorado, 483; yellowfin tuna, 308; wahoo, 19, roosterfish, 4.
Before anything can be said about fishing, I need to send a word back those of our friends back in the U.S. that have been personally affected by the recent tragedies that our thoughts are with you. Many of the American population down here, including myself, have done nothing in the last two days but stay glued to the satellite TV, watching the developments back in the US. Many anglers here canceled fishing trips on Wednesday after hearing of Tuesday's events and spent the day in front of the TV checking for the latest. Obviously, those scheduled to return to the US have been stranded here, but I understand the airport in Los Cabos was reopened and some anglers are planning on returning to the states on Friday or Saturday if possible.
Tropical Storm Ivo approached, but passed by the southern tip of Baja by about 160 miles on Wednesday, however it was close enough that fishing here up on the East Cape was affected. Several resorts held back boats on Wednesday and I believe all did on Thursday due to the possibility of high winds and rough seas. Thursday actually had more of both than either Tuesday or Wednesday, although by this time the storm had passed to the Pacific side of the peninsula on the Western side of the Sierra de La Laguna mountains. By late Thursday skies were nearly clear and the Sea of Cortez had laid down some, so perhaps today, good fishing weather will return. Fishing continues to be very good number wise on both Dorado and Tuna, while the Billfish species continue to be more difficult to locate. Although the lion's share of both Tuna and Dorado continue to be at the 20-pound mark and below, a few spots of larger Tuna up in the 30 to 60-pound class were found down off Los Frailes and Destillideras. Nearly all the bites on both lie to South side of Los Barriles, anywhere from La Ribera all the way down to Destilideras.
EAST CAPE, MEXICO: VISTA SEA SPORT, Buena Vista, September 12, 2001, Mark Rayor, Reservations, 011-52-114-10031. Visibility 80-100+ feet. Water temperature at surface: 90; at depth: 85. Mild currents. Conditions at Cabo Pulmo have greatly improved the last couple days. Rain and clouds from Tropical Storm Ivo have not effected water conditions.
LA PAZ FISHING REPORTS
ALL ARTICLES, REPORTS AND FISHING INFORMATION FOR LA PAZ
LA PAZ, MEXICO: JONATHAN ROLDAN'S TAILHUNTER INTERNATIONAL, La Paz, September 15, 2001, Jonathan Roldan, Tel 877-825-8802. I think these past few days have taken more out of me than the entire season! But, we're okay and in the grand scope of what's going on in the world, this is nothing. I just need to get everyone home safely.
Have been trying to keep 18 frustrated people here informed for the past 3 days. Yesterday, got 3 of them out on Aero Cal to Tijuana, but that still left 15. Got word from Aero Cal that I had them all confirmed for this morning to fly back to the U.S. I spread the word and everyone was ready to party. Had a big taco tour and party arranged last night at 7:30 p.m. At 7 p.m. I got word that Aero Cal had changed their minds. Now...no flights out of La Paz to the U.S. until the 20th of September! One whole week!!!!
Almost had a near riot as I delivered the message to everyone waiting in the lobby. Got back on the phones for 3 hours and now finally found 15 seats for Sunday afternoon to leave from here to Tijuana. How I get them from Tijuana to Los Angeles, San Jose, San Francisco and Modesto from there is anyone's guess...
Wish I could take them fishing or diving, but the weather has really been stinky and there's word that we may have a tropical storm on the way. This sounds more and more like a movie script!
By the time you're reading this, flights will hopefully be resumed. It's not so bad really. La Paz is NOT a bad place to have a "forced vacation." But we miss our families and all of us would love to be home on our own soil.
n the grand scheme of things, we are all angry that we're stuck here, but we also realize this is merely an inconvenience compared to the larger issues currently taking place in our world. Our Mexican friends down here are unanimously sympathetic about what happened.
There's a lot of folks temporarily stranded down here and in other cities in Baja and I know I've personally had quite a few cancellations and postponements from clients whose flights have been canceled. My best advice to you is to make sure that you call your airline to make sure you have a flight before you head to the airport. Even when flights are up and going, there are sure to be delays and interruptions. Just go with the flow and give yourself enough time.
As for fishing, it's been pretty somber here. Just seems like no one wants to fish or dive. That's the honest truth. There aren't many folks down here, but even those who are here just don't seem to be into it. Have had very few boats. We had a few funky weather day, but now air and water are just ideal!
However, out of Las Arenas, there's a nice bit of wahoo fishing to be done. Most of the skinnies are that 20-30 pound grade of fish, but trolling Rapalas (Ninja colors or fire tiger) has been getting the most bites.
For the La Paz side, there are two main spots that the appear to do their best work. The area at Punta Ballena near Pilot Cove on the East Side of Espiritu Santo has produced some fish to 80 pounds. It's pretty interesting because you can hook the fish as close as 100 feet off the cliff where the drop off is located. You could literally make a good cast at times and hit the face of the cliff. However, not only tuna, but also the occasional dorado has come off that section. The other hot spot has been El Bajo. Waters are incredibly warm there. The seamount has literally been alive with sea life! Interestingly, live bait did not work best. On the contrary, we got our best bites when I chunked a mixture of chopped bonito and cut sardines and tossed handfuls into the current. At times that produced almost an instant bite. There were a few footballs, but a majority of the yellowfin were all quality grade YFT's!
LORETO FISHING REPORTS
ALL ARTICLES, REPORTS AND FISHING INFORMATION FOR LORETO
LORETO, MEXICO: ARTURO'S SPORT FISHING, Loreto, September 11, 2001, Arturo Susarrey, Reservations Tel 011-52-113-50766; Fax 011-52-113-50022. Hola Gene. We are very sorry for the sad events in your country, as you can imagine, this thing affected us from the first day because most of our clients arrive here by Aerocalifornia Our town is almost empty and we will be like this maybe until next weekend.
Any way some of the captains are going fishing by themselves, and they are catching around 5 to 6 dorados in the El Pulpito area but no big ones, between 10 to 20 pounds. I hope to have better information for next week.
Weather: We still have a very hot weather, but the last weekend we had some breezy days and the weather came down a little, the temperature is around 98-100 F. Water temperature: 80 F.
DORADO: Last weekend we had a Dorado Tournament and the fishing was very good in San Bruno, the first place caught one of 52 pounds. the second place was 36.7 and the third was 34.2. The rest of the group caught dorados between 20 to 30 pounds.
SAILFISH: In the same tournament they caught one sailfish of 118 pounds in the same area.
YELLOWTAIL: El Bajo de el Pulpito has a good number biting on the bottom with squid. Weight between 15-30 pounds. Best regards, Arturo.
LORETO, MEXICO: BAJA BIG FISH COMPANY, Loreto, September 17, 2001, Pam Bolles, Reservations Tel/Fax 011-52-113-50448. Air temperatures have been in the high 90s to 100+ range and lows are in the mid 80s. Humidity is high. Skies are clear. We are seeing t-storms over the mainland and rain clouds over the mountains to our west. This is typical of late summer.
Winds are prevailing from the south. Calm in the early mornings then starting by mid-day although it was windy all day long today.
Seas most days have been calm from port to the islands. Today the winds kicked up the seas considerably.
Dorado: The dorado bite has picked up as the moon phase has darkened. Last week we were getting them way to the south between Punta Perico and Isla Catalan and also off Monserrat, but suddenly they moved to the north and that's where we've been getting them ever since. We're getting nice sized dorado off of the San Bruno area. The fish are thick and they are in the 25 pound class. Most are trolling live bait to get them. There is no sargasso in the area as it probably has been blown under because of swelly seas. Today is a very windy day and most boats stuck close in around Isla Coronado where there was seaweed reported, and off the northern points of Isla Carmen. Boats are still coming in and I'm seeing some nice dorado have been caught despite the winds.
Billfish: There are many sailfish in the San Bruno area. Most are trolling live bait to get them but trolling feathers work quite well too. The sailfish are in the 100-130 pound range and these days it's easy to catch several to a boat. We encourage the practice of catching and releasing all billfish.
MULEGE FISHING REPORTS
ALL ARTICLES, REPORTS AND FISHING INFORMATION FOR MULEGE
MULEGE, MEXICO: MULEGE READER REPORT FROM RON GRANT, September 16, 2001-- Due to current events this past week most sportsmen's minds are on other things besides that big fishing trip. Here is an update for your flying Sportsman. As of Friday the FAA has closed all U.S. airspace to general aviation VFR traffic. This means NO general aviation aircraft can take off or leave the ground. The exception would be pre-approved mercy flights (medical) or IFR traffic. This is Instrument Flight Rules, positive control, only. Flights most be approved prior to takeoff and terminate on landing. No deviations to original flight plan will be approved. This limits most general aviation as many aircraft and pilots do not have this capability. Have been advised that military intercepts are not only a possibility, but assured.
Also, under any conditions, NO FLIGHTS ARE PERMITTED TO CROSS THE BORDER BETWEEN MEXICO AND THE US. THIS CLOSING THE BORDERS TO ALL GENERAL AVIATION FLIGHTS.
For the Mulege report; A tropical storm moved through midweek bringing heavy rains and high winds. Weather back to normal, but with no airplanes coming and going and most tourist heading home due to current event little or no boats on the water. I talked to one resident via telephone and he said all sport fishing has come to a standstill. No empty boat trailers at the dock and no radio chatter on the fishing channels. Strange times indeed.
BAHIA DE LOS ANGELES (L.A. BAY) FISHING REPORTS
ALL ARTICLES, REPORTS AND FISHING INFORMATION FOR BAHIA DE LOS ANGELES
BAHIA DE LOS ANGELES, MEXICO: CAMP GECKO, Bahia de los Angeles, September 15, 2001, Abraham Vazquez, Tel 011-52-515-19454; Fax 011-52-665-03206 (goes to Guillermo's), satellite EMAIL direct to Camp Gecko at L.A. Bay. Hi Gene. There is not much to report as far as the fishing, there are almost no dorado left, and even the yellows are very slow, the temperature has cooled down a bit, and the water temperature is still 81-83 F, there has been a lot of cancellations for the next month, the general comment is that people are upset and not in the mood for vacations, and a lot of the people are also uncertain of what the near future will bring, and some are just not in the mood for waiting in line at the border for 3-4 hours, I hope it all passes soon, but I guess the news media will exploit it till people get fed up with the subject and start traveling again, like always I am sure we will all manage to survive and keep on, viva Mexico and viva USA.
SAN FELIPE FISHING REPORTS
ALL ARTICLES, REPORTS AND FISHING INFORMATION FOR SAN FELIPE
SAN FELIPE, MEXICO: SEA OF CORTEZ SPORTFISHING, 6-day Midriff Islands trip aboard the panga mothership, Celia Angelina, Bob Castellon, Reservations 626-333-9012; Fax 626-336-1966; San Felipe 011-52-657-71778, trip edning September 13, 2001. Water temperature 76-85. Air temperature 95-100. The fishing trip left to beautiful clear weather. One of the best trips of the year. Seas were like glass for the first five days, but it blew on the sixth day and we were slightly delayed getting back to San Felipe. The wind came up on the Golden Reef and we only got in one-quarter day of fishing. We waited things out in the lee of Isla San Luis. Yellowtail fishing was super good at Isla San Esteban, with limits all around, also 179 yellowtail, 3 giant squid, 12 cabrilla, and lots of skipjack. Dorado fishing was exceptional at San Francisquito. They were caught on jigs and feathers, black/red and green/yellow were favorites. We had one sailfish hookup, and the fish almost jumped into a skiff of one of the other boats! That was exciting for a while. There was lots of bait in all the usual spots. A great time was had by everyone. I'm calling this in as we pass Puertocitos headed south. More news in a week.
JIGSTOP TOURS, 6-day Midriff Islands trip aboard the panga mothership, Captain Villegas, Cathy Ward-Burson , Reservations Tel 800-521-2281, trip ending September 14, 2001. Trip ending September 24, 2001 with 27 anglers: Dorado 764 (over 80 per panga), average 17 pounds; Yellowtail 198, average 20 pounds; Cabrilla 16, average 8 pounds; Pargo 12, average 8 pounds. CONDITIONS: A nearby tropical storm produced strong winds, which restricted the fishing a bit. They only got about 3 full days of fishing in, but with the Dorado bite as hot as it was the fisherman were not too disappointed. AREAS FISHED: San Francisquito and San Lorenzo. We are now booking for our 2002 season, including our 6 & 8 day Socorro Island trips.
MAZATLAN FISHING REPORTS
ALL ARTICLES, REPORTS AND FISHING INFORMATION FOR MAZATLAN
MAZATLAN, MEXICO: ARIES SPORTFISHING FLEET, Mazatlan, September 14, 2001, Larry Edwards, Cortez Yacht Charters, Reservations 619-469-4255. Mucho rain and wind squalls hammered the area for most of the week and only a few sportfishers were able to get out. On the 5 fishing days reported, the report reflected 11 sailfish, 5 yellowfin tuna, 7 dorado, and 1 wahoo. Aries VI was top boat for the week, with a single day's fishing, releasing 4 sailfish, taking another that died in the battle, and rounded out the catch with the week's only wahoo.
Weather included lots of rain that was mostly in the afternoons until midweek, and then, downpours throughout the day during the past several days. Sea conditions went from flat to rough and unfishable, with lots of runoff in the near shore areas.
Best fishing was 25 miles southwest of Marina el Cid at 210 degrees. All fish were taken on rigged trolling baits.
IXTAPA ZIHUATANEJO FISHING REPORTS
ALL ARTICLES, REPORTS AND FISHING INFORMATION FOR IXTAPA ZIHUATANEJO
IXTAPA ZIHUATANEJO, MEXICO: VARGAS SPORTFISHING, Ixtapa-Zihuatanejo, September 15, 2001, Marcos Vargas, Reservations 011-52-755-48146. Hello Gene. I feel so sorry about what happened in your country. It is very bad because many people died. Here the people are very afraid. I hope nothing bigger happens.
This week we have very few people in town, and when they heard what happened they wanted to get back to the USA. The airport was closed for 2 days. No planes to the USA. Now the town is like dead.
Also people did not fish this week because we had a storm for 3 days. The sea is very rocky. The weather is about 91F, very hot, it is raining. The water temperature is about 85F.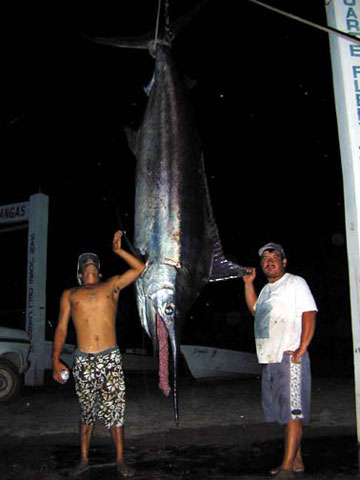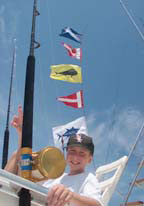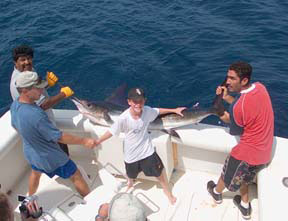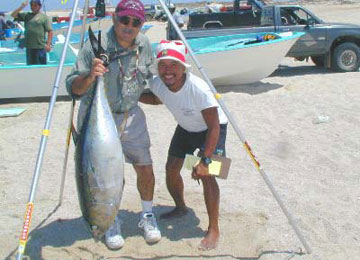 Baja coastal fishing reports and articles.
Ensenada fishing reports and articles.
Puerto Santo Tomas fishing reports and articles.
Erendira fishing reports and articles.
San Quintin fishing reports and articles.
Magdalena Bay fishing reports and articles.
Cabo San Lucas fishing reports and articles.
San Jose del Cabo (Los Cabos) fishing reports and articles.
East Cape fishing reports and articles.
La Paz fishing reports and articles.
Loreto fishing reports and articles.
Mulege fishing reports and articles.
Santa Rosalia fishing reports and articles.
Bahia de los Angeles (L.A. Bay) fishing reports and articles.
San Felipe fishing reports and articles.
Rocky Point (Puerto Penasco) fishing reports and articles.
San Carlos (Sonora) fishing reports and articles .
Mazatlan fishing reports and articles .
Puerto Vallarta fishing reports and articles.
Ixtapa Zihuatanejo fishing reports and articles.
Huatulco fishing reports and articles.
Cancun fishing reports and articles.
Mexico coastal fishing reports and articles.
Mexico Fishing Home Page < Mexico Fishing News Archives < Fishing Report