Water temperatures have averaged about 85 degrees and the clarity is improved, blue within a couple miles of shore. No rain reported this past week but as of now we are all watching closely the development of Tropical Storm Juliette to the south of Acapulco, this storm is intensifying and is forecast to be tracking in the direction of Southern Baja.
Sportfishing fleets were trolling the waters from Cabo San Lucas to Vinorama, finding mixed success, a couple of the more consistent areas recently were off of Red Hill and north of Punta Gorda, at La Fortuna and the Iman Bank. They were catching yellowfin tuna, dorado, sailfish, wahoo, skipjack, striped marlin and a few black and blue marlin. Live sardinas were being netted near Palmilla and this was the most productive bait for the medium sized game fish that were available. Last week dorado were found in large schools throughout the area, most of the fish were in the 5 to 10 pound range, some big bulls to over 40 pounds were accounted for, though not numerous, in recent days dorado proved harder to locate and it was the football sized (10 to 15 pound) yellowfin tuna that dominated the action. In some locations anglers reported larger yellowfin tuna of 40 to 60 pounds. Pangas were recording an average of 10 tuna and several dorado per boat. The fish were hitting on a variety of medium sized trolling lures and once found could be chummed up with the sardinas. A few wahoo were taken off of trolled lures in the areas of Red Hill and Iman, but it was just one here and there, they ranged up to 45 pounds. The sailfish were found scattered on the offshore fishing grounds and weighed from 50 to 90 pounds. A handful of blue and black marlin, along with striped marlin were accounted for out of La Playita this past week, the largest fish reported was a 383-pound black marlin, caught off the Gordo Banks by local panga anglers Carlos and Titi on Saturday, Saturday, the 22nd. Good Fishing, Eric.
In other mainland Mexico and Baja fishing action this week:
ENSENADA FISHING REPORTS
ALL ARTICLES, REPORTS AND FISHING INFORMATION FOR ENSENADA
ENSENADA, MEXICO: LILY FLEET, Ensenada, September 18, 2001, Sammy Susarrey, Reservations Tel/Fax, 5 to 9 p.m., 011-52-617-46747; Cell 011-52-618-67485. Yesterday, the Tamara went out 26 miles on a heading of 200 degrees from Punta Banda and found nothing. We caught limits of bottom fish at Punta Banda Bank on the way home. Bottom fishing is excellent with salmon groupers, lingcod, red snapper and bass. Weather has been cool for three days.
SEPTEMBER 19, 2001-- Yesterday the Amigo fished outside with 4 anglers, reporting 12 yellowtail and 3 albacore. On the way back they stopped and loaded up with bottom fish at Punta Banda. Incredible on bottom fish this week. We've been catching up to 3 lingcod at one time. Also salmon groupers on 10-ounce Diamond Jigs. Inside the bay, the Lily with 2 anglers reported many small bonitos and medium barracudas at San Miguel Point. Also, 2 nice 20-pound halibut, all by 12:30 p.m.
SEPTEMBER 21, 2001-- Yesterday with 3 anglers in a private boat we caught 11 albacore to 20 pounds and 9 yellowtail to 20 pounds at the kelp paddies. We fished 42 miles out on a heading of 250 degrees. Water temperature was 66.5 degrees with nice color. Today, the Lily reported very good action at Punta Banda at 9 a.m. Many yellowtail and bonitos on top.
MAGDALENA BAY FISHING REPORTS
ALL ARTICLES, REPORTS AND FISHING INFORMATION FOR MAGDALENA BAY
MAGDALENA BAY, MEXICO: BAJA ON THE FLY, San Carlos, September 19, 2001, Gary Graham, Reservations Tel 800-919-2252; Fax 760-746-7260. Strong afternoon winds continued to hamper the fishing this week. With the shrimp season opening this week, most of the focus of the locals was on that fishery. Nope, they won't take a fly. Looking at the Sea Surface Temperature maps provided by Terrafin, it would appear that the sea temps are remaining constant which promises better offshore fishing in the next few weeks. Temperatures: 86-degree high; low 73. Windy in the afternoons and some high clouds.
MARLIN--High spots the best bet. DORADO--Thetis Bank or the shark buoys providing the best action. TUNA--Seem to be hanging out around the high spots. YELLOWTAIL--Pretty quiet this week. CORVINA--You don't have to go very far. Try the bridge at the entrance to Puerto San Carlos. SNOOK--Not much action this week. SIERRA--Quiet. PARGO & GROUPER--Best catches down at Alemejas Bay.
My new book, "The No Nonsense Guide to Fly Fishing Magdalena Bay," is now available! Get your First Edition autographed copy at: http://secure-shopping-cart.com/bajafly/cart/index.html.
Additionally, the 58-foot boat that we're using this year had a cancellation on one of their trips. That means we can do an additional Flyrod Marlin 101 trip for three people if anyone is interested. The dates are October 24-30.
MAGDALENA BAY, MEXICO: MAG BAY TOURS, Punta Hughes, September 22, 2001, Brian Freitag, Reservations 800-599-8676. Aero California is flying at about 75% of its normal flight volume. They were certified by the FAA last Sunday to resume Loreto to LA flights, and were allowed to resume normal LAX operations on Friday.
We are experiencing a 20% cancellation rate for this week and next. But, we are getting calls from people anticipating cancellations to get on one of our long sold-out trips!
Those who have canceled are missing the shrimp season. We have been feeding our clients shrimp "the size of lobsters!"
Rob McCarthy of Bakersfield, who is staying with us a month, fishing from his 47-foot Cabo, has been fishing from 20 miles north of the Thetis to the pinnacles off Cabo Tosca. He reports that the best fishing is within a 10 mile radius of our camp at Punta Hughes. This coincides with a sharp temperature break that lies along the magic 100 fathom line.
Rob and his crew of anglers have landed numerous Striped Marlin to 125 ponds, Tuna to 50 pounds, Wahoo to 60 pounds, and Dorado to 60 pounds.
Rob's goal for his stay with us is to is to land 150 marlin in a day. We are rooting for him!
We had great surf all week, varying from 4-foot to 8-foot+. The waves were clean and consistent at both Campsite and Cuevas. Most surfed Cuevas to take advantage of the larger sets.
Water temp in the lineup is about 75 degrees, but afternoon offshore winds make it cool enough to need a spring suit.
CABO SAN LUCAS FISHING REPORTS
ALL ARTICLES, REPORTS AND FISHING INFORMATION FOR CABO SAN LUCAS
CABO SAN LUCAS, MEXICO: PICANTE FLEET, Cabo San Lucas, September 21, 2001, Sergio Cortes, Reservations Tel 011-52-114-32474; Fax 011-52-114-35969. Water temperature, 82/88. Air temperature, 75-92. Humidity, 62%. Wind, 8-10 knots, Pacific and Cortez. Fleet production (3 boats), 2 striped marlin, 6 yellowfin tuna, 12 dorado, and 2 wahoo. Hotspot: 28 miles off the arch. Luckiest boat: Picante Pride, 35-foot Cabo. Captain: Antonio Romero. Angler: Paul Buchanan. Production: 2 yellowfin tuna, 120 and 175 pounds.
CABO SAN LUCAS, MEXICO: FLY HOOKER SPORT FISHING, Cabo San Lucas, September 22 2001, Capt. George & Mary Landrum, Reservations Tel 011-52-117-01271; 011-52-114-87452. WEATHER: Sunny skies all week long with the temperatures climbing as the days progressed. High temperatures were in the 90s by Saturday and the lows in the evenings were down in the low 80s. No rain and the prevailing winds were light from the N.W. in the mornings and picking up to strong breezes in the afternoons.
WATER: Early in the week the Pacific side of the Cape had large swells, flattening out mid week and picking up again Friday. The waters on the Sea of Cortez remained calm all week, calm and warm! We were recording temperatures between 86-89 degrees everywhere we went. There has been a 15-18 mile wide band of this warm water running from the Cape up the Pacific side and out to San Jaime and Golden Banks. Water on either side of this warm band is in the 82-85 degree range and a little further north it drops below 80 degrees.
BAIT: Caballito at $2 per bait has been readily available and Mullet can be had with prior arrangements made. I did not hear of anyone in Cabo getting Sardinas this week.
BILLFISH: Ah, a very good week for those wanting to hook into a Marlin! There was action every day on Blue and Striped Marlin and for a couple of days there were a lot of Sailfish off of Cabo Falso. It seemed as if most of the Blue Marlin were found south of Lands End and up the Sea of Cortez while most of the Striped Marlin were on the Pacific side. The fish were found on the edge of the warm water current line and were caught on a mix of live bait and lures. A few Blue Marlin in excess of 600 pounds were reported but most of them seemed to be in the 200-300 pound range. Striped Marlin were averaging 120 pounds. The Sailfish action was concentrated just 3 miles offshore and there were reports of groups of 10-12 fish at a time coming up into the spreads. Some of the boats were hooking up over half of the fish they saw come in! Great action for Tuesday and Wednesday.
YELLOWFIN TUNA: On Tuesday a pod of Porpoise was found off of Cabo Falso that delivered Yellowfin ranging in size from #40 to #150. This was just on the northern edge of the warm water current. Other Porpoise delivered fish in the football size to #60 range and a few football Tuna were found near shore. Gordo Banks appears to be putting out a few nice fish again but that is really a timing thing due to the very warm surface water. Porpoise associated Tuna were caught on lures and Live bait was the key at Gordo Banks.
DORADO: The concentration seems to have been near shore on the Pacific side of the Cape. Feathers in the 6-inch size and slow trolled live bait were the best bet and most of the fish were on the smaller side at 10-12 pounds. A few large fish in the 50-60 pound range were caught also and these were almost always lure caught fish. Almost everyone had a chance to go home with plenty of fillets.
WAHOO: San Jaime and Golden Gate banks along with the ledge off of Cabo Falso delivered scattered Wahoo in the 30-50 pound category. Islander lures and 12-inch Marlin lures worked well since most of these fish were incidental catches.
NEARSHORE: Roosterfish action has died down and Snapper catches have risen this week, however most of the boats have been targeting Dorado. Scattered Tuna action and an occasional Marlin made Panga fishing a good bet for variety.
CABO SAN LUCAS, MEXICO: PISCES FLEET, Cabo San Lucas, September 18, 2001, Tracy Ehrenberg, Reservations Tel 011-52-114-31288; Fax 011-52-114-30588. BILLFISH: The tragedies in the U.S have affected everybody. Close to 90 percent of our clients were unable to make their scheduled fishing trips this past week, as planes were not flying, however, the few that were already here, or those that came in at the end of this report did exceptionally well.
First up we have to congratulate Charles and Tim Derryberry, from Vancouver, WA and Yucaipa, respectively, who managed to release 3 blue marlin aboard La Brisa on September 12th, as well as boating 4 dorado from 20 to 40 pounds. They were a little skeptical in the morning, as tropical storm Ivo was bearing down on us, but couldn't have been happier with their catches. This same day Robert Dalglish from Morristown, N.J. also released a blue marlin and a sailfish, with 3 tuna to boot, weighing from 15 to 60 pounds. The port was closed down the following day as Ivo made it's way past giving us some much-needed rain. During the night we did get winds up to 50 mph, but we didn't consider this dangerous weather. For the next few days after the storm we caught lots of dorado and not a lot of anything else, except an odd striped marlin here and there.
On the last day of this report we had a boost of fantastic fishing. Ginger Bauman and James MacMicking from Austin, TX, fished Andrea and released 2 blue marlin (220-260 pounds), a striped marlin, lost another stripe and boated 6 tuna. Valerie had both a blue and striped marlin for Chris Howlin and Jayson Barca from Virgina Beach.
Chris and Erika Schlef from Crest Vista, CA, fishing with 10-year-old Sigrid, had an outstanding day on Ruthless, pretty much catching everything on September 18th. Erika released a striped marlin estimated at 140 pounds and boated a beautiful 70-pound wahoo, 10 year old Sigrid did very well to boat a 90 pound yellowfin and Chris followed up with two tuna that weighed 40 and 60 pounds, they also had two dorado, 15- 20 pounds and told me that they had a lost a tuna (actually they sounded a little relieved) that the captain said was well over 100 pounds.
John Larson from Mission, Texas, was fishing alone so had his work cut out for him on Sept. 15th aboard Tracy Ann, to release 2 striped marlin, boated 3 tuna ranging from 25 to 35 pounds, and two large dorado at 50-55 pounds. Overall we had a 100 percent catch success rate for all species combined, with a little less of half the boats catching billfish. Pisces anglers caught a total of 8 blue marlin all released, 6 striped marlin released, and one sailfish, also released.
OTHER SPECIES: This week was the time to stock up on dorado, practically every boat out had at least a couple and the sizes on many of them were impressive. These were the most widely caught game fish this week in Cabo, being found both on the Cortez side and Pacific, ranging in size from 15 to 60 pounds. Boats caught anywhere from 1 to 17. Yellowfin tuna of a good size showed up this week, we still have some smaller fish, but on several consecutive days we saw fish over 50 pounds and several up to 90 pounds, to say nothing of others lost. Hopefully they will stick around for the tuna tournament set for November 8th and 9th, which looks set to be a huge success this year. We just had the one wahoo this week, which was the largest I'd seen in quite a while at 70 pounds. Inshore small dorado and skipjacks.
LOCATION: 95 spot was the hottest this week, followed by Chileno up to 16 miles out and then the Old Lighthouse were fishing was close in.
WEATHER CONDITIONS: Pretty nice, except for the 12th when we had some downpours, this same night was when we had strong winds. The next morning the port was closed, but actually the weather was worse the day before, since then clear skies, seas good on the Cortez side a bit rough with some whitecaps on the Pacific. AVERAGE WATER TEMP: 85 F. BEST LURES: Black/orange, black/silver/brown, red, live bait.
CABO SAN LUCAS, MEXICO: REEL EASY SPORTFISHING, Cabo San Lucas, Mike & Renee Hebert, Reservations/Fax 011-52-114-33579.
CABO SAN LUCAS, MEXICO: HOTEL SOLMAR SUITES, Cabo San Lucas, September 21, 2001, Dick Wilkes, Reservations Tel 800-344-3349. "Typical" Cabo end-of-summer fishing prevailed this week, with the best fishing hole strung along the Pacific side from El Arco to the Lighthouse, and close to shore--from 3 to 8 miles. Reporting for the Solmar Sportfishing Fleet was fleet manager Rene Santa Cruz.
Although dorado was the dominant catch this week, the big news was a high number of tail dancing wahoo. Because of a lowered number of charters during this week of mourning world-wide over the New York World Trade Center tragedy, and subsequent stopping of air travel, Santa Cruz said the week's fishing catch was highly satisfying.
"Wahoo are just majestic sport fish," Santa Cruz said. "They are great fishing fish, many times providing an awesome tail dance, and they are world class on the dinner table." The fleet counted 86 wahoo in its fish count, 133 dorado, 42 yellowfin tuna, 10 blue marlin, 13 striped marlin, and 1 sailfish. A total of 20 billfish were released.
Paul, Mike and Mark Roland, Pine Flower Center, NV, had a full platter of Cabo fishing, on board the 34-foot Solmar II, hooking and releasing 2 blue marlin, landing a 100-pound sailfish, 3 yellowfin tuna of 50-70 pounds, and a 75-pound bull dorado.
Under clear skies with air temperatures in the 90s to 100, with mild seas of 2-3 foot swells, and water surface temperature of 90, Laura and Scott Jensen, Miami, FL, became Cabophiles while fishing on the 28-foot San Lucas VII: they returned to Miami with a personal fish story, having hooked and released a 250-pound blue, followed by 4 yellowfin tuna. Tim Albright, Round Rode, TX, caught and released 3 stripers, 3 bull dorado, and 2 yellowfin.
Andy Anderson, Belding, MI, fishing on the 16-foot Galeon, released a 140-pound striper, a 90-pound wahoo, and 14 dorado. The angler released 6 dorado because of size limitations.
CABO SAN LUCAS, MEXICO: GAVIOTA FLEET, Cabo San Lucas, September 21, 2001, Larry Edwards, Cortez Yacht Charters, Reservations 619-469-4255. The catching is incredible but the anglers are lacking. Angler Scott Michael, Lancaster, PA, struggled for several days to get to Cabo and was delayed at several points during his flight schedule, finally arriving a couple days late, on October 17th. His first fishing day on the 18th produced a 400-pound blue marlin, the largest fish for the week. His total for two fishing days reflected the big blue, 4 stripers released, and 5 dorado, all taken aboard the Gaviota XI. The fleet fished only a total of 4 days. The counts were exceptional, including a total of 2 blue marlin, 4 stripers released, 12 dorado, and 7 yellowfin tuna.
Cabo weather was generally sunny and warm with some passing cloud cover, temperatures in the high 90s. Sea conditions were excellent, with temperatures remaining in the 80s, some south swell, but only light breezes.
Artificials were working well, but live bait was important, especially on the stripers and the dorado following the one that was already hooked up.
All of our friends in Mexico continue to wish America well and have been more than wonderful in working with the numerous cancellations and countless changes.
EAST CAPE FISHING REPORTS
ALL ARTICLES, REPORTS AND FISHING INFORMATION FOR EAST CAPE
EAST CAPE, MEXICO: BAJA ON THE FLY, Buena Vista, September 22, 2001, Gary Graham, Reservations Tel 800-919-2252; Fax 760-746-7260. Sea Temperature: 80-87. Air Temperature: 95-84. The inshore action for dorado and tuna is about as good as it gets. More larger dorado reported as well as tuna. With all of the recent events, most of the hotels are only partially filled and because of this there is a lot less pressure on the fishery. Deceivers, poppers, Clousers. ... almost anything you throw at them is a bite. The beach is so good right now I am afraid our guests will think it is like this all the time. Thurs. (9/20) produced almost non-stop action from rooster alley to La Ribera. One client had double digit catches including five different species. I went out this morning at "zero dark hundred" to make sure I wasn't imagining how good it was. I only had an hour before I had to return to write this report. First cast produced a jack crevalle on a chartreuse Clouser. Over the next hour it was a take almost every cast and when I got back on the ATV to return, I had chalked up jacks (two different species), pompano and lookdowns. Every one on a small Clouser.
OFFSHORE: Action picked up this week with sailfish leading the charge, also a few stripes and blues mixed in. INSHORE: Plenty of dorado and tuna and few people or boats. BEACH: Wow.
BILLFISH--Enough to make it interesting for those willing to put in the time. YELLOWFIN TUNA--Some of the best action this year. DORADO--Plenty with more of the larger fish mixed in. ROOSTERFISH--Lots of 15 to 20 pound fish near La Ribera. JACK CREVALLE--Lots of smaller fish to 10 pounds. BARRILETE OR MEXICAN SKIPJACK--A few scattered throughout Las Palmas Bay. PARGO AND CABRILLA--Good fishing near Punta Colorada for the few that targeted them.
EAST CAPE, MEXICO: RANCHO LEONERO, Bahia de Palmas, September 23, 2001, John Ireland and Roy Baldwin, Reservations 800-646-2252; Hotel 011-52-114-10216. Extraordinary fishing continues. If possible, the fishing has actually improved this week over the last two weeks. There is a wide-open dorado and roosterfish bite, plus as many wahoo as we've seen this year. All, repeat, all anglers are limiting daily on yellowfin and dorado. The best bite by far of the year.
World class roosters are still biting very consistently. This is an opportunity for line class world records. All beaches are good, best in the Cabo Pulmo-Los Frailes area. Live caballito and sardine working best.
There are 3 or 4 schools of yellowfin spread out from La Ribera to Los Frailes, 1-2 miles offshore. Average fish is 15 pounds. Outside there are fish to 60 pounds under porpoise. Live sardines, caballito and Rapalas working well.
The dorado are spread all over in all areas. Average fish are about 15 pounds, with some to 45 pounds. Live sardines and bright hoochies working best.
We are taking 4-5 wahoo per day, average fish in the 40s. There are also lots of tailing billfish and very low fishing pressure, with most anglers fishing inside.
EAST CAPE, MEXICO: EAST CAPE SPORT FISHING, Los Barriles, September 22, 2001, Dave Dixon and Gil Mendiaz, Reservations 800-837-1556; Fax 805-493-5446. Since the terrorist attacks shut down air traffic, and several of our clients were stranded in Mexico for some time. We are happy to report that everyone got back safe and sound. And of course, many have canceled their trips, choosing instead to focus for the moment on things more important. So we don't really have much to report, anyway. We did want to take this time to say something about the events of September 11, but it's difficult to come up with much that hasn't already been said by others, and probably more eloquently than we could ever hope to. We would like to express our sincere belief that America will pull through this with flying colors, and show the world, once again, why the USA is the greatest nation history has ever seen.
It's also important that we remember that the hatred and violence toward Americans expressed by those who committed the mass murders of September 11 is not a widely held view amongst those in other countries. Though the media has seen fit to flood us with clips of Arabs celebrating American deaths, we sincerely believe that most of the world's citizens view such attitudes with abhorrence. As evidence we need only look to Osama Bin Laden, a man with more money than most Americans would ever dream of, reduced to living in caves, in a country where women aren't allowed to learn to read, and where it would be considered luxurious if you had a home built from your own crap and hair. The world society has marginalized Bin Laden and those like him as barbaric throwbacks in the 21st century, precisely because they do not share in his blind hatred of America, but instead choose to strive for the ideals that America stands for.
In particular, we wish you all to know that our Mexican hermanos from East Cape Sportfishing and Charter Co. share in our sorrow, and send their prayers to the victims and their families. They also call for justice, and believe it will be achieved, for they believe in America as much as we do.
EAST CAPE, MEXICO: HOTELS PALMAS DE CORTEZ, PLAYA DEL SOL, PUNTA COLORADA, East Cape, September 20, 2001, reported by Shannon Moe, and by Dave "Smokey" Manuel of East Cape Smokehouse, Hotel Reservations, 800-368-4334. Charters 84. Results (including released fish): Blue Marlin 7; Striped Marlin 5; Black Marlin 0; Sailfish 30; Dorado 636; Yellowfin Tuna 409; Pargo 0; Wahoo 5; Amberjack 0; Roosterfish 13.
Water Temperature, 80-87 Air Temperature, 74-98.
Another four days of good fishing for both Tuna and Dorado occurred this week. Most of the action continues to be down the coast from Los Barriles anywhere from off La Ribera all the way down past Los Frailes at Destillideras. Also some relief finally from the dismal Billfish action of the past few weeks. Mostly an increase in Sailfish so far, but a few more reports of Blues and Striped Marlin are coming in also.
EAST CAPE, MEXICO: MARTIN VERDUGO'S BEACH RESORT, Los Barriles, September 22, 2001, Alma Rosa Cota, Reservations 011-52-114-10054. Hello Gene. We sent out 2 boats yesterday and 3 boats today. Yesterday they caught tunas and dorados, no marlin. We are waiting for a group of 16 people. They will arrive today and fish 2 days. --Alma.
EAST CAPE, MEXICO: VISTA SEA SPORT, Buena Vista, September 22, 2001, Mark Rayor, Reservations, 011-52-114-10031. Diving conditions at Cabo Pulmo. Visibility 60-80 feet. Water temperature, surface 90, at depth 85. Currents mild.
Things are pretty much back to normal. Yesterday and today Palmas sent out quite a few boats. Our view down the beach to the north is of them. Talked to Gary at Leonero. He said they are full and expect to be through all of October.
We are still hurting a little. Have clients still afraid to fly. Also Aero Cal canceled their flights from LA on Fridays. It is frustrating because conditions are the best they have been all year for diving. We have made excuses for cold green water all spring and summer. Now it is tidy bowl blue and warm. No divers. Go figure?
The bite has been good for small dorado and tuna till yesterday it fell off some. I tribute it to more pressure. The boats pay no attention to limits because the fish are small. Every commercial panga in the region is hammering the little dorado. There are buoys targeting dorado solid from Pescadero to Las Arenas. From Las Arenas north are gill nets all along the shore. What we see every day is a crime.
LA PAZ FISHING REPORTS
ALL ARTICLES, REPORTS AND FISHING INFORMATION FOR LA PAZ
LA PAZ, MEXICO: JONATHAN ROLDAN'S TAIL HUNTER INTERNATIONAL, La Paz, September 21, 2001, Jonathan Roldan, Tel 877-825-8802. I'm gonna be in Baja from around October 16-23. If you want one last shot at the tuna and want me around for taco tours, bad jokes, cold beer, fishing instructions, hand holding, backing up your fishing lies, etc. Get your ya-ya's out and c'mon down! Traditionally, waters are flat and warm. Air is alot cooler than summer. Fish are lonely and hungry. If you've ever wanted to be the only boat on the honey hole, get in touch with me ASAP!!!!
As an aside...if you're headed to Baja no matter when, be prepared to buy a license and adhere to fishing limits! They started a crack down (again). You can buy licenses in Mexico for $10-12/day (depends who's selling them); or check with your local tackle store before coming down.
It's a little difficult writing about fishing and having a good time given all that's going on, but wanted to relate some of the things we've been experiencing.
As you may know we had a large group of friends and clients stranded with us in La Paz this past week. After all the merry-go-round-wind-mill action by Aero California we couldn't wait any longer for them to decide to let us out of the country so we all booked it for Tijuana. From there we got rides to the border and from there to home for everyone.
Here are my observations. Airport security was tighter than usual. Ha! At the La Paz airport, the high-tech-security-terrorist-trap consisted of them asking us for our I..D. as we walked onto the plane's boarding steps to make sure (for the second time) that someone hadn't switched tickets or I.D. with a mad dog terrorist! Whoooooo...whooooo! That's the first time that ever happened and would surely catch any terrorists! No search of bags. No one took away anyone's toothpicks. No body cavity searches for C4 explosives! I even saw a person in first class eating with (gasp) a real butter knife!!!! Frankly, if Aero Cal were worried about anyone's safety, they should have done something about the food!
You know how I've been hammering their food all these years. Well, they brought us out this little aluminum tray. When you uncovered it there were these two swirls of shredded meat on a biscuit that looked like....well...you know when you go to a self-serve softee ice cream dispenser and the chocolate comes out and it looks like a curly tail? Well, that's what this looked like only it had a reddish tinge and was made of some kind of shredded meat with particles of seeds or something in it. My buddy, Anthony Reynolds, and I could not stop laughing. We didn't even say a word to each other. Just started laughing hysterically because we both know what it looked like. If you had seen this on your lawn you'd have been ticked off that it was gonna kill your grass and leave a big yellow stain! Really... there is no end to the imagination of Aero Cal's chefs! Safety starts at home, Aero Cal!
Anyway, that was it for security. At the border, we expected long waits. It was predicted that it would be 4-12 hours, but for those of us who rode from the Tijuana airport it was only a 2-3 hour wait. Nothing really unusual for a Sunday afternoon coming back from Tijuana. The U.S. border guys were certainly alot more thorough in their searches, and I don't envy them their jobs, but heck...if I really wanted to hide something it would have been no big deal. Here was the clicker... for those of my friends or clients who hired taxis or vans to drive them THROUGH the border, there was no wait at all! According to them with all their ice chests, rod tubes and other gear, they were merely waved through! Hell, they could've had a missile and nuclear warhead in those 8 ice chests and rod tubes. What the heck kind of cock-a-mamie-security is that? Besides, listen folks, no matter how good security is...no matter how hard they search.. if someone really wants to do something, they are gonna do it. I could've taken over the plane with a sharp pencil or a straightened paper clip if I had wanted to.
Honestly, alot of hotels and airlines are getting alot of cancellations. I'm getting my share too. I can understand that. The fishermen are pretty much waiting for things to blow over. They just want the airlines to get squared away and things to settle. They plan to come back in the future. The "tourist" people who had booked with us are basically saying, "Forget it. Send me back my money. I'm going to spend it a Disneyland or Vegas." can understand that too. Why take a chance when you can have fun closer to home. However, I'll tell ya what. It's still safer to fly even with stupid terrorists running around. If something is going to happen couldn't it just as easily happen if you're at your favorite ballpark or theater? You can't live life scared. I never have and never will. I hope this all works out.
Having been out of the country while this all occurred, it was nice to see so much patriotism back home. There really is no place like this country and it's nice when we're not all yammering at each other and pull together. But I'm gonna save all that for a different article...!!!! Aero California food and border searches aside, let's talk some fishing....
It's pretty much been slow. Tell ya what, if you want to see La Paz in it's best days, you gotta come down now. Apart from the types of cars people are driving, the city really does look like a 30-year-old-postcard. Sun's out. Ocean breezes come off the malecon. The smell of carne asada pervades the air...AND NOBODY IS HERE!
Sure there's some funk days here and there, but dang it, we have some good fishing during this time of year and very few people to enjoy it. Three weeks ago, there were 60 boats working the waters and hammering tuna at the south end of Cerralvo. Now, there's usually less than 5! You can finally have the buoys all to yourself. I had one boat out the other day and they nailed five 30-40 pound dorado and broke off several others. Likewise, there's no competition at Punta Perrico where every few days the football tuna stage a major train wreck or up at the north end of Cerralvo at La Reyna where the resident big boys suddenly have no one feeding them live sardines with hooks buried in them. Same for the wahoo! Boys and girls, there's wahoo slithering along the Rock Highway south of Roca Montana. One boat took 3 this week slow trolling a Ninja Rapala CD 18. They didn't have wire and finally broke off the magic lure! The skinnies weren't big, but who the heck cares.. a 'hoo is a hoo!!!!
On the La Paz side, there are still resident YFT's (yellowfin tuna) on the east side of Espiritu Santo (right off Pilot Cove) as close as 100 feet from the rock cliff as well as solo jags of dorado! Boats working those same rocks are also getting some late season pargo as well. As for El Bajo, it can rip on any given day. Forty-pound fish are the rule, but several fish in the 100-150 pound class were taken this week by private boats that weren't doing anything fancier than drifting a live sardine in the current!
I'll let ya in on a little trick I used last week when the El Bajo tuna wouldn't chew. I hate using up all the live sardines when I chunk so I took only a few and slicked each one into 3rds and quarters. I took bonito and skipjack that we had caught in the morning and kept in case dorado or seals showed up. I chunked that as well. I squeezed blood and scales and bits of bone and guts into the mix. I tried to get anything that was smelly and oily. Now, this is something our skippers generally don't do. They'll toss a handful of dead or live bait and that's it.
This time, I dropped only one's and two's at a time. Maybe a little blood and some chunks of sardine mixed with bonito. You guys who have done long range know this technique. I remembered it from working deck in San Diego years ago. I dropped a chunk or splotch every 5 or 10 seconds and just let it drift down into the blue current.
After about 2 minutes, I baited up a hook with exactly the same bait. I put the rod in the clients' hands. I stripped off a bunch of slack line and dropped the hooked chunk into the "line up!" Tell ya what...each and every time. As soon as the hooked chunk drifted just beyond sight...WHAM!!!!! Instant biters. No one else around us was getting bit, but we hooked no less than 10 fish a day like that and many of these fish were T-O-A-D-S!!!!! Larry Luberto fought one for almost 3 hours. Brother Mike was on for an hour. Dr. Roy Morita took almost 2 hours. So did Paul Shepherd and Rudy Taa. Each and every time it was almost instant hookup followed by double bendo rod!
Proof in the pudding...when I cleaned the fish, I checked their stomachs each fish had the chunks in it's guts that I had cut and ONLY those chunks!!!!
See, it's like this. I think fish are like people. They are generally lazy eaters. Why chase your food when you don't have to, right? That's why buffet restaurants are so popular. Also the bigger the fish the lazier the eater. The fish, like people, go down the buffet line. Gulp.. gulp.. gulp.. Well, Charlie....one of those gulps has a 4/0 triple sharpened VMC or Owner hook in it and I ram that hook home about the time that tuna is still gulping and the hook is coming out of his pinkeye! Then hand off the rod...with a big smile on my face. "Here ya go...there's a fish here for ya!"
LA PAZ, MEXICO: HOTEL LAS ARENAS, Punta Arena de la Ventana, September 21, 2001, Linda Glassman-Davis, Reservations 888-644-7376. Some of our guests have been asked to show proof of their fishing license in San Diego after crossing the border with their fish on the U.S. side. I was at the PESCA office to purchase licenses for 28 of our guests this week and there was a line out the door of angry fishermen who had been stopped on the waters off San Diego by officials who were requesting them as well.
I suspect the same will hold true at LAX as well although I cannot say when. The agent I spoke to here in San Diego said that the spot checking is happening all over. We are catching Dorado, Roosterfish, Wahoo, Tuna, Pargo and Cabrilla and our guests are having a marvelous time.
Wishing you and yours all the best during these difficult times.
LA PAZ, MEXICO: FISHERMEN'S FLEET, La Paz, September 20, 2001, David Jones, Hotel los Arcos, Reservations 011-52-112-21313; Fax 011-52-112-57334. Sorry that there was no reporting for last week, but it just didn't seem that that was the most important thing going on. Down here in Mexico there is great sadness and horror at the happenings of 10 days ago. All of the children in school, folks at the hotel, and the Captains have talked of little else, and have watched probably almost as much TV coverage of the events as you and I have. What sense we can make of it says that a metered, continuous, forceful response, with the rooting out and elimination of as much terrorist activity as we can identify must be undertaken. I hope that this is as international an effort as we can make it, and that the spirit of cooperation and non partisanship that exists now in the aftermath of such unspeakable events continues on into the distant future.
The fishing, though not horribly well attended, has been very good. Kay and Gary Stamp, along with friend Bob, were able to get down here from the Longview, Washington area before all of the happenings, and have been down for a planned two-week+ vacation. They have both recently retired as public school teachers, and the education system is all that much weaker for their moving on. We on the other hand benefited from Kay's expertise and from Gary's... well let's just say his vivaciousness. They did well on Dorado, Tuna, and Wahoo throughout their stay, with Kay's 3 Wahoo day probably a top spot of the trip.
Spencer and Ramon were also down from Marin County and Los Angeles, and while their departure was delayed by a few days they made the most of it with some hefty Yellowfin catches.
Mike Crouch was also down over the last week, from Los Angeles, and was also stranded by the airline problems. All of these folks did well on the fishing, but more importantly exhibited a real positive attitude about the inconveniences of travel in the last week. I heard no whining, just concern for those on the east coast less fortunate than ourselves. Good Job guys.
And speaking of good jobs, Jason Pall, that's right, The Ol' Webmaster hisself, was down here fishing for the last 4 days along with his usual band of seasoned cohorts. These boys didn't let a little Magnitude 10 disaster get in the way of their fishing, no sir. They drove from Los Osos and the Bay Area to San Diego, drove across the border, and took a flight from TJ to La Paz. You know that prize they give out at the high school reunion for the person that had to come the farthest? While these guys may not have racked up so many miles, the effort expended was monumental, and appreciated. Their prize was some very fine fishing, a beach all to themselves and good weather to boot.
Although a little choppy on some days the last week has been very bearable due to some southern winds in the morning that move around to the northwest in the afternoon. These zephyrs have kept the heat and humidity from being uncomfortable. The boys from Los Osos had good luck on Tuna, at the north end of Cerralvo for some bigger (to 50) fish and at the south end for the smaller (20-pound) variety. They had at least one day when the Dorado fishing was spectacular, with most fish in the small to medium category but a couple into the upper 20s. The quantities of fish were very large, with catch and release and pick through the little ones for the big males became the name of the game. Along with the Tuna came an 80 pound Rooster for Nail man, and his Dad had a 5 foot Wahoo as well. Many ice chests later we bid a fond adieu to our Webmaster and his friends. Jason does a great job on the website, is an excellent fisherman, and is a hell of nice guy. OK, I know that me talkin' like that is outta character, but it's true. Most of the guys who were unable to come down last week have rescheduled during the next couple of weeks, so we are expecting good crowds, or good guys, coming down for some good weather, and good fishing. It's a good thing. Have Fun, David Jones.
LA PAZ, MEXICO: MEMO'S FLEET, La Paz, September 23, 2001, Guillermo Chavez, Reservations Tel/Fax 011-52-112-27835. Despite the airlines resuming flights the tourists are still afraid to fly, I don't blame them, that kind of wound takes a long time to heal, and of course this is a chain reaction that involves all the free world countries. I think it'll take a few months to settle down. I just hope the fish are still here like they are now because in these couple of weeks the few anglers fishing see a good run of all species now at Punta Coyote and west of La Ballena, we have few tourists now coming but most of them are divers, lots of bookings were canceled, all tourist services need to make a very aggressive promotion to encourage people to travel again and to show them that coming to La Paz is what the name means, Peace.
LORETO FISHING REPORTS
ALL ARTICLES, REPORTS AND FISHING INFORMATION FOR LORETO
LORETO, MEXICO: VILLAS DE LORETO, Loreto, September 22, 2001, Wendy Wilchynski, Reservations Tel/Fax 011-52-113-50586. We are licking our wounds! The race started out great and we were catching the champion and then the sand under our tires slid us into a BIG rock (about three feet high). We flew over the rock and a small shrub and hit bottom, then rolled three or so times, I can't remember. Needless to say we didn't finish the race and the car is in extensive care as we speak. Ron & I have a few bruises, on our bodies & our pride. It's a hard one to forget! But we are on the way to mending and there is a race in Oct. and if the car is ready.... so are we!!! We won't give up so easily!!!
With the events in the states our problems are minor. We do have a lot of cancellations because of the airline but will work around that as well. No fishing report as we have no fisherman! It is very quiet around here.
LORETO, MEXICO: ARTURO'S SPORT FISHING, Loreto, September 22, 2001, Arturo Susarrey, Reservations Tel 011-52-113-50766; Fax 011-52-113-50022. This week we have temperatures around 95F, without wind, only some breezes at noontime. Water temperature: 85 f. DORADO: Early this week we had reports of Dorados at El Bajo de Puerto Almeja, San Bruno (north of Loreto) and Punta Lobos Carmen Island. The best catch came with 8 Dorados, The best ones were 22 to 27 pounds. We find these in the water currents. SAILFISH: Most of them hooked up in San Bruno area, the best size between 70 to 80 pounds. The anglers practice catch and release, very few catch to smoke. Yellowtail: There are a good number of yellowtails around 20 to 30 pounds at Pulpito reef.
LORETO, MEXICO: BAJA BIG FISH COMPANY, Loreto, September 21, 2001, Pam Bolles, Reservations Tel/Fax 011-52-113-50448. Air temperatures have actually been pretty reasonable not climbing above 90 F very often even during the afternoons. Lows are in the mid to high 80s F. Skies: Clear for the most part. We continue to see t-storms over the mainland and rain clouds over the mountains to our west. This is typical of late summer.
Winds: Prevailing from the south, but starting to change and come from the north on occasion. This is cooling the air temperatures, and I believe we only will have a few more weeks of very hot weather before the "springtime-like" fall weather moves in. Calm in the early mornings then starting by mid-day.
Seas: You can count on it being calm in the mornings especially from port to the islands. Beyond the islands the seas will swell as the winds pick up, which generally starts around late morning to early afternoon.
A very good friend of mine has passed away last week. Many of you who read this will probably know John F. Stowaser simply as "J.R." the man who ran Macaws Restaurant on the Malecon in Loreto. We had a lot in common, both of us had families and a business in Loreto and both of us jumped hurdles daily to keep them running. As I would park my truck in front of Macaws in the morning after launching my boats, he would be ready, cup of black coffee in hand greeting me. I never even had to ask for what I wanted because he already knew. Always one step ahead. He leaves a wife, Angie and two young children; Diego who just turned four and Stephanie who is 10 months old. Angie and her brother Francisco continue to run the restaurant where his spirit lives on. J.R at left with one of his employees, Anthony. J.R. knew to treat his employees with fairness and respect.
The second non-fish related piece of news has to do with the erratic airline schedule between Loreto and the outside world. Aero California, the only airline that flies into here from the U.S., has rescheduled its flight plan into Loreto. For those interested in escaping the rat-race and the bad news, here it is: effective until 27 October, 2001:
There are two flights per week into Loreto, and two flights per week out of Loreto.
Los Angeles to Loreto: Thursdays and Saturdays only, Thursdays the flight departs LAX at 4:15 p.m. and arrives in Loreto at 7:05 p.m (there is a one hour time difference between Los Angeles and Loreto, PST vs MST). Saturdays the flight leaves LAX at 11:15 a.m. and arrives in Loreto at 2:05 p.m.
Loreto to Los Angeles: Saturday and Sunday only, Saturday the flight leaves Loreto at 2:30 p.m. and arrives in Los Angeles at 3:25 p.m. Sunday the flight leaves Loreto at 9:30 a.m. and arrives in Los Angeles at 10:25 p.m. The airline has informed us that all passengers need to arrive at the check-in counter at least three hours prior to departure, even at our tiny airport. For additional information call Aero California at 1-800-237-6225.
Dorado: There is actually some good news as amazingly enough the dorado bite continues. They are closer to port now as you will only have to venture as far as San Bruno or Isla Coronado to get into them. They are ranging 20-25 pounds and daily limits are easily exceeded. The rains have brought flotsam into the sea from arroyos that swelled with water after the rains. This flotsam is holding fish in our area as are the plethora of bait from sardinas to mackerel to giant squid that are in the area. As always they'll take bait, but the trolling feather of choice is blue/white.
Billfish: Sailfish are still common and they are feeding off San Bruno which I am tempted of call our own "Sailfish Bay". They are over the 100 pound mark about 90% of the time.
MULEGE FISHING REPORTS
ALL ARTICLES, REPORTS AND FISHING INFORMATION FOR MULEGE
MULEGE, MEXICO: RON GRANT, September 22, 2001-- Hi Gene. Yes, General Aviation, part 91 of the FARs, is open to normal traffic with a few restrictions. However, to cross the Mexican border the flight most be IFR, Instrument Flight Rules. This would restrict a high percentage of General Aviation pilots from crossing the border. I really look for this restriction to be lifted shortly.
I plan to go south this next week. Will get you a full report on how the border crossing goes. Via telephone to several Mulege residents, things are still slow. A few, no more then a handful of aircraft have landed in Mulege. The normal driving tourist has come to a standstill as most people are staying close to home. Fishing reports a slowing trend on dorado with few boats on the water.
BAHIA DE LOS ANGELES (L.A. BAY) FISHING REPORTS
ALL ARTICLES, REPORTS AND FISHING INFORMATION FOR BAHIA DE LOS ANGELES
BAHIA DE LOS ANGELES, MEXICO: CAMP GECKO, Bahia de los Angeles, September 21, 2001, Abraham Vazquez, Tel 011-52-515-19454; Fax 011-52-665-03206 (goes to Guillermo's), satellite EMAIL direct to Camp Gecko at L.A. Bay. Hi Gene. We did go to the Salsipuedes and San Lorenzo Area, the currents where very strong, the water was warmer than here and on the outside was very blue, all we saw was small dorado in big schools, it is very far from here so our fuel was the main concern, the same day Igor and Guillermo tried Barnabe Reef and the action there was good, lots of small 12-pound yellowtail, good size grouper, and 4 dorado 12-16 pound, but overall I think the best action is northeast of Smith island where the yellows are running 15-30 pounds, and are easy to catch right now with the salas blue & white jigs, we call this reef cerro blanco it is deep 270 ft the GPS is N 29 04.493, W 113 29.896, The temperatures have definitely cooled down, but in the daytime we are still getting mid 90s at night it is cooling down to where you need a blanket now, the water temps vary in the local area from 81 inside the bay to 78-82 outside, as much as 86 outside of San Lorenzo. There has not been much as far as wind or clouds, and very few fisherman around, sierra and whale sharks very abundant inside the bay.
SAN FELIPE FISHING REPORTS
ALL ARTICLES, REPORTS AND FISHING INFORMATION FOR SAN FELIPE
SAN FELIPE, MEXICO: SEA OF CORTEZ SPORTFISHING, 6-day Midriff Islands trip aboard the panga mothership, Celia Angelina, Bob Castellon, Reservations 626-333-9012; Fax 626-336-1966; San Felipe 011-52-657-71778, trip ending September 20, 2001. Great fishing trip with great weather all 6 days. The air was low 90s water up to 83 degrees. Bait was plentiful from San Francisquito to Enchanted Islands. Lucky angler was Jerry Duchnowski from Alta Loma CA with 2 Grouper to 39 pounds. The yellowtail were mostly caught at San Esteban and the Dorado were caught outside of San Francisquito and around the corner at Rancho Barril. Catch: 2 Grouper, 11 White Sea Bass, 162 Yellowtail, 81 Dorado, 193 Spotted Bay Bass, 45 Pargo, and 129 miscellaneous.
MAZATLAN FISHING REPORTS
ALL ARTICLES, REPORTS AND FISHING INFORMATION FOR MAZATLAN
MAZATLAN, MEXICO: ARIES SPORTFISHING FLEET, Mazatlan, September 21, 2001, Larry Edwards, Cortez Yacht Charters, Reservations 619-469-4255. Mazatlan has been "hammered hard" from the ill effects of New York and reported only 2 boats days fished this week. According to Geronimo Cevallos, the general manager for Marina El Cid and Aries Fleet, much of the Mazatlan area has come to a terrible slow-down with virtually no tourism. His boats reported 1 sailfish, 4 yellowfin tuna, and 8 dorado.
Weather was showery some days with quite a bit of cloud cover. Sea conditions were generally good, not much wind, water temperatures in the 80s and clear. Best fishing was 30 miles southwest of Marina El Cid. All fish were taken on slow trolled rigged baits, except for the yellowfin, taken on feathers.
IXTAPA ZIHUATANEJO FISHING REPORTS
ALL ARTICLES, REPORTS AND FISHING INFORMATION FOR IXTAPA ZIHUATANEJO
IXTAPA ZIHUATANEJO, MEXICO: IXTAPA SPORTFISHING CHARTERS, Ixtapa-Zihuatanejo, September 21, 2001, Larry Edwards, Cortez Yacht Charters, Reservations 619-469-4255. Extremely light fishing pressure and a few weather out days provided little fishing activity in Ixtapa/Zihuatanejo over the last two weeks. Nev Taylor of Durham, England, fishing aboard the super panga, Llmarada, landed several bonito on the fly in three days of fishing. Angler Damon Smith fishing with Capt. Miguel Alvarez aboard the El Soltar landed 1 sailfish and lost another at the boat. Our local representative, Jose Luis Esquivel, reports good catches of shark and sailfish along with school tuna. Some large dorado in the 50-60 pound class were also reported.
As we move into October, better weather and sea patterns should start to develop. No inshore fishing was reported. A few days of heavy rain and wind with port closure last week with the sun returning and temps in the high 80s. Best Fishing Area: 10-15 miles offshore. Bait Supply: Good.
IXTAPA ZIHUATANEJO, MEXICO: FINTASTIC, Ixtapa-Zihuatanejo, September 22, 2001, Paul Phillips, Tournament Information 250-768-3537. Following a week of turmoil in the US and with the airlines, coupled with weather-induced port closures a few boats ventured forth this past week. The good news is that they found some excellent Dorado but the fish were highly scattered. The school Yellowfin are still present and within easy reach. The bad news is that it appears at this time that we will have several more days of port closures as Hurricane Juliette passes to our west. As previously mentioned the reports from now through the end of October will begin to look a little sparse. This is somewhat two-fold. Our major tourist seasons have passed and with them the major amount of anglers. During September and October, many of the boats will undergo their yearly maintenance and refurbishing for the upcoming season beginning in November. Inshore the Roosterfishing has slowed but there are good numbers of Jack Crevalle, Mackerel and Bonita. Seas calm except during T-storm days. Temperatures over 100, seas 84. Bait supply excellent. Best areas highly variable, reports of blue water from 10 to 50 miles out.
IXTAPA ZIHUATANEJO, MEXICO: MAR Y TIERRA, Ixtapa-Zihuatanejo, September 21, 2001, Ed Kunze, Reservations 011-52-755-44876. We have been having fairly poor fishing this last couple of weeks, in part due the rains and wind which had the port closed for a few days. Combine that with the wind coming out of the north and driving the blue water out to about the 20 mile mark, we have also had very few tourists here to put enough boats on the water to find the fish.
The one highlight is the inshore roosterfish action. Dan Leo of Long Island, on the his private boat Dancin, got out a few days with his captain Orlando Hernandez and fished the early morning hours. They released a couple of roosters in the 35-45 pound class each morning they fished. All the roosters were taken on slow trolled live bait (goggle eyes).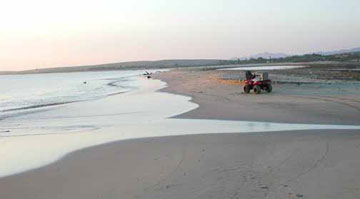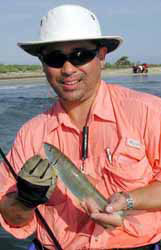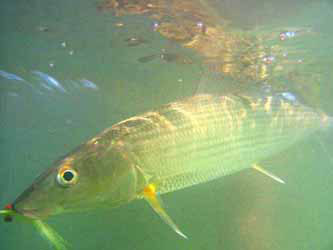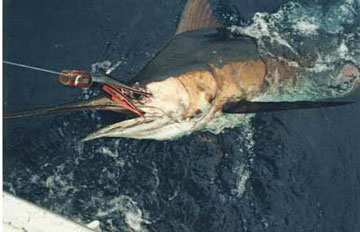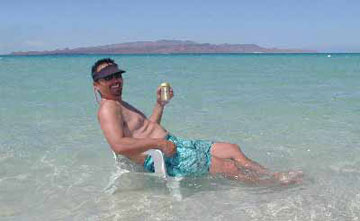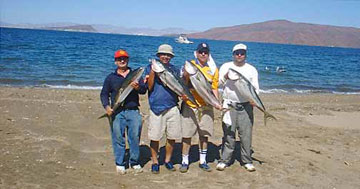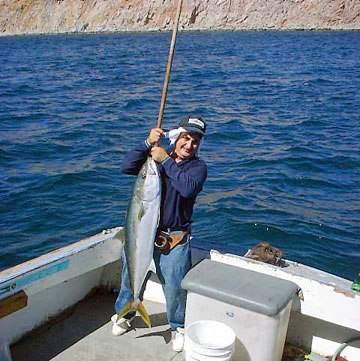 Baja coastal fishing reports and articles.
Ensenada fishing reports and articles.
Puerto Santo Tomas fishing reports and articles.
Erendira fishing reports and articles.
San Quintin fishing reports and articles.
Magdalena Bay fishing reports and articles.
Cabo San Lucas fishing reports and articles.
San Jose del Cabo (Los Cabos) fishing reports and articles.
East Cape fishing reports and articles.
La Paz fishing reports and articles.
Loreto fishing reports and articles.
Mulege fishing reports and articles.
Santa Rosalia fishing reports and articles.
Bahia de los Angeles (L.A. Bay) fishing reports and articles.
San Felipe fishing reports and articles.
Rocky Point (Puerto Penasco) fishing reports and articles.
San Carlos (Sonora) fishing reports and articles .
Mazatlan fishing reports and articles .
Puerto Vallarta fishing reports and articles.
Ixtapa Zihuatanejo fishing reports and articles.
Huatulco fishing reports and articles.
Cancun fishing reports and articles.
Mexico coastal fishing reports and articles.
Mexico Fishing Home Page < Mexico Fishing News Archives < Fishing Report