CABO SAN LUCAS, MEXICO: Longtime resident angler, JOHN AMBROSE, of Maya Roca Real Estate said local fishermen are reporting good numbers of dorado under floating debris in water that is still cloudy after Hurricane Juliette. "September, October and November are typically our best pelagics season with good cobalt-blue water conditions, water temperatures into the low 80s and good catches of dorado, tuna and wahoo on the 100-fathom curve just 1/2 to 3 miles offshore," Ambrose said. Inshore, there were good catches of pargo, corvina, sierra and jacks at Punta lobos, Los Cerritos and Piedra Blanca, and local panga skipper "Cabeza de Vidrio" was still "licking his wounded hands after 8 hours of hand line combat with a monstrous black marlin that came unbuttoned just out of gaff range," Ambrose said. "Hate it when that happens."
CABO SAN LUCAS, MEXICO: Fishing earlier in the month, DEAN WOLDRIDGE of Huntington Beach said that he, Gene Venso of Fort Worth, and Larry Bly of San Clemente caught 14 tuna to 170-pounds in less than three hours aboard Picante Fleet's Salsa. On another day, they had multiple quintuple hookups and were treated to the sight of 100-pound plus fish flying through the air around them.
"The last day," Woldridge said, "we caught no tuna as they were feeding on flying fish. It didn't matter. Watching these huge 100-pound tuna fly 10 feet in the air was awesome enough. It was amazing. Never have I witnessed monsters like these so aggressively feeding. It was a massacre!"
CABO SAN LUCAS, MEXICO: At the HOTEL SOLMAR SUITES, Dick Wilkes said hotel cruisers landed 281 dorado during the week, located in the same area as in past weeks, from El Arco to the old lighthouse on the Pacific side. Top boat for the fleet was the 28-foot San Lucas II with Capt. Rafael at the helm, Wilkes said. Fishing 15 miles off the lighthouse, Allan and Terry Martin of San Antonio released a 230-pound blue marlin, landed another 240-pounder, released a 160-pound striped marlin, took 2 bull dorado of 45 pounds, an 80-pound yellowfin tuna, and an 18-pound red snapper. Solmar Suites fleet manager Rene Santa Cruz observed that blue marlin were returning to the fishing arena off Cabo, after retreating from the scene in previous weeks because of cold waters lying off the coast in the wake of Hurricane Juliette. "A noticeable increase in size of yellowfin tuna was also observed," Wilkes added. "Among the 85 caught this week were those by Michael Rivera, Bill Liane, and Barry Rochford of British Columbia whose first deep sea experience on the 42-foot Solmar VIII resulted in a 100-pounder and two of 80 pounds."
CABO SAN LUCAS, MEXICO: Grant Hartman of BAJA ANGLERS reported that the high density of surface feeding dorado in Cabo waters right now is ideal for fly anglers. Greg Mona of Scottsdale landed 8 dorado on his first day ever of saltwater fly fishing, and he and his partner Dave Gilbertson came back with 15 more the following day. Gilbertson also landed a striped marlin. "The dorado are here, and in numbers," said Hartman. "Most are under 15 pounds. They are great fun on a 10-weight outfit, or try tossing small bass lures with a light-spinning rod and 12-pound test line. The striped marlin are also around, and you should get one to two shots a day on the fly."
CABO SAN LUCAS, MEXICO: FLY HOOKER SPORT FISHING'S Capt. George Landrum said water conditions are nearing optimum again as the lingering after-effects of Hurricane Juliette fade away. "The water is getting much bluer and is almost back to normal. With the light winds all week, the surface conditions have been great with slight swells and very light chop. The dorado bite has dropped off a little as the debris from the hurricane leaves the area. Most boats are still able to find enough to make the anglers happy, and most of the fish have been on the Pacific side."
CABO SAN LUCAS, MEXICO: Larry Edwards of CORTEZ YACHT CHARTERS said the top two fish for the week at GAVIOTA FLEETwere a 250-pound blue marlin caught by Gaviota VIII and a 180-pound yellowfin tuna by Gaviota III. The overall fleet count included 3 blue marlin (2 released), 12 striped marlin (9 released), 56 yellowfin tuna, one wahoo, and 96 dorado.
In other mainland Mexico and Baja fishing action this week:
ENSENADA FISHING REPORTS
ALL ARTICLES, REPORTS AND FISHING INFORMATION FOR ENSENADA
ENSENADA, MEXICO: Offshore action was mixed, with some slow days, and some flurries of excellent action off Ensenada last week on albacore, yellowfin tuna, dorado, skipjack, and yellowtail. Inshore fishing was productive on lingcod, bottom fish, and bonito.
ENSENADA, MEXICO: Sergio Susarrey of SERGIO'S ENSENADA SPORTFISHING CENTER checked in with the following counts on Saturday. El Cazador with 8 anglers: 28 albacore, 25-35 pounds; 29 yellowtail, 15-18 pounds; 1 bluefin tuna, 40 pounds; and 9 dorado, 15-25 pounds. Ensenada Clipper with 21 anglers: 12 albacore, 10 yellowtail, 9 dorado. Susarrey said fishing was closer to shore last week.
"Skippers are reporting excellent fishing conditions with plenty of bird activity. The weather conditions were great with nice calm seas and only some fog in the early morning hours. The local fishing at Todos Santos Island has been good over the last few days with a strong bite on bonito in the 8 to 12 pound class as well as barracuda in the 7 to 10 pound class. As far as yellowtail is concerned, there have only been a few caught over the past week. However bottom fishing has been tremendous with large numbers of lingcod being caught in the 7 to 12 pound range, also rock cod, sheephead and white fish coming in great numbers as well as in size."
ENSENADA, MEXICO: At LILY FLEET, Sammy Susarrey said boats have been fishing close to shore on a heading of 210 degrees from Todos Santos Island, scoring on bonito to 10 pounds, lingcod to 10 pounds, and bottom fish. Other Lily Fleet boats fished up to 35 miles out on a heading of 240 during the week, finding some albacore, small dorado, and yellowtail to 15 pounds.
ENSENADA, MEXICO: Dennis Spike of COASTAL KAYAK FISHING wrapped up his Ensenada season last week with "tons" of bass to 3 pounds and heavy catches of lingcod. "I landed about a dozen yesterday in cool water just off the cliffs north of the blow hole. Lots of assorted rockfish too. About 2 years ago at La Bufadora, I observed schools of millions of calico fry. I think these may be the same fish that are now about 8 inches long and in schools thick enough to block out my sonar screen," Spike said.
PUERTO SANTO TOMAS FISHING REPORTS
ALL ARTICLES, REPORTS AND FISHING INFORMATION FOR PUERTO SANTO TOMAS
PUERTO SANTO TOMAS, MEXICO: Sam Saenz of PUERTO SANTO TOMAS RESORT said weather was "beautiful" last week but there were very few anglers around. In general, near shore fishing was slow due to turbulent water, but the outer banks were very productive in 300-400 foot depths. For visitors arriving through February, the resort is offering a special weekend promotional rate of $119 per person, for groups of at least 3 people. This includes two days lodging, one day panga fishing, and five meals, including one lobster dinner and one of crab legs. Saenz also said a new satellite phone and internet hookup have been installed at the resort for 24-hour-per-day communications capability. The new email address for the resort is realbaja@starband.net.
SAN QUINTIN FISHING REPORTS
ALL ARTICLES, REPORTS AND FISHING INFORMATION FOR SAN QUINTIN
SAN QUINTIN, MEXICO: Pete Hillis of PEDRO'S PANGAS said water temperatures last week were 65-68 degrees, and fishing action was centered on a hot tuna bite. "Greg Ballard and Steve Cazaras of San Diego got limits of yellowfin tuna in the 20 to 25 pound range and a few dorado in the 10 to 15 pound range," Hillis said. "All fish were caught 10 to 12 miles off the point on a 210 to 260 heading."
SAN QUINTIN, MEXICO: Earlier, part time San Quintin resident STAN VATH reported on an exceptional bite on white seabass while fishing out of Campo Lorenzo. Vath said, "We got a couple miles out of the mouth of the bay when we spotted birds working over breaking fish. It started out being wide-open barracuda. Then we finally got to the bottom and it was steady 3 to 5 pound sandbass. Then the white seabass showed up and we had a steady pick on 30 to 38 pound fish for a couple of hours. We landed 10 white seabass, most in the 30-pound plus range with a couple around 20 pounds. We were back at the dock by noon."
MAGDALENA BAY FISHING REPORTS
ALL ARTICLES, REPORTS AND FISHING INFORMATION FOR MAGDALENA BAY
MAGDALENA BAY, MEXICO: Few marlin are being seen offshore, Gary Graham of BAJA ON THE FLY reported, although there were "lots of small tuna, wahoo, and dorado on the high spots." John Barnes Captain of the Mary Lee reported excellent wahoo fishing while anchored on the Thetis Bank several night ago, Graham said. "Inshore, all the stock spots are producing, including Devil's Curve, Mario's spot, and for those who don't want to go too far, try near or under the bridge at the entrance to town."
SAN JOSE DEL CABO (LOS CABOS) FISHING REPORTS
ALL ARTICLES, REPORTS AND FISHING INFORMATION FOR SAN JOSE DEL CABO
SAN JOSE DEL CABO, MEXICO: Eric Brictson of GORDO BANKS PANGAS said water conditions were close to perfect last week, with very little breeze, a light southern swell, and water temperatures of 80-83 degrees. Best fishing during the week switched back and forth between the Inner and Outer Gordo Banks on yellowfin tuna, dorado, pargo, black and blue marlin, and a few wahoo. Brictson said the most consistent action was for yellowfin tuna, hitting on sardinas, live or dead, chunk bait and chihuil. "The tuna ranged in sizes to over 70 pounds," he said. "The average fish weighed 50 to 60 pounds. There were also football-sized 8 to 10 pound yellowfin tuna available for anglers wishing to target the big marlin by trolling with the larger baits. "At the start of the week the bite was red hot, with most boats returning early with the fish boxes full and the anglers worn out. There were larger tuna reportedly hooked and lost, and in recent days it appears the tuna on the banks are increasing in size. This should make the upcoming WON Tuna Jackpot very interesting." School-sized dorado action was steady around floating debris, and the local pangueros were having a big week hand lining pargo off the Inner Gordo Bank for local restaurants, Brictson said. Billfish action seemed to be improving toward the end of the week, with several large blacks and blues reported caught or lost. A 500-pound black was reported at Palmilla, Brictson said, and the panga Mely, released a 300-pound blue that struck a trolled Marauder lure.
SAN JOSE DEL CABO, MEXICO: JOE FLORES of La Mirada reported on an excellent three-day trip off San Jose del Cabo following Hurricane Juliette, including the release of a black marlin he estimates at about 600-pounds, after a 2 1/2-hour fight from a panga. Flores also scored on dorado and 30-80 pound yellowfin tuna crashing bait on the surface. "I've never seen big tuna jumping completely out of the water chasing bait," Flores said. "We mostly fished the Outer Gordo Banks for the bigger tuna, using 40-80 pound test line. These fish were not line shy. On all three days of fishing we limited out on all the big tuna we wanted by 10 a.m."
EAST CAPE FISHING REPORTS
ALL ARTICLES, REPORTS AND FISHING INFORMATION FOR EAST CAPE
EAST CAPE, MEXICO: At RANCHO LEONERO, John Ireland said good fishing continues for about 15 boats chartered per day, with nice weather, daytime highs in the mid 80s, mild evenings, mostly sunny skies, calm seas, water temperatures of 79-82 degrees, and clear blue conditions outside. All Leonero anglers were limiting on yellowfin and dorado, with quite a few sailfish also taken. One or 2 blue marlin were being taken daily. Fishing close to shore was slow due to dirty water. The tuna were concentrated 2-3 miles offshore, with larger fish from 30-87 pounds found outside under porpoise. Dorado of 20-61 pounds were very spread out, literally everywhere, Ireland said, especially under debris, and all anglers were limiting, with live sardinas and trolled bright colored hoochies working best. There were some sailfish caught, although most anglers were concentrating on tuna and dorado, and there was an occasional blue marlin in the mix.
EAST CAPE, MEXICO: BUENA VISTA BEACH RESOR'S Axel Valdez reported the following fishing results for 61 cruisers sent out during the week (kept/released): blue marlin, 2/10; black marlin, 0/1; striped marlin, 3/16; sailfish, 5/27; dorado, 387/59; tuna, 168/15; wahoo, 0/3; roosterfish, 0/19; grouper, 10/0; snapper, 13/4; jack crevalle, 2/0; amberjack, 6/10; bonita, 3/39.
EAST CAPE, MEXICO: Marisol Verdugo of MARTIN VERDUGO'S BEACH RESORT confirmed the excellent tuna bite, saying "fishing was great" last week on tuna. Verdugo also commented on the amazing green plant life that is covering the hills and mountains of East Cape after the heavy rains of Hurricane Juliette.
EAST CAPE, MEXICO: Dave "Smokey" Manuel of EAST CAPE SMOKEHOUSE, reporting for the Van Wormer resorts of HOTELS PALMAS DE CORTEZ, PLAYA DEL SOL, PUNTA COLORADA, said the combined catch (including released fish) for 141 cruisers sent out during the week was: blue marlin, 11; striped marlin, 7; sailfish, 19; dorado, 411; yellowfin tuna, 459; wahoo, 7; amberjack, 1; and roosterfish, 4.
EAST CAPE, MEXICO: At VISTA SEA SPORT Mark Rayor said diving conditions were "constantly outstanding" at Punta Perico, Punta Pescadero and all locations to the north, with clear, blue water of about 84 degrees at the surface and 81-82 degrees at depth. Visibility was 50-100 feet in these areas. However, Cabo Pulmo conditions continue to vary from good to poor. Iguana Beach and the Sea Lion colony at Los Frailes are warm, clear, and a safe bet, Rayor said, and "manta rays have showed up in huge numbers and we are having excellent luck finding them."
EAST CAPE, MEXICO: Gary Graham of BAJA ON THE FLY said black skipjack are being caught from the beach at the arroyo north of Los Barriles, and even dorado are being sighted by shore anglers there. "Plenty of other fish are mixed in as well," Graham said, "including jacks, lookdowns, and ladyfish."
LA PAZ FISHING REPORTS
ALL ARTICLES, REPORTS AND FISHING INFORMATION FOR LA PAZ
LA PAZ, MEXICO: TAIL HUNTER INTERNATIONA'S Jonathan Roldan said fishing at El Bajo is outstanding now for yellowfin tuna to 50-60 pounds, with some larger fish mixed in. Roldan said, "The high spot is wound so tight with fish it's incredible! I was there with Capt. Mike Keating from Sitka, Alaska, Ken Cochrane, and Steve Khorsinsky from Los Angeles and I kid you not, it had to be one of the best days of the season!
LA PAZ, MEXICO: Memo Chavez of MEMO'S FLEET confirmed the action, saying, "At El Bajo tunas are biting in mid-water and they are running about 80 to 100 pounds. You need a good reel with a good drag to land them. We also spotted a couple of blacks near Punta Coyote, but they weren't feeding."
LA PAZ, MEXICO: David Jones of FISHERMEN'S FLEET said that business picked up last week, and he now has "lots of good customers." The pangas have now been moved over to the Los Muertos side for the season, and the action has been good on tuna.
LORETO FISHING REPORTS
ALL ARTICLES, REPORTS AND FISHING INFORMATION FOR LORETO
LORETO, MEXICO: Arturo Sussarey of ARTURO'S SPORT FISHING reported water temperatures of 70-75 degrees and mild, sunny weather averaging 82-87 degrees. Dorado were still biting north of Isla Coronado, Sussarey said, and also between the island and San Bruno reef. The top dorado for the week was a 39-pounder, but most fish were about 10-18 pounds. There were some 10-15 pound roosterfish being caught close to San Bruno reef, and no yellowtail action was reported for the week.
MULEGE FISHING REPORTS
ALL ARTICLES, REPORTS AND FISHING INFORMATION FOR MULEGE
MULEGE, MEXICO: Diana Johnson of the HOTEL SERENIDAD said the weather has been cool, in the mid-80s, but business is picking up. Over the weekend, the hotel had about 20 planes parked on the newly graded landing strip, and anglers were still catching dorado, she said.
MULEGE, MEXICO: Fly-in Serenidad resident angler RON GRANT said he had no problem crossing the border last week in a private aircraft, and the runway is in good condition. "I went south looking for dorado and found them about 10 miles out," Grant said. "No weeds and little scum lines, but managed to bag a half-dozen keepers each day. The boats going north looking for the early yellowtail found a few small, non-keepers around San Marcos Island."
MAZATLAN FISHING REPORTS
ALL ARTICLES, REPORTS AND FISHING INFORMATION FOR MAZATLAN
MAZATLAN, MEXICO: Larry Edwards of CORTEZ YACHT CHARTERS said ARIES SPORTFISHING FLEET boats averaged about one billfish per day last week, but were running nearly 40 miles to find fish. Largest fish for the week was a 268-pound blue marlin caught by Ricardo Guemez of Mexico City aboard the Aries IV. The overall catch for the fleet included 3 blue marlin, 11 sailfish, 1 yellowfin tuna, and 9 dorado. One inshore boat also reported 10 red snapper. Mazatlan weather was sunny in the high 80s, with water temperatures of 85-88 degrees.
IXTAPA ZIHUATANEJO FISHING REPORTS
ALL ARTICLES, REPORTS AND FISHING INFORMATION FOR IXTAPA ZIHUATANEJO
IXTAPA ZIHUATANEJO, MEXICO: Ed Kunze of MAR Y TIERRA SPORTFISHING said fishing was generally slow all week. The clear, 84-degree water is only 6 miles out, but an absence of bait has caused game fish to move out of the area. "Most boats are able to scratch and find one sailfish and possibly a small dorado per day, but not much more than that," Kunze said.
IXTAPA ZIHUATANEJO, MEXICO: Paul Phillips of FINTASTIC CHARTERS, reporting for the Vargas, Whisky and Mar y Tierra fleets, said seas were calm, but that slightly cooler water temperatures had slowed the sailfish action to 1-2 fish raised per day. Dorado were showing in the 20-30 pound range, Phillips said, but the tuna were moving farther offshore. Inshore fishing for roosterfish was steady on flies and live bait.
IXTAPA ZIHUATANEJO, MEXICO: Stan Lushinsky and Susan Richards of IXTAPA SPORTFISHING CHARTERS confirmed the drop in offshore action, but said that inshore fishing on roosterfish, bonito, and other species improved last week due to calmer conditions.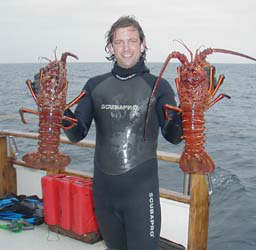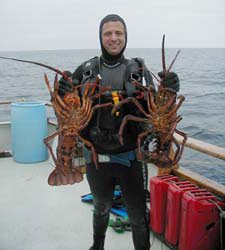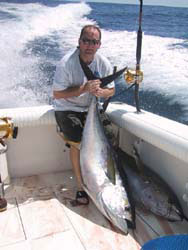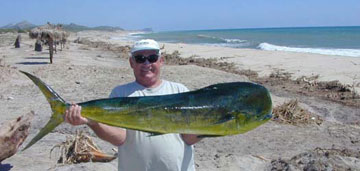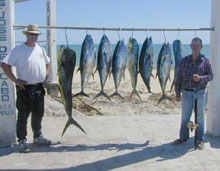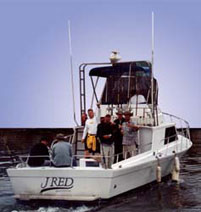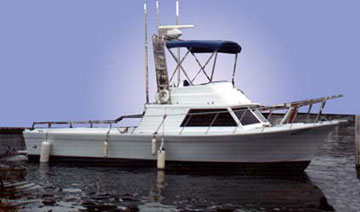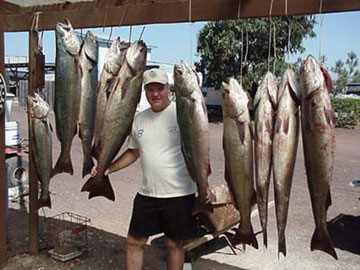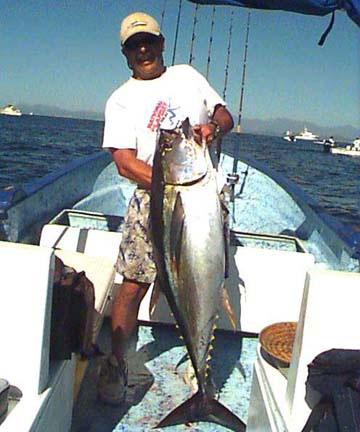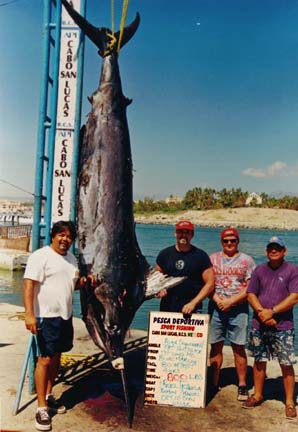 Baja coastal fishing reports and articles.
Ensenada fishing reports and articles.
Puerto Santo Tomas fishing reports and articles.
Erendira fishing reports and articles.
San Quintin fishing reports and articles.
Magdalena Bay fishing reports and articles.
Cabo San Lucas fishing reports and articles.
San Jose del Cabo (Los Cabos) fishing reports and articles.
East Cape fishing reports and articles.
La Paz fishing reports and articles.
Loreto fishing reports and articles.
Mulege fishing reports and articles.
Santa Rosalia fishing reports and articles.
Bahia de los Angeles (L.A. Bay) fishing reports and articles.
San Felipe fishing reports and articles.
Rocky Point (Puerto Penasco) fishing reports and articles.
San Carlos (Sonora) fishing reports and articles .
Mazatlan fishing reports and articles .
Puerto Vallarta fishing reports and articles.
Ixtapa Zihuatanejo fishing reports and articles.
Huatulco fishing reports and articles.
Cancun fishing reports and articles.
Mexico coastal fishing reports and articles.
Mexico Fishing Home Page < Mexico Fishing News Archives < Fishing Report