Mark Raynor, of East Cape's VISTA SEA SPORT dive service, fished in the Baja Bash Riviera Boat tournament sponsored by Ellsworth Marine of San Diego, and he won himself a trip to Costa Rica as his boat released 11 stripers in one day.
"The first day of the tournament, we released one sailfish which put us in last place," Raynor said. "The second day we got on 'em and released 11 stripers. There were only 3 of us on the boat. It made for a real fire drill. At one point we had 5 fish in the pattern at the same time. I also broke off a nice blue by applying to much pressure on light tackle."
Mike Meadows of Los Angeles reported that 14 boats fishing in the Baja Bash tournament this year landed a total of 57 striped marlin during the two-day event, plus a scattering of wahoo, yellowfin tuna, and dorado. "The biggest wahoo was a 71-pound beast," Meadows said, "and all the stripers were brutes. Most were taken on bait after being teased. Weather was breezy in the morning, turning to windy in the afternoon with 5-7 foot seas. Boats fished the Thetis Bank the first day and 12-15 miles off Entrada the next. Mackerel bait was made in Santa Maria Bay and was usually plentiful."
Gary Graham of BAJA ON THE FLY was also pounding the Thetis Bank bite last week aboard the 50-foot La Paz-based yacht Mary Lee with anglers John and Jason Howerton of San Diego, and Ray Barker Smith from England. "In contrast to last week when fish were hard to come by, this week we found massive pods of marlin in a tight area just 10 miles off the beach," Graham said. "Mixed in with the billfish were good showings of tuna and dorado. But seeing them, raising them, hooking and landing them on the fly are different things. We had plenty of exciting opportunities, but the marlin just kept getting unbuttoned. Last night at the anchorage after dinner we were catching all the sierra we wanted. Big ones, too!" Graham reported Bahia Magdalena air temperatures of 80 degrees during the day and 68 degrees at night, with 15-20 knot winds.
CABO SAN LUCAS FISHING REPORTS
ALL ARTICLES, REPORTS AND FISHING INFORMATION FOR CABO SAN LUCAS
CABO SAN LUCAS, MEXICO: Sergio Cortes of PICANTE FLEET reported Cabo water temperatures of 81-87 degrees, air temperatures of 72-92 degrees, humidity 62%, and winds of 8-10 m.p.h. on both the Cortez and Pacific sides. Sunday's fleet production with 7 boats fishing was: 4 striped marlin, 2 blue marlin, 8 tuna, 1 wahoo, and 17 dorado.
CABO SAN LUCAS, MEXICO: Tracy Ehrenberg of PISCES FLEET called it a "fabulous week" as the 86-foot boat Felina, fishing with Pisces Fleet, landed the largest Cabo San Lucas marlin so far this year, an 871.5 pound blue marlin that was weighed twice, just to make sure, once on an electronic scale. The big catch came as Capt. Tony Nungaray took the boat out for a practice run for the WON Los Cabos Tuna Jackpot tournament. About 8 miles off the old lighthouse, the big blue hit a pink/orange lure on 100-pound test line about noon. The fish was finally landed about 7:30 p.m. after an epic battle by Nungaray and deckhand, Pedro. Ehrenberg also reported the winning fish for the WON Los Cabos Tuna Jackpot tournament as (see separate reports): Stimulator (also this year's Bisbee's winner), 156 pounds, fishing with Pisces Fleet; Picante Express, 151.6 pounds; and Blue Thunder (last year's winner), 149 pounds. Pisces Fleet's 31-foot Bertram, Ruthless, also had a good week, scoring on 3 dorado and a blue marlin for Carlos Grant of Boise, followed the next day by a sailfish and more dorado. Next came a 550-pound blue for Ralph Byrd, then a 350-pound blue for Tom Tyler, followed by a final day landing 2 striped marlin and more dorado. Bob Legg, of Punta Gorda, FL, 83 years old, also landed his first billfish last week, a striped marlin aboard Pisces Fleet's Tracy Ann. Pisces Fleet anglers had a total of 11 blue marlin of which 8 were released, 11 striped marlin, all released, and two sailfish also released, Ehrenberg said. The fleet's overall catch success rate for all species combined was 83%, with 43% landing billfish. Overall, dorado were the most numerous catch, with some boats landing up to 15.
CABO SAN LUCAS, MEXICO: HOTEL SOLMAR SUITES' Dick Wilkes reported very good dorado action last week, plus a good showing on yellowfin tuna, mostly found at two spots, one off Chileno Bay on the Cortez side, and the other off the old lighthouse on the Pacific side. Solmar boats found 253 dorado and 96 yellowfin tuna during a five-day period last week, Wilkes said. "Dorado swarmed to the hooks and bait of anglers," reported fleet manager, Rene Santa Cruz. "After a lull in dorado action the week before, the fish seemed to explode into action. Yellowfin tuna also became more active. First time angler, Paul Rodrigo of Palmdale caught a 250-pound blue marlin, an 80-pound yellowfin tuna, and a 70-pound dorado his first day out on the Solmar's 33-foot El Sheriff, with Capt. Ramon. Another first-timer, Tara Scott, of Ypsilanti, MI, caught a 140-pound striped marlin of the 34-foot Solmar II, and other fleet boats scored on blues from 225 to 400 pounds.
CABO SAN LUCAS, MEXICO: Larry Edwards of Cortez Yacht Charters also reported a big jump in dorado action last week, with GAVIOTA FLEET boats checking in with an overall count of: 14 striped marlin (11 released), 1 black marlin (released); 6 blue marlin (5 released), 6 wahoo, 29 yellowfin tuna, and 134 dorado. The single wahoo weighed 55 pounds, and most of the dorado averaged 30-40 pounds, Edwards said. The largest yellowfin was caught aboard the Gaviota IX, and weighed 150 pounds. Gaviota Fleet boats found the best action at the Jaime and Golden Gate banks.
CABO SAN LUCAS, MEXICO: Resident angler JOHN AMBROSE of Maya Roca Real Estate in Todos Santos reported water temperatures of 78-80 degrees, with water blue to clear green offshore, and clear to murky inshore. Launching conditions last week were fair to poor, due to a northwest swell, Ambrose said. Local pangueros were reporting excellent catches of huachinango and small to medium amberjack. Free swimming dorado and wahoo were congregating under anchored pangas, and good tuna and dorado action was available on surface lures. Dive conditions in the Todos Santos area were poor, due to high surf.
SAN JOSE DEL CABO (LOS CABOS) FISHING REPORTS
ALL ARTICLES, REPORTS AND FISHING INFORMATION FOR SAN JOSE DEL CABO
SAN JOSE DEL CABO, MEXICO: Eric Brictson of GORDO BANKS PANGAS said 70-pound yellowfin tuna are being caught by the La Playita fleets, and many larger fish are being lost. Air temperatures averaged a slightly warmer than normal 90 degrees last week, and water temperatures are in the low 80s, with blue water found within a few miles of shore. Sardina live bait was under some pressure from the very busy panga fleets, but most boats were finding an adequate supply, Brictson said. Fleet catches included yellowfin tuna, dorado, wahoo, amberjack, skipjack, sierra, pargo, rainbow runner and marlin. "The larger tuna are now being found further offshore," Brictson said, "some 25 to 30 miles out, mixed with porpoise and also by blind jig strikes. They have been taken on live sardinas, chunk bait and chihuil. The most common set up was using the live sardinas on 2/0 hooks and 50-pound tackle, and many fish were lost even on this size gear." Dorado were spread out throughout the region but were not being found in any large concentrations, Brictson said. "Over the weekend there was a big bite on larger marlin that developed on the Gordo Banks," Brictson said. "There were huge schools of skipjack and this seemed to attract the marlin. On Saturday, there were at least 8 black marlin caught that all weighed from 300 to 500 pounds."
EAST CAPE FISHING REPORTS
ALL ARTICLES, REPORTS AND FISHING INFORMATION FOR EAST CAPE
EAST CAPE, MEXICO: BAJA ON THE FLY guide Jeff DeBrown said beach fishing is active at the arroyo north of Los Barriles, concentrated in an early morning bite on ladyfish, roosterfish, jacks, sierra and a few bonito. Chartreuse and hot pink Clousers were the hot flies, along with sardina colors.
EAST CAPE, MEXICO: Eddy at EL CARDONAL'S HIDEAWAY said wahoo are present directly in front of the hotel, and a 400-pound blue marlin was released last week. The road north from Los Barriles was "passable" he said.
EAST CAPE, MEXICO: Tami Mouyeous of RANCHO BUENA VISTA said 6 boats sent out last week checked in with 3 sailfish, 8 dorado, 12 yellowfin tuna, 8 black skipjack, and 4 yellowtail. The Ranch is still offering a 4th night free through the winter season.
EAST CAPE, MEXICO: John Ireland of RANCHO LEONERO said anglers were still limiting on school-sized yellowfin tuna and dorado last week, although the bite was a bit slower than previously. Tuna were found in tight schools cruising throughout the bay, averaging 10-15 pounds, and dorado were under debris, averaging 15 pounds, but with some bulls also caught to 60 pounds. No marlin were caught last week, but the sailfish bite was steady 5-10 miles off shore on live sardinas. Sierra were starting to show up, taking trolled hoochies and live sardinas off the beaches, Ireland said.
EAST CAPE, MEXICO: VISTA SEA SPORT'S Mark Raynor said dive conditions continue to be excellent in the East Cape area, with water temperatures in the low 80s, and water color clear and blue. "Diamond back stingrays, cabrilla and huge grouper are starting to move up onto the shallower reefs," he said. "This is the first sign that winter is coming."
LA PAZ FISHING REPORTS
ALL ARTICLES, REPORTS AND FISHING INFORMATION FOR LA PAZ
LA PAZ, MEXICO: David Jones of FISHERMEN'S FLEET said weather continued close to perfect last week, with temperatures in the 90s during the day and in the 70s at night. "As for the fishing, I think that it has slowed just a bit, with fewer but larger tuna and some good dorado days," Jones said. "Dennis Hoeger and his group, under the capable auspices of Lynn Rose Travel, had a good trip, with coolers full as they departed. They had tuna to 65 pounds and sore arms and backs. That has been the norm as of late, with 70 percent of the load being tuna, most of the rest dorado, and a smattering of 6 or 7 other varieties."
LORETO FISHING REPORTS
ALL ARTICLES, REPORTS AND FISHING INFORMATION FOR LORETO
LORETO, MEXICO: Arturo Susarrey of ARTURO'S SPORT FISHING said air temperatures last week averaged 82-87 degrees, and water temperatures 80-82 degrees. Weather was generally good, but with some north breezes beginning to show up. A good dorado bite was found at the end of the week at La Vaca reef, north of Carmen Island, Susarrey said, and boats were limiting on 12-20 pound fish, plus finding some sailfish in the same area. Boats were also finding about 3 yellowtail per day, at 15-25 pounds, 30 miles north of Loreto at Pulpito reef. Arturo's Sportfishing was also announcing an unusual package for camping trips at Bahia San Nicolas starting in February. Anglers will be taken north in vans and fish from pangas for three days, from a fully-equipped beach camp including tents, generator, sleeping bags, tables, chairs, and all meals. Beverages, fillet and freezing of your catch, airport transfers, and one night at the Loreto La Pinta hotel are included in this package. More information is available by emailing arturossport@prodigy.net.mx.
LORETO, MEXICO: Pam Bolles of BAJA BIG FISH COMPANY was announcing what may be the world's only fly fishing tackle store with a taco stand attached to it. The new store is located half a block west of the old one, and in addition to tacos and ceviche served by Francisco Munoz (Damiana's papa), features a full selection of flies, flylines, reels, etc., and a casting area behind the store.
Bolles also reported dorado to 20 pounds at Punta Lobos, yellowfin tuna being caught at Isla Catalan, and yellowtail at Punta Pulpito, east of Isla Coronado, and north of Isla Carmen, mostly 10-15 fish swimming at least 90 feet deep. Mackerel bait was available, but not being sold regularly, so anglers were advised to bring Lucky Joe rigs. Inshore, sierra were feeding actively right in front of the marina, Bolles said. "Cast a weighted chrome lure off the east break wall or the north facing dock and retrieve immediately. I have seen a few guys land one on every cast. The best bite is before the sky lights up, 5:30 a.m. By the time the sun is ready to pop up, it will be too late."
LORETO, MEXICO: Mark Downing of LORETO FISHING said early yellowtail to 30 pounds were confirmed between San Basilio and Punta Pulpito, and some dorado are still being found as the season winds down. Downing also reported that Hector Gurayzar of Loreto has been awarded the first permit to farm lobster in the marine park. "If all goes as planned, Hector will be selling the crustacean delicacies next summer," Downing said. "We will keep you posted on this exciting venture in aquatic agriculture."
MULEGE FISHING REPORTS
ALL ARTICLES, REPORTS AND FISHING INFORMATION FOR MULEGE
MULEGE, MEXICO: Becky Aparicio of the GALERIA SIRENA @ ECOMUNDO bookstore and art gallery on the shore of Bahia Concepcion said water temperatures were still averaging 82-84 degrees, and weather was excellent for November, with no wind. "I went fishing yesterday and caught a good-sized dorado and a great cabrilla," Aparicio said. "My companions in two other boats caught dorado, yellowtail (eaten stuffed and baked over a campfire), and sierra. My dorado was caught several miles southeast of Santa Rosalia, northeast of Isla San Marcos. We were patient. We caught and released lots of runts until the bigger guys came. Lots of action out at Isla San Marcos, with jurel running well for the local fishermen as well as dorado. The conditions couldn't have been better, with little wind and large dolphin herds puffing north. The pelicans were very busy feeding on small bait and getting ready for winter mating and roosting. "This is the place to be for an escape from the problems of the world for a little while at least. Tourism is way down and local businessmen are having a tough time, and are making a special effort for the tourists who are here."
MULEGE, MEXICO: Diana Johnson of the HOTEL SERENIDAD said business was good last week, with 25 planes landing over the weekend. Fishing was in transition, with dorado mixing together with yellowtail. Weather was humid, about 85-90 degrees, but with cool evenings.
SAN FELIPE FISHING REPORTS
ALL ARTICLES, REPORTS AND FISHING INFORMATION FOR SAN FELIPE
SAN FELIPE, MEXICO: Tony Reyes of TONY REYES FISHING TOURS reported on a six-day Midriff islands trip by the panga mothership Jose Andres, checking in with a fish count of: 279 spotted bass; 167 yellowtail, 18-26.5 pounds; 153 cabrilla, 12-16 pounds; 7 red snapper, 8-12 pounds; 4 sheephead, 4-6 pounds; 3 shark, 12-14 pounds; 2 dorado, 15.5 pounds; 1 white seabass, 70 pounds; 1 grouper, 90 pounds; and 3 broomtail grouper, 8-12 pounds.
MAZATLAN FISHING REPORTS
ALL ARTICLES, REPORTS AND FISHING INFORMATION FOR MAZATLAN
MAZATLAN, MEXICO: Larry Edwards of Cortez Yacht Charters said super sailfish action has returned to Mazatlan waters, with ARIES SPORTFISHING FLEET boats reporting an average of 3 fish per day. Fleet manager Geronimo Cevallos said, "We haven't seen these good fish counts for a couple of years." Largest fish for the week was a 315-pound blue marlin landed by Rick Navarro of Los Angeles. Overall, Aries Fleet boats landed: 3 blue marlin, 72 sailfish, 8 dorado, 13 roosterfish, 11 jack crevalle, and 31 red snapper. Weather was in the high-80s, and water temperatures were in the 80s. Best fishing was 26 miles out on a heading of 230 degrees from Marina el Cid.
IXTAPA ZIHUATANEJO FISHING REPORTS
ALL ARTICLES, REPORTS AND FISHING INFORMATION FOR IXTAPA ZIHUATANEJO
IXTAPA ZIHUATANEJO, MEXICO: Stan Lushinsky and Susan Richards of IXTAPA SPORTFISHING CHARTERS reported on partial results of the Ixtapa-Zihuatanejo Total Tag & Release Tournament, saying that 4 boat-days resulted in 14 sailfish landed and released, plus another 4 lost. Earlier, Chris Narwold and Bill Windley landed 5 sailfish of 7 hooked aboard the Janeth with Capt. Arturo Londa.
"Offshore fishing has exploded," said Paul Phillips, of ZIH CHARTER CAPTAINS, reporting for the Vargas, Whisky Charter and Mar y Tierra fleets. "The water has cooled down to about 80 degrees, the blue water is about 6 miles out, and the game fish have come with the water. We are averaging about 3-4 sailfish per boat, plus the bonus of a couple of yellowfin tuna. The tuna are averaging about 40-50 pounds. Most of the sailfish are being taken 12-16 miles out of Zihuatanejo Bay on a 180 to 210 degree heading.
"The tuna are all over the place. We are mostly getting them off the porpoise and diving birds, but we have located isolated schools crashing the surface with nothing around." Phillips said 57 sailfish were reported for 22 boat-days fished during the early stages of last week's third annual Fintastic Fish Tag and Release Tournament.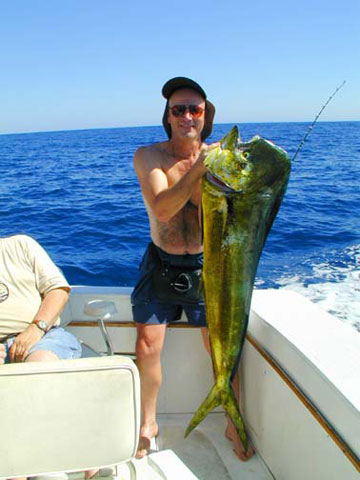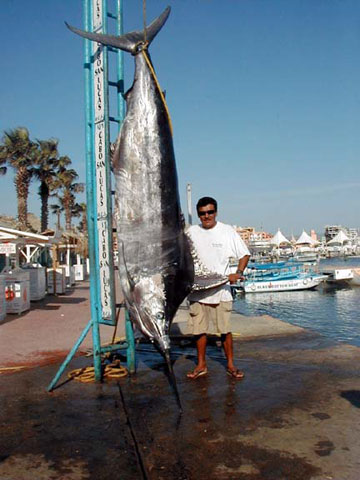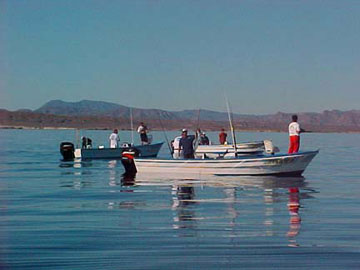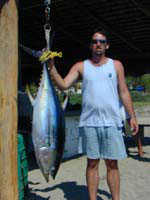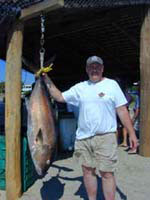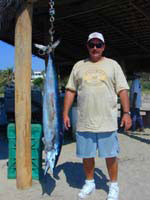 Baja coastal fishing reports and articles.
Ensenada fishing reports and articles.
Puerto Santo Tomas fishing reports and articles.
Erendira fishing reports and articles.
San Quintin fishing reports and articles.
Magdalena Bay fishing reports and articles.
Cabo San Lucas fishing reports and articles.
San Jose del Cabo (Los Cabos) fishing reports and articles.
East Cape fishing reports and articles.
La Paz fishing reports and articles.
Loreto fishing reports and articles.
Mulege fishing reports and articles.
Santa Rosalia fishing reports and articles.
Bahia de los Angeles (L.A. Bay) fishing reports and articles.
San Felipe fishing reports and articles.
Rocky Point (Puerto Penasco) fishing reports and articles.
San Carlos (Sonora) fishing reports and articles .
Mazatlan fishing reports and articles .
Puerto Vallarta fishing reports and articles.
Ixtapa Zihuatanejo fishing reports and articles.
Huatulco fishing reports and articles.
Cancun fishing reports and articles.
Mexico coastal fishing reports and articles.
Mexico Fishing Home Page < Mexico Fishing News Archives < Fishing Report