MAGDALENA BAY FISHING REPORTS
ALL ARTICLES, REPORTS AND FISHING INFORMATION FOR MAGDALENA BAY
MAGDALENA BAY, MEXICO: Gary Graham of BAJA ON THE FLY said his Flyrod Marlin 101 series of trips to the Thetis Bank area ran into an entire week of wind and rough seas after Thanksgiving. "On Friday," he said, "we only made it out a few miles, catching one large 70-pound wahoo, and we headed back to the anchorage early. The following day we did manage to get up above the Thetis where we found the only clean water, but no marlin.
"Then, sliding back down swell, we found a huge school of porpoise and marlin. In less than two hours we raised and cast to 10 fish. But, sea conditions continued to deteriorate for the rest of the trip and the only other catches were small yellowtail, sierra, and skipjack between Punta Hughes and Cabo San Lazaro, in about 100 feet of water."
Inside the Magdalena Bay mangrove channels, Graham said last week was good for corvina at Devil's Curve, the power plant, and the bridge. Good catches of snook to 17 pounds were also reported. Inshore on the Pacific side, sierra slowed down last week, but halibut were being caught from the sand beach at Santa Maria Bay.
CABO SAN LUCAS FISHING REPORTS
ALL ARTICLES, REPORTS AND FISHING INFORMATION FOR CABO SAN LUCAS
CABO SAN LUCAS, MEXICO: Relatively calm weather, a continued sizzling bite on dorado, and a good showing of wahoo and striped marlin paced the action at the tip of the peninsula last week, as the first serious winds of winter made fishing tough in most other Baja areas.
CABO SAN LUCAS, MEXICO: George Landrum of FLY HOOKER SPORT FISHING commented on the comfortable weather late last week after a few days of moderately bumpy conditions, saying, "Water conditions have been good this week. Midweek afternoons were a bit choppy but not too bad. We have a band of warm water wrapping from the Sea of Cortez side up to the Todos Santos area, and that seems to be where the fish have been concentrated. The warm water is mostly in the 78-80 degree range and the cooler water just outside seems to around 75 degrees."
Landrum noted that striped marlin are now dominating the billfish numbers, with some blues and blacks still being found in warmer water straight south of the arch, or on the Cortez side. The stripers were concentrated around bait on the edges of the Golden Gate Bank, Landrum said. "There has been an intense concentration of mackerel that has held large numbers of striped marlin all week long. Most of the boats have been drifting live baits down around 50 feet and the bite has been pretty good. For the ones staying with the effort, the catches have been as high as 4 billfish per boat. As time goes on they should start to move closer to the tip of the cape and we should see concentrations off Cabo Falso soon."
Yellowfin tuna were scarce off Cabo last week, Landrum added, but the dorado and wahoo made up for it. "I had a chance to see several wahoo in excess of 100 pounds weighed this week, and there were many boats that came back with 6-10 between 25 and 60 pounds each," Landrum said. "San Jaime Banks turned out the bigger fish. The most successful method was high-speed trolling of Marauders in black or orange colors." Landrum noted that dorado were so plentiful, that some boats had fallen to the temptation to fish them commercially (illegal). "I am not going to name names," he said. "I heard captains bragging of having caught 30-40 dorado and keeping them to sell."
CABO SAN LUCAS, MEXICO: Marcos Arechiga of PICANTE FLEET reported average winds of 10-12 knots on the Pacific side and 8-10 knots on the Cortez side. Six boats fishing Saturday found 47 dorado, 7 wahoo, 6 striped marlin, and 3 tuna, with the best fishing at the Golden Gate Bank.
CABO SAN LUCAS, MEXICO: At PISCES FLEET, Tracy Ehrenberg reported on yet another monster blue marlin caught as the season comes to an end, this one an unconfirmed 700-pound class fish reported caught off the Old Lighthouse. Several other blues were caught by Pisces Fleet boats, but the most of the action was on stripers. "It is almost exclusively striped marlin right now," said Ehrenberg. "We did have a few sailfish, but to be honest this is one of the poorest years we've seen on sails in a long time." For the week, slightly more than 60% of Pisces boats caught billfish and 96% caught billfish, tuna, dorado, or wahoo. "It was a superb wahoo week," Ehrenberg said. "We even had one boat (Ni Modo) that had four in a day in the 30-50 pound range, as well as 9 dorado and 1 marlin released. Again this week, many dorado were released. A lot of our anglers geared down for these and had a lot of fun with spinning tackle." Pisces Fleet boats reported average water temperatures of 73-76 degrees.
CABO SAN LUCAS, MEXICO: Ruben Fuerte of REEL EASY SPORTFISHING said four fishing days at the end of the week aboard the El Chilito and Sea U Later found 25 dorado, 1 wahoo at 40 pounds, and 3 striped marlin (all released) plus several billfish that came unbuttoned right at the boat.
CABO SAN LUCAS, MEXICO: HOTEL SOLMAR SUITES' Dick Wilkes reported a fleet catch of 365 dorado to 70 pounds, 32 striped marlin (24 released), and 1 blue marlin (released), mostly found from the Old Lighthouse out to the Golden Gate Bank. Solmar boats also scored on yellowfin tuna, wahoo to 65 pounds, roosterfish, sailfish, sierra, and black skipjack. Top boat for the week was the 36-foot Solmar IX with Capt. Tony who found 3 striped marlin and 3 bull dorado to 45 pounds for Anthony Delano of Boston and Victor Mueller of Green Lake, WI at the Golden Gate Bank. The next day, the Solmar IX returned with the same anglers for another marlin and a 70-pound dorado, Wilkes said. Solmar catch-and-release angler, Craig Warren of Los Alamitos, CA, fished aboard the 29-foot Locomotion, Wilkes said, and in one two-hour period between 10 a.m. and noon, released 12 dorado and kept 2 others, on live mackerel and purple lures.
CABO SAN LUCAS, MEXICO: Larry Edwards of CORTEZ YACHT CHARTERS said GAVIOTA FLEET boats were scoring easy dorado limits a the sizzling bite spread from the Golden Gate to the Jaime Banks. Overall fleet counts included 1 blue marlin (released), 14 striped marlin (11 released), 8 wahoo, 11 yellowfin tuna, and 313 dorado landed, plus many others released.
CABO SAN LUCAS, MEXICO: Inshore, Grant Hartman of BAJA ANGLERS said fly anglers were finding some roosterfish along the beaches on the Pacific Side, plus some snapper and sierra. "The action has been okay. This fishery will improve as the water-cools off a bit in the next few months," he said.
SAN JOSE DEL CABO (LOS CABOS) FISHING REPORTS
ALL ARTICLES, REPORTS AND FISHING INFORMATION FOR SAN JOSE DEL CABO
SAN JOSE DEL CABO, MEXICO: Eric Brictson of GORDO BANKS PANGAS said weather was a factor last week in knocking down the fish counts. "The overall catch rates were substantially less than in recent weeks," he said. "Some charters were only tallying a couple of small fish like sierra and pargo for their entire effort. Overall success rates were generally better than that, consisting of a few tuna or more, along with a mix of other species. Before the wind starting blowing, anglers did find some great action for yellowfin tuna, wahoo and dorado from Gray Rock to the Gordo Banks and north to Iman and San Luis Banks."
Brictson said the full moon and weather made finding bait difficult. "On some days there just was not enough fresh bait to go around. The heavy tides and surf conditions caused a mess once again off the beach of La Playita and scattered the baitfish."
Water and air temperatures off San Jose del Cabo both averaged about 80 degrees, Brictson said, and earlier in the week, there was a good bite on large wahoo when the preferred chilhuil live bait could be found. "There were reports of anglers landing as many as 3 to 5 wahoo during a morning," he said. "The catching of the chihuil baitfish was not always easy. They were definitely what the wahoo wanted, though. There were several stories about wahoo that jumped high out of the water as they were striking the trolled chihuil, resulting in a screaming hook up. Most were in the 30 to 45 pound range." Sierra, pargo and a few roosterfish were rounding out the catches for the La Playita panga fleets, with the best action being found near Punta Gorda on live sardinas. "As the tides settle down and the moon darkens, we expect the action to improve in the next week," Brictson said. "The wind will be a main factor. It can be relentless at times."
EAST CAPE FISHING REPORTS
ALL ARTICLES, REPORTS AND FISHING INFORMATION FOR EAST CAPE
EAST CAPE, MEXICO: Gary Graham of BAJA ON THE FLY said inshore fishing is producing medium-sized roosterfish at the arroyo north of Los Barriles, with some other species mixed in. "The winds have been blowing each afternoon from the north or northwest," he said. "They have not been severe, though they have been felt."
EAST CAPE, MEXICO: At RANCHO LEONERO, John Ireland said daytime highs were in the 70s, with cool evenings, calm mornings, breezy afternoons, and water temperatures in the low 80s. Ireland reported good fishing in a loose bite scattered around the bay, with tuna, dorado, skipjack and sierra hitting from Rancho Leonero south to Los Frailes. The bite on very large sierra to 10 pounds was still very active to the south, with live sardinas working best, Ireland said.
EAST CAPE, MEXICO: Chris Moyers of EAST CAPE SMOKEHOUSE reported that the Van Wormer resorts of HOTELS PALMAS DE CORTEZ, PLAYA DEL SOL, PUNTA COLORADA sent out 44 boats during the week, with a catch (including released fish) of: 7 blue marlin, 1 striped marlin, 8 sailfish, 87 dorado, 66 yellowfin tuna, and 4 pargo.
EAST CAPE, MEXICO: Post-Thanksgiving fishing pressure was light last week at most hotels. Marisol Verdugo-George of MARTIN VERDUGO'S BEACH RESORT said, "This week was really slow. We only had one cruiser go out, and they caught mostly dorado." Verdugo-George said the resort's ever-present RV and small boat crowd was also fishing and scoring on dorado, but that was about all.
EAST CAPE, MEXICO: VISTA SEA SPORT'S Mark Rayor reported that winds finally arrived after a long period of near-perfect weather. "Although water conditions have been excellent, the East Cape is very quiet," he said. "The water is still warm, blue and clear. We are watching the manta rays jumping in front of the dive shop every day."
LA PAZ FISHING REPORTS
ALL ARTICLES, REPORTS AND FISHING INFORMATION FOR LA PAZ
LA PAZ, MEXICO: Jonathan Roldan of TAIL HUNTER INTERNATIONAL said the seasons are definitely changing, with "a little more wind from the north, a little change in the ocean color, a little more chop, fish moving, and temperatures changing. At the moment, there's not a whole lot going on for the few boats fishing the La Paz side," Roldan said. "Just not a lot of excitement as the catch consists mostly of cabrilla, sierra and pargo. "The best bite is still on the Las Arenas side. However, the fish are moving. Surprisingly, dorado keep showing up in the counts, which tells me there's still some nice fingers of warm water running through the channel."
LA PAZ, MEXICO: At FISHERMEN'S FLEET, David Jones said his clients were still finding dorado around the south end of Isla Cerralvo on live sardinas.
LORETO FISHING REPORTS
ALL ARTICLES, REPORTS AND FISHING INFORMATION FOR LORETO
LORETO, MEXICO: Wendy Wilchynski of VILLAS DE LORETO said officials are still looking for a good spot around Isla Coronado to sink the Marisla II. The famous old dive boat will become a diving attraction itself when a stable spot about 50 feet deep is located. Meanwhile, Wilchynski said Loreto's very thin airline connections have just received a boost in the form of a new daily Aeromexico flight from Hermosillo with connections to Los Angeles, Phoenix and other cities.
LORETO, MEXICO: Arturo Susarrey of ARTURO'S SPORT FISHING said winter winds blew most of the week, knocking out fishing and pushing air temperatures down to about 70 degrees, and water temperatures down to about 65 degrees. "This week was a bad fishing week," he said. "The wind did not let us do any good fishing. Wait next week for a better report." On the one decent weather day last week, Susarrey said fly anglers caught roosterfish and small pinto bass. Susarrey was busy getting ready for this year's repeat of the successful series of van-panga-camping yellowtail trips begun last season to a little-known cove called Saquicismunde about 35 miles north of Loreto. These trips feature a van ride north, a panga ride to the cove, and three days of fishing in the sheltered waters around Punta Pulpito. All services, including tents, meals, fishing filleting, and so forth, are provided on these deluxe camping trips, which are being booked through Bluewater Tours.
LORETO, MEXICO: Mark Downing of LORETO FISHING said that until the wind hit, chicken dorado were still being hooked on live bait around Isla Coronado, and boats working San Bruno were landing roosterfish, toro on the bottom, and sierra on Rapalas.
MULEGE FISHING REPORTS
ALL ARTICLES, REPORTS AND FISHING INFORMATION FOR MULEGE
MULEGE, MEXICO: The wind blew, the fishing was slow, and tourist traffic was very slow last week. Yellowtail, it was thought, must still be biting at the usual Isla San Marcos bajos, but there were no boats going out to check.
MULEGE, MEXICO: At the HOTEL SERENIDAD, Diana Johnson said there were only a few planes on the runway last week, although the weather was very pleasant in the mid-70s. The Serenidad is offering a special double room package for 3 nights, including full breakfasts for 2 people, at the promotional rate of $207. Up to 2 children under 12 are free.
MULEGE, MEXICO: Fly-in resident RON GRANT was busy loading 10 turkeys into his plane for distribution on his next trip down. He reported windy conditions in town, and slow fishing with boats sticking close to shore.
BAHIA DE LOS ANGELES (L.A. BAY) FISHING REPORTS
ALL ARTICLES, REPORTS AND FISHING INFORMATION FOR BAHIA DE LOS ANGELES
BAHIA DE LOS ANGELES, MEXICO: At Bahia de los Angeles' CAMP GECKO, Abraham Vazquez said water temperatures are now down to 73-75 degrees and the winds have been blowing, either moderately from the north or "very strong" from the west. Daytime highs are in the low 70s, dropping to the low 60s at night. Good numbers of 15-20 pound yellowtail were being caught about half a mile past Horsehead Island, Vazquez said, about 150-220 feet deep, on iron. "It is easy to find the spot," he said. "You will see about ten pangas fishing on it. The secret is to be patient and wait until they start feeding on the surface." Barracuda and giant squid were also being found in numbers at the same location.
MAZATLAN FISHING REPORTS
ALL ARTICLES, REPORTS AND FISHING INFORMATION FOR MAZATLAN
MAZATLAN, MEXICO: Nora Alonso-Rice of ARIES SPORTFISHING FLEET said there are plenty of tuna around, but they are 30 miles out, and only the die-hards are going that far for them. Sailfish are closer, at 16-20 miles, and boats are averaging 5-8 strikes per day. A few dorado are starting to show up as water temperatures decline, but they are large, about 40-50 pounds. Best baits for both sailfish and dorado are trolled mullet and ballyhoo. Bottom fishing is excellent for various snappers and corvina, Alsono-Rice said, and roosterfish were being caught about 50 meters from the beach at a point 1 mile north of the harbor. Last week, a panga caught a 50-pounder while bottom fishing. Cut squid is working for the bottom fish, and the roosters are hitting on live mullet. Mazatlan sea conditions were good, with occasional wind and sunny days.
IXTAPA ZIHUATANEJO FISHING REPORTS
ALL ARTICLES, REPORTS AND FISHING INFORMATION FOR IXTAPA ZIHUATANEJO
IXTAPA ZIHUATANEJO, MEXICO: After a month of blistering sailfish counts, a full moon and cooling water conditions slowed the action somewhat last week, reported Stan Lushinsky and Susan Richards of IXTAPA SPORTFISHING CHARTERS. Sailfish action fell to about 1-2 fish raised per day.
IXTAPA ZIHUATANEJO, MEXICO: Paul Phillips, of ZIH CHARTER CAPTAINS, reporting for the Vargas, Mar y Tierra, and Whiskey Charter fleets, said currents were erratic in the fishing area and dorado have all but disappeared. As a special note, Phillips said that during the week of November 11-18, local Captain Santiago Valdovinos racked up a total of 37 billfish tagged and released. It was the highest total known by any ZIH captain in one week, Phillips said.
IXTAPA ZIHUATANEJO, MEXICO: Ed Kunze of MAR Y TIERRA SPORTFISHING said blue marlin are making a showing as water temperatures cool to the 78-80 degree range. "In the last couple of days, blues were reported caught by the Puerto Mio fleet in Zihuatanejo with Capt. Cali Juarez hooking 3 on the Vamonos II, Capt. Margarito Romero with one on the Gaby, and Capt. Jamie Morales with one on the La Kirrirus. They all seem to be out of the same mold, and are averaging about 250 pounds," Kunze said. "It seems that it has been a three-way tie as to the best method for catching them. Several have come on large trolled artificials, others on cut bait used for catching sailfish, and the rest on a slow trolled live black skipjack."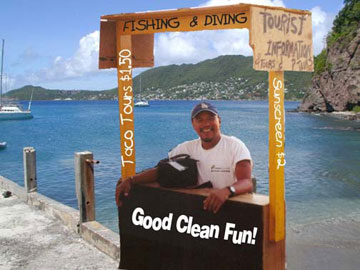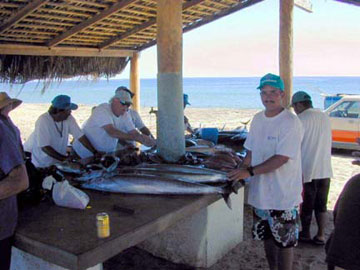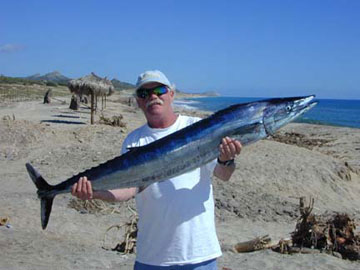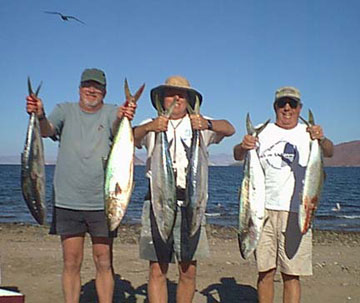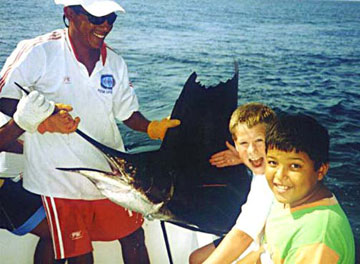 Baja coastal fishing reports and articles.
Ensenada fishing reports and articles.
Puerto Santo Tomas fishing reports and articles.
Erendira fishing reports and articles.
San Quintin fishing reports and articles.
Magdalena Bay fishing reports and articles.
Cabo San Lucas fishing reports and articles.
San Jose del Cabo (Los Cabos) fishing reports and articles.
East Cape fishing reports and articles.
La Paz fishing reports and articles.
Loreto fishing reports and articles.
Mulege fishing reports and articles.
Santa Rosalia fishing reports and articles.
Bahia de los Angeles (L.A. Bay) fishing reports and articles.
San Felipe fishing reports and articles.
Rocky Point (Puerto Penasco) fishing reports and articles.
San Carlos (Sonora) fishing reports and articles .
Mazatlan fishing reports and articles .
Puerto Vallarta fishing reports and articles.
Ixtapa Zihuatanejo fishing reports and articles.
Huatulco fishing reports and articles.
Cancun fishing reports and articles.
Mexico coastal fishing reports and articles.
Mexico Fishing Home Page < Mexico Fishing News Archives < Fishing Report