Overall, Gaviota Fleet boats averaged over one billfish per day last week, with a combined catch of 36 striped marlin (27 released), 2 wahoo, 24 yellowfin tuna, and 47 dorado. Most boats were drift fishing with plentiful live mackerel at the Golden Gate and Jaime Banks, Edwards said.
CABO SAN LUCAS, MEXICO: Reporting earlier in the week, Pisces Fleet's Tracy Ehrenberg said 92 percent of their boats scored on striped marlin over a five-day period of calm seas, and 87 percent scored on all species combined. Live bait dropped deep with sinkers accounted for most of the catch, with the rest caught on cast live baits. For the period, Pisces Fleet boats reported a combined catch of 52 striped marlin, with 49 released. Boats were also scoring on occasional dorado, tuna, plentiful sierra, and some roosterfish to 40 pounds inshore.
CABO SAN LUCAS, MEXICO: George Landrum of Fly Hooker Sportfishing said nighttime Cabo temperatures have the locals dressing warmly, although the tourists are still walking around in shorts and T-shirts. Fly Hooker boats looked for warm water on Sunday, and actually found some at 77 degrees, although most areas were down to about 72 to 74 degrees.
Landrum said billfish action slowed down the last few days of the week, but there was a steady bite of football tuna off the point, and a pod of tuna that had been working the arches right in front of town for the past three days. "Most boats have been able to hook up at least a half-dozen of the 20 to 30-pound fish, and a few of the boats have gotten a dozen or more, with an occasional 50-plus-pounder in the mix," Landrum said. "At the arches, live sardinas have been the most productive."
Dorado have been so concentrated around debris, Landrum said he's seen 30 boats working a single piece of 2-by-4. " Live bait, live bait, live bait! No matter if on the debris, or working the beach, the key to success this week has been the use of live bait," he said.
CABO SAN LUCAS, MEXICO: Surf fishing guide Jeff Klassen said near shore panga fishing has been good for roosterfish and sierra, but surf fishing has been mediocre. The best best right now is fishing the rocky areas for trevally, giant needlefish, and the odd grouper or hawkfish, using the old Klassic Poppers, he said. "There are roosterfish to be had along the Pacific-side beaches, but somewhat sporadic."
CABO SAN LUCAS, MEXICO: Resident angler John Ambrose of Maya Roca Real Estate said water temperatures have plunged to the low 70s, and there was non-stop big surf last week, making beach launching impossible. Fishing? What fishing?
In other mainland Mexico and Baja fishing action this week:
ENSENADA FISHING REPORTS
ALL ARTICLES, REPORTS AND FISHING INFORMATION FOR ENSENADA
ENSENADA, MEXICO: Very few anglers were fishing the bay last week, but those who did enjoyed steady bites on rockfish, barracuda, yellowtail, and lingcod around Punta Banda and Isla Todos Santos. A few boats ventured south to Santo Tomas and reported good catches of rockfish and large salmon grouper.
ENSENADA, MEXICO: Outside, there was a flurry of activity on super-late season albacore centered around New Year's Day, as boats reported fish from 20 to 35 miles off shore. Fito Espinoza of Marina Corral said several private trailer boats and some resident boats from the marina brought back albacore after making runs straight west. Barbara Henderson said her husband David, and Pete McCloughlin and crew landed 18 albacore to 35 pounds on New Year's Day, in water temperatures of about 60 degrees. Two blue sharks were also released in a area about 20 miles off Marina Coral. Weather conditions were sunny, with a small swell. Last Thanksgiving Day, the Hendersons also scored on albacore out of Marina Coral from their 24-foot Skipjack, Cherokiwi.
SAN QUINTIN FISHING REPORTS
ALL ARTICLES, REPORTS AND FISHING INFORMATION FOR SAN QUINTIN
SAN QUINTIN, MEXICO: Jim Harer, reporting for the Old Mill Hotel, El Capitan Sportfishing, and Pedro's Pangas, said anglers were averaging 1 to 3 yellowtail per rod to 30 pounds at the 15-Fathom Spot, plus lingcod, sheephead and plenty of rockcod. Somebody, Harer said, also reported losing 10 jigs at the 240 Spot on 30-pound line.
Eight duck hunters visited the bay last week, including four generations of the Castiglione family from San Diego, Harer said. There were an estimated 25,000 black brant on the bay, and San Quintin weather was calm at the end of the week, after several days of wind.
SAN QUINTIN, MEXICO: At Don Eddie's Landing, Tony Marquez said Tiburon's Pangas was reporting yellowtail fishing still excellent on Saturday at the 15-Fathom Spot, with limits all-around on fish averaging 15 to 30 pounds. Rockcod were also plentiful at the 240 Spot, along with lingcod and whitefish averaging 4 to 10 pounds. Water temperatures were about 58 degrees, and seas were calm. "Not a lot of boats going out this weekend, but those that went saw limits on yellows," Marquez said. Jigs were being used on the yellowtail, live bait on the lingcod, and dead squid for everything else.
Marquez said the 98-pound black seabass caught by Beverly Hawley Martin over Christmas went to good use. "Our cook made a very good fish soup with the head, and the whole staff of Don Eddie's enjoyed it!"
MAGDALENA BAY FISHING REPORTS
ALL ARTICLES, REPORTS AND FISHING INFORMATION FOR MAGDALENA BAY
MAGDALENA BAY, MEXICO: Gary Graham of Baja On The Fly reported San Carlos weather as generally in the mid to low 70s, with little wind. Although there were some trailer boats in town, no offshore reports were available, Graham said. Inshore, yellowtail in smaller sizes were plentiful around the entrada. In the mangroves, the best bets were for snook and corvina around Devil's Curve and the power plant. Few halibut were being caught.
SAN JOSE DEL CABO (LOS CABOS) FISHING REPORTS
ALL ARTICLES, REPORTS AND FISHING INFORMATION FOR SAN JOSE DEL CABO
SAN JOSE DEL CABO, MEXICO: Eric Brictson of Gordo Banks Pangas said the bite dropped off big-time last week, even though the weather was beautiful. "Over New Year's weekend the action for yellowfin tuna in the 20 to 80-pound range was excellent on the Gordo Banks, with boats averaging 6 to 12 tuna per day. But then, a strong, dirty current swept into the region and shut down the tuna action from New Year's Day through the next weekend," he said.
With no offshore action to speak of, the La Playita panga fleets have been concentrating their efforts along the shore line, Brictson said, where they were finding decent catches of sierra, roosterfish, jack crevalle, pargo, and dorado. The best technique was trolling live sardinas, which have become scarce in recent days. Most of the fish being caught near shore were less than 5 pounds, but were pleasing anglers using light tackle.
The dorado were being caught unusually close to shore off San Jose, and some boats were catching up to 8 fish, although the average was 1 to 3. The dorado were about 8 to 20 pounds in weight, Brictson said. Trolled lures were being used on the dorado, since live sardinas were being constantly attacked by gangs of needlefish.
Bottom fishing was also relatively slow, with some pargo, cabrilla, and amberjack in smaller sizes being caught on yo-yo jigs or live sardina dropped down deep.
SAN JOSE DEL CABO, MEXICO: Gordo Banks Pangas angler Jim Crouch of Valley Center, CA said he had a good day of fishing with an impromptu partner for sierra, dorado and amberjack, and also enjoyed kayak fishing at Chileno Bay, after getting blown out at East Cape. Crouch, a teacher at Valley Center Middle School, said, "Eric hooked me up with another gentleman and we had a really nice time. Chileno has a pretty beach and reef, and kayaks for rent right on the water."
EAST CAPE FISHING REPORTS
ALL ARTICLES, REPORTS AND FISHING INFORMATION FOR EAST CAPE
EAST CAPE, MEXICO: There were few visitors at East Cape last week, but some boats were getting out during periods of relatively calm weather, and they were scoring on scattered dorado, plentiful sierra, black skipjack, and some yellowfin tuna toward the end of the week.
EAST CAPE, MEXICO: At Martin Verdugo's Beach Resort, Marisol Verdugo-George said business has been picking up, and they have been sending out about one boat per day, catching mostly dorado and tuna. The top boat for the week got 6 dorado on Saturday.
EAST CAPE, MEXICO: John Ireland of Rancho Leonero said the hotel has been sending out about 3 boats per day. Two striped marlin were caught last week, plus lots of sierra and decent catches of dorado, including one fish weighing 41 pounds. East Cape weather was sunny but windy, with surface water temperatures averaging 74 degrees.
EAST CAPE, MEXICO: Vista Sea Sport's Mark Rayor said water temperatures at diving depth are about 71 degrees, and the underwater show is nothing short of spectacular.
"Sea life is never more abundant than now," Rayor said. "Today we witnessed a huge traffic jam at Cabo Pulmo. Just when you think you have seen it all. A huge school of hundreds of manta rays are passing by in formation near the surface. A few feet below them a huge school of hundreds of bat rays are passing going the opposite direction. As if that is not enough, several eagle rays near the bottom are looking for a place to go. I thought we were going to see complete gridlock at any moment! Eagle rays are not encountered that often at Cabo Pulmo. To see them all together was very exciting."
EAST CAPE, MEXICO: Eddy Beaulne of El Cardonal's Hideaway said lots of sierra and ladyfish are being caught right in front of the hotel on chrome Krocodiles, and the winter yellowtail have arrived. One boat caught 17 forkies in an hour and a half, he said. El Cardonal's Hideaway will have a booth at the San Mateo outdoor show from Jan. 30 to Feb. 5, and they will be announcing their new charter fishing trips from La Paz to East Cape and back in a 28-foot cruiser. This is a chance for visitors to see a rarely visited part of the coast, including Rod Rodriguez' historic Rancho Las Cruces, Baja's first fishing resort.
EAST CAPE, MEXICO: BAJA ON THE FLY'S Gary Graham said the winds were ripping over the weekend and boats were coming back early. In general, beach fishing has been tough due to mixed water conditions. However, there has been an excellent shore bite on sierra down at Punta Colorada in the early mornings, and there was a short-lived bite on large jacks crashing the beach near El Cardonal, Graham said.
LA PAZ FISHING REPORTS
ALL ARTICLES, REPORTS AND FISHING INFORMATION FOR LA PAZ
LA PAZ, MEXICO: There are very few visitors in town right now, except for Europeans wearing their "wedgie" bathing suits, according in Jonathan Roldan of Tail Hunter International, but when the winds do let you out, there are still fish to be caught, including some decent dorado that are toughing it out in water down to about 70-degrees. Most of the action lately has been found by soaking bait in sheltered areas, and the main catch is school-sized yellowfin tuna, small to medium yellowtail, and dorado.
Speaking of sheltered areas, Roldan said that real estate developers are trying to rename Ensenada de los Muertos (Bay of the Dead) on the south side of the mountains as Bahia de los Suenos (Bay of Dreams), for obvious reasons. "I guess the developers felt that calling it Bay of the Dead wouldn't attract people very well. Sounds too much like a ride at Disneyland, or another slash movie. So, in their wisdom, it's now called Bahia de los Suenos. Yeah...right."
LORETO FISHING REPORTS
ALL ARTICLES, REPORTS AND FISHING INFORMATION FOR LORETO
LORETO, MEXICO: Pam Bolles of Baja Big Fish Company thinks there may be light at the end of the September 11th tunnel. "Business is WAY UP. Summer is booking very briskly!" she said. "Can't help but smile. It's been a very difficult few months for us after Nine-Eleven and Juliette."
Bolles said it looks like the Loreto Marine Park may soon be levying day use fees after all. "The Marine Park, according to our local paper Sudcaliforniano out of La Paz, will be charging 20 pesos per day for those wishing to use the marine park. This is a surprise to everyone in town as this is the first we've heard of the charge since last year. As you remember, they tried to collect 53 pesos per day, but we all fought it. This new fee was passed on December 30, and is supposed to come into effect later this year. Personally, I'm not opposed to it."
Also bucking the slow business trend in Loreto--including another service cut by Aerocalifornia last week--the El Camino Real resort, affiliated with Hilton Hotels, will officially open its 150-plus rooms in February, Bolles said.
LORETO, MEXICO: Arturo Susarrey of Arturo's Sportfishing said Loreto weather has been unusually calm for the past week, with light breezes and daytime temperatures in the mid-70s.
Yellowtail to 30 pounds were being caught off Isla Carmen, near Punta Perico, and smaller fish from 5 to 10 pounds were at Isla Coronado and San Bruno. Plentiful sierra were mixed with the yellowtail in both areas.
Bottom fishing for cabrilla, snappers, and triggerfish is steady, Susarrey said, and sardines are available for sale at the marina. Mackerel are also being caught before daylight 2 miles straight out.
SANTA ROSALIA FISHING REPORTS
ALL ARTICLES, REPORTS AND FISHING INFORMATION FOR SANTA ROSALIA
SANTA ROSALIA, MEXICO: San Lucas Cove part-time resident angler Ross White said he used Jointed Rebel Fastracs to score on barracuda, yellowtail, black skipjack, spotted bay bass, sierra, halibut, and skipjack between Christmas and New Year's. White fishes Neil Kelly style--right out of The Baja Catch--trolling Rebels for a wide variety of species. He limited on 3 to 6-pound yellowtail along the back side of Isla San Marcos, and caught the halibut on blue-and-silver Rebels off San Bruno to the south.
"Others in camp were making bait in the morning and catching up to 30-pound yellowtail by going deep with live bait or yo-yoing off the north end of Isla San Marcos," White said. Air temperatures were in the 70s during the days and 50s at night.
White said that some anglers were also catching yellowtail to 25 pounds in the rocks near the lights at the north end of the island, but he went back to his usual way of fishing after losing a yo-yo jig there. "I'm a lazy fisherman," he said, "don't like to make bait, and like to troll, enjoy the ocean and boat ride and Corona. The small yellows were caught on several days at about the middle of the backside of the island, about 100 to 150 feet off shore, trolling at about 6 or 7 miles-per-hour, with the blue-and-silver Rebels, also with small Rapalas, same color."
SAN FELIPE FISHING REPORTS
ALL ARTICLES, REPORTS AND FISHING INFORMATION FOR SAN FELIPE
SAN FELIPE, MEXICO: Part-time resident Patti Haynes returned from Puertecitos over the weekend, saying the road is still in pretty rough shape (passable with caution), but the weather was great. Anglers were finding slow action on white seabass and related species. Tourists were very few in San Felipe, Haynes said, although there was a lot of traffic coming south during the drive home.
MAZATLAN FISHING REPORTS
ALL ARTICLES, REPORTS AND FISHING INFORMATION FOR MAZATLAN
MAZATLAN, MEXICO: Larry Edwards of Cortez Yacht Charters called it "one of the most diversified catch reports I've ever seen." Under perfect weather and water conditions, Aries Fleet had just checked in with a combined catch for the week of 2 blue marlin, 13 striped marlin, 13 mako shark, 2 hammerhead shark, 8 yellowfin tuna, 6 dorado, 198 red snapper, 60 mojarra, and 16 jack crevalle. The fish were caught in a wide area extendinng from near the beach out to about 18 to 36 miles on a heading of 220 degrees from Marina el Cid, Edwards said.
IXTAPA ZIHUATANEJO FISHING REPORTS
ALL ARTICLES, REPORTS AND FISHING INFORMATION FOR IXTAPA ZIHUATANEJO
IXTAPA ZIHUATANEJO, MEXICO: The winter sailfish bite hit high gear last week with almost all boats getting at least a couple of fish, and many hitting double-digits.
Stan Lushinsky and Susan Richards of Ixtapa Sportfishing Charters said the main body of fish has now definitely arrived in local waters, and fishing conditions are "absolutely perfect," with warm temperatures and calm seas.
A French angler fishing aboard the R3 Marias II with Capt. Lenny Alvarez fished three days last week and landed 7, 6, and 10 sailfish respectively, Lushinsky said, and other boats scored similarly. IGFA representative, Capt. Miguel Alvarez fished aboard El Soltar and landed 15 sailfish in two days. Dorado were mixed with the sailfish, and there were yellowfin tuna to 60 pounds about 30 miles off shore, although few anglers were targeting them since the sailfish were hitting just outside the bay, and out to about 15 miles.
Lushinsky said anglers wishing to see live footage of local action can tune in to ESPN at the following times (EST): Jan. 13, 8:30 a.m.; Feb. 12, 10 a.m. and 4 p.m.; March 24, 10 a.m.
IXTAPA ZIHUATANEJO, MEXICO: Paul Phillips of the Fintastic Total Tag & Release Tournament, said boats were averaging just over 3 sailfish per day as the week ended. "The Gitana and Capt. Santiago with angler Pete Dunlavy had a spectacular four days," Phillips said, "with 26 sailfish, tagging 20, releasing 3, and having 3 fatalities." Overall, more than 200 sailfish were landed (and mostly released) by the Ixtapa Fleets, he said, and the catch also included some "chula," the toothed, white-meat tuna that is very similar to kawakawa, but isn't. Phillips said he thinks the "chula" is probably the Mexican bonito, Sarda orientalis, that grows to about 30 inches long.
IXTAPA ZIHUATANEJO, MEXICO: Marcos Vargas of Vargas Sportfishing reported an outstanding count during the past week: Marlin Azul (5 days), 13 sailfish, 4 dorado; Whisky I (6 days), 18 sailfish, 6 dorado; Nautilus (5 days), 12 sailfish, 3 dorado; Esturion (4 days), 6 sailfish, 2 dorado; and Mako (3 days), 7 sailfish, 3 dorado. Vargas reported water temperatures at 80 degrees, and blue water at "zero" miles from the bay. Can't get much better than that.
IXTAPA ZIHUATANEJO, MEXICO: Ed Kunze of Mar y Tierra Sportfishing called the action "fantastic," saying some boats were averaging up to 5 fish a day. Top boat for the week was the Intruza with Capt. Alberto, who released 14 sailfish in one day. Paul Peters fished on Aleta Negra with Capt. Ruben and had shots at 15 sailfish on the fly before he finally connected, after his father Karl had landed 4 fish already, also on the fly.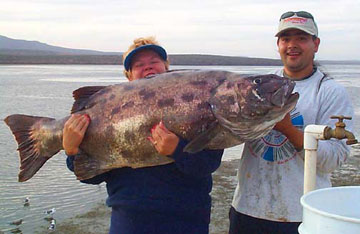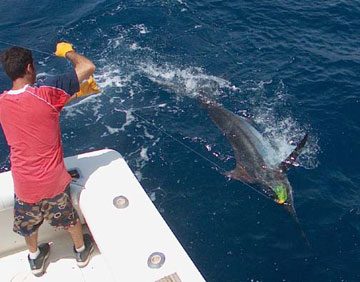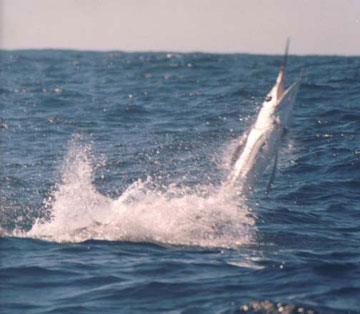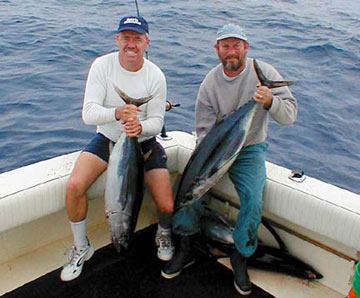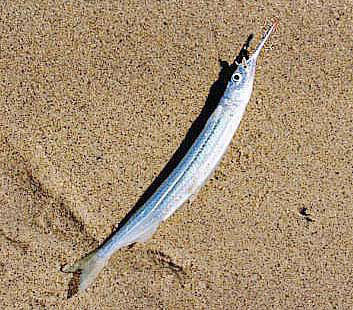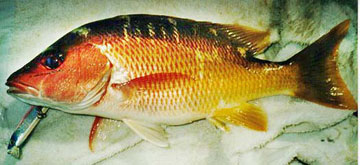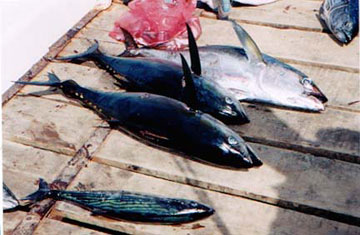 Baja coastal fishing reports and articles.
Ensenada fishing reports and articles.
Puerto Santo Tomas fishing reports and articles.
Erendira fishing reports and articles.
San Quintin fishing reports and articles.
Magdalena Bay fishing reports and articles.
Cabo San Lucas fishing reports and articles.
San Jose del Cabo (Los Cabos) fishing reports and articles.
East Cape fishing reports and articles.
La Paz fishing reports and articles.
Loreto fishing reports and articles.
Mulege fishing reports and articles.
Santa Rosalia fishing reports and articles.
Bahia de los Angeles (L.A. Bay) fishing reports and articles.
San Felipe fishing reports and articles.
Rocky Point (Puerto Penasco) fishing reports and articles.
San Carlos (Sonora) fishing reports and articles .
Mazatlan fishing reports and articles .
Puerto Vallarta fishing reports and articles.
Ixtapa Zihuatanejo fishing reports and articles.
Huatulco fishing reports and articles.
Cancun fishing reports and articles.
Mexico coastal fishing reports and articles.
Mexico Fishing Home Page < Mexico Fishing News Archives < Fishing Report