"Don Eddie has Oysters Rockefeller down to a science. We had 5-dozen served to all, and shared with everyone. What a blast! I think we are going to reserve the super panga. More room and faster. Lots of lingcod biting now...monsters. Great eating."
SAN QUINTIN, MEXICO: Tony Marquez, reporting for DON EDDIE'S LANDING and TIBURON'S PANGAS, said 28 boats fished last week, with about 60 anglers who caught 126 yellowtail, from 8 to 17 pounds, at the 15-Fathom Spot and 6-Fathom Spot. Water temperature was about 58 degrees, and air temperatures were down to about 37 degrees at dawn. Anglers also loaded up on the current run of very large lingcod, as well as good supplies of rockcod, which have reappeared after a slow period. About 280 rockcod were caught at the 240 Spot, Marquez said, and the weather was so calm that one boat went out for a bottom-fish bonanza at the Sacramento Reef and Isla Geronimo, fishing about 45 miles off the point.
Marquez said some people need fishing partners for the upcoming Easter tournament and Oyster Fest. Anglers wishing to share a boat can call the hotel at 011-52-616-162-3143, or email doneddie@hotmail.com.
SAN QUINTIN, MEXICO: Earlier in the week, Campo Lorenzo resident Stan Vath said 4 boats limited on sandbass and calico bass, and Larry Biedebach limited on yellowtail to 23 pounds, plus some lingcod, at the 6-Fathom Spot, in beautiful sea conditions.
In other mainland Mexico and Baja fishing action this week:
ENSENADA FISHING REPORTS
ALL ARTICLES, REPORTS AND FISHING INFORMATION FOR ENSENADA
ENSENADA, MEXICO: Sammy Susarrey of LILY FLEET said the Amigo fished in excellent conditions at Punta Banda on Friday and limited out on red rockfish and large salmon grouper by 12:25 p.m. Most of the fish were large, Susarrey said, and they were caught on frozen squid, 10-ounce Diamond Jigs in chrome, Scampis, and cut bait. The Tamara is still being painted and should be back in action in two weeks. Susarrey said the boat is looking excellent from top to bottom.
MAGDALENA BAY FISHING REPORTS
ALL ARTICLES, REPORTS AND FISHING INFORMATION FOR MAGDALENA BAY
MAGDALENA BAY, MEXICO: Gary Graham of BAJA ON THE FLY said there was enough wind last week to hamper fishing, even in the wider mangrove channels, so boats were fishing in the shelter of the narrower areas. More and more whales are showing up every day, Graham said, and, "They don't take a fly, but they do provide some exciting Kodak moments as you travel up the bay to fish." The best action was being found on pargo, corvina, cabrilla, and occasional snook in the deep channel on the northwest side, near Devil's Curve, Graham said. Yellowtail fishing was generally slow, and sierra were still at Punta Belcher, either near the old pilings, or on the current rips.
CABO SAN LUCAS FISHING REPORTS
ALL ARTICLES, REPORTS AND FISHING INFORMATION FOR CABO SAN LUCAS
CABO SAN LUCAS, MEXICO: Fishing for striped marlin fell off sharply last week, but the big blues must have been wearing wetsuits at night, as they refused to stop biting in sea temperatures as low as 73 degrees, with generally calm conditions, but with swells that reached 10 to 13 feet on Wednesday afternoon. With dorado becoming less plentiful, most of the action was on school-sized yellowfin tuna, plus some big ones mixed in, and the unusual winter blue marlin bite that once again included fish over 500 pounds.
On another note, last week saw a big influx of visitors to the Los Cabos corridor, with some hotels actually booked up and reservations coming in for the spring and summer. The number of cruisers and pangas sent out of the Cabo marina each day averaged a little over 100.
CABO SAN LUCAS, MEXICO: Roberto Juarez of PICANTE FLEET reported Saturday water temperatures of 69 to 74 degrees, air temperatures of 57 to 79 degrees, relative humidity at 68 percent, and winds of 10 to 12 knots on both the Pacific and Sea of Cortez sides. Seven boats sent out Saturday to the Golden Gate Bank area caught 2 striped marlin (both released), 6 dorado, and 18 yellowfin tuna.
CABO SAN LUCAS, MEXICO: At CABO MAGIC, Tommy Garcia reported on 15 boats sent out during the week: 8 striped marlin, 43 yellowfin tuna, and 18 dorado.
CABO SAN LUCAS, MEXICO: Larry Edwards of CORTEZ YACHT CHARTERS said GAVIOTA FLEET boats landed: 7 striped marlin (all released), 1 wahoo, 24 dorado, and 85 yellowfin tuna. The biggest tuna for the week was a 100-pounder landed by Italian angler Luigi Ponte, and the biggest fish overall was a 550-pound blue marlin taken aboard the Cabo Marlin III with Capt. Olegario Fiol. Gaviota Fleet boats fished in a wide area from the Golden Gate Bank around to Chileno Bay, Edwards said.
CABO SAN LUCAS, MEXICO: Capt. George Landrum of FLY HOOKER SPORT FISHING said he saw a Hobie Cat outrun a jet ski during the 40-knot winds recorded on Wednesday, and many anglers postponed their Thursday trips a day as a result of the rough seas. The rest of the week had good weather though, with daytime temperatures in the mid-70s and calm seas.
Landrum commented on the unusual blue marlin action: "Most of the blue marlin were caught straight south or around the 95 Spot, and they were fooled by lures in Mean Joe Green, dorado and silver-blue colors. The fish were running from 180 to 500 pounds, and the boats that worked specifically for them were having about 40 percent success in finding one to strike. That was early in the week, prior to Wednesday. After the wind, the success ratio dropped, a lot! The tail end of the week was almost strictly a striped marlin fishery."
CABO SAN LUCAS, MEXICO: At SOLMAR FLEET, Rene Santa Cruz said 2 blue marlin were caught this week, plus a scattering of striped marlin, and plenty of yellowfin tuna and dorado. The blues were caught about 20 miles off Cerro Blanco, one by Patrick Buno of New York, fishing with Capt. Ramon on the 33-foot Sheriff, and another caught by Casey Hayt of Lafayette, LA and Jim Miller of Columbus, OH, aboard the 28-foot San Lucas IV, with Capt. Armando.
In another good catch for the week, Solmar panga anglers Dewey Bell and Frank Beckham, of Myrtle Beach, SC, filled their cooler with 2 bull dorado (40 pounds each), 2 yellowfin tuna, 2 roosterfish, and 8 sierra, using live mackerel and a Rattling Rapala off Pozo de Cota.
ACABO SAN LUCAS, MEXICO: t PISCES FLEET, Tracy Ehrenberg said only about 40 percent of boats sent out caught marlin last week, but nearly everybody did well on the abundant tuna. "Compared to last year's numbers, striped marlin catches were paltry," she said. "The fish have gradually moved away from the Golden Gate, and were located mostly off the Old Lighthouse, about 12 miles off shore. It seems likely that we will see a concentration of them in this area soon. The marlin are now being caught up on the surface, rather than on the bottom. They are taking both lures and bait. Spotting them wasn't any assurance of a hookup, as many simply were not hungry." Pisces anglers caught a total of 19 marlin this week, all released.
SAN JOSE DEL CABO (LOS CABOS) FISHING REPORTS
ALL ARTICLES, REPORTS AND FISHING INFORMATION FOR SAN JOSE DEL CABO
SAN JOSE DEL CABO, MEXICO: Eric Brictson of GORDO BANKS PANGAS said he's seeing some improvement in water conditions, with clarity "almost returning to normal," but currents are still strong, water temperatures are running in the 69 to 71-degree range, and the La Playita panga fleets are mostly bottom fishing. Offshore action within panga range continues to be slow.
"There is no particular species that is overly abundant at this time," Brictson said. "The majority of the panga fleets are fishing closer to shore for a variety of game fish. The most common catches are amberjack, pargo, skipjack, bonita, cabrilla, grouper, sierra, and jack crevalle.
"Out of San Jose del Cabo, the live bait situation for sardinas continues to be bleak, with most charters not being able to purchase any. From Cabo, there has been a plentiful supply of larger baits, and the commercial pangueros are now being persuaded to import the mackerel and caballito to San Jose."
Brictson said that the lack of live sardina and mackerel has forced anglers to fish the bottom with jigs and cut bait. "The better action was from Iman to Vinorama, but it proved to be a lot of work for limited results. Early in the mornings, there were some quality amberjack and cabrilla hooked up, but after that the bite was not consistent.
"Without live bait, fishing along shore was slow. The better action for sierra was from Red Hill to Cabo San Lucas. Local commercial pangueros are regularly setting gill nets along the beaches north of La Playita, and this is one of the main reasons why few fish are now found along this stretch."
EAST CAPE FISHING REPORTS
ALL ARTICLES, REPORTS AND FISHING INFORMATION FOR EAST CAPE
EAST CAPE, MEXICO: Fishing pressure continued to be very light all around Bahia de Palmas. Shannon Moe, reporting for the Van Wormer resorts of HOTELS PALMAS DE CORTEZ, PLAYA DEL SOL, PUNTA COLORADA, said 14 boats sent out during the week landed: 21 dorado, 42 yellowfin tuna, 2 yellowtail, and 134 sierra.
EAST CAPE, MEXICO: At VISTA SEA SPORT, Mark Rayor said water temperatures have been about 70 degrees at diving depth, with visibility about 25 to 30 feet. "Humpback whales have arrived on the East Cape," he said. "On one tour, it was spectacular to be up close and see one breech 9 times in a row. Another trip saw a group of 15 whales in one pod. Loads of sea life at Cabo Pulmo. Curious amberjack, 60 to 80 pounds, are swimming right up to divers for a closer look."
EAST CAPE, MEXICO: In general, Gary Graham of BAJA ON THE FLY called it "a tough week with strong winds whistling down the Sea of Cortez. Few boats were able to get out and wind waves made the beach unfishable." Graham's best recommendation for the beach was to get up early, hope for a break in the wind, and head for the area between Rancho Leonero and La Ribera.
EAST CAPE, MEXICO: John Ireland of RANCHO LEONERO said that although few boats were attempting to fish in the windy conditions, dorado were active at the buoys off Punta Pescadero, and giant squid were also being reported. Inshore, Ireland said anglers are taking good catches of sierra and jacks during the early morning hours.
LA PAZ FISHING REPORTS
ALL ARTICLES, REPORTS AND FISHING INFORMATION FOR LA PAZ
LA PAZ, MEXICO: David Jones of FISHERMEN'S FLEET said that the few anglers going out have been scoring on sierra, pargo, cabrilla, and yellowtail of about 8 to 12 pounds, mostly from Punta Perico to the lighthouse at Punta Arena de la Ventana. The yellowtail have been mostly yo-yoed off the bottom, and some larger fish of unknown species have been broken off.
Jones said interest is increasing in his new super panga "fleet" (2 boats fishing the La Paz side), which he called "small, but wiry."
"Several groups are booking the La Paz bay trip exclusively, and others want to experience their favorite spots at Punta Arena, and then throw in a day of super panga fishing out of the bay, just for a little change of pace," he said. "Reserve early."
LA PAZ, MEXICO: Jonathan Roldan of TAIL HUNTER INTERNATIONAL said some fishermen are using the slack period to work on their boats, and some are working on farms until the anglers come back. Most visitors in La Paz are snowbirds right now, plus some whale-watchers, he said, although there are definitely fish around the Las Arenas side, with anglers finding small yellowtail, good supplies of sierra, and some pargo and cabrilla-types, on trolled lures.
LORETO FISHING REPORTS
ALL ARTICLES, REPORTS AND FISHING INFORMATION FOR LORETO
LORETO, MEXICO: Arturo Susarrey of ARTURO'S SPORT FISHING said north winds ripped Loreto on Wednesday and Thursday, but otherwise the weather has been sunny and moderate, with air temperatures ranging from the low-50s to the high-70s.
Yellowtail are still hitting at Isla Carmen, Susarrey said. Early in the week, Capt. Manuel Davis took angler Bruce Harwood out and caught 4 yellowtail to 32 pounds. At Isla Coronado, the week's best score was 7 yellowtail to 30 pounds, and fish continue to be reported in large surface schools at Punta Pulpito and Isla Ildefonso.
Cabrilla, snapper, and triggerfish are being caught steadily beneath the yellowtail, and mackerel is available at the marina for $1 each, Susarrey said.
LORETO, MEXICO: At EL FUERTE SPORT FISHING, Ty Miller said he's been busy recently with marketing the two $40,000 big horn sheep permits that were released this year for the Sierra de la Giganta, but that he and his new bride, Capt. Juanita Raney, will also be getting back to fishing soon.
LORETO, MEXICO: And, at VILLAS DE LORETO, Wendy Wilchynski said that reservations are looking good for later in the spring, but right now, the town is still so quiet you can hear a pin drop on the street.
BAHIA DE LOS ANGELES (L.A. BAY) FISHING REPORTS
ALL ARTICLES, REPORTS AND FISHING INFORMATION FOR BAHIA DE LOS ANGELES
BAHIA DE LOS ANGELES, MEXICO: At Bahia de los Angeles, Abraham Vazquez of CAMP GECKO said air temperatures have ranged from the low-50s to the low-70s, and water temperatures are hovering around 60 degrees, or even into the upper 50s. Relative humidity has been about 60 percent, and strong winds blew last week, first from the west, then from the north, before finally dying down on Saturday and Sunday.
The yellowtail fishing has slowed down, Vazquez said, and the wind made it impossible for the pangas to get out anyway. However, over the weekend, the boats did fish, and they found "all the yellows you could catch" at Los Machos, at Punta Don Juan, and behind Horse Head Island.
"They were in the 15-pound range, and all were caught on Salas 6x Jr. jigs. The bottom fishing continues to be good."
MAZATLAN FISHING REPORTS
ALL ARTICLES, REPORTS AND FISHING INFORMATION FOR MAZATLAN
MAZATLAN, MEXICO: Nora Alonzo-Rice of ARIES SPORTFISHING FLEET said conditions have been beautiful, except for a couple of windy days last week when the boats came back early. One group of anglers got a real scare last week, she said, when the Aries IV caught a big mako shark that, fortunately, broke free at the boat. Alonzo-Rice said the passengers "had enough" when it appeared for a moment that the leaping shark was going to land in the boat. "Captain Rene says that all his passengers got so scared because the shark was really big and it was jumping like trying to get in the boat, showing them the jaws," she said. The Aries IV had already landed 2 marlin when the incident occurred.
Overall, Aries Fleet boats made 18 trips for the week, reporting: 1 mako shark (released); 36 toro (6 released), 6 red snapper, 4 corvina, 3 sailfish (all released), 11 striped marlin (5 released), and 3 yellowfin tuna. The best fishing area was 17 to 24 miles from Marina el Cid, on a heading of 275 degrees. Water temperatures averaged 73 degrees.
IXTAPA ZIHUATANEJO FISHING REPORTS
ALL ARTICLES, REPORTS AND FISHING INFORMATION FOR IXTAPA ZIHUATANEJO
IXTAPA ZIHUATANEJO, MEXICO: Larry Edwards of CORTEZ YACHT CHARTERS said the IXTAPA SPORTFISHING CHARTERS fleet was lead by the Russ Hampton group from California, which raised 130 fish in six days, and hooked 50 on the fly.
Capt. Terno of the Sequestro de Amor said he saw "the largest school of sailfish I have ever seen in my life" last week, and among the many high counts turned was one by Capt. Lenny Alvarez of the R3 Marias, who released 24 sailfish in 3 days, including a high day of 10 releases.
Dorado were also being caught, and Capt. Arturo Landa took the fleet's only marlin for the week, a 260-pound blue brought aboard the super panga, Janeth. The best fishing area was only 3 to 10 miles offshore, Edwards reported, and seas were calm, with air temperatures in the high 80s.
IXTAPA ZIHUATANEJO, MEXICO: Ed Kunze of MAR Y TIERRA SPORTFISHING said most of his boats scored double-digits, but the top count of the week was an amazing 21 releases by Capt. Calli on the Vamonos II. One intense bite on mixed tuna and sailfish was started by a commercial panga fisherman who was attempting to chum tuna. Kunze said the whole area was boiling, with 80-pound tuna coming out of the water within inches of the boat.
IXTAPA ZIHUATANEJO, MEXICO: Marcos Vargas of VARGAS SPORTFISHING said 19 trips during the week netted 86 sailfish, and 11 dorado.
IXTAPA ZIHUATANEJO, MEXICO: And Paul Phillips of the FINTASTIC TOTAL CATCH & RELEASE TOURNAMENT said the last 7 days were what is called a "you-shoulda-been-here-week" on both sailfish and yellowfin tuna.
"On Wednesday, things came unglued," Phillips said, describing action on tuna so intense and close to the boats that the captains were accidentally gaffing each other's fish! "The chummed tuna were hitting everything in sight and flying through the air. Most boats are reporting OUT OF TAGS, so if you are heading this way, please bring some."
Phillips added that a good number of 20 to 40-pound dorado are also being taken, plus roosterfish and jacks, which are being ignored.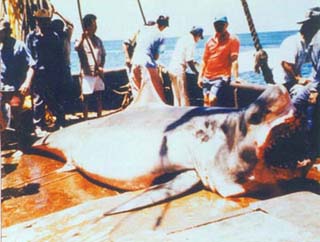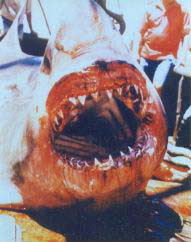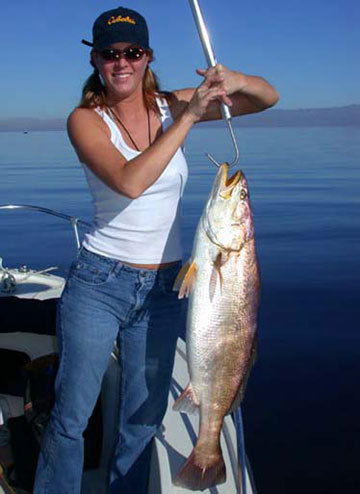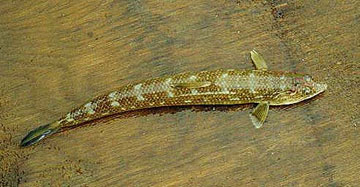 Baja coastal fishing reports and articles.
Ensenada fishing reports and articles.
Puerto Santo Tomas fishing reports and articles.
Erendira fishing reports and articles.
San Quintin fishing reports and articles.
Magdalena Bay fishing reports and articles.
Cabo San Lucas fishing reports and articles.
San Jose del Cabo (Los Cabos) fishing reports and articles.
East Cape fishing reports and articles.
La Paz fishing reports and articles.
Loreto fishing reports and articles.
Mulege fishing reports and articles.
Santa Rosalia fishing reports and articles.
Bahia de los Angeles (L.A. Bay) fishing reports and articles.
San Felipe fishing reports and articles.
Rocky Point (Puerto Penasco) fishing reports and articles.
San Carlos (Sonora) fishing reports and articles .
Mazatlan fishing reports and articles .
Puerto Vallarta fishing reports and articles.
Ixtapa Zihuatanejo fishing reports and articles.
Huatulco fishing reports and articles.
Cancun fishing reports and articles.
Mexico coastal fishing reports and articles.
Mexico Fishing Home Page < Mexico Fishing News Archives < Fishing Report