Nights were still cold, he said, and no anglers were seen at the launch ramp all the week until Friday. Over the weekend, Marquez said he counted 16 boats launching, with about 35 anglers, and most were limiting on rockcod, whitefish, and lingcod at the 240 Spot and Isla San Martín.
Over the weekend, 60 yellowtail were also caught, ranging from 8 to 14 pounds, at the 15 Spot and 6 Spot, on jigs, Marquez said. Joe and Beverly Martin of Santee also caught another giant black seabass on live bait. This one weighed in at 30 pounds, and it was preceded by their 98-pounder caught a couple of months ago.
SAN QUINTIN, MEXICO: Nancy Harer of the OLD MILL HOTEL said several members of the King Harbor Yacht Club of Redondo Beach fished in the wind with Pedro's Pangas on Friday, and limited out on fish that included yellowtail to 25 pounds, lingcod to 18 pounds, and assorted bottom fish.
Other visitors to the hotel last week included Dave Kelly and Paul Olson of New Hampshire, who arrived on motorcycles from their trip with 2 friends to the Copper Canyon on the mainland. "They said it was a spectacular adventure on continuously winding trails in and out of the canyon where they mainly received directions from locals in small towns and ranches," Harer said.
SAN QUINTIN, MEXICO: Pete Hillis of PEDRO'S PANGAS said the mornings and evenings have been cool, but afternoons have been nice. "Yellowtail are hard to find, but once you're on a school, limits are easy pickings," he said. "Yellows have been in the 12 to 18-pound range, and they're being caught on jigs and live bait."
SAN QUINTIN, MEXICO: At SAN QUINTIN SPORTFISHING, Gene Allshouse said he's adding 3 pangas to his operation this month, and he's also offering a special promotional 10 percent discount for all bookings made by March 31. Allshouse said he is continuing to look outside for the yellowfin tuna that were reported recently.
MAGDALENA BAY FISHING REPORTS
ALL ARTICLES, REPORTS AND FISHING INFORMATION FOR MAGDALENA BAY
MAGDALENA BAY, MEXICO: Armando Yuen of the CICIMAR research center in La Paz made a trip to Magdalena Bay last week, specifically to try the whale watching, which he said he'd never done before. "My family and I went to Puerto San Carlos about 260 kilometers north of La Paz, 3 hours driving, last Sunday," he said. "We had a great and exciting experience watching the whales. We saw about 30 adults and a couple of new whales with their mothers. My children were very excited. I am going to tell you the truth. That was the first time in my life that I touched the whales!"
MAGDALENA BAY, MEXICO: Gary Graham of BAJA ON THE FLY reported Magdalena Bay fishing action as generally slow, with some yellowtail seen around the entrada, mixed with barracuda and a few cabrilla. At Devil's Curve in the northern mangrove channel, fishing was slow on corvina and snook, and outside, even the sierra weren't showing up, Graham said. Offshore, the commercial shark fishermen were reporting some dorado and a few football yellowfin tuna, he said. San Carlos air temperatures ranged from 59 to 70 degrees, with some afternoon wind under overcast skies.
CABO SAN LUCAS FISHING REPORTS
ALL ARTICLES, REPORTS AND FISHING INFORMATION FOR CABO SAN LUCAS
CABO SAN LUCAS, MEXICO: Boats fanned out in a wide area from the Golden Gate Bank on the Pacific, around to the Gordo Bank on the Cortez side, finding generally slim pickings on marlin, dorado, and yellowfin tuna.
CABO SAN LUCAS, MEXICO: Mario Bojorges of PICANTE FLEET reported Cabo San Lucas water temperatures at about 70 to 74 degrees, air temperatures of 60 to 82 degrees, relative humidity 55 percent, and winds of 10 to 12 knots on the Pacific and Cortez sides. Six boats chartered on Friday reported (including released fish): 6 striped marlin, 14 dorado, and 11 yellowfin tuna, fishing mostly at the Inner Gordo Bank.
CABO SAN LUCAS, MEXICO: Tommy Garcia of CABO MAGIC said 5 boats chartered during the 3 days ending on Saturday caught (including released fish): 6 striped marlin, and 4 dorado.
CABO SAN LUCAS, MEXICO: Larry Edwards of CORTEZ YACHT CHARTERS said about 50 percent of GAVIOTA FLEET boats caught marlin last week, fishing on both the Cortez and Pacific sides. The overall fleet catch was: 12 striped marlin (9 released), 26 yellowfin tuna, 9 skipjack tuna, and 31 dorado.
CABO SAN LUCAS, MEXICO: At PISCES FLEET, Tracy Ehrenberg checked in on Sunday, saying that only 33 percent of boats chartered during the week landed marlin. "Nearly all the action was on the Cortez side for us," she said. "Many boats saw marlin, and even had them mouth the baits, but it was hard to get a hook-up."
Dorado were the commonest catch during the week, Ehrenberg said, although even they were not caught in numbers. The fish of the week was a 70-pound dorado caught by Joe Fusco aboard the Libre on Saturday. Overall, 35 percent of Pisces Fleet boats caught dorado, mostly ranging from 15 to 35 pounds.
As for yellowfin tuna, catches "plummeted this week, with hardly any caught," Ehrenberg said. "We had a total of 9, averaging 25 pounds. Quite a few skipjack were caught, token catches when nothing else was happening, but some were big, up to 25 pounds. Inshore action was pretty slow for the pangas. Just the odd roosterfish here and there, more skipjacks than anything else, a few sierra and snappers." Pisces boats reported water temperatures of 69 to 71 degrees, and fished the 95 Spot, Chileno, Cabeza de Ballena, Cabo Real, and one day at the Golden Gate Bank.
CABO SAN LUCAS, MEXICO: SOLMAR FLEET boats concentrated on the Golden Gate Bank last week, according to manager Rene Santa Cruz, who called the action "moderately successful, with a fairly equal proportion of striped marlin, yellowfin tuna, and dorado." Boats also caught skipjack, sierra, and roosterfish. Top Solmar angler for the week was Robert Cambling of El Paso, who fished with Capt. Mario on the 33-foot Solmar I and caught 5 striped marlin plus a dorado. Cambling averaged only 18 minutes in fighting his marlin, Santa Cruz reported, after hooking up fish at 8:30 a.m., 9:45 a.m., 11:30 a.m., 12:25 p.m., and 2:10 p.m.
CABO SAN LUCAS, MEXICO: Capt. George Landrum of FLY HOOKER SPORT FISHING said he expects the action to pick up with the new moon. "Warm water has moved into the region. At least it's warm compared to what we have been experiencing for the past month," he said. "The 72 to 75-degree water extends from above San Jose on the Sea of Cortez to Todos Santos (almost) on the Pacific. There were a few reports of blue marlin strikes in a pocket of 77-degree water, about 15 miles out, on Wednesday.
"There are striped marlin out there, but they are not feeding all that well. There have been no concentrations found this week. Most of the fish have been caught on live bait tossed to tailing fish."
Landrum said he's been seeing good numbers of dorado close to shore and to the north on the Pacific side. "A short trip to the north, and working from just off the surf to 2 miles offshore has produced well. The bite has been an early morning one. Feathers and slow trolled live baits were taking fish from 10 to 45 pounds." Dorado and sierra were the main inshore catches during the week, Landrum said, and the fishing was slow for other species.
SAN JOSE DEL CABO (LOS CABOS) FISHING REPORTS
ALL ARTICLES, REPORTS AND FISHING INFORMATION FOR SAN JOSE DEL CABO
SAN JOSE DEL CABO, MEXICO: Although local pangas are still pounding the shore line with gill nets, beach fishing guide Mike Santry of LA PLAYITA TOURS said conditions are improving on the La Playita beaches. "The water is getting warmer, and a lot more fish are around," he said. "We are seeing schools of roosterfish again. They are still a little far out for casting, but we had good luck this week from the kayaks. We took several toros (jack crevalle) and a few sierra. Things are looking up!"
SAN JOSE DEL CABO, MEXICO: At GORDO BANKS PANGAS, Eric Brictson said last week saw an improvement over the sluggish bottom fishing that has characterized the past month. "Anglers sampled some of the excellent all-around action that should dominate the activity in coming months," he said. "Live bait was plentiful, and once again schooling sardinas are being found along the La Playita beach. Overall, the week was great, ideal weather, and some quality action."
The big excitement for the week came from a flurry of surface yellowfin tuna found close to shore. "For several days, pangeros reported seeing yellowfin tuna feeding on the surface from Cardon to Iman Bank. On Friday, the bite turned on red hot. The surface exploded into a feeding frenzy, with pangas accounting for up to 15 yellowfin tuna each. Average size was 15 to 25 pounds. This was the fleet's best bite all winter for yellowfin tuna this close to shore."
Although the hot tuna bite died the next day, Brictson said it was "a nice change for the pangueros, who had been relying so heavily on bottom fish."
Most boats were continuing to work yo-yo jigs off the bottom for 5 to 30-pound fish, including amberjack, grouper, cabrilla, bonita, pargo, yellowtail and skipjack.
Brictson said water temperatures averaged 70 to 72 degrees, and weather was about 80 degrees, with plenty of sunshine.
On a darker note, Brictson described the heavy near shore gill netting that has been going on at San Jose del Cabo for the past month:
"Along the shore, sierra action was improving. But after a couple of days of great angling, the local gill netters really went to work. In one or two days they striped the shore of San Jose clean. Tons of sierra were brought in, along with roosterfish, pompano, croakers, needlefish, and jack crevalle, which are by-catch and wasteful victims of this form of commercial fishing. Supposedly, the permits for these nets last through April. Unfortunately, by then it might be too late for this season's game fish to recover."
EAST CAPE FISHING REPORTS
ALL ARTICLES, REPORTS AND FISHING INFORMATION FOR EAST CAPE
EAST CAPE, MEXICO: Fishing mainly to the south, East Cape boats found decent action last week on dorado and striped marlin, on days when lingering winter winds let them out.
EAST CAPE, MEXICO: Chris Moyers of EAST CAPE SMOKEHOUSE, reporting for the Van Wormer resorts of HOTELS PALMAS DE CORTEZ, PLAYA DEL SOL, PUNTA COLORADA, said 40 boats were chartered last week, reporting (including released fish): 8 striped marlin, 130 dorado, 3 pargo, and 15 sierra. Water temperatures ranged from 68 to 70 degrees, daytime high air temperatures averaged 74 degrees, and winds ranged from calm on some days to heavy on others.
Despite the wind, Moyers said, "Spring is in the air. I wish you could see it, feel it, and appreciate it as I do. Many anglers are beginning to arrive and fill up the hotels."
Moyers reported striped marlin action centered about 20 to 25 miles off Cabo Pulmo, and 10 to 20-pound dorado found anywhere from 10 to 25 miles off Punta Arena. "A few sierra continue to be found close to shore," he said, "but many guys are tired of them and are eager to move on to bigger and better game."
EAST CAPE, MEXICO: At VISTA SEA SPORT, Mark Rayor said he and Jennifer didn't have a late week report since they were enjoying a visit to the Fred Hall Show, but that earlier, diving conditions were generally excellent at East Cape. "Humpback whales have been scarce," Rayor said. "In years past at this time we have enjoyed watching them on the way to dive sites and from the shore. Maybe they are just late? We have no explanation, but hope they are on their way."
EAST CAPE, MEXICO: RANCHO LEONERO'S John Ireland said the few boats fishing last week were finding striped marlin and dorado off Cabo Pulmo, and a strong sierra bite right in front of the hotel, with kayakers taking limits on Krocodiles and Rapalas, and shore anglers also scoring on pargo from the beach. Top angler for the week was Stewart Dorrington of South Africa, who fished 2 days and landed 2 striped marlin (released) and 4 dorado to 40 pounds.
EAST CAPE, MEXICO: Veteran guide Gary Graham of BAJA ON THE FLY said he's starting to see signs that March might turn into a very good fishing month this year. "Midweek, the smaller dorado came in double-digits offshore from Rancho Leonero to outside of Cabo Pulmo," he said. "The next day, some larger fish (to 30 pounds) bit with a vengeance. The beach is getting better by the day. Look for the sardina and the pelicans and you will be in the middle of some fast-paced action. March is shaping up to be a barn burner."
Inshore, Graham said there are still some yellowtail in front of La Ribera, and small schools of jack crevalle moving fast along shore, looking for sardina. Larger roosterfish have not made an appearance yet, but a few smaller fish have been seen.
LA PAZ FISHING REPORTS
ALL ARTICLES, REPORTS AND FISHING INFORMATION FOR LA PAZ
LA PAZ, MEXICO: Jonathan Roldan of TAIL HUNTER INTERNATIONAL was manning his booth at the Fred Hall Show last week, but had a report relayed from La Paz.
"We're still getting quite a few sierra for those who want to go light tackle," he said. "And a few yellowtail as well near Muertos Bay, and one nicer one near Isla Espirtu Santo while the guys were fishing pargo off the rocks. More and more pargo are showing, so we're keeping an eye on that.
"I keep thinking we might be into an El Niño. The water is unseasonably warm, and we had a brief flurry of tuna just offshore at Perrico, not more than a few hundred yards off the beach. The tuna came up, bit, and were gone! My guys got 2, and lost 2. They also had one panga hook and lose a dorado that came out of nowhere too! Just makes ya go, 'hmmmmm.'
"We had a really exceptional smackdown of cabrilla this week, too. Several toad fish pulled out of the rocks near Cerralvo and Espiritu Santo that went close to the 10-pound size. The fish weren't as big around Punta Perrico and off the Las Arenas Hotel, but there were a lot of nice fish."
LORETO FISHING REPORTS
ALL ARTICLES, REPORTS AND FISHING INFORMATION FOR LORETO
LORETO, MEXICO: The town was shocked and saddened to hear of the passing of well-known Alfredo Ramirez, long-time operator of Alfredo's Sport Fishing, who suffered a massive heart attack and died on Saturday, it was reported by David Perry of the Loreto Shores RV Park. Ramirez' sport fishing operation across the street from the downtown marina was a well-known landmark on Loreto's malecon. In his later years, Ramirez was beset by personal and business set-backs, but he never let that dampen his ready wit, quick sense of humor, and positive energy. Vaya con dios, Alfredo Ramirez.
LORETO, MEXICO: At BAJA BIG FISH COMPANY, Pam Bolles refused to disclose the exact location where Arthur Clarke caught a very rare, 12-pound black snook on Saturday, saying she's keeping it a secret. Fair enough, Pam.
Bolles said the hot yellowtail bite of the past few weeks has slowed down, due to the bright, early-morning moon, the winds, and a sharp drop in the local bait fish supply.
"Currently they're coming in from the Bajo de San Bruno, in the 30-pound range. It has been too windy to venture much further than that, even to Isla Carmen."
Punta Pulpito to the north is still producing 30-pound class yellowtail, Bolles said, but the action at nearby Isla Coronado has slowed so much that few anglers are fishing there now.
Bolles said anglers should be sure to bring Lucky Joe rigs, as there is very little bait available at the marina, and in fact, very little to be caught anywhere. "Your other options are to bring along plenty of artificials (Rapalas for inshore, iron jigs for yellowtail), or try to locate some squid the afternoon before you go out. Squid can be bought at Pescaderia Davis, on Calle Davis, from mid-morning to late afternoons. It sells out fast, so get there as early as possible."
LORETO, MEXICO: Ana Luisa Valdez of ARTURO'S SPORT FISHING said Loreto weather has alternated between winds up to 25 m.p.h. and other days that are sunny and calm, with air temperatures ranging from 59 to 76 degrees.
Yellowtail are still in good supply at the San Nicolas remote fish camp, 35 miles of town, she said. Last week 2 groups of anglers were pinned close to shore by wind there for 3 days, but fished along the rocks and still caught about 40 cabrilla from 9 to 12 pounds, 5 yellowtail from 8 to 9 pounds, and 3 red snapper from 3 to 5 pounds, she said.
Arturo's sent 2 boats to Isla Coronado at mid-week. One returned with 3 yellowtail to 30 pounds, and the other with 2 yellowtail to 40 pounds. Both boats fished the San Bruno area. Bottom fish, including red snapper (huachinango) and triggerfish were being caught under the yellowtail. Mackerel bait was being made very early, 2 miles off the marina, and anglers were also advised to bring 6X Junior sized iron jigs, Valzez said.
IXTAPA ZIHUATANEJO FISHING REPORTS
ALL ARTICLES, REPORTS AND FISHING INFORMATION FOR IXTAPA ZIHUATANEJO
IXTAPA ZIHUATANEJO, MEXICO: Although the blue water moved away from the coast last week, most boats continued to land about 1 sailfish per day. Marcos Vargas of VARGAS SPORTFISHING reported that 9 boats chartered during the week caught (including released fish): 11 sailfish, 2 dorado, and 1 roosterfish. Weather was in the 90s, with little wind, no rain, and water temperatures averaging 84 degrees.
IXTAPA ZIHUATANEJO, MEXICO: Paul Phillips of the FINTASTIC TOTAL CATCH & RELEASE TOURNAMENT said the annual "April current" may be arriving early this year, pushing the fish out to 20 or 30 miles from the coast. "We are watching this 'El Nino' development," he said. "If it comes about, it may move this cooler current to the north. El Nino itself normally has no significant effect in the area."
IXTAPA ZIHUATANEJO, MEXICO: Ed Kunze of MAR Y TIERRA SPORTFISHING said he's seeing cooler water temperatures in the 76-degree range. Fly fishing client, Steve Boyer of Seattle fished two days last week, raising 8 fish, casting to 5, and hooking 3, Kunze said.
IXTAPA ZIHUATANEJO, MEXICO: Stan Lushinsky of IXTAPA SPORTFISHING CHARTERS said his top boat last week was the Yellowfin with Capt. Chiro, who found 4 sailfish in 2 days for Delaware anglers Perry Beberman.
Capt. Miguel Alvarez of the El Soltar was the top marlin captain for the week, hooking 5 in one day, including a triple-header, and 2 blue marlin landed between 350 and 400 pounds. Lushinski said Capt. Alvarez reported sighting many sailfish and schools of tuna at the 30-mile mark, but the fish were very reluctant to bite. "The spring bloom of small red crabs has occurred, and it appears that the fish have turned-on to this micro bait," he said.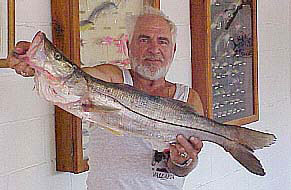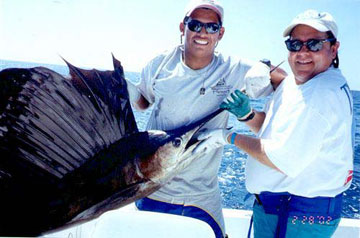 Baja coastal fishing reports and articles.
Ensenada fishing reports and articles.
Puerto Santo Tomas fishing reports and articles.
Erendira fishing reports and articles.
San Quintin fishing reports and articles.
Magdalena Bay fishing reports and articles.
Cabo San Lucas fishing reports and articles.
San Jose del Cabo (Los Cabos) fishing reports and articles.
East Cape fishing reports and articles.
La Paz fishing reports and articles.
Loreto fishing reports and articles.
Mulege fishing reports and articles.
Santa Rosalia fishing reports and articles.
Bahia de los Angeles (L.A. Bay) fishing reports and articles.
San Felipe fishing reports and articles.
Rocky Point (Puerto Penasco) fishing reports and articles.
San Carlos (Sonora) fishing reports and articles .
Mazatlan fishing reports and articles .
Puerto Vallarta fishing reports and articles.
Ixtapa Zihuatanejo fishing reports and articles.
Huatulco fishing reports and articles.
Cancun fishing reports and articles.
Mexico coastal fishing reports and articles.
Mexico Fishing Home Page < Mexico Fishing News Archives < Fishing Report