EAST CAPE, MEXICO: At RANCHO LEONERO, John Ireland said more boats fished last week, and counts were climbing, with lots of squid holding the fish close. Leonero boats reported big striped marlin to 200 pounds, and sailfish to over 100 pounds, mostly on jigs, off Cabo Pulmo. Dorado to 40 pounds were taken "every day," Ireland said, and "the strong bite on sierra continues right in front of the hotel, with our kayakers taking limits on Krocodiles and small Rapalas."
EAST CAPE, MEXICO: Seasonal resident and "tin boat" launch wheel manufacturer, Larry Cooper, of BAJA BOAT WHEELS said, "spring has sprung here on the East Cape. Monday, I saw 5 cruisers come in, 3 from Palmas de Cortez, and 2 from Martin Verdugos.
"The Palmas boats had 3 pargo, 4 cabrilla, 5 sierra, 8 dorado, and 1 marlin release.
"Verdugo's boats had 3 marlin (1 released), and 8 dorado. Those were just the boats I saw come in. They all went 30 miles northeast."
The winds returned with a vengeance on Saturday, Cooper said, and he saw no boats fishing. But during the week, quality fish were coming from an area about 30 to 40 miles northeast of Los Barriles.
"I ventured out Tuesday, even though there were some swells still rolling in," Cooper said. "After running out about 10 miles, I saw frigates diving and then a couple of marlin jumpers. I asked my mate how our fuel was, and he said one tank was almost gone, and the other was only half-full. We turned around and trolled back, listening to the radio yelling 'hooka! hooka!'
"Tuesday, as advertised, there was 'mucho marlin y dorado' only 13 to 15 miles out. Did not get exact boat counts, but I saw many flags from my deck while I was crying in my Corona.
"On Wednesday, a friend went out 37 miles and got zilch. Obviously, he over-ran the fish, as all boats came in with flags.
"Friday we launched again with the intention of bottom fishing, and ended up with 2 sierra and 5 dorado, 3 of which were 35-plus pounds. The big news here, folks, is we never were more than 2.5 miles off the beach!!
"The fish were concentrated in a one-mile-wide band between Las Tinas (north of Punta Pescadero) and south to the tuna slide, where we hooked our last double for the day. We even baited a marlin, but... maybe next time.
"There is soooo much bait in the water right now, hopefully that will keep the fish close and attract even more!"
EAST CAPE, MEXICO: At EL CARDONAL'S HIDEAWAY, north of Punta Pescadero, Eddy Beaulne reported good fishing for grouper, sierra, huachinango, dog snapper, and assorted bottom fish in cool water temperatures. "The water will remain cold for a while," he said, "but our fishermen are having a good time. The sierra are bigger than normal and plentiful."
In other mainland Mexico and Baja fishing action this week:
ENSENADA FISHING REPORTS
ALL ARTICLES, REPORTS AND FISHING INFORMATION FOR ENSENADA
ENSENADA, MEXICO: Despite cool, generally unfavorable conditions, Ensenada waters continued to kick out amazing numbers of lingcod, plus other bottom fish. On Sunday, Sammy Susarrey of LILY FLEET reported the Tamara fished in 57-degree water with 4 anglers at Salsipuedes Point, catching: 31 lingcod, 9 red snapper, 10 bass, and 6 salmon grouper. The Lily fished the same area with 4 anglers, and reported: 28 lingcod, 16 red snapper, 11 salmon grouper, and 4 bass. Susarrey said the fishing was about 140 feet deep, in cool, windy conditions, and water that was "green but clean."
Earlier in the week, cool, windy weather and big swells kept boats close to home. The Amigo and Lily fished near Todos Santos Island and reported slow action.
ENSENADA, MEXICO: At GORDO'S SPORTFISHING, Erick Ptacnik said there were good sardines available for bait, and boats were finding a steady pick on lingcod, rockcod, and ocean whitefish.
SAN QUINTIN FISHING REPORTS
ALL ARTICLES, REPORTS AND FISHING INFORMATION FOR SAN QUINTIN
SAN QUINTIN, MEXICO: Jim Harer of the OLD MILL HOTEL said, "the winds reigned king in San Quintin" last week, making the few boats chartered scramble for a spotty catch of bottom fish, mostly small lingcod to 10 pounds, and a few yellowtail added to the mix. Reporting for Pedro's Pangas and El Capitan Sport Fishing, Harer said last week's fishing in general was "not to be considered limits." Nevertheless, visitors were enjoying themselves, including some early St. Patrick's Day celebrants who were "looking a little green around the gills."
SAN QUINTIN, MEXICO: Pete Hillis of PEDRO'S PANGAS said, "Several boats went out, but the winds started kicking up this weekend, and made it a little rough out there. Hillis said that although the yellowtail were scattered, some anglers, such as Cary Davis of Livermore, CA and Tom Barnes of Long Beach, brought in nice limits of lingcod and rockcod. "The winds calm down at night, but pick up again in the morning," Hillis said. San Quintin night temperatures were down to the chilly, high-40s.
SAN QUINTIN, MEXICO: Gene Allshouse of SAN QUINTIN SPORTFISHING said he's still seeing "wide-open" yellowtail action at the 15 Spot, despite the rough conditions. "The fish are averaging 15 to 25 pounds, and are biting best on root beer Scampies and greenback Fishtraps," Allshouse said. "They are short-biting the live bait, but just devouring the plastics. A few are being caught on irons, but most on the plastics."
To prove his point, Allshouse sent photos of Brian Bownen of San Diego and James Irgens of Poway with a nice catch of quality yellowtail caught on his boat over the weekend. "The lingcod are still wide-open as well," Allshouse added. "The larger rockcod and whitefish have also turned on in the past two weeks. All in all, even with the winds, we're catching some nice fish."
MAGDALENA BAY FISHING REPORTS
ALL ARTICLES, REPORTS AND FISHING INFORMATION FOR MAGDALENA BAY
MAGDALENA BAY, MEXICO: Gary Graham of BAJA ON THE FLY said the few boats fishing last week were seeing some deep yellowtail at the entrada, and some dorado and yellowfin tuna just outside, plus plenty of whales everywhere. San Carlos air and water temperatures ranged from about 60 to 70 degrees, with some afternoon winds, and most of the yellowtail action was about 75 to 100 feet deep, Graham said. The Devil's Curve area was holding some smaller corvina and good numbers of snook. Punta Belcher and the beaches directly across the channel from town also yielded halibut to 7 pounds, Graham said.
CABO SAN LUCAS FISHING REPORTS
ALL ARTICLES, REPORTS AND FISHING INFORMATION FOR CABO SAN LUCAS
CABO SAN LUCAS, MEXICO: The normally super-reliable fishing at the tip of Baja went from "so-so" to "oh-no!" last week, as fish counts plunged, and an unusual number of boats were skunked in weather that was fairly rough on some days.
CABO SAN LUCAS, MEXICO: At PICANTE FLEET, Mario Bojorges said 5 boats chartered at midweek caught (including released fish): 14 dorado, 18 yellowfin tuna, and 2 wahoo. Cabo San Lucas air temperatures were 64 to 82 degrees, water temperatures were 70 to 74 degrees, and relative humidity was 63 percent. Most boats were fishing at the Inner Gordo Bank on the Cortez side.
CABO SAN LUCAS, MEXICO: At CABO MAGIC, Tom Garcia said 5 boats chartered during the week caught (including released fish): 2 striped marlin, 3 yellowfin tuna, and 2 wahoo lost.
CABO SAN LUCAS, MEXICO: Larry Edwards of CORTEZ YACHT CHARTERS said GAVIOTA FLEET also saw a "bit of a slowing trend for stripers" last week. Only about 25 percent of Gaviota boats caught billfish, and there was only a scattering of dorado and yellowfin tuna. Fishing on both sides of the arch, Gaviota Fleet boats reported: 11 striped marlin (9 released), 39 yellowfin tuna, 42 dorado, and 1 wahoo.
CABO SAN LUCAS, MEXICO: PISCES FLEET'S Tracy Ehrenberg said, "These last four days turned out to be pretty poor for everybody. It's a shame, since there are so many people in town, but March is notorious for being inconsistent."
Ehrenberg reported that only 17 percent of Pisces' boats caught marlin last week, and 48 percent were actually skunked, which has to be close to some kind of record.
"Added to this, was extremely windy weather and rough seas with whitecaps, making fishing uncomfortable," Ehrenberg said. "Boats went in all directions trying to find fish, but only a few were spotted, and even then were hard to get interested in bait." Pisces boats reported water temperatures of 70 to 73 degrees, and fished out to about 20 miles in a wide arc from Red Hill around to the Old Lighthouse.
CABO SAN LUCAS, MEXICO: At SOLMAR FLEET, manager Rene Santa Cruz said the cold water, wind, and choppy seas reduced fish counts last week, as few boats were chartered, and those that were stayed fairly close to home.
Defying the odds were Garrett Boone, 12 years old, and his grandfather Daniel Boone, 75, who caught and released 2 striped marlin while fishing 10 miles off Palmilla. They fished on the 33-foot Solmar III with Capt. Pepe, using live mackerel on 40-pound test line. Said Grandpa Daniel, "We landed two and missed a third. The fight was great. Garrett landed his with 5-foot seas. The waves were over the back of the boat. Solmar was great, and the day was great."
Also of note, was Dannilo "Daniel" Mathews, of the Solmar Fleet boat office, who caught his very first marlin recently, while fishing with clients aboard the San Lucas VIII with Capt. Hector and mate Christian. "What a day!" Mathews said, "Hector saw a couple of Picante boats making circles. Just five minutes later, we saw the marlin running straight to the lures. The rest was an exhausting fight for 30 minutes or a little more."
CABO SAN LUCAS, MEXICO: At FLY HOOKER SPORT FISHING, Capt. George Landrum said that early in the week some lucky boats caught dorado around a dead whale about 30 miles south of the arch. "Those in the know were able to load up," he said. "The next day, the whale had moved northwest and was 40 miles away. By the third day, it was out of range."
As for yellowfin tuna, Landrum said, "Where did they go? Every day I see a lot of white flags flying, and when I check it out, they are for skipjack or bonita. The yellowfin have disappeared this week. I hope the fact that there are purse seiners everywhere has nothing to do with the lack of tuna."
Inshore, Landrum said some sierra are still around, and some pargo and cabrilla are being found in the rocks on the Cortez side.
SAN JOSE DEL CABO (LOS CABOS) FISHING REPORTS
ALL ARTICLES, REPORTS AND FISHING INFORMATION FOR SAN JOSE DEL CABO
SAN JOSE DEL CABO, MEXICO: Mike Santry of LA PLAYITA TOURS said beach fishing picked up a bit last week. "Lots of sierra taken," he said. "No sight of roosters, though. The winds are still persistent, but the water is getting warmer."
SAN JOSE DEL CABO, MEXICO: At GORDO BANKS PANGAS, Eric Brictson said he's finally had it with Cabonet's service, and he asked readers to please take note of his new email address: gordobanks@prodigy.net.mx.
As typically happens during early spring, the La Playita panga fleets saw variable fishing action last week, Brictson reported.
"The pangas found great action from Monday through Wednesday from Cardon to Iman. The most common catches were yellowfin tuna to 25 pounds, amberjack to 25 pounds, yellowtail to 15 pounds, cabrilla to 12 pounds, pargo to 10 pounds, bonita to 8 pounds, dorado to 18 pounds, and sierra to 5 pounds.
"Brought to the surface by a chum line of sardinas, the tuna and dorado went on a great mid-morning bite for several days. But as the weather became more unsettled, the water conditions changed for the worse, and the action slowed to mainly sierra and a handful of bottom fish."
Brictson said weather was mostly comfortable, with some afternoon breezes, and water temperatures fluctuating from about 69 to about 72 degrees.
SAN JOSE DEL CABO, MEXICO: Numerous reports continue to be received about panga gill netting that is now impacting the near-shore fishery around San Jose del Cabo and other areas of Baja California.
Although some of the pangas involved have federal permits, others are fishing without them, or by illegally "sharing" the permits of other boats.
One Loreto resident sent a bitter report about the marine park there, saying, "the authorities are doing nothing. The whole notion of the marine park is a joke."
At San Jose del Cabo, locals, seasonal residents, and sport fishing operators are reporting pangas scouring the beaches clear of miscellaneous species, and especially sierra, which showed up in big numbers this year, but are being wiped out as quickly as they arrive.
Reporters, fearing reprisals from commercial pangueros, have asked that their names not be used. Some incidents of bad feelings and boat vandalism have occurred. One seasonal resident said, "There has been some gill netting in the Los Cabos area for years, but there appears to be a dramatic increase lately. There have been more gill nets in the last few weeks than I have ever seen in that area.
"The inshore fisheries have been badly damaged. The commercial fishermen are fishing with gill nets, and in some places they are simultaneously fishing for juvenile blue sharks with long lines, and fishing for octopus with chlorine.
"During the end of February and beginning of March, I saw gill nets in the area of El Ranchito and La Salina, which are between Punta Gorda and San Jose del Cabo.
"I watched gill netters pick up their nets at daybreak and take them east, presumably to the gill net camp that is always at Bahia las Destiladeras for most of the year. These nets had apparently been left overnight.
"At sunrise, other pangas were coming from the west, presumably from La Playita, and setting their gill nets out in the same area for a few hours, staying in the area to protect their nets. Mexican fishermen who make their living from sport fishing have told me that they will cut gill nets and long lines sometimes when they get the chance.
"I also drove out to Bahia las Destiladeras and took pictures of about ten pangas on the beach, with gill nets both on the beach and in the water.
"These pangas apparently belong to a cooperativa, and bear the names P. Escopeta I, P. Escopeta II, etc., probably in reference to a nearby village called Palo Escopeta.
"Other than the names of the boats, I do not recall seeing any numbers. I was told that there were also gill nets in the Punta Palmilla area, and I believe that a particularly disreputable group of gill net fishermen from the mainland may still be at Cabo Pulmo.
"In speaking to native Baja California fishermen all over the peninsula, I often hear their concern about the fishermen from Guerrero, Sonora, and Sinaloa who have already decimated the marine life in their native areas and are now competing for the rapidly diminishing fish in Baja California waters.
"There is almost no culture of catch-and-release among pangueros involved in sport fishing, and it is hard enough to keep them from taking sea turtles. But, most of them would support limits on chinchorros (nets), and would like to limit the number of commercial fishermen from the mainland.
"One of the saddest things is that the commercial fishermen who are wiping out everything from triggerfish to immature blue sharks are usually living a very marginal existence, while doing great damage to the environment.
"This is obviously very damaging to the local Mexican people who rely on the tourism generated by sport fishing."
LA PAZ FISHING REPORTS
ALL ARTICLES, REPORTS AND FISHING INFORMATION FOR LA PAZ
LA PAZ, MEXICO: Linda Glassman-Davis of HOTEL LAS ARENAS said the weather was highly variable last week, as high winds alternated with warm, sunny days. "Fortunately, we have been fishing the leeward side of Cerralvo Island," she said, "and catching consistently small yellowtail averaging 10 pounds, sierra averaging 6 pounds, and dorado to 15 pounds, along with yellowfin tuna averaging 25 pounds. We are looking forward to Easter Week and many guests who will be fishing for six or more consecutive days. That week should give us a good indication of what to expect for our yellowtail/yellowfin school this April 10-14."
LA PAZ, MEXICO: Jonathan Roldan of TAIL HUNTER INTERNATIONAL said he's seeing water temperatures going up, and his reports are of "yellowtail on the chew" on the north side of Isla Cerralvo, the west side of Isla Espiritu Santo, and around Punta Perrico.
"With water temps as high as 74 degrees now, you just have to believe this is going to be an early year, and things could bust open earlier than normal," Roldan said. "Sierra are abundant, and the cabrilla and pargo are getting pulled out of the rocks, but these yellowtail are just what we ordered! Most of the fish will punk you at 10 to 15 pounds, with occasional 20 to 25 pounders. There's fish in the 40 to 60-pound class getting active too."
LORETO FISHING REPORTS
ALL ARTICLES, REPORTS AND FISHING INFORMATION FOR LORETO
LORETO, MEXICO: Ana Luisa Valdez of ARTURO'S SPORT FISHING said Loreto weather was generally nice and sunny last week, with light breezes and air temperatures of 68 to 74 degrees.
The excellent yellowtail bite at Punta Pulpito continued for anglers staying at the San Nicolas remote fish camp operated by Blue Water Tours, Valdez said. Last week's group of 7 anglers, fishing about 35 miles north of Loreto, caught 120 yellowtail to 30 pounds, 2 amberjack, 10 cabrilla, and mixed bottom fish, keeping legal limits only, and releasing the rest.
Yellowtail were also being caught at San Bruno reef, 10 miles north of town. Anglers last week reported fish to 45 pounds there. Mackerel live baits are becoming harder to find in the bigger sizes, Valdez said, so it is recommended that anglers bring plenty of iron jigs in scrambled egg, blue, green, and yellow-green.
MULEGE FISHING REPORTS
ALL ARTICLES, REPORTS AND FISHING INFORMATION FOR MULEGE
MULEGE, MEXICO: Resident angler ROSS WHITE just returned from a trip to San Lucas Cove on Sunday, reporting beautiful weather early in the week, and high winds after that. "About six boats were leaving the cove on the 11th through the 13th," he said, "targeting yellowtail at the north end of Isla San Marcos.
"Live bait was easy to pick up in the mornings, even up 'till 9:30 a.m., with Lucky Joes in 70 feet of water, off the cactus. About 6 to 10 yellowtails a day coming in among all the boats (some with a lot more than others), in the 25 to 30-pound range. The locals were gathering nightly for sashimi! 'Baja Catch' trolling using silver-blue and silver-black yielded 2 yellowtail firecrackers off the Haystack, several nice bass on the backside of San Marcos, and over a hundred (caught-and-released) of those nuisance barracudas. Some boats were also getting halibut drifting inside the mouth of the cove."
MULEGE, MEXICO: At the HOTEL SERENIDAD, Diana Johnson said the hotel is doing great, with lots of Easter visitors and good bookings for the summer. Guests were scoring on yellowtail and cabrilla, plus doing a lot of whale-watching.
BAHIA DE LOS ANGELES (L.A. BAY) FISHING REPORTS
ALL ARTICLES, REPORTS AND FISHING INFORMATION FOR BAHIA DE LOS ANGELES
BAHIA DE LOS ANGELES, MEXICO: At Bahia de los Angeles, Abraham Vazquez of CAMP GECKO said air temperatures ranged from 52 degrees to the mid-70s last week, and water temperatures were in the upper-50s, bottoming at about 56 degrees. The weather was generally good, but with some west winds, and some gusts that were reported in the 80 m.p.h. range north of the village.
Local yellowtail fishing improved somewhat last week, with good bites reported at Los Machos, and fish to about 18 pounds between Islas Smith and Piojo. "The catch has been on the iron for most of the yellows, and the bite got fantastic over at Bajo de Guadalupe," Vasquez said. "Bottom fishing continues to be good. The road coming into town is being fixed in time for Easter vacation. They only have five more miles to go."
SAN FELIPE FISHING REPORTS
ALL ARTICLES, REPORTS AND FISHING INFORMATION FOR SAN FELIPE
SAN FELIPE, MEXICO: At San Felipe, Catalina Meders of the TITLE COMPANY balcony-level bookstore said the weather on Sunday was perfect, with air temperatures near 70 degrees, and the water temperature at 66 degrees.
"We had the first wave of spring breakers," she said, "The kids were here to have a good time. They did not trash the town, as in days of old. They were very polite.
"Of course, this evening there will be much eating of corned beef and cabbage, and much drinking of green beer. This morning, two Mexican ladies wanted to know the significance of wearing green. Embarrassingly, we were hard pressed to come up with any reasonable answers."
SAN CARLOS (SONORA) FISHING REPORTS
ALL ARTICLES, REPORTS AND FISHING INFORMATION FOR SAN CARLOS
SAN CARLOS, MEXICO: Vince Radice of SONORAN SPORT CENTER said the town is pretty quiet, water temperatures are warming up, and the Easter break crowds have been moderate this year. Radice said he's seen long lines close to town that were probably targeting sea turtle, since there are no dorado or other surface fish around to speak of at the moment.
MAZATLAN FISHING REPORTS
ALL ARTICLES, REPORTS AND FISHING INFORMATION FOR MAZATLAN
MAZATLAN, MEXICO: Nora Alonzo Rice of ARIES SPORTFISHING FLEET said, "Fishing is good in Mazatlan. We have sunny days with a little breeze in the morning, so sea conditions are excellent. Our boats are going out fishing every day. Bottom fishing is good too. Corvina, triggerfish, barracuda, snappers, and all kinds of small fish are bitting now."
MAZATLAN, MEXICO: Larry Edwards of CORTEZ YACHT CHARTERS said Aries Fleet boats were doing particularly well inshore, "as good as it gets." Eleven inshore panga charters last week reported (including released fish): 106 corvina, 15 sierra, 69 red snapper, 44 mojarra, and 36 mixed species. Offshore, Aries Fleet cruisers reported: 11 striped marlin, 4 sailfish, 10 dorado, 60 yellowfin tuna, and 1 mako shark. Mazatlan water temperatures averaged 74 to 76 degrees, with good clarity about 25 miles out of Marina el Cid.
IXTAPA ZIHUATANEJO FISHING REPORTS
ALL ARTICLES, REPORTS AND FISHING INFORMATION FOR IXTAPA ZIHUATANEJO
IXTAPA ZIHUATANEJO, MEXICO: The sailfish bite continues to produce about one to two fish per day for local boats. Marcos Vargas, of VARGAS SPORTFISHING, said 11 boats chartered during the week caught (including released fish): 13 sailfish, 2 dorado, and 1 marlin. Ixtapa water temperatures were about 86 degrees, with calm seas and no strong winds.
IXTAPA ZIHUATANEJO, MEXICO: Stan Lushinky of IXTAPA SPORTFISHING CHARTERS said most boats were going more than 25 miles to find fish last week, as cool waters moved in close to shore. The top fish for the week was a 450-pound blue marlin found by Capt. Jose aboard La Bamba. Capt. Miguel Alvarez of El Soltar hooked 5 marlin in 4 days with angler Albert Tort of Spain, but all 5 five fish were lost, Lushinky said.
IXTAPA ZIHUATANEJO, MEXICO: Ed Kunze of MAR Y TIERRA SPORTFISHING said commercial pangueros were reporting yellowfin tuna 70 miles out, and blue marlin at 45 miles, but since the sport fishing fleet is only going out about 22 miles, they are catching one to two sailfish per day, plus occasional dorado.
IXTAPA ZIHUATANEJO, MEXICO: Paul Phillips of the FINTASTIC TOTAL CATCH & RELEASE TOURNAMENT said most local boats are out of fish tags, and requested that anglers bring some with them. "These are available from The Billfish Foundation at 800-438-8247," he said. "Use what you need, and leave the rest with the crew."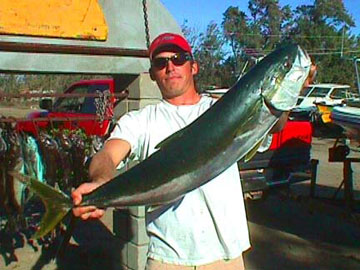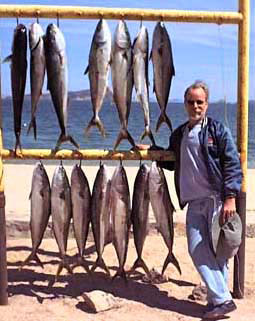 Baja coastal fishing reports and articles.
Ensenada fishing reports and articles.
Puerto Santo Tomas fishing reports and articles.
Erendira fishing reports and articles.
San Quintin fishing reports and articles.
Magdalena Bay fishing reports and articles.
Cabo San Lucas fishing reports and articles.
San Jose del Cabo (Los Cabos) fishing reports and articles.
East Cape fishing reports and articles.
La Paz fishing reports and articles.
Loreto fishing reports and articles.
Mulege fishing reports and articles.
Santa Rosalia fishing reports and articles.
Bahia de los Angeles (L.A. Bay) fishing reports and articles.
San Felipe fishing reports and articles.
Rocky Point (Puerto Penasco) fishing reports and articles.
San Carlos (Sonora) fishing reports and articles .
Mazatlan fishing reports and articles .
Puerto Vallarta fishing reports and articles.
Ixtapa Zihuatanejo fishing reports and articles.
Huatulco fishing reports and articles.
Cancun fishing reports and articles.
Mexico coastal fishing reports and articles.
Mexico Fishing Home Page < Mexico Fishing News Archives < Fishing Report