SAN QUINTIN, MEXICO: Earlier, SAN QUINTIN SPORTFISHING'S Gene Allshouse said he was catching some "huge lingcod in the 30 to 40-pound class on double-hooked live bait."
"The bait is so large," he said, "and the lingcod are biting short, so hooking the bait in the nose and halfway back is working much better than just hooking them in the nose."
In other mainland Mexico and Baja fishing action this week:
ENSENADA FISHING REPORTS
ALL ARTICLES, REPORTS AND FISHING INFORMATION FOR ENSENADA
ENSENADA, MEXICO: At LILY FLEET, Sammy Susarrey said the super-hot lingcod bite continues. Over the weekend, 4 anglers fished aboard the Lily at La Salina and Punta Pescadero, he said, and landed 39 lingcod.
Earlier in the week, Susarrey reported 58-degree, dirty water at Salsipuedes, but lingcod and red rockfish still biting well. At Punta Banda, the water temperature was about 60 degrees, with clear water, windy conditions, and lots of sea lions in the area. The fishing was better at Maximino Reef, for limits on red rockfish.
BAJA COASTAL FISHING REPORTS
ALL ARTICLES, REPORTS AND FISHING INFORMATION FOR BAJA COASTAL AREAS
BAJA CALIFORNIA, MEXICO: Angler, TIM SAMUELSON, reported on a fishing trip to remote Punta Abreojos last week that was hampered by wind.
"My first time to Abreojos," Samuelson said. "Very interesting. Fished with a local in his large panga, great guy, Martin Murillo. I got to know some town's people and a lot about the town. They are doing a lot of roadwork so there were quite a few detours.
"There are 2 Americans building nice places inside the second point. We also stopped by Campo Rene and met the new caretaker. The locals were going to have a blowout party that night.
"The first day, we started to get a decent amount of wind. Then as the moon increased, so did the wind. The water was cold, 61 degrees and green, with red crabs. We didn't make it outside and north, so we just fished inside the point. Even that was a bit tough.
"There were birds around, but we only caught bass and corvina, and some other miscellaneous. Bad conditions, but we'll try again."
BAJA FISHING SEMINAR: The fourth annual "Learn From The Experts" seminar will be held at The West Coast Long Beach Hotel, and features Dave Bacon of Santa Barbara, Dennis Spike of Reseda, Barry Brightenburg of San Diego, and Dave Brackman of Huntington Beach, who will each speak on his areas of special expertise.
Presentations begin at 7 p.m., and admission is $20 per family, which includes a one-year subscription to Sport Fishing Magazine, and chances to win saltwater tackle and accessories, apparel, and services donated by sponsors. Police officers, military personnel, and fire fighters will be admitted for $15 per family.
The year's sponsors include: Yamaha Outboards, SIMRAD Electronics, Bud 'n Mary's Marina in Islamorada, FL (3-day, 2-night fishing trip), Minn-Kota, Penn Reels, Ande Line, ROFFS Fishing Forecasts, Yo-Zuri, Todd's Lures, Hook 'n Tackle Sports Apparel, D.O.A. Lures, Shakespeare Electronics, Crowder Rods, the IGFA, PYI, Pettit Paints, Calusa Casting Nets, Ross Reels, TACO Sportfishing, and Shakespeare Fishing Tackle.
Information on the seminar is at www.SportFishingmag.com, or 888-281-5720, Ext. 1308. The West Coast Long Beach Hotel is located at 700 Queensway Drive, Long Beach, CA 90802, phone 562-435-7676.
MAGDALENA BAY FISHING REPORTS
ALL ARTICLES, REPORTS AND FISHING INFORMATION FOR MAGDALENA BAY
MAGDALENA BAY, MEXICO: Brian Freitag of MAG BAY TOURS said changed reservations have opened up some coveted August surf dates at the Punta Hughes camp. There are seven openings for August 3 through August 10, Freitag said, now available on a first-come, first-served basis.
Dates have also been set for Mag Bay Tours' "Camp & Champ" combo fishing trips featuring panga fishing inshore, and offshore runs to the Thetis Bank fall fish pile-up aboard the party boat, Champ. Freitag said 8 trips are now scheduled, beginning on November 30.
MAGDALENA BAY, MEXICO: Gary Graham of BAJA ON THE FLY said last week's high winds, plus the general slow-down of Semana Santa and Easter, brought fishing activity around San Carlos to a halt last week. As a conjecture, Graham said, if anybody was going out to look, they probably would find some deep yellowtail around the entrada, and some smaller corvina at Devil's Curve and the bridge.
CABO SAN LUCAS FISHING REPORTS
ALL ARTICLES, REPORTS AND FISHING INFORMATION FOR CABO SAN LUCAS
CABO SAN LUCAS, MEXICO: Fishing continued slow, slow, slow around the tip of Baja California last week, but one Hotel Solmar angler showed the ultimate in sportsmanship when he released a 300-pound broadbill swordfish to live and fight another day.
CABO SAN LUCAS, MEXICO: SOLMAR FLEET manager, Rene Santa Cruz said, "Even though fishing continued marginal this week, Californian, Don Whitmire, didn't notice.
"Whitmire's Capt. Javier sailed the 34-foot Solmar II to the Golden Gate Bank on the Pacific side. At 10 a.m. his live mackerel was hit by a pez espada--swordfish--on 40-pound line. After one-and-a-half hours, the magnificent specimen was brought to leader and released."
Whitmire finished the day by boating 6 yellowfin tuna, Santa Cruz said.
Otherwise, Solmar boats reported "respectable" fishing during the week, but nothing to write home about, in 3 to 6-foot seas, and water temperatures of 69 to 70 degrees, fishing mostly on the Pacific side.
CABO SAN LUCAS, MEXICO: Tommy Garcia of CABO MAGIC reported on 10 boats chartered last week, with a combined catch, including released fish of: 2 striped marlin, 3 dorado to 50 pounds, 22 sierra, 12 yellowfin tuna to 50 pounds, and 1 skipjack.
CABO SAN LUCAS, MEXICO: At PICANTE FLEET, Roberto Juarez reported Cabo San Lucas weather at 61 to 82 degrees, water temperature at 70 to 75 degrees, and relative humidity at 49 percent. Seven boats chartered Thursday caught a total, including released fish of: 1 striped marlin, 27 dorado, and 19 yellowfin tuna.
Consolidated independent reports for about 75 other boats chartered during the week showed a combined catch of about 16 striped marlin, 32 dorado, 54 yellowfin tuna, 21 skipjack, 44 sierra, and 5 roosterfish.
CABO SAN LUCAS, MEXICO: Tracy Ehrenberg of PISCES FLEET said it was "a very slow week for marlin, but this is what we expect for our 'March doldrums.' The past three or four years, we had pretty good fishing during this month, which lulled us into believing Cabo fishing had to be good all the time."
Ehrenberg said only 8 percent of Pisces boats caught marlin last week, but most boats caught yellowfin tuna. Among the week's top catches was a 190-pound broadbill swordfish by the Minerva III, caught 19 miles off Punta Palmilla, and 2 marlin catches by the Andrea, half of the week's total for the fleet. La Brisa also caught an 86-pound wahoo for Gene Jameson of Wisconsin, on a purple Marauder.
CABO SAN LUCAS, MEXICO: Capt. George Landrum of FLY HOOKER SPORT FISHING said local Cabo weather was mostly high overcast, with generally calm seas, and winds on Thursday night and all day Friday.
"On Friday, the winds were from the northwest, and the Pacific side was practically unfishable," he said. "If you went further than 15 miles offshore on the Sea of Cortez side it was pretty rough as well.
"The water temperature on the Pacific side has remained cool all week, with surface temperatures in the 68 to 69-degree range. The 72-73 degree water is now touching the East Cape, covering the Gordo Banks, and has moved about 10 miles to the east of the 95 spot."
Landrum confirmed the slow action on marlin, saying, "There have been fish found, but not a lot of them caught. Most boats were seeing 1 or 2 a trip on most days. Most of the fish were found on the Sea of Cortez side, perhaps due to the cold Pacific water."
Inshore, Landry said the action was mostly on pargo to 25 pounds, bonito to 20 pounds, sierra to 8 pounds, assorted bottom fish to about 15 pounds, a few yellowtail to about 30 pounds, and some scattered amberjack. Giant squid were also still around Cabo, Landry said, including sizes from 40 to 60 pounds.
CABO SAN LUCAS, MEXICO: Larry Edwards of CORTEZ YACHT CHARTERS said, "When the typical slow fishing of March combines with the full moon phase, it can make for some long fishing days, both for the anglers and the crew."
Edwards said GAVIOTA FLEET boats managed a 25 percent success rate on billfish last week, by scratching around in a wide area and hoping to find a "Promised Land" somewhere.
"There was just no concentration on either side of the peninsula," he said. "Most reports reflect cooler waters throughout the area, with the exception of pockets of warmer water here and there."
Gaviota boats fished from Jaime Bank on the Pacific side, around to the 95 Spot and the Gordo Banks last week, reporting a combined catch of: 6 striped marlin (4 released), 11 dorado, 4 giant squid, and 53 yellowfin tuna.
SAN JOSE DEL CABO (LOS CABOS) FISHING REPORTS
ALL ARTICLES, REPORTS AND FISHING INFORMATION FOR SAN JOSE DEL CABO
SAN JOSE DEL CABO, MEXICO: At La Playita Beach, Mike Santry of LA PLAYITA TOURS said water temperatures are still in the low 70s. Several sierra were taken from the beach near Punta Gorda, Santry said, but overall, fishing has been slow. Toward the end of the week, he said, local pangas were picking up lots of grouper and pargo for the tables.
EAST CAPE FISHING REPORTS
ALL ARTICLES, REPORTS AND FISHING INFORMATION FOR EAST CAPE
EAST CAPE, MEXICO: Marisol Verdugo George of MARTIN VERDUGO'S BEACH RESORT said, "Well, here things are getting a little bit busier. We have been sending boats more often."
On Monday, Verdugo George said the Deborah Lee caught 8 dorado and the Pescadory Too caught 1. On Thursday, panga skipper Alfredo found a 35-pound dorado for Russ and Donna Waite of San Clemente, CA, and the next day they came back for 4 more dorado, plus 3 yellowtail.
Also on Friday, another panga caught sierra, and 2 cruisers caught 3 striped marlin (2 released) and a dorado. On Saturday, the Ricky caught 2 dorado.
EAST CAPE, MEXICO: At VISTA SEA SPORT, Mark Rayor said on Sunday, "After a week of beautiful weather with calm seas, the wind kicked up a little today. Not enough to hurt the diving. We have 72-degree water at depth, with schools of rays, jacks, and snapper."
Rayer said underwater visibility improved last week to 50 feet, and divers have been spotting humpback whales, porpoise, and jumping manta rays. The hammerhead shark seen a few weeks ago have disappeared.
EAST CAPE, MEXICO: At Los Barriles, a local resident reported pangas harpooning manta rays right on the beach. "They are close enough to my house that we can read the panga name and registration, Lucero REG#3034013413, he said. It breaks my heart to see them take ray after ray. I just watched one panga quickly unload the wings of 15 mantas into a blue Dodge pickup."
EAST CAPE, MEXICO: Axel Valdez of BUENA VISTA BEACH RESORT reported on 44 boats chartered during the week, with a combined catch, including released fish of: 40 dorado, 7 yellowfin tuna, 49 roosterfish, 133 snapper, 8 jack crevalle, 1 pompano, 10 triggerfish, 66 sierra, 29 cabrilla, and 52 skipjack.
EAST CAPE, MEXICO: RANCHO LEONERO'S John Ireland said East Cape weather has been in the mid-80s, and water temperatures have averaged 70 to 73 degrees. Fishing was good, he said, on striped marlin, dorado, roosterfish, sierra, pargo, and jacks, although the marlin were a long, 40-mile boat ride south. Red-and-white trolled lures were the exclusive hot ticket for billfish last week, Ireland said.
All Leonero anglers were limiting on dorado to 40 pounds, with some taken within 100 yards of the beach, Ireland said. Roosterfish were plentiful. One Leonero fly angler released 14 fish off the beach last week.
EAST CAPE, MEXICO: Gary Graham of BAJA ON THE FLY said his anglers were "nailing skipjack by the bucket full," plus enough sierra to feed everyone in Los Barriles.
"And," he said, "the roosterfish are sucking up poppers like the grand kids grabbing Easter baskets. There's no doubt it's going to continue and should make this the most action-packed Easter in recent memory. As if that isn't enough, the pargo are on the chew in front of Rancho Leonero. All that on a full moon. Go figure!"
Offshore, Graham said the action is decent, but the best concentration of fish was 65 miles off the beach, and "that's a lot of diesel, baby."
LA PAZ FISHING REPORTS
ALL ARTICLES, REPORTS AND FISHING INFORMATION FOR LA PAZ
LA PAZ, MEXICO: Linda Glassman-Davis of the HOTEL LAS ARENAS said last week's anglers caught a combined: 17 yellowtail to 18 pounds, 19 sierra to 10 pounds, 4 cabrilla to 4 pounds, 4 yellowfin tuna to 30 pounds, and 6 roosterfish to 25 pounds. "This is starting to be an early season with the weather just beautiful in time for Holy Week," she said. "Wishing everyone a happy and healthy holiday season."
LA PAZ, MEXICO: At TAIL HUNTER INTERNATIONAL, Jonathan Roldan said, "Felices Pascuas! Just a nice spring week with sunshine and flat seas." Roldan said the fishing has been mostly for flurries of tuna at both ends of Isla Cerralvo, plus schools of yellowtail to about 15 pounds here and there. Spaces were available for the April 11-16 trip to La Concha Beach Resort, Roldan said, and he is also starting a new series of trips to Loreto this year, operated out of the historic Hotel Oasis owned by the Benziger family. "I've never found a place that was going to do the trick for us, but now we're stoked to tell you that the Oasis Hotel has given us a contract to start bringing in fishermen!"
LORETO FISHING REPORTS
ALL ARTICLES, REPORTS AND FISHING INFORMATION FOR LORETO
LORETO, MEXICO: At VILLAS DE LORETO, Wendy Wilchynski said local anglers continue to bring in "BIG" yellowtail to 40 pounds, and now they are being accompanied by a showing of yellowfin tuna to 80 pounds, plus the usual pargo and cabrilla. "The weather has been very good," she said, "not too much wind. It's a great time for fishing!"
Also, Wilchynski said, this May and June, Villas de Loreto is hosting the first "Renaissance in Loreto" workshops on watercolor painting and creative writing. "Attention wives," she said, "while your husbands are out on the water, you can be learning a new and rewarding pastime!" The one-week sessions will be held during the last week of May and first week of June, and more information is available at info@villasdeloreto.com, or by direct dial from the U.S. at 011-52-613-135-0586. The painting workshop will be taught by artist Pat Knipe, and the writing workshop by instructor Dee Montalbano.
LORETO, MEXICO: A free trip to Loreto's oldest beach resort--including round-trip air fare for two!--is the grand prize at a freshwater kids benefit fishing tournament scheduled in Escondido, CA on the weekend of April 27-28.
The tournament is officially called the "Fifth Annual Hidden Valley Kiwanis Trout Derby," and each year generates about $4,000 in prize money, plus another $10,000 donated to charity. Fred Wollman, a volunteer tournament organizer, said this year's goals are $10,000 in prizes, and an ambitious $30,000 for charity. About 1,500 kids and adults are expected to turn out for the event, which will be promoted by Pete Gray and Marty Milner on their well-known "Let's Talk Hook-Up" radio program.
This year's grand prize Loreto trip is to the charming Villas de Loreto, operated by Canadians Wendy Wilchynski and Ron Bellerive. The quiet and gracious Villas de Loreto is situated on the Sea of Cortez in the facility originally built in the 1950s by Ed Tabor as The Flying Sportsmen Lodge, one of Baja California's first four fishing resorts.
Completely renovated and tastefully decorated, the Villas de Loreto offers mature landscaping, a quiet beach, pool, cobble stone courtyard, and a full-service patio restaurant. A wide array of recreational activities available include diving, snorkeling, hiking, bicycling through the first mission town of the Californias (1697), trips to the back country and Mission San Javier, and of course, fishing. Information is available by direct dialing from the U.S., 011-52-613-135-0586.
For the tournament, the City of Escondido is stocking Dixon Lake with 1,200 pounds of rainbow trout and another 1,200 pound of steelhead trout. Fifty fish will be tagged for special prizes. All Boy Scouts, Girl Scouts, Cub Scouts, and Brownie Scouts fish for free if they come in uniform and fish with an adult supervisor. A special kids' fishing pond and a casting contest will be featured.
Reservations for camping at Dixon Lake may be made by calling 760-741-3328, and tournament information is available from Charlie Jungk at 760-432-8298, or Rose Spear at 760-749-2725.
Tournament organizer Wollman said the event returns 100 percent of revenues to charity, and he invited inquiries from sponsors, vendors, prize donors, or anyone wishing to attend.
MULEGE FISHING REPORTS
ALL ARTICLES, REPORTS AND FISHING INFORMATION FOR MULEGE
MULEGE, MEXICO: Fly-in resident RON GRANT just returned from Mulege, saying the weather was in the mid-80s last week, and bookings were good at the Hotel Serenidad, where he counted 25 to 30 aircraft on the runway.
"The full moon slowed the yellowtail fishing," Grant said. "Ran into one day with north winds, keeping most boats off the water. Live bait seems to be the best way to go, with little problem getting bait just off the lighthouse at Mulege. Good-sized yellows at Santa Ines Island, the north end of Isla San Marcos, and the pangueros say they see a lot of large fish at Tortuga Island. The local residents are doing most of the fishing, with a lack of tourists chartering pangas."
BAHIA DE LOS ANGELES (L.A. BAY) FISHING REPORTS
ALL ARTICLES, REPORTS AND FISHING INFORMATION FOR BAHIA DE LOS ANGELES
BAHIA DE LOS ANGELES, MEXICO: At Bahia de los Angeles' CAMP GECKO, Abraham Vazquez didn't have a fishing report, but he did have some town phone numbers for all the people who got caught in the recent area code changes: Camp Gecko, 011-52-555-151-9454; Guillermo's Restaurant, 011-52-664-650-3209; Villa Vitta, 011-52-664-650-3208; Hotel Costa del Sol, 011-52-555-151-4195; phone booth, 011-52-664-650-3206 (fax for whole town) and 011-52-664-650-3207.
"Great," said Vazquez, "That's the whole phone book for Bahia de los Angeles!"
SAN FELIPE FISHING REPORTS
ALL ARTICLES, REPORTS AND FISHING INFORMATION FOR SAN FELIPE
SAN FELIPE, MEXICO: From the TITLE COMPANY BOOKSTORE overlooking the bay, Catalina Montalvo Meders reported San Felipe skies as sunny, air temperatures at about 70 degrees, and water temperatures about 67 degrees, with 79 percent relative humidity.
"We are selling The Baja Catch books really well," she said (honest). "It's hard to keep them on the shelf.
"Today is Easter Sunday, and the town is jam-packed with holiday celebrators, who are making lots of noise and spending lots of money, which causes lots of joy among the vendors and restaurant people.
"The beach is crowded with tents and blankets, and hundreds of people are walking out to dip their feet in the sea and turn their faces up to the sun.
"Everyone has on their beach finery, which is marvelous to see, and people literally DANCE through the streets. There is music everywhere.
"The desert is starting to bloom, and nothing is more beautiful, or more surprising. Happy Easter, and Pesach, and spring solstice to everyone from the bookstore by the bay!"
MAZATLAN FISHING REPORTS
ALL ARTICLES, REPORTS AND FISHING INFORMATION FOR MAZATLAN
MAZATLAN, MEXICO: Larry Edwards of CORTEZ YACHT CHARTERS said ARIES SPORTFISHING FLEET boats were "climbing to the top of the charts," with offshore boats averaging a billfish per day. Overall, Aries Fleet reported 18 striped marlin, 12 sailfish, 16 yellowfin tuna, 1 mako shark, and 29 dorado, for offshore boats. The pangas reported 64 corvina, 14 red snapper, 49 mojarra, and 53 assorted fish. Water temperatures were in the mid-70s at the fishing grounds, and Mazatlan weather was partly sunny, in the mid-80s.
IXTAPA ZIHUATANEJO FISHING REPORTS
ALL ARTICLES, REPORTS AND FISHING INFORMATION FOR IXTAPA ZIHUATANEJO
IXTAPA ZIHUATANEJO, MEXICO: Ed Kunze of MAR Y TIERRA SPORTFISHING, and Paul Phillips of the FINTASTIC TOTAL CATCH & RELEASE TOURNAMENT said fishing slowed down last week, with boats scratching for 1 or 2 sailfish a day, and roosterfish also thinning out. "Capt. Margarito Romero, fishing on the private boat Paloma, got 2 blue marlin this week," Kunze said, "but they had to go 46 and 78 miles out to do it." Phillips said he hoped the annual "April current" would "bug out fairly soon and the fishing will improve."
IXTAPA ZIHUATANEJO, MEXICO: At IXTAPA SPORTFISHING CHARTERS, Stan Lushinsky said, "Not much change from last week. Cold green water continues to dominate. Offshore, Capt. Miguel Alvarez reports no blue water in sight, and the fishing offshore has gone from bad to worse."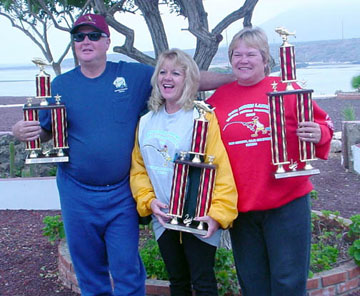 Baja coastal fishing reports and articles.
Ensenada fishing reports and articles.
Puerto Santo Tomas fishing reports and articles.
Erendira fishing reports and articles.
San Quintin fishing reports and articles.
Magdalena Bay fishing reports and articles.
Cabo San Lucas fishing reports and articles.
San Jose del Cabo (Los Cabos) fishing reports and articles.
East Cape fishing reports and articles.
La Paz fishing reports and articles.
Loreto fishing reports and articles.
Mulege fishing reports and articles.
Santa Rosalia fishing reports and articles.
Bahia de los Angeles (L.A. Bay) fishing reports and articles.
San Felipe fishing reports and articles.
Rocky Point (Puerto Penasco) fishing reports and articles.
San Carlos (Sonora) fishing reports and articles .
Mazatlan fishing reports and articles .
Puerto Vallarta fishing reports and articles.
Ixtapa Zihuatanejo fishing reports and articles.
Huatulco fishing reports and articles.
Cancun fishing reports and articles.
Mexico coastal fishing reports and articles.
Mexico Fishing Home Page < Mexico Fishing News Archives < Fishing Report