Five weeks to go! I'm looking forward to next week when our schedule is light, so I can land one on the pontoon. We've been taking mostly long-rodders out these days and they've been doing very well. Our conventional anglers limit out before most folks take that first sip of morning coffee!"
Billfish were also reported in most areas around Loreto, but few anglers were targeting them.
In other mainland Mexico and Baja fishing action this week:
ENSENADA FISHING REPORTS
ALL ARTICLES, REPORTS AND FISHING INFORMATION FOR ENSENADA
ENSENADA, MEXICO: Albacore and yellowtail were still being caught in variable offshore action last week, but inside Bahia Todos Santos, the calico bass bite went ballistic, according to Ivan Villarino of Vonnys Fleet. Villarino said the panga Vonny I with Capt. Beto Zamora scored on 30 calicos to 10 pounds on plastic around the tip of Punta Banda, and that wasn't the best of it. "Hundreds" of bass, averaging 2 pounds but going to 6.7 pounds were landed on another day by the Vonny I and Vonny III, which also caught lingcod to 8.5 pounds.
ENSENADA, MEXICO: Trailer boater Barney Phillips had a great time on albacore Thursday out of Marina Coral, despite some slow reports for the preceding several days: "The news wasn't good. Rough seas and only one albacore, but some big yellows on the kelps. We picked up bait at Mike's at 4.00 a.m. The water went from a cold 56 to 65.1 and the dirty green cleared to a deep blue. We went by a small paddy and picked up a big yellow on a Rapala. We baited it for 3 more and 2 on iron.
"By 11 a.m. we were loosing interest and getting beat up so we decided to head for the ramp. When we started in at a 056-degree heading, between the 295 and 238.
"At noon we were at 31:39 by 117:17 when the lines went off. We let them hang, and started to chum heavy. After pinning on baits, we got immediate pick ups. Then the proverbial fire drill started. We had fish all over the deck. Eighteen albacore later, we started to troll and clean up. The lines went off again. Same all over. We left the fish boiling and headed in."
ENSENADA, MEXICO: At Lily Fleet on Friday, Sammy Susarrey said the Amigo reported 6 albacore to 30 pounds, fishing on heading 245 degrees, 40 miles outside Isla Todos Santos. The Lily landed 18 medium lingcod and 9 red rockfish fishing inside the bay, and at Punta Banda Bank, the Tamara found an "incredible" bottom fishing bite with lingcod, red rockfish, bass, and salmon grouper, returning with limits at 11:30 a.m., Susarrey said. The Tamara fished live sardines in 275 feet of water.
ENSENADA, MEXICO: Sergio Susarrey of Sergio's Sport Fishing Center said the Ensenada Clipper fished Thursday with 15 anglers, and caught 2 albacore and 23 yellowtail.
SAN QUINTIN FISHING REPORTS
ALL ARTICLES, REPORTS AND FISHING INFORMATION FOR SAN QUINTIN
SAN QUINTIN, MEXICO: Albacore catches were rebounding at the end of the week after a slow period. At Don Eddie's Landing, Tony Marquez said good numbers of albacore, lots of yellowtail, and a few dorado were caught, as about 60 boats went fishing over the weekend. The albacore averaged 16 to 26 pounds, the yellowtail 14 to 25 pounds, and the dorado about 12 pounds, Marquez said.
Fish were hitting anything offered: Rapalas, feathers, jigs, and bait. Large lingcod to 24 pounds and rock fish to about 12 pounds were also caught. The tuna were found only 8 to 10 miles off the point.
Marquez said that if anglers can't get through to him, they can call Mauricio at the hotel at 011-52-616-162-3143, or contact the pangueros directly: Bear, 011-52-616-165-3372; Tiburon, 011-52-646-170-0821, or Jaime, 011-52-616-162-2060.
SAN QUINTIN, MEXICO: At San Quintin Sport Fishing, Gene Allshouse said the tuna bite is still picking up and improving daily: "Right now, we're running out about 10 to 20 miles, but that distance should shorten with each day," he said. "The kelp patties are still holding lots of nice 20 to 30-pound yellowtail, but the patties are still far and few between." One bluefin tuna was also caught, Allshouse reported.
SAN QUINTIN, MEXICO: Jim Harer of the Old Mill Hotel said 15 boats fished during the week, and one even caught a 40-pound albacore. All boats bottom fishing were limiting on lingcod and red rockfish. San Quintin seas were generally calm with water temperatures averaging 61 to 65 degrees: "This is the best report we have come up with in a while. We should have more good news next week."
MAGDALENA BAY FISHING REPORTS
ALL ARTICLES, REPORTS AND FISHING INFORMATION FOR MAGDALENA BAY
MAGDALENA BAY, MEXICO: Brian Freitag of Mag Bay Tours said water temperatures were 70 to 71 degrees in the surf last week, and 75 degrees offshore. Recent catches included a 14-pound snook at Devil's Curve on a live mackerel weighted with a sliding sinker, Freitag said.
MAGDALENA BAY, MEXICO: Gary Graham of Baja On The Fly reported good action from several areas that included snook, leopard grouper, corvina, pompano, and spotted bay bass. "Maybe things are beginning to turn on," he said. Outside, dorado and the season's first marlin were reported in the area in water temperatures ranging from 69 to as high as 82 degrees.
CABO SAN LUCAS FISHING REPORTS
ALL ARTICLES, REPORTS AND FISHING INFORMATION FOR CABO SAN LUCAS
CABO SAN LUCAS, MEXICO: Several five-marlin days were reported last week, as the action around the tip of Baja California continued to improve in rapidly warming water conditions.
CABO SAN LUCAS, MEXICO: Tommy Garcia of Cabo Magic said all boats had fine fishing action on striped and blue marlin, sailfish, lots of dorado, and yellowfin tuna. Fifty boats chartered had a combined catch including released fish of: 31 striped marlin, 3 blue marlin, 3 sailfish, 82 dorado, 43 yellowfin tuna (including a few to well over 100 pounds), 1 wahoo, and 1 roosterfish.
CABO SAN LUCAS, MEXICO: At Picante Fleet, 6 boats chartered Saturday had a combined catch including released fish of: 14 striped marlin, 1 blue marlin, 15 dorado, and 12 yellowfin tuna. The day's top boat was Picante Pride, with Capt. Antonio Romero, with a catch of 5 striped marlin. The Shameless also landed a 220-pound yellowfin tuna.
CABO SAN LUCAS, MEXICO: Tracy Ehrenberg of Pisces Fleet reported "pretty consistent fishing" with an overall success rate on all species of 89 percent, including a massive 80-pound dorado caught by the Rebecca on Aug. 2. Many boats had multiple billfish days of mixed striped marlin, blue marlin, and sailfish, in locations switching back and forth between the Pacific and Cortez sides. Cabo water temperatures were 78 to 80 degrees.
CABO SAN LUCAS, MEXICO: Larry Edwards of Cortez Yacht Charters said Gaviota Fleet scored heavily on dorado on the Pacific side, but also landed a 420-pound blue marlin, as about 75 percent of boats reported billfish last week. Gaviota Fleet had a combined catch including released fish of: 20 striped marlin, 2 blue marlin, 34 yellowfin tuna, and 49 dorado.
CABO SAN LUCAS, MEXICO: Steady fishing was reported by Solmar Fleet manager Rene Santa Cruz, with calm seas and clear skies around the arch and up to the Golden Gate Bank. Solmar boats landed good catches of billfish, and had improved counts for dorado and yellowfin tuna, Santa Cruz said. Good numbers of fish were caught only 1 to 3 miles off the arch, in full sight of hotel guests.
CABO SAN LUCAS, MEXICO: Capt. George Landrum of Fly Hooker Sport Fishing said, "While it's not what I would call wide open, the fishing this week has been the best I have seen all year." Landrum said water temperatures were in the high 80s on the Cortez side last week. Although blue marlin and yellowfin tuna numbers were slightly down, dorado into the 30 to 50-pound class were caught by all boats targeting them. Few boats were fishing inshore, but for those that did, continued roosterfish, amberjack, grouper, and snapper were being caught.
SAN JOSE DEL CABO (LOS CABOS) FISHING REPORTS
ALL ARTICLES, REPORTS AND FISHING INFORMATION FOR SAN JOSE DEL CABO
SAN JOSE DEL CABO, MEXICO: Eric Brictson of Gordo Banks Pangas said, "definitely, no more problems with cold water," as temperatures were reported into the mid-80s. Fishing action was generally up for the La Playita panga fleets, Brictson said, even including 2 black marlin that were hooked on trolled bolito, but lost when their leaders wore through. One fish estimated at 600 pounds broke off a 125-pound leader after 4 hours.
The La Playita pangas were doing very well on dorado in "all directions," fishing around schools of bolito, and averaging 3 to 8 dorado per boat. Most fish were about 20 to 40 pounds, but some bulls weighed in at 50 pounds, and some were larger than that, Brictson said.
SAN JOSE DEL CABO, MEXICO: Other San Jose residents commented on continued commercial fishing for dorado, which is illegal in Mexico, but is now being proposed by CONAPESCA, the Department of Fisheries.
One resident said: "There is a group of about 6 pangueros living at Boca De Tule, near Los Frailes, with gill nets. It is believed that they have no valid permits for this.
"Ironically, while commercial fishing interests are once again trying to get permission to legally wipe out the dorado, some of them are illegally gill netting.
"A drift gill net was seen within the last couple of days off Cerro Colorado, near the Palmilla Hotel in San Jose Del Cabo, with dorado in it. The Mexican sport fishing captains are usually reluctant to make formal complaints about such actions. There is a danger of reprisals.
"Some of the illegal gill netters are outsiders from the mainland, but there are active gill netters that are part of the fishing community in La Playita, and other members of the community are afraid to do anything about it."
EAST CAPE FISHING REPORTS
ALL ARTICLES, REPORTS AND FISHING INFORMATION FOR EAST CAPE
EAST CAPE, MEXICO: Fishing continued steadily productive last week, with the hottest action found inshore on small and medium dorado that swarmed around a trash line created by runoff from a brief rainstorm several days ago. Offshore, big billfish proved elusive, as only 2 qualifying fish were weighed in for the East Cape Bisbee's tournament.
EAST CAPE, MEXICO: At La Ribera, Gary Graham of Baja On The Fly was having a field day, showing off an intense dorado bite around pockets of debris washed into the sea by the rainstorm. "I have fished it for the last three days and averaged a dozen fish to 40 pounds per day on fly," Graham said. "It is the best bite I have seen this year."
EAST CAPE, MEXICO: At Buena Vista Beach Resort, 91 boats chartered during the week had a combined catch including released fish of: 9 blue marlin, 48 striped marlin, 21 sailfish, 94 dorado, 40 yellowfin tuna, 21 roosterfish, 27 snapper, 16 jack crevalle, 5 amberjack, 1 pompano, 4 triggerfish, 27 squid, 11 cabrilla, and 36 skipjack. East Cape weather was into the high 90s, with water temperatures of 83 to 86 degrees, and seas were generally very calm, except for some rain and winds on Tuesday.
EAST CAPE, MEXICO: Chris Moyers of East Cape Smoke House, reporting for 344 boats from combined fleets including the Van Wormer resorts of Palmas de Cortez, Playa del Sol, and Punta Colorada, had a combined fish count including released fish of: 31 blue marlin, 117 striped marlin, 58 sailfish, 357 dorado, 291 yellowfin tuna, 67 pargo, 1 wahoo, 6 amberjack, and 4 roosterfish.
Rancho Leonero was host to Dennis Spike of Coastal Kayak Fishing, who landed another sailfish from a kayak last week, this one only a mile in front of the hotel. The rest of his group were loading up on dorado.
EAST CAPE, MEXICO: John Ireland of Rancho Leonero reported excellent conditions and scads of dorado throughout the bay, with larger dorado feeding on thick schools of their own juveniles. Eggs were found floating everywhere, and Ireland expected an incredible bloom of the rapid-growing fish late this fall.
Rancho Leonero boats took the top two prizes in last week's East Cape Bisbee's tournament with blue marlin of 425 and 307 pounds (see accompanying article).
EAST CAPE, MEXICO: Marisol Verdugo of Martin Verdugo's Beach Resort said boats were busy last week on some blue marlin, striped marlin, and larger sizes of dorado. Yellowfin tuna were finally showing up, Verdugo said, still mostly small, but a couple close to 100 pounds last week. One large wahoo was also caught.
Water conditions turned close to perfect at Cabo Pulmo last week, with surface temperatures of up to 86 degrees, and temperatures at depth of 76 degrees. Visibility was excellent at 60 feet, reported Pepe Murrieta of Pepe's Dive Service, and the turtle hatching season was well underway, with 35 nests recorded so far.
EAST CAPE, MEXICO: At Vista Sea Sport, Mark Rayor said, "This place has gone off! This week we saw giant mantas, hammerheads, and today a friendly whale shark that just hung out. Lord, you can take me now! I have seen it all! It is as good as it gets! Yesterday we got in a feeding frenzy at Cabo Pulmo. Grouper, snapper and cabrilla were darting all around us chasing bait. Large schools of big eye jacks, bat rays and manta rays are also cruising the reef."
EAST CAPE, MEXICO: Local resident, George Bergin said the squid being caught at La Ribera are going to 5 kilos, "Too big to troll, but the tentacles and strips work well on dorado. Got our limit of 2 each, medium dorado close to the beach, right in front of La Ribera."
EAST CAPE, MEXICO: John Ireland's Hotel Rancho Leonero had only three boats entered in last week's East Cape Bisbee's offshore tournament, but he wound up with the two top prizes for the only qualifying billfish weighed.
The Rancho Leonero resident boat Sonrisa, with Mike O'Dell, Cooke Bausman, and Fred Green, took the $60,394 top prize with a 425-pound blue marlin. The skipper was Lorenzo Marron with Felipe Gonzales as deck hand.
And, the Rancho Leonero fleet cruiser, Canelo (named after Ireland's dog), came in second, with $4,017 for a 307-pound blue, landed by fleet skipper Hector, and team members Keith Jones, and Randy and Matt Davis.
The yellowfin tuna category was won by local East Cape angler, Richard Bottini, on the Makaira, with a 95-pound fish, and the dorado category was won by a 67-pounder caught by Fred Valor on the Awesome. Each of those fish won a $7,770 prize.
In all, 37 teams competed for $139,350 in prize money, on August 7 through August 10, but Tricia Bisbee reported that some money was returned to entrants because the two winning teams had not entered the optional daily jackpots. The tournament winner, Sonrisa, qualified for the World Billfish Tournament Grand Championship Tournament and the Rolex/IGFA Invitational Tournament, both scheduled for Cabo San Lucas.
EAST CAPE, MEXICO: Water conditions at his home diving area of Cabo Pulmo are now excellent, but last week Mark Rayor of East Cape's Vista Sea Sport was looking for something more, so he decided to make a very long, 48 nautical mile run with diving clients to La Reina Rock, at the north end of Isla Cerralvo.
Rayor said he made the run on a flat day, with the panga's 115-h.p. Evinrude cruising at 4,500 r.p.m. all the way. The boat burned off 35 gallons of fuel and ran dry at Punta Pescadero on the return trip. With an extra 5 gallons of gas picked up at the hotel, the panga made it back to Buena Vista.
Due to the flat water, Rayor said, he made it to La Reina (also known as Seal Rock) in an hour and 45 minutes from Buena Vista.
"Like I said, seas were calm," Rayor said. "We ran the panga a little harder than normal. We advertise 'fast boats with ample shade,' and we're not kidding. The boat does have seat cushions and is very comfortable, even for an old fart like me. We make Pulmo in under an hour every day."
Was the long ride worth it?
"We hit the jack pot," Rayor said. "Had close encounters with 2 giant mantas. Our estimation is they had close to a 20-foot wig span. It is a life experience. I'll take these giant mantas over whale sharks any day. The sharks have no personality and just plow through the water. The mantas acknowledge that you are there, and interact. One made several passes and came within a couple feet of all six divers in our group. I have been told they hang out in this spot every summer. As long as they are there, we will be also. We intend to offer the trip on a regular basis. We are going to have to depart earlier so we are not so hard on the boat."
LA PAZ FISHING REPORTS
ALL ARTICLES, REPORTS AND FISHING INFORMATION FOR LA PAZ
LA PAZ, MEXICO: Mino Shiba of Mosquito Fleet said water temperatures continue to climb and the dorado fishing is finally "good" on fish from 15 to 40 pounds. Pangas were averaging 6 to 15 dorado per day.
LA PAZ, MEXICO: Jonathan Roldan of Tail Hunter International said the beach fishing at Las Arenas also proved hotter than hot for a group of light-tackle Hawaiians led by outdoor writer, Darryl Nakasone:
"I arranged for a van to bring the group to Las Arenas with their light spinning rods. Well, they marched right down to the sands where the pangas pull in and clean fish, and proceeded to do a little cleaning of their own! It seemed that with every cast of plastics and grubs they had their tiny reels screaming with African pompano, jacks, cocineros, needlefish, and trumpets!
"It was a blast to just sit or walk up and down the beach and listen to everyone laughing. A number of the skippers and local kids all came to watch as I don't think a big group had ever come down with spinning rods and proceed to hammer the fish like this!
"By the time they left, I think half the folks watching on the beach were asking me about the type of equipment, hooks, and baits they were using, and I now have 4 orders to bring back trout rods when I go back to the U.S."
Roldan also reported giant squid to a massive 80 pounds being caught on the Las Arenas side.
MULEGE FISHING REPORTS
ALL ARTICLES, REPORTS AND FISHING INFORMATION FOR MULEGE
MULEGE, MEXICO: Fly-in angler Ron Grant returned from 5 days at Hotel Serenidad, saying he had "mucho dorado in all directions." Grant's fish averaged between 15 and 20 pounds, with some going to 30 pounds, and the choice location was 60 degrees off the lighthouse, about 10 to 14 miles out. Pangueros were also reporting lots of fish around Isla San Marcos, but "no real reason to go that far."
Few tourists were in town, and the Serenidad's runway had a few soft spots but was in generally good condition.
BAHIA DE LOS ANGELES (L.A. BAY) FISHING REPORTS
ALL ARTICLES, REPORTS AND FISHING INFORMATION FOR BAHIA DE LOS ANGELES
BAHIA DE LOS ANGELES, MEXICO: Abraham Vazquez of Camp Gecko at Bahia de los Angeles said water temperatures are well over 80 degrees, and although the yellowtail bite has slowed down, dorado have not yet arrived. Yellowtail are being yo-yo'ed from about 260 feet deep.
Water temperatures were 82 to 84 degrees, and very clear blue, with lots of flying fish and other bait, Vazquez said, so the dorado should show up at any moment. The bay is full of other sea life, whales, dolphin, sea lions, birds, whale sharks, mantas, and mobulas, and weather was pleasant in the mid-90s.
BAHIA DE LOS ANGELES, MEXICO: Earlier, John Segoria of Valley Center reported on a sluggish trip to the bay with Tom and Zack Weir and Eric Mugg, staying at Camp Gecko and fishing between bouts of wind. A few yellowtail were caught, and they did land a dorado, Segoria said, plus the usual bottom fish. He also added a bizarre observation: "But, we did come away with further evidence that Chupacabra exists, when we came across a dead goat floating in the channel. Very strange!!!"
SAN FELIPE FISHING REPORTS
ALL ARTICLES, REPORTS AND FISHING INFORMATION FOR SAN FELIPE
SAN FELIPE, MEXICO: Gordon Byrne of Baja Sportfishing Tours reported on a 6-day Midriff Islands trip by the panga mothership Capt. Villegas, returning to San Felipe on August 9 with a catch of: 1,023 dorado, 15 to 20 pounds; 37 yellowtail, 25 to 30 pounds; 64 cabrilla, 6 to 12 pounds; and 130 miscellaneous fish. Byrnes said the Capt. Villegas targeted dorado at San Francisquito, and had generally excellent weather in the mid-90s, with water temperatures of 80 to 85 degrees.
MAZATLAN FISHING REPORTS
ALL ARTICLES, REPORTS AND FISHING INFORMATION FOR MAZATLAN
MAZATLAN, MEXICO: Larry Edwards of Cortez Yacht Charters said dorado have invaded the east side of the Cortez, and Aries Fleet boats were averaging 4 to 5 fish per day last week. Sea conditions were calm between squalls, with water temperatures in the 80s. The best fishing area was 22 miles from Marina el Cid on a heading of 210 degrees.
IXTAPA ZIHUATANEJO FISHING REPORTS
ALL ARTICLES, REPORTS AND FISHING INFORMATION FOR IXTAPA ZIHUATANEJO
IXTAPA ZIHUATANEJO, MEXICO: Very good sailfish action continued out of Zihuatanejo Bay last week, although few anglers were around to enjoy it. Paul Phillips of the Fintastic Total Tag & Release Tournament said boats were averaging 1 to 3 sailfish per day, roosterfish were caught in the surf, and yellowfin tuna were about 40 miles out.
The big news of the week was about local fisherman Santiago Valdovinos of the super panga Gitana, who was named by Saltwater Sportsman Magazine as the third best tag-and-release captain in the world. Valdovinos tagged over 300 sailfish in a year's time to win the award. As of late May this year, he had already tagged another 123 sailfish, Phillips said.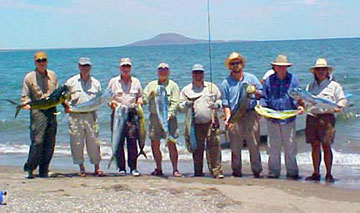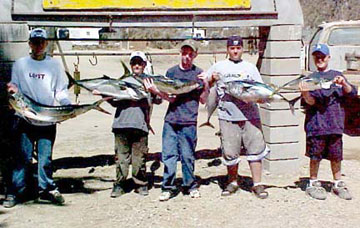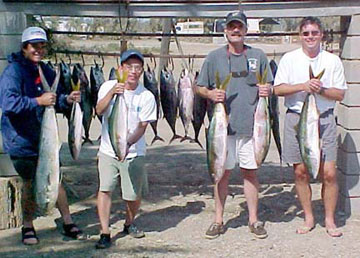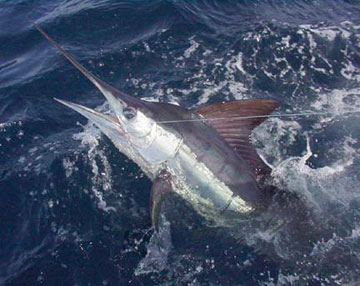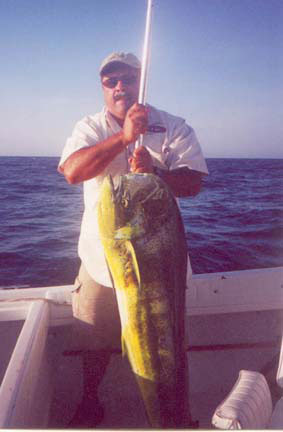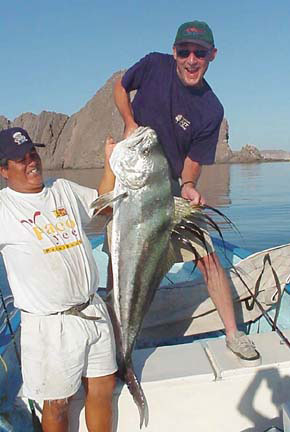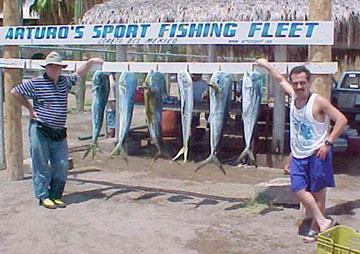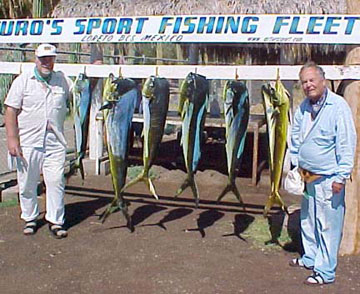 Baja coastal fishing reports and articles.
Ensenada fishing reports and articles.
Puerto Santo Tomas fishing reports and articles.
Erendira fishing reports and articles.
San Quintin fishing reports and articles.
Magdalena Bay fishing reports and articles.
Cabo San Lucas fishing reports and articles.
San Jose del Cabo (Los Cabos) fishing reports and articles.
East Cape fishing reports and articles.
La Paz fishing reports and articles.
Loreto fishing reports and articles.
Mulege fishing reports and articles.
Santa Rosalia fishing reports and articles.
Bahia de los Angeles (L.A. Bay) fishing reports and articles.
San Felipe fishing reports and articles.
Rocky Point (Puerto Penasco) fishing reports and articles.
San Carlos (Sonora) fishing reports and articles .
Mazatlan fishing reports and articles .
Puerto Vallarta fishing reports and articles.
Ixtapa Zihuatanejo fishing reports and articles.
Huatulco fishing reports and articles.
Cancun fishing reports and articles.
Mexico coastal fishing reports and articles.
Mexico Fishing Home Page < Mexico Fishing News Archives < Fishing Report