"A few are being caught by boats doing the 'run-and-gun,' dropping baits deep ahead of the moving school. There are quite a few football fish being found as well, but it seems that if there are big fish in the pods, the smaller fish are absent. No hookups on the first few passes may mean there are some bruisers under there! They are scattered on both the Pacific and the Sea of Cortez from 10 to 40 miles out."
Landrum said Cabo conditions are normal again, after the passage of Hurricane Hernan, with water temperatures of 86 degrees recorded at the Gordo Banks. He added that the best action for smaller dorado has been within 5 miles of the beach on both the Cortez and Pacific sides, with the larger fish found farther offshore in singles.
CABO SAN LUCAS, MEXICO: Solmar Fleet also reported big tuna, topped by a 220-pound yellowfin landed by J.P. Groeneoehm, Andrew Brudenell, and Myles Clark, of Dublin, Ireland, aboard the Solmar III with Capt. Pepe. The big fish hit a live mackerel off the Old Lighthouse and required over an hour to land on 40-pound tackle.
Overall, Solmar Fleet boats had a short-week combined catch including released fish of: 36 striped marlin, 3 blue marlin, 30 dorado, and 11 yellowfin tuna.
CABO SAN LUCAS, MEXICO: CABO SAN LUCAS, MEXICO: At Pisces Fleet, Tracy Ehrenberg was concerned about Mexico's proposed Shark Norma 029-2000, which would allow long lining and gill nets to within 1 kilometer of the coastline (see this week's Baja Beat column on this issue). Ehrenberg said, "The new law allows for any kind of fishing, nets, long lines etc. Obviously with such a ridiculous law, all fish populations will be wiped out. This snuck up on us and this is the worst law I have heard of."
Ehrenberg noted a slight decline in billfish action following Hurricane Hernan, but said Pisces Fleet boats still had a 57 percent catch rate for billfish, and over 90 percent on combined species.
About the big yellowfin tuna, she commented, "There weren't a whole lot of yellowfin tuna, but when caught they, were of good size." Pisces Fleet boats reported tuna to 110 pounds.
CABO SAN LUCAS, MEXICO: Grant Hartman of Cabo San Lucas' Baja Anglers announced a new fly fishing operation for East Cape, featuring guide Brandon Keene on a boat stationed at Los Barriles. Information about the new service is available by calling Baja Anglers, 011-52-624-143-4995.
In other mainland Mexico and Baja fishing action this week:
ENSENADA FISHING REPORTS
ALL ARTICLES, REPORTS AND FISHING INFORMATION FOR ENSENADA
ENSENADA, MEXICO: Rough seas caused by storms far to the south knocked out some fishing days toward the end of the week, but earlier, boats did well on offshore albacore and yellowtail, plus bottom fish inside the bay.
ENSENADA, MEXICO: Sammy Susarrey of Lily Fleet said some trips were canceled on Saturday, but at midweek the Tamara fished at GPS numbers 31:23 117:13 with 6 anglers and caught 23 albacore to 15 pounds, and 11 yellowtail in smaller sizes. The Amigo with 4 anglers reported 30 albacore, and a 15-pound dorado. On a local trip, the Lily had good fishing at Salsipuedes on salmon grouper and red snappers.
ENSENADA, MEXICO: Midweek action out of Sergio's Sportfishing Center included trips by the Ensenada Clipper with 10 anglers, catching 27 albacore, 6 dorado, and 22 yellowtail; El Cazador with 3 anglers, and 12 albacore, 2 dorado, and 55 yellowtail; and the Shir Lee with 3 anglers, and 48 albacore and 36 yellowtail.
ENSENADA, MEXICO: Ivan Villarino of Vonny's Fleet said the panga Vonny I with Capt. Beto Zamora had good catches of rockcod, calico bass, and lingcod at Punta Banda until the rough water arrived and it got windy. Villarino said he was looking for things to return to normal by Monday.
ENSENADA, MEXICO: Earlier, Alex Rosas of Tijuana's Club de Pesca Deportiva de Baja California reported on a trip 40 miles southwest of Todos Santos Island aboard the boat Kikis, with guide Enrique Sanchez and fellow anglers Pepe Lopez, Juan Carlos Moreno, Alejandro Ruiz Arretche, and Jesus Arteaga. Rosas' group caught limits of albacore to 34 pounds, 6 yellowtail to 38 pounds, 2 dorado averaging 18 pounds, and 4 bluefin tuna to 32 pounds, in sloppy seas and water temperatures of about 66 degrees.
PUERTO SANTO TOMAS FISHING REPORTS
ALL ARTICLES, REPORTS AND FISHING INFORMATION FOR PUERTO SANTO TOMAS
PUERTO SANTO TOMAS, MEXICO: Sam Saenz of the Puerto Santo Tomas Resort reported that no tourists were present in the village over the weekend, as the distant tropical storms brought big waves and wind. "No one has gone out fishing for the last three or four days," he said.
SAN QUINTIN FISHING REPORTS
ALL ARTICLES, REPORTS AND FISHING INFORMATION FOR SAN QUINTIN
SAN QUINTIN, MEXICO: At the Old Mill Hotel, Jim Harer said the albacore, yellowtail, and bluefin tuna were pumping out limits for all, until 8 to 12-foot swells arrived on Friday and Saturday. "Some people seemed to like this, reporting they were able to surf between bites!" Harer said. On Sunday afternoon, Harer said Pedro's Pangas and El Capitan Sportfishing were reporting light winds and smaller swells.
SAN QUINTIN, MEXICO: Gene Allshouse of San Quintin Sport Fishing said the albacore action slowed down on Wednesday in water temperatures ranging from 67 to 69.5 degrees.
"The yellowtail bite at the 240 Spot continues to be wide open with some real nice 20-plus pounders coming in," Allshouse said. "There are also yellowtail at the point and the 6 Spot, but the seals have been giving the anglers all they can handle getting the yellowtail past them."
Allshouse also reported scattered dorado and several marlin hookups, with a couple landed, although most were lost: "Capt. Chino got one on board yesterday weighing about 140 pounds, and another was caught earlier in the week weighing 150 pounds. There were a lot more hooked than caught!"
SAN QUINTIN, MEXICO: At Don Eddie's Landing, Tony Marquez said 32 anglers entered the Labor Day Tournament, and they caught albacore, yellowtail, a few bluefin tuna and dorado. The tournament winner was Fernando Moreno of Los Angeles, whose 18.8-pound albacore took an $825 purse and trophy. Second Place was split three ways with fish of 18.7 pounds by John Cookson of Twenty-nine Palms, albacore; Ed Hawkes of Santee, yellowtail; and Lou Lopez of Huntington Beach, albacore. Third Place went to Doug McVay of Los Angeles, with an 18.6-pound bluefin tuna, and the Guppy Award went to Jesse Murratalla of Temecula, with a 13.9-pound yellowtail.
MAGDALENA BAY FISHING REPORTS
ALL ARTICLES, REPORTS AND FISHING INFORMATION FOR MAGDALENA BAY
MAGDALENA BAY, MEXICO: Gary Graham of Baja On The Fly reported generally windy conditions and not much going on. "With few boats fishing up in the esteros, it is difficult to assess the conditions," he said. "We have several groups fishing this week and should have a clearer picture then."
SAN JOSE DEL CABO (LOS CABOS) FISHING REPORTS
ALL ARTICLES, REPORTS AND FISHING INFORMATION FOR SAN JOSE DEL CABO
SAN JOSE DEL CABO, MEXICO: Eric Brictson of Gordo Banks Pangas said dorado were providing most of the action for the La Playita fleets, but last week's fishing was not up to normal standards due to mixed up water in the wake of distant Hurricane Hernan.
"No big concentrations of fish," Brictson said. "They were spread throughout the region. Dorado ranged up to 35 pounds, but most of the fish were of the smaller schooling variety, 8 to 15 pounds.
"No tuna bite to speak of, just some smaller football-sized yellowfin found on the Inner Gordo Bank. These bait-sized tuna could be easily caught early in the morning. Skipjack were also abundant, but most were too big to use for live baits. The panga fleets accounted for marlin up to 300 pounds this week. Other catches included a mix of bottom fish and a handful of wahoo, which were taken from the Gordo Banks to the San Luis Bank. The bite did drop off due to the dirty water, but now that conditions are improving, the bite could switch back any day."
EAST CAPE FISHING REPORTS
ALL ARTICLES, REPORTS AND FISHING INFORMATION FOR EAST CAPE
EAST CAPE, MEXICO: Action was steady for the relatively few boats fishing out of Bahia de Palmas last week, for billfish generally to the north, yellowfin tuna outside and to the south, and scattered dorado everywhere.
EAST CAPE, MEXICO: Tami Moyeous of Rancho Buena Vista said 12 boats chartered during the week had a combined catch including released fish of: 3 striped marlin, 4 roosterfish, 18 dorado, and 94 tuna.
EAST CAPE, MEXICO: Baja On The Fly's Gary Graham said the recent tropical storms to the south have had little direct impact on East Cape. There were quality dorado just about everywhere, and the inshore action was still good on roosterfish, jacks, and ladyfish. "Offshore, everything is really spread out," Graham said. "You have to decide in the morning what you want to catch, and then head out." For beach anglers, Graham recommended the inner bay right in front of the hotels in the early mornings and late afternoons, and for all-day trips, the second point north of Punta Colorada. Larger roosterfish were on the beach at Punta Arena, and smaller ones from Punta Colorada to Rancho Leonero, Graham said.
EAST CAPE, MEXICO: John Ireland of Rancho Leonero said East Cape weather was in the high-90s, with water temperatures to 87 degrees, clear, flat seas, and some afternoon breezes. In addition to billfish from Punta Pescadero to the 88 Spot, and very widely spread dorado, Ireland said small football tuna were being caught about 40 miles straight out. Roosterfish to 70 pounds were caught south at Los Frailes, and pargo were still active in a month-long bite about 2 to 3 miles off La Ribera, "as many as you want on chunk squid and live sardinas."
EAST CAPE, MEXICO: Fishing guide Ed Kunze of Zihuatanejo just finished up a successful summer run of guiding fly fishing clients for Baja On The Fly. "Ixtapa-Zihuatanejo's winter fishery is almost 180 degrees different from the Los Cabos high season," Kunze said. "Each morning found me meeting with clients at either Rancho Buena Vista, Spa Buena Vista, or the Leonero Hotel. We would either fish from an ATV on the beach, a panga, or cruiser. The inshore waters yielded roosterfish, jack crevalle, cabrilla, pargo, pompano, and numerous other species. Offshore found us battling dorado to 45 pounds, sailfish, marlin, and yellowfin tuna. All caught on the fly." Kunze--in California for two weeks, visiting relatives and friends before returning to Zihuatanejo for the winter fishing season--added..."Life is very good."
LA PAZ FISHING REPORTS
ALL ARTICLES, REPORTS AND FISHING INFORMATION FOR LA PAZ
LA PAZ, MEXICO: David Jones of Fisherman's Fleet called the fishing "pretty darned good," on yellowfin tuna to over 100 pounds, dorado to 35 pounds, dog snapper, and an emerging bite on big marlin to 300 pounds at El Bajo.
LA PAZ, MEXICO: At Tail Hunter International, Jonathan Roldan said the most consistent bite was on the Las Arenas side: "After having to work so hard all season to light a fire under the biters around Las Arenas, we've finally got a solid chew taking place with warm water pelagics like the tuna, dorado, roosterfish and billfish, but strangely also still getting biters from the amberjack and yellowtail!" Roldan said some of the tuna coming in have been a nice 40 to 60 pounds, mostly hitting on chunked bait. La Paz water temperatures averaged 84 degrees, with mostly flat conditions, and clear water.
LA PAZ, MEXICO: Mino Shiba of Mosquito Fleet said the fish were definitely scattered, but his boats have been chasing them down and scoring on all sizes of dorado, in water temperatures measured as high as 92 degrees. El Bajo was producing marlin and sailfish, and at Cerralvo Island tuna were caught from 25 to 60 pounds on chunk squid.
LORETO FISHING REPORTS
ALL ARTICLES, REPORTS AND FISHING INFORMATION FOR LORETO
LORETO, MEXICO: Resident angler Don Bear reported continued wide-open dorado action last week in water temperatures of 86 to 88 degrees:
"My daughter Inge and I fished only two days this week, with independent panguero Paulino Martinez, but we caught (and mostly released) 45 dorado, all potential keepers of 10 to 25 pounds, but no big ones over 25 pounds. Both days, we left by 10:45, arm weary.
"Chumming cut squid was not as effective as sardines. We went 34 miles south to an area about 2 miles south-southeast of the lighthouse on the backside of Isla Monserrate. One time I looked around and counted 7 other pangas with multiple hook-ups. Looking down in the water, the dorado were thick, stacked up like the patrons of a free food give-away on Thanksgiving Day. Every sardine tossed out (with or without a hook in it) was crashed by at least a half-dozen fish.
"There was early morning chop, southerly swells, light breeze from the south, and lots of clouds on Friday. In fact, a few drops of rain fell in Loreto in the afternoon."
Bear said Aeromexico may be starting flights from San Diego to Loreto in mid-November, on Thursdays and Saturdays.
LORETO, MEXICO: At Villas de Loreto, Wendy Wilchynski said clients were returning from the water saying it looked like a fish pond out there with "soooo many fish!" and Linda Ramirez of Alfredo's Sport Fishing had no current report, but said several clients had just arrived and would be fishing the next day.
MULEGE FISHING REPORTS
ALL ARTICLES, REPORTS AND FISHING INFORMATION FOR MULEGE
MULEGE, MEXICO: Jim Mori relayed a message from Bill Hamel at San Lucas Cove saying the dorado were "plentiful and big." Mori said he was headed down there himself for most of October, and would be sending early fall reports.
MULEGE, MEXICO: Fly-in angler Ron Grant just returned from the Hotel Serenidad saying there were lots of planes on the runway over the Labor Day holiday, and lots of boats out fishing. Mulege weather was in the low-100s, with water temperatures in the low-80s, and winds out of the southeast. Grant said there were many dorado about 3 to 5 miles north of Punta Concepcion. Most boats were making one troll stop and picking up limits on live bait. "The later boats are just pulling into the group and throwing bait," Grant said. "The fish are running 12 to 20 pounds. Due to the early winds you should be back at the dock before noon." Grant said the Serenidad is open, but the kitchen and bar will be closed for the rest of September. The runway was in good condition, with a few soft spots in the touchdown area. "No problem."
SAN FELIPE FISHING REPORTS
ALL ARTICLES, REPORTS AND FISHING INFORMATION FOR SAN FELIPE
SAN FELIPE, MEXICO: Gustavo Velez of Baja Sportfishing, Inc. reported on a 6-day Midriff Islands trip by the panga mothership, Erik, returning to San Felipe on Sept. 5 with a fish count of: 138 yellowtail, some close to 40 pounds; 96 cabrilla; 2 grouper, 25 and 35 pounds; 12 white seabass, 30 to 40 pounds; 18 pargo; and 14 dorado. The Erik fished in good conditions at San Francisquito, San Esteban, Salsipuedes, Snake Island, Refugio, Ensenada Grande, and Golden Reef. The Erik's 2002 season is now ended, Velez said, and he was looking forward to the beginning of next season with a trip to Magdalena Bay scheduled for February 2003.
SAN FELIPE, MEXICO: Tony Reyes of Tony Reyes Fishing Tours reported on a 6-day Midriff Islands trip by the panga mothership Jose Andres, returning to San Felipe on Sept. 2 with a fish count of: 136 yellowtail, 18 to 25 pounds; 124 spotted bass; 49 cabrilla, 12 to 17.5 pounds; 38 barred pargo, 9 to 14 pounds; 20 squid, 14 to 45 pounds; 8 dorado, 18 to 22.5 pounds; 2 grouper, 92 and 20 pounds (released); 2 pinto bass, 14 to 21.5 pounds; and 1 broomtail grouper.
SAN FELIPE, MEXICO: Bob Castellon said Sea of Cortez Sportfishing's panga mothership, the Celia Angelina, has spaces available for 3 trips of the 2002 season. These are: Midriff Islands, October 5-10 and October 19-24; and Magdalena Bay/Thetis Bank Combo, November 30 to December 5. For information call 626-333-9012.
MAZATLAN FISHING REPORTS
ALL ARTICLES, REPORTS AND FISHING INFORMATION FOR MAZATLAN
MAZATLAN, MEXICO: Marina el Cid was closed by rough water conditions for 2 days last week, according to Larry Edwards of Cortez Yacht Charters, and fishing was fairly slow. The combined catch including released fish for Aries Fleet included: 15 sailfish, 6 blue marlin, 2 yellowfin tuna, 42 pargo, 1 jack crevalle, 4 pargo, and 15 triggerfish. Mazatlan weather was in the mid-90s, with rain showers.
IXTAPA ZIHUATANEJO FISHING REPORTS
ALL ARTICLES, REPORTS AND FISHING INFORMATION FOR IXTAPA ZIHUATANEJO
IXTAPA ZIHUATANEJO, MEXICO: Stan Lushinsky of Ixtapa Sportfishing Charters said rough seas closed the port for 5 days last week, but a few boats managed to sneak out and averaged 1 to 2 sailfish per day, plus a few school-sized yellowfin tuna about 35 to 40 miles out. Roosterfish and yellowtail jacks were present along shore but difficult to reach due to high surf.
IXTAPA ZIHUATANEJO, MEXICO: Paul Phillips of the Fintastic Total Tag & Release Tournament said the best sailfish action was about 10 miles out of Zihuatanejo Bay, and the roosterfish caught along shore included at least one of 60 pounds.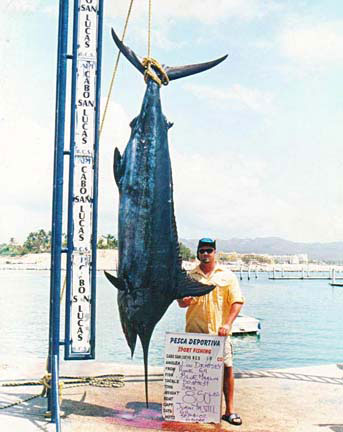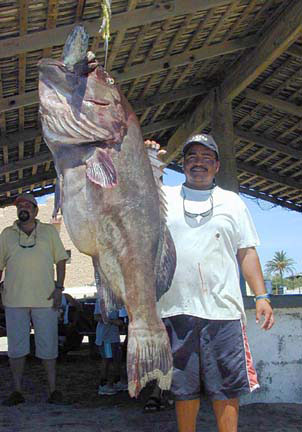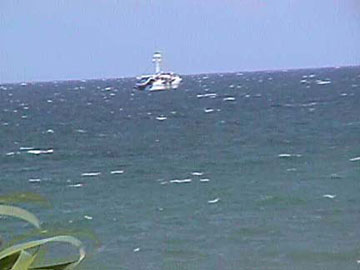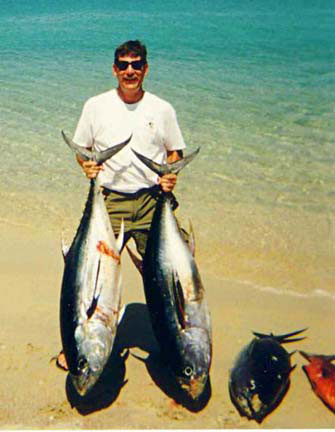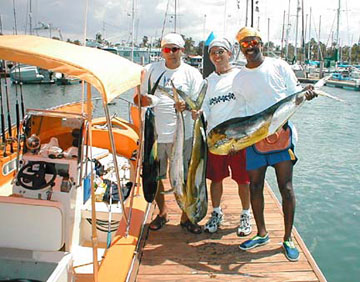 Baja coastal fishing reports and articles.
Ensenada fishing reports and articles.
Puerto Santo Tomas fishing reports and articles.
Erendira fishing reports and articles.
San Quintin fishing reports and articles.
Magdalena Bay fishing reports and articles.
Cabo San Lucas fishing reports and articles.
San Jose del Cabo (Los Cabos) fishing reports and articles.
East Cape fishing reports and articles.
La Paz fishing reports and articles.
Loreto fishing reports and articles.
Mulege fishing reports and articles.
Santa Rosalia fishing reports and articles.
Bahia de los Angeles (L.A. Bay) fishing reports and articles.
San Felipe fishing reports and articles.
Rocky Point (Puerto Penasco) fishing reports and articles.
San Carlos (Sonora) fishing reports and articles .
Mazatlan fishing reports and articles .
Puerto Vallarta fishing reports and articles.
Ixtapa Zihuatanejo fishing reports and articles.
Huatulco fishing reports and articles.
Cancun fishing reports and articles.
Mexico coastal fishing reports and articles.
Mexico Fishing Home Page < Mexico Fishing News Archives < Fishing Report