EAST CAPE, MEXICO: John Ireland of Rancho Leonero called it "very good fishing the first half of the week with some real gorilla yellowfin taken." Ireland said the tuna were found under porpoise from 3 to 50 miles out, and included fish to 150 pounds, with others in the 100-pound range. Boats also caught "a few dorado, but not a very good week," Ireland said. Squid and pelagic red crabs were thick throughout the bay, he added, and were holding the fish, but knocking down the bite.
EAST CAPE, MEXICO: Gary Graham of Baja On The Fly was ferrying a boat around the tip of Baja California for his annual Marlin 101 series of trips out of Magdalena Bay. Graham said East Cape inshore fishing was good on a wide variety of species including various jacks, ladyfish, roosterfish, cabrilla, and needlefish. "It's a real pot pourri," he said. "Ladyfish, the poor man's tarpon, are putting on a great show all the way from Buena Vista Beach Resort to Rancho Leonero. Roosters are still cruising the surf line, probably looking for a ladyfish appetizer. Look for diving birds and you'll probably find jacks working the bait buffet." Offshore billfish action was fair to good, Graham said.
EAST CAPE, MEXICO: At Vista Sea Sport, Mark Rayor reported another long run to La Reina, where his group dived with 5 giant manta rays. "Chuy ran the panga at 4,200 r.p.m. and it took exactly 2 hours to make the trip there," Rayor said. "He thought he saw about 10 mantas from the boat while the divers were down. We are talking big fish."
In other mainland Mexico and Baja fishing action this week:
ENSENADA FISHING REPORTS
ALL ARTICLES, REPORTS AND FISHING INFORMATION FOR ENSENADA
ENSENADA, MEXICO: Ivan Villarino of Vonny's Fleet said the water temperature at the tip of Punta Banda was about 64 degrees, and fishing continued strong for barracuda, lingcod, and rockcod on anchovies. Earlier, there was a wide-open bite on bonito, and Jay Johnson of Fontana caught a 14-pound lingcod. Curt Collier of Long Beach caught a bunch of bonito, and had them smoked.
ENSENADA, MEXICO: At midweek, trailer boat angler Barney Phillips reported on a trip out of Marina Coral: "We headed out on a 230 heading from Todos Santos Island to the 117 line. At 31:33 by 117:02 we had a double jig stop and two more on bait before the wind blew us off the chum. The albacore were 30 to 35 pounds and tough.
"We trolled out to 117:05 without any more stops, so turned back. We spotted a nice paddy, put out a little chum, and began to pick up albacore on bait. We had 3 or 4 lines bobbing all the time even after drifting 3 or 4 hundred yards off the paddy. Seas rough, water deep blue, temperature 64.9 to 65.4. Fishing outstanding."
PUERTO SANTO TOMAS FISHING REPORTS
ALL ARTICLES, REPORTS AND FISHING INFORMATION FOR PUERTO SANTO TOMAS
PUERTO SANTO TOMAS, MEXICO: Sam Saenz of Puerto Santo Tomas Resort reported continued calm weather with no wind and excellent bottom fishing: "Danny and Jenny Wang from Los Angeles, plus another group from Anaheim headed by Chris Piero, fished the Bahia Soledad reef area. Everyone caught full limits of whitefish, rockcod, and lingcod, plus calico bass." Saenz said the water is full of mackerel and anchovies, but the surface bite remains slow, with an occasional yellowtail or bonita. "We are hoping for a last-of-season yellowtail bite, but it has not occurred yet."
SAN QUINTIN FISHING REPORTS
ALL ARTICLES, REPORTS AND FISHING INFORMATION FOR SAN QUINTIN
SAN QUINTIN, MEXICO: Jim Harer of the Old Mill Hotel said only a few anglers fished last week, but the action was good on limits of yellowtail coming from the west side of Isla San Martin, plus sandbass and calicos "jumpin' in the boats" for all who wanted them. El Capitan Sportfishing sent 3 boats out during the week. On the bottom, the lingcod were smaller, Harer said, with the largest caught at 15 pounds. San Quintin weather was near-perfect, with little wind, no swell, and water temperatures in the low-60s.
MAGDALENA BAY FISHING REPORTS
ALL ARTICLES, REPORTS AND FISHING INFORMATION FOR MAGDALENA BAY
MAGDALENA BAY, MEXICO: Brian Freitag of Mag Bay Tours said, "After a really slow summer we finally have a real bite going on!" Freitag reported corvina and pargo in the surf, and dorado and grouper on the high spots at the entrance to Santa Maria Bay. Offshore, Freitag reported a hot bite at the 100-fathom line for marlin, dorado, tuna, and wahoo.
MAGDALENA BAY, MEXICO: Gary Graham of Baja On The Fly was bringing a boat around from East Cape for his annual Marlin 101 series on the Thetis Bank fall fish pile-up. Graham said he was into striped marlin, sailfish, wahoo, and tuna while trolling around from La Paz. At the anchorages at night, they caught pargo, cabrilla, pompano, jacks, and roosterfish. Yachts out of Magdalena Bay were seeing lots of marlin on the Double 23, down to the Potato Bank, Graham said. In the mangroves, the snook bite was still going on at Devil's Curve. San Carlos water was calm with some afternoon wind, and water temperatures of 72 to 79 degrees.
CABO SAN LUCAS FISHING REPORTS
ALL ARTICLES, REPORTS AND FISHING INFORMATION FOR CABO SAN LUCAS
CABO SAN LUCAS, MEXICO: The 2002 Bisbee's Black & Blue Marlin Jackpot Tournament ended in Cabo San Lucas on Oct. 19 with three teams earning over $400,000. In all, 148 teams competed for $1.672 dollars in the three-day event.
The largest fish weighed was a 439-pound blue marlin caught early on the third day by the Picante Dream captained by Eulogio Zumaya. The angler was Hank Deviney from Houston. His accompanying team members, also from Texas, were Greg and Cleon Almond along with Steve Wilbur. The total purse was $470,420.
The tournament's second largest fish, a 418-pound black marlin earned the largest purse of $486,530 due to their entering all of the optional daily jackpot categories. It was caught on the Go Deep by Washington angler, John Bullo. Team mates included Bruce Bosley Jr. also from Washington, Jared Dow and Scott Pruner, both from Kailua-Kona, Hawaii. The boat was captained by Gene VanderHoeck.
One pound separated the third largest fish, weighed in at 417 pounds. This blue marlin was caught on the Ro.Ra.III a boat and team from Leon, Mexico that was captained by Carlos Godinez Zepeda. This team was awarded $253,650. The angler was Hector Herrera accompanied by fellow teammates Rafael Herrera, Arturo Lopez and Marco Antonio Tamayo.
The fourth largest fish received the third highest purse of $400,320 (due to entering all optional jackpots). It was caught by the Rama III captained by Vigilio Labato from Cabo. The angler of this 408-pound blue marlin was Ray Novelli from California. His teammates included family members Marlies and Robert Novelli and Jaud Hussongs from Ensenada, Mexico.
Also in the money was the Rantin and Ravin with a 401-pound blue marlin caught by Greg Service of Vancouver, WA. This team earned $8,880.
The top release team was the Royal Flush, with 3 striped marlin releases worth $33,930. Second place release was the Fishers of Men winning $11,745, and third was the Picante Pride, $6,525.00.
PETE'S SAKE TOURNAMENT RESULTS
CABO SAN LUCAS, MEXICO: The 15th annual Pete's Sake Marlin Tournament, held at Cabo San Lucas on Oct. 10-15, had 39 boats entered, with the following results:
First Place: Gaviota II Team, Alan Aden, Mike Flora, Richard Mullin, 3 blue marlin released.
Second Place: Amigo Team, Fred Dillet, 2 blue marlin and 2 striped marlin released.
Third place: Black Jack Team, Kyle Eggers and Roger Reemelin, 2 blue marlin and 2 striped marlin released.
Game Fish Category: First, Mark Pagels Jr., 196.5-pound yellowfin tuna; Second, Hal Cooswell, 154-pound yellowfin tuna; Third, Mark Pagels Sr., 88-pound yellowfin tuna.
All proceeds of the tournament are directed to aid children in Cabo San Lucas and to cancer research at UCSD.
CABO SAN LUCAS, MEXICO: Big marlin were hard to find during the Bisbee's Black & Blue Tournament last week. After the tournament, Picante Fleet, whose boat Picante Dream took top Bisbee's honors with a 439-pound blue marlin, had 9 boats fishing Saturday with a catch including released fish of 3 blue marlin, 3 striped marlin, and 6 wahoo.
CABO SAN LUCAS, MEXICO: Tommy Garcia of Cabo Magic called the blue marlin action disappointing for the week, although dorado continued strong. Eighty-four boats chartered had a catch including released fish of 26 striped marlin, 7 blue marlin, 18 yellowfin tuna including 2 fish in the 100-pound class, 190 dorado, 18 wahoo, and 1 shark.
CABO SAN LUCAS, MEXICO: At Pisces Fleet, Tracy Ehrenberg called it "a fair week for billfish, though not great," adding that only 6 qualifying fish over 300 pounds were caught during the Bisbee's tournament. For the week, 95 percent of Pisces anglers caught all species combined, but only 42 percent of boats got a marlin or sailfish.
"Dorado was definitely the top sport fish this week," Ehrenberg said. "Our tally was over 200, in the 15 to 40-pound range. They took practically anything put in the water and were found from the Old Lighthouse to Golden Gate.
"What surprised us was the amount of wahoo. Many boats had double wahoo catches. Average weight was 30 pounds, but some went as large as 80."
Ehrenberg said that although yellowfin tuna were not plentiful last week, boats running 20 to 30 miles out for them caught fish of 120 and 160 pounds, in addition to school sizes. The 120-pounder was caught by the Andrea, she said, which was available for the W.O.N. Tuna Jackpot Tournament on Nov. 6-9. Cabo weather was clear and sunny, but with some rough seas most of the week due to winds at night, with water temperatures averaging 85 to 87 degrees.
CABO SAN LUCAS, MEXICO: Solmar Fleet manager Rene Santa Cruz said seas ran 4 to 8 feet on a few days, but fish were still caught, including blue marlin to 280 pounds and dorado in the 30 to 40-pound range. Fishing mostly on the Pacific side, Solmar boats had a catch including released fish of: 25 striped marlin, 12 blue marlin, 15 yellowfin tuna, and 40 dorado.
CABO SAN LUCAS, MEXICO: Larry Edwards of Cortez Yacht Charters said Gaviota Fleet set a new record for wahoo last week, with a count, including released fish of: 9 blue marlin, 20 striped marlin, 6 sailfish, 18 wahoo (plus many lost), 30 yellowfin tuna, and 157 dorado. Gaviota dock manager Leon Sanchez said the dorado were mostly in the 20 to 30-pound range, and the wahoo averaged 45 to 60 pounds.
CABO SAN LUCAS, MEXICO: At Fly Hooker Sportfishing, Capt. George Landrum said the tremendous pressure on billfish during the week made them easy to locate. "You know we learned where they were!" Landrum said. "One hot spot was outside the Gorda Banks. It seemed that most of the hookups were from boats in this area. It looked like a small city out there."
Landrum said some quality yellowfin tuna were also brought in by tournament boats, including one fish close to 250 pounds. However, most tuna caught during the week were school sized, about 20-pounds.
More fishing reports and information for Cabo San Lucas, Mexico, can be found in the Mexico Fishing News archives.
San Jose del Cabo (Los Cabos) Fishing
SAN JOSE DEL CABO, MEXICO: Eric Brictson of Gordo Banks Pangas reported that due to security measures for the APEC conference, fishing boats were required to remain about 3 miles from shore roughly from Punta Palmilla to Cabo San Lucas through Oct. 27. "This shut down all of the action off Red Hill and Chileno," Brictson said. "There had been plentiful supplies of sardinas and anglers had been catching good counts of wahoo, dorado, and yellowfin tuna. San Jose panga fleets had no choice but to concentrate on fishing grounds to the north, from Punta Gorda to San Luis."
Last week, Brictson said one of the better areas was within a mile of shore at Punta Gorda, "where drift fishing with live sardinas on light tackle produced action for football-sized tuna and dorado up to 10 pounds." Anglers trying their luck on the bottom had mixed success on amberjack, pargo, cabrilla, and grouper. Snook were seen along the beaches, but none were reported caught. Surf conditions were close to zero.
SAN JOSE DEL CABO, MEXICO: At Victor's Fleet, Luis Duhart reported some anglers scoring on striped marlin to 120 pounds and blacks and blues to 375 pounds on trolled bonita and mackerel. Wahoo were caught to 65 pounds, plus many football tuna of about 10 pounds.
LA PAZ FISHING REPORTS
ALL ARTICLES, REPORTS AND FISHING INFORMATION FOR LA PAZ
LA PAZ, MEXICO: Jonathan Roldan of Tail Hunter International said the Las Arenas pangas have moved over to Ensenada de los Muertos, as the winds begin to switch over to the north. Most boats were coming back with 1 to 2 yellowfin tuna per day, averaging 60 to 80 pounds. Water temperatures were holding at 86 degrees. "Generally, the fish are eating both fresh dead squid and small live and dead sardines," Roldan said. "Fifty to sixty-pound test is the way to fish these growlers! The fish are not especially deep, but the anglers are taking 1 to 3 hours to boat some of these fish, with pangas charging all over the Cortez trying to follow the running tuna."
LA PAZ, MEXICO: At Fisherman's Fleet, David Jones said La Paz weather has been in the low-90s and he's been busy with lots of clients. Jones said, "The tuna bite continues along the southeast corner of Cerralvo. This bite has not been scorching, but has been steady. The fish have been of good size with 50 pounds being about the smallest, an average of more like 65, and a few to 100. We have been taking almost all of these fish on dead sardines, which are in adequate supply." Clients were also scoring on some dorado, pargo, and wahoo, plus a few sailfish.
LA PAZ, MEXICO: Rod Lewis returned from a trip to La Paz and Loreto, finding spotty action at La Paz, but still managing several dorado, and a 90-pound yellowfin caught by his wife, April. They then moved to Loreto and fished with panguero Alejo Romero for 5 roosterfish to 18 pounds, many small yellowtail, and a very large pargo they couldn't stop.
About his guide, Lewis said, "Alejo's personal phone number in Loreto is 011-52-613-135-0864. He is a Loreto native and as a young man was the second skipper for the boats at the old Ed Tabor resort in Loreto (Flying Sportsmen Lodge). I have fished with him for years."
LORETO FISHING REPORTS
ALL ARTICLES, REPORTS AND FISHING INFORMATION FOR LORETO
LORETO, MEXICO: Pam Bolles of Baja Big Fish Company reported dorado action definitely on the decline, but medium yellowtail to about 20 pounds being caught in locations around Isla Carmen. "They are not feeding very deeply either, only about 15 feet below the surface," Bolles said. "The weather is perfect to jig up some of these fish as it's not too hot anymore." Loreto weather was in the low-90s, with some north winds now appearing. Most anglers were concentrating on roosterfish, mostly small in the 5 to 10-pound range, but a few to over 40 pounds, caught in scattered locations in all directions from town.
LORETO, MEXICO: Arturo Susarrey of Arturo's Sport Fishing said water temperatures were about 73 degrees. "Fishing continues being unstable," he said, "but we are surviving." Some boats came back from Isla Carmen with dorado and roosterfish, and one group caught 8 yellowtail at Punta Perico using sardinas.
LORETO, MEXICO: Earlier, Keith Williams reported on a trip to Puerto Escondido: "Bait was plentiful each day outside the harbor with mackerel, sardina, and caballito. Yellowtail from 10 to 30 pounds were biting on the bait and iron at the northeast end of Isla Carmen. Fishing was consistent each day with some bigger fish breaking us off in the rocks. Dorado from 10 to 15 pounds were also caught trolling live bait and feathers off Isla Monserrat. Dorado were few and far between. It appears the majority of the dorado have moved further south, including the bigger fish. No sign of tuna or billfish. Weather was great. Clear, mid-90s, with calm seas and light winds in afternoon each day." At Villas de Loreto, Wendy Wilchyski said one couple fished all week and did so well, they were staying another 3 days.
MULEGE FISHING REPORTS
ALL ARTICLES, REPORTS AND FISHING INFORMATION FOR MULEGE
MULEGE, MEXICO: Charlie Hillman Jr., returned from a stay at his place at Punta Chivato saying the water temperature was in the low-80s and weather pleasant in the mid-90s. It was windy 15 days out of 20, Hillman said, but he only got blown off the water twice. Fishing was generally good for the usual inshore species, dorado, and some yellowfin tuna. About the gas stations current short-pumping situation, Hillman commented, "Still can't get over how Pemex can squeeze 7 gallons into a 6-gallon tank."
SAN FELIPE FISHING REPORTS
ALL ARTICLES, REPORTS AND FISHING INFORMATION FOR SAN FELIPE
SAN FELIPE, MEXICO: Tony Reyes of Tony Reyes Fishing Tours reported on a 6-day Midriff Islands trip by the panga mothership Jose Andres, returning to San Felipe with a catch of: 135 yellowtail, 16 to 27.5 pounds; 1 grouper, 65 pounds; 2 dorado, 14 to 18 pounds, 39 cabrilla, 8 to 14 pounds; 11 red snapper, 8 to 15 pounds; 7 broomtail grouper, 10 to 30 pounds; 4 sheephead, 6 to 8 pounds; 349 spotted bay bass; 1 shark, 12 pounds.
SAN FELIPE, MEXICO: Catalina Meders of San Felipe's Title Company Bookstore overlooking the bay said the weather has been cooler in the mornings and evenings, but is still in the 90s at midday. "The annual Jeep Jamboree took place this weekend, with over a hundred jeep-freaks in attendance," Meders said. "It's a popular activity which involves folks driving their favorite vehicle over large boulders and through sand pits.....hmmm.
"The season has really started. We saw lots of familiar faces this past week. There are many tourists floating through, including some really interesting people from Holland. The bay is slate-blue-covered-with-diamonds this morning. I'm going out to stare at it for a while."
ROCKY POINT (PUERTO PENASCO) FISHING REPORTS
ALL ARTICLES, REPORTS AND FISHING INFORMATION FOR ROCKY POINT
ROCKY POINT (PUERTO PENASCO), MEXICO: At Puerto Peñasco (Rocky Point), Sonora, Dale Donaldson of Santiago's Ocean Services said water temperatures are cooling down from summer highs, and sea trout (corvina) of 9 to 12 pounds were being caught 12 miles from shore. Donaldson was anticipating a return of large black sea bass to areas about 50 miles from Puerto Peñasco, and was getting ready for the season.
MAZATLAN FISHING REPORTS
ALL ARTICLES, REPORTS AND FISHING INFORMATION FOR MAZATLAN
MAZATLAN, MEXICO: Larry Edwards of Cortez Yacht Charters said Mazatlan action continued good, although there were few anglers in town. Boats fishing out of Marina el Cid had a catch including released fish of: 37 sailfish, 50 dorado, 19 yellowfin tuna, 12 roosterfish, 62 permit, and 12 red snapper. Mazatlan weather was in the high-80s, with water temperatures in the 80s, calm seas, and the best fishing area 20 to 25 miles out of Marina el Cid on a heading of 220 to 240 degrees.
PUERTO VALLARTA FISHING REPORTS
ALL ARTICLES, REPORTS AND FISHING INFORMATION FOR PUERTO VALLARTA
PUERTO VALLARTA, MEXICO: John Gabruk of Master Baiter's Sportfishing & Tackle reported good action on black marlin, with one boat, the Tonya Too, getting 5 strikes early last week. "One spooled a Shimano 80 with 41 pounds of drag," Gabruk said. "The other 4 made it to the side of the boat and were released. The largest, at 600 pounds plus and the smallest approximately 320 pounds."
IXTAPA ZIHUATANEJO FISHING REPORTS
ALL ARTICLES, REPORTS AND FISHING INFORMATION FOR IXTAPA ZIHUATANEJO
IXTAPA ZIHUATANEJO, MEXICO: Ed Kunze of Mar y Tierra Sportfishing said boats are averaging a couple of 20 to 25-pound dorado plus a couple of sailfish per day.
"Capt. Adolpho Lara on the Suerte Ruby not only got his 2 dorado and a sailfish for his clients, but also took a 544-pound blue marlin," Kunze said. "Depending on the current in November, every other year can be outstanding for blue marlin. It may be a great year. Capt. Adolpho on the panga Dos Hermanos is booked every single day for roosterfish from Oct. 18 to Nov. 20. He is releasing several each day."
IXTAPA ZIHUATANEJO, MEXICO: Stan Lushinsky of Ixtapa Sportfishing Charters said that historically, "greater numbers of dorado and sailfish arrive in the Ixtapa-Zihuatanejo area through the months of November and December, peaking in January and February. With substantially better sea and weather conditions the area is poised for this year's season to begin."
IXTAPA ZIHUATANEJO, MEXICO: Paul Phillips announced a new tournament called the "Zihuatanejo, Ixtapa Mexico Premier Offshore Tournament for Sailfish, Marlin and Dorado," to be held this season on Jan. 23-25, 2003. Information is available at www.zihuatanejo-ixtapa-fishing.com.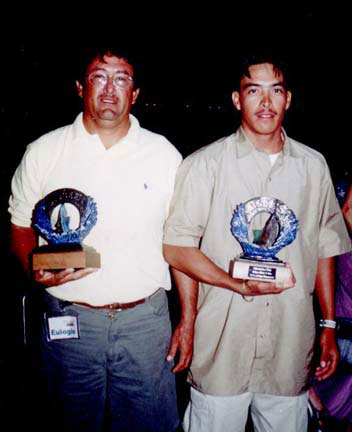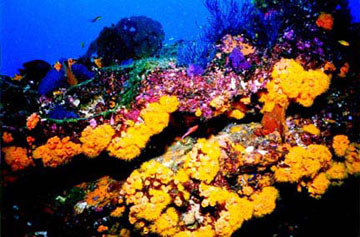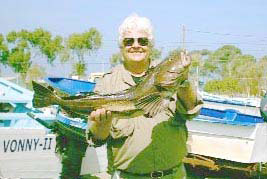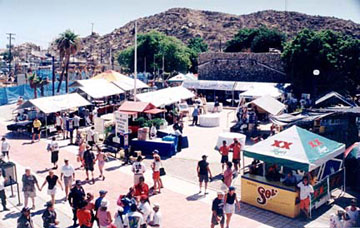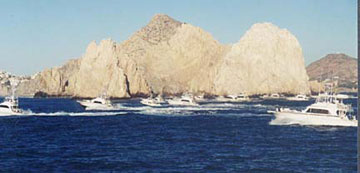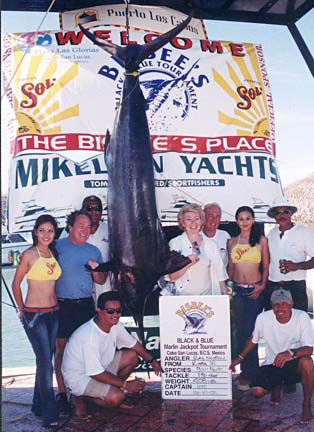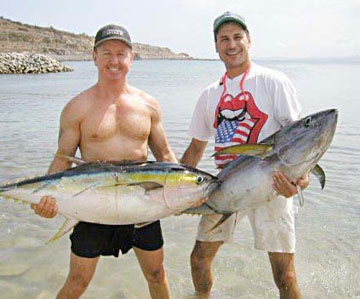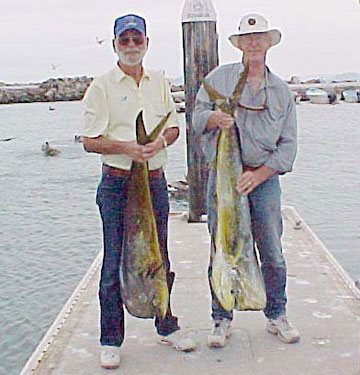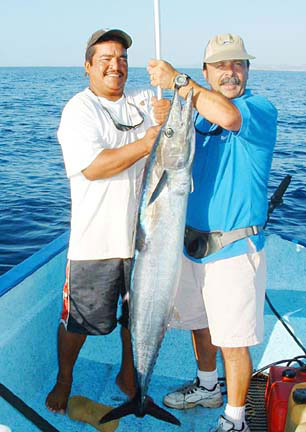 Baja coastal fishing reports and articles.
Ensenada fishing reports and articles.
Puerto Santo Tomas fishing reports and articles.
Erendira fishing reports and articles.
San Quintin fishing reports and articles.
Magdalena Bay fishing reports and articles.
Cabo San Lucas fishing reports and articles.
San Jose del Cabo (Los Cabos) fishing reports and articles.
East Cape fishing reports and articles.
La Paz fishing reports and articles.
Loreto fishing reports and articles.
Mulege fishing reports and articles.
Santa Rosalia fishing reports and articles.
Bahia de los Angeles (L.A. Bay) fishing reports and articles.
San Felipe fishing reports and articles.
Rocky Point (Puerto Penasco) fishing reports and articles.
San Carlos (Sonora) fishing reports and articles .
Mazatlan fishing reports and articles .
Puerto Vallarta fishing reports and articles.
Ixtapa Zihuatanejo fishing reports and articles.
Huatulco fishing reports and articles.
Cancun fishing reports and articles.
Mexico coastal fishing reports and articles.
Mexico Fishing Home Page < Mexico Fishing News Archives < Fishing Report