CABO SAN LUCAS, MEXICO: At Solmar Fleet, Rene Santa Cruz reported water temperatures of 72 to 75 degrees, and 6 to 8-foot seas plus stiff winds that greatly reduced boat sailings. Solmar boats had a combined catch including released fish of: 12 striped marlin, 2 blue marlin, 15 yellowfin tuna, and 1 wahoo. Most fishing was from El Arco up to the Old Lighthouse.
One unusual "catch" made during the week, was of a recently-dead blue marlin weighed at 450 pounds, which was brought in by Russ Long and Russ Long Jr., of Rancho Palos Verdes, aboard the Solmar VII with Capt. Domingo. The fish was found floating with a longline hook and leader in its mouth about 5 miles off the coast at Moros Prietos.
CABO SAN LUCAS, MEXICO: Capt. George Landrum of Fly Hooker Sport Fishing said that despite the low numbers, there were actually tuna available: "They are there. It is just difficult to find them. The sheep farm on the Pacific made it difficult to spot them from a distance. A lot of fish in the 20-pound range were caught, as well as a few up to 100 pounds. This happened anywhere from 3 miles out to as far as the San Jaime Banks. The bigger fish were hooked on live bait tossed out after a lure strike, and the smaller fish were eating small feathers in dark colors and small Marauders in purple/black, run on 300-pound mono."
CABO SAN LUCAS, MEXICO: Larry Edwards of Cortez Yacht Charters said that during an APEC-curtailed week Gaviota Fleet had a catch including released fish of: 1 blue marlin, 1 sailfish, 11 striped marlin, 3 wahoo, 7 yellowfin tuna, 1 red snapper, and 61 dorado.
In other mainland Mexico and Baja fishing action this week:
ENSENADA FISHING REPORTS
ALL ARTICLES, REPORTS AND FISHING INFORMATION FOR ENSENADA
ENSENADA, MEXICO: Local boats continued to enjoy good bottom fishing and catches of large lingcod last week. Ivan Villarino of Vonny's Fleet said water temperatures at the tip of Punta Banda averaged about 63 degrees, and pangas caught lingcod to 22 pounds with yo-yoed white Diamond Jigs. Good-size cowcod were also caught in calm seas, Villarino said.
ENSENADA, MEXICO: At Lily Fleet, Sammy Susarrey said the Tamara fished at Punta Banda Bank on Friday in bumpy and windy conditions and strong currents that required one-pound weights. Excellent catches of bottom fish were made, including lingcod of 15 to 18 pounds. "It was a long time ago when I saw lingcod like this," Susarrey said. The best action was on live sardines. Trips to the same locations earlier in the week also produced excellent results on lingcod and cowcod.
ENSENADA, MEXICO: Sergio Susarrey of Sergio's Sportfishing Center said on Saturday the Quest with 3 anglers caught 3 albacore, 1 skipjack, and 31 yellowtail. On Wednesday, the Shir Lee with 8 anglers caught 10 albacore, 8 skipjack, 1 dorado, and 20 yellowtail.
PUERTO SANTO TOMAS FISHING REPORTS
ALL ARTICLES, REPORTS AND FISHING INFORMATION FOR PUERTO SANTO TOMAS
PUERTO SANTO TOMAS, MEXICO: Sam Saenz of Puerto Santo Tomas Resort said there was still a lot of bait in the water and no surface action. Anglers Tom Clark and Carson Price from Desert Hot Springs fished with friends in a panga and did well on bottom fish including lingcod of 7 to 12 pounds. Local weather was good, after a period of clouds and heavy swells.
SAN QUINTIN FISHING REPORTS
ALL ARTICLES, REPORTS AND FISHING INFORMATION FOR SAN QUINTIN
SAN QUINTIN, MEXICO: Pete Hillis of Pedro's Pangas said few anglers fished last week, although the weather was excellent and those who did fish caught yellowtail and nice white seabass of 35 to 45 pounds. The best locations for yellowtail were Ben's Rock and the 240 Spot.
SAN QUINTIN, MEXICO: Jim Harer said the low number of tourists last week may have been due to the mistaken belief that Hurricane Kenna would bring bad weather. The weather was sunny with no wind, Harer said, and El Capitan Sportfishing did well on yellowtail just west of Isla San Martin. Harer advised visitors to call for a weather advisory before heading south.
MAGDALENA BAY FISHING REPORTS
ALL ARTICLES, REPORTS AND FISHING INFORMATION FOR MAGDALENA BAY
MAGDALENA BAY, MEXICO: Early signs were encouraging for a good Thetis Bank fall fish pile-up this year off Magdalena Bay. Brian Freitag of Mag Bay Tours said marlin, dorado, wahoo, and tuna were hitting "hard and fast" along the 100-fathom curve south of the entrada and north to the Thetis Bank. "The big news is we're catching yellowtail in the surf!" Freitag said. "The guys shore fishing are nailing firecracker 'tails on almost every cast."
Gary Graham of Baja On The Fly arrived at San Carlos for his annual Marlin 101 series of offshore trips. "After what I saw last week I can't wait to get out there," Graham said. "Conditions seem almost perfect with several areas producing great action. The added bonus is the large number of dorado, tuna, and wahoo that also seem to be in the area." Graham said he's got spaces on his Nov. 11-19 and Dec. 5-13 trips. Information at 800-919-2252. San Carlos weather and water temperatures were in the high-70s, in windy conditions.
Graham also had some fishing notes from his boat ride to Magdalena Bay from La Paz: "We arrived at our first spot below Tosca and caught a dozen dorado, 3 wahoo and had 2 marlin strikes. Continuing up the line toward the entrada, we found our first bird flock with large schools of sardines being chased by marlin and tuna in less than half-an-hour. On the way in, I spoke with Punky Langston, a fellow Tuna Club member who was taking his boat the Double Hookup home from La Paz. He hooked 12 marlin and landed 7 in an entirely different area than we had been fishing. Suffice to say I imagine this may be one of those Mag Bay years that has made it famous."
SAN JOSE DEL CABO (LOS CABOS) FISHING REPORTS
ALL ARTICLES, REPORTS AND FISHING INFORMATION FOR SAN JOSE DEL CABO
SAN JOSE DEL CABO, MEXICO: Eric Brictson of Gordo Banks Pangas said the La Playita pangas were kept ashore on Thursday and Friday due to rough seas caused by Hurricane Kenna, which devastated the Mexican mainland after making landfall near Puerto Vallarta.
"Southern Baja did receive a couple inches of much needed rainfall," Brictson said. "There was 15-foot storm surf that developed, which caused some serious erosion problems throughout the area, especially on the beach of La Playita."
Brictson said water temperatures were about 80 degrees, and the best action last week was on dorado in the 5 to 10-pound class. Wahoo catches were down, and some larger yellowfin tuna were seen at the Outer Gordo Bank, although none were landed. No beach action was reported.
SAN JOSE DEL CABO, MEXICO: Luis Duhart of Victor's Fleet at Punta Palmilla had no fishing report since boats were kept ashore by APEC security restrictions.
SAN JOSE DEL CABO, MEXICO: Earlier, Dave Gassman of Truckee, CA, had a very good trip with Gordo Banks Pangas and his friends Pat Kralj of Lafayette, CA and Kirk Heuer of Corvallis, OR. "Our skipper was Nico (short for Nicolai)," Gassman reported. "He's young, focused, and funny--and a good fisherman!
"We launched and made a beeline for Bahia Chileno to look for wahoo. Put in the Marauders and a CD22 Purple Mack and started our high speed troll. First hit at 7:20 a.m.--a 30-pound wahoo. My first!" Gassman and his group fished 3 days, landing more wahoo, mixed tuna, dorado, and black skipjack, while dodging security measures for APEC. "Wahoo were everywhere," he said. "We got more than 10 wahoo strikes in 3 days of fishing. Purple/black 8-inch Marauder got the most hits. Orange/black 8-inch Marauder was a distant second, and the Purple Rapala was unscratched."
EAST CAPE FISHING REPORTS
ALL ARTICLES, REPORTS AND FISHING INFORMATION FOR EAST CAPE
EAST CAPE, MEXICO: School-sized yellowfin tuna were the main catch out of Bahia de Palmas last week, as billfish slipped another notch, and dorado became hard to find. Chris Moyers of East Cape Smoke House reported on 217 boats from combined fleets including the Van Wormer resorts of Palmas de Cortez, Playa del Sol, and Punta Colorada with a catch including released fish of: 13 blue marlin, 7 striped marlin, 42 sailfish, 35 dorado, 485 yellowfin tuna, 2 pargo, 3 wahoo, 1 amberjack, 1 roosterfish, and 10 sierra. East Cape weather was in the low-90s, and water temperatures were 88 to 90 degrees.
Moyers said the very large yellowfin tuna, reported at between 355.2 and 362 pounds out of Hotel Punta Colorada last week, was caught on a trolled live barracuda. He added that the tuna were scattered and were mostly footballs, with some to about 40 to 60 pounds. Catches were reported in all directions, from about 15 to as much as 50 miles out.
EAST CAPE, MEXICO: At Rancho Buena Vista, Tami Moyeous reported generally slow action with 17 boats chartered and a catch including released fish of: 2 striped marlin, 2 blue marlin, 3 sailfish, and 8 dorado.
EAST CAPE, MEXICO: John Ireland of Rancho Leonero reported water temperatures at 83 degrees and "very good fishing all week" with lots of tuna over 100 pounds and the largest at 156 pounds, plus jacks, yellowtail, and a sailfish caught on a kayak. Ireland reported the tuna spread from 10 to 30 miles offshore, with larger fish caught early in the week and fish averaging about 15 pounds caught later. Big yellowtail to 65 pounds and amberjack to 70 pounds were biting on live sardinas and caballitos. A few bull dorado to 50 pounds were caught, but the bite was mostly on small fish averaging about 7 pounds.
EAST CAPE, MEXICO: At Baja On The Fly, Gary Graham reported that Hurricane Kenna's false alarm had caused East Cape boats to be pulled and other storm preparations to be made that proved unnecessary. "Unfortunately, that was not the case for the west coast of mainland Mexico where the damage is reported as extensive. Our thoughts and prayers go out to those who were in harm's way."
On the beaches, Graham said larger roosterfish were near the Punta Arena lighthouse: "If you are lucky enough to find some sardina pushed up against the shore, I promise the roosters and jacks will be there too."
EAST CAPE, MEXICO: Mark Rayor of Vista Sea Sport said conditions quickly returned to excellent, after the passage of the storm surf, and Cabo Pulmo was "Tidy Bowl" blue again, with excellent visibility and 82 degrees at diving depth. "Giant grouper along with snapper and bigeye jacks have moved up into the current," he said. "From the shore we can watch scores of manta rays jumping. It doesn't get any better than this!" Rayor joked that visibility was down at as little as 10 feet at times, due to an excess of fish in the water. He added that giant manta rays 15 to 20 feet across were being seen on his runs to La Reina, "the experience of a lifetime."
EAST CAPE, MEXICO: Pepe Murrieta of Pepe's Dive Service said a big whale shark stranded itself at Cabo Pulmo and was rescued last week: "It was about 30 feet long. 'Señor Big' was swimming in circles. A big wave came by and put it right on top of the reef! We tried to pull it down, but it was too heavy. Some of the local guys came with another boat and they attached another rope around it. As soon a wave came, we both pulled it down! It took us a few minutes to have him returned to his path again, but it lived! The whole town was there to share such a wonderful experience!"
LA PAZ FISHING REPORTS
ALL ARTICLES, REPORTS AND FISHING INFORMATION FOR LA PAZ
LA PAZ, MEXICO: Mino Shiba of Mosquito Fleet said wahoo and larger yellowfin tuna were caught on El Bajo and at the north end of Isla Cerralvo, on live sardina, CD14 and CD18 Rapalas, and Marauders. Dorado were also caught. "This is the first week that we had a lot of wahoos," Shiba said. "The weather is windy, but when the wind is slow, we can reach those areas."
LA PAZ, MEXICO: Jonathan Roldan of Tail Hunter International said the storm surf prevented pangas from launching for a day at Las Arenas, but otherwise the fishing has been consistent for yellowfin tuna and wahoo around the south end of Isla Cerralvo. The tuna were averaging 60 to 65 pounds, but some went to 100 pounds, and the largest weighed in at 120. On the wahoo, Roldan said, "I've never seen this many hooked. Some days, it seems like every panga comes back with at least one wahoo." Water temperatures were still has high as 83 to 86 degrees in some locations, and La Paz weather was in the mid-90s.
LA PAZ, MEXICO: Art Coleman of Temecula reported on a trip with Tortuga Sportfishing that netted him a 62-pound dorado while fishing with his son Brent and family friend Shaun of Huntington Beach. They also caught 15 yellowfin tuna to 75 pounds, Coleman reported.
LORETO FISHING REPORTS
ALL ARTICLES, REPORTS AND FISHING INFORMATION FOR LORETO
LORETO, MEXICO: Arturo Susarrey of Arturo's Sport Fishing said Loreto weather was good, in the low-80s, with water temperatures of 80 to 83 degrees. Anglers were doing well on yellowtail of 14 to 22 pounds around Punta Perico on Isla Carmen, and on roosterfish of 20 to 30 pounds around Punta Mangles and Punta Mercenarios. Susarrey added that it can be assumed dorado season is over. Mackerel, sardina, and caballito were available in front of the lighthouse on the east side of Isla Coronado.
LORETO, MEXICO: Resident angler Don Bear said he's found fishing mediocre lately. With panguero Paulino Martinez on Thursday he caught 3 cabrilla, 3 large triggerfish, 3 "huge" barrilete, 1 pinto bass, and 1 trumpetfish. "But I lost at least 5 sets of terminal tackle to cabrilla that rocked me, and I think Paulino did the same twice," Bear said. "Most of the action was at a bajo south of Punta Perico, but we also had some early action at La Vaca, near Punta Lobos."
Bear said panguero Joselino Murillo and his customer were also at La Vaca, and "they seemed to be out-fishing us 2-to-1, but they, too, had trouble getting their bait through the barrilete at mid-depth and down to the bottom. Both Joselino and we used sardinas netted at the marina as bait."
"There are a lot of small (less than 5 pounds) roosterfish just outside the marina. On Tuesday, when a minor motor problem forced us to turn back, Paulino and I caught 6 roosters in the 40 minutes we waited for the mecanico to roll out of bed. With light tackle it's lots of fun."
BAHIA DE LOS ANGELES (L.A. BAY) FISHING REPORTS
ALL ARTICLES, REPORTS AND FISHING INFORMATION FOR BAHIA DE LOS ANGELES
BAHIA DE LOS ANGELES, MEXICO: Tom McMahan reported on a great trip to Punta La Gringa, trolling Jointed Rebels from a 14-foot boat for plenty of yellowtail to 28 inches, bonito, triggerfish, barracuda, and bass. "The fishing was great. The most yellowtail were caught on blue-and-silver Fastrac Rebel lures off the north end of Isla Smith. The main drawback, was the large number of barracuda, which got tiring at times. There was never a time when we had to troll far before getting at least a single hookup, and many times we had double hookups."
SAN FELIPE FISHING REPORTS
ALL ARTICLES, REPORTS AND FISHING INFORMATION FOR SAN FELIPE
SAN FELIPE, MEXICO: Tony Reyes of Tony Reyes Fishing Tours reported on a 6-day Midriff Islands trip by the panga mothership, Jose Andres, returning to San Felipe with a catch of: 317 yellowtail, 14 to 29 pounds; 1 grouper, 5.5 pounds; 39 cabrilla, 8 to 14.5 pounds; 11 red snapper, 10 to 18 pounds; 2 broomtail grouper, 12 pounds; 1 sheephead, 7.5 pounds; and 14 spotted bay bass. Midriff water temperatures averaged 78.1 degrees.
SAN FELIPE, MEXICO: Catalina Meders of the Title Company Bookstore overlooking San Felipe Bay said the fall weather has definitely arrived. "San Felipe's famous annual shrimp festival will be taking place next week, Oct. 31-Nov. 3. Last year the award went to a dish named after Tony Reyes. I didn't get to taste it, but the chef described the recipe and it sounded fabulous. Tequila was involved. The bay is periwinkle blue today, with large patches of cobalt...spectacular!"
SAN FELIPE, MEXICO: Kristian Pallesen reported that prerunning has already begun for next month's SCORE Baja 1000 race, Nov. 20-23, and advised anyone driving in Baja to be alert to extra traffic: "The race is starting in Ensenada, going east over to San Felipe, down to Gonzaga Bay, Bahia de los Angeles, El Arco, San Ignacio, (west) San Juanico, La Purisima, south through San Javier, Constitution, and on into La Paz.
"Over the next 30 days people should be extra cautious. Traffic on the highway will also be very dangerous on the race days, as chase crews will be trying to catch up to their drivers or riders."
MAZATLAN FISHING REPORTS
ALL ARTICLES, REPORTS AND FISHING INFORMATION FOR MAZATLAN
MAZATLAN, MEXICO: Just prior to the passage of Hurricane Kenna, Larry Edwards of Cortez Yacht Charters reported Aries Fleet with a catch including released fish of: 9 blue marlin, 36 sailfish, 45 dorado, 1 wahoo, 15 roosterfish, 8 jack crevalle, 14 red snapper, and 10 cabrilla. Mazatlan weather was heavy rain, with the port closed, high seas, and winds rising.
IXTAPA ZIHUATANEJO FISHING REPORTS
ALL ARTICLES, REPORTS AND FISHING INFORMATION FOR IXTAPA ZIHUATANEJO
IXTAPA ZIHUATANEJO, MEXICO: Ed Kunze of Mar y Tierra Sport Fishing said 84-degree blue water is 25 miles out, but few boats are making the long run. "The majority of the captains are working a band of clean water that is from 3 to 5 miles out of Zihuatanejo Bay," he said. "This water is loaded with 20 to 25-pound dorado. They are mature fish, not schooled up, and hitting on blind strikes. Most boats are getting 4 to 5 dorado and 2 sailfish a day."
IXTAPA ZIHUATANEJO, MEXICO: Stan Lushinsky of Ixtapa Sportfishing Charters said the port was closed one day due to rough weather, but otherwise anglers are doing well on sailfish and dorado. The Vamonos II with Capt. Jaime Morales had a good day, with 5 dorado and 2 sailfish. Local weather was in the 80s.
IXTAPA ZIHUATANEJO, MEXICO: Paul Phillips of the Fintastic Total Tag & Release Tournament said boats were returning with up to 6 dorado to 50 pounds, plus sailfish. Ed Duncan of Alaska fished with Capt. Santiago on the Gitana and landed 3 sails plus a 92-pound yellowfin tuna. "The fish are here, and everyone is looking forward to the fall and winter season," Phillips said.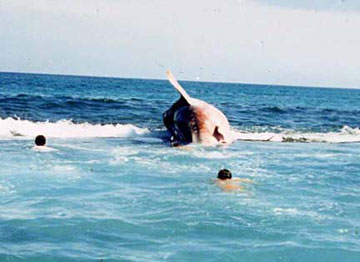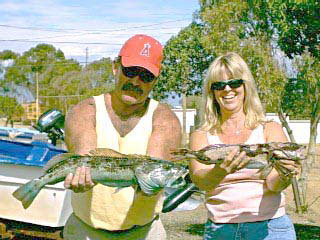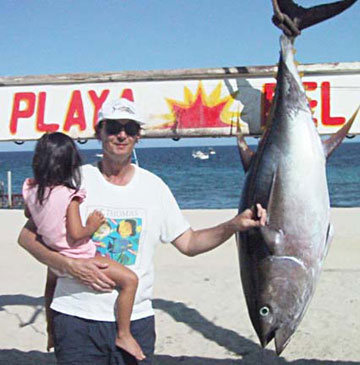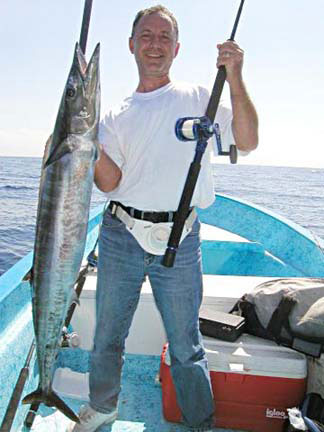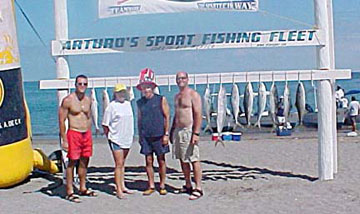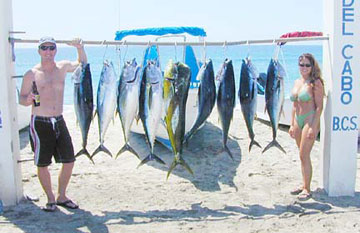 Baja coastal fishing reports and articles.
Ensenada fishing reports and articles.
Puerto Santo Tomas fishing reports and articles.
Erendira fishing reports and articles.
San Quintin fishing reports and articles.
Magdalena Bay fishing reports and articles.
Cabo San Lucas fishing reports and articles.
San Jose del Cabo (Los Cabos) fishing reports and articles.
East Cape fishing reports and articles.
La Paz fishing reports and articles.
Loreto fishing reports and articles.
Mulege fishing reports and articles.
Santa Rosalia fishing reports and articles.
Bahia de los Angeles (L.A. Bay) fishing reports and articles.
San Felipe fishing reports and articles.
Rocky Point (Puerto Penasco) fishing reports and articles.
San Carlos (Sonora) fishing reports and articles .
Mazatlan fishing reports and articles .
Puerto Vallarta fishing reports and articles.
Ixtapa Zihuatanejo fishing reports and articles.
Huatulco fishing reports and articles.
Cancun fishing reports and articles.
Mexico coastal fishing reports and articles.
Mexico Fishing Home Page < Mexico Fishing News Archives < Fishing Report