LOS CABOS BILLFISH TOURNAMENT 2002 RESULTS:
CABO SAN LUCAS--Just one qualifying marlin was weighed in during the Los Cabos Billfish Tournament last week, but it was enough to land Finish Line a whopping $289,925 for Yuri Shiba, whose husband Tom was the winning angler last year. In three fishing days by 51 boats, 75 billfish were released during the tournament. Two other marlin were brought to the scales, but did not qualify.
Other tournament winners were:
Tuna Division: Javier Bernaldo, Solmar IV, $8,750, 197-pound yellowfin.
Dorado Division: Dick Landfield, Reel Trick, $8,750, 46-pound dorado.
Wahoo Division: Lutz Zimmerman, Natural Stone, $8,750, 86-pound wahoo.
Daily Release: Baja Raider, 3 releases on Day 1; Fishers of Men, 2 releases on Day 2; and Reel & Deal, 3 releases on day 3; $6,500 for each boat.
Most Releases: Reel & Deal, $15,750.
The award's banquet was held at the beautiful Playa Grande resort in Cabo San Lucas on Saturday evening.
CABO SAN LUCAS, MEXICO: With perfect timing for this week's big W.O.N. Tuna Jackpot Tournament, significant numbers of grande yellowfin tuna were reported at the tip of Baja California. Capt. George Landrum of Fly Hooker Sportfishing said, "This coming week is the W.O.N. Tuna Tournament! There were some large fish caught, all on porpoise. My captain's brother had a double hookup while pulling lures past a small group of porpoise. He ended up landing both fish, one at 180 pounds, and the bruiser at 320! Just a week too early!"
Landrum said most of the big tuna action has been south or west toward the Jaime Bank: "Since the yellowfin tuna move around so much, I guess I won't be giving any secrets away. If they stayed in one place, maybe I'd keep quiet! I have not heard of anyone doing any chunking, but they may be keeping the results quiet if they are getting good action."
"Just because some large fish were caught does not mean there was a wide-open bite," Landrum cautioned. "More boats were skunked on the tuna than hooked up. Even when we could see the tuna jumping, it was being in the right place at the right time."
CABO SAN LUCAS, MEXICO: Dave Palmer of Fiesta Sportfishing also reported some excellent tuna action on large fish. "One of our boats yesterday caught 5 tuna, including 120 pounds, 110 pounds, and 100 pounds. Today, skipper Martin topped his performance yesterday with a double hookup with tuna at 195 pounds and the other at 198 pounds." Overall, Fiesta Sportfishing's group of 13 anglers had a two-day catch of 13 tuna to 198 pounds, 12 dorado to 35 pounds, 4 striped marlin released, and 1 wahoo of 45 pounds, Palmer said. The biggest tuna were caught on porpoise 40 miles out on the Pacific side.
CABO SAN LUCAS, MEXICO: Tommy Garcia of Cabo Magic said 82 boats chartered during the week had a combined catch including released fish of: 35 striped marlin, 1 blue marlin, 1 sailfish, 145 dorado, 5 yellowfin tuna to 80 pounds, 6 wahoo, 4 roosterfish, and 1 mako shark.
CABO SAN LUCAS, MEXICO: At Picante Fleet, 6 boats fishing on Friday had a combined catch including released fish of: 3 striped marlin, 8 dorado, 7 yellowfin tuna, and 7 wahoo.
CABO SAN LUCAS, MEXICO: Earlier, Larry Edwards of Cortez Yacht Charters reported for Gaviota Fleet with a combined catch including released fish of: 5 striped marlin, 3 wahoo, and 57 dorado.
Cabo San Lucas weather was excellent toward the end of the week, with low winds, and water temperatures slightly cooler, in the high-70s on the Pacific side and the low-80s on the Cortez side.
In other mainland Mexico and Baja fishing action this week:
ENSENADA FISHING REPORTS
ALL ARTICLES, REPORTS AND FISHING INFORMATION FOR ENSENADA
ENSENADA, MEXICO: Ivan Villarino of Vonny's Fleet said pangas fishing the tip of Punta Banda continued to enjoy a wide-open bite on rockcod, lingcod, sheephead, and other bottom fish in water temperatures of about 62 degrees. Visibility has been about 10 miles, with morning low clouds, and surf heights of 4 to 6 feet, Villarino said.
ENSENADA, MEXICO: Trailer boater Barney Phillips reported on a late season trip out of Marina Coral: "The ocean was flat but the temp was a generic 63 degrees and we couldn't find an edge. No jig stops and the paddies were few and far between. What paddies we found were holding yellows and we picked up 2 bluefin of 40 pounds plus. Our slowest day of the season, but great weather. It's tough fishing when you're the only boat out there. The radio was silent and it's a big ocean."
ENSENADA, MEXICO: At Lily Fleet, Sammy Susarrey said the fishing was good at Punta Banda Bank for lingcod and some cowcod. The Amigo fished at Maximino Reef for limits of barracuda of 5 to 7 pounds, close to the kelp.
ENSENADA, MEXICO: Sammy Susarrey said some private charters earlier in the week caught a few albacore and skipjack at the outer banks, plus good counts on yellowtail, and plenty of bottom fish at Soledad reef. A private charter on the Top Dog with 4 anglers caught 12 yellowtail, 15 lingcod, 9 rockcod, 2 cowcod, and 13 salmon grouper.
PUERTO SANTO TOMAS FISHING REPORTS
ALL ARTICLES, REPORTS AND FISHING INFORMATION FOR PUERTO SANTO TOMAS
PUERTO SANTO TOMAS, MEXICO: Sam Saenz of Puerto Santo Tomas Resort said Dennis Spike's group of kayak anglers was arriving this week, and will be fishing along the kelp north of the point. "We have just been settling down for the fall season and anticipating the holidays," Saenz said.
SAN QUINTIN FISHING REPORTS
ALL ARTICLES, REPORTS AND FISHING INFORMATION FOR SAN QUINTIN
SAN QUINTIN, MEXICO: Gene Allshouse of San Quintin Sportfishing said the yellowtail bite was spotty, but big calico bass were caught last week, plus the usual bottom species: "A few yellowtail are still being caught on the back side of San Martin Island on live bait and lots of patience. The calico bass in the same area is wide open, nice-size fish. On Friday and Saturday we caught a nice mixed bag of calico bass to 7 pounds, big sandbass to 8 pounds, bonita, barracuda, whitefish, lingcod, and rockcod. Most were caught on Fish Traps and Scampis. Capt. Chino was at the 180 Spot and loaded up on BIG rockcod, 7 to 9 pounds, in 300 feet of water."
MAGDALENA BAY FISHING REPORTS
ALL ARTICLES, REPORTS AND FISHING INFORMATION FOR MAGDALENA BAY
MAGDALENA BAY, MEXICO: Gary Graham of Baja On The Fly may have had the best offshore fishing in Baja last week with his Marlin 101 series out of San Carlos, averaging about 10 striped marlin hookups a day, up to 20 a day, and up to quadruple hook-ups, plus wahoo, yellowfin tuna, and yellowtail. The best fishing was west of the entrada and south toward Punta Tosca. "Lot of species this year," Graham said about the building Thetis Bank fall fish pile-up. "The bird schools are not real huge yet. Most of the hot water is down below, about 75 degrees on top (north). It's definitely a Mag Bay year. I've never seen that many wahoo before, ever, half-a-dozen a day, eating anything with black, one at 70 pounds."
Inside, Graham said the bay is alive, with fish everywhere and dorado at the entrada. Very large numbers of birds were moving around the inshore area.
In the mangroves, corvina were caught in numbers at the San Carlos pier, and the snook bite was steadily building. Firecracker yellowtail were being caught from the beach at Bahia Santa Maria.
SAN JOSE DEL CABO (LOS CABOS) FISHING REPORTS
ALL ARTICLES, REPORTS AND FISHING INFORMATION FOR SAN JOSE DEL CABO
SAN JOSE DEL CABO, MEXICO: Eric Brictson of Gordo Banks Pangas said the fall crowds have arrived, and it was getting hard to find a boat at La Playita last week: "Persons that did not have advance reservations were scrambling to confirm a boat for the last minute."
San Jose del Cabo weather was excellent, about 85 degrees, with minimal swells and light breezes from the north,. Bait supplies were good for sardinas and abundant schools of small skipjack throughout the area.
"The most common daily catches have been dorado and yellowfin tuna," Brictson said, "but there were also a mix of other favorite species, including amberjack, pargo, grouper, pompano, sailfish and striped marlin." Wahoo were mostly absent and there were fairly good numbers of football yellowfin tuna close to shore.
"Angler Steve Avitable had one of the best two days imaginable," Brictson reported. "While fishing with panga skipper Marcelino Castillo, he accounted for a 47-pound dogtooth snapper, a 76-pound amberjack, and a 101-pound grouper, all on live skipjack. Steve also had a mixed bag including tuna and dorado to go along with his triple trophy catch."
Surf anglers around La Playita were catching good numbers of small pompano, along with a handful of sierra, jacks, and needlefish, on small pieces of cut bait.
EAST CAPE FISHING REPORTS
ALL ARTICLES, REPORTS AND FISHING INFORMATION FOR EAST CAPE
EAST CAPE, MEXICO: Tammy Moyeous of Rancho Buena Vista said the hotel was still dealing with a couple of wedding parties last week but 5 boats did manage to go out for a catch including released fish of: 2 blue marlin, 1 sailfish, 2 dorado, 23 yellowfin tuna, and 2 cabrilla.
EAST CAPE, MEXICO: At Rancho Leonero, John Ireland reported "lots of tuna action this week, with some real gorillas. Lots over 100 pounds, some to 200 pounds." Ireland said the tuna were moving with porpoise from 5 to 25 miles offshore, and at least one fish of 100 to 200 pounds was being taken daily. Live sardina, caballitos, and hoochies were all producing. Dorado were being caught at 10 to 15 pounds, and a couple of blue marlin per day were being landed, "almost all on squid-colored lures."
EAST CAPE, MEXICO: Gary Graham of Baja On The Fly reported East Cape weather as cooler, in the mid-80s, with water temperatures averaging 77 to 82 degrees. North winds early in the week hampered fishing, but subsided toward the weekend. Inshore, jack crevalle were caught in big numbers, plus roosterfish, ladyfish, lookdowns, and some small pargo. Sierra have also returned for the season: "Yep, they are back. It is interesting how the tin boats attract them."
EAST CAPE, MEXICO: At Vista Sea Sport, Mark Rayor said water temperatures at Cabo Pulmo were still in the 80s, and hammerhead shark were sighted: "Yesterday we had one cruising around one of our boats in front of the dive shop." At Cabo Pulmo species sighted included bat rays, grouper, turtles, snappers, puffers, and assorted reef fish.
EAST CAPE, MEXICO: Pepe Murrieta of Pepe's Dive Service said visibility was at 90 feet, and he's been diving the El Vencedor shipwreck: "It was a tuna boat. Sank in 1981 during a storm, a 110-foot wooden hull. The locals pulled most of it out. Some of them built their houses and restaurants with it! We still have a few parts of it, such as the propeller, the mast, and some generators, as well as one of the huge engines. It hosts a variety of fish. Inside the cooling pipes we found some very big moray eels, and along the sandy bottom, there is a colony of garden eels, very impressive."
LA PAZ FISHING REPORTS
ALL ARTICLES, REPORTS AND FISHING INFORMATION FOR LA PAZ
LA PAZ, MEXICO: Jonathan Roldan of Tail Hunter International said the big tuna are still around, but it was difficult to get a fix on them with so few anglers fishing last week. "These fish have been big time sluggers, with the 'small ones' going 50 to 60 pounds, and not uncommon to scale larger tuna in the 80 to even 100-pound class. However, as the week went on, and with few anglers out, it was harder to keep a finger on it. But there were still tuna coming ashore with a smattering of wahoo as well." Other species being caught included snappers, cabrilla, and large bonito, and the weather was excellent, with air temperatures at about 80 degrees and water temperatures a bit lower.
LORETO FISHING REPORTS
ALL ARTICLES, REPORTS AND FISHING INFORMATION FOR LORETO
LORETO, MEXICO: Arturo Susarrey of Arturo's Sport Fishing said Loreto weather was about 80 degrees, and water temperatures at 80 to 83 degrees. "Fishing was very slow this week, until Thursday," Susarrey said. "Then, we had Keith Abrahamson's group on the Dolphin cruiser with 8 yellowtail to 18 pounds caught at Punta Perico.
"We also had Thomas Patton's group, who caught cabrilla and yellowtail to 20 pounds at Punta Gavelones and Punta Colorado on Carmen Island." Susarrey said mackerel, sardina, and caballito baits are still available at the lighthouse on the east side of Isla Coronado, or for sale at the marina.
LORETO, MEXICO: Resident angler Don Bear reported earlier, "The Walter Bonazza party fished with panguero Paulino Martinez and caught 2 dorado, 2 roosterfish and 1 dogtooth snapper. A number of roosterfish and snapper strikes were lost. All were on mackerel and all were between El Mangle and San Basilio, about 18 miles north of Loreto.
"Ray Harper, Phil Silva, and I fished with Paulino, but our efforts were confined to bottom fishing the protected waters around Isla Coronado due to a stiff north wind. We caught 16 pintos, 1 triggerfish, 5 sandbass, 7 barracuda, and 3 huachinango, all on sardinas."
LORETO, MEXICO: At Baja Big Fish Company, Pam Bolles said the first real winter winds blew early last week, before flattening out again. Yellowtail to 30 pounds were caught at Punta Perico, up to 10 per day. Other areas have been slow. Roosterfish, mostly small but with a few to 40 pounds, were caught in all directions from town, and some surprise dorado were also found at a "secret spot" off the north end of Isla Carmen. These went to about 30 pounds and hit fly-lined sardinas.
MULEGE FISHING REPORTS
ALL ARTICLES, REPORTS AND FISHING INFORMATION FOR MULEGE
MULEGE, MEXICO: Part-time resident Jim Mori reported on a recent trip to San Lucas Cove: "When I arrived on Oct. 7, the water was 82 degrees and dorados were very common. Some nice sawtail and leopard groupers came in from Tortuga Island in the 20-pound range. Yellowfin tuna were about 4 miles east of San Marcos Island, but moved south quickly.
"The second and third weeks of October were very slow. Bait moved out, and the sea was dead. No whales, birds, or dolphin. Even the local squid fishermen gave up. I did manage some leopard grouper on iron, including a nice one over 15 pounds, but they were few and far between.There were good numbers of sierra around all month. Water dropped to 75 degrees.
"The last week of the month saw the return of mackerel, 'dines, and bigeyes to the bait beds, and things appeared to be getting back to normal. Firecracker yellowtail and red snappers returned, and some nice pacific amberjacks showed on the panga reef. Water was 73 degrees."
SAN FELIPE FISHING REPORTS
ALL ARTICLES, REPORTS AND FISHING INFORMATION FOR SAN FELIPE
SAN FELIPE, MEXICO: Tony Reyes of Tony Reyes Fishing Tours reported on a 6-day Midriff Islands trip by the panga mothership Jose Andres, returning to San Felipe on Nov. 1 with a catch of: 209 yellowtail, 18 to 23 pounds; 2 grouper, 88 to 94 pounds; 1 white seabass, 25 pounds; 61 cabrilla, 7 to 12 pounds; 1 squid, 14 pounds; 18 red snapper, 8 to 14 pounds; 7 broomtail grouper, 8 to 10 pounds; 2 sheephead, 8 pounds; 189 spotted bay bass; and 2 shark, 15 pounds.
SAN FELIPE, MEXICO: Cathy Burson of Jigstop Tours confirmed that she is now booking the San Felipe panga mothership Erik, and has a full lineup of Midriff Island trips scheduled for the 2003 season. She is also finalizing the Erik's schedule to Magdalena Bay, and will be doing a mailing soon to regular customers. More information is available at Jig Stop Tours, 800-521-2281.
SAN FELIPE, MEXICO: At San Felipe, Catalina Meders of the Title Company Bookstore overlooking the bay said the weather turned hot again last week, and the tenth annual San Felipe Shrimp Festival was in full swing: "The malecon has been turned into a small village, with dozens of fancy booths belonging to the local restaurants selling all manner of food, and of course, the competing shrimp dishes which will be displayed at 4 p.m. each day. There is folk dancing and mariachi playing and disco-dancing every day, plus something called 'Exploding Shrimp' which one has to stay up 'till 1 a.m. to see. Also, on Sunday, the last day of the festival, there is going to be a 'waiter contest' which should be interesting. Two big weddings in town this weekend. Just nothing but partying for 3 solid days.
MAZATLAN FISHING REPORTS
ALL ARTICLES, REPORTS AND FISHING INFORMATION FOR MAZATLAN
MAZATLAN, MEXICO: Larry Edwards of Cortez Yacht Charters said Mazatlan was minimally affected by Hurricane Kenna, and current weather was in the 80s, with calm seas and water temperatures also in the 80s. Aries Fleet boats out of Marina el Cid were catching large dorado and good numbers of blue marlin by trolling live bonitos around the offshore buoys.
PUERTO VALLARTA FISHING REPORTS
ALL ARTICLES, REPORTS AND FISHING INFORMATION FOR PUERTO VALLARTA
PUERTO VALLARTA, MEXICO: Tonya Gabruk of Master Baiter's Sportfishing said the fishing was back to normal after Hurricane Kenna, with good numbers of black marlin landed last week to an estimated 660 pounds, plus blue marlin, dorado to 50 pounds, wahoo, and sailfish. Yellowfin tuna ranging from 80 to 350 pounds were also caught, mainly on slow-trolled live skipjack and tuna.
IXTAPA ZIHUATANEJO FISHING REPORTS
ALL ARTICLES, REPORTS AND FISHING INFORMATION FOR IXTAPA ZIHUATANEJO
IXTAPA ZIHUATANEJO, MEXICO: Local guide Ed Kunze reported very good fishing after a period of heavy rain without wind. Zihuatanejo water temperatures were about 85 degrees, with blue water close to shore and most captains reporting multiple sailfish, and dorado in the 20 to 25-pound class within 5 miles of the beach.
The Gitana with Capt. Santiago and Aqua Azul with Capt. Mecate both had 4-sailfish days.
IXTAPA ZIHUATANEJO, MEXICO: Stan Lushinski of Ixtapa Sportfishing Charters also reported excellent results for several clients, including French angler, Mr. Nottin, who fished 5 days on the Dos Hermanos and Leydy, and caught 11 sailfish, 8 dorado, 19 roosterfish, and 8 yellowtail jacks. Several other boats had triple sailfish days. School-sized yellowfin tuna were about 40 miles out, and an estimated 550-pound blue marlin was landed by Capt. Vito on the Suerte Ruby.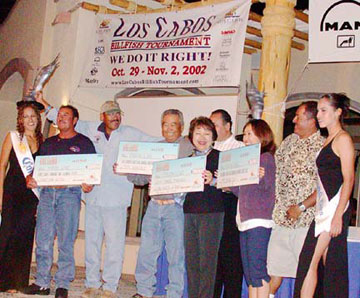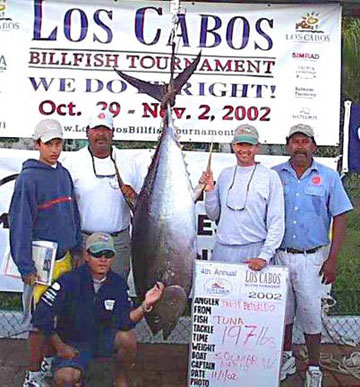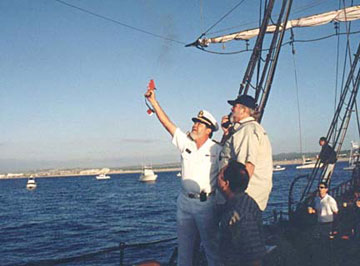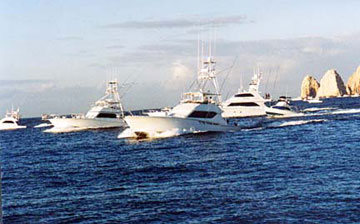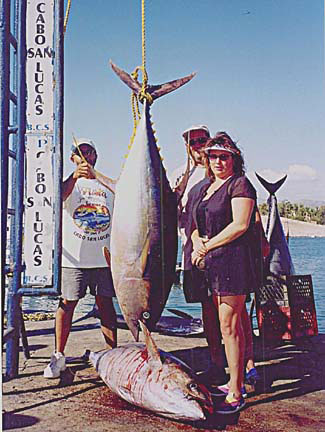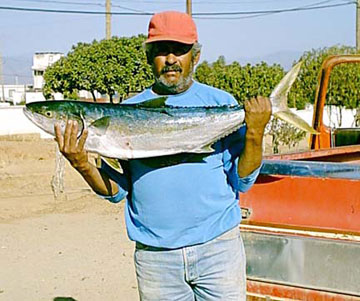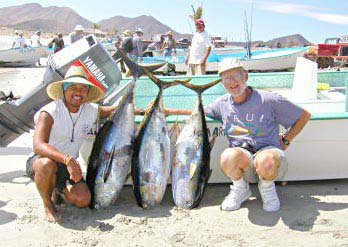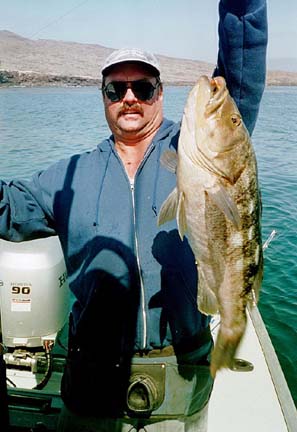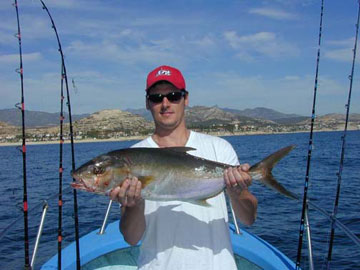 Baja coastal fishing reports and articles.
Ensenada fishing reports and articles.
Puerto Santo Tomas fishing reports and articles.
Erendira fishing reports and articles.
San Quintin fishing reports and articles.
Magdalena Bay fishing reports and articles.
Cabo San Lucas fishing reports and articles.
San Jose del Cabo (Los Cabos) fishing reports and articles.
East Cape fishing reports and articles.
La Paz fishing reports and articles.
Loreto fishing reports and articles.
Mulege fishing reports and articles.
Santa Rosalia fishing reports and articles.
Bahia de los Angeles (L.A. Bay) fishing reports and articles.
San Felipe fishing reports and articles.
Rocky Point (Puerto Penasco) fishing reports and articles.
San Carlos (Sonora) fishing reports and articles .
Mazatlan fishing reports and articles .
Puerto Vallarta fishing reports and articles.
Ixtapa Zihuatanejo fishing reports and articles.
Huatulco fishing reports and articles.
Cancun fishing reports and articles.
Mexico coastal fishing reports and articles.
Mexico Fishing Home Page < Mexico Fishing News Archives < Fishing Report