It was in 1962 that Hahn first met Don Johnson, who was at that time running the old Club Aero Mulege on the north side of the river. In 1963, Johnson opened the Hotel Serenidad at its present location on the south side of the river with a 2,800-foot airstrip, later lengthened to 4,000 feet. In the following decades, the hotel and its airstrip became a focal point of early Baja explorations, as many "Baja stories" grew up around them, and the weekly "Saturday Night Pig Roast" grew to the status of legend.
MULEGE, MEXICO: Diana Johnson of the Hotel Serenidad said the weather was in the high-90s with high humidity, and more than 100 people attended the special Saturday Night Pig Roast on July 12 organized by pilot Larry Hahn to honor her family's 40 years at Mulege.
MULEGE, MEXICO: Attending the pig roast were Gary and Peggy Thomas of Tracy, CA, fishing out of the Serenidad in their 18-foot center console Zodiac for action including a striped marlin and variable counts of 1 to as many as 18 dorado per day to 32 pounds:
"The striper came on a pink-white jet head about 4 miles straight off Punta Chivato. The dorado were scattered from Punta Santa Teresa to Isla San Marcos. There were quite a few weed lines but not all held fish. You just had to keep jumping from line to line. When you found them there were usually a bunch."
Thomas also reported many sea turtles in the area, including one that was freed from a commercial longline about 10 miles off Isla San Marcos. Water temperatures ranged from 78 to 82 degrees. "It started to warm as you got 11 to 12 miles out," Thomas said. "You had to go at least 12 miles to get back up to 80, 20 to get back up to 82. The better fishing was generally much farther out in warmer water."
MULEGE, MEXICO: Thirty-two year Baja veteran Paul Rista of Long Beach, CA returned from 2 weeks at Mulege, fishing with feathers only from his 19-foot boat Silverado. Rista reported cool water temperatures of 74 to as high as 81 degrees, and generally slow fishing at both Mulege and Loreto:
"We fished southwest of Conception Bay anywhere from 10 to 25 miles. Directly in front of Mulege up to 30 miles, and northeast, past Punta Chivato and over halfway to Tortuga Island.
"There were some dorado scattered all over the area. The problem was that the water temperature was low and no sargasso anywhere. Overall we caught 4 dorados, 2 in the 18 to 20-pound category, and 2 smaller ones."
MULEGE, MEXICO: Pete Jenista of Grants Pass, OR and Jeff Rumble of Whittier, CA camped on the beach several days at San Nicolas, south of Bahía Concepción and fished from their 12.5-foot inflatable for about 100 fish of about 22 species, with most fish released. Their catch, in water temperatures of about 75 to 84 degrees, included several rare species, including barred needlefish, king angelfish, and a fortune jack at Punta Pulpito that weighed 22 pounds, Jenista said:
"We fished inshore and out to about 6 miles. The commercial pangueros were getting a stray yellowtail here and there, but mainly huachinango. There was tons of life in the area, including numerous sea turtles, an enormous school of porpoise, whales, and a thick soup of plankton, with lots of stinging jellyfish in it!
"While anchored over the Punta Pulpito reef, a striped marlin of approximately 150 pounds began greyhounding in a series of jumps. We counted 10 jumps. It passed within 20 yards of our boat. Even the pangueros were hooting their approval!
"Unfortunately, the offshore trolling stunk! No dorado, tuna other than black skipjack, or sailfish.
"One calm evening we anchored over the Pulpito reef and fished with homemade squid lures that we designed with a 6-inch chemical light stick on a wire leader over three large treble hooks. The giant squid were hitting almost constantly. All of the squid that we did hook were ENORMOUS and quite hard fighters. However, we lost all but one due to tear-outs. The squid bottomed out my 50-pound scale."
In other mainland Mexico and Baja fishing action this week:
ENSENADA FISHING REPORTS
ALL ARTICLES, REPORTS AND FISHING INFORMATION FOR ENSENADA
ENSENADA, MEXICO: Albacore 25 miles out and excellent local bottom fishing continued for boats out of Bahía de Todos Santos last week.
ENSENADA, MEXICO: At Lily Fleet, Sammy Susarrey was too busy for a regular fishing report over the weekend, but said, "Sorry! Fishing every day. Wonderful. Albies hitting like crazy, 190 degrees from Punta Banda, 25 miles out."
ENSENADA, MEXICO: Sergio's Sportfishing reported on 56 offshore and local boat anglers with a catch of: 60 sandbass, 217 albacore, 61 lingcod, 39 rockcod, and 64 sheephead. Sergio's boats were fishing a continued strong albacore bite 20 to 35 miles off Isla Todos Santos, in improving weather with lighter winds and calmer seas.
ENSENADA, MEXICO: At Vonny's Fleet, Ivan Villarino reported that pangas at the tip of Punta Banda scored on limits of lingcod, whitefish, and calico bass. On Friday, Eddie Thompson and family of Yuma Arizona caught limits with Capt. Cruz Zamora on the Vonny III. Punta Banda weather was cloudy in the high-70s, with light showers, ocean swells of 2 to 3 feet, and water temperatures averaging 65 degrees.
ENSENADA, MEXICO: Earlier, Steve Ross of the Pescadores de Ensenada at Marina Coral reported 18 albacore landed by himself and his wife Gail aboard their boat Bad Dog. "Most were with Mike's live bait," Ross said. "We arrived on the grounds just outside of the Peanut Bank in the gray light. By the time it was light and we were reeling them up, I counted 80 boats on the SECRET NUMBERS that no one knew about but us and our code group." Ross said other club boats loading up in cobalt blue 66.5-degree water included Wide Open, Blackbeard, Melody, Bad Daddy, Um Bwana, Mardiosa, and Wahoo. Some had limits by 9 a.m. "As good as it gets," Ross said. "We left them foaming."
ENSENADA, MEXICO: Werner Hradecky of San Diego reported a good albacore catch and a hazardous encounter with a blue whale by Mike Bratton and 3 other anglers on the Scott's Johnny: "Fished for albacore 80 to 90 miles south of Point Loma and had limits easily. On the way back, going 16 knots, a blue whale hit the boat and lifted the boat 4 feet out of the water. Everyone got bounced around, but were able to stay on the boat.
"Mike got the Coast Guard on the radio while checking the damage. Port rudder was bent, along with the prop and the drive shaft. No damage to the hull. It took them 13.5 hours on one engine to make it back. Boat is in dry dock this morning."
ENSENADA, MEXICO: Lee Wood of Escondido Senior Anglers reported 20 club members caught 53 albacore of 18 to 23 pounds during an overnight trip aboard the Pacific Voyager 85 miles south of Mission Bay. Wood said everyone caught at least 1 albacore, and the jackpot fish, a 23 pounder, was caught by Asa Mori of Oceanside.
PUERTO SANTO TOMAS FISHING REPORTS
ALL ARTICLES, REPORTS AND FISHING INFORMATION FOR PUERTO SANTO TOMAS
PUERTO SANTO TOMAS, MEXICO: Dennis Spike of Coastal Kayak Fishing had a group at Sam Saenz' Puerto Santo Tomas resort over the weekend and reported, "The fish are chewing the plastic off our kayaks! Today we target the big ones!" Spike said local weather was humid and overcast, with the Pacific "flat as a lake." Twelve kayaks were working the local kelp for lingcod, red rockfish to 6 pounds, whitefish to 5 pounds, and excellent calico bass fishing.
"That's just out in front," Spike said. "Today we target yellowtail that are breezing between the point and Roca Soledad. The water is alive with bait fish."
SAN QUINTIN FISHING REPORTS
ALL ARTICLES, REPORTS AND FISHING INFORMATION FOR SAN QUINTIN
SAN QUINTIN, MEXICO: The albacore bite went from wide-open to ballistic last week for all boats out of Bahía de San Quintin. By the weekend, some boats had stopped bothering to make bait, and some were plugged and back to the dock as early as 10 a.m.
SAN QUINTIN, MEXICO: At the Old Mill Hotel, Nancy Harer said, "Never so big! Never so grand! We're in albacore hog heaven!" Harer said the action was so heavy that some clients canceled out after the first few days. Boats were hitting albacore in all directions, less than 15 miles from the point, in flat, blue water. On Thursday, Harer said, a stir of excitement when through the community when the season's first few dorado were caught, but none had been seen since. Mixed with the albacore was a steady bite on large yellowtail to 30 pounds, and bottom fishing was presumed to be still excellent, although nobody was going for it.
SAN QUINTIN, MEXICO: Eddie Marquez of Don Eddie's Landing said virtually every functional boat in the village was fishing daily, plus many private trailer boats, and all hotels were packed to the limit, even through the traditional post-Fourth of July slow period. Contacted over the weekend, Marquez said, "Oh my God! I'm listening to the radio now. It's happening again today!"
Marquez said boats were fishing basically southwest and west, in swirling currents of varying water temperatures between 64 and almost 70 degrees, anywhere from 12 to 22 miles off the point. San Quintin weather was warm and sunny, close to 80 degrees, with light breezes and almost no swell.
SAN QUINTIN, MEXICO: Earlier, Capt. Kelly Catian of El Capitan Sportfishing reported 22 albacore before noon with Monte Kotur, and 20 albacore plus 1 yellowtail the following day, trolling on 25 to 30-pound tackle. "We busted a few off, but still limited out!" Catian said. Offshore water temperatures were 66 to 68 degrees, 13 miles southwest of the bay, with light breezes and flat to 3-foot swells. Catian also reported water temperatures inside the bay up to 75 degrees.
SAN QUINTIN, MEXICO: Jim Derr and Brad Hunter of Orange found easy limits and near limits of albacore on July 11 and 12, fishing on the cruiser Aola out of the Old Mill Hotel with Capt. Sapo. "The fish were only 13 miles from the point on a 270 heading," Derr said, adding that boats fishing other areas also limited on albacore, and bottom fish to 20 pounds.
SAN QUINTIN, MEXICO: Joe and Juanita Martin of San Diego drove to San Quintin with Dennis Lundquist and fished with Capt. Bear on the Fany 2 out of Don Eddie's Landing for hot action on albacore, 12 to 15 miles out. "We scored 9 that day, along with 3 nice yellowtail off a huge kelp paddy," Martin said. The yellowtail were 20 to 25 pounds, and hit on blue-white and chrome jigs. The albacore weighed 25 to 30 pounds, hitting purple-black, zucchini, and red-white feathers. The following day the group fished with Jaimie Garcia on the Pinta but found only slow action on 4 albacore in much cooler weather with some wind.
BAJA COASTAL FISHING REPORTS
ALL ARTICLES, REPORTS AND FISHING INFORMATION FOR BAJA COASTAL AREAS
BAJA CALIFORNIA, MEXICO: Wally Coleman of Bishop, CA said while returning from a trip to Loreto that he found the key Pemex gas station at Jesus Maria being demolished. "We made the mistake of not filling up at Guerrero Negro," Coleman said. The Cataviña station was also out of gas, so he made it through by buying gas from drums in both locations.
MAGDALENA BAY FISHING REPORTS
ALL ARTICLES, REPORTS AND FISHING INFORMATION FOR MAGDALENA BAY
MAGDALENA BAY, MEXICO: Gary Graham of Baja On The Fly reported San Carlos weather as windy in the high-70s, with water temperatures of 67 to 73 degrees. Local pangueros were busy with the recently opened scallop season, so few fishing reports were available. Birds were reported working over schools of yellowtail and skipjack in deep water just outside the entrada.
CABO SAN LUCAS FISHING REPORTS
ALL ARTICLES, REPORTS AND FISHING INFORMATION FOR CABO SAN LUCAS
CABO SAN LUCAS, MEXICO: Offshore billfish action improved again last week at the tip of Baja. Capt. George Landrum of Fly Hooker Sportfishing said Cabo weather was mostly calm, hot, and humid, near 100 degrees. A cool band of 77 to 78-degree water lay near the coast, with warmer 83 to 84-degree water out past 3 miles.
CABO SAN LUCAS, MEXICO: Picante Fleet reported on 4 boats chartered at the end of the week with a catch including released fish of: 5 striped marlin, 10 yellowfin tuna, and 2 dorado.
CABO SAN LUCAS, MEXICO: At Pisces Fleet, Tracy Ehrenberg reported 73 percent of boats scoring on striped marlin or sailfish, and 79 percent all species combined. The top boat for the week was Rebecca, with 6 releases on July 15 for James, Chris and Patrick Gleason of Downington, PA, fishing just half a mile off the arch. Few tuna and dorado were caught.
CABO SAN LUCAS, MEXICO: Larry Edwards of Cortez Yacht Charters said Gaviota Fleet had a catch including released fish of: 1 blue marlin, 56 striped marlin, 1 sailfish, 3 wahoo, 4 yellowfin tuna, and 15 dorado. The high boat for the week was the Juanita VIII, with a total of 14 stripers in 6 fishing days for Capt. Gil Abaroa.
CABO SAN LUCAS, MEXICO: IGFA representative Minerva Saenz of Minerva's Tackle reported certifying the weight of a 308-pound yellowfin tuna that will be submitted for a women's world record. The fish was caught at Puerto Vallarta by Martha Warlaumont, fishing with her husband Larry aboard their boat the Retriever.
SAN JOSE DEL CABO (LOS CABOS) FISHING REPORTS
ALL ARTICLES, REPORTS AND FISHING INFORMATION FOR SAN JOSE DEL CABO
SAN JOSE DEL CABO, MEXICO: Eric Brictson of Gordo Banks Pangas said water temperatures were 77 to 80 degrees, and the offshore catch was led by some striped marlin and a few yellowfin tuna. Pangas were fishing on the bottom and trolling mullet close to shore for mixed species including a few late-season sierra. Action at the Gordo Banks was slow. Some large snook to 30 pounds continued to be caught by surf anglers between Costa Azul and La Playita.
Luis Duhart said Victor's Fleet has changed its name to Palmilla Bay Sportfishing. Fishing at San Jose del Cabo was improving after a very slow period, but local water temperatures were still lower than normal, and boats were running 15 to 20 miles to find fish. Seven boats reported 3 striped marlin releases, and a school-sized dorado, Duhart said.
EAST CAPE FISHING REPORTS
ALL ARTICLES, REPORTS AND FISHING INFORMATION FOR EAST CAPE
EAST CAPE, MEXICO: School-sized yellowfin tuna, now joined by some big ones, continued to pace the action out of Bahía de Palmas last week. Marisol Verdugo of Martin Verdugo's Beach Resort said 3 or 4 boats per day have been fishing for lots of tuna, including one of 210 pounds that required 6 hours to subdue by Mr. and Mrs. Warcup of San Diego.
EAST CAPE, MEXICO: Tami Moyeous of Rancho Buena Vista reported hot, rainy, humid weather, and 12 boats fishing with a catch including released fish of: 9 striped marlin, 2 blue marlin, 6 sailfish, 8 dorado, and 82 yellowfin tuna.
EAST CAPE, MEXICO: Chris Moyers of East Cape Smoke House, reported for 173 boats from combined fleets including the Van Wormer resorts of Palmas de Cortez, Playa del Sol, and Punta Colorada with a catch including released fish of: 4 blue marlin, 57 striped marlin, 20 sailfish, 31 dorado, 780 yellowfin tuna, 2 wahoo, and 30 sierra. East Cape water temperatures ranged from 74 to 83 degrees. Striped marlin were 40 to 45 miles east of Los Barriles, and closer to shore in the south, about 5 miles off Cabo Pulmo. The yellowfin tuna count included some larger fish last week, topped by a 145 pounder and a 154 pounder. Tuna were coming from all directions, 15 to 45 miles out.
EAST CAPE, MEXICO: Lynn Rose of Lynn Rose Tours said John MacAllister of Palos Verdes and Bert Tobin fished with a group of 11 anglers out of Hotel Punta Colorada for 2 days, and landed 7 dorado and 55 yellowfin tuna.
EAST CAPE, MEXICO: Buena Vista Beach Resort reported on 20 boats chartered with a catch including released fish of: 1 blue marlin, 3 striped marlin, 5 sailfish, 4 dorado, 89 yellowfin tuna, 5 roosterfish, 10 snapper, 16 jack crevalle, 1 amberjack, 2 pompano, 20 triggerfish, 10 cabrilla, and 1 skipjack. Resort boats reported water temperatures of 82 to 84 degrees, fishing from near shore out to about 30 miles, from Punta Pescadero in the north to the Punta Arena light in the south. The strong tuna bite continued in all directions, mostly caught with porpoise.
MONSTER HOTEL ROOSTER (right)--Werner Hradecky, left, and Jeff Steinhardt caught this huge roosterfish, estimated at 90 to 100 pounds, in 10 to 15 feet of water near East Cape's Hotel Palmas de Cortez. Photo courtesy Werner Hradecky.
EAST CAPE, MEXICO: Ed Raphael of San Clemente, CA fished two days out of Hotel Palmas de Cortez with Capt. Juan on the inboard panga Sibonet. "Very fast inboard panga," Raphael said. "Caught dorado, wahoo, striped marlin, and roosterfish. Tuna were being caught by the cruisers 50 miles out. Too far for a panga." Raphael's 2 striped marlin hit dorado feathers, he said, and the wahoo were caught on orange-black Marauders. The roosterfish hit live mullet near the Punta Arena lighthouse.
EAST CAPE, MEXICO: At Baja On The Fly, Gary Graham said some south winds hit the beaches last week, and early mornings were best, before the wind waves arrived. The best roosterfish action for larger fish was from Punta Arena to La Ribera.
EAST CAPE, MEXICO: Werner Hradecky of San Diego fished with friends Rodney Evraets and Jeff Steinhardt for several marlin, and several roosterfish including one monster estimated at 90 to 100 pounds. "Even the skipper never saw one that big," Hradecky said. All the roosterfish were caught in about 15 feet of water near the Hotel Palmas de Cortez:
"There were a dozen roosters working a large bait ball. We trolled both mullet and caballitos. We did not sight cast. The slow troll worked best. Gave it 10 seconds when we got picked up, and then set the hook.
"Just as we landed the big one, a nice 25-pound dorado swam by. I threw a mullet, and it was instantly gobbled up. All this right on the beach. Wow!" Hradecky's group fished with Capt. Javier on the panga, Angelina.
EAST CAPE, MEXICO: Mark Rayor of Vista Sea Sport said diving conditions continued spectacular at Cabo Pulmo, in clear, 82-degree water. Sightings included whale shark, hammerhead shark, schooling manta rays, and bigeye jacks. On Saturday, Rayor hosted world-class PADI instructor and videographer Rene Herrera, who called his dive at Cabo Pulmo "the best dive of my life." "Our dive master could hear the divers just screaming and hollering underwater!" Rayor said.
EAST CAPE, MEXICO: East Cape resident George Bergin said 50 residents gathered on July 15 for a 76th birthday party held at Buzzard's Bay in Los Barriles for local legend Jimmy Smith. "Drinks and food, cake and fun," Bergin said, "a chance to help honor Jimmy."
LA PAZ FISHING REPORTS
ALL ARTICLES, REPORTS AND FISHING INFORMATION FOR LA PAZ
LA PAZ, MEXICO: Jonathan Roldan of Tail Hunter International said the billfish bite was still hot on the Las Arenas side and included sightings of striped, blue, and black marlin, as well as sailfish. On the La Paz side, pangas were averaging 2 to 4 dorado per day, ranging from small fish up to 50-pound bulls.
LA PAZ, MEXICO: Gerardo Hernandez of Tortuga Sportfishing said weekend weather on the Las Arenas side was 88 degrees and cloudy, and water temperatures were 84 degrees at north Cerralvo Island, and 82 degrees at the south end. "We didn't have good days at the beginning of the week," Hernandez said, "but it's improving. Friday was good. We sent 11 pangas out, and all of them came back with dorado of 30 to 45 pounds. We also had a 45-pound amberjack."
LA PAZ, MEXICO: Andrew McLaws of Mesa, AZ fished off the south end of Isla Cerralvo with Tortuga Sportfishing for dorado, pargo, yellowtail, and cabrilla, and also saw a large sailfish caught that should have been released: "On the last day when we pulled up to shore, I took a picture of a guy and his son with a HUGE sailfish. I guess he was new to the scene and didn't know he should have released it. But boy what a monster! He said it weighed in at about 120 pounds." McLaws also reported "a ton" of marlin seen finning in the same area.
LORETO FISHING REPORTS
ALL ARTICLES, REPORTS AND FISHING INFORMATION FOR LORETO
LORETO, MEXICO: Pam Bolles of Baja Big Fish Company said Loreto weather was classic Sea of Cortez summer, very hot, humid and still, with only occasional breezes. Dorado were still scattered over the weekend, but school-sized fish appeared to be moving closer to town, averaging about 2 to 3 per boat, 3 to 12 miles out. Sailfish and many marlin were seen, and yellowtail to 30 pounds were still being caught off Punta Lobos. The winning dorado in the Vagabundos del Mar tournament held July 14-16 was a 39 pounder caught by client Ralph Miller, fishing with independent Capt. Juvencio Fidel Aleaide Garcia on his panga Siria. "Fishing was tough," Bolles said, "but Fidel knew where to go. He's been a hot captain all season. The seas did not give up the dorado so easily this time around for the Vags." The winning panga fished 34 miles out from the marina to find blue water.
LORETO, MEXICO: Part-time Loreto resident Kristain Pallesen said more than 60 anglers fished in the tournament: "The season here seems to be slow developing for dorado. The fish are just starting to form schools, but there is no sargassum to be found. We did see one good sign in lots of flying fish east of Isla Carmen, about 10 to 12 miles out." Pallesen said he was joining at least 10 Vagabundo boats for the post-tournament cruise south to Bahía Agua Verde and Isla San Francisco.
LORETO, MEXICO: Guille Mendoza of the sportfishing pangueros' cooperativa at the downtown launch ramp said 6 pangas reported a catch of 17 dorado, 2 sailfish, and 2 marlin, plus lots of small grouper. For the dorado, the pangas were still running an hour and half north in good sea conditions.
LORETO, MEXICO: Sonia Jimenez of Whittier, CA said her husband Rudy fished with Capt. Ricardo on the Fourth of July and landed a bull dorado estimated at 40 to 50 pounds.
LORETO, MEXICO: James Quinlan fished with his father Jack Quinlan, brother Jack Quinlan Jr., and Luis Otero on a panga chartered at the marina cooperativa office: "We had a blast. Juan the manager made sure that we were taken care of."
Quinlan said they saved time by paying Capt. Alejo for their mackerel baits ahead of time. Fishing an hour outside Isla Coronado, Alejo got them hooked up on a striped marlin, and then a large dorado: "While the marlin was on, Alejo started to chum with mackerel chunks. After about 5 minutes, my dad hooked a 50-pound bull dorado. It was chaotic for a while. Alejo did a great job keeping everything in order."
Both the dorado and marlin were landed, Quinlan said, although the marlin required a fight of an hour and a half, during and after which 2 more dorado of 40 and 30 pounds were caught."
LORETO, MEXICO: At Alfredo's Sportfishing, Linda Ramirez reported client Gary Mannis landed a 23-pound dorado and a 66-pound sailfish.
LORETO, MEXICO: Arturo Susarrey of Arturo's Sportfishing said Loreto water temperatures were cool for the season, 73 to 75 degrees, and he called the fishing "unstable," with "some days good, some days awful." The best dorado action on fish to about 35 pounds was off the north end of Isla Carmen, and good counts of yellowtail were found at Puerto Almeja.
BAHIA DE LOS ANGELES (L.A. BAY) FISHING REPORTS
ALL ARTICLES, REPORTS AND FISHING INFORMATION FOR BAHIA DE LOS ANGELES
BAHIA DE LOS ANGELES, MEXICO: At Bahía de los Angeles, Martin Mota and Fred Montiel of Northridge, CA stayed at Raquel and Larry's Beach Motel north of town and had good action on yellowtail and other species during 2 days with Capt. Juan of Rafael Cuevas' panga fleet. On their first day, they made bait in about 15 minutes near the lighthouse, and caught 8 yellowtail, with 2 close to 50 pounds, off the north side of Isla Coronado.
On their second day, they went snorkeling at Punta Quemado, but still caught 16 yellowtail, spotted bay bass, barracuda, triggerfish, and bonito on jigs. "We left early because the winds picked up, and headed inside the bay in search of whale sharks," Montiel said. "We didn't find any, but we had another great day of fishing. Another gorgeous day."
BAHIA DE LOS ANGELES, MEXICO: Earlier at Bahía de los Angeles, John Mensik of Phoenix, AZ fished with a Sammy Diaz' Capt. Tito for 4 yellowtail to about 40 pounds. He fished with large live and dead mackerel, about 5 cranks off the bottom in the Isla Coronadita channel. On the way home, Mensik drove up the Gonzaga Bay road, and reported Coco Coral doing well at Coco's Corner.
BAHIA DE LOS ANGELES, MEXICO: John Segoria found mixed action during a stay at Camp Gecko, four miles south of the village: "We worked very hard to catch the 6 yellowtail that we did manage to get. All were caught on blue-white iron, about 175 feet. I lost a very big yellowtail on the dropper loop.
"I then proceeded to get smoked by a very large grouper at the same spot. I managed to pull him out of one cave, just to have swim back into another one. Fun trip.
"A lot of bait in the water. The water in the channel is already about 76 degrees, and 80 in the bay, with lots of sargassum. Conditions look really good for dorado."
BAHIA DE LOS ANGELES, MEXICO: Fly-in pilot Stan Woodward reported seeing more fish traps during his recent visit to San Francisquito. "I am seeing more fish traps on pangas," he said, "quite a few on 2 pangas beached at the resort. But, I only saw one panguero out at sea with traps on board."
SAN FELIPE FISHING REPORTS
ALL ARTICLES, REPORTS AND FISHING INFORMATION FOR SAN FELIPE
SAN FELIPE, MEXICO: Dana Kerby reported on a 6-day Midriff Islands trip by the panga mothership Erik, returning to San Felipe on July 17 with a catch by 24 anglers of: 208 yellowtail, 130 cabrilla, 41 pargo, 10 white seabass, 322 spotted bay bass, and 57 giant squid. The Erik fished at Suspiro, Salsipuedes, San Esteban, Cardonosa, Refugio Bay and the Golden Reef. Three chubascos during the trip kept temperatures lower than normal.
SAN FELIPE, MEXICO: Fily Espinoza of Tony Reyes Fishing Tours reported on a 6-day Midriff Islands trip by the panga mothership Jose Andres, returning to San Felipe on July 18 with a catch of: 162 yellowtail, 18 to 30 pounds; 4 white seabass, 28 to 59 pounds; 119 cabrilla, 10 to 14 pounds; 40 squid, 12 to 45 pounds; 11 red snapper, 8 to 11 pounds; 9 broomtail grouper, 12 to 23 pounds; 9 sheephead, 6 to 9 pounds; and 285 spotted bay bass. One 18-pound grouper was released. Midriff water temperatures averaged 75 degrees.
SAN FELIPE, MEXICO: Boat owner Tony Reyes Sr. returned from a trip to Puerto Vallarta, where he presented a list of concerns to a committee of the federal government. Among the items discussed were the current penalty in the official price of diesel fuel for sport fishing boats, which are considered a luxury activity and must pay about twice as much as commercial boats. Reyes, also discussed the lack of federal enforcement of fishing regulations and the careless practices of commercial fishermen who leave trash and refuse on the protected Sea of Cortez islands.
SAN FELIPE, MEXICO: At San Felipe, the Cotuco office of tourism gave the current leading fish in the season-long panga mothership tournament for yellowtail and cabrilla. For yellowtail, the biggest 3 fish of the season so far are 43.50 pounds, 39.13 pounds, and 36.60 pounds. For cabrilla, the leading fish are 22.50 pounds, 18.00 pounds, 16.00 pounds. Cash prizes for the free tournament will be awarded at the annual winter shrimp festival.
ROCKY POINT (PUERTO PENASCO) FISHING REPORTS
ALL ARTICLES, REPORTS AND FISHING INFORMATION FOR ROCKY POINT
ROCKY POINT (PUERTO PENASCO), MEXICO: Ester Donaldson of Santiago's Ocean Services said boats were going 10 to 15 miles for triggerfish and pinto bass, in cool 77-degree water, about 110 feet deep. At 28 miles, and 140 to 190 feet deep, larger grouper and red snappers were caught.
SAN CARLOS (SONORA) FISHING REPORTS
ALL ARTICLES, REPORTS AND FISHING INFORMATION FOR SAN CARLOS
SAN CARLOS, MEXICO: Bill Molden reported slower action, with boats running 40 miles to find fish in windy conditions. Water temperatures were in the high-80s. "Very few boats have been venturing out, so the reports are hard to glean," Molden said.
MAZATLAN FISHING REPORTS
ALL ARTICLES, REPORTS AND FISHING INFORMATION FOR MAZATLAN
MAZATLAN, MEXICO: Tadeo Hernandez of Flota Bibi Fleet said boats released lots of sailfish and caught the season's first blue marlin over 200 pounds. The blue marlin was hooked very close to shore at 7:30 a.m., Hernandez said. Boats averaged 6 sailfish hookups per day, and bottom fishing was good for red snapper, cabrilla, and other species. The count including released fish for 20 boats was: 55 sailfish, 2 dorado, 1 blue marlin, and 31 black skipjack and bonita.
MAZATLAN, MEXICO: Larry Edwards of Cortez Yacht Charters said Aries Fleet had fewer anglers, but still averaged about 4 sailfish per day. The fleet count, including released fish, was: 1 blue marlin, 72 sailfish, and 5 yellowfin tuna. Inshore fishing was good for permit to 20 pounds, roosterfish, red snapper to 10 pounds, and some jack crevalle. Mazatlan weather was calm and humid, in the low-90s, with water temperatures also in the low-90s, and the best fishing was 20 to 28 miles southwest of Marina el Cid.
PUERTO VALLARTA FISHING REPORTS
ALL ARTICLES, REPORTS AND FISHING INFORMATION FOR PUERTO VALLARTA
CABO SAN LUCAS, MEXICO: By Minerva Saenz, IGFA Representative, Cabo San Lucas
On Friday, July 11, Martha and Larry Warlaumont's 58-foot Viking Retriever, with Martha doing the angling, caught a yellowfin tuna at Puerto Vallarta that was weighed there at 314.6 pounds, later certified by me at Cabo San Lucas at 308 pounds, and will be submitted for an IGFA record.
By 11 a.m. on July 11, the Martha had already released 1 blue marlin, dumped 1 blue marlin, and tagged 3 others, one of which was estimated at 500 pounds. At 11 a.m., Martha had a live skipjack tuna on an 80TW International, bent-butt rod, with 100-pound line, when a huge tuna hit.
They knew it was big! After fighting it for 30 minutes, they got the monster on board and taped it immediately. Using the old standard formula "Girth Squared x Length divided by 800," the fish taped out at 325 to 330 pounds.
They immediately headed toward Puerto Vallarta where they hoped to have the fish weighed on a certified scale. They arrived in Puerto Vallarta at approximately 11 p.m., so they were unable to do anything that evening. They began to scramble early in the morning, looking for a scale. At 11 a.m., they located a scale where the tuna weighed in at 143 kilos. Do the math, 314.6 pounds! This weight will be submitted to IGFA for a record!
Martha felt that she needed to affirm this weight, so Jeff Hamm, the captain of the Retriever, called me at Minerva's Baja Tackle in Cabo San Lucas, as I am the local IGFA Representative and Weighmaster. Jeff said that they were headed straight to Cabo San Lucas with the "Monster on ice," and were expected to arrive after 5 p.m. the following day. The Retriever radioed at approximately 6 p.m. on Sunday, July 13, and reported that they were 20 minutes outside of Cabo San Lucas.
I met them at the local weigh station and certified the magnificent fish at 308 pounds. This was now 31 hours since it was weighed in Puerto Vallarta! Both weights will be submitted to IGFA for World Record.
Although the entire Retriever team was visually exhausted, they were also excited. Martha said that she couldn't have done it without her incredible team of Larry Warlaumont, husband, Jeff Hamm, captain, and Enrique Villanueva, deckhand, also known as "Head Cheerleader!"
Marth was asked, "How could you dump a blue marlin, release a blue marlin, tag 3 blue marlin, and then land a potential woman's world record?"
Martha replied, "My team won't let me be a whimp!"
Martha and Larry Warlaumont are part of the Buena Vista, East Cape community, and are avid and passionate fishermen who tag billfish on a regular basis. Martha Warlaumont was the recipient for the Billfish Foundation Award in 2002 for Angler of Most tagged Striped Marlin and Most tagged Blue Marlin.
IXTAPA ZIHUATANEJO FISHING REPORTS
ALL ARTICLES, REPORTS AND FISHING INFORMATION FOR IXTAPA ZIHUATANEJO
IXTAPA ZIHUATANEJO, MEXICO: Local guide Ed Kunze reported only about 10 boats a day fishing, in humid weather, very calm seas, and water temperatures to 90 degrees, for about 3 sailfish per day. Inshore action was good for roosterfish and jack crevalle, with boats releasing about 5 roosters per day of about 30 pounds.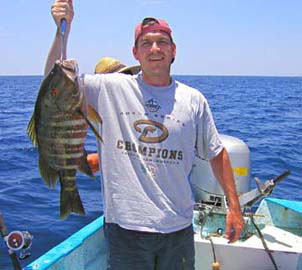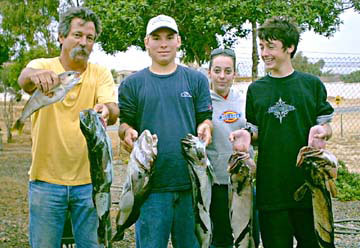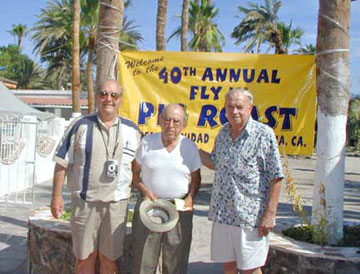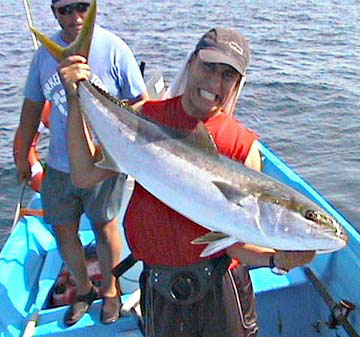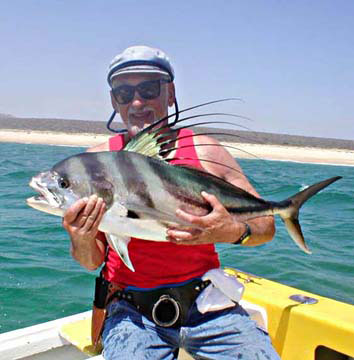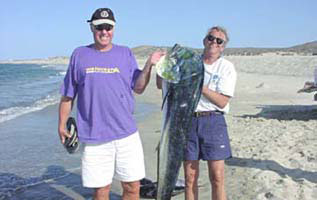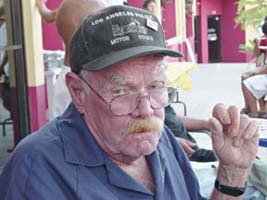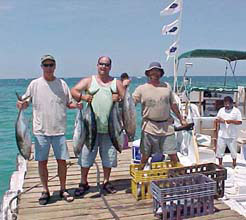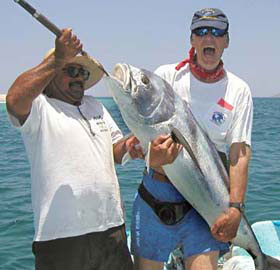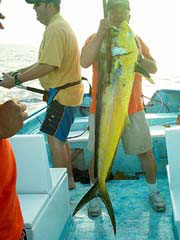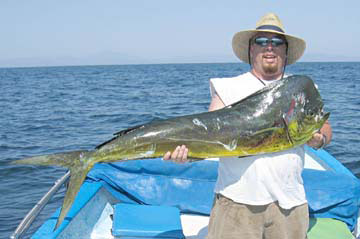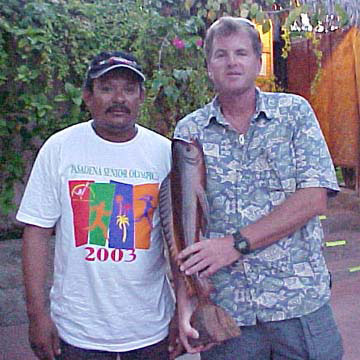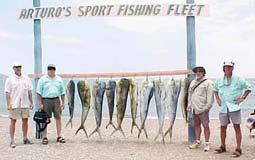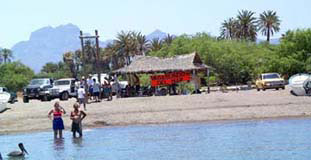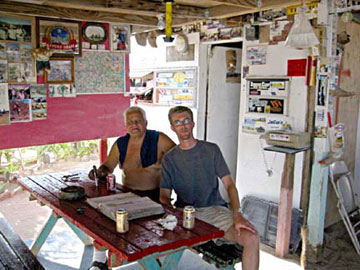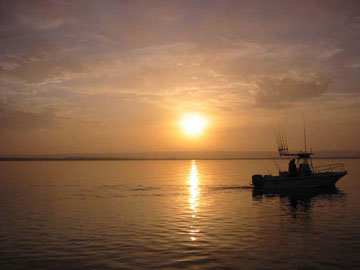 Baja coastal fishing reports and articles.
Ensenada fishing reports and articles.
Puerto Santo Tomas fishing reports and articles.
Erendira fishing reports and articles.
San Quintin fishing reports and articles.
Magdalena Bay fishing reports and articles.
Cabo San Lucas fishing reports and articles.
San Jose del Cabo (Los Cabos) fishing reports and articles.
East Cape fishing reports and articles.
La Paz fishing reports and articles.
Loreto fishing reports and articles.
Mulege fishing reports and articles.
Santa Rosalia fishing reports and articles.
Bahia de los Angeles (L.A. Bay) fishing reports and articles.
San Felipe fishing reports and articles.
Rocky Point (Puerto Penasco) fishing reports and articles.
San Carlos (Sonora) fishing reports and articles .
Mazatlan fishing reports and articles .
Puerto Vallarta fishing reports and articles.
Ixtapa Zihuatanejo fishing reports and articles.
Huatulco fishing reports and articles.
Cancun fishing reports and articles.
Mexico coastal fishing reports and articles.
Mexico Fishing Home Page < Mexico Fishing News Archives < Fishing Report