ENSENADA, MEXICO: John Migeot of Mission Viejo, CA reported on a great trip to Isla Guadalupe aboard the Legend: "Perfect weather and calm seas all four days. We caught over 150 yellowfin weighing between 30 to 90 pounds, most in the 60-pound range, plus assorted other fish. We were visited by a 20-foot great white. What a memorable sight! I've been on a lot of fishing trips, but I'd have to call this the trip of a lifetime."
ENSENADA, MEXICO: Sergio Susarrey of Sergio's Sportfishing Center reported on 90 anglers with a catch of: 168 yellowtail, 159 bonito, 194 barracuda, 1 calico bass, 2 halibut, 297 skipjack, 65 lingcod, 67 rockcod, 22 whitefish, 14 sheephead, and 25 salmon grouper.
SAN QUINTIN FISHING REPORTS
ALL ARTICLES, REPORTS AND FISHING INFORMATION FOR SAN QUINTIN
SAN QUINTIN, MEXICO: Pete Hillis of Pedro's Pangas said only 5 boats fished last week, but they caught limits of yellowtail at the 6 Spot and Isla San Martín. Bottom species continued plentiful. San Quintin weather was overcast and foggy in the mornings, clearing by about 10:30, with light breezes.
SAN QUINTIN, MEXICO: At Don Eddie's Landing, Tony Marquez said the bait was jumping all day long right in front of the hotel. Yellowtail fishing was slightly slower, with two captains reporting 5 caught, but bottom fishing was excellent. Brad Johnston and his father-in-law from San Diego fished with Capt. Tito for rockcod averaging 10 pounds, plus 5 lingcod.
SAN QUINTIN, MEXICO: Lorenzo Biedebach of San Quintin said local white seabass guru, Big John Bakerink was having the engine rebuilt on his boat: "John believes that the sound of his engine idling actually attracts the sea bass. Who can argue with success? He fears the rebuild may cause a change in the engine vibration sound and hence destroy his reputation. However, despite John's theory, we at Campo Lorenzo still feel that his success has some bearing on the horseshoe that he has stuck up his... and we tell him so!" Biedebach thought another possible source of Bakerink's incredible white seabass catches may have something to do with his artificial tooth, which he made from a white seabass ear bone. "When fishing, John will intermittently lean overboard and show his tooth as an additional attraction to draw in the big whites," Biebebach said. "Again, based on his production, we can't depute his claim."
SAN QUINTIN, MEXICO: Earlier, Julio Meza of San Quintin fished with his cousin Paco Piñones at Isla San Martín for 11 bonito, 7 yellowtail to 16 pounds, and some very large barracuda, on live bait and Rapalas. Near shore at Los Cantiles, Meza said they stopped for white seabass, and ended up with a 78-pound thresher shark. Eleven of 18 fish caught on the troll hit a purple-black MirrOlure MR111. Halibut fishing was unsuccessful, and water temperatures were 68 to 70 degrees.
SAN QUINTIN, MEXICO: Joe Martin of San Diego and Dennis Lundquist made a quick run to fish with Capt. Bear on the Fany 3, which had a new 200 h.p. Yamaha. Martin said they caught the usual bottom fish and lingcod, and limits of good sized red rockcod. Sea lions at Isla San Martin interfered with a good barracuda bite and some good action on yellowtail along the inside of the island. "One boat lost six out of seven," Martin said. "We managed four."
SAN QUINTIN, MEXICO: Capt. Kelly Catian of El Capitan Sportfishing said, "The seals were a serious problem at the island and at Ben's Rock, but we managed to get some decent fish on the boat anyhow.
CABO SAN LUCAS FISHING REPORTS
ALL ARTICLES, REPORTS AND FISHING INFORMATION FOR CABO SAN LUCAS
CABO SAN LUCAS, MEXICO: Tracy Ehrenberg, Pisces Fleet--Well the question on everybody's lips this week is, "Who won the Bisbee?" so without much ado we'll jump right into it.
First of all, there were 163 teams entered, with participants from such places as Canada, Italy, Japan, England and Tahiti, with the majority of entries from the United States and Mexico.
As usual, it was quite a sight to see the boats lined up for the 8 a.m. shotgun start. As is the norm, many boats had headed out in the pre-dawn hours to search for skipjack or small yellowfin to use as bait, and then had to rush back to get behind the line to avoid being disqualified.
The first day of the competition, fishing was slow, not just for those in the contest but for all the charter fleet, but by 2 p.m Gato Negro a 39-foot Hatteras, backed up to the dock with what would be the first qualifier of the tournament, a 342-pound blue marlin.
(Minimum weight was set at 300 pounds. Anybody boating and weighing a fish of a lesser weight would be penalized with negative points. Points could also be attained by releasing smaller blues and blacks as well as striped marlin and sailfish.)
There were a smattering of other fish reported as being released but the only other fish weighed in was at 4 p.m. by Sr. Moment, a 50-foot Viking, whose fish weighed 412 pounds, for angler Steve Esrick from Aspen, CO. This was Steve's first try at this event and he was pleased, as the day's earnings for this fish were $431,000, as they were in all the jackpot categories.
Next day out, boats were off eagerly. If there were two fish over 300 pounds, then there had to be more. This day, boats headed mostly to the Pacific were the Sr. Moment's fish had been caught the previous day. Despite effort put forth, not one fish was weighed in on day two that could surpass the 300-pound mark. This boosted hopes for team Sr. Moment seeing as they had the biggest fish of the tournament so far and if no other qualifying fish were weighed on the third and final day, they would have a clean sweep of all of the jackpot money.
This was not to be though, the organizer breathed a sigh of relief as hookups on blue marlin started to come over the radio. After Midnight reported having a fish on board, but said they preferred to stay out to try their luck at something larger, which kept everybody wondering all day as to what their strategy was.
Around 4 p.m. the 60-foot Ocean Que Sera backed into the weigh station. Now, the locals, knew this had to be a good fish, as captain Nayo Winkler is a well-liked native of this area and known to be a superb fisherman. The crowd gasped when the fish was brought out into view. It was big, After hoisting it up there was a moment of silence and anticipation as the numbers rang out over the crowd: "Five-hundred and sixty-five," followed by cheers and whooping, especially by the team members.
Now it was a waiting game, to see who else would bring a fish to the scale. Next to the weigh-in was a local 31-foot Bertram, Mucho Loco. Their fish didn't look as big, but it turned out to be a respectable 371-pounds, which looked good for a place in the money.
Next came After Midnight, amongst muttering. This was the boat that had been awarded first place in 2000 after the controversial disqualification of hometown favorite, Minerva. However their fish was a qualifier at 444 pounds.
Team Que Sera were in a celebrating mood, that is until they realized there was still a boat hooked up, to what was supposed to be a huge marlin. In fact they had been on the fish for over four hours. Tension mounted as teams hung around for the last fish to come in.
The sun set and still everybody waited. Eventually the silhouette of the 42-foot Uniflite, Jackpot was seen backing up to the scale with a nice fish on the swim step. Everybody held their breath as it was hoisted up and again silence as the numbers began to be called out: "Four-hundred and eighty-four," before the crowd erupted into cheering. The winning fish was taken on the Pacific side off of the Candelaria Canyon. It hit the lure being trolled three times, before taking a firm hold. The lure was a blue-and-pink Marlin Magic lure called Henry and the fight lasted just 45 minutes, for angler Brady Bunte from Carlsbad, CA.
MONIES WERE DISTRIBUTED AS FOLLOWS:
Winnings consist of a tournament place award plus the jackpots they were entered in.
1st Place: Que Sera, 565-pound blue marlin, for angler Brady Bunte, Carlsbad, Ca. Winnings: $1,165,000, plus a new Porsche Carrera, the biggest payout in the tournament's history.
2nd Place: Jackpot, 484-pound blue marlin, for angler Leonardo Felix Ruiz, Cabo. Winnings: $108,945. They were not entered in all jackpot divisions.
3rd Place: After Midnight, 444-pound blue, for Mike Cromer, Ohai Ca. Winnings: $66,825. They were not entered in all jackpot divisions.
4th Place: Senor Moment, 412-pound blue marlin, for Steve Esrick, Aspen, Co. Winnings: $446,130. They were in all the jackpots.
5th Place: Mucho Loco, 371-pound blue marlin, for Bill Williams, Manchester, Ct. Winnings: $9720. They were not in all the jackpots.
RELEASE DIVISION:
1st Place: El Vato, 3 blue marlin, $64,643.
2nd Place: Molly Rose, 3 blue marlin, $22,376.
3rd Place: Predator, 2 blue marlin, $12,431.
Overall a total of 43 billfish were released during the three-day event, which is considered very slow for this area.
More fishing reports and information for Cabo San Lucas, Mexico, can be found in the Mexico Fishing News archives.
CABO SAN LUCAS, MEXICO: Jose Luis Sánchez of Solmar Fleet reported on 96 boats with a catch including released fish of: 19 striped marlin, 41 dorado, 39 tuna, 5 sailfish, 2 blue marlin, and 1 mako shark. Most of the fleet fished at the Jaime Bank, Sánchez said.
CABO SAN LUCAS, MEXICO: Tracy Ehrenberg of Pisces Fleet said just 30 percent of boats landed billfish, and 65 percent caught all species combined. "This is quite unusual for this time of year, as we expect a higher ratio of billfish, especially striped marlin," Ehrenberg said. Pisces Fleet had a catch including released fish of: 10 striped marlin, 11 sailfish, 5 blue marlin, and a few dorado to 45 pounds, tuna including one 238 pounder, a few wahoo to 60 pounds, and some mako shark. Cabo weather was fair, with some clouds at the end of week, and water temperatures averaged 85 degrees.
CABO SAN LUCAS, MEXICO: Capt. George Landrum of Fly Hooker Sportfishing reported on 5 boats with a catch including released fish of: 1 blue marlin, 250 pounds; 3 striped marlin to 150 pounds; 1 yellowfin tuna, 15 pounds; and 1 dorado, 15 pounds. Landrum said water temperatures as high as 89 degrees were seen on the Cortez side.
CABO SAN LUCAS, MEXICO: Larry Edwards of Cortez Yacht Charters said species fish counts were down for the week, due to the number of boats fishing for blue and black marlin in the Bisbee's tournament. Gaviota Fleet had a catch including released fish of: 3 smaller blue marlin, 5 sailfish, 9 striped marlin, 1 wahoo, 16 dorado, and 101 yellowfin tuna. Cabo weather was good, with a light southwest swell, and water temperatures everywhere in the mid-80s. The tournament fishing was concentrated from the 95 Spot up to the Jamie Bank on the Pacific side.
SAN JOSE DEL CABO (LOS CABOS) FISHING REPORTS
ALL ARTICLES, REPORTS AND FISHING INFORMATION FOR SAN JOSE DEL CABO
SAN JOSE DEL CABO, MEXICO: Eric Brictson of Gordo Banks Pangas said the bite wasn't consistent, but some larger tuna did show up last week, including one reported 300 pounder caught at the Gordo Banks. Dorado and wahoo were scarce and not large, but a 640-pound black marlin was caught by the Leona out of Punta Palmilla. Inshore fishing was fair on some sierra, very small roosterfish, and bottom catches of pargo, cabrilla, amberjack, and triggerfish.
SAN JOSE DEL CABO, MEXICO: Luis Duhart of Palmilla Bay Sportfishing said boats at the Gordo Banks were landing a few tuna per day, to about 30 pounds, mostly on sardina. One tuna of 250 pounds was caught with a bonita bait, and Bill Dipriest caught a 45 pounder on the Inner Gordo with a live sardine. Many small tuna to about 20 pounds were caught in the Vinorama area. Several large pargo were also caught on the bottom with bonita baits.
SAN JOSE DEL CABO, MEXICO: Joe Flores of La Mirada fished 3 days with Palmilla Bay Sportfishing for "up and down action" mostly at the Gordo Banks: "Lots of boat traffic due to the Bisbee tournament. We had an early morning bite until the big cruisers came by and sank the fish. Average size of tuna were football and an occasional brute 35 to 50 pounds. Some boats had 5 to 6 tuna, others none."
Flores reported water temperatures averaging 78 degrees, with calm seas, getting rougher toward the end of the week, and some clouds and sprinkles on Saturday. Sardina bait was available but not abundant. Only a few boats caught dorado. Flores recommended that to fish in current conditions, anglers should bring 25 to 30-pound line, #1 or 1/0 hooks, and small sinkers to sink baits below the surface.
EAST CAPE FISHING REPORTS
ALL ARTICLES, REPORTS AND FISHING INFORMATION FOR EAST CAPE
EAST CAPE, MEXICO: Buena Vista Beach Resort reported on 113 boats with a catch including released fish of: 9 blue marlin, 4 striped marlin, 39 sailfish, 36 dorado, 108 tuna, 3 wahoo, 144 snapper, 16 jack crevalle, 14 amberjack, 87 bonita, 4 yellowtail, 2 pompano, 7 triggerfish, 7 squid, 2 cabrilla, 32 skipjack, and 3 sierra. East Cape weather was sunny in the high-80s, with water temperatures of 83 to 85 degrees.
EAST CAPE, MEXICO: Tami Mouyeos of Rancho Buena Vista said 22 boats had a catch including released fish of: 2 striped marlin, 4 sailfish, 22 dorado, and 88 tuna.
EAST CAPE, MEXICO: At Baja On The Fly, Gary Graham said inshore water was clearing after the hurricanes, but the beaches were still tough, due to debris and washouts, on a few ladyfish, small jacks, and small roosterfish, found on scarce bait.
EAST CAPE, MEXICO: Dave Palmer of Fiesta Sportfishing reported on the first annual East Cape Fiesta Tournament at Buena Vista Beach Resort. Palmer said 25 anglers fished 3 days for a catch including released fish of: 4 blue marlin, 6 sailfish, 4 dorado, 29 yellowfin tuna to 55 pounds, 11 red snapper to 20 pounds, and 17 miscellaneous fish including 8 squid.
EAST CAPE, MEXICO: Chuck Meredith of Los Barriles reported slow fishing near shore: "Sorry to report there just isn't any fish close by. Many private boats having the same results. I have caught 2 dorado, both approximately 10 pounds, females with eggs. Kept one that was eye hooked, released the other. Sailfish are way out, close to the tuna bite, which is over 40 miles away."
EAST CAPE, MEXICO: George Bergin of La Ribera reported "not very good" local fishing, but unseasonably warm water temperatures at 86 degrees: "The dorado are scattered, the marlin don't seem to be very hungry cause the big Humbolt squid are in." Bergin said he's been finding sierra and ladyfish along shore with gold hoochies, plus some pompano at the lighthouse.
EAST CAPE, MEXICO: Gary Barnes-Web of Rancho Leonero said: "More striped marlin every day, spread throughout the bay from Cerralvo to Los Frailes. One boat released 5 in 1 day, including a triple hookup."
EAST CAPE, MEXICO: Mark Rayor of the Vista Sea Sport dive service said conditions continued spectacular at Cabo Pulmo, in water averaging 84 degrees. Sea life sightings included whitetip shark, manta rays, turtles, eagle rays, giant grouper, and free swimming moral eels.
EAST CAPE, MEXICO: Werner Hradecky of San Diego fished on the panga Alexandria with Capt. Xavier for 2 days, for a catch including released fish of: 2 blue marlin, 1 sailfish, 8 yellowfin tuna to 50 pounds, and one 15-pound dorado.
LA PAZ FISHING REPORTS
ALL ARTICLES, REPORTS AND FISHING INFORMATION FOR LA PAZ
LA PAZ, MEXICO: Gerardo Hernandez of Tortuga Sportfishing said fishing picked up over the weekend as pangas averaged about 4 dorado to 50 pounds, plus pargo to 15 pounds, and many mixed species. Many giant squid were caught, and sardina bait was available. No large tuna were caught. La Paz weather was hot, in the high-80s, with water temperatures averaging 84 degrees south of Ensenada de los Muertos, where the dorado were caught.
LA PAZ, MEXICO: Betty Hill-Croft of La Paz reported: "Seas have been dead calm for the most part with the exception of last Friday around La Reyna where we encountered pretty heavy chop. The beacon light was being replaced.
"We ran through a swarm of bees while trolling close to the La Reyna Rock. We felt this was a fluke as we had never encountered bees at sea before.
"Fishing has been hit and miss. Trolling with feathers around La Reyna we hooked up with a nice wahoo, but did not land another. We saw lots of good fishing indicators, marlin, lots of bait balls, and debris in the water."
LA PAZ, MEXICO: Jonathan Roldan of Tail Hunter International said some winter-like winds arrived last week, but the weather was still basically warm and nice. Fishing was variable on a wide variety of species, with dorado to 30 pounds available around Isla Espiritu Santo and toward Isla Cerralvo, and more tuna sighted at La Reyna at the north end of Cerralvo.
On the Las Arenas side, pangas were launching at Ensenada de los Muertos for giant squid, 200 to 300 feet deep, and a very wide mix of species, including yellowtail, sailfish, tuna, pargo, dorado, and even sheephead. Some pangas were running as far as Punta Pescadero to find bait and fish.
LA PAZ, MEXICO: Larry Wayne fished two days of Fishermen's Fleet for mixed action: "Opted to take the van to Bahia de los Muertos, and a panga down to Punta Pescadero. We made bait in the cove just south of the point, in a traffic jam of pangas, cruisers and flying throw nets. Got plenty of sardinas, but very small.
"We spent the entire morning in a small area off Punta Pescadero, along with a number of other boats, but I only saw four or five tuna, all small, and three of them on one panga.
"A couple of dorado were also taken. All in all, the pickings were pretty slim. I got one trigger fish and a bonito there.
"In the early afternoon we buoy-hopped, tossing a little chum at each station of the hunt, with nary a boil. Finally, after passing the eighth empty buoy my panguero, Enrique, took pity on my frustration and got me to rig up my lightest outfit, for small pargo off the northern point of Los Muertos.
"I got a kick out of watching the subsurface explosion of small fish activity as the chum hit the water, but I only got one small pargo there. However, I had a lot of fun on the light tackle landing the aggressive cocineros. They look and act like undersized yellowtail.
"On Friday, Juan stopped the panga in a little over 100 meters of water, and we dropped heavy squid jigs to the bottom and rapidly yo-yoed them up. Within seconds a 20-pound squid would get entangled in the jig. Hard work from that depth."
LORETO FISHING REPORTS
ALL ARTICLES, REPORTS AND FISHING INFORMATION FOR LORETO
LORETO, MEXICO: Pam Bolles of Baja Big Fish Company said, "Inshore is the place to be these days as offshore is producing very little. The biggest news is the weather. The nortes have started."
Yellowtail to about 15 pounds were caught around San Bruno up to Punta Pulpito, off a 200-foot bottom with mackerel or caballito. Mixed with them were cabrilla to 15 pounds, and pinto bass to 5 pounds. Inshore fishing was good on plentiful roosterfish, centered at San Bruno, on slow-trolled live bait. Also caught were sierra, jack crevalle, pargo, cabrilla, triggerfish, giant needlefish, and miscellaneous species.
LORETO, MEXICO: Gregorio Segoviano of the Carnaderos baitsellers' cooperativa said jurelito and all sizes of mackerel were being caught and sold to about 15 to 20 boats per day. Two bait boats were working nightly, fishing around the south end of Isla Coronado.
LORETO, MEXICO: Dale Clark and Don Holden of Loreto found yellowfin tuna of about 25 pounds working on birds and dolphin southeast of Isla Catalan, in 85-degree water. "All troll fish," Clark said, "any color feather, double hookups in calm seas. Left them biting."
LORETO, MEXICO: Jeff Petersen of Loreto did some night handline fishing with the Carnaderos baitsellers for catches of pargo alison and mulato, tigereta, and blue-and-gold snapper at Punta Tintorera, at the north end of Isla Carmen. "We had a bucket of jurelito for cut bait," Petersen said. "The night was warm, water calm, 82.2 degrees, moonless, excellent for fishing."
LORETO, MEXICO: Wendy Wilchinski of Villas de Loreto reported that the derelict ship has been sunk as a diving attraction near Isla Danzante. Hotel guests were catching lots of yellowtail, including some larger ones.
LORETO, MEXICO: Don Bear of Loreto reported Charlie Licha fished with Alvaro Murillo at the Cincuenta Bajo north of Punta Lobos, using jurelitos as bait. Their two-day total was 7 smallish dorado, 8 yellowtail to 30 pounds, a 12-pound cabrilla sardinera, an 8-pound pargo, several barrilete and at least a dozen other miscellaneous fish, including whitefish and pinto bass. Loreto weather was excellent both days, with almost no wind.
MULEGE FISHING REPORTS
ALL ARTICLES, REPORTS AND FISHING INFORMATION FOR MULEGE
MULEGE, MEXICO: Diana Johnson of the Hotel Serenidad said the weather was more autumn-like, with some wind. Fishing was still "not too good" on some cabrilla, yellowtail, and a few dorado.
BAHIA DE LOS ANGELES (L.A. BAY) FISHING REPORTS
ALL ARTICLES, REPORTS AND FISHING INFORMATION FOR BAHIA DE LOS ANGELES
BAHIA DE LOS ANGELES, MEXICO: At Bahía de los Angeles, Abraham Vazquez of Camp Gecko said the weather was in the 90s, and the post-hurricane mosquitos were still around. Water temperatures were 79 to 80 degrees, and fishing was good at the inner islands for small yellowtail and a few straggler dorado. Larger yellowtail were caught at the south end of Isla Angel de la Guarda, Bernabe Rock, and Los Machos. Some grouper and cabrilla were also caught, and there were good numbers of whale shark in residence at the south end of the bay.
BAHIA DE LOS ANGELES, MEXICO: Capt. Igor Galvan ran to Bernabe Rock and got 15 yellowtail, keeping 5 fish to 22 pounds, plus a 35-pound grouper. "Very good day!" Galvan said.
BAHIA DE LOS ANGELES, MEXICO: Don Fagan of Ensenada fished two days out of Casa Diaz for a couple of nice yellowtail on the south side of Horsehead Island, and then a good run of triggerfish off the bottom with bait. "Biggest triggerfish I have ever seen! Six-and-a-half pounds!" Fagan said. "My wife caught one a little bigger! Did well on the bottom, no wind, perfect day."
The next day, Fagan's panga landed 11 yellowtail, and had many fish cut off: "We broke off, or got bitten off every darn jig in the boat. I will never go down without steel leader in my kit again."
SAN FELIPE FISHING REPORTS
ALL ARTICLES, REPORTS AND FISHING INFORMATION FOR SAN FELIPE
SAN FELIPE, MEXICO: Filiberto "Fily" Espinoza of Tony Reyes Fishing Tours reported on a 6-day Midriff Islands trip by the panga mothership Jose Andres, returning to San Felipe on Oct. 24 with a catch of: 162 yellowtail, 18 to 27 pounds; 2 grouper, 40 to 65 pounds; 13 dorado, 14 to 21 pounds; 109 cabrilla, 10 to 14.8 pounds; 10 squid, 18 to 22 pounds; 4 red snapper, 14 pounds; 3 broomtail grouper, 15 to 17 pounds; 6 sheephead, 9 pounds; 43 spotted bay bass; and 3 shark, 18 to 30 pounds. Two grouper of 20 to 27 pounds were released. Midriff water temperatures were 75 to 80 degrees.
SAN FELIPE, MEXICO: Fly-in angler Ralph Strahm of Holtville, CA reported at least 10 shrimp trawlers working from Puertecitos to Gonzaga Bay late last week, some working inside the coves. "The fishing was lousy for us," Strahm said, "residents told us they hadn't been catching any fish. Most of the day I thought the fish finder was broken, because all that I could get was a depth reading. I think that the ecology of the bay is so disrupted that even the bait fish have left."
SAN FELIPE, MEXICO: At San Felipe, Catalina Meders of the Title Company Bookstore overlooking the bay said the weekend weather was hot and windy. About 40,000 people attended the Luciano Pavarotti outdoor recital at Laguna Salada. "I have heard reviews claiming that the maestro was not at his best, but as far as I'm concerned, Pavarotti at his flat-out worst is about a zillion times better than whoever is in second place," Meders said.
ROCKY POINT (PUERTO PENASCO) FISHING REPORTS
ALL ARTICLES, REPORTS AND FISHING INFORMATION FOR ROCKY POINT
ROCKY POINT (PUERTO PENASCO), MEXICO: Stuart Burnett of Tempe, AZ reported: "Put the boat in a slip at Safe Marine. We went for a short cruise and, lo and behold, there was a whale shark. He was just hanging around the entrance to the harbor. A magnificent creature, about 18 feet long.
"Went directly to a favorite reef about 26 miles south and 12 miles west of the island and anchored up. We started catching small croaker right away, but none of their bigger cousins. Two bat rays were boated and released. Both boats got cut off by some large underwater freight trains. Sharks, I suspect.
"The water is still about 83 degrees. We fished using cut baits, live croaker, and squid for several hours, but not much going on.
"We headed into San Jorge Island and anchored near the current break at the north end by the widow maker rocks. Triggerfish galore, but no game fish. The was very little tide movement all day and this spot is best when there is a strong current.
"I decided to troll a bit around the island and put out two blue-silver mackerel pattern Rapalas. We picked up a large sierra and 3 nice size leopard grouper, slow trolling close into the rocks. All of our fish were caught on the west side of the island."
MAZATLAN FISHING REPORTS
ALL ARTICLES, REPORTS AND FISHING INFORMATION FOR MAZATLAN
MAZATLAN, MEXICO: Tadeo Hernandez of Flota Bibi Fleet said 7 offshore boats had a catch including released fish of: 11 sailfish, 1 dorado, 1 jack crevalle, and 10 skipjack and bonita. Two striped marlin broke off on mechuda sailfish rigs, Hernandez said, the first seen of the season. Mazatlan weather was humid in the low-80s.
MAZATLAN, MEXICO: Larry Edwards of Cortez Yacht Charters said Aries Fleet boats out of Marina el Cid were averaging about 3 sailfish per day, and dorado were caught to over 50 pounds. Aries Fleet reported a catch including released fish of: 80 sailfish, 10 blue marlin, 1 wahoo, and 35 dorado. Inshore fishing was improved on 26 roosterfish, plus good counts of red snapper. The best fishing was 22 to 30 miles from Marina el cid on headings of 190 to 240 degrees, with water temperatures in the mid-80s.
IXTAPA ZIHUATANEJO FISHING REPORTS
ALL ARTICLES, REPORTS AND FISHING INFORMATION FOR IXTAPA ZIHUATANEJO
IXTAPA ZIHUATANEJO, MEXICO: Paul Phillips of the Fintastic Total Tag & Release Tournament said, "Fishing has improved over the week. No problem for most anglers to tag a couple sails per day, then put a couple dodos up to 35 pounds in the cooler."
IXTAPA ZIHUATANEJO, MEXICO: Stan Lushinsky of Ixtapa Sportfishing Charters said the port was closed for 2 days by a tropical storm and the fishing was scattered. Blue water was within 5 miles of the coast. Increasing sailfish action was reported, along with good dorado action on debris. Large schools of yellowtail jack, but few roosterfish, were seen near shore.
IXTAPA ZIHUATANEJO, MEXICO: Local guide Ed Kunze said 84-degree cobalt blue water was 19 miles out, and boats were seeing about 2 sailfish per day, about 12 to 16 miles out. Commercial pangas 30 miles out were finding yellowfin tuna to 160 pounds. Dorado were spotty on debris. Inshore action was slow in water discolored from heavy river runoff. Water temperatures were 88 to 91 degrees, in mostly cloudy weather.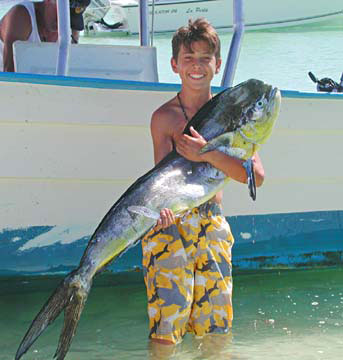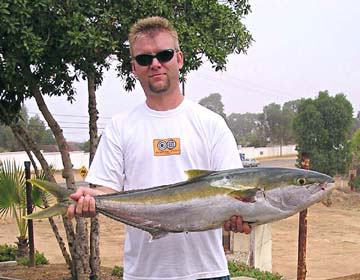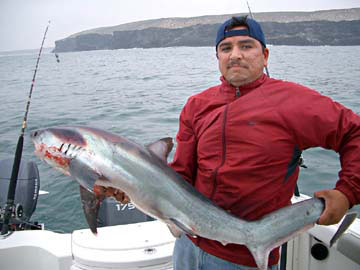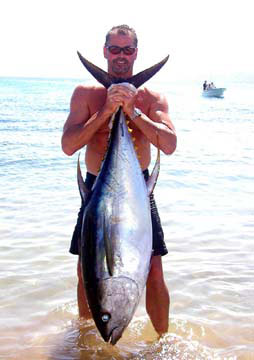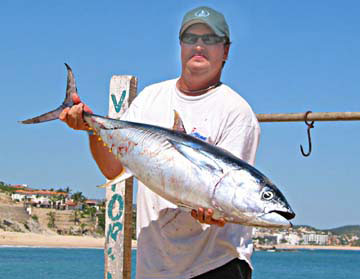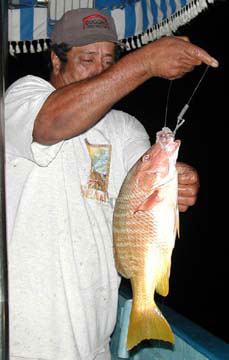 Baja coastal fishing reports and articles.
Ensenada fishing reports and articles.
Puerto Santo Tomas fishing reports and articles.
Erendira fishing reports and articles.
San Quintin fishing reports and articles.
Magdalena Bay fishing reports and articles.
Cabo San Lucas fishing reports and articles.
San Jose del Cabo (Los Cabos) fishing reports and articles.
East Cape fishing reports and articles.
La Paz fishing reports and articles.
Loreto fishing reports and articles.
Mulege fishing reports and articles.
Santa Rosalia fishing reports and articles.
Bahia de los Angeles (L.A. Bay) fishing reports and articles.
San Felipe fishing reports and articles.
Rocky Point (Puerto Penasco) fishing reports and articles.
San Carlos (Sonora) fishing reports and articles .
Mazatlan fishing reports and articles .
Puerto Vallarta fishing reports and articles.
Ixtapa Zihuatanejo fishing reports and articles.
Huatulco fishing reports and articles.
Cancun fishing reports and articles.
Mexico coastal fishing reports and articles.
Mexico Fishing Home Page < Mexico Fishing News Archives < Fishing Report