EAST CAPE, MEXICO: Steve Crouch of Tag & Brag announced the 16th Annual Crouch/Roberts NO KILL Billfish Tournament at RBV on July 17-19, info at tandb@connectnet.com.
EAST CAPE, MEXICO: At Martin Verdugo's Beach Resort, Gary Leeper reported on Sunday afternoon that fish were "jumping all over the place." Leeper didn't hook up, but saw lots of other boats with fish on. The best action was concentrated about 3 to 5 miles off Punta Arena and Punta Colorada. Earlier, Leeper reported a belly-hooked 58-pound roosterfish caught by Walt Miklas on an orange-black Jointed Rebel, after a two-hour fight. Leeper said resort boats caught few dorado or tuna, but big numbers of striped marlin: "East Cape was marlin city, primarily off Colorada, and within 13 miles of here. Sam and I fished yesterday and had a double hookup and release on 150 pounders, with our friend Leroy Myers. Many boats had six-marlin days, and I heard one radio report from a private boat with eight releases." Leeper reported good weather, but winds on Saturday, with air temperatures in the low-90s, and water at 75 to 80 degrees.
EAST CAPE, MEXICO: Also at Verdugo's, Randy Dale said on Saturday, "It can explode any day. Yesterday, I've never seen so many marlin caught. All kinds of boats had like six marlin and one or two dorado. The action was about 5 miles off Punta Colorada. Barrilete chewing up big schools of bait. I put out my flying fish lure and brought in a 41-pound dorado. If this wind doesn't wreck it, the fishing is going to be good." Dale also reported a friend with a 56-pound roosterfish a few days earlier, caught from a tin boat: "Pulled him out to sea for 45 minutes, on a Rapala, first arroyo north. Ya never know."
EAST CAPE, MEXICO: Jorge Bergin of La Ribera said the big marlin bite showed up on Thursday in 72 to 75-degree water. "They are being caught in numbers as close to shore as a mile," Bergin said. "Mostly small to medium. Lots of jumpers all over the place."
EAST CAPE, MEXICO: Gary Graham of Baja On The Fly said several clients landed 20-pound roosterfish from the beach, and they had plenty of shots at 35 pounders as well. Panga anglers scored on roosterfish, jacks, and some very hot bites on up to a dozen larger sierra: "More bubbas appearing every day."
EAST CAPE, MEXICO: Mark Rayor at the Vista Sea Sport dive service said heavy sea life concentrations were present on the Cabo Pulmo Reef in 73 to 74-degree water, with visibility at 40 to 60 feet: "A huge sea lion passed me from behind at high speed, chasing snapper, and really startled me for a moment."
In other mainland Mexico and Baja fishing action this week:
ENSENADA FISHING REPORTS
ALL ARTICLES, REPORTS AND FISHING INFORMATION FOR ENSENADA
ENSENADA, MEXICO: At Lily Fleet, Sammy Susarrey said the Phantom found albacore to 15 pounds at the 238 bank, on purple feathers, and also loaded up on 12 to 15-pound kelp paddy yellowtail, in blue water at 62.2 degrees. Anglers averaged three albacore per rod, plus limits on yellowtail, around GPS numbers 31.35 117.11.
ENSENADA, MEXICO: At Vonny's Fleet, Ivan Villarino said pangas at the tip of Punta Banda continued to limit on rockcod, lingcod, and calico bass, including Sunday anglers Fay Burdick, Kimberly Meyer, Gloria Vasquez, and Cathi Lander, all from the Los Angeles area. Punta Banda weather was sunny in the high-70s, with light afternoon breezes, 3 to 4-foot ocean swells, and water temperatures averaging 61 degrees.
ENSENADA, MEXICO: Gerardo Sanchez of KCHTS Sportfishing said fishing was steady in 62-degree water inside the bay for limits of rockcod and lingcod, plus some calico bass and barracuda at University Point. On Saturday, four anglers on the Don Juan II limited on red rockfish, bonita to 8 pounds, and some larger barracuda. Other boats at the 295 spot reported a few albacore. Earlier, Sanchez relayed a boat report of 10 albacore and a few bluefin tuna, 35 miles of Islas Todos Santos, on heading 240.
ENSENADA, MEXICO: Earlier, Sergio Susarrey of Sergio's Sportfishing Center reported on 73 anglers at Islas Todos Santos with a catch of: 193 lingcod, 203 rockcod, 88 whitefish, and 80 red rockfish.
ENSENADA, MEXICO: At La Jolla Shores, kayak angler Jose Lopez of Chula Vista scored on a 100-pound plus thresher shark that hit a MirrOLure 111MR and broke Lopez rod twice before it could be subdued: "About an hour and a half into this thing, I decided to tighten the drag. Well, my rod thought otherwise. It snapped in half, leaving two rings on to fight this guy. My rod broke again, this time leaving only one ring. But it wasn't making any more runs, so it was just a matter of getting it up." Lopez also said his heavy kayak flipped on the way back, and his "three-piece" rod, and a Walmart spinning reel, were lost overboard.
ENSENADA, MEXICO: Celia Diaz of the Binational Emergency Medical Care Committee in Chula Vista reported the lifesaving evacuation of WON subscriber William Sheean from Ensenada to the UCSD Trauma Center in San Diego, after Sheean was severely injured at the marina when he was caught between his boat and the dock. Said Diaz, "I evaluated the situation and I told them it would take at least two hours to arrange for an air ambulance from Ensenada to San Diego but would only take one hour by ground. I called the trauma surgeon at UCSD, and arranged for a San Diego ambulance to meet them at the border with a trauma unit." The nonprofit BEMCC, 619-425-5080, costs $30 per year for membership, and members may call collect 24/7 with emergencies from anywhere in Mexico.
ERENDIRA FISHING REPORTS
ALL ARTICLES, REPORTS AND FISHING INFORMATION FOR ERENDIRA
ERENDIRA, MEXICO: Fernando Castro of Castro's Camp said 12 boats fished during the week for lots of red rockfish, lingcod, barracuda, and two more white seabass. Most pangas fished about 3 miles from the beach in good weather and light blue water of 62 degrees on the surface, and 60 degrees at depth. Castro said, "We had a lot of fish, a lot of "cardumens (schools) of barracuda." Earlier, Castro said anglers found good action on lingcod, 200 feet deep, on small mackerel and jigs.
SAN QUINTIN FISHING REPORTS
ALL ARTICLES, REPORTS AND FISHING INFORMATION FOR SAN QUINTIN
SAN QUINTIN, MEXICO: Pete Hillis of Pedro's Pangas said few anglers were in town last week, and yellowtail were scarce, so most anglers fished on the bottom for consistent limits of rockfish, lingcod, and whitefish. Local weather was overcast and cool.
SAN QUINTIN, MEXICO: VeRone Trytten of La Quinta and friends Jeff Plucinsky and Dave Seltz fished out of the Old Mill Hotel with Pedro's Pangas on the cruiser Pelicano: "Heavy fog delayed our leaving the bay after getting bait. We made up for it with good fishing with our guide Miguel, and limited on rockcod, lings and whitefish using frozen squid and mackerel for bait." Trytten said they did just as well the second day, in water temperatures of 59 to 61 degrees, and he also reported excellent service from Pedro's and Nancy at the Old Mill, and a great meal at the Cannery restaurant, in the company of a large group of off-road motorcyclists coming down from Ensenada.
MAGDALENA BAY FISHING REPORTS
ALL ARTICLES, REPORTS AND FISHING INFORMATION FOR MAGDALENA BAY
MAGDALENA BAY, MEXICO: Gary Graham of Baja On The Fly said San Carlos weather was partly cloudy in the high-70s, with water temperatures of 64 to 70 degrees. Yellowtail action was so-so at the entrada, but good numbers of barracuda and cabrilla were caught, plus a few halibut. Some grouper, corvina, and pompano were found in the mangrove channels. Snook were "few and far between."
CABO SAN LUCAS FISHING REPORTS
ALL ARTICLES, REPORTS AND FISHING INFORMATION FOR CABO SAN LUCAS
CABO SAN LUCAS, MEXICO: Many striped marlin were released in good to excellent action that began at the middle of last week. Tommy Garcia of Cabo Magic reported on 49 boats with a catch including released fish of: one 600-pound blue marlin released by the Cabo Magic for Don Chava of Sonoma, Calif., 36 striped marlin, 202 yellowfin tuna, 10 dorado, and one wahoo, plus an assortment of red snapper, sierra, amberjack, and cabrilla.
CABO SAN LUCAS, MEXICO: Picante Fleet reported on seven boats fishing Saturday, with a catch including released fish of: 22 striped marlin and eight dorado, fishing mostly at the Outer Gordo Bank, 95 spot, and Cabrillo sea mount. Capt. Antonio "Nino" Romero was awarded the 2003 Billfish Foundation Award for most striped marlin released worldwide in 2003.
CABO SAN LUCAS, MEXICO: Larry Edwards of Cortez Yacht Charters said Gaviota Fleet had a catch including released fish of: 30 striped marlin, 23 dorado, and 406 yellowfin tuna, mostly of 10 to 15 pounds. The top boat for the week was the Gaviota IX, with nine marlin for six outings. Gaviota Fleet fished mostly 10 to 15 miles off Chileno on the Cortez side.
CABO SAN LUCAS, MEXICO: At Pisces Fleet, Tracy Ehrenberg said boats scored double and triple marlin releases, on up to ten shots per day, very close in, two to eight miles off Santa Maria and Palmilla. "Most boats caught one or two striped marlin, plus a dorado or tuna, and if lucky, a nice wahoo. Everybody at least saw fish," Ehrenberg said. The large blue marlin reported last week was confirmed as a 760 pounder caught by Stanley Cohen of San Diego on the Anamar II. The fish was caught off the Cabrillo sea mount on 80-pound line. Tuna action was lead by a 250 pounder caught by Ray Orewski of Baden, Pa., on the Valerie, but most tuna caught were 15 to 35 pounds. Pisces boats fished in water temperatures of 73 to 74 degrees.
CABO SAN LUCAS, MEXICO: Benjamin Ortega of Solmar Fleet reported a catch including released fish of: 44 striped marlin, 273 yellowfin tuna, 13 dorado, 21 sierra, two wahoo, four skipjack, two snappers, and one roosterfish. Andy Mason of San Diego had a triple release on the Solmar I off Faro Viejo. Phillip Marwood of Alaska caught 26 yellowfin tuna on the Solmar VII at the Jaime Bank.
SAN JOSE DEL CABO (LOS CABOS) FISHING REPORTS
ALL ARTICLES, REPORTS AND FISHING INFORMATION FOR SAN JOSE DEL CABO
SAN JOSE DEL CABO, MEXICO: Eric Brictson of Gordo Banks Pangas said water temperatures were 64 to 72 degrees, and the best offshore action was found close to shore, about 2 to 8 miles from Chileno and Punta Gorda, with striped marlin and yellowfin tuna leading the counts. Striped marlin fishing was excellent throughout the area, Brictson said, and they were "seen tailing in the swells in incredible numbers." The most successful method on the marlin was dropped-back live mackerel, and a few fish close to 200 pounds were reported. Large quantities of squid in the water indicated a good run to come. Most yellowfin tuna were 10 to 40 pounds, with some of 100 to 200 pounds mixed in. Dorado continued scattered on larger fish, and wahoo to about 80 pounds were also present. Bottom fishing yielded yellowtail to 30 pounds, plus a handful of amberjack, cabrilla, and grouper. Several more surface bites of huachinango on pelagic red crabs were seen. Roosterfish were not consistent, but some over 30 pounds were lost. Surf action was mainly on jack crevalle and a few pargo, plus one 25-pound snook reported off the San Jose del Cabo estuary.
LA PAZ FISHING REPORTS
ALL ARTICLES, REPORTS AND FISHING INFORMATION FOR LA PAZ
LA PAZ, MEXICO: Gerardo Hernandez of Tortuga Sportfishing said some pangas caught marlin on the Las Arenas side, but his clients were targeting pargo and dorado to 45 pounds. Fishing was very good on those species, plus amberjack and cabrilla. Las Arenas weather was in the mid-80s, with strong winds on Saturday, and water temperatures around Isla Cerralvo averaging 72 degrees.
LA PAZ, MEXICO: At Tail Hunter International, Jonathan Roldan said action on the Las Arenas side was good to excellent on a wide range of species including roosterfish, pargo, cabrilla, jack crevalle, and smaller yellowtail, from the lighthouse south past Ensenada de los Muertos. Two wahoo and some larger yellowtail were also caught at Roca Montana, at the south end of Isla Cerralvo. On the La Paz side, Roldan said yellowtail slowed down but roosterfish picked up the slack around Isla Espirtu Santo, in water temperatures of 74 to 75 degrees.
LA PAZ, MEXICO: Betty Hill-Crofoot at La Concha Beach Resort reported some missed hookups, but beautiful conditions north of the city with husband Tad on their boat, WICO: "An absolutely wonderful Baja day. Flat seas and no wind, with water temperatures in the mid-70s. With little action on the Bajo, and because of the beauty of the day, we decided to troll and look for dorado. We had not gone far before we spotted a marlin. The marlin turned on the bait, and lit up like a Christmas tree. He made three passes at the mackerel but decided he didn't want a snack right then and disappeared. Not long after, we spotted a second jumper and started motoring in his direction, coming upon a sailfish on top of the water. Again we tried to entice him and again we failed. We stayed on the water for ten hours because no one wanted to end this beautiful Baja day."
LORETO FISHING REPORTS
ALL ARTICLES, REPORTS AND FISHING INFORMATION FOR LORETO
LORETO, MEXICO: Don Bear of Loreto said yellowtail slowed down a bit last week, but the improved cabrilla catch made up for it. Fishing with Capt. Paulino Martinez, Bear reported a one-day catch of five yellowtail, 10 cabrilla, and two pargo mulato, caught mainly on Bajo Seco south of Isla Catalan. Capt. Francisco Murillo fished the same area with his clients for 12 cabrilla one day, and three cabrilla plus four yellowtail a second day. Bear said Loreto weather turned windy late in the week. Water temperatures were 73 to 75 degrees. Bear added that the report of five dorado caught earlier by Capt. Chino had been confirmed. Bear also reported the apprehension of two tourists caught night fishing with spear guns inside the marine park. This apprehension was by Profepa, Bear said, as opposed to the marine park staff, who don't seem to be active: "On Monday, Paulino was fishing commercially south of Punta Baja, when a boat with gringo spear-fishing divers came along and turned off the cabrilla bite. He called the guardaparque on Channel 16 several times, but never got an answer." Bear also said Paulino Martinez observed two long gill nets just west of Isla Catalan, with a panga, probably from Sinaloa hauling one of them. Bear noted: "I know, because the office is just across the street from my house. It just seems that the group's resources could be a little better allocated, say, two fewer trucks for a patrol boat that wouldn't sit at the dock all day, as do the trucks at curbside across the street."
LORETO, MEXICO: Pam Bolles of Baja Big Fish Company said that late week yellowtail of 20 to 25 pounds were caught about halfway down the water column in windy conditions at San Bruno. Dorado conditions were looking better and better, with 79-degree water in several locations around the islas. Some sailfish were also caught on the troll at San Bruno. Jumping dorado and sailfish were both seen at Punta Lobos, at the north end of Isla Carmen. On April 28, Randy Tieman caught a 21-pound yellowtail on the fly, Bolles said, and the catch will be submitted for an IGFA record in the 10-Kg tippet class.
LORETO, MEXICO: Linda Ramirez of Alfredo's Sportfishing said a group of five anglers caught medium yellowtail, bottom fish, and one sailfish. Two other anglers caught another sailfish, plus snapper and triggerfish.
LORETO, MEXICO: Chuck Byard of Shasta and his fishing partner Rob Smyth fished with Capt. Alfonso Murillo, 011-52-613-135-0843, for some great action in mostly good weather: "The yellowtail fishing at Loreto was rather slow. We fished San Bruno and got two yellows, one a 25 pounder. Rob picked up a good huachinango. On our way back, we stopped just north of Coronado Island and spotted three tailing sailfish and got hit. The fish put on quite a show, charging the boat and running under it. The resulting panic to keep from breaking my rod resulted in a broken little toe! The fish added insult to injury by jumping a couple more times and spitting the hook. "Alfonso Murillo wore us out catching limits of cabrilla each day. The fish ran up to 15 pounds, and because of the proximity of the rocks, made our catch versus strike percentage in the 50 percent range! On our last day, we checked the water north of Carmen Island for more sails. We spotted two groups tailing, one with six fish. We only had sardinas for bait which they came to, whacked around a little bit, but did not eat."
Byard and Smyth also fished out of Puerto Escondido to the south with Ty Miller of El Fuerte Sportfishing for a great yellowtail day at Isla Catalan: "Ty knew right where to go. He put us on limits of yellows to 30-plus pounds and some really nice cabrilla. A GREAT day! Even when we trailer the boat down, we book some time with Ty." Byard reported Loreto water at 72 degrees, and ready for dorado, with lots of bait and sargassum showing outside.
LORETO, MEXICO: Nacho Davis of the Carnadero's baitsellers' cooperativa said lots of boats are going out now, and the carnaderos were not able to catch enough bait for everybody. "This time of year, every year, we can only supply a part of what is needed," Davis said. "The macarela are nearly complete with their regenerating habits, and they are moving around a lot, and the young ones we are catching are too small." Davis said supplementary bait can be caught at Isla Carmen's Punta Baja, and Punta Lagrima on Isla Coronado, but those mackerel are not suitable for sale: "This bait, drawn up from deep water, although perfect for immediate use, will perish if held for prolonged periods for sale. For this reason, we continue to wait for the return of macarela to shallow water, when we may dependably supply healthy bait to the fleet."
LORETO, MEXICO: Jeff Petersen of Loreto fished with the Carnaderos on the points of Isla Coronado, using sardina in 71.6-degree water for great action on cabrilla: "They herded the bait fish all around us at times," Petersen said. Meanwhile, sardina bait is plentiful throughout the day, Davis said.
LORETO, MEXICO: Earlier, John Devine reported a catch of 12 cabrilla to 18 pounds at Isla Coronado, on a trolled Yozuri.
SANTA ROSALIA FISHING REPORTS
ALL ARTICLES, REPORTS AND FISHING INFORMATION FOR SANTA ROSALIA
SANTA ROSALIA, MEXICO: Mike Kanzler of Isla San Marcos said the weather was clear in the mid-80s, with some stiff but fishable winds late in the week, water temperatures of 71 to 73 degrees, and visibility still poor at 15 to 20 feet. Fishing around the isla bounced back from a couple of weeks of slow action, and Isla Tortuga continued with great results on yellowtail. At San Lucas Cove, most of the waterfront spots were taken. Eric Oden, Steve Ott, Darryl Youle and Buck McDonald of Newport Beach, took a large Bay Runner, to Isla Tortuga for 14 yellowtail of 20 to 26 pounds, plus two cabrilla. Kanzler fished locally with Bruce and Barbara Mulato of Del Mar for seven yellowtail of 18 to 25 pounds, three cabrilla, and one yellow snapper, plus some fish lost, mostly on flylined or lightly weighted mackerel or bigeye, fished in 70 to 150 feet of water. "Inshore, Wild Bill Westsndorff and his wife Julie found a great bite on real nice size corvina a little south of the Haystack in 10 feet of water," Kanzler said. The 3 to 5-pound fish were taken with small chrome spoons. The following day, Jim and Glenna Mori scored on large spotted bay bass and a some barracuda. At San Lucas Cove, Syd Lindsay noted that the commercial squid season has been very slow so far at Santa Rosalia, and few boats were fishing. Some idle pangas were gill netting inside the cove. "Me and my wife talk to the lady at Pesca, and she said they are not supposed to do that, but they don't have anyone to go there and check it out. So what's new?" Doug Reynolds of San Diego snorkeled Bahia Concepción out of Mulege's Hotel Serenidad: "Many tropical fish, but I was surprised that there were a number of gamefish south of Santispac. I saw some big snappers, and even a few jacks. No roosters where I was, but the water was clear, and I'll bet on roosters on the sandy beaches to the east." Mike Massey of Mission Viejo and his family stayed at Posada Concepción: "The weather was great and so was the fishing. My nine year old, Joshua, caught a nice jack on 10-pound test, casting a Krocodile a couple miles off Point Concepción. Lucas, six years old, caught his on a trolled Rapala. Birds were everywhere and jacks were pushing up the bait fish, creating a huge boil. "We also caught two nice 5-pound sierra while we were heading in, on the old standby, blue-silver Jointed Rebels."
BAHIA DE LOS ANGELES (L.A. BAY) FISHING REPORTS
ALL ARTICLES, REPORTS AND FISHING INFORMATION FOR BAHIA DE LOS ANGELES
BAHIA DE LOS ANGELES, MEXICO: Julio Meza of San Quintin pulled his trailer boat Santa Monica to Bahia de los Angeles for excellent action, fishing for two days with Enrique Melero, a long distance north along the coast from the bay. "Great trip," Meza said, "just great." Said Meza: "We fished all the way up to Gonzaga. On almost every rocky point from Punta Remedios to 5 miles north of Gonzaga, we caught 64 cabrilla up to 22 pounds, including two golden grouper, two grouper to 20 pounds, two yellowtail to 18 pounds, lots of sierra, barracuda and spotted bass." Meza said many fish were released, and most were caught on jigs of all colors, by casting to the rocks. Good catches were also made on Stingers and Krocodiles. "We broke lots of 40 and 50-pound line," Meza said. Water temperatures averaged 62 degrees, in mostly rough conditions
BAHIA DE LOS ANGELES, MEXICO: At Bahia de los Angeles (L.A. Bay), Guillermo's Sportfishing reported slow yellowtail action, as is normal for April and early May, but lots of birds working the bay in rising water temperatures. Guillermo's 11th Annual Yellowtail Tournament was scheduled for May 29-30, with an entry fee of $65, and cash prizes. Information, 011-52-200-124-9104.
BAHIA DE LOS ANGELES, MEXICO: Paulina Schreiner of Ensenada and Bahia de los Angeles said she was present at the bay during a recent period when one visitor reported the "largest red tides" he had ever seen, and she said with her experience, she didn't feel they were that intense. "Granted, there was a slight plankton bloom which is typical when the water warms in the spring," Schreiner said. "You would think that if it were severe red tide, then Doc and Igor would have been reporting it. False reports can cause hardships for the local pangueros and businesses."
SAN FELIPE FISHING REPORTS
ALL ARTICLES, REPORTS AND FISHING INFORMATION FOR SAN FELIPE
SAN FELIPE, MEXICO: Dana Kerby of Ensenada reported on a six-day trip by the panga mothership Erik, returning to San Felipe with 17 anglers on April 29 with a catch of: 92 yellowtail, 210 cabrilla, nine pargo, four grouper including a 60 pounder, and one black seabass of 55 pounds. The Erik fished at Isla Angel de la Guardia, San Lorenzo, Ls Assemblea, Isla La Raza, Isla Vibora, and Salsipuedes. Kerby noted that the boat has trips scheduled to La Paz and Bahia Magdalena this season.
SAN FELIPE, MEXICO: Tony Reyes of Tony Reyes Fishing Tours reported on a six-day trip by the panga mothership Jose Andres, returning to San Felipe on April 30, with a catch of: 131 yellowtail, 12 to 16 pounds; one black seabass, 295 pounds; 13 white sea bass, 18 to 23 pounds; 61 cabrilla, 10 to 15 pounds; 35 red snapper, 8 to 14 pounds; four broomtail grouper, 12 pounds; 10 sheephead, 10 to 12 pounds; 499 spotted bay bass; three shark, 14 pounds; and 54 miscellaneous fish.
SAN FELIPE, MEXICO: At Papa Fernandez on Bahia Willard (Gonzaga Bay), Doug Magee said several days had hot west winds to 39 m.p.h. and 104 degrees. Boats fishing locally caught bass and triggerfish. Magee said also he spotted a boat in rough seas that might have been Tony Reyes' Jose Andres, and he was planning to leave on a mountain crossing trip from Laguna San Ignacio to Mulege.
SAN FELIPE, MEXICO: Ken Jones of Long Beach made his first trip to the Sea of Cortez, taking a tin boat to fish "Baja Catch-style" around Isla el Huerfanito, south of Puertecitos, in water temperatures of 70 to 72 degrees, and finding fish, but not on trolled Rebels: "Two things I quickly realized about a car-topped small boat. A) There is nothing small about it at low tide when you are lifting it over slippery rocks and approaching waves. B) A boat is no guarantee that you will catch a lot of fish! "But that's okay, 'cause it was a blast. Glassy calm for a few days. The catch included two large triggers fairly far out on bait, both about 8 to 9 pounds. Numerous bay bass along the shore from Black Mountain going south. The best fishing was actually in the small bay where we camped, the one below the nice deserted rock house that is high on the cliff. One large sierra, triggers, and a 14-pound barred pargo, all caught on silver Krocodiles, plus more bass. Not sure if I would want to catch that many more pargo on a light tackle rig with 20-pound test. I had visions of being pulled into the water. He is still there for someone else. At sunset, as we sat in the bay, about 15 fairly large bait fish jumped right next to our boat and a large pargo leapt out of the water about five feet after them. Trolling on anything produced no results of any kind. As for trolling, it was bizarre. We were tucked up close to shore and then would zigzag a bit from Black Mountain all the way south to camp. No gill nets except for some Mexican guys camped near us that had nets in the bay directly in front of us. They were quite nice and gave us fresh jumbo squid."
MIDRIFF & NORTHERN CORTEZ, MEXICO: At San Felipe, Ed Meders of the Title Company Bookstore overlooking the bay said the spring break crowds were gone, and the store was awarding its first annual award to Loyola Marymount University for having the students "who can party with the best, and actually can and do read fine books. San Felipe weather was "perfect at this time," and the next big event in town was the Club de Pesca Chili Cookoff, with Karen of Baja Java defending her title.
ROCKY POINT (PUERTO PENASCO) FISHING REPORTS
ALL ARTICLES, REPORTS AND FISHING INFORMATION FOR ROCKY POINT
ROCKY POINT (PUERTO PENASCO), MEXICO: Ric Felder of Glendale, Ariz., fished with live mackerel and large jigged Scampis from his boat End Of The Line, about 20 miles west of Puerto Penasco, with Bill Hayden and Chuck Blair of Phoenix: "We fished for grouper. Bill connected first with a 45-pound grouper on a mackerel. On the next drift, Chuck scored with the Scampi jig on a 35-pound grouper. The grouper bite was pretty consistent throughout the day, but really turned on in the afternoon."
ROCKY POINT (PUERTO PENASCO), MEXICO: Barry Woodward of Yuma, Ariz., visited El Golfo de Santa Clara last week, where he reported seeing a rarely-observed Sea of Cortez grunion run.
ROCKY POINT (PUERTO PENASCO), MEXICO: Jonathan Dufek of Flagstaff, Ariz., fished from inflatables around Puerto Penasco for a few leopard grouper, a Panama graysby, a lizardfish, and lots of bass and triggerfish, plus a nice-sized jack lost 10 feet from the boat.
SAN CARLOS (SONORA) FISHING REPORTS
ALL ARTICLES, REPORTS AND FISHING INFORMATION FOR SAN CARLOS
SAN CARLOS, MEXICO: Bob Blair of Fishing San Carlos said the Andale fished three days for steady dorado, each day bringing in at least 10, including some nice ones, to about 28 pounds. Blair also reported lots of billfish sightings, but none landed so far. The main offshore fishing was in blue water, about 10 miles out of San Carlos, on headings of 160 to 170 degrees, with water temperatures at 72 to 73 degrees.
MAZATLAN FISHING REPORTS
ALL ARTICLES, REPORTS AND FISHING INFORMATION FOR MAZATLAN
MAZATLAN, MEXICO: Larry Edwards of Cortez Yacht Charters said Aries Fleet boats out of Marina el Cid again averaged more than one billfish per day, and sailfish were being spotted in addition to striped marlin. Overall, 17 Aries Fleet outings produced a catch including released fish of: 20 striped marlin, three sailfish, and 10 dorado. Just a few inshore pangas had a catch of: 30 pargo, 16 triggerfish, and six dorado. Mazatlan weather was sunny in the high-80s, with flat seas and water temperatures of 75 to 76 degrees.
IXTAPA ZIHUATANEJO FISHING REPORTS
ALL ARTICLES, REPORTS AND FISHING INFORMATION FOR IXTAPA ZIHUATANEJO
IXTAPA ZIHUATANEJO, MEXICO: Ed Kunze of Zihuatanejo said that the nearly 100 boats fishing in the International May Billfish Tournament were averaging about three sailfish per day, with a total of about 800 to 900 already hooked as the final day of the tournament began. Most captains were practicing catch-and-release, Kunze said, and only a few larger fish were brought in to be weighed. Notable catches included three blue marlin, including two fish at 385 and 324 pounds. Other offshore action was fair, with some yellowfin tuna located on the 1,000-fathom line.
Paul Phillips of the Fintastic Total Tag & Release Tournament said inshore fishing was slow, but noted that local captains have begun practicing more catch and release. Capt. Adolpho on the panga Dos Hermanos, had a single day catch of six sailfish, one striped marlin, and two small blue marlin. All fish except one of the sailfish were released.
IXTAPA ZIHUATANEJO, MEXICO: Stan Lushinsky of Ixtapa Sportfishing Charters said one group on the Vamanos I landed five sailfish in a day. Very little inshore fishing was reported at the end of the week due to a high tide and large swells.
IXTAPA ZIHUATANEJO, MEXICO: Gary Graham of Baja On The Fly reported Zihuatanejo weather as partly cloudy in the low-90s, with water temperatures of 72 to 78 degrees.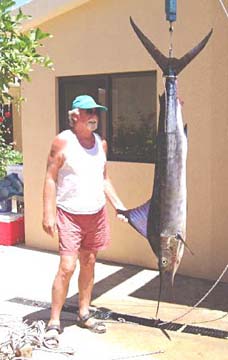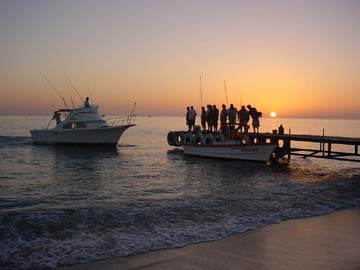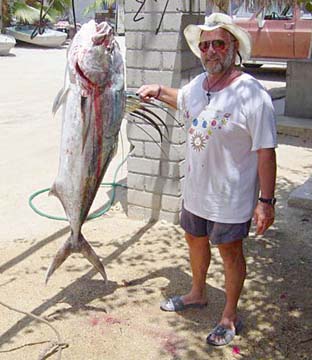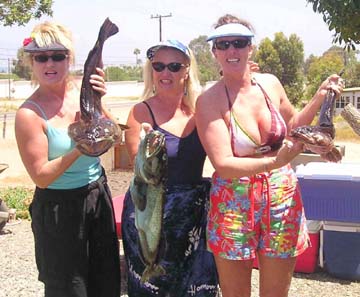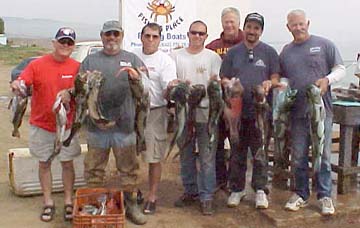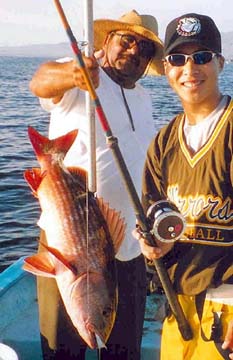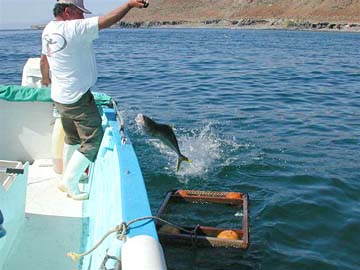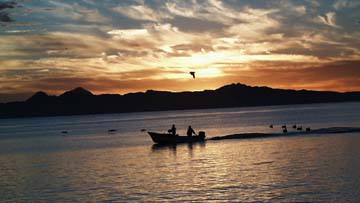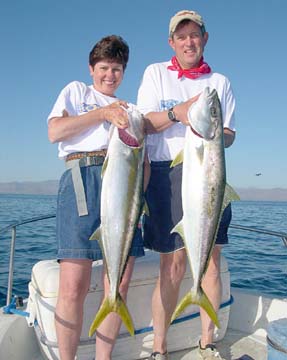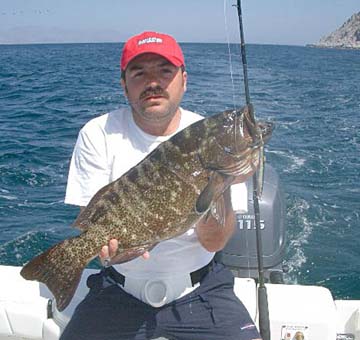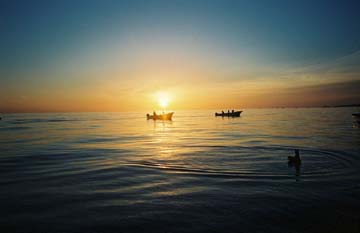 Baja coastal fishing reports and articles.
Ensenada fishing reports and articles.
Puerto Santo Tomas fishing reports and articles.
Erendira fishing reports and articles.
San Quintin fishing reports and articles.
Magdalena Bay fishing reports and articles.
Cabo San Lucas fishing reports and articles.
San Jose del Cabo (Los Cabos) fishing reports and articles.
East Cape fishing reports and articles.
La Paz fishing reports and articles.
Loreto fishing reports and articles.
Mulege fishing reports and articles.
Santa Rosalia fishing reports and articles.
Bahia de los Angeles (L.A. Bay) fishing reports and articles.
San Felipe fishing reports and articles.
Rocky Point (Puerto Penasco) fishing reports and articles.
San Carlos (Sonora) fishing reports and articles .
Mazatlan fishing reports and articles .
Puerto Vallarta fishing reports and articles.
Ixtapa Zihuatanejo fishing reports and articles.
Huatulco fishing reports and articles.
Cancun fishing reports and articles.
Mexico coastal fishing reports and articles.
Mexico Fishing Home Page < Mexico Fishing News Archives < Fishing Report