ENSENADA, MEXICO: Judy Ostberg of the Ensenada private boat Melody at Marina Coral reported on a fishing trip Saturday to the Banda Bank, with three anglers and a catch by 12:30 p.m. of: 10 red rockcod, 5 salmon grouper, 4 large lingcod to 10 pounds, 5 sugar bass, and 1 whitefish. "The reds were not as consistent in quality as last week," Ostberg said. "There was more Ensenada boat activity on the Banda Bank, including Wide Open and Patrone from Marina Coral. Mardisoa fished Santo Tomas for 9 fish." Ostberg said the Melody fished 300 feet deep in choppy water with 20-ounce weights and a surface water temperature of 60.1 to 61.1 degrees. "Maybe next Friday we will check out the lower 500 and look for paddies," she said. "Gordo had excellent bait."
For the previous weekend, Ostberg said the Melody caught its bottom fish limits at the Banda Bank in rough conditions, 320 feet deep, with the sea surface water temperature at 60.1 degrees.
ENSENADA, MEXICO: Sergio Susarrey of Sergio's Ensenada Sportfishing Center reported on an early week outing by the local party boat Clipper II, with 9 anglers and a fish count of: 2 yellowtail, 38 lingcod, 44 rockcod, 27 whitefish, 13 sheephead, and 14 red rockcod.
In other mainland Mexico and Baja fishing action this week:
PUERTO SANTO TOMAS FISHING REPORTS
ALL ARTICLES, REPORTS AND FISHING INFORMATION FOR PUERTO SANTO TOMAS
PUERTO SANTO TOMAS, MEXICO: Sam Saenz of Puerto Santo Tomas Resort said local weather was good all week but offshore swells made the water turbulent with rough surf until Thursday. Anglers Kalim Owens and Oliver Strom of Vista went fishing on Thursday and brought back full limits of calico bass from the Rancho Viejo area. "Other than that, no one else showed up," Saenz said. "The commercial lobster and sea urchin seasons are winding down."
ERENDIRA FISHING REPORTS
ALL ARTICLES, REPORTS AND FISHING INFORMATION FOR ERENDIRA
ERENDIRA, MEXICO: Fernando Castro of Castro's Camp reported on 13 boats fishing out of Erendira during the week for good results on red rockcod, big numbers of large lingcod, whitefish, and calico bass. "Everybody was able to fish," Castro said, "and they were all pleased with the action." Erendira weather was flat early in the week, but with some minor swells from Thursday through the weekend. The water color was clear blue at 57 degrees in the main fishing area 7 miles out of Castro's Camp. Castro said some emails may have been missed during the past week due to temporary problems with his internet connection.
SAN QUINTIN FISHING REPORTS
ALL ARTICLES, REPORTS AND FISHING INFORMATION FOR SAN QUINTIN
SAN QUINTIN, MEXICO: Pete Hillis of Pedro's Pangas said on Sunday, "Only a few boats fished out of San Quintin this week...There are still no white seabass and very few yellowtail showing at this time." Mary Walker's group from Los Angeles fished on the Rommy and Pelicano for limits of lingcod and rockcod. San Quintin weather had some wind on Wednesday, but flatted out for the weekend.
SAN QUINTIN, MEXICO: Kelly Catian of K&M Offshore Sportfishing reported on more surfing boat trips out of San Quintin. "I had John Cunningham of Newport Bait Company, Steve Thomas, Phil Kelleher, and Craig Connole for some surfing at Isla San Martin and we scored some great waves," Catian said. "Lots of fun! This recent swell had a lot of north in it, allowing the waves to graze the corner of the island and making for the ideal swell angle. The ski was used only for emergency backup or in case it was too big to paddle into.
"We left the dock at San Quintin's Old Mill with the 25 Parker pilothouse stacked high with a huge quiver of boards. As we swung out towards San Martin, we saw that Ben's Rock was breaking pretty big so we knew there would be waves at the isla. As we approached the west end you could see it going off! It was really an awesome sight, perfect 10 to 15-foot waves groomed by the offshore wind and exploding into misty rainbows. We had it all to ourselves, just a couple panga hookah divers hooting and shouting as big sets loomed on the horizon."
BAJA COASTAL FISHING REPORTS
ALL ARTICLES, REPORTS AND FISHING INFORMATION FOR BAJA COASTAL AREAS
BAJA CALIFORNIA, MEXICO: Matt Roy of Leucadia reported on results from his 18th annual Baja California surf fishing trip to the Punta Rosarito area featured in The Baja Catch for a catch including halibut to 6 pounds, yellowfin croaker, and shortfin corvina to 4 pounds. "All except the 6-pound halibut were caught and released in the surf, with 3/8-ounce barbless white grub tails and 6-pound P-Line Floroclear on a Shimano Slade 2500 reel," Roy said. "Just 2 of the mornings were fishable during the week due to high surf, but when the waves eased up the fishing was super-fun. Those corvina are the best game fish on light line!" Water temperatures at Punta Rosarito were at 60 degrees.
BAJA CALIFORNIA, MEXICO: Matt Quilter of Costa Mesa reported on an overland surf fishing and surfing trip down the Baja Pacific coast on Feb. 2-8, 2006, with spotty fishing results for his group during stops at remote Baja spots including Punta Canoa, Las Mujeres, and La Piedra Ahogada, all located on the Baja coast roughly west of Cataviña.
"It was a very fun trip, but not real fish-friendly terrain," Quilter said. "We found some surf, but not much fish...Our destination was the Canoas area, specifically Las Mujeres about 5 miles south of the fish camp at Puerto Canoas. It's a really remote area and has nice camping, but features endless cobble beaches and a generally unfriendly bottom for surf fishing with no accessible rocks for deep water casting. There was no chance to chuck plastic, and the few mussels we found didn't produce a strike among the snags.
"We headed further south. The already treacherous road became impassable to one of our vehicles. This road showed no recent tire tracks and certainly sees only a handful of vehicles a year. We ended up spending the night at an area called La Piedra Ahogada. There was no rideable surf but the extremely steep beach meant deeper water, so we farmed up a few more mussels and chucked to the right of some rocks that held a colony of sea lions. We immediately started hauling in decent buttermouth perch and a couple of very nice sargo, which made excellent ceviche. As soon as we started catching fish, the water in front of us was filled with sea lion heads staring straight at us. Very spooky. We were definitely being 'vibed,' as the surfers say: 'My beach, my waves, my fish, go home!'
"We spent the night on a bluff and awoke to howling offshore winds. We returned to Las Mujeres where the surf was intense but difficult. The winds lasted about one miserable day but generally the weather conditions were fantastic. Air temperatures were in the 70's and water temperature about 62 degrees."
BAJA CALIFORNIA, MEXICO: Steve Barstow of the Sportsmen's Pub in Paso Robles announced his 2006 Baja fishing charter bus trip schedule, including bus runs departing from the U.S. for anglers and divers to Ensenada, San Quintin, and Bahia de los Angeles. "We always have lots of fun and bring back lots of filets," Barstow said. The 2006 Baja fishing bus trips: Ensenada, Feb. 18-20; San Quintin, May 19-23, July 22-26, Sept. 22-26, and Oct. 20-24; Bahia de los Angeles, June 23-27, and Aug. 19-23. Information: steve@bajafishing.org, 800-894-7239.
MAGDALENA BAY FISHING REPORTS
ALL ARTICLES, REPORTS AND FISHING INFORMATION FOR MAGDALENA BAY
MAGDALENA BAY, MEXICO: Gary Graham of Baja On The Fly reported Magdalena Bay weather as clear in the high-70s with the water temperature at 68 to 73 degrees. "Whale action continues to dominate the scene," Graham said. "Most of the pangas are busy doing whale watching tours." Fishing in the Magdalena Bay mangrove channels produced corvina, spotted bay bass, and some pargo and grouper. Some yellowtail and grouper were caught at the San Carlos entrada "for the persistent."
CABO SAN LUCAS FISHING REPORTS
ALL ARTICLES, REPORTS AND FISHING INFORMATION FOR CABO SAN LUCAS
CABO SAN LUCAS, MEXICO: Tracy Ehrenberg of Pisces Fleet said billfish action was very slow at Cabo San Lucas last week, and in addition only 5 yellowfin tuna were caught, but those included a 204 pounder landed by Blue Thunder on a school of porpoise at the Golden Gate Bank on the Pacific side. "Capt. Steve Geary aboard Blue Thunder...found the school of porpoise...early in the day, along with over 50 other boats," Erenberg said "Fish in the 100-pound range were seen jumping but could not be enticed with anything. Steve...returned later in the day when nobody else was around. On his second sweep through the school with a trolled cedar plug they got lucky." Overall, only 17 percent of Pisces boats landed billfish, 20 percent caught dorado of 15 to 30 pounds, and 36 percent caught red snapper of 15 to 45 pounds. Inshore boats caught sierra, some amberjack, needlefish, and some giant Humboldt squid.
CABO SAN LUCAS, MEXICO: Mike Connolly of Cabo San Lucas at the boat Falcon said striped marlin action improved some on Saturday after a generally slow week on the Pacific side for both marlin and red snapper. Commercial seiners were working the Jaime Bank on the Pacific side. "Large seiners with helicopters at 50 miles or so are probably not helping the yellowfin bite," Connolly said. "The pargo bite came to a halt for the time being. By Saturday, fishing showed signs of life on the Cortez side of Cabo San Lucas, with many successful boats and quite a few returning with multiple releases.
"It was a slow week for marlin fishing in Cabo. The banks on the Pacific side dried up as bait, super abundant for months, became almost impossible to locate by week's end. A few marlin were taken outside the banks on jigs but not many. There were very few blue flags during the week.
"Further offshore there were nice catches of dorado for those few Cabo San Lucas fishing boats fortunate enough to come across a seal carcass or other floating debris. A few stripers were released at 40 miles but not many sportfishing boats are making the long run to the warmer water. There were very few tuna in the catches. Some large fish have been seen jumping at the Jaime Bank but they are not interested in biting anything with a hook in it."
CABO SAN LUCAS, MEXICO: Larry Edwards of Cortez Yacht Charters reported on 55 outings by Gaviota Fleet, the Fish Cabo, and Fish Cabo I, with a catch including released fish of: 2 blue marlin, 7 striped marlin, 13 dorado, 1 mako shark, 1 yellowfin tuna, 6 red snapper, 7 sierra, 3 skipjack, and 4 giant Humboldt squid of 35 to 45 pounds. Cabo weather was sunny in the low-80s, with "crazy currents" producing water temperatures of about 73 degrees at the Jaime Bank on the Pacific side, 67 to 70 degrees around the cape, and 72 degrees on the Cortez side. Live bait supplies were good.
"The blue marlin was taken on a small artificial lure trolled on 60-pound line, using a Penn International 50," Edwards said. "Overall, Cabo San Lucas fishing was very difficult this week, with striped marlin action way down and the ever-changing water temperatures playing a big role. The area around the Jaime Bank proved to be best, but there was truly no real concentration of billfish."
CABO SAN LUCAS, MEXICO: Jim Dillon of Salvador's Sportfishing reported on 4 outings by El Budster, El Budster I, and El Budster II, with a catch including released fish of: 4 striped marlin, 14 yellowfin tuna of 15 to 45 pounds, and 2 dorado to 25 pounds.
"There are a number of commercial tuna boats fishing about 45 to 55 miles off the Cabo coast," Dillon said. "They are moving around a lot...This is one of the reasons that the yellowfin tuna numbers are way down."
CABO SAN LUCAS, MEXICO: Tommy Garcia of Cabo Magic reported on 95 boats, with a catch including released fish of: 1 blue marlin estimated at 800 pounds lost by the Cabo Magic on Feb. 9, 2006; 12 striped marlin; 14 yellowfin tuna; 7 dorado; 2 wahoo; 117 sierra; 70 pargo; and 17 boats skunked.
CABO SAN LUCAS, MEXICO: Benjamin Ortega of Solmar Fleet reported a catch including released fish: 10 striped marlin, 9 dorado, 18 sierra, 12 snapper, and 14 pargo. Solmar's top boat for the week was the Solmar I with Capt. Federico Marron and a 4-outing catching including released fish of: 4 striped marlin, 7 dorado, 7 pargo to 31 pounds, and 5 giant Humboldt squid of 30 to 40 pounds.
"Cooler than normal winter water temperatures in Cabo fishing area waters continues to plague the striped marlin bite, turning many boats to concentrate on small game fish," Ortega said. "The lighthouse produced pargo, snapper and a few dorado."
CABO SAN LUCAS, MEXICO: George Landrum of Fly Hooker Sportfishing reported "frustrating" billfish action most of the week for Cabo San Lucas charter boats. "The concentrations of striped marlin at the Golden Gate Bank totally disappeared and there were only a few fish found scattered across the Pacific side," Landrum said. "Whereas there had been good concentrations of mackerel, the bait disappeared...As the water blued up on the Cortez side the marlin started to show at the 95 Spot at the end of the week. One to three fish per boat seemed to be the average...with every day producing different results." Some dorado were caught on debris to the south, but yellowfin tuna action continued slow on football-sized fish. Inshore fishing was hampered by large swells on the Pacific side. Cabo San Lucas weather was clear in the 80s, with water temperatures varying from 65 degrees and green south of the arch, to 73 degrees on the Pacific side and about 68 degrees on the Cortez.
SAN JOSE DEL CABO (LOS CABOS) FISHING REPORTS
ALL ARTICLES, REPORTS AND FISHING INFORMATION FOR SAN JOSE DEL CABO
SAN JOSE DEL CABO (LOS CABOS), MEXICO: Eric Brictson of Gordo Banks Pangas reported on 62 combined La Playita fleet pangas fishing off San Jose del Cabo, for a catch of: 480 Mexican bonito, 120 sierra, 65 black skipjack, 165 pargo, 3 grouper, 12 amberjack, 18 cabrilla, 35 triggerfish, 26 grunt, and 16 golden jack or palometa amarilla. Water temperatures were on the cool side, from 66 to 70 degrees. "At this time last year the water was 70 to 72 degrees throughout the area," Brictson said, "and for that reason the fish counts for yellowfin tuna and dorado were much better." The Mexican bonito bite was mainly at the San Luis Bank on fish of 2 to 8 pounds. "San Luis showed signs of coming to life," Brictson said. "One panga...hooked into a couple of larger yellowfin tuna, but both were lost...One of them...was estimated to weigh about 100 pounds." San Jose del Cabo weather was pleasant at 80 degrees, with north winds at 8 to 15 m.p.h.
SAN JOSE DEL CABO (LOS CABOS), MEXICO: Bob Lewis of San Jose del Cabo reported on a launch out of Cabo San Lucas by his boat Dos Gueros, finding poor fishing conditions on the Pacific side and up the Cortez side to San Jose de Cabo. "Conditions here for fishing are just not very good right now," Lewis said. "There was no bait in San Lucas...Up the Pacific side...a fair-sized swell and brisk north wind turned me around just past the old lighthouse. The water was real green and cool...I did not see anyone fighting fish...It was just a long boat ride today." Lewis said water temperatures were at 66 to 67 degrees on the Pacific side and 69 degrees off San Jose del Cabo.
EAST CAPE FISHING REPORTS
ALL ARTICLES, REPORTS AND FISHING INFORMATION FOR EAST CAPE
EAST CAPE, MEXICO: Chris Moyers of East Cape Smoke House reported on 34 boats from combined East Cape hotel fleets including Palmas de Cortez, Playa de Sol, Punta Colorada, Rancho Leonero, Buena Vista Beach Resort, Rancho Buena Vista, and Martin Verdugo's Beach Resort, with 102 anglers and a catch including released fish of: 2 striped marlin, 41 dorado, and 24 yellowfin tuna.
"The fishing picked up just a bit from the previous week," Moyers said. "We saw a few more hooks in the water at East Cape and we should start seeing an upward trend in that regard. Anglers reported dorado hookups off Punta Pescadero, straight off Los Barriles, and to the south 2 miles off Rancho Leonero. Most of the dorado being landed right now are in the 15-pound class."
EAST CAPE, MEXICO: For the previous week, Moyers reported on 6 hotel boats, with 18 anglers and a catch including released fish of: 4 dorado, and 3 yellowfin tuna.
"High winds out of the north, as well as the fact that we just didn't have many hooks in the water, made for a poor week," Moyers said. "There is not much to report."
EAST CAPE, MEXICO: Russ Fritz of La Ribera reported strong winds Saturday with waves pounding the beach, and 1 sierra caught from the surf. Earlier, Fritz said there was almost no wind until noon on Tuesday, Thursday, and Friday, but East Cape inshore water was "dark green" at 68 to 70 degrees. Sierra were plentiful and caught on small Rapalas. "There is plenty of small 1 to 2-inch bait fish close to shore, so the sierra are larger and fatter than in recent years," Fritz said. "The red snapper have also shown up on the 200-foot bank 3 miles off La Ribera. If you can talk one of the commercial pangueros out of some langostinos for bait, you can limit out quickly." Fritz said his boat Soplado fished every calm day during the week for full limits of red snapper that were also being fished hard by commercial pangueros: "On Wednesday, the commercial fishermen from Los Frailes made a heavy withdrawal of 1,450 kilos of snapper, so Thursday was a slow day here." Fritz' son Dan also landed a 24-pound jack crevalle about 300 yards offshore on Thursday.
EAST CAPE, MEXICO: Lance Petersen of Baja On The Fly reported sierra caught on East Cape beaches, but only at first light. "Beach fishing is an early morning deal," Petersen said. "Hit the beach at gray light and you'll have a shot at sierra. The bite lasts for 20 minutes or so. Once the sun hits the water, the action moves out of range." Fishing the beaches during the evening produced some ladyfish, "but these ladies are tough!," Petersen said. "They are feeding on fry that look to be about a quarter-inch long and they are very tough to catch." East Cape weather was clear in the mid-70s, with water temperatures at 62 to 70 degrees.
EAST CAPE, MEXICO: John Ireland of Rancho Leonero reported few boats fishing but a "strong dorado bite with some yellowfin tuna taken" about 25 to 35 miles east of the hotel on a heading of 090 degrees. "The dorado are very concentrated, with lots of schooling fish but no real size, 5 to 25 pounds," Ireland said. Boats also found about 3 to 4 small yellowfin tuna of about 10 pounds per outing. East Cape weather was in the mid-80s, with water temperatures at 66 to 68 degrees. Sierra, jacks, and pargo were biting off most East Cape beaches.
EAST CAPE, MEXICO: Gary Leeper, staying at Martin Verdugo's Beach Resort, said on Friday, "Several hotel boats went out yesterday and all came back with limits of small dodo and a few small tuna. Winds were moderate, and seas are cool. The dorado were caught north off Punta Pescadero and El Cardonal."
EAST CAPE, MEXICO: Jorge Bergin of La Ribera reported on Friday, "Our local water is still 67 degrees, just that critical 5 or 6 degrees colder than Cabo. There is no bait around to speak of and fishing is very slow right now."
EAST CAPE, MEXICO: Torrance Eddy of Buena Vista said he saw no hotel boats fishing on Sunday, but earlier many dorado flags were showing. "All boats that went out have their maximum, mas o menos, number of banners filled," Eddy said. "It is good that the fishing is so prolific, because so is the wind. It has really howled the last few days." Earlier, Eddy relayed reports of yellowfin tuna about 20 miles out and giant Humboldt squid caught a mile from shore, but very slow inshore fishing action on his boat earlier in the week. "I trolled some deep diving crank baits one of which was a Rebel Spoonbill for about 4 miles without so much as a tap," Eddy said. I also fished with cut bait, giant squid...Later I hitched a ride for a couple of hours fishing the shallow area off of Rancho Leonero with nothing. I talked to three other anglers who were getting a few sierra...The water temperature was 65 degrees and there were virtually no fish inside of a 30-foot depth."
LA PAZ FISHING REPORTS
ALL ARTICLES, REPORTS AND FISHING INFORMATION FOR LA PAZ
LA PAZ, MEXICO: Dos Hernandez of Tortuga Sportfishing reported improved conditions last week after a period with many days not fishable due to north winds. Tortuga boats caught giant Humboldt squid for bait at Punta Perico and around Ensenada de los Muertos, for local action on sierra, cabrilla, and mixed snappers. Capt. Rigo also said some yellowtail were caught at Punta Perico. No dorado or tuna were reported. "We've had poor fishing conditions at Las Arenas for the past few weeks because of north winds and it was impossible to go out fishing at the points, but little by little the winds have diminished," Hernandez said. "This week, conditions are much better and we're hoping the tuna and dorado will return to this area."
LA PAZ, MEXICO: On Saturday, Jonathan Roldan of Tailhunter International reported good weather in the La Paz fishing area and good light-tackle action on both sides of the hill for sierra to 10 pounds, plus yellow snapper, mullet snapper to 15 pounds, bonito, skipjack, jack crevalle, and a few 10 to 30-pound yellowtail starting to show around Punta Perico on the Las Arenas side. "La Paz waters have been relatively calm compared to last week when we had that cold snap," Roldan said. "Most of our fishing has been on the Las Arenas side, but we've sent boats out of La Paz as well. Light tackle fishing for sierra has been top notch."
LORETO FISHING REPORTS
ALL ARTICLES, REPORTS AND FISHING INFORMATION FOR LORETO
LORETO, MEXICO: Pam Bolles of Baja Big Fish Company reported strong winds on Sunday after a week of very spotty yellowtail fishing. "It's really windy today, all day," Bolles said. "This warm wind has been strongest at night. Both yesterday and today we had rough seas...Yellowtail are to our north...at Puerto Almejas. Fishing at Punta Pulpito was reported slow with none being caught there the entire day...The yellowtail feed has been on one day and off the next.
"We're starting to see sargasso growth on the surface of the rocks. We are also having an exceptional mango bloom. The quality of the mango harvest seems to be proportional to that of the dorado bite. These are two indicators of a more normal dorado season ahead."
LORETO, MEXICO: Earlier, Bolles reported poor bait availability and mixed yellowtail around Loreto, and local gill netters taking a heavy toll of inshore fish. "The bite at La Cholla shut down about two weeks ago," Bolles said. "The mackerel and bigeye disappeared and only platano and large sardine baits were available...Loreto boats have been progressively fishing north...The reef between Isla Coronado's north side and the San Bruno reef has produced yellowtail in the 30 to 40-pound range...Two weeks ago gill netters wrapped hundreds of roosterfish off the satellite island at Isla Coronado. This event...infuriated many, but folks were too timid to report it to authorities...But I'm pleased to report that the marines confiscated their nets and busted them."
Bolles also said Baja Big Fish Company will be receiving its certified scale in a few weeks and will serve as an official IGFA weigh station from its new storefront at the downtown Loreto corner of Paseo Hidalgo and Francisco Madero where Playa Blanca Restaurant and Mike's Bar are located.
LORETO, MEXICO: Patty Zapata of the Hotel Oasis said few anglers were fishing at Loreto but some boats got lucky on yellowtail in tough conditions. Jerry Borge and his son Paul fished with Capt. Antonio Davis Castro and managed 2 yellowtail on the north side of Isla Coronado. "Fishing for bait was very slow but they managed to finally get enough mackerel to go for yellowtail," Zapata said. "Two hours later it was getting kind of rough because of the wind. They decided to go to the north side of Coronado Island. Fishing was very slow but just about the time they thought they were going to be skunked, Paul hooked up and landed a 25-pound yellowtail. The wind got worse and they were drifting so fast that they thought they were done for the day. However, while reeling in Jerry hooked up with a yellowtail of 15 pounds."
LORETO, MEXICO: At Villas de Loreto, Wendy Wilchynski said she and Ron Bellerive are retiring and the historic hotel, one of Baja's first when it opened as Ed Tabor's Flying Sportsmen Lodge, will cease operations. "Villas de Loreto is closing it's doors," Wilchynski said. "We are going to sit by the Sea of Cortez and relax...It was our reason for coming to Mexico, but we got wound up in working! We will do some traveling and just enjoying a slower pace. The ghosts of Ed Tabor and Villas de Loreto will have to put up with just living with Ron and Wendy on the beach." Meanwhile, Wilchynski reported on Saturday, "The wind is blowing like crazy today!"
MULEGE FISHING REPORTS
ALL ARTICLES, REPORTS AND FISHING INFORMATION FOR MULEGE
MULEGE, MEXICO: Rick Barber of Mulege reported local boats catching yellowtail to well over 35 pounds during pre-fishing in water averaging about 60 degrees for the Mulege Classic Tournaments Spring Yellowtail Tournament to be held Feb. 16-27, 2005.
"The excitement is really building here in Mulege," Barber said. "Anglers have been hitting all the local hot spots to find out where the big boys are hiding and what baits are working best...All of our local guides have been scoring regularly and heavily on yellowtail, especially in the Isla San Marcos, Santa Inez and Punta Chivato areas. They all are reporting boating fish in the 35 to 50-pound range from all areas...I've got a busy week ahead getting myself, my boat Barquito and the gear ready for the tournament." Tournament information: mulegeclassictournaments.com, mexrick1@prodigy.net.mx.
"Cody and Andy Spahn have been prowling the Isla San Marcos, Santa Inez, Punta Chivato and Punta Concepcion areas and found the yellowtail to be cooperative and plentiful. Most of their fish have been running at least 35 pounds and the waters have been fairly clear and right at 60 degrees. They usually fish live bait but occasionally troll with good results. They won't tell me where they're going for the tournament but, then, I didn't tell them where Manuel and I are going either!
"Carlos Carrere and his son, Carlos Jr. went to fish at Isla San Marcos last week and managed to bag 12 yellowtail, bring home a couple of nice ones around 40 pounds. Carlos Jr. also got a nice squid that weighed 45 pounds. They're lots of fun to catch as long as you remember two rules. The first, keep the 'jet intake' above the waterline, and the second, is to keep the squid next to the boat, under a gunwale if possible, until it exhausts all water. Failure to follow either rule will guarantee a drenching!
"On Thursday, Marty Robison and Tom Landes went to Wilbur's Hole, one of our local hot spots near Punta Concepcion and hooked five yellowtail, boating 3, in the 25 to 30-pound range. They were fishing on the bottom with lures that resembled Big Hammer Swimbaits on leadheads that were sized up for yellowtail. I checked out Charkbait Internet Sportfishing and I think Marty was using the 6-inch Christmas Tree colors. He's ordering me some so I can give them a personal checkout!
"Live bait seems to work best but, because the water is colder, trolling MirrOlures is also a very good option. If the water is murky, try the flashy colors, pink, bright orange, yellow, lime green and various shades of red. Trolled at about 6 m.p.h., MirrOlures will dive to about 30 to 35 feet and pull the yellowtail up from considerable depths. Using a Pink Lady diving plane is also a good option if the fish are holding down in the column.
"Many of the anglers I talked to this week reported seeing a lot of yellowtail boiling at the surface chasing small 4-inch or so sardines. Many of these anglers were able to score with iron but only after closely matching the bait. One of my favorite tricks during this kind of action is to toss my iron in the middle of the action and just let it flutter down through the meatball. Some of the largest yellowtail have a funny habit of just laying in wait under the meatball to ambush the cripples as they float down. I try to accommodate!"
SANTA ROSALIA FISHING REPORTS
ALL ARTICLES, REPORTS AND FISHING INFORMATION FOR SANTA ROSALIA
SANTA ROSALIA, MEXICO: Mike Kanzler, just returned to his home on Isla San Marcos after an extended stay in the U.S., reported Santa Rosalia weather in the mid-70s, with some west wind in the early morning hours, good afternoon sea conditions, water temperatures at a cool 61.5 degrees, and visibility at about 30 feet. Two outings to the Isla San Marcos bajo with Alan "Voodoo Lounge" Lewis of San Lucas Cove produced a total of 10 yellowtail to 28 pounds in so-so action on caballito baits.
"The fishing was not wide-open, but steady enough to keep it fun," Kanzler said. "It was a perfect tune up for the upcoming Mulege Yellowtail Tournament...There was a boat from Mulege out there watching the Voodoo Doctor and Baja Cannibal slay yellows...Sorry to say, I never saw them pulling...It's just good to be back on the water fighting fish and sea conditions."
SANTA ROSALIA, MEXICO: Jim Anderson of San Lucas Cove reported winds early in the week, but very good midweek yellowtail action at the Isla San Marcos bajos on fish to 25 pounds. "Wednesday came on with a bang," Anderson said. "I had my limit by 9:30 a.m...Bud Pierce from Washington...had a real challenge getting his own fish. But good attitude and persistence paid off handsomely when he landed a really nice fish...We are really glad San Marcos Mike is back...Thursday was the first day that we had San Marcos Mike out there on the reef and it felt like things were back to normal...My wife hooked what we thought was the biggest fish we had seen all season and I had to help by taking the rod for awhile...When she finally got it to the boat it was a 25-pound yellowtail hooked right by the anal fin. What a pull!...It has been a really great season here that began with large grouper, a grand slam on billfish, and finally some monster yellowtail. We are beginning to plan for our coming year and are looking forward to returning in October."
BAHIA DE LOS ANGELES (L.A. BAY) FISHING REPORTS
ALL ARTICLES, REPORTS AND FISHING INFORMATION FOR BAHIA DE LOS ANGELES
BAHIA DE LOS ANGELES, MEXICO: Baja author-adventurer Graham Mackintosh reported from his month-long camping trip on Isla Angel de la Guarda off Bahia de los Angeles (L.A. Bay) that he had hiked over to the east side of the island and was seeing lots of sea life, including yellowtail, while kayaking along the coast, and that his supply of wood fire-distilled drinking water had been supplemented with beer dropped in by parachute. "I've found myself surrounded by schools of yellowtail, usually when I haven't my fishing pole with me," Mackintosh said. "Sea lions are plentiful and I've seen several turtles and finback whales...Forgive me if I get silly or sentimental, but...I'm looking up at a lovely 1.3 gallons of Heineken beer which was delivered by Mike Essary via parachute about 3:30 this afternoon...I've spent most of the last 3 days making drinking water by distilling sea water, a slow and tedious process providing about a cup an hour."
SAN FELIPE FISHING REPORTS
ALL ARTICLES, REPORTS AND FISHING INFORMATION FOR SAN FELIPE
SAN FELIPE, MEXICO: At San Felipe, Catalina Meders of the Title Company Bookstore overlooking the bay said the weekend was windy, but with clear blue skies, an air temperature of 76 degrees, and humidity at 31 percent. "It has been just gorgeous here," Meders said. "We've had whitecaps for two days at San Felipe and a really high tide...Up coming are all the spring festivities, the 'Breakers,' Carnivale, and of course the Baja 250." At Laguna Percebu south of town, the sea-going raft of "Poppa Neutrino," David Pearlman, was being readied for its planned Feb. 18, 2006, launch down the Sea of Cortez. Meders said, "There are two people here helping him with the last-minute improvements, one of them a fellow rafter who has come all the way from Amsterdam. They are writing a newsletter and keeping a photographic record of the entire event. They are thinking of perhaps accompanying him part of the way."
SAN CARLOS (SONORA) FISHING REPORTS
ALL ARTICLES, REPORTS AND FISHING INFORMATION FOR SAN CARLOS
SAN CARLOS, MEXICO: Bill Molden of San Carlos and the boat Foghorn reported much improved yellowtail action on fish of 20 to 30 pounds for anglers at Isla San Pedro Nolasco. "The catching has really picked up...at San Pedro Island," Molden said. "While the north end of the island seems to be holding the most fish, I suspect the reason is 'everyone is fishing there.' I counted 25 boats out there at the north end on Thursday...Bottom fishing continues to be decent and the near shore yellowtail bite also has been fair, but by far the best fishing has been out at the island." San Carlos weather was up-and-down, with windy days and flat seas on alternating days, and water temperatures in the mid to low-60s. "Seas have been been kindly for the past 3 days, but it looks like we're in for one hell of a blow for the next three," Molden said.
MAZATLAN FISHING REPORTS
ALL ARTICLES, REPORTS AND FISHING INFORMATION FOR MAZATLAN
MAZATLAN, MEXICO: Larry Edwards of Cortez Yacht Charters reported "staggering numbers" of pargo caught by Mazatlan inshore boats, plus large baqueta of 40 to 50 pounds, cabrilla, mojarra, and other mixed species. "Mazatlan had incredible inshore pargo action," Edwards said. "The average super panga was producing 20 to 40 fish, counting releases." About 70 percent of Aries Fleet offshore boats fishing out of Marina el Cid caught striped marlin, with a 50-outing catch including released fish of: 35 striped marlin, 2 mako shark, and 2 dorado. Mazatlan weather was clear in the low-80s, with inshore water temperatures at 70 degrees, and 71.5 degrees in the best offshore fishing area about 25 miles southwest of Marina el Cid. "Rigged baits were producing 99 percent of the fish," Edwards said.
MAZATLAN, MEXICO: Bill Heimpel of Mazatlan's Star Fleet reported good schools of striped marlin, including a 170 pounder, a few yellowfin tuna, and large giant Humboldt squid to about 5 feet long caught on both lures and mullet baits.
IXTAPA ZIHUATANEJO FISHING REPORTS
ALL ARTICLES, REPORTS AND FISHING INFORMATION FOR IXTAPA ZIHUATANEJO
IXTAPA ZIHUATANEJO, MEXICO: Ed Kunze, reporting for Baja On The Fly, said offshore sportfishing boats at Ixtapa Zihuatanejo averaged about 2 sailfish per day, plus some dorado in the 25 to 35-pound class. Capt. Adan on the panga Gitana released 10 sailfish in 4 outings, and Capt. Santiago on the Gitana II released 10 sailfish in 5 days. Some inshore boats did well on roosterfish and jack crevalle. "This week has seen some good fishing," Kunze said. "The cobalt blue water is only a couple of miles off the beach...Capt. Adolpho...took 7 roosters and several big jacks up near the Pantla beach area...Other inshore action is seeing a lot of sierras and black skipjacks." Other local guides with good scores included Capt. Martin on the panga Isamar with a 2-sailfish average for the week, and Capts. Adolpho on the Dos Hermanos and Cheva on the Dos Hermanos II, each with 4 or 5-release days. Ixtapa Zihuatanejo fishing area weather was clear in the mid-80s, with water temperatures at 80 to 84 degrees.
IXTAPA ZIHUATANEJO, MEXICO: For the previous week, Stan Lushinsky of Ixtapa Sportfishing Charters reported, "There was lots of fishing activity in Ixtapa Zihuatanejo as the historical stats indicate a prime time for Pacific sailfish...Our annual fly fishing group led by Russ Hampton fishing 7 days aboard the super pangas, Janeth, Llamarada, Secuestro, Marfel, Angler, Grand Jefe, Dos Hermanos II, and Zapatito Gordo, raised 182 sailfish and 8 blue marlin. Many fish were...hooked but only 18 were successfully landed and released. Fly anglers reported sluggish activity from the sailfish as the water temperatures were a bit lower than normal."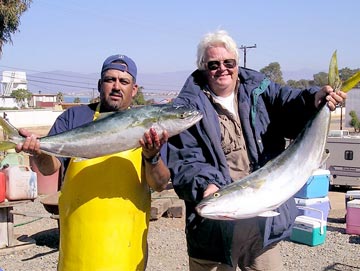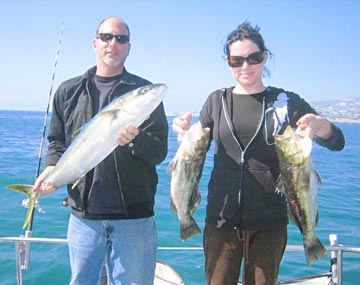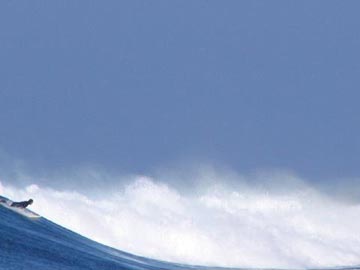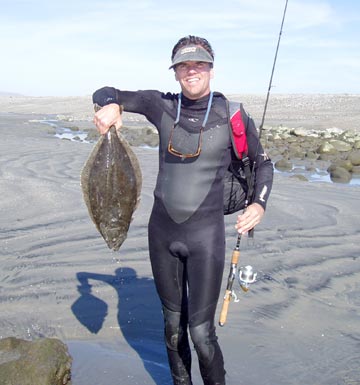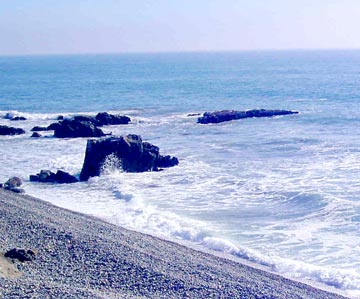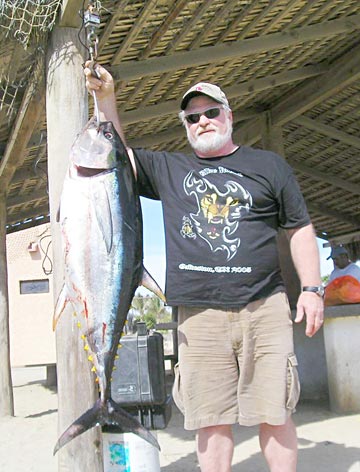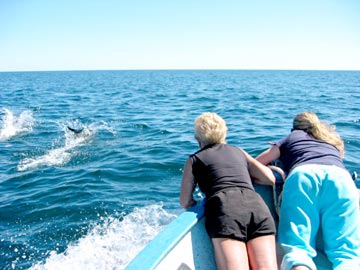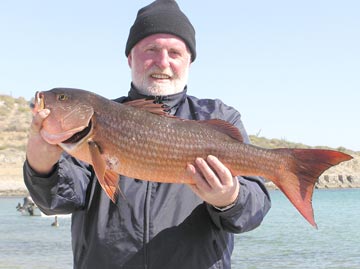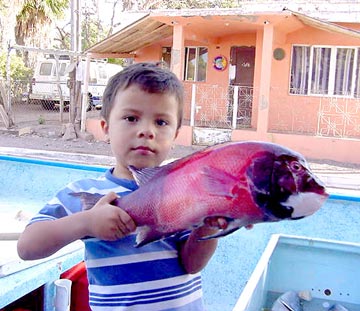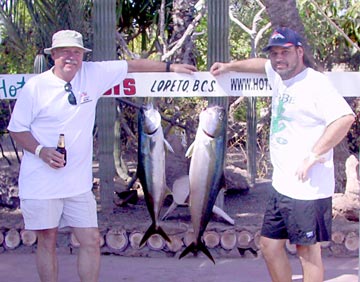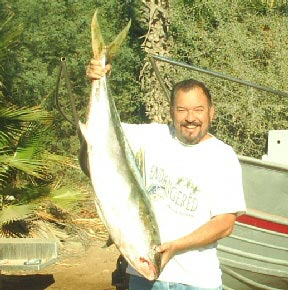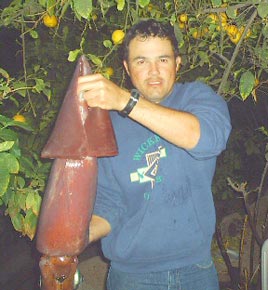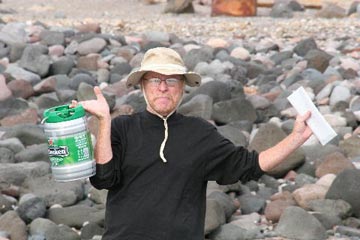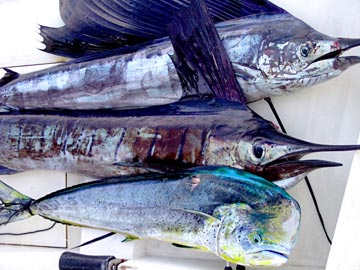 Baja coastal fishing reports and articles.
Ensenada fishing reports and articles.
Puerto Santo Tomas fishing reports and articles.
Erendira fishing reports and articles.
San Quintin fishing reports and articles.
Magdalena Bay fishing reports and articles.
Cabo San Lucas fishing reports and articles.
San Jose del Cabo (Los Cabos) fishing reports and articles.
East Cape fishing reports and articles.
La Paz fishing reports and articles.
Loreto fishing reports and articles.
Mulege fishing reports and articles.
Santa Rosalia fishing reports and articles.
Bahia de los Angeles (L.A. Bay) fishing reports and articles.
San Felipe fishing reports and articles.
Rocky Point (Puerto Penasco) fishing reports and articles.
San Carlos (Sonora) fishing reports and articles .
Mazatlan fishing reports and articles .
Puerto Vallarta fishing reports and articles.
Ixtapa Zihuatanejo fishing reports and articles.
Huatulco fishing reports and articles.
Cancun fishing reports and articles.
Mexico coastal fishing reports and articles.
Mexico Fishing Home Page < Mexico Fishing News Archives < Fishing Report