A total of 37 percent of Pisces boats also landed dorado of 15 to 20 pounds, and 13 percent caught yellowfin tuna. As the Baja Pacific coast marlin migration continued to move southwards, more stripers were caught closer to Cabo San Lucas. "There has begun to be a shift towards Cabo by the striped marlin," Ehrenberg said. "Some of the better catches were made at the San Jaime Bank rather than the Golden Gate Bank and some boats are now fishing for marlin off Old Lighthouse. The Golden Gate Bank will continue to be a destination over the next month or so, but the marlin will gradually move towards Land's End." Cabo San Lucas fishing area weather was moderate to calm, with water temperatures averaging 70 degrees.
CABO SAN LUCAS, MEXICO: Durance Lowendick of Marlin Masters Sportfishing reported 20 marlin released at the Finger Bank on Thursday by the charter boat Marlin Master I. "It's still red hot," Lowendick said. "The past week in Cabo has been one full of great fishing action. The striped marlin bite is extremely strong with fish surface slashing bait balls on the Golden Gate seamount and the Finger Bank off Todo Santos." Cabo San Lucas sportfishing boats running to the Finger Bank were scoring 15 to as many as 40 marlin releases in a day and the marlin were moving southwards toward Cabo. "We have noticed a southward movement to the fish pattern the past several days with good catches of striped marlin and yellowfin tuna being taken at the San Jaime Bank," Lowendick said. Marlin Masters Sportfishing charters had a 94.6 percent release rate since mid-December. "If fighting a nice striped marlin is on your New Year's wish list Cabo San Lucas should be in your plans for January 2008," Lowendick said.
CABO SAN LUCAS, MEXICO: Jim Dillon of Salvador's Sportfishing said the charter boats El Budster, El Budster I, and El Budster II set a new fleet record of 817 billfish released during 2007. For the week ending on Thursday, Dillon reported on 18 outings, with a catch including released fish of: 45 striped marlin, 1 sailfish, 1 mako shark of 30 pounds, 14 yellowfin tuna of 15 to 25 pounds, 2 boats with yellowfin tuna limits at 15 to 25 pounds, and 8 dorado of 25 to 30 pounds.
CABO SAN LUCAS, MEXICO: George Landrum of Fly Hooker Sportfishing reported water temperatures on Cabo's Pacific side holding at 71 to 74 degrees as the long-standing concentration of striped marlin moved southward toward port. "There was an excellent bite going on at the San Jaime Bank on marlin in the 100 to 120-pound class with a lot of Cabo San Lucas boats releasing up to 20 marlin a day," Landrum said. "There was great activity on the Golden Gate Bank as well." Water conditions on the Cortez side were green and much cooler at about 67 degrees. "Boats going up toward the Vinorama and Punta Gorda areas on the Cortez side reported very green water and only a couple of marlin sighted," Landrum said. Yellowfin tuna and dorado were mostly in the 15-pound class and scattered. Inshore fish counts were dominated by consistent sierra.
CABO SAN LUCAS, MEXICO: Ramon Druck of the Cabo San Lucas charter sportfishing super panga Cheer's reported on 2 local outings during the week with a total of 5 anglers, for a catch including released fish of: several dorado of 10 to 15 pounds, and 18 sierra of 3 to 6 pounds. The Cheer's caught dorado 1 to 4 miles off Faro Viejo and sierra about 8 miles out. Anglers fishing aboard the Cheer's included Enrique Dominguez, Samuel Dominguez, and Simon Cantú, all of Acapulco, and Larry Voldeng and James Bond, both of Canada. Local Cabo San Lucas fishing weather was good, with some afternoon wind and the water temperature at 70 to 74 degrees.
In other mainland Mexico and Baja fishing action this week:
ENSENADA FISHING REPORTS
ALL ARTICLES, REPORTS AND FISHING INFORMATION FOR ENSENADA
ENSENADA, MEXICO: Ivan Villarino of Vonny's Fleet announced the addition of a Ensenada fourth charter panga to the fleet, a fiberglass model christened the Vonny IV that will be equipped with a 50-h.p. Suzuki outboard. Panga fishing at the tip of Punta Banda found calm seas on Wednesday as Capt. Beto and Jay Johnson on the Vonny I scored a good assortment of lingcod, red rockcods, whitefish to 4 pounds, and a big load of bonito for the Vonny's Fleet client fish smoker. "Not a bad start for 2008," Villarino said. Ensenada fishing area local weather was in the high-60s, with clear skies, 2-foot ocean swells, and the water temperature at Punta Banda averaging 58 degrees.
ENSENADA, MEXICO: On Thursday, Steve Ross of the boat Bad Dog at Marina Coral noted the weather forecast and offshore fishing prospects for the weekend as a major storm moved southward along the California Pacific coast. "Eight-foot seas with wind gusts to 30 m.p.h.," Ross said. "Uh...I don't think so."
ERENDIRA FISHING REPORTS
ALL ARTICLES, REPORTS AND FISHING INFORMATION FOR ERENDIRA
ERENDIRA, MEXICO: Tere Castro of Castro's Camp at Erendira reported very few anglers traveling on northern Baja roads during the past several weeks. "We haven't seen many people, but we've had our regular clients and several groups during the holidays," Castro said. Castro's Camp boats fishing off the Baja coast found mixed rockcods, lingcod, whitefish, and some sheephead, all into the 6 to 9-pound class. Local Baja fishing weather was mostly calm, with some Santa Ana winds at New Year's and the water temperature in the main fishing areas at 58 degrees.
SAN QUINTIN FISHING REPORTS
ALL ARTICLES, REPORTS AND FISHING INFORMATION FOR SAN QUINTIN
SAN QUINTIN, MEXICO: Kelly Catian of K&M Offshore Sportfishing reported on a good rockfish charter trip with angler Ed Cateriano of Santa Barbara, Calif., and Cateriano's brother Oscar, fishing out of San Quintin aboard the boat Offshore III for lingcod at 200 feet deep plus inshore calico bass and sandbass. "They used straight Spectra tied to small jigs," Catian said. "The braid helps to pull angry lings out of their rocky holes without any stretch." Catian noted that K&M Offshore Sportfishing has a winter special discount in effect for local spots and is also offering trips out of San Quintin to the Sacramento Reef and Isla San Geronimo. "We are now doing trips for calico bass as well as winter yellowtail and more," Catian said.
BAJA COASTAL FISHING REPORTS
ALL ARTICLES, REPORTS AND FISHING INFORMATION FOR BAJA COASTAL AREAS
BAJA CALIFORNIA, MEXICO: Gary Graham of Baja On The Fly reported a 22-pound halibut speared at San Roque just north of Bahia Asuncion by client Todd Burke of Canada. "He says the bottom is covered with them," Graham said. "Visibility is excellent and they are also diving with the sea lions at Isla Asuncion." Clients fishing with Capt. Juan Arce of Arce Bros. Sportfishing scored on calico bass, bonito, whitefish, and 1 sheephead. Coastal Baja fishing area weather was partly cloudy in the high-70s, with winds at 11 m.p.h. and water temperatures at 62 to 70 degrees.
BAJA CALIFORNIA, MEXICO: Jay Hammer of Riverside, Calif., reported on a run down Baja's Mex 1 Transpeninsular Highway. "They have opened a bank at Vizcaino just south of Guerrero Negro next to Highway 1," Hammer said. "The new launch ramp at Puerto Escondido costs $17. It is much improved, with gas on the water or on land, open 8 a.m. to 4 p.m. The pumps are the same price as in town and are said to be more accurate. Tripui has new 16 units, really nice at $110 a night, with wireless internet and dish T.V. Rice and Beans in San Ignacio has rooms for $40 per night and wireless internet.
BAJA CALIFORNIA, MEXICO: Sirena Bondy of Baja Bread & Breakfast at Bahia Asuncion reported the winning contestants in the recent first annual Bahia Asuncion Surf Competition: Open Division: first, Hector Cordero, Ensenada; second, "Kingsize," Bahia Tortugas; third, Hector Estrada, Bahia Tortugas. Boogie Board Division: first, Javier Espinoza, Bahia Asuncion; second, Alejandro Aguilar, Bahia Tortugas; third, Jonas Duran, Bahia Tortugas. Junior Division: first, Emanuel Arce, Bahia Asuncion; second, Anibal Mayoral, Bahia Asuncion; third, Jaime Morales, Bahia Asuncion.
BAJA CALIFORNIA, MEXICO: Jose Sanchez of Cedros Outdoor Adventures said he's been receiving calls about his fly-down fishing trips to Isla Cedros off the Baja Pacific coast. "The phone has been ringing with people asking about the fishing trips they just read about in Western Outdoor News," Sanchez said. "It seems that a lot of fishermen prefer the idea of flying and going fishing immediately rather than the long boat ride. It seems that summer will be the busy season." Sanchez noted the ready availability of lobsters from Mexican commercial fishermen during the winter season. "In Baja California, lobster season is open until mid-February," he said. "The most productive grounds are the waters off Cedros and San Benitos islands in the middle of the peninsula. At night you will sleep in comfort after enjoying a fresh-caught lobster dinner courtesy of our friends from the local cooperative "Pescadores Nacionales de Abulón."
MAGDALENA BAY FISHING REPORTS
ALL ARTICLES, REPORTS AND FISHING INFORMATION FOR MAGDALENA BAY
MAGDALENA BAY, MEXICO: Capt. Chico Hernandez of Lopez Sportsman's Lodge reported on 2 outings, 1 in the mangroves and 1 on the Pacific, for a combined catch of: 5 grouper of 2 to 14 kilos, 9 huachinango of 3 kilos, 1 yellowtail of 8 kilos, 17 corvina, and 2 pargo colmilludo. Hernandez fished commercially with 2 other pangueros, Lupe and Paco, and also guided Chris Kirley of Redlands, Calif., aboard Kirley's 15-foot boat, using live lisa and cut bonita baits.
MAGDALENA BAY, MEXICO: Gary Graham of Baja On The Fly said Magdalena Bay offshore fishing weather improved but no boat reports were received. "The billfish action continued from the Finger Bank below Punta Tosca all the way to Cabo," Graham said. Local Magdalena Bay mangrove channel fishing produced corvina, grouper, and cabrilla. Magdalena Bay fishing area weather was clear in the low-80s, with water temperatures at 66 to 73 degrees.
MAGDALENA BAY, MEXICO: Mike Clayton reported on a mid-December Magdalena Bay fishing trip with his son Chris aboard the San Felipe panga mothership Andrea Lynn, working the boat out of San Carlos in windy conditions for good yellowtail action at the entrada, good variety bottom fishing for yellowtail, sheephead, cabrilla, triggerfish, black sea bass, and feasting on lobster and scallops bought from local Mexican commercial fishermen. Mangrove fishing produced a large pompano and huge numbers of spotted bay bass including a father-and-son bass tournament for a release catch of 164 fish, 82 each. Rough sea conditions prevented fishing offshore at the Thetis Bank.
"Weather conditions did not permit safe fishing for the pangas on the Thetis Bank so Capt. Trinidad Rios kept the Andrea Lynn sheltered at the entrada," Clayton said. " Within minutes all anglers were straining with a strong yellowtail bite. The quality of the morning fishing was exhilarating with every boat landing 5 to 10 yellowtail, with many over 40 pounds. We fished the mangroves on the last day. We found a hot spot for spotted bay bass and created our own bass tournament. Our panguero was glad we eventually ran out of bait and we were too tried to use jigs. The trip ended with full ice chests. Elena Rodriguez was a complimentary host and coordinated activities with attention and concern for all aboard. After unloading the fishermen and their gear, the Andrea Lynn loaded her pangas and headed back around the cape to San Felipe and Christmas reunions for the crew."
MAGDALENA BAY, MEXICO: Jeff Petersen of Lopez Sportsman's Lodge at Magdalena Bay's Puerto Lopez Mateos said the first California gray whales of the season were arriving for their winter breeding session. "A local had told us how 2 gray whales had come into the bay," Petersen said. "He called them the 'two guide whales.' He said they were the first 2 and that something like 200 whales would soon be joining them. We had no luck seeing the whales that afternoon, but the next morning a local fisherman took us out in our super panga Sonia Ann and we finally saw the 2 whales as well as many sea lions." Mangrove fishing with lisa baits aboard the Sonia Ann produced a catch of cabrilla, triggerfish, "curricata," moray eel, and an octopus.
SAN JOSE DEL CABO (LOS CABOS) FISHING REPORTS
ALL ARTICLES, REPORTS AND FISHING INFORMATION FOR SAN JOSE DEL CABO
SAN JOSE DEL CABO, MEXICO: Eric Brictson of Gordo Banks Pangas reported on 92 combined La Playita fleet pangas fishing out of San Jose del Cabo's Puerto Los Cabos, with a catch including released fish of: 288 dorado, 18 yellowfin tuna up to about 40 pounds, 28 sierra, 7 striped marlin, 2 wahoo, 26 bonito, 16 roosterfish, 12 jack crevalle, 16 cabrilla, 9 amberjack, and 22 pargo. San Jose del Cabo fishing area weather had persistent north winds to about 15 m.p.h., with water temperatures at 68 to 73 degrees and the warmest water found to the southwest toward Cabo San Lucas. More striped marlin were seen moving over to the Cortez side from Cabo to Chileno. "Although water conditions were not ideal for dorado there were surprisingly good numbers of them from 1 to 3 miles offshore," Brictson said. "Lots of bolito and small skipjack were schooling in this area and helping to attract the dorado. There were reports of cow-sized yellowfin tuna seen breezing on the Jaime Bank, but they were not on the bite. Perhaps there will be a winter bite for larger tuna since nothing really ever developed during the summer or fall."
SAN JOSE DEL CABO, MEXICO: Paul Oldaker of Steamboat Springs, Colo., reported on 2 outings aboard the charter super panga Ginny with Capt. Arturo, for slow, windy action and a total catch of 5 barrilete or black skipjack plus a small roosterfish on his first day and no fish at all on his second day. "There were no tuna under the porpoise and the whales just wandering by," Oldaker said. "We did see another boat get a sierra. Other pangas picked up a couple of small dorado. In the evening a handliner got a sierra in front of the Hilton. Slow, slow wintertime fishing." Oldaker noted an active shoreline bite in front of his hotel. "In the late afternoon and evening I noticed pelicans dive bombing sardina in the cove in front of the Hilton," he said. "Then the small cove turned into a Jacuzzi of white water as jack crevalle drove the sardina up and onto the beach with about 50 pelicans dive-bombing. Some of the sardina and jacks got stranded. A real 'matanza' for about an hour!"
SAN JOSE DEL CABO, MEXICO: San Jose del Cabo species fishing specialist John Snow reported on the seasonality of his 4 years of fishing records including about 300 species caught or observed. "It looks like chubasco month, September, is the best month, and then it gradually tapers off to the winter doldrums," Snow said. Recent panga fishing during the second half of December was hampered by winds, but still produced an average of 22 fish per day and a total of 34 species. A total of 11 recent surf fishing sessions at San Jose del Cabo produced 45 fish of 16 species. Very few tourist anglers were fishing out of La Playita. "Almost zero gringos were present at La Playita with only 1 or 2 panga launches per day, making the place deader than a doornail," Snow said. "They continue with slow improvements to the new marina which at this pace is at least 10 years away from completion, keeping in mind that, due to the elements, it might go backwards faster than forward."
EAST CAPE FISHING REPORTS
ALL ARTICLES, REPORTS AND FISHING INFORMATION FOR EAST CAPE
EAST CAPE, MEXICO: Gary Graham of Baja On The Fly said offshore fishing at East Cape was hard to judge last week, as few boats ventured out in windy conditions. "Between the winds there were a few boats going out," Graham said. "But unless you were willing to gamble on the north wind your best option this week was early morning beach fishing." Sierra were active along East Cape beaches and were mixed with a few jacks and small roosterfish. "Now is an excellent time to go looking for the feisty sierra," Graham said. "Look for the local sardina bait fish schooling along shore. The sierra can often be caught by chasing the sardina and getting close enough to take shots at them while walking the beach." East Cape fishing area weather was windy to 12 knots at 80 degrees, with water temperatures of 67 to 73 degrees.
EAST CAPE, MEXICO: Mark Rayor of the Vista Sea Sport diving service said the East Cape fishing area was quiet, with north winds blowing and few tourists. "All is quiet on the East Cape," Rayor said. "Strong wind kept us pinned on the beach through most of the holiday. When we were able to get out we found good visibility and loads of sea life. Humpback whales are starting to show in bigger numbers."
LA PAZ FISHING REPORTS
ALL ARTICLES, REPORTS AND FISHING INFORMATION FOR LA PAZ
LA PAZ, MEXICO: Jonathan Roldan of Tailhunter International said La Paz fishing area pangas worked wind-sheltered waters on the Las Arenas side for good scores of sierra, bonito, cabrilla, snapper, some small pargo, and a few surprise dorado. "Winds were the story all week, keeping the fishing close and mostly in and around Ensenada de los Muertos and Punta Perico," Roldan said. "However, good scores got put in the box, even a few lost dorado. Live bait and inshore lures were working best. The winds are still coming from the north. It's a good thing we don't have a lot of clients fishing right now. Even the divers don't like being out in this stuff. That's just the time of year. However, when we do get out, the fish have been hitting."
LORETO FISHING REPORTS
ALL ARTICLES, REPORTS AND FISHING INFORMATION FOR LORETO
LORETO, MEXICO: Pam Bolles of Baja Big Fish Company said, "In a nutshell, strong north winds at Loreto have made getting out difficult and frustrating. Wind has been the norm throughout the month of December. On days with a short window of opportunity to fish, the poor availability of live bait has cut into the few hours we had on the water. Large baits are not being caught by the bait union because sea conditions have made it impossible for them. Sardina have been scattered along shore and hard to net. My advice is to hit the fishing grounds with artificials and skip the bait until conditions improve." Trolling Rapala-type plugs inshore produced cabrilla, pargo, and sierra, but no roosterfish. Yellowtail were scarce and not hungry. "Most of this is due to weather and not being able to get out and fish San Bruno and points more north," Bolles said. "We went out on December 27th and got 5 pounders on the surface at Isla Coronado." Fishing the sheltered water at the "waiting room" just outside Puerto Escondido produced good catches of corbina, small jacks, roosterfish, sierra, and mixed species.
LORETO, MEXICO: Jay Hammer of Riverside, Calif., reported prolonged north winds blowing at Loreto for the past several weeks and 2 yellowtail caught during a run with Capt. Jose Torres of Juncalito. "The winds have put all the pangas on shore for almost the whole month of December," Hammer said. "I got lucky though on New Year's Eve. With Juncalito guide Capt. Jose Torres we scrounged up 5 baits, 3 sardinas and 2 small mackerel. We pounded it out to the 6-mile reef and scored 2 yellowtail around 30 pounds. Tomorrow we might get a chance at fishing the Agua Verde bank where the big boys are if the winds subside."
SANTA ROSALIA FISHING REPORTS
ALL ARTICLES, REPORTS AND FISHING INFORMATION FOR SANTA ROSALIA
SANTA ROSALIA, MEXICO: Jim Anderson of San Bruno south of Santa Rosalia said, "Wind, wind, wind, and more wind," as just 1 fishing day produced some mixed bottom fish and no yellowtail in very slow conditions. "The only day last week that we were able to get out was Sunday and it was a terrible fishing day," Anderson said. "The weather was cold, the wind was just barely tolerable, and about the only thing a person could do was dream about the warmer weather with fish biting on every drop." Anderson said he fished with a guest caught in Santa Rosalia as the mainland ferry canceled operations 3 days due to weather. "We ended up with some bottom fish but it was not a very productive day," he said.
ROCKY POINT (PUERTO PENASCO) FISHING REPORTS
ALL ARTICLES, REPORTS AND FISHING INFORMATION FOR ROCKY POINT
ROCKY POINT, MEXICO: Shawn Gustafson of Chandler, Ariz., reported on 2 offshore runs out of Rocky Point, fishing in 270 feet of water about 50 miles out on his boat Murphy Girl for a catch of 27 fish including lots of goldspotted bass and ocean whitefish plus a 45-pound sawtail grouper caught by Art Pina, and then fishing again closer in on another private boat for a 20-pound leopard grouper, a 12-pound white seabass, and a couple of heavy break-offs. Rocky Point fishing area weather was mild in the high-70s, with offshore water temperatures at 59 to 64 degrees. "Most of the fish were caught on iron jigs but we could have caught a lot more goldspots on cut bait if we wanted," Gustafson said. "There were no red snapper, yellowtail, black sea bass, or halibut to be found. There were 2 other boats fishing nearby the first day, but we didn't see them catch anything. The current and wind were light which made drifting across the reefs easy, so we didn't try anchoring. There were bait balls everywhere we went, even at the deep water reefs, and I think that's why the fishing was a bit slow."
PUERTO VALLARTA FISHING REPORTS
ALL ARTICLES, REPORTS AND FISHING INFORMATION FOR PUERTO VALLARTA
PUERTO VALLARTA, MEXICO: Matt Harbour of Newbury Park, Calif., reported on a run out of Puerto Vallarta by Steve Danziger and 2 other anglers aboard Danziger's boat Cha-Ching, fishing in cold green water 10 to 15 miles west of Roca Corbeteña for 1 sailfish, and then 2 yellowfin tuna of about 70 pounds found in a surface bite while running toward Islas Marietas for bottom fishing. Harbour said, "On the way in, the guys spotted some yellowfin tuna busting on the surface, chasing krill and small squid. The fish were reluctant to bite the larger cabbies and green back mackerel. After about 20 minutes the fish started busting all around as the krill and squid tried to find refuge under the boat. After a few failed attempts to bait a fish with the heavier gear, Steve scaled down his line to 25-pound test, tossed a fresh cabbie into the froth, and was rewarded with an instant hookup on the light gear."
PUERTO VALLARTA, MEXICO: Stan Gabruk of Master Baiters Sportfishing & Tackle reported on a run by the 29-foot super panga Pecositas with Capt. Hector for a catch at Roca Corbeteña with anglers Karl and Marlise Viturre that included a 55-pound dorado. Yellowfin tuna and a striped marlin were also caught. "The story this week remains the areas out from Punta Mita," Gabruk said. "It's anywhere from 7 to 30 miles before you'll hit a boil or hot spot. But when you do, be prepared to battle sails, mahi-mahi, striped marlin, blue marlin, and yellowfin tuna. Anywhere from the buoys out is fertile territory, so even shorter trips of 6 to 8 hours will produce fish. Corbeteña has been a little quiet this week with most people hitting other areas. For my fuel money, I'd rather hit the areas out from the point at Punta Mita."
IXTAPA ZIHUATANEJO FISHING REPORTS
ALL ARTICLES, REPORTS AND FISHING INFORMATION FOR IXTAPA ZIHUATANEJO
IXTAPA ZIHUATANEJO, MEXICO: Ed Kunze, reporting for Baja On The Fly, said Ixtapa sportfishing boats were working close-in after the full moon phase and averaging 2 to 3 sailfish per day plus a few dorado. "The boats are having to travel only 5 to 8 miles to get into the action," Kunze said. "As we go into the favorable moon phase I am looking for the fishing to really turn on." Improving action was reported by Ixtapa charter fishing guides including Capt. Margarito on the Gaby, Capt. Cali on the Tarpon, and Capt. Martin on the Isamar. Ixtapa fishing area weather was humid in the mid-90s, with water temperatures at 80 to 84 degrees.
IXTAPA ZIHUATANEJO, MEXICO: Larry Edwards of Cortez Yacht Charters said, "The days after the turn of the full moon brought increased sailfish and dorado activity." Ixtapa fishing area charter boat captains reported 2 to 3 sailfish strikes and 4 to 5 dorado per day outside the 17-mile mark. Capt. Adolofo also reported on 3 inshore fishing days, with a count of 13 roosterfish and 45 jack crevalle. "Blue water is moving closer to shore each day and captains have reported good schools of bait scattered throughout the Ixtapa fishing area," Edwards said.
IXTAPA ZIHUATANEJO, MEXICO: Paul Phillips of the Fintastic Total Tag & Release Tournament reported on 4 outings by Capt. Santiago on the charter panga Gitana for a count of 29 sailfish released plus several large dorado to 52 inches for anglers Dan Gaffney and his wife of Hickory, NC.
CANCUN FISHING REPORTS
ALL ARTICLES, REPORTS AND FISHING INFORMATION FOR CANCUN
CANCUN, MEXICO: Dan Yates of West Jordan, Utah, reported local Mexican commercial fishermen at Playa del Carmen near Cancun with a day's catch in late December including 3 large shark. "My wife and I were in Playa del Carmen just before Christmas," Yates said. "We went to the beach to see the beautiful Caribbean sunrise and were greeted by this small boat with 3 local fishermen. They told us they caught the sharks at night in deep offshore waters out of Playa del Carmen. The largest shark was estimated to be 8 feet long and about 350 pounds. All the sharks were still barely alive."
MEXICO COASTAL FISHING REPORTS
ALL ARTICLES, REPORTS AND FISHING INFORMATION FOR MEXICO COASTAL AREAS
MEXICO: Randy Peters of Lakewood, Calif., reported very few tourists seen during a trip into northern Baja. "Although I wasn't fishing, I just returned from 3 days of dirt bike riding from Tecate to San Felipe to Mike's Sky Ranch," Peters said. "I can tell you that the country is now nearly void of Americans. Clearly, the recent incidents along the west coast have taken a toll on tourism. Even San Felipe was a ghost town."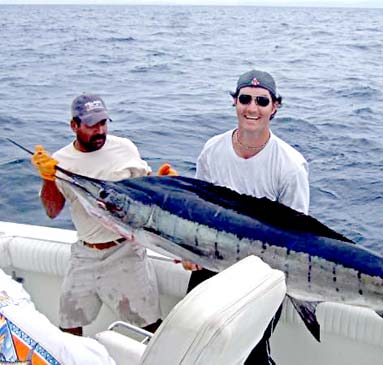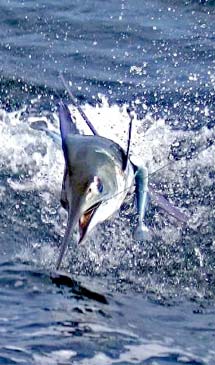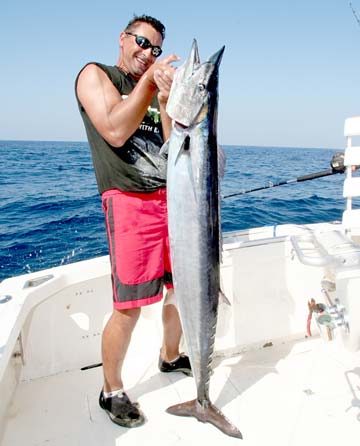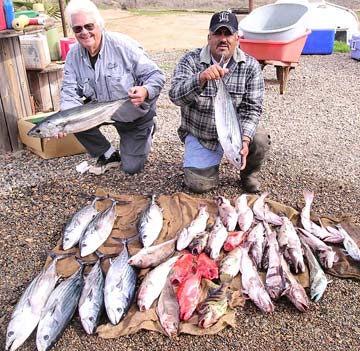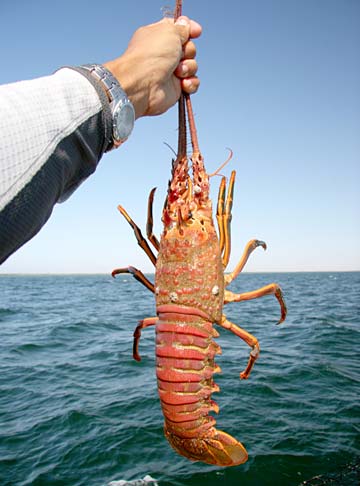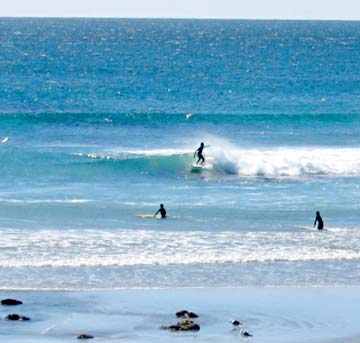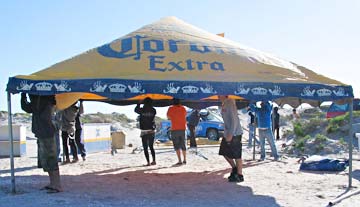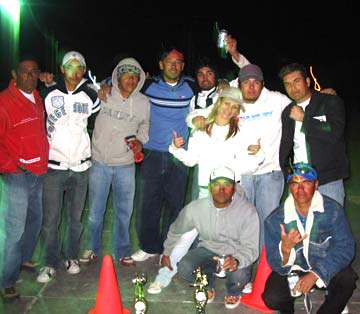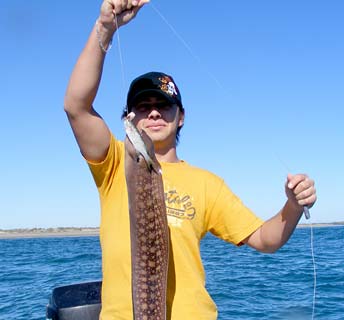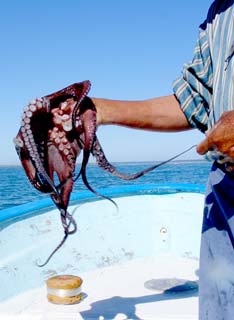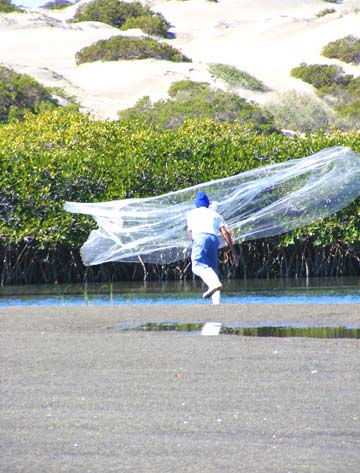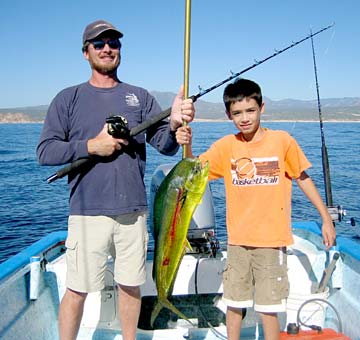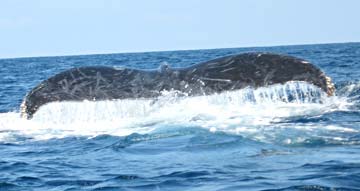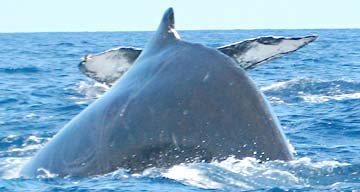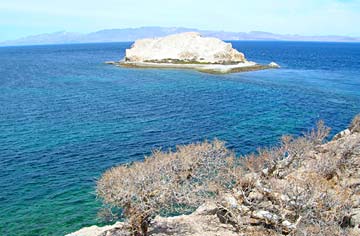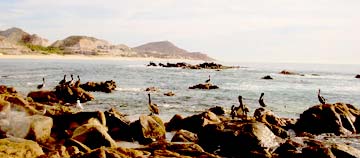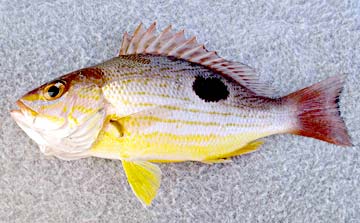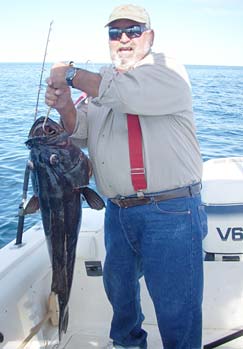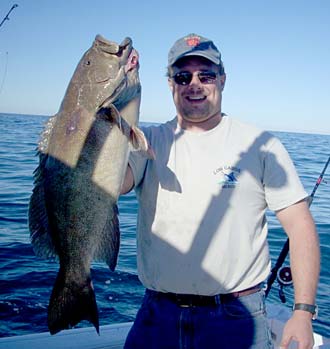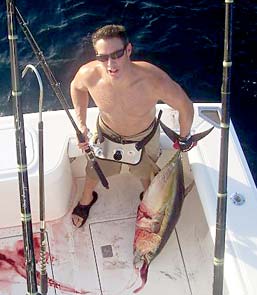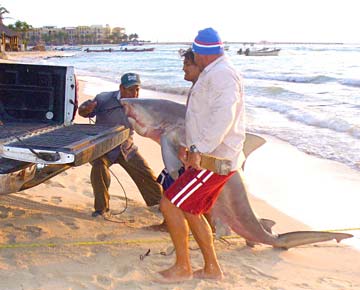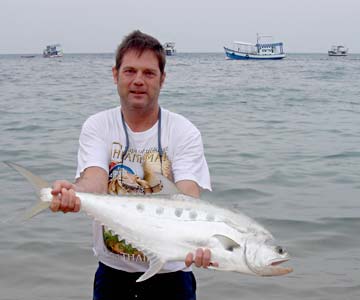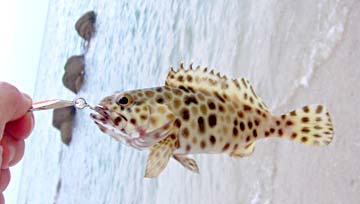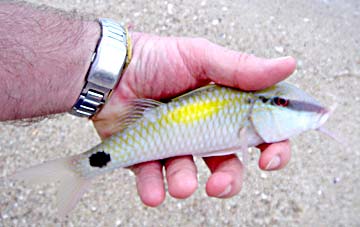 Baja coastal fishing reports and articles.
Ensenada fishing reports and articles.
Puerto Santo Tomas fishing reports and articles.
Erendira fishing reports and articles.
San Quintin fishing reports and articles.
Magdalena Bay fishing reports and articles.
Cabo San Lucas fishing reports and articles.
San Jose del Cabo (Los Cabos) fishing reports and articles.
East Cape fishing reports and articles.
La Paz fishing reports and articles.
Loreto fishing reports and articles.
Mulege fishing reports and articles.
Santa Rosalia fishing reports and articles.
Bahia de los Angeles (L.A. Bay) fishing reports and articles.
San Felipe fishing reports and articles.
Rocky Point (Puerto Penasco) fishing reports and articles.
San Carlos (Sonora) fishing reports and articles .
Mazatlan fishing reports and articles .
Puerto Vallarta fishing reports and articles.
Ixtapa Zihuatanejo fishing reports and articles.
Huatulco fishing reports and articles.
Cancun fishing reports and articles.
Mexico coastal fishing reports and articles.
Mexico Fishing Home Page < Mexico Fishing News Archives < Fishing Report