EAST CAPE, MEXICO: Marisol Verdugo of Martin Verdugo's Beach Resort said fleet cruisers and super pangas found marlin mixed with good numbers of dorado of 15 to 20 pounds about 20 miles off Cabo Pulmo and Los Frailes to the south. Fish counts included up to 10 dorado and up to 4 marlin per boat released. Humboldt giant squid were also caught by boats fishing off La Ribera. East Cape fishing area weather was very good, with light breezes of 4 to 6 knots.
EAST CAPE, MEXICO: Gary Graham of Baja On The Fly said early spring fishing in the East Cape area was still sporadic but showed signs of the coming season. "This week a handful of East Cape boats found a dead floating seal that had a wad of dorado beneath it and it was wide-open before it got crowded," Graham said. "Beach fishing included small roosterfish and jacks chasing sardina so close to shore it was tough to keep from stepping on them. As this transition continues, the fishing can be outrageous if you are in the right place at the right time." East Cape fishing area weather was in clear the low-90s, with water temperatures of 66 to 73 degrees.
EAST CAPE, MEXICO: Torrance Eddy of Buena Vista reported improving spring fishing that included dorado, marlin, and sailfish caught 35 miles out by a visitor to East Cape and his family, and a very good commercial catch of 250 kilos of red snapper plus a pair of 4-foot yellowtail by Mexican panguero Elias Aguilar. "Things seem to be really popping in these parts," Eddy said. Eddy also said he has upgraded his Baja tin boat to a 16.5-foot MirroCraft with a 35-h.p. Evinrude. "This boat has been neglected for a year, so, I'll be out of commission for a few weeks getting it 'fish worthy,'" he said.
EAST CAPE, MEXICO: Chip Shapley of Rancho Leonero reported 2 yellowtail of 25 pounds caught during a short outing aboard his 8-foot inflatable boat. "The morning was glassy calm, so I launched my dinghy to take a crack at the continuing yellowtail bite 1 mile outside of Rancho Leonero," Shapley said. "The first yellowtail took a live mackerel on the bottom and the other hit a Megabait jig that I was yo-yoing. This is the best yellowtail bite I have seen down here and it will be interesting to see how long it continues now that the water is finally starting to warm." Fewer East Cape fishing boats targeted yellowtail as more dorado and marlin were found offshore. "But many of the boats that stuck it out were rewarded with hookups as late as 11 a.m.," Shapley said. "In the past week the East Cape area has been teeming with life with sightings of whales, porpoise, mobula mantas, krill, big real sardines, mackerel, 1-foot squid, and large dense 'flocks' of whatever these little sea birds are that sit on the top and then all dive under the water at the same time."
EAST CAPE, MEXICO: For the week ending March 20, 2008, Chris Moyers of East Cape Smoke House reported on 44 charter boats from combined fleets including Hotels Palmas de Cortez, Playa del Sol, Punta Colorada, Buena Vista Beach Resort, Rancho Leonero, and Martin Verdugo's Beach Resort, with 110 anglers and a catch of 174 fish including releases. "The fishing is pretty much the same as it has been which is slow," Moyers said. "We did see the first several striped marlin landed of the season so that is always exciting, no matter how predictable that occasion may be." Moyers also noted that the East Cape theater group Baja Shakespearians was readying its 8th season of dinner theater presentations, scheduled this year for 4 nights in April at Hotel Rancho Buena Vista.
EAST CAPE, MEXICO: Simon Cazaly of East Cape's Vista Sea Sport diving service reported chilly 66-degree bottom water temperatures and just 20 to 25 feet of visibility at the Cabo Pulmo marine park coral reef, but abundant sea life sightings including mobula manta rays, dolphin, and humpback whales on the surface, and spring concentrations of yellowtail surgeonfish and dog snapper on the reef. "Yellowtail surgeonfish have been massing at the north end of El Bajo, greeting us as we descend down the anchor line," Cazaly said. "At El Cantil hundreds of dog snapper clustered together in a tight-knit group, an impenetrable wall." Other sea life sightings in the East Cape diving area included Pacific creolefish, diamond stingrays, guitarfish, bull's-eye rays, hawksbill turtles, bigeyed jack, Panamic porkfish, yellow snapper, stone scorpionfish, nudibranchs, green morays, and jewel morays.
In other mainland Mexico and Baja fishing action this week:
ENSENADA FISHING REPORTS
ALL ARTICLES, REPORTS AND FISHING INFORMATION FOR ENSENADA
ENSENADA, MEXICO: Ivan Villarino of Vonny's Fleet at Ensenada reported Mexican bottom fish limits or near limits for all pangas fishing at Punta Banda during the week, with good counts of red rockcod, lingcod, chuckleheads, sugar bass, and some bonito. "This week Ensenada had good weather and good fishing," Villarino said. "The water is calm now and conditions are good at Punta Banda." Anglers fishing on the charter pangas Vonny I and Vonny IV with Capts. Beto and Hector included Juan Amaral of Los Angeles, and Jay Johnson and Brian "Calico" Foley of Ensenada.
SAN QUINTIN FISHING REPORTS
ALL ARTICLES, REPORTS AND FISHING INFORMATION FOR SAN QUINTIN
SAN QUINTIN, MEXICO: Pete Hillis of Pedro's Pangas reported "dead light winds" off San Quintin and "great fishing for all bottom fish" found by boats going out during the week.
SAN QUINTIN, MEXICO: Jose Angel Pacheco of Cedros Outdoor Adventures announced the addition of fly-down trips to fish at Isla San Geronimo and the Sacramento Reef off the Baja coast southwest of San Quintin to the company's present schedule of fly-down trips to Isla Cedros. The Isla San Geronimo/Sacramento Reef trips will offer van service from San Diego to Ensenada, 1-hour charter plane flights to El Rosario just south of San Quintin, lodging at a bed and breakfast motel, and runs to the fishing area from Punta Baja on a 30-foot panga. "These packages include the same comfort, convenience, and quality as our Cedros Island trips," Pacheco said. "This fishing location is famous for the size of their calico bass, white seabass in summer, and many other species. We offer our clients service and comfort, and the quickest, safest routes to even the most remote destinations. We can arrange fly-in fishing charter packages to San Quintin, El Rosario, Bahia de los Angeles, Guerrero Negro, Natividad Island, and just about anywhere else in Baja. We will arrange to take you there at the best price. With Cedros Outdoor Adventures, you can fish in Baja the same day and every day of your trip." Information, 619-793-5419, info@cedrosoutdooradventures.com.
BAJA COASTAL FISHING REPORTS
ALL ARTICLES, REPORTS AND FISHING INFORMATION FOR BAJA COASTAL AREAS
BAJA CALIFORNIA, MEXICO: Shari Bondy of Baja Bed & Breakfast on the Pacific coast of Baja at Bahia Asuncion said last week's weather was variable with some rain and strong wind and some days of calm sun. "The coast had a large swell which has delighted our local surf club," Bondy said. "The kids have been able to surf every day this week getting ready for the summer tournaments." Fishing near Bahia Asuncion by Capt. Juan Arce of Arce Bros. Sportfishing produced cabrilla, ocean whitefish, and sheephead at a reef 6 miles out, in overall poor sea conditions. "The last few days have been very poor as strong currents, big swell, and high winds with poor visibility have resulted in everybody getting skunked," Bondy said. The Mexican commercial abalone season opened on April 1, 2008. "We can hardly wait to sample this year's harvest," Bondy said. "The fishermen get 4 abalone a week to eat. We will move out to the San Roque fish camp while they fish from there for a couple weeks. The commercial caracol or giant sea snail season also begins next week so we will all enjoy the delicious bounty of the sea over the next month."
MAGDALENA BAY FISHING REPORTS
ALL ARTICLES, REPORTS AND FISHING INFORMATION FOR MAGDALENA BAY
MAGDALENA BAY, MEXICO: Gary Graham of Baja On The Fly said a consistent halibut bite was found on Magdalena Bay shallows around San Carlos during the week. "Halibut could be found on almost any sandy beach with Punta Belcher the best of all," Graham said. Breezer yellowtail and sierra were caught at the San Carlos entrada. Fish counts in the Magdalena Bay mangrove channels included small grouper, corvina, pargo, and cabrilla at Devil's Curve and in the channels running north of Puerto Lopez Mateos. Magdalena Bay fishing area weather was clear in the high-80s, with water temperatures of 62 to 70 degrees.
CABO SAN LUCAS FISHING REPORTS
ALL ARTICLES, REPORTS AND FISHING INFORMATION FOR CABO SAN LUCAS
CABO SAN LUCAS, MEXICO: Tracy Ehrenberg of Pisces Fleet Sportfishing reported a big jump in striped marlin releases for Cabo San Lucas fishing area boats as 48 percent of Pisces Fleet charters released stripers, 84 percent landed yellowfin tuna, 28 percent caught dorado, and 99 percent caught all species combined. "Striped marlin suddenly woke up and became hungry," Ehrenberg said. "From a paltry 8 marlin last week we had a healthy 87 stripers caught this week. The climb in water temperatures is certain to be a contributing factor, up as high as 74 degrees in some places. Several Pisces boats had 5 or 6 marlin in one day." School-sized yellowfin tuna counts of fish from 15 to 30 pounds were very high with 883 tuna landed and many tuna released in fishing for up to 40 tuna per boat. Boat counts also included 4 wahoo of 35 to 45 pounds and up to 30 Humboldt giant squid to 35 pounds. Local Cabo San Lucas inshore fishing produced sierra, bonito, and a few roosterfish. Cabo San Lucas fishing area weather was sunny, with water temperatures averaging 70 degrees, mostly light winds, and some chop on the Pacific side as Pisces Fleet boats fished both the Pacific and Cortez sides and found most of the striped marlin on the Cortez side.
CABO SAN LUCAS, MEXICO: Larry Edwards of Cortez Yacht Charters reported on 38 outings by Gaviota Fleet and the Cabo San Lucas sportfishing boats Fish Cabo and Fish Cabo I, with a catch including released fish of: 162 yellowfin tuna, 25 striped marlin, and 14 dorado. "Billfish counts are on the upward movement and fishing is picking up by the day," Edwards said. "Pacific-side cool sea temperatures of 67 to 68 degrees have driven most of the billfish around the corner toward the Sea of Cortez." Water temperatures were at 70 degrees locally and warming to 74 degrees running northeast as most boats fished the Cortez side. Cabo San Lucas fishing area weather was near perfect in the low-90s. Caballito and mackerel live baits were in good supply.
CABO SAN LUCAS, MEXICO: Durance Lowendick of Marlin Masters Sportfishing said some blue marlin in the 400-pound class were released around the 95 and 1150 spots on the Cortez side. "Our boats are also encountering solid numbers of striped marlin in those same areas with most catches coming on live mackerel," Lowendick said. "We are also catching lots of school-sized 15 to 30-pound yellowfin tuna south of the San Jaime Bank in Pacific waters." Dorado were scattered, with a few fish of 20 to 30 pounds landed. Humboldt giant squid in large sizes were concentrated near the anchored cruise ships at Medano Beach. Other inshore catches included yellowtail, sierra mackerel, and several roosterfish.
CABO SAN LUCAS, MEXICO: Ramon Druck of the Cabo San Lucas charter sportfishing super panga Cheer's reported on 3 outings during the week with a total of 8 anglers, for a catch including released fish of: 3 Humboldt giant squid of 20 to 30 pounds, 13 sierra of 3 to 8 pounds, 5 roosterfish of 3 to 8 pounds, some small bonito to 4 pounds, and 29 yellowtail of 7 to 9 pounds. The Cheer's fished with lures and trolled live baits locally on the Pacific side beaches, near the Cabo San Lucas arch, and along beaches on the Sea of Cortez side, in water temperatures of 70 to 72 degrees and sunny, clear, and mostly calm sea conditions. Anglers fishing aboard the Cheer's included Lun Baley, Bob Trotman, Matt Trotman, Matt Mahr, Kevin Callaghan, Collin Perry, Kerry Shon, and Mike Perry.
CABO SAN LUCAS, MEXICO: Jim Dillon of Salvador's Sportfishing reported on 10 outings by the Cabo San Lucas charter boats El Budster, El Budster I, and El Budster II, with a catch including released fish of: 10 striped marlin, 72 yellowfin tuna of 10 to 20 pounds, 2 dorado of 20 to 25 pounds, and 2 sierra of 5 pounds.
CABO SAN LUCAS, MEXICO: George Landrum of Fly Hooker Sportfishing reported some northwest winds and rough conditions on the Pacific side with water temperatures as low as 61 degrees in spots, but water temperatures holding at 71 to 72 degrees on the Cortez side. "The striped marlin bite picked up this week outside the 1,000-fathom line and in the warmer water on the Cortez side," Landrum said. Most Cabo San Lucas boats running out about 30 miles scored yellowfin tuna limits. "The fish slowly moved to the east over the course of the week," Landrum said. "The bite was between 180 and 210 degrees during the start of the week and 170 to 140 degrees at the end."
SAN JOSE DEL CABO (LOS CABOS) FISHING REPORTS
ALL ARTICLES, REPORTS AND FISHING INFORMATION FOR SAN JOSE DEL CABO
SAN JOSE DEL CABO, MEXICO: Eric Brictson of Gordo Banks Pangas reported on 64 combined La Playita fleet pangas fishing out of San Jose del Cabo's Puerto Los Cabos marina, with a catch including released fish of: 28 dorado, 27 yellowfin tuna, 285 Mexican bonito, 134 sierra, 126 yellowtail, 9 striped marlin, 33 Humboldt giant squid, 27 pargo, 9 cabrilla, 13 amberjack, and 56 roosterfish. La Playita panga fleets were fishing northwards at the Iman Bank as action off Punta Palmilla slowed during the week. "Palmilla action came to a standstill as even the bonito that had been schooling with the jacks appeared to have moved on and only the giant squid remained," Brictson said. "Pangas headed north to the Iman Bank where catches were dominated by Mexican bonito. Yo-yo jigs, Rapalas, and sardina bait are all catching fish. There have also been limited numbers of pargo, cabrilla, and amberjack caught off the bottom rock piles." Striped marlin activity increased 5 to 15 miles offshore from the Gordo Banks to Destiladeras. San Jose del Cabo fishing area weather was in the mid-80s, with north winds diminishing and fewer migrating humpback and California gray whales seen.
SAN JOSE DEL CABO, MEXICO: San Jose del Cabo species fishing specialist John Snow reported good sea conditions but very slow action during the last week of March. "It was perhaps the slowest week I have had in 10 years, hampered by ugly green cold water," Snow said. "For panga fishing we tried everything from very shallow to very deep with the same results, nada!" Four surf fishing sessions and 4 panga outings with Capt. Pata on the Salome produced just 64 fish of 24 species, including Humboldt giant squid and 2 mobula manta rays of 50 to 60 pounds released. Four new species included the Clipperton grouper, Mexican rockfish, California scorpionfish, and smoothtail mobula.
SAN JOSE DEL CABO, MEXICO: Bob Lewis of San Jose del Cabo reported continued cool early spring conditions, but seasonable changes in the offing. "We are seeing cool water and associated fish such as huachinango, bonita, and even a lot of giant squid in the counts," Lewis said. "The weather has been warming this week and expectations are that conditions will improve. We are approaching the time of year when things get going so reports should be improving."
LA PAZ FISHING REPORTS
ALL ARTICLES, REPORTS AND FISHING INFORMATION FOR LA PAZ
LA PAZ, MEXICO: Leonard Phillips of Baja Pirates Fleet reported continued very good yellowtail action on the La Paz side. "El Bajo is boiling with mossbacks ranging from 30 to 50 pounds," Phillips said. "La Paz yellowtail fishing remains amazing." Anglers Michael Patorre, Joshua Laney, William Coles, Arthur Miller, and Michelle Kang, all of San Francisco, Calif., scored Mexican fishing limits of 5 yellowtail per day each during 3 days of fishing. La Paz-side water temperatures stayed cool in the high-60s, with calm winds and air temperatures in the 80s.
LA PAZ, MEXICO: Gerardo Hernandez of Tortuga Sportfishing said yellowtail counts were down slightly from the very good action of the previous week, but Tortuga pangas fishing the Las Arenas side still did well on yellowtail, sierra, cabrilla, mixed pargos, and jack crevalle near the launch beach at Ensenada de los Muertos and out at Isla Cerralvo. "We're starting to feel the effects of the warm season," Hernandez said. "La Paz temperatures are in the 80s with clear skies. We continue to find lots of bait in the different fishing areas, and this is letting us look for the fish everywhere. There are a lot of fish at the island and good fishing for jack crevalle for anglers who are looking for a good fight with that species."
LA PAZ, MEXICO: Jonathan Roldan of Tailhunter International said La Paz side weather was almost windless during the week and boats running north from the city to El Bajo scored limits of 30 to 45-pound yellowtail plus pargo, sierra, and bigeye jack. "With little or no wind, the oceans opened up rather nicely at La Paz, providing us with one of the best yellowtail bites ever north of town on the legendary El Bajo seamount," Roldan said. "Limits of hefty yellowtail were not uncommon with more than twice as many fish breaking off. One angler told me, 'I had my Shimano 30 buttoned down in full drag with 60-pound test and could not stop the fish!' The La Paz side was definitely the hot spot this week. The pargo have also been coming on strong this week with lots of hookups on big fish but with perhaps 1 fish out of 10 to 15 hookups brought to the boat!"
LORETO FISHING REPORTS
ALL ARTICLES, REPORTS AND FISHING INFORMATION FOR LORETO
LORETO, MEXICO: Patty Zapata of Loreto's Hotel Oasis reported good spring fishing weather during the week, with no wind, sunny skies, and a flat sea. Eleven pangas fished out of the hotel at Isla Carmen locations including La Choya, Punta Perico, Tintorera, Punta Lobos, and Ensenada de Perro, for a catch of: 14 yellowtail of 28 to 31 pounds, 2 cabrilla of 4 to 6 pounds, and 6 pinto bass or spotted cabrilla of about 2 pounds. "There have been yellowtail but not the expected amount that usually is seen this month," Zapata said. Anglers fishing with Loreto sportfishing Capts. Alfonso Susarrey, Servando Davis, Antonio Davis Castro, Martín Perpuli, and Martín Davis Castro included: Ray Eisert, Greg Eisert, Bill Moseman, Jacob Moseman, Stephen Trueblood, Michael Trueblood, Jeremy Hobbs, Rick Hobbs, Bill Richards, Brian Richards, Alison Ashby, James Wang, Curt Wang, and Francis Pan.
LORETO, MEXICO: Bill Erhardt of Loreto said, "The reef between Islas Catalana and Santa Cruz continued to churn out yellowtail last week, particularly for those boats slow trolling live bait fish on downriggers." Two runs to the area by Erhardt's boat produced no action after a late arrival delayed by tough bait making conditions the first day, and a Mexican sportfishing limit of 5 yellowtail the second day, including 1 fish donated to a sea lion. "The yellowtail were biting throughout the water column," Erhardt said. "Only 3 other boats were on the reef. An opportunistic sea lion stole 1 fish and I beat him on 2 others before I conceded his territory and moved further south and put 2 more in the boat before the bite shut down around 3 p.m. The bait bite has been slow, if at all. The bigeye that have been available before sunup in the harbor at Puerto Escondido have disappeared and other sources have been spotty." Erhardt also noted that Mexican fisheries and Loreto marine park officials have been checking for documentation at the Puerto Escondido boat launch ramp south of town. "And they have also been on the water at Punta Baja on the southern end of Isla Carmen stopping boats on the way to the marina at Loreto over the past couple of weeks checking licenses, park passes, and daily catches," Erhardt said. "They have been known to accept a fish as penance for a violation, but I wouldn't count on it."
MULEGE FISHING REPORTS
ALL ARTICLES, REPORTS AND FISHING INFORMATION FOR MULEGE
MULEGE, MEXICO: Roger Pramhus of Bahia Coyote on Concepción Bay south of Mulege reported a generally slow late winter fishing season for local boats. "It's been a less-than-super fishing season so far," Pramhus said. "San Marcos and Tortuga Islands produced a couple of good days." Pramhus fished earlier south at distant Isla San Ildefonso for some yellowtail to 15 pounds. "A few Loreto pangas came up to sample those, a long ways to travel. Each charter was loading up on these small but very active yellowtail. Poles were bent over everywhere," Pramhus said. A late-March run to the Isla San Marcos 110 bajo produced 2 yellowtail to 31.5 pounds, 1 of them on a blue-white jig 50 feet below the surface, and the other yellowtail on flylined surface bait east of the island. "We went south a bit to a place called 'The Ranch' just about straight east of the south end of Isla San Marcos," Pramhus said. "We spotted bird action and we cast flylined baits into the mob and were instantly hooked up to a powerful jurel who had some shoulders to him. We now had 2 nice jurel in the boat and that is enough."
SANTA ROSALIA FISHING REPORTS
ALL ARTICLES, REPORTS AND FISHING INFORMATION FOR SANTA ROSALIA
SANTA ROSALIA, MEXICO: Jim Anderson of San Bruno south of Santa Rosalia said good tide conditions for yellowtail fishing were marred by an unusually heavy fog during the week. "We had pea soup fog that was just plain unbelievable," Anderson said. "It is a little scary to go out with only GPS and smell the diesel from the trawlers working the area, wondering if you are going to be caught up in the nets and ground into fish meal. But most days we opted to go fishing anyway. The life of a fisherman is hard." Yellowtail were keyed on small sardinita bait and slow to bite on larger mackerel. "I did throw a small Kastmaster and got hooked up immediately but the lure simply was not strong enough to land a big yellowtail," Anderson said. The annual Isla San Marcos Yellowtail Shootout fishing tournament was scheduled for May 17-18, 2008. "We hope to see a lot of fishermen show up to help support the sports program on San Marcos Island. This is a really great cause and a really fun tournament to fish," Anderson said.
SANTA ROSALIA, MEXICO: Ed Duitsman of Hinkley, Calif., reported on 3 days of fishing out of Santa Rosalia aboard his boat Daycare with anglers Louie Prieto, Frank "Pancho" Ochoa, and Ruben Carmona, for a catch at Isla Tortuga of: 22 yellowtail of 8 to 25 pounds, with most between 19 and 24 pounds, 5 cabrilla of 5 to 10 pounds, 1 pargo of 8 pounds, a 1 grouper of 40 pounds. "We had trouble making bait at the usual spots around the Santa Rosalia marina until Jim Anderson of Moosea Boat directed us to 200-plus foot deep water east of Haystack," Duitsman said. "The fish seemed to be quite line shy and only 3 fish were caught on 50-pound test. Louie, Ruben, and Pancho used 30-pound and I used 40-pound test. We fished right up close to the north side of Isla Tortuga in 50 to 90-foot deep water. Louie uses 30-pound with a 3-foot fluorocarbon leader also only 30-pound test and that's what he got his 40-pound grouper on. Most everything was caught flylined with no weights at all." Duitsman reported Baja roads in good condition and no problems during the drive down.
SANTA ROSALIA, MEXICO: Louie Prieto of Ontario, Calif., said the fishing at Isla Tortuga aboard Ed Duitsman's boat Daycare also included "all the Humboldt squid you could want to catch." During making bait, Prieto said, "The mini-macks and jack mackerel called bigeyes would not school up for us so we decided to try our luck among the 60 or so Mexican pangas that were jigging for the big Humboldt squid. The row of panga lights stretched for miles. We tried to make mackerel the night before but the macks did not cooperate. Jim Anderson regularly posts Santa Rosalia fish reports online and in the Baja section of Western Outdoor News and we got the scoop from him. We headed to an area south of town called Haystack and made plenty of bait in less than 30 minutes. Thanks again Jim. You saved our trip."
BAHIA DE LOS ANGELES (L.A. BAY) FISHING REPORTS
ALL ARTICLES, REPORTS AND FISHING INFORMATION FOR BAHIA DE LOS ANGELES
BAHIA DE LOS ANGELES, MEXICO: Abraham Vazquez of Camp Gecko south of Bahia de los Angeles reported local weather in the high-70s, with light winds and water temperatures averaging 60 degrees. Vazquez noted that the sea turtle research station at the north end of town had suffered a loss of 4 turtles stolen sometime over the Semana Santa holiday period when black marketed sea turtle is traditionally eaten in Mexico despite its protected status. "A sad note," Vazquez said. "Now there are only 3 turtles left. I guess those times are gone when you could have 40 turtles at the station and sleep at night. Maybe the 3 that are left would have a better chance out in the bay."
SAN FELIPE FISHING REPORTS
ALL ARTICLES, REPORTS AND FISHING INFORMATION FOR SAN FELIPE
SAN FELIPE, MEXICO: Tom Ward of The Longfin Tackle Store reported on an early season 4-day fishing trip by the Tony Reyes Fishing Tours panga mothership Tony Reyes, returning to San Felipe on March 28, 2008, with a catch in good weather of: 35 yellowtail to 20 pounds, 117 cabrilla to 20 pounds, 3 pargo, Mexican sportfishing limits of spotted bay bass, 15 giant Humboldt squid, 6 sheephead, 20 ocean whitefish, 10 sierra, and 65 miscellaneous and released fish. Charter masters for the trip were Dennis and Ann Jacobs of Thatcher, Ariz.
SAN FELIPE, MEXICO: Brent Watson of Imperial, Calif., reported on a 4-fishing day Baja coastal trip to camp and fish out of La Costilla south of Puertecitos for lots of spotted bay bass, some triggerfish and pargo, and a very heavy bite on orangemouth corvina to 9 pounds 7 ounces. "We literally caught 75 to 100 of them," Watson said. "We had daily jackpots and we were throwing back fish in the 9-pound range because they were too small and our coolers were already full. We bring a digital scale so there's no guestimating weights. All the corvina were caught on plastic swim baits and various rubber scampis with line capacity running from 10 to 15 pounds." Baja coastal weather south of San Felipe was at about 80 degrees, with water temperatures in the high-60s or low-70s, and many jellyfish present. "We camped at La Costilla, about 10 miles south of Puertecitos and almost all the corvina were caught around the rocks right off camp with the pargo and a few smaller corvina caught along the rocks about 5 miles south of Puertecitos and north of La Costilla," Watson said. Also fishing on the trip were Dan Fischer, Tony Miller, Dave Watson, Fred Fischer, Matt Fischer, and Ryan Miller.
SAN FELIPE, MEXICO: James McGuire, of Isla Vista, Calif., reported the catch of several fish appearing to be color variations of spinster wrasse caught with swim baits while fishing about waist deep near Puertecitos. My friend and I caught 2 of them within 2 seconds of each other," McGuire said. "We were fishing 10 minutes north of Puertecitos around 6 to 7 p.m., right before sunset, and my friend caught 1 more the next morning. We caught probably 25 spotted sandbass during the session, too. We waded to about waist deep during high tide and used swim baits. We were reeling in spotted sandbass about every other cast."
SAN CARLOS (SONORA) FISHING REPORTS
ALL ARTICLES, REPORTS AND FISHING INFORMATION FOR SAN CARLOS
SAN CARLOS, MEXICO: Lalo Munoz of Mas Atun Sportfishing and the charter boat Sueltame at San Carlos said, "Fishing in San Carlos has been frustrating, but with tons of bait in the water and many birds. We have been out almost every day and we can see the yellowtail boiling but not biting. Bottom fishing has been very good with 10 to 15-pound grouper and many cabrilla." The winning fish in the recent spearfishing tournament at San Carlos was a 45.6-pound yellowtail speared by Tyson Curtis of California. "And I shot my first yellowtail, a 15 pounder," Munoz said. San Carlos fishing area water temperatures were at 59 degrees, with poor visibility.
SAN CARLOS, MEXICO: Jon Jen Charters at San Carlos reported a spotty spring bite in local waters during the week. "Right out in front we have boils everywhere and birds working," Jon Jen said. "Sometimes you would throw right into them and they wouldn't take anything. Fernando even tried a popper and did finally connect but then next day it was as if they turned off the switch, nada, not even a bird. We were out a couple of days ago and got just some small bottom fish and a squid." San Carlos fishing area weather was in the 80s, with light south winds.
MAZATLAN FISHING REPORTS
ALL ARTICLES, REPORTS AND FISHING INFORMATION FOR MAZATLAN
MAZATLAN, MEXICO: Larry Edwards of Cortez Yacht Charters reported on 28 Aries Fleet charter boats fishing offshore out of Mazatlan's Marina El Cid, with a catch including released fish of: 5 striped marlin, 1 sailfish, 3 hammerhead shark, and 8 dorado. Ten inshore pangas had a catch of: 9 corvina, 51 baqueta, 25 cabrilla, 10 mojarra, 3 lengua, and 39 triggerfish. Mazatlan fishing area weather was sunny in the high-80s, with light winds, calm seas, and water temperatures at 72 degrees inshore and 74 to 75 degrees offshore. "Even with some improvement in water temperatures and conditions, the offshore bite at Mazatlan remains difficult for anglers and crew," Edwards said.
IXTAPA ZIHUATANEJO FISHING REPORTS
ALL ARTICLES, REPORTS AND FISHING INFORMATION FOR IXTAPA ZIHUATANEJO
IXTAPA ZIHUATANEJO, MEXICO: Ed Kunze, reporting for Baja On The Fly, said "Warm water has finally pushed up from the south of Ixtapa Zihuatanejo, moving the cooler water out to beyond 50 miles. The fishing has been outstanding." Kunze noted that the warm current was occurring during the usually slow April fishing season. "This annual current is a full month early," Kunze said. "April is usually our slowest month of the year." Ixtapa sportfishing area boats averaged about 4 to 5 sailfish per outing. Angler Ludo Coen of Belgium fished with Capt. Martin on the panga Isamar and released 18 sailfish in 3 days. "The sailfish are only 12 to 15 miles out," Kunze said. "What would really make this a fantastic situation is if the rooster fish will soon follow."
IXTAPA ZIHUATANEJO, MEXICO: Larry Edwards of Cortez Yacht Charters reported improved sea conditions and fish counts for Ixtapa Zihuatanejo sportfishing boats as 10 outings by Capt. Chiro on the boat Bloody Hook, Capt. Adolofo on the Dos Hermanos I, and Capt. Temo on the Secuestro de Amor turned in a combined catch including released fish of: 1 black marlin of about 300 pounds, 21 sailfish, 1 very large dorado, 1 additional dorado, 8 Spanish mackerel, and a few bonito. "Dramatically improved sea conditions along with a slight warming of ocean temperatures brought in a more consistent offshore bite," Edwards said. "The blue water has moved to within the 5-mile mark and most of the better fishing is occurring just beyond. Captains reported the fish much more aggressive as ocean temperatures become more favorable." Ixtapa fishing area weather was sunny in the high-80s, with water temperatures even and stable at 83 degrees.
MEXICO COASTAL FISHING REPORTS
ALL ARTICLES, REPORTS AND FISHING INFORMATION FOR MEXICO COASTAL AREAS
MEXICO: Bill Erhardt of Loreto reported on a Mexican coastal sea adventure by an intrepid solo sailor who passed through town last week. "When I returned from fishing yesterday, a forlorn specimen of a boat was anchored outside the marina at Loreto," Erhardt said. "I ferried some diesel to top off his tank and made arrangements to bring him ashore this morning for supplies and to call his mother to let her know he is still alive, but he decided to set out for Guaymas early. His 1931 vintage wooden ketch Pandora had dropped anchor outside the Loreto marina on Thursday, March 27. The Pandora set sail in mid-February from Los Angeles with skipper 'Lonnie' and a crew of 2. Half the crew disembarked in Ensenada and rough weather on the Pacific snapped the main mast. The balance of the crew jumped ship in Cabo San Lucas and more rough weather north of La Paz broke the mizzen mast, dropping the boom on the skipper at the helm. Lonnie topped off his fuel in Loreto and proceeded on under diesel power, single handed to Guaymas, where he hopes to have the Pandora refitted. That job may take awhile."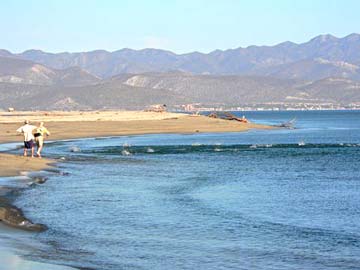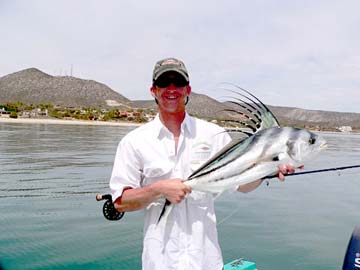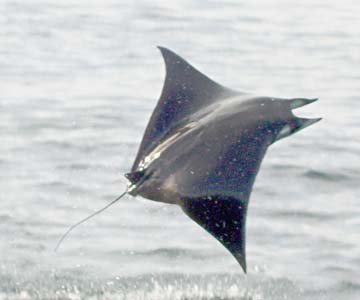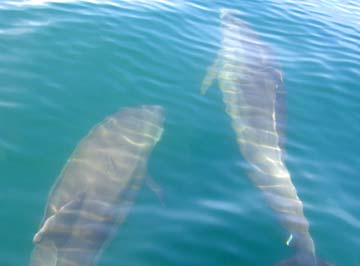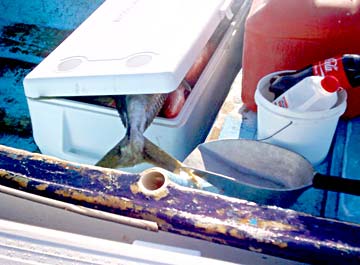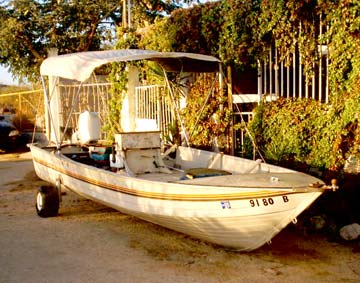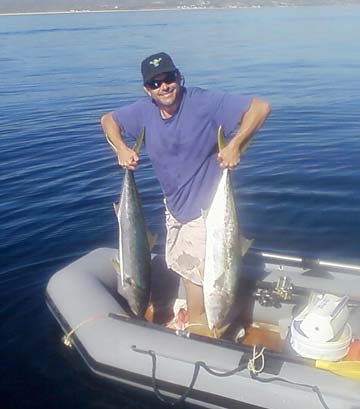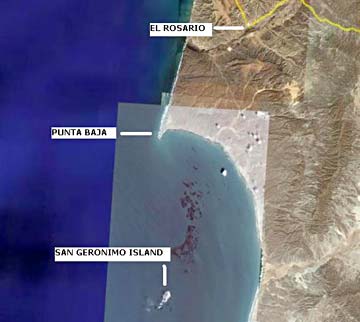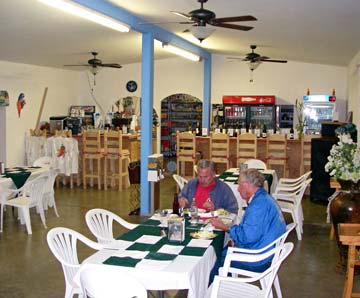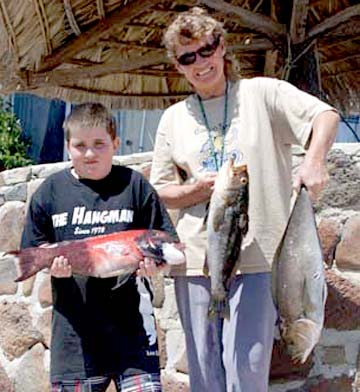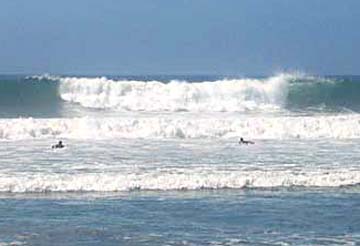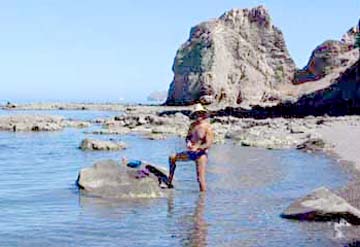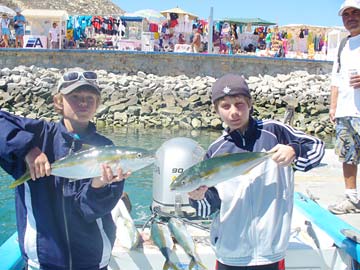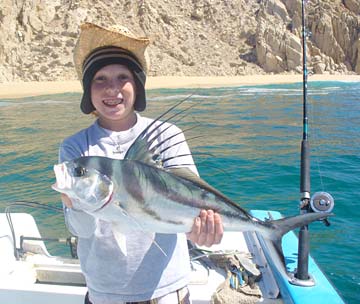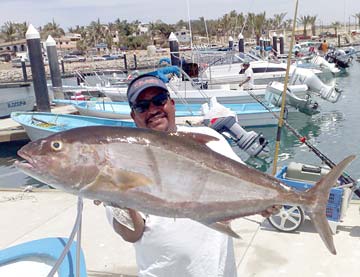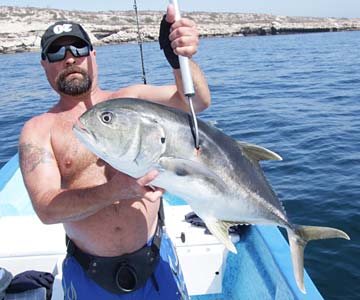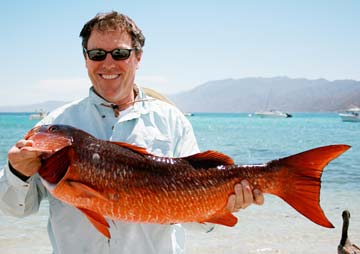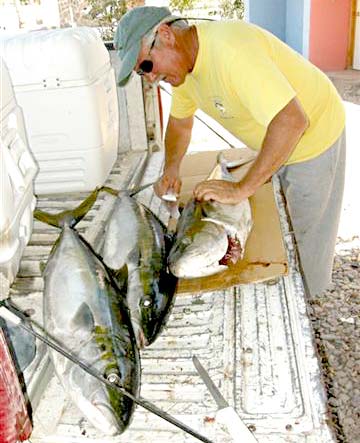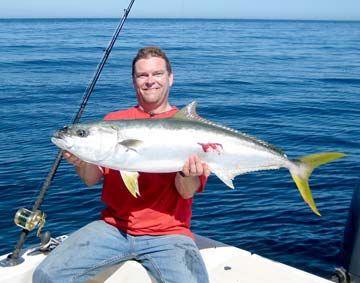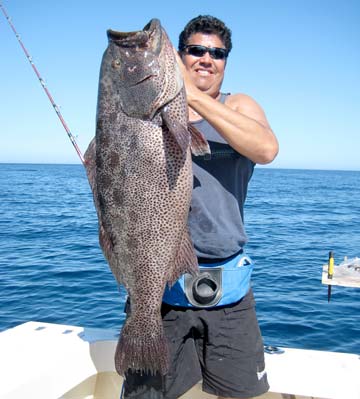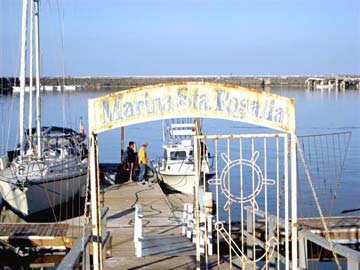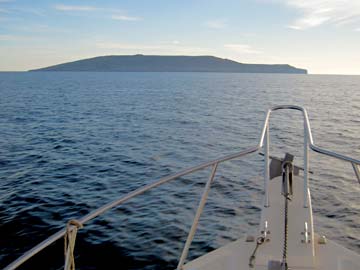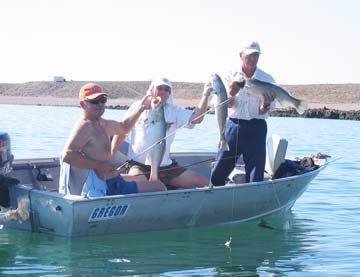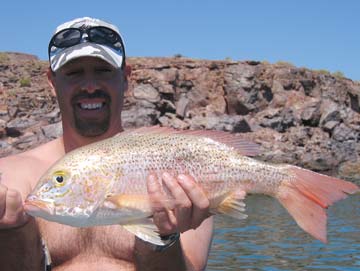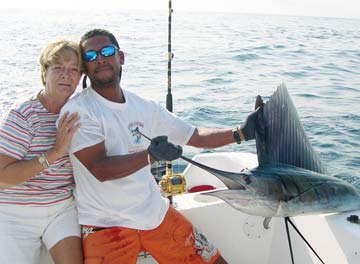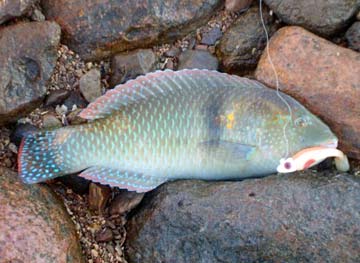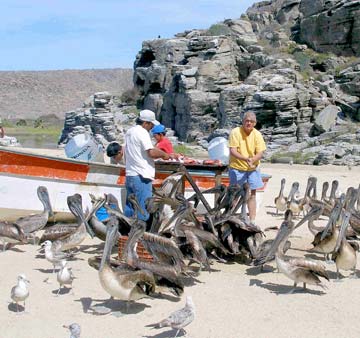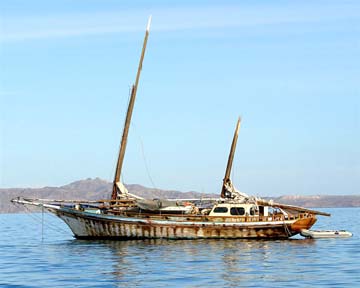 Baja coastal fishing reports and articles.
Ensenada fishing reports and articles.
Puerto Santo Tomas fishing reports and articles.
Erendira fishing reports and articles.
San Quintin fishing reports and articles.
Magdalena Bay fishing reports and articles.
Cabo San Lucas fishing reports and articles.
San Jose del Cabo (Los Cabos) fishing reports and articles.
East Cape fishing reports and articles.
La Paz fishing reports and articles.
Loreto fishing reports and articles.
Mulege fishing reports and articles.
Santa Rosalia fishing reports and articles.
Bahia de los Angeles (L.A. Bay) fishing reports and articles.
San Felipe fishing reports and articles.
Rocky Point (Puerto Penasco) fishing reports and articles.
San Carlos (Sonora) fishing reports and articles .
Mazatlan fishing reports and articles .
Puerto Vallarta fishing reports and articles.
Ixtapa Zihuatanejo fishing reports and articles.
Huatulco fishing reports and articles.
Cancun fishing reports and articles.
Mexico coastal fishing reports and articles.
Mexico Fishing Home Page < Mexico Fishing News Archives < Fishing Report