Inshore fishing produced consistent smaller roosterfish and jack crevalle, with some larger jacks to 40 pounds seen but not biting. "Most of them are still in large schools and still daisy chaining, making them very hard to catch," deBrown said. East Cape fishing area weather was variable, with some north winds and other days of flat seas.
EAST CAPE, MEXICO: Gary Graham of Baja On The Fly said Pudge Kleinkauf's group of Alaska fly tackle anglers found action on dorado, skipjack, and a few marlin about 18 miles offshore feeding on 12-inch squid. "There were multiple spots, making it tough to choose which one to run for," Graham said. "Just when we thought we were on a roll, a humbling bout of north wind rolled everything over and slowed the action down." Beach fishing at East Cape produced small roosterfish and jacks. Conventional gear angler R.E. Togo Hazard, 86, fished with friends Lamar Major, Kevin Kelly, and Don McReynolds aboard the Buena Vista Beach Resort charter boat Dottie B for an outstanding count of 11 striped marlin. "Part of the East Cape sportfishing fleet also found some yellowfin tuna schools up toward Isla Cerralvo that have yielded good catches for the past 2 days," Graham said. East Cape fishing area weather was in the low-90s, with water temperatures of 66 to 73 degrees.
EAST CAPE, MEXICO: For the week ending April 9, 2008, Chris Moyers of East Cape Smoke House reported on 74 charter boats from combined fleets including Hotels Palmas de Cortez, Playa del Sol, Punta Colorada, Buena Vista Beach Resort, Rancho Leonero, and Martin Verdugo's Beach Resort, with 209 anglers and a catch including released fish of: 83 striped marlin, 213 dorado, 47 mixed snappers, 10 pompano, and 17 cabrilla. East Cape fishing area weather was moderate with some afternoon winds in the high-80s, with water temperatures of 66 to 78 degrees. "East Cape saw some decent striped marlin numbers and a real nice week of dorado fishing," Moyers said. "We've got plenty of sardina and mackerel bait. Anglers reported striped marlin to the north off Punta Pescadero, straight off Los Barriles, and to the south off Rancho Leonero. We're starting to see some dorado in the 20 to 30-pound class to the north off Cerro Verde, northeast off Los Barriles, off Rancho Leonero, and off La Ribera."
For the week ending April 3, 2008, Moyers reported on 105 East Cape boats, with 294 anglers and a catch including released fish of: 92 striped marlin, 177 dorado, 3 sailfish, 25 yellowtail, and 14 sierra. East Cape fishing area weather was in the mid-80s, with moderate afternoon winds and water temperatures of 68 to 75 degrees.
EAST CAPE, MEXICO: Simon Cazaly of the Vista Sea Sport East Cape diving service reported 72-degree water temperatures at depth on the Cabo Pulmo coral reef, with visibility at 25 to 30 feet. Sea life sightings during the week included a juvenile whale shark about 18 feet long, pods of bottlenose dolphin, large shoals of graybar grunt, yellow snapper, stone scorpionfish, burrito grunt, lobsters, diamond stingray, jewel moray eels, bumphead parrotfish, Moorish idol, nudibranchs, and a large variety of assorted reef fish.
In other mainland Mexico and Baja fishing action this week:
ENSENADA FISHING REPORTS
ALL ARTICLES, REPORTS AND FISHING INFORMATION FOR ENSENADA
ENSENADA, MEXICO: Ivan Villarino of Vonny's Fleet reported another week of good, steady bottom fishing at Ensenada for his beach launched pangas. "We had good bottom fish limits and good weather all week," Villarino said. Anglers scoring Mexican sportfishing limits for lingcod and red rockcod at the tip of Punta Banda aboard the charter pangas Vonny I with Capt. Beto and Vonny IV with Capt. Hector included Gary Orwig, Moises Magaña, Jay Johnson of Ensenada, and John Migeot. Local Ensenada fishing weather was sunny and calm at 70 degrees, with 3-foot ocean swells and the water temperature at Punta Banda averaging 57 degrees.
ENSENADA, MEXICO: Kevin Matsumoto of San Diego reported on an Ensenada panga fishing trip with his son Chris Matsumoto, Nathan Hoover, and Capt. Vicente Flores of Vonny's Fleet for good results on about 3 dozen bottom fish including lingcod, red rockcod, and Johnny bass. "We all caught bottom fish and had a great time," Matsumoto said. "Capt. Vicente Flores is a really good guy."
ENSENADA, MEXICO: Steve Ross of the boat Bad Dog at Ensenada's Marina Coral reported on an outing early in the week for slow bottom fish action at the Banda Bank and a catch of: 8 vermilion rockfish to 5.75 pounds, 3 lingcod averaging 4 pounds, 6 bocaccio, 1 Humboldt giant squid at 15 pounds, and about half-a-dozen mixed species fish. Mike Kraus, fishing on his boat Black Jack, also reported 1 kelp paddy found and 13 small bonito hooked during an exploratory offshore trip of almost 100 miles. "We made the best out of a lifeless day," Ross said of his session at the Banda Bank. "We departed Ensenada at 0400 to make the 35-mile offshore trek to the 238 spot for very deep rockcod fishing. But by 0500 I was launched out of my bed and airborne. I yelled at Gail to call Juan Lu on the bridge to turn around and go for the Banda Bank, a much closer spot. At the Banda Bank, it was 55 degrees and a thick pea soup for color. Unlike the week before, it was devoid of life with no birds. We ran on every rock I had a numbers for and that would be approximately 50 rocks. In my opinion, the devastation dealt out by the Humboldt squid had taken its toll. We picked off 1 fish per drop with an occasional double. The clouds of fish that used to be on my meter were history. I did meter a few giant squid but for the most part they were gone. I have been using specially designed lights, but I don't think it makes a bit of difference. I have been using Gulps and found the swimming mullet to be the consistent winner. I prefer the flyless ganions better than the ones with the shrimp flies because I can slide the Gulp onto the shank of the hook and double bait it with a chunk of fish."
PUERTO SANTO TOMAS FISHING REPORTS
ALL ARTICLES, REPORTS AND FISHING INFORMATION FOR PUERTO SANTO TOMAS
PUERTO SANTO TOMAS, MEXICO: Sam Saenz of Puerto Santo Tomas Resort south of Ensenada reported good fishing weather and sea conditions all week long, as pangas scored full Mexican sportfishing limits of mixed bottom fish species including lots of lingcod in the 5 to 12-pound category plus sheephead and mixed rockcods. "Eric Campbell's group from Long Beach went out in 3 pangas for full limits," Saenz said. "There was also some surface bird activity seen while they were fishing just north of the Soledad Reef."
SAN QUINTIN FISHING REPORTS
ALL ARTICLES, REPORTS AND FISHING INFORMATION FOR SAN QUINTIN
SAN QUINTIN, MEXICO: Marita Melville of Don Eddie's Landing reported very low water temperatures of 49 to 51 degrees 3 miles outside Bahia de San Quintin, but rockcod limits plus sheephead and 1 whitefish caught by anglers Enrique Pineda, Juan Hernandez, and Rick Collins of Riverside and Ontario, Calif., during an outing with Capt. Alfredo Peralta on the charter boat Mona Lisa. "This weekend the weather was in the low-80s, nice and sunny and hot here in San Quintin. It felt like summer," Melville said. "The water was so flat you could water ski on it. When the guys went out it was a little foggy but it turned into a beautiful, beautiful day."
SAN QUINTIN, MEXICO: Kelly Catian of K&M Offshore Sportfishing reported poor conditions and very low water temperatures in the San Quintin fishing area. "The fishing water is very cold right now and it's a bit turned over from all the wind," Catian said. "There have been been boats going out fishing at San Quintin but it's slow, with lots of dirty water and with water temperatures as low as 51 degrees."
BAJA COASTAL FISHING REPORTS
ALL ARTICLES, REPORTS AND FISHING INFORMATION FOR BAJA COASTAL AREAS
BAJA CALIFORNIA, MEXICO: Jose Angel Pacheco of the Cedros Outdoor Adventures Baja fly-down fishing and ecotourism service reported Capt. Serapio "Chito" Leon of Isla Cedros with good results for about 20 fish per hour during traditional Mexican handline fishing for halibut, calico bass, sheephead, sandbass, and mixed species, all to about 6 pounds. "Chito reports that the weather at Isla Cedros was sunny with a light wind as he headed out to the bajos, or reefs, southeast and southwest of the island," Pacheco said. "Using live mackerel bait and pieces of squid collected from the beach, Chito scored heavily with the halibut. He didn't spot any yellowtail in the area. However, he expects the water to warm up soon, bringing the yellowtail and white seabass in abundance." A local Mexican commercial fisherman from the cooperativa Pescadores Nacionales de Abulon also reported 7 white seabass of 45 to 50 pounds caught by gill net, plus 5 yellowtail of 18 to 20 pounds, while fishing at the El Morro bajo, about 7 fathoms deep and about 2 miles southeast of Isla Cedros. Cedros Outdoor Adventures offers fly-down fishing trips with van service from San Diego, flights from Ensenada, and fishing at Isla Cedros, Isla San Geronimo, the Sacramento Reef, and other Baja locations. Information, info@cedrosoutdooradventures.com, 619-793-5419.
MAGDALENA BAY FISHING REPORTS
ALL ARTICLES, REPORTS AND FISHING INFORMATION FOR MAGDALENA BAY
MAGDALENA BAY, MEXICO: Gary Graham of Baja On The Fly reported a break in recent offshore winds and Magdalena Bay fishing boats scoring on small to medium-sized yellowtail at the San Carlos entrada and on the open Pacific north of Cabo San Lazaro. The Magdalena Bay mangrove channels produced sierra, corvina, a few grouper to 10 pounds, and an occasional pargo. Fly fishing with chartreuse Clousers scored small halibut on sandy beaches. Magdalena Bay fishing area weather was clear in the low-90s, with water temperatures of 62 to 70 degrees.
CABO SAN LUCAS FISHING REPORTS
ALL ARTICLES, REPORTS AND FISHING INFORMATION FOR CABO SAN LUCAS
CABO SAN LUCAS, MEXICO: Tracy Ehrenberg of Pisces Fleet Sportfishing reported much better striped marlin action, with 90 percent of charters releasing stripers plus some sailfish, 38 percent landing yellowfin tuna, just 3 total dorado caught during the week, and inshore boats scoring skipjack, jack crevalle, a few yellowtail, and several small mako shark. "Things are nicely back on track in Cabo San Lucas with dozens of billfish sighted and lots of hookups," Ehrenberg said. "On the best day of this period we had 3 boats with 8 marlin released each. Pisces anglers caught a total of 127 striped marlin and 5 sailfish this week, with all but 2 billfish released." Cabo San Lucas sportfishing area weather was mostly calm on the Cortez side, with some moderate swell on the Pacific side.
CABO SAN LUCAS, MEXICO: Larry Edwards of Cortez Yacht Charters reported on 37 outings by Gaviota Fleet and the Cabo charter boats Fish Cabo and Fish Cabo I, with a catch including released fish of: 51 striped marlin, 7 dorado, 5 yellowfin tuna, and 1 mako shark. "All of the boats were having multiple shots at the striped marlin, but getting them to bite was an altogether different story," Edwards said. "The yellowfin tuna have apparently moved out of the area, and lacking the tuna, the focus was back on the billfish. For those Cabo San Lucas boats that could get them to bite, the fishing was very good." Cabo San Lucas sportfishing area weather was sunny in the low-90s, with water temperatures of 73 to 78 degrees and the best concentrations of billfish found at the 1150 spot. Mackerel and caballito live baits were in excellent supply at the Cabo San Lucas marina. "It's that time of year when live bait is a must," Edwards said. "The billfish are lethargic and not very eager to snap at anything."
CABO SAN LUCAS, MEXICO: Durance Lowendick of Marlin Masters Sportfishing reported the main body of striped marlin beginning to move northeastwards. "Striped marlin made a strong northern push into the Sea of Cortez with the best action occurring from the Gordo Banks to 12 miles northward where good concentrations of stripers were working a 75-degree temperature break," Lowendick said. Marlin Masters boats did not hook blue marlin as they had the previous week. Yellowfin tuna were reported 20 to 25 miles off land's end, but dorado were scattered. Inshore, Humboldt giant squid continued to hold near the cruise ships at Medano Beach and roosterfish of 6 to 15 pounds were active on the Pacific side beaches from the Hotel Solmar northwards.
CABO SAN LUCAS, MEXICO: Jim Dillon of Salvador's Sportfishing reported on 10 outings by the Cabo San Lucas charter boats El Budster, El Budster I, and El Budster II, with a catch including released fish of: 9 striped marlin, and 3 yellowfin tuna of 20 pounds.
CABO SAN LUCAS, MEXICO: Ramon Druck of the Cabo San Lucas charter sportfishing panga Cheer's reported on 5 outings during the week with a total of 11 anglers, for a catch including released fish of: 13 bonito from small to 5 pounds, 3 small sierra, 7 sierra of 4 to 5 pounds, 13 sierra of 6 to 7 pounds, 24 yellowtail of 6 to 8 pounds, 1 needlefish of 7 pounds, and 4 striped marlin. Many marlin were seen during a trip on the Cortez side. "We saw about 50 marlin," Druck said. "But they were surfing the swells and didn't want to eat. We finally got 3 with bait and 1 with a lure, and we only kept 1 for mounting. We released the others." The Cheer's fished with trolled Rapalas on the Pacific side beaches, on the Cortez side to Punta Ballena and out to about 3 miles in water temperatures of 71 to 74 degrees and some cool weather and moderately swelly sea conditions. Anglers fishing aboard the Cheer's included Les Walker, Dwight Lang, Ken Bond, John Foster, and Dayle Dafoe, all of Canada; Miguel Hernandez and Jesus Montes, both of Mexico City; Michael Villareal and Sandra Villareal, both of Texas; and Lori Geib and Jim Geib.
CABO SAN LUCAS, MEXICO: George Landrum of Fly Hooker Sportfishing reported Cabo weather mostly clear in the high-80s, with some water as cool as 68 degrees offshore on the Pacific side, but up to 74 degrees nearer shore on the Pacific and up to 75 degrees on the Cortez side. "Striped marlin are reappearing in large numbers as the water has warmed up to their preferred 74-degree range," Landrum said, "but they are not biting all that well. There are large numbers of fish being seen on the surface and larger groups of up to 15 fish." Dorado were scarce, but some double-digit counts of 8 to 10-pound yellowfin tuna were scored to the southeast from 4 miles outward. "Any boats that went out at 150 degrees ran into these fish on Monday and Tuesday," Landrum said. Local inshore fishing for yellowtail was slower in warming water temperatures. Mackerel and caballito live baits were readily available at the Cabo San Lucas marina at $2 each.
CABO SAN LUCAS, MEXICO: Donald Rubi of Duarte, Calif., reported on 2 outings aboard the Cabo San Lucas charter panga Choyera with Capt. Jose and trip partner Ismael Valladores for 9 yellowtail of 7 to 10 pounds on yo-yo bottom iron and 4 Humboldt giant squid caught the first day about 7 miles north on the Pacific side, and 1 striped marlin the second day. "On our second day, we headed straight out from land's end to find marlin frolicking about the Pacific," Rubi said. "We must have spotted about 8 of them and drove up on a couple and offered live caballitos, only to be denied. We did, however, catch 1 striper estimated at 130 pounds on a trolled lure. Not quite wide-open fishing, but hey, it's always nice to go fishing in Cabo."
SAN JOSE DEL CABO (LOS CABOS) FISHING REPORTS
ALL ARTICLES, REPORTS AND FISHING INFORMATION FOR SAN JOSE DEL CABO
SAN JOSE DEL CABO, MEXICO: Eric Brictson of Gordo Banks Pangas reported on 47 combined La Playita fleet pangas fishing out of San Jose del Cabo's Puerto Los Cabos marina, with a catch including released fish of: 9 striped marlin, 16 yellowfin tuna, 92 assorted pargo, 7 dorado, 212 sierra, 124 Mexican bonito, 9 amberjack, 18 cabrilla, and 15 roosterfish. San Jose del Cabo fishing area weather was warming, with California gray whales and humpback whales departing as water temperatures to 77 degrees were found. "The majority of Los Cabos sportfishing fleets are now concentrating their efforts in the warmer water from Chileno to Vinorama," Brictson said. "With the warmer water temperatures a few more dorado are appearing, but the water has also been off-colored. As currents clean up more we expect to see increased activity from these game fish." Mackerel live bait supplies were limited on some days, but sardina were concentrated around the Puerto Los Cabos rock jetties.
LA PAZ FISHING REPORTS
ALL ARTICLES, REPORTS AND FISHING INFORMATION FOR LA PAZ
LA PAZ, MEXICO: Gerardo Hernandez of Tortuga Sport Fishing said southern La Paz waters had some days of wind during the week that kept his pangas close to shore for large dog snapper, sierra, dorado, cabrilla, and some marlin seen around Punta Perico. Calming winds at midweek allowed Tortuga pangas to run back to the north end of Isla Cerralvo and out to the buoys for very good catches of yellowtail of 30 to 40 pounds, dorado of 25 to 35 pounds, and sailfish released. "We have enough sardina bait at both Punta Perico and around Isla Cerralvo," Hernandez said. "Air temperatures were up to 88 degrees, so we're starting to feel the heat now and that's making the fishing even better."
LA PAZ, MEXICO: Leonard Phillips reported the death of the well-known Francisco Aguilar of Baja Pirates Fleet on April 15, 2008. "He died from a massive heart attack while fishing," Phillips said. "He leaves behind his wife Maria "La La," and 2 daughters, Andrea, 14 years old, and Kamilla, 5 months old. We are setting up a scholarship fund for both girls. People can send donations to our office in each girl's name, Andrea Aguilar or Kamilla Aguilar, or call 866-454-5386 to use a credit card." Information, leonard@teamonesecurity.com. La Paz-side weather was in the high-80s, with water temperatures in the high-60s and continued very large yellowtail caught consistently north of the city at El Bajo, including 60 pounders reported for at least 2 boats with anglers Gary Ables, his wife Christine, and Paul Harrop.
LA PAZ, MEXICO: Tim Long of Newport Beach, Calif., reported on 2 panga trips with Fisherman's Fleet out of Ensenada de los Muertos south of La Paz for a catch in north winds of 6 sierra, 1 nice pargo, and several small roosterfish near Las Arenas the first day, and 1 small dorado plus skipjack and needlefish at the south Isla Cerralvo shark buoys the second day. "Sadly the northerlies got us both days," Long said. "On day 2, we hooked 1 small dorado and saw a large school of small dorado jumping out of the water as though they were trying to escape from the jaws below them. The winds became too much as there was no joy on the buoys so we hightailed for home."
LA PAZ, MEXICO: Jonathan Roldan of Tailhunter International at La Paz reported continued very good mixed species fish counts for his pangas. "Just another incredible week here," Roldan said. "It's hard to believe it's only April. Several spots continued to kick out big yellowtail between 20 and 50 pounds as boats averaged 1 to 10 yellowtail each some days." Fishing offshore and inshore produced a big variety catch, with good counts of pargo, jacks, sierra, roosterfish, dorado, striped marlin, and some surprise early season sailfish.
Roldan also reported very good mixed species action during his 8th annual spring Cabin Fever fishing event. "We just enjoyed probably the most banner week of the young season," Roldan said. "Everything from dorado to yellowtail ripped lines and bent rods. This week's photos tell the story, not only a great fun crowd but more fish than we have ever seen before. I counted over 15 species taken over the course of the week."
LA PAZ, MEXICO: Ken Thomas of Loomis, Calif., reported plenty of yellowtail caught at Isla Cerralvo during a panga run out of La Ventana with Capt. Yoyo, plus 2 small dorado and lots of marlin sighted during a run to about 20 miles outside the island. "We went 20 miles out on the last day and saw at least 10 marlin," Thomas said. "We did get dorado so this is a good sign of fish starting to move up into the Sea of Cortez."
LORETO FISHING REPORTS
ALL ARTICLES, REPORTS AND FISHING INFORMATION FOR LORETO
LORETO, MEXICO: Patty Zapata of Loreto's Hotel Oasis reported on 26 pangas fishing during a week of generally good weather but including 1 day of north wind, for a combined catch of: 19 yellowtail of 26 to 31 pounds, 1 cabrilla of 13 pounds, 1 amberjack of 28 pounds, 1 pargo of 19 pounds, and 10 pinto bass or spotted cabrilla. Most pangas fished at Isla Carmen locations including Punta Perico, La Choya, Ensenada de Perro, and Punta Lobos, and 1 panga ran up the Baja coast to San Bruno. Anglers fishing out of the Hotel Oasis with Loreto sportfishing Capts. Alfonso Susarrey, Servando Davis, Martín Davis Castro, Antonio Davis Castro, Francisco Martínez, Francisco Martínez Jr., Martín Perpuli, Jesús Osuna, Alejandro Ruiz, and Alejandro Amador included John Kinkopf, Jeffrey Kinkopf, Glen Slaten, Carl Moss, Mary Ann Altaffer, Mark McCord, George Saska, Larry Kamp, Maria Louise Kamp, John Lange, Don Greene, Elliot Roberts, Dale White, Jim Francis, Alonso Davis, Mark Henner, Chris Adam, and Kip Adam.
LORETO, MEXICO: Pam Bolles of Baja Big Fish Company said Loreto sportfishing boats found some good sessions for yellowtail and pargo including a 19-pound yellowtail landed by hand after it broke a 10WT fly rod for angler Aaron Bennett of Chicago, Ill., fishing with Capt. Francisco Munoz. "Fishing has been good this week," Bolles said. "Loreto weather has improved with winds dying down and giving way to calm days with flat seas. We are waiting for our sea surface water temperatures to rise. Loreto fishing water is still undergoing changes due to the changeover in seasons from north prevailing winds to south prevailing winds." Describing, Bennett's fly caught yellowtail, Bolles said, "A thick fog was present. It was slow going to Isla Coronado and they followed the shoreline to San Bruno where it was colder and the fog even thicker. Francisco moved offshore to look for yellowtail as the fog burned off. All of the other boats went to Isla Carmen so they were alone. Then the yellowtail rose and luckily, Aaron was ready. Somewhere near the end of the fight, when the captain had the gaff ready, the rod broke. The fly line disappeared quickly, as Francisco had to get on his gloves, but there still remained enough backing to get a hold of. The fish was handlined into the boat. Aaron's fish made excellent ceviche and also had a nicely developed egg sack that had a lot to tell us."
SANTA ROSALIA FISHING REPORTS
ALL ARTICLES, REPORTS AND FISHING INFORMATION FOR SANTA ROSALIA
SANTA ROSALIA, MEXICO: Mike Kanzler of Isla San Marcos said his U.S. fishing tackle website Socalfishingtackle.com was back in business and taking orders again after being offline briefly for maintenance. "I have it up and running again!" Kanzler said. Santa Rosalia fishing area weather was near-perfect in the low-80s after a period of spring winds and fluky action on the Isla San Marcos yellowtail bajos. Water temperatures were at 63 to 64 degrees at Isla San Marcos and 66 to 67 degrees farther out at Isla Tortuga, with visibility at 20 to 25 feet at both islands and overall fishing quality slower than the norm. "The one big difference I'm seeing is we are fishing deeper than usual," Kanzler said. "This year's water is too cold. From the looks of all the nice yellowtail being caught down in La Paz, we are a little late here. It won't be long. Bait and squid are thick around Isla San Marcos. We just need the fish to start heading north."
Kanzler also noted that Isla San Marcos celebrated the dedication last week of a new waterfront malecon civic plaza. "The money came from the marina program," he said. "We had the Governor of Baja California Sur, Narciso Agúndez Montaño, over for the event and next week there will be Isla San Marcos Day. There will be a free-entry Governor's Cup Yellowtail and Grouper Tournament."
SANTA ROSALIA, MEXICO: Jim Anderson of San Bruno south of Santa Rosalia reported continued spotty fishing around Isla San Marcos but patches of water as warm as 69.1 degrees found out at Isla Tortuga. "I can almost smell the dorado starting to come north," Anderson said. "But the yellowtail at San Marcos Island continue to eat small bait fish and turn up their noses at the bigger baits and lures. Returning from Isla Tortuga yesterday we saw some bird action and managed 2 nice yellowtail on the surface so perhaps things are ready to get much better." Some cabrilla were also caught at Isla Tortuga in a surface bite, and a boat targeting spotted bay bass with anglers Don Fountain and his son Myron found wide-open action and "a cooler full of fillets." Anderson also noted the coming Isla San Marcos Yellowtail Shootout tournament on May 17-18, 2008. "If you are going to be in the area, it really promises to be a fun time with a collection of good fishermen," he said.
SAN FELIPE FISHING REPORTS
ALL ARTICLES, REPORTS AND FISHING INFORMATION FOR SAN FELIPE
SAN FELIPE, MEXICO: Catalina Meders of the San Felipe Title Company Bookstore overlooking the bay reported midmorning weather at 77 degrees, with low 17 percent relative humidity and a good turnout for the recent Woofstock music festival to benefit the San Felipe animal shelter. "Woofstock was a great success with many, many attenders and great music," Meders said. "The music got rave reviews from everyone we talked to. A few people wore 60s style clothes, lots of tie-dye, and there was a hippie 'love and peace' van on the scene. The tickets were $20 and they apparently sold over 500, so that's a lot of help for the shelter. Next year, though, it might be suggested that people bring umbrellas and wear hats for shade." San Felipe's Blues and Arts Festival was scheduled for the current week at the downtown ballpark with tickets at $10 to $20. "The festival is a production of the Lion's Club here in San Felipe and the proceeds will go to their projects in town," Meders said. "It promises to be an excellent event with terrific bands, both local and imported. This is another super reason to get down here to sunny Mexico, and by the way, we've just heard that the U.S. Department of State has announced that the only questionable area in Baja for tourist safety is the Tijuana area."
SAN CARLOS (SONORA) FISHING REPORTS
ALL ARTICLES, REPORTS AND FISHING INFORMATION FOR SAN CARLOS
SAN CARLOS, MEXICO: Jon Jen Charters of San Carlos reported late week winds hammering steady yellowtail action locally and at Isla San Pedro Nolasco including 1 boat with 6 yellowtail of at least 20 pounds and other boats with 1 or 2 fish per outing. "The wind came through and blew us out of water," Jon Jen said, "but a couple of bigger boats made it out and same loaded up on yellows." A midweek light tackle outing chasing birds and breezing fish produced 3 bass but no yellowtail. Earlier, 2 runs to about 30 miles south by Catch-22 Sportfishing found water temperatures below 70 degrees and no surface action except for a couple of hammerhead shark seen.
MAZATLAN FISHING REPORTS
ALL ARTICLES, REPORTS AND FISHING INFORMATION FOR MAZATLAN
MAZATLAN, MEXICO: Larry Edwards of Cortez Yacht Charters reported on 27 offshore Aries Fleet charter boats fishing out of Mazatlan's Marina El Cid, with a catch including released fish of: 11 striped marlin, 14 dorado, and 1 mako shark. Eight super pangas fishing inshore had a catch of: 1 black snook, 18 pargo, 4 jack crevalle, 1 lengua, 4 mojarra, 2 baqueta, 4 corvina, 5 triggerfish, and 3 cabrilla to 35 pounds. Offshore boats continued to find marlin reluctant to bite. "It's similar to what is being experienced across the Sea of Cortez," Edwards said. "It's just that time of year when billfish tend to get into that lockjaw mode and trying to find one that is eager to bite can test the skills of the skipper." Mazatlan sportfishing area weather was mostly calm in the high-80s, with light surface breezes and water temperatures ranging from 71 degrees inshore to 74 degrees offshore. Mazatlan fleet boats fished a wide area offshore with no concentrations found.
PUERTO VALLARTA FISHING REPORTS
ALL ARTICLES, REPORTS AND FISHING INFORMATION FOR PUERTO VALLARTA
PUERTO VALLARTA, MEXICO: Abbott Lawrence reported 2 very good sessions on large roosterfish during a run north of Punta Mita aboard the Jackpot Sportfishing charter boat Snapper with Capt. Raul Torres and his brother Manuel. "The fish were 25 miles north of Punta Mita moving north with the sardinas," Lawrence said. "I've never seen anything like it. Literally thousands of roosterfish and birds were crashing on the surface in a feeding frenzy with hardly a boat there to fish them or simply observe the mayhem. It was absolutely incredible. Raul Torres and his brother Manuel said they had only seen this twice before. The fish were all big, nothing small. We got 7 roosterfish from 40 to 52 pounds while fishing only approximately 4-and-a-half hours for the 2 days. It took a while to get there and back and the fish came up at 10 a.m. both days. The Mexican fish and game kicked all boats and pangas out the second day saying that we didn't have permission to fish in those waters. It's okay for the long liners, seiners, and gill netters, but not fishermen who are releasing fish! I would recommend the Snapper most highly. Raul and Manuel are 2 of the nicest and most knowledgeable men that I've ever fished with."
PUERTO VALLARTA, MEXICO: Danny Quinonez of PV Marlin Sportfishing said the charter boat Lorena found off-and-on action offshore as Puerto Vallarta boats made long runs to the fish. "It really takes an 8-plus hour trip to get to where the fish are," Quinonez said. "We started out with more dorado than we have ever seen down here and then they just disappeared. They are just now starting to show again." Some boats found yellowfin tuna to 30 pounds at Roca Corbeteña and good numbers of striped marlin were seen but not biting. Around Bahia de Banderas plentiful jack crevalle into the over-30 pound class kept rods bent. "Not much for table fare, but a heck of a lot of fun to catch on the light stuff," Quinonez said. "Since the smaller tuna have arrived so early down here at Puerto Vallarta, we are expecting a banner year."
PUERTO VALLARTA, MEXICO: Travis Yaddow of Master Baiter's Sportfishing & Tackle said, "This week Puerto Vallarta saw warmer water temperatures but the bluer water hasn't come in yet. Boats running outside to Roca Corbeteña and El Banco had a consistent yellowfin tuna bite. They were still on the small side but some in the 50 to 60-pound range were found. That's right about were we should be for this time of year." Inshore fishing around El Morro, Islas Marietas, and Punta Mita continued very active for mixed snappers, roosterfish, jack crevalle, sierra, pompano, and other species. "The real story this week is the unbelievable inshore fishing Puerto Vallarta is having right now," Yaddow said. "Boats are landing 10-plus roosters in the 20 to 50-pound range in a short 6 to 8-hour trip. This makes for great fishing on light tackle."
PUERTO VALLARTA, MEXICO: Ned Washburn of Reel Graphics reported on 2 outings with Capt. Danny Osuna on the Puerto Vallarta charter boat Marla for inshore grouper and larger pargo during a family outing one day with kids Bridgette, Jackie, Gracie, and Loren, and good offshore action at El Banco a second day for 32 yellowfin tuna of 20 to 35 pounds, 3 dorado to 25 pounds, and a first-ever sailfish for Fisher Quigley. Also fishing the second day was Lawrance "Squig" Quigley of Fishworks Products. "The tuna were all caught on sardinas, surface poppers, Ranger jigs, and Big Hammer lures, but the best part of the trip was Fisher's wild sailfish almost jumping into and actually hitting the side of a panga anchored up on the high spot," Washburn said. "The tuna were up boiling big time in the morning and afternoon around the high spot."
IXTAPA ZIHUATANEJO FISHING REPORTS
ALL ARTICLES, REPORTS AND FISHING INFORMATION FOR IXTAPA ZIHUATANEJO
IXTAPA ZIHUATANEJO, MEXICO: Ed Kunze, reporting for Baja On The Fly, said Ixtapa sportfishing boats averaged a slow 1 or 2 sailfish per outing last week, plus a couple of blue marlin brought in by the fleet per week, but with yellowfin tuna still too far out to be targeted. "There are lots of sailfish seen every day, but they just do not seem to be hungry," Kunze said. "Capt. Mecate of the cruiser Aqua Azul felt the slow fishing must be attributed to squid having moved into the Zihuatanejo area. The fish are gorging on them down deep." A black skipjack caught near the beach disgorged squid as it was being released. "The fish was caught only a couple of hundred yards off the beach and in water less than 200 feet deep," Kunze said. "There must be tonnage of squid out there if they are that close to the beach." Fly fishing anglers Warren and Maureen had a good inshore session for 6 species including 3 roosterfish. "Maureen's roosterfish would have been the women's world record for the line class," Kunze said, "but the engine was in gear and the rooster hit before the cast was made. This is essentially trolling, so we just took photos and made the release." Ixtapa Zihuatanejo fishing area weather was in the low-100s, with water temperatures of 80 to 84 degrees.
IXTAPA ZIHUATANEJO, MEXICO: Mike Bulkley of Huntress Fishing at Ixtapa Zihuatanejo reported on an outing by the 26-foot twin-engine charter panga Huntress with Capt. Francisco Rauda for 4 sailfish releases on 8 strikes about 28 miles out. "The water was very clean and blue," Bulkley said. "Fishing aboard the Huntress is a total catch-and-release operation on all billfish."
CANCUN FISHING REPORTS
ALL ARTICLES, REPORTS AND FISHING INFORMATION FOR CANCUN
CANCUN, MEXICO: Larry Edwards of Cortez Yacht Charters reported on 11 outings by the El Cid Caribe sportfishing fleet at Puerto Morelos near Cancun, with a catch including released fish of: 1 sailfish, 15 dorado, 18 mutton snapper, 2 red snapper, 2 king mackerel, 1 grouper, and 3 Atlantic barracuda. "According to the new fleet general manager, Armando Gutierrez, the fishing is getting better and better each day," Edwards said. "One of the most notable elements for the Puerto Morelos fishing area is the proximity of the fishing, which is usually started at about a mile in front of the entrance to the marina, as the water drops off sharply and the fish tend to bank against the drop-off." Cancun fishing area weather was mostly cloudy at 90 degrees, with prevailing easterly winds creating surface chop and the water temperature even at 80 degrees. El Cid Caribe boats fished offshore with skirted ballyhoo, or halfbeak, rigged baits.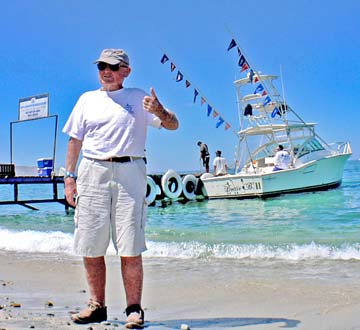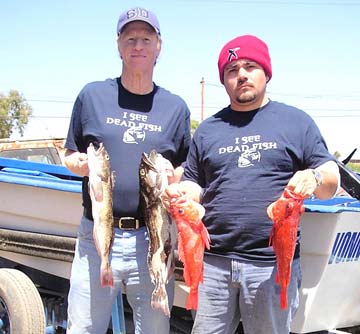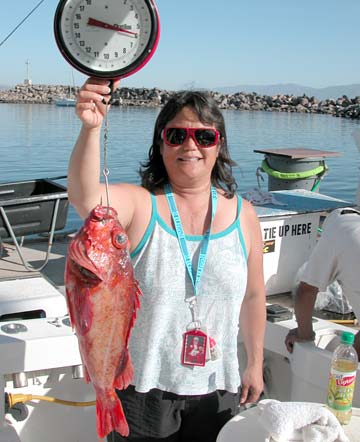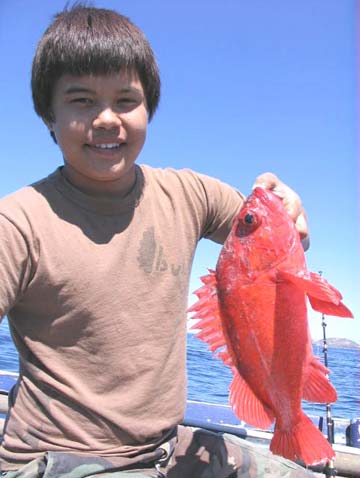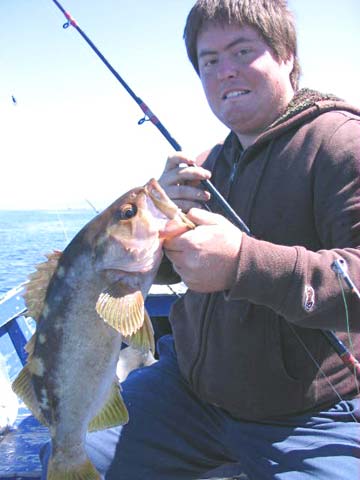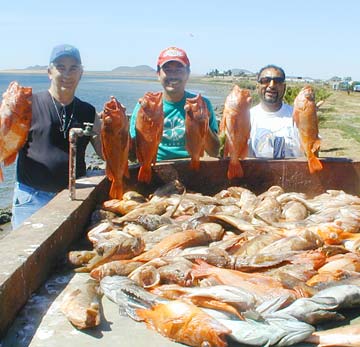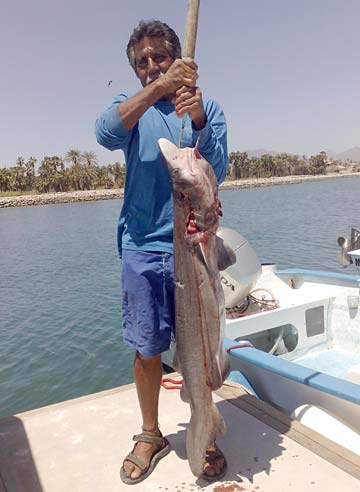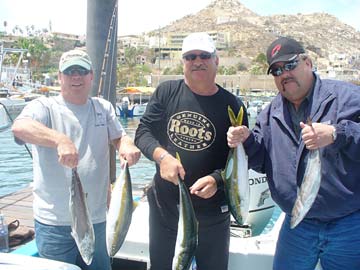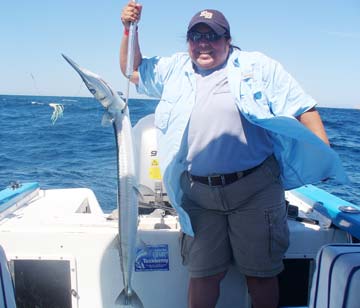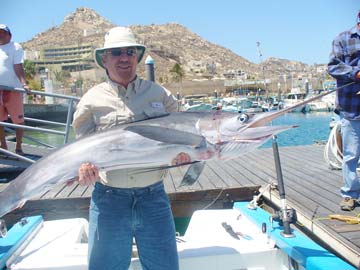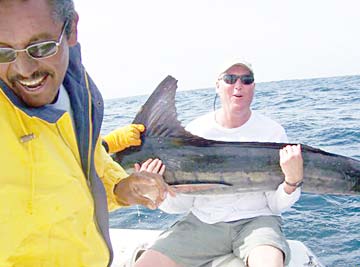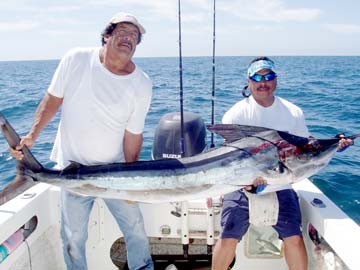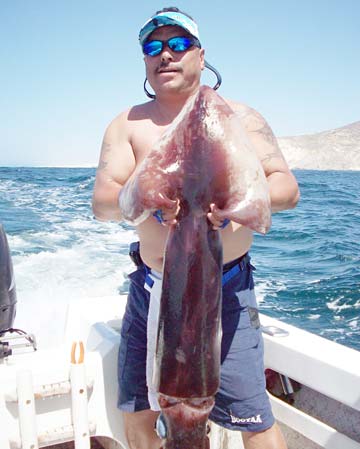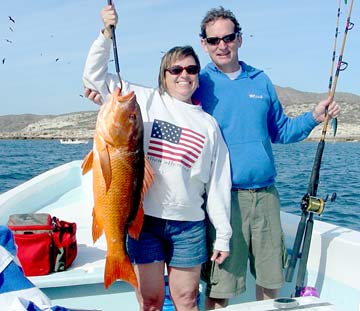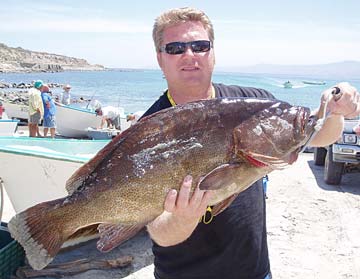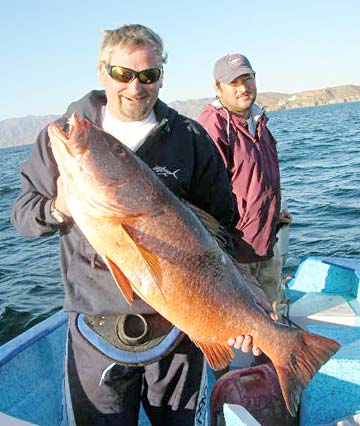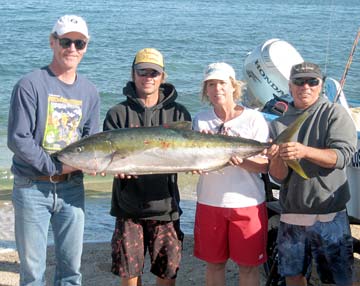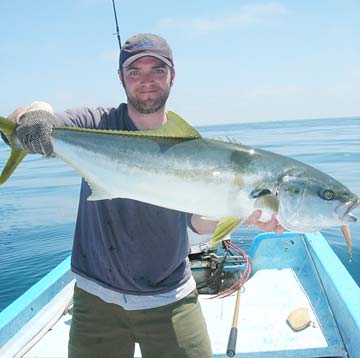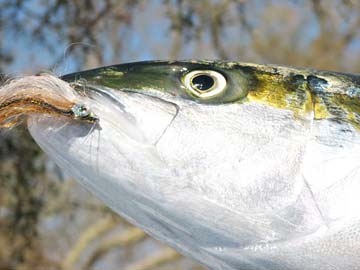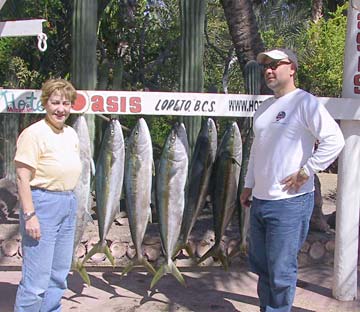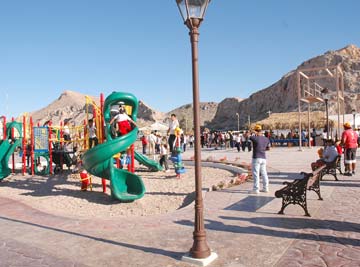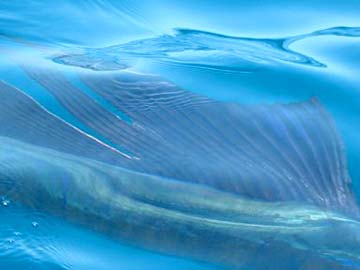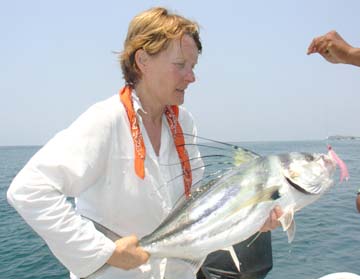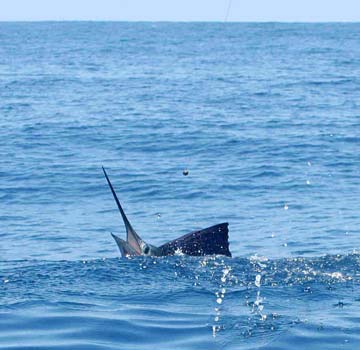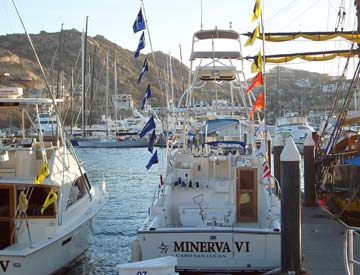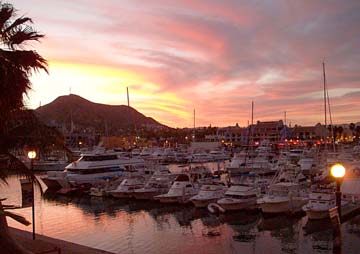 Baja coastal fishing reports and articles.
Ensenada fishing reports and articles.
Puerto Santo Tomas fishing reports and articles.
Erendira fishing reports and articles.
San Quintin fishing reports and articles.
Magdalena Bay fishing reports and articles.
Cabo San Lucas fishing reports and articles.
San Jose del Cabo (Los Cabos) fishing reports and articles.
East Cape fishing reports and articles.
La Paz fishing reports and articles.
Loreto fishing reports and articles.
Mulege fishing reports and articles.
Santa Rosalia fishing reports and articles.
Bahia de los Angeles (L.A. Bay) fishing reports and articles.
San Felipe fishing reports and articles.
Rocky Point (Puerto Penasco) fishing reports and articles.
San Carlos (Sonora) fishing reports and articles .
Mazatlan fishing reports and articles .
Puerto Vallarta fishing reports and articles.
Ixtapa Zihuatanejo fishing reports and articles.
Huatulco fishing reports and articles.
Cancun fishing reports and articles.
Mexico coastal fishing reports and articles.
Mexico Fishing Home Page < Mexico Fishing News Archives < Fishing Report