"All three days we fished the area loosely described as the Punta Lobos bajo. Only on Friday did we fish a wide-open school bite centered on a small piece of floating plywood.
"On two of the days, my neighbor Kent Baker joined me. One day on his boat and one on mine, with alternating captains Martin Davis and Paulino Martinez. There is a considerable amount of sargasso in the water, but very few of the paddies seem to be holding fish. Loreto fishing area water temperatures ranged from 76 degrees to 78, with sea conditions ranging from flat calm to uncomfortable wind-driven chop. And it's starting to get hot at Loreto, in the low to mid-90s with some humidity."
LORETO, MEXICO: Bill Erhardt of Loreto said some boats found variable results for dorado 15 to 40 miles out. "Dorado continue to be an off-and-on proposition in Loreto with most found north and east, 15 to 40 miles outside the marina," Erhardt said. "Fish into the 30s with a few in the 40s were caught last week singly on the troll, in small schools, and sometimes in large schools that kept the Loreto sportfishing fleet busy until happy fishermen got their fill of the action or ran out of bait.
"And then often the next day no fish were to be found.
"The marlin that have been scattered throughout the Loreto fishing area, apparently with lockjaw, are now starting to bite occasionally.
"Seaweed paddies continue to hold together well offshore which would seem to bode well for later in the coming Loreto fishing season."
Erhardt also reported on a long offshore trip aboard his boat Soledad to the Animas high-spot about 80 miles south. "I went on a two-day trip to Las Animas in search of wahoo and hoping to find at least some hungry marlin," Erhardt said. "I fished the rock in the late afternoon and again early the following morning, spending the night at anchor in a cove on Isla San Jose.
"I found no wahoo or marlin, only a single sailfish that broke off a cedar plug.
"Yesterday I stayed closer to home and caught 6 dorado and a big striped marlin east of Isla Carmen. The marlin was the first I have caught since late April."
Loreto sportfishing area water temperatures were at 75 degrees into the low-80s.
"Often, recently dorado have been found in relatively cool water rather than warmer water nearby that they would usually prefer," Erhardt said. "Apparently they are held there by abundant bait fish or available structure. Water offshore has been generally clear and blue with clumps of seaweed concentrated in current breaks."
LORETO, MEXICO: Bill Sumner of Las Vegas, Nev., reported on a trip to Loreto from June 1-5, 2008, with RJ Ransom also of Las Vegas, and four days of fishing out of the Hotel Oasis with Capt. Ismael Murillo.
"The dorado have definitely arrived in Loreto," Sumner said. "With little sargasso outside this year, the fish are very schooled up when located. The two top dorado locations we found were at the shark buoy about 30 miles northeast of Loreto, and a floating sheet of plywood fish attractor about 20 miles due east.
"The dorado schools we located were not the usual hoards of babies, but instead were nice 15 to 25 pounders. The fishing was full-on 'dorado frenzy.' We were hooked up and fighting nice-sized dorado for hours, cleanly releasing everything we caught except a few seriously injured fish. A three dorado per person, per day limit is being enforced."
Sumner reported some windy conditions in the Loreto fishing area. "Sea conditions were glass smooth on our first day," he said, "then the winds kicked up. Our next three days on the water were bumpy, wet, and somewhat uncomfortable. We devoted one day, when the seas were particularly sloppy, to yellowtail fishing at Punta Lobos and Punta Perico with disappointing results. Two out of three yellowtail hooked broke us off in the rocks.
"There were a lot of billfish in the Loreto area, but the sloppy seas kept them down and made sighting tails very difficult. There was also talk among the captains that the billfish were stuffed with squid and not biting well. We devoted our last day of the trip exclusively to sailfish by slow trolling live bait around La Cinquenta. It took some time but we did get two nice sailfish, both of very respectable size. It was a very good way to wrap up our trip."
Sumner also noted poor results while using circle hooks on dorado. "This trip's big dorado schools gave me the opportunity to thoroughly test various circle hooks on the dorado," Sumner said. "I'm officially giving up. Dorado behavior is just too erratic for circle hooks to be practical and effective."
LORETO, MEXICO: Bob Meyer of Loreto said, "More and more sargasso is moving offshore and Loreto water is teeming with bait. Loreto fishing this past week can be said to be really-really good, and it's getting better. Chatter on the radio indicates that a good time is being had by all." Meyer and his wife Marilyn fished Sunday about 35 miles out in double-hookup action. "We skipped two areas with 15 Loreto fishing boats surrounding some paddies, and at 35 miles out hit a spot where 3 local boats were all hooked up. For the next two hours, it was double hookups for everyone. As we were fishing sardina baits this day, our fish were small to medium."
The Loreto boat Dos D's with Capt. Rod reported dorado of 35 to 45 pounds in the same area.
During another run 17 miles out, Meyer said, "Marilyn saw some frigate birds working and seagulls on a sargasso paddy. A trolled mackerel produced a nice 34-pound bull dorado. The panga Arantxa with Capt. Rigo Davis and clients arrived with fly fishermen, and they hooked up. On our second pass, we hooked up a second nice bull. Loreto fishing has been good! There are also many billfish in the area. Sea conditions tend to be calm to 10 to 12 miles, then chop with a southeast swell that builds throughout the day."
In other mainland Mexico and Baja fishing action this week:
ENSENADA FISHING REPORTS
ALL ARTICLES, REPORTS AND FISHING INFORMATION FOR ENSENADA
ENSENADA, MEXICO: Ivan Villarino of Vonny's Fleet Sportfishing said his pangas at the tip of Punta Banda had "a fabulous fishing week" for a generous mix of yellowtail, halibut, and Humboldt giant squid. Anglers fishing on the charter pangas Vonny IV and Vonny I with Capts. Hector and Beto landed squid to 30 pounds, steady limits of mixed bottom fish, yellowtail to 20 pounds, bonita on the surface, and a remarkable 9 halibut to 7 to 23 pounds scored by Ensenada local Brian "Calico" Foley with Capt. Beto on Wednesday. Other anglers taking home full ice chests and filling the Vonny's Fleet client fish smoker included Joe Mead and Joshua Stevens of San Diego, Calif., Jon Benson, Tracie Irby, and Aaron Irby from St. George, Utah, and Pat, Kevin, and Patrick Brennan. "What a week!" Villarino said. Ensenada fishing area weather was overcast in the mid-60s, with light winds, ocean swells to 3 feet, and water temperatures of 59 to 60 degrees.
ENSENADA, MEXICO: Steve Ross of the Ensenada sportfishing boat Bad Dog out of Marina Coral reported good late spring action for local boats and a very active session on Humboldt giant squid at Punta Banda for the Bad Dog. At Punta Banda, Ross said, "We were the first boat on the spot just inside the Punta Banda rocks and off the beach about a mile. Immediately upon putting out 4 of the new Rapala X-Rap Magnums and one Berkley lure we got a quad on squid, but I am tired of being the Squid King boat at Ensenada. I catch Humboldt giant squid everywhere no matter how hard I try not to. They were boiling behind the boat. The meter showed thousands of them. One of the damn things got his beak onto the main line and took my brand new $15 Rapala away and probably ate the thing, metal spoon and all."
Ross also hooked a very large barracuda that was lost to a sea lion. "I brought in the largest barracuda head I have ever seen in my life," Ross said. "It was shredded from the shoulders down. I can only estimate that it must have weighed 15 pounds or more."
Continued trolling with the Rapalas produced a couple of bonito and a yellowtail of 10.6 pounds as the action shut down.
"All this was by 0900," Ross said. "We had a tankful of live mackerel but nothing to throw it on. I saw yellowtail, bonito, and white seabass coming into Marina Coral. They were caught at the Punta Banda rocks amongst other boats with similar reports of the mixed bag catches."
Ensenada fishing area water was at 60.5 degrees, with dirty color.
ENSENADA, MEXICO: Ensenada Sportfishing Works reported on a run southwards to Punta Santo Tomas by the charter boat Morgan James for a catch of 80 kilos of mixed bottom fish species. "There was no surface fish action," Ensenada Sportfishing Works said. Water temperatures off Punta Santo Tomas were at 61 to 63 degrees. The charter boat Sara fished locally at midweek for a catch of 3 yellowtail of 16 to 18 pounds and 12 barracuda. Other boats in the Ensenada fishing area late in the week reported 5 to 8 yellowtail, plus some barracuda and bonita.
SAN QUINTIN FISHING REPORTS
ALL ARTICLES, REPORTS AND FISHING INFORMATION FOR SAN QUINTIN
SAN QUINTIN, MEXICO: Pete Hillis of Pedro's Pangas, reported Humboldt giant squid still present in big numbers at San Quintin, as local boats caught some yellowtail to 20 pounds at the 240 and 15 spots and most also had "good limits" of mixed rockcods and lingcod. "Humboldt squid are still in great numbers and even bothersome after a while," Hillis said. "We hope the yellowtail are going to stay at San Quintin for some great hookups during the next few weeks." San Quintin fishing area water temperatures were at 61 to 63 degrees.
SAN QUINTIN, MEXICO: Marita Melville of Don Eddie's Landing said San Quintin boats caught a few white seabass in smaller sizes during the week. "The big ones are not here yet," Melville said, "but we expect that in July and August they will be plentiful. San Quintin fishing weather has changed for the better and has been warming up. The fishing has been plentiful." Melville noted that Don Eddie's still has some rooms available for the peak July-August season. Information, DonEddie@hotmail.com.
BAJA COASTAL FISHING REPORTS
ALL ARTICLES, REPORTS AND FISHING INFORMATION FOR BAJA COASTAL AREAS
BAJA CALIFORNIA, MEXICO: Antonio Sanchez Cardozo of Tijuana reported on a Baja coastal two-panga fishing trip out of Popotla near Rosarito Beach, with a group of 12 anglers from Foros.pesca.org.mx catching Mexican sportfishing limits of mixed bottom fish including vermilion rockfish, salmon grouper, lingcod, and whitefish. "We caught our limits and also we saw a big "pez luna" and a school of 10 small ones," Sanchez said. "We also trolled and missed a barracuda. There were no bonita, but our Capt. Juan Garcia, El Jaibero, said this month they will be there." Baja coastal fishing weather was cloudy and overcast with good sea conditions and small swells. Sanchez' group fished with cut mackerel bait, iron, plastics, diamond jigs, and sinkers rigged with hooks. "The second panga saw a mako shark near them but it was not possible to gaff it due to an excess of adrenaline and emotions combined," Sanchez said. "We enjoyed fried fish from our catch prepared by a local restaurant, El Dorado, at Popotla."
MAGDALENA BAY FISHING REPORTS
ALL ARTICLES, REPORTS AND FISHING INFORMATION FOR MAGDALENA BAY
MAGDALENA BAY, MEXICO: Gary Graham of Baja On The Fly reported commercial fishing nets temporarily banned in Magdalena Bay. "The government has temporally banned all nets in Mag Bay as part of an ongoing experiment," Graham said. "I will be going there early next month to sort it out." Diana Hoyt at Mag Bay Outfitters said sea water temperatures offshore were still cool, but some quality yellowtail were caught on shark buoys in generally good sea conditions. The Magdalena Bay mangrove channels produced corvina and leopard grouper. Magdalena Bay fishing area weather was in the high-80s, with clear skies and water temperatures at 60 to 66 degrees.
CABO SAN LUCAS FISHING REPORTS
ALL ARTICLES, REPORTS AND FISHING INFORMATION FOR CABO SAN LUCAS
CABO SAN LUCAS, MEXICO: Larry Edwards of Cortez Yacht Charters reported on 31 outings in good fish concentrations but sluggish action by Gaviota Fleet and the Cabo San Lucas charter boats Fish Cabo, Fish Cabo I, and Tuna Time, with a catch including released fish of: 23 striped marlin, 9 dorado, 1 sailfish, 3 wahoo, and 4 yellowfin tuna. "Cabo San Lucas fishing was difficult but not for a lack of fish," Edwards said, "just for a lack of biters." Edwards also noted the lower than usual number of anglers fishing in the Cabo San Lucas area. "Angling at Cabo San Lucas has been very slow this past week mostly due to the unfortunate and ever increasing cost for airline tickets," Edwards said. Cabo San Lucas sportfishing area weather was mostly sunny in the high-80s, with continuing northwest wind. Most boats fished in heavy concentrations of slow-biting billfish on the Cortez side from Gray Rock to Chileno. "According to Roberto Marquez of the Fish Cabo fleet, you can bait up to 50 billfish a day for maybe a bite or two," Edwards said. Caballito live baits were in good supply, but mackerel baits were being brought to Cabo by boats fishing for them at Magdalena Bay and were not living well, due to excessive differences in water temperature.
CABO SAN LUCAS, MEXICO: Ramon Druck of the Cabo San Lucas charter sportfishing super panga Cheer's reported on 3 outings during the week with a total of 6 anglers, for a catch including released fish of: 6 yellowtail of 5 to 6 pounds, 8 bonito of 6 to 7 pounds, 11 roosterfish of 5 to 6 pounds, and 37 sierra of 3 to 8 pounds. The Cheer's fished with Rapalas and trolled live baits on the Cortez and Pacific side beaches in water temperatures of 76 to 78 degrees and variable sea conditions with some rapid temperature changes, periods of high humidity, strong winds and big swells after 11 a.m. Anglers fishing aboard the Cheer's included Gerardo Morales of Sinaloa and Cabo San Lucas, Kile and Sarah Parrow, William E. Salter, Mel Salter, and Paul Russo.
CABO SAN LUCAS, MEXICO: For the previous week ending June 7, 2008, Tracy Ehrenberg of Pisces Fleet Sportfishing reported 81 percent of charters landing billfish, including 96 striped marlin and 5 sailfish. All but two billfish were released. Dorado catches were slow at 12 percent of charters, and just 9 yellowfin tuna were caught by boats fishing close to Chileno. The week's top run was by the charter boat Spartacus which released 6 striped marlin during a session between La Playita and Punta Gorda. Overall Cabo San Lucas sportfishing conditions were variable during the week. "Cabo can't make up its mind if it's going to move on into the summer fishing season," Ehrenberg said. "Pacific breezes continue to give us cooler water. The Cortez side has been much warmer, which means that Cabo fishing boats have been concentrating from Chileno to Destiladeras." Inshore boats found catches including jack crevalle, bonita, and an outing for 10 roosterfish by the charter boat Eureka. Cabo San Lucas sportfishing area weather was clear, sunny, and windy on the Pacific side, with water temperatures of 67 degrees at land's end to 73 degrees off San Jose del Cabo on the Sea of Cortez side.
CABO SAN LUCAS, MEXICO: George Landrum of Fly Hooker Sportfishing at Cabo San Lucas said, "Everything is in flux at Cabo this time of year. Just as we thought summer had arrived, it cooled off again. The wind really picked up and the water got pretty miserable on the Pacific side at 20 to 25 knots. Wind-driven offshore currents brought lower water temperatures south of Cabo, but temperatures stayed warmer at 79 degrees a few miles out of San Jose del Cabo at the Gordo Banks. Very little changed this week with most of the marlin being found along the shore off Palmilla and San Jose del Cabo. A decent trip is one or two marlin releases per boat. We saw very few Cabo boats with more than three."
Landrum noted the lack of yellowfin tuna during the week. "I saw a lot of tuna flags but upon checking found that they were being flown for bonita," Landrum said. "A decent fight to be sure, but not yellowfin tuna by any stretch of the imagination."
Landrum also noted reports of Mexican military boats stopping all fishing within three miles of shore on the Cortez side. "Word is out that the Marines have been stopping boats from fishing within three miles of the beach from Gray Rock and to the north," Landrum said. "Boats have been escorted outside the three-mile limit. We have been told this is because about 30 years ago this area was designated some kind of reserve, and this is the only way of keeping the commercial boats like the purse seiners we had such a problem with last month out of our area. If they have to stay out, then we have to stay out as well. I guess I understand that a little bit, but we are not commercial fishermen, so there has to be reconciliation here somewhere."
SAN JOSE DEL CABO (LOS CABOS) FISHING REPORTS
ALL ARTICLES, REPORTS AND FISHING INFORMATION FOR SAN JOSE DEL CABO
SAN JOSE DEL CABO, MEXICO: Eric Brictson of Gordo Banks Pangas reported on 49 combined La Playita fleet charter sportfishing pangas out of San Jose del Cabo's Puerto Los Cabos marina, with a catch including released fish of: 245 roosterfish, 68 mixed pargo species, 19 striped marlin, 4 yellowfin tuna, 9 dorado, 14 amberjack, 17 pompano, 13 cabrilla, 64 sierra, and 22 bonito. Offshore runs by La Playita pangas were hampered by Pacific winds, swells, strong southern currents, hazy skies, and cooler, dirty water as conditions began to improve and stabilize after midweek. Inshore, some larger roosterfish were beginning to appear amid concentrations of smaller fish. "Larger specimens are running a little late this season," Brictson said, "but the next few weeks will certainly be the time that the big roosters make their appearance off San Jose del Cabo's beaches." San Jose del Cabo fishing area water temperatures averaged 77 degrees to the northwest toward Los Frailes. Good supplies of sardina, mullet, caballito, and mackerel baits were available inshore, as well as concentrations of bolito on the fishing grounds.
SAN JOSE DEL CABO, MEXICO: San Jose del Cabo species fishing specialist John Snow reported extremely slow action for the week. "This was absolutely the slowest week of sportfishing I have experienced since first coming here 10 years ago," Snow said. Five surf fishing sessions and five outings on the La Playita panga Salome with Capt. Pata produced a total of 128 fish of 40 species caught or observed, including one new species, the Pacific piquitinga, and a Clipperton grouper, possibly the first ever recorded on the Cortez side of Cabo San Lucas. "Surf fishing was directly related to how many Sally Lightfoot crabs I could catch for bait," Snow said.
Snow also noted a dramatic panga return to the beach during rough surf conditions at San Jose del Cabo. "I observed a heroic panga landing," Snow said. "Apparently the motor on one panga stopped working and so the fix was to unload the disabled panga of all gear and its three pangueros into a second panga.
"A third panga took a tow rope from the disabled panga to the beach with a traditional high speed beach landing. Then, 20 or so hombres on the beach took up the tow line in tug-a-war fashion and the functioning panga now with six pangueros started moving the disabled panga toward the beach as fast as possible until they had to bail out due to the large surf and retreat to safer water.
"Meanwhile the guys on the beach pulled like hell and they got the disabled panga barely onto sand. At this point they were done, since a panga with a 90-horse outboard on the back weighs tons. They eventually hooked up a stronger rope to a ready tow truck and were slowly able to pull the disabled panga up onto the beach. The functional panga with six pangueros made a traditional high-speed beach landing without incident."
EAST CAPE FISHING REPORTS
ALL ARTICLES, REPORTS AND FISHING INFORMATION FOR EAST CAPE
EAST CAPE, MEXICO: Gary Graham of Baja On The Fly reported variable weather in the East Cape fishing area including south winds "strong enough to force many boats back in" early in the week, but calming by Thursday. "The fact that it quit blowing this morning should be encouraging," Graham said. Charter boat outings earlier in the week produced good counts of billfish including several blue marlin, but the fish were still not really on the bite. "It was still tough to get a bite," Graham said. "There were also a few dorado under sargasso or shark buoys for the lucky ones." East Cape inshore fishing boats found a few skipjack, roosterfish, pargo, pompano, cabrilla, and sierra during calmer periods. A few quality roosterfish into the 40-pound plus range were seen on the beaches. East Cape fishing area weather was mostly cloudy at 90 degrees, with water temperatures of 73 to 87 degrees.
EAST CAPE, MEXICO: John Ireland of East Cape's Rancho Leonero said fleet boats found steady fishing for striped marlin plus dorado running 20 to over 40 pounds. Eighteen boats with 47 anglers fishing 3 days in the Let's Talk Hookup Tournament had a catch of: 28 striped marlin released, 55 dorado of about 20 to 49.7 pounds, 28 roosterfish, 9 pargo, 13 pompano, lots of cabrilla, amberjack, and skipjack tuna, and 1 sierra of 16 pounds. "East Cape fishing has been surprisingly consistent," Ireland said. "The dorado are very spread out and biting both inshore and outside. The larger dorado are mixed in with the marlin." Marlin and larger marlin were concentrated about 30 miles straight out. East Cape fishing area weather was in the mid-90s, with windy afternoons and water temperatures of 76 to 80 degrees.
EAST CAPE, MEXICO: Ray Frew of Torrance, Calif., reported on an 18-angler trip to Martin Verdugo's Beach Resort, fishing 4 days for a combined multi-boat catch including released fish of: 10 marlin, 2 sailfish, and full coolers of dorado in the 30 to 40-pound class, plus one dorado of 60 pounds landed by group member Ed Rosen of Palm Desert, Calif. "The trip was led by Ted Porter of Rancho Palos Verdes," Frew said. "Ted has been organizing fishing trips for over 30 years. "Verdugo's has some of the best boats and crews in the East Cape, Ted said, and the resort still maintains a semblance of the way things were here in the 70s. Martin Verdugo continues to oversee daily operations and mix with the guests as the boats return each afternoon." East Cape fishing area weather was good, but tuna counts were down due to commercial Mexican fishing boats working locally. "The commercial boats entered the bay and wrapped most of the tuna," Frew said.
EAST CAPE, MEXICO: Jeff deBrown of The Reel Baja fly fishing guide service at East Cape said due to winds wrapping over the tip of Baja from the Pacific side, the best action was found early in the day. "The beach was consistent if you got out early," deBrown said. "We are seeing off-colored water but on beaches that remain clear we are seeing very good fishing for smaller to medium roosterfish, some grandes, some of the biggest ladyfish we have seen, and jack crevalle of 5 to 10 pounds. A friend fishing beaches to the north reported a good number of Mexican lookdowns, as well as roosterfish and ladyfish." East Cape boats fishing offshore found billfish and steady, if scattered dorado. "I found some very nice dorado under a patch of sargasso while fishing with client Jeff Regan," deBrown said. "For anglers that did not find any sargasso, dorado were spread out all over the bay and caught by trolling." East Cape fishing area weather was in the mid-80s, with water temperatures of 69 to 81 degrees.
EAST CAPE, MEXICO: Simon Cazaly of the Vista Sea Sport diving service at East Cape said trips to Punta Pescadero and Cerro Verde found bottom water temperatures in the mid-70s, with visibility at 40 to 50 feet. "Both sites were teeming with fish," Cazaly said. "The corals and sea fans at Punta Pescadero were particularly beautiful." East Cape diving area sea life sightings also included, graybar and burrito grunt, parrotfish, Moorish idol, bat rays, leopard grouper, Mexican goatfish, and yellowtail surgeonfish.
LA PAZ FISHING REPORTS
ALL ARTICLES, REPORTS AND FISHING INFORMATION FOR LA PAZ
LA PAZ, MEXICO: Gerardo Hernandez of Tortuga Sportfishing reported a week of variable weather on the Las Arenas side of La Paz that reduced fish counts and kept pangas from going offshore on some days. "The winds kept us from always having good fishing," Hernandez said. "Especially on Wednesday, the boats had to come in early." Before the wind hit, Tortuga captains found dorado including a few to 48 pounds at the buoys. Bait fish continued in good supply at Isla Cerralvo. La Paz fishing area weather had pleasant temperatures in the 80s. Anglers fishing out of Ensenada de los Muertos with Tortuga during the week included Bob Nishida and Erik Saiki, who caught marlin, pargos, roosterfish, and some large dorado with Capt. Hugo Lucero.
LA PAZ, MEXICO: Jonathan Roldan of La Paz' Tailhunter International sportfishing service said, "The tale-of-the-tape is the southern winds. When they don't blow we can get out to the dorado and marlin areas. When we can't, we're confined to fishing closer to shore which is still very productive for big roosters, more amberjack, pargo, jack crevalle, and other inshore species. Offshore, when we do get out there, dorado are big, and 30 to 40 pounders are the norm! Sailfish and marlin as well as wahoo are also out there. We have no good photos this week because all the wahoo got bit off, all the sailfish and marlin got released, and so were all the big roosterfish!"
LA PAZ, MEXICO: Jerry Davis of San Diego reported on a Las Arenas side panga fishing week with trip partner Bob Sutke and Capt. Jorge of Tortuga Sportfishing for fun action on 15 species of fish including dorado, roosterfish, jack crevalle, pompano, grouper, pargo, and triggerfish. "Other than one really rough day with swells to 6 feet the weather cooperated and the seas laid down," Davis said. "We launched out of Bahia de Los Muertos the first several days. Then as the winds shifted out of the north, the panga fleet switched to Bahia de la Ventana at Las Arenas. The trip was topped off with Bob's big bull dorado and my catch of a 40-pound pez gallo successfully released to fight another day."
Davis noted Mexican commercial fishing boats working the La Paz area. "At least three trawlers were working and had cut the buoys," Davis said. "Even though this report sounds like a lot of action, we have noticed a steady and steep decline in the overall fish count which we feel is due to overfishing by commercial fleets."
SANTA ROSALIA FISHING REPORTS
ALL ARTICLES, REPORTS AND FISHING INFORMATION FOR SANTA ROSALIA
SANTA ROSALIA, MEXICO: Spencer Abbott reported on a run out of San Lucas Cove south of Santa Rosalia, fishing 330 feet deep about 2 miles north of Isla San Marcos for a catch including a deep water baqueta and a damsel bass, sometimes called an "antenna fish" because of its extremely elongated dorsal fin ray. The damsel bass is similar to the rose threadfin bass, but has a more squared-off tail fin.
BAHIA DE LOS ANGELES (L.A. BAY) FISHING REPORTS
ALL ARTICLES, REPORTS AND FISHING INFORMATION FOR BAHIA DE LOS ANGELES
BAHIA DE LOS ANGELES, MEXICO: Ruben Daggett of Daggett's Camp at the north end of Bahia de los Angeles said his operation is ready for the summer fishing season, with both super pangas, the Heidi I and Heidi II being run by sons Alfonso Daggett and Enrique Daggett. "We will be sending pictures," Daggett said. An outing to Isla Cabeza de Caballo inside the bay by Capt. Ruben aboard the Heidi I produced a mako shark of about 500 pounds about 2 miles outside of the island using a small bass for bait. Jig fishing with blue-white Salas 6X iron produced yellowtail to 12 pounds.
BAHIA DE LOS ANGELES, MEXICO: Stan Woodward of Manhattan Beach, Calif., reported on a fly-down trip to San Francisquito, finding water temperatures still remarkably cold in the high-50s and little surface action for yellowtail, but heavy concentrations of bait in the water. "There is bait everywhere as is typical for this time of year," Woodward said, "but no yellowtail were caught on rod and reel in the three days I was there. There was no showing of white seabass either." Spear fisherman at Punta San Miguel did well on large yellowtail and cabrilla, and someone speared a large roosterfish of close to 50 pounds. "Why, I don't know," Woodward said. "Newbie fever. We fished the area at the same time for 2 to 3 hours for nada."
Woodward noted the recent changes in the operation of the San Francisquito "resort." "Apparently the 'resort' is going to remain open for now," Woodward said. "We renewed our locker lease. Only four cabanas remain and the one bathroom and shower are in pitiful condition, but there were planes on the ground and they were serving meals, beer, and so forth. As of present the 'resort' is open for business."
SAN FELIPE FISHING REPORTS
ALL ARTICLES, REPORTS AND FISHING INFORMATION FOR SAN FELIPE
SAN FELIPE, MEXICO: Dana Kerby of Baja Fishing & Diving reported on a 6-day Midriff islands fishing trip by the panga mothership Andrea Lynn, returning to San Felipe on June 5, 2008, with 24 anglers and a catch of: 250 cabrilla, 335 yellowtail, 7 grouper, 8 white seabass, 7 pargo, 7 leatherback grouper, and 87 spotted bay bass and miscellaneous fish. The Andrea Lynn reported windy Midriff fishing conditions on Wednesday afternoon and Thursday morning of the trip.
SAN FELIPE, MEXICO: Tony Reyes Sr. of Tony Reyes Fishing Tours reported on a 6-day Midriff islands fishing trip by the panga mothership Jose Andres, returning to San Felipe on June 6, 2008, with a fish count taken by crew member Fili Espinoza Montez of: 83 yellowtail of 18 to 31.6 pounds, 22 cabrilla of 12 to 14 pounds, 60 squid of 10 to 16 pounds, 1 red snapper of 16 pounds, 6 sheephead of 8 to 12 pounds, 55 spotted bay bass, and 15 miscellaneous fish.
Weekly winners in the season-long Jose Andres fishing tournament were: yellowtail, 31.6 pounds, Scott English of Templeton, Calif., guide Victor Orozco; pargo, 14 pounds, Debra English of Templeton, Calif., guide Victor Orozco; cabrilla, 12.7 pounds, Doug Newell of Orange, Calif., guide Brigido Miranda.
Reyes also reported on a 6-day trip by the panga mothership Tony Reyes, also returning to San Felipe on June 6, 2008, with a fish count of: 408 yellowtail of 20 to 42 pounds, 4 grouper of 45 to 100 pounds, 1 white seabass of 15 pounds, 155 cabrilla of 8 to 10 pounds, 9 red snapper of 6 to 10 pounds, 4 sheephead of 4 to 8 pounds, 124 spotted bay bass of 3 to 6 pounds, and 59 miscellaneous fish of 3 to 6 pounds.
SAN FELIPE, MEXICO: John Carroll of Chula Vista, Calif., reported on his Midriff islands fishing trip aboard the Baja Fishing & Diving panga mothership Erik. "We had a great trip for lots of yellowtail to 37 pounds, with most in the 12 to 25-pound range," Carroll said. "We did those at Snake Island, all on iron for us, but with lots of pangas just trolling through endless spots of birds. We fished around the Islas Encantadas for the best grouper and cabrilla fishing I have ever seen or heard of. We landed four nice fish in our group of 11 anglers from 60 to 120 pounds, two of which, including the largest, were caught on 50-pound tackle. The cabrilla went to 24 pounds and were brutal but great on the iron and plastics.
"Fishing at Punta Final, Remedios and Refugio was dead. The daily boat jackpots in these areas were won by sierra and golden spotted bass and even a Mexican lingcod. Our group was from the San Diego Rod & Reel Club with the another group from Las Vegas. We did not fish the last day-and-a-half due to winds of epic strength, and no question of gusts to 70 m.p.h., with water literally lifting off the water and blowing up 50 feet. Gnarly, and it did not stop, so we called it and came home."
SAN FELIPE, MEXICO: Tom Ward of the Longfin Tackle Store, exclusive agents for Tony Reyes Fishing Tours, had a panga mothership trip report from angler Jeff Bowman, who fished aboard the fleet flagship, the Tony Reyes, on a 6-day Midriff islands trip out of San Felipe. "We have been doing an annual trip on the 'Capitan Villegas,' now the 'Tony Reyes,' for many years now," Bowman said. "Ever since Tony Reyes Sr. and his son Tony and other backers at the Longfin took over, our group looks forward to the new improvements. This year we were not disappointed. The many bathrooms and showers on board were equipped with all new components. There was new carpet everywhere. The steps on the ladder to the upper deck were covered with a non-slip foam covering. The upper deck is now sporting a new hard cover. The new and improved muffler and exhaust pipe were raised to a higher level. Many fishermen used this improved upper deck for telling each other fantastic fishing stories. It seems the excellent cook we are so used to just got his son home from cooking school. His positive influence on the menu tends to want us to give it a multi-star rating like the famous restaurants.
"Some of the important improvements in the past few years are still attracting more fishermen. The Tony Reyes has modern, quiet air conditioning throughout the ship. There is a fresh water maker on board. The filleted fish are cleaned in fresh water and vacuum packed with a commercial processor. There were two doors cut midship to facilitate boarding and de-boarding the pangas safely and quickly. The ship's crew used fresh water to wash our rods and reels at the end of the trip.
"The weather for our June 1, 2008, fishing trip started out with flat seas as we left the San Felipe harbor. Soon the slight breeze diminished and the sea became a mirror to reflect the fluffy clouds above. The water temperature was about 79 degrees. The whole trip was like this except Wednesday afternoon when we got some 35-knot winds for about three hours. The panga tied to the center of the stern came loose with a really big bang. We watched the crew chase it down and reattach it to the stern. It was quickly obvious that they had the situation under control. This is the same crew we look forward to every year to renew our mutual friendship.
"Our fish count this year was very acceptable for the start of the season. Yellowtail Alley at Bay of L.A. lived up to its reputation. The boat landed its limit of yellowtail. They weighed from 20 to 44 pounds. I know because I won the Tuesday jackpot with the 44-pound yellowtail. We also landed a few grouper. They weighed from 45 to 105 pounds. The cabrilla this year, about 155 of them, seemed extra large. Three large golden cabrillas were released back into the wild. They were so beautiful. The trip this year was so first-class, I don't know what they could do to improve it next year."
ROCKY POINT (PUERTO PENASCO) FISHING REPORTS
ALL ARTICLES, REPORTS AND FISHING INFORMATION FOR ROCKY POINT
ROCKY POINT, MEXICO: Art Pina of Tucson, Ariz., reported winning the leopard grouper category with an 8.5-pound fish in the late May "1st Rocky Point Deep Sea Fishing Tournament" sponsored by Oficina De Convenciones y Visitantes De Puerto Peñasco while fishing aboard his boat Big Daddy for catches also including a 47-pound gulf grouper. "There were 37 entrees and only 10 fish brought in the 2 days of fishing," Pina said. "Tides were strong at Rocky Point, making it real tough to fish. We tried everything. I caught only the 1 sardinera in 2 days."
Describing his fishing in the tournament, Pina said, "We arrived at Rocky Point on Friday the 30th and got the boat fueled up and ready to go for the 31st, the tournament first fishing day. As far as I could tell there were about 25 boats entered. Shawn Gustafson was my partner.
"On Saturday, the start was at 6 a.m. Shawn and I headed for a small reef I know 24 miles away. We fished that reef for a couple of hours with nothing in the fish box. We then ran 38 miles northwest to a reef Shawn knows. We fished for a couple of hours with zero results. We moved over a mile or so and Shawn caught the first fish. On my scale it hit 52 pounds. We had to be at Safe Marina by 6 p.m. to enter Shawn's fish. It was in third place for the gulf grouper category. The word was that and 80-pound gulf had been weighed early that afternoon.
"The next day we went to the northwest and fished reefs that Shawn knew. Fishing was real slow for everybody. Around 2:50 p.m. I caught a small leopard grouper, 8.5 pounds. But, we registered the only leopard grouper caught in the 2 days of fishing. Ten fish were caught during the 2 days of the tournament. Rocky Point tides were extreme. Anyway that little leopard grouper won me first place in that category, $500 dollars and a Penn reel and rod."
Another run by the Big Daddy with Pina's wife Sandy and first mate Arturo produced much better action. "We went southeast of Rocky Point, 53 miles," Pina said. "What a difference. The reefs were great. In 2 hours we caught 6 groupers, not big but tasty. The largest one was 42 pounds. We caught pinta, leopard, gulf grouper, and some red snappers."
Rocky Point fishing area water temperatures were at 73 degrees, as Pina and Gustafson fished 140 to 180 feet deep.
"Shawn my friend will be spending a year in Iraq," Pina said. "I will sure miss him. He is a great friend and fisherman. My prayers go with him. He did say he would be back for next year's tournament."
SAN CARLOS (SONORA) FISHING REPORTS
ALL ARTICLES, REPORTS AND FISHING INFORMATION FOR SAN CARLOS
SAN CARLOS, MEXICO: Bryan Replogle of San Carlos-Guaymas reported 3 good days of fishing with friends for catches including Replogle's first billfish of the year, a double on sailfish, plus dorado and marlin. On his second outing, Replogle said, "I took out my dad's work buddy and his son, wife, and grandson. At midday, 10 year-old Declan Merziosky started off with a 40-pound bull dorado, followed by bringing in a marlin halfway before his father Dominic Merziosky took over. Next was their mother Karen's turn with a nice 160-pound marlin, followed by dad catching a 23-pound dorado. As I was cleaning the small fish, we hooked up grampa Ralph with a 170-pound striper that he battled for 50 minutes on light gear. It was definitely a fishing day to remember."
MAZATLAN FISHING REPORTS
ALL ARTICLES, REPORTS AND FISHING INFORMATION FOR MAZATLAN
MAZATLAN, MEXICO: Larry Edwards of Cortez Yacht Charters reported on 17 Aries Fleet offshore charter boats out of Mazatlan's Marina El Cid, with a catch including released fish of: 5 sailfish, 1 yellowfin tuna, and 30 dorado. Four inshore super pangas had a catch of: 30 sierra, 22 pargo, 16 baqueta, 15 barracuda, and Mexican sportfishing limits of triggerfish. "Mazatlan offshore fishing is slowly turning around for dorado and a few more sailfish," Edwards said, "but unfortunately, very few anglers were in Mazatlan this week." Mazatlan fishing area weather was mostly cloudy in the high-80s, with some winds and water temperatures ranging from 81 degrees inshore to 83 degrees offshore. Offshore boats fished a wide area for sporadic bites.
MAZATLAN, MEXICO: Tadeo Hernandez of Flota Bibi Fleet reported on an outing by the charter boat Paty C. with Capt. Alex and deckhand Alex Jr. for a catch with clients Ed Wagner, Joe Egner, and Henry Egner of: 2 dorado to 33 pounds and 1 yellowfin tuna.
PUERTO VALLARTA FISHING REPORTS
ALL ARTICLES, REPORTS AND FISHING INFORMATION FOR PUERTO VALLARTA
PUERTO VALLARTA, MEXICO: Stan Gabruk of Master Baiters Sportfishing & Tackle reported mixed weather and sea conditions as local charter boats waited for the summer sportfishing season to begin. "We had what many feared would turn into a hurricane develop in the Central America area," Gabruk said. "It was cold even by winter standards here at Puerto Vallarta, with light to medium rain for days. Every year we at Puerto Vallarta just bide our time after the end of May waiting for the first of the seasonal rains. Usually they'll come in from the west, not the south. But right now the fish are getting more plentiful and larger." Puerto Vallarta boats fishing at El Banco found yellowfin tuna of 35 to 80 pounds. "Blue and striped marlin are also out there but they haven't been taking the bait and are lounging on the surface," Gabruk said. "Sailfish are everywhere. Several charters this week boated sailfish near El Morro and the Marietta Islands. Roca Corbeteña is hopping also as the dirty water that plagued this fishing location for weeks is now clearing out."
IXTAPA ZIHUATANEJO FISHING REPORTS
ALL ARTICLES, REPORTS AND FISHING INFORMATION FOR IXTAPA ZIHUATANEJO
IXTAPA ZIHUATANEJO, MEXICO: Ed Kunze, reporting for Baja On The Fly, said the Ixtapa fishing area had blue water about 6 miles out of Zihuatanejo bay, and the local sportfishing fleet averaged about 1 to 3 sailfish per outing. "A few blue marlin are also around, as proven by Cindy Belmonte of Simi Valley, with her 300-pounder," Kunze said. "She was fishing with Capt. Margarito on the Gaby." A few larger dorado were brought in daily, but yellowfin tuna were few. Ixtapa fishing area weather had some wind and rain, and a day of port closure. "On Monday, we had a drizzle of rain all day long with hard rains and wind late Monday night," Kunze said. "This was enough to close the port for Tuesday. We did record 4 inches of rain during the 30-hour period." Roosterfish action improved inshore north at Pantla and Saladita, and also south at Puerto Vicente Guerrero. Ixtapa fishing area weather was cloudy and calm in the high-90s, with water temperatures of 80 to 84 degrees.
IXTAPA ZIHUATANEJO, MEXICO: Larry Edwards of Cortez Yacht Charters reported on 9 outings during the week by Ixtapa Zihuatanejo Capts. Chiro on the Bloody Hook, Capt. Temo on the Secuestro de Amor, and Capt. Adolofo on the Dos Hermanos, for catches including released fish of: 12 yellowfin tuna, 2 marlin lost, 8 sailfish, 2 dorado, 3 roosterfish to 15 pounds, 11 more roosterfish, 1 bigeye jack, and 15 jack crevalle. Capt. Chico on the Llamarada reported a 300-pound class blue marlin.
IXTAPA ZIHUATANEJO, MEXICO: Andre Weckstrom reported on a birthday fishing trip out of Zihuatanejo with Capt. Ramon Olea on the charter boat Oleaje, running 20 miles out for a catch of 4 yellowfin tuna to 35 pounds plus a dorado. "No billfish," Weckstrom said. "But my birthday was complete with great sashimi and grilled tuna steaks."
CANCUN FISHING REPORTS
ALL ARTICLES, REPORTS AND FISHING INFORMATION FOR CANCUN
CANCUN, MEXICO: Larry Edwards of Cortez Yacht Charters reported on 7 outings by the El Cid Caribe sportfishing fleet at Puerto Morelos near Cancun, with a catch including released fish of: 1 white marlin, 2 sailfish, 1 amberjack, 6 barracuda, 5 king mackerel, 1 bonito, and 12 dorado. "The easterly winds are blowing and the wind chop is up at Cancun but the fish are biting," Edwards said, while also noting the lack of anglers recently in the Cancun fishing area. Puerto Morelos weather was cloudy in the low-90s, with water temperatures stable at 82 degrees and some wind to 15 knots. "Ballyhoo baits are still taking top honors for all fish," Edwards said.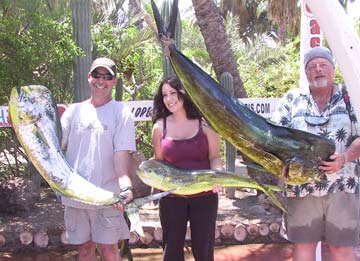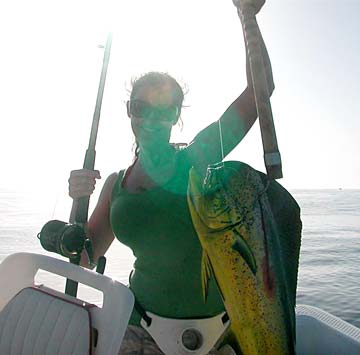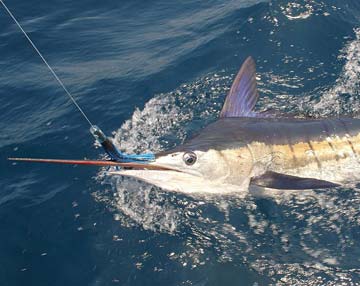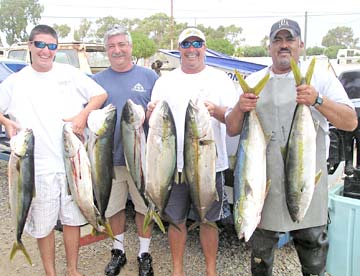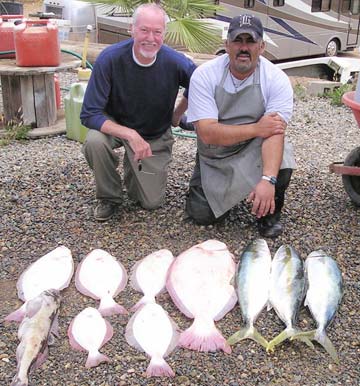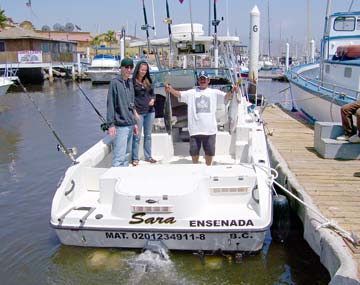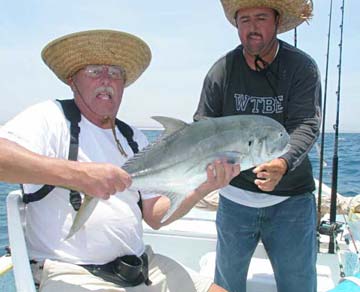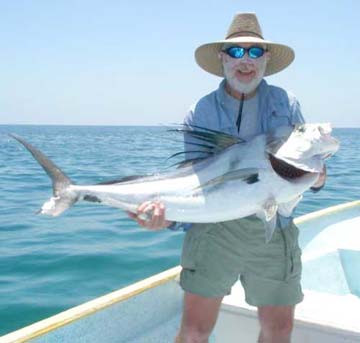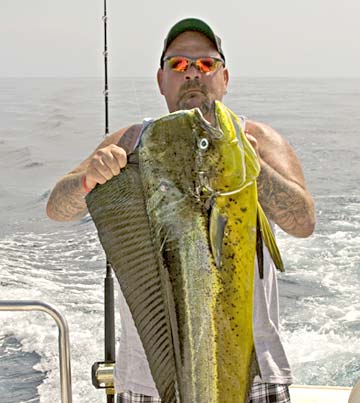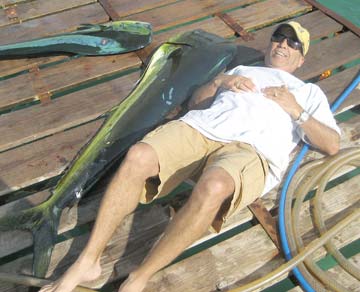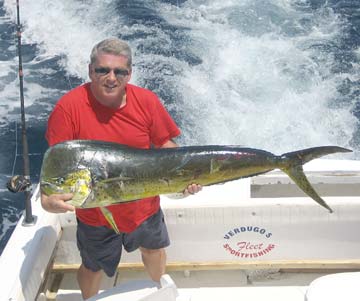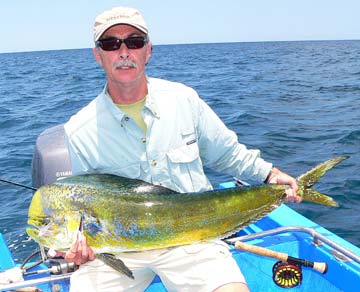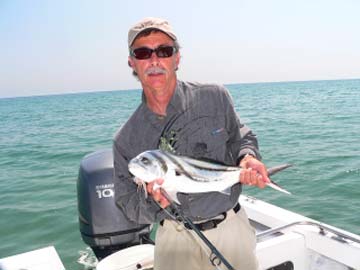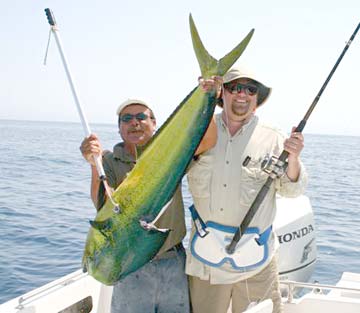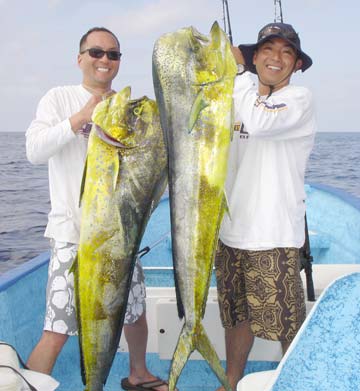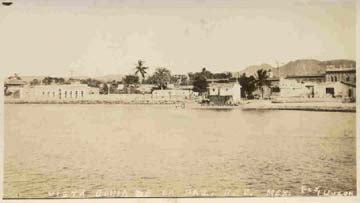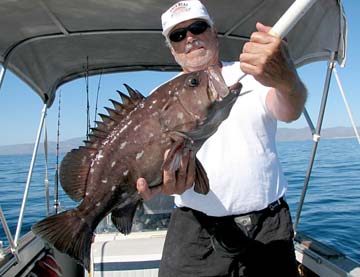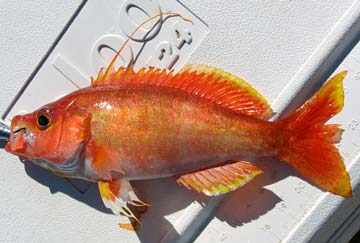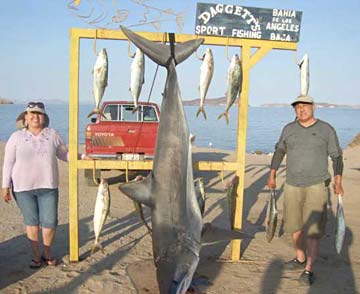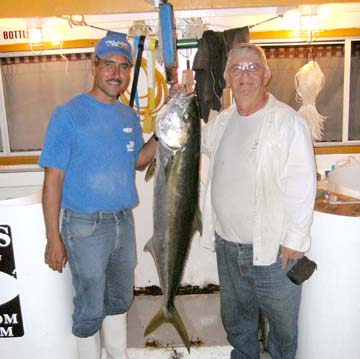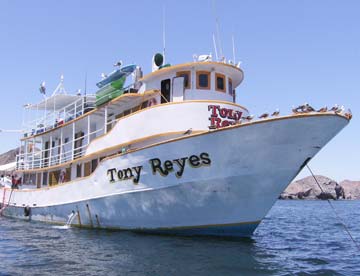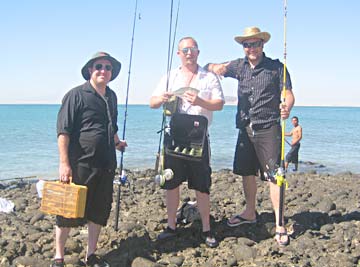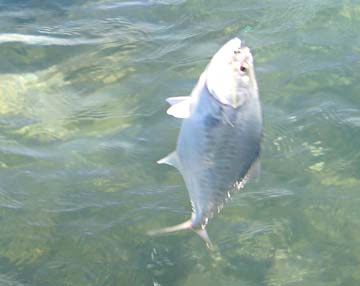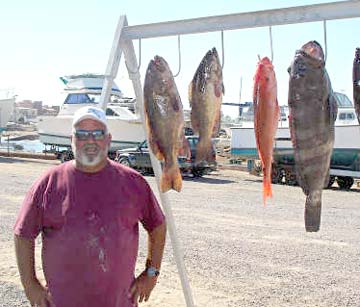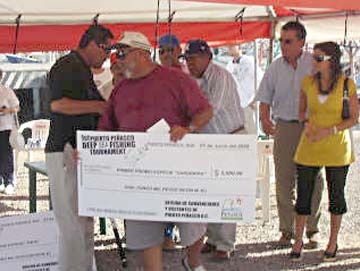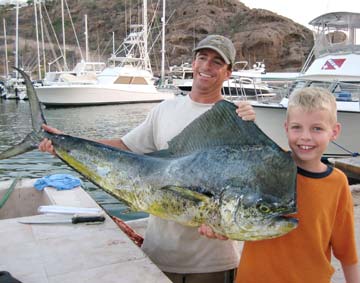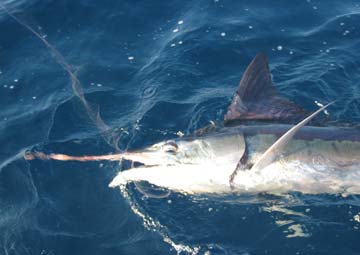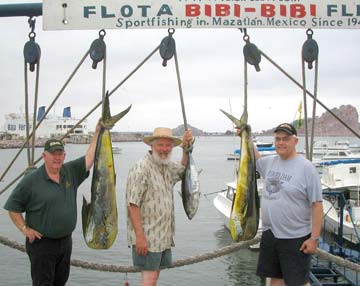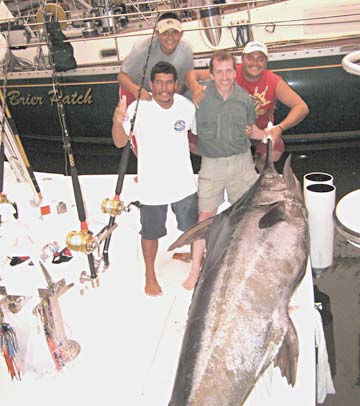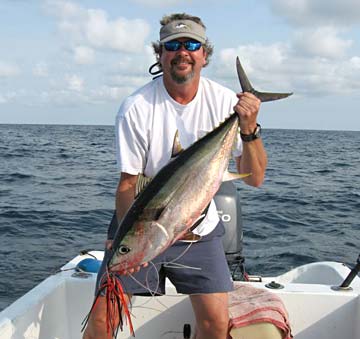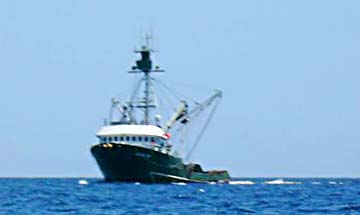 Baja coastal fishing reports and articles.
Ensenada fishing reports and articles.
Puerto Santo Tomas fishing reports and articles.
Erendira fishing reports and articles.
San Quintin fishing reports and articles.
Magdalena Bay fishing reports and articles.
Cabo San Lucas fishing reports and articles.
San Jose del Cabo (Los Cabos) fishing reports and articles.
East Cape fishing reports and articles.
La Paz fishing reports and articles.
Loreto fishing reports and articles.
Mulege fishing reports and articles.
Santa Rosalia fishing reports and articles.
Bahia de los Angeles (L.A. Bay) fishing reports and articles.
San Felipe fishing reports and articles.
Rocky Point (Puerto Penasco) fishing reports and articles.
San Carlos (Sonora) fishing reports and articles .
Mazatlan fishing reports and articles .
Puerto Vallarta fishing reports and articles.
Ixtapa Zihuatanejo fishing reports and articles.
Huatulco fishing reports and articles.
Cancun fishing reports and articles.
Mexico coastal fishing reports and articles.
Mexico Fishing Home Page < Mexico Fishing News Archives < Fishing Report