CABO SAN LUCAS, MEXICO: Durance Lowendick of Marlin Masters Sportfishing at Cabo San Lucas reported good action on both the Pacific and Sea of Cortez sides just before the arrival of rough weather last week. "Cabo anglers were getting solid catches of dorado in the 20 to 50-pound range and yellowfin tuna in the 25 to 40-pound range," Lowendick said. "We were also seeing good action on striped marlin and sailfish, but it was slow for blue and black marlin."
CABO SAN LUCAS, MEXICO: For the week ending Sept. 7, 2008, George Landrum of Fly Hooker Sportfishing reported full summer tropical conditions in the southern Baja fishing area. "Talk about warm," Landrum said, "The air is hot and so is the water. Cabo had some big swells at midweek. We might see more big ones due to the storm to the south."
Baits available at the Cabo San Lucas downtown marina were caballito and mullet at $3 each and sardina at $30 per bucket.
Billfish action continued steady for striped marlin and sailfish, but with warm water blue and black marlin still missing. "The striped marlin continued to bite this week, surprising everyone, since the water is so warm," Landrum said. "I did not hear of big blues or blacks. Dorado made a strong showing from Punta Gorda all the way around Cabo to the Todos Santos area on the Pacific."
In other mainland Mexico and Baja fishing action this week:
ENSENADA FISHING REPORTS
ALL ARTICLES, REPORTS AND FISHING INFORMATION FOR ENSENADA
ENSENADA, MEXICO: Ivan Villarino of Vonny's Fleet reported continued good local fishing for his pangas at the tip of Ensenada's Punta Banda for steady counts including some Mexican limits of red rockcod, calico bass, larger size whitefish, lingcod, and some barracuda and bonita.
Anglers fishing on Vonny's Fleet pangas with Capt. Beto and Hector included Jay Johnson of Ensenada, Rick Kubota of San Diego, Calif., Felix Esquivel of San Diego, and Ricardo Arias of Bakersfield, Calif.
Ensenada local fishing area weather was calm in the high-70s, with morning clouds, sunny afternoons, ocean swells at 2 to 3 feet, and water temperature around Punta Banda averaging 62 degrees.
ENSENADA, MEXICO: Steve Ross of the Ensenada sportfishing boat Bad Dog out of Marina Coral reported on a weekend offshore run in moderately rough sea conditions for a 12-pound dorado and a 20-pound class yellowfin tuna in blue, 70-degree water at the 238 spot.
Commenting on the steady 10-knot wind with whitecaps, Ross said, "It was basically uncomfortable and Mexican charter boats like Azteca with Pila were reporting puking customers as we crashed through the swells.
"The high visibility Stren Stamina monofilament in Hi-Vis Gold that I was using made trolling 7 lines possible in these conditions as I could easily see where they were while the wind tried to push them together. You can see the line right to the lure to confirm the pattern.
"We had taken a big load of large sardines and mackerel from Ensenada Mike's Live Bait, but both the dorado and tuna were caught on the same 7-Strand Pro Series marlin lure in midnight color.
"With no other jig strikes and empty kelp paddies, we returned to Marina Coral. I would call it a 'Morning Bite' in rough seas."
SAN QUINTIN FISHING REPORTS
ALL ARTICLES, REPORTS AND FISHING INFORMATION FOR SAN QUINTIN
SAN QUINTIN, MEXICO: Jon Schwartz of Carlsbad, Calif., reported on a Baja fishing run to San Quintin with Oceanside Senior Anglers club member Mike Mercado for good action with Capt. Miguel of Pedro's Pangas and a short morning's catch just south of the boca including 3 white seabass to 40 pounds. "We had outstanding white seabass fishing," Schwartz said. "We could have gotten more but I kept diving with the fish for pictures. The bite was over by 10:30 a.m. and we were back at the dock getting fillets by 12:30."
The white seabass were hitting large Krocodiles in chrome-blue color very close to the Bahia de San Quintin opening to the Pacific. "The bite was right out past the bay, as soon as you are out of the bay," Schwartz said. "There is no need to go far."
Schwartz noted good food service at the nearby Jardines restaurant and a short border wait of less than 30 minutes during the ride home.
SAN QUINTIN, MEXICO: Baja aluminum boat angler Don Dickson of Fallbrook, Calif., reported on a 2-week stay at San Quintin for action in generally good sea and weather conditions that included 2 white seabass of 25 and 35 pounds caught just south of the bay off the old Hotel La Pinta and Pabellon areas. "I watched boats come in each day full of rockcod, occasional small yellowtail, and big white seabass but the surface fishing was very spotty," Dickson said. "One day Capt. Juan brought in 11 whites to 60 pounds, all big bruisers, but then he was lucky if he got any for 3 to 5 days. "
Dickson noted the Old Mill Restaurant and R.V. park still closed near the launch ramp. "Now that the Celito Lindo park is closed there is a real need for R.V. parking at San Quintin," Dickson said. "There is still some R.V. parking available at the Cielito Lindo restaurant. I stayed at Don Eddie's Landing. He has a couple spots available as you drive in."
BAJA COASTAL FISHING REPORTS
ALL ARTICLES, REPORTS AND FISHING INFORMATION FOR BAJA COASTAL AREAS
BAJA CALIFORNIA, MEXICO: Les Heil Baja Bocana Bed & Breakfast at La Bocana reported Baja central Pacific water temperatures at about 80 degrees and offshore fishing around Roca Ballena holding up for good action on yellowfin tuna and dorado. Top outings by La Bocana boats included one run for 43 tuna, another for 3 tuna averaging about 35 pounds, and another for 5 tuna plus many dorado to 35 pounds.
Wahoo were cutting off lines and hooked fish, including one that cut a 35-pound tuna in half.
"We are also getting big hookups and loss of line with unknown species, big tuna or wahoo," Heil said. "Groupers have shown some interest to Rapalas as well. "
Heil and a group including La Bocana's local Dr. Romero made a 17-mile run south from the Boca for poor action after passing by the fish concentrations at Roca Ballena. "At 3 or 4 miles south of Roca Ballena there was no life or fish, so most of our fishing time was lost," Heil said.
BAJA CALIFORNIA, MEXICO: Shari Bondy of Baja Bed & Breakfast at Bahia Asuncion reported thinning kelp beds as summer water temperatures continue to rise on the central Baja Pacific coast and an outing by Capt. Juan Arce of Arce Bros. Sportfishing producing yellowtail limits to 35 pounds for the local police chief. "It is difficult to troll now so they caught all the yellowtail near San Pablo while jigging with 4-inch blue iron," Bondy said.
Baja coastal fishing water temperatures at La Bocana were at about 78 degrees as schools of dorado were also found just 3 miles out from the village. "Juan is excited about the dorado bite as they haven't been caught in the local Bahia Asuncion area in over 20 years," Bondy said. "The bigger fish are moving in now so fishing will continue to improve. The beaches are still full of croaker as well."
Anglers fishing out of Baja Bed & Breakfast included Denny and Michelle Greif, and Rob Knopp of San Diego, Calif.
MAGDALENA BAY FISHING REPORTS
ALL ARTICLES, REPORTS AND FISHING INFORMATION FOR MAGDALENA BAY
MAGDALENA BAY, MEXICO: Bill Erhardt of Loreto reported on a trailer boat trip across the Baja peninsula to launch his boat Soledad on the Pacific side at Magdalena Bay and fish offshore, from the Thetis Bank northward, for some very good results on wahoo and a solo 2-day catch of: 7 wahoo of 20 to 35 pounds, 2 dorado, and 2 yellowfin tuna.
"I caught 5 wahoo on Monday," Erhardt said. "It was the first time I have ever caught my Mexican daily limit of wahoo."
Barry Wilkerson's boat Rocket also made the trip from Loreto and fished the same general area for 2 wahoo plus another donated to sea lions.
"This time of year, there is usually a weekly window of fishable weather on the Pacific outside Mag Bay that may be for 1 or 2 days, or sometimes more, and it is necessary to time trips accordingly," Erhardt said. "Barry Wilkerson's boat fished the same area, but the only time we were together was while at anchor in Bahia Santa Maria. We communicated during the trip by radio. Barry linked up with a friend who was staying at the surf camp at Punta Hughes."
Erhardt noted no other boats fishing off Magdalena Bay except for "one triple-decker cruiser that was catching schoolie dorado, and two commercial boats that were trying to keep up with fast moving small schools of football yellowfin tuna and mine them with jack-line crews."
Offshore Magdalena Bay fishing area sea conditions were fairly good, with light wind, closely-spaced seas of 4 to 6 feet, and clear blue water at 86 to 87 degrees containing pods of porpoises, whales, sea turtles, and sea lions.
"The surface sea temperature were the warmest water I have ever seen in the area," Erhardt said.
MAGDALENA BAY, MEXICO: Gary Graham of Baja On The Fly said local Mexican commercial fishing pangas at Magdalena Bay reported continued yellowtail, dorado, and smaller yellowfin tuna outside the San Carlos boca off Cabo San Lazaro, but most boats were staying inside the bay due to rain plus some wind to 24 knots. "A week of rain kept most Magdalena Bay fishing boats close to home," Graham said. Fishing also went untapped inside the Magdalena Bay mangrove channels due to stormy weather and a large tidal range. Magdalena Bay fishing area weather was mostly cloudy at 90 degrees, with water temperatures of 60 to 77 degrees.
SAN JOSE DEL CABO (LOS CABOS) FISHING REPORTS
ALL ARTICLES, REPORTS AND FISHING INFORMATION FOR SAN JOSE DEL CABO
SAN JOSE DEL CABO, MEXICO: Eric Brictson of Gordo Banks Pangas sent out a weather shortened fishing report before the arrival of Tropical Storm Lowell, reporting on 18 combined La Playita fleet pangas fishing out of San Jose del Cabo's Puerto Los Cabos marina, with a catch including released fish of: 118 dorado, 89 yellowfin tuna, 3 sailfish, 2 amberjack, 4 cabrilla, 11 pargo, and 18 triggerfish.
Panga fleets reported good offshore action just prior to the storm for billfish plus tuna, and dorado of 5 to 25 pounds from Punta Gorda to the Iman Bank area. "Ocean conditions were ideal, very calm, the typical calm weather before a storm," Brictson said.
Los Cabos fishing area water temperatures had been at 84 degrees, with clear blue color within a mile of the Baja coast and sardina baits scattered but in sufficient supply. Strong currents hampered pangas attempting to fish the bottom.
"The strong southerly current made it nearly impossible to fish the bottom," Brictson said. "Most anglers did not even bother to fight the current, and only a handful of structure fish species were reported."
Surf fishing at San Jose del Cabo produced some good catches including tripletail, jack crevalle, roosterfish, and a couple of snook in the 30-pound class.
EAST CAPE FISHING REPORTS
ALL ARTICLES, REPORTS AND FISHING INFORMATION FOR EAST CAPE
EAST CAPE, MEXICO: Jeff de Brown of East Cape's The Real Baja fly fishing guide service reported a good rainfall from Tropical Storm Lowell, with beach fishing disrupted but offshore action holding up. "Those East Cape anglers who braved the rain were rewarded with dorado and tuna as the fishing we saw last week continued," deBrown said. "The fish did not care if it was raining because they were already wet. East Cape also still has a good number of billfish in the area. With no storms on the horizon, it looks as if fishing should only improve."
EAST CAPE, MEXICO: Gary Graham of Baja On The Fly said, "During the storm, few East Cape fishing boats have gone out. As soon as it passes we would expect good dorado action to resume. Inshore the water is off-color from the wind waves caused by Lowell." East Cape sportfishing area weather was mostly cloudy in the low-90s, with water temperatures of 76 to 87 degrees and winds to 20 knots.
EAST CAPE, MEXICO: For the week ending Sept. 4, 2008, Chris Moyers of East Cape Smoke House reported on 175 charter boats from combined fleets including Hotels Palmas de Cortez, Playa del Sol, Punta Colorada, Buena Vista Beach Resort, Rancho Leonero, and Martin Verdugo's Beach Resort, with 506 anglers and a catch including released fish of: 3 blue marlin, 10 striped marlin, 29 sailfish, 734 dorado, 451 yellowfin tuna, and 1 wahoo. East Cape fishing area weather was in the mid-90s, with water temperatures of 78 to 91 degrees.
"East Cape is pretty much hitting on all cylinders with dorado and tuna," Moyers said, "despite the fact that there aren't that many billfish being landed currently. The dodo bite was located mostly to the south off Las Barracas, Cabo Pulmo, Medanos Blancos, El Faro, and Destiladeras."
EAST CAPE, MEXICO: For the previous week ending Aug. 28, 2008, Moyers reported on 147 boats, with 426 anglers and a catch including released fish of: 3 blue marlin, 2 striped marlin, 19 sailfish, 185 dorado, and 561 yellowfin tuna. East Cape fishing area weather was in the high-90s, with water temperatures of 82 to 90 degrees. "Fishing at East Cape has picked up over the past week, for yellowfin tuna to a greater extent and dorado to a lesser extent," Moyers said, "but the billfish bite has fallen off to just north of nada, although last week saw a few blue marlin landed."
EAST CAPE, MEXICO: For the week ending Sept. 6, 2008, John Ireland of Rancho Leonero said, "Dorado and yellowfin tuna are plentiful and close. All boats are returning to the hotel by 1 p.m. with limits of both species. Both tuna and dorado are biting 4 miles off La Ribera and 5 miles off Cabo Pulmo." Few boats were fishing at East Cape, Ireland said, and sailfish, blue marlin, and striped marlin were present in the same area. Tuna were at 5 to 45 pounds and dorado were 12 to 50 pounds. "Anglers are releasing 1 or 2 dorado for every keeper," Ireland said. "There's lots of action." East Cape fishing area weather was clear and mostly calm in the high-90s, with clear blue water at 83 to 86 degrees.
EAST CAPE, MEXICO: Jorge Bergin of La Ribera reported the apprehension last week of a local Mexican commercial fisherman caught with a protected sea turtle. "They caught him on the beach near the lighthouse with a live turtle," Bergin said. "The new roving guards of Cabo Cortez at El Rincon turned them in to the cops They were arrested and the turtle was taken to the Cabo dolphinarium."
EAST CAPE, MEXICO: Earlier, Simon Cazaly of East Cape's Vista Sea Sport diving service reported excellent diving conditions at the Cabo Pulmo coral reef, with bottom water temperatures at 86 degrees, visibility at 80 to 120 feet, and very heavy concentrations of leopard grouper, or cabrilla, present. "We were totally spoilt," Cazaly said. "Masses of leopard grouper had congregated over the reef at El Cantil, so many that we just stopped swimming and hung in mid-water, spellbound by all of the life before us."
Sea life sightings during the week also included burrito and graybar grunt, Panamic porkfish, yellow snapper, green morays, lobster, bumphead parrotfish, and many other species.
"With such diversity of life, I can see why people come back to dive at East Cape year after year," Cazaly said. "Cabo Pulmo really is a special place to dive and with the protection offered by its marine park status I can only foresee increasing fish numbers and even more spectacular diving in the future."
EAST CAPE, MEXICO: Mark Rayor of Vista Sea Sport also reported finding a long line with 4 live sea turtles entangled in it while fishing aboard his boat Jen Wren about 2 miles south of Isla Cerralvo. "The longline was all balled in a mess with the turtles tangled in it," Rayor said. "We managed to release them all alive. One was very thin and it appeared that it had been stuck for some time."
LA PAZ FISHING REPORTS
ALL ARTICLES, REPORTS AND FISHING INFORMATION FOR LA PAZ
LA PAZ, MEXICO: Gerardo Hernandez of Tortuga Sportfishing said tropical weather cells provided more action than the fishing on the south side of La Paz during the week as wind and rough seas prevented his pangas from reaching offshore fishing zones for dorado and yellowfin tuna.
"Tropical Storm Lowell affected the La Paz fishing area this week," Hernandez said. "Some boats still fished near shore and caught some smaller tuna and dorado. The weather is normalizing now. At La Paz, the rain we got was more beneficial than damaging."
LA PAZ, MEXICO: Jonathan Roldan of Tailhunter International said his pangas fishing at La Paz got in some good fishing last week until the arrival of heavy tropical weather. "Tropical Depression Lowell hit us Wednesday evening and with it came some heavy rains and flooding." Roldan said. "It wasn't anything serious, but enough that we couldn't fish. The rain was actually pleasant and warm. Although it was coming down hard at times, La Paz folks were out playing in it. "
Roldan noted good fish counts on both sides of the hill earlier in the week. "We had some pretty decent dorado fishing and some nice tuna come up," he said. "Both La Paz and Las Arenas panga fishing was fairly productive with good 10 to 20 pounders scattered over several fishing areas."
LORETO FISHING REPORTS
ALL ARTICLES, REPORTS AND FISHING INFORMATION FOR LORETO
LORETO, MEXICO: Patty Zapata of Loreto's historic Hotel Oasis said local fishing weather was excellent until the arrival of cloudy skies at midweek, with continued action for dorado at Bajo San Bruno north of Isla Coronado. Twelve pangas fishing out of the hotel turned in a catch including released fish of: 28 dorado of 18 to 35 pounds, and 6 sailfish, all released.
Loreto fishing area water temperatures were at 83 to 85 degrees, with rains forecast for the latter part of the week. Anglers fishing with Hotel Oasis Capts. Martín Perpuli and Isidro Mendoza included Gregory and Prisilla Brunker; Graeme Atkinson, Daphne Walsh; and Jim, Katiem and Sasha Selfridge.
MULEGE FISHING REPORTS
ALL ARTICLES, REPORTS AND FISHING INFORMATION FOR MULEGE
MULEGE, MEXICO: Mulege fly-in angler Ron Grant of Crestline, Calif., returned from a flight to the Hotel Serenidad and reported locals still cleaning up from heavy rains that fell previous to the expected arrival of Tropical Storm Lowell last week.
"Full time Mulege residents are busy cleaning up damage from a few weeks ago," Grant said. "There is a lot more damage than advertised. The river road went under, flooding most homes along the river once again, about as bad as storm John a couple of years ago. During John, Mulege got about 10 to 12 feet of water along the river. This time they only got about 6 feet,but it did a lot of mud damage. People are unable to get down to most Mulege beaches because of road washouts.
"Baja Highway Mex 1 has been repaired and is passable. Trucks with supplies are moving without any problems.
"The runway at the Hotel Serenidad went under water. It has a covert about one-third of the way down the runway. It was best to land and take off from the north end using short field procedures. I, personally, landed over the covert with no problem. However, I was not as lucky on takeoff and got stuck in the soft sand while taxing out and had to dig out the nose wheel. I was told that the runway should be graded some time next week, but with hotel closed this month anyway, they don't seem to be in any hurry."
Mulege fishing area weather was seasonably hot and humid, with very few tourists or full-time American residents present.
Fishing was generally slow, with few people going out, but dorado and billfish in the area. The dock at the Hotel Serenidad was damaged by water and in need of repairs.
BAHIA DE LOS ANGELES (L.A. BAY) FISHING REPORTS
ALL ARTICLES, REPORTS AND FISHING INFORMATION FOR BAHIA DE LOS ANGELES
BAHIA DE LOS ANGELES, MEXICO: Ken Jones of Long Beach, Calif., reported on a weeklong Baja fishing trip to Bahia de los Angeles with friends Chris Gessel and Bret Hambrick that included an adventurous means of reaching the beach with their small aluminum boat. "We arrived during a thunderstorm and drove and floated down a wash to our camp spot. Kids, don't try this at home," Jones said. For the trip ending on Sept. 7, 2008, Jones reported air temperatures of 90 to 100 degrees, water temperatures of 82 degrees, and good fishing inside the bay for firecracker yellowtail, grouper to 15 pounds, leopard grouper to 10 pounds, triggerfish, needlefish, ribera cabrilla or Panamic graysby, spotted bay bass, barracuda, and various assorted species.
"The larger yellowtail seemed to have gone deep," Jones said. "Our best lures seemed to be a blue Rebel Fastrack and a black-and gray Rapala, although the largest gulf grouper was caught by Bret Hambrick on a large purple Rapala."
Bahia de los Angeles local fishing conditions had changeable currents around Isla Alcatraz. The outer channel had numerous finback whales and jumping mobula manta rays. Jones' trip was completed with a final day of fishing that produced good dorado action outside the bay with local guide Capt. Igor Galvan.
"We finished the trip with a fantastic day of dorado fishing with Capt. Igor Galvan and his super panga," Jones said. "We were able to make some bait and took off for La Guarda Island. Slow trolling live mackerel produced 6 landed dorado along with some grouper. Igor really knows his stuff, is personable, and I'd highly recommend him to anyone heading that way. The new 24/7 electricity and air conditioning in L.A. Bay made the heat a bit more tolerable."
Jones noted reaching Galvan at his phone number locally, 01-200-124-9271, which would be dialed 011-52-200-124-9271 direct from the U.S.
Jones and his group returned to the border via the Laguna Chapala turnoff road and noted that well-known local resident Coco Coral at Coco's Corner was not found at home. "We headed north home along the coast," Jones said. "The road to Gonzaga Bay is a bit beat up with some obvious rain coming through the area. The ocotillos are leafed out. It was quite sad to find Coco's Corner vacant but hopefully when he recovers he'll be back and handing out cold beers again. The new coast road from San Felipe now bypasses Puertecitos as it heads south and the work has the feel of stopping no time soon."
SAN CARLOS (SONORA) FISHING REPORTS
ALL ARTICLES, REPORTS AND FISHING INFORMATION FOR SAN CARLOS
SAN CARLOS, MEXICO: Bryan Replogle of Guaymas-San Carlos reported on 2 outings from San Carlos with Gale Uglow aboard Uglow's boat Gale Force for action including a jumping marlin lost, 1 dorado of 25 pounds, 1 dorado cleanly bitten off by a possible wahoo, and 7 other mixed fish to 35 pounds including a small wahoo. "Sailfish were also caught sporadically throughout the San Carlos area this week, with small dorado on the reef and beyond," Replogle said. "The best catches were in some cooler water out in the center. I am looking forward to October."
Replogle noted about 26 boats fishing 3 days in the recent San Carlos tournament, with about 15 billfish brought in and the largest dorado weighed at 50.8 pounds.
SAN CARLOS, MEXICO: Larry Gibbons of Tucson, Ariz., reported on 6 diving and fishing trips from San Carlos aboard the boat No Le Hace for a catch in action including 3 days in the Labor Day Invitational Fishing Tournament of: 1 marlin during the tournament for fifth place, and 2 striped marlin released on a double hookup at the north tip of Isla San Pedro Nolasco. "Fish were hard to come by during the tournament," Gibbons said. "We dove twice at San Pedro Island. Visibility was 100 feet or more, the best I have ever experienced. We dove two more times at San Pedro and again enjoyed perfect visibility, but we caught no fish."
MAZATLAN FISHING REPORTS
ALL ARTICLES, REPORTS AND FISHING INFORMATION FOR MAZATLAN
MAZATLAN, MEXICO: Larry Edwards of Cortez Yacht Charters reported good dorado action for Mazatlan boats, as 8 Aries Fleet offshore charters out of Mazatlan's Marina El Cid, turned in a catch including released fish of: 42 dorado to 65 pounds, 1 blue marlin at 220 pounds, 1 striped marlin, 10 sailfish, 16 yellowfin tuna to 80 pounds, 1 jack crevalle, and 10 bonito.
Top outings during the week included a panga run by Marina El Cid manager Geronimo Cevallos with Sergio Romero, Arturo Lizaraga, and El Cid Resort owner Carlos Berdegue for a 3-hour release catch of 18 dorado to 50 pounds. "Geronimo said the bite was excellent along the scum line formed by rain runoff during the past couple of weeks," Edwards said.
Mazatlan fishing area weather was mostly cloudy in the high-80s, with some afternoon and evening rain, a westerly swell, and the current line about 8 miles off the Mexican mainland shore.
Water temperatures ranged from 82 to 83 degrees, with clear water found at the 8 to 9-mile point as boats fished for dorado with rigged, slow-trolled ballyhoo baits and for sailfish with rigged mullet baits, from the current break for dorado and out to 22 to 25 miles for tuna and billfish.
MAZATLAN, MEXICO: Tadeo Hernandez of Mazatlan's Flota Bibi Fleet said offshore fishing was good for sailfish and dorado just before the port of Mazatlan was closed briefly on Monday afternoon due to rain and rough seas. The Mazatlan fishing area continued to have few anglers present. Outings by Flota Bibi Fleet during the week included a trip by the charter boat Mahi Dreamer with Capt. Tony and angler Chip Frizzell of Arizona for release action on 15 dorado and 2 skipjack tuna. "They fished along the debris line 17 miles offshore from the new marina," Hernandez said.
Mazatlan fishing area weather was in the high-70s, with wind to 8 m.p.h., and more rain likely.
PUERTO VALLARTA FISHING REPORTS
ALL ARTICLES, REPORTS AND FISHING INFORMATION FOR PUERTO VALLARTA
PUERTO VALLARTA, MEXICO: Struggling with a late-arriving 2008 big fish offshore summer fishing season, regular Puerto Vallarta angler Merle Erickson of Chicago reported on a "paying my dues" visit with Capt. Danny Osuna of Marla's Sportfishing that produced some very big fish seen and lost but no big tuna or marlin landed during 5 outings.
"We were skunked 2 full days, and skunked again on a short bad-weather day," Erickson said. "We got some small tuna on the poppers, which was fun, but overall fishing was slow. Danny and his crew did the same things they have always done with me when we have scored well. We tried different techniques, skippies, cabbies, kite double-trouble rig, skipping the kite bait, etc., and we fished long and hard, but things did not go our way this time. That's fishing, and sometimes you gotta pay some dues. There are some big fish around at Puerto Vallarta and it is anybody's guess when they will turn on.
"There was some talk that this may be a late season like 2006. In 2006, the fishing seemed to really get going in late November and was hot through mid-January 2007. I have 3 more trips with Capt. Danny this season, and hopefully things will go our way next time. Thanks to Danny, Alvino, and Miguel for their efforts. Thanks also to John and Carol of La Cruz Inn at La Cruz de Huanacaxtle for their hospitality. They take great care of their guests and it's a great place to stay when fishing with the Osuna brothers."
Action in green water at about 87 degrees during Erickson's days at El Banco and Roca Corbetena included tuna to 40 pounds on poppers, larger tuna and a black marlin unbuttoned, tuna over 200 pounds seen jumping, and a trophy-sized tuna that missed the bait.
"One tuna came from right to left behind the transom after a skippy with its back 12 inches out of the water," said the experienced Erickson. "It looked to be a very big tuna, over 300 pounds, a legit 7 footer that was thick through the back. It was a big fish, a trip maker and maybe a season maker, but after hammering the skippy, the tuna dropped it. Then, it came back twice more to boil on the bait, but did not take it. Frustrating.
"We ended up skunked that day, as Capt. Scott Osuna got a 450-pound black marlin and broke off a big tuna and also had the hook pull on another tuna. Capt. Alonso Osuna also released a 300-pound blue and had a couple of tuna boil on the skippies. West of Corbetena we were metering some big fish. A panga reportedly got a 300-pound class tuna in the same place we were fishing. We saw them hook up and land the fish. We fished hard all day, but just did not get hooked up. We had good baits in the water throughout the day. Can't do more than that."
PUERTO VALLARTA, MEXICO: Stan Gabruk of Master Baiters Sportfishing & Tackle at Puerto Vallarta reported a 475-pound class black marlin landed by the charter boat Discovery during an "off day" run to Roca Corbetena without clients by Capt. Oscar and crewmembers Memo and Diego. "Even on their day off, they go fishing!" said Gabruk. "Puerto Vallarta fishing is a moving target and anything is possible right now. One area that seems to be producing fish is 10 to 15 miles out from El Banco, but there are no guarantees that it's any better than at the bank. What El Banco did have was black marlin between 350 pounds and world class sizes. Trolling skipjacks, if you could make bait, was working nicely."
PUERTO VALLARTA, MEXICO: Sal Campanile of Tuna Time Sportfishing reported 2 larger yellowfin tuna at 180 and 270 pounds caught during a period of wind and rough seas, plus cow class tuna of 200 to 300 pounds seen jumping, and a giant fish lost after a very brief but very long and strong run.
"In between the 'big bites' we're having lots of fun casting surface poppers into schools of 30 to 80-pound tuna busting up on top," Campanile said. "We've had a couple of black marlin in the 250 to 500-pound class as well, and an unidentified monster that spooled us on over 1,000 yards of line in under 60 seconds. That was a first for me in over 30 years of big game fishing. My guess is that it was a grander-plus black. More and more big marlin and cow-size tuna are showing up every day."
IXTAPA ZIHUATANEJO FISHING REPORTS
ALL ARTICLES, REPORTS AND FISHING INFORMATION FOR IXTAPA ZIHUATANEJO
IXTAPA ZIHUATANEJO, MEXICO: Ed Kunze, reporting for Baja On The Fly, said rains pushed the blue water line out to 15 miles from the Mexican mainland coast last week as boats mined the interface between inshore and offshore water for dorado and sailfish. "There is a distinctive weed line separating blue water and off-colored water," Kunze said. "This line is holding game fish."
Ixtapa Zihuatanejo sportfishing Capt. Martin on the 35-foot charter boat Nautilus reported 11 sailfish and 6 dorado over 20 pounds in 5 trips to the area.
"September is usually the wettest month of the year for Ixtapa Zihuatanejo, but because most of the rain comes at night the sportfishing fleet is able to fish," Kunze said. "The only problem we had his week was heavy outflow from the rivers making inshore water was murky. This and the waves along shore combined for very tough roosterfish fishing this week."
Ixtapa fishing area weather was humid in the low-90s, with water temperatures of 80 to 84 degrees.
CANCUN FISHING REPORTS
ALL ARTICLES, REPORTS AND FISHING INFORMATION FOR CANCUN
CANCUN, MEXICO: Larry Edwards of Cortez Yacht Charters reported on 7 outings by the El Cid Caribe sportfishing fleet at Puerto Morelos near Cancun, with a catch including released fish of: 11 Atlantic barracuda, 10 king mackerel, and 1 mutton snapper. "The fishing was down a little this week. The Cancun fishing area has dodged the bullet on 9 big storms this season," Edwards said. "While Puerto Morelos did catch some rain from Hurricane Ike, for the most part, it's been an uneventful summer fishing season with only another month or so to go." Cancun fishing area weather was humid with some thunderstorms and heavy wind chop.
MEXICO COASTAL FISHING REPORTS
ALL ARTICLES, REPORTS AND FISHING INFORMATION FOR MEXICO COASTAL AREAS
MEXICO: For the week ending Sept. 8, 2008, David Burns of the Restaurant El Manglar at Tecolutla, on the Mexican Atlantic coast near Veracruz, reported less than ideal fishing conditions and a catch of just 1 peto or king mackerel during a windy outing with some male members of a wedding party from Chicago.
"What stag celebration is complete without a fishing trip?" Burns said. "At El Manglar, we had the honor of coordinating and hosting a wedding for the couple from Chicago.
"Captain Cero was hired to take the group offshore, but unfortunately when it came time to leave the dock only the groom and two others were on board. Tequila can have that effect. Calm waters and slightly overcast skies quickly turned into wind and blew out the bite.
"Luckily, the groom was able to land the only fish of the day, a nice 2-kilo peto, before it became obvious that the fish were hunkered down and weren't going to bite. It was his first time ever offshore for fishing; and his first time marrying."
Burns noted that the only fish of the day was caught while trolling a large Rapala Magnum. "The fish was served at El Manglar as ceviche for the wedding reception much to the delight of the guests," he said.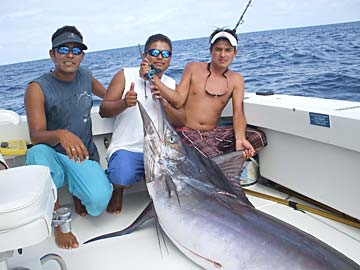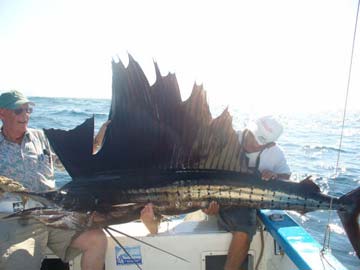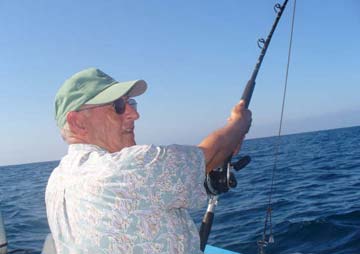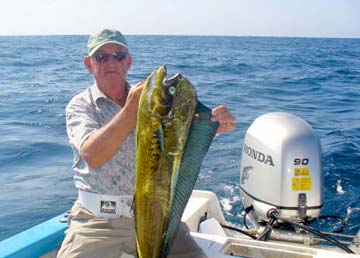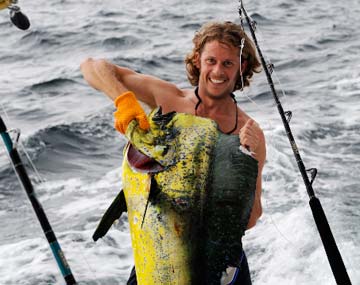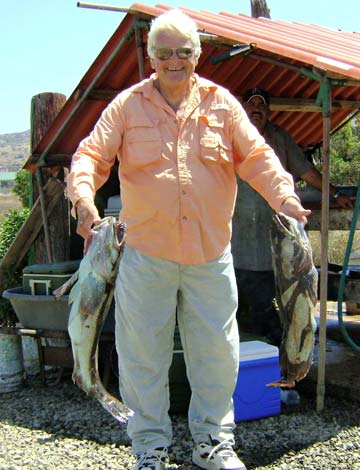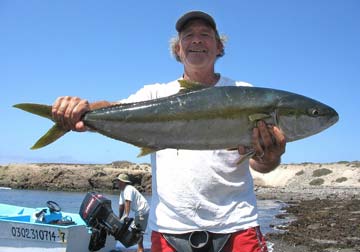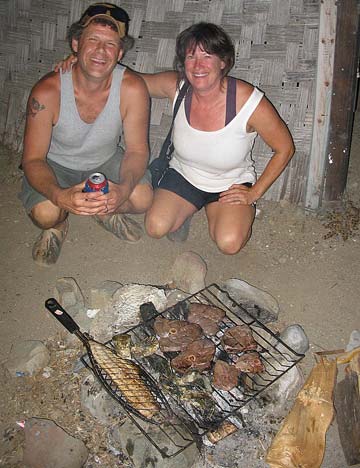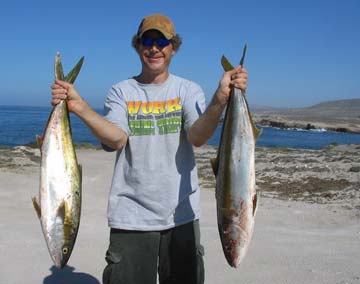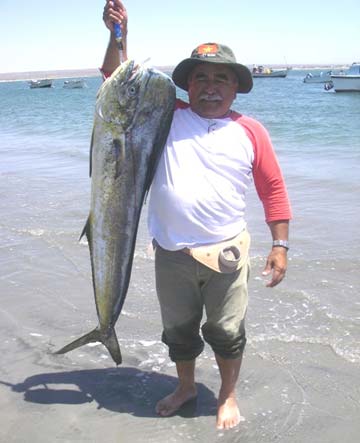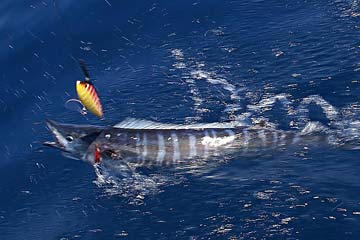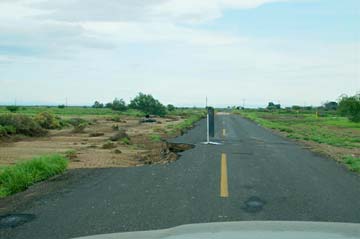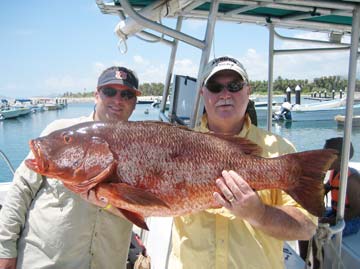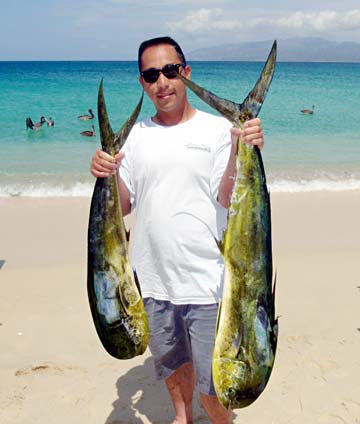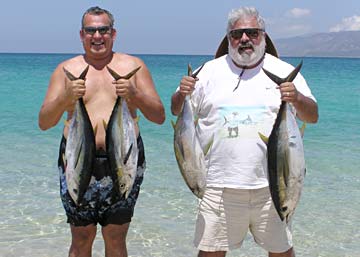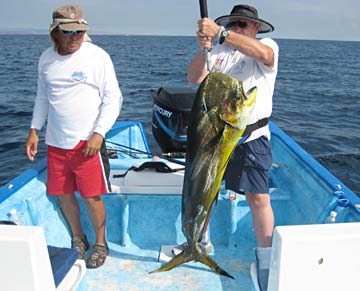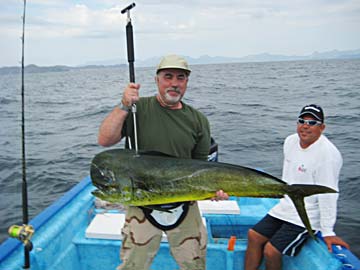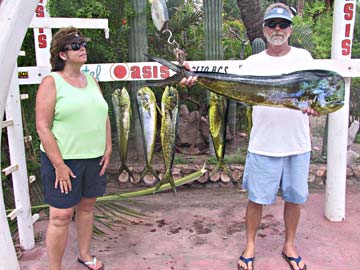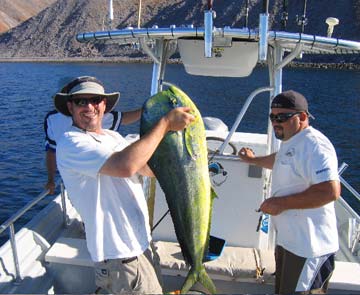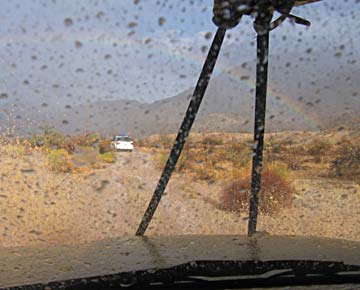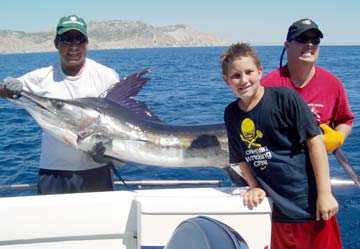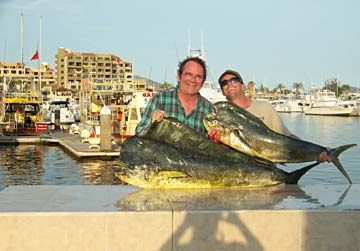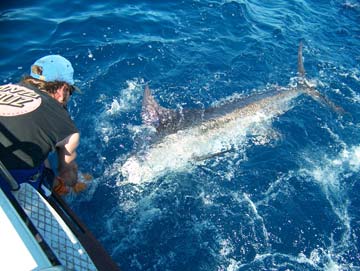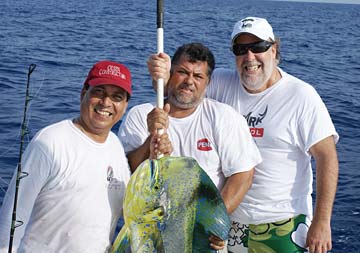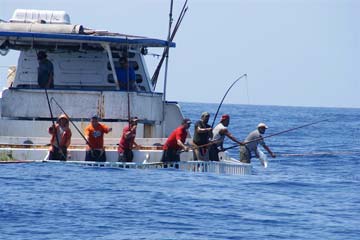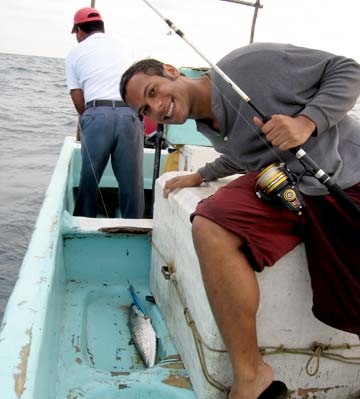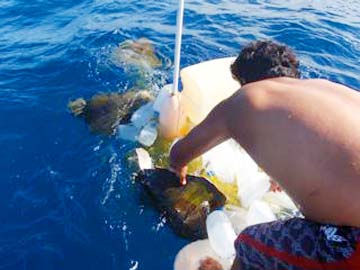 Baja coastal fishing reports and articles.
Ensenada fishing reports and articles.
Puerto Santo Tomas fishing reports and articles.
Erendira fishing reports and articles.
San Quintin fishing reports and articles.
Magdalena Bay fishing reports and articles.
Cabo San Lucas fishing reports and articles.
San Jose del Cabo (Los Cabos) fishing reports and articles.
East Cape fishing reports and articles.
La Paz fishing reports and articles.
Loreto fishing reports and articles.
Mulege fishing reports and articles.
Santa Rosalia fishing reports and articles.
Bahia de los Angeles (L.A. Bay) fishing reports and articles.
San Felipe fishing reports and articles.
Rocky Point (Puerto Penasco) fishing reports and articles.
San Carlos (Sonora) fishing reports and articles .
Mazatlan fishing reports and articles .
Puerto Vallarta fishing reports and articles.
Ixtapa Zihuatanejo fishing reports and articles.
Huatulco fishing reports and articles.
Cancun fishing reports and articles.
Mexico coastal fishing reports and articles.
Mexico Fishing Home Page < Mexico Fishing News Archives < Fishing Report