San Quintin, Mexico:
Yellowtail Are Caught At The 240 Spot By K&M Offshore Sportfishing

Sept. 2, 2005, Kelly Catian, K&M Offshore Sportfishing, San Quintin, Baja California, Mexico fishing:
The last week of San Quintin fishing was great, with big yellowtail at the 240 spot and some great action on yellowfin tuna just outside. San Quintin fishing has been tough fishing, but good none the less.
The fish at San Quintin are not biting the same as last year, with most schools holding deep and coming up only to feed on balled up anchovies and some sardines.
The commercial tuna fishing fleets have been out on the grounds wrapping up loads of fish, and we've made good use of their spotter choppers and had some great wide open bites by brailing bait under where they circle over a school of tuna waiting for the big seiner to show up.
That's what fishing at San Quintin was like for Ron and Mark Mayeda and their friend Chris and his dad. We started fishing by slow-trolling with live macks at the 240 spot for yellows and were greeted by screaming lines as the first of many slugs were pulled off the shallow reef below. We did well on the drift too with some fish up to 30 pounds. We then headed offshore and started dragging some small 5-inch Marauders and cedar plugs.
Our first jig stop produced 4 fat tuna with one on the iron by Mark Mayeda. Fishing on the paddies, we picked up more yellowtail and a nice dorado by Mark's dad Ron.
On one jig-stop under the helicopter, we got the 3 troll fish in and brailed some bait and got into a wide open bite for about 15 minutes.
After 2-1/2 months of back-to-back San Quintin sportfishing charters, I'm taking a couple of days off. The fishing at San Quintin has not been easy but for those willing to look a little harder it's been a good summer so far.
The 240 has been putting out some yellowtail over 30 pounds but you've got to fish it before or after the crowd. Local San Quintin charter fishing boats will pile onto the spot and will troll it to death, pushing down and splitting the bait school that the yellows have been herding all night. But when they get through and leave to go bottom fish, the yellows slowly work the bait back to the rock and start to feed again. That's about when we show up and work the outside fringes of the school, picking off yellows from the outsides and trying not to disrupt the bait school.
The paddies have been good as well with some producing large yellowtails and dorado, but they are few and far between. I think the best fishing is yet to come. A couple more south swells and it'll blow up. The San Quintin fishing area has got good water and lots of offshore bait.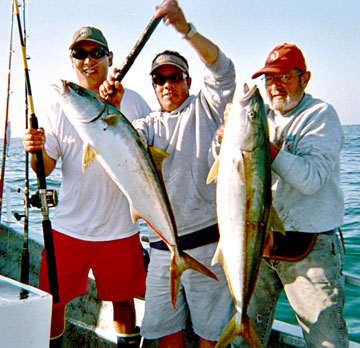 Mexico Fishing Home Page < San Quintin Contents < Report